! >
Broadway To Vegas
  
  REVIEWS  INTERVIEWS COMMENTARY NEWS

| | |
| --- | --- |
| | |
CHARLIE SHEEN AND JULIE TAYMOR CAUGHT IN THEIR OWN WEBS - - THE SECRET LIFE OF WALTER MITTY CD REVIEW - - MARILYN: HOLLYWOOD ICON - - JON CRYER DELIVERS BRILLIANT TROLL MONOLOGUE ON CONAN - - PRINCE HARRY HEADED TO THE LAS VEGAS AREA WANTS TO BEAT TOM CRUISE - - ROBIN WILLIAMS BECOMES A BENGAL TIGER - - MUSEUMS IN CHINA TO BE FREE - - SAHARA HOTEL IN LAS VEGAS TO CLOSE - - DONATE . . . Scroll Down



CHARLIE SHEEN AND JULIE TAYMOR CAUGHT IN THEIR OWN WEBS
Charlie Sheen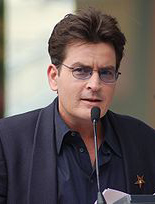 What an interesting web they weave.

Sad.

Charlie Sheen and Julie Taymor.

Watching the talented publicly self destruct is tragic. Those who practice schadenfreude should instead attempt better their own lives, rather than snickering at the failure of somebody else in order to inflate their own ego.

There is an emotionally immature segment that is glued to Sheen's Korner on Ustream hoping to see Sheen actually drop dead while ranting. There is a mentally stable Broadway financial and creative segment that required Taymor's professional career to suffer a fatal blow.

While CBS executives were working out a letter terminating the highest paid star on television, Charlie Sheen was proclaiming he had tiger's blood and was winning. After the axing he climbed to the top of a building, brandishing a machete.



Julie Taymor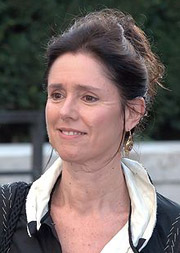 At the same time the talented, deeply troubled Sheen was pontificating to the masses, the talented Julie Taymor, with the deeply troubled Spider-Man: Turn Off The Dark musical was pontificating to an elite bunch, while production insiders were formalizing her termination.

Bad boy Sheen has mesmerized television viewers with his obtuse and bizarre statements such as The Today Show comments: "I will not believe that if I do something then I have to follow a certain path because it was written for normal people. People who aren't special. People who don't have tiger blood and Adonis DNA."

"Duh, winning! It's, like, guys, IMDB right there, 62 movies and a ton of success. I mean, c'mon bro, I won best picture at 20. I wasn't even trying. I wasn't even warm."

A few miles from Sheen was Taymor speaking before the world's leading thinkers and doers at a four-day TED conference. According to their pamphlet: "TED stands for "Technology, Entertainment, Design -- three broad subject areas that are, collectively, shaping our future. And in fact, the event is broader still, showcasing ideas that matter in any discipline. The format is fast paced: 50+ talks over the course of four days (to say nothing of the morning and evening events). This immersive environment allows attendees and speakers from vastly different fields to cross-fertilize and draw inspiration from unlikely places. This is the magic of TED."

That the invitation only conference used the phrase "cross-fertilize" is interesting, since that's the product which both Sheen and Taymor have laid before the public.

Taymor told the gathering of intellects: "Anyone who creates knows - when it's not quite there, where it hasn't quite become the phoenix or the burnt char. And I am right there."

While Sheen spouted about tiger's blood in his veins, Taymor recalled acting like a cat in Indonesia.

"(While climbing a volcano], I realize I can't go back the way I have come...I look at the line straight in front of me. And I got down on all fours like a cat. And I held with my knees to either side of this line in front of me - 30 yards or 30 feet, I don't know. The wind was massively blowing and the only way I could get to the either side was to look at the line straight in front of me."

Sheen has set a world's record for number of Twitter followers in the shortest time span. Taymor's production has set a world's record for the longest time in previews - more than 100.

Sheen has filed a lawsuit wanting more money. Taymor wants more money and is threatening to keep her script.

Both Sheen and Taymor need a long rest.

Sheen could use some extended close observation and medication to get his life back on track. Taymor could use a Deluxe Spa Package with aroma therapy to help her return to the focused creative genius she once displayed.

Two And a Half Men has been shut down and no one is too sure about its fate. Rumors persist of re-writing, and forging onward - or not. Spider-Man shuts down April 19 and no one is too sure about its fate. There will be re-writing and forging onward - or not.

Sad.



Broadway To Vegas is supported through advertising and donations. Priority consideration is given to interview suggestions, news, press releases, etc from paid supporters. However, no paid supporters control, alter, edit, or in any way manipulate the content of this site. Your donation is appreciated. We accept PAYPAL. Thank you for your interest.



ART AND ABOUT


MARILYN: HOLLYWOOD ICON

Marilyn Monroe on the set of Gentleman Prefer Blondes © Sunset Boulevard/Corbis.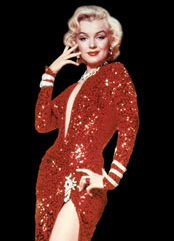 Part of the American Museum in Britain's 50th anniversary celebrations will be this intriguing show, featuring twenty of the screen goddess's gowns and outfits, original photographs and posters, and personal items, all kindly loaned by David Gainsborough Roberts, who has one of the largest collections of Marilyn Monroe memorabilia.

"I am not interested in money. I just want to be wonderful." Marilyn Monroe (1926 – 1962)

The life lived by Marilyn Monroe is a tale of triumph and tragedy. Marilyn - Hollywood Icon is a celebration of the enduring legacy of the fabulous blonde who gentlemen (and the rest of us) continue to prefer above all others. Unlike other 'Marilyn' exhibitions of recent years, the American Museum's 50th anniversary extravaganza will be packed full of costumes actually worn by Monroe. The twenty costumes on display are not replicas but the real thing – just like the lady herself. These include:

The pink 'wiggle' dress from Niagara (1952) – Marilyn's first major role that established her 'blonde bombshell' image.

The red sequined gown she wore in Gentlemen Prefer Blondes. (1953) which is pictured.

The green show costume Marilyn wore in Bus Stop (1956) – a performance which won her a Golden Globe.

The iconic cocktail dress from Some Like It Hot (1959) in which Marilyn crooned I'm Through With Love.

The bikini she wore in The Misfits (1961), her last completed film.

Personal items owned by Monroe will also be exhibited here for the first time in the UK. Poignantly, these include the silver ring given to the star by her disturbed mother, Gladys, who spent most of her life in metal institutions – as did Marilyn's grandparents.

This is the only museum of Americana outside the United States.

March 12, 2011-October 30, 2011 at the American Museum of Britain in Bath, England.

MUSEUMS IN CHINA have lines around the block since a policy of free admission was initiated recently. The Shanghai Art Museum had a record 12,099 visitors on the first day of the no charge policy, eight times its usual 1,500 daily visits when the admission entry fee was $3. News accounts reported that lines began forming as early as 4 a.m. Another 4,000 to 5,000 visitors filled the museum the following day, despite rainy weather.

In Beijing, the National Art Museum of China (NAMOC) also opened its doors to the public for free on March 2, and has since welcomed some 6,000 visitors every day.

The free museum policy is also in place in seven other galleries in Jiangsu, Guangdong, Shaanxi, Hubei and Beijing. On February 10, the Ministry of Culture and Ministry of Finance promised that the public would have free access to all public art galleries within two years.


THE MUSIC GOES ROUND AND ROUND


THE SECRET LIFE OF WALTER MITTY Music by Leon Carr, lyrics by Earl Shuman, book by Joe Manchester based on a short story by James Thurber. Directed by Mervyn Nelson.

Starring Marc London, Lorraine Serabian, Cathryn Damon, Christopher Norris, Rudy Tronto, Eugene Roche, Charles Rydell, Lette Rehnolds and Rue McClanahan.

Thurber's The Secret Life centered around milquetoast Walter Mitty and his mental flights of fancy where he imagined himself a naval hero, ace surgeon, expert marksman and wartime pilot.

The Secret Life of Walter Mitty was adapted to the stage by Thurber as part of the 1960 Broadway Theater revue A Thurber Carnival. The story was again adapted for the stage in 1964, this time by Manchester, which is this version.

Recently released on CD by Masterworks Broadway, The Secret Life of Walter Mitty is a charming, delightful, full of hope, musical treat.

This musical version depicts Mitty at age 40, tempted by would-be chanteuse Willa De Wisp to leave his wife Agnes and really live The Secret Life.

The musical opened off-Broadway at the Players Theatre on October 26, 1964, and ran for 96 performances. Time Magazine referred to the musical's plot as having been "boldly extrapolated" from the short story, and called the result "a thoroughly pleasant musical evening". That same year Columbia Records issued an original LP cast recording.

This CD reawakens the wonder of Thurber and what a joy the 60s musicals were in a decade which is called the Golden Age of the Broadway musical.

The premise is as fresh today as it was when written and everyone can relate to a life - or at least those problem phases - when daydreaming is the coping mechanism of choice.

The Secret Life of Walter Mitty is basically a love story - of what was a passionate love; a marriage which has slowly eroded under the corrosive pressure that's caused by the passing of time.

As Mitty faces another day he imagines himself before a firing squad (The Walter Mitty March). What gives his life hope is his adoring daughter, Peninnah played by Christopher Norris. If only he could flee all the bickering and go Walking With Peninnah, a bouncy, uplifting ditty about a peanut butter smile and how each makes life better for the other.

Mitty is stuck in a demoralizing, dead end job - Drip, Drop, Tapoketa,

He wonders why his marriage to Agnes has deteriorated. In the heartbreakingly beautiful and poignant Aggie, Mitty ponders: "Once I made you dream; now I make you scream, what happened? Once I was your prince. Now I make you make you wince. Aggie, what happened? Once you were my life, Aggie. Now, you're just my wife. Oh, Aggie, what happened?"

In the Aggie (Reprise) Agnes (Lorraine Serabian) wistfully shares his musings. "Once I was your love, Walter, Walter. Now I'm just your wife. Oh, darling, what happened? Whose at fault? Now, it's Agnes and Walter, but once it was Aggie and Walt".



Marc London (Walter Mitty) at the recording session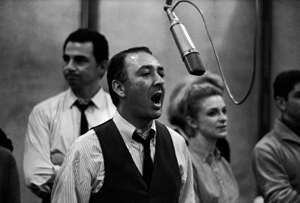 The daily honey-do list is brought to song in Don't Forget.

Mitty is 40 and a mid-life crisis hasn't escaped him in Now That I Am Forty; "by forty, I'd be a millionaire once or twice." Instead, forty has only come to mean "a wife, a child, a mortgage and a second-hand Chevrolet."

At Harry's Bar, his only refuge from the burdens of the world, Mitty falls into conversation with Willa de Wisp (Cathryn Damon), a tippling nightclub singer who dreams of stardom and fame. Her immediate problem, however, is a health fanatic boyfriend, Irving Kornfeld (Charles Rydell), who wants to build her up, marry her, and transplant her to his Oregon farm. But Willa believes that Marriage Is for Old Folks. Also on hand to denounce marriage to Mitty is an old college pal, Fred Gorman (Eugene Roche), now a philandering blowhard whose uncomplicated credo is Hello, I Love You, Goodbye.

Suddenly Mitty fancies himself as a bon vivant, surrounded by adoring and beautiful women and dreams of running away.

Mitty imagines himself a great impresario with Willa as the star of the Folies de Mitty, doing a torrid nightclub solo for him, a hilarious caricature of a French chanteuse (Fan the Flame). In Two Little Pussycats, a pair of Fred Gorman's slighted lady friends, Hazel (Rue McClanahan) and Ruthie (Lette Rehnolds), solicit sympathy.

The next morning, suffering from a hangover, Mitty realizes that Peninnah gives his life meaning and Agnes gives it order and stability. Willa, Irving and Fred Gorman are Lonely Ones whose lives have no real direction. Besides, when Agnes's well-intentioned nagging gets too much for him, there's always The Secret Life.

If you need to get revved up with a musical B-12 shot, play the Confidence track and then get out there and conquer the day.

Original producer: Thomas Z. Shepard. Transfer engineer/Mastering and Restoration: Brian Losch, Long Tail Audio, New York City. Recorded on November 9, 1964 in New York City.

The arrangements by Ray Ellis are gold. Eliis is an expert on how to make the most of individual instruments, not just instrument sections. He's permitted the flute to be blown to advantage in several numbers. The xylophone and bongos in Fan the Flames deliver the message, as does the bass in Two Little Pussycats. There is also a harpist that knows how to stroke those strings.

The orchestra ensemble is conducted by Joseph Stecko.

Tracks:

Prologue: The Secret Life / The Walter Mitty March
Walking with Peninnah
Drip, Drop, Tapoketa
Aggie
Don't Forget
Marriage Is for Old Folks
Willa
Confidence
Hello, I Love You, Goodbye
Fan the Flame
Two Little Pussy Cats
Now That I Am Forty
You're Not
Aggie (reprise)
Lonely Ones
The Walter Mitty March (reprise) / Epilogue: The Secret Life


THE SAHARA HOTEL IN LAS VEGAS TO CLOSE
Shelley Berman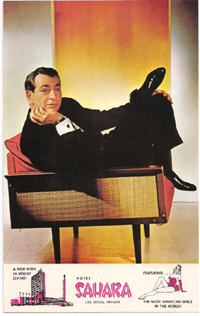 Betty Hutton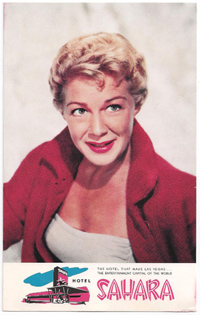 Once one of the hotels for performers, the Sahara Hotel in Las Vegas will close on May 16, citing that it is no longer financially viable to keep the doors open. The hotel opened in 1952 with Ray Bolger as the headliner.

The Sahara is the hotel where the Beatles were set to perform. When the crowds became too large, the event was moved to the Convention Center, although all of the Beatles stayed at the hotel.

The Sahara is where Bette Midler made her Las Vegas debut, opening the show for Johnny Carson. It's where Liza Minnelli opened for Buddy Hackett. The Hackett performances had a warning sign outside the showroom that offensive language was part of his show. It was one word - ass - which Hackett used in a medical story explaining the base of the spine. Of course, there was that one time he walked on stage naked, save for a silver dollar instead of a fig leaf.

Before he took home a Tony, the late Cy Coleman took home a paycheck from starring in the Sahara's lounge.

The Sahara is where Eleanor Powell returned to the stage for the first time in 14 years on February 28, 1961.

It was when Jerry Lewis was starring at the Sahara that Frank Sinatra decided to reunite Lewis with Dean Martin. Sinatra showed up one night with Martin in toe. The two walked on stage, reuniting Martin and Lewis for the first time since their nasty split.

Many stars not only performed at the Sahara but recorded their shows, which were turned into LP's. There was an aura of excitement about buying an album that was actually recorded during a Las Vegas performance. Sin City stars converted that knowledge into record sales.

Television's Kojak, the late Telly Savalas, actually performed on the Sahara stage in a terrible but charming song and dance performance. He even recorded the show as an album. Isaac Hayes made an album at the Sahara as did Vinnie Falcone and his Jazz Organization. Don Rickles preserved his act as an LP called Hello, Dummy. The Ray Anthony Show was recorded live at the Sahara. Louie Prima and Keely Smith recorded The Wildest on the Sahara stage, an attempt by Capitol Records to capture the essence of the Vegas act. They also waxed another LP, Louis & Keely: Live at the Sahara. Connie Francis also used the Sahara stage for her Live at the Sahara album, which was featured as album of the week on 150 radio stations. There was a recording made of Judy Garland backstage at the Sahara. Garland worked several weeks at the Sahara in 1963. For the last two weeks of that gig she had a 2 a.m. show.

Boxer Sugar Rae Robinson took to the stage with a good tap dance act.



Mae West performing at the Sahara Hotel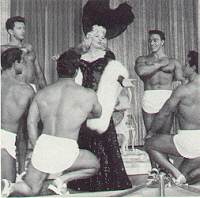 Steve Allen taped a television special in the showroom. A series of Zsa Zsa Gabor's Celebrity roasts took place there with entertainers Sid Caesar, Henny Youngman, Foster Brooks, Slappy White, Jackie Gayle and Freddie Roman.

A few of the stars who proudly called the Sahara showroom home were; Abbot and Costello, Morey Amsterdam, Eve Arden, Eddie Arnold, Edgar Bergan and Charlie McCarthy, Tony Bennett, Milton Berle, Pat Boone, Victor Borge, Teresa Brewer, David Brenner, George Burns, Pat Buttram, Lynda Carter, Don Cherry, Alice Cooper, Norm Crosby, Mac Davis, Bobby Darin, Leo Diamond, Marlene Dietrich, Nelson Eddy, Totie Fields, Wayland Flowers and his puppet Madame, Tennessee Ernie Ford, Redd Foxx, Sergio Franchi, David Frye, Judy Garland, Gaylord and Holiday, George Gobel, Frank Gorshin, Robert Goulet, Shecky Greene, Sonja Henie, The Mary Kaye Trio, Fernando Lamas, Jerry Lee Lewis, Shari Lewis with Lamb Chop, Liberace, Rich Little, Dave Madden, Guy Marks, Marilyn Michaels, The Mills Brothers, Jan Murray, Jeannette McDonald, Barbara McNair, Jim Nabors, Ricky Nelson, Donald O'Connor, Martha Raye, Rowan & Martin, Irene Ryan, Nelson Sardelli, Neil Sedaka, Doc Severenson, Phil Silvers, Suzanne Somers, Sonny and Cher, Nancy Sinatra, Kay Starr, Steve & Eydie, Tina Turner, Jerry Van Dyke, Andy Williams, Joe Williams, Paul Williams, Paul Winchell, and Esther Williams.

The original Ocean's Eleven was filmed at the Sahara - among other hotels - in 1960. The movie starred Frank Sinatra, Dean Martin, Sammy Davis and Peter Lawford. Elvis Presley was offered a Sahara contract but Col. Parker turned it down because he wanted more money. That didn't stop Presley from frequenting the place. He stopping by at night and watched Freddie Bell and the Bellboys perform in the lounge. Presley particularly enjoyed Bell singing the Presley hit Hound Dog.


SWEET CHARITY


JOHN STAMOS

John Stamos
who announced on Friday that he isn't interested in replacing Charlie Sheen on Two and a Half Men, will be honored by Project Cuddle at their 2011 annual Dinner by the Bay event, to be held at The Hilton Long Beach and Executive Meeting Center on Saturday, March 19.

Gary Eisenberger and Marc Alexander will host.

This year's theme is a fun-filled Aloha spirited party. Come dressed in your best Hawaiian clothes and join in on the fun. The Surf City All-Stars will provide entertainment. There is also an auction and, of course, cocktails and dinner.

All proceeds from this event will benefit Project Cuddle. Since its inception, Project Cuddle has saved over 600 of babies across the country and into Canada from the fate of being abandoned, or worse. John Stamos who has starred on Broadway in Bye Bye Birdie, Nine, and Cabaret. is the National Spokesperson for the organization. With John's help, the charity has been able to create a school video to educate students on the importance of calling for help instead of abandoning your baby.

The organization says statistics indicate that 57 children are abandoned every day.

TOVAH FELDSHUH will host The Broadway Beauty Pageant, benefiting The Ali Forney Center, NYC's primary housing resource for homeless LGBT youth. This year's contestants are: Matt Anctil, La Cage aux Folles; Michael Cusumano, Chicago; Raymond J. Lee, Anything Goes; Brandon Rubendall, Spider-Man: Turn Off the Dark; and James Tabeek, Mary Poppins.

Conceived by Jeffery Self and directed by Ryan J. Davis, The Broadway Beauty Pageant is musically directed by Christopher Denny. The evening is produced by Wil Fisher, Ryan J. Davis, Jeffery Self and Matthew Oberstein.

The trio of outstanding and hilarious judges are: Bruce Vilanch, the six-time Emmy Award winner comedy writer and actor, Rachel Dratch, best known for her years as a cast member of Saturday Night Live, and who is an award winning comic actress from Second City; and Carson Kressley, who was the fashion expert on Queer Eye, the host of the TV show How To Look Good Naked, and now hosts Carson-Nation on the Oprah Winfrey Network.

The previous winners have been: Charlie Williams (Mr. Memphis 2010), Anthony Hollock (Mr. Hair 2009), Marty Thomas (Mr. Xanadu 2008), and Frankie James Grande (Mr. Mamma Mia 2007).

Monday, March 21 at the Peter Norton Symphony Space in New York City.

The Ali Forney Center (AFC) was started in June 2002 in response to the lack of safe shelter for LGBT youth in New York City. They have grown quickly to become the nation's largest and most comprehensive organization dedicated to homeless LGBT youth. They are committed to providing LGBT youth with safe, dignified, nurturing environments where their needs can be met and where they can begin to put their lives back together. The center provides short and long term housing, plus free medical care, HIV testing, mental health services, showers, food, computer access and job training and placement at its drop-in centers in Chelsea and Brooklyn.


GREENSBURG TORNADO RECOVERY TRANSFORMED INTO PLAY


On the evening of May 4, 2007, Greensburg, located in Southwest Kansas with a population of 777 at the 2010 census, was devastated by an EF5 tornado with winds of 20 mph that traveled for nearly 22 miles. The tornado was estimated to be 1.7 miles in width - wider than the city itself. Ninety-five percent of the city was confirmed to be destroyed, with the other five percent being severely damaged. The tornado killed twelve people between the ages of 46 and 84 years of age.

Prior to the 2007 tornado, there once stood Twilight Theatre, which first showed movies in 1915; and the downtown drug store, which featured an old soda fountain.

Greensburg-area citizens are now talking with artists about their experiences, which will be crafted into a script for a presentation in 2012. The performance will explore how this small Kansas prairie community, both individually and as a whole, has confronted effects of the tornado and how they are responding to the rebuilding efforts to transform the town into a model sustainable community. The community members themselves will be actors, set builders, costumers, and many other backstage jobs for the show, tentatively titled The Other Side of Oz.

Now, under the leadership of the William Inge Center for the Arts at Independence Community College, Kansas, and through a grant from the National Endowment for the Arts (NEA), the Greensburg community will share their incredible story in a unique way, creating a theatrical event about their ordeal and recovery.



Built in 1915, the S.D. Robinett Building was the only building in downtown Greensburg to survive the tornado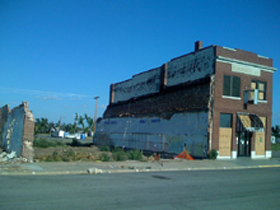 The Inge Center will use the $45,000 grant from the NEA to assemble a playwright, director and other artists to help shape this presentation, inspired by the accounts of those who survived the disaster and helped in its aftermath.

The artists are spending time in Greensburg in the following months, speaking with residents and listening to their inspiring stories. The collaborating artists are from ICC's William Inge Center for the Arts; playwright Marcia Cebulska, of Topeka, Kansas; and Cornerstone Theater Company, of Los Angeles. The 5.4.7 Arts Center of Greensburg is the local partner, collaborator and community liaison.

"We want to hear what people have to say about home and community," said Cebulska, the playwright. "We value the perspectives of the people of Greensburg, and the nearby towns of Haviland and Mullinville, about neighborliness, recovery and rebuilding."

Amanda White, Inge Center Associate Artistic Director, says, "We have already spent some time getting to know Greensburg, and the community has our awe and respect for their strength and generosity. In hearing the stories of many people from the area, we are excited and impressed by the possibilities for powerful story-telling with this play."

An important partner in this project is the nationally renowned Cornerstone Theater of Los Angeles (CTC). CTC creates plays with and for people of many ages, cultures and levels of performing experience, focusing on specific community issues. Their motto is to "value the artist in everyone." Laurie Woolery, the Cornerstone Artistic Associate, will conduct "story circles" with residents, the first essential step of this artistic process.

"We hope that Greensburg will be as proud of the work that is created as the entire state is proud of Greensburg," said Peter Ellenstein, Artistic Director of the Inge Center. "As home of the Official Theatre Festival of Kansas, the Inge Center is thrilled to be part of this inspirational tale of Kansas citizens. We are particularly grateful to Stacy Barnes, executive director of the 5.4.7 Arts Center of Greensburg, for being such a generous collaborator," he added.

The name of the 5.4.7 Arts Center derives from the date of the tornado. The community decided to designate art as an essential part of the city's social and economic redevelopment, choosing to build the arts center as its first public building. It is the first structure in Kansas to receive a LEED (Leadership in Energy and Environmental Design) Platinum rating and exemplifies Greensburg's commitment to rebuild as a "green" town.

The William Inge Center for the Arts is a participant in the New Generations Program, funded by Doris Duke Charitable Foundation/The Andrew W. Mellon Foundation and administered by Theatre Communications Group, the national organization for the American theatre. Also, this program is presented in part by the Kansas Arts Commission, a state agency, and the National Endowment for the Arts, a federal agency, which believes that a great nation deserves great art.


SPREADING THE WORD


JON CRYER

Jon Cryer on the Conan show confessing that he really is a troll. Photo: Conan TBS.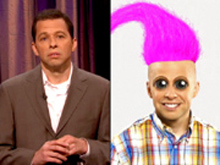 on last Thursday night's Conan talker, delivered a show stopping, clever confession and defense of himself after Charlie Sheen called him a 'troll.'


The funniest, double up laughing part, was Cryer's 'get it right, people' section where he explained the difference between an elf making cookies in a tree versus a troll on a back pack or dangling from a little girl's pencil.


Priceless.

Cryer's delivery was worthy of an Emmy.


However, it's too bad the person who wrote that brilliant piece wasn't given special acknowledgement when the credits rolled.

FOOTBALL GREATS SIGN LOMBARDI PLAYBILLS From March 15-20, see Lombardi on Broadway and have the chance to take your picture with the 1991 Vince Lombardi Trophy, awarded to the New York Giants upon their victory in Super Bowl XXV, on display in the lower lobby of the Circle in the Square Theatre.

You can also collect some autographs. Tuesday, March 15 former New York Giants punter Sean Landeta will be autographing Lombardi Playbills. On Friday, March 18th former New York Giants center Bart Oates will be signing his name and on Saturday, March 19, former New York Giants wide receiver Stephen Baker will putting down his John Hancock on the Lombardi Playbills, in the lower lobby at the Circle in the Square.

QUEEN ELIZABETH AND PRINCE PHILIP officially opened the newly updated Royal Shakespeare Company theatre. The Royal Shakespeare and Swan theatres reopened following a three-and-a-half-year transformation project. The remodel of the Theatre includes a new auditorium with more than 1,000 seats, a new restaurant, café, four bars, and a new riverside walk.

The Queen and The Duke were treated to a performance of the balcony scene from Shakespeare's Romeo and Juliet, a tour of the new facility and then met with actors from the company. Debbie Korley, who plays Ophelia in Hamlet, told the press that in looking forward to the royal visit the "anticipation was huge".

She added: "The Queen knew a lot about the production and was asking me quite a lot of questions about it. She also shook our hands, which was amazing, because we were told she wouldn't do that."

Over 1,000 people lined the streets to cheer their arrival.

LEE PACE AND JIM PARSONS will make their Broadway debuts in Larry Kramer's The Normal Heart which will open in the spring.

Emmy Award nominee Pace will play Bruce Niles and Emmy and Golden Globe winner Parsons will play Tommy Boatwright.

Tony winner Joe Mantello will play Ned Weeks, the hero of the drama about fear in the early days of the AIDS crisis. The cast will also include John Benjamin Hickey as Ned's lover, Felix Turner; and Ellen Barkin, in her Broadway debut, as Dr. Emma Brookner.

Tony Award winner George C. Wolfe, former artistic director of the Public Theater, will assist Tony winner Joel Grey in the direction of the drama. Wolfe who will not receive billing, will help supervise through opening night, which is scheduled for April 27, because Grey will be starring in the Broadway revival of Anything Goes. Performances for The Normal Heart the 12-week engagement will begin at the Golden on April 19 and run for 12 weeks.

PRINCE HARRY WANTS TO BEAT TOM CRUISE

Prince Harry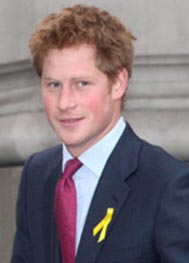 after serving as his brother's best man, the royal "spare" has agreed to race a Kia on Top Gear in their Star in a Reasonably Priced Car segment.

It has been reported that Harry is determined to beat Tom Cruise's record time when he takes part in the BBC2 show.

In July, 2010 to promote their flick Knight and Day, Cruise and co-star Cameron Diaz attended the U.K. premiere and then appeared on the popular BBC show.

Cruise toppled the show's previous record holder, Harry Potter star Ruper Grint, by more than a second.

Now Prince Harry wants to leave Cruise in his dust.

The 26-year-old is also going to be spending a lot of time in the Las Vegas area. Prince Harry, soon to enjoy a promotion to Captain Wales, has been selected for special training at the American Army's Yuma proving ground in Arizona where he will be taught how to use the Apache in a war scenario.

A Clarence House aide is quoted in the Daily Star as saying: "He's spent ten months learning how to fly an Apache and now he has to learn how to fight in it."

Yuma is only 231 miles from Las Vegas - a city which has a lot of clubs he might enjoy frequenting during his time off.


OTHER PEOPLE'S MONEY


CHARLIE SHEEN on Thursday, filed a $100 million lawsuit against Warner Bros. and Two and a Half Men producer Chuck Lorre. Sheen is also asking for punitive damages.

Sheen's lawyer Marty Singer drafted the suit. In addition to the demands and name calling one might expect in such a lawsuit, there is a very interesting and powerful claim - that Sheen was terminated when he was sick, which is a violation of California and Federal law.

That means that Sheen will put forth that he is physically and/or mentally ill.

Is Sheen guilty of moral turpitude as the studio claims or suffering from a physical or mental illness as his suit asserts?

Did Sheen miss his marks and forget his lines as the studio stated or did Chuck Lorre plot to get rid of Sheen as claimed by the Sheen lawsuit? Let cameras into the courtroom on this one and watch the ratings go off the charts.

THE NEVADA STATE FAIR is a victim of a budget short-fall. That means the annual Nevada event, which has taken place for the last 136 years, has been given the hook. Nevada is now one of only two states without an annual State Fair. The other state is Michigan.







2011 JONATHAN LARSEN GRANTS RECIPIENTS have been announced by the American Theatre Wing. The Jonathan Larson Grants were established in 1997. The grants have recognized and supported nearly one hundred composers, lyricists, bookwriters, and organizations to honor emerging talent and infuse the musical theatre community with new work.

The 2011 Grant recipients are:

Joshua Cohen and Marisa Michelson
Michelle Elliott and Danny Larsen
Jack Lechner, Andy Monroe and Michael Zam.

THE QUEENS THEATRE IN THE PARK Board of Directors announced the appointment of Ray Cullom as executive director. Cullom brings 20 years of experience in arts administration, programming and production. Prior to this appointment, he was managing director of the Long Wharf Theatre in New Haven, Conn.

Prior to his time at the Long Wharf Theatre, Cullom was the executive director for the Bethesda Theatre in Bethesda, Md., and the executive producer for Nederlander Worldwide Entertainment's BT Productions.

A Philadelphia native, Cullom graduated from the University of Chicago with a degree in Anthropology. He received additional education at the City University of New York/Brooklyn College in their acclaimed MFA Directing Program. Cullom is married with three children. He'll begin his new position later in March.

The Queens Theatre in the Park is located in Queens, NY.

LONDON'S DONMAR WAREHOUSE APPOINTS JOSIE ROURKE AS NEW ARTISTIC DIRECTOR Rourke takes up the position on January 1, 2012, taking over from Michael Grandage who steps down as Artistic Director at the end of this year after a decade in the role.

This appointment sees Rourke return to the Donmar where she trained on the company's Resident Assistant Director Scheme in 2000 – working alongside Michael Grandage, Nicholas Hytner, Phyllida Lloyd and Sam Mendes. As a director, her work for the Donmar includes Frame 312, World Music and The Cryptogram.

Rourke is currently Artistic Director for the Bush Theatre where she secured the Bush Theatre's future, by overseeing the company's move to old library building in Shepherd's Bush. The new building will open in Autumn this year.


STORK DELIVERY


MARTHA STEWART has a new title - grandmother. The baby girl named Jude was born to her daughter through a surrogate.

JOY BEHAR has become a first time grandmother to a cuddly boy, born to her daughter.






BENGAL TIGER AT THE BAGHDAD ZOO by Rajiv Joseph.

This play was finalist 2010 Pulitzer Prize for Drama.

Directed by Moises Kaufman who has helmed it since its beginning at the Kirk Douglas Theatre.

Two homesick American soldiers, a tormented Iraqi, and a displaced tiger collide on the streets of Baghdad in this arresting drama set against the backdrop of the Iraq War. Bengal Tiger at the Baghdad Zoo is an eerily surreal and darkly humorous play about the madness of life in war and what it means to be caught in the wrong place at the wrong time.

As the tiger haunts the streets of present day Baghdad seeking the meaning of life, he encounters Americans and Iraqis who are searching for friendship, redemption and a toilet seat made of gold.

Starring Robin Williams in his Broadway debut as an actor, not a comic, in the title role - playing a tiger who talks.

Williams who has superstar status everywhere, including Las Vegas, was originally rejected by Las Vegas hotel executives. Williams first gained fame when he starred as Mork in the 1978-1982 hot television series Mork and Mindy. During that time frame if you starred in a hit television series you were booked for a gig in Las Vegas. It didn't matter if you didn't sing or dance, the entertainment honchos reasoned that the star would sell tickets to the small screen fans.

I was writing the Las Vegas Silver State special for Billboard and I asked Tony Zoppi, who was a powerful publicity/entertainment guru at the Riviera Hotel, if he planned to bring in Robin Williams, who seemed to me to be someone with a lot of hidden talent.

Zoppi didn't agree. According to Zoppi, Williams was the exception to the television star gets a Vegas contract rule. In affect Zoppi told me that he felt Williams had no or limited talent and nobody would pay money to see him perform. I printed some of his comments.

There is always one bonehead move by a Vegas hotel and this was Zoppi's and I've never let him forget it.

Bengal Tiger at the Baghdad Zoo was selected as an NEA Outstanding New American Play as part of the NEA New Play Development Program, hosted by Arena Stage. It is also a recipient of an Edgerton Foundation New American Plays Award. The world premiere took place at the Kirk Douglas Theatre in June, 2009. The following April the production opened next door at the Mark Taper Forum. In previews with an official March 31 opening at the Richard Rodgers Theater in New York City.

CHARLIE SHEEN'S VIOLENT TORPEDO OF TRUTH/DEFEAT IS NOT AN OPTION SHOW a one-man rant, written and performed by the embattled, high-profile actor Charlie Sheen.

Scheduled performances on April 2, at Detroit's Fox Theatre and the next night at the Chicago Theatre. Tickets went on sale yesterday at Ticketmaster, priced at $45 to $84, including fees.

On the Ticketmaster site, Sheen touts the show as follows:

"Will there be surprises? Will there be guests? Will there be mayhem? Will you ask questions? Will you laugh? Will you scream? Will you know the truth? WILL THERE BE MORE?!?! This IS where you will hear the REAL story from the Warlock. Bring it I dare you to keep up with me. FOR MATURE AUDIENCES 18+ OVER"

ALL MY SONS written by Arthur Miller. Directed by Valerie Curtis-Newton.

In 1947 Seattle, the home fires are still burning. In Arthur Miller's Tony Award-winning family drama, the issues that surface are just as compelling today as when the play debuted in 1947.

When a memorial tree planted for the Keller's oldest son Larry falls during a storm, a series of unsettling events unfold for the family. As faces from the past drop in, neighbors cast questioning looks and a haunting hidden scandal has Joe fighting to stay in the good graces of the only son he has left.

"I don't see how you can write anything decent without using the question of right and wrong as the basis," said Arthur Miller.

Director Valerie Curtis-Newton redefines this quintessential American family drama and in the process, audiences will see the play's universal themes in a whole new - and perhaps more profound - light. Artistic Director of the Hansberry Project, Curtis-Newton sets the play in Seattle's Central District in order to explore an African-American family. Within our own backyard is All My Sons, a timeless exploration of the high cost of pursuing the American Dream.

Starring Tony Award winner Chuck Cooper as Joe Keller. The cast also includes; Margo Moorer, Reggie Jackson, Nicole Lewis, Shanga Parker, Bradford Farwell, Carol Roscoe, Geoffery Simmons, Khatt Taylor and Jonah Schmidt.

March 18th - April 17th 2011 at the Intiman Theatre in Seattle.

SOUTHERN COMFORTS written by Kathleen Clark. Directed by Jules Aaron.

Starring four-time Emmy award-winning actress Michael Learned and veteran actor Granville Van Dusen.

Southern Comforts follows the development of a December-December relationship between a feisty widow and a crusty widower who find love late in life.

Previews begin March 15 towards the official opening of March 18 with performances through April 10 at the International City Theatre in Long Beach, CA.

'S WONDERFUL directed by Ray Roderick incorporates 5 mini-musicals inspired by the real events occurring in and around the lives of the Gershwin brothers, this all-singing, all-dancing theatrical revue illustrates their impact on the world then and now.

The story begins in New York City in 1916, then moves on to Paris in the 1930s, Hollywood in the 1940s and New Orleans in the 1950s. 'S Wonderful takes audiences on a ride to the different places, times and musical styles that made the Gershwin brothers the most successful songwriting team in the history of popular music.

'S Wonderful is filled with the legendary music of the Gershwin brothers and includes more than 40 timeless classics including Rhapsody in Blue, Fascinating Rhythm, Strike Up The Band, Let's Call The Whole Thing Off, Nice Work If You Can Get It, Summertime, I've Got Rhythm, Someone To Watch Over Me, Funny Face, and many more.

The creative team includes Richard Hip-Flores (musical supervision and arrangements), and Vince Pesce (choreography).

The production had its world premiere at The Pittsburgh CLO. This performance is the first national tour of the show. Sunday, March 20, 2011 at Brooklyn Center for the Performing Arts in Brooklyn, NY.

SINATRA: DANCE WITH ME extended again at Wynn Resorts in Las Vegas.The Twyla Tharp creation now has performances through April 30. ( See Broadway To Vegas column of October 24, 2010 )

JAMAICA, FAREWELL written and performed by Debra Ehrhardt. Directed by Joel Zwick.

Debra Ehrhardt's solo show Jamaica, Farewell, based on a mostly true story about her journey to the USA from Jamaica in the turbulent 1970s of the Manley Era, is billed as "a hilarious and touching story of how one woman risked everything in order to fulfill her lifelong dream of starting over in America. Debra's tour de force performance is a wild roller coaster ride of suspense, intrigue, seduction, humor and manipulation brought to you from the producer of My Big Fat Greek Wedding, Rita Wilson. After successful runs in London, the Edinburgh Fringe and New York, Debra brings her thrilling tale to Burbank."

March 16 - April 17, 2011 at the Falcon Theatre in Burbank, CA.

SAINT CARMEN OF THE MAIN by Michel Tremblay. Allen Cole Musical Director and Composer. Translated by Linda Gaboriau. Directed by Peter Hinton.

Featuring the NAC English Theatre Company members: Patricia Cano, Réjean Cournoyer, Diane D'Aquila, Nicolas Di Gaetano, John Doucet, Randi Helmers, Ron Kennell, Jani Lauzon, Jean Leclerc, Kevin Loring, James Stuart Macdonald, Alex McCooeye, Robert Persichini, Jackie Richardson, Karen Robinson, Laara Sadiq, Katie Swift, Dayna Tekatch and Joey Tremblay.

Carmen is a Country & Western singer who returns to Montreal from Nashville and begins to write her own songs - about real people and real problems, all in a language they understand. Soon she becomes an inspiration for the oppressed; their sun, their idol, their voice. However, a question arises. While it may be good to "wake people up," what do you do with them once they are awake?

Created in 1976 on the eve of the referendum, Saint Carmen of The Main is one of Michel Tremblay's most important plays. Set in the nightclubs on Montreal's infamous St. Laurent Boulevard, known locally as 'The Main', the play unfolds as a twentieth century "Greek tragedy" with its underworld goddesses and heroes, monsters and myths, exploring the nature of rebellion and cultural identity.

Paula Danckert - Dramaturg; Todd Duckworth - Assistant Director; Eo Sharp - Set & Costume Designer; Bonnie Beecher - Lighting Designer; Emily Porter - Sound Designer; Michael Hart - Production Stage Manager; Samira Rose - Assistant Stage Manager.

March 16 - April 2 National Arts Centre in Ontario, Canada.


WHO'S WHERE


KATY PERRY on stage Monday, March 14, at the Sporthalle in Hamburg,Germany. On Tuesday she can be enjoyed at the Heineken Music Hall in Amsterdam, Netherlands. On Thursday she opens a three night engagement at the Hammersmith Apollo in London.

CHRIS BOTTI has a busy week in Florida. On Monday, March 14, he performs at the Philharmonic Center for the Arts in Naples. Wednesday's show is at the King Center in Melbourne. On Thursday he's on stage at the Kravis Center in West Palm Beach. Friday he'll be blowing his horn at the Broward Center for the Performing Arts in Fort Lauderdale. Saturday his tour stops at the Van Wezel Performing Arts Hall in Sarasota. Next Sunday, March 20, he's in the spotlight at Ruth Eckerd Hall in Clearwater.

SIR JAMES GALWAY performs Monday, March 14, at Disney Concert Hall in Los Angeles.On Wednesday he'll be on stage at the Kravis Center in West Palm Beach, FL. Thursday the show is at the Broward Center for the Performing Arts in fort Lauderdale, FL. On Saturday he can be enjoyed at the Grand Opera House in Galveston, TX.

FRANKIE AVALON IN CONCERT In 1959 alone, Avalon garnered six Top 40 hits, including Venus, Why and Bobby Sox to Stockings. His starring roles in the highly successful Beach Party series during the '60s made Avalon an iconic figure of American films. Now, he performs his hits in a special one-night-only concert on March 19, at the La Mirada Theatre in La Mirada, CA.

LINDA EDER on stage March 19 at the Scottish Rite Auditorium in Cottingswood, NJ. Eder's tour coincides with the release of her latest album Now. ( See Broadway To Vegas column of February 27, 2011 )

THE CELTIC TENORS perform March 16-`7 at the Maltz Jupiter Theatre in Jupiter, FL.

THE NEW ENGLAND IRISH HARP ORCHESTRA and Réagánta bring Ireland to Boston with harps of many shapes and sizes. The performance will include Irish step dance and audience participation. this event is free. Saturday, March 19 at the JFK Library in Boston.

JAMES BLUNT is on stage at the Mediolanum Forum in Assago, Italy on Monday, March 14. On Wednesday the show is at the Wiener Stadthalle in Vienna, Austria. Thursday's show is at the Arena Numberger Versicherung in Nuremberg, Germany. On Friday he can be enjoyed at the Messehalle in Erfurt, Germany. Saturday's performance is at the 02 World in Berlin.

CHARLIE MUSSELWHITE in an evening gig Saturday, March 19, while The Alfredo Rodriguez Trio does its turn in an afternoon performance. The Club Regent of the Fairmont in San Jose, CA.

REBECCA SPENCER has an upcoming performance and her husband, who handles her publicity, E-mailed Broadway To Vegas a release seeking free publicity. Careful what you wish for. His unsolicited release with photo, plus attachments locked up my computer.

Spencer made her Broadway debut in Jekyll & Hyde as swing/Emma understudy. The part of Emma was played by Christiane Noll. I actually saw Spencer perform the part and wrote favorably about the experience. ( See Broadway To Vegas column of June 8, 1998 ) I have no idea how many times Spencer actually performed the role.

Spencer was cast as Madame Giry in the Las Vegas show Phantom of the Opera: The Las Vegas Spectacular, an abridged 90 minute version, which necessitated massive dialogue cuts, although the songs remained intact. I also reviewed that show. ( See Broadway To Vegas column of June 25, 2006 ) Spencer took enormous, angry, exception to my reference to her spoken lines (from where I was seated I could hear her speak only one line) and left a lengthy, rambling, hysterical message on my answering machine - a message which included nasty comments about my professional ability, Broadway To Vegas and threats as to what she intended to do to put down Broadway To Vegas. She even described the strategy which would involve one of her stage co-workers and another, a woman who has a history with us. That woman wanted to work for Broadway To Vegas, even for free. When her offer was declined, she also left E-mails and phone messages warning that she was going to take on Broadway To Vegas. She is now part of another website. Broadway To Vegas saves - in perpetuity - questionable E-mails and phone messages. This week Rebecca Spencer can be enjoyed in a one-night North American performance. The lady can sing. There is no reason the audience shouldn't enjoy the evening.


FINAL OVATION


HUGH MARTIN the composer of Meet Me in St. Louis died March 11. He was 96.

He was both a Tony Award and Academy Award nominee.

Martin wrote the scores for several Broadway musicals, including Best Foot Forward (1941), Look, Ma, I'm Dancin' (1948), Make a Wish (1951); and High Spirits (1964); and did musical and vocal arrangements for the likes of Cole Porter, Irving Berlin and Richard Rodgers. He made his Broadway debut in 1937, both performing and doing the musical arrangements for Hooray for What!, a show which also featured future collaborator Ralph Blane.

Martin was a vocal or choral arranger for such later Broadway musicals as The Boys From Syracuse (1938–39), Too Many Girls (1939–40), DuBarry Was a Lady (1939–40), Cabin in the Sky (1940–41), and Gentleman Prefer Blondes (1949–51),Top Banana (1951–52), and Lorelei (1974). He was also one of the vocal arrangers for Sugar Babies (1979–82).

Hugh Martin was a member of the Songwriters Hall of Fame and Alabama Music Hall of Fame and lived in Encinitas, California.








Next Column: March 20, 2011
Copyright: March 13, 2011. All Rights Reserved. Reviews, Interviews, Commentary, Photographs or Graphics from any Broadway To Vegas (TM) columns may not be published, broadcast, rewritten, utilized as leads, or used in any manner without permission, compensation and/or credit.
Link to Main Page
---
Laura Deni



For the snail mail address, please E-mail your request.
CLICK HERE FOR COMMENT SECTION