! >
Broadway To Vegas
  
  REVIEWS  INTERVIEWS COMMENTARY NEWS

| | |
| --- | --- |
| | |
NEW ZEALAND EARTHQUAKE DAMAGES COURT THEATRE - - LENA HORNE ESTATE EXCEEDS ESTIMATES - - BRIAN MAY AND ROGER TAYLOR OPEN THEIR STORMTROOPERS IN STILETTOS EXHIBIT - - LINDA EDER CD NOW REVIEW - - THE BOOK OF MORMON BEGINS BROADWAY PREVIEWS - - THE FOUR PREPS STAR IN THE PALM SPRINGS FOLLIES - - NEW ELVIS PRESLEY EXHIBIT OPENS - - AMBITIOUS EDWARD ALBEE FESTIVAL - - DONATE . . . Scroll Down



NEW ZEALAND EARTHQUAKE RATTLES COURT THEATRE AND DISRUPTS TOUR OF LAS VEGAS STAR
The Court Theatre in 2009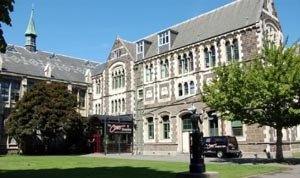 New Zealand and Australian performing arts communities are probably wondering what they ever did to offend the weather gods.

Floods in Australia caused major damage to performing arts centers. When Christchurch, New Zealand was hit by the massive earthquake last September 4 the famed Court Theatre was grateful their damage appeared to be superficial. ( See Broadway To Vegas column of September 5, 2010 )

Last Monday's 'aftershock' has added a new chapter to the dramatic saga.

"Everyone who was in The Court Theatre at the time of the earthquake got out of the building uninjured and, as far as I know, our staff are safe and coping as best they can," Jeff Clark the publicist for the Court told Broadway To Vegas.

The Court Theatre is Christchurch's only, and New Zealand's foremost, theatre company offering entertainment of the highest quality throughout the year. The venue employs professionals from around the country and internationally, and at any one time there can be up to 100 people working full-time.

"The buildings themselves have been severely effected; the extent of which remains to be seen but there is a lot of external cracking etc," continued Clark.

"At this stage we don't know when we can return to the buildings nor when performances will resume," he added.

"We're just praying for the rest of Christchurch at this stage!"

Considered the most successful arts organization in New Zealand and housed in the heart of Christchurch City's Arts Centre since 1976, The Court operates two performance spaces. Court One seats 291 in an intimate, "semi-thrust" stage and is in operation throughout the year, staging at least eight productions each season totaling approximately 270 performances annually. Each season provides a mix of New Zealand works, modern international theatre and classics.

The Forge seats 123 in a "box" setting with the audience seated on two sides. Until recently used as a "hosting venue" by touring or independent productions, from 2007 The Forge is The Court's staging ground for challenging international, local and devised works presented to an adventurous audience wanting edgy and contemporary theatre.

What was being mounted when the shaking rolled in was Midnight in Moscow by Dean Parker with Ross Gumbley directing.

The storyline takes place in Moscow 1947. The New Zealand embassy becomes embroiled in intrigue when rumors emerge that they have a spy in their midst. Loyalties to self, each other and country are tested as suspicion swirls around a group of Kiwis a world away from home.

Director Gumbley commented: "One of the classiest New Zealand scripts to appear in a long time. Parker's play tells the story of New Zealand's role in the Soviet Union's acquisition of secrets which led to the construction of Russia's first nuclear bomb."

"Stylish and captivating, this new play from Dean Parker presents a side of New Zealand seldom seen on stage."

The world premiere which opened February 19 got a quick curtain with the earthquake hitting February 22. The production was to have run through March 19.



All proceeds from the February 27th production of Well Hung at the Auckland Theatre Company will be donated to the Court Theatre.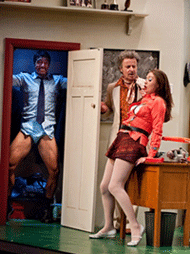 The Auckland Theatre company immediately began collecting donations with officials reporting that "people were handing over 50 dollar notes. We'll be collecting throughout Well Hung and Poor Boy," stated the message which referred to the current as well as the next production. Well Hung plays through March 5.

Their official release stated: "Auckland Theatre Company will donate the proceeds from a series of performances and other events to organisations in Christchurch over the coming months. The first dedicated fundraising performance will be this Sunday's (27 Feb) performance of Well Hung at the Maidment Theatre."

"All the ticket proceeds of this performance will be donated to our sister organisation in Christchurch, The Court Theatre."

"The Arts Centre (which houses The Court and other arts organisations) has been extensively damaged and the theatre will be closed for a period."

"Auckland Theatre Company has very close ties with the Court - a number of staff here have been on staff there in the past and a lot of actors, designers and directors have worked on productions there in the past."

"Auckland Theatre Company wants to make sure the theatre is full for this performance to maximize the donation it can give to the Court."

Well Hung is explained as; "Fawlty Towers meets Fred Dagg in Auckland Theatre Company's revival of the kiwi retro classic. With mistaken identities, police cock-ups and more broom-cupboard action than Boris Becker could dream of, Well Hung is deliciously funny, furious, farcical Kiwi comedy at its best."

Starring Pua Magasiva, Adam Gardiner, Dena Kennedy and Simon Ferry as the feisty inhabitants a small rural town shaken by a double murder in the midst of the Blossom Festival, Well Hung pokes fun at bungled police procedures. Robert Lord (1945-1992) was the first Kiwi playwright to successfully cater to a local audience's appetite for comedies that satirized recognizable New Zealand stereotypes and events."

Throughout the 1980's Lord was based in New York, a city he loved. His script Well Hung was warmly received at the Trinity Square Repertory and he became a leading figure in the New Dramatists group. Well Hung premiered at Downstage Theatre Wellington in 1974. Lord subsequently rewrote it as Country Cops in 1985.

Directed by Ben Crowder, the script editor is Stephen Sinclair. Set design by Andrew foster. Costume design by Elizabeth Whiting. Brad Gledhill is in charge of lighting and sound design.

Among the performance events cancelled are: Queens of the Stone Age at the Christchurch Town Hall for Performing Arts; Will Martin at the Issac Theatre Royal; the 2011 French Film Festival at the Regent; Hypnolarious at the Isaac Theatre Royal; Michael Jackson Tribute - HIStory Show which was due to have opened on March 1 at the Timaru Theatre Royal, transferring to the Isaac Theatre Royal on March 4 and then being staged at the Nelson Theatre Royal on March 7.

The star of HIStory is Las Vegas impersonator Kenny Wizz who spent 11 years performing as the Michael Jackson tribute artist in the Splash production show at the Riviera Hotel.

Wizz still calls Las Vegas home and was signed by Showtime Australia to tour his revue down under.

The production is billed as: "Headlining the show Direct from Las Vegas the world's # 1 Michael Jackson impersonator, Kenny Wizz - will bring to the world audiences the chance to relive the legend. Together with a band of talented musicians, fully choreographed dancers, authentic costumes and amazing production HIStory is the recreation of what the fans want - a Michael Jackson concert!"

"This musical biography will take you back to the Jackson 5 and then on a thrilling journey as hit after hit tells the story of one of the greatest pop icons the world has ever known. HIStory features over twenty songs - all performed live by Kenny - including ABC, Ben, Smooth Criminal, Beat It and many, many more."

"Michael Jackson remains the undisputed King of Pop and one of the greatest stars of all time - HIStory celebrates his extraordinary talent."

HIStory will resume on March 9 at the St. James Theatre and Opera House in Wellington, New Zealand and continues on tour through June in various parts of Australia including Melbourne, Toowoomba, Brisbane, Penrith, Sydney, Wollongong, Canberra, Gold Coast and Newcastle. Following Geelong, the tour will conclude in Adelaide.

British search and rescue teams have already made their way to Christchurch, as have teams from the US. On Saturday New Zealand officials stated that a third of the buildings in central Christchurch may need to be demolished and rebuilt.

Hopefully it won't be long before the good people of Christchurch can walk on solid ground and once again enjoy a variety of live productions.



Broadway To Vegas is supported through advertising and donations. Priority consideration is given to interview suggestions, news, press releases, etc from paid supporters. However, no paid supporters control, alter, edit, or in any way manipulate the content of this site. Your donation is appreciated. We accept PAYPAL. Thank you for your interest.



ART AND ABOUT


COUNTING SHEEP

Counting Sheep by Kyu Seok Oh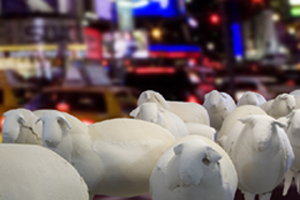 by The Times Square Alliance, in partnership with the West Harlem Art Fund, Inc. presents Kyu Seok Oh's installation, Counting Sheep.

Counting Sheep will be on display in Times Square from March 1 - 7 on Broadway between 45th and 46th Streets.

Spanning 36 feet long and 12 feet wide, the installation is comprised of 24 uniquely made paper sheep sculptures on 6" to 16" high platforms. All of the sheep are hand-made by the artist himself in a labor-intensive process involving natural and traditional materials.

"I like to think that both paper and wood, though processed to be used as structural materials, are in fact very much alive as part of nature," the artist explains. "A group of white paper sheep suddenly emerging from a corner of Times Square will create a contrast to the intimidating, chaotic atmosphere associated with that sleepless corner of the world. Soft, white, and standing together these sheep will invite the neon covered surrounding buildings and large excited crowds to relax, count sheep, and doze off a little."

A graduate of Wako University in Tokyo with a major of arts and humanities, his art took on new charactistics after moving to The Big Apple.

"Since the beginning of my career as a sculptor, the main material I used was clay, which I cast into bronze or plaster. I have also worked with wood and stones."

"However, when I began my new life in the United States, I have decided to take a new direction rather than using these traditional materials. I wanted to take the energy of New York City and create work that is unorthodox in method but is more direct and immediate. That is how I came up with the idea of working with paper and wood, materials deeply familiar to me since childhood."

"In Japan, traditional houses were made of mostly paper and wood. While both are used as structural materials, they are very much alive as part of nature. Wood stretches and contracts with the climate. Paper shields the indoors from the wind and the cold, but it also lets in fresh air and light from the outside. Both paper and wood insulate the indoors from the outside while simultaneously bringing in natural air. These subtle tricks of the materials are central to the beauty of Japanese aesthetics and culture. I want to convey this sensibility in my own work."

ELVIS! HIS GROUNDBREAKING, HIP-SHAKING, NEWSMAKING STORY

The jumpsuit Elvis wore for the Aloha From Hawaii concert in 1973. Photo by Sarah Mercier. Elvis Presley Enterprises, Inc., Graceland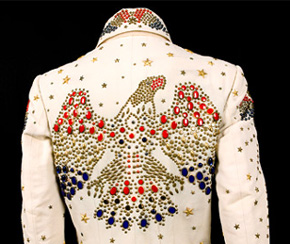 has opened at the Sincerely Elvis museum in Memphis. The exhibit had been on display at Washington, D.C.'s Newseum since last year.

The exhibit tells the story of Presley as he was portrayed in the news media and explores how his music and physicality pushed the boundaries of mainstream taste and free expression at a time when America was experiencing deep generational shifts.

On display are a number of rare objects from the vaults of Graceland that have never been publicly displayed, including private telegrams, letters and documents that chronicle Presley's rise as a music and media sensation.

Cool artifacts include the drug enforcement officer's badge presented to him by President Nixon, one of his army uniforms, Presley's iconic 1957 Harley-Davidson motorcycle, the American Eagle jumpsuit and cape Presley wore during rehearsals for his 1973 Aloha From Hawaii concert and the gold-and-diamond belt presented to Presley in 1969 for breaking Las Vegas attendance records.

The exhibit is the third of three new exhibits debuting at Graceland this year.

STORMTROOPERS IN STILETTOS

Fans literally lined up around the block to see Stormtroopers In Stilettos, the rock group Queen's new exhibit. Photo: Queen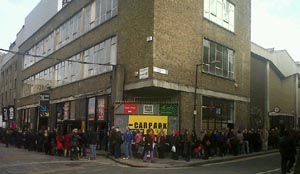 an exhibit to mark the 40th anniversary of the rock band Queen was opened by Roger Taylor and Brian May on February 25.

The star-studded launch included guests Foo Fighters, Jessie J, Alexa Chung and Hurts. On opening morning there were queues of over 500 people around the block in Brick lane waiting to get in to the exhibition.

The free exhibition takes a comprehensive look at the early part of Queen's career, from before the band's formation in 1971 when various band members were dreaming of success while studying astrophysics or running stalls next to Biba in Kensington Market, right up to their spectacular free gig for over 250,000 fans in Hyde Park in 1976.

Themed rooms in the exhibition space celebrate the formation and first five albums and feature artwork, costumes made by British designer Zandra Rhodes and the band's instruments, plus a recreation of the studio in which Bohemian Rhapsody was recorded. It also features video footage, interviews and photographs.

Stormtroopers in Stilettos is the first ever major Queen exhibition and takes place in a huge warehouse space in the heart of London's East End at Old Truman Brewery, but is in for only a short stay, closing on March 12th.


SINGING THE SONGS OF A FORMER LOVE


It's a rare alignment of stars when former lovers can express pride at the accomplishments of their ex. That's usually made possible because of a financial settlement and the dominate partner, generally the man, not hampering the career of his ex just to prove that he can.

There are a few notables who have taken that high road.

Director James Cameron who last year lost the Best Director Oscar to his ex, Kathyn Bigelow. She became the first female to win the directing award for her movie The Hurt Locker, which triumphed over Cameron's film Avatar. That means it is Bigelow who will be presenting the 2011 Best Director Oscar this evening.

There is Andrew Lloyd Webber and Sarah Brightman. After their romantic duet hit the wrong key, Brightman played the lead in Lloyd Webber's Aspects in London opposite Michael Praed, before transferring to Broadway. She also became a classical crossover artist. The Recording Industry Association of America named her the best-selling female classical artist of the twenty-first century in the United States. In September 1997, Brightman released under the label Really Useful Records The Andrew Lloyd Webber Collection which became a top-selling hit album.

Now there is Linda Eder. While very few women have an urge to sing the praises of their ex-loves, Eder sings only the tunes of Wildhorn on her newest CD, Now, which will be released March 1 on the Sony Masterworks label. The new recording features 12 Wildhorn compositions, including Mad Hatter from his upcoming Broadway musical, Wonderland, which opens on April 17, 2011 at the Marquis Theatre.

In 1999, Wildhorn became the first American composer in 22 years to have three shows running simultaneously on Broadway: Jekyll & Hyde at the Plymouth Theatre, The Scarlet Pimpernel at the Minskoff Theatre, and The Civil War at the St. James Theatre.

Eder made her Broadway debut in the musical Jekyll & Hyde, for which she received 1997 Drama Desk and Outer Critics Circle nominations. Eder is also featured on the concept albums of several other Broadway shows, such as The Scarlet Pimpernel and The Civil War.

In a statement Eder said, "My road led me on a journey of musical growth that allowed me to discover more of who I really am as a singer...I always knew that Frank and I would work together again one day and this album is the result."

It's been said that "Eder's transcendent voice is the perfect complement to Wildhorn's lush, imaginative music," which it is. The dozen mostly brand-new songs on Now permit Eder to run the gamut of emotion, while giving insight into what Wildhorn has been up to of late.

No Finer Man is tender and romantic. Not Gonna Fall This Time, permits Eder to show her vocal and emotional strength in this determined anthem of having been hurt and never going to let that happen again. While many composers favor melodies with a waltz or fox trot step, What Did You See Inside the Stars, is a samba. The title track is almost spiritual.

Eder has a beautiful, well trained voice which she knows how to expertly use to convey the meaning of both the notes and the lyrics. She has always worked with professionals who are expert tunesmiths and this CD is no exception.

There is nothing to criticize and much to praise in this excellent offering which should please both Eder and Wildhorn fans. Eder is a singer, a craftsman and a performer and knows how to intertwine all three elements in presenting a performance, whether it be in person or on a CD. Now is outstanding and only makes the listener want to hear the CD again and again.

Following the release of Now, Eder will begin a series of coast to coast concerts. This coming week she will be performing March 5 at the Staller Center for the Arts in Stonybrook, NY.

Now produced by Wildhorn, Eder and Jeremy Roberts, the recording will be released in CD and digital formats.

Recorded and mixed by Jeremy Roberts at Studio 276, NYC.
Album coordinator Nicholas Cheng.
Mastered by Mark Wilder at Battery Studios, NYC.
Big Band engineer Todd Whitelock at Avatar Studios, NYC.
Assistant Engineer Fernando Lodeiro.
Big Band conducted by Kim Scharnberg.
Big Band musicians: Tony Kadleck, John Chudoba, CJ Camerieri, John Fedchock, Dan Levine, Jeff Nelson, Charles Pillow, David Mann, Aaron Heick, Benny Reid, Roger Rosenberg, Dan Nimmer, Dave Finck, Clint deGanon, Bob Mann, Bernd Schoenhart.

The Valhalla Symphony Orchestra conducted by Jeremy Roberts.

Featured musicians not already mentioned include: Stephanie Cummins, Frank Wildhorn, with More Than Heaven arranged and mixed by Billy Jay Stein.

The track listing for the new CD follows:

Not Gonna Fall This Time (Lyricist Jack Murphy)
No Finer Man (Lyricist Leslie Bricusse)
Ordinary People (Lyricist Brenda Russell)
The Heat of The Night (Lyricist Jack Murphy)
What Did You See Inside The Stars? (Lyricist Nan Knighton)
Now (Lyricist Maury Yeston)
The Mad Hatter (Lyricist Jack Murphy)
A Woman In His Arms (Lyricist Nan Knighton)
Good Bye (Lyricist Jack Murphy)
What's Never Been Done Before (Lyricist Nan Knighton)
More Than Heaven (Lyricist Robin Lerner)
Living In The Shadows (Lyricist Leslie Bricusse)


IN THE COURTS


MICKEY ROONEY on March 24, was granted an extension of a temporary restraining order against his step-son Christopher Aber, 52.

Aber must also return the 90-year-old actor's identification cards which include but are not limited to his passport, state ID card, various insurance cards and his Screen Actor's Guild membership card.

Christopher Aber regularly goes to Rooney's home unannounced and the actor hides in his room to avoid him, according to court papers submitted by Rooney's lawyers, Bruce Ross and Vivian Thoreen, in support of the restraining order.

Alhambra attorney Michael R. Augustine, who was appointed temporary conservator of Rooney's estate on February 14, filed documents in which he states that three bank accounts once containing more than $400,000 of the Oscar and Emmy-winning actor's earnings now have a total balance of $1,200. "Mr. Rooney has no knowledge as to how these funds were spent and specifically stated to me that none of those funds were paid to him," Augustine wrote.

Rooney voluntarily requested conservatorship to protect his assets, according to the court documents.

Judge Reva G. Goetz scheduled an April 5, evidentiary hearing when Rooney is expected to testify. Rooney has alleged that his stepson has been physically and emotionally abusing him for several years.

VINCE NEIL released from the Clark County Detention Center where he spent 10 days thinking over the ramifications of his June 27, 2010 DUI arrest. As part of his plea deal Neil was scheduled to spend 15 days in the Clark County Detention Center and 15 days on house arrest. He will serve the rest of his sentence under house arrest.


WEDDING BELLS


KELSEY GRAMMER AND KAYTE WALSH were married last Friday afternoon, February 25, on the flower filled stage of the Longacre theatre in New York City. It was Tony nominated Grammer's fourth marriage and the bride's first.

The groom wore a dark suit and the bride arrived at the theater wearing a white bathrobe before changing into a white satin and lace gown designed by Peter Langner for Mark Ingram. She carried a bouquet of white flowers.

The ceremony was performed Terry Lavell, an actor who plays the drag queen Mercedes in La Cage aux Folles. As first reported by the New York Daily News, Lavell obtained a license to perform legal marriages.

Following the vows, in which the invited guests sat in the audience seats, the wedding party went to The Plaza for a lavish reception in the Grand Ballroom. That included a four-course banquet of porcini-crusted cod, lobster, Nantucket Bay scallops and ginger prawns followed by dancing to a live band.


BIDDERS CLAMORED FOR POSSESSIONS OF JAZZ GREAT LENA HORNE
Lena Horne photographed in Las Vegas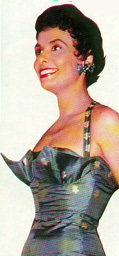 People may be wary about spending - unless the items belonged to jazz great Lena Horne who passed away last May at the age of 92.

Last Wednesday Doyle New York auction galleries gaveled down her estate and indicated that "bidders Included a number of prominent celebrities and institutions."

"The competition between bidders participating in the crowded salesroom, on the telephones, and via the Internet resulted in strong prices throughout the sale and a successful total of $315,976, more than doubling the high estimate of $99,500-155,000 with 100% of the lots sold," Doyle reported.

The exhibition of the Estate of Lena Horne opened for pre-auction viewing on Thursday, Febuary 17 at a star-studded reception with over 300 guests co-hosted by Doyle New York and the Apollo Theater. Members of Lena Horne's family, including her daughter Gail Lumet Buckley and granddaughters Jenny and Amy Lumet, were in attendance.



Giorgio di Sant' Angelo Reversible Mink Coat Indigo embroidered cotton and dark brown mink. C Estate of Lena Horne Sold For $8,125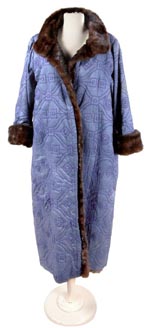 Among the celebrity guests were Cicely Tyson, Angelica Huston, Geoffrey Holder, Leslie Uggams, Ruby Dee and many others. VIP guests also included NAACP Chairman Roslyn Brock, NAACP President Benjamin Jealous, and numerous members of the NAACP board of directors.

Horne fans had their choice of elegant costume jewelry, accessories, gowns, memorabilia, decorations, silver, furniture, books and fine art from her home on Manhattan's Upper East Side.

The fashion offerings showcased a wide diversity of designs, featuring creations by Lena's favorite designer, Giorgio di Sant'Angelo, including a reversible mink coat, estimated at $300-500 but was gaveled down at $8,125.

Other glamorous clothing included a dramatic 1970s sequined cardigan evening coat with train, estimated to go for $100-200 but brought in $1,125.

More clothing included a red jersey evening dress, a 1960s two-tone chiffon evening dress by Sarmi and designs by Thea Porter, Mary McFadden, Richard Tam, Chanel and others.

Horne's costume jewelry amounted to thirty lots of stylish necklaces, bracelets, earrings and brooches by Chanel. A Chanel five-strand choker of gold-tone metal links and faux baroque pearls had a $1,000 to $1,200 pre-sale estimate but sold for $2,000. There were also Kenneth Jay Lane, Deanna Hamro and others. Accessories include bags by Chanel and Raoul Calabro, scarves by Chanel, and hats by Patricia Underwood and B. Michael.



Louis Vuitton Soft Leather Vanity Case Monogrammed L.H. Height 9 inches, width 15 1/2 inches, depth 9 inches. C Estate of Lena Horne Sold For $6,250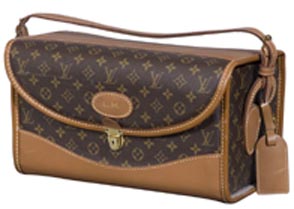 Attracting a lot of attention was a selection of Louis Vuitton items all selling for well over their estimated prices. A small trunk with stickers inscribed Lena Horne Hayton with a pre-auction estimate of $500-700 was gaveled down for $20,000. A soft leather vanity case inscribed LH which carried an estimated of $200-400 went for $6,250.

The selection of fine art in the sale featured a colorful abstract by Charles Alston, one of the most prominent African-American artists, muralists and teachers of the 20th century which had the highest estimate of $30,000-50,000 and resulted in a sale shock, being sold for only $20,000.

Other art treasures included a charming work entitled Fishing by David Burliuk. Lena Horne was the subject of a 1959 painting by Geoffrey Holder and there was a 1950 bronze sculpture by Peter Lambda. Also by Peter Lambda was a terra cotta sculpture depicting a Woman with Child. Other artists represented in the sale were Nicola Simbari, Edward Giobbi and Jean Lareuse.

The auction also offered two photographs by James van der Zee, including a gelatin silver print entitled Atlantic City, 1930, that was presented to Lena Horne by Warner Communications at the 1982 Viva Lena! event and another entitled By the Pool, circa 1924. Other photographs were a 1941 portrait of Lena Horne by Carl Van Vechten, a photograph of her performing on stage by Chuck Stewart, and a group of contact sheets by Richard Avedon of a session with Lena Horne.



Lot 1016 HUGHES, LANGSTON Simple Speaks his Mind. New York: Simon and Schuster, 1950. With a cordial inscription from Hughes to Lena Horne on the front flyleaf, dated May 14, 1950. Jacket somewhat worn; Together with two other works by Hughes, both fully inscribed by Langston Hughes to Lena Horne.In worn jackets. C Estate of Lena Horne Sold For $5,000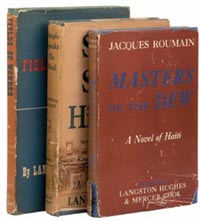 Prints and posters in the sale feature Pablo Picasso's color linocut, Vallauris 1956 Exposition, and a large color lithograph, British Empire Exhibition 1924, by Spencer Gerald Pryse.

Decorations from Lena Horne's Manhattan home included a sparkling Rococo style gilt-metal and glass twelve-light chandelier and a pair of late 19th century Continental Rococo style gilt-wood mirrors measuring 46 inches in height. Of interest was a model of a fringed surrey by William F. Baxter because one of Lena Horne's signature songs was The Surrey with the Fringe On Top from Oklahoma by Rodgers and Hammerstein. Also noteworthy was a lovely Japanese painted silk four-panel screen measuring 34 1/2 inches in height.

Furniture included an elegant Restauration marble top ormolu mounted mahogany center table, an Empire style ormolu mounted mahogany bed, a Continental Neoclassical fruitwood open armchair, and a handsome Chinese hardwood cabinet.

Silver included flatware services, a Reed & Barton service in the Francis I pattern and a Towle service in the Chippendale pattern monogrammed H. Other silver offerings include an Art Nouveau hand mirror and brush, a Gorham footed bowl monogrammed H, a Wallace silver pitcher with a presentation engraving to Lena Horne, and a group of 19th century English silver serving utensils.

The selection of books and autographs includes a group of books by Langston Hughes inscribed to Lena Horne, a First Edition of Kay Thompson's Eloise in Paris with a fine drawing inscription by illustrator Hilary Knight, and Lena's Horne's copy of The Theater Guild Presents Porgy and Bess with two pages of her notes attached. Also noteworthy was an original drawing by Ray Billingsley for a Curtis Sunday cartoon strip.


SPREADING THE WORD


JEFFREY TAMBOR the six-time Emmy Award nominee has withdrawn from the Tony-Award wining revival of La Cage aux Folles, at the Longacre Theatre and been replaced by his understudy Chris Hoch. Tambor had played nightclub owner Georges, opposite Harvey Firestein's drag queen. Tambor, 66, recently underwent hip-replacement surgery and published reports indicate he had experienced difficulty in the part. Those problems became increasingly more noticeable and the actor withdrew from the production after the February 24th performance.

HARRY CONNICK, JR IN CONCERT ON BROADWAY which was filmed at the Neil Simon Theatre on Broadway in New York City, will air nationally on PBS on March 2nd as part of the Great Performances series.

U.S. POET LAUREATE ROBERT PINSKY will present a lecture on Monday, March 7, entitled Is Vision The Twin of Speech?, inspired by the exhibition Weston: Leaves of Grass which is on view through March 13 at Maine's Portland Museum of Art.

Pinsky will share his love of poetry, Walt Whitman, and belief in the potential for poetry to be part of everyday life.

Presented by The Portland Museum of Art, the lecture will take place at the Holiday Inn By the Bay with a book signing to follow at the Museum.

HELLO OUT THERE a by-invitation-only reading of the new musical which has book and lyrics by Eric Price and music by Frank Terry, will be presented to the industry on March 4 at Playwrights Horizons, NYC.

Benjamin Endsley Klein will direct a cast that features Andrew Keenan-Bolger, Ann Harada, Etai BenShlomo, Dana Steingold, Erik Liberman, Emily Shoolin and Jim Poulos.


OTHER PEOPLE'S MONEY


SOHO THINK TANK the two-time OBIE Award-winning theatre company that ran the legendary Ohio Theatre in Soho for twenty years, has been offered a new home in The Archive Building at 145 Christopher Street, NYC by the building's owner Rockrose Development Corp. The new space will open in September 2011 as Ohio West.

CHARLIE SHEEN'S self destructive behavior has caused the cancellation of Two and a Half Men for the rest of the season, putting hundreds out of work in an industry where it's tough to find employment under the best of conditions.

Sheen's latest rant is a perfect example of how drug and alcohol abuse affects not just the user.

While the New York Daily News cleverly reported Sheen as "armed with a cell phone and an inflated ego," is everybody really certain Sheen poses a physical danger only to himself?


ARENA STAGE PRESENTS THE EDWARD ALBEE FESTIVAL
Edward Albee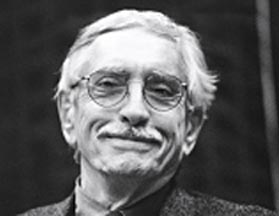 In addition to Who's Afraid of Virginia Woolf? and At Home at the Zoo, Edward Albee enthusiasts can experience a never-before-attempted feat - a festival of 30 events, featuring staged readings of all the plays of this master playwright. The Tony-Award winning Arena Stage in Washington, DC is presenting the festival, during which time the entire canon of the man who has been called "our nation's greatest living playwright" will be featured.

Steppenwolf's acclaimed Who's Afraid of Virginia Woolf? is directed by Pam MacKinnon and stars Pulitzer Prize and Tony Award winner Tracy Letts as George, Tony Award nominee Amy Morton as Martha, Carrie Coon as Honey and Madison Dirks as Nick. It continues to April 10.

Simultaneously, Arena Stage mounts its own production of At Home at the Zoo directed by Mary B. Robinson and starring Jeff Allin as Peter, Colleen Delany as Ann and James McMenamin as Jerry, playing to April 24 in the Arlene and Robert Kogod Cradle.

Beginning in March through the end of April, 16 theatre troupes will present staged readings of Albee's work. All readings will be followed by a discussion with its participating artists. As part of the ongoing Arena Stage salon series, there will be an Edward Albee Festival Salon April 4, featuring free public conversations with some of the artists from At Home at the Zoo, Who's Afraid of Virginia Woolf? and the festival readings.

All staged readings are free, though reservations are required

Works to be presented include:

Lolita (1981). Adapted from the novel by Vladimir Nabokov. Producer: Round House Theatre. Director: Blake Robison.

Finding the Sun (1982). Producer: Univ. of Maryland School of Theatre, Dance and Performance Studies Director: Erin Bone Steele.

Box (1968) and Quotations from Chairman Mao Tse-Tung (1968). Director: Aaron Posner.

The Death of Bessie Smith (1959). Director: Irene Lewis.

Fragments: A Sit-Around (1993). Director: Howard Shalwitz.

The Lady from Dubuque (1977). Director: Wendy C. Goldberg.

Counting the Ways: A Vaudeville (1976) and Listening: A Chamber Play (1975). Director: Anita Maynard-Losh.

Marriage Play (1986/87) Director: Mary B. Robinson.

The Man Who Had Three Arms (1981) Director: Amy Freed.

Fam and Yam (1959) Director: Angelisa Gillyard.

All Over (1971) Producer: Barracuda Carmela Theater Company Director: Felipe Vergara.

The Goat, or Who Is Sylvia? (2002) Producer: The Washington Rogues. Director: Ryan Taylor.

The American Dream (1959). Producer: Colored People's Theatre. Director: Jamil Jude.

Tiny Alice (1964). Producer: Taffety Punk Theatre Company. Director: Lise Bruneau.

The Sandbox (1959). Producer: Faction of Fools Theatre Company. Directors: Matthew R. Wilson and Toby Mulford.

The Play About the Baby (1996) Producer: Production Workshop. Director: Douglas Eacho.

Occupant (2001). Producer: The Shakespeare Theatre Company. Director: Alan Paul.

Three Tall Women (1990). Producer: Theater J. Director: Shirley Serotsky.

A Delicate Balance (1966). Director: Maya E. Roth.

The Ballad of the Sad Café (1963). Adapted from the novella by Carson McCullers. Producer: CTEK Arts. Directors: Margaret Van Sant and Priscilla Sample.

Everything in the Garden (1967) Director: D. Ohlandt.

Seascape (1974). Producer: American Century Theater. Director: Steven Scott Mazzola.

Malcolm (1966). Adapted from the novel by James Purdy. Producer: Forum Theatre. Director: Michael Dove.

Edward Albee was born March 12, 1928, and began writing plays 30 years later. He's a member of the Dramatists Guild council and president of the Edward F. Albee Foundation. Albee received the Gold Medal in Drama from the American Academy of Arts and Letters in 1980. In 1996, he received the Kennedy Center Honors and the National Medal of Arts. In 2005, he received a Lifetime Achievement Tony Award.

The Pulitzer Prize committee for the Best Play in 1963 recommended Who's Afraid of Virginia Woolf?, but the Pulitzer board, who have sole discretion in awarding the prize, rejected the recommendation, due to the play's perceived vulgarity, and no award was given that year

The two -month Edward Albee Festival is located in a variety of locations within Arena's Mead Center for American Theater.


HAPPY BIRTHDAY TO . . .


Josh Groban, Elizabeth Taylor, and Joanne Woodward who celebrate their birthdays on February 27.

Bernadette Peters and Tommy Tune blow out the candles on February 28.

Opening their presents on March 1 will be Ron Howard, Alan Thicke, Dirk Benedict, Roger Daltrey, and Harry Belafonte. Also celebrating on March 1 is Justin Bieber who turns 17. He'll be celebrating by eating his grandmother's cherry cheesecake. He begins his world tour across the pond when he opens a two night gig March 4 at The NIA in Birmingham, England.

Blowing out the candles on March 2 will be Jon Bon Jovi.

Jessica Biel and Ira Glass make their birthday wishes on March 3.

Paula Prentiss and Patricia Heaton are the center of attention on March 4.

On Saturday the birthday hat wearing people will be Michael Warren, Samantha Eggar and Dean Stockwell.



CATHERINE ZETA JONES who was made a CBE - Commander of the British Empire - in a ceremony at Buckingham Palace. She was recognized for services to the film industry and to charity in last year's Queen's Birthday Honours.

The Broadway veteran was presented the ribbon by Prince Charles.

The Oscar winning Welch actress was accompanied by her husband, Michael Douglas, and their two children Dylan and Carys. Douglas looked good and she looked gorgeous.

BURT KWOUK was at the same Buckingham Palace ceremony last Thursday, receiving a OBE (Order of the British Empire). He's best known for his Kato role in the Pink Panther films. The 80-year-old actor appeared in three James Bond films and was most recently seen in the BBC sitcom Last of the Summer Wine.

When Prince Charles awarded the medal to Kwouk he told the actor that he was a fan of the Pink Panther films and disclosed that when he gets depressed, he puts on a Pink Panther film and that makes him feel better.

BRETT SHEEHY current artistic director of the Melbourne Festival, has been appointed as the artistic director of the Melbourne Theatre Company, the organization announced on February 24.

Sheehy will succeed current Melbourne Theatre Company artistic director Simon Phillips, who announced his resignation last July. Sheehy remains under contract with the Melbourne Festival through October 2012. Therefore, he will assume his new role with the Melbourne Theatre Company in a part-time status in early 2012 and will fully assume the role of artistic director at MTC November 1, 2012.

Sheehy previously served as the artistic associate, literary manager and deputy general manager for the Sydney Theatre Company from 1985-1995.






THE BOOK OF MORMON a new musical by Emmy Award-winning South Park creators Trey Parker and Matt Stone and Avenue Q Tony Award winner Robert Lopez.

Parker co-directs with Tony Award nominee Casey Nicholaw, who also choreographs. Book, music and lyrics are by Parker, Stone and Lopez.

The musical about two young Mormon missionaries who have their faith and sanity tested when they are sent across the world to spread the word of Joseph Smith to AIDS-ravaged Uganda.


The cast also includes Lewis Cleale, Scott Barnhardt, Justin Bohon, Darlesia Cearcy, Kevin Duda, Asmeret Ghebremichael, Brian Tyree Henry, John Eric Parker, Jason Michael Snow, Benjamin Schrader, Michael James Scott, Brian Sears, Nick Spangler, Lawrence Stallings, Rema Webb, Maia Nkenge Wilson, Tommar Wilson, Graham Bowen, Ta'Rea Campbell, Jared Gertner, Tyson Jennette and Nick Spangler.

The Book of Mormon has designs by Scott Pask (sets), Ann Roth (costumes), Brian MacDevitt (lighting) and Brian Ronan (sound). Orchestrations are by Larry Hochman and music supervision is by Stephen Oremus.

In previews, officially opening on March 24 at the Eugene O'Neill Theatre, NYC.

DON QUIXOTE Jules Massenet's elegant adaptation of Cervantes' classic novel presented by the Seattle Opera.

This imaginative production celebrates the opera's literary origins with all new scenery evoking a writer's library and desktop. The traditional period costumes celebrate the flair of Medieval Spain. Exploring themes of friendship, delusion, love, and responsibility, the new production features classical Spanish dance, flirtatious serenades, and what Seattle Opera promises to be "a profoundly poignant finale; blending humor and pathos in true French Romantic style."

Performances through March 12, 2011 at McCaw Hall in Seattle, WA.

GREAT EXPECTATIONS the Charles Dickens epic classic is re-imagined for the stage in a unique adaptation by leading playwright Tanika Gupta, relocating Pip's extraordinary journey to nineteenth century India.

Directed by Nikolai Foster.

Pip, a poor village boy, finds two chance meetings set his life on an unexpected course. At the water's edge, he has a terrifying encounter with an escaped convict. In the decaying grandeur of Miss Havisham's house, he falls hopelessly in love with the heartless Estella. When an anonymous benefactor helps him move to Calcutta, the heart of the British Raj, Pip pursues his great expectations and his dream of winning Estella's heart.

This new production of the coming of age story, evoking some of Dickens' most colorful characters, is faithful to the period of the book and the richness of Dickens' language - a vivid theatrical retelling of a universally loved masterpiece.

Starring Taruq Jordan as Pip. Also starring Jude Akuwudike, Rob Compton, Giles Cooper, Russell Dixon, Lynn Farleigh, Pooja Ghai, Shiv Grewal, Simone James, Tony Jayawardena, Tariq Jordan, Darren Kuppan and Kiran Landa.

Designer - Colin Richmond; Lighting designer - Lee Curran; Music advisor - Nitin Sawhney; Composer - Nicki Wells; Sound designer - Sebastian Frost; Choreographer - Zoobin Surty; Associate director - Nicola Samer; Fight director - Kate Waters; Casting director - Kay Magson.

A co-production with English Touring Theatre. Performances at the Palace Theatre in Watford, England followed by a tour.

GHETTO KLOWN conceived and performed by Emmy and Obie Award winner John Leguizamo, directed by Academy Award winner Fisher Stevens.

Ghetto Klown is the next chapter in John Leguizamo's popular personal and professional story. It follows in the unabashed, uncensored, and uninhibited tradition of his Mambo Mouth, Spic-O-Rama, Freak, and Sexaholix…a Love Story.

In Leguizamo's trademark style, the piece explodes with energy, leading audiences on a fever-pitch adventure and heating up the stage with vivid accounts of where he's been and the colorful characters who have populated his life. Leguizamo takes audiences from his adolescent memories in Queens to the early days of his acting career during the outrageous 80s avant-garde theatre scene, and on to the sets of major motion pictures and his roles opposite some of Hollywood's biggest stars.

The creative team is Happy Massee (Set), Jennifer Schriever (Lighting), Peter Fitzgerald (Sound), Aaron Gonzalez (Projections), and Marlyn Ortiz (Movement Consultant).

In previews with the official opening night set for Tuesday, March 22 at the Lyceum Theatre, NYC.

MY NAME IS ASHER LEV adapted by Aaron Posner from the novel by Chaim Potok. Directed by Laura Kepley.

Starring: Noel Joseph Allain as Asher. Elizabeth Raetz as Riv/Anna/Rachel and Tom Alan Robbins as Ari/Yitzchok/Rebbe/Kahn.

Asher Lev is a young man who grows up in a strict Orthodox Jewish community in Brooklyn, New York, post-World War II. Possessing prodigious artistic ability, Asher is driven to draw and paint the world as he sees and feels it, struggling with the inner conflict between his Hasidic heritage and his emerging creative impulses. Asher's parents do not understand their son's pursuit of his artistic drives nor can they make sense of his work within the context of their belief system. Ultimately, the Rebbe, for whom Asher's father works, arranges for Asher to meet the respected artist Jacob Kahn, who agrees to take on the young prodigy as his student and apprentice. In this environment, Asher learns and grows, while balancing his feelings of responsibility to his people, his parents, his art, and the truth.

Scenic design by Antje Ellermann. Costume design by Jeffrey Van Curtis. Lighting design by Michael Lincoln. Composer/Sound Designer is Lindsey Jones. Shannon Habenicht is the stage manager. Charles Kartali is the Dialect Coach. Michele Volansky is the Dramaturg.

March 4 - April 3, 2011 on the Baxter Stage of the Cleveland Playhouse.

THE PALM SPRINGS FOLLIES

The Four Preps
welcomes The Four Preps to the star slot.

When no male students showed up to audition for Hollywood High School's 1955 fall talent show, the school bulletin pleaded for "any guys who can do anything." Bruce Belland and three of his campus buddies formed a quartet overnight (literally) and ended up stealing the show as The Four Preps.

Those clean-cut California teenagers went on to record the songs that Dick Clark called The Soundtrack of Our Lives. Now, over 50 years later, lead singer Belland along with Robert Duncan, Skip Taylor and Michael Redman bring their many memorable hits to the stage of the Historic Plaza Theatre from March 8 through May 15 to close the Follies' 20th anniversary season.

Shortly after their talent show debut, legendary Capitol Records Producer Voyle Gilmore-who had previously recorded such stars as Judy Garland, Frank Sinatra, and Louie Prima and Keely Smith-signed them to a long-term recording contract.

In 1958, the group recorded a song co-written by Belland, which Dick Clark claims was "the first surfer hit," and 26 Miles (Santa Catalina) became a million-seller. That same year, they appeared with Bing Crosby, Frank Sinatra, Bob Hope and others in an Emmy-winning TV special; filmed the movie Gidget with Sandra Dee; and were honored as Newcomer of the Year by Billboard Magazine.

Their long string of chart-topping singles, all co-written by Belland, included Big Man, Down by the Station and Lazy Summer Night. Before disbanding in 1969, they amassed eight gold singles and three gold albums.

Then in 2004, PBS asked Belland to re-assemble The Four Preps for a star-studded musical special, The Magic Moments: The Best of '50s Pop and thus the legendary group was reborn.

The Palm Springs Follies can be enjoyed in downtown Palm Springs' historic Plaza Theatre, a charming, neon-encrusted, storybook old movie house, which is an attraction itself.

THE HOMECOMING by Harold Pinter. Longtime Pinter collaborator and A.C.T. artistic director Carey Perloff directs this brilliant classic featuring René Augesen, who celebrates her tenth-anniversary season as part of the A.C.T. core acting company.

In addition to Augensen portraying Ruth, the production stars Anthony Fusco, Kenneth Welsh, Adam O'Bryne, Andrew Polk and Jack Willis.

In this riveting drama, a long-absent son and his attractive wife, Ruth, return to his contentious childhood home in London's East End. Caught in a grueling power struggle, father and sons vie for Ruth's attention and affection with outrageous consequences.

The Creative Team is composed of: Daniel Ostling (Scenic Designer), Alex Jaeger (Costume Designer), Alexander V. Nichols (Lighting Designer), Cliff Caruthers (Sound Designer), Michael Paller (Dramaturg), Kimberly Mark Webb (Stage Manager) and Karen Szpaller (Assistant Stage Manager).

March 3-27 at the American Conservatory Theatre in San Francisco.

MOLLY SWEENEY which has been extended through April 10 at the Irish Rep in New York City welcomes renowned Irish actress Simone Kirby, who recently played the title role in England to great acclaim, and will join Jonathan Hogan and Ciaran O'Reilly in the New York production beginning March 9th.

LOST IN YONKERS by Neil Simon. Directed by Samantha K. Wyer.

Meet the Kurnitz family. Grandma is the matriarch with a will of iron and a hardwood cane who spared no rod in raising her four children. When her two teenage grandsons are forced by circumstances to live with her for a year, the clash of generations and battle of wills leads the whole family to learn important lessons about duty, devotion, trust and love. Winner of the Pulitzer Prize and the Tony Award for Best Play, and as comical as it is poignant, Lost in Yonkers is the masterwork of Neil Simon's career and is certain to leave you spellbound with laughter and tears.

Starring Judy Kaye as Grandma Kumitz. Maxx Carlisle-King is Arty. Ryan DeLuca is James. Kate Goehring portrays Bella. Preston Maybank is Louie. Kerry McCue is Gert and Spencer Rowe is Eddie.

The creative team includes: Set Design- Michael Schweikardt. Costume Design - David Kay Mickelsen. Lighting Design - David Lee Cuthbert. Resident Sound Designer - Brian Jerome Peterson. Dialect Coach - Dianne J. Winslow. Stage Manager - Timothy Toothman. Assistant to the Stage Manager - Ashley Simon.

Presented by the Arizona Theatre Company with performances through March 19, 2011 in Tucson, then transferring to Phoenix for shows March 24 - April 10, 2011.

ARCADIA a revival of Tom Stoppard's 1993 play. Directed by five-time Tony Award-nominated David Leveaux.

Starring Margaret Colin, Billy Crudup, Raúl Esparza, Grace Gummer, Byron Jennings, Noah Robbins, Glenn Fleshle, Edward James Hyland, Bel Powley, Tom Riley, David Turner and Lia Williams.

About a mathematical theory proposed in 1809 that is studied two centuries later by academic adversaries.

The production transfers to Broadway from the West End where this production received rave reviews and was a sold out hit in 2009.

Arcadia is set in April 1809 in a stately home in Derbyshire. Thomasina, a gifted pupil, proposes a startling theory, beyond her comprehension. All around her, the adults, including her tutor Septimus, are preoccupied with secret desires, illicit passions and professional rivalries. Two hundred years later, academic adversaries Hannah and Bernard (Lia Williams and Billy Crudup) are piecing together puzzling clues, curiously recalling those events of 1809, in their quest for an increasingly elusive truth.

The creative team includes: Hildegard-Bechtler (set), Gregory Gale (costumes), Donald Holder (lighting), David Van Tieghem (sound), Corin Buckeridge (music) and Jodi Moccia (choreography).

In previews at the Ethel Barrymore Theatre, NYC.


WHO'S WHERE


RIHANNA continues her down under tour with a show Monday, February 28, at the Entertainment Centre in Newcastle, Australia. On Friday she's on stage at the Acer Arena in Sydney.

CHRIS BOTTI has a busy week. On Wednesday, March 2, he's on stage at the Bergen Performing Arts Center in Englewood, NJ. Thursday he blows his horn at the Scottish Rite Auditorium in Collingswood, N J. Friday's show is a the memorial Auditorium in Lowell, MA. On Saturday he can be enjoyed at the Tilles Center for the Performing arts in Greenvale, NY. Next Sunday, March 6, he's in the spotlight at the Zeiterion Performing Arts Center in New Bedford, MA.

JAMES TAYLOR on stage Tuesday, March 1, at the Orpheum Theater in Omaha, NE. Wednesday's show is at the Civic Center in Des Moines, IA. On Friday his tour stops at the Murat Theatre in Indianapolis. He closes out the week with a Saturday show at the Morris Performing Arts Center in South Bend, IN.

TIM ALLEN brings his comedy patter to the Venetian Hotel in Las Vegas March 4-5.

ERIC CLAPTON on stage Monday, February 28, at the Rose Garden Arena in Portland, OR. On Wednesday the performance is at the HP Pavilion in San Jose, CA. Thursday the tour stops at the ARCO Arena in Sacramento. Clapton is on stage Saturday at the MGM Grand Garden Arena in Las Vegas. Next Sunday, March 6 he can be enjoyed at the Valley View Casino in San Diego.




FINAL OVATION


JAY LANDESMAN the St Louis native who took "tea with Bette Davis, cocktails with Bessie Smith and LSD with Timothy Leary," died Sunday February 20, 2011 morning at his home in London. He was 91.

Landesman opened The Crystal Palace in St. Louis with his brother, Fred, in 1952. They were responsible for bringing into town undiscovered talent as Lenny Bruce, Barbra Streisand, Mike Nichols and Elaine May, the Second City Players, Woody Allen, Phyllis Diller, the Smothers Brothers and Dick Gregory.

His musical revue The Nervous Set, which had a successful run in St. Louis, was about the start of the Beat Generation. The production was unique in many respects - having a 4 piece jazz combo, often onstage, and a downbeat ending. When it transferred to Broadway it closed as 23 disappointing performances. The production marked the Broadway debut of Larry Hagman and today is credited with "setting the template for The Fantasticks and other small-orchestra musicals," to succeed.

The Landesmans' older son, Cosmo, a film reviewer for The Sunday Times, and author of Starstruck: Fame, Failure, My Family and Me, (published in 2008 by Macmillan) wrote the following about his father in his book.

"My dad has had an interesting life. He's never had a job that bored him. He is an original man, a man who has opened minds and emptied a few rooms in his time ... He's taken tea with Bette Davis, cocktails with Bessie Smith and LSD with Timothy Leary. His is a life that many would envy; I know I do. And yet my dad has never thought of himself as a success, for one simple reason: he isn't a big name. His life has always lacked the imprimatur of celebrity."

Landesman and his wife, lyricist, songwriter and poet Fran Landesman, and their children, Cosmo and Miles Davis Landesman, relocated to London in 1964. Landesman is the uncle of St. Louisan Rocco Landesman, chairman of the National Endowment for the Arts.

Survivors include his wife, sons and a grandson.

DAVID MacSWAN the theatre director who pioneered outdoor productions of the classic plays in Australia, setting up the Shakespeare By The Sea company in 1986, died in Australia on Friday January 17, 2001 - the opening night of one of his shows, A Midsummer Night's Dream at the Band Rotunda on Sydney's Balmoral Beach. He was 51.

Devastated cast members announced: "We dedicate this season to David's memory and wish to make it a lasting legacy to his work."

Spokesman Collin Jennings said MacSwan taught and performed Shakespeare all his adult life and achieved a long held dream when he completed his doctorate in 2011.

"Our thoughts are with David's partner Ruth Cullen and the group of very close and dear friends he built over his life."

MAX WILK novelist, nonfiction chronicler of show business subjects, playwright, screenwriter and a dramaturg for the National Playwrights Conference at the Eugene O'Neill Theater Center for more than 25 years, died February 19, 2011 at his home in Westport, CT. He was 90.

Wilk graduated from the Yale School of Drama in 1941. Following his graduation, he toured with Irving Berlin's This is the Army and wrote training films in the First Motion Picture Unit AAF.

He was author of three Broadway shows, Small Wonder in 1948-49, Cloud 7 in 1958, and A Musical Jubilee in 1975-76. He also was the author of Mr. Williams and Ms. Wood, which he adapted for the stage from his book Represented by Audrey Wood which he co-wrote with Audrey Wood.

In the 1960s, he wrote the novelization of The Beatles' cartoon Yellow Submarine. His fiction includes Don't Raise the Bridge, Lower the River; the movie version starred Jerry Lewis and shifted the locale from "Green Haven" (based on Ridgefield) to London, England.

The prolific scribe won both an Emmy and Peabody award for his two-hour television show The Fabulous Fifties. In the '90s, he published a coffee table book tracing the origins of the musical Oklahoma! Later he wrote Schmucks with Underwoods--Conversations with Hollywood's Classic Screenwriters. Overall, Wilk was the author of 19 books, four films, three produced plays, and countless television shows and magazine articles.

HAILA STODDARD actress, writer, director and Broadway producer died Monday, February 21, at her home in Weston, CT. She was 97.

Stoddard appeared in a number of plays, movies, and television series, including sixteen years in a role she created in 1954, the manipulative Aunt Pauline Rysdale, in the soap opera The Secret Storm.

Stoddard's first professional stage appearance was in San Francisco as a walk-on/under-study in the 1934 California production of Merrily We Roll Along, succeeding to the ingenue's leading role for opening night in Los Angeles. She appeared for 65 weeks in 1935-36 as the mute Pearl in the national touring company of Jack Kirkland's Tobacco Road.

Her lengthy Broadway career began when she arrived on The Great White Way in 1937, succeeding Peggy Conklin in the title role of Yes, My Darling Daughter.

As a producer she was the first to bring the work of James Thurber and Harold Pinter to Broadway.

Stoddard was among the founding performers of the Bucks County Playhouse, appearing there in a total of sixteen productions from 1939 to 1958.

Stoddard's Off Broadway producing credits included Coward's Private Lives, with Elaine Stritch, in 1968; Lemon Sky, a 1970 family drama by Lanford Wilson that starred Christopher Walken and Charles Durning; and Love, a 1984 musical lampoon of marriage that was based on the Murray Schisgal play Luv and starred Nathan Lane.

In 1938 Stoddard married Jack Kirkland with whom she had two children. The couple divorced in 1947 and in the following year Stoddard married director-producer Harold Bromley with whom she had one child. After divorcing Bromley in 1954, Stoddard married actor-producer Whitfield Connor in 1956 with whom she remained married for thirty-two years until his death in 1988 In addition to her son Chris Kirkland, who lives in Denver, she is survived by a daughter, Robin Kirkland MacDonald of Manhattan; a stepdaughter, Erin Connor of Los Angeles; seven grandchildren; and six great-grandchildren.








Next Column: March 6, 2011
Copyright: February 27, 2011. All Rights Reserved. Reviews, Interviews, Commentary, Photographs or Graphics from any Broadway To Vegas (TM) columns may not be published, broadcast, rewritten, utilized as leads, or used in any manner without permission, compensation and/or credit.
Link to Main Page
---
Laura Deni



For the snail mail address, please E-mail your request.
CLICK HERE FOR COMMENT SECTION