Broadway To Vegas
  
 SHOW REVIEWS CELEBRITY INTERVIEWS GOSSIP NEWS

| | |
| --- | --- |
| | |
SET STEALING VEGAS VERSION OF PHANTOM OF THE OPERA - - RICHARD GREENBERG CHATS AT LINCOLN CENTER - - THE DROWSY CHAPERONE CD - - THE INAUGURAL TONY RANDALL GRANT - - BROADWAY UNDER THE STARS - - PIG FARM - - THE PUBLIC THEATER'S SUMMER GALA - - EVITA OPENS IN LONDON - - DONATE . . . Scroll Down


SET DESIGN DOMINATES PHANTOM OF THE OPERA
This show is billed not as Phantom of the Opera but as Phantom of the Opera The Las Vegas Spectacle.

It should be billed as David Rockwell, Maria Bjornson, Andrew Bridge's Phantom of the Opera. They are respectively - theater designer, set designer and lighting designer.

Years ago, devoting about 15 years covering Las Vegas for Billboard magazine - reviewing nearly every show that played Vegas - the number of times I mentioned a set designer can be counted on the fingers of one hand.

My goodness, how the entertainment players have changed! On the plus side - people behind the scenes who were long taken for granted - given perhaps a token one sentence - if mentioned at all - have risen up and conquered.

For fifty years Las Vegas has razzle-dazzled them. If you wanted theatre you went to New York. If you wanting showgirls coming down lighted steps, massive sets coming up out of the stage, scenes which broke apart and offered a variety of exploding or fire spewing sections while performers and stuff dropped out of the ceiling - Las Vegas had it.



Maria Bjornson, whose production design for Phantom of the Opera is one of the most famous in the history of Broadway and the West End was found dead in her London home on December 13, 2002 after suffering an epileptic seizure. She was 53.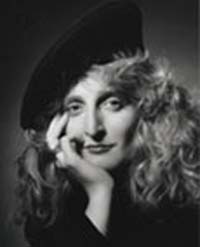 The Lido de Paris opened July, 1958 - at the soon to be shuttered Stardust Hotel. Featuring a cast of 100, the show was 1 hour and 45 minutes of nonstop excitement - including all of the lighting effects available in that era.

In 1959 the Folies Bergere began its run at the Tropicana Hotel. During the 1970's elaborate and lavish production shows came into their own on the Strip. On Christmas Eve, 1972 the Dunes premiered Frederic Apcar's spectacular Casino de Paris 72 which featured a breathtaking chariot race scene. I was in the audience for that one. With manes flying, four live horses galloped furiously on a moving floor - a thrilled experience for everyone in the showroom - especially ringsiders.

Named after the 1932 movie Grand Hotel the MGM-Grand opened on December 5, 1973. Currently known as Bally's, this hotel is home to the long running production show Donn Arden's Jubilee! with costumes by Bob Mackie and Pete Menefee. Million dollars sets with scenes ranging from the sinking of the Titanic to a musical big finish.

Because Las Vegas, to a certain degree, drifted away from the elaborate spectacular, Phantom of the Opera The Vegas Spectacular looks more inventive than it is. Compared to Broadway, the special effects are awesome. Compared to Vegas, it's just what one would expect.

What makes the Vegas version of Phantom of the Opera bold type, headline making is the incorporation of Vegas special effects into a Broadway production. To fuse Vegas with Broadway is a high stake gamble. Director Hal Price, Andrew Bridge and David Rockwell have won their bet.

Staged at The Venetian Hotel in Las Vegas, you won't find a more elegant staircase in a Vegas showroom than the one at the Venetian's Phantom Theater. Ushers dressed in the black and white Broadway style usher uniform hand out a free program. Chicago did, Hairspray didn't and neither does Love at the Mirage - although they should.



New York City, January 9, 2006 The Phantom of the Opera became the longest-running musical production in the history of Broadway, with its 7,486th performance. To celebrate the event, Lord Lloyd-Webber and Sir Cameron Mackintosh invited a selected audience to a gala performance at the Majestic Theatre, followed by a Masked Ball at the Waldorf Astoria Grand Ballroom. Photo by Joan Marcus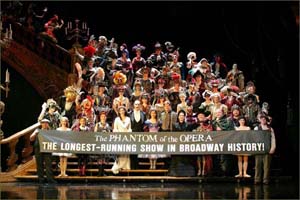 With $40 million spent on this venue it's too bad they purchased the bargain basement chair padding. The seats aren't comfortable - more along the comfort level of Broadway seats. Small and no cup holders - although patrons are entitled to bring drinks into the theater. People locate their seats and then discover that there is no place to put their beverages. Within a short time frame beverages inside will have to be banned or the place will look like a pig sty.

A few musicians were warming up and a trumpet player - inadvertently or perhaps as a time cue to somebody - blew Taps.

While beverage bars abound, a woman complained to her husband that the closest restrooms are located in the casino.

The stage looks small and the walls of the cavernous venue aren't lit and are covered, so the initial impression is that it is a small stage set in the Hollywood Bowl.

Some showgoers mention it would be nice to have Phantom music playing during the half hour the theater is open prior to the show.

The elaborate chandelier base hangs over the audience. As the show begins that chandelier parts come to life. The chandelier bottom and what looks like three flying saucers, rotate over the audience, connect to form the 1-ton chandelier with an 80-foot-wide dome. Then the stage opens, the wall coverings vanish and the lights work their magic to transform the dull showroom into a splendid, gorgeous, amazing 19th-century Paris Opera Garnier - the type of Opera Houses built between 1862 and 1875 by Charles Garnier - baroque examples of neoclassicism.

The Vegas stage is massive and from this point on theater designer and special effects consultant Tony award winner David Rockwell, production designer Maria Bjornson and lighting designer Andrew Bridge own the show.

The chandelier doesn't drop in the dramatic way it falls in the Broadway production. Actually, the chandelier doesn't drop at all. In the middle of the show it slowly descends from the ceiling. Numerous versions of this type of ceiling descent have been mounted in Vegas - generally with a topless showgirl clinging to the apparatus. Although the Broadway chandelier crash instantly captures the audience into the drama and plotline, the tamer but bigger Vegas light fixture's appearance was greeted with warm applause.

Phantom of the Opera is the creation that has one of the most beautiful love songs ever written - All I Ask of You. This is the musical that has such a strong role in the Phantom that it made Michael Crawford a star opposite Andrew Lloyd Webber's ex-wife, Sarah Brightman. The show also catapulted her into ticket power of being able to SRO tour American - even appearing several times in Las Vegas.

Phantom, The Las Vegas Spectacular has no possibility of star making power.

This production actually boasts a live orchestra - only don't tell anybody.

There is no overture. Granted, you can see live people playing some instruments and there was a guy standing there waving his arms about, but no mention was made. Not even the customary hand gesture, pointing to the orchestra pit by the cast members, when they take their final bow. And to think that Las Vegas Musicians Union Local 369 once had clout.

Broadway To Vegas cares and we'd like to mention them. The Orchestra is conducted by Jack Gaughan. Associate conductor/keyboard Jay Alger. Associate conductor keyboard - Jonathan Gorst. Violins - Sheila Davis and James Harvey. Viola - Lisa Vazzana. Cello - Lee Richey. Bass - Chris Davis. Trumpets - Ton Snelson and Lawrence Ranson. French horns - Chris Castellanos, Sandra Donatelle and Reid Smith. Bass Trombone - David Philippus. Flute/piccolo - Jennifer Kuk. Clarinet/flute - Dennis Wilson. Oboe/English horn - Yvonne Betron. Clarinet - D. Gause-Snelson. Percussion - George Durkin.

Although no songs have been cut, there is a lot musically that is missed. The speed up, for instance. Just a half a beat faster- but it is faster. That can take meaning out of the lyrics and impact from the melody.

The playing time of the two record LP set of the original Broadway cast, which starred Michael Crawford and Sarah Brightman, runs 105 minutes and 53 seconds. The entire Las Vegas production only runs 95 minutes.



Brent Barrett as The Phantom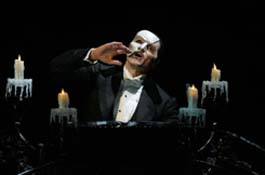 The official promotion reads - "Phantom – The Las Vegas Spectacular at The Venetian reunites Lloyd Webber, director Harold Prince, choreographer Gillian Lynne and others from the show's original creative team, who together reconceived their show into a 95-minute wonder, leaving each and every song from the original production intact."

It's a debate on language. Yes, intact in that they weren't totally removed - but shorter and faster.

The Las Vegas production venue acoustics are perfect and the Martin Lewis, Mick Potter sound design is glorious.

The most successful theatrical endeavor of all time, The Phantom of the Opera has grossed more than $3 billion worldwide since its London premiere in 1986, having played more than 65,000 performances in 20 countries and 110 cities. After the opening, the musical went on to sweep the 1988 Tony Awards, winning seven Tonys, including Best Musical as well as seven Drama Desk Awards and three Outer Critics Circle Awards. In January 2006, it became the longest–running show in Broadway history, surpassing another of Webber's greatest hits, Cats.

In other words, a lot of people have seen the show, loved and music and know what to expect. What has always drawn people to see this show more than once is the music. Now the hook is the staging.

For Phantom purists - one couple from Texas who had seen, as they termed it "a full blown touring production three times" called the Vegas spectacular - "On the whole, okay."

If you leave Phantom of the Opera The Las Vegas Spectacular raving about the way it looks like a Paris Opera House, then you are extolling the creation of David Rockwell. If you loved the on stage staircase, the candle lit river and the opera house scenes give credit to Maria Bjornson and Andrew Bridge. Can't stop talking about those wonderful costumes - the nod goes to to Bjornson and Sue Willmington. Maybe you're liked the illusions, give a low bow to Jim Steinmeyer.



Anthony Crivello as the Phantom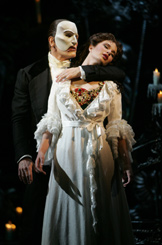 The voices on stage are magnificent - but saying they played Vegas will not add much to their careers. Double billed are The Phantom, Christine and Carlotta. All six are stars in their own right. To dismiss playing favorites, the audience isn't told who is playing what role and none of the patrons seemed to care.

Donning the infamous mask for the role of The Phantom are veteran stage and opera performer Brent Barrett, seen in the smash Broadway musicals Chicago and Annie Get Your Gun and Tony Award-winner Anthony Crivello, known for his roles on Broadway in Kiss of the Spider Woman and Les Miserables.

Cast as the delicate ingénue "Christine" are Sierra Boggess, who was recently seen regionally in Les Miserables and West Side Story and Elizabeth Loyacano whose Broadway credits include Oklahoma! and The Woman in White.



Elizabeth Loyacano as Christine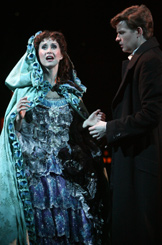 Musical Diva "Carlotta" is played by Elena Jeanne Batman, who comes direct from the same role on Broadway, and Geena Jeffries, seen in the same role in the San Francisco company of Phantom.

Also joining Phantom directly from the Broadway cast is Tim Martin Gleason playing the role of "Raoul" as well as Larry Wayne Morbitt, who brings 11 years of Phantom experience to The Venetian stage as Opera Great "Piangi."

While the audience appreciates the incredible voices of all the stars, rewarding them with generous applause and a standing ovation, the performers have clearly been relegated to also-starring status.

We actually could hear Rebecca Spencer, who portrays Madame Giry, speak exactly one line.

Annoying is that patrons are permitted to arrive late. The ushers, each of whom is responsible only for a small section, should have knowledge of their rows. A tardy man and woman were permitted to stand in the aisle - leaning their large frames against the seats - blocking the view of at least 10 people during Scene 3, while two ushers tried to figure out where their seats were located.



No gift shop, but you can buy Phantom gambling chips in the casino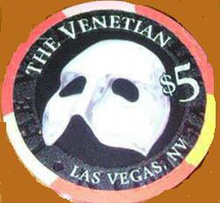 The is a production which has turned merchandising into a cottage industry and yet there is no gift shop. There is a "boutique" which sells mostly shirts. A woman holding up a CD stands in the foyer but there are no takers.

Whether the Las Vegas mounting is better than the Broadway version will rest with the individual patron. What this production is - is different. It's a reason to come to Vegas. People will want to see both a traditional Phantom production and the Vegas edition.

The re-staging of this show is so jaw dropping incredible that the full Broadway production could have been mounted with no audience walk outs during intermission.

Consider this show a Venetian fixture. Thanks to the scenic design, this is one Broadway show transferred to Vegas that not only is in no danger of closing early, but will be around for years.

What is disappointing is that Hal Prince and his associates were presented with a rare opportunity which they dismissed. Had they launched the full production in this grand setting, Prince and his cohorts would have owned the entertainment scene in Las Vegas. They would have gone down in history as courageous innovators who proved that visitors would pay top dollar and sit for an extended period of time without harming the casino drop or the restaurant trade.

When A Chorus Line opened as it's full length Broadway version at the Sahara Hotel it was a disaster, mainly because it lacked sparkle, and from a Vegas perspective, was downright dull. The only dazzling scene was the finale. Want to grab the Vegas crowd? Give them glitz - which is what Phantom has done. So why a musical by-product version? The producers are not poor and they are risk takers. Why did they only half way enter Vegas? If they were going to gamble on Sin City then it's too bad they didn't bet on their abilities and stage the real show, instead of this high tech cut. The big boys chose not to go to the grown ups table but instead took a safe approach - 95 minutes - no intermission and almost overkill on scenery, costumes and special effects.

Come to Las Vegas and enjoy the set design, high tech wonder and glamour and then dust off the original London or Broadway albums and listen to how the show can sound.

PHANTOM LAS VEGAS CAST

Barrett, Brent - "Phantom"
Batman, Elena Jeanne - "Carlotta"
Boggess, Sierra - "Christine"
Braun, Eric - Stunt Men
Carfrae, Doug - Ensemble / "Lefevre" / "Firmin" U/S
Combs, Courtney - Dancer Swing / Dance Captain
Crivello, Anthony - "Phantom"
Dietrich, Steven - Stunt Men
Dodson, Maureen - Female Swing / "Madame Giry" U/S
Edge, Amanda - Dancer
Ewing, Bruce - Ensemble / "Piangi" U/S / "Reyer" U/S
Gleason, Tim Martin - "Raoul"
Hale, Benjamin - Male Swing / "Raoul" U/S
Hart, Marcia Cope - Ensemble / "Madame Giry" U/S
Hertzenberg, Kristen - Ensemble / "Mirror Bride" / "Christine" U/S
Hood, Steven - Male Swing
Huddleston, Amanda - Ensemble / "Christine" U/S
Jeffries, Geena - "Carlotta"
Keegan, Ted - Ensemble / "Reyer" / "Phantom" U/S
Lackey, Michael - Ensemble / "Auctioneer" / "Phantom" U/S / "Andre" U/S
Lazzaro, Luke - Dancer
Leveque, Patrick - Ensemble / "Porter" / "Marksman"
Loyacano, Elizabeth - "Christine"
Miller, Justin Lee - Ensemble / "Don Attilio" / "Passarino" / "Buquet"
Modrono, Mabel - Dancer
Morbitt, Larry Wayne - "Piangi"
Morgan, Brianne Kelly - "Meg Giry"
Noda, Erina - Dancer
Patriquin, Kevan - Stunt Men
Price, Stephen - Ensemble / "Piangi" U/S
Pryor, Nicole - Ensemble / "Confidante" / "Wardrobe Mistress"
Raun, Rebekah - Dancer / "Meg" U/S
Skala, Lawson - "Firmin"
Smith, Marc Cedric - Ensemble / Cover "Don Attilio", "Passarino" & "Buquet"
Sobel, Joan - Ensemble / "Madame Firmin" / "Carlotta" U/S
Spencer, Rebecca - "Madame Giry"
Villei, Deana - Dancer
Walker, Jessica - Dancer
White, Danielle - Ensemble / "Carlotta" U/S
Williams, Donald - Dancer
Wolfe, John Leslie - "Andre"


BROADWAY UNDER THE STARS


On Monday, June 26th, Broadway moves to Central Park and the stars come out on the Great Lawn, as Target presents the fifth annual Broadway Under the Stars. This free evening of all-star entertainment features Broadway performers and a full orchestra performing on the greatest outdoor stage in the world.

This year's performance will be directed by Tony nominated director and choreographer Jeff Calhoun. Choreographer is Chase Brock and Music Director Phil Reno will once again lead the live orchestra.

Broadway Under the Stars this year features songs from the productions of legendary director and producer Harold Prince. The recipient of 21 Tony Awards (the most ever by one person) and a 1994 Kennedy Center Honoree, Mr. Prince directed the premiere productions of A Little Night Music, Cabaret, Evita, Follies, Pacific Overtures, Parade, Sweeney Todd, The Phantom of the Opera - and is currently hunkered down in Las Vegas for the new version.

Starring; John Cullum, Christine Ebersole, Manoel Felciano, Sutton Foster, Jane Krakowski, Rebecca Luker, Donna McKechnie, Matthew Morrison, Lee Ann Womack and Jersey Boys (Christian Hoff, Michael Longoria, Daniel Reichard and J. Robert Spencer).



Broadway To Vegas is supported through advertising and donations. Priority consideration is given to interview suggestions, news, press releases, etc from paid supporters. However, no paid supporters control, alter, edit, or in any way manipulate the content of this site. Your donation is appreciated. We accept PAYPAL. Thank you for your interest.


THE MUSIC GOES ROUND AND ROUND


THE DROWSY CHAPERONE this eagerly anticipated, original cast CD, released by Ghostlight Records, is a shameless display of unbridled whimsy - truly delightful.

Sutton Foster may sing Don't Wanna Show Off but this is a show off CD.

It's a journey back to 1929 and frolic with musical theatre's most beloved archetypes: gum-snapping chorines, harmonizing gangsters. The Broadway production which captured the hearts of audience, critics and Tony voters - winning 5 Tony awards - stars Foster as the bridal flapper. The cad is played by Troy Britton Johnson. The Gibson-swilling, zinger-slinging diva is Beth Leavel, the Latin lothario portrayed by Danny Burstein, the zany character actors Georgia Engel, Edward Hibbert bring all their clever wit and enormous talent to this wonderful CD. Penned by Lisa Lambert and Greg Morrison, the tunes are toe tapping tremendous.

Over the last few years musicals turned darker, resulting in the audience musing over the intent of the composer/lyricists while sipping brandy, or discussing hidden messages while waiting for a cab. Nothing wrong with that, but after seeing The Drowsy Chaperone there is an urge to skip over to Sardi's and enjoy a Baked Alaska. Listening to this CD leaves you with the same happy feeling.

Recorded at Right Track Studio. Mixed at Times Squire Recording. Mastered by Scott Hull.

Phil Reno conducts the orchestra composed of; Lawrence Goldberg, Perry Cavari, Mike Keunnen, Dave Stahl, Glen Drewes, Jeremy Miloszewicz, Steve Armour, Jeff Nelson, Edward Joffe, Tom Murray, Tom Christensen, Ron Jannelli, Matt Perri, Bill Hayes, and Ed Hamilton.

The recording of Soul Feet which features a major tap dance section is so effectively captured on the CD that the listener either visualizes the Broadway scene or conjures up their own dance routine.

A full color, 32 page booklet is included in this 20 track CD plus two bonus tracks I Remember Love featuring Georgia Engel and Edward Hibbert and Message From a Nightingale with Jennifer Smith, Garth Kravits, Jason Kravitz, Danny Burstein, and Beth Leavel.

Composers Lisa Lambert and Greg Morrison are Canadians and this collaborative began life eight years ago as a sketch for a Toronto stag party. It was first featured in the 1999 Toronto Fringe Festival. It is of some importance to emphasize that Lambert is a woman - a rare breed among Broadway composers.

The Drowsy Chaperone relieves an era when the only message a Broadway musical conveyed was one of relaxing and having fun. This CD captures that - a throw back to the days when Columbia Records even had a show cast album division. You don't have to give this CD your undivided listening attention. You can go on with your life while this plays and still feel a pick me up that doesn't have a let down.

As the track As We Stumble Along says - "for when you're feeling blue -- you know?" This never ending latte is an anthem to feeling good and not being ashamed about not having a serious message. The Broadway stage and CD buyers need more of these musicals. Can't wait to see what comes next from the outrageously talented Lambert and Morrison.


SWEET CHARITY


THE PUBLIC THEATER'S SUMMER GALA will honor Kevin Kline and Meryl Streep. This benefit, which takes place June 28, is one of the more unique events in the City, featuring a picnic supper in Central park, followed by a performance at the Delacorte Theater and a post-show champagne reception with the cast at Belvedere Castle overlooking Turtle Pond and the Delacorte. The event also celebrates the closing of its 50th-anniversary season, and opens its production of Macbeth.

The Public's annual summer Gala raises vital funds that help keep productions of Shakespeare in Central Park absolutely free of charge to all New Yorkers, as well as helping to underwrite all the activities at The Public Theater downtown – including full productions of new plays and classics, development programs for some of the best emerging playwrights in the country, diverse musical presentations at Joe's Pub, and The Public's dynamic community outreach program.


OTHER PEOPLE'S MONEY


THE INAUGURAL TONY RANDALL GRANT was presented at an event held at Sardi's Restaurant in New York on Wednesday, June 21st, Heather Randall and Jack Klugman, along with the Board of Directors of the Tony Randall Theatrical Fund, and the Grant Selection Committee announced the recipient - New York Theatre Workshop for the production of Martha Clarke's pirandello Project (working title).

The Tony Randall Grant is a $100,000 award given annually to a Tri-State area non-profit Equity theatre company for the production of a classic play, an adaptation of a classic play or a work inspired by the classics.

"The dramatic literature from every country, beginning with Greece, is our heritage. It is not to be read; it is to be seen on stage. Most Americans know little of it. This our challenge, our duty, and our mission in life – to bring live theatre to our city and country at a price which families can afford." – Tony Randall (1920-2004), on the mission of his dream, the National Actors Theatre, which he founded in 1991 and which presented over 20 major productions of classical theatre works both on and off-Broadway.

"With the Tony Randall Theatrical Fund and the Tony Randall Grant, we strive to continue Tony's dream of bringing the classical tradition of theatre to the public and in that tradition, to also fund work that breaks new artistic barriers," states Heather Randall.

The October 2006 production of Martha Clarke's Pirandello Project (working title) at New York Theatre Workshop aims to break new ground in the interaction between text, music and movement using four of Italian author Luigi Pirandello's (1887-1936) stories. Set in turn-of-the-century Sicily, these stories portray common people in mystical situations, heavily influenced by poverty and the political unrest of the time.

The Tony Randall Theatrical Fund has also recently presented several smaller grants to several non-profit organizations that were of personal interest to Mr. Randall. Among the recipients are: Berkshire Theatre Festival, Brooklyn Academy of Music, Center for Independent Filmmakers, Coconut Grove Playhouse, The Drama League, Elysium Between Two Continents, Ethical Culture Foundation, Guggenheim Museum, Martha Graham Dance Company, Neighborhood Playhouse School of Theatre, New Victory Theatre, New York International Ballet Competition, Paper Bag Players, Raleigh Charter High School, Rent 10, Starworks Foundation, VOICE Experience Foundation, Voice Foundation.

Applicants for the 2007 Tony Randall Grant will be asked to submit a one page information sheet and a one page proposal letter. The field will be narrowed to 10 finalists who will be asked to send more detailed information. The 2007 Tony Randall Grant Selection Committee includes Jed Bernstein, Steve Buscemi, Charles Busch, Cherry Jones, Michael Mastro, Marian Seldes, Gary Springer and Ben Vereen.


SPREADING THE WORD


MODERN FAMILY VALUES Beth Lapides talks about Chinese baby girls, gay dads, open adoptions, and closed minds with Teri Garr (Mr. Mom, Tootsie), Scott Carter (Real Time), and Dan Bucatinsky (The Comeback) & Don Roos (The Opposite of Sex). Thursday, June 29, at the Skirball Center in Los Angeles.

RICHARD GREENBERG author of The House in Town, currently playing in the Mitzi E. Newhouse Theater at Lincoln Center, takes part in a conversation moderated by Anne Cattaneo LCT Dramaturg. Part of Lincoln Center's platform series, Wednesday, June 28, at Lincoln Center, NYC.



KING ARTHUR

Jane Glover Director of Chicago's Music for the Baroque, conducts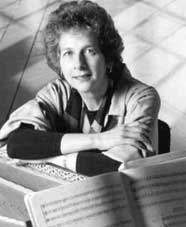 Mark Morris's joyous new production enjoys its world premiere at the London Coliseum, uniting the superlative Mark Morris Dance Group with the strong dance rhythms in Purcell's score to present a unique evening of spectacle, dance and song.

Purcell, the father of English opera, wrote King Arthur in an inspired collaboration with poet John Dryden – a stunning creative partnership between two of the greatest artistic geniuses of 17th-century England. This long-awaited new production, promises a thrilling and imaginative interpretation of Purcell's richly lyrical work which explores the myths and folklore behind the legend of King Arthur.

Early music specialist, Jane Glover, Director of Chicago's Music for the Baroque, conducts ENO's Orchestra and an impressive line-up of award-winning young British soloists.

Featuring Mhairi Lawson, Gillian Keith, Elizabeth Watts, Iestyn Davies, James Gilchrist, Andrew Foster-Williams, and William Berger.

Directed by Mark Morris. Set Designer is Adrianne Lobel. Costume Design by Isaac Mizrahi. Lighting Design by James F. Ingalls.

Opens June 26 London Coliseum.

MOONLIGHT AND MAGNOLIAS by Ron Hutchinson. Directed by James Brennan.

Starring Dan Butlet, Kathel Carlson, Brad Oscar and Mark Zimmerman.

It's Hollywood 1939. You are a high powered movie mogul. You've just fired The Director because The Star didn't like him. You have The Screenwriter who hasn't read the book.What's a fellow to do??

If you're David O. Selznick, you pull director Victor Flemming off the Wizard of Oz, tie playwright Ben Hecht to a chair, lock the doors, close the shades and knock out the screenplay to one of the most successful movies of all time… Gone With The Wind.

A hilarious backstage peek into what really goes on behind the scenes.

Performances through July l at the Cape Cod Playhouse, which is America's oldest professional theatre. It's located in Dennis, MA.

YOU NEVER CAN TELL by George Bernard Show. Directed by Heidi Helen Davis.

A comic masterpiece exploring the war between the sexes, the absurdities of marriage, and the rifts between generations is next up at The Will Geer Theatricum Botanicum in Topanga, CA.

The enlightened Mrs. Landfrey Clandon is a "new woman" - a single mother and staunch feminist. You Never Can Tell follows Mrs. Clandon's attempts to shield her three clever but unconventional children from "that horrid man," their father. While on a seaside holiday, a chance encounter between her daughter, Gloria, and a love-struck but impoverished dentist named Valentine brings the estranged family together with hilarious and touching results.

Cast members portraying the Clandon family are Ellen Geer as Mrs. Clandon, Willow Geer as Gloria, Jamie Snow as Dolly and Michael James Thatcher as Philip. Also starring in the production are Jeff Wiesen as Valentine, William Dennis Hunt as Crampton, Steven Matt as Walter, Philip Littell as McComas, and Tishuan Scott as Bohun.

You Never Can Tell first played on Broadway in 1905. Shaw, a crusader for both art and social reform, was a proponent of socialism and a supporter of women's rights. He advocated equality of income, the abolition of private property and radical change in the British voting system. When awarded the Nobel Prize for Literature in 1925, he displayed his loyalty to socialism by accepting the prize but refusing the money.

You Never Can Tell opens on Saturday, July 1 and continues through October 1, running in repertory with Shakespeare's Antony and Cleopatra and Twelfth Night. A fourth production, the West Coast premiere of Omnium Gatherum, joins the repertory season at the end of July.

HEDDA GABLER Written by Henrik Ibsen. Directed by Halo Wines.

Featuring: Maia DeSanti, Cornelia Hart, Anne Stone, Michael Howell, Julie-Ann Elliott, Christopher Lane, Jeffeies Thaiss.

In a society build by men, bored and unhappy Hedda Gabler craves independence, yet sees no way to achieve it without violating convention and affecting her comfortable status. When a former lover threatens her future Hedda takes measures into her own hands. Performances through July 23 at the Olney Theatre in Olney, MD.

HONUS & ME by Steven Dietz, adapted from the Dan Gutman novel about a Little League player who finds the most valuable baseball card in the world while cleaning an elderly neighbor's attic.

This charming tale is filled with baseball history, time travel and romance, this story goes to the 1909 World Series between Ty Cobb's Detroit Tigers and Honus Wagner's Pittsburgh Pirates and back again.

Directed by PRTC Artistic Director Guy Sanville, the cast includes Barbara Coven, Janet Maylie, Jim Porterfield and Wayne David Parker.

Opened June 22 with performances through August 26 at the Purple Rose Theater in Chelsea, Michigan.

PIG FARM by Greg Kotis. Directed by John Rando.

From the Tony Award-winning team behind Urinetown comes the world premiere in collaboration with the Old Globe, San Diego, CA. This dark comedy unfolds on a pig farm, where survival is a daily struggle, emotions run as wild as the herd, and getting your hands dirty is just the beginning.

John Ellison Conlee joins Tony Award winner Katie Finneran in this deliciously tongue-in-cheek tale, along with Tony Award winner Denis O'Hare and The O.C. star Logan Marshall-Green.

The design team for Pig Farm includes Scott Pask (sets), Gregory Gale (costumes), Brian MacDevitt (lights) and John Gromada (original music and sound design).

June 9 - September 3 at the Laura Pels Theatre in NYC.

THE BUSY WORLD IS HUSHED A new play by Keith Bunin. Directed by Mark Brokaw.

Featuring Jill Clayburgh, Hamish Linklater and Luke Macfarlane.

Hannah, a minister and bible scholar (Emmy, Academy, and Golden Globe Award nominee Jill Clayburgh), finds her faith at odds with that of Thomas, her estranged, wayward son. But when a soul-searching young writer hired to assist Hannah with her latest publication learns painful secrets from her past, she spies a risky, unconventional opportunity for reconciliation.

Scenic Design Allen Moyer. Costume Design Michael Krass. Lighting Design Mary Louise Geiger. Original Music & Sound Design Lewis Flinn. Production Stage Manager David Sugarman.

Continues through July 9 at Playwright's Horizon in NYC.

UNCLE SAM I AM: A 4th OF JULY CELEBRATION The Williamstown Theatre Festival presents this rousing evening of songs, poetry and historical speeches. It is created and directed by Sam Breslin Wright with musical direction by Kris Kukul Tuesday, June 27 through Friday June 30 on the Nikos Stage in Williamstown, MA.

EVITA the musical by Andrew Lloyd Webber and Tim Rice about former Argentinean first lady Eva Peron as Elena Rogers takes over the role created in 1978 by Elaine Paige of Eva, the Argentine girl who charmed and scratched her way up to share the power and the bed of her country's leader General Juan Peron..

Conceived during a reunion between Andrew Lloyd Webber and his former Jesus Christ Superstar collaborator, Tim Rice who had just returned from a trip to Argentina, Evita brings to life the dynamic, larger-than-life persona of Eva Peron, wife of former Argentine dictator, Juan Peron. Beginning with the young ambitious Eva, the production follows her methodic rise to sainthood in her homeland. The story tells of the enormous wealth and power she gained and the means by which she became the beloved Evita - a role which Webber described as "the most unpleasant character..."

Michael Grandage directs.

Starring Elena Roger as Eva, Philip Quast as Peron and Matt Rawle as Che.

Rob Ashford Choreography. Set design by Christopher Oram. Paule Constable Lighting Director. Mick Potter Sound Design. Simon Lee Musical Supervisor. David Chase Dance Arranger. Nick Davis Musical Director. David Cullen Co-Orchestrator. Richard Mawbey Hair and Wig Designer.

Evita, one of the world's greatest musicals, has returned to London's West End after 21 years. Opened June 21 at the Adelphi Theatre in London.


| | | |
| --- | --- | --- |
| | | |
WHO'S WHERE


ELVIS COSTELLO performs Wednesday, June 28 at O'Shaughnessy Auditorium in Saint Paul, MN.

THE WHO entertain Wednesday, June 28 at the Bristol City Football Ground in Bristol, UK.

PAUL ANKA doing it his way Friday and Saturday at the Sporting Club in Monte Carlo.

AN EVENING WITH AUDRA McDONALD AND LIZ McCOMB Ted Sperling, Music Director and Conductor in a free Carnegie Hall Neighborhood Concert. New York City's Central Park Summer Stage, Rumsey Playfield. Thursday, June 29.

SHERYL CROW performs Tuesday, June 27 at the Fox Theatre in Atlanta, GA.

PAUL SIMON on stage Wednesday, June 28 at the Schottenstein Center in Columbus, Ohio. On Thursday he is center stage at the Plain Dealer Pavilion in Cleveland, Ohio. Saturday finds him at the Marcus Amphitheatre in Milwaukee, WI. and next Sunday he can be enjoyed at the Zoo Amphitheatre in Toledo.

RED HOT CHILI PEPPERS entertain Friday, June 30 at Portman Road in Ipswich, United Kingdom. Next Sunday, they are in the spotlight at the Ricoh Arena in Coventry, UK.

MADONNA opens a two night stand this evening, June 25, at the Hartford Civic Center in Hartford, CT. On Wednesday she begins a four night gig at Madison Square Garden in NYC.

DIANE SCHUUR opens a four night engagement at the Carolina Bar & Grill in Hollywood on Thursday, June 29.

COLDPLAY down under this week opening at the Sydney Ent'ment Centre in Sydney, Australia on Monday, June 26 for a three night stand. On Saturday they begin a three night gig at the Rod Laver Arena in Melbourne.
















Next Column: July 2, 2006
Copyright: June 25, 2006. All Rights Reserved. Reviews, Interviews, Commentary, Photographs or Graphics from any Broadway To Vegas (TM) columns may not be published, broadcast, rewritten, utilized as leads, or used in any manner without permission, compensation/credit.
Link to Main Page
---
Laura Deni


CLICK HERE FOR COMMENT SECTION