! >
Broadway To Vegas
  
  REVIEWS  INTERVIEWS COMMENTARY NEWS

| | |
| --- | --- |
| | |
MANDARIN VERSION OF MAMMA MIA! OPENS IN CHINA - - JEWELS, GEMS, AND TREASURES ANCIENT TO MODERN - - BY GEORGE! THE GREAT GERSHWIN GALA - - MADAME POMPADOUR - - DEBBIE REYNOLDS THE EXHIBIT - - ARE PRINCE ALBERT AND CHARLENE HEADED TOWARDS AN ANNULMENT OR A BABY? - - REVIEW OF CAROUSEL CD RE-ISSUE - - NIGHT IN TAHRIR SQUARE - - DONATE . . . Scroll Down



MAMMA MIA! CREATES HISTORY IN CHINA
The Shanghai Production of Mamma Mia! officially opened at the Shanghai Grand Theatre on Monday, July 11, 2011. Pictured are Shen Xiao Cen as Tanya; Tian Shul as Donna and Yanf Zhu Qing as Rosie. Photo by Kim Ho-Keun and Bae Seok from Seoul Photos Studio.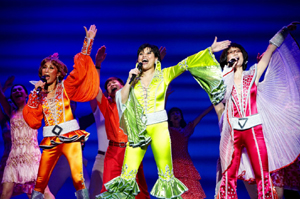 Chinese Mandarin tonal scales meet ABBA.

The Tony Award winning musical, Mamma Mia! by British playwright Catherine Johnson, based on the songs of ABBA, has opened a Mandarin speaking production in China.

Not knowing what to expect, the audience reacted with uneasy curiosity, and seemed uncomfortable with any romantic interaction - since PDA's are rare in China. By the time the show ended, the audience was won over, standing and dancing in the aisles. Critics were particularly kind to the performers playing Donna and Tanya. Bjorn Ulvaeus was in the audience and got up on stage for the finale - although the Chinese audience didn't recognize him.

It's been a long and winding road to China.

The musical holds the record for the most performances in the world, with a worldwide box office gross of more than $2 billion. It has been performed in 24 cities around the globe in 13 languages and attracted audiences of more than 42 million.

This is not the first time Mamma Mia! has played China. In 2007 an English language version was staged. But this is a stage version, billed as Broadway quality and it's in Mandarin.

It's a risk, but it may not be that much of a crap shoot.

While the Chinese might not known the musical group ABBA, the Chinese love karaoke and ABBA songs are the ones the Mandarin sing along crowds already have memorized.

Difficult was getting the show up and mounted.

Chinese music and acting students don't study musical comedy - or even musical theater. There's no infrastructure for commercial musical theatre in China, although the future looks promising since several Chinese universities and music institutions have broadened their programs by recently establishing musical theater departments.

In the meantime, finding the talent for Mamma Mia! - actors, technicians, stage crew and musicians – was hard and took an inordinately long period of time.

Mandarin is both spoken and sung using tones. Translating English lyrics into a tonal language was a major challenge.

The lyrics of the musical's Chinese version were jointly penned by two Tsinghua University students, Cheng He and Jia Yi, under the guidance of Taiwanese musician Chen Lerong, noted for his work on numerous Chinese music classics.

In 2007, British producer Cameron Mackintosh announced plans to stage legendary shows such as Les Misérables, Phantom of the Opera and Miss Saigon in China, while Broadway's Nederlander produced a Chinese version of Fame at the Central Academy of Drama, having brought 42nd Street to China in 2009. ( See Broadway To Vegas column of July 28, 2002 ) and ( See Broadway To Vegas column of March 25, 2007 )

On June 2, 2010, China Arts and Entertainment Group (CAEG) signed a license contract with the producer and copyright owner of Mamma Mia!, UK's Littlestar for a Chinese version of Mamma Mia!, making it the first Broadway show to be imported to the mainland. Their investment is reported to be around $66.08 million.

After a year of careful preparation, last month a press conference was called to introduce the stars to the media and have executives explain about the devil in those details.

United Asia Live Entertainment president Tian Yuan said the group chose Mamma Mia! because it had a proven track record. David Lightbody is the executive producer of the Chinese version, and the technical director is Liao Weihan.



Tian Shul as Donna and Zhang Fangyu as Sophie. Photo: United Asia Live Entertainment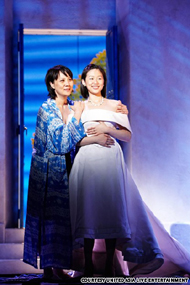 "Technologically speaking, Mamma Mia! has been far more difficult than any other musicals of similar scale in China," the technical director told the press. "Although it only has two acts, there are 25 scene changes. On average, the scene changes every five to eight minutes. The hotel on the Greek island, which weighs 200 kg, will be dragged on to and off stage 10 times."

The stage equipment had to be imported from Australia; the stage curtain specially ordered from Britain; the costumes were produced in France; the light and audio equipment is provided by South Korea. Chinese audiences were promised "a Broadway-level visual and auditory experience."

"The stage cost more than $1.5 million to build, and it took 100 technicians from China, Britain and South Korea a week to complete," said Liao.

It took six months to cast the leads. More than 2,000 hopefuls turned up at auditions.

Donna is played by Tian Shui, an actress from the Shanghai Drama Art Center with over 20 years of experience. She is the laureate of the White Magnolia Award for her outstanding performance, and the Cao Yu Drama Award.

Famed Shanghainese singer Shen Xiao Cen is cast as Donna's best friend Tanya and Beijing vocalist Yang Zhu Qing plays Rosie.

More than 1,000 young women competed for the part of Sophie. In the end, Zhang Fangyu, 23, a Taiwanese actress, won the part.

Tseng Hui-cheng, an actor and producer, won the part of Sam. Tseng, born in Hsinchu, Taiwan, earned his master's degree in musical theater at New York University and worked several years in America. He returned to Taiwan in early 2007 and co-founded the VM Theatre Company which has produced several musicals.

Mamma Mia! always incorporates local flavor into any worldwide mounting - which became critical to the success of the Chinese version.

Take the night before the wedding scene when eight friends of Sophie's fiancé come to make fun of the couple.

"This scene has 14 different versions around the world," said Leah Sue Morland, dance director of the musical. "No matter in what country, we will ask actors to perform the most characteristic local dances, such as flamenco in Spain."

The Chinese audience particularly responded to the use of the voice of Bruce Lee in scenes to add more humor to the musical, and the use of local dialects.

The show's director, Brit Paul Garrington, said: "We thought it would be quite witty to do that, and to have some Shanghainese slang thrown in there, too."

The audience agreed.

The musical opened last week on July 8 in Shanghai with performances to August 5, at the Shanghai Grand Theater, the first leg of its six months Chinese mainland performance tour. The production will be mounted in Beijing from August 12 to October 20 and Guangzhou from October 28 to November 24, for a total of more than 200 performances. After the mainland run the Chinese version will be staged in Hong Kong, Macao and Taiwan as well as Singapore in the next three to five years.



Broadway To Vegas is supported through advertising and donations. Priority consideration is given to interview suggestions, news, press releases, etc from paid supporters. However, no paid supporters control, alter, edit, or in any way manipulate the content of this site. Your donation is appreciated. We accept PAYPAL. Thank you for your interest.



ART AND ABOUT


DEBBIE REYNOLDS THE EXHIBIT On the heels of the success of the record-breaking Debbie Reynolds Hollywood Memorabilia Exhibit and Auction earlier this month, The Paley Center for Media announces an all new multimedia exhibition, Debbie Reynolds: The Exhibit, featuring more treasures from Ms. Reynolds's collection opening July 23 at the Center's Beverly Hills location.

The new exhibit is scheduled to feature iconic costumes, posters and props from Academy Award-winning film classics including Gone with the Wind, Show Boat, The Yearling, and Moulin Rouge!, as well as garments worn by a glittering array of legendary icons including Marilyn Monroe, Frank Sinatra, Katharine Hepburn, Bette Davis, Carmen Miranda, Doris Day, and many more.

Reynolds's fascinating collection will remain on view at the Paley Center throughout the remainder of 2011, and additional classic items, some never before displayed to the public, will be added each month.

"The thousands of visitors to our initial Debbie Reynolds exhibition established the Paley Center's new gallery space as a must-see destination for media enthusiasts," commented Pat Mitchell, president and CEO of The Paley Center for Media. "The combination of our unparalleled media collection, dynamic series of public programs, and exhibits of iconic memorabilia and artifacts makes the Paley Center a very unique institution in the City's cultural landscape. The debut of Debbie Reynolds: The Exhibit will usher in a new era of major exhibitions at the Paley Center that will continue throughout the coming years with additional exhibits from major studios planned for 2012 and beyond."

Visitors of the exhibition will also have access to the Center's unparalleled media archive featuring over 150,000 programs spanning the history of television, radio, and digital media.

The new exhibit will feature classic and rarely seen film clips related to the items on display and the center will plan a series of special screenings and events to celebrate the many films and stars represented in Reynolds's collection.

The initial exhibit, which brought thousands of visitors and international attention to The Paley Center, culminated in the June 18 auction by Profiles in History where Monroe's iconic white subway dress from The Seven Year Itch sold for a staggering $4.6 million. ( See Broadway To Vegas column of June 26, 2011 )

JEWELS, GEMS, AND TREASURES ANCIENT TO MODERN Gem (jem) n. 1. A pearl or mineral that has been cut and polished for use as an ornament. 2. Something that is valued for its beauty, perfection, or worth.

What is a gem? Today, in the West, we have come to regard diamond, pearl, emerald, sapphire, and ruby as the most precious of materials.

That has not always been the case. Throughout the course of world history, other substances have commanded equal attention, including materials that are largely ignored today. Kingfisher feathers, tiger claws, jet beads, and mica appliqués were at one time worn in different parts of the world with great pride.

Some materials, such as coral and rock crystal, have served a protective role, in which they were perceived as being able to guard their wearer from dangerous circumstances or malevolent forces. Other substances, especially those that are rare and available to a select few, are signifiers of wealth and power.

Jewels, Gems, and Treasures: Ancient to Modern, the first exhibition in the Museum's new Rita J. and Stanley H. Kaplan Family Foundation Gallery, will examine the various roles and meanings associated with a wide range of gem materials.

July 19, 2011 through November 25, 2012 at the Boston Museum of Fine Art.


THE MUSIC GOES ROUND AND ROUND


CAROUSEL by Rodgers and Hammerstein, based on Fereric Molnar's 1909 play, Lilliom.

The 1955 Studio Cast of the Lincoln Center production recording has been remastered and re-released by Masterworks Broadway and should be a part of everyone's collection.

Conducted by Lehman Engel, the sensational cast features Metropolitan Opera stars Patrice Munsel as Julie Jordan and Robert Merrill as Billy Bigelow. His impassioned versions of Soliloquy and The Highest Judge of All are showstopping. Munsel and Merrill also deliver an eight minute plus duet of the If I Loved You combining music and dialogue

Herbert Banke is Enoch Snow. Tony winner George Irving is the villainous Jigger Craigin. Mezzo soprano Gloria Lane plays Nettie Fowler, the character who sings the poignant and inspiring anthem, You'll Never Walk Alone.

Long before Florence Henderson wrote a book disclosing the surprise "gift" former New York Major John Lindsey gave her, or impressed with her body and dancing ability on Dancing With the Stars, or for her long run as a Las Vegas headliner, and even before Henderson was know as Carol Brady in The Brady Bunch, the talented lady was a Broadway star. In this production she stars as Carrie Pepperidge, the best friend of Julie Jordan and future wife to Enoch Snow. Her golden voice delights in You're a Queer One, Julie Jordan, June is Bustin' Ot All Over, When The Children Are Asleep, A Real Nice Clambake, and Geraniums In The Winder/Stonecutters Cut it On Stone.



Florence Henderson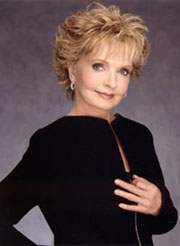 This is a dream cast doing justice to one of the greatest scores to ever call Broadway home.

The 1955 Studio Cast of Carousel was the first comprehensive recording of Rodgers and Hammerstein's great score - the first studio cast album that was sanctioned by Rodgers. The recording sessions took place March 31, April 5 and 7th, 1955.

Legendary Broadway maestro Lehman Engel conducted, of which Richard Rodgers wrote in the liner notes, "It is my hope that you will enjoy the splendid artists who have made this album as much as I enjoy them."

He also noted that Carousel may have been the only musical play to have its overture between acts rather than at the beginning.

Although this is not a truncation recording, June Is Bustin' Out All Over is shorter, as is Soliloquy, than on the original cast album. That's a problem which is easy to handle - just play the tracks again.

Rodgers's music was his most ambitious yet, in a ground breaking show which presented serious topics not typical in the musical comedy back in 1945. Set in a town on the coast of New England in 1873, it is the story of Julie Jordan, a sweet small town girl who falls for, Billy Bigelow, a carnival barker, and marries him. He loses his job and becomes an abusive husband. She becomes pregnant and he kills himself after his botched robbery attempt. Both the script and music are socially relevant and musically innovative.

Carousel is Rodgers and Hammerstein at their best. Recorded numerous times, even if you own a different version, you need to also own this one.

Transferring mastering engineer: Brian Losch. Restoration: John Fredenberg, Long Tail Audio, LLC, NYC.


SWEET CHARITY


BY GEORGE! THE GREAT GERSHWIN GALA will celebrate legendary American composer George Gershwin with a program including his most beloved music on Saturday, July 23.

This performance commemorates the 75th anniversary of Gershwin's one and only Ravinia performance by recreating the concert, which in 1936 had audiences climbing into the trees to catch a glimpse of the musical genius. Ravinia Festival Music Director James Conlon will lead the Chicago Symphony Orchestra in the 75-minute concert, which features renowned Gershwin interpreters vocalists Kelli O'Hara, Brian Stokes Mitchell, Sylvia McNair and pianist Kevin Cole.

The program features Rhapsody in Blue, An American in Paris and Cuban Overture, replicating Gershwin's 1936 Ravinia concert.

Hosted by the Ravinia Women's Board, the annual Gala is the only performance fundraiser benefiting the not-for-profit festival's mission, especially its efforts to bring music back to the schools through its ReachTeachPlay education programs. This special black-tie portion of the evening will begin with cocktails and hors d'oeuvres on the lawn at 5 p.m. At 7 p.m. dinner guests will be escorted to the pavilion for the concert, which will have no intermission. Immediately following the concert, dinner will be served in the Gala Marquee on the north lawn.

THE ACTOR'S FUND CelebriTEE Golf & Tennis Outing takes place Monday, July 25th, 2011, at the historic Knickerbocker Country Club in Tenafly, New Jersey.

A great day of golf and tennis is promised. The event includes lunch, cocktail reception, charity auction and dinner with live performances with celebrity guests, Tony nominees Liz Callaway and Peter Gallagher, all joining together to raise funds for The Lillian Booth Actors Fund Home in Englewood, New Jersey.




DO SEPARATE HOTELS MEAN AN ANNULMENT FOR PRINCE ALBERT AND CHARLENE - OR A BABY?
Albert and Charlene following their civil ceremony.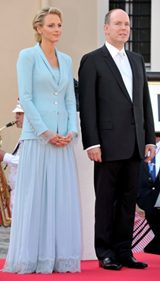 Prince Albert and his new bride, Princess Charlene, spent their honeymoon sleeping not just in separate beds, but in separate hotels, about 10 miles apart, according to reports first published in the South Africa paper City Press.

That can signal that the couple will try for an annulment based upon the marriage was never consummated.

Since most soap operas have left television, people have looked to Monaco for their intrigue and scandals.

That Albert is the son of Hollywood legend Grace Kelly, has spent a lot of time in Las Vegas and one of his illegitimate children was raised in California, brings in the American angle.

First, the son of Grace Kelly announced he was engaged to a beautiful Olympian, Charlene Wittstock. They'd been together for at least five years. Albert was old enough to be her father. Regardless, love or something like it, seemed to be in the air.

Also floating around were Albert's illegitimate children - 19-year-old daughter, Jazmin Grace Gramaldi, by Tamara Rotolo, an American estate agent. Raised out of the spotlight in California, Jasmin had been an honor student at St. Margaret's Episcopal School in Palm Desert, CA.

Albert's six year-old son, Alexandre Éric Stéphane Coste, is by Togolese former air hostess Nicole Coste. At the time of her paternity claim, lawyers for the prince denied he was the father but three DNA tests proved the contrary and he admitted Alexandre, born August 24, 2003 in Paris, was his son. Nicole is now a French citizen, living just five miles away from Monaco in an estate in the town of Villefranche-sur-Mer provided for by Prince Albert. There is a website devoted to the boy in which he is referred to as "Prince Alexandre of Monaco, the oldest son of Prince Albert II of Monaco," and includes everything about the child including that Alexandre started pre-school in a private nursery school located in Nice, France on September 7, 2006.

That website, which uses the Monaco royal crest, has sections about Prince Albert and Nicole Coste as well as a section where readers can make purchases.

Prince Albert has stated that both of his illegitimate children would be in line to inherit some of his personal fortune, estimated at more than one billion dollars.

Days before Albert and Charlene's lavish wedding, reports surfaced that a third woman was claiming to have had Albert's love child. What makes that a deal breaker for Charlene is that the child was conceived while Albert was engaged to her.

The press reported that three times Charlene attempted to flee Monaco and the wedding - but once you have the caterer and the band - it's tricky to cancel because you don't get the deposit back.

Shortly before his death in 2005, Albert's father Prince Rainier III, changed Monaco's laws so that if Albert didn't produce a legitimate heir, his sisters Princesses Caroline and Stephanie could become regent. France might contend that's a bit shaky. Monaco needs a legitimate heir sired by Albert, otherwise France could reclaim the 700-year-old dynasty.

Instead of agreeing on a china pattern, Albert and Charlene agreed that she would produce a child. In turn she'd get a title and an expensive lifestyle.

While Charlene's princess title may be serene, her life has been anything but.

Following the strained civil and religious marriage ceremonies the newlyweds dutifully arrived in Durban, South Africa for the scheduled honeymoon, with a reception at the Oyster Box Hotel in Umhlanga Rocks. The original intention was that the couple would stay in the hotel's presidential suite.

Hotel spokesperson Joanne Hayes confirmed to City Press that Charlene did stay in the Buthelezi suite. while the paper printed that Albert bedded down at the Hilton Hotel in Durban - around 10 miles away.

Spin doctors began their web, which had more holes than fabric.

The palace in Monaco confirmed to the Daily Mail that Albert and Charlene had slept in different hotels for "practical reasons," citing Albert's scheduled meetings at the Hilton with the International Olympic Committee, of which he is a member.

Charlene's father added his two cents by explaining that Albert had wanted to avoid "traffic congestion."

That's apparently the politically correct way of saying the bride had wanted to avoid the groom.

Suddenly the honeymoon was cut short with the announcement that "urgent business in Monaco" required Albert's immediate return.

The crisis was DNA testing in Albert's fight against a multi-million dollar paternity suit.

Speculation has run the gamut. If the DNA confirms that Albert has once again fathered an illegitimate child and Charlene can cite separate hotels in her claim that the marriage had never been consummated, she could receive an annulment.

Other speculations are more in accordance with accounting. Diamonds are a girl's best friend. Thus, Charlene will fulfill her end of the bargain and produce a legitimate heir. Whether this will be done the natural way with perhaps Charlene staring at the ceiling and thinking of her duty to the Crown - or by Albert getting romantic with a paper cup and Charlene looking for a doctor with the medical version of a turkey baster, remains to be seen.

Soap operas are so sleazy, complicated and intriguing.


SPREADING THE WORD


THE PUBLIC MEMORY OF 9/11 The upcoming tenth anniversary of the Sept. 11 attacks offers an opportunity to consider how the sites in New York, Washington and Pennsylvania are memorializing and interpreting this event.

Leading representatives - Alice Greenwald, National September 11 Memorial & Museum; Jeff Reinbold, Flight 93 National Memorial; and Andy Ammerman, Pentagon Memorial - present the designs of the memorials and discuss the challenges in commemorating recent history. Brent Glass, director of the National Museum of American History, will moderate the program.

Tuesday, July 26; at the National Building Museum in Washington, DC.

ONE NIGHT STAND billed as "The hilarious documentary gives an unbridled and candid look behind the Broadway curtain, as some of New York's top theatre, film and television actors, writers and directors are given 24 hours to write, cast, rehearse and perform four short musicals."

Among the talented participants are:

Actors: Cheyenne Jackson, Jesse Tyler Ferguson, Mandy Gonzales, Nellie McKay, Tracie Thoms, Alicia Witt, Richard Kind, Rachel Dratch, Roger Bart, Tamara Tunie, Scarlet Strallen, Theresa McCarthy, Capathia Jenkins, Marnie Schulenburg.

Writers: Gina Gionfriddo, Jonathan Marc Sherman, Rinne Groff, Brian Crawley.

Composers: Lance Horne, Robin Goldwasser and Julia Greenberg, Pasek and Paul, Gabe Kahane.

Directors: Ted Sperling, Trip Cullman, Maria Mileaf and Sam Gold.

The film's world premiere at the NewFest Film Festival in NYC will be attended by several of the film's stars, including Cheyenne Jackson, Richard Kind, Nellie McKay, and Mandy Gonzalez, and will be followed by a Q&A with first-time directors Elisabeth Sperling and Trish Dalton.

World Premiere at NewFest, July 24, 2011 in NYC.

The 24 Hour Musicals event was conceived as a fundraiser for The Exchange, which supports innovative theater companies in the U.S. and abroad.

ACADEMY Book, Music and Lyrics by John Mercurio. Conceived and developed by Andrew Kato. Suggested by Faust by Johann Wolfgang von Goethe.

Part of the York Theatre Company's Developmental Reading Series, the cast features Antonio Addeo, Corey Boardman, Wilson Bridges, Andy Mientus, Aaron Riesebeck, Matthew Roscoe and Alex Wyse.

The reading is directed by Igor Goldin, with music direction by Alexander Rovang.

Academy is a pop chamber musical about growing up and remaining true to oneself. At St. Edward's Academy, two senior students make a wager as to whether or not they can influence a new unsuspecting freshman to break a few rules to succeed.

Academy has won the DIMF International Award for Best Musical, the NYMF and Cole Porter Award for Score and an NEA grant.

Thursday, July 21, 2011 at the York Theatre Company in New York City.

IRELAND AMERICA: THE TIES THAT BIND in a collaboration between the National Library of Ireland and The New York Public Library for the Performing Arts in Lincoln Center, NYC writers and musicians come together to present fiction, music, and song inspired by the libraries' collections in Dublin and New York.

Dermot Bolger and Colum McCann with singers Donnacha and Diarmuid Bolger.

Wednesday, July 20, 2011. Admission is free, however seating is limited.

ELTON JOHN AIDS FOUNDATION reports that on July 5 that the Foundation joined with Advocates for Youth to bring 250 young people to see the ground-breaking Broadway play The Normal Heart by Larry Kramer. Young people from New England, New York City, New Jersey, Philadelphia, and Washington, D.C. came together to see the play and participate in a post-show discussion session.

The Normal Heart tells the harrowing and inspirational true story of a group of gay men in New York City who come together in the early 1980s to found the organization, Gay Men's Health Crisis, and fought largely unsympathetic political and media powers for funding and attention to address the burgeoning AIDS epidemic in America.

Back in 1985, Larry's extraordinary play tackled the difficult topic of AIDS when very few people were willing to speak out about an escalating public health crisis. Scientists were still searching for effective treatments, AIDS wards were full of dying people, and many politicians were more interested in blaming the sick for their illness than in finding solutions and funding preventions. The play helped to galvanize the gay community, inspiring many capable people to step forward and become a new generation of activists and community leaders.

The Normal Heart, directed by Joel Grey and George C Wolfe, stars Ellen Barkin, Patrick Breen, Mark Harelik, John Benjamin Hickey, Joe Mantello, Luke Macfarlane, Lee Pace, Jim Parsons, Richard Topol and Wayne Alan Wilcox. This production is the winner of the Tony Award for Best Revival of a Play. Performances are at the Golden Theatre in New York City.

BARBRA STREISAND AND SETH ROGEN in Las Vegas last week filming a movie at Caesars Palace. That caused spotters to go wild posting their 'I just saw Barbra Streisand' pronouncements on various websites.

The couple filmed My Mother's Curse in various locations, including Sin City where the production wrapped. The plot centers around an inventor, played by Rogen, who takes his mother (Streisand) along on a road trip where he attempts to market his latest inventions.

RUPERT MURDOCK'S NEWS OF THE WORLD collapsing under the weight of its own spy system shouldn't have surprised anyone. The only eyebrow raising issue was why it didn't happen years ago.

The public didn't approve when the news broke four years ago that the publication had hacked into the British royals, soccer stars, and pop singers. But the public seethed with distaste upon learning that the paper was caught hacking emails and voice mails of ordinary people, including parents of a murder victim and families of soldiers killed in Iraq and Afghanistan. The hacking scandal has spread to America with the added disclosure that Murdock's crew tried to obtain information about 9/11 victims and their families.

Subterfuge, spying, snooping - all in the hopes of gaining any kind of information that can be sold or used to harm the victim, or benefit the snoop in some way is rampant - at all levels.

Years ago a man with a cap pulled forward in an attempt to hide in face, came to my door pretending to be a telephone repair man who claimed he needed access into my home to fix some loose connections. After some discussion about his lack of reliable identification, he was told to get lost. The man then and now is employed on the non-editorial side of the publishing business. He was attempting to illegally tap my phone in hopes of gaining information that he could sell to a law firm. ( See commentary )

Fast forward a few years - another publication has a columnist who, on more than one occasion, when visiting his girlfriend's home town, tried to obtain information about me, then posted blind items about his efforts in his column to coded recipients - one of whom is a Las Vegas resident who, not only put in their two cents in the above mentioned legal issue, but even once offered a medical office $5,000 if, the next time I was there, I'd be given a shot, which wouldn't kill - but would have caused anyone receiving that particular drug - to suddenly start flapping their arms about and behaving in such a deranged manner as to require long term institutionalization. When told about this by a medical person, I asked why the police weren't called. The answer was because they knew the person didn't have $5,000, so they thought it was a joke.

The columnist wasn't able to come up with any profitable gossip. He finally included a message in a column, for his anonymous cohorts, that he was no longer going to waste his vacation time in that manner.

Crossing the line isn't confined to the British. It's everywhere. All that's needed is an incentive which tempts taking the risk.


OTHER PEOPLE'S MONEY


JERRY SEINFELD'S COLORADO HOME a 14,200 square foot abode is up for sale. The fully furnished, contemporary ranch home is in the Raspberry Patch subdivision and sits on almost 27 acres on Turkey Creek Mesa. It features four fireplaces, a 5,500-square-foot deck, a guest house and a private road. The house was remodeled in 2009. The home is listed by Bill Fandel with Peaks Real Estate, Sotheby's International Reality. The $18.5 million asking price includes a garbage disposal and microwave

EVE LONGORIA'S financially plagued nightclub, Eve, located in the Crystals mall at the CityCenter casino resort complex on the Las Vegas Strip, has closed indefinitely.

The attached Beso restaurant remains open.

Operating in bankruptcy since January 6, Beso LLC, the company owned by Longoria and other investors, is attempting to restructure $5.68 million in debt.



SPLITSVILLE


JENNIFER LOPEZ AND MARC ANTHONY have announced they have separated after seven years of marriage. The couple are parents to 3-year-old fraternal twins Max and Emme.

Anthony married former Miss Universe, Dayanara Torres on May 9, 2000 in Las Vegas. They have two sons, Cristian Marcus Muñiz (February 5, 2001) and Ryan Adrian Muñiz (August 16, 2003). The couple separated in early 2002. They later reconciled and renewed their vows in a formal ceremony on December 7, 2002 at San Juan's Cathedral in Puerto Rico, but the marriage came to an end in October 2003 with Dayanara filing for divorce in January 2004. Less than a week after the divorce was finalized, Marc Anthony married Jennifer Lopez on June 5, 2004.

Lopez's first marriage was to Cuban-born Ojani Noa on February 22, 1997. They divorced in January 1998. Lopez next had a two-and-a-half-year relationship with hip-hop mogul Sean Combs. Her second marriage was to her former backup dancer, Cris Judd. The two were married on September 29, 2001, at a home in the L.A. suburbs. Their marriage effectively ended in June 2002, when Lopez began publicly dating Ben Affleck. They were officially divorced in January 2003. Her relationship with Affleck was highly publicized, with the media dubbing the couple "Bennifer." Lopez announced her engagement to Affleck in November 2002, after Affleck gave her a six-carat pink diamond ring worth a reported $1.2 million. The marriage, planned for September 14, 2003 in Santa Barbara, California, was called off just hours before the event. Less than two months after her break-up with Affleck, Lopez was seen with singer Marc Anthony.

Lopez is one of the highest-paid actresses in Hollywood and the highest-paid Latin actress in Hollywood history.


GET WELL SOON TO . . . .


BETTE MIDLER who was forced to dropped out of an HBO TV film about jailed music producer Phil Spector, after suffering a herniated disc six days into production.

The actress and singer was to portray Linda Kenney Baden, Spector's defense lawyer in his first trial for the 2003 murder of actress Lana Clarkson.

HBO said Midler had filmed for three days before bowing out on the advice of her doctor. The film stars Al Pacino as Spector and Arrested Development actor Jeffrey Tambor as Bruce Cutler, another of Spector's defense lawyers. Midler's role will be recast.

"I am heartbroken to be forced to leave this terrific project," Midler said in a statement. "Working with David Mamet and Al Pacino was a dream of mine. But the pain I am in has made my participation impossible. My heartfelt thanks to everyone for their kind understanding."


STORK DROP OFF . . . .


VICTORIA AND DAVID BECKHAM AND welcomed a daughter to their family of three sons on Sunday, July 10.

They named the infant Harper Seven Beckham. Beckham posted on his Facebook page. "She weighed a healthy 7 pounds 10 ounces and arrived at 7:55 this morning, here in LA. Victoria is doing really well and her brothers are delighted to have a baby sister."

KATE HUDSON AND FIANCE MATT BELLAMY have become parents of a healthy baby boy, named Bingham, born July 9, 2011 in Los Angeles. It is the couple's first child and the second child for Hudson, 32. Waiting at home to show the new baby the ropes is big brother Ryder, Hudson's 7-year-old son with ex-husband Chris Robinson of the Black Crowes.



MADAME POMPADOUR Music by Leo Fall. English Libretto by Richard Traubner.

The romances, intrigues, and scandals of royalty have furnished fertile fodder for composers and writers since the beginning of staged entertainment. Few historical figures have proved as tempting a target for these writers as Madame Pompadour, the "official" mistress of King Louis XV.

Of all the treatments of her story - be they in film, literature, art, or music - none matched the piquancy of the 1922 operetta by Leo Fall, who, along with Franz Lehár, Emmerich Kálmán, and Oscar Straus, ruled over the operetta world of Vienna in the first decades of the 20th century.

When the married Count René, in Paris for carnival time, picks up an attractive girl who turns out to be Madame Pompadour, he is arrested. Just as he is about to be whisked off to the Bastille, Pompadour intercedes and hands down her own sentence: René is to serve as her personal bodyguard. The plot thickens when René's wife arrives, searching for her lost husband, and the King arrives, trying to catch his royal mistress with her unknown paramour. Despite His Highness' best efforts, Pompadour manages to stay always one step ahead. Leo Fall's musical score is one of the most sparkling in Viennese operetta, highlighted by Pompadour's soaring entrance song; the irresistibly catchy seduction duet - Joseph, oh Joseph - between Pompadour and René's poet-friend; and the engaging march duet in which Pompadour tells her new bodyguard to keep his distance - until midnight.

July 20 - August 11, 2011 at The Ohio Light Opera, which is the Residential Professional Company of The Wooster College in Wooster, Ohio.

SWEENEY TODD a musical thriller by Stephen Sondheim. James Moore conducting the Wolf Trap Opera Company and the National Symphony Orchestra.

Tara Faircloth will direct a cast that includes Michael Anthony McGee as Sweeney Todd, Margaret Gawrysiak as Mrs. Lovett, Eric Barry as Anthony, Ashlyn Rust as Johanna, Edward Mout as Tobias Ragg, Kenneth Kellogg as Judge Turpin, Lindsay Amman as Beggar Woman, Nathaniel Peake as Pirelli and Dustin Lucas as Beadle Bamford.

Clever and dark, this musical thriller about a barber on a murderous path for revenge is fully staged in a stunning new Operascape production that features a video projection design developed for the Filene Center.

This musical thriller tells the tale of Benjamin Barker, alias Sweeney Todd, who returns to London after 15 years of imprisonment on false charges. He learns that his wife poisoned herself and begins to exact revenge on the man he holds responsible.

Free Pre-Performance Discussion at on the Old Farmhouse Lawn. Friday, July 22 at the Filene Center, Vienna, VA.

FELA! the Tony Award-winning Broadway dance musical is directed and choreographed by Bill T. Jones, with a book by Jim Lewis and Bill T. Jones, and music and lyrics by Fela Anikulapo-Kuti. Conceived by Bill T. Jones, Jim Lewis and Stephen Hendel, the design and Tony Award winning costumes are by Marina Draghici, lighting design by Robert Wierzel and the Tony Award winning sound design by Robert Kaplowitz.

Leading the cast is Olivier Award-nominated Sahr Ngaujah, who returns to the title role, having garnered acclaim for his portrayal of Kuti in New York and London. Featuring many of Fela Kuti's most captivating songs and Bill T Jones's visionary staging, FELA! reveals Kuti's controversial life as an artist and political activist and celebrates his pioneering music.

Recognized as an icon in the international world of rock and roll, soul, jazz and hip-hop, Fela Kuti combined elements of traditional Yoruba, high life and jazz, giving rise to Afrobeat. Through his music he condemned military regimes in Nigeria. He was arrested more than 200 times and beaten savagely on many occasions. Despite this he continued to live in Nigeria and produced more than 70 albums during his career. A provocative hybrid of dance, theatre and music, exploring the extravagant, decadent and rebellious world of Afrobeat legend Fela Kuti, the production runs at Sadler's Wells from July 20 to August 28, 2011.

DEATH TAKES A HOLIDAY Roundabout Theatre Company's new musical, with a book by Tony winners Peter Stone and Thomas Meehan, music and lyrics by Tony winner Maury Yeston. Directed by Tony winner Doug Hughes.

In Death Takes a Holiday, it's just after the first World War and the loneliest of souls arrives at an Italian villa disguised as a handsome young Prince (Ovenden), and for the first time experiences the joys and heartbreaks of life. But when he unexpectedly falls in love with a newly engaged young woman (Paice), the mysterious stranger discovers that love may in fact be stronger than death.

Featuring Linda Balgord (Contessa Evangelina Di San Danielli), Matt Cavenaugh (Major Eric Fenton), Mara Davi (Alice Lamberti), Joy Hermalyn (Cora), Jay Jaski (Lorenzo), Simon Jones (Dr. Dario Albione), Rebecca Luker (Duchess Stephanie Lamberti), Patricia Noonan (Sophia), Julian Ovenden (Death/Prince Nikolai Sirki), Jill Paice (Grazia Lamberti), Michael Siberry (Duke Vittorio Lamberti), Alexandra Socha (Daisy Fenton), Don Stephenson (Fidele), Max von Essen (Corrado Montelli).

Death Takes a Holiday opens officially on Thursday, July 21, 2011 at the Laura Pels Theatre at the Harold and Miriam Steinberg Center for Theatre in New York City and will play a limited engagement through September 4, 2011.


WHO'S WHERE


CELEBRATING RAG TIME PAST & PRESENT WITH CELESTE LEDERER a piano concert featuring diverse works by Joplin, Lamb, Debussy, Auferderheide, Lederer and others, performed by composer/pianist Celeste Lederer. A special piece composed especially for the occasion, The Staten Island Centennial Rag will be debuted, July 23, 2011 at the Richmondtown Library, NYC.

A NIGHT IN TAHRIR SQUARE featuring El Tanbura, Azza Balba, Mustafa Said and Ramy Essam. It was the biggest party in Egypt's history. Between January 25th and February 11th, the people turned Cairo's Tahrir Square into a cross between Woodstock and a giant soapbox. Music and poetry played a crucial role in breaking the ice and melting the fear of tyrannical decades. The Barbican is proud to celebrate people power in the Arab world with an exceptional line-up of artists, all of whom helped to create the soundtrack to Egypt's revolution. July 22 at Barbican Hall in London.

JON BON JOVI in the spotlight Wednesday, July 20, at the Olympic Stadium in Athens, Greece. Friday's show is at the Ernst Happel Stadion in Vienna, Austria. Next Sunday, July 24, he's in the spotlight at the Zeebrugge Beach in Brugges, Belgium.

KEITH URBAN on stage Tuesday, July 19, at the Nationwide Arena in Columbus, OH. Thursday the show is at the Quickens Loans Arena in Cleveland. Friday finds him at the Van Andel Arena in Grand Rapids, MI. Saturday's show is at the Palace of Auburn Hills in Auburn Hills, MI.

IRON MAIDEN have a UK arena tour with performances Wednesday, July 20, at the Glasgow SECC. On Thursday the show is at the Aberdeen AECC P&J Arena. Saturday's show is at the Newcastle Metro Radio Arena and next Sunday, July 24, they are on stage at the Sheffield Motorpoint Arena.

PINK MARTINI will be appearing at the BW-Bank Jazzopen in Stuttgart, Germany on Monday, July 19.

BILL COSBY will perform his stand-up comedy routine in Las Vegas at the Treasure Island Resort on July 22.

DOLLY PARTON opens her show tonight, July 17, at the Thompson-Boling Arena in Knoxville, TN. On Tuesday she's in the spotlight at the Verizon Theatre in Grand Prairie, TX. Wednesday finds her at the Sandia Resort in Albuquerque, NM. On Friday she begins a two nighter at the Hollywood Bowl. Next Sunday, July 24, she can be enjoyed at the Sleep Train Pavilion in Concord, CA.

JOSH GROBAN on stage Monday, July 18, at the Air Canada Centre in Toronto. Tuesday's show is at the John Labatt Centre in London. Ontario. Another performance in Ontario takes place on Friday at the Scotiabank Place in Ottawa. On Saturday the show is at the Bell Centre in Montreal, Quebec.




FINAL OVATION


SHERWOOD SCHWARTZ creator of The Brady Bunch and Gilligan's Island - including writing the theme songs for both - died peacefully in his sleep July 12, 2011 in Los Angeles. He was 94.

He won the 1961 Emmy Award for his writing on The Red Skelton Show. He was nominated for a Daytime Emmy for his 2004 special Still Brady After All These Years.

He began his career writing for Bob Hope and also served as a script supervisor on My Favorite Martian and as a writer and producer of Harper Valley PTA.

On March 7, 2008, he received a star on the Hollywood Walk of Fame.

On November 10, 2006, his play Rockers opened in Theater West in California. In 1990, he wrote Gilligan's Island: The Musical, still in production as of 2011. His son Lloyd. daughter Hope, and son-in-law Laurence Juber worked on the play as well.

He is survived by his wife of 69 years, Mildred Schwartz and their four children: Donald, Lloyd who created The Munsters Today, Ross, and Hope.

TONY STEVENS dancer, choreographer and director has died of Hodgkin's Lymphoma. He was 63.

He performed in nine Broadway shows. His regional choreography credits include over 10 original shows and 30 revivals.

He directed and choreographed nightclub acts for Chita Rivera, Bernadette Peters, Dolly Parton, Liza Minnelli, Bette Midler, Debbie Shapiro, and Jane Powell. He was also proud to have choreographed for Gene Kelly.

It was also Stevens who along with dancer Michon Peacock, in 1974 staged a series of taped workshop sessions in which dancers confessed their life stories and feelings about their professions. Eventually Michael Bennett was invited to sit in as an observer. That taped material led directly to the text and subject matter of A Chorus Line.

REX BELL, JR former Clark County, Nevada district attorney, and son of famed cowboy actor, Rex Bell, Sr. and silent film icon Clara Bow, who was known as 'The It Girl,' died Saturday, July 9, 2011 in Las Vegas. He was 76 and suffered from cancer.

TERRY LANNI well respected veteran Las Vegas gaming executive died Thursday, July 14, 2011 at his home in Pasadena, California from cancer. He was 68.

Lanni was the former MGM Mirage CEO and Chairman who served in that capacity for over 13 years, retiring from the position in 2008.

He is survived by his wife, Debbie, sons Sean and Patrick.

Memorials are planned in Las Vegas and Pasadena.








Next Column: July 24, 2011
Copyright: July 17, 2011. All Rights Reserved. Reviews, Interviews, Commentary, Photographs or Graphics from any Broadway To Vegas (TM) columns may not be published, broadcast, rewritten, utilized as leads, or used in any manner without permission, compensation and/or credit.
Link to Main Page
---
Laura Deni



For the snail mail address, please E-mail your request.
CLICK HERE FOR COMMENT SECTION