! >
Broadway To Vegas
  
 SHOW REVIEWS CELEBRITY INTERVIEWS GOSSIP NEWS

| | |
| --- | --- |
| | |
TEACHING LAWYERS TO BEHAVE LIKE HUMAN BEINGS - - MARY POPPINS ON STAGE AND ON CD - - NEDERLANDER ORGANIZATION INVADES CHINA - - CURTAINS OPENS ON BROADWAY - - DIABETIC COMPLICATIONS FORCES DICK VAN PATTEN TO LEAVE SHOW - - DANIEL SULLIVAN HONORED - - KANSAS CITY LYRIC OPERA BALL - - ELTON JOHN TURNS 60 AND TOURS EUROPE - - DONATE . . . Scroll Down


Copyright: March 25, 2007
By: Laura Deni

CLICK HERE FOR COMMENT SECTION
TEACHING LAWYERS TO BEHAVE LIKE HUMAN BEINGS
Katherine James
Teaching lawyers to behave like human beings? An oxymoron?

Prior to the 24-hour genre of news reporting, the Joe Pesci, Marisa Tomei flick My Cousin Vinny was the laymen's touchstone for a step-by-step guide of how the legal process works.

Attorneys learn law in schools. Then they gather their diplomas, buy a dark suit and stumble upon the reality of communicating.

Actors Alan Blumenfeld and Katherine James are applying theater to the law, training lawyers in the art of communication. Their firm, Act of Communication, is one of the nation's top trial consulting firms - where attorneys go to receive necessary continuing education credits demanded by the American Bar Association.

This week they are at Harvard conducting week-long workshops for seasoned mouthpieces.

The Alan Blumenfeld-Katherine James team spoke with Broadway To Vegas about their dual occupations.

Alan Blumenfeld is a name you might think you recognize. Take a look at his photograph and the reaction is generally - Of course! He's been in over 200 hundred television shows, several movies, numerous stage productions and does his share of voice overs, radio spots, and commercials.

Alan Blumenfeld as Shylock The Merchant of Venice at The Will Geer Theatricum Botanicum. Photo by Denise Blasor.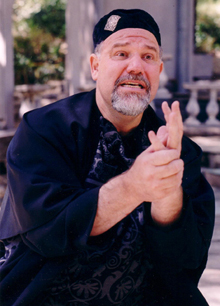 His wife and business partner, Katherine James, is herself an actor/ writer/director.

Act of Communication, has been around since 1992 while the two have been trial consultants since 1977. They have consulted as a part of trial teams on more than 700 cases with trial lawyers presenting their cases to judges, arbitrators, mediators, and commissions.

How did a couple of nice, talented people get involved with an occupation that is fodder for bad jokes?

"We were 25. My husband-to-be and I were getting our master's degrees at the American Conservatory Theater in San Francisco," answered Katherine. "Ed Hastings, Ph.D, Yale, pulled jury duty," she said about the man who was a founding member of San Francisco's American Conservatory Theater and its Artistic Director from 1986 to 1992. "As he was talking about this experience and all of the things that were so frustrating, little light bulbs were going off in my head, because I knew how to fix all of that from what I learned from the theater."

A business was born.

"We called it Applied Theater Techniques," Katherine continued. "We had a partner. Since then we dissolved that partnership and nobody could use the name. That is why we are now Act of Communication."

"We were the first people to apply theater to the law."

Just don't call it acting.

"We most emphatically are not an acting class," Alan emphasized. "We are not teaching acting to lawyers. Our contention is that many lawyers are already acting. They are acting their notion of what a lawyer should be. That's the problem."

While James and Blumenfeld are actors, not magicians, the reputation of their company speaks volumes about their success. With a good pay check and an attitude envied by his or her friends, why should a lawyer seek out this type of help?

"Primarily, people come to us in one of two ways," answered Alan. "Either they feel they may have lost an edge, or they no longer have the same passion or focus that they had when they were younger. They come to reinvigorate themselves. A lot of people come to us if they have had a string of really successful verdicts and then hit a period where they feel they haven't been connecting with a jury. That's when they'll call us."

"We get calls from very experienced attorneys who want to learn more. Not only is there a continuing educational requirement, but we have found that there is an appetite of the trial lawyers to get better. It is so competitive, so difficult, that whatever added skill or advantage attorneys can get, they want."

Act of Communication is accredited to provide continuing educational credits for attorneys - something that is required for lawyers to maintain their bar licenses.

In order to become accredited Act of Communication, "had to provide a description of the course, materials, letters of recommendation. We need approval from each individual state - somewhat of a complicated process - and you have to re-new it every few years," Alan explained.

"We're about to go to Harvard Law School to teach a group of attorneys. We will have people who must have a minimum of 25 trials and two (winning) verdicts. We will be working with people whose ages are between 35 and 65. These are people with enormous experience. It's sponsored by the American Association for Justice, which used to be The American Trial Lawyer's Association. The use the Harvard Law school facility. It's a wonderful, week long program at the end of March."

Katherine and Alan have discovered that their backgrounds and occupation as actors are a plus for training legal eagles.

"One of the things about being a trial attorney is that you often lose. And, I often don't get the role," confessed Alan. "So, I know what it means to get beaten up by something you love. When I don't get a role, I just go home. When an attorney spends all of his time and passion and loses, somebody's life is really affected."

Katherine and Alan have been involved in tobacco cases with Katherine doing "about 50 percent commercial litigation and about 50 percent plaintiff and a little criminal - both blue and white collar."

"Commercial litigation - one corporation suing another - may not be high profile in the eyes of the public. But there is often times $500 million, $3 billion, $5 billion on the line. It ends up being high profile in the business world," she declared.

What can come across from the mouth wearing a suit is an attitude perceived as arrogant.

"Arrogant is an interesting word," said Katherine. "The legal profession is really a tough, tough business. I think one the hardest things about being a lawyer is the responsibility factor. At the theater, if I have a crappy matinee - I can be thinking, it's bad, but that's okay because there will be another show tonight. But in the legal world if things go badly a fortune is lost, or somebody goes to prison or somebody's life is lost. So, responsibility makes people scared. It's a scary, responsible world that they live in. People can mistake that for arrogance. When you are used to fighting really hard in this adversarial system, it can look like arrogance, because you've taken on somebody else's cause and put it on your shoulders."

"If you have an unpopular cause or client, you have more of a responsibility to make a connection with the jury, judge or committee," cautioned Alan.

"You cannot lie. You must be creditable, sincere and honest. There has been a lot of money spent to convince the public that attorneys are not credible and honest. That in itself is a lie," stressed Alan.

"Most great attorneys, who are spending time in the courtroom advocating for clients, are credible, honest and sincere," he insisted. "Like every profession there are some that are not. The only way you project honesty, credibility and sincerity is to be honest, credible and sincere. That's the great challenge."



Johnnie Cochran passed away March 29, 2005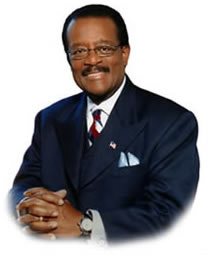 "The great risk that the attorney has to take is to be vulnerable in the room, especially if the client or cause is not popular - as Johnnie Cochran had," continued Alan. "He is best remembered for the O.J. trial. In his early years as a lawyer, his civil rights, housing discrimination work - his work on behalf of minorities - is what made his reputation. That is where he learned how to be a brilliant advocate. This was a man who had nothing but honesty and sincerity."

"We have worked with literally tens of thousands of lawyers over the last 30 years - at law firms, at continuing education workshops, at colleges," he continued. "The greatest trial lawyers are very honest and very friendly. There are a few, of course, who are really slick, hip and cool and can fool you, but that is rare There are great actors who are also phony, admitted Alan."

Act of Communication doesn't use scripts or transcripts.

"All of the exercises that we have developed have been specifically developed with the goal of being extremely applicable for attorney needs," he stressed.

As we become a more litigious and instant-communication society the mouthpiece job description changes.

"There is a whole class of transactional attorney who never felt they would go into court who, all of a sudden, are in the courtroom," Alan declarec. "There used to be what was called patent law, which now falls under the larger category of intellectual property law."

"Transactional attorneys now have to interact with clients and with regulatory commissions. They are not necessarily as comfortable speaking with people as they are doing their work. All of a sudden they are going to court because things are litigated. All off a sudden they need a compliment of skills."

"One of the mistakes that attorneys make is thinking that jurors are audiences, but they are not," stressed Katherine. "They are actors on stage with you. So, it is actually not about becoming somebody else and its' not about being out there in a one man show. It's being in a show in which you have a lot of lines, many of which you have written. But it is a giant ensemble piece that you are directing, and you are in it. It's pretty intense."

"I think of it as a giant piece of theater. And, those jurors are other actors on stage with you."

"How to act like yourself instead of that weird other person you turn into when you get up to talk in front of people. That's a big one that we teach," she emphasized.



Austin Pendleton portrayed an attorney with stage fright in My Cousin Vinny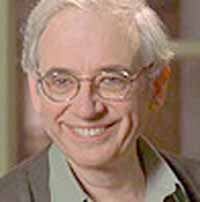 In the movie My Cousin Vinny actor Austin Pendleton portrayed public defender John Gibbons, who suffered from a serious case of stage fright and delivered an inept, stuttering opening statement. In real life, Pendleton received a Tony nomination for his direction of Elizabeth Taylor and Maureen Stapleton in Lillian Hellman's The Little Foxes.

"Talking too fast is different from an accent or a speech impediment," she explained. "I look at that as a symptom because there is something bigger going on. Lawyers are brilliant. That's what fun about working with them. But sometimes their words are coming out too quickly, because their minds are working quickly. I try to get them to understand they can't talk any faster than others can listen. So, fast speech is usually a symptom of a lack of a connection to the person with whom you're speaking. Just like real life."

Self-absorption is another issue.

"We know as actors that you have to be focused on the other actor. It can't be about you. It has to be about the person you are acting with," said Katherine who has recently been in a reading of a brand new play Family Values. She is also doing a workshop of a play she's penned with the working title of Olympus.

In an era of Court TV, 24-hour news programming, judges using the courtroom as a demo for their own TV show, lawyers who love the spotlight of their own press conferences and attorneys who haven't a clue how to effectively deal with the press, are lawyers seeking out help on how to take advantage of the spotlight? Blumenfeld and James reported very few instances where their work within the legal profession included camera training. In those isolated instances, the lawyers weren't concerned about upping their own profile, rather wanting effective communication for their client.

"We started the legal business as an adjunct to acting and it has become an enormous success," related Alan. "Katherine spends about 90 percent of her time working with trial lawyers. She's worked on hundreds of cases. She spends about 10 percent of her time on writing and directing. I spend 90 percent of my time as an actor and 10 percent of my time administrating the business and doing workshops," continued Alan who grew up on Long Island, received his under graduate degree from Sarah Lawrence and then moved to San Francisco.

"We started a theatre company there, developing original scripts and adaptation. We worked for about four years and then moved to Los Angeles. I work with two companies, A Noise Within and Will Gere Rep which is 400-seat outdoor theatre. I am very blessed. It is a great, great life."



Alan Blumenfeld as Malvolio and Jim LeFave as Sir Toby Belch in Twelfth Night at The Will Geer Theatricum Botanicum. Photo by Mike Peebler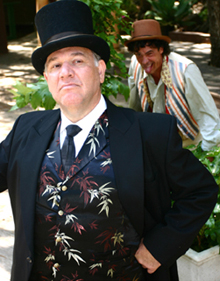 Alan Blumenfeld and Katherine James in Talley's Folly at Theatricum Botanicum. Photo by Laurence Braude.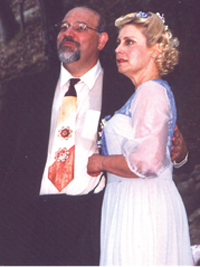 Alan spoke with Broadway To Vegas following a preview performance of Man of La Mancha at A Noise Within Theatre in Glendale, CA.

"It's an Equity company that does mainly classical work - Shakespeare, Shaw, Chekov. It's a small space, about 150 seats, so there is an intimacy."

When Alan isn't on stage he's in front of either a movie or a television camera.

"The stage is the actor's medium-making contact with the audience at every performance. Film is really a director/editor's medium, because you can do a great performance and then they cut it up any way they want. But, movies are great fun. Television is really a producer's medium. At this point, the writers are the producers. Because of the money, the actor doesn't have the control. So, the great job of acting for me - and I've been very fortunate -- is to have the opportunity to do all of those."

"And, it is a great benefit for me in my work with attorneys - someone who actively makes a living as an actor. I think it is the cross pollination of those skills which really feeds us as much as it feeds the work that we do. I think if I were only doing theater I would be very poor and very unhappy. If I were only doing television, which I love, I would not be able to afford the nurturing of my soul as an actor. And film is just an opportunity to do such a powerful medium. If I were only doing film I would always miss the stage. The stage is what I want to do the most."

"I was trained as a repertory actor in a system of regional rep theater, which sort of doesn't exist anymore. Where an actor could have a contract for a year or two to do a variety of roles."

"The goal to me has been longevity. My goal as always been to act for my entire life."

Following their return from the workshop at Harvard, Alan goes into rehearsals at Noises Within for Loot, which begins previews April 21.

"Acting is a craft," he stressed. "There is something sacred about what we do as actors. But, I also believe there is something very significant about what we do with attorneys. Helping to improve the quality of advocacy. I believe in the advocacy system, just as I believe in the need for live theatre."


THE MUSIC GOES ROUND AND ROUND


MARY POPPINS is known to virtually everybody as that charmingly delightful Walt Disney movie staring Julie Andrews and Dick Van Dyke.

Songs in the film are by Richard M. Sherman and Robert B. Sherman. It is rated G by the MPAA.

In 2006 this film ranked #6 on the American Film Institute's list of best musicals.

The fairy tale was turned into a stage musical, which became a hit in London before transferring to Broadway, where it can be enjoyed at the New Amsterdam Theatre. The Broadway production stars Ashley Brown and Gavin Lee, who crossed the pond to the Great White Way from starring in the London production.

The stage version stays closer to the original fairy tale which - like all fairy tales - is dark with moments of scary violence.

Before the nightly news terrified children, written fairy tales had a reason for being dark and potentially disturbing. They were to teach a child how to cope with life. - certainly a dark, sad, violent and terrifying place.

Psychologists seem in agreement that "if a child is hearing the story, as opposed to watching it unfold on stage, TV or in a film, it's less likely to frighten him. The basis for that being that children have more control over their imaginary world when the images aren't provided for them."

According to some authorities, classic fairy tales with scary elements can actually help children through their stages of psychological growth. "By reading about heroes and heroines and the often frightening challenges that they face, children learn strategies for dealing with different issues like anger, separation from their parents, and living up to expectations. Kids often act out the stories they hear, changing the plot developments as they play and coming up with their own solutions to the problem at hand."

Adhering to the original print version with dark, scary scenes caused controversy on Broadway. Having seen the Broadway version and listened several times to the original cast CD from the London production, the musical is more excellent than scary.

While there are some dark numbers such as Temper, Temper and Brimstone and Treacle, the show also contains one of the most hope affirming numbers ever written - Anything Can Happen.

Naturally the favorites everyone associates with Mary Poppins are there in full tuneful glory - Supercalifragilisticexpialidocious, A Spoonful of Sugar, Chim Chim Cher-ee, - Mary Poppins' Oscar-winning duet with Bert, and Let's Go Fly a Kite.

Richard Sherman and Robert Sherman are leading composer/lyricists in family entertainment. Their career spans almost 50 years and includes two Academy Awards for Mary Poppins – Best Score, and Best Song – for Chim Chim Cher-ee. In transferring the show from film to stage the Sherman brothers have written several additional numbers.

The stage version mixes in elements from both the original books by P.L. Travers and the Disney movie starring Julie Andrews, from 1964.

Track Listings

1. Prologue/Chim Chim Cheree
2. Cherry Tree Lane Pt 1
3. The Perfect Nanny
4. Cherry Tree Lane Pt 2
5. Practically Perfect
6. Jolly Holiday
7. Cheery Tree Lane (reprise)/Being Mrs Banks/Jolly Holiday (reprise)
8. A Spoonful Of Sugar
9. Feed the Birds
10. Supercalifragilisticexpialidocious
11. Temper, Temper
12. Chim Chim Cheree
13. Cherry tree Lane (reprise) 1
14. Brimstone & Treacle
15. Let's Go Fly A Kite
16. Good For Nothing/Being Mrs Banks (reprise)
17. Brimstone & Treacle Pt 2
18. Step In Time
19. A Man Has dreams/A Spoonful Of Sugar (reprise)
20. Anything Can Happen
21. A Spoonful of Sugar (reprise)
22. A Shooting Star

On the original Mary Poppins 2005 Original London Cast CD Nick Davies serves as Conductor for the Mary Poppins Pit Orchestra; Members included; Tony Cross, David Ward, Nick Thompson, Bill Brewer, Rachel Bunyan, Eddie Tarrant, Adrian Hallowell, Tony Robb, John Crossman, Duncan Ashby, Jonathan Morgan, Justin Woodward, Richard Pryce, Christopher Fish, Peter Callard, Roger Davison, Andy Massey, Christopher Seed, Kevin Amos and Alf Clewlow.

Starring Gavin Lee as Burt and Laura Michelle Kelly as Mary Poppins with Alan Vicary, Charlotte Spencer, Claire Machin, David Haig, Gerard Carey, Harry Stout, Ian Burford, Jenny Galloway, Julia Sutton, Kevin Williams, Linzi Jateley, Louisa Shaw, Melanie La Barrie, Nathanel Taylor and Poppy Tierney, Tim Morgan, Stuart Neal, Rosemary Ashe, Savannah Stevenson and Terel Nugent.



DANIEL SULLIVAN will receive the 2007 Mr. Abbott Award for lifetime achievement in the American Theatre by The Society of Stage Directors and Choreographers.

The award will be presented on Monday, March 26 at a cocktail reception in the Stanley H. Kaplan Penthouse at Lincoln Center.

Sullivan has been nominated for six Tony Awards and won the Tony for his direction of Proof in 2001. He is known for his development of new plays and has guided inspired productions of works by the late Wendy Wasserstein, John Patrick Shanley, David Auburn, Jon Robin Baitz, Herb Gardner, and David Lindsay-Abaire to name but a few. His directorial touch has been seen in a variety of venues from regional to Off-Broadway to Broadway.

From 1984-1997, he was the Artistic Director of the Seattle Repertory Theater and directed more than 60 productions. Next season he will serve as Acting Artistic Director of Manhattan Theatre Club when Lynne Meadow goes on sabbatical. His work is currently represented on Broadway with Prelude to a Kiss at the Roundabout Theatre.

The Stage Directors and Choreographers Foundation presents the Mr. Abbott Award, named after the legendary George Abbott, annually. It is the only award given to a director and/or choreographer for sustained excellence as identified by his/her peers. Past recipients of the award has included Harold Prince, Jack O'Brien, Lynne Meadow, Lloyd Richards, Kathleen Marshall, Rob Marshall and Susan Stroman among others.

THE LOS ANGELES DRAMA CRITICS CIRCLE AWARDS were presented last Sunday night at the El Portal Theatre in North Hollywood. The Los Angeles Drama Critics Circle was founded in 1969. It is dedicated to excellence in theatrical criticism, and to the encouragement and improvement of theatre in Greater Los Angeles. ( FOR A LIST OF NOMINEES AND WINNERS CLICK HERE )



Broadway To Vegas is supported through advertising and donations. Priority consideration is given to interview suggestions, news, press releases, etc from paid supporters. However, no paid supporters control, alter, edit, or in any way manipulate the content of this site. Your donation is appreciated. We accept PAYPAL. Thank you for your interest.


SPREADING THE WORD


DAVID SEDARIS Best-selling author of Me Talk Pretty One Day and Dress Your Family in Corduroy and Denim, Sedaris is the man who made his comic debut recounting his strange-but-true experiences as a Macy's elf on NPR's Morning Edition. He'll slice through cultural euphemisms and political correctness, proving that he is a master of satire and one of the most observant writers and humorists addressing the human condition today.

Friday, March 30 at the State Theatre in New Brunswick, NJ.

NORMAN MAILER'S THE DEER PARK - NORMAN MAILER IN PERSON Pulitzer Prize-winning author Norman Mailer's play The Deer Park comes to Makor for a dramatic reading. The controversial work—adapted from Mailer's novel—details his experiences as a screenwriter during the height of McCarthyism. Ambition, sex and politics infuse this riveting depiction of 1950s Hollywood. Stephan Morrow directs the reading, which is followed by a discussion with Mailer. Part of the Makor Theatre series. Sunday, March 25, at the Steinhardt Building in New York City.


SWEET CHARITY


KANSAS CITY LYRIC OPERA BALL will transport you to the mystical world of Japan at the beginning of the 20th century. The evening will reflect the timeless appeal of Puccini's opera classic, Madama Butterfly. The inspiration for such works as Miss Saigon and Memoirs of a Geisha, this beloved opera provides the perfect backdrop for an evening of delectable food and dancing amongst the cherry blossoms.

The Ballroom will be transformed into a lovely springtime evening in Japan, and the night's events will feature a social hour, five-course gourmet dinner and dancing to the Steve Miller Band. Throughout the social hour, a silent auction will entice with a spectacular array of items.

The funds raised from this evening will help underwrite the Lyric Opera's season and the innovative and successful continuing education and outreach programs. Bringing the beauty and drama of opera to a new generation is an ongoing goal of the Lyric Opera of Kansas City. This unique art form provides a marvelous experience of the best of the classics, the excitement of contemporary works, and the inspiration of hearing live some of the world's best voices and musical scores.

March 31 at the Hyatt Regency Crown Center in Kansas City.


OTHER PEOPLE'S MONEY


THE NEDERLANDER ORGANIZATION unveiled their plan to take Broadway to China at a Wednesday news conference in Beijing. New York stage actor Wang Luoyong, star of Miss Saigon, opened the official announcement ceremony.

Beijing Oriental Broadway International Theater Management Company is a joint venture between the Nederlanders and the Chinese company Beijing Time New Century Entertainment. They will manage tours of Broadway musicals, some of which will be performed in Chinese. The company will also work with theater managers on marketing and customer service and help establish a network of theaters.

The first show, a touring production of 42nd Street, in English, will open in September then have a five city tour. "It's going to grow substantially from there," said Robert Nederlander Jr., president of Nederlander Worldwide and the one responsible for Nederlander entering the Chinese market.

"BTNCE and Nederlander have consolidated and invested capital to create a nationwide Chinese performance network that will combine Broadway models with Chinese culture to create a new century of performance in China," said Madame Chen Jixin Chair, Beijing Oriental Broadway International Theatre Management Company.

The Nederlander Organization isn't the first to court China.

Broadway Asia Co. has producing in China since the early 1990s. Two years ago, it joined with producing company Baruch/Frankel/Routh/Viertel Group to form Broadway Asia Entertainment, which sealed a five-year plan to present two English-language Broadway tours, one Chinese-language tour, and a family show in China every year.

Disney Theatrical Productions recently enjoyed a successful run of The Lion King in Shanghai.

McCoy-Rigby Entertainment recently signed a deal to bring Peter Pan to Beijing with Cathy Rigby reprising her role as the boy who refuses to grow up. ( See Broadway To Vegas column of January 14, 2007 )



CURTAINS the John Kander and Fred Ebb, Peter Stone and Rupert Holmes musical, opened March 22 on Broadway at the Al Hirschfeld Theatre. It's a frothy delight. People don't need to look for a thought provoking, deep meaning. Just sit back, relax and enjoy. Awesomely talented David Hyde Pierce makes his role of homicide detective Cioffi and musical theatre aficionado, look easy. ( See Broadway To Vegas column of September 10, 2006 )

MATTHEW PASSION a new play with music by Phil Hall. It is directed by Steve Stringfellow with choreography by Jacob Brent. Matthew Passion tells the story of the passion of Christ; the story of Matthew Shepard being picked up at a bar in Laramie, Wyoming, beaten and left for dead on a hillside; and the story of a middle-aged HIV positive survivor who has outlived his life expectancy. Although the three stories take place in three different locations, and are thousands of years apart, they all reflect one another and converge in the final scene.

The scenic design is by Michael Anania. Costume design by Jimmy Johansmeyer. Lighting design by Jerome J. Hoppe, Jr. Sound design by David Ferdinand / One Dream Sound Corporation. Photography and poster by David Vance with graphic design/poster by James Donegan.

Begins previews on Thursday, March 29 Off Broadway at American Theatre of Actors' Chernuchin Theatre in Manhattan. The opening will be Monday, April 2.

EUBIE! originally conceived and directed on Broadway by Julianne Boyd. Music by Eubie Blake. Directed by Tony Parise.

Featuring hit songs, such as I'm Just Wild About Harry and I'm Just Simply Full of Jazz, Eubie! follows the life of celebrated composer, pianist, and raconteur James Hubert "Eubie" Blake. Born in Baltimore, Blake brought African American artistry to Broadway and electrified stages with his smash hit musical Shuffle Along. In a new collaboration with its creators, Olney brings a spectacularly reconceived production of this crowd-pleasing revue to the New Mainstage. March 28 - April 29 at the Olney Theatre in Olney, MD.

DYING CITY by Christopher Shinn is an intimate play, set in a spare downtown-Manhattan apartment, depicting the role of historic events that transform the lives of three closely observed characters. Infusing his play with references to the war in Iraq and to 9/11 and its aftermath, Shinn explores the loss of a loved one who has died while on military duty in Iraq, and the repercussions of this death on his wife, Kelly, and identical twin brother, Peter.

Pablo Schreiber, Tony nominee for LCT's Awake and Sing!, plays both brothers. Rebecca Brooksher plays Kelly. James Macdonald, who directed in London, also direct the play's American premiere here at the Newhouse. This production marks Macdonald's and Shinn's Lincoln Center Theater debuts.

Dying City begins as Peter, agitated and unannounced, barges in on Kelly's solitary evening at home. Kelly has deliberately avoided Peter since the last time they saw each other a year ago at Craig's funeral. Though the military has deemed Crag's death in Iraq accidental, Peter suspects otherwise.

Shinn has structured Dying City as alternating encounters. Scenes shift between Kelly and Peter's face-off, as the distraught brother forces his sister-in-law to confront the tragic legacy that connects them, and Kelly's last night with Craig, a farewell marred by bitter accusations and long-simmering resentments.

Anthony Ward (sets and costumes), Pat Collins (lighting), and Aural Fixation (sound) are the production's designers.

Dying City had its world premiere in Spring 2006 at London's Royal Court Theatre. Performances to April 29, at the Newhouse Theatre in New York City.

BUSH IS BAD with concept, music and lyrics by Joshua Rosenblum, Musical Direction by Michael Lavine and will be directed by Jay Willick & James J. Mellon.

"If we don't succeed, we run the risk of failure." – George W. Bush

Bush Is Bad is the unabashedly partisan hit musical revue, which has been described as the hysterical love-child of Forbidden Broadway and The Daily Show, offers catchy tunes, wickedly funny lyrics and scathing impersonations of the president and his dissembling gang of conspirators.

This West Coast premiere follows a hugely successful fifteen-month run at New York City's Triad Theater, Bush Is Bad will return there with an all-new Lame Duck Edition this spring.

The cast features (in alphabetical order): Roger Ainslie, Stefanie Black, Melanie Ewbank, Sabrina Miller, Gerry Mullins, Mai-Thompson Heath, Michael Craig Shapiro and Jonathan Zenz.

The design team has Set Design is by Reno Blake. The Lighting Design is by Ovation Award-winner Luke Moyer. The Costume Design is by David Matwijkow. The Sound Design is by Jonathan Zenz.

Bush Is Bad will begin previews on Friday, March 30 and open on Friday, April 6 running for seven weeks through Sunday, May 20 at the Noho Arts Center in Hollywood.

STOMP a new production directed and created by Luke Cresswell and Steve McNicholas. In previews with the official opening set for April 17 in a new $28 million theatre built specifically for the production at Planet Hollywood Hotel and Casino in Las Vegas.

FOREVER PLAID THE HEAVENLY MUSICAL currently at the Gold Coast Hotel in Las Vegas, closes on Sunday, April 1. At that time it will have played over 4,700 performances. The production debuted at the Flamingo Hotel in 1995 before transferring to the Gold Coast in 2005.

A production of Forever Plaid, will return to the Sycuan Resort & Casino in El Cajon, CA, starting the week of April 9. The cast will include J. Greg Davis, Doulgas Frank, David Humphrey, Kevin McMahon, and Dale Sandish with David Kancsar on piano and Fred Watstein on bass.


| | | |
| --- | --- | --- |
| | | |
WHO'S WHERE


CHRISTINA AGUILERA performs Monday, March 26, at Scotiabank Place in Ottawa. On Wednesday she can be enjoyed at the Bell Centre in Montreal. Friday finds her at the TD Banknorth Garden Fleet Center in Boston. On Saturday she entertains at the Atlantic City Boardwalk Hotel in Atlantic City.

MARY CHAPIN CARPENTER on stage Thursday, March 29 at the American Music Theatre in Lancaster, PA. On Friday she's on stage at the Lebanon Opera House in Lebanon NH. On Saturday the show is at the Flynn Center in Burlington, VT.

ART GARFUNKEL center stage at the Tempodrom in Berlin, Germany on Monday, March 26. On Tuesday the show moves to Kulturpalast in Dresden. The German tour continues Thursday with a performance in Phoenixhalle in Mainz and on Saturday at the Big Box Concert Hall in Kempten. Next Sunday, April 1, he performs at Stadthalle in Vienna, Austria.

THE BACON BROTHERS entertain Friday, March 30, at The Birchmere in Alexandria, VA. On Saturday the show is at the Emelin Theatre in Mamaroneck, NY.

MICHAEL FEINSTEIN stars at the McCallum Theatre in Palm Desert, CA on Friday, March 30. On Saturday he can be enjoyed at the Marin Center in San Rafael, CA.

LONDON SINFONIETTA Oliver Knussen conductor. Jane Irwin mezzo-soprano.

The world premiere of Anthony Payne's Windows on Eternity explores time – is it endlessly rushing forward, or filled with infinite possibility? Also in the program are the European premiere of Elliott Carter's new song cycle In the Distances of Sleep, setting the poetry of Wallace Stevens, Mark-Anthony Turnage's turbulent and haunting Dark Crossing, and Colin Matthews' Two Part Invention, dedicated to Carter on his 80th birthday. Friday March 30, Queen Elizabeth Hall, London.

CHRIS BOTTI opens a two nighter Monday, March 26 at Rams Head on Stage at Annapolis, MD. On Friday he's on stage at the Vilar Center for the Arts in Beaver Creek, CO.

JOEL GREY Fresh off his role as the Wonderful Wizard of Oz in the hit Broadway musical Wicked, Joel Grey and opening act Katie King take center stage at Parker Playhouse Thursday, March 29, Fort Lauderdale, FL.

LARRY GATLIN AND THE GATLIN BROTHERS on stage Friday, March 30 at Boulder Station in Las Vegas. On Saturday they perform at the Edgewater Hotel in Laughlin, NV.

LIZA MINNELLIDOLLY PARTON continues her European tour. Tonight, Sunday, March 25, she is on stage at Wembley Arena in London. On Tuesday she entertains at Cardiff International Arena in Cardiff. Wednesday finds her at The NEC Arena in Birmingham. On Friday she'll be entertaining her fans at Odyssey Arena in Belfast, Ireland and on Saturday the show is at Green Glens in Cork, Ireland.

BRYAN FERRY performs Monday, March 26, at Grand Rex in Paris. ON Tuesday he's on stage at the Heineken Music Hall in Amsterdam. Thursday finds him at Queen Elizabeth Hall in Antwerp, Belgium. On Saturday he can be enjoyed at Alte Oper in Frankfurt and next Sunday the show is at Congress Centru in Hamburg, Germany.

B. B. KING ageless and energetic, performs Monday, March 26 at the Norton Center in Danville, KY. On Tuesday he's in the spotlight at the Thomas Wolfe Auditorium in Asheville, NC. Friday finds him at the Juanita K. Hammons Hall in Springfield, MO. On Saturday he stars at the Ameristar Hotel in Kansas City and next Sunday he'll be delighting his fans at the Holland Performing Arts Center in Omaha, NE.




PIFFLE AND PROFUNDITIES


DICK VAN PATTEN

Dick Van Patten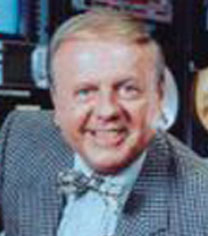 who took over the starring role in The Damsel Dialogue when Nanette Fabray took ill. ( See Broadway To Vegas column of March 18, 2007. ) Now Van Patten is also ill and out of the show.

Van Patten, who started his career as a child star on Broadway, suffers from diabetes. Complications from that disease forced him to leave the production.

In January 2006, the actor was taken to Cedars Sinai Medical Center in Los Angeles after suffering a diabetic stroke. Van Patten, who suffers from Type 2 diabetes, sustained some speech impairment and paralysis from the stroke.

Broadway To Vegas wishes both Nanette Fabray and Dick Van Patten a full and speedy recovery.

ELTON JOHN celebrates his 60th birthday today, March 25, by performing at Madison Square Garden for the 60th time Last night the Grammy winner was tossed a blowout birthday bash by his partner David Furnish.

Elton hits the road in Europe this summer when he brings his outlandish Las Vegas The Red Piano Show there to celebrate his 60th Birthday and 40 years of touring. He'll perform in some of Europe's most prominent locations including Seville's Plaza de Espana (Spain), France's Château de Versailles, San Marco in Venice, Italy, Berlin's Brandenburg Gate (Germany) and at a venue to be announced Moscow, Russia. The show, which has been running in Las Vegas at Caesars Palace, has been conceptualized and designed by acclaimed photographer and good friend of Elton, David LaChapelle. The larger-than-life set, complete with Elton's iconic red grand piano, dripping inflatable ice creams and shooting Empire State buildings, will be recreated at the five unique European sites.

Next Column: April 1, 2007
Copyright: March 25, 2007. All Rights Reserved. Reviews, Interviews, Commentary, Photographs or Graphics from any Broadway To Vegas (TM) columns may not be published, broadcast, rewritten, utilized as leads, or used in any manner without permission, compensation/credit.
Link to Main Page
---
Laura Deni


CLICK HERE FOR COMMENT SECTION