! >
Broadway To Vegas
  
  REVIEWS  INTERVIEWS COMMENTARY NEWS

| | |
| --- | --- |
| | |
2011 APPALACHIAN SUMMER FESTIVAL - -MASTER PAINTINGS WEEK - - WHO SHOT ROCK & ROLL - - CONTEMPORARY AMERICAN THEATER FESTIVAL - - LAS VEGAS CHEF HEADS UP WEDDING BANQUET FOR PRINCE ALBERT OF MONACO - - DEBBIE REYNOLDS LAUGHING ALL THE WAY TO THE BANK - - DISNEY CO-STARS DIE WITHIN A DAY OF EACH OTHER - - AMERICAN MUSEUM IN LONDON TO CELEBRATE 4th OF JULY - - DONATE . . . Scroll Down



FAMED LAS VEGAS CHEF IN CHARGE OF MONACO'S WEDDING BANQUET FOR PRINCE ALBERT AND CHARLENE WITTSTOCK
Chef Alain Ducasse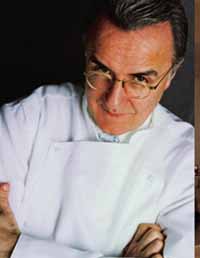 He's hoping the fish are biting and the vegetable pickers show up on time.

Known for his incomparable French cuisine and his innovative dining concepts, Alain Ducasse is without a doubt one of the world's most decorated chefs.

In Las Vegas he opened Mix at Mandalay Bay Resort featuring contemporary and classic French and American dishes with global accents.

The 54-year-old who holds an impressive total of 19 Michelin stars and has restaurants around the world, is experiencing a nerve wracking first - his first royal wedding.

Ducasse is overseeing a crew of 350 preparing the July 2 wedding banquet for Prince Albert of Monaco to Charlene Whittstock.

Chef Ducasse is concentrating upon freshness.

Under orders from the son of the late Grace Kelly - the American movie star turned real life princess - the food served at his wedding will have vegetables - tomatoes, peppers and zucchini - grown at the prince's own farm, harvested just hours before the dinner. The fish are to be line-caught only hours before they're served.

Chef Ducasse is also be in charge of preparing the post-festivities brunch on July 3, in conjunction with Monaco's other celebrity chef, Joel Robuchon.

When many think of French cuisine they think of heavy, rich sauces.

Not in this case.



Prince Albert of Monaco and Charlene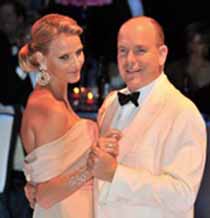 "The future princess is very attached to food that is simple and healthy," stated the official release.

Also politically correct.

Last April Albert and Charlene visited Ireland where Minister Simon Coveney, T.D, Minister for Agriculture, Food and the Marine welcomed the couple to the Marine Institute in Galway. The visit was organized at the request of the Prince who keenly follows his family's traditional interest in marine environmental awareness.

An historic Memorandum of Understanding had been drawn up by the Marine Institute in Galway and the Institut Océanographique of Monaco to coincide with the visit. The signed Memorandum "seeks to further develop joint events, outreach and awareness activities by both organizations in a number of important areas of marine education, environmental protection, renewable ocean energy, and the ecosystem approach to fisheries management."

Protecting the environment is a deep concern for Prince Albert who insisted that the fish served at his wedding banquet not be from any endangered or diminishing species.

Albert also wanted organically grown produce which had been grown within a 6 mile radius of Monaco.

Several factors came into play in Albert and Charlene selecting Ducasse. One big plus was Ducasse being prepared. When the bridal couple interviewed chefs last February Ducasse proved he had an insight into the thoughts of Albert and Charlene. Instead of quizzing them as to what they might like, he was brazen enough to arrive with a wedding banquet menu already prepared, which included healthy Mediterranean cuisine. That impressed both Albert and Charlene, a former Olympic swimmer who has long upheld a healthy lifestyle, although despite her gorgeous figure, she does have a weakness for South Africa braai, which is similar to a barbeque.

Following their wedding they will have a "working" honeymoon in South Africa. Prince Albert will be taking part in the International Olympic Committee (IOC) meeting July 5-9 in Durban. The IOC will host a reception for the bridal couple at The Oyster Boxx Hotel, legendary as one of the best hotels in South Africa. Charlene chose the hotel as the setting for a lavish party for friends and family who couldn't make it to the Monte Carlo wedding. What can guests expect at Charlene's shindig at The Oyster Boxx? "A tailor-made menu with South African delicacies, designed by executive chef Kevin Joseph and paired with the best Champagne" according to her father who was quoted in The Times Live.

As for Chef Ducasse, while he no longer works in the kitchen, he still provides the driving inspiration behind some 20-plus of the world's most renowned restaurants including overseeing Mix - the one-of-a-kind experience at Mandalay Bay in Las Vegas. He creates the recipes and atmosphere, he contributes to the interior design, and most importantly, he manages all the talent. Now he's about to open what is being called a "breakthrough endeavor in the Middle East" - opening a new restaurant in Doha.



Broadway To Vegas is supported through advertising and donations. Priority consideration is given to interview suggestions, news, press releases, etc from paid supporters. However, no paid supporters control, alter, edit, or in any way manipulate the content of this site. Your donation is appreciated. We accept PAYPAL. Thank you for your interest.



ART AND ABOUT


INDEPENDENCE DAY WEEK-END

War of Independence Camp and Drill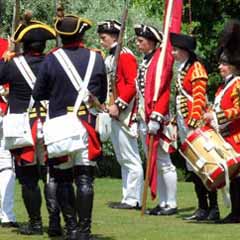 will be celebrated July 2-4 at The American Museum in Britain with some extra special events to celebrate their 50th anniversary.

On Saturday July 2 The American Museum and Bath Philharmonia have teamed up to present this very special, outdoor concert to celebrate the Museum's 50th-anniversary. The program includes favorites from Hollywood classics such as The King & I, West Side Story, ET, and The Sound of Music.

Bring a few chairs and a picnic to enjoy an evening of unforgettable music under the stars.

There will be a War of Independence Camp and drill displays by the Association of Crown Forces 1776, as well as activities for families and children on July 2-3.

The Association of Crown Forces (1776) recreates units of the American War of Independence, the Coldstream Regiment of Foot Guards and the 4th Battalion Royal Artillery.

On Sunday July 3 an activity-packed afternoon with the Crown Forces Drill Display, the Park Lane Big Band, crafts, food and "an all 'round good time - don't miss it!"

Children will be well catered for by the Wiltshire Scrapstore and Resource Centre, a thriving, highly successful children's and community charity whose main aim is to promote learning through creativity by making various low cost resources available. There will be other interactive family activities as well as a marquee providing food that will include many American favorites such as BBQ, corn-on-the-cob and popcorn.

Park Lane Big Band will provide "all your favorite jazz and swing classics.". This performance will take place on the South Lawn, "so please bring a chair or picnic rug."

On Independence Day itself, admission to the Museum will be free.

MASTER PAINTINGS WEEK takes place in London July 1-8.

Now in its third year and established as one of the key art events in the summer calendar, Master Paintings Week is a collaboration between twenty-three leading galleries and three auction houses. This week of exhibitions and events offers a wonderful selection of predominantly European paintings, dating from the 15th to the 19th centuries, coinciding with the Old Master Sales at Bonhams (July 6), Christie's (July 5 and 6) and Sotheby's (July 6 and 7), and another dealer initiative Master Drawings London (July 1 to 8).

Each exhibitor, in the heart of London's St James's and Mayfair, stages a special display or event in their gallery.

Many of the paintings have an untold story, a fascinating history or an important and newly discovered provenance.

Master Paintings Week appeals to collectors, curators and enthusiasts from all over the world and highlights the unrivalled expertise that is to be found in London.

Joining Master Paintings Week for the first time this year are two new galleries specializing in Italian masters. Well-known Italian dealers Riccardo Bacarelli and Bruno Botticelli have recently opened their own space in London, in Bruton Street, dealing in painting and sculpture. BNB Art Consulting Ltd was opened by Ermanno Bellucci, Milena Naldi and Saviano Bellé of BNB Art Consulting opened their new gallery in New Burlington Street in July 2010 where they will be staging an exhibition of Important Works on Paper. View Paintings of the Kingdom of Naples, 18th and 19th century with works by Xavier della Gatta, Alesandra d'Anna, Camillo de Vito, Giovan Battista Lusieri and Francesco Zerilli.

Participating Galleries: Agnew's, Verner Åmell Ltd, Riccardo Bacarelli and Bruno, Botticelli, Charles Beddington Ltd, BNB Art Consulting Ltd, Colnaghi, Dickinson, Ben Elwes Fine Art, Deborah Gage (Works of Art) Ltd, Richard Green, Johnny Van Haeften Ltd, Fergus Hall Master Paintings, Derek Johns Ltd, John Mitchell Fine Paintings, Moretti Fine Art Ltd, Philip Mould Ltd, Piacenti Art Gallery (exhibiting at Gallery 8), Robilant + Voena, Sphinx Fine Art (exhibiting at Frost & Reed), Stair Sainty, Rafael Valls, The Weiss Gallery, and Whitfield Fine Art.

The Auction houses: Bonhams, Christie's and Sotheby's.

WHO SHOT ROCK & ROLL is the first major museum exhibition on rock and roll to put photographers in the foreground, acknowledging their creative and collaborative role in the history of rock music. ( See Broadway To Vegas column of November 8, 2009 )

Organized by the Brooklyn Museum with guest curator Gail Buckland, this exhibition travels to Alabama where it will be on display at the Birmingham Museum of Art June 26 -September 18, 2011.

From its earliest days, rock and roll was captured in photographs that personalized, and frequently eroticized, the musicians, creating a visual identity for the music. The photographers were handmaidens to the rock-and-roll revolution, and their images communicate the social and cultural transformations that rock has fostered since the 1950s. The exhibition is in six sections: rare and revealing images taken behind the scenes; snapshots of young musicians at the beginnings of their careers; exhilarating photographs of live performances that display the energy, passion, style, and sex appeal of the musicians on stage; powerful images of the crowds and fans that are often evocative of history paintings; portraits revealing the soul and creativity, rather than the surface and celebrity, of the musicians; and conceptual images and album covers highlighting the collaborative efforts between the image makers and the musicians.

GREEN LANTERN EXHIBIT "In brightest day, in blackest night, no evil shall escape my sight! Let those who worship evil's might beware my power—Green Lantern's light!"

Just in time for Green Lantern's theatrical debut, the Cartoon Art Museum is presenting the first museum exhibition celebrating 70 years of DC Comics' Emerald Knight. Over 60 pieces of original artwork are on display, featuring highlights from some of the most celebrated artists in Green Lantern's publishing history Iconic works by Silver Age artists Gil Kane and Neal Adams are exhibited, along with classic stories and covers by Joe Staton, Mike Mignola, George Perez, Brian Bolland, Brent Anderson, Bill Sienkiewicz, Golden Age Greats Irwin Hasen and Green Lantern co-creator Martin Nodell.

On display through November 6, 2011 at the Cartoon Art Museum in San Francisco, CA.


CONTEMPORARY AMERICAN THEATER FESTIVAL WILL FEATURE 5 NEW AMERICAN PLAYS
New plays by Kyle Bradstreet, David Mamet, Sam Shepard, Tracy Thorne, and Lucy Thurber will be introduced during the four-week Contemporary American Theater Festival at Shepherd University July 8-31.

THey will be produced in rotating repertory, which allows audience members to see all five shows in just two days.

The 2011 Season will also feature free lectures, discussions, stage readings, music, and art exhibitions.

"The five plays of the 2011 Contemporary American Theater Festival repertory have serious velocity," said CATF Founder and Producing Director Ed Herendeen.

"They explode, they needle, they bleed, and they will give you room to reflect and dream," he continued.

"Our audience has an appetite for daring new plays that celebrate and challenge the human experience. This year's repertory consists of five extraordinary voices of the stage that exemplify the breadth of the American playwright. These plays are funny, intelligent, and compelling; and they explore the power and beauty of language and storytelling," he added.

The 2011 repertory includes regional premieres of plays by two Pulitzer Prize-winning playwrights, two world premieres (including a CATF commission), and a second production. The plays are:

From Prague by Kyle Bradstreet is a world premiere directed by Ed Herendeen.

Prague – the city of ghosts – is the lingering backdrop for three wounded voices, all clamoring to be heard, all indelibly bound to each other.

The characters – Samuel, an exiled patriarch and disgraced academic; his son, Charles, a zealot barely clinging to his faith; and Anna, the beautiful expatriate whose life has been upended – find themselves in a crumbling church where memory and consequence collide.

Kyle Bradstreet's poetic new play creates a landscape for people with nothing left to lose, and only the past to regain.

Race by David Mamet. Directed by Ed Herendeen.

Pulitzer Prize-winning playwright David Mamet tackles America's most controversial topic in a provocative new play of sex, guilt, and accusation.

Two lawyers find themselves defending a wealthy white executive charged with the crime of raping a black woman.

Mamet turns his jagged spotlight on the quest for truth in a world full of lies.

This high-voltage, incendiary drama rips the cover off of what is thought – but never said – along the vicious path to justice.

Ages of the Moon by Sam Shepard is a regional premiere directed by Ed Herendeen.

Old friends reunite over bourbon on ice to reflect upon the shadows of their lives.

Fifty years of love, friendship, and rivalry are put to the test at the barrel of a shotgun in this gritty new play by Pulitzer Prize-winner Sam Shepard.

The characters are older and the booze goes down a little harder as Shepard spins a poignant hangdog tale of remorse and regret for two men at the twilight of life's journey into night.

We Are Here by Tracy Thorme.

Directed by Lucie Tiberghien.

Playwright Tracy Thorne braids the joyful past with the devastated present as three generations of a family endure unimaginable loss with compassion, humor, and song.

This is a story about a rmodern family coping with the death of a young son.

Strong-willed, smart, funny, each member must find the way to peace and redemption in a world built on love and survival.

The Insurgents by Lucy Thurber. A world premiere directed by Lear deBessonet.

John Brown. Harriet Tubman. Timothy McVeigh. Nat Turner. All deeply religious. All heard voices from God. All were extremely patriotic and loved their country.

And all believed in violence.

Their stories and unique historical markers meld into a contemporary family's quest for identity and survival.

In this CATF Commission, Thurber fearlessly tackles the often fine line between martyrdom and terrorism.

This work is supported, in part, by a grant from the National Endowment for the Arts; commissioned by the Contemporary American Theater Festival.

Over the last 20 years, the Contemporary American Theater Festival at Shepherd University has become a leading center for the production and development of new plays, having fully staged 85 American works, including 32 world premieres, by 60 different playwrights. With a budget of more than $1 million, the Theater Festival sells 11,000 tickets each summer, bringing patrons and visitors to West Virginia's Eastern Panhandle from 33 different states. A 2008 economic impact survey reported that the Theater Festival generates more than $2 million for the local economy each season.


SWEET CHARITY


BROADWAY BARES XXI bested its own record during the annual event, held June 19 at the Roseland Ballroom in NYC. The eagerly anticipated hoot, featuring 192 Broadway dancers, brought in $1,103,072 to benefit BC/EFA. Last year's 20th Anniversary edition had set the previous record at $1,015,985.


CHITA RIVERA AND BEN VEREEN PART OF 2011 APPALACHIAN SUMMER FESTIVAL
Chita Riviera and Ben Vereen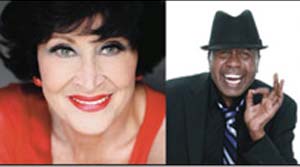 Chita Riviera, Ben Vereen, k.d. Lang and The Manhattan Transfer are just some of the talented and famous appearing in workshops, lectures, performances and chamber music events during this year's Appalachian Summer Festival in Boone, North Carolina.

The lights and excitement of Broadway grace the festival stage with the pairing of two of its most celebrated performers. Tony award winners Ben Vereen and Chita Rivera join together on July 8 to perform an evening of Broadway classics that will take you on a musical journey through their legendary careers.

k.d. land & The Siss Boom Bang are in the spotlight on July 15. Mountain Heart with Tony Rice takes to the stage on July 30 while The Manhattan Transfer perform July 30.



k.d. lang and The Manhattan Transfer
Also part of the roster are the African Children's Choir, the Aspen Santa Fe Ballet and the Eastern Festival Orchestra.

Inaugurated in 1984, innovative and thought-provoking theatre has always been a key component of An Appalachian Summer Festival. The festival's Works in Progress Series creates an "artists' colony" every summer in Boone, in which some of the nation's most distinguished writers, composers, choreographers, musicians, actors and dancers come together to create and develop new works, for presentation at the festival. Theatrical collaborations have been undertaken in the past with New York's 92nd Street Y, Nine Circles Chamber Theatre, Signature Theatre Company of New York, Melting Pot Theatre Company, and Triad Stage.

In recent years, the festival has attained national stature—and is now regarded as one of the country's leading regional arts festivals.

An Appalachian Summer Festival is a multi- and inter-disciplinary arts festival presenting and producing programs in music, theatre, dance, film and visual arts. The festival will forge a unique national identity through artistic excellence, innovative programming, commissioning new works, and educational opportunities. By bringing the most accomplished and respected creative and performing artists from around the world to Appalachian State University, the festival supports the overall university mission, enhances the cultural life of the Appalachian community, and serves as an important gateway onto the campus.

This year the Festival has instituted the inaugural season of The Rosen-Schaffel Young Artist Competition co-presented by the festival and Appalachian State University's highly acclaimed Hayes School of Music.

An Appalachian Summer Festival July 1-30, 2011 is a production of the Appalachian State University Office of Arts & Cultural Programs.


SPREADING THE WORD


EARTH, WIND AND FIRE experienced the element of rain when storms tore through the Chicago area on June 21. The musical group was performing at Northerly Island when the storm hit. An announcement urged people to find shelter or head to their cars. The concert will be rescheduled.

GLEN CAMPBELL who spend decades as a Las Vegas Strip headliner, announced that he has Alzheimer's. Campbell will undertake his Goodbye Tour beginning July 15 with a performance at the IP Casino in Biloxi, MS.


OTHER PEOPLE'S MONEY


DEBBIE REYNOLDS endured the indifference at her attempts to open a Hollywood Museum. ( See Broadway To Vegas column of June 5, 2011 ) Now the delightful star is getting the last laugh - all the way to the bank.

Her movie memorabilia collection grossed $22.5 million or five times the original estimate at an auction held in Beverly Hills.

Reynolds attended the auction. When she was first introduced the talented performer received a standing ovation which brought her to tears.

The former Las Vegas resident, performer and hotel owner even offered color commentary about various pieces which may have helped bring in record bids. For instance, she even recited the dialogue from Singin' in the Rain objects.

That famed Marilyn Monroe subway dress went for $4.5 million instead of the expected $2m. Other top ticket items included the dress worn by Audrey Hepburn in My Fair Lady which sold for $3.7 million. Gary Cooper's uniform from Sergeant York went for $55,000; and the 1952 red MG TD driven by Cary Grant and Marilyn Monroe in Monkey Business was hammered out for more than $200,000.

ROCCO LANDESMAN Chairman of the National Endowment for the Arts, has announced that the American Theatre Wing has been recommended for a grant of $40,000 to support the Wing's SpringboardNYC and Theatre Intern Group programs for emerging artists and professionals.



HAPPY BIRTHDAY TO . . . .


MANY TALENTED INDIVIDUALS INCLUDING remembering two outstanding Broadway composers who would have celebrated their birthdays this week. Richard Rodgers was born June 28, 1902 and Frank Loesser was born June 29, 1910.

Blowing out the candles on June 28 will be Mel Brooks, Kathy Bates and John Cusack. On June 29 Colin Hay and Amanda Donohoe are the center of attention. On June 30 Rupert Graves is the birthday boy. On July lst Jamie Farr and Dan Ackroyd get to open their presents.

STU HAMSTRA on July 6th, celebrates the 21st anniversary of his Cabaret Hotline Online with a party at The West Bank Cafe/Laurie Beechman Theatre in NYC. The birthday bash is not only for the publication, but also for Stu who will be celebrating his own 72nd birthday. The first ten performers for the dual birthday show are: Tanya Holt, Sammy Goldstein, Marta Sanders, Sue Matsuki, Peggy Herman, Craig Pomranz, Eric Michael Gillett, Baby Jane Dexter, Karen Oberlin and Raissa Katona Bennett. Musical director is Tracy Stark. Attendees can expect some surprises.



DAME JUDI DENCH has received the highest accolade the British Film Institute (BRI) can bestow - a fellowship.


Earlier in the week the actress also received the Freedom of the City of London for her services to acting.






BECKY'S NEW CAR written by Steven Dietz.

Starring Sandy Duncan as Becky; David Ledinghman as Joe; Ted Pejovich as Walter; Jeffrey Correia as Chris; Laurence Lau as Steve; Heather Lee as Ginger; Autumn Hurlbert as Kenni.

Becky's New Car is billed as "a perfect blend of hilarious comedy and poignant storytelling, about the choices and consequences that follow for a middle-aged woman at her "fork in the road." Becky is literally handed the keys to a new life, when a grief-stricken millionaire stumbles into the car dealership where Becky works. This thoroughly original play then takes us on a ride of hairpin turns and plot twists that will leave the audience breathless!"

How this play came to be is as interesting as the finished product.

The play was originally a commissioned work. Dietz wrote it for a man who wanted to present the play to his wife on her birthday. Becky's New Car was commissioned in a program ACT of Seattle started a few years ago, where anybody can underwrite a new play as a gift to someone." Apparently this practice was common in the days of Mozart and Shakespeare.

Dietz is a part time resident of Seattle who spends the academic year teaching writing at University of Texas in Austin.

Seattle commercial realtor Charles Staadecker commissioned Becky's New Car for his wife Benita, an ACT trustee. And that led to the forging of ACT's New Works for the American Stage, which grants $5,000 to $8,000 per year over a three-year period to a writer toiling on a new script ACT might produce later.

In October 2008 the production was presented at ACT.

Performances through July 23rd at The Hurst Theatre Located in Rio Grande Park, in Aspen, Colorado.

SINGIN' IN THE RAIN Based on the MGM film. Screenplay and adaptation by Betty Comden and Adolph Green. Songs by Nacio Herb Brown and Arthur Freed. Directed by Chichester Artistic Director Jonathan Church.

Don Lockwood is a silent movies star with everything he could want - fame, adulation and even a well-publicized 'romance' with his co-star Lina Lamont. But Hollywood is about to change forever. There is rumor in the studio of a new kind of film, where the actors actually talk. and sing... and dance.

Singin' in the Rain is the story of that first Hollywood musical, the moment when the silver screen found its voice and never looked back. With all the sparkle and spectacle of a golden age, it features a glorious score including Make 'em Laugh, Good Morning, Moses Supposes and, of course, Singin' in the Rain. Shining with vitality, wit and romance, this is a musical to lift your heart and set you singin' and dancin' - in any weather.

Adam Cooper plays Don Lockwood. Daniel Crossley plays Cosmo. and Scarlett Strallen plays Cathy Seldon. Michael Brandon will play film boss R. F Simpson. Sandra Dickinson will play Dora, a radio show host, and Miss Dinsmore, a diction coach. Katherine Kingsley will play Lina Lamont, a shrill-voiced leading lady.

Singin' in the Rain is at Chichester Festival Theatre in London from June 27 - September 10.

THREE HOTELS Jon Robin Baitz's two-person drama.

Tony-Award winner Robert Falls directs.

Starring Maura Tierney and Steven Weber.

Ken Hoyle is an ambitious hatchet man for a multinational company that sells defective baby formula in developing African countries. His wife Barbara advises other young executive wives on life in the third world. Their days as idealistic Peace Corps volunteers are far behind them - physically and metaphorically - and the succession of moral compromises has taken its toll.

Jon Robin Baitz weaves a timely tale of corporate misdeeds, personal tragedy, and marital discord that takes us into the private thoughts of a man and a woman searching for answers and aching for redemption.

June 29 - July 24, 2011 on the main stage at the Williamstown Theatre Festival in Williamstown, VA.

SHOW BOAT the groundbreaking 1927 musical by composer Jerome Kern and lyricist-librettist Oscar Hammerstein II, based on the novel by Edna Ferber.

Directed by Rob Ruggiero. Noah Racey will choreograph.

Show Boat is widely considered one of the most influential works of the American musical theatre. The famous story of showfolk who perform on a floating stage that docks in river towns along the Mississippi features the classic songs You Are Love, Make Believe, Can't Help Lovin' Dat Man of Mine, Why Do I Love You and Ol' Man River. The musical broke ground by introducing serious story elements - racism, miscegenation, spousal abandonment - into the genre of musical comedy. The work ambitiously covers about 40 years of American history, from 1890 to 1927.

Starring Sarah Uriarte Berry as Magnolia, Quentin Earl Darrington as Joe, Ben Davis as Gaylord Ravenal and Lesli Margherita as Julie with Karen Murphy as Parthy, Lenny Wolpe and Capt. Andy, Andrea Frierson as Queenie, Danny Gardner as Frank, Jennifer Knox as Ellie and Maddie Berry as Kim.

The ensemble will include Paule Aboite, Elizabeth Berg, Elise Kinnon, Denise Lute, A'Lisa Miles and Mollie Vogt-Welch, with Kyle E. Baird, Robert Hannon Davis, Robert Lance Mooney, Rob Richardson, Greg Roderick, Jet Thompson, David Toombs, Richard Waits and Nicholas Ward. The swings will be Adam Fenton Goddu and Christiana Rodi.

The creative team includes Michael Schweikardt (scenic designer), Amy Clark (costume designer), John Lasiter (lighting designer), Jay Hilton (sound designer), Michael O'Flaherty (music director), F. Wade Russo (assistant music director), Dan DeLange (orchestrations).

Launching July 1 with the official opening night set for July 27, with performances to September 11 at Goodspeed Opera House in East Haddam, CT.

NO WAY TO TREAT A LADY Book, music and lyrics by Douglas J. Cohen. Based on the novel by William Goldman

A musical comedy thriller in two acts is billed as "an uproarious, sexy musical that gives new meaning to the phrase "knock 'em dead"! A serial killer is on the prowl and Detective Morris Brummell is on the case. Can he find the killer, get the girl, and pacify his disgruntled, overbearing mother - all before the next chorus? (It's always the artsy ones!) This darkly comic thriller is a devilish blend of humor, romance, murder and music with four amazing actors playing seventeen roles. It's a Killer! "

June 27-July 9 at Cape Playhouse - America's oldest summer playhouse - located on Cape Cod in Dennis, MA.

FLEETWOOD MACBETH directed by Matt Walker.

Watch with shock and awe as Macbeth wages war against forces natural, supernatural and spousal. Will he heed the witches who say, "You Can Go Your Own Way" or will he break The Chain? Will Lady Macbeth become his Gold Dust Woman or will she succumb to her Dreams? See Birnam Wood come to Dunsinane in a Landslide and Don't Stop Thinking about Tomorrow as the Troubies bring Shakespeare back to summer.

July 1 - August 14, 2011 at the Falcon Theatre in Burbank, CA.

MOONCHILDREN by Michael Weller. Directed by Karen Allen.

Often cited as the definitive play about young adults of the 1960's, Michael Weller's show is a stunning picture of a turbulent time.

Set over the course of the 1965-1966 school year in an unnamed college town, eight students embark on their final year of study against the backdrop of a world enmeshed in struggles over feminism, civil rights and the Vietnam war. As the pressures and pains of the "real world" touch upon the friends, their coming-of-age provides a mirror of the sea change occurring throughout the country. Gripping, funny, and fully realized, Moonchildren is billed as "an under-appreciated masterwork by one of our great writers."

Starring: Hale Appleman, Gil Carter, Ganis Aaron-Costa, Matt Harrington, Jesse Hinson, Andrew Joffe, Jeff Kent, Norma Kuhling, Joe Paulik, Samantha Richert and Miriam Silverman.

Previews June 28, 29, 30, July 1, 2 Opening Night/Press Night July 2. Closes July 16 at the Berkshire Theatre Festival in Stockbridge, MA.

SISTERS OF SWING

Kerri Jill Garbis (as LaVerne), Laura DeGiacomo (as Patty) & Kimberly Robertson (as Maxene); photo credit: Neil Reynolds]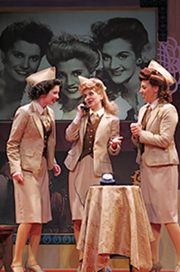 the story of the Andrews Sisters written by Beth Gilleland and Bob Beverage; musical arrangement and continuity by Raymond Berg; directed and choreographed by Bobby Cronin; musical director Mario Cruz.

Sisters of Swing sings out the triumphs and tribulations of LaVerne, Maxene, and Patty of the Andrews Sisters. For many, they were the definitive pin-up girls of their time; in reality, they were more often the vulnerable girls next door, eventually breaking up because of their differences. They worked their way up through the ranks with countless hits - Boogie Woogie Bugle Boy, Apple Blossom Time, Rum and Coca Cola - to name just a few. Dubbed America's Wartime Sweethearts, they had a rousing impact on the morale of many a WWII GI and a world weary with war. Yet in the end, the Andrews Sisters paid a price for such fame.

The Andrews Sisters sold over 90 million records. Nine of their albums went gold. They had more Top Ten hits than the Beatles or Elvis. And they are still proving to be one of the best-selling female vocal groups of all time.

Then there's the back story. Born in Minneapolis, the Andrews Sisters began their professional musical careers when their ages ranged from 16-22 years of age. Managed by an overbearing father, they got their start touring with the 55-piece Larry Rich Orchestra. By the mid-30's, they became an independent act, touring the Midwest, and performing in Vaudeville. After several years of living on the road, they had their first major success with Bei Mir Bist Du Schön, which initially sold 350,000 copies and held Billboard's No.1 slot for five weeks. Within a very short while, it became the first million selling record for an all-female group. By the mid-50's, the Andrews Sisters were essentially done.

The Andrews Sisters did not write their own material, but instead had many a Tin Pan Alley tune discovered and then arranged just for them. At one point there was a songwriting team at Decca Records devoted to writing their material. The songs of Sisters Of Swing represent an important part of the heyday of American Big Band Swing music and span the years from the mid-1930s through the 1940s and beyond. The vocal arrangements in the show are crafted to recreate the sisters' signature vocal sound. The music is interwoven with the script to portray the Andrews' musical career as a part of their real lives.

The original 2008 Stoneham Theatre cast, again directed by Bobby Cronin, returns with Laura DeGiacomo as Patty, Steve Gagliastro in multiple roles, Kerri Jill Garbis as LaVerne and Kimberly Robertson as Maxene. Musical Director Mario Cruz (keys) conducts the accompaniment featuring Rick Copeland (trombone), Tim Cote (trumpet), Heather Katz-Cote (reeds), Mick Lewander (drums), and Ben Stevens (bass). The creative design team includes Audra Avery (Set Designer), Jeff Adelberg (Lighting Designer), Kurt Hultgren (Costume Designer) and John Stone (Sound Designer).

June 30-July 24, 2011 at the Stoneham Theatre in Stoneham, MA.


WHO'S WHERE


JANET JACKSON the five-time Grammy award winner makes her only UK appearance of her Number Ones: Up Close and Personal Tour, a tour which differs from her previous concert schedules in that she will perform music exclusively from her chart topping CD Number Ones'. In each selected city Janet will offer something different to her performance so no show will be the same. These performances will be Janet's largest ever world tour celebrating, for the first time, the icon's 35 number one hits in 35 global cities. She'll be at the Royal Albert Hall in London on June 30-July 3.

FILLMORE JAZZ FESTIVAL Blending art and soul, every summer, The Fillmore Jazz Festival welcomes more than 90,000 enthusiastic guests who gather to celebrate a prosperous tradition of jazz, culture and cruising against the picturesque backdrop of Fillmore Street. July 2-3 in San Francisco.

LIZA MINNELLI one of only a handful of stars ever to have won Academy, Emmy, Grammy, and Tony Awards; the 'grand slam of show business'. Her musical back catalogue is in a league of its own and includes Cabaret, Maybe This Time and the ubiquitous hit New York, New York. She'll perform them June 29 in concert at Royal Albert Hall in London and on July 1 at Kenwood House in Hampsted/London, England.

JAMES TAYLOR on stage at Ozawa Hall in Lenox, MA on Thursday, June 30.

GLEE LIVE IN CONCERT have a busy week. On Tuesday they continue the final three nights of their 02 gig in London. On Friday they begin a two night stand at the 02 in Dublin, Ireland.

KEITH URBAN on stage Wednesday, June 29, at the Scottrade Center in St. Louis, MO. On Thursday he'll be singing his hits at the i wireless Center in Moline, IL.

JAMES BLUNT takes part in the Cornbury Musical Festival on Friday, July 1 at the Great Tew Estate in Oxon, United Kingdom.

PAUL SIMON has a full week of United Kingdom show. He performs Monday, June 27, at the International Centre in Bournemouth. Tuesday he's on stage at the Hammersmith Apollo in London. Thursday finds him in Birmingham with a show at The NIA. Next Sunday, July 7, he's in the spotlight at the 02 Apollo in Manchester.

ELVIS COSTELLO on stage Wednesday, June 29, at The State Theatre in Minneapolis. On Thursday he performs at The Crossroads in Kansas City, MO.

RICHARD BELZER will be telling funny stories Saturday, July 2 at the Bay Street Theatre in Sag Harbor, NY.




FINAL OVATION


LONGTIME DISNEY CO-STARS DIE WITHIN A DAY OF EACH OTHER Five days a week for nearly three decades Wally Boaf and Betty Taylor starred in Disneyland's Golden Horseshoe Revue.

Taylor played Slue Foot Sue and Boag played her character's sweetheart, Pecos Bill.

Taylor, 91, died at her home in Washington state, on Saturday June 18 - one day after the death of Wally Boag, 90. He was a resident of Santa Monica, Calif.

Disneyland announced the death's on its website. "Betty's role as leading lady in Disneyland's Golden Horseshoe Revue helped turn it into the longest-running stage show in entertainment history," George Kalogridis, the president of Disneyland Resort, said in a statement. ''It is a tragic coincidence that her passing comes just one day after the death of longtime co-star Wally Boag."

Mr. Boag, a former vaudeville performer, originated the role of Pecos Bill in the revue in 1955, taking the stage three times a day and logging nearly 40,000 performances before retiring in 1982. Ms. Taylor joined the revue a year after Hoag. Her run on the show - which closed in 1986 - lasted nearly 45,000 performances.

The Golden Horseshoe Revue is listed in the Guinness Book of World Records as the longest running stage production in show business history.

PETER FALK the legendary stage, screen actor and artist died June 23, 2011. He was 83.

His first New York stage role was in an Off-Broadway production of Moliere's Dom Juan at the Fourth Street Theatre that closed after its only performance on January 3, 1956. In May of that year he assumed his next theatrical role in a Circle in the Square revival of The Iceman Cometh with Jason Robards, playing the bartender.

Falk made his Broadway debut also in 1956, appearing in Alexander Ostrovsky's Diary of a Scoundrel. As the year came to an end, he appeared again on Broadway as an English soldier in Shaw's Saint Joan. In 1972, he appeared in Broadway's The Prisoner of Second Avenue.

Best known for his role as Lieutenant Columbo in the television series Columbo, he appeared in numerous films and television guest roles. He was nominated for an Academy Award twice (for 1960's Murder, Inc. and 1961's Pocketful of Miracles), and won the Emmy Award on five occasions - four for Columbo.

Falk married Alyce Mayo, whom he met when they were both students at Syracuse University, on April 17, 1960. They adopted two daughters, Catherine (who is a private investigator) and Jackie. They divorced in 1976. On December 7, 1977, Falk married actress Shera Danese.

At a two-day conservatorship trial in Los Angeles in June 2009, one of Falk's personal physicians, Dr. Stephen Read, reported Falk rapidly slipped into dementia after a series of dental operations in 2007. Dr. Read said it was unclear whether Falk's condition worsened as a result of anesthesia or some other reaction to the operations. He went on to add that Falk's condition was so bad he could no longer remember the character of Columbo. Shera Danese Falk was appointed as her husband's conservator and requested the media to respect his privacy.

Falk died at his Beverly Hills home on June 23, 2011. According to his daughter, Catherine Falk, the actor had been suffering from dementia and Alzheimer's disease.

GENE MANFORD a stagehand with the hit Broadway musical How To Succeed In Business Without Really Trying died backstage at the Al Hirschfeld Theatre shortly before showtime last Wednesday, June 22, 2011. He was taken to St. Luke's-Roosevelt Hospital where he was pronounced dead. The cause of death was an accidental drug overdose. He was 29.

Manford's on-line bio, under Education listed "Science of Death." The Places Lived section included "Earth."

How To Succeed, which stars Daniel Radcliffe and Tony Award winning John Larroquette, canceled what would have been its 100th performance. A celebration party had been scheduled. Performances resumed on Thursday.








Next Column: July 3, 2011
Copyright: June 26, 2011. All Rights Reserved. Reviews, Interviews, Commentary, Photographs or Graphics from any Broadway To Vegas (TM) columns may not be published, broadcast, rewritten, utilized as leads, or used in any manner without permission, compensation and/or credit.
Link to Main Page
---
Laura Deni



For the snail mail address, please E-mail your request.
CLICK HERE FOR COMMENT SECTION