! >
Broadway To Vegas
  SHOW REVIEWS     CELEBRITY
INTERVIEWS     GOSSIP     NEWS 
| | |
| --- | --- |
| | |
CAMERON MACKINTOSH'S LES MIS FORTUNE COOKIE - - GONE WITH THE WIND SURPRISES - - INSENSITIVE GEORGE CLOONEY FAN - - COLOR BLIND JACK NICKLAUS - - HEATHER & TONY RANDALL HOST GOLF CLASSIC - -DAVID CASSIDY BENEFIT - - JOEY FATONE'S BROADWAY DEBUT - - STAR STUDDED A LITTLE NIGHT MUSIC - - DONATE . . . Scroll Down


Copyright: July 28, 2002
By: Laura Deni

CLICK HERE FOR COMMENT SECTION
CAMERON MACKINTOSH'S LES MISERABLES CONQUERS CHINA: JUST DON'T EAT IN THE WRONG RESTAURANT
World tensions are at a peak. The stock market is on a roller coaster. Tourism is down and productions struggle. Is this the time to be daring and innovative? Cameron Mackintosh thinks so.

Les Miserables made history when producer Mackintosh's American National Company traveled to The Shanghai Grand Theatre in China and opened on June 22nd performing for three weeks. With this landmark engagement, Les Miserables became the first full-scale Broadway/West End musical ever to play China.

Robert Nolan, tour manager for Cameron Mackintosh, Inc., spoke with Broadway To Vegas about this event, taking place at a time of world turmoil.

In the planning stages for an extensive period of time, Nolan divulged that "the gentleman who runs our booking division flew to London and the meeting where everything was finalized actually happened on September 11."

"Part of the impedance for the Shanghai engagement was something that was between the British government and the Chinese government," explained Nolan about this milestone China event, which came about now because of a personal invitation from the Chinese government to the United Kingdom's Department for Culture, who then contacted producer Mackintosh.

The Chinese were specifically looking for a West End or Broadway musical to play the new Shanghai Grand Theatre and believed Les Miserables was the perfect choice, in part due to the popularity of Hugo's novel in China.



Michael McCarthy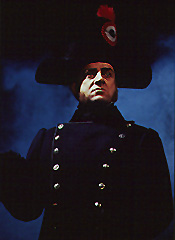 The Chinese government declared the production free of subversive content, as it does for any play, movie or television program shown in the country.

"Cameron has wanted this for a long time," Nolan stressed about the production that translated into a world wide Les Mis round robin involvement.

"Cameron wanted to have some representation from England. The woman who plays Fantine and the gentleman who is playing Javier were from the London cast," reported Nolan about Irishman Michael McCarthy, one of the legendary Javerts. Having played the role around the world, he had been playing the role in the London production.

The Shanghai engagement also marked the one-time only return of Colm Wilkinson to his legendary performance as Jean Valjean, the role he originated in London and on Broadway. Wilkinson only performed in the Shanghai engagement.



Colm Wilkinson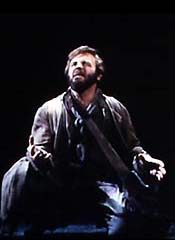 The only production capable of moving fast to China was the current American tour, and that company is providing the core of the acting ensemble. "Three of actors from Broadway came out to play Shanghai and Seoul and their counterparts from the tour then came to Broadway," Nolan continued.

"Some performers were brought in just for China. Some performers were brought in just for China and Seoul. The British actors are gone. When we get back to St. Paul the Broadway actors will stay with the show there playing the first week and then we'll make the switch and they'll come back to Broadway and the touring actors that are on Broadway will rejoin their company."

Five time Tony award winner John Napier, who also designed the Siegfried & Roy show at the Mirage Hotel in Las Vegas, is the production designer for Les Mis. Additional scenery was specially constructed in New York and sent by ship to Shanghai. A special lighting rig was shipped from Brazil, where Les Miserables had just finished a year's run in Sao Paolo. Production staff and crew came from all over the world: Britain, American and Australia to ensure that this production would be history in the making.

The BBC made a major documentary and send a camera crew to fly with the company from its last American engagement in San Francisco to Shanghai. Government leaders from China, Great Britain and the USA attended the gala opening on June 22nd with the red flag in Les Miserables fluttering over the barricades of Victor Hugo's revolutionaries side by side with the red flag of China.

With a book by Alain Boubli, music by Claude-Michel Schonberg, lyrics by Herbert Kretzmer with direction by John Caird and Trevor Nunn, the musical is performed in English in Shanghai and Seoul and features Chinese and Korean subtitles, respectively. While it is the American National Company's first time playing South Korea, an African/Asian tour did perform in Seoul in 1996.

The logistics of a major tour are enormous. Successfully managing those needs are something Nolan and the other spokes in the well oiled Mackintosh machinery have down to an art form.

Corporate America could well heed their expertise.

While Nolan did travel to Shanghai he emphasized that "this touring company has been on the road for almost 15 years, so they know how to do it. There were a lot of logistical things that had to be worked out. I wouldn't say that we had problems. It was a lot of work and there were a lot of things that had to be planned out - things that we don't ordinary do, but I wouldn't say that we had problems."

Money, for instance.

"As managers, not only do we worry about making sure the payroll gets out and the insurance gets paid, that workers comp claims are filed - we're basically problems solvers. That's what we do."

"Yes, they get their money in America dollars. When they are overseas they let us know how much of their pay they want in local currency. Then we have to pay them in the local currency. So, lets say your per diem is $500 a week. You say I want $250.00 of that in the Chinese currency. So, you get $250.000 in Chinese cash and you get the other $250.00 in a check."

It's a bookkeeping nightmare.

"That is one of the challenges about being out of the country. The whole local currency thing is a challenge that we don't normally face when we are in America or Canada."

Political unrest is also a new experience.



Fantine and Whores performing Lovely Ladies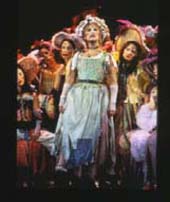 "It all went very, very smoothly," Nolan stressed. "Our engagements in both Shanghai and Seoul have been very successful. The audience appreciated it. Ticket sales have been great. We're thrilled about it. Certainly, with the political unrest in Korea some people in the company were a little anxious about going to Korea. They live as travelers - they travel every week of the year," elaborated Nolan who is of the mindset that handling a tour in China wasn't any different for the production "other than it is farther away. There was nobody saying I don't want to get on an airplane. Again, some people have been with this company for over 10 years."

That's a long time.

"We like to think we're good to work for," he answered.

Nolan also enjoys his position. "It's a great thing to be able to work for and with him," he said of Mackintosh.

Unlike some shows Les Mis doesn't travel with a sports' doctor or physical therapist.

"We never travel with a doctor," flatly stated Nolan. "The Shanghai Grand Theatre provided us with interpreters. We played Shanghai and the company is now in Seoul and we have not had any major health problems. One of our performers, who is in Seoul right now, had some vocal problems and went to a doctor in Korea. One of the spouses of one of our musicians got sick in Shanghai. She went to the emergency room and she was fine. Let's just say she went to the wrong restaurant."

When it comes to both food and lodging the production members are basically left alone. "We don't have craft services. That is totally in television or film. We don't provide food. They are on their own," reported Nolan referring to the members going to a market or a restaurant.

"This is what happens on tour in American and in foreign countries. We identify each city that we play with two hotels. The company manager on tour negotiates a rate for the cast, the crew and the musicians.We give them all of the information about the hotel - what it costs, what the tax is, how much a phone call costs, when does the restaurant open and cost, how long room service is, does it have a gym, how far away it is from the theater. Anything that you would like to know about the hotel. That is presented to the company and each person decides where they would like to stay. Then we make the reservations on their behalf. After that, they are on their own as far as paying for it. If they want to stay with Aunt Millie in Peoria, that's fine. They are responsible for showing up for work, just like you and me."

"There are about 100 which includes cast, crew and musicians. That is about the size of the traveling company normally. In going to China, yes, we put them all on the same plane. The crew went a little bit early. They took an earlier flight and everybody was on the same plane. When we are in America, a great percentage of them have their own automobiles, so they drive from state to state. It was actually sort of unusual that we did have everyone traveling together."

"I don't do the routing," he clarified. "There is a whole other division of our company that does the actually routing. I manage the Broadway production of Les Mis and oversee the tours," said Nolan who has been working for the Mackintosh organization for 12 years.

Must have been a business major.

"I was not at all!" he exclaimed. "No way! I was a theatre major. I taught high school for a couple of years - English and theatre. I always enjoyed the theatre. In college I was in the shows."

The company is currently performing in Seoul through August 4 at The Sejong Cultural Center before returning to the U.S. for its record-breaking 9th engagement in St. Paul at The Ordway Center August 7 through August 31.

This stunning adaptation of Victor Hugo's epic masterpiece has thrilled theatergoers in twenty-six different countries, been performed in fourteen different languages, and captured more than fifty international theatre awards, including eight Tony Awards and two Grammy Awards.

This year, while continuing its record-breaking runs on Broadway, on national tour, in the West End and around the world, the musical will also launch new productions in Mexico City, Sweden, Germany, Australia, New Zealand, Copenhagen and a Scandinavian Concert Tour. Already the longest-running show currently on Broadway, on January 25th, the New York production became the second-longest running production in Broadway history, surpassing the legendary run of A Chorus Line.

So, when is Les Mis going to be crowned the longest running Broadway show?

"We have a little way to go," answered Nolan. "I think someone has calculated in 2004 we will surpass Cats," which is an Andrew Lloyd Webber production.


WE'VE BEEN WAITING FOR YOU


A comment from the miners to their rescuers; "We've been waiting for you." Has to be the understatement of the year.

Latest example of American heroes - the miners and everyone associated with their safe rescue.

The dangerous and difficult occupation of miner has been celebrated in chart topping songs, which were as unique in their writing as the men they celebrated.

In August, 1946, Cliffie Stone, then an assistant producer and talent scout for Capitol Records, called Merle Travis who was a Capitol hitmaker at that time. Stone asked Travis to write some new songs that sounded folky, and to do so quickly; since the first four-song session was scheduled for the next day.

Travis recalled the traditional Nine Pound Hammer and wrote three songs that night about life in Muhlenberg County, Kentucky's coal mines, where his father worked. One was Dark As A Dungeon, the other, Sixteen Tons.

Merle recalled a remark his father would make to neighbors when asked how he was doing: "I can't afford to die. I owe my soul to the company store." This referred to coal-company owned stores where miners bought food and supplies with money advanced by the company, called "scrip".

Tennessee Ernie Ford recorded Sixteen Tons. When it was released it became the fastest selling single in Capitol's history.


TOMORROW IS ANOTHER DAY
Vivien Leigh and Clark Gable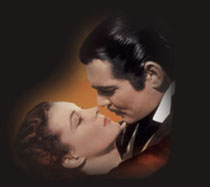 A lot of people collect expensive stuff and junk thinking their prized collection will bankroll their retirement. Then, they are disappointed to one day discover that their treasures are only worth what somebody else is willing to pay for them - which can be next to nothing. Most people just "Frankly, I don't give a damn" about other people's collections.

To get the attention and the pocketbook of buyers the collection needs to be of interest to many people, high quality and unique.

Enter dapper Herb Bridges and his 40 years of collecting Gone With The Wind memorabilia.

The prized acquisitions were gaveled down last Wednesday at Rockefeller Plaza in NYC.



Herb Bridges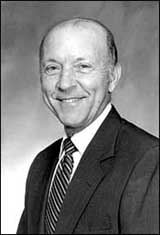 The results astonished even the experts and there were some surprises. 98 percent of the lots sold, for a total of $334,588.

The highest bids were: a wool sweater worn by Olivia de Havilland as Melanie Hamilton Wilkes topped the list at $16,730 followed by a 1938 hardcover edition of the novel signed by principal cast members gaveled down at: $11,352; a final shooting script went for $8,364; Bound publicity photographs from 1939 sold for $7,767 and the petticoat worn by Vivien Leigh went for the original estimate of $6,572.

The collection that was forty years in the making, is as unique as the now 66-year-old Gone With The Wind phenomena that began in 1936 and flowed from the imagination of a young Southern author named Margaret Mitchell.

Although he was not present for the auction, Bridges' passion for his collection was apparent. His wish was that every item be purchased by somebody who truly appreciated Gone With The Wind. We're not sure anybody can guarantee that, but for the prices paid, items at least went to what could be assumed were "good homes." Several of the items were purchased by people who own Gone With The Wind Museums.



Sweater worn by Olivia de Havilland topped the bids. Photo from Christie's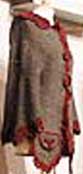 Former Hollywood makeup artist Jim Tumblin made the top purchase - that sweater de Havilland wore in two of the movie's key scenes - when she meets Ashley at the train station and when she accepts Belle Watling's money for the hospital. He intends to display the sweater in his "GWTW" Movie Museum in Marietta, Ga.

Bridges, 72, a native of Sharpsburg, Georgia has lived in the small town except for the 21 months in Korea and four years "up at the university" (of Georgia).

He supported his family as a postman, carrying the mail from the mid-1950s until 1985, and during the early days he trekked 110 miles daily over Coweta County. Along the way he bought up the town.

He owns 11 buildings, which includes most of downtown's early 20th-century structures. He has restored, is restoring, or intends to restore - more accurately - he supervises those reconstruction crews.

Calling it an "exceptional collection, a Christie's spokesperson divulged that "This is the first time Christie's has dedicated a full auction to one film."

While Bridges stresses that his collection has given him enormous pleasure, he decided to liquidate it because his children are occupied with their own interests and didn't desire to care for the collection. Bridges intends to use the auction proceeds to finance his grandchildren's education.



Programs and preview questions for the film opening Photo from Christie's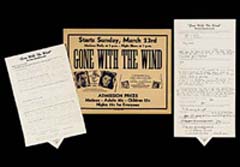 The collection was begun in 1962 when Bridges discovered a version of the book with photographs from the film for $1 while browsing an Atlanta bookstore.

Bridges' favorites are the signed (by Mitchell) first editions with original dust jackets. He owns 12, and has seen others sell from $2,000 to $10,000. He bought most of his first editions in the 1960s, never spending more than $50.

Gone With The Wind surely is an epic movie if ever there was one, and the impact of and fascination for this four-hour-long-story winding through Scarlett O'Hara's life is still evident today.



Photo from Christie's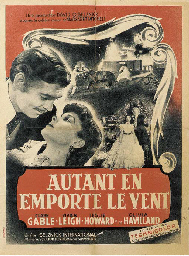 Since the movie's release in 1939, millions of people have had a memorable Gone With The Wind experience, transporting themselves to a bygone Southern era where elegance, romantic love and heartbreaking fate seemed to be daily occurrences.

In spite of, or maybe because of, their incredibly rocky relationship, Scarlett and Rhett are the epitome of the ultimate romantic couple and the acting performances of Clark Gable and Vivien Leigh have become as legendary as the personages they represented. That translates to dollar value for genuine memorabilia.

An Oscar for best actress in a leading role (Vivien Leigh) and an Oscar nomination for best actor in a leading role (Clark Gable) were only the tip of the iceberg. Gone With The Wind would reap five additional Academy Awards, five Academy Award Nominations, a New York Film Critics Circle Award for Vivien Leigh as Best Actress and a Photoplay Medal of Honor for producer David O. Selznick. As recently as 1989, the then fifty-year-old movie won the People's Choice Award for The Favorite All-Time Motion Picture.



VIVIEN LEIGH PETTICOAT 1939 An off-white cotton petticoat worn by Leigh as she portrayed Scarlett O'Hara Hamilton Butler in the amusing scene when Mammy measures her now 'large' twenty-inch waist due to her having had Bonnie Blue. An inside waistband label reads Selznick Int. Pictures Inc. No. 28-108-W.W. 123. Photo from Christie's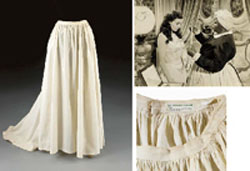 The Herb Bridges Collection of Gone With The Wind memorabilia focuses on the overall phenomenon of both the book and film.

Included in the auction were many pre-production documents that Selznick International Pictures generated such as "GWTW" scripts, call sheets, memos, production notes and historical research outlines.

Cast signed books, photographs and letters were part of the selection for sale as will be items connected to the historic 1939 world film premiere in Atlanta, Georgia such as programs and theatre seats.



A Movieola used in the making of Gone With the Wind Photo from Christie's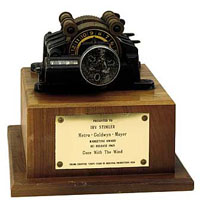 The sale also offered many first editions of GWTW signed by Margaret Mitchell, film posters from the original 1939 American campaign (as well as foreign film posters), articles of clothing worn by Vivien Leigh, Clark Gable and Olivia de Havilland, massive groups of stills from the film and a huge group of vintage-1939 collectibles - dolls, games, scarves, etc. - that were sold in stores when the film was first released.

"GWTW" has been published in 42 countries, translated into 38 languages, and Bridges owns most of these unusual and often poorly pirated copies.

As the man who owned the largest collection of GWTW memorabilia in the world Bridges' fifteen minutes of fame turned into a cottage industry. As his do-dads multiplied during the 1970s, Bridges was invited to appear on programs such as Good Morning America, The Today Show and The Mike Douglas Show. In 1972, after taping To Tell the Truth, he was introduced to Butterfly McQueen, who played Prissy in the movie. The two became fast friends and remained close until the actress' death in 1995.

"She was a charming, eccentric woman," Bridges said. "She once brought her cat to a talk we gave at the Decatur Historical Society. She never signed anything, but handed out mimeograph copies of her autograph. She was always pleased to recite her famous line - I don't know nothin' 'bout birthin' babies - but late in life she started charging money for the privilege to hear it."

If you missed the auction don't despair. Bridges has authored several books on Gone With The Wind including Filming of Gone With The Wind, by Mercer University Press. His 1995 tomb Frankly, My Dear, also by Mercer University Press is considered the Gone With The Wind book to end all Gone With The Wind books! This volume includes more than 650 photographs of items from the author's extensive collection of Gone With The Wind memorabilia, from first editions to film scripts, from theater tickets to jigsaw puzzles, from recordings to souvenir rulers.



Broadway To Vegas is supported through advertising and donations. Priority consideration is given to interview suggestions, news, press releases, etc from paid supporters. However, no paid supporters control, alter, edit, or in any way manipulate the content of this site. Your donation is appreciated. We accept PAYPAL. Thank you for your interest.


STARS ON USO HANDSHAKE TOUR


The USO's TV Stars Handsake Tour, left July 25 with four television stars heading to spots in the Balkans. This year's tour includes Kimberly Ann Pressler, Leeann Tweeden, Andy Lauer and Amy Pietz ( See Broadway To Vegas column of October 21, 2001 ).

They will be meeting and greeting American serviceman through August 4.

Kimberly Ann Pressler, the daughter of an Air Force Master Sergeant, is a former Miss USA and is currently a MTV host. Leeann Tweeden is the co-host of Fitness Beach on ESPN 2. She has also appeared on the television shows High Octane, Blue Torch and the Toughman Contest. Andy Lauer and Amy Pietz are both alums from Caroline in the City. Additionally, both have numerous television and motion picture credits.

The group is scheduled to make stops in Bosnia, Kosovo and Macedonia. Singing autographs, posing for pictures and spending time with the troops is the main goal of the trip. The tour participants hope to bring "a touch of home" to the troops stationed overseas.

BONNIE NELSON SCHWARTZ

Bonnie Nelson Schwartz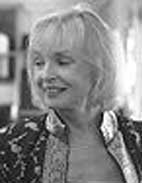 has been named a Fellow by the College of Fellows of the American Theatre. She was honored for her distinguished accomplishments in the field of educational and professional theatre. She joins previously named Fellows Zelda Fichhandler, Edward Albee, Oscar G. Brocket, Ming Cho Lee and Mark Medoff among others. She will be formally invested in a ceremony at the Kennedy Center for the Performing Arts in the spring of 2003.

Each year the College of Fellows recognizes eminent individuals whose life work constitutes a truly outstanding contribution to the profession.

Ms. Nelson Schwartz has produced more than 100 plays, films, television programs, specials and concerts in Washington, DC, New York and London. On Broadway she produced Pack of Lies with Rosemary Harris and Ian McKellen; Acting Shakespeare, Jerome Kern Goes To Hollywood, and Rodgers & Hammerstein's State Fair, and off-Broadway she presented Dylan Thomas Return Journey directed by Anthony Hopkins and Babalooney. Her numerous producing credits include the Carnegie Hall celebration Give My Regards to Broadway: 125 Years of the Musical Theatre; the London production of Panbeaters and earlier this year, a tribute to the heroes of 9/11 featuring the National Symphony Orchestra.


SWEET CHARITY


DAVID CASSIDY AND RIDGEFIELD PLAYHOUSE team up for a special event that will benefit JDRF and the Massachusetts Eye Institute. August 6 at the Ridgefield Playhouse in Ridgefield, CT.

HEATHER AND TONY RANDALL HOST ACTORS FUND GOLF TOURNAMENT make your reservations now. The Actor's Fund's 1st Annual "CelebriTee" Golf Tournament takes place Monday, October 7th. Come play CelebriTee Golf with Law and Order star Jerry Orbach and friends on one of New Jersey's premier private golf courses - The Knickerbocker Country Club in Tenafly, NJ.

Individual golfer fees start at $500, with foursome sponsorships for $7,500 and $5,000 all proceeds will benefit The Fund's Nursing Home and Assisted Living Care Facility in Englewood! Incredible prizes and awards including a 2002 Porsche Boxster for the Hole-in-One Grand Prize!

This day will include lunch, 18 hole CelebriTee Scramble, cocktails reception, dinner, silent and live auction hosted by Tony and Heather Randall, and a fabulous Broadway Review. You do not want to miss this incredible day! For more information call 212.221.7300 x133



A LITTLE NIGHT MUSIC with music and lyrics by Stephen Sondheim and a book by Hugh Wheeler is conducted by Nicholas Archer.

Lost loves, tender memories, secret yearnings, shy beginnings, scandalous affairs and the rekindling of long-buried passion. It's all part of an unforgettable weekend in the country in Sondheim's lush, witty musical. Featuring the classic song Send in the Clowns, this Tony-winning Best Musical of 1973 traces the myriad forms of love and desire through the intersecting relationships of an irresistible cast of characters.

Mark Brokaw directs a blue ribbon cast consisting of; Christy Baron, John Barrowman, Barbara Byrne, Matt Bogart, Keira Naughton, Lynn Redgrave, Alice Ripley, Emily Skinner, Marc Vietor, Marcy Harriell, Natascia Diaz, Randy Graff, Danny Gurwin, Blair Brown, Sarah Uriate Berry, Kristen Bell, Douglas Sills, Ilona Dulaski, Siobhan Kolker, and Terri Allen.

Performances begin August 2. Kennedy Center for the Performing Arts. Washington, D.C.

I WAS LOOKING AT THE CEILING AND THEN I SAW THE SKY by John Adams and June Jordan. The play was premiered by John Adams and Peter Sellars in 1996, Ceiling/Sky follows seven characters in an urban setting as they come together to solve unique problems. Initially, they see only limitations, but over time, each finds hope and promise - they see "the sky." July 31 through August 4. The Drury Theatre, Cleveland, Ohio.

THE THREE CORNERED HAT a musical by Bob Beare and Young Smith based on Pedro Antonio de Alarcon's novella about a miller, his beautiful young wife and an interloper who tests their marriage. The production stars Thomas Prior, Naya Rodriguez-Castinado, Kitty Karn and Juan G. Pareja Don Eugenio, Spencer Plachy, Andrew Ruthven and Emilio Laredo II, Kayleen Clements, Kregg Alan Dailey.The quartet of musicians is led by pianist Jack Buckhannan. Developed during the 1999 session of veteran Broadway producer Stuart Ostrow's new musicals workshop at the University of Houston School of Theatre. The musical continues its world premiere at the Main Street Theater, Houston through Aug. 17.

FRANKIE AND JOHNNY IN THE CLAIRE DE LUNE a revival of Terrence McNally's 1987 play, directed by Joe Mantello, starring Edie Falco and Stanley Tucci began previews on July 26. The production officially opens August 8 at the Belasco Theatre. NYC.

MAMMA MIA! will open in Las Vegas next February at Mandalay Bay Resorts. As they have with other Mamma Mia! stagings, producers Judy Craymer, Richard East and Bjorn Ulvaeus will maintain a hands on approach. Wherever Mamma Mia! has played the results have been successful. There is no reason to believe that the Las Vegas presentation will be anything other than a long term Vegas hit.

42nd STREET begins the national tour of the revised Broadway revival at the Starlight Theatre in Kansas City, MO. on August 6. The tour is directed by the co-librettist, Mark Bramble, and choreographed by the show's original tap creator, Randy Skinner. The original creative team is working on the national touring production, including Bramble, Skinner and designers Douglas W. Schmidt (set), Roger Kirk (costumes) and Paul Gallo (lighting).

BROADAXE THEATRE is a new theater group led by actress Sara Sharpe and musician Steve Earle. They will begin their fall season Aug 29 with The Remembered City, an evening of music, poetry and visual art first performed in February at Steppenwolf Theatre Company in Chicago. Aug. 29 at the Belcourt Theatre in Hillsboro Village, Nashville, Tenn. $45 Gold Circle tickets include a private party with Earle, Chicago artist Tony Fitzpatrick and musicians John Rice and Pat Brennan.

RENT welcomes 'N Sync member Joey Fatone, 25, who will be making his Broadway debut in the role of Mark, a struggling video artist who acts as the musical's narrator and its moral compass. Fatone's first performance is set for August 5. He will be in the production through December 22.

GOING NATIVE by Steven Drukman has a staged reading at the Williamstown Theatre from Aug. 3 to Aug. 5. Phyllis Newman stars.

HOUSTON SHAKESPEARE FESTIVAL The Bard of Avon is showcased on the Miller Outdoor Theatre stage at Hermann Park for the Houston Shakespeare Festival, Aug. 2-17. This year marks the 28th season for festival, presented by the University of Houston School of Theatre. Productions of Measure for Measure and A Midsummer Night's Dream alternate throughout the two weeks. Shows are free.


WHO'S WHERE


THE B-52's AND BLONDIE will perform July 30 at the Verizon Wireless Virginia Beach Amphitheater in Virginia.

PRESERVATION HALL JAZZ BAND a Westport Country Playhouse tradition, celebrates its 30th summer in Westport. There's no sheet music, no play list, just straight-from-the soul spontaneity from these jazz legends of the Big Easy. Westport, Conn. July 28.

PETER PAUL AND MARY perform August 2 in Atlanta,Georgia in the Chastain Park Amphitheatre. On Saturday, Aug 3, the show is at the Westbury Music Fair in Westbury, NY.

LIZ CALLAWAY August 2 in Stephen Schwartz and Friends in Bethlehem, PA.

KAREN MASON currently starring on Broadway in Mama Mia, returns to the Bradstan for her eighth appearance. July 28 in the Nancy LaMott Room of the Bradstan Country Hotel.

BARRY MANILOW begins a two nighter on Wednesday in Wantagh, New York at the Jones Beach Amphitheatre.

PETER FRAMPTON>/font> tonight in Minneapolis, Minn at Downtown Minneapolis. On Wednesday the performance is in Sault Ste. Marie, MI at the Vegas Kewadin Casino. On Thursday the show is in Mt Pleasant. MI at the Soaring Eagle Casino. Friday Peter is center stage in West Allis, WI at the Wisconsin State Fair.

JEWEL is on stage tonight in San Diego, CA at the SDSU Open Air Theatre. On Friday the performance is in Duluth, Minn at the Duluth Entertainment Convention Center Auditorium.

MARC ANTHONY appears Tuesday in Santa Barbara, CA at the Santa Barbara Bowl. On Wednesday he's in the spotlight in Mountain View, CA at the Shoreline Amphitheatre. On Friday he can be enjoyed in Las Vegas. He closes out the week, Saturday, in San Diego, CA at the San Diego Sports Arena.

HUEY LEWIS AND THE NEWS tonight perform at the Montana State Fair in Great Falls, Montana.

CHICAGO entertain July 28 in Rockford, Illinois at the Coronado Theatre. On Tuesday they are in Toledo, Ohio at the Zoo Amphitheatre. On Wednesday the show is in Cleveland, Ohio at the Tower City Amphitheatre. Chicago performs Thursday in Ramo, ON at the Casino Rama. They close out the week, Saturday, in Clarkston, MI at the DTE Energy Music Theatre.

EMMY LOU HARRIS on stage tonight in Woodinville, Washington at the Chateau Ste. Michelle. On Tuesday she is on stage in San Jose, CA at the Compaq Center at San Jose. On Wednesday she's in the spotlight in Chula Viata, CA at the Coors Amphitheatre. She performs Thursday in Los Angeles at the Greek Theatre and closes out the week, Saturday, with a show in Santa Barbara, CA at the Santa Barbara Bowl.

AL GREEN on stage August 2 in Saratoga, CA at the Historic Mountain Winery. On Saturday he is center stage in Concord, CA at the Chronicle Pavilion@Concord.

WILLIE NELSON singing songs and telling stories on August 2 in Corpus Christie, Texas at the Concrete Street Amphitheatre. On Saturday he does it again in Selma, Texas at the Verizon Wireless Amphitheatre. Sunday finds Willie in The Woods, Texas at the C.W. Mitchell Pavilion.

OZZY OSBOURNE slated to bring his unique personality and talent to Atlanta, Georgia tonight for a show at the HiFi Buys Amphitheatre. On Saturday the show was to have been in Columbus, Ohio at the Polaris Amphitheatre. Osbourne has announced that he is taking some time off from his tour so he can be with his wife who is undergoing cancer treatment.

KENNY CHESNEY in the spotlight Thursday in Davenport, Iowa at the Mississippi Valley Fair.

ALABAMA sings tomorrow night in Monroe, MI at the Monroe County Fair. On Wednesday they are in Wausau, Wisconsin at the Wisconsin Valley Fair. On Friday the performance is at the Soo Pass Ranch in Detroit Lakes, MN.

BARBARA COOK in a it-doesn't-get-any-better-than-this, don't miss performance of Mostly Sondheim at the Vivian Beaumont Theatre, NYC through Aug. 26.

JANA ROBBINS performs her Cy Coleman tribute, One Hell of a Ride!, at Los Angeles' Gardenia on Monday, July 29.

DAVE KOZ, JAMES INGRAM, NORMAN BROWN, BRIAN CULBERSTON perform July 28 at the Westfair Amphitheatre in the Ameristar Casino, Council Bluffs, Iowa.

SERGIO MENDES AND BRASIL 2002 July 29, at the Kenley Amphitheater in Layton, Utah.

DON McLEAN July 29 at the SCERA Shell Outdoor Theater in Orem, Utah. On July 30 the show is at the Kenley Amphitheater in Layton, Utah.


LEFT OVERS


EVERYTHING OLD IS NEW AGAIN radio show hosted by David Kenney pays tribute to Rosemary Clooney tonight. Everything old Is New Again can be heard every Sunday 9-11 PM(EDT) over WBAI 99.5 FM and on the Internet at: www.2600.com/offthehook/hot2.ram. By the way, fans ought to learn to pay tribute to their favorite stars by displaying good manners. Worst example took place at Rosemary's funeral. After the services family and friends gathered together. A fan burst into the mourners, thrust a piece of paper at Rosemary's nephew, George Clooney, asking him for his autograph. He replied: "This is so way not the right time."

JACK NICKLAUS is touting a new line of 23 Persian and floral-print design rugs. The $800 rugs all bear the names of golf courses Nicklaus has designed. While Jack is out front hawking the rugs those on the inside say it is really his wife, Barbara, who is helping to design the rugs. The reason? Jack Nicklaus is colorblind.













Next Column: August 4, 2002
Copyright: July 28, 2002. All Rights Reserved. Reviews, Interviews, Commentary, Photographs or Graphics from any Broadway To Vegas (TM) columns may not be published, broadcast, rewritten, utilized as leads, or used in any manner without permission, compensation and/or credit.
Link to Main Page
---
Laura Deni



U.S. Postal Address: Post Office Box 60538, Las Vegas, NV 89160
CLICK HERE FOR COMMENT SECTION