! >
Broadway To Vegas
  
 SHOW REVIEWS CELEBRITY INTERVIEWS GOSSIP NEWS

| | |
| --- | --- |
| | |
THE GREAT GAME: AFGHANISTAN - - DEBBIE REYNOLDS' DREAMS GET HAMMERED DOWN - - COLOGNE OPERA STAGES THE RING CYCLE IN CHINA - - LEAP OF FAITH AT THE AHMANSON - - LIBERACE MUSEUM TO CLOSE - - NOTORIOUS & NOTABLE - - ELVIS 1956: PHOTOGRAPHS BY ALFRED WERTHEIMER - - 2010 KENNEDY CENTER HONORS ANNOUNCED - - DONATE . . . Scroll Down


DEBBIE REYNOLDS' DREAMS GET HAMMERED DOWN
Debbie Reynolds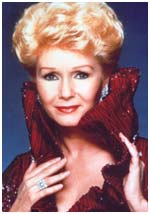 Debbie Reynolds' heart is reported to be broken and officials of Pigeon Forge, TN call it a blow to their tourism industry.

Respected auction houses Christies and Bonhams & Butterfields have been contracted to hammer down the hopes and dreams of Debbie Reynolds.

For decades the Oscar nominated and Emmy Award winning star has been carefully collecting valuable Hollywood memorabilia in hopes of preserving the famous relics for generations to enjoy in a museum. What is perplexing is that the petite performer, who is both adored and respected, never had support from the Hollywood community that she was so desperately trying to preserve.

Todd Fisher president of the Hollywood Motion Picture and Television Museum and the actress' son announced last Thursday that the collection will be sold at auction, ending the hopes that the long planned museum would open in Pigeon Forge, TN.

Fisher said his mother's heart "is broken" about the project, which he described as the latest in a long line of disappointments. He said the Hollywood, Las Vegas and Broadway star was brought to tears following the auction decision.



To safely preserve Monroe's iconic dress Todd Fisher utilized environmental sensing technology to keep tabs on shifts in climate – humidity in particular – that could damage the $2.2 million dress. Fisher selected HOBO data loggers, manufactured by Massachusetts-based Onset Computer Corporation. The battery-powered devices, which are roughly half the size of a standard iPod, measure and record humidity levels around-the clock – even during power outages – and accompanying software converts the data into time-stamped graphs that can be displayed on a PC or Mac and printed out. Fisher looked at the data on a weekly basis, sometimes even daily, to make sure humidity stayed below 50%. He also maintained temperature levels at around 68°F. That means the Monroe gown is good as when she stood over that grate.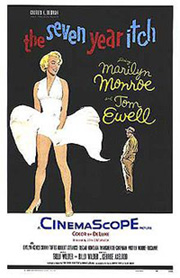 'Most people collect for themselves … but she collected for the public,' he said. 'She collected for all of us. She collected for the American people to preserve the history of their industry.'

In addition to this upcoming auction, which is planned to take place before next June, Bonhams & Butterfields state that their Fine European Furniture and Decorative Arts auction on September 13, in Los Angeles "will include rare and exceptional works from the Personal Collection of Debbie Reynolds."

Reynolds' Hollywood Memorabilia Museum first materialized in Las Vegas at the Debbie Reynolds Hollywood Hotel & Casino. The building itself was originally Vegas' old Paddlewheel Hotel, and the interior included 193 hotel rooms, a casino, 500-seat showroom and six acres of land situated just half a block off the Las Vegas Strip.

The hotel and casino went through several corporate restructurings, and millions were spent on renovations, but it continued to lose money. In 1997, the resort was forced to file for bankruptcy and the property was sadly turned over to the World Wrestling Federation, which won the hotel at auction for the shockingly low purchase price of $10 million - it was less than what was desperately needed to pay claims. ( See Broadway To Vegas column of August 10, 1998 )

"They got a hell of a deal," Todd Fisher said afterwards. The doors closed and Reynolds had to put the costumes and props into storage.

Then what Reynolds thought was "a fantastic opportunity" appeared, and she entered into a lease for 20,000 square feet of the top floor inside the developing Hollywood & Highland complex in Los Angeles. The new Hollywood Motion Picture Museum was reportedly penciled in to open sometime in 2004. Due to financial setbacks, however, it was announced in March, 2004 that the Hollywood location has been abandoned in favor of a location in Pigeon Forge, Tennessee, near Dolly Parton's successful Dollywood amusement park.

If it had ever opened the museum would have showcased costumes from The Wizard of Oz, some of Marilyn Monroe's wardrobe, including the subway dress from The Seven Year Itch, Elizabeth Taylor's jeweled head dress from Cleopatra, just to name a few, plus some 3,000 costumes and over 36,000 feet of props and furniture.

'Would have been', Should have been,' 'Could have been' - phrases that Reynolds has heard before.

Her museum was to be the focal point of Belle Island Village, located in Pigeon Forge, Tenn., about 35 miles southeast of Knoxville, that also was to include a NASCAR-themed attraction called the Darrell Waltrip Racing Experience and Otter Cove by the Knoxville Zoo. Much of the construction for Belle Island was completed - including the shell of the Hollywood Museum - but last year a firm behind the project filed for bankruptcy. Two foreclosure auctions resulted in Belle Island being taken over by lenders.

Reynolds' museum filed for bankruptcy protection in June 2009. One of the papers filed state that Regions Bank had agreed to sell part of the project to Tennessee Investment Partners LLC. According to the document, TIP was negotiating with the museum on a deal that would include an up-front payment to the museum.

Last month more rain fell on Debbie's parade when Tennessee rejected a tax-exempt bond allocation for the deal, and Fisher indicated Thursday that Belle Island Village developer Glen Bilbo and his associates weren't able to deliver the cash required to finish the museum. Instead, Fisher said that auction house Christie's will conduct a sale of the memorabilia collection by June, allowing the museum to make a $5 million payment to the creditor.

The Bonhams & Butterfield auction began previewing their auction items on September 10 towards the Los Angeles September 13 event.

"Reynolds's passion for beauty and dedication to the preservation of Hollywood history are represented throughout the offering," said Andrew Jones, Los Angeles Director of European Furniture and Decorative Arts at Bonhams & Butterfields.

Debbie Reynolds began her extensive Collection with the Metro-Goldwyn-Mayer (MGM) auction in 1970. She bought not only memorabilia and costumes, but also props and set decor, including furniture, chandeliers and decorative arts. Reynolds's extensive Collection includes various items from 20th Century Fox, RKO and Warner Brothers, among others, as well as items from the Estates of Harold Lloyd and Mary Pickford. She felt it would be a great injustice; should these treasures fall by the wayside as decorations for mere Halloween celebrations, masquerade parties and social events.

It was during the 1970's that it occurred to Reynolds that items from these landmark films, which were largely responsible for establishing style guidelines and influencing decorators and tastemakers around the world, lacked a museum or preservation strategy. She has always said: "they have a 'Hall of Fame' for bowling, but not for films or movie stars." Since that time, Reynolds has been an advocate for preserving these artifacts for posterity and the enjoyment of future generations.



A pair or Italian Rococo paint decorated console tables together with a pair of Rococo paint decorated mirrors. Provenance: Harold Lloyd Estate. Est. $7,000-9,000. Courtesy of Bonhams & Butterfields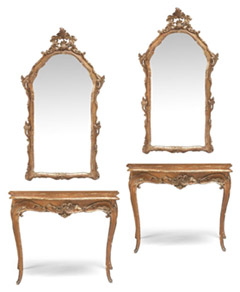 According to Reynolds: "Pieces from my beloved Collection have traveled great distances from their humble beginnings. From all corners of Europe, these items were carefully sourced and hand selected by MGM and Fox Studios specifically for use in several great period and award-winning films including George Cukor's Camille (1936) starring Greta Garbo, Robert Taylor and Lionel Barrymore; Marie Antoinette (1938) starring Norma Shearer, Tyrone Power and John Barrymore; Beau Brummell (1954) starring Elizabeth Taylor and Peter Ustinov and Desirée (1954) starring Marlon Brando as well as several Rita Hayworth classics.

"I am honored to share these pieces, many of which have not been seen by the public since the 1970's, with the next generation of collectors," said Reynolds.

Highlights on offer from the Personal Collection of Debbie Reynolds will include: a pair of Italian Rococo paint decorated console tables together with a pair of Rococo paint decorated mirrors (est. $7,000-9,000); a French gilt bronze and enamel mantel clock (est. $6,000-8,000); a pair of Venetian Rococo style blackamoor parcel gilt floor torcheres (est. $8,000-12,000); an imposing pair of Louis XV polychrome decorated mirrors (est. $8,000-12,000); a pair of German carved boxwood and ivory figures of musicians (est. $2,000-3,000) and a set of nine German carved ivory and boxwood figures of musicians (est. $4,000-6,000). According to Reynolds, several of the items were acquired from major Hollywood motion picture studios and estates including that of Harold Lloyd and Mary Pickford.



Broadway To Vegas is supported through advertising and donations. Priority consideration is given to interview suggestions, news, press releases, etc from paid supporters. However, no paid supporters control, alter, edit, or in any way manipulate the content of this site. Your donation is appreciated. We accept PAYPAL. Thank you for your interest.


ART AND ABOUT


NOTORIOUS & NOTABLE

Tissue of Diamonds dress made for Lauren Bacall, 1963 Black silk net studded with crystal brilliants, over peach silk charmeuse Gift of Lauren Bacall.

Pendant worn by Edith Bouvier Beale. Maker unknown, 1910. Platinum, diamonds, natural pearl. Courtesy of Vartanian & Sons, Inc.

20th Century Women of Style exhibit highlights 80 prominent New York women who used their style, talent, or wealth to capture the attention of society and the media.

The exhibition features a runway of original attire - much of it created by the most important designers of their times - and an impressive selection of jewelry crafted from the dawn of the 20th century to its close.

The exhibition features such celebrated New York women as Mrs. Cornelius Whitney Vanderbilt, Jacqueline Kennedy Onassis and Babe Paley as well as women from the arts world, including Isadora Duncan, Marian Anderson, Lena Horne, Sophie Tucker, Gypsy Rose Lee and Lauren Bacall.

The exhibition offers an opportunity to encounter many of New York's leading ladies past and present through their fashion and jewelry.

Co-presented with the National Jewelry Institute the exhibit is on display September 14, 2010 through January 3, 2011 at the Museum of the City of New York.

On Sunday, October 3, Phyllis Magidson, Curator of Costumes and Textiles, will lead a guided tour of Notorious & Notable: Twentieth Century Women of Style.

ELVIS 1956: PHOTOGRAPHS BY ALFRED WERTHEIMER

Elvis Going Home by Alfred Wertheimer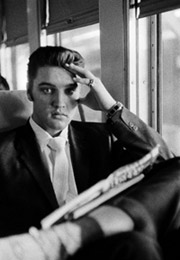 The Rock and Roll Hall of Fame and Museum in Cleveland will unveil its latest exhibit devoted to the King of Rock and Roll, opening to the public on Monday, September 13, in the Circular Gallery of the Main Exhibit Hall.

Taken during the year Elvis turned 21, Alfred Wertheimer's photographs are a remarkable visual record of a defining time for rock and roll's most enduring figure.

1956 was the year Elvis first appeared in the national consciousness. His RCA records and national broadcast helped make him a star.

ELVIS 1956 is the first and last unguarded look at Elvis, featuring images of him in every aspect of his life—from performance and with the fans, to the recording studio and at home with his family. On stage and off, Elvis defined the notion of "rock style." His electrifying synthesis of rhythm and blues, gospel, and country bridged traditional divides between white and black, urban and rural. For tens of millions of fans, Elvis transformed the beat of everyday life. His music and style helped launch a cultural revolution.

In addition, the Rock Hall has on display nearly 30 new artifacts on loan from the Graceland Archives and are located next to the photography exhibit. Highlights include:

Shirt and belt Presley wore for performance rehearsals in 1970. Seen on the poster for the film Elvis: That's the Way It Is.

Hand-painted poster for Presley's February 1955 performance in Memphis.

Presley's 1974 Grammy Award for Best Inspirational Performance for How Great Thou Art, the handwritten set list and jumpsuit from the show where the performance was recorded.

Proclamation from the City of Memphis declaring February 25, 1961 to be Elvis Presley Day.

A 1974 Guild acoustic guitar used by in concert by Presley in 1976.

ELVIS 1956 will be open through January 2, 2011.

In conjunction with the exhibit opening, the Rock Hall is pleased to welcome Govinda Gallery Founder and Director Chris Murray for the next session of From Songwriters to Soundmen: The People Behind the hits on Wednesday, September 15 in the Rock Hall's Foster Theater.

Jim Henke, Vice-President of Education Exhibitions and Curatorial Affairs , will moderate the evening, in which Murray will discuss these iconic photographs as well as his curation of the ELVIS 1956 exhibit.

Questions will be taken from the audience at the end of the interview. This event is free with a reservation.



COLOGNE OPERA BRINGS THE RING OF THE NIBELUNG TO CHINA - FAKE GUNS NEEDED SPECIAL CLEARANCE


The Ring Of The Nibelung a full cycle live production of Richard Wagner's "holy grail of Western opera" is being called "a once-in-a-lifetime experience" for those lucky enough to see the presentation beginning September 16 at Shanghai Grand Theater in Shanghai, China.

Fortunately, those 87 prop guns that are used on stage finally got past customs. China has strict gun controls, and that includes the stage prop fake variety. To get them into the country, first the theater had to apply to the Ministry of Culture, which, in turn, coordinated with the Ministry of Public Security, who finally granted permission for the fake fire arms to clear customs.

Furthermore, every single time the box containing the fake guns is opened a representative from Cologne Opera, a security guard of the Shanghai theater and an independent supervisor are required to witness the event and likewise when the prop guns are counted and packed away.

Another problem was getting flammable material into the country. The hot stuff is a required element in the plotline. Many productions opt for simulated fire to comply with local fire codes. In China, the fire department must give the nod for the use of real fire. This Cologne version calls for the real thing, and German stage technicians insisted on bringing their own flammable materials which they were accustomed to igniting, rather than purchasing pyrotechnics after they arrived.

No wonder this production took two years to hammer out.

The Gürzenich Orchestra Köln will be conducted by Markus Stenz, General Music Director of the City of Cologne and Gürzenich-Kapellmeister and Principal Guest Conductor of the Hallé Orchestra. The production is directed Robert Carsen.



A scene from Goetterdaemmerung, The Ring of the Nibelung. Press Handout Photo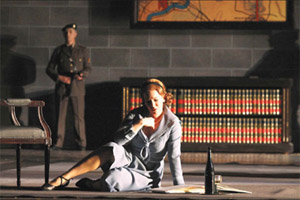 Carsen's interpretation is described as: "focusing on the exploitation of nature as our basis of life. The quest for power and "gold" takes place at the cost of the natural balance and the balance of the social and human order. The result is an ecological and civil catastrophe."

Wagner took 26 years to finish the tetralogy, which premiered in 1876. The upcoming opening isn't the first time the work has - sort of - been mounted in China. The Chinese debut came at the 2005 Beijing International Music Festival with a cabaret version.

Presented by Wu Promotion, this 16-hour, four-night event isn't your scaled down tour mounting.

This is an undertaking that requires the relocation and effort of 315 artists including the producers, stage designers, costume designers, makeup artists and technicians to remain in China for a month.

The props and stage scenery filled 30 containers and shipped to China in a sea voyage lasting 21 days.

Promoters say that if the eight nights are SRO, the receipts will barely cover the operating costs for the Chinese partners Shanghai Entertainment Group, Shanghai Grand Theater and Xinmin Media Group.

When the production opens Thursday at the Shanghai Grand Theater, it will be a historic moment for Qian Shijin, artistic director of the theater who is grateful that the Chinese translation was provided gratis by the Taiwan Wagner Society.



A scene from Walkuere, The Ring of the Nibelung. Press Handout Photo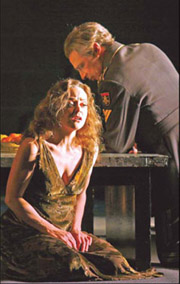 To educate the public about The Ring Cycle, organizers are staging a lecture series on how Wagner created his masterpiece. Some of the lectures will be turned into a television documentary for the Shanghai Oriental Television Arts & Humanities Channel.

The performance on September 24, the last show of the two cycles, will be aired live to allow those outside the theater to experience the magnum opus. Cologne musicians have drastically cut their salaries in order to make the broadcast possible.

Das Rheingold stars Greer Grimsley (Wotan), Samuel Youn (Donner), Mirko Roschkowski (Froh), Carsten Süß (Loge), Oliver Zwarg (Alberich), Martin Koch (Mime), Kurt Rydl (Fasolt), Ante Jerkunica (Fafner), Dalia Schaechter (Fricka), Cassandra McConnell (Freia), Hilke Andersen (Erda), Jutta Böhnert (Woglinde), Regina Richter (Wellgunde), Katrin Wundsam (Flohilde).

Die Walküre with Lance Ryan (Siegmund), Kurt Rydl (Hunding), Greer Grimsley (Wotan), Astrid Weber (Sieglinde), Catherine Foster (Brünnhilde), Dalia Schaechter (Fricka), Ingeborg Schöpf (Gerhilde), Cassandra McConnell (Helmwige), Machiko Obata (Ortlinde), Regina Richter (Waltraute), Christina Khosrowi (Rossweiße), Andrea Andonian (Siegrune), Katrin Wundsam(Grimgerde), Hilke Andersen (Schwertleite).

Siegfried with Stig Andersen (Siegfried), Martin Koch (Mime), Greer Grimsley (Wanderer), Oliver Zwarg (Alberich), Ante Jerkunica (Fafner), Hilke Andersen (Erda), Catherine Foster (Brünnhilde), Jutta Böhnert (Waldvogel).

GötterdämmerungChoir: Andrew Ollivant with Lance Ryan (Siegfried), Samuel Youn (Gunther), Kurt Rydl (Hagen), Oliver Zwarg (Alberich), Catherine Foster (Brünnhilde), Astrid Weber (Gutrune), and Dalia Schaechter.

This is truly a joint venture between the Chinese and the Germans. The Cologne municipal government and its citizens are paying production costs and sharing transportation costs.

The German participation is not totally altruistic. Tourism is big business and Cologne feels that once Wagner's music is heard in Shanghai, its residents and visitors will desire to visit The City by the Rhine.

Stage and Costume Design is by Patrick Kinmonth. Light Design by Manfred Voss. The Dramaturgy is by Ian Burton. A production by Robert Carsen and Patrick Kinmonth.

Cologne's Ring of the Nibelung at Shanghai Grand Theater stages the first cycle from September 16-18 and the second from September 21-24. Tickets are priced from $44-$236.


THE GREAT GAME: AFGHANISTAN


Theatrical experiences have long drawn on current event headlines. In a most timely manner, The Great Game: Afghanistan is a unique theatrical event which explores Afghan culture and history, sparking discussion and debate on what is viewed by many as the most important focus of UK and American foreign policy of our time. Through the eyes of 12 leading British and American playwrights and the voices of those actively involved in the war and on U.S. & NATO policy in Afghanistan, The Tricycle Theatre's The Great Game: Afghanistan presents, in three separate thrilling and provocative evenings, the culture and history of Afghanistan since Western involvement in 1842 to the present day.

All three parts can be experienced together as one event or as separate productions and do not need to be seen in chronological order.

The plays are: Bugles at the Gates of Jalalabad by Stephen Jeffreys. Durand's Line by Ron Hutchinson. Campaign by Amit Gupta. Now is the Time by Joy Wilkinson. Black Tulips by David Edgar. Wood for the Fire by Lee Blessing which The Great Game: Afghanistan will present as the world premiere. Miniskirts of Kabul by David Greig. The Lion of Kabul by Colin Teevan. Honey by Ben Ockrent. The Night is Darkest Before the Dawn by Abi Morgan. On the Side of the Angels by Richard Bean. Canopy of Stars by Simon Stephens.



From the Tricycle Theatre in London The Great Game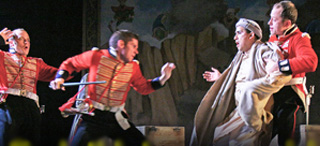 The cast includes: Daniel Betts, Sheena Bhattessa, Michael Cochrane, Karl Davies, Vincent Ebrahim, Nabil Elouahabi, Shereen Martineau, Tom McKay, Daniel Rabin, Danny Rahim, Raad Rawi, Jemma Redgrave, Cloudia Swann and Rick Warden.

Directed by Nicolas Kent and Indhu Rubasingham. The Assistant Director is Rachel Grunwald. Project Design by Pamela Howard. Associate Designer is Miriam Nabarro. Lighting by James Farncombe. Sound by Tom Lishman.

Literary Advisor is Jack Bradley.

From the Tricycle Theatre in London, The Great Game: Afghanistan embarks on its American tour from September 15–December 19, 2010. Following performances at the Shakespeare Theatre Company in Washington, the tour will continue to three other theatres throughout the country: The Guthrie Theater in Minneapolis September 29-October 17; Berkeley Repertory Theatre in Berkeley October 22-November 7 and The Public Theatre in NYC December 1-December 19.

To compliment this unique theatrical event, The Shakespeare Theatre Company will be presenting Experience Afghanistan, a two-week long festival coinciding with The Great Game performances consisting of art exhibits, symposia and performances to further explore and celebrate the culture and people of Afghanistan. The Shakespeare Theatre Company's Harman Center for the Arts presents Afghanistan Beyond the Headlines: See the Plays/Hear the Debate/Understand the Future.

On Sunday, September 19 the Forum in Sidney Harman Hall includes an opening presentation followed by Afghanistan in the World with Dr. Benjamin Hopkins, Assistant Professor of History and International Affairs, George Washington University who will serve as moderator for a discussion with Cynthia Schneider, Distinguished Professor in the Practice of Diplomacy, School of Foreign Service, Georgetown University and Joseph A. Mussomeli, Ambassador to the Republic of Slovenia, US Department of State. Women in Afghanistan follows with Christina Lamb, Washington Bureau Chief, The Sunday Times serving as moderator for Nushin Arbabzadah, Research Scholar, UCLA Center for the Study of Women, Spozhmai Maiwandi, Afghanistan Program Coordinator, South and Central Asia Division, Voice of America and Azita Ranjbar, Program Specialist for Afghanistan and Pakistan, U.S. Institute of Peace.

The event concludes with Afghanistan in Perspective moderated by Mariam Atash Nawabi, Anchor, America Abroad Media featuring photographer Ed Grazda, Nicolas Kent, Artistic Director of the Tricycle Theatre and Daud Rasool, Deputy Director, British Council Afghanistan.


BUDWEISER BAND OF BUDS BEER PROMOTION SEEKS LAS VEGAS DEBAUCHERY AND SIN CITY IMAGE


Nobody does a beer promotion like Budweiser. From the 9/11 tribute that was so poignant and powerful it had to be pulled after only one airing, to never meeting a college student they didn't want as a customer - 'This Bud's For You' - may not be for everybody - especially if you're under 21.

Pressured by colleges and parents to stop the high level promoting on college campuses, the beer that was hawked by Ed McMahon is now using Sin City to help bolster it's party-down image.

Band of Buds is billed as a competition to find the best Crews in America with the catch-phrase line: "You can't put a price on friendship, but $100k is a start."

25 Crews will make it to the Finals in Las Vegas. One winning Crew will take home that $100,000 and be featured in Rolling Stone magazine, plus have face time on a reality show.

What's a Crew? Four friends who compete by getting on-line votes and earning points.

Anytime $100,000 is dangled in front of somebody, throw in the Rolling Stone write-up - not to mention appearing on a reality show and people will sign on.

As the company explains it; "The top 12 Crews in each market with the most points will be invited to compete at a local Casting Call party where their camaraderie, style and game will be voted on by a panel of judges," touts the promoters who have - by the photographs - geared this contest for the collage crowd, although the rules make it clear you do have to be at least 21 to enter.

"One Crew will be selected from each Casting Call party to compete in the Band of Buds Finals in Las Vegas; a four-day, reality show-like competition. Then, and only then, will we be able to crown the official Band of Buds."

The Finals. Time to roll the dice. Your Crew will compete against 24 other Crews in a four-day adventure.

"All of Las Vegas will be the stage for the final Band of Buds competition. Camera crews will document the debauchery, unexpected twists and turns. It all starts at the world-famous Mirage Hotel and Casino and ends four days later with one Crew being crowned the Band of Buds. In this game, the sinners and the winners look awfully similar. Make Vegas earn the name Sin City," implores the advertisement.

The concern comes from the photographs which show the 20-something crowd drinking and having just almost too good of a time. The strict rules and the come-on pitch can send conflicting messages.

While the sign-up and participate plea blares "document the debauchery" and "Make Vegas earn the name Sin City," the Content Guidelines in part state:

"Content cannot defame, misrepresent or contain disparaging remarks about Sponsor or its products, or other people, products or companies . . . . . Content cannot (a) be sexually explicit or suggestive, violent or derogatory of any ethnic, racial, gender, religious, professional or age group, profane or pornographic, contain nudity or any materially dangerous activity; (b) promote the excessive or irresponsible consumption of alcohol, or promote illegal use of alcohol, drugs, tobacco, firearms/weapons (or the use of any of the foregoing), any activities that may appear unsafe or dangerous or any particular political agenda or message; (c) be obscene or offensive, endorse any form of hate or hate group; (d) contain an image of anyone under 21 years of age . . . . . "

The last time Budweiser staged a massive promotion was a year ago with their failed Team Pride Fan Cans in which Anheuser-Busch released a series of 27 can designs for Bud Light featuring the colors of college sports teams, "but the schools' reactions have been decidedly mixed," the Wall Street Journal reported August 21, 2009.

Marketing materials accompanying the Team Pride campaign urged, "Show your true colors with Bud Light," and state: "This year, only Bud Light is delivering superior drinkability in 12-ounce cans that were made for gameday."

The Collegiate Licensing Co., which represents the NCAA, complained to Anheuser-Busch about potential trademark violations in the campaign, and at least 25 schools requested that the promotion be dropped. The University of Michigan threatened legal action and Boston College, the University of Colorado, Oklahoma State University and Texas A&M tried to prevent sales of the cans near their campuses.

Another promotion which is working is Budweiser sponsoring the current tour of Mexican singing superstar Vicente Fernández.

That tour which kicked off July 16, 2010 in San Diego touted the "King of Beers and King of Rancheras unite for U.S. concert tour and college scholarships in the Hispanic community." Budweiser and Fernández announced a three-year partnership, with Budweiser as the presenting sponsor of his tour which makes stops in Los Angeles, New York, Chicago, Houston and other major markets through November.



Vicente Fernández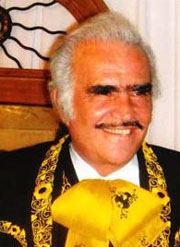 Vicente Fernández has sold more than 50 million albums, appeared in numerous films and earned global recognition including a star on the Hollywood Walk of Fame, Latin Recording Academy Person of the Year in 2002, inclusion in the International Latin Music Hall of Fame, and the 2009 Grammy for Best Regional Mexican album for Necesito de Ti.

"Vicente Fernández is a true cultural icon whose passion and tradition embody Budweiser's proud heritage," said Eduardo Pereda, senior director of multi-cultural marketing, Anheuser-Busch. "Through this partnership, Budweiser will help reach audiences across the country and give some lucky fans a once-in-a-lifetime opportunity to meet the undisputed king of Ranchera music."

Fernández appears in Budweiser's Spanish-language campaign, which includes TV, print, outdoor, interactive and point-of-sale. As part of the partnership, a national sweepstakes will give consumers the chance to win concert tickets, autographed CDs and the opportunity to meet Fernández backstage.

"In addition to celebrating the music of Vicente Fernández, we are working together to give back to the community through a college scholarship program benefiting the Hispanic Scholarship Fund, which both 'El Rey' and Budweiser strongly support," said Margarita Flores, senior director of community relations at Anheuser-Busch and a member of the board of directors of the Hispanic Scholarship Fund (HSF). "Since 1982, Budweiser has donated nearly $23 million and awarded 20,000 scholarships to HSF, the nation's leading non-profit organization that supports Hispanic higher education."

Budweiser and the Anheuser-Busch Foundation are donating a scholarship at each concert venue to local chapters of the Hispanic Scholarship Fund, which will provide an additional $100,000 for the organization in 2010.

Based in St. Louis, Anheuser-Busch is the leading American brewer, holding a 48.9 percent share of U.S. beer sales to retailers. The company brews the world's largest-selling beers, Budweiser and Bud Light. Anheuser-Busch also owns a 50 percent share in Grupo Modelo, Mexico's leading brewer.

As for Las Vegas, a city where hotels serving liquor to minors have more to lose than just a customer - the Budweiser promotion headquartered at the Mirage needs to make sure the adult contestants party-hardy but drink responsibly.


SPREADING THE WORD


14th ANNUAL BROADWAY BLESSING

14th annual Broadway Blessing takes place September 13.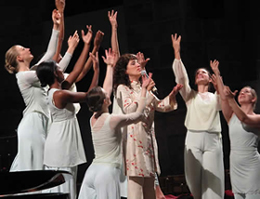 James Barbour, Carol Hall, Anthony Newfield, Catherine Russell, Charles West, The Broadway Blessing Choir, under the direction of Bruce Neswick, and Project Dance will be among the performers for the 14th annual Broadway Blessing, to be held at the Cathedral of St. John the Divine, on Monday, September 13.

This year's event will celebrate the 50th anniversary of two American classics: The Fantasticks and To Kill A Mockingbird. and is dedicated to Lynn Redgrave (1943 - 2010) "whose presence at a number of events at the Cathedral was always an inspiration and whose dedication to theater and the performing arts will offer inspiration for generations to come," according to the official announcement.

Founded and guest produced by author and theater critic Retta Blaney, Broadway Blessing was conceived as an interfaith service of song, dance and story designed to seek God's grace on the new theater season.

The evening is free to all and reservations are not required.

CHRISTOPHER PLUMMER will give The Malloy Lecture in the Arts: Remembering Archie (Archibald MacLeish--The Poet and the Man) on Thursday, Sept. 16 at the Westport Country Playhouse in Westport, CT.

The Emmy and Tony award-winning actor will combine MacLeish's poetry with his personal reminiscences of the poet. In addition, Plummer will be interviewed by Westport Country Playhouse Artistic Advisor Anne Keefe about his own career and memoir, In Spite of Myself.

The event, which is being presented by the Westport Public Library, is free and open to the public, although reservations are required.

STEPHEN FRY will star in a solo show about his experiences using Twitter on Sept. 20 at the Royal Albert Hall in London.

The show will have its content dictated by Fry's Twitter followers; he will ask them for questions and suggestions.

PULLMAN PORTER BLUES early look. Seattle playwright Cheryl L. West's new play about porters on the Panama Limited railroad in 1937, infused with Midwest blues. Come hear live music and experience an exciting new play that may end up as part of the Seattle Rep in the future. September 18-19 in the Leo K. Theatre at Seattle Rep.

URBAN STAGES FALL READING SERIES has a busy week ahead. On Wednesday, September 15th Urban Stages in New York City presents The Boy's Own Jedi Handbook" and The Boy's Own Jedi Handbook Part II: The Girls Strike Back, Written by Stephen Massicotte.

This coming of age story is about a boy whose life is changed forever one Saturday afternoon in 1977 at the movie theatre. From then on the boy, and his trusty sidekick, can only see their world - through Star Wars colored glasses. In conjunction with its sequel: The Boy's Own Jedi Handbook: The Girls Strike Back the boys face new challenges with the looming menace of Junior High! Their love of Star Wars still intact and now strengthened with the release of the new installment in their bible - The Empire Strikes Back. If only the ways of the Jedi would help them understand life's greatest mystery... Girls! this sequel features a trip to the roller rink, and an 80's leather ties.

On Thursday, September 16th Rosa Speaks, written by Barbara Clarke. Directed Susan Batson. In this one woman performance, the audience learns the historical background that prompted Rosa Parks' to refuse to give up her seat on a bus to a white person. You will experience how this courageous action propelled the Civil Rights Movement in Montgomery, Alabama and elsewhere.

THE MILK CRATE THEATRE in Darlinghurst, NSW, Australia - the homeless and disadvantaged person's theatre company - has two job openings. For Aussie residents or those who have a desire to work Down Under, the Milk Crate is looking for a full time Acting Artistic Director and a part-time Education Coordinator. The Acting Artistic Director is a $55,000 post with 37.5 hrs per week (5 days). It's a 1 year contract, pending 3 and 6 month reviews. Degree in Theater required.

The Education Coordinator is a $55,000 pro rata position (including holiday pay and superannuation) based on 22.5 hrs per week (3 days). 1 year contract, pending 3 and 6 month reviews. Degree in Education required. If interested contact Katy Coote at the Milk Crate Theatre.

L.A. THEATRE WORKS

Steven Weber set to record Enron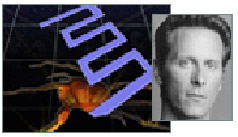 celebrating 25 years of recording plays for radio, has announced their upcoming season will include performances by Kathleen Turner, Matthew Rhys, Ron Rifkin, Steven Weber, Billy Crudup, Jane Kaczmarek, David Selby, Julian Sands, Tate Donovan and Dulé Hill.

They will be performing in a lineup of 10 plays including Enron by Lucy Prebble, directed by Rosalind Ayres, featuring Steven Weber; A Raisin in the Sun by Lorraine Hansberry, directed by Lou Bellamy. The Graduate by Terry Johnson from the novel by Charles Webb and the screenplay by Calder Willingham and Buck Henry, directed by John Rubinstein, starring Kathleen Turner and Matthew Rhys. The School for Scandal by Richard Brinsley Sheridan, directed by Michael Hackett, featuring Julian Sands; Becky Shaw by Gina Gionfriddo, featuring Emily Bergl.

Billy Crudup will record New Jerusalem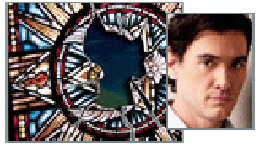 Death of a Salesman by Arthur Miller, directed by Eric Simonson, featuring Jane Kaczmarek; The Three Sisters by Anton Chekhov, directed by Dakin Matthews, starring Ron Rifkin Dracula by Charles Morey from the novel by Bram Stoker, directed by Rosalind Ayres, featuring David Selby; Lobby Hero by Kenneth Lonergan, featuring original Off Broadway cast member Tate Donovan and Dulé Hill; New Jerusalem by David Ives, with Billy Crudup, Andrea Gabriel and Alan Mandell.

Each play in the series will be performed live in front of an audience at the Skirball Cultural Center, Los Angeles with all performances recorded for future broadcast on public radio and distribution to over 8500 libraries across the U.S. The L.A. Theatre Works Audio Theatre Collection, with over 450 titles, is the largest archive of its kind in the world.

THE COURT THEATRE located in the historical Arts Centre District of earthquake struck Queensland, New Zealand, hopes to re-open by the end of this week. ( See Broadway To Vegas column of September 5, 2010 )





SWEET CHARITY


WASHINGTON NATIONAL OPERA'S OPENING NIGHT GALA took place last night, Saturday, September 11, at the Embassy of Italy. The formal dinner followed by dancing with the cast of Verdi's Un Ballo in Maschera took place immediately following the performance at The Kennedy Center.

Un Ballo in Maschera means a masked ball and patrons dressed in black tie - with masks.

Proceeds from the Opening Night Gala directly support WNO productions and community outreach programs.

Upcoming is the O-Zone Lecture which takes place September 16, 2010, at the Kennedy Center Opera House. These free and educational pre-performance lectures by musicologist Saul Lilienstein provide insight into the inspiration behind your favorite operas.

Opera in the Outfield is scheduled for September 19, 2010 at Nations Park. This is a free simulcast of Un Ballo in Maschera to Nationals Park. Gates open at noon for "pre-game activities," including guest appearances, activities and prize raffles, followed by the live broadcast. Registration is not required, and seating will available on a first come, first served basis.

An Artist Q & A is also slated for September 19. This is a post-performance event at Kennedy Center Opera House. Following these Sunday matinee performances, join WNO's Christina Scheppelmann, Director of Artistic Operations, and select cast members for an opportunity to discuss Un Ballo in Maschera. This event is free to all patrons presenting a ticket or ticket stub from any WNO performance of Un Ballo in Maschera.

Founded in 1956, Washington National Opera is recognized as one of America's leading opera companies. Under the leadership of Plácido Domingo since 1996, WNO continues to build on its rich history by offering operas of the highest artistic quality, balancing popular grand opera with new and infrequently performed works. In addition, WNO fulfills its mission by serving as a vital resource throughout the DC metro area, bringing opera to a broad and diverse public through its award-winning education and community programs.

GALA CONCERT celebrating 150 years of the Royal Institute for Deaf & Blind Children takes place at Verbrugghen Hall, Conservatorium of Music, Sydney Australia on Sunday September 19.

Stars of Opera Australia and the Opera Australia Chorus will be out in force at the gala including: Lorina Gore - Soprano; Nicole Youl - Soprano; Sian Pendry – Mezzo; Stephen Smith - Tenor; Peter Coleman Wright - Baritone; Michael Lewis - Baritone; Andrew Jones - Baritone; Richard Anderson - Bass.

Opera Australia Chorus: Anthony Hunt - Assistant Chorus Master; Kate Golla - Piano; Guy Noble - Compere.

The afternoon event includes a Champagne High Tea.

Thomas Pattison, a deaf migrant to Australia from Scotland, established the Royal Institute for Deaf and Blind Children in 1860. As of 2007 the RIDBC was helping over 750 children and families. In 2010 the RIDBC celebrates its 150 year anniversary. The agency provide a wide range of innovative educational programs for children with hearing and/or vision impairment, including services for children with additional disabilities.






OTHER PEOPLE'S MONEY


FIRST CHINA INTERNATIONAL FEATHER & DOWN FESTIVAL takes place September 16-18 in Lu'an in East China's Anhui Province, drawing participants from around the world with events ranging from product auction, world forum and opening of trading market to a fashion design contest.

Lu'an Vice-Mayor Wang Anyi announced the festival is aimed at building a platform for future cooperation between China and world feather & down industry to advance the sector's sustainable development.

Strippers, show girls and fashion designers take note: Currently, China is the world's largest producer of feather and down as well as products by producing 200,000 tons of feather and down raw materials each year, or some 70 percent of the total around the globe, Wang said, adding that as the largest exporter of feather and down as well as related products, the country also exports $1.9 billion annually in the industry, or more than half of the total global trade in the sector.

AMERICAN AIRLINES announced on September 9 a three-year renewal of its relationship with Roundabout Theatre Company for the American Airlines Theatre in New York City. As part of the agreement, the Theatre will retain its name, and American will continue to receive hospitality and promotional benefits from Roundabout.

The official release stated: "American Airlines has been a proud sponsor of Roundabout for the past 10 years and a strong supporter of arts and entertainment for decades. Roundabout is a cultural institution offering significant contributions to the New York community."

LIBERACE MUSEUM in Las Vegas, which opened April 15, 1979, will shutter October 17 due to falling attendance and financial woes. Officials indicated that the memorabilia will be stored in the hope that eventually a tour can be devised.



2010 KENNEDY CENTER HONORS have been announced by The John F. Kennedy Center for the Performing Arts.

Recipients to be honored at the 33rd annual national celebration of the arts include singer and songwriter Merle Haggard; composer and lyricist Jerry Herman; dancer, choreographer and director Bill T. Jones; songwriter and musician Paul McCartney; and producer, television host and actress Oprah Winfrey.

The Kennedy Center Honors medallions will be presented December 4 at a State Department dinner hosted by Secretary of State, Hillary Clinton. The Kennedy Center Honors gala will take place the following evening. President and Mrs. Obama will receive the Honorees and members of the Artists Committee who nominate them, along with the Kennedy Center Board of Trustees at the White House prior to the gala performance. That performance will be broadcast nationwide on CBS on December 28.

DEDICATION OF THE STEPHEN SONDHEIM THEATER takes place Wednesday, September 15. Sondheim will be joined by longtime collaborators Patti LuPone and John Weidman, as well as Tom Tuft, Chairman of Roundabout Theatre Company's Board of Directors, as the lights of the Roundabout's newly dedicated Stephen Sondheim Theatre marquee are lit for the first time.

A CONVERSATION WITH DAVID HARE AND A READING OF BLU a moderated discussion with the Olivier Award-winning playwright and Academy Award-nominated screenwriter, will be held as part of the 2010 Yale Drama Series on Monday afternoon September 20 at Yale University Art Gallery McNeil Lecture Hall.

Hare has been a judge of the 2009 and 2010 Yale Drama Series playwriting competition.

A reading of blu the 2010 Yale Drama Series winner Virginia Grise will take place in the evening at the Iseman Theater.

James Bundy, Dean and Artistic Director of the Yale School of Drama Yale Repertory Theatre and Victoria Nolan, Deputy Dean, Managing Director announced the two events in connection with the 2010 Yale Drama Series, the annual playwriting competition jointly sponsored by Yale University Press and Yale Repertory Theatre.

The reading of blu will be directed by Daniel Jáquez. The cast of the reading includes Raul Castillo, Sarah Nina Hayon, Gio Perez, Nancy Rodriguez, Juan Villa, and Carmen Zilles.

Soledad, the ex-wife of a career gang member, works two jobs to support her three children. In an attempt not to follow in his father's footsteps and avoid prison, her eldest son, Blu, joins the military and dies in Iraq. Memory, history, and Chicano culture collide as Soledad weathers the poverty, gang violence, and racism of her environment with the help of her partner Hailstorm.

On selecting blu as the winner of the 2010 competition from more than 950 submissions, David Hare said, "Virginia Grise is a blazingly talented writer and her play blu stays with you long after you've read it."

In addition to the reading at Yale Repertory Theatre, Virginia Grise will receive the David C. Horn Prize of $10,000 and blu will be published by Yale University Press.

Both events are free and open to the public.



LEAP OF FAITH a new musical based on the motion picture Leap of Faith produced by Paramount Pictures Corporation and written by Janus Cercone. Score by eight-time Academy Award winner Alan Menken, a book by Janus Cercone with Glenn Slater and lyrics by Slater. World premiere directed and choreographed by Rob Ashford.

Starring four-time Tony nominee Raúl Esparza and Golden Globe Award nominee Brooke Shields with Nicholas Barasch, Jarrod Emick, Kecia Lewis-Evans and Leslie Odom, Jr.

The ensemble comprises Brad Anderson, Bradley Benjamin, Tom Berklund, Christopher Bones, Krystal Joy Brown, Ta'Rea Campbell, Eric L. Christian, Michelle Duffy, Harvey Evans, Ashley Blair Fitzgerald, Jennie Ford, Bob Gaynor, Angela Grovey, Shannon Lewis, Michael X. Martin, Maurice Murphy, Anise E. Ritchie, Darcie Roberts, Bryce Ryness, Ariel Shepley, C.E. Smith, Alex Michael Stoll, Dennis Stowe, Katherine Tokarz, Brandon Wardell, Karl Warden, Natalie Willes and Charlie Williams.

The production is described as :"When his traveling ministry breaks down in a small Kansas town part-time reverend and full-time con artist (Esparza) quickly pitches a tent and invites the locals to a revival. The sheriff is determined to stop Jonas from separating the townspeople from their money, but Jonas' real challenge arises when he meets a pretty waitress (Shields) and her son, whose love forces an ultimate cynic to take a real leap of faith."

The musical began previews September 11 at the Center Theatre Group/Ahmanson Theatre in Los Angeles and will officially open October 3. Performances continue through October 24.

COMPULSION Written by Rinne Groff. Directed by Oskar Eustis.

Starring Tony and Emmy Award-winning actor Mandy Patinkin who is making his Berkeley Rep debut.

Patinkin plays Sid Silver, a man obsessed. When he learns about a young girl named Anne Frank and her extraordinary diary, he makes it his mission to ensure her tale is heard. But is the manuscript a work of art? A cultural treasure? Once publishers and producers get involved, it becomes "a very valuable product" - and Silver's good intentions prove to be his undoing.

Inspired by the life of Meyer Levin, this kaleidoscopic collision of history and culture takes us on a journey from passion to Compulsion.

A co-production with Yale Repertory Theatre and the Public Theater. A world premiere on the main season September 13-October 31, 2010. Berkeley, CA.

PEEP SHOW IN LAS VEGAS welcomes Angel Porrino who will appear as Bo Peep in the Jerry Mitchell created and directed Peepshow, playing at Planet Hollywood Resort in Las Vegas, from Sept. 13-19. She will be substituting for the vacationing Holly Madison.

PANDEMONIUM from the creators of STOMP

Billed as "a symphony of music, mayhem and epic spectacle - an adventure of the imagination. The cast of 25 performers plus a 30 member choir, recreates each section of a traditional symphony orchestra with unusual and everyday objects like musical saws, whirly toys and traffic cones to play complete scores."

The US premiere of Pandemonium, direct from sold-out performances in London, Sydney and Amsterdam is at the Ziff Ballet Opera House in Miami, FL from September 16-26.

BOTTOM ON THE WORLD by Lucy Thurber. A world premiere play about a woman's grief over her dead novelist sister.

Caitriona McLaughlin directs the cast which includes Crystal A. Dickinson, Brandon J. Dirden, Aubrey Dollar, Brendan Griffin, Kristin Griffith, Jessica Love, Peter Maloney and K.K. Moggie.

Heartbroken over the sudden death of her sister, Kate, Abby delves into the world of Kate's final novel to deal with her grief and somehow move on. As the lines blur between the fictional world and her own reality, Abby attempts to make sense of life and death in what is billed as a "funny and poignant play."

Officially opens September 14 at Atlantic Stage 2, the intimate second stage of Off-Broadway's Atlantic Theatre Company, NYC. The engagement runs through October 3.

THE PITMEN PAINTERS by Lee Hall, inspired by a book by William Feaver.

directed by Max Roberts. Featuring Christopher Connel, Michael Hodgson, Ian Kelly, Brian Lonsdale, Lisa McGrillis, Deka Walmsley, David Whitaker and Phillippa Wilson.

The Pitmen Painters is based on the triumphant true story of a group of British miners who discover a new way to express themselves and unexpectedly become art-world sensations. Bill as "An arresting and hilarious salute to the power of individual expression and the collective spirit, The Pitmen Painters takes you on an unforgettable journey from the depths of the mine to the heights of fame.

Scenic and costume design by Gary McCann, lighting design by Douglas Kuhrt, and sound design by Martin Hodgson.

The limited engagement will begin previews on Tuesday, September 14 in preparation for a Thursday, September 30 opening night at the Manhattan Theatre Club's Samuel J. Friedman Theatre, NYC.

ELEVATOR written and directed by Michael Leoni, with original music by Mario Marchetti, is based on the original short film, Someplace In Between.

A CEO Woman, Business Man, Office Temp, Hot Girl, Musician, Maintenance Man and Goth Girl; When stuck in an elevator, given nothing but four walls and each other, these archetypes prove to be anything but "typical." Their preconceived notions, stereotypes and judgments are challenged at every turn, as one by one they shed their masks and reveal their truths.

Elevator asks the fundamental question: Who are you behind closed doors?

The cast includes Mikie Beatty, Jade Carter, William Stanford Davis, Erica Katzin, Rachael Page, Karlee Rigby and Deborah Vancelette.

Scenic and lighting design by David Goldstein.

Opens on Thursday, September 16 with performances through Sunday, October 10 at the Hudson Mainstage Theatre in Hollywood.

MRS WARREN'S PROFESSION by George Bernard Shaw. Directed by Tony Award winner Doug Hughes.

Starring Tony Award winner Cherry Jones and Sally Hawkins and featuring Adam Driver, Mark Harelik, Edward Hibbert and Michael Siberry.

George Bernard Shaw's scorching tour de force Mrs. Warren's Profession centers on the relationship between Mrs Warren, (Jones) a prostitute, described by Shaw as "on the whole, a genial and fairly presentable old blackguard of a woman," and her "prudish" daughter, Vivie (Hawkins).

The Cambridge-educated Vivie is horrified to discover that her mother's fortune was made managing high-class brothels. The two strong women make a brief reconciliation when Mrs Warren explains her impoverished youth, which originally led her into prostitution. Vivie forgives her mother until learning that the highly profitable business remains in operation.

Shaw said he wrote the play "to draw attention to the truth that prostitution is caused, not by female depravity and male licentiousness, but simply by underpaying, undervaluing, and overworking women so shamefully that the poorest of them are forced to resort to prostitution to keep body and soul together."

The clash of these two strong-willed but culturally constrained women is the spark that ignites the ironic wit of one of Shaw's greatest plays.

In previews with the official opening set for Sunday, October 3, 2010 at the American Airlines Theater, NYC.

THE DIVINE SISTER written by and starring Charles Busch.

Directed by Carl Andress.

Featuring Alison Fraser, Amy Rutberg, Jennifer Van Dyck, Jonathan Walker, and Julie Halston.

The Divine Sister is Charles Busch's outrageous comic homage to nearly every Hollywood film involving nuns: The Song of Bernadette, The Bells of St. Mary's, The Singing Nun and Agnes of God. It tells the story of St. Veronica's indomitable Mother Superior (played by Charles Busch). Come join this madcap trip through Tinseltown religiosity.

The creative team includes: Scenic and Graphic Design by B.T. Whitehill, Costume Design by Fabio Toblini, Lighting Design by Kirk Bookman, Sound Design by Jill BC DuBoff, Wig Design by Katherine Carr, and Original Music by Lewis Flinn.

Previews begin on Sunday, September 12 in preparation for a Wednesday, September 22 opening night at the SoHo Playhouse, NYC.

BACKWARDS IN HIGH HEELS Conceived and developed by Lynnette Barkley and Christopher McGovern; Book/Musical Arrangements/Original Songs by Christopher McGovern. Music by George Gershwin, Irving Berlin, and Jerome Kern.

Directed by Tony Award nominee Scottt Schwartz.

Starring Anna Aimee White and Matthew LaBanca with Heather Lee, James Patterson, Benjie Randall and Christianne Tisdale.

She danced her way into our hearts in the arms of Fred Astaire, setting the gold standard for grace and elegance on the silver screen. In her surprising true-life story, we follow Ginger Rogers from the vaudeville stage at the age of 15 through her ascension to Hollywood goddess.

Backwards in High Heels is the story of a small-town girl from Texas who dazzled the whole wide world, playing everything from 'the girl next door' to the modern woman with a mind of her own. It's a candy box of show-stopping dance numbers, great songs and some surprising revelations about the movie legend.

Scenic Designer-Walt Spangler; Costume Designer-Alejo Vietti; Lighting Designer-Jeff Croiter; Musical Director and keyboard player-Tim Robertson; Sound Designer-Abe Jacob; Choreographer-Patti Colombo; Associate Director-Laura Josepher; Assistant Lighting Designer (Phoenix)-T. Greg Squires; Associate Choreographer-Cameron Henderson; Production Stage Manager-Glenn Bruner.

A co-production of the Arizona Theatre Company with the Asolo Repertory Theatre, San Jose Repertory Theatre and The Cleveland Play House. Performances in Tucson: September 10 – October 2, 2010 Phoenix: October 7 – 24, 2010.

KRAPP'S LAST TAPE by Samuel Beckett. Directed by Michael Colgan.

Starring Michael Gambon.

Michael Gambon returns to the West End Stage in Beckett's classic one-man show, Krapp's Last Tape. Gambon received huge acclaim following his performance in the role of Krapp at the Gate Theatre Dublin earlier this year.

Every year on his birthday self-absorbed Krapp sits down to record his memories from the past year. But on his 69th birthday he takes a step further into the past. Listening to his old recordings he soon stumbles upon a single tender memory from long ago that sparks his growing regret as he starts to question whether his present lives up to his past.

September 15, 2010 to November 20, 2010 at the Duchess Theatre in London.







WHO'S WHERE


THE RED CLAY RAMBLERS Now in their 38th year, the Tony Award-winning Red Clay Ramblers are a North Carolina string band with international acclaim. The band's repertoire reflects their roots in old-time mountain music, as well as bluegrass, country, rock, New Orleans jazz, gospel and the American musical. The group received a special Tony award in 1999, a Drama Desk Award for Unique Theatrical Experience, and an Outer Critics Circle Special Achievement Award as part of Bill Irwin and David Shiner's Fool Moon. For their 2004-2005 Lone Star Love The Red Clay Ramblers received an Outer Critics Circle Award nomination for Outstanding Off-Broadway Musical and two Lortel Award nominations. Performing Friday, September 17 at the Farthing Auditorium, Appalachian State University in Boone, North Carolina.

ELEW In honor of President and Mrs. Kennedy's commitment to the arts, the Kennedy Library hosts piano iconoclast ELEW, who has pioneered a thunderous new style of playing that he calls Rockjazz. A winner of the Thelonious Monk International Piano Competition, ELEW has toured the world with Wynton Marsalis and Cassandra Wilson, among other luminaries. Last spring, he was invited to perform at the White House's first-ever poetry jam.Special Kennedy Library Performance Thursday, September 16, Boston.

MICKEY ROONEY AND HIS WIFE JAN will perform a two-night engagement at Feinstein's at Loews Regency, NYC on September 19-20. Let's Put on a Show, which is billed as a "multi-media live production," will celebrate Mickey Rooney's 90th birthday.

LYNDA CARTER brings her cabaret act, At Last, to the Garrick Theatre in London for two performances on September 17 and 18.

JONAS BROTHERS performs Tuesday, September 14, at the Pavilion in Phoenix. On Thursday the show is at the Amphitheatre in Chula Viata, CA. On Friday they can be enjoyed at the Sleep Train Amphitheatre in Wheatland, CA. On Saturday the tour stops at the Shoreline Amphitheatre in Mountain View, CA.

RENEE FLEMING on stage Thursday, September 16, at Heinz Hall in Pittsburgh.

BRET MICHAELS in the spotlight Wednesday, September 15, at the Arcada Theatre in Saint Charles, IL. On Friday his performance is at the Lucky Star Casino in Clinton, OK.

THE CANADIAN TENORS bring their show to the Newmark Theatre in Portland, OR on Tuesday, September 14. On Wednesday they are on stage at The Port Theatre in Nanaimo, BC.


FINAL OVATION


MICK LALLY distinguished Irish actor was a founding member of the famed Druid Theatre group, along with Garry Hynes and Marie Mullen. He was also known for his character Miley Byrne in long-running soap Glenroe.

The 64-year-old former teacher died August 31, 2010 after a short battle with emphysema.

His funeral took place in Dublin on September 2, 2010 He is survived by his parents, his wife Peige, with whom he celebrated his 30th wedding anniversary the year before his death and their three children Saileog, Darach and Maghnus.




Next Column: September 19, 2010
Copyright: September 12, 2010. All Rights Reserved. Reviews, Interviews, Commentary, Photographs or Graphics from any Broadway To Vegas (TM) columns may not be published, broadcast, rewritten, utilized as leads, or used in any manner without permission, compensation and/or credit.
Link to Main Page
---
Laura Deni



For the snail mail address, please E-mail your request.
CLICK HERE FOR COMMENT SECTION