! >
Broadway To Vegas
  
  REVIEWS INTERVIEWS COMMENTARY NEWS

| | |
| --- | --- |
| | |
Copyright: August 10, 1998
By: Laura Deni
CLICK HERE FOR COMMENT SECTION

HEAD LOCK FOR THE TEN COUNT
Debbie Reynolds put on a brave face as she and her son prepared for the forced auction. Photo By: Laura Deni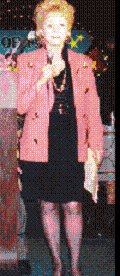 Debbie's son Todd Fisher has been his mother's emotional spine Photo By: Laura Deni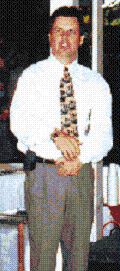 Fighting back tears, Debbie Reynolds watched as her Las Vegas Hotel was sold to the highest bidder, for a paultry $9 million. The new owners, The World Wrestling Federation (WWF) plan to turn the place into a "wrestling arena and themed hotel."


Prior to the auction Debbie put on a brave face. Immaculate in a black dress with a red jacket, she pulled several pairs of earrings from her jacket pocket. "I didn't know which ones to put on," she told me. "So, I brought them all."


She complimented her son, Todd Fisher, for "giving up his career to help me." She also called him "the only man who has never left me."


Ironically, the man who, allegedly, is responsible for Debbie having gotten herself into the hotel financial debacle, third ex-husband Richard Hamlett, showed up.




Debbie checks the time. The auction began at noon. Photo By: Laura Deni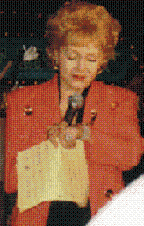 Her voice cracking Debbie told the crowd "Inever meant tohurt anybody. This isn't my fault." Photo By: Laura Deni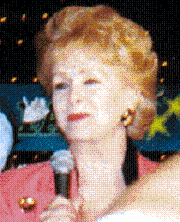 Fisher specifically blamed Hamlett for causing his mother's financial problems.

Many whispered that Hamlett's appearance was a cruel insult to the talented woman who has been through so much. Several participants questioned, if he felt he needed to know what was transpiring, why didn't he send his attorney or a representative? To show up in person, on what had to have been one of the most difficult days in Debbie' life - to put it as politely as possible - insensitive.


Hamlett was accompanied by his good friend, Las Vegas producer Harry Seybold. Later, Seybold called members of the press informing them that in an upcoming issue of The National Enquirer he has an article in which Hamlett "trashes Debbie and gives his side of the story."




An angry Fisher blamed his mother's third ex-husband, Richard Hamlett, for her financial woes. Hamlett set in the hotel lobby during the auction. Photo By: Laura Deni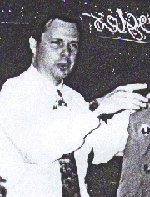 When Debbie was contacted by telephone and asked for a comment, she replied that she preferred to handle the situation in as ladylike a manner as possible and didn't wish to comment about an article that hasn't yet been printed.


However, when Hamlett indicated he wanted to go on Las Vegas television and talk about Debbie, the star had her representative contact the station and indicate that Debbie would love to be on the telephone while her ex-husband was on the air, and participate in a three-way conversation. The television interview never took place.




Debbie and Todd head into the casino where the auction took place. Photo By: Laura Deni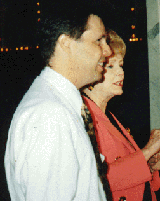 Reynolds bought the 193-room hotel at a 1992 auction for $3 million, because Hamlett told her to sign the contract.

It was plagued by a weak cash flow from day one.


The publicly traded Debbie Reynolds Hotel & Casino filed for Chapter 11 bankruptcy reorganization in July 1997. Debbie was forced to file personal bankruptcy.


A few days before the auction Debbie didn't think she would be able to cope with actually attending the event. She planned to meet the press before the auction, read a statement and then leave. At the last second, she decided to remain because she "wanted to see how much she still owed."

Only six people deposited the required $500,000 to bid and the bidding was so low that the money needed to repay all creditors wasn't reached. In fact, the bankruptcy judge put a strangle hold on the sale, so the WWF increased their offer to $10 million.




Debbie stood solemn faced, trying to hide her tears, as people bid on hjer beloved hotel. Photo By: Laura Deni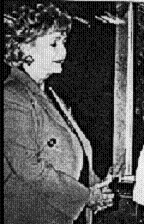 A distraught Debbie Reynolds towered her head and choked back tears as her dreams ended with bang of an auctioneer's gavel. Photo By: Laura Deni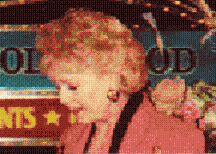 Until the gavel came down Debbie was desperately hoping that the new owner would keep the status quo - license the Debbie Reynolds name from her and hire her to perform in the showroom she once owned.


It wasn't to be.


The World Wrestling Federation will close the hotel approximately two weeks after the bankruptcy court approves the sale.

They'll renovate the property into a wrestling match arena. Debbie Reynolds replaced by Hulk Hogan.


The plucky lady, who has already completed her third movie this year and crisscrosses the country performing in nightclubs, tried to give the best possible spin.

"This is my 50th year in show business. I'm 66 years old. This isn't what I had planned. If the new owners have no need for me, I'll move on. Like the song says; There are good times and bum times. I've seen them all. But, my dear, I'm still here."


HE SURVIVED BEING FIRED
Singer Julius La Rosa, who opens Friday at Boulder Station in Las Vegas, Nevada has the dubious distinction of being the only performer ever fired on live, national television.

I spoke with Julius in a telephone interview from his home in Irvington, N.Y. He's a gracious person open to discussing a variety of topics. Obviously, one of which has to be that firing.



JULIUS ROSA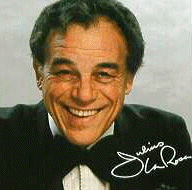 It was what historians call The Golden Age of Television. A man named Arthur Godfrey had a daily radio and a weekly television program. Documented as egomaniacal, he was incredibly powerful. CBS gave him his own network vice-president, who served as Godfrey's personal flunky. Even the network president, William Paley, deferred to Godfrey. La Rosa was a kid fresh out of the Navy. Born in Brooklyn of Italian immigrant parents, La Rosa had entered the Navy in 1944 becoming an electronics technician, and as he put it "using my voice to get myself out of various kind of boring duty." He joined the Navy Band.

In 1950 La Rosa was stationed in Pensacola, Florida and Godfrey was visiting. Somebody slipped a note under Godfrey's door telling him he ought to hear this kid from Brooklyn sing. So he did. "I sang for him at the enlisted men's club -The Song Is You and Don't Take Your Love From Me.



La Rosa beginning his career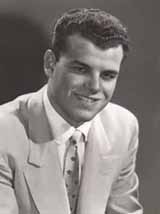 Godfrey invited him to appear on his radio show and then on his television show. "He told me that when I got out I'd have a job. I think he recognized that this unprofessional, unshowbusiness-like, totally unfinished product - with the natural manner and the innate shyness - was a perfect foil to his personality. Ten days after I got out, I started on the radio show," recalled La Rosa. That was November 19, 1951. Six months later he started doing the television show, too.

His signature song was E Cumpare,a silly, feel good song. People of all ages knew the words and sang along. "It was a Sicilian song that I sang as a kid," said La Rosa. "It's a kind of Old Mcdonald Had a Farm, with instruments instead of animals."

Within a few months La Rosa's popularity had skyrocketed. He was receiving 7,000 fan letters a week, then considered an unheard of sum. Even today 7,000 letters a week is nothing to sneeze at.

Then things turned sour.

It was the fall of 1953. A notice had been put on the bulletin board that the cast of the TV show was to take dancing lessons. La Rosa had a family emergency. He asked to be excused and was. When he returned he was informed he would be punished for missing the lesson.

"Perhaps I had become a little smart ass," admitted La Rosa. "I was getting all these letters a week and I was only twenty-three. But, it was a red flag to me to be treated arbitrarily, so I got myself an agent, Tommy Rockwell of General Artists - which was strictly against the Godfrey house rules." As to ego, La Rosa related, "Every performer has an ego. You have to have an ego just to walk out on the stage."

On October 4, 1953, La Rosa had been waiting an hour and fifteen minutes to do his song on the television show. He was going to sing Manhattan. When he finished, Godfrey on camera fired him, explaining that the kid from Brooklyn had lost his humility.

Considering what young superstars get away with today, the unwritten "humility" clause which Godfrey suddenly injected into La Rosa's contract, smacks as arbitrary and antediluvian.

The firing hit America in the heartland - it was a public firing based not upon ability but because of a personality clash. The kick to the curb was meant not only to cause unemployment, but to publicly humiliate in the process.

Viewers weren't too sure whose ego got in the way. Insiders and former co-workers say Godfrey bragged that he never went more than two days with sex, no matter what it took to get serviced.

His I-made-you-I can-break-you attitude in firing La Rosa caused Godfrey's popularity to take a hit. If Godfrey's image had a bruise, it was La Rosa's pocketbook that received the punch.

Many booking agents didn't want to offend Godfrey, fearing that the television icon would retaliate by not booking their clients on his show.

The firing has followed La Rosa his entire life. "The Godfrey experience was central to my life. It still follows me. I'm the man Arthur Godfrey fired, the man who lost his humility." While La Rosa may have been fired, he's never stopped being hard working. He was in Neil Simon's first Broadway success Come Blow Your Horn, Panetta's Kiss Mama, Bob Randall's 6 Rms Riv Vu.

He performed in Kiss Me Kate, Guys and Dolls, West Side Story, Stalag 17, and Billy Bigelow in summer theater productions of Carousel.

He did an irregular stint on the NBC soap opera Another World playing the happy go lucky waiter, Renaldo. La Rosa spent eight successful years as D.J. for New York's WNEW.

He performs in "singer's clubs" like Michael's Pub and Chiati's Italian Restaurant in New York.

Julius La Rosa turned his firing into a success story. Today, at 68, he's still in demand. He'll open Friday at the Boulder Station Resort in Las Vegas.

Along the way he married Perry Como's secretary, Rosemary "Rory" Meyer. They've been married for 43 years and have two children, son Chris and daughter, Maria.

Asked the secret of a happy marriage, Julius kiddingly replied, "I tell people we've been married 43 years, five of them happy. You show me a couple who has been married any length of time and say they never had a fight and I'll show you two liars. The secret of any marriage is to work at it."

Last October Julius became a first time grandfather, thanks to his daughter, Maria, a Fordham University graduate, who gave birth to a healthy boy. Julius mentions the boy in his nightclub act, and quite frankly looks forward to spoiling the child. The one thing La Rosa wouldn't discuss was the boy's name. "I won't tell you his name because I mention it in the nightclub act and if you print it then the thing I do is spoiled." No problem.

As for Las Vegas, he debunks the myth of the dry Vegas climate being rough on a singer's throat. "The ones who keep saying that are using the climate as an excuse. They're the ones up partying all night long."

Julius hasn't lost any of his singing ability. Neither have; Tony Bennett, Vic Damone, Jack Jones, Jerry Vale. They're all of a certain generation where male singers got on stage wearing a tuxedo and sang songs with music people remember and lyrics that could be understood. "They all took care of themselves. They didn't abuse their bodies or their voices," the boyish looking baritone said matter-of-factly.

As for the younger singers whose voices are shot before middle age, La Rosa places the blame on lifestyle. He feels that there isn't any reason most singers can't continue until 80.

"People who are 80 don't have trouble speaking," he explained. "If they are singers and took care of themselves, they are going to still have most of their power, "continued the singer who is noted for his long connective single notes, and a cheerfulness in his self-effacing vibrato.

He credits Tony Bennett, 72, for the resurgence of popular music.
"Before, nobody was recording," said La Rosa referring to what used to be called middle-of-the-road easy listening songs. "Now, we're back to recording," continued LaRosa. His latest CD on the Avalon label is Better Than Ever. It's a title that aptly describes Julius La Rosa.



Broadway To Vegas is supported through advertising and donations. Priority consideration is given to interview suggestions, news, press releases, etc from paid supporters. However, no paid supporters control, alter, edit, or in any way manipulate the content of this site. Your donation is appreciated. We accept PAYPAL. Thank you for your interest. Laura Deni P.O. Box 60538 Las Vegas, NV 89160


RUB A DUB DUB
Brian Setzer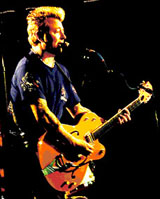 Brian Setzer, the former lead singer-guitarist of Stray Cats, re-invented himself four years ago as the front man of the Brian Setzer Orchestra, a classy, brassy, swingin' 17-member band that opens tonight at the Hard Rock in Las Vegas.

He started a trend and paved the way for others. It's the hottest musical trend going. Blending 50s swing with rock and jump blues he's got fans of all ages taking to the dance floor.

The secret of his success? Clean hands. He won't play his guitar if his hands aren't clean. And, we mean really clean. He says he washes them about ten times. Guys in the band joke about how many times their leader will wash his hands after touching different objects - eating a piece of chicken merits five hand washings. If he was ordinary or poor, people might say he was a bit phobic - you know how the talk shows love to discuss compulsive hand washing. Since he's an innovative, successful star, we won't say that. We'll just suggest that the Hard Rock put more soap in his room.


BUDDY EBSEN RECOVERING
Buddy Ebsen Photo By: Laura Deni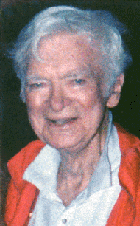 Get well soon to 90 year old Buddy Ebsen, who was released from a California hospital last week. He's now recovering at his home in Rancho Palos Verdes, Calif.

The actor, who starred as Jud Clampett on The Beverly Hillbillies, suffered a bout of severe bronchitis.

Doctors have installed a heart pacemaker and replaced Ebsen's vocal chords.

Ebsen started in show business in 1928 when he jumped from soda jerk to Broadway dancer in Ziegfeld's Whoopee. After several years on Broadway and as part of a dance act with his sister, Vilma, Ebsen headed to Hollywood.



Christmas Cheer by Buddy Ebsen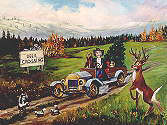 At the age of 84 he put together a new song and dance act performing in Branson, MO, and Las Vegas.

He also recorded a cassette Wellll Doggies! composed of original songs written and sung by Ebsen, including The Ballad of Jed Clampett.

Ebsen is also an accomplished painter who has had showings on Rodeo Drive in Los Angeles and recently in New York.

We know he's getting a lot of TLC because Buddy's wife, Dorothy, is a registered nurse.

Samantha Ivy, the 23-year-old daughter of jazz legend Nancy Wilson, was recently married to Naeem Majied, in an outdoor ceremony attended by 300 friends. The bride's uncle, Elder Todd Davis, officiated at the double ring ceremony, held in Rancho Palos Verdes, Calif. The bride is a singer and her groom is a recording engineer.

MARILYN HORNE OPENS SEASON
Marilyn Horne
The illustrious Marilyn Horne has been tapped to kick off The Omaha Nebraska Symphony's 78th season in a one-night performance.


Opera Omaha celebrates their 40th anniversary season with the world premiere of Eric Hermannson's Soul sung in English on November 11.


The Omaha Broadway Theatre Season at the Music Hall begins August 18th with Chicago.



ELVIS IS IN THE BUILDING...SORT OF


Elvis - The Concert,, a production that reunites former Elvis Presley bandmates live on stage with the singer via video finally makes it's way to Las Vegas, a city where the King of Rock and Roll reigned supreme for nearly a decade.

Following a successful two-week preview tour last March, including three sold out performances at Radio City Music Hall in New York, the production opens tomorrow night, Aug. 11, at the Las Vegas Hilton for an eight-show engagement running through Sunday.

The show's concept is to incorporate live musicians with Presley on video. Concert footage of Elvis performing from the 1973 television special Aloha from Hawaii (Via Satellite), from the MGM concert films Elvis, That's the Way It Is, (1970) and Elvis on Tour (1972), along with the out takes from these two films as seen in Elvis, The Lost Performances (1992) was selected.

These performances were recorded on multi track, thus there exists a track with sound from Presley's microphone isolated from the other sound.

The producers edited a collection of performances, dropped all sound from the footage, then returned Presley's isolated vocal to it.

On stage, a 16-piece orchestra and a cast of former bandmates all perform live with the Presley video. All music heard in the concert production is performed live except for Presley, because contrary to all of those rumors and sightings, the guy is dead.

Never-the-less, the production creates an atmosphere that lends audiences to feel as though Presley is back in the building and that they are experiencing him live in concert.


TENNESSEE TALES


The historical Orpheum theater in Memphis has undergone an $8.5 million stage expansion and renovation to accommodate such productions as Phantom of the Opera and other touring Broadway musicals.

The theater was build in 1890 as the opulent Grand Opera House. The original building burned in 1923 and was rebuilt in 1928. It became part of the nationwide Orpheum theater chain after the turn of the century.

Slated to appear in the renovated theater are Peter Pan opening Nov. 10. Rent follows Dec. 22. On Feb. 9 Victor/Victoria opens. Footloose steps on stage March 2. The wonderful Johnny Mathis performs March 23-24 with Miss Saigon tentatively slated to open April 19.

Elvis Week began Aug. 8 in Memphis. The week long event attracts fans from around the world to pay homage to Presley on the Aug. 16 anniversary of his death. Activities include the annual candlelight vigil starting at 9 p.m. on Aug. 15.

The Memphis College of Art and the Animal Protection Association of Memphis discovered how to rake in oodles of dollars. Dogs and Elvis. An Elvis impersonator posed with pets for Polaroid pictures. Pet parents were given a choice. One picture was $5, or $3 for $10.The events raised thousands.


COP HUMOR


Recently, the sexual antics of New York's finest have been fodder for comedians. On Aug. 24 a former cop shows off his comedic talents at Dangerfield's in New York. Justin McKinney was a cop in his hometown of Kittery, ME. He traded in his night stick for a microphone and bases much of his material from his experiences on the police force.

Sharing the bill with McKinney will be comedian Nancy Redman who had her own experience with the law. An alumnus of the New York School for the Performing Arts, she was called a heroine when she helped calm passengers trapped in a New York subway train.

She gave an impromptu comedy performance until police rescued them. Nancy is a member of the Friar's Club, often called upon to participate in their "roasts."She also won a $10,000 first prize on ABC-TV's America's Funniest People.


NON-STOP TO THE CRAP TABLES


If you don't like the airline schedules, form your own airline. That's what two major hotels in Las Vegas have done. Harrah's Entertainment, Inc. and Rio Hotel & Casino have each kicked in $15 million to form a Las Vegas-based air carrier, National Airlines, that will service East Coast markets by early next year.

Mike Conway was co-founder and CEO of America West Airlines. He'll serve as president and CEO of the new airline company. National Airlines, using a fleet of Boeing 757s will have daily non-stop flights to New York, Miami, San Francisco and Los Angeles.

Speaking of airlines - I was one of approximately 15 extras that Creative Talent sent over to participate in a commercial for Japan Airlines. JAL is now flying nonstop to Las Vegas. Governor Bob Miller personally invited the airline to come to Las Vegas and film a commercial. We all had a ball doing the shoot, in which a JAL plane will be superimposed flying low over our heads.


TERRIFIC TORONTO


New York public relations man Jim Baldassare needed a vacation. Darned if he didn't take one. He picked Toronto, a placed he'd never visited. He came back impressed and so worn out from having a good time he needs a vacation. "I was impressed by their entire city," related Baldassare. "I was surprised that this city which is "an hour in the air" from New York City was so unknown to me. I wonder if Toronto's Chamber of Commerce (does Canada have Chamber of ?) does much to promote that fact that it is so close to New York City, for other world travelers in addition to New Yorkers?" questioned Baldassare.

We couldn't recall seeing anything from a Toronto Board of Tourism. We were also puzzled. Being the super sleuths and nosey types that we are, we investigated.



Caribana participant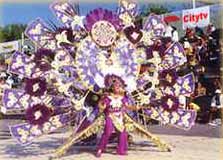 For the past few weeks Toronto has been trying to keep everything under control. All because of Caribana, the annual event that makes New York parades seem like small potatoes. Caribana is one of North America's largest cultural festivals, lasting 18 days.

The festivity kicked off June 17, and culminated Aug lst with over 700,000 people participating in and watching the parade. It was estimated that 25 per cent of the merrymakers were from America.

There were 10,000 masqueraders who took an average of four hours to dance the entire parade length of 3.6 kilometers. That turns into a 10-hour street party, with the average speed of 4.8 km/h.

Cost of the biggest band was $80,000. The size of the biggest mas band 700 people. The favorite calypso song for Caribana' 98 was David Rudder's "High Mas."

It took 162 volunteers from the mas camp of the Louis Saldnah Mas-K Club to sew on the beads, feather and finery for their ornate costumes which won three out of the four prizes.

It took 66 hours to make the winning King of the Bands costume, which was composed of 30,000 sequins and weighed 30 pounds. We'll guess that the King of the Bands could use a chiropractor. We can only wonder if all those hand maidens with the sewing needles went blind before they could revel at their winning costume.

A Caribana party was even held at police headquarters. We believe them when they say that Caribana 98 is the biggest event of the year for Toronto police.Thousands of officers were brought in from virtually all police divisions to work the parade.

While everyone was concentrating on Caribana 98 somebody went and changed a theatre. Actors gulped when they realized that the Harbourfront's du Maurier Theatre Centre, the Soulpepper Theatre, is now a theatre-in-the-round, about to stage Don Carlos and The Misanthrope. The theatre- in-the-round stage is relatively rare in Canada.

Circle In The Square in New York City and the Arena Stage in Washington, D.C. are two of several permanent professional theatres-in-the -round in America.

Proscenium arch theatres in Toronto are the Royal Alexandra and the St. Lawrence Centre's Bluma Appel. Platform thrust stages can be found at Stratford's Festival Theatre and the Tom Patterson theatres.

There's even whispers that the Stratford is the next to convert to theatre-in-the-round.

In other Toronto theatre news; Fosse; A Celebration In Song and Dance opened Sunday, Aug. 9 with performances to Aug. 29th at the Ford Centre.

Les Miserables has been extended at The Princess of Wales Theatre through Nov. 29 and 2 Pianos 4Hands runs through Sept. 5 at the Royal Alexandra Theatre.



WHEN PIGS FLY the delightful, award winning off-Broadway musical will close its engagement at the Fairbanks Theater on Aug. 15 - the day after its second anniversary debut. The production will have played for 840 regular and 15 preview performances.

BETTY BUCKLEY will be saying Sing Out Louise to Deborah Gibson. The Tony-winning Buckley will portray Mama Rose, the mother of stripper Gypsy Rose Lee, in the Paper Mill Playhouse revival of Gypsy. The musical opens Sept. 9 at the Milburn, N.J. theater with Deborah Gibson in the title role.

HOUSE the new play by Terrence McNally and Jon Robbie Baitz opens Saturday at Sag Harbor's Bay Street Theater.

JOEL GREY Joel Grey makes his West End debut next Monday in the London production of Chicago.

SYLVIA MILLS is also in London where she will return to the stage. She'll star in They Offered Bob & Wilma Cash a piece Steven Froelich wrote for Sylvia. The production opens in September.

CATHY RIGBY heads up the cast of Peter Pan which opens Nov. 23 at the Marquis Theater.

TONY RANDALL'S National Actor's Theater kicks off the 98-99 season in December with a revival of Emlyn Williams' 1935 thriller Night Must Fall,about a murderer who puts his victims' severed heads in hat boxes.

LESLIE UGGAMS the Tony Award-winning actress, who began singing professionally at Harlem's Apollo Theater at age seven, will co-star in the limited run of John Henry Redwood's The Old Settler at the Primary Stages Theater Oct 7 to Jan. 3. Set in Harlem in 1943, The Old Settler is the story of two sisters search for love.


THIS AND THAT

RESTRAINING ORDER Frank Sinatra, Jr. secured a restraining order Wednesday, August 5, in Los Angeles Superior Court baring Columbia Pictures from paying three men convicted of kidnapping the singer in 1963, for the movie rights to the story.


According to Sinatra lawyer, Jim Walsworth, lawyers for Columbia Pictures opposed the restraining order, forcefully arguing on several grounds, including a claim that the 1986 California law that prevents felons from profiting from their original criminal activity, is unconstitutional.


They were over-ruled by the judge, who sided with Sinatra.

WHEN HUEY LEWIS' DRUMMER wanted some R&R away from the maddening crowds, he decided last Saturday to check into the Lake Lure Inn at Lake Lure, North Carolina. He thought no one would know he was there. He wasn't counting on our own roving North Carolina reporter, Trudy Knight-Peek, being on the scene. Trudy says the scenery is gorgeous and she hopes he had a nice week-end. So do we.

Next column August 17, 1998
Copyright: August 10, 1998 All Rights Reserved. Reviews, Interviews, Commentary, Photographs or Graphics from any Broadway To Vegas (TM) columns may not be published, broadcast, rewritten, utilized as leads, or used in any manner without permission, compensation and/or credit.
Link to Main Page
---
Laura Deni




For the snail mail address, please E-mail your request.
CLICK HERE FOR COMMENT SECTION

Link to Main Page