! >
Broadway To Vegas
  
 SHOW REVIEWS CELEBRITY INTERVIEWS GOSSIP NEWS

| | |
| --- | --- |
| | |
NEW ZEALAND EARTHQUAKE SHAKES UP CHRISTCHURCH ENTERTAINMENT - - A GARDEN PARTY TO MAKE A DIFFERENCE - - STAND UP TO CANCER - - KELSEY GRAMMER HOSTS BROADWAY ON BROADWAY - - STAR HANG-OUT BARNES & NOBEL TO CLOSE - - PRISCILLA PRESLEY AND ELVIS FOREVER AT HYDE PARK - - SONG OF NORWAY CD REVIEW - - THE EDINBURGH FRINGE SETS RECORD - - DONATE . . . Scroll Down


NEW ZEALAND EARTHQUAKE SHAKES UP CHRISTCHURCH ENTERTAINMENT
What the historic Arts Centre area in Christchurch looked like before the earthquake. The entire Arts Centre has been closed due extreme damage. Photo believed to have been taken by Larry Rivera. Australia / NZ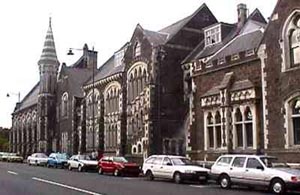 It isn't a question of - 'Did your venue receive damage?' Rather, it's 'How much?'

With residents told to conserve water and prepare for some attention getting aftershocks, mother nature is providing the "entertainment" for residents of Christchurch, New Zealand.

Close to 20 aftershocks have rattled across the region since the 7.1-magnitude quake gave residents an early Saturday morning wake-up call.

The central, inner-city area of Christchurch was under police lock-down through Sunday, September 5, to allow civil defense personnel to assess the damage to buildings. No businesses or bars are permitted to be open, However, the 8,000 residents that live in that central area will have access to their homes - or what is left of them.

Historic buildings throughout Christchurch have partially or fully collapsed following the quake.

The Christchurch Art Gallery has been transformed into temporary Civil Defense headquarters where Christchurch Mayor Bob Parker spoke at a press conference.

He said a state of emergency has been declared which will remain in place until Monday or Tuesday.



Inside view of what was the Harbour Light Theatre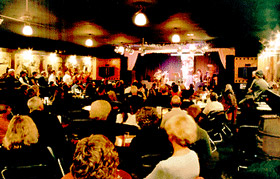 ''There has not been a house or a family in our city who have not suffered damage in some way,'' Parker said.

In the historic harbor town of Lyttelton, the façade of the Empire Hotel crumbled and the Harbour Light Theatre was badly damaged. The Harbour Light venue is housed in the old Harbour Light Theatre building, built in 1916 originally as a Cinema and Live Theatre. It ceased to be a cinema in 1982 and has since been converted into a live performance space. In 1992 it evolved into it's latest form as the Harbour Light Licensed Entertainment & Function Venue. Until the earthquake hit, the building had been a striking old theatre from the outside, and although transformed on the inside, it reflected it's past by way of a filmstrip mural, and a large memorabilia exhibit.

Tourist attraction, the historic 130-year-old Godley House suffered was what called "very serious damage." Cave Rock Bed and Breakfast had a portion of the main roof collapse into an upstairs bedroom.

In Mid Canterbury, a 1912 homestead turned into a tourist lodge was destroyed. The owners reported that, fortunately, all of the guests were able to leave, as there was no power.



Quake damaged Canterbury Repertory Theatre. Photo: Ruth's Reflections.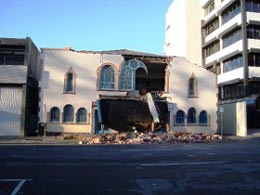 The Canterbury Repertory Company sustained heavy damage. The Rep's first production was on November 15 1928 at the Radiant Hall (now The Repertory Theatre), and the Canterbury Repertory Theatre Society (Inc.) was incorporated on April 1, 1930. The Society's objectives are to: produce plays of literacy and artistic merit; conduct drama classes and readings; foster public interest in dramatic art, and to carry out these objectives only within New Zealand.

Gone is the building's distinctive facade, which had been much as it was when it was built. While there had been some alterations made to the interior, the theatre kept its essence, which gave it a unique charm all of its own. That got ripped apart in a few seconds.

The theatre has a seating capacity of 430 which could be reduced to 180 seats. This season director Yvonne Martin staged Dancing at Lughnasa, Journey's End and The Diary of Anne Frank.

The Court Theatre is Christchurch's only, and New Zealand's foremost, theatre company offering entertainment of the highest quality throughout the year.

Founded by Yvette Bromley QSM and Mervyn Thompson in 1971, the venue has become the most successful arts organization in New Zealand.



Outside of The Court Theatre before the quake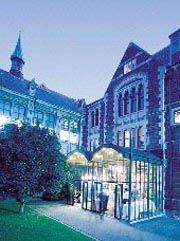 Housed in the heart of Christchurch City's Arts Centre since 1976, it's an area rich in Gothic architecture featuring theatres, cinemas, galleries, crafts shops, cafes and weekend markets. The Court operates two stages - the semi-thrust Court One which seats 291 and The Forge which seats 123 in a "box" setting with the audience seated on two sides.

When the quake struck Jeff Clark, in charge of Communications & Media for The Court, had his mind focused on a different kind of an attention getter - the birth of his daughter.

The Court was winding down its production of Neil Simon's The Sunshine Boys which was already set to close on September 4.

Now all performances have been cancelled due to the closure of the Arts Centre. Ticket holders are advised to contact the Box Office once normal business hours resume.

The theatre had been preparing for the world premiere of Don't Mention Casablanca, by Michelanne Foster, which had been set to open September 11.

Directed by Ross Gumbley, the production is billed as "A joyously emotional tribute to one woman's strength inspired by the true story of Thilde Forster, the playwright's grandmother."

It centers on a headstrong young Jewish woman's turbulent relationship with Academy Award winning director Michael Curtiz. In addition to Casablanca the Hungarian-American has directing credits on over 100 films, including The Adventures of Robin Hood, Angels With Dirty Faces, Yankee Doodle Dandy and White Christmas.

He was also noted for his affairs.

Filled with vividly-drawn characters - including the infamous Curtiz - Don't Mention Casablanca is called "a powerful and resonant testament to the power of family by one of New Zealand's leading playwrights."

"This is Michelanne Forster's most autobiographical play to date and was very warmly received at our 2009 rehearsed readings in The Forge. Personal and universal, I believe this is Forster's finest work yet." - Ross Gumbley.

When that production is able to be mounted, the cast includes: Lara Macgregor, Jonathan Martin, Paul McLaughlin, Steven Ray, Sandra Rasmussen, Tim Bartlett, Jake Metzger and Georgia-Kate Heard.

Another popular entertainment spot is Fat Eddies which is based on the New York Jazz bar scene and is located in SOL Square - right in the heart of Christchurch's hottest new district - South of Lichfield. Performers who saw their gig ripped apart were Teke U Craig and The Green Beat who were to have taken to the stage on Saturday and the Chris Dabinett Trio, slated to perform September 5.

Not all of New Zealand has been given the entertainment hook. In Auckland, 475 miles away, over 50,000 tickets to U2's concert at Mt Smart stadium on November 25 sold out within an hour the morning of the earthquake.

UPDATE September 15, 2010 - After finally being able to enter the Court Theatre to assess damage, Philip Aldridge the Chief Executive of the theatre happily reported in an online newsletter that miracles do happen.

Aldridge said the building had emerged unscathed from the quake.

"The theatre is completely undamaged – we didn't even break a glass in the bar."

Over $700,000 had been spent to upgrade the venue's ability to withstand an earthquake - money well spent.

The Canterbury Repertory Theatre is closed due to structural damage. However, the damage seems to be limited to the facade. Structural engineer evaluations indicate that with the exception of the top of the façade, there was only minimal damage to the rest of the theatre, including the historic proscenium stage.



Broadway To Vegas is supported through advertising and donations. Priority consideration is given to interview suggestions, news, press releases, etc from paid supporters. However, no paid supporters control, alter, edit, or in any way manipulate the content of this site. Your donation is appreciated. We accept PAYPAL. Thank you for your interest.


ART AND ABOUT


SAVING IMPORTANT 19th-CENTURY BANNERS these 17 spectacular Silk Double Sided, 19th Century Parade Banners were hung In the Maine Charitable Mechanic Association Library In Portland, Maine until 1988 when they were taken down and stored.

The Charitable Mechanic Association was originally founded by a group of New England Craftsman, Paul Revere being one of them. the first chapter started in Massachusetts. There were some branches that developed in some of the other colonies, including Maine and specifically Portland.

The purpose of the organization was for the betterment of the various tradesmen. In part, the betterment was through the might of the organization but also, it served as a source of educating and bettering the apprentices within the trade organization. The concept of free education to expand the abilities and skills of the apprentices together with the availability of a library and various speakers, etc. were all part of this concept.

The Portland, Maine chapter began in 1815 and still exists today. This extraordinary trade organization and its value and place in the trade society and the evolution and development of trades within our country are attested to by the length of its success. The Portland, Maine chapter is alive today after nearly 200 years and still follows the principles of the original, remarkable American trade organization.

In the early part of the 19th Century, painted silk banners were an expensive means of advertising or promoting. Indeed, painted silk military flags were very expensive. The folk art, historical aspect and condition make this a remarkable collection.

When word got out that these flags were to be sold at auction, sixteen Maine museums, historical organizations, and their supporters came together in an unprecedented collaboration to save an important collection of Maine artifacts. On August 26 the banners were purchased for $125,350 and will be housed at the Maine Historical Society in Portland.

At the end of July, Maine museums and historical organizations learned that these banners were to be consigned for sale to James D. Julia Inc. auction house in Fairfield, Maine. Knowing the significance of these works and their value in keeping them in the public domain for future generations, Maine museums and historical organizations rallied together to raise funds to purchase them.

The following organizations were involved: Maine Historical Society, Portland Museum of Art, Maine State Museum, Maine Maritime Museum, the Maine State Historian, Bates College Museum of Art, Bowdoin College Museum of Art, and Colby College Museum of Art. Corporate and individual support was provided by: James Julia, L.L. Bean, Diana and Linda Bean, Chris Livesay, Elsie Viles, Libra Foundation, and an anonymous Boston foundation. Harry Rubenstein, chair of the Division of Political History from the Smithonian's National Museum of American History, was also in attendance at the auction.

"The focus, hard work, and unselfish generosity of the cooperating museums was unprecedented in my experience," said Richard D'Abate, Executive Director of the Maine Historical Society. "I think we owe that to our common recognition that the banners were one of the state's true artistic and historical treasures. They had to be saved."

"These banners are important symbols of community and it was key that we keep them together and in Maine," said Portland Museum of Art Chief Curator Thomas Denenberg.

"The Smithsonian's National Museum of American History was glad to support the effort to keep together this important collection of artisan banners. The beautifully illustrated banners recall the ideals of a community based on values of productive citizenship and industry. They are a true national treasure," said Harry Rubenstein, chair of the museum's Division of Political History. "I can think of no better result than having them preserved and remain in the state. We look forward to future collaboration with the Maine Historical Society and other consortium partners."

The Maine Charitable Mechanic Association, located in downtown Portland, created this series of linen banners in the early 1800s to promote skilled trades. The majority of the banners were painted by decorative painter William Capen and many have fringe and were attached to wooden arms for hanging or carrying in parades. According to the auctioneer, together the banners were worth between $100,000 and $200,000. The Maine Charitable Mechanic Association decided to sell them for financial reasons.

BOB DYLAN ART

From the Bob Dylan Brazil Series - Acrylic on canvas.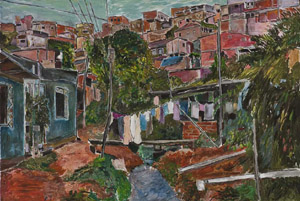 some of which has never been shown to the public, is on display at Denmark's National Gallery. Curator Kasper Monrad told the press that the 40 acrylic paintings and 8 drawings were specifically made for the Danish exhibition, which opened on Friday, September 3 and will run through January 30.

Titled The Brazil Series the collection includes figurative scenes from Brazilian slums, farms and beaches. There are wine growers, gypsies, politicians, gamblers, and gangsters.

The 69-year-old singer sketched the scenes on various pieces of scrap paper during visits to the South American country and then painted them on canvas in his studio.

"I've been to the National Gallery of Denmark and it definitely is an impressive art museum. It was more than a little surprising when I was asked to create works specifically for this museum. It was an honor to be asked and a thrilling challenge. I chose Brazil as a subject, because I have been there many times and I like the atmosphere," Dylan said in a statement.

The Copenhagen museum, which has a large collection of paintings by French painter Henri Matisse, contacted Dylan in 2008 after seeing the catalog for his 2007 exhibition of watercolors in Germany, museum director Karsten Ohrt said. At that time Dylan he felt his interest in creating through watercolors and drawings had run its course. In a new departure, he began working with acrylics and larger formats.

Both the Brazil Series and Dylan's watercolors are rooted in Matisse, Ohrt said.

Monrad said there were vague connections between Dylan's music and his art: "This is a different kind of imagery. The paintings and the music are two different worlds."

Or, as Dylan himself emphasized to the Gallery while working on his new paintings: "If I could have expressed the same in a song, I would have written a song instead".

The folk legend best known for Blowin' in the Wind and The Times They are a-Changin, began the path to fine art stardom in 1994, when Random House published a book of his sketches titled Drawn Blank. Later, he was urged to turn his collection of sketches into paintings. The Drawn Blank series of paintings was exhibited in London in 2008. Last February, London's Halycon Gallery announced the return of the paintings in a show titled Bob Dylan on Canvas, and this time, the works were up for sale - the least expensive picture priced at around $148,000.



THE MUSIC GOES ROUND AND ROUND


SONG OF NORWAY the 1958 Jones Beach Cast re-issue CD by Sony/Arkiv/Masterworks Broadway. Book by Milton Lazarus. Music by Edvard Grieg adapted by George Forrest and Robert Wright who also penned the lyrics. The original liner notes emphasize that Forrest and Wright spent ten months of research on the composer's works before making their adaptations.

The Jones Beach production of Song of Norway conducted by Lehman Engel was first released in what was then cutting edge technology - stereo. By today's standards that means shallow, thin and difficult to understand. With Maria Triana as the Mastering Engineer on this CD, the elegantly robust arrangements and full-throttle performances are a delight to the aural senses.

Perplexing is the booklet, which doesn't bother to list which performer is playing what role. Six artists are given billing - Sig Arno, Brenda Lewis, Muriel O'Malley, William Olvis, John Reardon, and Helena Scott. You have to get to page 8 before there are paragraphs describing the artists, but only three have their characters listed - Brenda Lewis as The Countess, Muriel O'Malley as Mother Grieg and Helena Scott as Nina. One bio paragraph actually tells the reader to refer back to the original cast - that would be for Sig Arno, who - if you take the time to research it - appeared in the original production as Count Peppi Le Loup - a character which is not mentioned once in the 12 page booklet.



Brenda Lewis, John Reardon and Helena Scott during Song of Norway recording session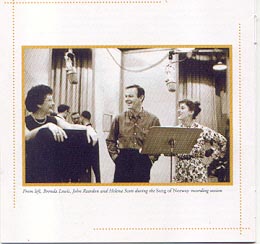 That leaves William Olvis and John Reardon performing as - either poet Rikard Nordraak or Grieg. For the record, Olvis played Nordraak which leaves Reardon as Grieg.

Then there is the semi-missing Peryne Anker who sounds like a soprano performing in song number 3 - the delightful Freddy And His Fiddle along with William Linton and the Chorus. No other mention is made of that person anywhere in the booklet. The closest we could come in sniffing out the singer was to discover a Cantor Perryne (two r's) Anker who received her Bachelor of Science degree from the Juilliard School in New York City. She's credited with helping to "pave the way for women in the cantorate." Broadway To Vegas left a message for Cantor Anker to see if she might be related to the '1r' Perryne. As of deadline we hadn't received a response.

To be forced to play an elimination guessing game is annoying. Not everyone who might be interested in purchasing this CD is going to be over the age of 80 and remember these performers, some of whom have been deceased for decades. Provide a road map.The cheesiest off-off Broadway show at least lists the cast and the their roles.

Arno, who died in 1975, was a successful portrait painter and German film actor who appeared in such films as Pardon My Sarong, and The Mummy's Tomb. Many feel he's best remembered from The Palm Beach Story (1942) as Toto, the nonsense-talking mustachio'd man who follows around Mary Astor's Princess Centimillia. He also appeared three times on Broadway, notably in the original production of Song of Norway and the play Time Remembered for which he was nominated for a Tony Award as Best Featured Actor in a Play in 1958.

Brenda Lewis also starred in Regina. ( See Broadway To Vegas column of August 15, 2010 ) Muriel O'Malley spent some time in front of the television camera appearing of Hallmark Hall of Fame and in the 1950 television presentation of The Chocolate Soldier and the 1957 airing of The Yeoman of the Guard.

William Olvis, whose tenor voice rang from Hollywood to Broadway to the New York Metropolitan Opera, died of throat cancer at the age of 70 in 1998.

Baritone John Reardon, who passed away in 1988, co-starred with Phil Silvers on Broadway in the Jule Styne musical Do Re Mi introducing the standard song Make Someone Happy. He also appeared on Broadway in New Faces of 1956 ( See Broadway To Vegas column of May 3, 2009 ) and Gian Carlo Menotti's The Saint of Bleecker Street.

Helena Scott starred as Rosabella in the original London cast of The Most Happy Fella.



Pianist Stan Freeman record the Concerto that concludes Song of Norway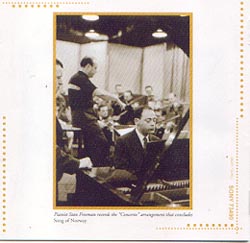 Then there is pianist Stan Freeman who knows how to knock out the notes on the final tract - Concerto. Although his picture is on the back cover, there is no bio of him and that is unfortunate. Freeman who died in 2001 was a composer, musical arranger, conductor and studio musician who joined Ted Beneke's big band after World War II. His work as a studio musician included sessions with Frank Sinatra, Peggy Lee, Ella Fitzgerald, Percy Faith, Mabel Mercer and Rosemary Clooney, for whom he played harpsichord on her hit Come on-a My House. Freeman's first Broadway project was the 1964 Buddy Hackett vehicle I Had a Ball. ( See Broadway To Vegas column of May11, 2003 ) He also composed the score for Lovely Ladies, King Gentleman, the short-lived 1970 musical adaptation of The Teahouse of the August Moon. Freeman conducted Broadway concerts for Marlene Dietrich in 1967 and 1968 and provided arrangements for three of Michael Feinstein's Broadway outings.

Song of Norway was originally developed and presented in Los Angeles by Edwin Lester's Los Angeles Civic Light Opera in 1944, with essentially the same cast as seen later on Broadway. After successful runs in Los Angeles and San Francisco, the show opened at the Imperial Theatre in New York on August 21, 1944, and ran for 860 performances. It was also popular in London running for 526 performances at the Palace Theatre, the first Broadway show to cross the Atlantic after the end of the Second World War.

The show is set in Norway in Troldhaugen and Bergen; as well as Copenhagen and Rome in and after 1860. It follows the fictionalized lives of three childhood friends: Edvard Grieg, Nina Hagerup and Rikard Nordraak. The play tells of the early struggles of Edvard Grieg, a dull dude in real life, and his attempts to develop an authentic Norwegian national music. Grieg dreams of being a great composer and these dreams are shared by his friend Nordraak and Grieg's sweetheart, Nina. Grieg is lured to Italy by the great prima donna Louisa Giovanni, but he finds he cannot create amid all the glitter and excitement and so returns to Norway and his beloved Nina to write his music.

Songs include Prelude & Legend (based on Grieg's A Minor Concerto) Freddy and His Fiddle (based on Norwegian Dance No.2), Now (based on Second Violin Sonata and Waltz), Strange Music (based on Wedding in Troldhaugen), Midsummer's Eve (Scherzo in E), and I Love You (Ich Liebe Dich).


A GARDEN PARTY TO MAKE A DIFFERENCE
Clarence House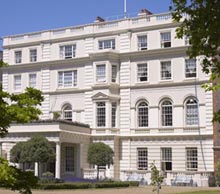 It's a Royal Garden Party, but not your usual curtsey to the queen, sip some tea event. This one will be hosted by Prince Charles as he opens the gardens of Clarence House, as well as neighboring Lancaster House and Marlborough House, to the public for the first time on September 8.

The object is to get the word out about the environment, a cause that he's championed since the 1980's. His Garden Party will bring together celebrities and green ideas for an eco-minded.

The twelve day Garden Party To Make A Difference marks the first time that the Prince of Wales has opened his gardens at Clarence House in London to the public.

The eco-minded summer festival features eight different areas, for a total of over 100 displays, that include music, food and outdoors, garden, comedy, debate, fashion, kids, and home.



Clarence House Garden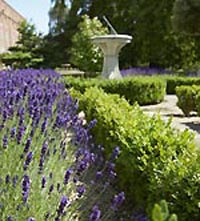 "I am delighted to be able to welcome visitors into my gardens, and those of my immediate neighbors, for this exciting festival," said Prince Charles. "We have a fantastic team of talented curators who are helping us create an event which will, I hope, be both fun and informative. This festival is just one way in which Start can help to demonstrate how we can all make a difference, however big or small the steps we take."

Each section is run or curated by a British celebrity.

The Musical Program was created by Jools Holland. The Debate section is under the leadership of Jonathan Dimbleby, Sanjeev Bhaskar and Clive Anderson.

If you'd like some laughs, Comedy is being led by Marcus Brigstocke and Hugh Dennis.

For those with a green thumb, Growing and Gardens is by Alan Titchmarsh.



Jools Holland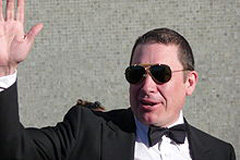 Food and The Great Outdoors is under the guidance of Kate Humble. Ecocars is headed by Roger Saul and Kevin McCloud.

The Fashion Section is curated by Dame Vivienne Westwood. Her section will feature workshops with ideas like adapting adult clothes for kids and the chance to transform the Prince's old curtains into a reusable shopping bag.

A well publicized segment is a fashion show featuring People Tree's line Love From Emma which is actress Emma Watson, best known for playing Hermione Granger in the Harry Potter films. However, the 20-year-old will not be attending the event in person because of a conflict with her university studies at Brown University in America. She will appear in a taped introduction.

"I think the Prince of Wales's initiative is such a brilliant idea and I'm thrilled," she said.

Watson's eco-friendly apparel will be displayed on September 11th as a larger part of the 12-day festival.

Comedians Ben Elton and Rory Bremner and the actor Brian Blessed will be performing at the garden party.

The festival will include a giant showerhead with words texted by visitors and projected on to the cascade to highlight the need to save water.

A massive green piggy bank and sheep sculptures urging people to insulate their homes will also be featured.

Prince Charles has previously spoken of being born into his position as heir to the throne 'for a purpose' – to tackle global warming.

At Clarence House, energy-efficient boilers have been installed and bath water is recycled to water the plants. The Prince's Jaguar, Audi and Range Rover cars run on biodiesel made from used cooking oil, while his 40- year-old Aston Martin uses bioethanol made entirely from wine.

The Royal household also have some history in the field of sustainable approaches to IT. The Official Website Of the British Monarchy explains how the family have been donating their old technology to IT charity Computer Aid since 2005. The charity specializes in refurbishing used PCs from UK organizations for use in Africa and South America.

"The partnership between the Royal Household and Computer Aid International has existed since 2005. Since that time, the Household has donated over 1,700 pieces of computer equipment, including 700 computers and 640 monitors," the site states. "It's the Palace's contribution to make best use of computers once we've finished with them, rather than them going to waste."

Last week Prince Charles received permission from the Westminster City Council to install solar panels on the roof of his 180-year-old home in London. Once the panels are generating electricity, Clarence House will become "carbon negative," producing more power than it uses, The Daily Telegraph reports. It became "carbon neutral" three years ago.

The 43 panels, to be concealed by the building's parapet, are expected to produce about 4,000 kilowatts of electricity annually and cost about $46,500, to come from the prince's pocket, according to the Daily Mail.

The Garden Party To Make a Difference will be held between September 8th and September 19th.


SWEET CHARITY


WESTPORT COUNTRY PLAYHOUSE'S 2010 ANNUAL GALA will honor musical theater composer extraordinaire Stephen Schwartz on Monday evening, September 13. A star-studded production, The Magical Music of Stephen Schwartz, will recognize Schwartz's innumerable songwriting contributions to American theater and film.

The fundraising event will include pre-show cocktails and sumptuous fare, a performance and post-show champagne and dessert party. In addition, there will be a silent auction of unique and one-of-a-kind items throughout the evening. Honorary gala chairs are Kate and Bob Devlin of Southport; gala chairs are Kim and Niv Harizman of Westport.

Monday, September 13, in Westport, CT.

SWIMMING UPSTREAM commemorate V-Day and the 5th anniversary of Hurricane Katrina by paying tribute to the women of New Orleans and the Gulf South.

Written by 16 New Orleans women, Swimming Upstream premiered in April 2008 at V-Day's V To The Tenth celebration and enjoyed a subsequent sold-out run in Atlanta in November 2008. Swimming Upstream is billed as "a powerful theatrical production that tells the raw and soulful stories of women who lived through the flood with grace, rage and great resiliency, punctuated by a flair for story-telling, humor and music that comes from being New Orleanian."

Directed by Eve Ensler, this production features performances by Troi Bechet, Asali Njeri DeVan, Anne-Liese Juge Fox, Karen-kaia Livers and singers Michaela A. Harrison, Leslie Blackshear Smith and featuring Shirley Knight & Kerry Washington.

V-Day is an organization that works to stop violence against women and girls.

At New Orleans' Mahalia Jackson Theater on September 10 and at New York's Apollo Theatre on September 13.

STAND UP TO CANCER TELETHON airing September 10 at 8 PM ET, will be broadcast for one commercial-free hour on the four major networks and several cable channels, and will be seen in 195 countries worldwide. Network news anchors Katie Couric, Diane Sawyer and Brian Williams will host the special, which is raising funds to encourage faster development of innovative cancer research.

Celebrities on board are: Elizabeth Banks, Kathy Bates, George Clooney, Emily Deschanel, Michael Douglas, Anne Heche, Cheryl Hines, Randy Jackson, Rob Lowe, Jane Lynch, Marlee Matlin, Kelly Osbourne, Gwyneth Paltrow, Will Smith, Denzel Washington and Renee Zellweger.

Musical guests will include Green Day's Billie Joe Armstrong, Neil Diamond, The Edge, Kris Kristofferson, Leona Lewis, Orianthi and Ann Wilson and Nancy Wilson of Heart. They join previously announced performers including Natasha Bedingfield, Martina McBride, Aaron Neville, Dave Stewart and Stevie Wonder.

Additional participants include Kareem Abdul-Jabbar, Tatyana Ali, Christina Applegate, Lance Armstrong, David Boreanaz, Abigail Breslin, Cindy Crawford, Fran Drescher, Elizabeth Edwards, Donald Faison, Sally Field, Michael C. Hall, Alyson Hannigan, Marg Helgenberger, Terrence Howard, Ken Jeong, Rashida Jones, Laura Linney, Zachary Levi, Ray Liotta, Seth MacFarlane, Mandy Moore, Jim Parsons, Naya Rivera, Robin Roberts, Seth Rogen, The Simpsons, Eric Stonestreet, Maura Tierney, Gabrielle Union, Sofia Vergara, Marissa Jaret Winokur, Reese Witherspoon and Ethan Zohn, as well as brain cancer survivors Anne Feeley and Pearce Quesenberry.

Cat Deeley of So You Think You Can Dance will host a special half-hour pre-show promotion on various online sites beginning at 7:30 PM ET, when the celebrity phone banks open.






SPREADING THE WORD


BROADWAY ON BROADWAY the annual free outdoor concert takes place September 12 in the heart of Times Square and kicks off the new Broadway season. This year's Back2Broadway Month will be hosted by Tony Award nominated and five-time Emmy Award winner Kelsey Grammer and feature star performances from new shows and long-running favorites, accompanied by a live 30-piece orchestra.

Broadway Salutes special event on September 14th will celebrate those who have worked over 25 years on Broadway. There is also Broadway Open Call Karaoke and Broadway Dance lessons in Times Square, Broadway Open House Theatre Tours, SIRIUS XM Radio Live on Broadway Lunchtime Concerts, and Talent Panels.

Paul Libin, Chairman of The Broadway League, says, "I hope the 11.89 million people who attended Broadway shows last season will return again to experience the exciting new season, plus catch up on long-running plays and musicals that top their wish lists! As always, great seats are easy to buy and available at every price point. Thanks to programs like Back2Broadway that provide specials for shows and restaurants, Broadway remains accessible for all New Yorkers. Broadway contributes $9.8 billion to the economy of New York City on top of ticket sales, and supports 84,400 local jobs, so audience development is a key focus."

SPECIAL POST SHOW TALK BACK hosted by writers Kevin Bleyer and Elliott Kalan, from Comedy Central's The Daily Show with Jon Stewart, will chat with the Off-Broadway cast of The 39 Steps, performing at Manhattan's New World Stages, following the Wednesday, Sept. 8 evening performance.

ACTRESS ELENA ROGER will be interviewed live on London's Donmar Warehouse stage Tuesday September 14, by respected theatre critic and journalist, Mark Shenton.

Elena will be in the first week of performances for the Donmar's production of Passion. Born in Argentina, she is a hugely respected stage and screen actress in her native Buenos Aires and in the UK. Her theatre credits in London include Boeing Boeing, and Evita - for which she was nominated for an Olivier Award - and the Donmar production of PIAF. In 2012, Roger will return to the role of Eva Peron in a new Broadway revival of Evita directed by Michael Grandage and choreographed by Rob Ashford.

JANE FONDA blogging that she is participating in a Upaya Zen center retreat about Wisdom and Aging. The ageless beauty has just wrapped the movie Peace, Love, and Misunderstanding. The two-time Academy Award winner will bring her Tony-nominated performance in 33 Variations to LA's Ahmanson Theatre for an engagement beginning January 30, 2011.


WEDDING
KATIE FINNERAN AND DARREN GOLDSTEIN who have been united in marriage. The bride, a two time Tony award winner, can be enjoyed through October 10 in Promises, Promises, while the bridegroom begins previews September 20 in Bloody Bloody Andrew Jackson, reprising the roles he originated Off Broadway as both John Calhoun and Andrew Jackson's father.





OTHER PEOPLE'S MONEY


BARNES & NOBEL Lincoln Triangle store, on Broadway and 66th Street, near Lincoln Center - has been a book-browser's paradise ever since it opened in October 1995 and noted for hosting Broadway celebrities with books and CD to sell as well as their Any Wednesday and Cool Mondays music series.

Unfortunately, that store will be closed at the end of January when its lease expires. According to a statement released by spokeswoman Mary Ellen Keating, the company said a proposed rent recent increase would make extending the lease "economically impossible."

Until then it business as usual with a full September calendar.

Patti LuPone will perform highlights from her career and discuss her new self-titled memoir on Sept. 16. The cast of the Off-Broadway musical Enter Laughing will celebrate the release of their cast album on the Jay Records label Sept. 21. Original cast members from the 2008-2009 Off-Broadway run will perform and sign copies of the album of the Broadway-aimed musical.

Elaine Paige will discuss her memoir Memories on Sept. 22 and also sign copies of the tome. Christine Ebersole will perform highlights from her latest album, Christine Ebersole Sings Noel Coward, Sept. 23. ASCAP director of musical theatre Michael A. Kerker will host the panel discussion Story of My Life: The Inspiration Behind Autobiographical Musicals, which will take place Sept. 28 The event is presented through the New York Musical Theatre Festival.

Glory Crampton will sign and perform from her album Unusual Way September 29. The soprano explores the work of Andrew Lloyd Webber, Maury Yeston and Rodgers and Hammerstein on the 15-track recording.

On August 2 Barnes & Noble - the biggest book chain in America with 720 stores - announced that the company was up for sale, an announcement which surprised analysts.

THE EDINBURGH FRINGE organizers have announced that this year's Fringe broke last year's box office record. The three-week long arts festival sold 1,955,913 tickets, up more than 5% from last year. Festival organizers calculated that there were 40,254 performances of 2,453 shows in 259 venues across the city. Fringe High Street Events team registered 662 acts from street performers to buskers and Fringe artists. An estimated 21,148 performers took to the stage during Fringe 2010 and 558 shows were absolutely free. Comedy made up 35% of the Fringe program, followed closely by Theatre with 29%. Music 16%, Musicals & Opera 5%, Dance & Physical Theatre 4.5%, and Children's shows 4%, made up the rest of the Fringe program.

THE OLD GLOBE in San Diego is celebrating it's 75th anniversary with 7,600 free tickets for high school students. Executive Producer Lou Spisto today announced a new venture in its ongoing effort to connect young people with theater, complimentary tickets will be offered to all nine of the Globe's 2010-11 Winter Season productions. Students must register online or call the Old Globe.



SIR TREVOR NUNN the former director of Britain's National Theater, has accepted the position of Cameron Mackintosh Visiting Professor of Contemporary Theater at St. Catherine's College in Oxford. The year-long appointment will begin in October.



THE MASTER BUTCHERS SINGING CLUB

Pulitzer Prize winner Marsha Norman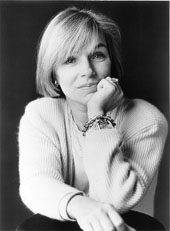 a world premiere by Marsha Norman, which is a stage adaptation of Louise Erdrich's 2003 novel.

Directed by Francesca Zambello.

Bookended by the two World Wars, The Master Butchers Singing Club, is billed as "a moving story of tradition, family, love and loss, follows the life of Fidelis Waldvogel and his family, as well as Delphine Watzka and her partner Cyprian, as they adjust in their separate lives in the small town of Argus, North Dakota. As Fidelis and Delphine's lives intertwine, the play chronicles ordinary small-town citizens as they encounter the extraordinary events - both in their insular world and in the larger world - that come to define their lives."

Starring Katie Guentzel (Eva), Emily Gunyou Halaas (Delphine), Lee Mark Nelson (Fidelis) and Sheila Tousey (Step and a Half)

M. Cochise Anderson (Ancestor), Jennifer Blagen (Tante), Charlie Brady (Cyprian), Terry Hempleman (Roy), Tracey Maloney (Clarisse), Bill McCallum (Sheriff Hock), Peter Thomson (Dr. Heech), Sean Cackoski, Rebecca Hurd, Jake Ingbar, Ryan McCartan, Maeve Moynihan, Logan Pedersen and Nicholas Saxton.

Performances begin September 11 with the official opening slated for September 19 on the Wurtele Thrust Stage of the Guthrie in Minneapolis, MN.

INAPPROPRIATE: THE CONCERT showcases some of New York's top talent getting to sing the songs they would never get to sing. The evening will feature Stephen Bienskie (Chess), Lisa Brescia (Wicked, Woman in White), Kristy Cates (Wicked), Ali Ewoldt (Les Mis, West Side Story), David Gurland and Brian Farley, Brianne Mai, Rob Maitner, Zachary Prince (Jersey Boys), Steven Strafford (Spamalot) and Lee Zarrett (Hair, Spelling Bee). The concert will be directed by kef Artistic Director, Adam Fitzgerald.

The idea for kef's concert,Inappropriate, came directly from an evening planned to take place in a Lucky Strike bowling alley. Realizing it was somewhat inappropriate to perform musical numbers next to bowling lanes, the kef team challenged some of their favorite performers to come up with the song they always wanted to sing, but never could . . . or would. Whether inappropriate by content, age, race, gender or by being just-plain-wrong, Inappropriate: The Concert "promises to be an evening of laughter, surprises and stunning talent not to be missed."

Monday, September 13, at Lucky Strike in New York City.

PAINT YOUR WAGON Book & Lyrics by Alan Jay Lerner. Music by Frederick Loewe.

Directed by Joe Cascone.

An enchanting Broadway musical about the California Gold Rush. Featuring classic song hits They Call The Wind Mariah; Wandrin' Star and I Talk To The Trees, it's a funny, heartfelt musical, full of romance and adventure.

Featuring: Eric Botosan, Elizabeth Rose Morriss, Damien Gulde, Ryan Anning, Allan Ashby, Andrea Barker, Andrew Bryne, Dean Deffett, Larry Gibbs, David Goodman, David Haines, Garth Johnston, Peter Loucas, Jack Ly, Gary Prudence, Katie Richardson, and Susan Sanders.

Costumes by Sheila LaCasse. Lighting by Garth Crew. The production stage manager is Malcolm Byrne.

September 8-September 25, 2010 The Civic Light Opera Company in Toronto, Canada.

INTERNATIONAL CITY THEATRE Long Beach's Professional Resident Theater Company at the Long Beach Performing Arts Center, has announced an engaging lineup of five plays for 2011.

ICT's 26th season will feature a mix of two musicals - one edgy, West Coast premiere and one rare revival - and three character-driven comedies.

The season opens on January 21 with the West Coast premiere of the lush and lyrical Loving Repeating: A Musical of Gertrude Stein, adapted from Stein's writings by Stephen Flaherty and Frank Galati. In March, Jules Aaron will direct Kathleen Clark's witty, tender and poignant comedy, Southern Comforts. The gently humorous The Old Settler by John Henry Redwood follows in June. Noël Coward's classic, Private Lives, will open at the end of August. Closing out the season in October will be a rare revival of the Tony-nominated musical fairy tale The Robber Bridegroom by Alfred Uhry and Robert Waldman.

PHANTOM OF THE OPERA welcomes to the Broadway cast Hugh Panero who returns as the "man behind The Mask" and Sara Jean Ford who will take over the role of Christine. Both beginning Tuesday, September 7.

THE REVIVAL by Samuel Brett Williams. A world premiere directed by Michole Biancosino.

Starring Trent Dawson - best known for his multiple Daytime Emmy-nominated role as Henry Coleman on As the World Turns. The cast will also include David Darrow, Raymond McAnally, and Aidan Sullivan.

A Harvard educated son of a Southern Baptist preacher returns to his Arkansas hometown to rebuild his father's congregation. Under pressure to grow the congregation to compete with neighboring mega-Churches, the young Pastor seizes an opportunity to cleanse a mysterious stranger of his homosexuality, becoming an overnight evangelical superstar. But at what cost?

Samuel Brett Williams's new play is bill as "an insider's look at the making of a mega-Church machine from grassroots beginnings.Revival asks just how far are you willing to go for the things you believe?"

Staged at The Lion @ Theatre Row, September 9-25, with an official opening on September 14.

LIMELIGHT: THE STORY OF CHARLIE CHAPLIN featuring music and lyrics by Christopher Curtis, with book by Curtis and Thomas Meehan. Michael Unger will direct the production.

Robert McClure portrays Chaplin, with Ashley Brown as his fourth wife, Oona.

"As the gritty streets and smoky music halls of London to movie screens across the globe, Limelight goes behind the camera to show how a comic genius found soaring success and later fell from grace.

The cast will also include LJ Benet as Young Sydney, Jenn Colella as Hedda Hopper, Eddie Korbich as Karno, Janet Metz as Hannah, Brooke Sunny Moriber as Mildred, Ron Orbach as Mr. Chaplin, Roland Rusinek as Alf, Jake Schwenke as Young Charlie/Jackie, Matthew Scott as Sydney, and William Youmans as Older Charlie.

The ensemble includes Aaron Acosta, Courtney Corey, Matthew Patrick Davis, Justin Michael Duval, Sara Edwards, Ben Liebert, Alyssa Marie, Jennifer Noble, Kürt Norby, Carly Nykanen, Jessica Reiner-Harris, and Kirsten Scott.

The world premiere opens at the La Jolla Playhouse's Mandell Weiss Theatre, September 7-October 17. LaJolla, CA.

ALL'S WELL THAT ENDS WELL by William Shakespeare. A new production by the Shakespeare Theatre Company directed by artistic director Michael Kahn.

Starring 4 time Academy Award nominee Marsha Mason who is making her STC debut as the Countess of Rosillion.

The company will also include Bev Appleton as a Lord, Michael Bakkensen as Parolles, Caitlin O'Connell as Widow Capilet, Nick Depinto as Dumaine the Elder, Conrad Feininger as a Lord, Adam Green as Lavatch, Natalie Mitchell as Diana, Barbara Pinolini as Rynalda and Miriana, Tony Roach as Bertram, Miriam Silverman as Helena and Paxton Whitehead as Lafeu.

At the Lansburgh Theatre in Washington, DC opening September 7 with performances through October 24.

COCO book and Lyrics by Alan Jay Lerner with music by André Previn. Suggested by incidents from the life of Gabrielle ("Coco") Chanel is the first selection of the season for the York Theatre Company's Musicals in Mufi Concert Series. Directing Coco will be Mark Kaufmann, with music direction by Michael Horsley

Starring cabaret legend Andrea Marcovicci in the title of role of Gabrielle "Coco" Chanel. Joining Marcovicci will be Jessica Grové as Noelle; Tony nominee Charles Kimbrough as Louis Greif; Kristine Nielsen as Pignol with Susan Blommaert, Lewis Cleale, Tom Galantich, Brian Hissong, Julie Kotarides, Robert Lenzi, Peter Lockyer, Michelle Lookadoo, Heather Parcells and David Turner.

September 10-12 at the York Theatre Company at Saint Peter's in NYC.

ORLANDO written by Pulitzer & Tony nominated playwright Sarah Ruhl.

Directed by Rebecca Taichman, with choreography by Annie-B Parson.

Meet Virginia Woolf's Orlando, your typical Elizabethan Man: a favorite of the Queen, madly in love with a Russian Princess, fleeing an Archduchess and waking up one fine day in Constantinople to find he has become, of all things, a woman. She survives the 19th and 20th Centuries grappling with what it means to live fully in the present, in our own skin, in our own gender, and in our own time.

The cast features Annika Boras (Sasha), Francesca Faridany (Orlando), David Greenspan (Queen Elizabeth), Tom Nelis (Sea Captain) and Howard Overshown (Othello).

The creative team includes set design by Allen Moyer, costumes by Anita Yavich, lighting by Christopher Akerlind, and Original Music & Sound Design By Christian Frederickson & Ryan Rumery.

Presented at the Classic Stage Company in NYC from Wednesday, September 8 through Sunday, October 17.

RUINED written by Lynn Nottage. Directed by Kate Whoriskey.

Guided by music and the rhythm of life in the Congo, Ruined transports us to Mama Nadi's bar, a small town refuge where intimacy comes at a price. But by creating this uneasy oasis for women who have no place else to go, is Mama a protector or profiteer? Expertly navigating relationships and politics, this remarkable story, rich with humor, hope and humanity, was lauded in numerous critic top 10 lists and was extended eight times during its New York run.

Featuring: Quincy Tyler Bernstine, Cherise Boothe, Victoire Charles, Tongayi Chirisa, Carl Cofield, Russell G. Jones, Simon Shabantu Kashama, Tom Mardirosian, Ron McBee, Portia, Condola Rashad, David St. Louis, and Stephen Tyrone Williams.

A co-production with Intiman Theatre. September 7 – October 17, 2010 at the at the Geffen Theatre in Los Angeles.

FELA! welcomes Patti LaBelle to the award winning production. LaBelle succeeds Tony winner Lillias White in the role of Fela's mother, Funmilayo Anikulapo-Kuti. She will get her feet wet during the evening performances on September 8-9. before officially taking over the role on September 14. LaBelle will stay with the production through its closing on January 2, 2011.

SHOES

The cast of Shoes. Photo: Sadler's Wells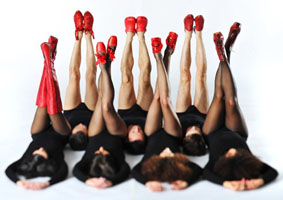 written and composed by Richard Thomas - of Jerry Springer, The Opera fame - is a new dance revue inspired by - footwear - from the highs of the Louboutin, Manolos and Jimmy Choos to the lows of the Croc and the Birkenstock.

The show features 32 footwear-inspired song and dance numbers.

Shoes features choreography and direction by multi-award winning Stephen Mear. Alongside Mear, Sadler's Wells has invited leading choreographers Aletta Collins, Sidi Larbi Cherkaoui, Kate Prince and Mark Smith to create dance numbers inspired by Thomas's songs.

Those include Foot Fetish, which features Christian Louboutin's red-soled delectables, and Ferragamo, which even had the Italian design house remake shoes from its archives specifically for the production.

Performing in over 250 pairs of shoes, the cast of 12 dancers includes Chloe Campbell, Mandy Montanez and Drew McOnie, plus Zoonation's Teneisha Bonner, and Aaron Sillis, winner of the South Bank Show Breakthrough award for his role in Matthew Bourne's Dorian Gray.

Shoes also features a live band and four singers including Olivier award-nominated Alison Jiear and bestselling artist Kate Miller-Heidke, whose latest album went platinum in her native Australia in 2009.

Performances began September 3 at Sadler's Wells in London which is billed as The World's Number 1 Dance house - with performances through September 11. A UK and international tour is planned for 2011.





WHO'S WHERE


ELVIS FOREVER a celebration of the Music of Elvis Presley, hosted by British Radio 2 breakfast show presenter Chris Evans with a special appearance by Priscilla Presley.

In the year that the King of Rock 'n' Roll would have turned 75, Radio 2 brings together some of the greatest names in pop and rock music to perform his best loved and most popular songs. The proceedings will be led by Chris plus other guest presenters and will culminate in a spectacular firework finale. The line-up of stars performing include: Scouting For Girls, Imelda May, The Magnets, Fran Healy (from Travis), Craig David, Tony Hadley, Marti Pellow, Nell Bryden and Suzi Quatro.

Sunday, September 12, at Hyde Park in London.

JUSTIN BIEBER performs at the MTV Video Music Awards in Los Angeles on Sunday, September 12th.

LIZA MINNELLI brings her talents to the Peace Center Concert Hall in Greenville, SC on Wednesday, September 8. On Friday she's in the spotlight at the Civic Center in Roanoke, VA.

BRET MICHAELS appears at The Puyallup Fair in Puyallup, WA on Friday, September 9.

RENEE FLEMING at the Royal Albert Hall in London on Saturday, September 11.

JOHN MAYER performs Monday, September 6, at the Amphitheater at the Wharf in Orange Beach, AL. On Wednesday the tour stops at the Amphitheatre at Lakewood in Atlanta, GA. Friday finds him at the Amphitheatre in Tampa, FL and on Saturday the show is at the Cruzan Amphitheatre in West Palm Beach, FL.

BARBARA COOK AND MICHAEL FEINSTEIN bring their Cheek to Cheek cabaret act to Feinstein's at Loews in NYC for performances September 7-October 2.

TOAD THE WET SPROCKET Santa Barbara high school cronies who became Toad the Wet Sprocket in 1986 continue their mellow, melodic folk-pop sound that made them one of the most successful Alternative Rock bands of the early 1990s. Saturday, September 11, at the Red rock Casino in Las Vegas.

WEDNESDAY NIGHT AT THE IGUANA hosted by Dana Lorge. Barry Levitt on keyboard & Saadi Zain on bass. Wednesday's guests include: Dave Likes Big Legs and Rosemary Loar. September 8 at the Iguana VIP Lounge, NYC.

LAST NIGHT OF THE PROMS: IN THE PARK celebration. Sir Terry Wogan presents a host of internationally acclaimed stars including Dame Kiri Te Kanawa and José Carreras, with special guest star Neil Sedaka, West End phenomenon Kerry Ellis and legendary Queen guitarist Brian May. The Royal Choral Society and the BBC Concert Orchestra conducted by Martin Yates. The audience sing-alongs will be led by Gareth Malone.

The party gets under way with presenter Ken Bruce and artists including Björn Again, Nell Bryden the Cast of Jersey Boys and Serpentine Fire.

Join in the world-famous Last Night of the Proms celebrations in Hyde Park where five hours of music and entertainment culminate in a live big-screen link up to the Royal Albert Hall for the traditional festivities and flag-waving, and a spectacular firework finale. Saturday, September 11 in London.




FINAL OVATION


CAMMIE KING CONLON who as a five-year-old child actress appeared in Gone With The Wind as Bonnie Blue Butler, the doomed daughter of Scarlett O'Hara and Rhett Butler died September 1, 2010 of lung cancer. She was 76.

She was also the voice of young doe Faline in Walt Disney's Bambi. As an adult she served as a museum director and as a publicist for a chamber of commerce.

She is survived by a son Matthew Ned Conlon.




Next Column: September 12, 2010
Copyright: September 5, 2010. All Rights Reserved. Reviews, Interviews, Commentary, Photographs or Graphics from any Broadway To Vegas (TM) columns may not be published, broadcast, rewritten, utilized as leads, or used in any manner without permission, compensation and/or credit.
Link to Main Page
---
Laura Deni



For the snail mail address, please E-mail your request.
CLICK HERE FOR COMMENT SECTION