! >
Broadway To Vegas
  
  REVIEWS  INTERVIEWS COMMENTARY NEWS

| | |
| --- | --- |
| | |
NAVAL SEALs MUSEUM TO HAVE OSAMA BIN LADEN EXHIBIT - - WOMEN WHO ROCK - - REDLANDS SHAKESPEARE FESTIVAL - - PRINCESS BEATRICE AND ARETHA FRANKLIN - - 2011 TONY AWARDS DOCUMENTARY FILM SERIES - - DON'T STORE A WEDDING DRESS IN THE GARAGE - - WONDERLAND CD REVIEW - - MITZI GAYNOR IN RAZZLE DAZZLE - - DONATE . . . Scroll Down



NAVAL SEALS BECOME SEX SYMBOLS & MUSEUM PLANS OSAMA BIN LADEN EXHIBIT
Navy SEALs Museum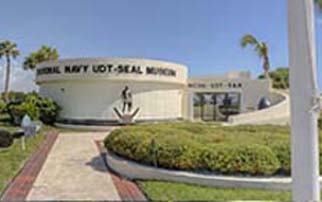 Real life trumps reality shows.

Taking down Osama bin Laden has resulted in fall-out. People who ignored the Navy SEALs are now fawning over them. Sure beats slathering over all those 'housewives' and self serving celebrity I-know-every-second-of-my-existence-is-important-to you offerings.

A new hero in the public's crosshairs has resulted in some pleasant problems.

It's not often that people are so insistent to get inside a museum that the joint has to stay open on what normally would be a closed day.

That's what happen at the Fort Pierce, Florida based National Navy SEALs Museum. Last Monday the museum, which is usually closed on that day, was besieged by people who wanted to learn about the men of the SEALs - and that dog.

The elite group which stays - if not always under water, at least under the radar - has achieved sex symbol status.

Merchandise sales at the Navy SEALs Museum has jumped 200 percent since Osama was put out of commission. T-shirts with the slogan "When it absolutely, positively, must be destroyed overnight! Call in the U.S. Navy SEALs" are flying off the shelves. Certain to follow - movies, including one in the works by Oscar-winning director Kathryn Bigelow - stage plays and television specials - the Discovery Channel will air an "insta-mentary" called Killing bin Laden on May 15.



The latest in Melton's Navy SEALs romance series is billed as "a romance that sizzles."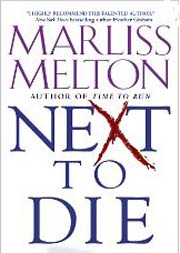 Navy SEAL romance novels first appeared in the mid-1990s and a flurry of new titles will be released just as fast as the authors can crank them out.

Then there is that Osama bin Laden exhibition. It wasn't part of the Naval SEALs Museum expansion plans, but current events can alter what the public wants to see.

In case you didn't know that there is a Navy SEAL's Museum, there is. It is the only museum dedicated solely to preserving the history of the Navy SEALs and their predecessors, including the Underwater Demolition Teams, Naval Combat Demolition Units, Office of Strategic Services Maritime Units and Amphibious Scouts and Raiders.

Currently undergoing an 8,400 square-foot expansion project on the north side of the existing 5,000-square-foot facility, the $800,000 expansion began in March and should be completed by June. Prior to the Osama bin Laden wipe-out the game plan was that office and some temporary exhibits would be open by September, with permanent exhibits to come later.

A really good military raid can change the landscape.

Museum officials announced they are seeking items from the raid that killed bin Laden. Michael R. Howard, the museum's executive director and a former Navy SEAL, said he would like to include uniforms, weapons and photos in an exhibit honoring the SEALS who took part in the bin Laden maneuver, according to The Navy Times.



Navy Seal Cap. Merchandise sales at the Navy SEALs Museum have increased by 200 percent.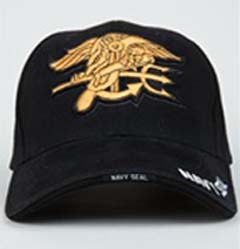 A special recognition day is planned before the expansion is complete.

"We may have a special day or we may tie it to Memorial Day," Howard told the press.

"Wheels are already turning to see what we can get," Howard remarked to TCoast Talk. "Hopefully, we'll get some artifacts quickly. The timing is good because we'll be moving into our new building soon, which will be a great place to showcase the skills of the nation's SEAL warriors."

"Of course, a lot of the material from the raid is classified," Howard emphasized, "but we'll display what we can. I expect we should be able to get weapons, uniforms and photos that were taken. We'd also like to get information such as messages and documents related to the operation. We have a research library at the museum, but with the new building, we'll have a lot more space for the things we don't exhibit but keep in our archives for preservation."

Ruth McSween is the Museum's Curator.

The Museum promotes public education by providing the opportunity to explore the history of the Navy SEALs in an atmosphere of respect and honor.

The ground upon which the National Navy UDT-SEAL Museum rests is recognized as the birthplace of the U. S. Navy Frogmen. From 1943 to 1946, thousands of brave volunteers were trained as members of Naval Combat Demolition Units and Underwater Demolition Teams.



Displays at the Naval SEALs Museum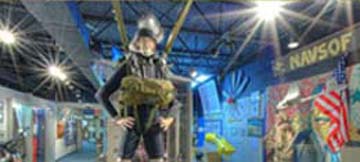 The World War II Frogmen have evolved into the most elite fighting force in the world, the U. S. Navy SEALs.

The Mission of the Museum is to preserve the legacy and history of these "Teams". The National Navy UDT-SEAL Museum was formally dedicated in November of 1985. Since that time a continuous stream of history and artifacts has returned home to Ft. Pierce.

The exterior exhibits include Apollo training crafts, a Vietnam-era "Huey" helicopter, and unique water craft and support boats. Some of the last remaining beach obstacles used for training during World War II have been recovered from the ocean depths and now rest on the museum grounds.

Inside, one can learn the history of Naval Special Warfare including the beginnings of Underwater Demolition training in Ft. Pierce, exploits in the Atlantic and Pacific war theaters of World War II and histories of the various units told with photographs and artifacts of the period. The North Gallery tells the stories of the modern era from Korea through Afghanistan. The Frogmen and SEALs have operated in almost every environment imaginable; hot, humid jungles, arctic waters and a space station orbiting the Earth.

Visitors can learn the declassified stories that can be told - heroism under fire from every conflict from Korea to Desert Storm and now - Osama bin Laden.



Broadway To Vegas is supported through advertising and donations. Priority consideration is given to interview suggestions, news, press releases, etc from paid supporters. However, no paid supporters control, alter, edit, or in any way manipulate the content of this site. Your donation is appreciated. We accept PAYPAL. Thank you for your interest.



ART AND ABOUT


WOMEN WHO ROCK: VISION, PASSION, POWER the world's first museum exhibit dedicated to the most influential female artists.

Billed as a "ground-breaking and provocative new exhibit" that will illustrate the important roles women have played in rock and roll, from its inception through today. The exhibit will highlight the flashpoints, the firsts, the best, the celebrated and sometimes lesser-known women who moved rock and roll music and American culture forward. Women Who Rock will open to the public on Friday, May 13, 2011.

To kick off the exhibit's opening weekend on Saturday, May 14, the Museum's annual It's Only Rock and Roll Spring Benefit Concert will boast an all-star lineup including Rock and Roll Hall of Fame Inductee Wanda Jackson and Cyndi Lauper, both featured in the Women Who Rock exhibit.

Other performers include 1999 Rock Hall Inductees Mavis Staples and 2011 Inductee Darlene Love.

Proceeds from the May 14 event benefit the Rock and Roll Hall of Fame and Museum's award-winning educational activities. Each year the Cleveland, Ohio venue teaches over 50,000 students both onsite and through innovative distance learning, and inspire over 400,000 visitors through our engaging exhibitions.


THE MUSIC GOES ROUND AND ROUND


WONDERLAND original cast recording of the Broadway musical based on Lewis Carroll's Alice's Adventures in Wonderland and Through the Looking-Glass. Composer: Frank Wildhorn. Lyricist: Jack Murphy. Librettist: Jack Murphy and Gregory Boyd. Released on the Masterworks Broadway label. Recorded at MSR Studios, New York City on February 26, March 6 and 13, 2011. Mixed at BiCoastal Music, Ossining, New York. Mastered by Vic Anesini.

This CD is an infectious, uplifting musical - a delightful listen - a throw back to the days when the lyrics were G-rated and the subject matter had a hopeful message. Take the advice from one of the tunes, Go With the Flow, and do just that. Put on the CD and enjoy it.

This Wonderland is not to be confused with the ballet of the same name by Montreal choreographer Shawn Hounsell, nor is this Wonderland to be confused with a concept recording, also on the Masterworks Broadway label, which was released March 30, 2010. That version has 15 tracks with only 6 of the titles identical to this CD, although in a different order.

In 1999, Wildhorn became the first American composer in twenty-two years to have three shows running simultaneously on Broadway: Jekyll & Hyde, The Scarlet Pimpernel, and The Civil War. On Wonderland, Wildhorn once again teams up with The Civil War lyricist Jack Murphy, with whom he received a Tony Award nomination for Best Original Musical Score.

This musical features a contemporary pop score. Wildhorn and Murphy know the formula - each leading character needs their own big moment song - don't string too many of the same tempo songs together or they'll start to sound alike - which are the two big commandments. That's closely followed by - it helps to offer something that either creates a defining esprit de corps moment or gets toes tapping.

Wonderland was developed and premiered at the Straz Center for the Performing Arts, and opened on Broadway with some substantial changes following two pre-Broadway stagings in Tampa and one in Houston.

In this version Alice is an overworked and under appreciated New York schoolteacher, who aspires to write children's books. Recently separated from her unemployed husband, she is also experiencing a frayed relationship with her daughter, Chloe. Desperate for a new start, she has moved with her daughter to the "kingdom of Queens". One night she falls asleep in Chloe's bed, and is transported to the alternate universe of Wonderland where she encounters strange though familiar characters that help her rediscover the wonder in her life.

This CD version stars Janet Dacal as Alice, Darren Ritchie as Jack the White Knight, E. Clayton Cornelious as Caterpillar, Jose Llana as El Gato, Karen Mason as The Queen of Hearts, Kate Shindle as The Mad Hatter, Carly Rose Sonenclar as Chloe, Edward Staudenmayer as The White Rabbit and Danny Stiles as Morris the March Hare.

The cast also includes: April Berry, Sae La Chin, Dan Domenech, Mallauri Esquibel, Derek Ferguson, Wilkie Ferguson, Laura Hall, Natalie Hill, Lauren Lim Jackson, Morgan James, Ryan Link, Heather Parcells, Stefan Raulston, Julius Anthony Rubio, and Tanairi Vasquez.

The sprightly melodic overture builds to an energetic dramatic sequence interspersed with the melodic tinkling which is a tip off that not everything is peaceful in Wonderland. Chloe sweetly sings of Home "where you never feel lonely when you re alone." Down the Rabbit Hole is both a dramatic and strut-high-kick number with Alice trying to decompress in a land where the Queen of Hearts is sharpening a guillotine. There is a caterpillar who gives advice in Go With the Flow. In a spirited salsa beat, he advises Alice to "jump right in and let the rhythm take you .... For you to heal it, you gotta feel it. Get it together and then let it be."

That is followed by the romantic One Knight. The rousing The Mad Hatter lets Kate Shindle cut loose while Karen Mason ( See Broadway To Vegas column of July 9, 2000 ) gets her star turn with Hail the Queen in which people are warned to "be careful what they wish for." Mason's other stand out number is the strutting Off With Their Heads.

Sweeping orchestrations in the dramatic I Will Prevail anoints Alice while the softer I Am My Own Invention instills "nothing can exist until you dream it first.... tomorrow can be all it should be."

Musicians on Wonderland CD:

Violin: Katherine Livolsi-Landau, Lisa Matricardi, Jennifer Choi, Roger Mahadeen
Viola: David Blinn
Cello: Mairi Dorman-Phaneuf, Stephanie Cummins
French horn/Alto Horn: RJ Kelley
French horn: Peter Reit, William Devos
Trumpet/flugelhorn/Piccolo: CJ Camerieri
Trombone/Bass Trombone: George Flynn
Flute/Piccolo/Alto Flute/Alto Saxophone: Kurt Bacher
Oboe/English horn/clarinet/Tenor Saxophone: Daniel Willis, Charles Pillow
Percussion: William Lanham
Guitars: Marc Copely
Bass/Electric Bass: Mark Vanderpoel
Keyboards: Jeff Lams, Nicholas Cheng, Kirstin Agresta Copely
Drums: Adam Wolfe
Snyth Programmer: Randy Cohen
Contractor: David Lai. Orchestrator: Kim Scharnberg.

Track Listings

1. Overture
2. Home
3. Down The Rabbit Hole
4. Welcome To Wonderland
5. Drink Me
6. Advice From A Caterpillar
7. Go With The Flow
8. One Knight
9. Mad Tea Party
10. The Mad Hatter
11. Hail To The Queen
12. Home (Reprise)
13. A Nice Little Walk
14. Through The Looking Glass
15. I Will Prevail
16. I Am My Own Invention
17. Off With Their Heads
18. Once More I Can See
19. Together
20. Heroes

Wonderland opened at Broadway's Marquis Theatre on April 17, 2011.


SWEET CHARITY


McCARTER THEATRE'S 33rd ANNUAL GALA BENEFIT billed as a hot night with cool jazz - featuring The Dave Brubeck Quartet. Saturday, May 14, 2011.

The McCarter Theatre is a Tony Award winning not-for-profit, professional company on the campus of Princeton University in Princeton, New Jersey.

7TH NEO BENEFIT concert celebrating New, Emerging, Outstanding musical theatre writers, on Monday, May 16 at its home at the Theatre at Saint Peter's in New York City. Following the performance there will be a champagne and dessert reception to end the evening.

NEO celebrates songwriters primed to pen the next generation of musicals. NEO will include songs by the following new musical theatre writers: Will Aronson & Bill Nelson; Andre Catrini; Adam David Cohen & Patrick Gallagher; Jonathan Matthew Gilbert & John Andrew Tarbet; Tom Gualtieri & David Sisco; Richard Isen; Steven Jamail; Mark McDaniels & Donald Garverick; Mary Liz McNamara; Michael Mitnick; Jonathan Monro; Benjamin Velez; and Derrick Wang.

Performers scheduled to appear include: Tituss Burgess, Jennifer Cody, Nikki M. James, Tony nominee Rebecca Luker, Lauren Molina, Jill Paice and Tanner Tompkins The evening will be directed by Jennifer Paulson Lee with music direction by Matt Castle.

SOMETHING WONDERFUL An Evening of Broadway with Deborah Voight. Presented by The Collegiate Chorale as their 2011 Spring Concert and Benefit, the evening with feature guest artist Paulo Szot, conducted by Ted Sperling with the American Symphony Orchestra.

Thursday, May 19, 2011 at Carnegie Hall, NYC.

The benefit will begin with the concert, immediately followed by a cocktail reception in the Rose Museum and a seated dinner and dessert in the Rohatyn Room. And before the evening's final curtain is drawn, the enchanting Roger Rees will entice patrons to bid on some very special items in a lively auction that will benefit The Chorale's education and artistic programs.

The evening will honor The Kurt Weill Foundation, which has provided generous support to The Chorale over the years.

LOVE CHANGES EVERYTHING Anniversary Gala Concert is a celebration of great songs sung by some of Philadelphia's finest performers in a benefit gala for the Walnut Street Theatre.

Featuring Josie Andrews · Taylor Bright · Melinda Chua · Jeff Coon · Ben Dibble · Joilet Harris · Eric Kunze · Ben Lipitz · Brandon O'Rourke · Katie O'Shaughnessey · Peter Schmitz and Denise Whelan.

Friday, May 13, 2011 at the Walnut Street Theatre in Philadelphia.


REDLANDS SHAKESPEARE FESTIVAL TACKLES DIFFICULT TOPICS


The seventh annual Redlands California Shakespeare Festival 2011 Season of Controversy will tackle the difficult topics of extreme violence, sexual identity, and religious prejudice with productions of Titus Andronicus, As You Like It, and The Merchant of Venice, set in different time periods, with various conceptualized themes.

Steven Sabel, founding artistic director.will helm Titus Andronicus as a gothic Victorian vampire tale in a tribute to the classic French style of grand guignol theater. The production will feature William Gillean in the title role, supported by Jacqueline Axton as Tamora, and Nathan Lindsey as Aaron.

Rounding out the cast are Cal State San Bernardino theatre arts professor Tom Provenzano as Marcus, Christina Fleming as Lavinia, and Jeff Lowe as Lucius.

As You Like It, which will be set in the wild west. Leading the cast is Annie Freeman as Rosalind, supported by William Shaffner as Orlando, and Christopher Turner as Touchstone.

Adding to the cast are actors Julia Hoover as Celia, and Rob Foley as Jacques.

Founding company member Ron Milts will return to direct this season's production of The Merchant of Venice in Italian commedia style.

Tom Newman will lead the cast in the title role of Antonio, the merchant of Venice, supported by Giuliano Fontanez as Shylock the money lender, Alexis Rafter as Portia, and Cedric Wright as Bassanio.

From vampires to cowboys to the ancestor of the modern situation comedy, the 2011 Season of Controversy will feature more than 60 performers in a wide array of theatrical styles and themes. The seventh annual festival will open May 12. Repertory performances will be conducted Thursday through Sunday evenings, May 12-29, at the Redlands Bowl outdoor amphitheater. Additional events include the popular University Lecture Series before Thursday night performances, the free Saturday Workshop Series presented at the A.K. Smiley Public Library, and the new Director's Insight Series before Sunday performances.

All performances are presented without an admission charge. A Free-will offering is collected at intermission.


PRINCESS BEATRICE AND ARETHA FRANKLIN - THE MAD HATTER SET
Princess Beatrice - Getty Images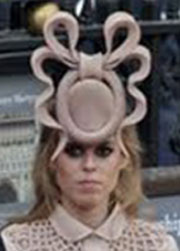 The British women know how to wear hats. While a man's hat was meant to protect him from the wind and cold, a woman's hat was meant to distract from lower body flaws, draw attention to herself and make a statement of - Look at me!!!!

Americans used to know how to wear hats but tossed them in the late 50s, although they can still be seen at events such as yesterday's Kentucky Derby or last week's Women's Conservancy Committee of Central Park Luncheon in New York City.

And, don't forget Aretha Franklin's head topper at the inauguration of President Obama.

The Smithsonian even requested The Queen of Soul to donate her Luke Song-designed hat for posterity.



Aretha Franklin - Getty Images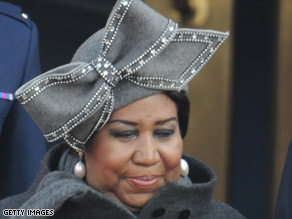 Whether you liked or laughed at the chapeau worn by Princess Beatrice to the wedding of Prince William and Kate, a few things are certain.

There have been other official royal affairs when the 5th in line to the throne drew attention to herself by balancing on her head what many wouldn't call a work of art.

At the recent wedding Princess Beatrice sat directly behind Queen Elizabeth and next to her father, Prince Andrew. The kid still lives at home and they support her.

If her grandmother and father hadn't approved of her extraordinary choice of millinery - one of 36 hats Philip Treacy made for wedding guests - she wouldn't have been wearing it.

For those who think it looks like a pretzel The National Mustard Museum sells appropriate mustard dips. ( See Broadway To Vegas column of May 1, 2011 ) Personally, I wish she'd come stand by my television set. I know I'd get better reception.


SPREADING THE WORD


2011 TONY AWARDS DOCUMENTARY FILM SERIES will take place as part of the 2011 Tony Awards Showcase at the Times Square Visitors Center and Mini-Museum in New York City. The series will feature three films that examine what it's like to be behind-the-scenes on a Tony-eligible Broadway musical.

The Tony Awards Showcase will open on May 9th and will be open to the public until the end of June. The Showcase will feature historic Tony memorabilia including costumes, posters, video footage, and much more.

The Tony Award Film Series will feature the following:

May 9, 2011 - Finding Billy - a film that takes viewers behind-the-scenes in the search for the young male leads in Billy Elliot the Musical.

May 16, 2011 - Every Little Step - follows the real-life dancers as they struggle through auditions for the Broadway revival of A Chorus Line. The film also takes a look at the history of the show and the creative minds behind the original and revival Broadway shows.

May 23, 2011 - Show Business: The Road to Broadway - goes behind the curtain to capture a Broadway season in all of its controversy, passion, and risk.

Each screening will begin at 6:30 p.m. and will be following by a panel discussion with the film producers, Broadway theatre producers and talent.

The Tony Awards Film Series is free to the public. Tickets will be available on a first come, first serve basis, as seating is limited. Limit two tickets per person.

The Tony Awards will be broadcast in a live three-hour ceremony from The Beacon Theatre, on the CBS television network on Sunday, June 12, 2011.

THE WORKSHOPS PRESENT CHASING THE TIGER a new play by Gail Sheehy, the playwright best known for her best seller Passages.

Her play is about a love story of a media power couple, Gail and her husband legendary editor Clay Felker, and their fearless battles and victories over Clay's cancer.

The Workshops programming is sponsored in part by the Lucille Lortel Foundation. Saturday, May 14, at the Bay Street Theatre in Sag Harbor, NY.

GIOVANNA SARDELLI Las Vegas born and raised, who has gained respect as a New York theatrical stage director,( See Broadway To Vegas column of November 23, 2008 ) will see her career take a leap forward when she helms the world premiere of Somewhere by Matthew Lopez, with performances September 24 – October 30, 2011 at the Old Globe in San Diego.

Somewhere is the story of a family of dreamers whose home is scheduled for demolition to make way for the construction of Lincoln Center.

The Old Globe is one of the few regional theatres noted for having productions transfer to Broadway.


OTHER PEOPLE'S MONEY


WARNER MUSIC the world's third largest music firm, whose stable of artists includes Bruno Mars, has been sold for $3.3bn cash to Access Industries, headed by colorful Russian born billionaire Len Blavatnik Warner Music Group will now become a private company and its shares delisted from the New York Stock Exchange.



WEDDING BELLS


MARIE OSMOND AND STEVEN CRAIG

Famed designer Ret Turner with his 2002 Costume Designers Guild Award. Photo: CDG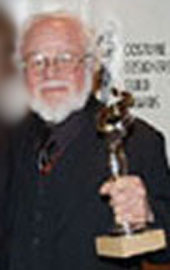 remarried in Las Vegas on May 4, 2011.

The couple had previously wed on June 26, 1982 at the LDS Temple in Salt Lake City. That marriage lasted three years and produced one son, Steven, born on April 20, 1983. Marie subsequently married Brian Blosil on October 28, 1986. Her sealing to Blosil took place at Utah's Jordan River Temple. That union lasted 20 years. The couple had two children and adopted five more before divorcing in 2007. One of their sons died in 2010.

I covered one of her previous marriages. She looked gorgeous leaving that Mormon Temple. The copy I filed and how the editor twisted, added and edited resulted in an article which had nothing in common with my copy. For a woman to be married is an inherent part of the Mormon faith. Rumors had been swirling that Marie and her first husband were back together, but the sudden remarriage at the LDS Temple in Las Vegas caught everyone off guard.

Access Hollywood was the first to report the marriage.

The wedding was kept so secret that not everyone in Marie's own family knew of the re-marriage. Many members of their family were taken by surprise.

The Salt Lake Tribune contacted Marie's brother, Jay, who "confirmed that the couple were married in the Las Vegas Temple of The Church of Jesus Christ of Latter-day Saints. But, like many other members of the family, he wasn't in attendance."

The Salt Lake Tribune continued:

"Holy cow," said Aaron Osmond, Marie's nephew and Utah state senator. "We were not aware [of the wedding], but we're excited for them and wish them the best."

LDS Temple marriages are called a Sealing Ceremony. The Mormon faith is one of several religions, as well as some world cultures, where what Anglo-Americans refer to as traditional marriage vows are not recited. All those phrases uttered by William and Kate last week aren't a part of a Sealing Ceremony.

To exit the Las Vegas LDS Temple following her third sealing, Marie donned the wedding dress she wore when she left the LDS Temple in Salt Lake City after being sealed to Craig the first time, a gown designed by five-time Emmy Award-winning Ret Turner and made from 35 yards of silk - with a 16-foot train.



Salt Lake City LDS Temple.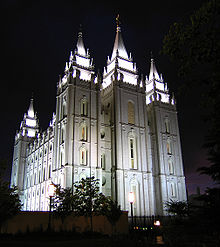 According to E-How: The LDS ceremony - "There are no bridesmaids, ushers, music or flowers at an LDS sealing ceremony. The couple and their guests meet in a special sealing room. The bride's family sit on one side of the room and the groom's on the other. The couple kneels across from each other on a special altar and holds hands, looking into each other's eyes during the ceremony. (The altar is placed between two mirrored walls so that the repeated reflections will symbolize eternity.) An LDS official called the Sealer addresses the couple, speaking to them about their commitment and its place in the church. He concludes his speech by pronouncing a ritual set of words ending with "for time and all eternity." The entire ceremony takes 30 minutes or less."

"The Reception - Many LDS couples change into "traditional" wedding clothes upon leaving their sealing ceremony and continue on to their reception. Mormons do not drink alcohol so it will not be served, but other than that an LDS wedding reception is like any other - -a celebration of marriage with family and friends. Some couples might choose to exchange rings and vows at their reception, since those are not a part of the temple sealing. Pictures are also taken at this time, since photographs are not allowed inside the temple."



Mormon Sealing Room. All Sealing Rooms look alike and all are small - holding perhaps 2 dozen people. Photo: Mormon Women.org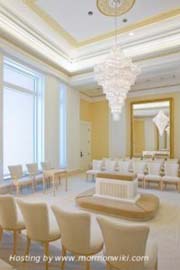 Those not permitted to witness the sealing ceremony wait in the temple waiting room during the sealing ceremony or outside the LDS Temple to greet the couple as they exit. Bridesmaids, flower girls and a traditional wedding party can be part of the reception.

Non-Mormons are permitted to visit an LDS Temple after construction but before the building is consecrated. During the 23-day open house of the Las Vegas Nevada Temple, I was one of 297,480 visitors who toured the edifice.

The sealing rooms are small, since the sacred ceremony is witnessed by only a select few who must pass strict requirements. Nearby are large bridal dressing rooms, so that the bride and the wedding party can change from their temple garments into their wedding finery to leave for their reception.

Because it is unusual to re-marry your first husband after divorcing husband number two, and wear the same dress you wore three decades earlier, Marie's return to matrimony has drawn wide-spread interest - and caused some confusion.

Marie, who can have a misleading way of speaking, is quoted by ET Online as having said she had a dress made for her third wedding but when it arrived it "wasn't right."

"I was cleaning out my garage and all of a sudden this box showed up in this pile of stuff ... and it was this dress and it was five days ago. I'm not kidding. Isn't that crazy?" she said.

Words from her mouth that beg people to form an opinion.

Although a crew of professional seamstresses feverishly worked on that gown so that Marie could squeeze into it, had that gown not been professionally and meticulously preserved, not even the magical mice in the original Cinderella could have made the dress wearable. It's not made out of canvas - it's silk, a fine fabric which both discolors and disintegrates.

That silk fabric is subject to deterioration is of such concern that the combined (NZ and Aus) conference of The Textile Institute 2009 contained a seminar on Preserving Silk. None of the experts disagree that "silk is susceptible to ageing, and the preservation . . . is of significant concern. The deterioration of silk causes embrittlement of the textile leading to splits and tears, and eventually a powdery and very friable fabric."

Even methods though to preserve silk aren't foolproof. A conference paper stated: "Light has long been considered the major cause of damage to silk, which has lead to lower light levels for displays. However, recent research on medieval tapestries casts doubt on this. Unfaded silks on the reverse were found to be in a similar deteriorated condition to the faded silks on the front. Other environmental factors are important, and circumstantial evidence implicates raised humidity (RH), although there has been little research on this factor."

In other words, if you simply throw a silk bridal gown into a cardboard box and keep it in a garage for almost three decades and then attempt to remove it - after you observe the bugs and larva, what do you think should be the next step?

And, your ordinary grocery store box isn't going to hold a wedding gown made out of 35-yards of silk with an 16-foot train. That had to be some box she discovered among "a pile of stuff."

It can be expensive to professionally preserve a wedding gown. Not everyone has Marie's bank account. Marie has a humongous fan base. With such a large following, there will be a certain percentage who would follow her anywhere and believe anything she says. If any of those women decided to ignore manufacturer's instructions on how to store a silk bridal gown, opting instead to put a box in their garage, thinking they were saving their gown for their daughter - the results could be tearfully heartbreaking.

"Embalming your wedding dress in one of those cardboard boxes with a cellophane window could be a costly mistake. No fabric should remain folded in a sealed box for years, and cellophane windows can trap damaging moisture," according to E-How.

They advise: "Lay the hem in the box first and then fold the dress accordion-style, placing crumpled tissue paper between each fold. Stuff the inside of the bodice and sleeves with crumpled tissue. Layer more tissue on top and cover with the box lid. Check the dress's condition each year. If boxed, repack so the folds are in different places"

Classy Wedding Favors instructs: "After the dress is cleaned, you will then need to store it properly. Many cleaners specialize in wedding gown preservation and can help you with this next step. They will wrap the gown in a special type of tissue paper that is acid free. Then using an acid-free box, they will store it to ensure the aging process is halted. Once the gown has been wrapped and packed, make sure you never store it in the attic, basement, garage, drawer, or trunk. Instead, you want the boxed gown to be stored within the home where temperatures remain consistent not too cold and not too hot."

What is significant is that Marie not only kept her first wedding dress, but had it properly preserved and took the gown with her every time she moved!

There was no daughter from that union that Marie might have thought would want the dress. She could have returned it to Ret Turner, donated the gown to a charity auction, given it to the Mormon Relief Society Women to cut up and turn into quilts or had the fabric used for a variety of worthwhile causes. When you divorce a guy, generally you don't want to keep the wedding dress; it would bring back too many bad memories. More than one ex-wife has dropped off her gown at a thrift store, or torn it to shreds and stuffed it into a garbage can. For Marie to have kept that gown for 29 years, including 20 married to another man, seems to indicate that a part of her has always loved Steven Craig.

Marie and her brother Donny currently star at the Las Vegas Flamingo Hilton Hotel.



RAZZLE DAZZLE! MY LIFE BEHIND THE SEQUINS Written by and Starring Miss Mitzi Gaynor. Conceived and Constructed by Rene Reyes and Shane Rosamonda. Musical Direction by Ed Czach. Musical Arrangements by Bill Dyer & Dick Benedictis and Colin R. Freeman. Orchestrations by Colin R. Freeman and Nick DeGregorio.

Mitzi Gaynor will bring her incomparable brand of showmanship back to the stage in this new theatrical production, a glittering multimedia one-woman tour-de-force of music and memories from her show-stopping life and career. For the first time, Mitzi shares personal stories, moving reminiscences and behind-the-scenes anecdotes from her life and remarkable show business career including those of starring in such classic motion pictures as There's No Business Like Show Business, Les Girls, The Joker is Wild, making the blockbuster adaptation of Rodgers & Hammerstein's South Pacific and performing in her Emmy-winning television specials and nightclub & concert appearances that secured her place as an entertainment superstar.

An intimate and affectionate love letter to that fun "razzle-dazzle" era of show business featuring Mitzi's often hilarious recollections of famous friends and costars including Frank Sinatra, The Beatles, Ethel Merman, Marilyn Monroe, Irving Berlin, Rodgers & Hammerstein, Marlene Dietrich and more.

Interspersed with dazzling television and film footage and rare personal photos, embraced in a concert setting, this two-act multimedia theatrical extravaganza from an entertainment icon.

Costumes Designed by Bob Mackie. Staging and Lighting Design by Tony Charmoli. Hair Design by Tom Carlino. Video Segments Edited by Rene Reyes and Shane Rosamonda.

Two performances only - on Saturday, May 14 at 2pm & 8pm at La Mirada Theatre for the Performing Arts, 14900 La Mirada Blvd in La Mirada, CA.

SPIDER-MAN TURN OFF THE DARK Version Number 2 gives it a spin beginning May 12 at the Foxwoods Theatre in New York City. Tickets are on sale for performances to October 2. There are even discounted preview prices. The show purportedly will officially open on June 14.

THE SCHOOL FOR SCANDAL World Premiere by Richard Brinsley Sheridan.

Directed by Barbican Artistic Associate Deborah Warner.

A timely revival of Sheridan's comic masterpiece.

A searing lampoon of a society obsessed by wit, fashion and public reputation. With its glorious cast of characters including Snake, Sir Benjamin Backbite, Lady Candour, and the Surface brothers, this is a timely revival of Sheridan's high-spirited, comic masterpiece.

Cast in alphabetical order includes: Anthony Mark Barrow - Servant; Leo Bill - Charles Surface; Laura Caldow - Maid; Jonathan Delaney Tynan - Gentleman; Adam Gillen - Trip; Cara Horgan - Maria; Alan Howard - Sir Peter Teazle; Will Joseph Irvine - Gentleman; Stephen Kennedy - Crabtree; Joseph Kloska - Carless; Aidan McArdle - Joseph Surface; John McEnery - Rowley; Harry Melling - Sir Benjamin Backbite; Katherine Parkinson - Lady Teazle; Vicki Pepperdine - Mrs Candour; Gary Sefton - Snake / Sir Toby Bumper; John Shrapnel - Sir Oliver Surface; Miles Yekinni - Servant; Matilda Ziegler - Lady Sneerwell.

The production crew includes Lighting by Jean Kalman. Set and Video Design by Jeremy Herbert. Music by Mel Mercier. Sound by Christopher Shutt.

May 11, 2011 - June 18, 2011 at the Barbican Theatre in London.

PYGMALION directed and designed by Philip Prowse.

The production was first seen at Chichester Festival Theatre in 2010, where it starred Rupert Everett, who now reprises his role as Professor Henry Higgins. He is joined this time around by Kara Tointon, who takes over as Eliza Dolittle, and Tony Award-winner Diana Rigg, who takes over from Stephanie Cole, as Henry's mother Mrs. Higgins.

Also in the cast are Peter Eyre and Marty Cruickshank reprising their roles as Colonel Pickering and as Mrs. Eynsford Hill, respectively, with Roberta Taylor as Mrs. Pearce and Peter Sandys Clarke as Freddy Eynsford Hill. Performances begin at London's Garrick Theatre May 12, prior to an official opening May 25, for a run through September 3.

CRADLE AND ALL a new comedy by Daniel Goldfarb. Directed by Sam Buntrock. Starring Maria Dizzio and Greg Keller.

To breed or not to breed...

Annie and Nate have a baby who won't sleep. Claire and Luke are losing sleep over the decision to get married and start a family. In adjacent Brooklyn Heights apartments, Daniel Goldfarb's newest and wittiest look at love, sex, commitment and parenthood unfolds and no one will rest until the truth between each of these couples is spoken.

The creative team includes: Meil Patel (Scenic Design); Mattie Ullrich (Costume Design); Ken Billingston (Lighting Design); Jill BC DuBoff (Sound Design); Hannah Cohen (Production Stage Manager) and Jillian M. Oliver (Stage Manager

Previews begin May 10 at the Manhattan Theatre Club, NYC.

CELEBRITY AUTOBIOGRAPHY the international smash hit comedy where celebrity tell-alls are acted out on stage. Created by Emmy Award-nominated writer-performer Eugene Pack and developed by Pack and Dayle Reyfel.

a variety of jaw-dropping vignettes inspired and torn straight from the pages of the most unforgettable celebrity tell-alls: from the "he-said, she-said" accounts of Burt and Loni... how Tiger Woods strokes his putter... Mr. T's acting tips…the Britney Spears Diary ... Justin Bieber's backstage confessions... the re-enactment of Tommy Lee and Pamela Anderson's courtship, to the most famous love triangle in Hollywood history – Elizabeth Taylor, Debbie Reynolds and Eddie Fisher.

Celebrity Autobiography stars Mario Cantone, Rachel Dratch, Craig Bierko, Sharon Gless, Dayle Reyfel and Eugene Pack appearing through today, May 8. Bruce Vilanch, Cady Huffman, Paul Provenza, Sharon Gless, Roger Bart and Dayle Reyfel appear May 12-15 at The Arsht Center in downtown Miami.

A MINISTER'S WIFE a new musical with book by Austin Pendleton, music by Joshua Schmidt and lyrics by Jan Levy Tranen, based on Candida by George Bernard Shaw, conceived and directed by Michael Halberstam.

The cast features Liz Baltes, Kate Fry, Drew Gehling, Marc Kudisch and Bobby Steggert.

Based on George Bernard Shaw's Candida, A MINISTER'S WIFE explores the fires burning beneath the surface of a seemingly ordinary marriage. The Reverend James Morell (Marc Kudisch) and his wife, Candida (Kate Fry), are happily married – or at least they think – until a romantic young poet, Marchbanks, (Bobby Steggert) enters their life. The musical had its world premiere at Writers' Theatre in Glencoe, Illinois.

Sets are by Allen Moyer, costumes by David Zinn, lighting by Keith Parham, sound by Scott Stauffer, orchestrations by Joshua Schmidt, and musical direction by Richard Carsey. Tim Splain is the conductor.

A Minister's Wife opens on Sunday, May 8, at the Mitzi E. Newhouse Theater in New York City.

COLLEGE written and narrated by James Franco who is pursuing a degree in filmmaking at the Tisch School of the Arts.

The subject matter is close to home - about Franco producing a play.

Collage is billed as a multi-media piece featuring live dance, theatre, music and poetry. Choreography by Chloe Kernaghan from her show at Sixes and Sevens, acting by students from Stella Adler studios, poetry by Frank Bidart and narration by Franco.

The audience also will play a role: They will be given cameras to film the show.

Opens May 8 at the Stella Adler Studio in New York City, running through May 15.


WHO'S WHERE


RADIO 1 BIG WEEKEND the two-day festival, which is Europe's biggest free ticketed event, will feature Lady Gaga, Foo Fighters, The Black Eyed Peas, Bruno Mars, Chase & Status, Ellie Goulding, Jessie J, My Chemical Romance, The Script, Katy B, Professor Green, The Wombats, Taio Cruz, Olly Murs Tinie Tempah and Nicole Scherzinger. Carlisle Airfield, England on May 14-15.

NSO POPS with conductor Marvin Hamlisch will move audiences to a Latin beat with the help of Tito Puente Jr.'s rhythms and the sensational Jon Secada on the microphone. May 12 - 14, 2011 at the Concert Hall of the Kennedy Center in Washington, DC.

PERFECT HERMANY: JASON GRAAE SINGS JERRY HERMAN with musical direction by John Boswell, and directed by Lee Tannen. In this special one-night-only performance, Graae will sing selections from Jerry Herman's shows, including Hello Dolly, Mame, La Cage aux Folles, The Grand Tour, Mack and Mabel and more. Saturday, May 14, at The Colony Theatre, in Burbank, CA.

JAMES TAYLOR performs at Carnegie Hall in NYC on Monday, May 9.

ERIC CLAPTON has gone across the pond for a show Monday, May 9, at The 02 in Dublin, Ireland. On Tuesday he's in the spotlight at the Odyssey Arena in Belfast. Thursday he's on stage at the S.E.C.C. In Glasgow and on Saturday he takes to the stage of the International Arena in Cardiff, Wales.

STEVE MARTIN who has earned four Grammy Awards for his bluegrass albums, brings his banjo and the bluegrass band the Steep Canyon Rangers to Joe's Pub in New York City for performances March 15-17.

PAUL SIMON has a two nighter opening Tuesday, May 10 at the Beacon Theatre in New York City.

SADE AND JOHN LEGEND perform Thursday, May 12, at the Festhalle in Frankfurt.

LINDA EDER opens a three night gig with the Boston Pops on May 11 at Symphony Hall in Boston.

ADELE the top selling recording artist has brought her tour to America with a show Thursday May 12, at the 9:30 Club in Washington, DC. On Friday she performs at the Electric Factory in Philadelphia. Next Sunday, May 15 the tour stops at the House of Blues Boston Presented by Foxwoods Resort.

JAMES BLUNT is in the spotlight Tuesday, May 10, at the Centre For Performing arts in Vancouver. Saturday's performance takes place at the Brisbane Entertainment Centre in Boondall, Australia.

NNENNA FREELON entertains May 10-14 at Feinstein's at Lowe's Regency in New York City.




FINAL OVATION


ARTHUR LAURENTS

Arthur Laurents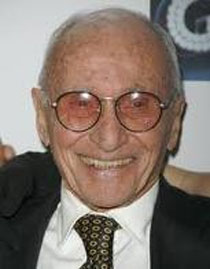 playwright, librettist, stage director, and screenwriter who was a two-time Tony Award winner, died May 5, 2011 at his Manhattan home. He was 93.

After graduating from Cornell University, Laurents took an evening class in radio writing at New York University. His instructor, a CBS Radio director/producer, submitted his script Now Playing Tomorrow, a comedic fantasy about clairvoyance, to the network, and it was produced with Shirley Booth in the lead role. It was Laurents' first professional credit. The show's success led to him being hired to write scripts for various radio shows, among them Lux Radio Theater.

Drafted into World War II, he was assigned to the U.S.Army Pictorial Service film studio in Astoria, Queens, where he wrote training films. He later was reassigned to write plays for Armed Service Force Presents, a radio show that dramatized the contributions of all branches of the armed forces.

Following his discharge, he began a career as a playwright, penning Home of the Brave, a drama about anti-Semitism in the military. The play opened on Broadway in 1945 and ran for 69 performances. He then penned The Bird Cage in 1952 and followed that with his first major Broadway hit, The Time of the Cuckoo. Laurents later would adapt it for the 1965 musical Do I Hear a Waltz?

In 1957, he teamed up with composer Leonard Bernstein, choreographer Jerome Robbins and lyricist Stephen Sondheim on West Side Story. His musical Gypsy- chronicling the volatile relationship between striptease artist Gypsy Rose Lee and her mother - is considered to have the greatest book of a musical comedy.

In 1962, Laurents directed I Can Get it for You Wholesale, which helped to turn then-unknown Barbra Streisand into a star.

Laurents won a Tony 1967 for his musical Hallelujah, Baby! and directed the drag queen spectacle La Cage aux Follies in 1983 to another Tony win.

He wrote the screenplay for The Way We Were, a 1973 romantic drama starring Barbra Streisand and Robert Redford and based on Laurents' experiences at Cornell.

Last Friday. May 6, the marquees of Broadway theatres in New York were dimmed in his memory.

Charlotte St. Martin, Executive Director of The Broadway League, said, "The legendary works of Arthur Laurents are responsible for creating many generations of star-struck individuals, myself included! His name is synonymous with the great Broadway musicals and plays of our time. We have been enjoying his shows for over fifty years - including the very recent revivals of West Side Story and Gypsy, which he directed - and thankfully his talent will live on in future productions. Our thoughts go out to his friends, family, and fans."

According to The Broadway League "In 2010, he established an award for emerging playwrights, to be funded through the Laurents-Hatcher Foundation, a tribute to his relationship with Tom Hatcher, an aspiring actor when they met. The couple remained together for 52 years until Hatcher's death in 2006. Mr. Laurents' play Two Lives was written about their relationship. The first recipient of the Laurents-Hatcher award was named only weeks ago: Jeff Talbott, an unproduced New York City playwright. His play, The Submission, will be presented by Off-Broadway's MCC Theater in the fall."

"In recent weeks, Mr. Laurents had finished work on a new play, and had concluded negotiations with a major studio for a new feature film version of Gypsy.

Prior to his death Laurents had made it known that he specifically wanted his obit to end with: "he was predeceased by his partner, Tom Hatcher, with whom he had lived in happiness for more than 50 years."

JACKIE COOPER actor, producer, director, died May 3, 2011. He was 88.

At the age of nine he was the younger performer to have been nominated for an Academy Award for Best Actor in a Leading Role, for his part in the 1931 film Skippy.

As an adult the former Our Gang cast member made a successful transition to acting on television and in the movies.

He made his Broadway debut in the drama Magnolia Alley, which closed after only a few performances but earned him good reviews and helped establish him as a stage actor.

The same year, he was signed to play Ensign Pulver in the road company of the hit Broadway play Mr. Roberts, followed by playing Pulver in the London company.

Returning to Broadway in 1951, Cooper appeared with Janis Paige in Remains to Be Seen.

In 1955, he returned to Hollywood to star in "The People's Choice," a situation comedy in which he played Socrates "Sock" Miller, a government naturalist and city councilman in love with the mayor's daughter. The series, which he co-produced and directed, ran for three years on NBC. It is best remembered for its gimmick: Cooper's character had a pet basset hound, Cleo, whose wry observations could be heard by the TV audience. Cooper followed up that with another series, Hennesey, a comedy-drama in which he played Lt. Chick Hennesey, a young Navy medical officer. The show, on which he served as a producer and the primary director, ran on CBS from 1959 to '62. In 1961, Cooper, who had been in World War II, was commissioned a lieutenant commander in the U.S. Naval Reserve, and he served for many years.

From 1964-69, Cooper was vice president of program development at Columbia Pictures Screen Gems TV division. He was responsible for packaging series such a Bewitched, I Dream of Jeannie, The Flying Nun and the daytime soap opera Days of Our Lives and selling them to the networks. He reportedly cast Sally Field as Gidget.

He won his first Emmy in 1974 for directing an episode of M*A*S*H and his second Emmy in 1979 for directing the pilot episode of The White Shadow, starring Ken Howard. In 1981, he directed fellow former child star Mickey Rooney in a TV movie, Leave 'em Laughing, the story of a man who took in 37 homeless children in Chicago.

Cooper was married three times: to June Horne (1944–1949), with whom he had one son, John "Jack" Cooper III (born 1946); Hildy Parks (1950–1951); and to Barbara Kraus from 1954 until her death in 2009. Cooper and Barbara had three children - Russell (born 1956), Julie (1957–1997) and Cristina (1959–2009). Besides his son John, Cooper is survived by his son Russell.








Next Column: May 15, 2011
Copyright: May 8, 2011. All Rights Reserved. Reviews, Interviews, Commentary, Photographs or Graphics from any Broadway To Vegas (TM) columns may not be published, broadcast, rewritten, utilized as leads, or used in any manner without permission, compensation and/or credit.
Link to Main Page
---
Laura Deni



For the snail mail address, please E-mail your request.
CLICK HERE FOR COMMENT SECTION