! >
Broadway To Vegas
  SHOW REVIEWS     CELEBRITY INTERVIEWS     GOSSIP     NEWS 
CIGARETTE BUTTS AND CHOCOLATE WRAPPERS

As small child eccentric tunesmith Beck, along with his sister Channing were given plastic shopping bags. They walked Sunset Blvd in Los Angeles with their grandfather picking up cigarette butts. When Beck had collected three bags full his grandfather glued hem together.



AL HANSEN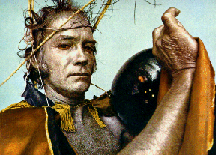 The stately Cheekwood Museum of Art in Nashville will stage an exhibit of artistic works by both unorthodox pop artist Beck and his grandfather, noted artist Al Hansen, titled Playing With Matches, opening October 28.

Beck Hansen, the creative catalyst behind the groundbreaking 1996 album Odelay and the hit single Loser, has been invited to attend the show's members-only preview Oct. 27. The next day, his mother, Bibbe Hansen, is scheduled to participate in a public panel discussion and oversee an original "happening" -- a sort of spontaneous interactive performance -- in the style of the grandfather.

Hansen is best remembered for anti-traditional work, including that sculpture of cigarette butts that was inspired by Venus, the Roman goddess of love, and a work fashioned from Hershey bar wrappers.

Hansen thought Hershey bars were a phenomenon because they didn't advertise and were highly successful. He intended to make the Hershey Bar wrapper his signature piece and began a series of collages with words cut from Hershey Bar Wrappers. The first half dozen also had Charlie in the name such as Charlie Chaplin and Charlie Chan.

Hanson was born in Richmond Hill, Borough of Queens, New York City in 1927, the son of a crane operator who drove his crane home every night, parking it in the yard of the house.

Interested in art as a toddler he copied what he saw in the newspaper, simultaneously teaching himself to read, reportedly Pinocchio being his favorite. Upon entering PS 55 he was the only tot who could both read and write and was an expert in spelling. When he cut class because he preferred to be on the sidewalk drawing pictures his mother defended him and bought him more crayons.

He left Avenue 101 to join the US Air Force, serving as a paratrooper in World War II and was honorably discharged. During his time with the Army Of Occupation in Frankfurt, Germany, he pushed a piano off the top of a 5 story bombed out building. Later, back in New York City and all over the world, he performed this act many times.He later titled it "Yoko Ono Piano Drop" after his friend and contemporary.



Hansen found Warhol with two bullets in the stomach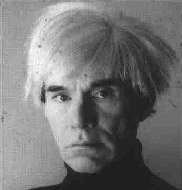 As an early member of the Fluxus Art Group his pieces were performed at several early international Fluxus Festivals. His pioneering work in the fields of "performance art" and "Happenings" is well documented. In 1965 he wrote the seminal performance art book, "A Primer of Happenings and Time Space Art" published by Something Else Press.

He explained a "happening" as follows: "If you turn on a flashlight while looking for your keys, that's nothing. When you turn a flashlight on and off 50 times on a stage, that's art."

As a habitu' of Andy Warhol's Factory, he was both influenced by and influenced the 1960's pop art movement. Hansen is also the man who in June, 1968 was walking into Andy's studio as Valerie Solanis of SCUM The Society to Cut Up Men, smelling of gun power. Upon entering the studio Hansen found Warhol on the floor with two bullets in his stomach. He lived.



A 1998 mixed media titled Special Police by Hansen's grandson Beck

In addition to Performance Art, Hansen created thousands of collages mainly based around the image of the Venus Figure. Eternally fascinated by the Venus of Willendorf, he strove to continue the connection between those first primal art instincts and his own body of work.

In the early 1980's Hansen moved to Cologne, Germany because an art gallery liked his work, and established an art school - the Ultimate Akademie and continues to be an integral part of the world's premier art city.

He returned to Brookhaven, Long Island when his father became ill staying to nurse the man until he died before returning to Germany.

It was in Cologne on June 21, 1995 that Hansen died of a heart attack. He was 67. A memorial service in Cologne was followed by a Viking funeral complete with a burning ship.

The Beck and Hansen art exhibit is Oct. 28-Jan. 7, 2001 at Cheekwood.

Terri Smith, who's coordinating the visit of this international touring show from Canada, said the focus is on the "cross-pollination" between the styles and the generations of the radical, Dada-inspired grandfather and the grandson, a highly eclectic artist many fans consider a genius.


CHECKS THAT CLEAR AND PROMOTION, PROMOTION, PROMOTION

On July 17 a musical stage adaptation of the classic movie White Christmas has its world premiere at the MUNY Theatre in St. Louis. Broadway and cabaret star Karen Mason stars in the roll that Rosemary Clooney immortalized in celluloid.

In last week's column Mason discussed this new musical. ( See Broadway To Vegas column of July 2, 2000 ) Her interview continues as she delves into the world of Broadway.

How does a person become a Broadway star?

"Number One - go to Los Angeles first. I think a lot of the people who are getting the parts, go there, get TV series and then you can write your own ticket for pretty much of anything," she ruefully laughed.

"If you feel that you just have to be in New York, which is what I've always felt, then come here and just do it. Or wherever you are, just do it," said Karen referring to performing. "If you're in your home town, just keep working, keep singing, keep trying. Keep learning. And, then when you come to New York just find ways that you can keep your skills sharp. Keep learning. Audition, sing whatever and wherever you can. Do benefits, and help out, be around people who know things. The more you are around that and the more you can learn from people who have been doing it a long time, the better off you'll be. I think you learn from doing."

"Sitting in a class room, I don' think, is as helpful to you as putting yourself on the line. When I think of the things that I though the business was all about when I first started and what the reality of the business is, I wish I had been smarter earlier," she confessed.

"I think I thought that if you were really talented that you would be rewarded. And, I think it's not quite that way. I think there are a lot of talented people who don't have the business skills to protect themselves."

Mason suggests constantly auditioning, working anywhere with virtually any project and then taking some classes in business and public relations management.

"Yes!" she exclaimed. "Study how to sell yourself. The market demands that you be more than talent that other people take care of. You really need to know more about the business and promotional aspects."

"Yes, you need to have those skills You want talent to be the thing that will sustain you your whole life, but I don't think necessarily that is totally the way it is. I think marketing is a skill, a talent that I wish I had developed earlier."

"What that does it puts you into then a different category. And, perhaps will get you around people who can take you to that next step.of marketing with people who know more about But, it is about putting yourself in the right arenas, and knowing how to market that."

"Recently I've been doing a lot of shows where you're asked to learn one or two new songs - brand new songs - for just one night. That is hard, very hard. You find yourself spending all of your time just going over the lyrics - over and over and over. But, I do really think that is keeping my head sharp. It's forcing me to really keep active."

And what does Karen demand in her contracts?

"Checks that will clear," she chortled. "I've had too many of them that have bounced in my lifetime."

Karen doesn't necessary think it's harder for a woman - just that men and women have different problem arenas.

"I think it's a hard grind for everybody. Men have different pitfalls. But for women - certainly - the idea of buying into that you have to be what everyone thinks of as a stereotypical beauty to be successful, I think is a pitfall. As a result I think women are constantly beating themselves up about how they look. It's more so in show business because we constantly know those are the standards by which we are judged.All of the women in the United States are always judging themselves by magazines."

To stay in performing readiness Karen, who has guest-starred on Law & Order and As the World Turns and well as seeing her recording of Hold Me featured on Guiding Light win the 1998 Daytime Emmy Award for Outstanding Original Song, takes care of herself.



Karen won an Outer Critics Circle Award for her role in And The World Goes Round.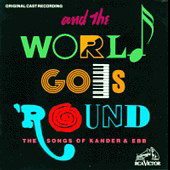 "I love to read and I read all of the article I can find about decibel levels I always have ear plugs with me. When my husband and I go see friends perform, we put on ear plugs. It doesn't drown out the sound it just protects my ears. Can't stand the noise. It just gets me. I prefer to be able to hear it and work harder to hear it than to have it blasted at me. "I need to take care of my hearing and to take care of my voice. I don't think I"m probably as crazy as some about taking care of your voice. Some people take it to a kind of a crazy neurotic level.
"But, you do have to protect it. And, you can't see it. It's very tiny, and it's affected by all kinds of stuff. If it's humid, if it's dry. The stress and the pressure. I carry all of my strain in my shoulders. It goes directly there. That couldn't be worse. To sing you really have to be relaxed and yet in control of muscles And, if you're feeling at all tired, or under stress it's going to go to the place that you're the most vulnerable."

Karen had the honor of both opening and closing the acclaimed ASCAP Sunday evening cabaret series at Rainbow & Stars - being a last-minute sub for an ailing Rosemary Clooney, the woman whose role as Betty in White Christmas Mason now re-creates on stage.

"She's always seemed like such a real person," said Mason commenting on Clooney. "She still has the chops. She still has that ease, which I think is so incredible. When I was doing Sunset I went to see Rosemary Clooney at Rainbow and Stars I had done Rainbow and Stars maybe a month and a half before. She had some of the music in front of her, she had difficulty getting on stage, never moved and yet, you were riveted."

As for Mason she juggles being married to songwriter/record producer Paul Rolnick with a hectic professional schedule. "You just make it happen," responded Karen about her marriage."You try to accommodate and take care of the people around you who need you. You and your partner work it out. The good thing is my husband does not travel a lot. He's a songwriter/record producer, so he is more of a home body, and he understands the business. I don't have to explain too much to him."

What he doesn't understand are his wife's shopping habits. She's a QVC addict.

"I love to shop and I love bargains!" she laughed. " There is nothing better than a bargain. I do love a sale. I used to buy stuff that I had no use for, but my husband had kind of clamped down on that. I am sort of like that a channel surfer who buys. I'll buy a case of glue dissolver saying 'We really need that stuff that dissolves glue because the price is so good.' My husband said that he is going to put a parental block on the TV."


MONTREAL LAUGH A LOT

Comedy festivals are springboarding comedians into livelihoods. In many aspects the various comedy fests have replaced comedy clubs as the best avenue towards securing an agent or a paying gig. From wanna be laugh makers to the big yuks themselves the funny folk are heading to Montreal.Tim Allen, William Shatner, King of Queens star Kevin James, Monty Python's Eric Idle and Family Feud's Louie Anderson are among the stars participating in Montreal's 18th edition of the Just for Laughs Comedy Festival July 13-23.



TIM ALLEN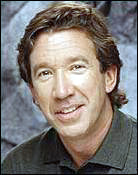 More than 1 million people attended last summer and the event remains one of the key laugh festivals on the continent.

James, former Montrealer Shatner, Idle, Allen, and Anderson will each be hosting galas at the St. Denis Theater, which are the main comedy showcases at the festival. Other performers slated to appear at the festival include D.L. Hughley from The Hughleys, Saturday Night Live alumni Jim Breuer and Rich Hall, Bob Saget, Kathy Kinney from The Drew Carey Show, U.K. comic Harry Hill, former Conan O'Brien regular Andy Richter, Pauly Shore, pop star Kim Stockwood, Bobby Slayton, Dom Irrera, Andy Kindler, Jeff Rothpan and Suzanne Westenhoeffer.

Christopher Titus will perform his solo show Norman Rockwell Is Bleeding, which inspired his hit midseason Fox sitcom Titus. In addition, San Francisco puppeteer Basil Twist will bring his underwater puppet/music/dance show, Symphonie Fantastique, for a 20-day run at the Monument National. The festival will also host the North American premiere of Gumboots!, a South African-flavored song-and-dance show featuring a cappella singing and contemporary percussion.

The festival has an expanded film section this year following its recent merger with Montreal genre-film festival Fantasia. The film programs include short-picture section Eat My Shorts; a showcase of nine features,Comedia; and Comedy Classics, which will this year pay tribute to Buster Keaton. There is also a parallel French-language festival, Juste Pour Rire, with performances by Franco funny men Anthony Kavanagh, Michel Boujenah, Normand Brathwaite, Martin Petit, Mario Jean, and Maxim Martin.


SWEET CHARITY


JULIE, ANDREWS, CHEVY CHASE AND ALEC BALDWIN served as auctioneers at yesterday's benefit for the Bay Street Theater in Sag Harbor at a party catered by Robbins, Wolfe Eventeurs.
Among the prizes gaveled down were a walk-on part in the Broadway production of The Full Monty, a phone machine message recorded by Andrews, a happy-birthday song phoned in from Nathan Lane, and a pair of Harry Winston pave diamond earrings.

ACTOR'S FUND OF AMERICA'S PHYLLIS NEWMAN'S HEALTH INITIATIVE will benefit from a performance of Clare Booth Luce's The Women, Monday, July 17 at the Lucille Lortel Theatre, NYC.

The all star cast includes: Bebe Neuwirth as Joan Crawford's "Crystal," Eartha Kitt as Mary Boland's "Countess De Lave," Sandy Duncan as Marjorie Main's "Lucy," Karen Ziemba as Norma Shearer's "Mary," Rita Moreno as Phyllis Povah's "Edith," Hazelle Goodman as Joan Fontaine's "Peggy," Elaine Stritch as Rosalind Russell's "Sylvia" plus Tsidii Le Loka as the English nanny plus Lea DeLaria, Dee Hoty, Holland Taylor, Mary Testa and Phyllis Newman in smaller roles.

With all that talent on board the tickets are dirt cheap at only $250, which includes a pre-theatre cocktail party. If you don't have your reservations - shame.



Broadway To Vegas is supported through advertising and donations. Priority consideration is given to interview suggestions, news, press releases, etc from paid supporters. However, no paid supporters control, alter, edit, or in any way manipulate the content of this site. Your donation is appreciated. We accept PAYPAL. Thank you for your interest.



TOMMY The Who's classic 1969 rock opera has opened a three week run at the new Renaissance Center in Dickson, Tenn. The facility is promoted as having world class technological capabilities and this production is expected to test the use of those technical bragging rights.

Since the stage musical version opened on Broadway in New York in 1993, it has toured throughout the United States and Europe.

Written by guitarist and composer Pete Townshend, Tommy started as a rock opera about Tommy Walker who goes through a traumatic experience and falls into a form of autism. It evolved into a movie, for which Townshend received an Academy Award nomination for the film score Tommy then became a ballet, before Townsend adapted the story for Broadway.

This production involves 15 moving lights, 24 color scrollers, a live 5 piece rock band on stage, four pit singers and a chorus and five projection screens -- each 8-feet-tall and 10 feet wide. The center also rented 40 extra lighting fixtures, video equipment all under the direction of technical director Tom Stanziano, who was challenged with getting pyrotechnics to blow up a pinball machine.

Production director is Leo Sochocki.



PETER TOWNSHEND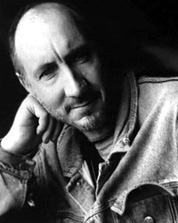 The most unique and challenging aspect of putting the show together will be combining random clips of 3D animation effects, prerecorded segments, slide images and live performance images to display on the five projection screens during the performances.

Though projection screens were used for Broadway performances of Tommy, no one has taken the production to the technological degree that Sochocki has, by making the on-screen images interactive with the live performance.

The Renaissance Center's animation department is also working on the project to help create the visual combinations. One on-screen sequence involves an animation of a coin dropping into a pinball machine and the ball bouncing around, juxtaposed with live images of Tommy on stage as he gets pushed around by thugs Pinball Wizard, I'm Free and Sensation symbols of 1960s rock music.

Stan Stanley, will be playing adult Tommy Walker, Drew Furr, 11, will play 10-year-old Tommy. The production runs through July 23.

LOVE, JANIS featuring the songs of Janis Joplin opens at The Bay Street Theater, Long Island on July 19 with a run through Aug. 6.

GODSPELL Thirty years after the dawn on rock musicals on the legitimate stage, a contemporary rock production of Godspell returns off-Broadway. With music and new lyrics by Stephen Schwartz, directed by Shawn Rozes, costumes by William Ivey Long, and produced by NET Theatrical Productions, Godspell performances begin July 18 at the Theatre at Saint Peter's Church NYC. The cast that will be singing Day By Day, Save The People and Learn Your Lessons Well includes Shoshanna Bean, Tim Cain, Catherine Carpenter, Will Erat, Barrett Foa, Lucia Giannetta, Capathia Jenkins, Chad Kimbal, Leslie Kritzer and Ellseo Roman.

HIGH INFIDELITY starring John Davidson and Morgan Fairchild at the Promenade Theatre, NYC begins July 14 with the official opening set for August 3rd.
Written by John Dooley, directed by Luke Yankee, produced by Jennifer Smith Rockwood, the plot around centers around the body politic baring its behind. It's no longer politics-as-usual for a U.S. Senator and his wife when they are forced by party leaders to participate in marriage counseling in order to salvage their relationship and his floundering presidential campaign. The spirited session takes on a life of its own when the therapist dupes them into dropping their facades, dropping their drawers, facing facts and eventually themselves.

John Davidson, who has starred on Broadway, is making his off-Broadway debut in this production. Morgan Fairchild recently starred in the Pulitzer Prize winning play Crimes of the Heart directed by Gary Marshall at the Falcon Theatre in Los Angeles. She last appeared on the New York stage in the 1981 Playwrights Horizon production of Geniuses. The five member cast also includes Neil Maffin, J.C. Wendel and Daniel Ziskie.


WHO'S WHERE


LORRIE MORGAN will be performing at the Grand Palace in Branson, Mo on July 13, August 17, and September 4th.

RON SEYKELL the Bistro award winning singer returns to Don't Tell Mama, NY on July 11th. His show will not only feature his voice but his irreverent sense of humor when he channels the great Luvinia Johnson - Broadway "dresser to the stars" - with all the dirt on Rosie, Oprah, Calista, and Hillary. Ron's music director and arranger for this engagement will be Lenny Babbish and his director will be Scott Barnes. In addition to his cabaret appearances Seykell has appeared as Marius in the long running musical Les Miserables and portrayed Jan in the musical Metro. The open ended engagement at Don't Tell Mama has Ron performing Tuesdays through Fridays.

RICKIE LEE JONES, RICHARD THOMPSON, AND SHAWN COLVIN perform at the Pines Theater Summer Music Festival in Northampton, Mass. on Friday, July 14.

MOISES KAUFMAN author of The Laramie Project received a fellowship from Robert Redford's Sundance Institute, So, Kaufman is in Utah turning his hit play into a movie script. Reports are that Barbra Streisand's BarWood Production Company is interested in the movie rights.

FAITH PRINCE will star in the revival of Bells Are Ringing which opens Nov. 3 in Pasadena. She'll be sensational in the part. Take it to Broadway and Faith and is up for another Tony.


THIS AND THAT


SOPHIA LOREN as beautiful as ever back in Las Vegas to attend the first year anniversary party of the opening of the Venetian Hotel. She likes the place. She also attended the opening.

ROBERT GOULET rose to superstardom playing Sir Lancelot in Camelot on Broadway and it seems the role made a cutting edge impression on singer. Ever since he pretended to be a knight in shinning armor, swinging that sword around, the Tony Award winner has collected the objects and we don't mean tomato slicers. Goulet has a collection of authentic, museum quality, expensive swords - the kind those round table dudes actually attempted to use. Goulet keeps them in his Las Vegas home, so all guests need to be "on guard."


Mention BROADWAY TO VEGAS for Special Consideration
Call (800) 942-9027









Next Column: July 16, 2000
Copyright: July 9, 2000. All Rights Reserved. Reviews, Interviews, Commentary, Photographs or Graphics from any Broadway To Vegas (TM) columns may not be published, broadcast, rewritten, utilized as leads, or used in any manner without permission, compensation and/or credit.
Link to Main Page
---
Laura Deni


CLICK HERE FOR COMMENT SECTION