! >
Broadway To Vegas
  
  REVIEWS  INTERVIEWS COMMENTARY NEWS

| | |
| --- | --- |
| | |
MUSTARD MUSEUM HAS ROYAL CELEBRATION - - ON YOUR TOES CD REVIEW - - BABY IT'S YOU GETS SUED ON OPENING NIGHT - - THE STORY OF BRITISH JAZZ - - 120th ANNIVERSARY CARNEGIE HALL GALA - - KATE MIDDLETON AND GRACE KELLY WEDDING GOWNS HAVE WRONG COMPARISONS - - HUGH LAURIE SINGING HIS MUSIC - - SMITH CENTER IN LAS VEGAS WANTS BROADWAY - - DONATE . . . Scroll Down



MIDDLETON, MUSTARD AND THE ROYALS
The National Mustard Museum in Middleton, Wisconsin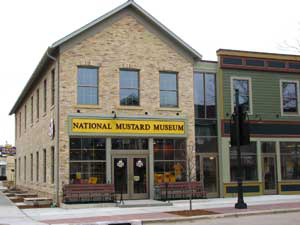 The Royal Wedding, mustard and Middleton.

It's not every day that you can connect the three. Last Friday that happened.

Those who didn't make it across the pond to see the fairytale romance of Prince William and Catherine Elizabeth Middleton culminate in those two balcony kisses, had the opportunity to get up close with Mustard Royalty in Middleton - the one in Wisconsin.

The Mustard Museum, located in Middleton has closely followed the romance and marriage of William and Kate. They staged their own An Evening of Mustard Royality on April 29. Their royal event included the awards ceremony for the 2011 World-Wide Mustard Competition, and an Iron Mustard Chefs Challenge which was won by Chef Jim Doak, the corporate chef for Culver's. There was also music by Quartessence, magic and mirth by the Duchess of Mustard, and the opportunity to meet some of the country's premier mustard makers.



Always perfectly put together, Queen Elizabeth selected a bright mustard colored suit and matching hat for the wedding of her grandson Prince William. In this photo she is seen arriving at the Abbey, greeting The Very Reverend Dr John Hall, Dean of Westminster Abbey, whose vestment is also a shade of mustard. Her Majesty selected her own hue, while his shade is dictated by the Church of England. Photo: pool/Getty released through Royal Press Office.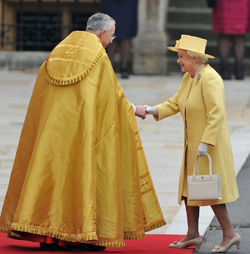 "April 29 is also the date of the Royal Wedding between Kate Middleton and Prince William," observed lawyer turned Mustard Museum curator and founder Barry Levenson who then fallaciously added, "I hate to snub the Royal Family but I had to miss the nuptials. As much as I treasure my friendship with Kate, the Middleton I love most is right here in Wisconsin."

However, Levenson was so hoping that William and Kate would select Middleton as their honeymoon destination.

"So you don't think Will and Kate are coming? Weather is supposed to be fabulous here on Friday," pleaded Levenson when Broadway To Vegas told him that we didn't think Middleton was the secret honeymoon destination.

A couple has even gotten married at the Mustard Museum and Levenson was in a jump start position to assist at the royal nuptials should the roof on Westminster Abbey have sprung a leak or Dr. Rowan Williams, the Archbishop of Canterbury found something better to do than officiate at that wedding.

"Yes, a couple did get married in the museum. I did not perform the ceremony but I can." Levenson's union uniting is legal through his "Universal Life Church ordinance minister - and I did perform one wedding but it was off-site."

Levenson has a certain whimsical charm. It's easy to get covered in his mustard enthusiasm. Broadway To Vegas even suggested that they construct a wedding cake out of deli meats, cover the layers with mustard, put a bride and groom on top and have a couple dressed as William and Kate - at least a sash and tiara - cut the mustard cake and serve sample slices to the crowd.

The fact that Kate Middleton's father-in-law grows the seeds that are in some mustards sold at the Mustard Museum in Middleton, is not lost on Levenson.

The museum sells Tracklement's Mustards. That's the British firm located down the road from the father of the groom's Duchy Home Farm at Highgrove. Their mustards have won The Great Taste Awards, which are regarded as the Oscars of the Food Industry and it is the UK's largest independent evaluation of fine food and drink.

From Prince Charles' Duchy Farm website, regarding their winning of food gold medals - "Our other gold medal winner is made using mustard seeds which are grown at the Duchy Home Farm at Highgrove before being taken down the road to Tracklements, the Wiltshire producer who makes all our condiments. We use two kinds of mustard seed for our Wholegrain Mustard with Honey - white mustard which sets your nose tingling and brown mustard which makes your tongue hot. To avoid any loss of flavour the seeds are immediately combined with cider vinegar, honey and spices and then mixed by hand using wooden paddles. The result is our spectacular mustard made from a recipe that dates back to the 17th century."

Duchy Farms mustard seeds are used in various products made by Tracklements. The Mustard Museum also sells just about every kind of mustard you can vision and a few you never thought possible.

There is K.L. Keller's Black Truffle Mustard, Sprecher Root Beer Mustard and Noyo Reserve Merlot and Chocolate Mustard.

In case you've never heard of it, Middleton is the town, which in July 2007, CNN/Money and Money magazine called the best place to live in the United States.

Levenson, 62, lives in alternate universes.

He grew up in Worcester, Mass., and began his graduate education in economics but switched to law, practicing for fifteen years. A former head of the Criminal Appeals Unit of the Wisconsin Department of Justice, when he isn't slathering mustard on anything that can't run, he's an Adjunct Professor at the University of Wisconsin Law School teaching - appropriately enough - Food Law.

"Our everyday encounters with food are not without profound legal implications," states the university registration information. "This course explores all aspects of the emerging specialized area of food law. These involve application of a myriad of principles from different disciplines, including constitutional law, torts, intellectual property, and administrative law. The course will also help students develop their brief writing and oral advocacy skills."

The seed for creating the world-famous Mustard Museum involved Levenson experiencing a life altering event, the significance of which can only truly be appreciated by a baseball fanatic.

On October 28, 1986 Barry Levenson watched in horror as his beloved team, the Boston Red Sox, lost the World Series. At 2:30 a.m., attorney Levenson, distraught and sleepless with tears streaming down his face, sought solace in an all-night grocery store. As he pushed his shopping cart through the deserted aisles, he found himself in the mustard section. Then those Field of Dreams voices started calling to him - "If you collect us, they will come."

While he now concedes it "was kind of nuts to be crying because of a baseball game," when he left the store the grocery bag he carried, filled with lesser-known brands of the condiment, contained the first artifacts of what would become the now world famous Mustard Museum.

Established in 1992, the National Mustard Museum focuses on an important mission, to educate the public about the long and storied history of mustard. It holds the world's largest collection of mustards and mustard memorabilia. "We are a serious museum," says Levenson. "We just happen to take a fun approach to it."

In 2002, the museum was showcased on the Food Network television series, Unwrapped. The museum and its curator have also been featured on National Public Radio. Levenson appeared on To Tell The Truth. Only one of the show's panel, comedian Paula Poundstone, cast a correct vote for Levenson. He was also cut and then banned from David Letterman after the late night host ignored Levenson's warnings to be cautious when sampling a fiery horseradish mustard.

Levenson recalls the event during his speeches to numerous organizational gatherings.

"He put a giant spoonful in his mouth, and the next minute he was on the floor screaming. I was edited out. He couldn't cut the mustard."

Visitors to the Mustard Museum are admitted free to the famed Mustardpiece Theatre where productions of Mustard: The Spice of Nations, is shown daily on a big screen TV. Travel the globe to the mustard fields of Canada, the sausage carts of Germany, the elegant restaurants of France, and to England's venerable Colman Mustard Company.

The grand old Theater has also been host to many Poupon U mustard musicals over the years, including: The Sound of Mustard, The Phantom of the Museum, Les Moutardes, Hello, Dollop!, Curator on the Roof, Annie Get Your Bun, and unforgettably, The Full Mustard.

There has only been one instance where his sense of parody wasn't appreciated.

"The Sound of Mustard postcard we have was the cover of our catalog about ten years ago. We have never had any problems regarding possible copyright infringement," he told Broadway To Vegas.

"Technically speaking, what we did here and have done in other catalogs and materials is parody. Parody is protected under the First Amendment, so long as it is done correctly," he elaborated. "I am confident that what we have done is okay. The seminal case on parody is Campbell v Acuff-Rose Music, 510 U.S. 569 (1994), the U.S. Supreme Court case that upheld a parody of the song Pretty Woman.

"That is not to say that someone bigger than you won't make life difficult by sending the lawyers after you. The only instance that happened was when we received a letter from lawyers for the Museum of Modern Art demanding that we cease and desist distributing our catalog that parodied works of art and was entitled "Museum of Mustard Art" or MOMA (not MoMA, as the New York Museum spells it). Although I believe this was protected parody, the letter came to us about a week before that catalog was replaced by another catalog - a moot point. We ceased and desisted because the catalog was done."

Levenson has been described as having "a delicious sense of humor" - and he does. He's a hybrid lawyer/Willy Wonka.



Habeas Codfish by Barry M. Levenson is an entertaining and expert overview of the frustrating, frightening, and funny intersections of food and the law from the McDonald's hot coffee case to the cattle ranchers' beef with Oprah Winfrey, from the old English "Assize of Bread" to current nutrition labeling laws, what we eat and how we eat are shaped as much by legal regulations as by personal taste.

Discover how Mr. Peanut shaped the law of trademark infringement for the entire food industry. Consider the plight of the restaurant owner besmirched by a journalist's negative review. Find out how traditional Jewish laws of kashrut ran afoul of the First Amendment. Prison meals, butter vs. margarine, definitions of organic food, undercover ABC reporters at the Food Lion, the Massachusetts Supreme Court case that saved fish chowder.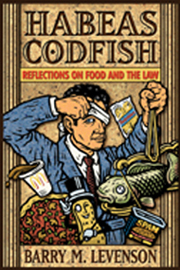 For instance, that time at the United States Supreme Court.

It was 1987 he left his hotel room, on his way to argue a case in Wisconsin's behalf before the highest court in the land. Suddenly he noticed a little jar of mustard on a room-service tray in the hallway. He swiped the jar. Not having time to return to his hotel room to stash the purloined jar, he put it in his left-hand pants pocket.

"I may be the only lawyer to argue a case in front of the Supreme Court with a jar of mustard in his pocket," Levenson says. "I won the case five to four, and now that very jar of mustard has a place of honor here at the museum."

Stolen goods on his person, while appearing before the justices. Does he think of himself as stealing or acting as a volunteer recycling collector?

"Stealing? Stealing???," he replied in mock horror. "No one was looking so under the law it was not stealing," he quipped referring to the legal definition in which types of theft are distinguished by the means and methods used.

As to the persistent rumor that, on that day, the justices left their chambers with an unusual craving for hot dogs - pure speculation.

Although Levenson has the utmost respect for the law he does bestows upon those in his profession, what many would consider their just due - levying on all lawyers who make purchases in the Mustard Museum's gift shop the "20% Low Life and Vermin surcharge."

That percentage has been stable for years, any thought of an increase?

"Still a 20% Lowlife and Vermin surcharge for lawyers. No need to be uber-greedy," he answered.

The better half of the CMO - "chief mustard officer" - is Mrs. Mustard, who assumed the title in 1998.

"Mrs. Mustard has yet to adjust to being married to what she now realizes is a cartoon character," admitted the CMO.

Mrs. Mustard, the former Patti Raskin, came into the legal condiment with a certain advantage. She grew up in an intellectual crossed with creativity household. She's the daughter of the late Melvin B. Raskin, a WWII Air Force veteran who was awarded the Air Medal and Distinguished Flying Cross. After discharge he completed his education at the Detroit College of Law and then establishing a chain of broadcast schools housed in radio stations. Later, he entered the beauty school and salon business, eventually owning 27 schools in four states. He engaged various celebrities, including Arlene Francis and Hugh Downs, to promote his vocational schools and Miss America Pageant emcee Bert Parks to judge hairstyle contests.

Her uncle is the renowned political activist and social critic Marcus G. Raskin who has authored several books including Liberalism: The Genius of American Ideals and The Four Freedoms Under Siege: The Clear and Present Danger from Our National Security State.

Levenson and Patti have met mustard aficionados from across the world. They were on The Oprah Winfrey Show where Barry and Oprah taste tested mustards. Oprah's favorite mustard is a Dijon walnut mustard called Laurent DuClos. Levinson stresses that mustard is a universal, time-honored condiment that is even featured in Shakespeare's writings.



A few of the mustard jars on display at the Mustard Museum.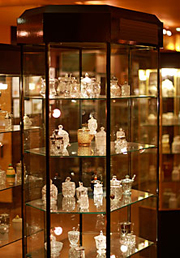 With over 5,600 mustards from all 50 states and more than 60 countries, their massive collection of mustards and mustard memorabilia is a sight to behold. A crate of vintage French's - entertaining mustard ads from yesteryear - ornate and dazzling mustard jars - The Great Wall of Mustard - and so it goes. The National Mustard Museum receives mustards and items of historical significance from all over the globe. Recently, a friend brought them three handsome mustards from Bolivia. And, the latest addition to the National Mustard Museum from Uruguay completes a South American sweep. The jar of Barcatti Mostaza arrived via Trale Bardell, who had ridden his motorcycle down to South America and came back with mustard.

One of their favorite exhibits was generously donated by the family of James Arthur Gibbons, easily the second-most passionate collector of mustard pots ever known. The stunning Gibbons Collection of antique mustard pots has been a part of the permanent collection at the National Mustard Museum since 2000.

"We have the facility for cooking classes here, and we are going to make the museum available for small events and parties - themed around mustard, of course," said Levenson." Middleton is making an effort to turn this area into a destination," he added.

Now, all the place needs is for William and Catherine to visit.

The bridal couple, who are now officially known as the Duke and Duchess of Cambridge and have been living together for years, announced they are putting their honeymoon on hold because William's schedule was changed and he has to return to work as a search and rescue pilot on Monday, May 1.

William was to have had two weeks off, so whether the honeymoon "postponement" announcement is a press diversion tactic we won't know until he is seen at work. Usually honeymoon plans are made well in advance and you would have thought he might know somebody with clout.

St. James' Palace said in a statement that the couple will travel overseas to an undisclosed location for the honeymoon, although the dates weren't specified. Levenson wants William and Catherine to know that Middleton and The National Mustard Museum are always prepared to welcome them.



Broadway To Vegas is supported through advertising and donations. Priority consideration is given to interview suggestions, news, press releases, etc from paid supporters. However, no paid supporters control, alter, edit, or in any way manipulate the content of this site. Your donation is appreciated. We accept PAYPAL. Thank you for your interest.



ART AND ABOUT


MARVELOUS MENAGERIE

Mosaic floor side panel with boats and fish, Roman, ca. AD 300. Excavated at Lod (Lydda), Israel. Stone tesserae, 13 feet x 5 feet 3 inches. Israel Antiquities Authority and the Shelby White and Leon Levy Lod Mosaic Center. Image courtesy of the Israel Antiquities Authority
A Roman Mosaic. First unearthed in 1996 during construction on the Jerusalem–Tel Aviv highway in Lod (ancient Lydda), Israel, this large and extraordinarily detailed mosaic floor has only recently been carefully removed from its site and conserved.

Found in a large villa believed to belong to a wealthy Roman, the excellently preserved mosaic floor dates to about AD 300.

Two rectangular end panels flank a large square medallion. The medallion and one of the end panels contain depictions of delightful animals and exotic beasts. The remaining panel portrays a fabulous marine scene filled with a profusion of fish and Roman merchant ships.

This glorious mosaic is in America for a limited time before it is returned to Israel where it will become the focus of an archaeological center in Lod. The Fine Arts Museums is one of only four museums to display this treasure.

Marvelous Menagerie: A Roman Mosaic is organized by the Fine Arts Museums of San Francisco and the Israel Antiquities Authority from the collections of the National Treasures.

On display through July 24, 2011 at the Legion of Honor in San Francisco.

THE STORY OF BRITISH JAZZ A century of jazz in Britain - from ragtime to acid jazz, Harry Roy to Courtney Pine, Hammersmith Palais to Ronnie Scott's.

The people, the places, the bands, all portrayed in rare photos, posters, books, programs, magazines, album sleeves and ephemera in the collection of the National Jazz Archive.

Listen to the sounds of swinging Britain over the years in a specially compiled programme on the Listening Post. May 3-June 30 at the Music Library Exhibition at the Barbican Library in London.


THE MUSIC GOES ROUND AND ROUND


ON YOUR TOES with a score by Richard Rodgers and lyrics of Lorenz Hart.

This Masterworks Broadway re-reissue of the 1953 Studio Cast of On Your Toes features Tony winner Jack Cassidy and Portia Nelson who was a popular 1950s soprano noted for her silvery tone, as the young lovers (Phil Dolan III and Frankie Frayne) in this musical comedy.

On Your Toes created several classics - There's A Small Hotel, Quiet Night, Glad To Be Unhappy and the incredible Slaughter On Tenth Avenue.

Too long ignored on the back shelf, this CD is delightfully entertaining.

Cast:
Frankie Frayne - Portia Nelson
Phil Dolan III - Jack Cassidy
Phil Dolan II - Robert Eckles
Lil Dolan - Zamah Cunningham
Peggy Porterfield - Laurel Shelby
Sergei Alexandrovitch - Ray Hyson

This was the first book musical to use ballet as an intricate part of both the story and music, although Slaughter on Tenth Avenue, is a satire on gangster stories.

The plot is a lighthearted look at the backstage life of a ballet troupe and incorporates two large-scale ballets created for the show by George Balanchine, one of which – the amazing Slaughter On Tenth Avenue – received its first full-length recording here - and lasts a fabulous 11:02 minutes.

A young hoofer, the son of vaudevillians, has a mother who persuades him to leave the grind Two A Day for Keith, go back to school and take up serious ballet. While teaching music at Knickerbocker University, the young Dolan (Cassidy) tries to convince Sergei Alexandrovich (played by Ray Hyson) the director of the Russian Ballet, to stage a friend's jazz ballet "Slaughter on Tenth Avenue". The troupe score a decided triumph - despite the fact that the former lover and dance partner of the prima ballerina has hired two thungs to kill our hero.

On Your Toes was originally conceived as a film, and as a vehicle for Fred Astaire. His refusal of the part, because he thought that the role clashed with his debonair image developed in his contemporary films, caused it to be produced as a theatrical performance. Richard Rodgers wrote: "Astaire at that point in his career was a pretty chic fellow who usually wore white ties and tails, and the producers felt that there was no chance in our script for him to appear that way." Astaire thought that the ballet background in the plot was too "highbrow" for his audiences.

On Your Toes is one of the rare musicals where the individual songs have lived on. The overture starts with strains from It's A Small Hotel with a few bars of Slaughter and then rockets into the rest of the score - and you're hooked.

Original producer: Goddard Lieberson. Transfer engineer: John Fredenberg. Mastering Engineer: Charles Harbutt, Long Tail Audio, NYC. Recorded on April 14, 17 & 18, 1952 in New York City. The sequence of the songs on this recording of Our Your Toes differs from that of the original stage production or subsequent revivals of the show. Since this was a studio recording, the sequence was revised to enhance the listening experience on a long-playing record. It is that sequence that has been preserved on this CD.

1: Overture
2: It's Got To Be Love
3: Two a Day for Keith
4: There's a Small Hotel
5: The Heart is Quicker Than The Eye
6: Quiet Night
7: Questions And Answers
8: Entr'Acte
9: On Your Toes
10: Too Good for the Average Man
11: Glad to Be Unhappy
12: Slaughter On Tenth Avenue - Ballet
13: Finale


SWEET CHARITY


BOSTON POPS GALA OPENING NIGHT TRIBUTE to the music of Judy Garland takes place May 11.

With Keith Lockhart conducting the Boston Pops the 2011 Spring Pops Season will feature Jekyll and Hyde star Linda Eder.

Eder, whose new CD Now is in the stores, will perform such tunes as By Myself, Me and My Shadow, Zing! Went the Strings of My Heart and Over the Rainbow.

The May 11 festivities will include a complimentary pre-concert reception, complete with chilled champagne and hors d'oeuvres. Performances of the Garland celebration continue May 12 and 13. Symphony Hall in Boston, MA.

CHICAGO RITA HAYWORTH GALA benefiting the Alzheimer's Association takes place Saturday, May 7, 2011 at the Hilton Chicago Hotel.

Bopology will provide music during the cocktail reception and Lynne Jordan & the Shivers will play Motown music for dancing after dinner. The black tie soiree will also include an awards program, silent auction and raffle. There is even going to be complimentary valet parking provided by the Mercedes-Benz Chicagoland Dealers.

120th ANNIVERSARY CARNEGIE HALL GALA with an all-star concert including the New York Philharmonic led by Alan Gilbert and performances by Emanuel Ax, Gil Shaham, Yo-Yo Ma, and Audra McDonald of works by Dvorák, Duke Ellington, and George Gershwin.

Gala attendees will enjoy prime concert seating as well as a pre-concert reception and post-concert cast party.

Thursday, May 5, 2011 at Carnegie Hall in New York City.


CATHERINE MIDDLETON AND GRACE KELLY WEDDING GOWNS RECEIVE WRONG COMPARISONS
Catherine Middleton opted for a V-neck. Photo: Getty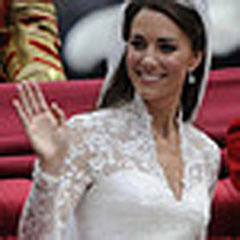 William and Kate are finally married.

Of course everyone was waiting to see the dress

Almost as soon as Catherine appeared in that romantic wedding gown reporters acted like they had a secret scoop that the dress was reminiscent of the one worn by Grace Kelly - which is considered the most copied dress in the world. Pictures started being posted of Grace Kelly's wedding, meaning it had been decided this comparison was going to be made even before anyone had ever seen Catherine in her gown.

Designers who wanted air time so their own names and labels could be mentioned, opined on the similarities - which amounted to basically both dresses having lace.

People making those favorable comparisons need glasses and jumped the gun.



Grace Kelly in her wedding gown, which looks nothing like the one worn by Catherine Middleton.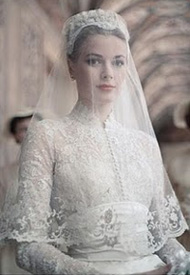 The dress that should be compared to the one worn by Grace Kelly will be the one Charlene Wittstock will wear when she marries Grace's son Prince Albert the first week of July.

Catherine's dress being compared to the wedding dress worn by Grace Kelly when she married HSH Prince Rainier of Monaco is absurd.

The dresses not only don't look alike, but why would a British fashion designer constructing a wedding dress, to be worn by a British citizen to a Royal Prince, use as inspiration a gown created by American Helen Rose from MGM's costume department, to be worn by an American actress when she wed a Serene Prince, whose citizenship is Monegasque with historical loyalty to France?

The stunning gown worn by Catherine most likely received it's inspiration from the gowns created by English designer Norman Hartnell for the weddings of then the Princess Elizabeth and later for Princess Margaret.

And, give the designer Sarah Burton some credit for having her own ideas.



Antony Armstrong-Jones, Lord Snowdon with his bride Princess Margaret. Their wedding was the first royal wedding ever televised, and was watched by over 300 million viewers worldwide, so her effect on ushering in the sleek styles of the 1960s was significant. Margaret's gown could be worn by women of many figure types and started a fashion trend that continued for a decade. Photo: Museum of London/Kensington Palace/Geoffrey Munn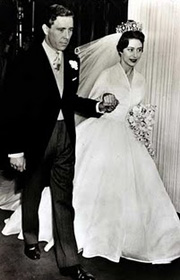 The shape of Catherine Middleton's gown may have been inspired by the one worn by Princess Margaret and incorporated the embroidered lace which covered the gown worn by the woman who would become Queen Elizabeth II. Like Princess Margaret's gown, the gorgeous Duchess Catherine creation can also be worn by a variety of ages and body types and should give a financial lift to the bridal industry. Photo: Pool-Getty Images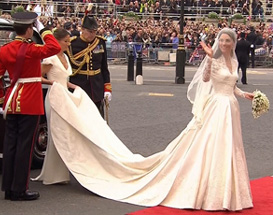 The instant Catherine was viewed in her wedding dress royal officials pushed the send button and E-mailed a description of the dress. The association with all things British is obvious.

"Miss Middleton chose British brand Alexander McQueen for the beauty of its craftsmanship and its respect for traditional workmanship and the technical construction of clothing. Miss Middleton wished for her dress to combine tradition and modernity with the artistic vision that characterises Alexander McQueen's work. Miss Middleton worked closely with Sarah Burton in formulating the design of her dress.

"The dress epitomises timeless British craftsmanship by drawing together talented and skilled workmanship from across the United Kingdom. The dress design pays tribute to the Arts and Crafts tradition, which advocated truth to materials and traditional craftsmanship using simple forms and often Romantic styles of decoration. Ms Burton's design draws on this heritage, additionally giving the cut and the intricate embellishment a distinctive, contemporary and feminine character.



Back of the wedding gown worn by Princess Margaret. Remove the long veil and the back is similar to the back of Catherine's dress. When in 1993 Serena Stanhope married Princess Margaret's son David, Viscount Linley her dress recalled an image of the one her mother-in-law wore. Last Friday their 8-year-old daughter Margarita Armstrong-Jones, who is William's second cousin, was a bridesmaid at the William and Catherine event. Photo: Museum of London/Kensington Palace/Geoffrey Munn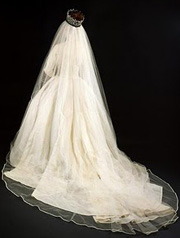 "The lace appliqué for the bodice and skirt was hand-made by the Royal School of Needlework, based at Hampton Court Palace. The lace design was hand-engineered (appliquéd) using the Carrickmacross lace-making technique, which originated in Ireland in the 1820s. Individual flowers have been hand-cut from lace and hand-engineered onto ivory silk tulle to create a unique and organic design, which incorporates the rose, thistle, daffodil and shamrock.

"Hand-cut English lace and French Chantilly lace has been used throughout the bodice and skirt, and has been used for the underskirt trim. With laces coming from different sources, much care was taken to ensure that each flower was the same colour. The whole process was overseen and put together by hand by Ms Burton and her team.

"The dress is made with ivory and white satin gazar. The skirt echoes an opening flower, with white satin gazar arches and pleats. The train measures two metres 70 centimetres. The ivory satin bodice, which is narrowed at the waist and padded at the hips, draws on the Victorian tradition of corsetry and is a hallmark of Alexander McQueen's designs. The back is finished with 58 gazar and organza covered buttons fastened by Rouleau loops. The underskirt is made of silk tulle trimmed with Cluny lace.

"French Chantilly lace was combined with English Cluny lace to be hand-worked in the Irish Carrickmacross needlework tradition.

"All other fabrics used in the creation of the dress were sourced from and supplied by British companies. The choice of fabrics followed extensive research by Sarah Burton and her team.



Prince William and Catherine, the Duchess of Cambridge. Photo: Hugo Burnand / Clarence House
Prince Philip and then the Princess Elizabeth on their wedding day.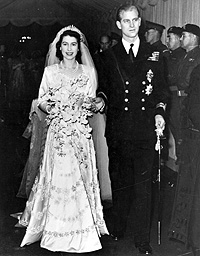 "The Royal School of Needlework (RSN), based at Hampton Court Palace, assisted the Alexander McQueen team in accurately cutting out the delicate motifs from the lace fabrics and positioning the lace motifs with precision into the new design. The lace motifs were pinned, 'framed up' and applied with stab stitching every two to three millimetres around each lace motif. The workers washed their hands every thirty minutes to keep the lace and threads pristine, and the needles were renewed every three hours, to keep them sharp and clean.

"The RSN workers included existing staff, former staff, tutors, graduates and students, with the youngest aged 19.

The RSN's work was used primarily for the train and skirt of the Bride's dress, the bodice and sleeves, the Bride's shoes and the Bride's veil."

Catherine's dress received it's inspiration from the Grace Kelly gown? Don't think so.


SPREADING THE WORD


THE SMITH CENTER now under construction in Las Vegas with a projected opening date of March 2012, will be a world class performing arts center. The venue has taken a glass half full approach to opening on time and announced a Broadway Subscription Series. Touring Broadway productions which will make a stop at the venue include: The Color Purple April 3-8; Mary Poppins May 22-27; Million Dollar Quartet June 12-17; Memphis July 18-22 and Wicked Aug 29-Oct 7 all in 2012. However, none of the production websites, as of yet, list the Smith Center in Las Vegas on their line-up. Tickets for individual shows at the Smith Center will begin at $24 with the season tickets going on sale sometime this summer.

The Smith Center was also touting that Memphis was coming to movie theaters. "We are so excited that MEMPHIS is coming to movie theatres in Las Vegas for a 4-day event. Captured live in performance on Broadway, MEMPHIS bursts off the stage with explosive dancing, irresistible songs and a thrilling tale of fame and forbidden love. You'll have a front row seat to Broadway's best new musical at your local Las Vegas movie theater."

That "4-day event" phrase is a bit misleading. The screenings opened last Thursday at seven Las Vegas movie locations with four showings taking place over a 6-day period. The last two showings are today and on May 3.

The releases for the movie theater projection of the Broadway show don't connect The Smith Center as the sponsor but do contain their logo and information about The Smith Center.

"The Smith Center for the Performing Arts is a public/private partnership that will become the centerpiece of cultural life in Las Vegas offering a blend of performances by resident companies as well as first-run touring attractions. The 5-acre cultural campus will feature three performance spaces including the 2,050-seat Reynolds Hall with refined acoustics and the Boman Pavilion housing a cabaret jazz space and a studio theater, all complemented by the DISCOVERY Children's Museum. The Smith Center will be a living room for Las Vegas; a place that will educate, entertain and excite the citizens of our great community. Located in downtown's 61-acre urban development, Symphony Park, The Smith Center broke ground in May of 2009 with a ceremonial carillon bell casting and ringing. In February 2010, it celebrated its "Topping Out" with the raising of 50 tons of steel and is projected to open in March 2012."

TOVAH FELDSHUH makes her directorial debut in a staged reading of Naomi Ragen's Women's Minyan.

In an effort to save her life, Chana leaves her abusive husband, only to suffer the powerful wrath of the rabbinical courts. Women's Minyan explores the boundaries between religion and social convention, right and wrong, and a woman true place in a male-dominated religious world.

Over the past 10 years this play has been performed over 500 times around the world including Israel, during this anniversary year, One Circle Productions finally brings this riveting work to New York.

One Circle Productions has partnered with Safe Horizon for this project. Safe Horizon is the largest victims' services agency in the United States, with 57 locations serving more than 250,000 children, adults, and families affected by crime and abuse throughout New York City each year. Since 1978, Safe Horizon has provided victims of domestic violence, child abuse, human trafficking, rape and sexual assault, as well as homeless youth and families of homicide victims, with a wide range of comprehensive support. Safe Horizon also advocates for policies on a local, state, and national level on behalf of those affected by violence and abuse.

The reading will take place on Monday, May 9 at The Westside Theatre in New York City.

THE CHOREOGRAPHER'S CANVAS presented by The Group Theatre Too (GTT). An annual event featuring the works of over fifteen cutting-edge choreographers from around the world. New original and traditional styles of choreography including tap, ballet, theatre dance, jazz, hip-hop, modern, lyrical, flamenco and aerial dance in concert Off-Broadway.

Choreographers include: James Atkinson, Michelle Barber, Bob Boross, Emily Bufferd, Crystal Chapman, Jim Cooney, Bobby Hedglin-Taylor, Marian Hyun, Jason Marquette, Christohper Noffke, Kelly Peters, Jonathan Riedel, Sue Samuels, Amit Shah, Nick Stenson, Rebeca Tomas, Sidney Erik Wright and GTT leaders, Michael Blevins and Justin Boccitto.

A mosaic evening of music and movement. Wednesday, May 11 at the Manhattan Movement Arts Center, NYC.


OTHER PEOPLE'S MONEY


BABY IT'S YOU! the musical which tells the story of New Jersey housewife Florence Greenberg, (played by Tony Award winner Beth Leavel), who found and promoted artists in the late 1950s and '60s, and ran Scepter Record had a lawsuit filed against them on, April 27, the same day it opened at Broadway's Broadhurst Theatre.

The suit filed by the law firm of Baker Hostetler in the Supreme Court of the State of New York is on behalf of artists living and dead and seeks unspecified "damages on behalf of world-famous performers Beverly Lee of The Shirelles, Dionne Warwick and Chuck Jackson, as well as the Estates of [original Shirelles] Doris Coley Jackson and Addie Harris Jackson, for the unauthorized use of their names and likenesses in connection with the new Broadway show, Baby It's You!"

The complaint alleges that the producers - Warner Bros. Theater Ventures, Inc., Warner Bros. Entertainment Inc. and Broadway Baby, LLC. - "have promoted the musical publicly as 'The Shirelles' Musical' and based the play upon the life and career of The Shirelles, Ms. Warwick and Mr. Jackson."

"The Plaintiffs, having been cheated out of their royalties once already when they were young, are being victimized again, as they are forced to see their names, likenesses and biographical information being used without their consent," Baker Hostetler partner Oren Warshavsky, who filed the complaint, said in a statement.

The complaint alleges that the new musical "makes use of the details within the individual history and styling of these nationally treasured, lifetime artists."

Warshavsky stated, "We believe that the producers of Baby It's You!, the Defendants, should not receive financial gain or other benefits from the use of these great artists' lives and success without having consent to do so. …It is disappointing that the producers of the play would simply piggy-back on the careers of these original artists without asking permission at all, let alone without sufficiently compensating the people without whom there would be no Broadway story, original music or iconic styling."

Beverly Lee, a surviving member of the girl-group The Shirelles, owns the trademark to the group's name, according to her lawyers, The Shirelles were inducted into the Rock and Roll Hall of Fame in 1996.






ROD STEWART received the Lifetime Achievement Award from the American Society of Composers, Authors and Publishers (ASCAP) in Los Angeles.

The London-born 66-year-old is currently working on a blues album with Jeff Beck. Stewart has recently signed a contract with Caesars Palace in Las Vegas to play a series of concerts rotating with Celine Dion and Sir Elton John. The first series of Stewart performances take place November 6 -26, 2011.

JOEY GREY the Tony and Oscar award winning performer who is currently starring on Broadway in Anything Goes and directing the Broadway production of The Normal Heart. will receive the 2011 Theater Artist Award at the National Corporate Theatre Fund's 2011 Chairman's Awards Gala, to be presented at St. Regis New York on Monday, May 2.

Hosted by Lewis Black, the gala will also honor Charles Dillingham, the Managing Director of Center Theatre Group in Los Angeles with the Achievement in Theatre Award, and global financial services company BNY Mellon with the Corporate Leadership Award.

The black-tie event will begin with cocktails followed by dinner and presentations. The gala will also feature a silent auction.

Co-chairs of the 2011 Chairman's Awards Gala are Cisco Systems, Inc., Ernst & Young, RVM and Wells Fargo. The Gala Committee includes: Mitchell J. Auslander, John R. Dutt, Richard Fitzburgh, Gretchen Shugart, John Thomopoulos and Isabelle Winkles.

. NCTF is an association of ten of America's finest not-for-profit theatres dedicated to increasing the participation of corporations and their employees in supporting theatre across the country and in New York. Member theatres include: Actors Theatre of Louisville, American Conservatory Theater, American Repertory Theater, Center Theatre Group, The Cleveland Play House, Guthrie Theater, Long Wharf Theatre, The Old Globe, Seattle Repertory Theatre, and Trinity Repertory Company.

TONY AWARD NOMINATIONS will be announced by past Tony Award winners Matthew Broderick and Anika Noni Rose on Tuesday, May 3, 2011.

The nominations announcement will take place at the New York Public Library for the Performing Arts's Dorothy and Lewis B. Cullman Center at Lincoln Center.

The Tony Awards ceremony will take place on June 12, 2011 at the Beacon Theatre, and will be broadcast live that evening on CBS. The Tonys are presented by The Broadway League and the American Theatre Wing. ( 2011 Tony Award nominations. )






LITTLE WOMEN music by Jason Howland, lyrics by Mindi Dickstein, book by Allan Knee, based on the novel by Louisa May Alcott.

Directed by Susan D. Atkinson.

The ensemble cast features Leslie Becker, Kim Carson, Kara Dombrowski, Jennie Eisenhower, Elisa Matthews, Cathy Newman, Steven Nicholas, Stephen Schellhardt, Michael Sharon, and James Van Treuren.

The Broadway musical based on Louisa May Alcott's classic novel, Little Women follows the adventures of Jo, Meg, Beth and Amy March as they grow up in Civil War America. The four March sisters - brassy, tomboy-like, aspiring writer Jo, romantic Meg, pretentious Amy, and kind-hearted Beth - and their beloved Marmee live at home in Concord, Massachusetts while the family patriarch is away serving as a Union Army chaplain during the Civil War. Intercut with the vignettes in which their lives unfold are several recreations of the melodramatic short stories Jo writes in her attic studio. Brought to life as an exhilarating new musical filled with glorious music, dancing and heart, the powerful score soars with the sounds of personal discovery, heartache and hope -- the sounds of a young America finding its voice.

Little Women brings together the creative team of Set Designer Roman Tatarowicz, Lighting Designer Deborah Constantine, and Costume Designer Millie Hiibel. Mark Yurkanin is the Musical Director, and Karen Getz is the Choreographer.

Special events include lobby photos: Pre-show and intermission at all performances. They'll take your picture in a period costume and e-mail it to you after the show.

On Saturday, May 7 from 12:30-1:30 pm in the BRT Atrium patrons can enjoy afternoon tea, tea sandwiches and desserts (just like the March girls)prior to the 2 pm performance. plus, take home a souvenir photo of your child in a Little Women costume.

Performances are May 3-22 at the Bristol Riverside Theatre in Bristol, PA.

BETTE & JOAN by Anton Burge.

Directed by Bill Alexander.

Starring Anita Dobson and Greta Scacchi as the famous movie icons, Bette Davis and Joan Crawford.

Bette & Joan is set during the making of their 1961 movie Whatever Happened to Baby Jane? and revisits their infamous fifty-year feud.

The world premiere opens at the Arts Theatre in London on May 5 with performances to June 25, 2011.

HUGH JACKMAN IN PERFORMANCE a San Francisco Premiere. Backed by a 17-piece orchestra, the star of stage and screen will perform his Broadway and Hollywood favorite musical numbers on the Curran Theatre stage May 3-15.

THE COMPLETELY FICTIONAL - UTTERLY TRUE - FINAL STRANGE TALE OF EDGAR ALLAN POE a world premiere of a play which has a title which will never fit on any marquee. Written by Trinity Rep company member Stephen Thorne. Directed by Artistic Director Curt Columbus.

Edgar Allan Poe has been missing for seven days. And that's just the beginning of a journey that leads him to the bizarre, the macabre, and the sublime as the audience is taken deep into the mysteries surrounding the author's untimely death.

Brian McEleney stars, along with Stephen Berenson, Angela Brazil, Mauro Hantman, Phyllis Kay, Fred Sullivan Jr., Joe Wilson Jr., Lauren Lubow and Charlie Thurston.

May 6 - June 5 in the intimate Dowling Theater at the Tony Award winning Trinity Rep in Providence, Rhode Island.

WERTHER by Jules Massenet. French film director Benoît Jaquot's stylish production returns to the London's Covent Garden stage for the first time since its opening in 2004. Based on Goethe's novel Die Leiden des jungen Werthers, written in 1774.

The title role of Werther, the epitome of the despairing Romantic poet, is sung by Mexican star tenor Rolando Villazón.

Massenet's opera is intense in its portrayal of unrequited love and dashed hopes. The opera is atmospheric and poignant, with a host of glorious melodies.

Werther, a young poet, has fallen in love with Charlotte. However, she is betrothed to another. As Werther's enduring love consumes him, his despair that Charlotte can never be his leads to tragedy. French mezzo-soprano Sophie Koch sings the role of Charlotte, with Norwegian baritone Audun Iversen making his Royal Opera debut in the role of her fiancé Albert. Former Jette Parker Young Artist, Japanese soprano Eri Nakamura makes her role debut as Charlotte's younger sister Sophie.

Antonio Pappano, Music Director of The Royal Opera, conducts all performances. May 5, 8, 11, 14, 17 and 21 at The Royal Opera House in London.


WHO'S WHERE


BACHMAN & TURNER Rock-and-Roll icons Randy Bachman and Fred Turner, reunited after 20 years as Bachman & Turner. With a new album under their belts, the boys are taking care of business with a show that has all the hard rock you can stand. May 8, at the NAC Southam Hall in Ottawa, Canada.

HUGH LAURIE famous for playing the lead role in the TV series House, makes his UK musical debut at the Cheltenham Jazz Festival on May 2 at the Cheltenham Town Hall. This will be his first of several appearances to promote his first blues album Let Them Talk. Laurie performed songs from it in New Orleans last March with former comedy partner Stephen Fry in the audience.

DAVID CASSIDY performs at the Rio Hotel in Las Vegas May 7-8.

PAUL SIMON is on stage Monday, May 2, at the Convention Center in Minneapolis. On Friday his tour stops at Massey Hall in Toronto and on Saturday the Toronto gig is at the Sound Academy.

TRACE ADKINS stars at the Dixon May Fair in Dixon, CA on Friday, May 6. On Saturday he's at the Riverside Resort in Laughlin, NV.

JAMES TAYLOR performs at Carnegie Hall in NYC on Friday, May 6.

SADE AND JOHN LEGEND are in Europe with a show Tuesday, May 3, at the O2 World in Hamburg, Germany. On Wednesday they perform at the Pilsener Arena in Oberhausen, Germany. Friday's performance is at the Mediolanum Forum in Assago, Italy. Saturday's stop is back in Germany at the Schleyerhalle in Stuttgart.

LINDA EDER opens a three night stand on May 5 at the Canada National Arts Centre Orchestra in Ottawa, ON.

JAMES BLUNT performs Tuesday, May 3, at Humphrey's Concerts by the Bay in San Diego. On Wednesday he's on stage at The Wiltern in Los Angeles. Thursday finds him at the Warfield Theatre in San Francisco. Next Sunday, May 8, he can be enjoyed at the Moore Theatre in Seattle.

SUGARLAND on stage Thursday, May 5, at the Roberts Stadium in Evansville, IN. Friday's show is at the Allstate Arena in Rosemont, IL. On Saturday they are in the spotlight at the Target Center in Minneapolis, MN.

PETER ASHER brings his show A Musical Memoir of the 60s and Beyond to Feinstein's at Lowe's Regency in New York City May 3-7.




FINAL OVATION


PHOEBE SNOW a singer and songwriter who gained fame with her 1974 self-titled album that featured the hit single Poetry Man died on Tuesday, April 26, 2011 in Edison, NJ. She was 60. The entertainer had suffered a brain hemorrhage in January, 2010 and underwent surgery. She was placed in a medically induced coma, regaining consciousness only briefly..

In May 1998, Snow received the Cultural Achievement Award by New York City Mayor Rudolph Giuliani. She is also the recipient of a Don Kirschner Rock Award, several Playboy Music Poll Awards, New York Music Awards and the Clio Award.She performed for President Clinton, the First Lady, and his cabinet at Camp David in 1999.

Divorced, she was preceded in death by her severely brain-injured daughter, Valerie. whom Snow cared for at home until Valerie died on March 18, 2007 at the age of 31.

SIDNEY MICHAELS an American playwright who scored a string of notable Broadway productions in the 1960s, died April 22 in Westport, CT. He was 83 and suffered from Alzheimer's disease.

He received three Tony nominations: His play Tchin-Tchin, an Americanized version of a farcical, bittersweet French comedy and ran for 222 performances; Dylan his 1964 biographical portrayal of the poet Dylan Thomas which starred Alec Guinness won his only Tony for his performance in the title role; and in 1965, for Ben Franklin in Paris for which Michaels wrote the book and the lyrics to Mark Sandrich Jr.'s music.

He is survived by his wife, Louisette, whom he married in 1956; a son, Cotter, of Fairfield; a daughter, Candia Steen, of New York City; and six grandchildren.








Next Column: May 8, 2011
Copyright: May 1, 2011. All Rights Reserved. Reviews, Interviews, Commentary, Photographs or Graphics from any Broadway To Vegas (TM) columns may not be published, broadcast, rewritten, utilized as leads, or used in any manner without permission, compensation and/or credit.
Link to Main Page
---
Laura Deni



For the snail mail address, please E-mail your request.
CLICK HERE FOR COMMENT SECTION