! >
Broadway To Vegas
  
 SHOW REVIEWS CELEBRITY INTERVIEWS GOSSIP NEWS

| | |
| --- | --- |
| | |
MAYOR BLOOMBERG AND STING ANNOUNCE PROJECTS - - ROMAN REPERTORY SYMPOSIUM - - STEVE LAWRENCE CD - - SPRING SOIREE AT TRIBECA'S ICO ART & MUSIC GALLERY - - A CELEBRATION OF MILES DAVIS' MUSIC - - OCCUPANT BY EDWARD ALBEE WORLD PREMIERE - - PLAY ABOUT RICHARD NIXON'S INFAMOUS SECRETARY OPENS - - PLAYWRIGHT ISRAEL HOROVITZ RECORDS HIS VOICE FOR OWN PLAY - - DONATE . . . Scroll Down


Copyright: May 4, 2008
By: Laura Deni

CLICK HERE FOR COMMENT SECTION
STING AND THE POLICE AND NYC MAJOR MICHAEL BLOOMBERG ANNOUNCE MILLION TREES NYC CONTRIBUTION/ LAST EVER CONCERT TO BENEFIT LOCAL PUBLIC TELEVISION STATIONS
Mayor Bloomberg joined Sting, Andy Summers and Stewart Copeland of The Police to announce that the band's final concert will be in New York City and their commitment to MillionTreesNYC,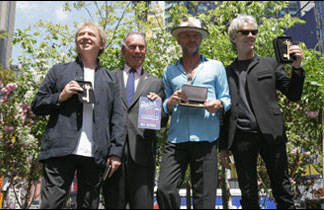 New York City Mayor Michael R. Bloomberg joined Sting, Andy Summers and Stewart Copeland of The Police on Tuesday, May 6, to announce that the band's final concert will be in New York City and their commitment to MillionTreesNYC, the City's initiative to plant one million trees by the year 2017.

MillionTreesNYC is a component of PlaNYC, the Mayor's plan to make the City more sustainable and reduce its carbon footprint 30 percent by 2030. The Police pledged $1 million to the Mayor's Fund to Advance New York City in support of MillionTreesNYC. This donation, matched by the City, will provide $2 million which will plant 10,000 trees and help launch the reforestation component of MillionTreesNYC, which will reforest 2,000 acres of parkland across the five boroughs. Reforestation efforts improve air and water quality, reduce greenhouse gases and lower energy costs.

"The Police are now part of one of the most exciting elements of PlaNYC – MillionTreesNYC – our initiative to plant one million new trees over the next 10 years," said Mayor Bloomberg. "Sting's human right's advocacy is well known, as is his support for the environment, especially the rainforests. Today The Police have demonstrated their commitment to greening our City."

"We are pleased to contribute to this powerful and historic initiative that will undoubtedly improve the quality of life for future generations," said The Police. "We applaud Mayor Bloomberg and the City of New York for boldly confronting the City's environmental issues and are excited to support their goal of creating a healthier, more sustainable City."



Sting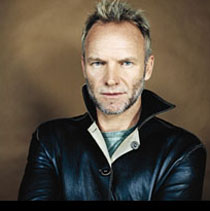 The Police also announced that their final concert ever will be a fundraiser with proceeds benefiting the production of arts programming for Thirteen/WNET and WLIW New York. Tickets will be available nationally online via Thirteen/WNET and WLIW. More details about the benefit show, including venue and ticket information, will be released at a later date.

"We kicked off our very first American tour at CBGB's in 1978 and this summer, thirty years later, our journey will come full circle as we play our final show here in New York City," said The Police. "We are honored to partner with public television and have a deep respect for their commitment to arts and culture."

"All of us at Thirteen/WNET and WLIW New York are incredibly honored to host the final concert of The Police and to be a part of this amazing event that will do so much to improve our City," said Neal Shapiro, President and CEO of the Educational Broadcasting Corporation, the licensee of Thirteen/WNET and WLIW New York. "We are even more grateful that The Police have decided that proceeds from their landmark concert will directly benefit public television. On behalf of our millions of viewers, I personally want to thank Sting, Andy Summers and Stewart Copeland for their extraordinary generosity."



Major Michael Blomoberg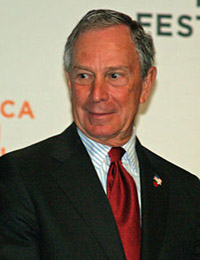 Last year, the Big Apple Mayor committed $400 million of City funds towards the ten-year MillionTreesNYC campaign, a partnership of the City Department of Parks & Recreation and the New York Restoration Project. The donation from The Police and the matching donation from the City will go towards the planting of 10,000 trees to create new urban forests, part of the Parks Department's Natural Resources Group reforestation plan. Other parts of the plan are the total restocking of street trees and an increase of tree plantings on public and private lots.

Through MillionTreesNYC, the City will be able to increase its urban forest by 20 percent, while achieving the many environmental benefits that come with planting trees. Trees are particularly effective at cleansing the air by absorbing pollutants—sulfur dioxide, nitrogen dioxide, and carbon dioxide – through their leaves and intercept¬ing airborne particulate matter on leaf sur¬faces. New York City trees remove an estimated 2,200 tons of criteria pollutants from the air each year. By increasing canopy cover, MillionTreesNYC will help reduce the pollutants that trigger respiratory disorders, including asthma. Just four trees planted around a home can save up to 30% on summer cooling costs. All of the trees in New York City remove over 42,000 tons of carbon each year. The one million additional trees planted through MillionTreesNYC will remove an additional 151,658 tons of carbon from the atmosphere.

In 1977, The Police stormed the music scene by innovatively blending reggae, punk, jazz and rock. The Police dominated the top of the charts and radio airwaves worldwide with five number one albums and a succession of top ten hit singles. The band has earned five Grammy Awards and sold over fifty million albums worldwide. In 2003, The Police were inducted into the Rock and Roll Hall of Fame, and in 2007 they reformed and embarked on a world tour. To date, this much heralded tour has played to over 2.5 million people on five continents and has garnered numerous accolades including 'Major Tour of the Year' (Pollstar), 'Top Selling' and 'Top Tour of the Year' (Billboard) as well as the People's Choice award for 'Favorite Reunion Tour of 2007.'

Sting and The Police play the MGM Grand Arena in Las Vegas on May 23.


THE MUSIC GOES ROUND AND ROUND


STEVE LAWRENCE is a performer you should listen to if you've ever been curious as to what a singer - who really is a singer - sounds like. One of the best - part of the vocal elite who can be counted on the fingers of one hand.

Steve Lawrence Greatest 20th Century Songs a CD on the Classic World label features Lawrence delivering a variety of tempos and moods. While composers are mentioned there is no reference to musicians, arrangers or when and where the tracks were recorded. Nor is this is the easiest CD to find. If you happen to stumble upon one - grab it! This is something you'll actually listen to - not just occasionally dust as a shelf object.

From the upbeat New York, New York; the spirited Life's A Gamble and You Had To Be There - reminiscing about growing up in New York City, to the heart wrenching She's Out of My Life and I'd Rather Leave While I'm In Love, Lawrence is a master at delivering the meaning of both the words and music.

I Won't Break is about a man trying to both comprehend that a relationship he thought was on-track has ended, while wanting to assure himself that he won't fall apart. Lawrence effectively communicates convoluted lyric lines not capable of being delivered by many singers.

The hopeful and determined I Stand Alone, penned by Steve Allen, is followed by One Word, where only saying one word would have caused the man to stay. Next is the soulful World Without Love.

Pickin' up The Pieces is another of those songs where the lyrics can't just be spitted out by anybody. Lyricists must have composed songs hoping Lawrence would wrap his vocal cords around their words - and he does so with a dramatic, powerful interpretation.

With half of all marriages ending in divorce, Sunday Father speaks to "the one day father doing all he can". The Man I Could Have Been written by Earl Wilson, Jr. is a forceful, life reflection.

And, then there is track number 11.

Sittin' on the Fence of Life is more than just a dramatic song - it is important. The immediate thought was that this song is the anthem of any youngster who is trapped into navigating an alternate route down life. Stellar arrangements leaving no doubt that a string section can deliver drama.

"Sittin' on the fence of life,
watchin' the crowds go by.
Sittin' there and crying
for all of those poor little children
who are lost in the world of their minds.

"Sittin' on the Fence of Life
watchin' the crowds go by.
It's hard to shake loose
when you're heads in the noose of confusion.
Oh, I'm lost in the world of my mind.

People keep telling me
to learn right from wrong.
How can I learn what is right
when they keep telling me I don't belong.

Clouds of doubt hang over me
and doubt turns into fear.
My mind keeps running wild and free,
but I'm traveling nowhere.

"Oh, I'm lost in the world of my mind.
Sittin' on the fence.
Sittin' on the fence.
I'm sittin' on the fence watching my life go by...."

The composer/lyricist is - Steve Lawrence.


SPREADING THE WORD


ROMAN REPERTORY SYMPOSIUM Discussions led by a panel of scholars. The Roman Repertory in Performance will feature Shakespeare Theatre Company's Artistic Director Michael Kahn with David Muse and a guest artist in conversation about producing Shakespeare's Roman plays.

Conspiracies in Shakespeare and Beyond is a discussion with International Spy Museum Director Peter Earnest and Bob Goldberg, Director, Tanner Humanities Center, University of Utah.

Rome as Metaphor is presented by Professor Robert Miola in conversation with Hunter Ripley Rawlings III.

The Private Lives of Public Citizens through the lens of Antony and Cleopatra spotlights Scholar Sara Munson Deats in conversation with commentator Ken Adelman. This panel features a performance by a member of the STC acting company.

The closing keynote speech is by James Shapiro, author of 1599: A Year in the Life of William Shakespeare.

Saturday, May 10. The Forum in Sidney Harman Hall in Washington, DC.

The Roman Repertory is generously sponsored by The Aspen Institute. Founded in 1950, The Aspen Institute is an international nonprofit organization dedicated to fostering enlightened leadership and open-minded dialogue. Through seminars, policy programs, conferences and leadership development initiatives, the Institute and its international partners seek to promote nonpartisan inquiry and an appreciation for timeless values. The Institute is headquartered in Washington, D.C., and has campuses in Aspen, Colorado, and on the Wye River near the shores of the Chesapeake Bay in Maryland. Its international network includes partner Aspen Institutes in Berlin, Rome, Lyon, Tokyo, New Delhi and Bucharest, and leadership initiatives in Africa, Central America and India.


WIZARD HOPES TO HELP PAVE ROAD FOR MID-PRICED LAS VEGAS ENTERTAINMENT


The music of Harold Arlen is coming to Las Vegas, in the form of a musical celebration that hopes to bolster a sorely needed affordable entertainment scene.

Wizard is the brainchild of tenor sax man Sam Arlen, who is Harold's adopted son and only child. Slated for the Greek Isles Hotel - formerly the Debbie Reynolds Hotel - the producer is Vic Damone's son, Perry, who has been in Vegas this past week hammering out the ticket details with executives of the Greek Isles.

"The show is definitely set for us, but the producers haven't yet told us the details of the ticket prices and exact performance dates," a hotel executive told Broadway To Vegas on Thursday.

According to Geoff Littlefield, CEO of Damone Entertainment Global (DEG) the show opens on May 31.

"Debbie Reynolds and Carrie Fisher recently gave us a good plug on a radio interview this week," said Littlefield who is based in England.

The production first entered the spotlight in 2005 as part of the Harold Arlen Centennial Celebration. ( See Broadway To Vegas column of May 15, 2005 ) Then titled The Wonderful Wizard of Song and was co-written and under the musical direction of Nigel Wright - who was Andrew Lloyd Webber's partner for 12 years - including Phantom of the Opera and American Idol.

The show was selected to open the 2007-2008 39th season of the Miller Auditorium in Michigan. Audience response left no doubt that this was a show perfect for lovers of Broadway, film and classic, timeless good music.



Tony Bennett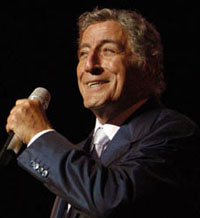 Wizard is a multimedia production which includes an onscreen tribute by Tony Bennett, the talents of Sam Arlen and his orchestra, and Jazz vocalist George Bugatti's Three Crooners. Bookended by stories that take the audience from the Cotton Club in Harlem through Arlen's Hollywood years to the Broadway stage, the show will feature more than 20 of Arlen's most treasured songs including Over the Rainbow; Let's Fall in Love; Old Black Magic; Stormy Weather; The Man That Got Away; Come Rain or Come Shine; Get Happy; I've got the World on a String and many more.

The stage will be adorned with 6 by 8 foot revolving movie posters from the original motion pictures Let's Fall in Love; A Star is Born and of course The Wizard of Oz.

At the time of his father's Centennial, Sam explained that the show includes films his father shot on the MGM stages of Over The Rainbow. Those contain footage with Judy Garland, Bert Lahr, and Jack Haley. Part of the mix are home movies with the Rainbow stars and others of that era. Also featured are rarely seen manuscripts, memorabilia and footage provided by Sam who controls his father's catalog of work as the proprietor of S.A. Music Inc., a publishing concern based in Smithtown, N.Y.

"As producers of the show we are working very closely with Sam Arlen and George Bugatti," added Littlefield.

The show has already proved it wears well with a demographic crowd compatible to Las Vegas. Little tweaking is needed to take it from on the road into Vegas. The title has been shorted to a more marquee friendly Wizard and Nigel Wright's American Idol influence comes to the forefront with the staging of Over The Rainbow. Long term plans call for this number to be an ongoing talent search - part of what will make the Las Vegas effort a new production.

"We are also introducing the "Dorothy" character to sing Over The Rainbow. Initially (one week) this will be sung by young British singer called Lauren Ray - so a great experience for her. The role after her slot would then be the subject of a US nationwide hunt for Dorothy, which will be a nice promotion," Littlefield explained about the high risk, time consuming, expensive casting gimmick which is rapidly becoming over-done. (NOTE: Littlefield would like it pointed out that the words "high risk, time consuming, expensive casting gimmick which is rapidly becoming over-done:" do not reflect his opinion, but rather that of Broadway To Vegas)

At this point in her career the virtual unknown Ray appears to be short on resume but presumably long on talent. Littlefield compared Ray's voice to that of the late Eva Cassidy.

For readers who have never heard of Eva Cassidy (February 2, 1963-November 2,1996), she was an American vocalist known for her interpretations of jazz, blues, folk, gospel, country and pop classics. Cassidy remained virtually unknown outside her native Washington, D.C. when she died of melanoma in 1996.

Four years later, Cassidy's music was brought to the attention of UK audiences when her version of Over The Rainbow was played on BBC Radio 2. Following the overwhelming response, a camcorder recording of Over the Rainbow taken at the Blues Alley recording was shown on BBC. Shortly after, the compilation album Songbird climbed to the top of the UK Albums Charts, almost three years after its initial release. The chart success in the United Kingdom led to increased recognition worldwide; by 2003, her posthumously released recordings, including three UK #1s, sold over six million copies.



Katharine McPhee was the runner up on the 5th season of American Idol in 2006. Her rendition of Over The Rainbow was impressive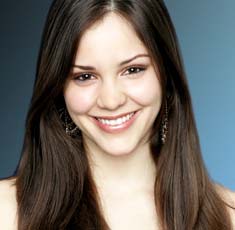 Actually, Harold Arlen was surprised Over the Rainbow, with lyrics E.Y. Harburg, made it into the film at all much less turning into a world-wide standard.

When Katharine McPhee performed Over The Rainbow on American Idol she earned plaudit's from the son of the song's composer, who also divulged that his Dad was surprised the song was ever a success.

"He had a hard time finishing the song and didn't exactly know what he wanted to say at first." Then he still had to fight off The Wizard Of Oz filmmakers, who "tried to cut the song out of the movie three different times because it slowed down the plot."

"The initial idea on the original book of the Wizard of Oz was to be very light, very happy, very upbeat. So all the songs were completed before Over The Rainbow. Harold felt that it needed something in there because you had that transition from dreary Kansas to Oz and the black and white to color."

"Of course, the producers, the directors, etc., they weren't too keen on this. They felt it would slow the motion picture down. Everybody liked it, but they felt still it wasn't quite right, except for really one of the producers there. The first three previews of the motion picture, the song was cut. Finally, one of the producers went to the head of the studio and said, 'Look, this song has to stay', and the rest became history."



Harold Arlen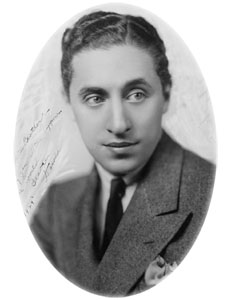 So has the music of Harold Arlen. While his name doesn't trip off the tongue like George Gershwin or Cole Porter, everyone loves Harold Arlen tunes.

Arlen was born Hyman Arluck on Feb. 15, 1905, in Buffalo where his father was a cantor. The Arlucks rented out the top floor of their house to an African-American family, which for the time "was very unusual," Sam Arlen said. But both families became good friends, and it's that crossing of ethnicities - European Jews and American blacks - that gave Harold Arlen's music its distinctive sound, and the framework of 20th-century American entertainment culture.

As a teenager, he developed a deep passion for jazz and took jobs playing the piano in local bands, movie houses, vaudeville troupes and cabarets. Dropping out of school when he was 16 to pursue a career in music he landed in a band called the Buffalodians.

Harold Arlen had dreams of being a singer.



Harold Arlen and Ted Koehler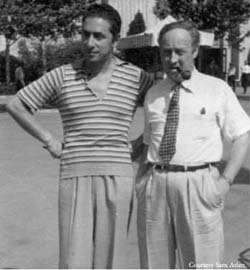 In 1929, he was introduced to Ted Koehler. The two joined forces as a songwriting team and when Arlen filled in as a rehearsal pianist for the show Great Day, by accident, one of Arlen's song ideas was turned into the much-loved tune Get Happy. The song's incredible success landed Arlen/Koehler a job writing music for the renowned Cotton Club in Harlem. It was there that Arlen's Jewish musical tradition began fusing with jazz and blues.

They wrote five shows for the Cotton Club from 1930-34, turning out some of the era's biggest hits, including Stormy Weather; I've Got the World On A String, I Love A Parade and Between the Devil and the Deep Blue Sea.

"He would write when the mood struck him," recalled Sam. "It was never a nine-to-five type of situation. He could be playing golf and a melody would come to his head and he'd take out a little jot paper and write this idea down and, when he went back home and got to the piano, he'd create."

And, create he did.

During his years with the Cotton Club, Arlen also penned tunes for Broadway. It was on the set of one of the revues that he met young model Anya Taranda and fell madly in love. After several years, they married and moved to Hollywood, where Arlen worked from 1934 through 1963 composing scores for feature films, including Wizard of Oz. Eight of his songs from films have been nominated for Academy Awards. In 2000, Over the Rainbow, which won the Academy Award for Best Song in a Motion Picture in 1939, was recognized as the Number One Song of the 20th Century out of a list of 365 songs compiled by the Recording Industry Association of America and the National Endowment for the Arts.

Between 1934 to 1973, Arlen also wrote scores for several Broadway musicals, including Bloomer Girl; St. Louis Woman and House of Flowers.



Harold Arlen playing piano for a singer named Frank Sinatra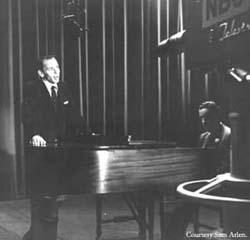 In total, Harold Arlen composed more than 20 musical revues and theater works and 30 scores for Hollywood films during his career. He collaborated with more than 20 lyricists, in addition to writing his own lyrics on numerous songs. He composed several solo piano pieces and created more than 500 songs during his lifetime.

Arlen was inducted into the Songwriters Hall of Fame in 1971. Along with other great American songwriters, such as George Gershwin, Cole Porter and Richard Rodgers, Arlen has laid the foundation of musical history in the 20th century with his standards. He died in his New York City apartment on April 23, 1986.

The ASCAP Foundation annually presents the Harold Arlen Musical Theater Award which recognizes writers who have emerged from The ASCAP Foundation Musical Theatre Workshops in Los Angeles and New York. The award is funded through a gift from Sam and Joan Arlen, honoring Harold Arlen.

As for Wizard, one of the unusual aspects of producing this show in Las Vegas is no local tie-in for the composer. Harold Arlen never set a toe on a Las Vegas stage, while Noel Coward (1899-1873) starred at the Desert Inn Hotel in Las Vegas in 1955 and the late Cy Coleman had a regular gig at the Sahara Hotel. ( See Broadway To Vegas column of December 12, 1999 )

The show at the Greek Isles has the potential of bridge building between the Las Vegas high priced offering and a quality mid-price ticket. The Greek Isles Hotel is on Convention Center Drive which is a short street linking the Strip with Paradise, a street where the Hilton Hotel is parked. The Greek Isles is also within easy walking distance of the Riviera Hotel as well as the Las Vegas Convention Center, although conventioneers are not noted for their entertainment acumen.

If the tickets are kept affordable, this production could be a happy alternative to the sky high prices posted for other Vegas entertainment options. While all of the big ticket productions are fabulous - the downside is that the cost can make a potential customer first size up the wallet.

The Police at the MGM Grand on May 23 have tickets priced at $78.75 to $262.50; Robin Williams in stage at the MGM Grand on May 25 with tickets $105.00 to $236.25; Either Bette Midler or Cher performing at Caesars Palace are priced at $95-$250 plus tax and fees; Barry Manilow at the Hilton $104.50 to $247.50; Spamalot at Wynn Hotel $69-$179 plus tax; Phantom The Las Vegas Spectacular at the Venetian $68.90-$158.00.

If Wizard can keeps tickets in the mid-price range $44 to $64 for VIP seating - and that is a serious caveat - this show has the potential of joining the ranks of Menopause The Musical from $49.50 (plus tax and service charge) and The Scintas $39.95 to $64.99 both staged at the Hilton - as entertainment options enjoyed by both local and tourist traffic.

A sensibly soled foot can amble from the Hilton to the Greek Isles, turning the three block area into an entertainment parlay for the mid-priced entertainment scene.

Recent mountings of this show under it's non Las Vegas name, included a performance tonight, Sunday, May 4, at the Sambaugh Auditorium in Youngstown, Ohio The Feb. 1 staging at the Smothers Theatre at Pepperdine University had $40. tickets and the Feb. 6 show at the Fred Kavli Theatre in Thousand Oaks, CA. had tickets ranging from $34, $44 and $49.00 which included a $4.00 facility charge. When Sam brought the show to Ruth Eckert Hall in Clearwater, Florida last January 15 the ticket prices ran the gamut from $16-$154.

States Sam: "You have this great music that went on with a life of its own, but my dad was actually a quiet man. He wanted his music to do the talking."

It does.



Broadway To Vegas is supported through advertising and donations. Priority consideration is given to interview suggestions, news, press releases etc from paid supporters. However, no paid supporters control, alter, edit, or in any way manipulate the content of this site. Your donation is appreciated. We accept PAYPAL. Thank you for your interest.


SWEET CHARITY


SPRING SOIREE AT TRIBECA'S ICO ART & MUSIC GALLERY takes place Thursday, May 8 at ICO Art & Music Gallery and benefits Coffee Cup - a theatre company - and their upcoming production Standing Clear

Celebrate Coffee Cup's second season: soak in the sounds of New York's most "underground musicians," enjoy our lavish open bar and hors d'oeuvres, and peruse an extensive silent auction.

Check out one of Tribeca's most unique art galleries, and while you're there, stay for a few spirits, or consume a few culinary canapés from local caterers. You can also stake your claim to one of the many auction items on the block.

When you're done, you walk away with a gift bag full of goodies including the original documentary by Anna Holtzman Subway Dreams, a CD sampler of the subway musicians performing live at the event and the critically acclaimed book Subway Chronicles, published by Plume publishers.

Throughout the evening there will be performances by local subway musicians, almost as if you are walking from platform to platform underground. Musicians will include Brotherhood of the Jug Band Blues, Cousin Hubie, Glenn Roth "Innovative Fingerstyle Guitarist", J. Hill & Hartling - Hard Country Blues and Nu Millennium: 'acappella soul'.

Thursday, May 8 at ICO Art & Music Gallery, NYC.



STRETCH (a fantasia)

Kristin Griffith in Stretch Photo by Carol Rosegg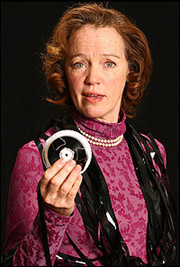 a politically charged comedy-drama by New Georges' Artistic Director Susan Bernfield. Directed by Emma Griffin, with music by Rachel Peters.

Stretch imagines the final days of Rose Mary Woods, Richard M. Nixon's longtime loyal secretary, who infamously erased several crucial minutes of Nixon's Watergate tapes.

In this new work Woods observes the presidential election of 2004 from her Alliance, Ohio nursing home. She connects the past with the present while thinking about power, loyalty, and lying.

When Nixon, then a young California Senator, needed a secretary, he had an agency send one over; it was Woods. The two clicked, and from 1951 through the Watergate scandal and until the end of his political career, Woods served as Nixon's secretary. Before H.R. Haldeman and John Ehrichman became the operators of the presidential campaign, Miss Woods was Nixon's gatekeeper. It has been said she controlled who could see her boss. If one were on her good side, the door was opened, but if one were held to be of questionable loyalty, meetings just would not happen.



Rose Mary Woods demonstrating how she might have erased the tape recordings
Fiercely loyal to Nixon, Woods claimed responsibility in 1974 grand jury testimony for inadvertently erasing up to 5 minutes of the 18 1/2 minute gap in one of the Nixon audio tapes (specifically, the one from June 20, 1972) that were central to the scandal. Her demonstration of how this might have occurred - which depended upon her stretching to simultaneously press controls several feet apart (what the press dubbed the "Rose Mary Stretch") was met with skepticism from those who believed the erasures, from whatever source, to be deliberate. Later investigators identified five to nine separate erasures. The contents of the gap remain a mystery.

The play's title Stretch was inspired by the 1974 grand jury photograph of Woods as she demonstrated her accidental erasure - or stretch. Woods died on January 22, 2005, at a nursing home in Alliance, Ohio.

Kristin Griffin, the Broadway, film, television actress and longtime Ensemble Studio Theatre member often remembered for her appearance in Woody Allen's first screen drama Interiors will portray Woods. The cast also includes Eric Clem, Brian Gerard Murray and Evan Thompson.

Design by Jo Winiarski, Raquel Davis, Jessica Trejos, Jessica Paz

The production officially opens on Monday, May 5, with shows through May 26.

PLAYWRIGHT ISRAEL HOROVITZ on his way to Paris to receive the Chevalier Award stopped in at PRI's Studio 360 in New York last week to record the voice of Byron Weld for International City Theatre's production of his Park Your Car in Harvard Yard which opened in the Long Beach, CA venue on May 2 with performances through May 25.

In Horovitz's two-character Park Your Car, Weld is a radio announcer whose voice is heard throughout the play becoming, in essence, a third, unseen character. In the ICT production, Joseph Ruskin plays Jacob Brackish, a retired teacher now in the last years of his life who doesn't realize that the housekeeper he's hired, played by Jacqueline Schultz, is a former student whom he flunked years ago. Hope Alexander directs.

This is the first production of his popular play for which Horovitz has voiced the character of Weld.

PYGMALION Sir Peter Hall brings his acclaimed production of Bernard Shaw's enduring classic to The Old Vic in London.

Tim Pigott-Smith as Henry Higgins returns to The Old Vic stage for the first time since 1998 and London audiences will also have the opportunity to discover a remarkable new talent in Michelle Dockery as Eliza Doolittle.

Co-starring Tony Haygarth, Pamela Miles and Una Stubbs.

Set Designer is Simon Higlett. Costume Design by Christopher Woods. Lighting by Peter Mumford. Sound by Gregory Clarke.

May 7-August 2 at The Old Vic in London.

13 a new musical with music and lyrics by Jason Robert Brown. Directed by Jeremy Sams. Choreographed by Christopher Gattelli.

Evan Goldman has it all – he's popular, has the 'perfect' family and lives in the greatest city in the world – New York. That is until his parents get divorced and he's forced to move - to a small town in Indiana.

Uprooted from his old life, he has to make new friends and somehow maneuver the minefield of High School to become part of the 'in-crowd'. With wit and searing honesty, 13 is a high-energy musical for all ages.

It's about the lessons one learns throughout life and the discovery that the journey to who you want to be starts with discovering who you are. Featuring an explosive rock score by celebrated composer Jason Robert Brown and performed by an astonishing cast of young actors, 13 is a grown-up story about growing up.

May 9 - June 8 at the Norma Terris Theatre, Goodspeed Opera House, Chester, CT.

OCCUPANT by Edward Albee. World premiere directed by Pam MacKinnon.

Signature Theatre Company in Manhattan caps off its season with a Legacy Production as part of its Premiere Series, which presents new works by former Playwrights-in-Residence.

Edward Albee's Occupant is a portrait of acclaimed sculptor Louise Nevelson – a quest to capture a charismatic and complex artist and persona. What is the relationship between creator and creation? Who was Louise Nevelson? Only she knew.

Starring Tony and Academy Award winner Mercedes Ruehl as abstract-expressionist artist Louise Nevelson and two-time Emmy Winner and Tony nominee Larry Bryggman playing a character known only as Man.

Performances begin May 6 and continue through July 6.

MILL FIRE by Sally Nemeth. Directed by Angela Astle.

One woman refuses to toe the company line after a terrible tragedy.

For the longest time, towns have depended on local industries for survival. The company not only becomes the major economic force in the area, but a social one as well, permeating almost every aspect of life. But sometimes what's good for the company is not always what's best for everyone.

In a late 1970s steel town, 25-year-old Marlene is content with her life. She has a menial office job, but is passionately in love with her husband Champ, who works at the local steel mill. When not with her spouse or working she's usually listening to the marital problems of her older brother - and mill foreman - Bo, whose wife Sunny all too often tries to drink her unhappiness away.

Like most people in town, Marlene trusts the mill owners to take care of their workers. But when they fail to do so and disaster strikes, something inside Marlene changes forever. Spurning offers of a cash settlement, she has no intention of appeasing the company's guilt by accepting benefit checks from their accounting department. She further scandalizes her friends and neighbors by refusing to grieve in what they consider to be an acceptable manner.

Weaving past and present together in a gentle mosaic, Mill Fire examines the shifting natures of grief, anger and healing as it presents one woman's resolve to face the future on her own terms.

May 7 - May 24 at The Spoon Theater in NYC.


| | | |
| --- | --- | --- |
| | | |
WHO'S WHERE


MILES FROM INDIA – A CELEBRATION OF MILES DAVIS' MUSIC world premiere concert features musicians from the groundbreaking CD Miles... From India line-up is comprised of musicians who have recorded or performed with Miles Davis over the span of five decades including Ron Carter, Wallace Roney, Lenny White, Pete Cosey, Badal Roy, and Benny Reitveld. Classical and jazz musicians from India including Louiz Banks, Gino Banks, Rudresh Mahanthappa, Ravi Chary, Sridhar Parthasarathy, and Kala Ramnath will join them.

These musicians from two separate continents come together in this cross-cultural summit meeting – putting a provocative pan-global-spin on such Miles classics as All Blues, Spanish Key, So What, It's About That Time and Jean Pierre. Sitar and tablas, ghatam and khanjira, mridangam and Carnatic violin blend seamlessly with muted trumpet and saxophones, screaming electric guitar and grooving electric bass lines, piano, upright bass and drums in this profound fusion of Indian classical and American jazz. Friday, May 9, at Town Hall in NYC.

THE KINGSTON TRIO perform Friday, May 9, at the Rialto Square Theatre in Joliet, IL. On Saturday they are on stage at the Metropolis Performing Arts Center in Arlington Heigts, IL.

JUDY COLLINS performs Thursday, May 8, at the Center for the Arts in Suffolk, VA.

JOHNNY MATHIS who has had #1 hits on the Billboard chart, is in the Grammy Hall of Fame, and has a star on the Hollywood Walk of Fame performs May 9 at Orpheum Theatre in Memphis.

ALICIA KEYS performs Monday, May 5, at the Staples Center in Los Angeles. On Wednesday she is on stage at the San Diego Sports Arena. Friday she can be enjoyed at the MGM Grand Garden Arena in Las Vegas. On Saturday the show is at the HP Pavilion in San Jose, CA and next Sunday she is in the spotlight at the ARCO Arena in Sacramento.

JOHN FOGERTY performs Friday, May 9, at John Ascuaga's Resort in Sparks, NV.

ARLO GUTHRIE on stage Thursday, May 8, at the Lincoln Theater in West Hartford, CT. On Friday the show is at the McCarter Theatre in Princeton, NJ> Saturday finds him at the Patchogue Theatre for the Performing Arts in Patchogue, NY.

ELVIS COSTELLO performs Tuesday, May 8 at the Tennessee Theatre in Knoxville and on Wednesday at the Louisville Palace theatre in Louisville, KY. before hooking up with The Police for a double bill.

THE POLICE AND ELVIS COSTELLO take to the stage of the Allstate Arena in Rosemont, IL on Saturday, May 10. Next Sunday they will be playing their hits at the Van Andel Arena in Grand Rapids, MI.

STEVE WINDWOOD in the spotlight at the Berklee Performing Arts Center in Boston, MA on Thursday, May 8.




PIFFLE AND PROFUNDITIES


AMERICAN IDOL FINAL FOUR Syesha Mercado, Jason Castro, David Archuleta and David Cook, were in Las Vegas this week-end seeing Love at the Mirage and then visiting back stage.

Next Column: May 11, 2008
Copyright: May 4, 2008. All Rights Reserved. Reviews, Interviews, Commentary, Photographs or Graphics from any Broadway To Vegas (TM) columns may not be published, broadcast, rewritten, utilized as leads, or used in any manner without permission, compensation and/or credit.
Link to Main Page
---
Laura Deni


CLICK HERE FOR COMMENT SECTION