! >
Broadway To Vegas
  
 SHOW REVIEWS CELEBRITY INTERVIEWS GOSSIP NEWS

| | |
| --- | --- |
| | |
DIRTY ROTTEN SCOUNDRELS CD IS A DELIGHT - - IT STARTED WITH A DREAM; A CELEBRATION OF CY COLEMAN - - HAROLD ARLEN CENTENNIAL - - BILLY CRYSTAL TO TOUR 700 SUNDAYS - - GENE REYNOLDS DIRECTS OF MICE AND MEN - - AN EVENING WITH DAYTIME STARS - - MICHELE LEE TO STAR IN MAME - - BILL COSBY CANCELLING SHOWS - - DONATE . . . Scroll Down


Copyright: May 15, 2005
By: Laura Deni

CLICK HERE FOR COMMENT SECTION
UNIQUE MARKETING AND A WARNING FROM JOHN LITHGOW; DIRTY ROTTEN SCOUNDRELS IS A CD DELIGHT


When you get to track 17 suddenly the CD of Dirty Rotten Scoundrel is interrupted with:

"Hello, this is John Lithgow with a slight heads up to you listeners out there. If you haven't yet seen Dirty Rotten Scoundrels the remaining tracks contain a few twists and turns of plot that could spoil your full enjoyment of the show. So, turn off your stereos, go order tickets, hire the baby sitter and come back at a later day. If you have seen the show then please play on and then order tickets to see it again - preferably at full price. I have children in college - and a mortgage. And, I'm a bit of a clothes horse. Thank you."

Listening to this delightful cast recording does give one an urge to again see the musical, which can be enjoyed at the Imperial Theatre.

While Lithgow may want the audience to pay full price for the theatre tickets, producers of the CD, which was released on May 10th, have been giving them away.

On April 27, the show's composer and complete cast were autographing free copies of the new CD in front of the Imperial Theatre for anyone who stopped by before the matinee performance. More than 4,500 did - some arriving as early as 6:00 a.m. By noon the line was blocks-long, stretching across the theatre district.

The producers also announced that - in a Broadway first - 50,000 special limited edition copies of the cast recording are being handed out free to every audience member attending performances of Dirty Rotten Scoundrels through May 31.

The producers financed the album themselves and have partnered with Kurt Deutsch, President of the independent record labels Sh-K-Boom and Ghostlight Records, which permitted them to market the cast album in a unique and revolutionary way.

Dirty Rotten Scoundrels Producer Marty Bell explained, "I grew up with a Broadway where we all came into the theater humming the tunes. I've been searching for a method to recreate that. By getting 50,000 CDs into our audience's homes and cars, we hope to kickstart the process of familiarizing theatergoers with David Yazbek's uniquely funny, melodic songs. Successful theater is dependent on word of mouth - and what better way to spread it than to fill the marketplace with this terrific score."

Kurt Deutsch President of Ghostlight Records says, "The Cast Album is the most important marketing tool a show has. It has been my goal over the past few years to re-define how these albums are financed and marketed. By co-owning the master recording with the producers, we can work together to figure out how to market the show as well as sell the record. As a show tries to build an audience, they need too be able to use every tool they can. If we can help by doing something unique like this launch, fueling word-of-mouth, we will sell many records for many years to come."

They accomplished their goal.



Norbert Leo Butz, John Lithgow, and Sherie Rene Scott in a scene from Dirty Rotten Scoundrels. Photo by Carol Rosegg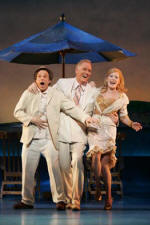 With clever, witty lyrics and bouncy, cheerful tunes the CD faithfully translates the feel of the performance. The upbeat, funny show has garnered Tony nominations for both Lithgow and Norbert Leo Butz - who go head to head vying for the Best Actor in a Musical.

This is a musical version of Dirty Rotten Scoundrels, based on the popular 1988 film. Dirty Rotten Scoundrels centers on two con men living on the French Riviera. The first is suave and sophisticated con artist Lawrence Jameson (played by John Lithgow), who makes his lavish living by talking rich ladies out of their money. The other, a small-time crook named Freddy Benson (played by Norbert Leo Butz), more humbly swindles women by waking their compassion with fabricated stories about his grandmother's failing health. After meeting on a train, they unsuccessfully attempt to work together only to find that this small French town isn't big enough for the two of them. They agree on a settlement: the first one to extract $50,000 from a young female target, heiress Christine Colgate, wins and the other must leave town. A hilarious battle of cons ensues, bringing out the best and worst in each man."

Dirty Rotten Scoundrels features a book by Jeffrey Lane and music and lyrics by David Yazbek and stars John Lithgow, Norbert Leo Butz, Sherie Rene Scott, Joanna Gleason, Gregory Jbara and Sara Gettelfinger. The production, directed by two-time Tony Award winner Jack O'Brien and choreographed by Jerry Mitchell, opened on Thursday, March 3. The cast also includes; Timothy J. Alex, Andrew Asnes, Roxane Barlow, Stephen Campanella, Joe Cassidy, Julie Connors, Jeremy Davis, Rachel De Benedet, Laura Marie Duncan, Sally Mae Dunn,Tom Galantich, Jason Gillman, Nina Goldman, Greg Graham, Amy Heggins, Grasan Kingsberry, Gina Lamparella, Michael Paternostro and Rachelle Rak.

Sets by David Rockwell. Lighting by Kenneth Posner. Costumes by Gregg Barnes. Sound by Acme Sound Partners. Choreographer Jerry Mitchell. Musical director is Ted Sperling.

Excellent orchestrations by Harold Wheeler. Ably conducted by Fred Lassen.

Standout numbers include Norbert Leo Butz doing a devastating delivery of a hip-hop style Great Big Stuff. and of course the title number performed by both Butz and Lithgow. The beautiful voices of Joanna Gleason and Gregory Jbara are highlighted in Like Zis/Like Zat, and Gleason heads up the female ensemble with the catchy What Was a Woman to Do?

Sherie Rene Scott has a standout delivery of Here I Am and Nothing Is Too Wonderful to Be True.

The track list:

1. Overture
2. Give Them What They Want
3. What Was A Woman To Do
4. Great Big Stuff
5. Chimp In A Suit
6. Oklahoma?
7. All About Ruprecht
8. Here I Am
9. Nothing Is Too Wonderful To Be True
10. The Miracle
11. Ruffhousin' mit Shuffhausen
12. Like Zis / Like Zat
13. The More We Dance
14. Love Is My Legs
15. Love Sneaks In
16. Son of Great Big Stuff
17. A Message From John Lithgow
18. The Reckoning
19. Dirty Rotten Number
20. Finale



THE TONY AWARDS announced their nominations May 10th at the Marriott Marquis Hotel in Midtown Manhattan. The Tony Awards will be telecast on CBS, Sunday June 5 hosted by Hugh Jackman. For a list of the nominees click here

THE 50TH ANNUAL VILLAGE VOICE OBIE AWARDS Off-Broadway's highest honor created in 1955 by Jerry Tallmer will be an irreverent ceremony honoring the Off and Off-off Broadway theater community for the 2004-5 season. Cash Grants for artistic excellence and emerging playwriting will be awarded. Plus never before seen Photo Exhibit Celebrating 50 Years of Off- Broadway Theater.

Hosted by Stockard Channing and Jimmy Smits.

Presented by: Karen Finley, Holly Hunter, Sarah Jones, Craig Lucas, Rue McClanahan, John C. Reilly, Elaine Stritch, James Urbaniak and some surprise guests.

Judges: From the Voice: Charles McNulty (Chairman), Michael Feingold, Alexis Soloski, Kathleen Chalfant, André De Shields, David Greenspan, Daphne Rubin-Vega, David Savran and Paula Vogel.

Live entertainment performances by Daphne Rubin-Vega with Guitarist David Matos. Jason Fuchs, Perry Silver, Nell Mooney & Stephanie Bast performing a song from Kyle Jarrow's rock musical Gorilla Man.

Monday, May 16, at Webster Hall, in New York City.

TUTS ANNOUNCES WINNERS FOR THIRD ANNUAL TOMMY TUNE AWARDS Theatre Under The Stars recently announced the winners of the third annual Tommy Tune Awards which were held on Monday, May 2 at the Hobby Center for the Performing Arts. Developed by TUTS, the Tommy Tune Awards honors musical theatre excellence at the high school level. The night also included the presentation of the 2005 Ruth Denney Award to the Bachelor of Fine Arts in Musical Theatre Program at Sam Houston State University, as well as special appearances by two-time Olympian and star of Peter Pan, Cathy Rigby, and former Houstonian and recording artist, Jennifer Holliday.

The thirty-five schools participating in this year's event included: Austin, Ball, Barbers Hill, Cinco Ranch, Clear Brook, Clements, Cypress Ridge, Dobie, Duchesne Academy, Elkins, Episcopal, Foster, Friendswood, George Bush, Hastings, Humble, Jersey Village, Katy, Kempner, Kerr, Klein Collins, Klein, Klein Oak, Memorial, Morton Ranch, Northland Christian, Pasadena Memorial, Saint Agnes Academy, Spring, Spring Woods, Stratford, Taylor, The Woodlands, Westchester Academy, and Westfield.

Theatre Under The Stars (TUTS), one of America's largest producers of non-profit musical theatre, was founded in 1968 by Frank M. Young. Theatre Under The Stars was the first theatrical organization in Houston to perform free to the public at Miller Outdoor Theatre in Hermann Park, and has since performed there each summer, giving Houston 46 lavish musicals such as South Pacific and The Who's Tommy. Since its founding, TUTS has produced more than 275 major musicals.



Broadway To Vegas is supported through advertising and donations. Priority consideration is given to interview suggestions, news, press releases, etc from paid supporters. However, no paid supporters control, alter, edit, or in any way manipulate the content of this site. Your donation is appreciated. We accept PAYPAL. Thank you for your interest.


SWEET CHARITY


IT STARTED WITH A DREAM A CELEBRATION OF THE LIFE & MUSIC OF CY COLEMAN

Cy Coleman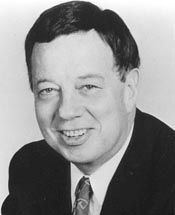 A Gala Benefit Supporting the 92nd Street Y's Programs.

On Monday, May 23, the 92nd Street Y presents It Started With a Dream: A Celebration of the Life and Music of Cy Coleman, a gala benefit supporting the 92nd Street Y. This event looks back at the remarkable career of Grammy and Tony Award-winning Broadway composer Cy Coleman (1929-2004), who composed the ebullient musical scores of such Broadway shows as Sweet Charity, The Will Rogers Follies and City of Angels, as well as such pop standards as Witchcraft, Big Spender and The Best is Yet to Come.

Performances and Reminiscences by Friends and Colleagues Including Lucie Arnaz, Stephen Bogardus, Mike Burstyn, Robert Goulet, Randy Graff, Sheldon Harnick, Gary Haase, Dee Hoty, Cady Huffman, Judy Kaye, Michele Lee, James Naughton, Chita Rivera, Elaine Stritch, Wendy Wasserstein, Lillias White, Buddy Williams, Tom Wopat, and David Zippel — all friends and colleagues of Cy Coleman — perform his songs and share their personal memories. This show was not originally intended as a posthumous tribute; Mr. Coleman was involved in preliminary planning for the benefit before his death on November 18, 2004.

Cy Coleman's involvement with the 92nd Street Y spanned decades. According to his widow, Shelby Coleman, "Cy attended many musical performances at the Y when he was a kid." His knowledge of the 92nd Street Y — and its quirks — is evident in his musical Sweet Charity (1966), in which he and co-writers Dorothy Fields (lyrics) and Neil Simon (book) set a scene in a stalled 92nd Street Y elevator.

Last fall, he and his wife, Shelby Coleman, met with Helaine Geismar Katz, Associate Executive Director of the 92nd Street Y and producers Jeffrey Martin and John Kroner, to begin shaping this gala. Says Geismar Katz, "Cy was so warm, so very talented. His music reflects his verve, intensity, and generosity of spirit, and we hope this show does too." She adds, "We want to express our gratitude to Shelby for her help and support in planning this event."

Ms. Coleman and other family members will attend the tribute on May 23.

This show takes its name from Coleman's song It Started With a Dream, the anthem of his last musical, Pamela's First Musical - based on a children's book by Wendy Wasserstein.

The cast is composed of Coleman's friends and collaborators, as well as Broadway stars and cabaret legends known for their renditions of Coleman's songs. The evening's highlights include:

Lilias White, who won a Tony for her performance in The Life, sings songs from two Coleman musicals never staged in New York: Those Hands from In the Pocket, and a duet called It Started With A Dream from Pamela's First Musical (with Tom Wopat).

Elaine Stritch sings the standard It Amazes Me.

Robert Goulet sings the standard Witchcraft.

Lucie Arnaz, who starred in the national tour of Coleman's Seesaw and first met the composer when, as a child, performs the standard The Best Is Yet to Come.

Dee Hoty, who performed on Broadway in Will Rogers Follies and City of Angels will sing No Man Left For Me from Will Rogers Follies.

Tom Wopat, who made his Broadway debut in Coleman's I Love My Wife and starred in Coleman's City of Angels, sings Never Met a Man I Did Not Like from Will Rogers Follies and It Started With a Dream from Pamela's First Musical.

Michele Lee, who starred in the Broadway production of Seesaw sings I'm Way Ahead from Seesaw.

James Naughton who won a Tony for his role in City of Angels, sings Everybody Today Is Turning On(I Love My Wife) and You're Nothing Without Me (from City of Angels; with Stephen Bogardus).

Reminiscences from lyricist Sheldon Harnick who partnered with Coleman on songs for film and TV; playwright Wendy Wasserstein who worked with Coleman on Pamela's First Musical; and David Zippel who collaborated with Coleman on both City of Angels and Pamela's First Musical.

Executive Producer: Helaine Geismar Katz. Producers/Directors: Jeffrey Martin and John Kroner.

Larry Blank is the music director and John Miller is music contractor. Tom Schwinn is set designer; Herrick Goldman is lighting designer; Daryl Bornstein is sound designer and the projections are by Aleks Rosenberg. Christopher Bynum and Catherine Cochran, of the 92nd Street Y, are, respectively, production coordinator and artistic administrator.

Monday, May 23, followed by Dessert Reception.

Proceeds from this benefit go toward the 92nd Street Y's cultural, educational and community programs. The funds also support the Y's $1-million-a-year Scholarship Fund, which enables everyone to participate in Y programs regardless of economic circumstance, and the Y's Arts Outreach Program, which serves 6,000 public elementary school students annually.

AN EVENING WITH DAYTIME STARS

Ricky Paull Goldin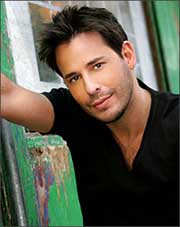 on the eve of the Daytime Emmy's, the stars of Daytime television plus other celebrity guests will join host Ricky Paull Goldin who plays Gus on Guiding Light for the Evening With Daytime Television Stars in support of the HJD MS Care Center of Greater New York.

The event will be held at New York's historic Waldorf Astoria Hotel and the theme for this casual chic event is Denim and Diamonds.

The evening will include live entertainment by the Untouchables, cocktails and food stations, lots of opportunities for photographs and autographs, and plenty of time to bid on live and silent auction items.

Ricky Paull Goldin will host. Soap stars will attend, including favorites from; One Life To Live, The Young & The Restless, All My Children, Days Of Our Lives and Guiding Light.


A CENTENNIAL TRIBUTE TO HAROLD ARLEN
Harold Arlen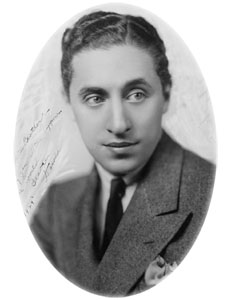 Michael Feinstein will a magical musical celebration honoring the centennial of film composer Harold Arlen, staged by the Academy of Motion Pictures Arts and Sciences. The May 19 event will feature film clips and live musical performances highlighting an unforgettable body of work.

Nominated for nine Academy Awards for Original Song, Arlen and writing partner E.Y. Harburg took home the statuette their first time out of the gate, for the timeless Over the Rainbow from The Wizard of Oz in 1939. For the next fifteen years, Arlen, with writing partners Harburg, Johnny Mercer, Ted Koehler, Leo Robin and Ira Gershwin, was a perpetual nominee.

Arlen's contributions to the now-classic American songbook include Blues in the Night, Black Magic, and Accentuate the Positive. His songs as interpreted by Judy Garland throughout her career are among the most memorable in movie history, beginning with Over the Rainbow and including Get Happy from the 1950 film Summer Stock, and The Man That Got Away from the 1954 movie A Star Is Born. Numerous other great musical performers got a chance to bring Arlen's music to the screen as well, including Ethel Waters Happiness Is a Thing Called Joe, from Cabin In the Sky), Lena Horne Stormy Weather, from the movie by the same name and Fred Astaire One For My Baby, from The Sky's the Limit, all of these in 1943 alone!

Born February 15, 1905 in Buffalo, New York, Arlen came from a musical family. His father was a cantor in their synagogue, and Arlen studied piano as a child. Gigs as a pianist and singer in a dance band led him to New York City, where after stabs at breaking into Vaudeville and Broadway he became the staff composer for the Cotton Club in Harlem. With lyricist partner Ted Koehler, they wrote songs for Cab Calloway and Ethel Waters, including I've Got the World on a String and Ill Wind. Broadway and then the world of film opened up to him, first with Harburg as partner and later with Mercer. Few composers have had as long-lasting an impact on American music as Harold Arlen.

The gala event will take place at the Academy's Samuel Goldwyn Theatre in Beverly Hills.


OTHER PEOPLE'S MONEY


BILL COSBY cancelling upcoming engagements citing personal reasons. Patrons of various venues are told to contact for refunds.



THE PHILADELPHIA STORY by Philip Barry.

Starring Kevin Spacey and Jennifer Ehle as Tracy Lord, this looks set to be one of the biggest hits of the year bringing in over seven figures in advance sales - nearing the record set by the musical Chicago.

Cast includes Oliver Cotton, Nicholas Le Prevost, Richard Lintern, Julia McKenzie, Damian Matthews, Talulah Riley and Lauren Ward. Kevin Spacey as CK Dexter Haven appears to June 18. All other actors will appear throughout the duration of the run, August 6.

Spacey is leaving early - after seven weeks of the four-month run - to film his role as Lex Luthor in Superman Returns. His replacement has yet to be announced. Spacey will return to play Richard II later in the year, directed by Trevor Nunn. The Old Vic will also host further performances by Sir Ian McKellen, who will reprise his role as Widow Twankey in Aladdin.

Philip Barry wrote The Philadelphia Story especially for Katherine Hepburn who, together with her lover Howard Hughes and the Theater Guild, put up the money for the first production on Broadway. Staged at the Shubert Theater in 1939, it co-starred Van Heflin as Macaulay and Joseph Cotton as Dexter. The play - an instant hit - was memorably filmed by George Cukor in 1940, with James Stewart and Cary Grant starring alongside Hepburn. The musical version by Cole Porter, filmed as High Society, had Grace Kelly, Bing Crosby and Frank Sinatra in the leading roles.
Directed by Jerry Zaks. Set designs by John Lee Beatty. Costumes by Tom Rand. Lighting by Hugh Vanstone. Sound by Fergus O'Hare.

Currently at the Old Vic in London

HELLO, DOLLY! starring Michele Lee. Based on The Matchmaker by Thornton Wilder, this tale celebrates the joy of living with irresistible songs, clever comedy and the personality of one of the most unforgettable characters on the musical stage…Dolly! When the famous matchmaker Dolly Gallagher Levi decides her latest would-be groom - the well-known half-a-millionaire Mr. Horace Vandergelder - is better suited for herself, mayhem erupts. But with Dolly's varied skills and unstoppable energy, everything may just work out in the most unexpected way. August 8 - 14 at The Starlight Theatre in Kansas City.

HEROES A drama by David Muschell Winner of 2004's Southern Playwright's Competition.

In late October, 2001, Billy Mazzolli arrives at a small fire station in Tennessee. He tells the fire fighters that he was a fire fighter in New York and that he had become overwhelmed by 9/11. Everyone takes him in and begins treating him as a hero—everyone, that is, but Paul, a fire fighter who becomes suspicious. Heroes is based on a true story. It highlights our tendency to trust those who claim to be like us just about as easily as we distrust those we think to be different.

May 19-22 at Jacksonville State University in Jacksonville, Alabama.

OUTAGE By Itamar Moses. Directed by Jiri Zizka.

The play travels from a present day university, to Ancient Greece, to Italy during the Inquisition, and to Bertolt Brecht's desk, diving headlong into the motivations behind martyrdom.

Truly courageous, certainly irreverent, and wickedly funny, Itamar Moses leaps into history and lands squarely in the new world of cutting-edge theater.

Winner of the Portland Drammy Award for Best Original Script.

East coast premiere May 18-June 19 at the Wilma Theatre in Philadelphia.

THE TYRANT Composed by Paul Dresher. Written by Jim Lewis. Directed by Melissa Weaver. Performed by John Duykers.

Inspired by Italo Calvino's remarkable short story A King Listens, The Tyrant tells the story of a dictator on his throne, just before an insurrection.

The Philadelphia Premiere takes place May 19-20 at The Prince Music Theatre.

TEA AT FIVE

Kate Mulgrew as Katharine Hepburn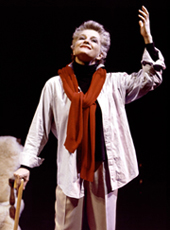 by Matthew Lombardo. Directed by John Tillinger.

Kate Mulgrew stars as legendary actress Katharine Hepburn in Tea at Five, an intimate look at the actress at home in her Fenwick Estate of Old Saybrook, Connecticut.

The play portrays the four-time Academy Award winner at opposite ends of her peerless career, revealing Hepburn as an undeniable talent that is equal parts witty and fiery, and one of the twentieth century's greatest film stars.

Mulgrew returns to the stage after a seven-year run as Captain Kathryn Janeway on UPN's Star Trek: Voyager. Her performance in Tea at Five garnered a 2003 Outer Critics Circle Award nomination for Outstanding Solo Performance and a 2003 Lucille Lortel Award nomination for Outstanding Actress.

May 19-29 at the Bagley Wright Theatre of the Seattle Rep.

REJOICE! by Cheryl L. West. Directed by Kenny Leon. The history of gospel music and its influence on much of popular music today is a fascinating one, and deeply intertwined with the African American struggles and triumphs of the 19th and 20th centuries. Using the music of gospel master Thomas Dorsey, playwright West (Jar the Floor, Play On!) gives us the stirring tale of a family of evangelists who struggle between the patriarch's drive to uphold tradition and the younger generation's need to make their own kind of music. Rejoice! is a joyous and vivid glimpse of the import, and impact, of this unique American art form.

Saturday, May 21 and Sunday, May 22. Part of the Seattle Rep's Hot Type, their annual festival of new plays. In a series of public readings, audiences join with artists in the development of new work for the stage. Playwrights hear their work read before a live audience and engage with dramaturgs, directors, and actors in the process of revising and refining their plays. Past participants in Hot Type include Nilo Cruz, Steven Dietz, Michael Feingold, Katie Forgette, Hilly Hicks, Sandra Tsing Loh, Robert O'Hara, Sarah Ruhl, and Chay Yew.

MAMMA MIA! the More than ten million people around the world have seen this heartwarming tale of a mother who confronts her past when three men return to the Greek island they've not visited for 21 years, just as her 20 year old daughter is about to be married. The dancing in the aisles musical opens at the National Theatre in Washington, D.C. running May 17 through July 2.

TAKE ME OUT the Tony award winning play by Richard Greenberg Directed by Kirk Jackson. Starring M.D. Walton and Rick Foucheux.

Take Me Out throws a curveball at America's favorite pastime. Darren Lemming, a young, iconic baseball star, is at the top of his game both personally and professionally. He calls a press conference that results in a shocking admission to the media, sending a ripple of effects through the team, the fans, and the nation. Both hilarious and hard-hitting, Take Me Out explores issues of celebrity, homophobia and friendship opens Wednesday at Studio Theater in Washington, D.C.

LEND ME A TENOR by Ken Ludwig. It's opening night and the star of the show is out of commission. Famed tenor, Tito Morelli, slated to perform the lead in the opera Otello, accidentally takes a double-dose of tranquilizers and passes out. It's up top Max, the general manager's assistant to wear Morelli's costume and fool the audience. The comedy escalates when Tito comes to and gets into costume. Now two leading men, two leading ladies, a amorous fan, and a crazed general manager lead to comedy on an operatic scale. May 18 - June 4 at Flat Rock Playhouse in Flat Rock, North Carolina.

OF MICE AND MEN

Gene Reynolds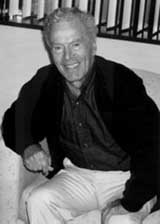 by John Steinbeck. Directed by Emmy award-winner Gene Reynolds (M*A*S*H*). John Steinbeck's outstanding drama is a tremendously moving study of the character of two roving farmhands, one of whom has the strength of a gorilla and the mind of an untutored child. Of Mice and Men tells the story of two drifters, George and his friend Lennie, with delusions of living off the "fat of the land," arrive at a ranch to work for enough money to buy their own place.

Cleveland born Gene Reynolds started his career as an actor in New York and Hollywood and appeared in The Country Girl and The Bridges of Toko Ri. Since then he has created, produced and directed numerous television shows; won a number of Emmy's, DGA, Peabody and other awards for his work on M*A*S*H*, Lou Grant and Room 222, as well as for his many other life-time achievements. He was elected president of the Director's Guild of America in June 1993 and again in June 1995 through 1997. Reynolds will be directing a cast which includes;: Ski Cutty Carr as Crooks (starred opposite Jon Voight in Holes); Eric Christie as Carlson; David Guzzone as George; Andre Hotchco as Lenny; Watson as Boss; Jack Minor as Slim; David O'Donnel as Curly; Michael Yavnieli as Curly; JK Palmer as Whit; William Schallert as Candy best known for playing the father on the hit series The Patty Duke Show and Nancy Drew); Kristen Swieconek as Curly's Wife and Tracy E. Wilson as Curly's Wife. The actors playing the roles of Curly and Curly's wife alternate performances.

The design team includes award-winning set designer Victoria Profitt, award-winning lighting designer J. Kent Inasy and costumes by Valentine's.

Gary Grossman, president and executive director of Camelot Artists Productions, heads the production company along with co-artistic directors Lisa Pescia, Mary Thompson and Allen Williams. Camelot Artists Productions, founded by Milton Katselas, is a not-for-profit organization. A board of directors for Camelot Artists is currently being assembled by co-chairs actress Doris Roberts and Grossman.

"We are so glad to be working with Gene Reynolds again and to have him be a part of our first subscription series at Camelot," said Gary Grossman. "Our season will continue with the world premiere of Bear by David Matalon, the Los Angeles Premiere of Wrong Mountain by David Hirson and A Dreamer Examines His Pillow by John Patrick Shanley." Performances May 14-June 12 at the Skylight Theatre in Los Feliz, CA


| | | |
| --- | --- | --- |
| | | |
WHO'S WHERE


NEIL DIAMOND on a tour of the United Kingdom performs Tuesday, May 17 at Sheffield Arena. On Thursday, May 19 he is center stage at the Manchester Arena.

HERBIE HANCOCK in a concert that features the freewheeling and headlong improvisation of his acoustic quartet - saxophonist Gary Thomas, bassist Scott Colley and drummer Terri Lyne Carrington. May 17 at The Barbican in London.

DAVID YAZBEK composer of Dirty Rotten Scoundrels and The Full Monty and some friends from the Broadway arena as well as his usual band of rock-type musicians will be playing songs from Yazbek's three albums and two Broadway shows as well as some adventurous covers May 16 at Feinstein's at the Regency in NYC.

B.B. KING WITH SPECIAL GUEST GUY DAVIS on stage Wednesday, May 18, at the State Theatre in New Brunswick, N.J.

SEAL in concert Friday, May 20 at Green Valley Ranch in Las Vegas.

SLOW FIRE Composed by Paul Dresher. Written and performed by Rinde Eckert. Directed by Richard E. T. White. May 18, May 21 and May 22 at the Prince Music Theatre in Philadelphia.

NEIL DIAMOND performs Tuesday, May 17, at the Hallam FM Arena in Sheffield, UK. On Thursday he opens a two night stand at the Manchester Evening News Arena in Manchester, UK.

MICHAEL BUBLE in the spotlight Tuesday, May 17 at the State Theatre in Minneapolis. On Wednesday he can be enjoyed at the Riverside Theatre in Milwaukee. Friday finds him at the Midland Theatre in Kansas City. On Saturday he's on stage at the Murat Theatre in Indianapolis and next Sunday he stars at the Masonic Temple Theatre in Detroit.


PIFFLE AND PROFUNDITIES


BILLY CRYSTAL who has been nominated for a room full of awards, including the Tony, for his Broadway show 700 Sundays telling David Letterman that after spending this summer getting to know his two year old granddaughter he plans to take 700 Sundays on tour. After 170 performances and an extension past its original March 5th closing date, Billy Crystal's 700 Sundays will have its final Broadway performance on May 22nd.
















Next Column: May 22, 2005
Copyright: May 15, 2005. All Rights Reserved. Reviews, Interviews, Commentary, Photographs or Graphics from any Broadway To Vegas (TM) columns may not be published, broadcast, rewritten, utilized as leads, or used in any manner without permission, compensation/credit.
Link to Main Page
---
Laura Deni


CLICK HERE FOR COMMENT SECTION