! >
Broadway To Vegas
  
SHOW REVIEWS     CELEBRITY INTERVIEWS     GOSSIP     NEWS 
| | |
| --- | --- |
| | |
Copyright: December 12, 1999
By: Laura Deni
CLICK HERE FOR COMMENT SECTION

FOLIES BERGERE TURNS 40
They kicked up their heels, let down their hair and shared stories - of dating Frank Sinatra, partying with Elvis Presley and Sammy Davis, Jr. - of the stage door Johnnies, the rich gamblers and those who pretended to be, in order to gain an audience with the showgirls of the famed Folies Bergere.


The original Can-Can girls from the Folies Bergere, Tropicana Hotel, Las Vegas. Claudine Longet is third from the top.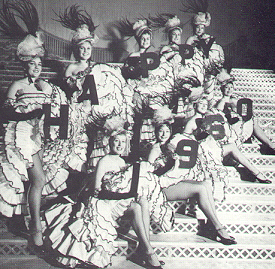 Saturday at the Tropicana Hotel in Las Vegas the production show celebrated doing the can can for more than 15 million visitors. The show began rehearsals on December 11, 1959, officially opened on New Year's Eve and set the standard for the Las Vegas showgirl.

Along the way the Folies Bergere has also become the longest running theatrical production in the world.

All of the former showgirls were invited to the anniversary show. Like any reunion there were those who had invested their money well; those who married well and those who had done neither.

Claudine Longet was an original showgirl. She spent 14 years married to Andy Williams before spending time in jail for killing her lover, skier Spider Sabitch in the home which they shared in Aspen, Colo. Longet later married her defense attorney.



1973 FOLIES BERGERE PROGRAM COVER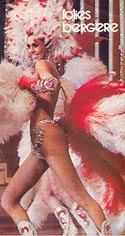 At the reunion the Folies beauties talked about the practical jokes they played on each other, of the glamour days when they maintained their dazzling allure after the curtain went down and mingled in the casino.

Required to remain an eyeful, every six months they faced a contract renewal scrutiny. They were weighed and never could gain more than five pounds of their original hiring weight. That doesn't mean skinny, that means voluptuous.

Felicia Atkins became a Las Vegas legend. She remained a Folies showgirl for 18 and a half years and was recently inducted into the Casino Legends Hall of Fame at the Tropicana.

The Folies Bergere was originally brought to American by Barbara Walters' father, Lou Walters. The nightclub owner was no stranger to Vegas. Walters had brought his Latin Quarter Revue to the Riviera Hotel in 1956, where he put Zsa Zsa Gabor in a gown costing and outrageous $17,000

When the Folies Bergere opened at the Tropicana it was an immediate success. Although periodically updated, the show has remained essentially the same and because it's good - flourished. The production show continues at the Tropicana Hotel, dark Thursdays. No one under 16 admitted. Tickets begin at $49.75.


CY COLEMAN: HEY LOOK HIM OVER!

Cy Coleman was intently watching the New Hampshire presidential debates on television. He couldn't understand why people kept trying to interrupt and sighed, "Isn't anybody besides me interested in watching the debates?"



CY COLEMAN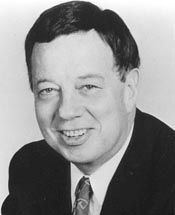 Following the televised discourse the prolific composer of such hits as Sweet Charity, City of Angels and The Will Rogers Follies discussed the merits, or lack thereof, in each of the candidates and their positions on various issues. The guy who has had 12 Grammy nominations is one savvy gent.

Then the creative composer reminisced about his days in Las Vegas.

Coleman played Las Vegas at the beginning of the glamour days. Backed by his instrumental trio, he tickled the ivories in the Sahara Hotel's Casbar Lounge. He has fond memories of his early Vegas days.

"Mary Kaye and her trio were there," recalled Coleman referring to Frankie Ross, Mary Kaye and her brother, Norman Kaye, who in additional writing and performing became a wealthy real estate broker.



THE MARY KAYE TRIO; Frankie Ross, Norman Kaye and Mary Kaye. Norman tried to get Cy to invest in real estate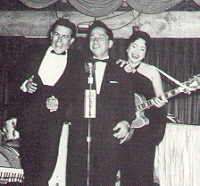 "The Sahara was fairly new," remembered Coleman. "I was there for four months. It ruined me for the rest of the world," he kidded about the Vegas lifestyle. "I stayed up, worked until five in the morning, and then kind of gambled a little. In fact, Norman Kaye used to tell me that there was great land by the airport -"Take some of your money and put it into it. It's cheap." I said to Norman -"Oh Norm, who is going to want to live by the airport anyway?" laughed Coleman about the now expensive property. "He was trying to help me and I wouldn't let him."

"I remember one of the lifeguards at the Sahara Hotel went on to become one of the Tarzans. His first name was Gordon," said Coleman referring to Gordon Scott who starred in three Tarzan movies.

"Everyone remembers things the way they like it. I like Vegas before. I liked it because it was smaller. It was much more accessible. They had chuck wagons that cost you a dollar that has everything imaginable to eat. It was kind of a strange little community and I liked that community. We all met and we all knew the people who worked. I can't see that happening today."

Las Vegas has recently undergone a spate of publicity puffing Broadway shows as turning the Las Vegas Strip into an extension of the Great White Way.



LUCILLE BALL starred in Coleman's first Broadway musical Wildcat.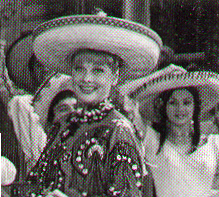 "Broadway isn't new to Las Vegas," pointed out Coleman, who wrote his first complete Broadway musical score Wildcat, which starred Lucille Ball and introduced one of his most popular songs "Hey Look Me Over."

"Not long after I did Sweet Charity on Broadway we had a run with it in Vegas with Juliet Prowse," continued Coleman. "It ran for two years at Caesars Palace. Broadway was in Vegas a long time ago. I think that Vegas should use a lot of Broadway. They are kind of related in some way - it's entertainment."



JULIET PROWSE starred in Coleman's Sweet Charity at Caesars Palace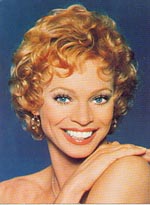 Recently Coleman opted out of returning to Vegas with a Broadway type show to be written especially for Vegas. That mantle fell to the shoulders of Jerry Herman, who will stage Miss Spectacular in a yet to be built theater at the Mirage Hotel.

"My partner, Larry Gelbart, and myself went to the Bellagio Hotel because Sandy Gallin was trying to get some show in," related Coleman about the manager turned entertainment director.

Gallin signed on as chief of Mirage Entertainment with the specific purpose of bringing Broadway quality entertainment to the Strip. At the end of September Gallin, 56, abruptly resigned from that position citing the heart by-pass surgery he underwent last summer. Gallin remains an entertainment consultant.

"When Sandy first called me I didn't know he was having a raffle with all of the composers," divulged Coleman. "Gelbart and I - every time we called somebody they said - Oh, I just met with Sandy Gallin.

"So I said to Sandy - if it's one of those raffle things, count me out. So, Larry and I decided to take a back seat. They have settled on a very good friend of mine, whom I like a very much, Jerry Herman.

"But coming to Las Vegas again was very interesting, a lot of crowds, but very interesting. The restaurants were, of course, terrific at the Bellagio. We had some magnificent meals there. And, I saw some spectacular shows. The O show at the Bellagio was really spectacular. My wife wanted to see Siegfried and Roy," he said referring to Shelby Brown, the lady who put a song in his heart.

They married in 1997 in a spot overlooking Niagara Falls. The delightfully eclectic lady had been a baby sitter for a community of feminists in Iowa, taught whitewater rafting in Idaho and worked as a photographer in Alaska. They'd met at a 1992 New Year's Eve dinner party when they were seated next to each other. As Mrs. Coleman her life underwent "a big change" with Tony Award ceremonies, going to the White House and doing Vegas. As for the Siegfried and Roy production, Coleman added. "It's a huge show and we had a good time."

While Coleman may have taken himself out of a Vegas run he's returned to the recording studio with producer Mike Berniker to record what will be Coleman's 38th album.

Currently referred to as "the project" the as yet untitled CD will be released by Sony Music this spring. All 15 songs, written by Coleman, will also be performed and sung by the composer at the piano accompanied by full orchestra with "a little help from his friends," - who are in the superstar stratosphere.

The CD will be released around the same time as Coleman's Exactly Like You will open off-Broadway, It's Good To Be Alive, will open on Broadway, The Life, will entertain its London debut and the workshop for Nothing But The Truth will begin rehearsals.



ALAN KING will star in Coleman's new musical It's Good To Be Alive.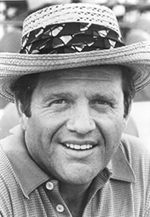 It's Good to Be Alive will star Alan King, a Vegas regular during those Rat Pack Days - one of the few who actually could bring high rollers into a casino.

"We've not only got Alan King, but he's going to play it for a year and Alan has agreed to go on the road with it, too, which is something we'd like to do," explained Coleman.

"It's a show written by Avery Corman who wrote Kramer vs Kramer. It's a great part," he added referring to the King role. "Gene Sacks will direct. I wrote the music and Avery and I co-wrote the lyrics. It's about the Yiddish Theater in the 20's - It's a piece of Americana. Nobody knew, but there were 22 theaters in the Lower East Side and they had temperamental stars. The story is about s guy who is too old to be playing young parts, but he is still playing them. We find him playing Romeo and he changes all of the endings. He feels the people have suffered enough, so he makes happy endings out of everything."

"I did it because I read the book and fell in love with it. It also gave me a chance to focus in on a certain kind of music, Klezmer, which is becoming popular and it's fun to do. There were little Jewish orchestras in middle eastern Europe and they were quite prevalent. It's clarinet, violin and accordion and it's very intricate, with it's own particular beat. Now I use this and integrate it with a full orchestra.

As to the success of It's Good To Be Alive Coleman is emphatic, "I don't have any doubts about this one!"

Next week the interview with Cy Coleman continues. He discusses royalties, corporate control, the internet, problems new and experienced composers face and has some thoughts about the critics.


SWEET CHARITY

BETTY BUCKLEY, VICTOR GARBER, JULIE HARRIS and CHERRY JONES will take part in A Joyous Christmas concert, December 13 and 14 to benefit both Broadway Cares/Equity Fights AIDS and the social services program of St. Bartholomew's Church.

The evening will feature carols, music and original material by playwright Terrence McNally.


OTHER PEOPLE'S MONEY

MUHAMMAD ALI has signed a personal management contract with Bernie Yuman, the fellow who has been handling Siegfried and Roy for 24 years. The magicians aren't disappearing, rather Yuman is opening a new management company with offices in Beverly Hills and Las Vegas. Ali has materialized as his firm's first client.

NEVADA SYMPHONY ORCHEATRA in existence for 20 years, forced to fold due to insolvency.

RATES ARE DROPPING As more people regain their common sense and decide not to blow their life savings on celebrating Y2K, Las Vegas is experiencing the same drop out syndrome as have states from Alaska to New York.

Rooms are not only available, but many at half the jacked up price of just a few weeks ago.


APPLAUSE, APPLAUSE


OSCAR GOODMAN the mob lawyer turned Las Vegas mayor is roasted today at the Four Season Hotel, Las Vegas. Slated to sling the good natured barbs are; Robert DeNiro, Wayne Newton, Don Rickles, Breck Wall and Mike Wallace.

GRAMMY LIFETIME ACHIEVEMENT AWARDS will be prested to; Harry Belafonte, Woody Guthrie, John Lee Hooker and Willie Nelson, in February in conjunction with the 42nd annual Grammy Awards.

Arista Records founder Clive Davis, music producer Phil Spector and musician/conductor Mitch Miller will receive Trustee Awards for their "outstanding contributions" to the music industry.

STEVE WYNN drew 200 celebs and high tone swells, who gathered in Los Angeles to witness the hotel mogul become only the 18th person to receive the Friars Club's Lifetime Achievement Award for his contribution to the world of entertainment.

Some of the notables attending included; Sid Caesar, Angie Dickinson, Barbara Eden, Hugh Hefner, Dennis Hopper, Lee Iacocca, Lainie Kazan, Jack Klugman, Harvey Korman, Martin Landau, Rich Litle, Stephanie Powers, Don Rickles, Rod Steiger, billionaire real estate investor Donald Sterling, Stella Stevens, Alan Thicke and Jerry Vale.

FRED ASTAIRE was honored during a centennial tribute at the Getty Center, Los Angeles.

Former co-stars Debbie Reynolds, Joan Leslie and Nanette Fabrey paid tribute.

An honored part of the special evening was Harold Nicholas, who with his brother, Fayard, danced in the 1940s and 1950's film musicals.Astaire's widow, Robyn, opened the program. The famed entertainer, born in 1899, died in 1987.



Broadway To Vegas is supported through advertising and donations. Priority consideration is given to interview suggestions, news, press releases, etc from paid supporters. However, no paid supporters control, alter, edit, or in any way manipulate the content of this site. Your donation is appreciated. We accept PAYPAL. Thank you for your interest.



SWING!

SWING! Cast members, including Ann Hampton Callaway at right, perform on the stage of the St. James Theatre, NYC. Photo by: Joan Regan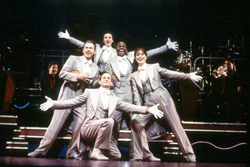 opened last Thursday at the St. James Theatre followed by a star studded party.

Those making merry were;

Joan Collins, Joan Rivers, Florence Henderson, Jojo Starbuck, Olympia Dukakis, James Naughton, Betty Buckley, Ruthie Henshall, Dan Hadaya, Richard Kind, Barbara Feldman, Ann Reinking, Sam Harris, Billy Stritch, Adolph Green, Betty Comden, Lee Roy Reams, and Liz Callaway cheering on her sister, Ann Hampton Callaway, who is a driving force in the revue.

Callaway wrote one of the show's numbers, Two and Four as well as revamping some of the lyrics to help the songs better fit the show's framework.

Jerry Zaks directs Choreography by Lynne Taylor-Corbett.

LIZA MINNELLI'S opening drew a celebrity audience. Those cheering and applauding Liza's tribute to her father, Vincente Minnelli included: Alan Cumming, Michael Feinstein, Nathan Lane, Mary Tyler Moore, Rosie O'Donnell, Sarah Jessica Parker, Barbara Walters and Wendy Waserstein. Liza is at The Palace Theatre only through Jan. 1.

PATRICK STEWART brings The Ride Down Mt. Morgan back to Broadway early in 2000.

TRUDY BLUE a new play by Marsha Norman, starring Polly Draper, has been extended at the MCC Theater, NYC.

Originally scheduled to close December 18, artistic directors Robert LuPone and Bernard Telsey will re-open the show December 28 with performances through January 9, 2000.

The cast includes; John Dussett, Julia McIlvaine, Judith Roberts, Pamela Isaacs, Sarah Knowlton and Aasif Mandvi.

TOO HOT TO HANDEL The Gospel Messiah is a gospel-jazz-rock-rhythm & blues adaptation of Handel's Messiah.

The production has become one of the most demanded events of the New York Holiday Season.

This year's concert will be presented by The Concordia Orchestra at Avery Fisher Hall for the sixth consecutive year.

Too Hot To Handel stars Lillias White, Vivian Cherry, Rodrick Dixon and The Morgan State University Choir.




WHO'S WHERE

ANY GRANT

AMY GRANT

backed by the Nashville Symphony, brings her Christmas Show to the Thomas and Mack Center, Las Vegas, on Thursday, December 16.

Special guests are Michael W. Smith, Point of Grace and The Katinas.

Reportedly both Amy and her ex-husband, country artist Gary Chapman, have called off the verbal sparring, since the fall-out from the dirty laundry airing was turning into a blizzard.

Her relationship with Vince Gill made headlines, as did the cancellation of his Nashville Network variety show.



RICKY MARTIN got over a case of the 24-hour flu in Las Vegas, had fun at the Billboard Awards and has left on a meditation retreat. He's serious.

TOM JONES wiggles on stage Monday, Dec. 13, Harvey's Casino Hotel, Council Bluffs, Iowa. The show is sold out. Then it's off to Chicago where Tom headlines in the House of Blues, December 14-15.

MELISSA MANCHESTER December 16, King Center, Melbourne, FL.

KATHY GRIFFIN has been busy gathering new comedy material in some extraordinary ways. The co-star of Suddenly Susan managed to survive liposuction, gave Marie Osmond her first kiss from a female, delighted audiences at the Billboard Awards in Las Vegas and now waits in Los Angeles to see if those rumors about Suddenly Susan being suddenly canceled are true.

CLINT BLACK who closes tonight, Dec. 12, at Caesars Palace, Las Vegas spent his off stage time signing copies of his new CD at the Forum Shops Mall

BRENDA BOUSCHARD entertains Thurs-Sun in the Kabuki Lounge, Hilton Hotel, Las Vegas. The singer/keyboardist is the wife of Robert E. Hughes, who spent decades as composer/arranger/conductor to Robert Goulet, Rich Little, Bob Hope tours, two Washington, D.C. specials starring Frank Sinatra. His Broadway touring company credits include; Sweet Charity starring Juliet Prowse, Call Me Madame with Ethel Merman, Destry Rides Again with Hugh O'Brien, and The Boyfriend starring Jane Russell. Hughes arranged and waved the baton for the 1981 and'85 inaugurations of Pres. Reagan and conducted Queen Elizabeth II's Silver Jubilee London Palladium television special.


THIS AND THAT

ZIMBALIST GENE POOL

EFREM ZIMBALIST, JR. His kids turned out okay.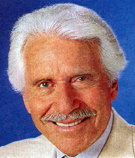 Efren Zimbalist, was a renowned violinist, born in Russia in 1989. He made his professional debut in Berlin in 1907 and his first appearance in the United States in 1911.

He became an American citizen and in 1941 was appointed director of the Curtis Institute of Music in Philadelphia. He married opera singer, soprano Alma Gluck.

Their son Efrem Zimbalist, Jr. became a famous actor, but not until he got kicked out of Yale and was too scared to tell his famous parents. He got a job as an NBC page - where Gregory Peck was working as a guide.

Zimbalist, Jr. spent nine seasons starring in The F.B.I. and six seasons on 77 Sunset Strip.

His daughter, Stephanie, also chose acting. She became famous as Laura Holt in Remington Steele.

Now another Zimbalist is making waves. Zimbalist, Jr's son, that would be Efrem III, 52, is executive vice president of Times Mirror Co. and president and chief executive of its Times Mirror Magazines division. He's been named chief financial officer of the Los Angeles-based parent company. He'll continue as CEO of the magazine division, and add the title of division chairman.

CHRISTIANE NOLL who is starring on Broadway in It Ain't Nothin' But The Blues had her second solo album Live at the West Bank Cafe: Christiane Noll released. It was recorded live at the intimate New York cafe and features a jazz trio led by David Budway on piano.

FRANK GIFFORD turned down an offer to take over the role of Billy Flynn this January in Chicago at Mandalay Bay, Las Vegas. Not as much of a stretch for the football great as one might think. Gifford once starred in a production of The Odd Couple.

WAYNE NEWTON who dropped out of high school is now Dr. Wayne Newton. The entertainer was awarded an honorary doctorate degree in music from William Woods University, Fulton, Mo. The school annually bestows an honorary doctorate degree on an individual considered a role model.

NUTCRACKER SUITE the ageless ballet by Tchaikovsky, had its premiere on December 18, 1892.




Mention BROADWAY TO VEGAS for Special Consideration
Call (800) 942-9027









Next Column: December 19, 1999
Copyright: December 12, 1999. All Rights Reserved. Reviews, Interviews, Commentary, Graphics or Photographs from any Broadway To Vegas (TM) columns may not be published, broadcast, rewritten, utilized as leads, or used in any manner without permission, compensation and/or credit.
Link to Main Page
---
Laura Deni




For the snail mail address, please E-mail your request.
CLICK HERE FOR COMMENT SECTION