! >
Broadway To Vegas
  
 SHOW REVIEWS CELEBRITY INTERVIEWS GOSSIP NEWS

| | |
| --- | --- |
| | |
PROFESSOR ENCOURAGES MAJORING IN THEATER - - THE LION KING OPENS IN SOUTH AFRICA - - 2007 POLAR MUSIC PRIZE WINNERS - - THE BRITANNIA BALL - - BIG WHITE FOG HAS EUROPEAN PREMIERE - - DUKE OF EDINBURGH AWARDS - - OPERATION PEDRO PAN - - PUB PLAYS - - DONATE . . . Scroll Down


Copyright: May 20, 2007
By: Laura Deni

CLICK HERE FOR COMMENT SECTION
DESPITE UNREALISTIC EXPECTATIONS, PROFESSOR ENCOURAGES MAJORING IN THEATER
Kenneth Elliott, Ph.D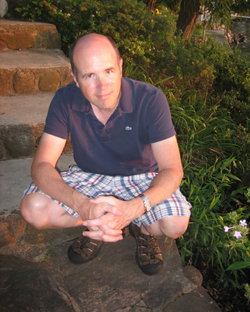 "Anyone who wants to get into the theater has unrealistic expectations," Kenneth Elliott, Ph.D. told Broadway To Vegas. The acting, directing and theatre history professor is winding up his final semester teaching at Cal State, Bakersfield before he heads east to teach the same subjects at Rutgers. "I'm thrilled," he said of the impending move.

While a real estate agent was arriving at his home, he proffered his thoughts about people who study theater.

"It's unrealistic," he reiterated. "It's impossible to get a career going in the theater. When I say that, there are always exceptions. Those are the people who want it so badly that you are willing to endure years of humiliating work that you do to get by. Knowing that you are doing that, because you know you are going to make it."

"You've got to believe in that more than anything else in the world - in order to keep your sanity. Otherwise, you'd go nuts."

Elliott received his education at Northwestern University where he obtained a master of fine arts degree in theatre. Re-locating to New York his dreams were as big as any newly minted theatrical graduate.

Then the reality of not making money set in.

He got a roommate - writer/actor Charles Busch. ( See Broadway To Vegas column of May 6, 2007 )

"We were in a railroad flat for years in an old tenement building on 12th Street. It's not everybody that you could live with under those circumstances for nine years. We had a great time. We always had loads of fun. We complimented each other. I did the cooking and he cleaned and did the dishes."

Struggling to obtain theatrical work is an understatement.

Elliott decided to ring down the curtain. "I had a masters degree in theatre and I was working as a temp in New York City. I thought I can't keep doing this the rest of my life. The theater thing didn't seem to be panning out. I'll do what my father wants me to do and go to law school and maybe I can get a good job. I didn't know what I wanted to do with a law degree. And, the fact of the matter is, I really didn't want to go to law school," he confessed.



Director/actor Ken Elliott (left) and the cast of Vampire Lesbians of Sodom at the Limbo Lounge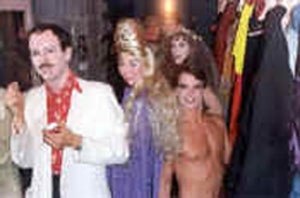 Like some melodrama, at the 11th hour Charles Busch created Vampire Lesbians of Sodom and had a regular venue - The Limbo Lounge. He begged Elliott not to go to law school.

"I took a one year deferment on my acceptance. I decided I would postpone the decision for a year and see what happened," he said referring to the law school agreeing to admit him the following year. A theatrical version of a man on death row being given a one year reprieve. "In that year is when the show became successful and I ended up sticking with it."

"I was delighted that Charles and I had an excuse that prevented me from going to law school. Going to law school was not something that I wanted to do. It was something that I felt I needed to do in order to earn a living. But, as it turned out, I was able to earn a living in the theatre, which was even better."

"I had so many great experiences after Vampire Lesbians took off," Eliott exclaimed.

"We did have a very close knit group and we stuck together for along time from '84 to '92 and we still even continue to work together."



Ken Elliott (left) as the Emperor with Charles Busch as the Empress in Theodora, She-Bitch of Byzanti, the second play they did at the Limbo Lounge. Circs 1984. Photo by George Dudley.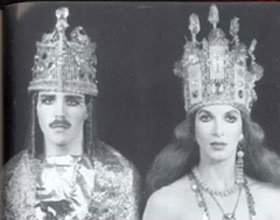 Sometimes for those who either achieve success too easily or who struggle too hard to catch enough crumbs, success can become difficult - because it's an unaccustomed lifestyle.

"Off Broadway success doesn't really present that problem, because its not much monetarily. It's the difference between being able to make a living and having to work a temp job," he explained.

"But, it is prestige - there is not question about that. Having a number of off-Broadway shows that got great reviews was exciting and prestigious. It was sort of heady to suddenly be taken seriously, by at least some people, after all these years of complete anonymity."

"But, other than that, I don't think it had much impact. Doing a show at an off-Broadway theater and doing a show at the Limbo Lounge is a similar process. It's a matter of degrees."

"After our group kind of split up in the early 90's I worked as a freelance stage director for a number of years. It's a very hard life - working free-lance - to generate enough income through shows to make a living."

"It's not always possible to do that," he admitted. "Sometimes, you have to take shows that pay very little. You've have a year where you do seven shows in a year and then suddenly you only do three. It started to get to me, that kind of life."

"I moved out to California, initially with the intention of getting into television. Once I got to California I decided I wanted to go back to school and get my doctorate because theater interested me more than television or film," said Elliott who received his Ph.D. in theatre from UCLA in 2004. "I wanted to have a way to pursue theater, to be able to talk about theater, study theater, and still direct. All the while having a permanent job affiliated with an institution."

"I love working at a university. It's wonderful," he exclaimed about his experience at Cal State, Bakersfield.

The Bachelor of Arts with a major in Theatre Arts at Cal State, Bakersfield offers comprehensive training in performance, technical theatre and design, and theatre studies, all intended to prepare students for careers in professional theatre, teaching, or related fields. The goals of his students vary.

"Some students really want to know what they need to get into the theater world and become theater professionals. Others just have it as a side interest. What I want to do is gender a genuine interest into the theater, the history of the theater. If they are not participants, at least informed audience members of the theater today," he stressed.

"Some of the students have interned at PCPA, Pacific Conservatory of Performing Arts. There was a student who went to Actors Theatre of Louisville," he said of his Bakersfield students.

"Very few make a living in the theater," he repeated. "I do try to be realistic without being a downer. It's our responsibility not to delude people into thinking that there is some sort of an easy career after getting a degree in theater from a university. We can help those who are determined to follow that path."

"I view theater as a major that could be comparable to being a philosophy, English, history, art or music major all rolled into one. Because there are so many of those aspects that are important to the theater. I think it is a great choice for students who aren't sure what they want to do, because it can be fun and intellectually stimulating. It is an incredible, rich history to pursue. I think if you are interested in being lawyer, or going on to get an MBA or you maybe aren't sure what you want to do - being a theater major is fine for all of that."

"I don't think it should be just for people who hope to make a career in the theater. There wouldn't be much of a call for theater departments if that were the case. I don't think we expect everyone to go out into a career in the theatre, nor should we. "

The community he has been calling home - Bakersfield - is located between Los Angeles and Las Vegas. Not a lot of directing opportunities without a three hour drive to Los Angeles and zero opportunities in Sin City.

For a guy who became interested in directing while at Northwestern and spent decades doing that in The Big Apple, the directorial opportunities in Bakersfield are akin to finding that needle in a haystack.

"It has been very difficult while here at Bakersfield. There isn't a lot of theater," he

Department of Fine Arts, Rutgers University, Camden campus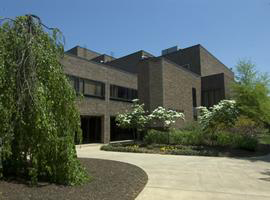 admitted and then hopefully added, "I think it will be a lot easier at Rutgers, because I'll be on the east coast. So, it's much more flexible. The academic world is not 9-to-5. I teach a couple days a week. Once I'm back on the east coast and I sort my schedule out, I think I can direct and teach at the same time."

"I'm directing a student production right now called Tis A Pity She's A Whore. It's an old English Renaissance play written in 1633," he said of the John Ford classic whose treatment of the subject of incest made it one of the most controversial works in English literature.

The production opened May 17 with performances through May 27.

He'll direct his first play for Rutgers in the spring.

"I haven't picked the play, yet," he said explaining that he'll be deciding the theater season in consultation with his colleagues there.

"I'm at the Camden campus of Rutgers, which is right across the river from Philadelphia. I like to think I have eclectic taste in directing. That's why I am enjoying this Renaissance tragedy because I've never gotten the opportunity to do that. Just as actors get typecast, directs get typecast, too," he complained. "When I was a free lancer I did mostly contemporary comedies and musicals, so it was nice to do something different. I love period pieces - classic theatre."

Elliott had also taken a turn or two in front of the spotlight.

"I loved being on stage. I think any director ought to act from time to time."

Does he think actors should direct? "Not necessarily," came the fast response.

"Sometimes writers can't imagine how a director is going to expand their idea and make it work on the stage. They think of it as one way. Their eyes can be opened in a good way, I think, with a director who collaborates well."

"There can be terrible problems," he admitted with a laugh. "The director doesn't always have the final word. It depends upon the production. Some writers have power."

The biggest problem with the word creators is that act of creating.

"Writers can get over sensitive, treating every word as if it is their baby," he charged. "If there is a true back and forth cooperation, it works. When either side digs in either his or her heels, then that can lead to problems."

Investors have also been known to stick their noses into the creative process.

"I never solicit suggestions from producers. I certainly have had an open mind to listen to what investors had to say, but I did as I pleased."

Frequently investors receive letters thanking them for their money and indicating that suggestions are welcome.

"That's a nice pleasantry," was the immediate answer. "That's just being kind. I don't think any director would take suggestions from an investor."

"People want to feel empowered. They are giving money. They feel like they can put their two cents worth in. And, I suppose you have to listen to them if they are putting significant amounts of money in - in fact - I'm sure you do. But, I'm sure that is all it is - just a suggestion - being polite. You listen, but you don't necessary do it."

"That's been the case forever. So called angels. If a big investor has a girlfriend and says put my girlfriend in the show - you put the girlfriend in the show."

2007 POLAR MUSIC PRIZE WINNERS

Steve Reich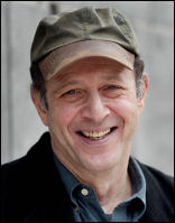 Sonny Rollins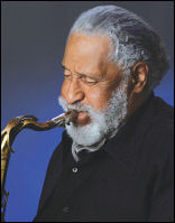 receive their prize from His Majesty King Carl XVI Gustaf of Sweden at a gala ceremony at the Stockholm Concert Hall to be followed by a celebratory banquet at Grand Hôtel on Monday the 21st of May.

The composer Steve Reich and the jazz saxophonist Sonny Rollins, are the winners each receiving $143,000 for their contributions to music.

The award recognizes American composer and musician Steve Reich's his unique ability to use repeats, canon technique and minimal variation of patterns to develop an entire universe of evocative music, endowed with immediate tonal beauty. Inspired by different musical traditions, Steve Reich has transferred questions of faith, society and philosophy into a hypnotic sounding music that has inspired musicians and composers of all genres.

The 2007 Polar Music Prize was also awarded to the American tenor saxophonist and composer Sonny Rollins, one of the most powerful and personal voices in jazz for more than 50 years. Sonny Rollins has elevated the unaccompanied solo to the highest artistic level – all characterized by a distinctive and powerful sound, irresistible swing and an individual musical sense of humor. He is still active and the greatest remaining master from one of jazz's seminal eras.

A whole weekend of activities is being planned under the name of Polar Music Prize Week, encompassing exhibitions, workshops, seminars, film screenings and live performances at various locations in Stockholm. This is an important area of expansion for the prize and it is a means for increasing both local and international awareness of the Polar Music Prize.

The Polar Music Prize was founded in 1989 by the late Stig "Stikkan" Anderson, one of the true greats in the history of popular music. As the publisher, lyricist and manager of ABBA, he played a key role in their enormous success. Anderson donated a large sum of money to The Royal Swedish Academy of Music to establish The Stig Anderson Music Award Foundation in The Royal Swedish Academy of Music and to create what was to become known as the Polar Music Prize. Its name stems from Anderson's legendary record label, Polar Records. The Polar Music Prize is an international music prize and awarded to individuals, groups or institutions in recognition of exceptional achievements in the creation and advancement of music. The prize breaks down musical boundaries by bringing together people from all the different worlds of music.

The list of prize winners bears witness to this. Sir Paul McCartney, Dizzy Gillespie, Witold Lutoslawski, Nikolaus Harnoncourt, Quincy Jones, Mstislav Rostropovitch, Sir Elton John, Joni Mitchell, Pierre Boulez, Bruce Springsteen, Eric Ericson, Ray Charles, Ravi Shankar, Iannis Xenakis, Stevie Wonder, Bob Dylan, Isaac Stern, Burt Bacharach, Robert Moog, Karlheinz Stockhausen, Sofia Gubaidulina, Miriam Makeba, Keith Jarrett, B.B. King, György Ligeti, Gilberto Gil and Dietrich Fischer-Dieskau, Valery Gergiev and Led Zeppelin have all been bestowed with the Prize since its inception in 1992. In 1992, the Baltic States were also awarded the Prize to encourage them in their work for protection of copyright. January 25 was Stig Anderson's birthday and the year 2007 marks the 10-year anniversary of his death.

DUKE OF EDINBURGH AWARDS

Prince Edward and Gov. Arnold Schwarzenegger at the Viewpoint School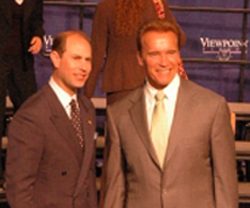 made a splash in American when Prince Edward, Arnold Schwarzenegger, Marla Maples Trump, Emmy award winning actor Brad Garrett, producer Sam Haskell and Emmy and Golden Globe award winner Debbie Allen all had something in common.

Governor Arnold Schwarzenegger and The Prince Edward Earl of Wessex presented 75 students from The Viewpoint School and Debbie Allen's Dance Academy with Bronze Medals, in honor of their participation in the Duke of Edinburgh's Young Americans' Challenge International Award. Students honored were the first Americans to receive this prestigious award.

Sam Haskell, the former head of worldwide television for William Morris Agency, is president of the organization as well as proud of father of one of the award recipients, Mary Lane.

Garrett and Marla Maples Trump, are parents of current Viewpoint students - Hope Garrett and Tiffany Trump.

"Its just great to see the dedication of these students. I'm honored to be a part of the school in a very small way," Garrett joked, "I work the cafeteria, I do hot lunch for people under 5-foot-9," quipped the 6-foot-9 inch actor,



Mayor James Bozajian (R) presenting Prince Edward with the first ever Key to the City of Calabasas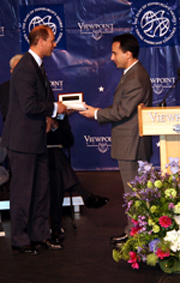 Dr. Bob Dworkoski, Headmaster at Viewpoint School, called to the stage Garrett's 7-year-old daughter, Hope, to present Prince Edward and Gov. Schwarzenegger with gift bags.

The historic ceremony took place in the Carlson Family Theater at the Viewpoint School in Calabasas, CA on Friday, May 11.

Fifty years ago - long before personal best became a catch-phrase, Prince Phillip,who'll turn 86 on June 10th, founded The Duke of Edinburgh's Award for the personal development of young people. The non-competitive program of activities is open to anyone aged 14-25. It offers an individual challenge and encourages young people to undertake exciting, constructive, challenging and enjoyable activities in their free time.

The Award is a four Section Program with three progressive levels: Bronze, Silver and Gold. Bronze requires a minimum of six months of participation, Silver requires a minimum participation of 12 months, and Gold requires at least 18 months of participation. Students must complete all of their goals to earn awards.

Calling the event a "historic occasion at Viewpoint School," Dworkoski explained to the audience that the "International Award is an exciting self-development program available to young people worldwide, equipping them with lifelong skills to make a difference for themselves, their communities, and for their world. To date, almost 5 million young people from over 110 countries have undertaken a variety of voluntary and challenging activities to meet the requirements of this award."

"To earn the award students and their advisors at Viewpoint, and at the Debbie Allen Dance Academy, designed a set of personal goals in four different areas; service to others, adventurous journey, practical or vocational life skills, and physical recreation. There are three levels of the award; Bronze, Silver and Gold. Students must complete all their goals to earn the award."

In honor of Prince Edward's visit the school planted a California oak tree on the campus. An engraved plaque reads: "This California oak tree commemorates the visit of His Royal Highness the Prince Edward, Earl of Wessex, to Viewpoint School for the presentation of the first medals in the United States for the Duke of Edinburgh's Award, Young Americans Challenge, on 11 May, 2007."

Madame Adrienne Dellas-Thornton of the Debbie Allen Dance Academy came forward to read the names of the students from the Academy. She also told the crowd that Debbie Allen "really was heartbroken that she was not able to enjoy this auspicious occasion with you. But she's on a TV set today doing Everybody Hates Chris, so—"

"Well, at least it's a job," interrupted Schwarzenegger.

"She wanted me to read this letter," continued Dellas-Thornton."Dearest Prince Edward: We are so excited to be chosen to participate in the Duke of Edinburgh's Award, Young Americans Challenge. Thank you for the opportunity. I'm so sorry I'm not with you and all the inspired young people and their parents. God bless you for sharing your vision with the world. Love, Debbie Allen. P.S. I'm still waiting for my royal ball."

Flying to California to receive the Gold Award was Michael Amara, who attends a school in Maryland. Michael has been living overseas, and had the opportunity to pursue this award for a number of years.

Later a fundraiser for Viewpoint School was held at the Beverly Hilton Hotel. In attendance were Prince Edward, the cast of Everybody Loves Raymond - Ray Romano, Doris Roberts, Brad Garrett - Michael Feinstein, Kathy Ireland and Kathie Lee Gifford.


ART AND ABOUT


FRIDAY LATE SURREALIST BALL

Marisa Carnesky. Photo: Alistair Muir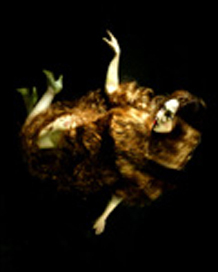 the V&A invites everyone to a decadent night of the unexpected and inexplicable. This will be a one-night-only showcase of the surreal with artists, performers, workshops, film screenings and installations.

Experience a beautifully orchestrated chaos; a spectacular, monumental and theatrical evening of performance, music and image.

Specially commissioned works, UK debuts and rarely-seen moments throughout the evening include a levitation, an inverted psychoanalytical procedure, some tantalizing lobsters, the spreading of real love for all the Museum's objects, a raffle of lovingly collected art ephemera, and a macabre booth.

The evening will showcase a dazzling ensemble of the following UK and international artists: Marisa Carnesky, Marcia Farquhar, Fancy Chance, Andrew Mania, Fabienne Audeoud and John Russell, Kathe Izzo, Lady G Luck, Jacopo Miliani, Ane Lan, The Society of Wonders, Karen Russo and the Sad Fan Raffle.

Plus music, bars and food.

Admission is free. Friday, May 25 at the Victoria and Albert Museum in London.



Broadway To Vegas is supported through advertising and donations. Priority consideration is given to interview suggestions, news, press releases, etc from paid supporters. However, no paid supporters control, alter, edit, or in any way manipulate the content of this site. Your donation is appreciated. We accept PAYPAL. Thank you for your interest.


SPREADING THE WORD


SONIA FLEW SHEDS LIGHT ON OPERATION PEDRO PAN

Operation Pedro Pan. Photo: Operation Pedro Pan Group, Inc.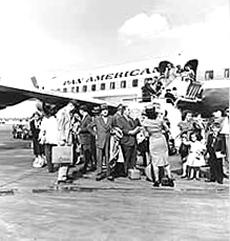 which occurred between 1960 and 1962 when Cuban parents sent more than 14,000 children to Miami with fake American visas - the largest recorded exodus of unaccompanied minors in the Western Hemisphere. With Castro's rise to power, parents were afraid the state would revoke their parental rights, and their fears were heightened when the government closed religious schools and sent young women to teach the uneducated to read. Although Pedro Pan parents planned to reunite with their children, some were never able to, and the children were placed in foster homes around the country.

When playwright Melinda Lopez learned that her cousin had been a Pedro Pan, she became fascinated by the lengths to which parents must go in order to keep their children safe. "My cousin's incredible saga has always stayed with me," she said in an interview. Following 9/11, Lopez also became interested in the feelings of patriotism that were sweeping the United States and the stories of young soldiers going to war. "Somehow the two stories became tied together in my mind," she explained. "Out of this whirlwind of many thoughts emerged this woman."

Elizabeth Pena, Hector Elizondo and Philip Casnoff star in the Los Angeles premiere of Melinda Lopez's acclaimed new play, Sonia Flew. L.A. Theatre Works records five performances to air on LATW's nationally-syndicated weekly radio theater series, The Play's The Thing, June 13 through 17 at the Skirball Cultural Center. Jenny Sullivan directs.

Sonia Flew is the powerful story of a Cuban-American woman who, as a child, was smuggled out of Cuba and into the United States as part of Operation Pedro Pan. Now an adult raising two children with her Jewish husband in Minneapolis, Sonia must struggle with her own childhood memory of escaping the Cuban revolution when her only son enlists in the military. Lopez paints a compelling, yet lyrical portrait of two families in crisis, in two countries over a 40-year span - an insightful look at how cultural and political forces impact the lives of ordinary men and women.

Melinda Lopez was a playwriting fellow at The Huntington Theatre in Boston, 2003-2005, where Sonia Flew was developed and premiered in 2004. She was the first recipient of the Charlotte Woolard Award, given by the Kennedy Center to a "promising new voice in American Theatre" and a 2003 recipient of a Massachusetts Cultural Council grant in playwriting. Sonia Flew was named Best New Play by the Independent Reviewers of New England and is the recipient of the Elliot Norton Award for Outstanding New Play.

Today, May 20, the Operation Pedro Pan Group, Inc., a non profit organization dedicated to reuniting Pedro Pans with their families, holds the West Coast Operation Pedro Pan Conference at the Doheny Memorial Library on the campus of USC.

FLORIDA STAGE AND THE ROYAL PALM SCHOOL for the ninth year - students with disabilities from Royal Palm School in Lantana work with Florida Stage professionals to develop an original theatre piece that is presented at the Kravis Center's Rinker Playhouse.

This past week-end students from the Royal Palm School Project, performed Looking For Link: Connecting Science and the Arts at the Kravis Center's Marshall E. Rinker, Sr. Playhouse. They incorporated elements of animation, dance and creative movement as the character of Leonardo da Vinci took the audience on a guided tour, exploring the influences of science on the arts.

Susan Hyatt, Director of Education for Florida Stage, co-director of the Royal Palm School Project and Heidi Harris, the theatre's Education Coordinator, helmed the project.

"The students have been learning about the connection between science and the arts in the course of their studies this years," says Hyatt. "They used this as inspiration for this year's show. We started with a timeline and looking at some key influences throughout the centuries. The play goes through the Renaissance, to the Industrial Age and even peers into the future. " Working with the Royal Palm students and teachers, Jonathan Wemette, Literary Associate at Florida Stage wrote the final script that utilizes a dream sequence and a guided tour by Leonardo da Vinci to introduce us to such luminaries as Claude Monet, Mozart, Beethoven, Henry Ford and others.

Fourteen students from the Royal Palm School along with eight students from the Bak Middle School were involved in the production. Brooke Wasak and Joann Preston, dance teachers from the Center for Creative Education, graphic artist Art Waligora, Florida Stage carpenter and technician Elena Childs and photographic artist Jean Howard lent their talents to the production by working with the students. Other educators involved include Verna Bittenbinder, Claire Blanchard and Deborah Nelson.

NORMAN JEWISON presents Robert Mulligan's To Kill a Mockingbird, starring Gregory Peck, who won the Academy Award for his role as the film's protagonist, Atticus Finch. A Q&A with Jewison precedes the screening. May 24, at the Skirball Center in Los Angeles.


SWEET CHARITY


THE BRITANNIA BALL For over two centuries, Cunard ocean liners have been the choice for artists, politicians, and celebrities like Tennessee Williams, Winston Churchill, and Elizabeth Taylor to dine and dance in exquisite style while enjoying the best British service.

So when New York City Opera and the Brooklyn Academy of Music decided to partner on a benefit event celebrating the distinctive opera programming that has made both institutions international leaders of the art form, there was only one venue worthy of the occasion: Cunard Line's Queen Mary 2.

Launched in 2004, the Queen Mary 2 is the world's grandest and most luxurious ocean liner, featuring the largest ballroom at sea, domed salons, sweeping staircases, and majestic promenades.

On May 24, the Britannia Ball, sponsored by CIT, will offer City Opera and the Brooklyn Academy of Music patrons the opportunity to take in the full Queen Mary 2 experience and signature Cunard service. The evening begins with cocktails followed by a special performance from the incomparable Patti LuPone, a lavish dinner, and dancing into the night with the Peter Duchin Orchestra.

Tickets start at $1,000.


OTHER PEOPLE'S MONEY


MOON FOR THE MISBEGOTTEN the Old Vic revival by Eugene O'Neill, currently mounted at the Brooks Atkinson Theater in NYC, has recouped its $2.4 million investment after just 52 performances.



THE LION KING the Tony Award winning musical really does come home, to Africa, for a special 12-week season. Based on Disney's original cartoon of the same name, it has also become an award-winning Broadway and West End musical with 15 numbers written by Sirs Elton John and Tim Rice. The production begins previews May 23, officially opening on June 6 in one of the 10 largest lyric theatres in the world, the 1800 seat Teatro Montecasino Theatre in northern Johannesburg, which was constructed for this production at a cost of $14.5 million.

Nowhere has the show so appositely set: nowhere else could patrons walk out the theatre and - within a short drive - actually see the animals represented live in their natural surroundings.

When rehearsals began last March at the Pretoria State Theatre, in attendance were the production's Tony Award winning director Julie Taymor, producer Thomas Schumacher, co-composer Lebo M, and veteran theatre producer Pieter Toerien.

It was a professional homecoming for Lebo M., the South African Grammy-winning composer and arranger who is celebrating his debut as a commercial producer with The Lion King. In partnership with South African theatre impresario Pieter Toerien, who produced Broadway musicals in South Africa - including Cats and Phantom of the Opera - more than $10 million has been invested.

Lebo M was an original member of the Broadway cast, and a lot of the songs were based on his album, Rhythm of the Pride Lands, which was inspired by the film. The production boats an entirely local cast of 53 and a 20-member orchestra backed by a technical crew of 70. It is also the first Lion King production in the world which will be entirely cast from the country it is playing in.

In a press release Taymor said, "To be in South Africa for this production has been the realization of a dream 10 years in the making. When I first listened to Lebo's Rhythm of the Pridelands, I knew The Lion King had to keep its roots firmly in South Africa. As The Lion King has expanded beyond Broadway, I am proud to say that South Africans have been a part of every production worldwide and I am proud to say we have brought the show home."

Thomas Schumacher said, "When we were preparing to launch the Broadway production, Julie was adamant that South African nationals be a part of the cast. This idea was met with substantial resistance by parties outside the production. She remained true to her extraordinary vision for The Lion King and as a result the South African cast members who have appeared in our many productions worldwide have been instrumental in this global phenomenon. Julie's vision and the fundamental elements of The Lion King have made the show a worldwide cultural and financial success."

During the traditional meet and greet, every member of the South African company introduced themselves with several electing to deliver their introduction in their native tongues.

The new production will feature a local South African cast, many of whom have been in other productions of The Lion King around the world and are now coming home to perform in their native country including: Buyisile Zama (Rafiki) who has appeared in the US National Tour, London, Australian, and Shanghai productions; Sello Maake Ka-Ncube (Mufasa) who has appeared in the London company; and Andile Gumbi (Simba) who has appeared in the Australian and Shanghai productions.

Mark Rayment is the evil Scar; Pierre van Heerden and Peter Mashiga are Pumbaa and Timon. Other leading roles are played by Lyall Ramsden as Zazu, Tsholo Monedi as Nala, Candida Mosoma as Shenzi, Simon Gwala as Bazai, Michael Bagg as Ed and Zoe Mthiyane as Sarabi.

To date, The Lion King has employed almost 100 native South Africans in its productions worldwide.

Since opening on Broadway in 1997, The Lion King is the winner of over 70 major awards worldwide and has become a global phenomenon seen by over 35 million people. In addition to New York City, where the record-breaking show is currently in its tenth triumphant year, The Lion King can also be seen in London, Hamburg, Tokyo, Seoul and two touring companies throughout the United States. A new production will open later this year in Paris, France.

The Lion King follows the adventures of lion cub Simba as he struggles to accept the responsibilities of manhood and his future role as king.

Director Julie Taymor became the first woman in Broadway history to win the Tony Award for Best Director of a Musical. Taymor, along with Michael Curry, created hundreds of masks and puppets for the show. Choreography is by Garth Fagan, scenic design is by Richard Hudson, costume design is by Julie Taymor and lighting design is by Donald Holder. The book has been adapted by Roger Allers, who co-directed the animated film and Irene Mecchi, who co-wrote the screenplay. The score features Elton John and Tim Rice's music from the animated film along with three new songs by John and Rice, and additional musical material by Lebo M, Mark Mancina, Jay Rifkin, Julie Taymor and Hans Zimmer.

Performances through September 9.

NIGHTINGALE Written and Performed by Lynn Redgrave. Directed by Joseph Hardy.

Nightingale was inspired by memories of Redgrave's maternal grandmother, Beatrice Kempson. Broadway To Vegas loved the production when it was staged at Los Angeles' Mark Taper Forum last fall. ( See Broadway To Vegas column of October 8, 2006 )

May 24-June 24 at Hartford Stages in Hartford, CT.

PRESENT LAUGHTER

Victor Garber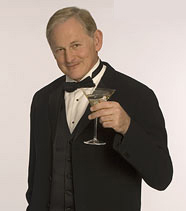 by Noël Coward. Directed by Nicholas Martin.

Four-time Tony nominated Broadway veteran Victor Garber stars as aging matinee idol Garry Essendine in one of Noël Coward's funniest and most delightful comedies. Devastatingly handsome and thoroughly charming, Garry lives his life like it's one grand performance. But on the eve of a major tour, things fall apart in hysterical fashion as he juggles old flames, a crazed playwright, and (gasp!) middle age.

The cast includes current Tony Award nominee Brooks Ashmanskas as Roland Maule with Lisa Banes, Nancy Carroll, Alice Duffy, Holley Fain, Pamela Gray, Sarah Hudnut, James Joseph O'Neil, Richard Snee and Marc Vietor.

The design team is composed of; scenic design by Alexander Dodge; costumes by Mariann Verheyen; lighting by Rui Rita and sound by Drew Levy. Performances through June 17 at the Huntington Theatre Company, Boston.

TAKING A CHANCE ON LOVE a new romantic comedy by North Carolina playwright, C. Robert Jones. A warm and funny tale of love, family loyalty and new beginnings. May 23 thru June 9 at the Flat Rock Playhouse in Asheville, SC.

PUB PLAYS presented by the Stamford Center for the Arts.

It won't be found on the menu, it could be taking place at the next table or at the bar, involving what might be other patrons, the wait staff, the chef, the bartender or the maitre d'. If it's really unusual, different or outrageous chances are it's one of the new Pub Plays...the staging of new 10-minute plays at site-specific Stamford, CT restaurants and bistros giving unsuspecting patrons an entirely different and totally unique experience while dining, drinking and relaxing.

On May 21 patrons at Zinc Bistro and Bar might see Who Knew? by Michael Casano, A Tall Order by Sheri Wilner, After Glow by Donald Steele or Now You'll Dance by Michael Scheman.

Tonight, May 20 and on Wednesday May 23 those dining at Telluride might witness Coitus Hate-Us by Hillary Rollins, Cheesecake Proposal by Granville Wyche Burgess, Dare Me by Danielle Fenton or One Night Stand by Donald Steele.

BIG WHITE FOG

Part of the WPA Federal Theatre Project 1935-1943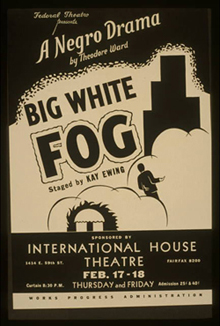 by Theodore Ward. Written in 1937, Ward's play is only now, 70 years later, receiving its European premiere having opened May 17 at the Almeida Theatre in London.

In 1938. The Works Administration Project, a government-sponsored, anti-Depression program to ensure the development of the arts in lean times, invited Theodore Ward, a struggling young playwright, to draft a play. Ward believed that a play showing the "Negro condition" would be his best offering.

For more than 50 years, Ward's Big White Fog was not performed. Mounting the play is challenging and controversial; challenging with its large cast which was deliberate to give performers jobs during the Depression and controversial because of its socialist tendencies and portrayal of internecine black community issues - including skin tones.

Before the Guthrie staged it in 1995, directed by Lou Bellamy, artistic director of St. Paul's African-American theater company, Penumbra. Big White Fog had last been produced in 1940 in Harlem.

Big White Fog is set in Chicago between 1922 and 1933 and follows the journey of members of the Mason family and the pursuit of their own ideological beliefs, as they steer a course through post WW1 racism and the Great Depression.

Every member of the family faces a desperate situation. Victor, Ella, and their family await imminent eviction; daughter Wanda has slept with a white man to get money for a new place to rent; Lester and his communist comrades have gotten in trouble for anti-government demonstrations; Percy is a drunk; Dan and his wife, Juanita, are nearly penniless.

Supported by wife Ella, Vic's loyalty is to Marcus Garvey, the charismatic Jamaican who formed the Universal Negro Improvement Association in 1914 - separatist Back to Africa campaign. His brother-in-law Dan is committed to the American Dream, deciding to invest his limited funds in a boarding house, from which he can glean rents from poor Blacks.

Percy, Victor's brother, is part of the Black Renaissance of the Gay '20s. He lives life hard, loves his music, and - drink. Victor's son, Lester, admires his father's integrity but doesn't necessarily support a move back to Africa. Having been denied college because of his color, Lester chooses for himself the socialist option.

A powerful theatrical pierce that explores political opposites, while also examining family life and the experience of African Americans in Depression-era America.

Born in Louisiana in 1902, Theodore Ward the sixth child of eleven siblings, was a pioneer among African-American playwrights. His father – born into slavery – was a schoolmaster, and following the break-up of his family, at age 12, Ward walked the rails north working his way across America working odd jobs as a bellhop and bootblack before settling in Utah where he was jailed for selling bootleg gin. After winning second prize in a writing competition, Ward joined the Writers' Workshop in Chicago, writing over 30 plays including his most famous Our Lan' which enjoyed a successful and award-winning run on Broadway.

In 1937, his first major work Big White Fog, opened amid controversy in Chicago. In 1938 Ward co-founded The Negro Playwrights' Company in New York alongside Paul Robeson, Langston Hughes, Richard Wright and other prominent black dramatists, their first production at The Lincoln Theatre was - Big White Fog.

Ward passed away in Chicago in 1983.

The European premiere of Big White Fog is directed by Almeida Artistic Director Michael Attenborough. The cast includes; Tony Armatrading, Lenora Crichlow, Jenny Jules, Novella Nelson, Danny Sapani, Ayeshe Antoine, Martin Barron, Aaron Brown, Clint Dyer, Tunji Kasim, Al Matthews, Gugu Mbatha-Raw, Susan Salmon, Nathan Stewart-Jarrett, Gynn Sweet and Tony Turner.

Set design by Jonathn Fensom. The lighting designer is Tim Mitchell. Sound by John Leonard.

Performances through June 30 at the Almeida Theatre in London.


| | | |
| --- | --- | --- |
| | | |
WHO'S WHERE

BOBBY McFERRIN with Dhafer Youssef, Sheema Mukherjee, Kuljit Bhamra & LSO St Luke's Community Choir. This is a special two-day residency May 20-21 at the Barbican in London builds on Bobby's passion for spontaneous encounters with artists.

The May 20 show features Bobby performing with the brilliant young British pianist Gwilym Simcock, who is the first jazz musician to be selected as a BBC Radio 3 New Generation Artist and Gavino Murgia, a truly astonishing vocalist and instrumentalist, whose singing evokes the landscape and traditions of his native Sardinia.

North Africa and India provide collaborations for the performance on May 21. The soaring, other-worldly voice of Tunisian Dhafer Youssef; plus sitarist Sheema Mukherjee and tabla/percussion maestro Kuljit Bhamra, one of the key figures in the early days of bhangra, now often heard with Andy Sheppard.

THE BACON BROTHERS on stage next Sunday, May 27, at the Mahaiwe Performing Arts Center in Great Barrington, MA.



HARRY CONNICK, JR has a busy week. On Tuesday, May 22, he stars at the William Saroyan Theatre in Fresno, CA. Wednesday he performs at Rabobank Arena in Bakersfield. Thursday finds him at Davies Symphony Hall in San Francisco. On Friday he can be enjoyed at the Center for the Performing Arts in San Jose. On Saturday he's at Field of Dreams Park in Sonoma participating in the Sonoma Jazz Festival. Then he heads to Nevada where next Sunday he's at the Grand Sierra Resort in Reno.

PETER FRAMPTON entertains Saturday, May 26, at Coliseo de Puerto Rico in San Juan.

HUEY LEWIS AND THE NEWS on stage Friday, May 25, at Foxwoods Resort in Mashantucket, CT. On Saturday they open a two night gig at the Hilton Hotel in Atlantic City.

KEITH URBAN winds up his Australian tour this week. On Tuesday, May 22, he headlines the Burswood Dome in Perth.

GARISON KEILLOR A PRAIRIE HOME COMPANION a warm-hearted evening of story and song with his entertaining sidekicks and special guests. May 25 with a live radio broadcast on May 26. Filene Center at Wolf Trap, Vienna, Virginia.



GWEN STEFANI center stage on Monday, May 21 at the Mohegan Sun Casino in Uncasville, CT. Wednesday she's on stage at the Tweeter Center in Mansfield, MA. Thursday's show is also at the Tweeter Center but this one is in Camden, NJ. Next Sunday, May 27, he stars at the Borgata Hotel in Atlantic City.

STEVIE NICKS AND CHRIS ISAAK perform Wednesday, May 23 at Coors Amphitheatre in Chula Vista, CA. On Friday they are on stage at Soboba Casino in San Jacinto, CA.

LIZA MINNELLI with musical director Bill Laborgna performs May 25-27 at the Luxor Hotel in Las Vegas.

ROBIN WILLIAMS telling funny stories May 27 at the MGM Grand Hotel in Las Vegas.

SMOKEY ROBINSON crooning Saturday, May 26, at Buffalo Bill's in Primm, NV.




PIFFLE AND PROFUNDITIES


THE NEW YORK PHILHARMONIC'S annual free Memorial Day concert at the Cathedral Church of St. John the Divine, which is the world's largest gothic cathedral, takes place on May 28.

Xian Zhang, associate conductor, will lead the orchestra in Dvorak's Carnival Overture and Brahms's Symphony No. 1. Concert duration is 1 hour with no intermission. Seating is on a first-come, first-served basis; because attendance will be limited as a result of restoration work, a 15-by-20-foot screen with a live audio and video feed will be erected in Synod Hall on the cathedral campus when the cathedral is full. Weather permitting, music will also be piped onto the adjacent Pulpit Green. Located a block from Broadway on Amsterdam Avenue, NYC.

Next Column: May 27, 2007
Copyright: May 20, 2007. All Rights Reserved. Reviews, Interviews, Commentary, Photographs or Graphics from any Broadway To Vegas (TM) columns may not be published, broadcast, rewritten, utilized as leads, or used in any manner without permission, compensation and/or credit.
Link to Main Page
---
Laura Deni


CLICK HERE FOR COMMENT SECTION