! >
Broadway To Vegas
  
 SHOW REVIEWS CELEBRITY INTERVIEWS GOSSIP NEWS

| | |
| --- | --- |
| | |
THE ECLECTIC CHARLES BUSCH - - DAVID BOWIE'S HIGH LINE FLING - - SIGOURNEY WEAVER STARS IN CRAZY MARY - - ANDERSON COOPER: REPORTS FROM HOME AND ABROAD - - DICKENS' WORLD - - DAVID HASSELHOFF EXITS THE PRODUCERS - - PRINCE MUSIC THEATER GALA - - TOP TICKET PRICES FOR BARBRA STREISAND - - DONATE . . . Scroll Down


Copyright: May 6, 2007
By: Laura Deni

CLICK HERE FOR COMMENT SECTION
CHARLES BUSCH DOESN'T WAIT FOR THE PHONE TO RING
Charles Busch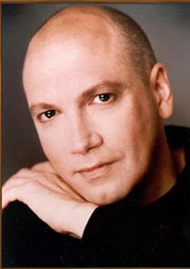 Charles Busch. Photo by David Rodgers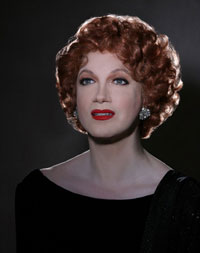 The interview with playwright, actor, author, director, drag queen Charles Busch was delayed for a few minutes while he put on his clothes. "I don't want to do the interview naked," he quipped, Out of the shower, dried off and dressed, he worried that a terrible cold caused him to sound like Tallulah Bankhead.

He sounded like the muli-talented, intelligent, innovative, self made person that has created classics such as the mainstream The Tale of the Allergist's Wife as well as the campy Vampire Lesbians of Sodom.

There are many facets that molded New York born and raised Busch into a sparkling, high profile theatrical presence. Currently working on at least two new projects, he is also waiting for his sister to undergo heart surgery - something that he has experienced.

"My mother was born with a heart problem and died suddenly at the age of 41. It was the event that defined my family," said Busch who was seven when he was left to be raised by his aunt. "As it turned out, it was an inherited thing. My sister and I both have a heart valve problem. I had surgery a couple of years ago and my sister is going to have to do it this summer. It's our legacy," he reported with a matter-of fact tone of voice.

"About six years ago I had an aortic aneurism, which usually kills you in an hour. I walked off stage and felt so bad that I went to a doctor. They immediately checked me into a hospital for open heart surgery. It was an incredible shock. Since then my sister had been monitored, so she knew this was going to happen. She's been very sensible. She's been able to plan the date and figure out how she is going to do this."

Bunch refers to his sister as Lucy Ricardo. "She is the wackiest redhead, but it turns out that she is a genius at the stock market. She sure has done great for me! I feel so stupid - for years I was rolling my eyes making fun of her. Boy, I should have let her take care of me years ago!" he exclaimed about her financial expertise.

My Aunt Lillian raised me and she is the one who adopted me. My Aunt Belle was also very involve in my life," he recalled.



Linda Lavin and Tony Roberts in The Tale of the Allergist's Wife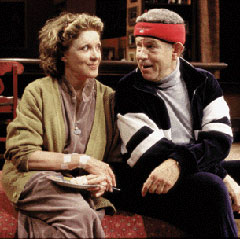 He admits that the mother in The Tale of the Allergist's Wife, "is based a little on both of them, mostly Aunt Belle because she was outrageous."

"Almost everything that the mother said was sheer reportage from Aunt Belle," said Busch referring to what started out as a six-minute sketch he wrote and performed about a disaffected housewife blossomed into a full-length play. Written for a mainstream audience it was a vehicle for actress Linda Lavin, who played opposite Michele Lee and Tony Roberts. Allergist's Wife received a 2001 Tony Award nomination for Best Play and ran for 777 performances. Late in the run, Valerie Harper and Richard Kind took over the lead roles.

"We're Jewish, but I wasn't raised with any religion," he related. "I'm not kidding - Aunt Belle didn't even start to speak Yiddish until she was 65. That happens to a lot of people. They get more ethnic or more clinging to their childhood roots when they get older. Aunt Belle became very Jewish, throwing Yiddish words about."

How did his family feel about having their eaves dropped conversations incorporated into a play?

"Both of my sisters are very bright, funny and emotionally complex," he said referring to Margaret (Meg) and Elizabeth (Betsy). "I tend to be an observer personality. On holidays and week-ends my family was always ripe for drama. I would just sit there and watch the monologues fly with the emotional extremes, except they are such witty girls that you have to be amused at the same time. I just took it all down. It was embarrassing when it first opened because I have all these ladies in the family and wondered how they were going to react."

With applause and admiration.

"They are all stage-struck. Everyone in my family, even if they won't admit it," he insisted. "I'm sort of the shy one. It's amazing that I'm the professional comedian in the family. Everyone else in the family is much wittier than I am. I think they were all thrilled to hear actors on stage saying their lines and hearing the audience laughing. I think I could have gotten away with anything."

Actually, he has.

"Ever since I was a young child I've wanted to be on the stage. I had a pragmatic view of showbiz from a very early age. I grew up in Manhattan. My aunt would take me to the theater when I was 7. I'm as much of a New Yorker as you can get."

He went to Northwestern University as a last chance effort.



Northwestern University lists Charles Busch in their Notable Alumni section. Busch graduated in 1976. In April, 2003, his old alma mater presented him with an alumni merit award. Busch called it; "Quite a shock to one who considered himself pretty much a pariah in the Theatre Department in those far off days. I had a truly memorable weekend in Chicago with my old college pal, Ed Taussig. Here we are at the awards banquet with the lovely new Dean of the School of Communications, Barbara O'Keefe."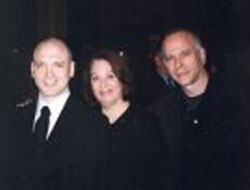 "My life has been series of flukes and miracles," he reasoned. "I was not scholastic in school. I could never really handle a classroom situation. When it came to getting into college I auditioned for all these theatrical schools - NYC and Boston U and I didn't get into any one of them. I had gotten accepted to some rather suspect schools. I talked to some kids in summer stock and they were all applying to Northwestern. I knew that would be a wash out because you had to be smart to get in there."

With an extra application on hand, Busch played a long shot and applied.

"Everything with me is always filled with drama. I screwed everything up so bad with the SAT's. One the day I was to fly to Chicago for the interview the phone rang and they said - we never got your SAT scores so we've cancelled the application. My aunt just flipped. She called the Dean. Her motto was always - eliminate the middle man. She was really a very shy person. But, if my sisters or I were involved, she was a tigress. She got the Dean on the phone and said - this kid is very special and I think you want to meet him. I'll put him on a plane right this minute."

The school backed down, accepting Busch sans interview.

"I really think I got accepted because of the essay. I really could always express myself in writing."

Northwestern must be proud of Charles Busch.

"Now they are," he answered a bit ruefully. "I was never in a school play. I wasn't encouraged. I could see their point," he conceded. "I wouldn't cast me, either in the nice, young man part. Other boys are better for it. So, I was very discouraged. If I wouldn't cast me, who would? So, I began writing. "

Still searching for himself, school vacations proved to be educational.

"On vacations I was exposed to more experimental theater. I thought maybe that's who I am. Maybe I'm not suppose to interpret somebody else's role, maybe I have to write the story. I started doing that in school."

The road to success was long and cobblestoned.



Charles Busch - booked himself into small non-profit theaters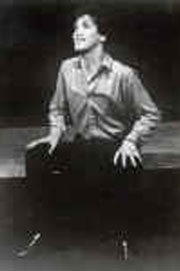 "For about eight years after college I was a solo performer. I never could find any kind of management at all," he whaled remembering the struggle. "I booked myself at mostly small non-profit theaters doing a repertoire of solo pieces. I performed in black pants and shirt."

"When he and I first started living together, I wasn't aware that he did drag," said former roommate Ken Elliott. "He didn't do that in his one man show. He has sort of an androgynous manner, so he can play both male and female characters. But, he wasn't really a drag performer at the time. So, the first time I saw him put on a dress and he was getting ready to go out to a drag ball, it was a - revelation."

He paused and then added, "What Charles is really - is - an actor."

"For eight years I was learning - performing before every kind of audience in the most intimate of ways," recalled Busch. "It was solo performance, so your audience is your co-actor. I learned so much about performing, communicating, writing and characterization. It was like doing vaudeville, an incredible education. I had followings in different cities and could get a rave review in the Washington Post or San Francisco Chronicle. I'd sell out in the non-profit theater and be treated like I was a special event when I came to town. I still couldn't earn a living."

"In between engagements I was doing every kind of bizarre temp job. Things were kind of grim."

"The far East Village in NYC is called alphabet city, because the streets are called Avenue A, Avenue B," related Busch who scrabbled the street letters into the word success.

"In the 80's it was the last part of the city that wasn't gentrified. There were burned out blocks, burned out buildings, crack vials on the street. When it's like that, that's when starving artists move in. Edgy art galleries were springing up and performance spaces."

"It was dangerous to get there. After you got there it was fun and funky. I went down to see a friend of mine perform at the Limbo Lounge, which was really in an outrageous place," he said of the Avenue C location.

"It was an art gallery, after hours bar, performance space. I was intrigued with this Berlin 1920's atmosphere. I immediately asked the owner if I could do a show there. He said they had a week-end open in three weeks. I knew that I just didn't want to do my act, which was very simple - no costumes. I wanted to do something decadent to suit the atmosphere. I was working as a temp receptionist during the day. At work I quickly wrote this sketch about a lady vampire in ancient Sodom where - because I literally couldn't spend a penny - I could basically wear a G-string and high heels."

At 5'7" able to fit into a woman's size 10 shoe, Busch reported that it wasn't that difficult finding heels that fit.

"You'd have trouble trying to find a size 14," he said.



Kenneth Elliott, Ph.D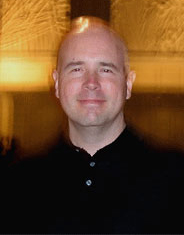 Busch got a group together composed of "my friends who were struggling and with no encouragement in their acting careers. My roommate Ken Elliott, who had directed my act for years, had gotten accepted into law school. He was giving up the theater. I said Ken, you can't do that, you have to stay and do this. So, we put this play on for about $36."

"We had such a good time. People who didn't know each other really hit it off. There was such great chemistry. I took Ken away from law school and he never forgave me," kidded Charles. "The law school almost got him and this evil genius snatched him back from them. Now he is doing very well. He's a professor at Cal State teaching theatre and he's very happy," related Busch about Kenneth Elliott, Ph.D. who studied theatre at Northwestern University and received his Ph.D. in theatre from UCLA in 2004. Currently an assistant professor of theatre at California State University in Bakersfield, Elliott has accepted a position at Rutgers University where he will begin teaching acting, directing and theater history in September.

Continuing about the Limbo Lounge years Busch reported that, "the young man who ran the Limbo Lounge asked us to be the resident theatre troupe. We did a play every three weeks. I wrote 45-minute plays with almost the same characters, just a different historical period. I was the leading lady, Marty was the leading man and Julie Halston was my wisecracking best friend. It was a magical period of my life."

As with virtually ever facet of Busch's life - there is documentation; The bio movie The Lady In Question is George Busch was helmed by award-winning directors John Catania and Charles Ignacio and features the wickedly funny Village Voice gossip Michael Musto, Carl Andress, Ed Taussig, Mark Ruker and Kathleen Turner. Bunch authored a semi-autobiographical version of his life as actor and playwright in his novel Whores of Lost Atlantis, which was published in hardcover by Hyperion Press and released as a Penguin paperback and republished in May 2005 by Caroll and Graf.



The Virgin Sacrifice (Charles Busch) with the Guards (Arnie Kolodner & Robert Carey) from the 1984 Limbo Lounge Production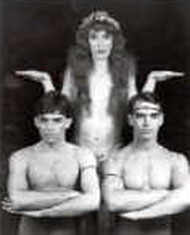 Vampire Lesbians of Sodom quickly developed a cult following.

It tells the saga of two fatally seductive vampiresses whose paths first collide in ancient Sodom. Their bitter rivalry as bloodsuckers but more importantly, as actresses, endures for two thousand years with stops along the way in 1920's silent movie Hollywood and contemporary Las Vegas.

"There were lines down the block in this horrible neighborhood. Audiences were saying the lines along with us," he related.

"Because of the crazy performance site scene, shows with crazy titles, People and the NY Times covered us. It made very good copy for them and we got great publicity for free."

It was movin' on up time.

"We figured out a budget of $55,000 which seemed like $5 million to us. We went on a crazy scavenger hunt trying to get people to help us out."

"We ended up with 150 investors to raise $55,000 and opened at the Provincetown Playhouse, which is this tiny little theater in Greenwich Village that Eugene O'Neill founded in the 20's."



The Succubus (Julie Halston) and The Virgin Sacrifice (Charles Busch) from Vampire Lesbians of Sodom; Scene One-Sodom from the 1985 Off-Broadway Production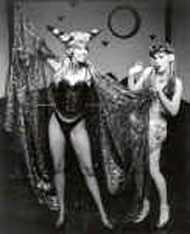 Charles Busch as Madeleine Astarte in Vampire Lesbians of Sodom; Scene Three-Vegas from the 1985 Off-Broadway Production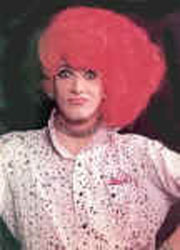 "We had raised just enough money to open and not much more than that. All our friends came down. Our opening night was this amazing thing. The Times gave us a rave review. It was the best review ever! It was so wonderful and every one of my friends got mentioned. Every one of my friends who had struggled and had been told they were unemployable got a rave review in the NY Times!"

Vampire Lesbians of Sodom at the Provincetown Playhouse, played more than 2000 performances and became the longest running non-musical in the history of Off Broadway.

"I knew opening night that the show would run and that I'd make a living in the theater. From that moment on, June 1984, I've earned a living in the theater."

Indeed he has.

Busch's mega-hit The Tale of the Allergist's Wife, starring Richard Kind and Jobeth Williams has five performances, May 16 through 20, at the Skirball Cultural Center in Los Angeles. All performances will be recorded to air on LATheatre Works' nationally-syndicated radio theater series, The Play's The Thing, which broadcasts weekly on public and satellite radio.

"It reminds me of the Lux Radio Hour," said Busch referring to one of the genuine classic radio series which adapted first Broadway stage works, and then became noted for the biggest names in Hollywood doing hour-long radio versions of their famous movies.

The LATheatre Works staging will be followed by a Bay Street Theatre mounting of The Lady In Question, which will also star Richard Kind and includes both Busch and Julie Halston. ( See Broadway To Vegas column of April 29, 2007 )

"It's a play of mine from 1989 that is a straight play. It's a good play. Bay Street is a marvelous theatre," he said about the State Theatre of New Jersey, located in New Brunswick. "I'm going to play my part and Julie Halston, who has been my theatrical sidekick, will do her role again. It's an incredible cast of top notch theater people. I hope people like it 20 years later. It's a spoof to the anti Nazi war movies - Escape, Notorious, The Suspicion with Joan Crawford. Very often these movies had a strong American women who was trying to get the best of the Nazis."



The cast of Swingtime Canteen. Photo by B.T. Whitehill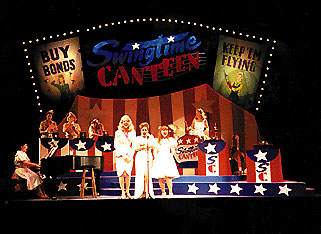 In 1988 he wrote a new libretto for the 1955 musical Ankles Aweigh for Goodspeed Opera and has also adapted the book of the Truman Capote/Harold Arlen musical House of Flowers for a tour with Patti Labelle.

Broadway To Vegas hasn't seen every Busch creation but the ones we have viewed were delightful. One we saw twice was Swingtime Canteen, which enjoyed over 300 performances Off Broadway before beginning a London production. It has since become a staple of musical theatres across the country. The show takes its inspiration from the films and personalties that helped to define the national World War II consciousness know as the war effort.

"We were ahead of our time with a show where the actors had to sing, dance, act and play a musical instrument," he said about Swingtime Canteen, which was directed by Elliott. Director John Doyle's 2004 Broadway revival of Sweeney Todd won the Tony Award. In that production the performers were required to sing, dance, act and play a musical instrument.

In addition to theatrical pursuits, Busch recently redecorated the apartment he shares with his partner Eric Myers. They have been together since 1990.

"I've only been back in it since October," he related sounding a bit astonished at his new living abode.

"Basically, I've lived my whole life in one room. From college to studio apartments. I've lived in Greenwich village for years. About 12 years ago I moved to a lovely building. It was a very beautiful, rather large studio apartment. If you could imagine getting lost in a studio apartment, you could - alcoves, winding around. But, ultimately - it was a studio. Finally, with my ill gotten gains from Tales of The Allergist's Wife I bought the upstairs apartment. It took a year-and-a-half or more to get the co-op boards to approve my plans. Finally, they did. I had a marvelous contractor. They did a big job in four months. "

"It's just beautiful and I've got a big staircase! And a very red living room - like a Vincent Minnelli musical. I just love it," he chortled. "It's a very interesting concept that most people take for granted - actually being able to go into another room."

"Yeah, now he's got two rooms," cracked former roommate Elliott with a hearty laugh. "I've seen it. It's kind of fabulous. It does look like a movie star's fantasy apartment, but on a small scale, because it is Greenwich Village. It's really just two studio apartments that he's connected. But they are nice rooms and it's fabulous with a really wonderful staircase."

"We lived in a railroad flat for years in an old tenement building on 12th street," recalled Elliott about rooming with Busch. "Railroad flats are apartments which all line up like railroad cars. We started living together in 1980 and back then you could get a decent apartment in Greenwich Village for $400 a month. It seemed like a lot of money at the time. Everybody thought - you're really paying for an expensive apartment, but it was great."

"Charles' renovation was written up in the New York Times with pictures," continued Elliott. "It really does have a wonderful staircase."

"Today I said - I'll meet you downstairs - and it's like - did I just say that?" exclaimed Busch not yet accustomed to his new lifestyle. "It's really cool."

Busch's entire life has taken on a real cool air.

"I just finished a play which - literally - just finished a limited run in New York and that went well," he said referring to Our Leading Lady, which received rave reviews.

Busch has developed a devout following over the years as a fiercely talented and adventurous writer and performer at the Manhattan Theater Club. In his newest play, Our Leading Lady, he re-teamed with Artistic Director Lynne Meadow to explore the backstage drama that befalls renowned actress-manager Laura Keene and her supporting players the fateful night Abraham Lincoln comes to see their show.

She was the one performing when Lincoln was shot. Keene basically ended up as a footnote in all the Lincoln biographies and books about the Civil War. Born Mary Francis Moss, she was a young English mother with two young daughters who became a great actress-manager in America. She had to make her own way in the world and so she went on the stage. Busch set out to give her identity dimension.

Kate Mulgrew starred as Laura Keene in the production which began previews Feb. 22, 2007 and closed April 22.

Busch doesn't confine himself to one coast.



Song and dance man, Lee Roy Reams, actress Marian Seldes, and Busch share the same birthday, August 23, and always try to celebrate together. Tomorrow Lee Roy Reams opens in the Las Vegas production of The Producers, so perhaps the next birthday party will be in Las Vegas.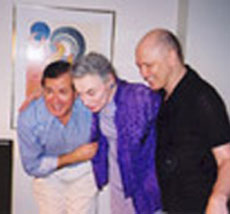 "I have a play that was commissioned by La Jolla Playhouse and I like them a lot," he said of the venue which staged the West Coast premiere of Tales of the Allergist's Wife.

When a venue commissions a writer to pen a play, it's a big deal. However, if would-be playwrights think that a commission means your dreams are about to be served up on that proverbial silver platter - think again. There could be some tarnish.

"When somebody commissions you to write a play there is not a total commitment there that they are going to do it," he cautioned. "There have to be readings and workshops. So, we are starting that. You are paid to write it and that's it. It's a nice motivation. I'm looking forward to that relationship."

"In a way, one of the problems of doing so many things is that you can get a little paralyzed - what to do next - because you do so many things," confessed the human chameleon.

"I love to act and I haven't really performed on the stage lately. So, I'm looking forward to doing The Lady In Question. There is a strong possibility that I might do the stage version of my movie Die Mommie Die in New York. That is something that might happen," he divulged.

Written by and starring Busch, Die Mommie Die premiered in Dramatic Competition at the 2003 Sundance Film Festival where Busch was awarded a special performance Jury Prize.

The 1999 plays turned into the 2003 film, which is a meld of send up/homage to the American grand guignol movies from the 1950s and 1960s that featured strong, sometimes dominating female leads, such as those by Bette Davis, Joan Crawford and Lana Turner.

"You've slipped into my life as easily as vermouth into a glass of gin...quickly and just a bit too smooth," purrs reclusive singing star Angela Arden, as played by camp icon Busch.

Created as an ode to the Ross Hunter-style big-screen soaps of the 60's, the movie opens with Angela kneeling in front of her twin sister Barbara's grave. Angela is a lounge singer who is attempting to resuscitate her floundering career. She's unhappily married to her movie-director husband Sol Sussman (Phillip Baker Hall) who treats her like dirt. They managed to have two children together - most likely due to sex. Son Lance (Stark Sands), is a simple-minded boy-toy. "Buster, if you want any singin' outta me, you better haul out that bratwurst and spread some mustard on it."

Daughter Edith (Natasha Lyonne), a spoiled vampy, daddy's girl who is openly contemptuous of her mother.

Bored and unhappy, Angela begins cheating on her husband with Tony Parker (Jason Priestly), a tennis playing lothario and failed actor who is reputed to be well endowed.

TonyParker: Why do you hate your mother so?
Edith Sussman: I hate her because she's a money-grubbing selfish bitch who ruined my father's life, and a promiscuous slut who spends all my father's hard-earned money on trash like you!
Tony Parker: That's not good enough.

Then there is the ill-fated, snoopy family maid, played by Frances Conroy. Replete with lurid sex, incestuous overtones, Angela calculatedly offing her husband a poisoned suppository, (or does she?), musical numbers, an acid freak-out, and black-and-white flashbacks, Die, Mommie, Die is a cult hit.

"I love making movies. I was so fortunate a couple of years ago. I was given the opportunity to make a movie called A Very Serious Person which won Tribeca (film festival) and made the festival circuit," continued Busch who, in addition to starring, made his directorial debut.



Polly Bergen and Charles Busch in A Very Serious Person Photo By: Annabel Clark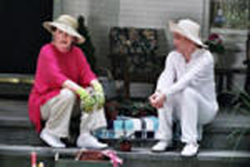 In that movie, the emotionally reserved Jan (played by Busch) finds himself oddly cast as a mentor to Gil (PJ Verhoest) in having to prepare the sensitive boy for life with his cousins in Florida after the death of his grandmother (Polly Bergen). A deep friendship grows between these two solitary people. By the end of the summer, Gil has developed a new maturity and independence, while the enigmatic Jan has revealed his own vulnerability.

"Showtime is going to start showing it at some point. It's coming out on DVD," he continued. "I learned so much from doing that. I would like to do more movies."

For Charles Busch the key to his success has been - himself.

"I have always made my own opportunities," said Busch. "I have never been one to sit back and wait for the phone to ring. "


IT'S THE DICKENS (WORLD)


Dickens-mania. 40 years in the planning, Dickens World, a $148 million complex opens on May 25 covering 71, 500 square feet, located in the historic dockyards of Chatham, about an hour away from London. The location was chosen because Charles Dickens lived most of his childhood in Chatham, where his father worked as a clerk in the Naval Dockyard. This period of his life was his happiest and he drew upon his experiences and memories of Chatham and Rochester to feature in many of his books.

Officials confidently predict 300,000 visitors a year to this new, innovative and exciting indoor visitor complex themed around the life, books and times of one of the world's best loved authors.

Promoted as something similar to the historical theme park in Colonial Williamsburg, Virginia which is a wonderful experience Broadway To Vegas has enjoyed.

Just don't call Dickens World it a Mickey Mouse operation. Officials of Dickens World bristle when comparisons are made to the guy with the big ears.

Authenticity for the fiction author is of paramount importance.

Everything from the names on the faux storefronts to the pharmacy offering "syrup of squirrels" has been verified to be true to the Victorian period.

Working with The Dickens Fellowship great attention has been paid to the authenticity of the time, characters and story lines. The hope is that Dickens World is both entertaining and educational - offering a new and fun way to enjoy Dickens and his characters as well as gaining an understanding of the times and conditions people experienced living in England in the early 19th century.

Come Christmas time the emphasis will be on the beloved classic A Christmas Carol, written in 1843, the first of his Christmas books, which was reputedly written in a matter of weeks.

"We do plan to implement seasonal theming within the attraction, at Christmas, this will almost certainly relate to A Christmas Carol, Sarah Hirsch Marketing Executive for Dickens World told Broadway To Vegas.

With promotions encouraging American visitors, and generations of people growing up on A Christmas Carol, depending upon travel time, visiting Dickens World at holiday time may become either an annual tradition or a once-in-a lifetime pilgrimage.



Life size ghosts will reside in the Haunted House of Ebenezer Scrooge. Photo courtesy Dickens World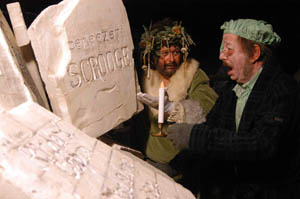 Over the Christmas period the attraction will convert into a Dickensian winter wonderland, replete with snow and other characteristics of a bygone era complemented by a magnificent water feature which over the festive season changes into a spectacular 'ice fantasia' dominated by The Spirit of Christmas, Jack Frost, Scrooge and a host of other delightful characters who magically come to life.

Located in a hangar the size of four football pitches, Dickens World is Dickens at his dark side best. One of the main attractions is Newgate Prison where the centerpiece is not just a boat ride, but the longest of its kind in Europe. 210 meters of water travel through a Victorian sewer, past a graveyard and on to a crypt showcasing a greatest hits of Dickensian villains. The boat then rises over the rooftops of a dilapidated London skyline illustrating Abel Magwitch's bolt from the capital before splashing back down.



Great Expectations ride. Photo courtesy Dickens World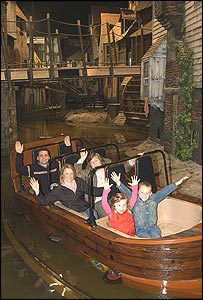 Longer than two football fields, The Great Expectations Ride is not only one of the largest in Europe, but it is the very first of its kind to combine a dry and a water ride into one. The ride involves tons of steel and incorporates a series of unique features making it one of the first of its kind in the world. The dark boat ride will transport six visitors in each of the custom built wooden boats.

As visitors board the boats they will have passed through the Newgate Prison area of the attraction and will have hear whispers about the escape of the convict Magwitch, from Dickens Great Expectations novel. These whispers start the beginning of a story that visitors will follow as they travel around the attraction, passing through the Tudor building in Quilips Creek, though a dark and smelly sewer pipe and across the rooftops of London. As the boats tumble down the Fall of Death visitors will rejoin the story hearing how Magwitch is escaping across the Kent Marshes as they pass through the foundry and cemetery areas of the boat rise, with Dickensian coppers in hot pursuit.

The boat ride took five months to complete and was designed and manufactured by ride specialists WGH Ltd. An intricate pump system pushes the boats along. The water is recycled through a filtration system and is dyed dark brown with added debris to recreate the filth and squalor of London's Dickensian waterways.

Capitalizing on the author's ever-increasing popularity, the organizers are cognizant that the bicentenary of his birth set to coincide with the 2012 Olympics in London. Members of the Dickens Fellowship intend to promote the author as a "presiding spirit of the games", on the basis that he is one of the best-known cultural figures associated with the capital.

Dickens boasted long hair, a bushy beard and fancy waistcoats. At that time Dickens was the closest the 19th century had to a pop star. There were more than 200 different images of the author in circulation while he was alive, making him instantly recognizable. He was a celebrity, wrote Paul Schlicke, author of Dickens and Popular Entertainment. "When he first went to America in 1842 he was greeted that way. His trip there was rather like the Beatles going to New York more than a century later."

He also lived a like a headline making celebrity, including extramarital affairs.

On April 2, 1836, he married Catherine Thompson Hogarth (1816–1879), the daughter of George Hogarth, editor of the Evening Chronicle. His first reported affair was with an actress in his play The Frozen Deep. It was 1857 and the actress was named Ellen Ternan. They formed a bond which was to last the rest of his life. No personal documentation remains since both Dickens and Ternan burned each other's letters, but their relationship was clearly central to Dickens's personal and professional life. On his death, he left her an annuity which permitted her to become a financially independent woman.

The dimensions of the affair were unknown until the publication of Dickens and Daughter, a book about Dickens's relationship with his daughter Kate.

Kate Dickens worked with author Gladys Storey on the book prior to her death, and alleged that Dickens and Ternan had a son who died in infancy.

The people in Dickens' personal life are said to be models for characters in his books - books which have never gone out of print. And at the height of his popularity there existed a lucrative industry in unofficial souvenirs - from Pickwick hats to Samuel Weller corduroys. Bonnets became know as Dolly Vardens after a character in Barnaby Rudge; umbrellas as Gamps after Mrs Gamp from Martin Chuzzlewit.



Eddie Sampson in character as Ned Fiendish, rat catcher will be seen prowling the streets. Photo courtesy Dickens World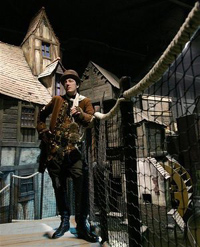 Dickens World has a central square of cobbled stoned streets, gas lamps, pre-weathered period buildings, picturesque archways, and decorative features, together with specialized lighting and appropriate euphonics as well as a host of costumed characters, shop keepers selling boiled sweets, wooden toys and elaborately decorated tinned goods. Populated by actors sporting stays, hooped skirts and extravagant facial hair.

950 people applied for 60 jobs in the theme park. One of the people making the cut is Eddie Sampson who is cast as Ned Fiendish, rat catcher.

The period in which Dickens lived emerges as fascinating.

"British culture is in many ways indebted to the Victorians," says Schlicke, "and many of the Victorian ideas strike home today, such as the focus on individual values, the rights of ordinary people, the desire for a just society. It was a very idealistic time, a very hopeful time. People felt there were a great many social and intellectual problems that were there for the solving."

In addition to the boat ride, staff dressed as pickpockets and wenches will mingle with the crowds. Life sized ghosts abound in the Haunted House of Ebenezer Scrooge, Dotheboys' Hall - the dismal school from Nicholas Nickleby where you might be heckled by a schoolmaster, and you can peer into the fetid cells of notorious Newgate Prison.

The courtyard areas allow visitors to wander freely around the Dickens World attraction, soaking up the atmosphere and exploring the streets, alleys, courtyards, dockside, shops and a themed restaurant. Peggoty's Boat House – a moving platform experience, Crime and Punishment and The Old Curiosity Shoppe complete the experience.

A series of 'burlesque' evening dinner shows are being especially created to provide a nightly menu of 'naughty delights' in the 'Free and Easy' 250 seat Victorian Music Hall.

"By day, the Music Hall will be a 4D animatronic show as part of the main Dickens World attraction. We are currently formulating events to maximize the use of this space in the evenings," Sarah Hirsch told Broadway To Vegas.

The Dickens World project is headed by Kevin Christie who had a long career in managing media companies. The attraction designed by Gerry O'Sullivan-Bere is being installed by RMA Ltd. Heritage Projects, part of the Continuum Group, handles day to day operations and Ross Hutchins serves as Dickens World manager.


DAVID BOWIE'S HIGH LINE FLING
David Bowie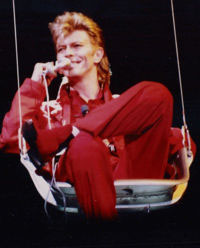 The H&M High Line Festival is a new multi-discipline arts festival that will be curated each year by a different artist. The inaugural edition, curated by David Bowie, will run May 9 to 19.

The ten-day mash-up of music, film, comedy, visual art and performance will highlight all of David's favorite artists. The best of the best.

Bowie has given the nod to; Ricky Gervais making his American stand-up debut; concerts by Arcade Fire, Air, Deerhoof, the Polyphonic Spree and the Secret Machines; and a triple bill of Daniel Johnston, Bang on a Can All-Stars and the Legendary Stardust Cowboy.

The inaugural 10-day festival will take place in various venues in New York City's Upper West Side. A portion of each ticket sale will go to benefit Friends of the High Line, the organization currently working with the City of New York to transform the 1930's rail structure into a park, set to open in 2008.



Broadway To Vegas is supported through advertising and donations. Priority consideration is given to interview suggestions, news, press releases, etc from paid supporters. However, no paid supporters control, alter, edit, or in any way manipulate the content of this site. Your donation is appreciated. We accept PAYPAL. Thank you for your interest.


SPREADING THE WORD


ANDERSON COOPER: REPORTS FROM HOME AND ABROAD The CNN anchor will discuss his unique, impassioned style of reporting, with emphasis on keeping important international stories—like the famine in Niger, the ever-evolving situation in Afghanistan, and the mass killings in the Congo—in the public eye. A globe-trotting reporter for over fifteen years, Cooper will show clips of his work and comment on his provocative approach to news. Tuesday, May 8 at the Museum of Television and Radio in New York City.


SWEET CHARITY


PRINCE MUSIC THEATER GALA Liza Minnelli in her first Philly appearance since 1989. Up Close and personal – Only 450 seats.

A unique experience and unforgettable evening with a legend of Broadway and Hollywood. VIP Pre-show Cocktails and Supper Buffet and a Red Carpet promenade. Tuesday, May 15, Philadelphia, PA.


OTHER PEOPLE'S MONEY


BARBRA STREISAND will be performing in Europe for the first time in 13 years when she takes to the stage of London's 02 Arena, formerly known as the Millennium Dome.

Ticket prices are right up their with those anted up for her Las Vegas gigs. Prices range from $195-$975. which has been reported to be more than three times what the top tickets would fetch for Rolling Stones and Madonna concerts. Her concert at the venue in London's Docklands on July 18, will feature a 58-piece orchestra and backup performers Michael Arden, Peter Lockyer, Sean McDermott and Hugh Panaro.

One of five European dates for the singer-actress, Streisand will also perform at Castletown House in Dublin on July 14, in addition to shows in Vienna, Paris and Nice. Streisand is the best-selling female artist of all time, with 50 gold, 30 platinum and 13 multi-platinum albums. Last year, she broke box-office records for 14 of the 16 venues on her U.S. tour, her first in her home country for six years. That tour brought in almost $90 million with the average price of a ticket $282.61, although some cost nearly $780. The singer, actress, director has recorded more than 60 albums and won two Oscars, four Emmys, ten Golden Globes and eight Grammys.



THE PRODUCERS starring David Hasselhoff as Roger De Bres, in the Paris Hotel-Las Vegas production, exits after tonight's ( May 6) performance. ( See Broadway To Vegas column of February 11. 2007.)

The Hasselhoff departure was announced several weeks ago. He will be replaced May 7 by Lee Roy Reams.

Hasselhoff is a recovering alcoholic who has been upfront about his problem. Recently an intervention tape of the relapsed performer was released. Knowing that recovering alcoholics generally experience relapses, Hasselhoff requested that his children videotape him if he ever experienced that slip. Making that request was an incredible display of both intelligence and reality. When the tape was made public - something that should never happen with any intervention - Hasselhoff responded in a direct, forthright manner.

His daughter, who shot the video, reminded her father that she visited him every week-end in Vegas, if she wasn't studying for her SAT's, which indicates she intends to pursue college. She appears to be an intelligent, sensitive young lady who had been forced into adulthood before her time. Children who survive by shouldering the mantle of adult responsibility are affected their entire life. Any institution of higher learning should be proud to call her a co-ed. Broadway To Vegas wishes them both the best.

BETTE MIDLER officially announced that she has inked a two-year, 200 show contract for performances at Caesars Palace in Las Vegas. She'll open at the 4,100 seat Colosseum on February 20, 2008.

NO STRINGS Music and Lyrics by Richard Rodgers. Book by Samuel Taylor. Starring Emmy & Tony nominated actor Scott Bakula as David in the final Reprise! Broadway's Best production of its 2006-2007 season.

Sophina Brown, currently starring on the CBS Series Shark with James Woods will star as Barbara, the most successful model in Paris. The cast also includes, from Days of Our Lives and General Hospital, Matthew Ashford as Mike and from the recent Broadway revival of La Cage Aux Folles, Ruth Williamson as Mollie.

Musical direction by Gerald Sternbach and direction by Kay Cole. No Strings will also feature costume design by the legendary Bob Mackie and Joe McFate.

In No Strings, a successful high-fashion model meets and falls in love with a writer in Paris. While this Pulitzer prize-winner has been trying to recover from a prolonged case of writer's block, he's assumed the dubious role of charming intellectual-in-residence at some of the Continent's more luxurious watering holes.

As the model's work takes them on a whirlwind tour of the most exclusive European playgrounds, their romance develops into the first deeply-felt, honest relationship either has ever known. The model, however, ruefully comes to realize that the life-style demanded by her career is stifling the writer, and if he's ever to fulfill the promise of his earlier work, he must take responsibility for himself, go home, and write. Reluctantly, but with no strings, they part, each having discovered anew their capacity to love. Featuring such classic Richard Rodgers songs as The Sweetest Sounds and Love Makes the World.

Opening Wednesday, May 9 and continue through Sunday, May 20 at UCLA's Freud Playhouse, Los Angeles.

SOUVENIR

Patti Cohenour as Florence Foster Jenkins. Photo by Chris Bennion.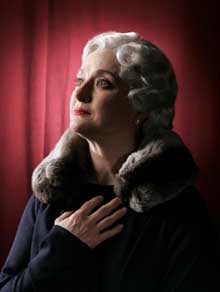 by Stephen Temperley. Patti Cohenour stars as the legendary Florence Foster Jenkins, alongside Mark Anders as her friend and accompanist, Cosme McMoon.

How do you get to Carnegie Hall? Practice. Or if you're the legendary Florence Foster Jenkins, you let your chutzpah and passion for music take you there despite the fact that you can't carry a tune. This affectionate bioplay combines comedy, tenderness, and really, uh, memorable singing. Between laughs, you might ponder the give-and-take of relationships, or the challenge of living life on your own terms. After all, the music that matters most is the music you hear in your head.

After the show, meet members of the cast and ACT's artistic team for a lively conversation. Takes place after one Tuesday evening show, one Sunday matinee, and one Sunday evening performance during each play's run. Souvenir will have post performance discussions on May 22, 27 and June 3.

May 11 - June 10 In The Falls Theatre of A Contemporary Theatre (ACT) in Seattle, WA.

JESUS CHRIST SUPERSTAR the first masterpiece from the legendary writing team of Tim Rice and Andrew Lloyd Webber, exploded onto the scene in 1971, changing the world of musical theatre forever. With a score of amazing songs I Don't Know How to Love Him, Hosanna, Everything's Alright, What's the Buzz, Superstar, and Heaven on Their Mind, this original groundbreaking production starring Ted Neeley is as relevant and timeless as ever.

Ma 8-13 at the Peace Concert Hall in Greenville, SC.

CRAZY MARY a new play by A.R. Gurney. Directed by Jim Simpson. The cast will be headlined by Tony Award nominee and three-time Academy Award nominee Sigourney Weaver. Appearing in the title role will be two-time Obie Award winner Kristine Nielsen.

Joining Ms. Weaver and Ms. Nielsen are Michael Esper, Mitchell Greenberg and Myra Lucretia Taylor.

In Crazy Mary, in an attempt to account for the family inheritance, the scion of a wealthy Buffalo, NY clan (Ms. Weaver) and her willful, college-aged son (Mr. Esper) visit their long lost cousin Mary (Ms. Nielsen). The catch: Mary is living in an asylum for the wealthy insane and has barely spoken in years, forcing mother and son to employ radical ends to get through.

The production features scenic design by Tony Award winner John Lee Beatty, costume design by Claudia Brown, lighting design by Brian Aldous, sound design by Jill BC Du Boff, and original music by Michael Holland.

Previews begin on Friday, May 11 with an official opening on Sunday, June 3 at Playwright's Horizon in NYC.

SIZWE BANZI IS DEAD by Athol Fugard, John Kani and Winston Ntshona. Starring John Kani and Winston Ntshona.

French adaptation Marie-Hélène Estienne. Lighting design by Philippe Vialatte. Set design by Abdou Ouloguem. With Habib Dembélé and Pitcho Womba Konga. Sizwe Banzi is Dead is the second of three Statement Plays created by Athol Fugard. These pieces are considered to be part of the series of Township Plays, based on the everyday life of the urban black community in South Africa during Apartheid.

Sizwe Banzi has a desperate need to provide for his family, but his passbook contains the wrong information and so prevents him from finding work. With his new friend Buntu, he comes across a corpse lying by the side of the road, and the prospect of stealing the dead man's papers seems to offer the only escape route. An engaging and humorous production of beautiful simplicity.

Post show talk on May 17 will discuss; Should culture challenge authority? Should art be for art's sake? Or should it be a force for social change? A panel discussion chaired by Alistair Niven as part of the Culture For Change series.

In French with English surtitles. May 9-26 at the Barbican Centre in London.

REUNION

The cast of Reunion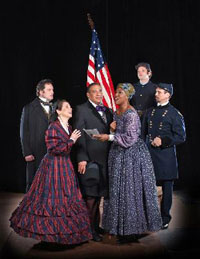 a musical epic in miniature. Book by Jack Kyrieleison. Story by Jack Kyrieleison and Ron Holgate. Traditional music arranged by Michael O'Flaherty. Directed by Ron Holgate.

A group of traveling players weaves the immortal words and songs of the Civil War into a musical epic of the Lincoln presidency and the fight to save the Union, cleverly weaving 26 songs from the era together with excerpts from letters, diaries, and memoirs by the likes of Lincoln, Louisa May Alcott, Frederick Douglas, William Sherman, Walt Whitman, and dozens of less well-known participants in the war.

Although he is never seen, the towering figure of Lincoln presides over the story as he did over the Union itself, from his meteoric entry onto the national stage to the final moments when we relive the awful events of Good Friday, 1865.

Dialogue is largely drawn from the words of people who lived through those extraordinary times-- the soaring highs and the tragic lows. Lincoln's search for a winning general. The Emancipation Proclamation.

Through May 19 at the NYS Theatre Institute in Troy, NY.


| | | |
| --- | --- | --- |
| | | |
WHO'S WHERE


TONY BENNETT stars at Symphony Hall in Birmingham, England on Tuesday, May 8.

BLIND BOYS OF ALABAMA in stage Friday, May 11, at the Fairfield Center for Creative Arts in Fairfield, CA. On Saturday the show is at the Wilson Theatre in Fresno, CA.

EARTHA KITT headlines a three night engagement at the National Arts Centre in Ottawa, Ontario beginning Thursday, May 10.

NORAH JONES performs Tuesday, May 8, at the Chicago Theatre in Chicago. On Wednesday she can be enjoyed at the State Theater at Playhouse Square Center in Cleveland. Friday the show is at Massey Hall in Toronto. On Saturday she's on stage at the St. Denis Theatre in Montreal, QC.

DIANA ROSS entertaining Tuesday, May 8, at Nottingham Arena in Nottingham, UK. Wednesday finds her at Wembley Arena in London and on Friday she can be enjoyed at The Point in Dublin, Ireland.

PAULA POUNDSTONE telling funny stories Saturday, May 12, at the Rio Theatre in Santa Cruz, CA.

KEITH URBAN is down under performing in Australia. On Friday, May 11, he begins a two night stand at Brisbane Entertainment Centre in Brisbane.

JOHNNY MATHIS has a two night stand May 11-12 at the Las Vegas Hilton Hotel

HARRY CONNICK, JR performs May 12 at the Nokia Theatre in Grand Prairie,TX

IRVING BERLIN AND FRIENDS Arguably the greatest composer of our time, Irving Berlin—with his catalogue of more than 1,500 songs—has kept music lovers singing for generations. Often called the Dean of American Composers, no other songwriter has had so much influence on the development and performance of American popular music. Perhaps Jerome Kern said it best: "Irving Berlin has no place in American music—he is American music."

Star of the original Broadway cast of the smash hit Mamma Mia, award-winning vocalist Karen Mason joins Peter Nero and The Philadelphia POPS to pay tribute to this iconic composer. May 9, 11, 12, and 13 Verizon Hall in Philadelphia.




FINAL OVATION


STANLEY McDONALD, JR 62, father of four-time Tony Award-winning actress Audra McDonald, died April 29 in an aviation accident near Olivehurst, CA. An experienced pilot, he was flying a single-occupant experimental aircraft known as a gyroplane when, at about noon Pacific time, he crashed onto the southbound lanes of Highway 70 near Olivehurst, reported Sgt. Joe Million of the Yuba County Sheriff's Department.

Million's report stated that Stanley McDonald Jr. was pronounced dead at the scene.

McDonald had retired in 2005 as the assistant superintendent of human resources for the Fresno Unified School District. Prior to that he had been the principal at Hoover High School. Audra McDonald has been playing Lizzie in previews for the Roundabout Theatre Company's new production of the musical 110 in the Shade, which officially opens on May 9.

Witnesses told police that the aircraft appeared to have mechanical difficulties and clipped some eucalyptus trees before crashing onto the highway, about 50 yards from a residential area. No one on the ground was hurt.

The Federal Aviation Administration and the California Highway Patrol are both investigating the crash.

In addition to Audra, he is survived by his wife Vicki, his daughter Allison, and Audra's daughter, Zoe Donovan.

Next Column: May 13, 2007
Copyright: May 6, 2007. All Rights Reserved. Reviews, Interviews, Commentary, Photographs or Graphics from any Broadway To Vegas (TM) columns may not be published, broadcast, rewritten, utilized as leads, or used in any manner without permission, compensation and/or credit.
Link to Main Page
---
Laura Deni


CLICK HERE FOR COMMENT SECTION