! >
Broadway To Vegas
  
 SHOW REVIEWS CELEBRITY INTERVIEWS GOSSIP NEWS

| | |
| --- | --- |
| | |
RIVETING DOUBT ON TOUR WITH CHERRY JONES - - AMERICAN PREMIER OF LYNN REDGRAVE IN NIGHTINGALE - - GISH PRIZE WINNER SHIRIN HESHAT HONORED - - NEW PLAY BY JEFF DANIELS - - OPERA AUSTRALIA BIRTHDAY BENEFIT GALA - - ADULT ONLY BOWLING ALLEY IN NIGHTCLUB - - IRISH SYMPOSIUM AT PRINCETON - - ITALIAN WELFARE LEAGUE HONORS MELISSA ERRICO - - DONATE . . . Scroll Down


Copyright: October 8, 2006
By: Laura Deni

CLICK HERE FOR COMMENT SECTION
FOR NO ONE DIES WHO IS REMEMBERED


Having thoroughly enjoyed seeing Lynn Redgrave on Broadway in her one woman show Shakespeare For My Father - which traced her relationship with her father, the late Michael Redgrave - it seemed appropriate to journey to Los Angeles to catch her latest one women foray - Nightingale which opened last week at the Mark Taper Forum.

Nightingale is a tribute to her grandmother, Branie.

Redgrave burst on stage and explained that a few years ago she suddenly found her life thrown into an altered state of singleness.

That would be the "apocalyptic" moment in life in 1999 when she discovered that her husband John Clark had fathered a child by his personal assistant, who then went on to marry their son Ben. Redgrave explained that she ran back to England because she needed the comfort of her sister, Vanessa, and their mother, Rachel. Another apocalyptic event took place a short time later when Lynn discovered that she had breast cancer. Discovered in an advanced stage, the original prognosis wasn't good. "At the point that I had cancer, it was pretty advanced and the fact that I am even here at 63 is pretty fabulous." Yes, it is. Lynn both looks and feels fabulous, usually walking two miles a day.

During the time Lynn was exiled at the Chiswick home of her sister Vanessa, where they had both grown up, Lynn wandered into the local cemetery, looking for the grave of her maternal grandmother, whom she remembered as a cold, unloving woman. Lynn admitted that it had been 40 years since she'd been in that cemetery and she was shocked to see that all of the names of the tombstones had been washed away by the acid rain which falls on England.

That led her to develop Nightingale.

"When we die, what mark do we leave? What is left of us to tell the world that once we lived and breathed and laughed and wept? I didn't really know my grandmother "Beanie." (Beatrice Kempson ) Just a few intriguing fragments, little anecdotes, passed down by my mother, about this quiet, cool, distant woman who hadn't been very easy to love. She was the sort of granny who would say I couldn't have a sugar mouse from the tree on Christmas Eve. Who kissed my grandfather's coffin and whispered, "I'm sorry dear." Who once fell in love and who lost a beloved son.

The stage of the Mark Taper Forum is set with three pieces of furniture, a chaise lounge, a wooden bench and a chair.

In Shakespeare For My Father the audience knew the subject matter - theatrical icon Michael Redgrave. But, why should anybody care about Redgrave's repressed, cold fish grandmother? Everybody has a variety of relatives and most of them don't warrant being talked about, much less a 90-minute diatribe.

In the case of Nightingale Lynn Redgrave may be presenting her grandmother, but in short order the audience sees fragments of the personally familiar. Beatrice Kempson becomes the universal stand in.

The intense 90-minutes is divided into vignettes ranging from approximately five to eight minutes. It is noteworthy that the older audience not only applauded when Redgrave first walked on stage but offered sincere applause after every vignette.

Lynn describes the life of a repressed and chilly middle-class Edwardian woman, distant from her husband and children portraying her grandmother from a child to old age. She was a woman of her generation - void of any sexual knowledge - thinking kissing gets you pregnant. She was also a mother who resented her own daughter, Rachel, and as Rachel developed into a famous actress, her mother's resentment was coupled with jealously.

There is no doubt that Beatrice's distant parenting affected Rachel "enormously".



Lynn Redgrave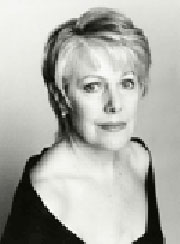 "I couldn't say I knew her," admitted Lynn about Beatrice. We never talked about anything really important. That generation of women were so out of touch with their emotions and I think of the loneliness and emptiness of being unable to express yourself."

The one time granny was capable of expressing herself in no undercertain terms was reacting to the death of her beloved son in World War II. As Redgrave was delivering one of the most powerful vignettes in the play, the cell phone belonging to the woman sitting two seats to my left in the first row started blaring out a loud, happy tune. The shocked looked in Redgrave's eyes, as she glanced in the woman's direction, lasted only a nano-second as Redgrave showed how a true professional can overcome any obstacle.

Joseph Hardy directs Nightingale which received rave reviews in London. If there are any quibbles they are minor - perhaps dealing with words associated more with England than America. When Redgrave talks about her grandmother's uneventful wedding night and subsequent trips to a doctor who "suggested a procedure" on both parties - it isn't made clear what "medical procedures" the man and woman endured. Likewise, when the grandmother is complaining about something awful that the husband demands - that isn't straight forward either. People in the audience from Europe laughed at the vocabulary Redgrave used, but the rest of the audience were void of the word's meaning and didn't react.

Effectively staged with scenic design by Tobin Ost and lighting by Rui Rita. Black understated pants outfit by Candice Cain doesn't distract, thus not hampering Regrave from creating the moods and ages necessary to the dialogue.

Nightingale continues at the Mark Taper Forum in Los Angeles through November 19.


ON TOUR: DOUBT LINGERS


Doubt by John Patrick Shanley, directed by Doug Hughes is noteworthy for several reasons. Cherry Jones, who delivered the Tony Award winning performance as Sister Aloysius on The Great White Way, has taken the show on tour - a rare occurrence.

Currently at the Ahmanson Theatre in Los Angeles, Doubt remains tied to the headlines thanks to former Republican Rep. Mark Foley of Florida claiming he was molested by a Catholic priest.

Doubt takes place at St. Nicholas, a Catholic church and school in the Bronx in 1964. Sister Aloysius, the school principal, suspects the young, charismatic Father Flynn of improper relations with one of the male students. Convinced that the priest will be blindly protected by the church hierarchy, Sister Aloysius sets out to take him down herself. The play examines the line between gossip and truth, discipline and compassion, certainty and doubt.

Joining Jones in powerful performances are Chris McGarry as Father Flynn, Lisa Joyce as Sister James and Adriane Lenox as Mrs. Muller.



Cherry Jones as Sister Aloysius and Adriane Lenox as Mrs. Muller Photo by Craig Schwartz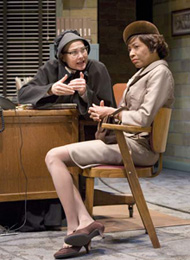 The other side of the Mississippi venue translates well for Doubt. The Ahmanson offers a unique, state-of-the-art reconfiguration which provides for variable seating capacity from 1,400 - 2,000 seats. The maximum are in use and people were seemingly hanging from the rafters. That could dilute the intensity of some scenes - but didn't. This is a show which began off Broadway and needs the audience to feel connected to each character.

If you were lucky enough to see the Broadway staging, this is your chance to enjoy it again. If you missed The Big Apple production don't pass up the exceptional opportunity to see the original star delivering insightful, provocative theatre.

The Los Angeles audience is different from The Great White Way breed. The LaLa Land crowd is younger and they laugh more enjoying the numerous, brilliantly clever lines sprinkled throughout the dialogue.

They also applauded less - the biggest applause during the show was after (Adrianne Lenox) Mrs. Muller's dialogue in Sister Aloysius' office. As an aside, Cherry Jones received no applause when she walked on stage.

Scenic design by John Lee Beatty. Costumes by Catherine Zuber. Lighting design by Pat Collins and original music and sound design by David Van Tieghem.

Doubt continues through October 29 at The Ahmanson Theatre in Los Angeles. From there it opens October 31 in San Diego.



Broadway To Vegas is supported through advertising and donations. Priority consideration is given to interview suggestions, news, press releases, etc from paid supporters. However, no paid supporters control, alter, edit, or in any way manipulate the content of this site. Your donation is appreciated. We accept PAYPAL. Thank you for your interest.


ART AND ABOUT


GISH PRIZE WINNER HONORED Shirin Neshat, an Iranian-born artist who lives in New York was named the winner of the 2006 Dorothy and Lillian Gish Prize of about $300,000 and a silver medallion. Neshat will receive her awards at a ceremony on Oct. 12 at the Hudson Theater, where scenes from her feature film work will be shown.

Born in Iran, Neshat has lived in the United States since 1974. She portrays the emotional space of exile in her photographs and films. She questions the role of women in Islamic society, recognizing the tensions between a collective cultural identity and one driven by individual concerns. Neshat uses the chador, the head-to-toe Islamic covering that is mandatory for women in Iran, as an icon for repression and female identity.

Passage (2001) was commissioned by composer Philip Glass, whose orchestration rhythmically underscores the ritualized movements of the funerary preparations and procession that are the film's subjects. Neshat's panoramic shots of the landscape provide an epic backdrop for the two throngs preparing the funeral: men carry a shrouded corpse across sand dunes, and chador-covered women dig a grave with their hands. Eventually, the actions of the men and women move from the ritual to the elemental as repetitive movements give rise to dust, sticks, stones, and fire, which form a metaphoric circle of life, death, and the hope of renewal.

The Gish Prize, named for the sisters best known for their performances in silent films, is given annually "to a man or woman who has made an outstanding contribution to the beauty of the world and to mankind's enjoyment and understanding of life." Previous winners include Bob Dylan, Ingmar Bergman and Arthur Miller.


SWEET CHARITY


50TH OPERA AUSTRALIA BIRTHDAY BENEFIT GALA CONCERT In the presence of Dame Joan Sutherland. A celebration of 50 years of opera in Australia

During 2006 Opera Australia celebrates fifty years of opera in Australia, fifty years of music, emotion, showmanship and sheer bravery. Everyone who has been part of this adventure - whether on stage, in the theatre or listening on the airwaves - is invited to celebrate this momentous occasion.

Special guest of honor is Dame Joan Sutherland who also celebrates a significant birthday when she turns 80 on November 7.

Conducted by Richard Hickox, the Benefit Gala features some of opera's greatest moments from Handel through to the present day and honors the extraordinary artists who have contributed so much to opera in this country. Expect streamers, flowers and ... a big surprise.

The Black Tie Gala features Cheryl Barker, John Bolton Wood, Catherine Carby, Peter Coleman-Wright, Elizabeth Connell, Yvonne Kenny, Emma Matthews, John Pringle, Rosario La Spina, Glenn Winslade and Elizabeth Whitehouse, the Australian Opera and Ballet Orchestra and the Opera Australia Chorus.

The proceeds from this performance will support the national opera company.

The Post-Gala Birthday Dinner allows supporters to celebrate Dame Joan Sutherland's birthday at an elegant dinner in the Northern Foyer after the Gala Concert. With Dame Joan in attendance, the dinner is held in honor of her exceptional contribution to the development of opera will raise funds for the Opera Australia Capital Fund, of which Dame Joan is Patron. October 11 at the Concert Hall Sydney Opera House, Australia.

THE ITALIAN WELFARE LEAGUE'S annual Autumn in New York Luncheon and Fashion Show will be held this year on Saturday, October 14th at New York's St. Regis Hotel. The League will be honoring Broadway star Melissa Errico as Woman of the Year. Man of the Year is FDNY Commissioner Nicholas Scoppetta.

Leading lady, Melissa Errico has seen her name in lights on the Great White Way in My Fair Lady, High Society, Amour, Dracula and Anna Karenina and has starred in numerous high profile productions on stages Off Broadway, at the Kennedy Center in Washington, DC and at the Hollywood Bowl in Los Angeles. In one decade, her critically acclaimed work has brought her more than 16 theater award nominations including the prestigious Tony.

During her "off" time, the multi-talented star teaches master classes at LaGuardia High School and the Actors Center. She helps raise money for Worldwide Orphans and, since giving birth this past year, has started a mother's support group in downtown New York called LILA MAMAS.

Nicholas Scoppetta's stellar reputation for reform during his six-year tenure as New York City's Commissioner of the Administration for Children's Services, won the confidence of newly elected Mayor Bloomberg who appointed him 31st Commissioner of the Fire Department of New York City in 2002. The position placed him in charge of a16,000 member department of Fire and Emergency Medical Services with a budget in excess of a billion dollars at a time when our nation was reeling from the aftereffects of the World Trade Center Disaster. Scoppetta was born on the Lower East Side of Manhattan, was placed in foster care at the age of five, and lived in various institutions until he was twelve. He attended public schools in Manhattan, served in the U.S. Army, went to University on the G.I. Bill where he obtained a degree in Engineering, and enrolled in Law school on a New York. State Regents Scholarship. Both of these recipients will be honored at the October 14th luncheon. A Silent Auction will be followed by lunch and a fashion show featuring Clifford Michael Design. Proceeds from the event go toward the League's continuing mission to help Italian American children in poor health or who've suffered tragic events.


OTHER PEOPLE'S MONEY


THE METROPOLITAN OPERA now offers 200 orchestra seats to the general public at a cost of $20 each for performances Monday through Thursday. The seats, at the sides and toward the back of the 3,800 seat hall, would normally cost $100. Tickets are available the day of the performance. This is made financially possible thanks to a grant from Met patron, Agnes Varis.

MOVIN' OUT celebrating Fleet Month, and in honor of our Active Duty Military and courtesy of NBC Channel 7/39, the Producers of Movin' Out are offering complimentary tickets to anyone displaying an active duty military ID at the Civic Theatre Ticket Office. This opportunity is available for all performances excluding Saturday evening, October 14 (one ticket per Active Duty ID; while supplies last; not valid for already purchased tickets). The Civic Theatre in San Diego.



OUTER CRITICS CIRCLE the organization of writers covering New York theatre for out-of-town newspapers, national publications and other media beyond Broadway, has named New Jersey theatre reviewer Simon Salztman as its new President. Mr. Saltzman served last season as Acting President and was recently voted unanimously by the organization's executive board to the position of President.


SPREAD THE WORD


IRISH THEATRE SYMPOSIUM The former director of Ireland's national theater, the Abbey Theatre, and current artistic director of the Guthrie Theater in Minneapolis, Joe Dowling, will deliver the keynote address, Friday, October 13 for the Players & Painted Stage Symposium at Princeton University which takes place October 13-15. Dowling will discuss his coming of age in Irish theater and the differences between Irish and American theater practices.

The week-end symposium will feature discussions, readings and performances by distinguished Irish actors, theater directors and other luminaries well known for their award-winning roles on stage and screen.

Irish actor Stephen Rea, popularly known for his Oscar-nominated performance in the movie The Crying Game, will join Ireland's leading cultural critic Luke Gibbons in a conversation about theater's role in art and politics.

Garry Hynes, the artistic director of Galway's Druid Theatre, and the first woman to win a Tony Award for theater direction, will give a talk about her work on a range of Irish plays, as well as her direction of McCarter Theatre's production of Brian Friel's Translations, which will have its opening Oct. 13 at the McCarter Theatre Center in Princeton. Many in the cast are Irish, and two are making their American stage debut.

Emily Mann, McCarter's artistic director and Hynes will give a special post-performance discussion after a Sunday matinee of Translations, which runs through October 29.

The upcoming symposium is free and open to the public and is being held to celebrate the donation of an expansive collection of Irish theater announced by the University last month. Class of 1953 alumnus Leonard L. Milberg donated to Princeton more than 1,000 plays, photographs, playbills and other works documenting the history of Irish theater dating back 160 years. The symposium will reflect on the long theatrical legacy.

Other highlights include renowned Irish actress Fiona Shaw, of Harry Potter fame, reading from the work of Irish playwright Marina Carr; a reading of O'Casey's long-lost The Cooing of Doves directed by Princeton Lecturer in Theater and Dance Timothy Vasen; and a roundtable discussion in which Rea, Gibbons, Hynes and Shaw will join Irish playwrights Mark O'Rowe and Vincent Woods to discuss the history of Irish theater. Cadden will moderate the roundtable with Pulitzer Prize-winning professor Paul Muldoon.

Patticipants include;

Michael Cadden, Director, Program in Theater and Dance, Princeton University
Joe Dowling, Artistic Director, Guthrie Theatre, Minneapolis, Minnesota
Luke Gibbons, Professor of Irish Studies, University of Notre Dame, Indiana
Garry Hynes, Artistic Director, Druid Theatre, Galway, Ireland
Fiach Mac Conghail, Artistic Director, Abbey Theatre, Dublin, Ireland
Emily Mann, Artistic Director, McCarter Theatre, Princeton, New Jersey
Paul Muldoon, Chair, University Center for the Creative and Performing Arts. Chair, Fund for Irish Studies, Princeton University
Mark O'Rowe, Playwright
Stephen Rea, Actor and founding member of Field Day Theatre Company
Fiona Shaw, Actress
Timothy K. Vasen, Lecturer in Theater and Dance, Princeton University
Vincent Woods, Playwright

To mark the acquisition of the Leonard L. Milberg '53 Collection of Irish Theater, the Princeton University Library has prepared an exhibition that will feature approximately 220 items from the collection, including first and significant editions of the playwrights' published scripts, broadsides, manuscripts, playbills, and posters. The exhibition, Players & Painted Stage: The Leonard L. Milberg Collection of Irish Theater, opens Friday, 13 October 13, and will remain on view in both the Main and Milberg Galleries of Firestone Library through 22 April 22, 2007.

Exhibition highlights include a typescript of "The Cooing of Doves," an unpublished one-act play by Sean O'Casey that was rejected by the Abbey Theatre and later became the second act of The Plough and the Stars; the original playbill for the 1956 production of The Quare Fellow by Brendan Behan; and the 1952 edition of Samuel Beckett's En attendant Godot, pièce en deux actes, along with the first French program.



TOBIAS AND THE ANGEL

Tobias and the Angel. Photo by Keith Pattison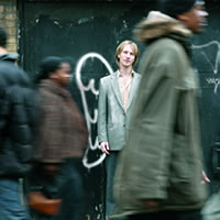 Jonathan Dove's uplifting story. Music by Jonathan Dove. Words by David Lan.

At a time of turmoil, wise Tobit is struck blind.

Suddenly penniless, he sends his son Tobias to reclaim an old debt.

Tobias is afraid but a stranger arrives and offers to guide him.

An orchestra, company of singers, a choir and two community choruses, conducted by David Charles Abell, accompany Tobias towards love and self-knowledge in this joyous musical tale.

October 11-21 at the Young Vic in London.

MOVIN' OUT returns to the San Diego Civic Theatre with performances October 10 - 15. Movin' Out, the spectacular musical by legendary director/ choreographer Twyla Tharp and 5-time Grammy-winner Billy Joel, brings 24 Billy Joel classics to electrifying new life as it tells the story of 5 life-long friends over 2 turbulent decades.

Several of the original Broadway cast members return for this engagement; Piano Man Darren Holden; Holly Cruikshank (Brenda,) David Gomez (Tony), Brendan King (Eddie) and Lynda Sing (Judy).

Former Green Beret Stephen Wolfert, puts the dancers through boot camp throughout the development of the show; and returns regularly to keep them in 'sember fi' condition. On Wednesday afternoon, October 11, their favorite drill sergeant will bring his regulation issue backpacks and Marine weight dummies onstage to work the company through their paces in attitude and keeping it real.

If being in the show keeps the performers fit, being in the show also seems to result in romance. Joshua Bergasse (Sgt. O'Leary) and Kristine Bendul (featured ensemble) knew each other prior to Movin' Out, married during Movin' Out, this is their first show together; Tamara and Christopher Compton (both Swings) met on show and married during tour; Emmet Kaiser (Head Carpenter/Tech Director) and Alison Harma (Stage Manager) knew each other prior to show, got engaged during tour; Eric Robertson (Ensemble) and Lynda Sing (Judy Understudy/Ensemble) met during tour, dating since first year of tour. And those who married "outsiders": David Gomez (Tony) married long-term girlfriend (not in show, but a singer) this past February 2006; and Brendan King (Eddie) married long-term girlfriend (not in show, but a dancer) this past July 2006.

ESCANABA IN LOVE by Jeff Daniels, a followed up his Escanaba In Da Moonlight. Directed by Guy Sanville, the cast includes Paul Hopper, Wayne David Parker, Inga R. Wilson, Will David Young, and the professional acting debut of former PRTC apprentice Jake Christensen as Albert Soady, Jr.

Visit the Soady deer camp in the midst of World War II, forty years before the original. Meet the love of young Albert Soady Jr.'s life, Big Betty Baloo - the woman destined to become the mother of Reuben and Remnar Soady - along with a whole new cast of wacky Yoopers.

Performances through December 23 at the Purple Rose Theatre in Chelsea, Michigan.

LOSING LOUIE The American premiere by playwright Simon Mendes da Costa. A new production of the comedy that was a recent hit in London's West End. Directed by four-time Tony winner Jerry Zaks.

Starring Matthew Arkin, Scott Cohen, Rebecca Creskoff, Patricia Kalember, Mark Linn-Baker, Michele Pawk, and Jama Williamson.

American Premiere at the Biltmore Theatre in The Big Apple.

How do our childhood memories affect our lives? How do the mistakes of one generation impact on the next? And most importantly, why does love make us do such crazy things? This wise and witty new play explores these questions, as two generations of family members work things out in the same bedroom, fifty years apart.

The creative team includes: John Lee Beatty (scenic design), Paul Gallo (lighting design), William Ivey Long (costume design), and Dan Moses Schreier (sound design).

Presented by Manhattan Theatre Club, officially opens October 12 at the Biltmore Theatre in New York City.

PROOF Written by David Aubern. Directed by Brian Kite.

One of the most acclaimed plays of the past few years, Proof explores the unknowability of love as much as it does the mysteries of science. It focuses on Catherine, a young woman who has spent years caring for her father, Robert, a brilliant mathematician in his youth who was later unable to function without her help.

His death has brought into her midst both her sister, Claire, who wants to take Catherine back to New York with her, and Hal, a former student of Catherine's father who hopes to find some hint of Robert's genius among his incoherent scribblings.

The passion that Hal feels for math both moves and angers Catherine, who, in her exhaustion, is torn between missing her father and resenting the great sacrifices she made for him. For Catherine has inherited at least a part of her father's brilliance — and perhaps some of his instability as well.

As she and Hal become attracted to each other, they push at the edges of each other's knowledge, considering not only the unpredictability of genius, but also the human instinct toward love and trust.

Opening night October 13 at the La Mirada Theatre for the Performing Arts in La Mirada, CA.

AMADEUS by Peter Shaffer. Directed by Kent Thompson. The Denver Center Theatre Company's new production of Peter Shaffer's masterwork inspired by Mozart's genius. Resentful of his own mediocrity, the composer Antonio Salieri secretly rejects God and vows to destroy his rival Mozart's career. An international sensation of the stage and screen, Amadeus brings new insight to the life, music and myth of Wolfgang Amadeus Mozart, one of the most prolific and gifted composers who ever lived.

Now playing through Oct 28 The Stage Theatre, Denver Center for the Performing Arts.

KRANKENHAUS BLUES

Joe Sims, Bill Green and Christine Bruno. Photo by; Carol Rosegg.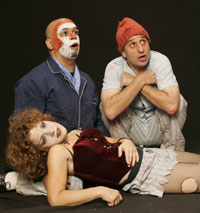 by Sam Forman. Donna Mitchell directs this frightening and funny play about disability issues, genocide, and the grim realities of show business. A playwright, an actress and a clown are locked in a Nazi asylum for reasons beyond their comprehension. Moving effortlessly between 1930's Berlin and present day New York City, the characters make great efforts to connect with each other as they confront their existentially bleak surroundings. Artistic Director of Visible Theatre Krista Smith says: "Krankenhaus Blues, for me, is about the disconnect that we often feel in today's society regarding horrific events and our struggle to connect to our own humanity."

The cast includes: Christine Bruno (Anka, an actress), Bill Green (Bruno, the plawright), Joe Sims (Fritz, a clown) and Angela DeMatteo (as a nurse). The set and costume design is by Kimi Maeda and the lighting design by Paul Jepson. Music composed and performed by Helen Yee, with additional song material written by Hannah Hens-Piazza. The production stage manager is Emily Alexander-Wilmeth.

Officially opens October 8 at the Dorothy Strelsin Theatre in Manhattan.


| | | |
| --- | --- | --- |
| | | |
WHO'S WHERE


BARBRA STREISAND performs at Madison Square Garden in New York City on Monday, October 8 and again on Wednesday, October 11. On Friday she headlines the Verizon Center in Washington, D.C.

THE WHO star at the Rose Garden Arena in Portland, Oregon on Tuesday, October 10. On Wednesday the show is at the Seattle Center in Seattle, Washington.

DIXIE CHICKS in a two nighter October 9-10 at the Acer Arena in Sydney, Australia. On Friday they continue their Australian tour with a show at Burswood Dome in Perth.

MARIAH CAREY headlines the US Airways Center in Phoenix, Arizona on Tuesday, October 10.

BOB DYLAN entertains Wednesday, October 11 at the Pacific Coliseum in Vancouver, British Columbia. On Friday he is on stage at the Key Arena in Seattle and on Saturday the show is at the Memorial Coliseum in Portland, Oregon.

RANDY NEWMAN singing Saturday, October 14, at Convocation Hall in Toronto, Canada. Next Sunday he is on stage at the Michigan Theater in Ann Arbor.

BRUCE HORNSBY center stage at Indiana University on Tuesday, October 10. On Wednesday he headlines the Allen Theatre in Cleveland, Ohio.

CHRIS BOTTI on stage Friday, October 13, at the New Jersey Performing Arts Center in Newark, NJ. On Saturday he's on stage at the Troy Savings Bank Music Hall in Troy, NY.

DENYCE GRAVES mezzo-soprano backed by Warren Jones on piano. Graves, a D.C. native will perform works that have made her a household name . Tuesday, October 10 at the Kennedy Center Concert Hall in Washington, D.C.


PIFFLE AND PROFUNDITIES


BOWLING FOR BABES The Rio Hotel in Las Vegas intends to open an adults only bowling center which will be the focal point in a nightclub setting.
















Next Column: October 15, 2006
Copyright: October 8, 2006. All Rights Reserved. Reviews, Interviews, Commentary, Photographs or Graphics from any Broadway To Vegas (TM) columns may not be published, broadcast, rewritten, utilized as leads, or used in any manner without permission, compensation and/or credit.
Link to Main Page
---
Laura Deni


CLICK HERE FOR COMMENT SECTION