! >
Broadway To Vegas
  
 SHOW REVIEWS CELEBRITY INTERVIEWS GOSSIP NEWS

| | |
| --- | --- |
| | |
NEW HEALTH CARE RULES AFFECT THE ENTERTAINMENT INDUSTRY - - MoMA ACQUIRES THE @ SIGN - - WHERE THE BLOOD MIXES - - NEW MUSICAL YANK! - - MARY WILSON STARS IN THE FABULOUS PALM SPRINGS FOLLIES - - SHIRLEY JONES FORCED TO END LONDON STAGE DEBUT EARLY - - A STATUE OF BRAM STOKER - - DEATH OF SHIRLEY BASSEY'S DAUGHTER INVESTIGATED - - DONATE . . . Scroll Down


PERFORMING ARTS AFFECTED BY NEW HEALTH CARE LAWS
The Addams Family has a line about health care which caused Michelle Obama to laugh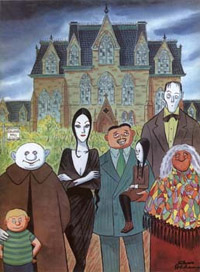 While members of Congress were being called vile names and spat upon, President Barack Obama was showing his backbone in forging health care reform - something that should have been done decades ago. Meanwhile, his wife, daughters and mother-in-law were in New York watching the Broadway shows Memphis, Blue Man Group and The Addams Family.

More people should follow the Obama lead.

The world of entertainment is the only industry where participants can fall into employed, seasonal, part-time, on-call, barter or the unemployed classification within the same year - year after year.

Those in creative arts have frequently done without insurance, been under-insured or only sometimes covered. That all changed with Obama's signature on a bill.

How will the already financially strapped theatrical industry handle the new rules? Will part-timers experience business as usual, be fired or told to report to work as independent contractors? Will ticket prices escalate or programs curtailed?

Broadway ushers reportedly work approximately 18 hours a week, are paid and have union representation. Many other ushers work in exchange for being able to see the show. Are they then really part-time employees using a barter system, where the value of the theater ticket needs to be listed as earned income, and the ushers will now be entitled to health care coverage under their part-time status?

At last, will those in the arts actually have adequate health care? Or, will employers attempt to use a loophole to leave many in the entertainment world out on a shaky non-insured limb?

The health care bill sets new mandates for employers to offer insurance, or pay a fee if they don't. One provision folded into the 2,409-page bill carves out an exemption for those who hire seasonal employees for fewer than 120 days a year.

The McClatchy Newspaper group called the provision "opaquely worded".

The provision states that the exempted seasonal workers include "workers covered by section 500.20(s)(1) of title 29, Code of Federal Regulations." The cited provision refers specifically to migrant and seasonal agricultural workers. Will operators of community based and summer theaters, as well as certain amusement parks, attempt to apply that section?

The majority of those who work in the performing arts are not protected through a union.

Most theatrical operations fall in the small business category, which exempts those with fewer than 50 workers. In the entertainment industry it's easier than first blush might indicate to employ over 50 in the course of a season.

Will that subconsciously tip the favored-to-get-hired into the under 26-years or over 64 age category?

The young will be able to stay on their parents' health plan until the age of 26 and seniors get Medicare at age 65. The "problem" employees will be those between 27-64. Might employers give a hiring advantage to part-timers in that "problem" group who are covered by a spouse's policy?

Broadway To Vegas did some inquiring.

"I actually don't know how the insurance plan will affect East Lynne Theater Company," responded Gayle Stahlhuth, Artistic Director of the East Lynne Theater Company in Cape May, NJ. ( See Broadway To Vegas column of October 19, 2008 )

"We only have one full-time staff member and 1 part-time. The part-time staff, who is the company's Technical Director, is also the Equity Stage Manager during the mainstage production season, which means that he receives health coverage through Actors' Equity."

"I can usually work enough in the Union to receive health coverage for 6 months. But at this time, there is no other health coverage in place. It appears that in a few years, East Lynne will gave to have health coverage separate from Actors' Equity. But anyone who is a member of the union who works for ELTC (or any other Equity company) receives credits towards health care whether they need them or not. Some union actors who work for ELTC, for example, have jobs where they receive health care anyway - or they receive health care through their spouse's plan. Doesn't matter. I, as a producer, still need to pay the AEA Health Trust Fund $145 (currently) per week for this actor. Actors need 12 weeks in one year to give them 6 months coverage; 20 weeks to give them a full year."

"So, it appears that I will still be paying out the same amount of money, which sometimes during the season, amounts to around $900 a week just for health coverage - which is usually about 1/4 of the weekly box office income."

"Meanwhile, salaries have not gone up much for Equity actors over the years, and they will be asked to pay tax on health care that is provided to them. This could financially hurt."

"So, I think the jury is still out on this one! I know there are 2,000 pages to this bill, and I certainly have not had time to read it! But I am anxious to keep getting the facts."

"I am not clear yet on all the stipulations of this bill but don't expect any negative impact," responded caryn desai, General Manager of International City Theatre, an Award-Winning Professional Regional Theatre in Long Beach, CA. "Since we already offer health care to full time workers, I assume we already comply. The bigger issue is how it will affect rates. For example, with the change over in two positions, we opted to hire part timers instead of full timers because of budget constraints and the heavier financial burden those benefits (and the additional hours) would cause during this recession. If rates become more affordable and the economy turns around, that would not be such an issue. All this, of course, has nothing to do with our union employees since they are already covered and we pay the portion required by our contract."

Vicky Smolik is president of the Theater Musicians Association with chapters in Chicago, Dallas-Fort Worth, Detroit, Northern California, Southern California, and St. Louis.

"The TMA - an official Player Conference of the American Federation of Musicians - is an organization that unites professional theater musicians from all over the U.S. and Canada. The TMA deals with issues specific to one segment of the music community - in this case, theater musicians - whether on Broadway, in other cities, or on tour. As theater musicians, we are uniquely qualified to guide the Union in matters that pertain to us such as wages, working conditions, job security, and displacement by recordings. As such, we serve as an information network between theater musicians and the Union, and among theater musicians themselves."

"Speaking for myself as President of TMA, I believe the passage of the health care reform bill will help musicians all over the country in many fields," Smolik told Broadway To Vegas. "It should be especially helpful to those working under collective bargaining agreements in the theater field both traveling and in major cities."

"I guess a little too soon to know," responded Press Agent Peter Cromarty who has offices in New York City and Palm Beach, FL. "Most small clients bring in a public relations person as an outside consultant - not an employee. And the larger clients hire under union rules and considerations."

HealthcareforArtists is a Boston based help site aiding Massachusetts Artists of all disciplines whose objective is to aid them in navigating the Massachusetts Health Care Reform Law, its requirements and programs, and the existing available health care options. Boston conceptual artist Kathleen Bitetti responded to Broadway To Vegas that the organization is "still in the process of looking over the legislation and waiting to see what amends are done."

Wait-until-the-dust-settles is the attitude of many performance companies.

The beginnings of the Will Gill Theatricum Botanicum, a professional repertory, open-air theater in Topanga Canyon, California stretch back to the early 1950s when Will Geer, one of the many actors victimized by the McCarthy Era Blacklisting, opened a theatre for Blacklisted actors and folk singers on his Topanga property. He also cultivated a large garden and, unable to find work in Hollywood, Will and his family earned a living by selling vegetables, fruit, herbs, and theatre.

Today Theatricum presents eight original plays in their annual Repertory of Classics which revolves around at least one Shakespeare play. ( See Broadway To Vegas column of June 24, 2007 )

"Theatricum will, of course, comply with all Constitutional Laws. We presently offer health insurance to all full-time employees; most employees are covered by Equity, SAG or other union plans," responded Ellen Ware Geer, the actor's daughter who has served since 1978 as Artistic Director of the Theatricum Botanicum.

The billion dollar entertainment industry is one of the largest employers of manpower in the world. Equity actors, non-equity actors, backstage creatives, business office side, PR people, ushers and volunteers with a quid pro quo relationship; ancillary services such as photographers, graphic artists and printers who roll out the pictures, posters and playbills, those who sell fabric and sew costumes, make-up manufactures and those that specialize in slapping it on - all want both affordable and competent health care.

"My understanding is that the greatest effect on our community will be the eventual availability of subsidized health care for those without – the freelance artists without a consistent employer," commented Adam Fitzgerald. Artistic Director of the New York City based kef theatrical productions. ( See Broadway To Vegas column of July 13, 2008 )

"The other major factor is that people cannot be denied health insurance because of medical conditions, which is huge."

"As for the employers, Non-profits are required to offer benefits to all full time employees, so that won't change greatly, though I'm unclear on how it will effect part timers. It may, short term, increase some costs for organizations, but the greatest cost changes come to large firms and high priced insurance plans, so I don't see a huge change there."

"I think the biggest effect for most of us is the availability of affordable insurance. Right now in NYC it's either you get it through your union (if you work enough to qualify) or (unless you don't work at all and qualify for assisted insurance) you go without, so having cost effective insurance options is going to have a huge effect on the artist who freelances."

IATSE is the labor union representing technicians, artisans and craftspersons in the entertainment industry, including live theatre, motion picture and television production, and trade shows. Michael R. Goucher, President of Local 306, told Broadway To Vegas: "Our Local 306 members employed at Broadway Theaters have medical coverage as part of the terms and conditions of the union contract. If the Health Care Reform legislative package passed by the government in Washington will have any impact on bettering our members' situation, it is simply too soon to tell. But nothing we know of will reduce what our members already have, by virtue of their negotiated contract."

The Actors' Fund is overjoyed with the passage.

"According to our National Director of Health Services, James Brown, the bill won't affect the day to day operation of AHIRC other than gradually adding more resources for the uninsured, nor will it affect the operation of the Free Clinic in the near future," Daniel Scholz told Broadway To Vegas. Scholz is a Communications Associate for the Artists' Health Insurance Resource Center, which is part of The Actors' Fund.



The Al Hirschfeld Free Health Clinic provides free health care to uninsured and underinsured documented entertainment industry professionals between the ages of 18 to 64.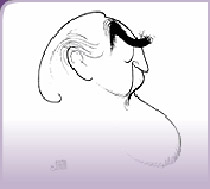 Actors' Fund President and CEO Joe Benincasa issued a statement regarding the impact of the legislation on the performing arts and entertainment community, which in part stated:

"The health care reform bill passed by Congress will benefit every visual and performing artist and entertainment professional in this country. Everyone who supports the arts should be pleased."

"Unlike the vast majority of Americans who receive their health insurance from employers or government programs, most artists are forced to find coverage for themselves and their families in the individual or direct-pay market. In most states they can be denied coverage because of pre-existing conditions, and when it is accessible it is often either unaffordable - with premiums that can be raised as much as 39% or more in a year - or so stripped of benefits as to be virtually useless. For this reason, artists - like other self-employed workers – are twice as likely to be uninsured as the general population."

"The legislation speaks directly to this unfair situation. Private insurers will no longer be permitted to deny coverage or cancel policies based on claims' history. An essential health benefits package will be available to everyone, at levels of cost-sharing that fit their health care needs. Variations in premiums based on age, which can now be as much as a 7 to 1 ratio, will be limited to 3 to 1. State-based exchanges will be created to bring the cost-benefits of group insurance to individuals and families. Those of low to moderate means will receive credits and/or subsidies to keep their premiums at an affordable percentage of their incomes. Out-of-pocket expenses in any year will be limited to approximately $6,000 for individuals and $12,000 for families, and there will be no annual or lifetime limits on coverage."

"In other words, this legislation makes available to artists health insurance that is as good or better than the best plans currently available to employees of private corporations, government workers, and union members. Its passage has done more for the health and well-being of the visual and performing arts and entertainment communities than any piece of legislation in the past fifty years."



Broadway To Vegas is supported through advertising and donations. Priority consideration is given to interview suggestions, news, press releases, etc from paid supporters. However, no paid supporters control, alter, edit, or in any way manipulate the content of this site. Your donation is appreciated. We accept PAYPAL. Thank you for your interest.


ART AND ABOUT


MoMA ACQUIRES WHAT CAN'T BE ACQUIRED - THE @ SIGN the details of how to exhibit @ haven't yet been worked out.

Since @ is in the public domain, it was of course free - making it the only free acquisition that MoMA's ever done. A recession-proof addition which has fueled debate over whether the @ is art, design, neither or both.

Two reader posting on the MoMA blog included - "Intellectual garbage, wrapped as a merchandising gag," and "This is one of the most hilarious things I've read in a long time; it reads like a Woody Allen parody."

MoMA is serious. The lengthy explanatory release by Paola Antonelli, Senior Curator, Department of Architecture and Design, details the history of @, and addresses the issue of whether it is design. It is according to Antonelli; "by all means an act of design of extraordinary elegance and economy."

"@ is more ancient than you might think," detailed Antonelli. "Some scholars think it was invented over 1,300 years ago, as way to reduce the Latin word "ad" - which means "at, "to," or "toward" - into a single penstroke."

"But by the 20th century, it was a weird oddity of typography - found on most keyboards, but essentially useless for everyday applications."

The symbol @ appeared on the American Underwood Typewriter in 1885; it was defined for the first time in 1894 in the American Dictionary of Printing & Bookmaking as the symbol of the "commercial 'a.'" In 1963, the ASCII (American Standard Code for Information Interchange) defined @ as the abbreviation of 'at' or 'at the rate of,' mainly used in accounting and commercial invoices.

Ray Tomlinson, a computer engineer working for Bolt Beranek and Newman (BBN), was asked to develop a program to solve the problem that emails could only be sent to users on the same server. Tomlinson adopted the "@" to allow cross-server email routing and is credited with having given birth to the @ use in the Internet's email system.

"In January 1971, @ was an underused jargon symbol lingering on the keyboard and marred by a very limited register," declared Antonelli. "By October, Tomlinson had rediscovered and appropriated it, imbuing it with new meaning and elevating it to defining symbol of the computer age. He chose the @ for his first email because of its strong locative sense - an individual, identified by a username, is @ this institution/computer/server, and also because…it was already there, on the keyboard, and nobody ever used it."

"Tomlinson then sent an email about the @ sign and how it should be used in the future," Antonelli continued. "He therefore consciously, and from the very start, established new rules and a new meaning for this symbol."

"Tomlinson performed a powerful act of design that not only forever changed the @ sign's significance and function, but which also has become an important part of our identity in relationship and communication with others. His (unintended) role as a designer must be acknowledged and celebrated by the one collection—MoMA's—that has always celebrated elegance, economy, intellectual transparency, and a sense of the possible future directions that are embedded in the arts of our time, the essence of modern."

The @ symbol will be displayed in different type faces and sizes at MoMA.





THE MUSIC GOES ROUND AND ROUND

YANK! a new musical with book and lyrics by David Zellnik and music and arrangements by his brother Joe Zellnik. Orchestrations: Joe Zellnik, Daniel Feyer, Josh Clayton, and Rob Berman. Directed by Igor Goldin.

If you're part of the crowd that feels they have been saturated with productions boasting gay themes - this one is different. The creators of Yank! have demonstrated an amazing ability to structure the homophobic history of the U.S. and especially that of the military into an entertaining musical.

A kid discovers a dog-eared wartime diary in a San Francisco junk shop; as he reads it, he morphs into its writer, Stu, an 18-year old recruit starting boot camp.

Through the journal we learn the story of Stu, a scared Midwestern kid who gets drafted in 1943, and who - like most guys - spends Basic Training wrestling with fears of whether he "has what it takes" to make it in the Army. But unlike most guys, Stu also falls in love with a fellow Private, a handsome All-American guy named Mitch.

Set during World War II, Yank! chronicles the relationship between two servicemen long before "don't-ask-don't-tell" was part of the national discussion. Promising "a lively score inspired by the pop sounds of the 1940s," the songs more than live up to their hype. Yank! also captures the era as it explores questions of prejudice, courage and survival.

While all the characters in Yank! are fictional, all of the situations and viewpoints come directly from memoirs and oral histories of gay (and straight) service members who took part in WWII. David Zellnik spent hundreds of hours combing archives, researching these "hidden" histories, even having letters sent to him from around the country from old veterans or their families. Now as this generation begins to slip irrevocably into history, the Yank! team remains dedicated to the hope that their experiences will not be forgotten.

According to a January 26, 2010 study by the Williams Institute at UCLA's School of Law, there are an estimated 66,000 lesbians, gays and bisexuals currently serving in the U.S. armed forces.

Allan Berube, a pioneering gay historian who chronicled the contributions and tribulations of gays and lesbians in the U.S. military during World War II, died in December 2007 at the age of 61 from complications from stomach ulcers.

Berube wrote Coming Out Under Fire, a 1990 book that offered what is considered the first comprehensive examination of the roles gays played in the nation's armed forces during the war. According to his obit, "The book earned strong reviews, led to a Peabody Award-winning documentary and brought a prestigious MacArthur Fellowship to the author, a college dropout and self-described community historian."

Though the U.S. military explicitly prohibited homosexuality in the Articles of War of 1916, a ban wasn't enforced until World War II.

According to Time Magazine; "Amid the largest mobilization in U.S. history, the Army, Navy and Selective Service System developed procedures for spotting and excluding homosexual draftees from service: recruits were screened for feminine body characteristics, effeminacy in dress and manner and a patulous (expanded) rectum. By war's end, more than 4,000 of the 12 million men conscripted for the war effort were rejected for being gay. (Thousands of lesbians were allowed to serve the war effort, however; asking women about their sexuality violated the standards of behavior at the time.)"

Coming Out Under Fire, continued Berube's obit, "told tales of individual valor, tragedy and discrimination, but it also painted a larger picture of an unintended but powerful outcome of the war. World War II brought together hundreds of thousands of gays and lesbians in a same-sex environment - military bases and fighting units - an experience that bolstered their homosexual identity and laid the groundwork for the gay rights movement that would emerge a few decades later."

"It was a turning point for many homosexuals," Berube told the San Diego Union-Tribune in 1985. "It accelerated the process of finding other people like themselves."

The musical Yank! takes its title from the World War II publication Yank Magazine, and tells the story of Stu, a scared Midwestern kid who gets drafted for World War II in 1943, and becomes a photographer for Yank Magazine, the journal 'for and by the servicemen.' Yank! has a score that pays homage to the 1940s and explores what it means to be a man, and what it is to fall in love and struggle."

Yank really was a weekly magazine published by the United States military during World War II. Founded and edited by Major Hartzell Spence (1908-2001), the magazine was written by enlisted rank soldiers only and was made available to the soldiers, sailors, and airmen serving overseas. Yank was the most widely read magazine in the history of the U.S. military, achieving a worldwide circulation of more than 2.6 million. Each issue was edited in New York City and then shipped for printing around the world where staff editors added local stories - for a total of 21 editions in 17 countries. Priced from five to 10 cents, the last issue was published in December 1945, realizing for the War Department a profit of $1,000,000.

A few of the celebrities who appeared on the cover include; Lauren Bacall, Lucille Ball, Anne Baxter, Ingrid Bergman, Vivian Blaine, Ava Gardner, Betty Grable, Susan Hayward, Rita Hayworth, Hedy Lamarr, Dorothy Lamour, Virginia Mayo, Marie McDonald, Dorothy Malone, Ann Miller, Marilyn Monroe, Donna Reed, Jane Russell, Alexis Smith, Gale Storm, Gene Tierney, Lana Turner and Esther Williams.

Yank Weekly of course figures prominently in the York production which stars: Nancy Anderson (Women), Bobby Steggert (Stu), Jeffry Denman (Artie), Ivan Hernandez (Mitch), Andrew Durand (Tennessee), Zak Edwards (Melanie), Todd Faulkner (Sarge/Scarlett), Denis Lambert (Lieutenant/Dream Mitch), Joseph Medeiros (Dream Stu), David Perlman (Rotelli), Christopher Ruth (Professor),Tally Sessions (Czechowski).

It is this production that gained attention to its relevance to the 2010 political issue of the repealing the "Don't Ask, Don't Tell" policy. As such the show created partnership with many GLBT equal rights groups including The White Knot, Broadway Impact and American Veterans for Equal rights.

The show received a workshop production as part of the New York Musical Theatre Festival in 2005. It was then given a full production at Brooklyn's Gallery Players in the fall of 2007, receiving the New York Innovative Theatre Award for Best Musical.

In 2008, the first regional production of Yank! was produced by the Divisionary Theatre in San Diego. In that same year a demo recording was made. The band consisted of: Piano: Dan Feyer and Joe Zellnik. Drums: Ken Swinkin and Larry Lelli. Reeds: Tom Piercy and Kate Bowerman. Cello: Allison Seidner. Bass: Steve Gilewski.

In the current production at the York the band consists of John Baxindine (Piano/conductor) Adam Wachter (Keyboards), Todd Groves (Flute, Clarinet, Alto Saxe), Allison Seidner (Cello), Jay Mack (Drums)

Many of the songs have clever, witty, romantic and double entendre lyrics. For any person who has ever been in the military or ever known anybody who has put on a uniform - regardless of age, rank, sex or sexual preference - the songs are relatable. Ditties complaining of no privacy and tents that smell like barn yards. Women whose loves have been taken away by a call to arms. Your Squad Is Your Squad points out that the guys who share your tent are now your family and best friends.

It can be in how you sing the words. The distinctive dual renditions of Credit To The Uniform delivers both patriotic as well as a sexual innuendo. The romantic leads in this production are both male - but the feelings they share in song speak to romance throughout the ages, as in Just True. Questions as to the validity of events are also evident. Polishing Shoes is a number in which army booths are symbolic of a love object as well as military regulations. A soldier questions; "Polishing shoes. Whatever is important. Polishing Shoes, polishing shoes - don't think Japs would care about stuff like - polishing shoes."

Although there are several musical bars in Click that remind me of a song from Gypsy, this is a high spirited song and dance number with Stu and the older, wiser gay man Artie.

The demo CD has exceptional recording, mixing and sound balancing - equal to the best seat in the house. The numbers are an intricate part of moving along the plot, rather than stand alone songs. Thus, whether a fully orchestrated, elaborately produced CD might be a profitable venture, is questionable. In the meantime, the production deserves a wide audience.

Yank! began preview performances at the York Theatre on February 16, 2010 and opened on February 24th. Originally slated to run through March 21, the show has extended through April 4, 2010.

Song List:

A Few Weeks Back...
Rememb'ring You
Yank
Polishing Shoes
Betty
Click
Letters (Rememb'ring You)
"Tonight, after two days ..."
Blue Twilight
A Couple of Regular Guys
Movie Night: The Bright Beyond
Your Squad Is Your Squad
Credit To The Uniform
Just True
Stuck in a Cell
A Couple of Regular Guys (reprise)
That's the last entry.../Finale




DEATH OF SHIRLEY BASSEY'S DAUGHTER INVESTIGATED
Dame Shirley Bassey has always maintained her daughter's death was no accident.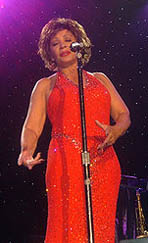 Police have announced they have re-opened their investigation into the death of singer Dame Shirley Bassey's daughter.

Samantha Novak, 21, was found face-down in a river near a 250-foot suspension bridge in the southwest English city of Bristol in 1985. A coroner's report said she had tumbled off the riverbank after a night out with friends.

Bassey, 73, has maintained that Novak's death was not an accident or suicide. In October, 2009 Bassey told reporters she always had suspicions about her daughter's death.

"I never believed that she killed herself. If she'd jumped off the bridge, all her bones would have been broken," she said.

Now police are beginning to agree with her.

An Avon and Somerset Police spokeswoman told the press it was investigating a claim that convicted killer Michael Moffat, 47, was involved in the death. Moffat is currently serving an 11 year sentence for killing his lover Penny Beale in Hastings, East Sussex in 2001. He is alleged to have claimed he was in a relationship with Ms Novak when she died. Detective Chief Inspector Mike Carter, head of Avon and Somerset Police's major crime review team, said in a statement: "The mother of Moffat's victim wrote to us with some information in the last couple of weeks. "Her daughter had said that Moffat told her he was involved in the murder of Samantha Novak."

The police statement added: "There was nothing from the coroner's report to suggest it was murder rather than suicide, however this information is obviously additional so we are making fresh inquiries."

Bassey who currently resides in Monte Carlo, began her recording career in the 1950s. She is best known for the theme songs to several James Bond movies including Goldfinger and Diamonds Are Forever.





OTHER PEOPLE'S MONEY


DACRE STOKER

Bram Stoker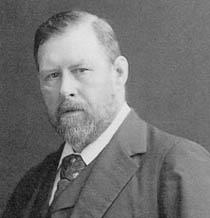 a Canadian citizen and resident of South Carolina, great-grandnephew of Bram Stoker creator of the Gothic novel Dracula, is attempting to raise $191,000 to have a life-size statue of his relative erected in Dublin, Ireland in time for the 100th anniversary of his death in 2012.

The Dublin City Council has given permission for the memorial.

Dublin already has statues and plaques commemorating Dublin's many other writers, such as James Joyce and Samuel Beckett.

Bram Stoker was born in 1847 in Dublin, where he lived until he moved to London when he was 31.

He attended Trinity College before working as a civil servant in Dublin Castle and as an unpaid theatre critic for Dublin newspapers.


CURTAIN DOWN


SHIRLEY JONES who was making her London stage debut , appearing with her son Patrick Cassidy, has been forced to curtail the run early due to doctor's orders.

The official statement reads: "Shirley Jones and Patrick Cassidy will finish one week early. Miss Jones had not fully recovered from the serious vocal chords problems she had from her recent 17 night concert tour in the States and against specialists orders she came straight to London. There was no way after 6 nights here she could have carried on next week."

The run began March 22, and they were scheduled to give 12 performances through April 3 at Arts Theatre. The run ended March 27.

NOTE: Shirley Jones' husband Marty Ingels is vehemently denying that illness caused the show's early closing. He asserts that she is in perfect health and the real reason was a production problem.

LIPS TOGETHER, TEETH APART the Roundabout Theatre Company's revival of Terrence McNally's 1990 hit comedy has closed before it opened. The curtain began dropping when cast member Megan Mullally suddenly left the production.

The four person ensemble production was stunned by Mullally's departure. She was to have played Chloe Haddock in the production directed by Joe Mantello. The cast also included David Wilson Barnes as Chloe's husband John Haddock, Patton Oswalt as Sam Truman (Chloe's brother) and Lili Taylor as Sally Truman. Previews were to begin have begun April 9 with the official opening slated for April 29. opening. Mullally has not publicly indicated why she left the production. Initially, officials hoped to cast a replacement but that didn't prove feasible.

Artistic director Todd Haimes said in a statement, "We could not find a way to maintain the production schedule under these circumstances. We are now exploring options to produce a show for our subscribers as soon as possible."



GAMBLING created by Raz Shaw and Georgina Lamb. Text by Tim Holloway. Directed by Raz Shaw.

I Am Bigger Than Jesus
I Am Cooler Than Elvis The World Revolves Around Me
I Am A Gambler

Combining unflinching first-hand testimony with exhilarating physicality, Gambling promises to "propel you psychologically, physically, and emotionally into the heart of compulsion. Feel the rush, the raw emotion, the pain and the pleasure that is addiction."

Cast Amanda Lawrence, Sean Campion and Will Mannering.

Movement Director Georgina Lamb. Designer Hannah Clark. Lighting Designer Anna Watson. Sound Designers Carolyn Downing and Elena Peña.

Developed with the support of the Royal Court Theatre's Rough Cuts program. Performances through April 10, 2010 at the Soho Theatre in London.

WHERE THE BLOOD MIXES by Kevin Loring. Directed by Glynis Leyshon.

Can a person survive his/her past? Can a people survive its history? Though torn-down years ago, the memories of residential schools still live deep inside the hearts of the First Nations people who spent their childhoods there. Floyd is a man who has lost everyone he holds most dear. Now after more than two decades, his daughter Christine returns home to confront her father.

Billed as "Brutally honest, irreverently funny and everything in between," Kevin Loring's Where the Blood Mixes goes beneath the surface of one of Canada's darkest secrets and celebrates its survivors. The play earned Loring, a member of the N'lakap'mux (Thompson) First Nation, the 2009 Governor General's Literary Award for drama.

Starring Floyd Billy Merasty, Mooch Ben Cardinal, Christine Kim Harvey, George Tom McBeath & June Margo Kane with musician Jason Burnstick.

Creative Team: Set designer Robert Lewis, Costume Designer Patricia Smith, Lighting Designer Itai Erdal, Projection Designer Jamie Nesbitt, Visual Artist Carl Stromquist, Composer Jason Burnstick, Stage Manager Joanne P.B. Smith.

Where the Blood Mixes was co-developed by the Vancouver Playhouse Theatre Company, Luminato, Toronto Festival of Arts & Creativity, The Savage Society and Western Canada Theatre (Kamloops). The development of the play was also supported by the Talking Stick Festival and the Arts Partners in Creative Development program.

Performances through April 3 at the National Arts Centre in Ottawa. The production, which is on a Canadian tour, opens at the Factory Theatre in Toronto for a April 7-18 engagement.

THE LIAR a French farce adapted by David Ives. From the comedy by Pierre Corneille. directed by Michael Kahn.

Featuring Christian Conn, Adam Green, Erin Partin, Miriam Silverman, Tony Roach, Aubrey Deeker, Colleen Delany and David Sabin.

"All the world's a lie, and all the men and women merely liars."

Dorante is charming, handsome … and a pathological liar! When he arrives in Paris, Dorante's outlandish tales amaze and convince all who hear them, but for each problem his clever lying solves, it creates two new ones. Will he manage to keep his stories straight, his dupes none the wiser and somehow still get the girl?

The creative team includes set designer Alexander Dodge, costume designer Murell Horton, composer Adam Wernick, sound designer Martin Desjardins, lighting designer Jeff Croiter, text coaching Ellen O'Brien, stage manager M. William Shiner and assistant stage manager Elizabeth Clewley.

World premiere April 6-May 23 at the Lansburgh Theatre in Washington, DC.

THE FABULOUS PALM SPRINGS FOLLIES welcomes Mary Wilson who makes her debut appearance with The Fabulous Palm Springs Follies, performing the hits of The Supremes plus other memorable classics, from March 30 to May 16, 2010.

Her star turn at the Plaza Theatre in Palm Springs, CA concludes the Palm Springs Follies' 19th season.

MEET ME IN ST LOUIS The classic musical that is based on the MGM movie.

Love is in the air as the most popular girl in town gets a crush on the boy next door just as her family is destined to move to New York City. It's pure nostalgia showing that home is where the heart is, and you won't find more heart than in Meet Me In St. Louis.

Take a trip on the famous St. Louis trolley and hear the songs Skip To My Lou, Have Yourself A Merry Little Christmas and The Boy Next Door. A beautiful family musical for a spring day!

Featuring: Hope Abrom, Michael Austin, Lauren Bliss, David Burdett, Brooke Robyn Dairman, Jake Delaney, Bobby Gouse, Regina Harbour, James Holden, Mark Lanham, Lisa LeCuyer, Traci McCormick, Carolyn McPhee, Michael Oberfield, Madison Platt, Glenn M. Snellgrose II, Julia Delaney Stengel, Ashley Stults, Jessica Taige, Meg Trahan and Michael Weaver.

Performances through May 9 at the Dutch Apple Dinner Theater in Lancaster, PA.

CHING CHONG CHINAMAN a satirical new comedy by Lauren Yee directed by May Adrales.

Ching Chong Chinaman tells the story of the Wong family. The Wongs are as Chinese-American as apple pie - Ed likes to play golf, Grace wants another child. But once their teenage son imports "Ching Chong," a stranger from China, their lives will never be the same.

Teenager Upton dreams of World of Warcraft superstardom; his sister Desi dreams of early admission to Princeton. Unfortunately, Upton's chores and homework get in the way of his 24/7 videogaming, and Desi's math grades don't fit the Asian American stereotype. Then Upton comes up with a novel solution for both problems: he acquires a Chinese indentured servant, who harbors an American dream of his own. Skewering every cliché about Asian American identity, CCC won the 2007 Yale Playwrights Festival.

The cast of six includes Fay Ann Lee, James Chen, Jennifer Lim, Angela Lin, Ron Nakahara and Jon Norman Schneider.

Ching Chong Chinaman takes its controversial title from the late 19th century pejorative jingle and uses satire as a means to reverse prejudicial attitudes towards Asian Americans and other outsiders," says Pan Asian Rep's Producing Artistic director, Tisa Chang. "This is a funny and surprising new perspective from a young writer tackling issues of ignorance and that stereotypic assumptions are not relegated to any one race and can be evidenced within our own."

The scenic design is by Gian Marco Lo Forte; costumes by Kate Mincer; lighting design by Ji-Youn Chang; and sound by Robert Murphy.

The limited engagement plays through April 11, 2010 at the West End Theatre in NYC.

SIS Productions is presenting the Northwest premiere of Ching Chong Chinaman running through April 24, 2010 at Richard Hugo House in Seattle, WA.





WHO'S WHERE


LUCIE ARNAZ performs a unique blend of standards and nostalgia in An Evening with Lucie Arnaz April 3, 2010 at the Queens Theatre in the Park in Flushing, NY.

WEDNESDAY NIGHT AT THE IGUANA with hosts Dana Lorge and Richard Skipper with Bill Zeffiro on keyboard & Saadi Zain on bass. Wednesday's guests include: Frank Basile, Annie Dinerman, Stearns Matthews, Sarah Rice, Allegra Thieman. Wednesday, March 31, Iguana VIP Lounge in New York City. Wednesday Night at the Iguana has received a 2010 MAC nomination as Variety Production/Recurring Series. Dana Lorge and Richard Skipper also received a nomination under Host-Variety Show Series.

JOHN MAYER performs Tuesday, March 30, at the Rose Garden Arena in Portland, OR. On Wednesday the show is at the KeyArena in Seattle. On Thursday the tour stops at General Motors Place in Vancouver, BC. Friday he's on stage at Pengrowth Saddledome in Calgary, AB.

TAYLOR SWIFT entertains Wednesday, March 31, at the Ford Center in Oklahoma City. On Thursday the show is at the Bank Arena in Wichita. Friday the tour stops at the Sprint Center in Kansas City.

MICHAEL BUBLE at the Pepsi Center in Denver on Tuesday, March 30. On Wednesday he can be enjoyed at the E Center in West Valley City, UT. Friday finds him at the Rose Garden Arena in Portland, OR. He closes out the week Saturday, April 3, at the KeyArena in Seattle.

CARRIE UNDERWOOD on stage Monday, March 29, at the Wachovia Arena in Wilkes-Barre, PA. Wednesday finds her at the Blue Cross Arena in Rochester, NY. On Thursday the show is at the Petersen Events Center in Pittsburgh. Saturday the tour stops at Eastern Kentucky Exposition Center in Pikeville, KY.

BLACK EYED PEAS performs at the Staples Center in Los Angeles on Monday, March 29. On Wednesday the show is at Jobing.com Arena in Glendale, AZ. Friday they are on stage at the Pavilion in San Jose, CA.

BON JOVI in the spotlight Monday, March 29, at the Verizon Center in Washington, D.C.

CELTIC WOMAN open a two nighter Tuesday, March 30, at the Fabulous Fox Theatre in St. Louis, MO. On Thursday the show is at the Embassy Theatre in Fort Wayne, IN. On Friday they begin a two night gig at the Palace Theatre in Louisville, KY.

NORAH JONES performs Tuesday, March 30, at the Lyric Opera House in Baltimore, MD. On Thursday the tour stops at the Paramount Theater in Charlottesville, VA. Friday the show is at the Warner Theatre in Washington, DC. On Saturday the show can be enjoyed at the Tower Theatre in Upper Darby, PA.





Next Column: April 4, 2010
Copyright: March 28, 2010. All Rights Reserved. Reviews, Interviews, Commentary, Photographs or Graphics from any Broadway To Vegas (TM) columns may not be published, broadcast, rewritten, utilized as leads, or used in any manner without permission, compensation and/or credit.
Link to Main Page
---
Laura Deni



U.S. Postal Address: Post Office Box 60831, Las Vegas, NV 89160
CLICK HERE FOR COMMENT SECTION