! >
Broadway To Vegas
  
 SHOW REVIEWS CELEBRITY INTERVIEWS GOSSIP NEWS

| | |
| --- | --- |
| | |
EAST LYNNE THEATER COMPANY PROTECTS AMERICAN CLASSICS - - LEONARDO: 500 YEARS INTO THE FUTURE - - BIG NAMES TO READ HEMINGWAY - - HARMAN CENTER FOR THE ARTS ANNUAL GALA - - KRISTIN CHENOWETH'S A LOVELY WAY TO SPEND A CHRISTMAS CD - -HAUNTED HALLOWEEN HOUSES IMPLY DANGER PRACTICE SAFETY - - PASADENA PLAYHOUSE GETS GRANT - - PRIMARY STAGES' 24TH ANNIVERSARY BENEFIT GALA - - DONATE . . . Scroll Down


Copyright: October 19, 2008
By: Laura Deni

CLICK HERE FOR COMMENT SECTION
WE NEED YOUR HELP....
BROADWAY TO VEGAS, which has been in existence over 10 years, is not affiliated with any blog with a similar name. A copyright clause is at the bottom of every Broadway To Vegas column. Recently, it has been brought to our attention that there is a Las Vegas based blog with an extraordinarily similar title. If you have provided that (or any) blog with: information, invitations, purchased anything through any link on that blog or transferred money, goods or services to anyone connected with that blog THINKING YOU WERE DOING BUSINESS WITH BROADWAY TO VEGAS - we want to hear from you. The more detail the better. Thank you.
PROTECTING THE AMERICAN CLASSIC
Robert E. Lee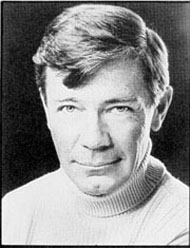 Jerome Lawrence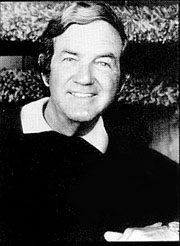 Every other year Ohio State University receives a box from the East Lynne Theater Company located in West Cape May, New Jersey.

The theater's unusual moniker is taken from the play East Lynne, the first novel penned by Ellen Wood in 1861. In 1863 it was turned into a popular play by Clifton W. Tayleure and even had a Broadway mount, playing approximately 20 performances at the Winter Garden Theatre.

The East Lynne Theater Company has remained different since its christening.

So different that in 1996 Ohio State University asked the ELTC if they could house the company's archives at its Jerome Lawrence and Robert E. Lee Theatre Research Institute (TRI), which is administered jointly by The Ohio State University Libraries and The Department of Theatre. The Lawrence and Lee Institute collects, preserves, maintains, and makes accessible research materials pertaining to performing arts, with a primary emphasis upon live performance.

Ohio is a major player because both Lawrence and Lee were born in what became the seventeenth state in 1803.



Gayle Stahlhuth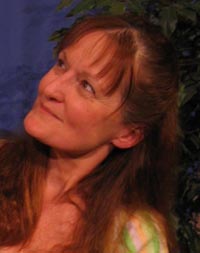 Gayle Stahlhuth, Artistic Director of the East Lynne Theater Company spoke with Broadway To Vegas about this project and her unusual theater.

"They asked us because we are extremely unique," she replied. "The company was founded in 1980 by Warren Cleaver, who passed away in '97," said Stahlhuth who has been in her position since 1999.

"He realized after doing research that there was not one company in this country dedicated to American theater classics and revivals. There were some theaters that would occasionally do something from the theatrical past in this country, but it usually wouldn't go any further back than O'Neill," Stahlhuth explained.

"Of course, other countries cherish their theatrical heritage and will revive plays on a more continued basis. That was the reason that he founded the company. Because 1980 was the beginning of his reign, they focused on plays 80 years prior. I'm still dealing with the 80-year difference, but that puts us in the 1920s. There are still plays - like the current production we are doing - To The Ladies!, which was reviewed in The Wall Street Journal. This is a George S. Kaufman and Mark Connolly play that has not been seen since 1926," she said of the production which ran Sept 17-Oct 18.



George S. Kaufman's daughter, Anne, center, with the cast of To the Ladies!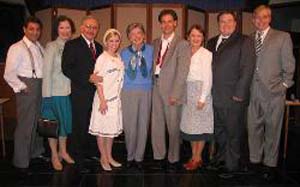 "Even George S. Kaufman's daughter, who was born in 1925, had never seen or even read the show. She didn't even know a copy still existed," exclaimed Stahlhuth.

Written by Pulitzer Prize winners George S. Kaufman and Marc Connelly, To The Ladies! was the second of eight plays on which they collaborated. This charming comedy is about Leonard Beebe of Nutley, NJ, who wants to get ahead in the world. With the help of his young bride, Elsie, he might just do it. In 1922, To the Ladies! was on Broadway starring Helen Hayes, but after 1926, no other productions can be found.

"Some of these books where I find these plays are out of print and have not been re-issued. Like the book where I found To The Ladies!. It was a compilation of plays from the 1920's and it was published in 1924."

"Ohio State University realized this. I send them a box every other year. They want the financial information, the scripts, the notes on the actors, the reviews, everything!"

"I really spend a lot of time tracking these plays down. For every play that I produce there are another 10 that I've read that I just can't - they aren't my taste. Or, they are wonderful plays that I'd like to produce, but the cast is too big or the scenery too involved."

Both are problems for this Equity theatre in a make-shift venue, located in a small community with the big reputation.



A Victorian house in Cape May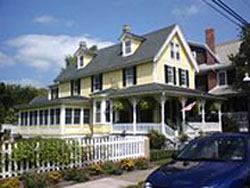 Cape May has been immortalized in song, noted for its award-winning beaches, top birding location on the East Coast, the second largest collection of Victorian-era homes in the nation after San Francisco. In 1976, the entire city of Cape May was officially designated a National Historical Landmark - the only city in the United States wholly designated as such - and - if you happen to be there the week-end in April when all of the tulips bloom - it's a sight to behold. Tourism is the dominant industry.

"We are a combination of both tourist and residential," she explained. "The demographics have been shifting from homes, to a lot of tourist/retirement communities. Quite a few people in Cape May County come to the theater. You are also looking at neighboring Wildwood, Avalon, Ocean City, particularly in Rio Grande Villa, and Irma. That is more of a full time community base, with thriving elementary and high schools. That is off island but in Cape May County."

"On Cape Island you have got Cape May, Cape May Point and West Cape May - three small little towns. Our office is in West Cape May, which is one square mile in size. There is a dropping population in children, many things have been turned into condos and those are more rented than lived in full time."

"The country may not be losing the population - it's just shifting within the various towns," she clarified.



O. Henry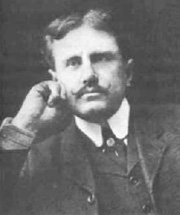 "As we're currently producing our 6th production since mid-June, and have two more to go, I'm working on next season - 2009 - weighing number of productions, cast-sizes, and what I think will be the best for the company. Of course I can't see into the future, but will continue to focus on comedies. I was thinking of doing something a bit heavier for next year, but decided against it. This year, we had eight productions, and next year there will be five - same number of weeks, but longer runs for the productions. Also planning to do one show that is very family based - an adaptation of O. Henry's The Ransom of Red Chief," she said referring to the much-anthologized 1910 short story in which a kidnapped tyke is so much trouble that the kidnappers end up paying the boy's father to take him back. One of O.Henry's most famous stories, it was the inspiration for the 1986 comedy Ruthless People, directed by Jim Abrahams and David Zucker. The film stars Bette Midler and Danny DeVito, whose performance earned him a Golden Globe nomination for best actor.

"I'm doing fewer shows with longer runs, because the tourists who come here aren't staying as long as they used to," she continued. "At one time, quite a few tourists would rent condos, or stay in Bed and Breakfasts for two to three weeks. The heights of the season is mid-July to mid-August."

"In that time frame I would try to do at least two different productions, so the same tourists could see two different shows. Now, I don't see that happening. I think there is more of a turnover with tourists. I don't think I'm losing that much by doing two shows instead of three. Obviously, in every show you mount there is the production cost. So it is more financially feasible to mount two instead of three."

"As far as the locals, we do have a good local base and subscriptions are growing every year. It's hard for them sometimes to attend all of the shows due to health, family, sometimes working two jobs during the summer. They just don't have the time."

Inflation hasn't spared East Lynne.

"We do plan to have a $3 increase in ticket prices to help with the company's rising health care and transportation costs. This means that general admission will be $28 for 2009 - still a savings for shows that usually involve six to eight actors, 20 costumes, and two sets."

"I am paying $700 a week for health care for the actors this year because of Actor's Equity. That's a lot. Because the company is an Equity company - with union actors mostly coming from NYC - housing can also be a problem," she admitted.

"We have a home and an office in West Cape with three small bedrooms. We end up housing some of the actors ourselves. That is always a tricky thing. Once in a while we have had to pay rent to put an actor up. With Actor's Equity, you also have to be sure that they have a kitchen and their own bedroom. It's not easy."

"There have been some people who have offered their bedroom for rent and say - 'Oh, we would appreciate it if the actor wouldn't use our kitchen, except for maybe to have a cup coffee in the morning.'"

"I understand that. But they don't understand that here is somebody who is away from home for seven weeks, who would probably like to cook their own meals."

"It's tricky," she emphasized.

"Also, in the summer we never take a break. As far as the audience knows, one show follows another. Towards the end of one show, the next show goes into rehearsal. If you have two large shows back to back, for that two weeks of rehearsal - it can be very tricky and sometimes expensive."

"I am thinking that for next season, instead of opening with a cast of eight, to open with a four person show and then a five person show. With actors Equity contracts you don't have to hire everyone Equity - thank goodness. We have some good local talent and I'm able to tap into that."

Indiana born Stahlhuth came to West Cape May as an actor and occasional playwright. Her Washington, DC born husband Lee O'Connor was hired as the stage manager.

For five years, Lee worked for Madison Square Garden Theater's A Christmas Carol, including the final year. Also in New York, Lee stage managed for several companies including Primary Stages, Richard Forman's Ontocological Theater, and Irish Rep.

He's also worked as the road manager for CORE Ensemble, Jose Melina Dance Company, and The New Jersey Ballet. Outside of Manhattan, he's stage managed for Coyote Theatre, not too far from NYC, and Ivoryton Playhouse in Connecticut. ( See Broadway To Vegas column of June 10, 2007 ) In New Jersey, he's worked at American Stage Company, Centenary Stage Company, The Bickford Theater, Surflight Theatre, The Women's Theater Company, and of course East Lynne Theater Company.

"This is our 10th year of him being the Technical Director and I'm the Artistic Director," said Gayle.

The community is changing, the economy is on a roller coaster and nothing gets easier. Why stay?

"I believe in the mission," was her quick reply. "It's really wonderful to find and save these scripts. The hard thing is selling the shows. Many people would rather go to something where they know the title - it's been on Broadway in the last two years. Then there is our audience who likes to take a chance. They find it very exciting. They've seen shows on Broadway, Philadelphia, Washington, DC. They would like to see something that they haven't seen there - which would be us."

"It is also wonderful to work with younger actors," she stressed. "To The Ladies! had a cast of; Suzanne Dawson, Ken Glickfeld, Terry Harris, Rob LeMaire, Tiffany-Leigh Moskow, John Morton, and Morgan Nichols.

"I enjoy the wide range of ages. Tiffany-Leigh Moskow is all of 22 and Ken Glickfeld is 65."

Technically keeping it all together is the afore mentioned O'Connor who landed with both feet at West Cape May. Literally, that is a feat.

"He was a Vietnam grunt in the field and almost lost his feet because of jungle rot," recalled his wife. "The irony is - my Dad almost lost his hands in WWII because of jungle rot. If you catch it in time the skin heels."



Bob Hope 1966 USO tour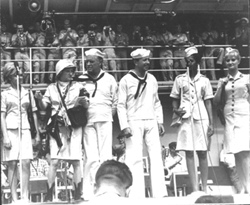 "It is usually caused if your skin doesn't breath. It is hard to keep your socks and boots dry in a rain forest. You try to dry your socks and you can't and you have to put them back on, so your feet are constantly wet. That's the kind of atmosphere where he was in Vietnam. He was in a really bad fighting area. He saw a lot of causalities. A lot of the guys had severe foot problems."

"His feet got so bad he couldn't walk, and he had to be sent him back to Saigon. There were a bunch of guys who were doing military office jobs. I think he was the only one who had been fighting. The rest of them had relatively cushy jobs - desk jobs in Saigon. There were several guys who had a theater background and formed a theater. Lee became part of that, which then became part of Special Services. "

"He stayed in Saigon for a year and performed with the theater company," she said. His first role was Felix in The Odd Couple.

"They also ended up helping when any of the performers would come in. When Bob Hope would bring the celebrities over, there was a lot of care taken so that he wouldn't be injured or caught in cross fire."

Combat skills may be helping the East Lynne Theater Company survive.



First Presbyterian Church permits 150 theater patrons to be comfortably seated with good sight lines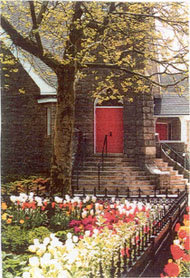 "We had a permanent theatrical home - The Cape May Institute, but it went by the wayside. It's still standing but crumbling. It was purchased by a man who used it for storage and now he is going to tear it down and build condos. For 10 years we have been renting space from the Presbyterian Church in Cape May. Every time we try to find a new home and had moneyed people interested in helping us, the buildings we wanted have been turned into condos," she complained.

"It is really rough. It is a functioning church. Every Saturday night we have to take everything down. Fortunately, we have storage space at the church. We have an extremely low overhead for an Equity professional company and we can keep going. Even in these hard times we don't have to cut any jobs. We are able to pay people to do grant writing, box office and give the interns a better stipend. But, I don't know how long we can maintain that. At least we don't have to let anybody go who is on full time staff."

"It is pretty much Lee and me, the Board and people volunteering their time," she acknowledged.



Gayle Stahlhuth and Ken O'Connor bottom left are surrounded by their dedicated staff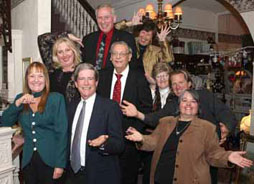 Gayle and Lee live in West Cape May but maintain a Manhattan apartment. While this interview was taking place Lee was in NYC working on a benefit for Dancers Over 40, hosted by Dick Cavett. He returned to stage manage the final week of To the Ladies! and is getting ready to portray Sherlock Holmes in ELTC's popular radio-style production of The Adventure of the Specked Band in November.

Gayle has been working with a variety of schools since the early 80s - primarily in New York, New Jersey, Utah and Wyoming.

Utah and Wyoming?

While in Kansas performing her one woman show on Louisa May Alcott, she met a gentleman staging his own one-person show at another venue.

"He lived in Cheyenne, Wyoming and suggested Utah and Wyoming because they were two states where you didn't have to be a resident to apply to work. In New York state, for example, if you throw a rock you are going to hit somebody in the theater. And, you have to be a New York state resident to get grants from the state to work in schools," she explained.

"The less populated states, like Utah and Wyoming, want a mix of artists who are in the state as well as bringing in people from the outside. I applied. Almost every year I've gotten at least two weeks, where I would be out in Utah working with one school or another. In February I am slated to go back to Utah."

"I've been doing this since 1981. What they really want in schools now is a hands on hands process and product for the students. You get them to do the performance."

Whether it's in the middle of The Bee Hive State or the scenic New Jersey coast, the challenges are enormous - one of the magnets which pull the talented into the theater.


HAUNTED HALLOWEEN MANSIONS IMPLY DANGER- PRACTICE SAFETY


Scary, scary, scary. No, we don't mean the stock market.

Haunted mansions. The housing boom that materializes at Halloween. Around the country most opened this week-end for ghoulish visits and continue with spooky home tours through Halloween.

All promise to fright and delight. Some do it better than others.

A Las Vegas family run business with a national reputation is Monster Mayhem and their Haunted Enterprises, which supplies electric and air powered animated characters and Halloween props to major theme parks.

Since the ghoul season is second only to Christmas in money spent, attractions attempt to push the envelope to scare dollars from the patrons. While tickets are generally in the modest range, the typical patrons is between 12-25 and know scary and gross when they see it. They want their money's worth.

Putting on a good show without risking anybody's life or limb becomes a priority.

Monster Mayhem's Managing Director Candice Griff was born good natured and well organized.

The family operates multiple haunted houses in two Las Vegas locations. At the South end of the Strip is Monster Mayhem - three complete, decaying haunted houses including the Haunted Mansion and Morbid Clown Manor, and a completely new haunted house this year, the Aces And Eights Haunted Casino; all ramped up and deliberately designed to fry your nerves and make your blood run cold in your veins. Plus The Boneyard - an above ground graveyard just like in old New Orleans, with rotting corpses and lurking ghouls guaranteed to make your skin crawl.

They employ over 100 paid "actors" to bring the properties to ghostly life. Some have SAG cards, most are experienced extras in films or commercials. Some take their parts very seriously - even to complaining about suffering from type casting by annually being cast as the same villain.

As seasonal employment, much is subjective rather than contractual. Depending upon the crowds and weather, hours can be cut. Position needs can result in job reassignment. One evening you perform one job, the next night something else. On the plus side - you learn a variety of haunted duties.

Since strobe lights and theatrical fog are used, potential fright makers are warned of the dangers strobe lights can have on individuals with epilepsy and other conditions.

Candice, who suffers from asthma, stresses that the fog they use is the water/glycol based variety. That type of fog fluid has been found to be safe in a number of studies and is not considered to be hazardous to humans, and generally used without problems. But, some people do complain of respiratory problems and throat irritation.

Candice instructs her employees to: "Stay hydrated. That's very important. Also use throat lozenges. Have those with you."

Her wide ranging zero tolerance policy includes; alcohol, drugs, profanity, tardiness, breaking character, use of cell phones or message texting while on the job and failure to carry an emergency flash light.

Actors arrive to work an hour early for make-up and wardrobe. A man who wears an enormous clown head relates that it's "hot, rather than heavy."

Wearing a costume in the atmosphere for which it was intended is one thing. Being catapulted into a different scenario has some issues.

Those in costume can be sent to promote the haunted house off property - a shopping mall or street corner are popular spots. Safety issues come into play. People in costumes which cause vision impairment are accompanied by a "guide." Grown-ups wearing costumes may also be caught in a cross fire of experiences, from tourists wanting to have their picture taken with you to outright insults and ridicule.

The only entity with more control than Candice is the Fire Department. All haunted spots have to pass a strict fire department inspection. "They can close you down in a second," she said. Not only do the Vegas haunts have to pass the fire code inspections, they are also required to foot the bill for the time it takes the Fire Marshal to do his or her job. No tax payer dollars are used.

No arguing is permitted. If the manager doesn't like the fire department ruling, they can tell it to a judge.

Last year, 30 minutes before opening time, the Fire Department in Muscatine, Iowa shut down a haunted house.

In reporting the story the Muscatine Journal wrote: " ... Donna Evans, one of the coordinators said organizers of the Shop of Fright, planned at R&P Service Co., 1208 Washington St., turned away about 100 would-be patrons after the fire department cited combustion and exit concerns."

"Fire Chief Steve Dalbey said the haunted house was unsafe because the walls of the maze were made from wooden crates covered in flammable plastic sheeting. The problem was compounded, he said, because haunted houses are dark and confusing to navigate."

"You don't want to get into a situation where the only light is the stuff burning around you," Dalbey said."

"It's possible to build an open house that doesn't present this level of danger to the public," he said. "They didn't do it."

The Las Vegas Monster Mayhem houses have open roofs. Fire and evacuation drills are practiced by both the staff and actors.

With haunted houses soaring in popularity, some fire departments have taken the "if you can't beat 'em, join 'em approach and sponsor their own haunted hayrides and houses.

Old Saybrook Fire Department is staging it's 10th Annual Haunted Hayride in Old Saybrook, CT, the city which the late Katharine Hepburn called home.

The Hayride opened yesterday, October 18, and offers scares galore on October 19, 20, 25, 26, 27 and 28.

The Fire Department warns potential patrons: "This event is NOT intended for infants or small children ages 9 and below. It's up to parents to know their children's ability to handle this truly loud and scary hayride. Believe us when we say this is not a wholesome family hayride, it's a Haunted scary Hayride. Get a babysitter for the young ones and stop by to have a frightening night!!"


THE MUSIC GOES ROUND AND ROUND


KRISTIN CHENOWETH'S A LOVELY WAY TO SPEND A CHRISTMAS CD was released October 14, 2008 by Sony BMG Masterworks. In this her third album, Chenoweth covers a wide range of Christmas songs from Christmas Island, popularized by The Andrew's Sisters to Kristin's personal favorite Come On Ring Those Bells.

An album of eclectic, yet well known Christmas carols, you will not hear a more beautiful rendition of Do You Hear What I Here - Chenowith's gorgeous high notes are a perfect bell tone.

Her duet with John Pizzarelli on Marshmallow Ride is - to invoke an overused phrase for her - delightfully perky.

The Oklahoma born and raised Chenoweth is backed by a steel guitar to inject a country flavor as her voice takes on a twang for Come On Ring Them Bells, which she calls her personal favorite of the CD cuts.

Her tradition rendition of What Child Is This showcases her beautiful four octave range. In addition to well-known Christmas classics such as Silver Bells and I'll Be Home For Christmas, Chenoweth reinterprets Louis Armstrong's modern standard What A Wonderful World and children's favorite Sing, (originally written for Sesame Street's loveable Big Bird) into a Christmas songs with the help of acclaimed producer Robbie Buchanan and Executive Producer Jay Landers.

A lovely Christmas stocking stuffer, the album also features new compositions of Home On Christmas Day, co-written by Grammy Award winning producer Walter Afanasieff and Jay Landers and Born On Christmas Day, with lyrics by Grammy winning pop/soul singing legend Peabo Bryson.

Recorded at Capitol Recording Studio's legendary Studios A & B.

Track Listing:
1 I'll Be Home For Christmas
2 Christmas Island
3 The Christmas Waltz
4 Do You Hear What I Hear?
5 Marshmallow Ride / Sleigh Ride
6 Sing
7 Silver Bells
8 Come On Ring Those Bells
9 What Child Is This?
10 Home On Christmas Day
11 Born On Christmas Day
12 Sleep Well Little Children / What A Wonderful World

Recorded at Capitol Recording Studio's legendary Studios A & B A Lovely Way To Spend Christmas is an combination of full orchestral arrangements, along with big band.

The album also features new compositions of "Home On Christmas Day," co-written by Grammy Award winning producer Walter Afanasieff and Jay Landers and "Born On Christmas Day," with lyrics by Grammy winning pop/soul singing legend Peabo Bryson.


ART AND ABOUT
LEONARDO: 500 YEARS INTO THE FUTURE

The exhibit also encourages an exploration of "Leonardo's mind" and tries to uncover how he thought and how he viewed the world he lived in — the unity of art, science and technology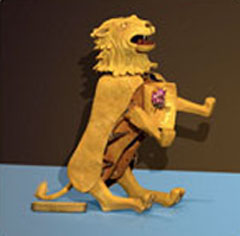 For the first time ever in the U.S. the world premiere of the largest, most comprehensive exhibit of the innovative art, science and engineering works of Leonardo da Vinci and his contemporaries is at The Tech Museum of Innovation in San Jose, CA but only to January 4, 2009.

Leonardo da Vinci is celebrated as the Renaissance who influenced and inspired much of the technology we use today. He was the inventor of extraordinary machines and mechanical devices that entered the common heritage of technical culture only several centuries after his death.

However, a close examination of the history of technology from the late fourteenth century to the end of the fifteenth century reveals that the "Leonardo phenomenon" was the logical outcome of a development of engineering and technical skills to which other talented figures contributed as well.

During Renaissance times, there was no division between art and science, as there is today. The unity of art and science echoes in the work of today's leading innovators.

Leonardo: 500 Years Into the Future represents the remarkable achievements of fifteenth century artist-engineers - Filippo Brunelleschi, The Sienese Engineers, and Leonardo da Vinci - and exemplifies the pivotal unity of art, technology and science.

This exhibition brings together over 200 artifacts, including drawings, sculptures and life-size models of the art, architectural projects, machines and mechanisms crafted from the original notebooks of the Renaissance artist-engineers. Didactic tools, including multi-media stations with interactive functions, put the machines and achievements of Leonardo da Vinci and the Renaissance artist-engineers into modern day context. Get a glimpse inside the mind of one of the world's most innovative thinkers. Leonardo da Vinci is the epitome of the Renaissance man - most famous for his paintings yet also renowned as a scientist, engineer and inventor.

Leonardo da Vinci embraced art, technology and science, not as separate from one another, but as a whole. His imagination and ideas have inspired generations of scientists, artists and inventors.

Highlights of the Exhibit includes over 30,000 sq ft with over 200 artifacts including more than one hundred life-size, interactive, working or scale models crafted from the original notebooks of Leonardo and his contemporaries and reconstructed by art restorers and artisans. Patrons can participate in hands-on design challenges in The Tech's galleries based on Leonardo's engineering, scientific and art principles. Three films illustrating recent discoveries in Leonardo's drawings and painting as well as exciting stories of some of his major projects such as the conception and production of the Sforza Horse. Two original Renaissance paintings by Leonardo's disciples on loan from the Uffizi Gallery in Florence. Models of modern inventions on loan from Lockheed Martin and Northrop Grumman highlight the parallels between the Renaissance and Silicon Valley today.

This exhibit is conceived by the Istituto e Museo di Storia delia Scienza in Florence, Italy in collaboration with the Polo Museate Fiorentino and produced by Opera Laboraton Fiorentini. Based on thirty years of research, the exhibit is curated by the renowned Leonardo da Vinci expert, Professor Paolo Gallouzzi.



Broadway To Vegas is supported through advertising and donations. Priority consideration is given to interview suggestions, news, press releases etc from paid supporters. However, no paid supporters control, alter, edit, or in any way manipulate the content of this site. Your donation is appreciated. We accept PAYPAL. Thank you for your interest.


SWEET CHARITY


BIG NAMES TO READ HEMINGWAY Tom Hanks, Julia Roberts, Bruce Willis and Jack Nicholson will perform a reading of Ernest Hemingway's semi semi-autobiographical The World of Nick Adams backed by the San Francisco Symphony Orchestra.

They will be joined at the event by fellow celebs Danny DeVito, Danny Glover and Edward James Olmos.

Proceeds from the evening, which will take place at Davies Symphony Hall in San Francisco, California on October 27 will go to The Painted Turtle charity a camp for children suffering from deadly illnesses.

The Painted Turtle is a member of The Association of Hole In The Wall Camps, co-founded by Paul Newman

RICHARD TUCKER MUSIC FOUNDATION GALA takes place October 26 at Avery Fisher Hall in New York City. Proceeds from the evening will benefit the Richard Tucker Music Foundation, which has a mission to "support the careers of young American opera singers and bring opera into the community with free concerts throughout the metropolitan region."

Making his only American operatic appearance this year will be acclaimed Welsh baritone Bryn Terfel. He will join South Pacific co-stars Tony winner Paulo Szot and three time Tony nominee Kelli O'Hara in a concert that will also feature Susan Graham, Marcello Giordani, Hei-Kyung Hong, Željko Lui, Ruxandra Donose, Sondra Radvanovsky, Piotr Beczala, Lawrence Brownlee and Dimitri Pittas. Maestro Patrick Summers will conduct the program, which will feature members of the Metropolitan Opera Orchestra and the New York Choral Society.

ON BROADWAY! - SALUTE TO THE AMERICAN MUSICAL is the Career Transition For Dancers' 23rd Anniversary Jubilee which takes place, Monday, October 27 at New York City Center.

The multi award-winning actress Angela Lansbury will host the Gala, which will be followed by an Anniversary Supper with the Stars at Hilton New York's Grand Ballroom.

The evening presents a glorious historical journey inside the Broadway musical seen through the eyes of legendary choreographers. Their choreography transformed Broadway shows into the greatest musicals of all time.

There will be appearances by: Mikhail Baryshnikov, Kelly Bishop, the Nanjing Duo, Cheyenne Jackson, Jane Krakowski, Bebe Neuwirth, Noah Racey, Karen Ziemba, American Ballet Theatre stars Xiomara Reyes & Herman Cornejo and artists from New York Theatre Ballet plus other dancers, musicians, stars and many surprises to be accompanied by the Jubilee Orchestra. There will be musical/dance numbers as well as film clips/montages from some of the Broadway classics.

The honorees for the Gala are Sono Osato and Brian Heidtke. Tommy Tune is the recipient of the Rolex Dance Award.

Career Transition For Dancers, with offices in New York City, Los Angeles and Chicago, has helped thousands of professional dancers identify their unique talents in preparation for establishing new careers when dance is no longer an option. Since 1985, they have provided more than 41,000 hrs (equivalent to $4 million) of one-on-one career counseling & program services (at no cost) and has awarded millions of dollars in scholarships for education and grants.

PRIMARY STAGES' 24TH ANNIVERSARY BENEFIT GALA will honor Tony Award winner Patti LuPone and Broadway producers The Baruch-Routh-Frankel-Viertel Group, comprised of Steven Baruch, Marc Routh, Richard Frankel and Thomas Viertel.

"Our Gala is a night to honor people who have made significant contributions to the theatre," stated Primary Stages artistic director Andrew Leynse in a press release. "We are thrilled to have this opportunity to honor Patti LuPone and The Baruch-Routh-Frankel-Viertel Group. Patti is a phenomenal actor who consistently brings excitement and life to the productions she works on. And, The Baruch-Routh-Frankel-Viertel team, continue to champion and support new works both on and Off-Broadway and throughout the world."

Primary Stages has given life to more than 90 new plays, many of them world premieres, by writers such as Horton Foote, A.R. Gurney, Willy Holtzman, Julia Jordan, Romulus Linney, Donald Margulies, Melissa Manchester, Terrence McNally, John Henry Redwood, John Patrick Shanley, Mac Wellman, Lee Blessing and Michele Lowe. The company also continues to work with emerging playwrights through commissions and its artist development program, The Dorothy Strelsin New American Writers Group.

The benefit gala takes place October 27 at The Grand Hyatt Hotel in New York City.

HARMAN CENTER FOR THE ARTS ANNUAL GALA Under the gracious patronage of His Excellency the British Ambassador and Lady Sheinwald. Gala Co-Chairs are Beth Dozoretz and Samia Farouki.

The Gala honors artists whose accomplishments in interpreting Romeo and Juliet in a variety of artistic disciplines have widened the appreciation of Shakespeare.

The William Shakespeare Award for Classical Theatre will go to; Rennie Harris, Founder, Rennie Harris Puremovement, Choreographer of Rome and Jewels. Peter Martins Ballet Master in Chief, New York City Ballet, Choreographer of Romeo and Juliet and to Chita Rivera Anita in the original Broadway cast of West Side Story.

The Sidney Harman Award for Philanthropy in the Arts will be presented to The Harman Family Foundation.

The gala performance at Sidney Harman Hall A Night in Verona will feature: Elizabeth Futral, Soprano; An excerpt from Chita Rivera's Broadway show The Dancer's Life; The New York City Ballet; Rennie Harris Puremovement and The actors of the Shakespeare Theatre Company where Michael Kahn serves as Artistic Director.

Monday, October 27, 2008 at the Hartman Center for the Arts in Washington, DC.

FLORENCE HENDERSON IN ALL THE LIVES OF ME

Florence Henderson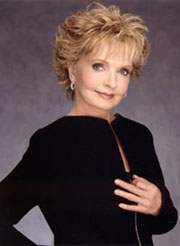 Known to millions as Carol Brady, Owensboro native Florence Henderson is a multi-talented actress, talk show host, performer, recording artist, author and Broadway veteran.

She brings her critically acclaimed one woman production to the Riverpark Center's Cannon Hall in Owensboro, KY on Saturday, October 25.

A crowd-pleasing evening with "America's Favorite TV Mom" features songs from her starring roles in such Broadway hits as Oklahoma, South Pacific, Sound of Music and Annie Get Your Gun.

Florence will treat audiences to personal anecdotes of a life on the boards of Broadway and the Brady set.

All net proceeds generated from the performance will benefit RiverPark Center, Owensboro Symphony Orchestra, and Brescia University.


OTHER PEOPLE'S MONEY


PASADENA PLAYHOUSE has received a $3 million gift. At Pasadena Playhouse's 11th Annual Gala, staged October 12, Pasadena Playhouse Artistic Director Sheldon Epps, new Board Chair Michele Dedeaux Engemann and outgoing Board Chair Kerry McCluggage - the Gala's honoree - announced the theatre's receipt of a $3 million anonymous gift for the Playhouse's Next Stage Campaign. The $3 million gift, which is a Playhouse record for the largest individual donation, completed the five-year capital drive with a grand total of $11 million surpassing the campaign's original goal of $8.5 million.



LOVE SONG by John Kolvenbach. A quirky comedy that celebrates the rich rewards of embracing life and love.

Beane exiled himself from life years ago. His well-meaning sister Joan continually attempts to help him, but he stubbornly resists.

When Joan suddenly finds her brother blissfully in love, she tries to unravel the story behind his surprising happiness and a mysterious new soul-mate.

Cincinnati Playhouse Associate Artistic Director Michael Evan Haney will direct.

Previews begin October 21 with the official opening held on October 23. Performances through November 21 at the Cincinnati Playhouse in Cincinnati, Ohio.

MIAMI CITY BALLET Edward Villella, Artistic Director, performs the West Coast premiere of Nightspot, a Twyla Tharp and Elvis Costello collaboration.

Known for her innovation and creativity, Twyla Tharp has created some of the most memorable dances in modern repertory. Elvis Costello, whose adventurous musical talents makes him one of the most revered artists of our time, provides an original musical composition intertwined with various motifs and quotations from existing songs.

Nightspot features costumes designed by famed fashion designer Isaac Mizrahi.

Also on this program are Christopher Wheeldon's Liturgy and George Balanchine's Tarantella and Symphony in Three Movements.

The are pre-performance conversations in which patrons can join Miami City Ballet's Artistic Director Edward Villella, along with dance historian and writer Elizabeth Kaye, for talks beginning one hour prior to each curtain in the Dorothy Chandler Pavilion Grand Hall.

October 24-26 at the Dorothy Chandler Music Center in Los Angeles.

SIX DANCE LESSONS IN SIX WEEKS This revival of Richard Alfieri's Broadway and international hit play is directed by the original Broadway production director, Arthur Allan Seidelman and choreographed by Kay Cole.

Starring Constance Towers and Jason Graae.

It's hate at first sight when Lily (Constance Towers), a formidable retired woman, hires Michael (Jason Graae), an acerbic ex-Broadway chorus boy, to give her private dance lessons in her Florida condo. As Michael teaches Lily to dance, they both learn some unexpected lessons in life. Part comedy, part drama, part cha-cha-cha.

Oct 22 - Nov 23, 2008 at the Falcon Theatre in Burbank, CA.

Dorothy Chandler Pavilion in Los Angeles.

DIVIDING THE ESTATE By Horton Foote. Directed by Michael Wilson.

This a human comedy about a family that must confront its past as it prepares for its future, opened to critical acclaim last fall at Primary Stages winning the 2008 Outer Critics Circle Award for Outstanding New Off-Broadway Play, and Horton Foote's 2008 Obie Award for Playwriting.

The Lincoln Center Theater production will feature a cast of 13 headed by Elizabeth Ashley, Arthur French, Hallie Foote, Penny Fuller and Gerald McRaney (all of whom will reprise their Primary Stages performances), and Devon Abner, James DeMarse, Pat Bowie, Virginia Kull, Maggie Lacey, Nicole Lowrance, Jenny Dare Paulin and Keiana Richŕrd.

Dividing the Estate will have sets by Jeff Cowie, costumes by David C. Woolard, lighting by Rui Rita and original music and sound by John Gromada, the play's original design team.

October 23, 2008-January 4, 2009 at The Booth Theatre in NYC.

CARNIVAL by Lucy Caldwell. Directed by Paula McFetridge.

Inspired by the incredibly strange but true recent story of an Italian 'circus of horrors' in which teenage girls were alleged to have lived in 'inhuman' conditions and forced into dangerous acts with animals including deadly snakes and flesh-eating piranhas.

Premiering at this year's Belfast Festival at Queen's October 23 - November 1 at the Spiegeltent in Belfast, Northern Ireland.

DREAM OF THE BURNING BOY By Travis Baker. Directed by Marshall Mays.

Frank Vaughn, Ph.D., Professor of History at Maine State, had decided to make a decision to leave his wife depending on how the night goes with his new girlfriend.

He has tried to explain this to his wife but she isn't listening.

He's trying to explain this to his teen-age son by his first wife but the boy keeps playing with a brass button he found in a pile of porcupine poop.

Of course, the poop really hits the fan when he and his girlfriend come home early from their date to find his wife and son.

Part of the PrimeTime Reading Series at Primary Stages, NYC on Monday, October 20.

I AM NOT A RACIST, BUT ...' a workshop production of an original work currently in development at The Actors' Gang in Culver City, CA. With its signature take-no-prisoners style, The Gang takes a bold, funny, sad and incendiary look at what it takes to bring America's history of racism out of the shadows and shine a light on how it still envelops us today.

Conceived and Directed by founding member Cynthia Ettinger and created by the acting ensemble The Actors' Gang.

Workshop Performances: through November 15 at The Actors' Gang in Culver City, CA.

BIG APPLE CIRCUS It all began in Kent, England, in 1974, when American entertainers and Big Apple Circus co-founders Paul Binder and Michael Christensen became juggling partners and took to the street corners of Europe. Their comedic juggling act was a hit, and they soon found themselves on the stage of the prestigious Nouveau Cirque de Paris. They returned home to America in 1976 with a vision: to entertain and improve the lives of millions. One year later, they found a site for the first tent-raising in Battery Park, New York, and went on to create the award-winning, not-for-profit Big Apple Circus.

You can enjoy the antics October 23, 2008-January 18, 2009 at Lincoln Center/Damrosch Park, NYC.

DANCES WITH THE DEAD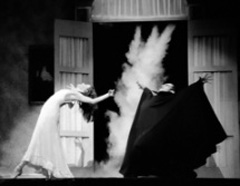 Dances of Seduction, Deception and Death.

Start your Halloween festivities some spine-tingling ballets.
Delightfully scary and passionately danced, California Ballet's season opener includes selections from Dracula and the premiere of Pirates and Skeletons.

Performed to pre-recorded music.

Come in costume Friday night and win a chance for an on-stage photo with the cast.

October 24-25, 2008 at the Balboa Theater in San Diego, CA.




WHO'S WHERE


KEVIN DOZIER presents his award winning Love-Wise cabaret show with Musical Director Christopher Marlowe. Directed by Scott Barnes. With Dick Sarpola on Bass; John Redsecker on Drums; Peter Saders on Cello and Kenny Dybisz on Reeds. October 22, 29 & 30 at The Metropolitan Room in NYC.

DOC WATSON, DAVID HOLT AND RILEY BAUGUS perform Hills of Home at Appalachian's Performing Arts Series on Friday, October 24. Hills of Home is an evening of story and song that chronicles the remarkable life of local musician Doc Watson, the powerful singer and tremendously influential picker who virtually invented the art of playing mountain fiddle tunes on the flattop guitar. Joined by accomplished storyteller and acclaimed multi-instrumentalist David Holt, and accompanied by singer and old-time musician Riley Baugus, Doc includes the audience in a front-porch style, conversational show as he tells stories while singing and picking with his friends.

LYNDA CARTER in her new show featuring hits by the Supremes, the Beatles and Bonnie Raitt, in addition to standards like Fever; Deed I Do and Put the Blame On Mame. Lynda is currently recording a new CD in Nashville for release later in the year. At Feinstein's in New York City, she will be joined by a five piece band led by Music Director Sam Kriger. October 21-25.

ALICIA KEYS brings her tour to the Hanns Martin Schleyer Halle in Stuttgart, Germany on Tuesday, October 21. On Wednesday she can be enjoyed at the Konig-Pilsener Arena in Oberhausen, Germany. Saturday she on stage at the La Galaxie in Metz, France.

MADONNA has a couple of two night gigs this week. On Wednesday, October 22, she opens at the Bell Centre in Montreal and next Sunday she begins her two nighter at the United Center in Chicago.

STEPHEN STILLS With work spanning five decades, Stephen Stills is one of the most influential and enduring figures in music. He brings his not-to-be-missed live show to London for two dates at Shepherds Bush Empire on Monday, October 20.

TRAVIS TRITT returns to Florida after an absence of a year. He performs October 25 at the Peabody Auditorium in Daytona Beach, FL.

SHERYL CROW entertains Tuesday, October 21, at the Arizona State Fair, Arizona Veterans Memorial Coliseum in Phoenix.

ELTON JOHN returns to Las Vegas on Wednesday, October 22, appearing at the Colosseum at Caesars Palace through November 9.

ALANIS MORISSETTE has a busy week. She's in the spotlight Monday, October 20, at the Broward Center for the Performing Arts in Fort Lauderdale, FL. On Tuesday, October 21, she can be enjoyed at the Hard Rock Hotel in Orlando. Thursday the show is at the Horseshoe Casino in Bossier City, LA. Friday finds her at Jones Hall in Houston, TX. On Saturday she's on stage at Nokia Theatre at Grand Prairie, TX.


FINAL OVATION


EDIE ADAMS

Ernie Kovacs and his singer-commedienne wife Edie Adams were at the height of their popularity when they performed at the Tropicana Hotel in Las Vegas in late 1957.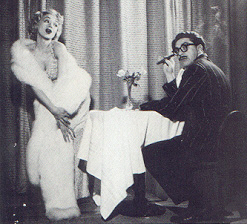 actress/singer died October 15 in Los Angeles. She was 81.

Edie Adams, a multi-talented actress/singer/comedienne was a Juilliard-trained singer who aspired to become an opera singer. Instead, during the 1950s and 1960s she was the sexy symbol for Muriel Cigars - perched on the highest heels and poured into the slinkiest dresses, danced with 6-foot cigars, caressed them and cooed: "Why don't you pick one up and smoke it sometime?" Sales shot up ten fold.

She created the role of Eileen Sherwood in Wonderful Town and took home the Tony for bringing to life Daisy Mae in Li'l Abner.

She was born Elizabeth Edith Enke on April 16, 1927, in Kingston, PA. She took her mother's maiden name for the stage. She married the volatile, mustachioed, cigar-chomping Ernie Kovacs in 1954 in Mexico City. The ceremony was presided over by former New York City mayor William O'Dwyer, and was performed in Spanish. She was a regular on The Ernie Kovacs Show, singing, doing impersonations - and the occasional pratfall. They brought their nightclub act to Las Vegas Of her husband, Ms. Adams later said, "He treated me like a little girl, and I loved it - Women's Lib be damned!" Ernie Kovacs died in an automobile car accident in 1962, owing several hundred thousand dollars in back taxes to the government. Ms. Adams worked steadily for several years and eventually paid off the debt.

Ms. Adams performed in nightclubs across the country, including at the Desert Inn Hotel in Las Vegas, co-starring with Jimmy Durante.

Some of her movie credits include; Love Come Back; Under the Yum-Yum Tree; The Best Man and The Oscar. On film she is best remembered as the scorned and vengeful secretary of Fred MacMurray in The Apartment.

Some of television credits include the Fairy Godmother in Rodgers and Hammerstein's 1957 television musical Cinderella.

She married Marty Mills in 1964 and they had one son, Josh, who survives her. They divorced in 1971. Her third marriage, to jazz trumpeter Pete Candoli, from 1972 to 1988, also ended in divorce. A daughter she had with Kovacs, Mia, died in a car accident in 1982.

NEAL HEFTI the Grammy Award winning composer and arranger died October 11, 2008 at his home in Toluca Lake, Calif. He was 85.

Hefti penned the theme for the 1960's television show Batman, and for the movie and television versions of The Odd Couple. He began his career as a jazz trumpeter. As an arranger and conductor he worked with Frank Sinatra, Doris Day, Mel Tormé and Tony Bennett.

He composed for Woody Herman, Buddy Rich and Count Basie. His film work including composing the scores for; Barefoot in the park; Red Hot Lovers; A New Leaf; Sex and the Single Girl; Boeing, Boeing and How To Murder Your Wife. Neal Paul Hefti was born in Hastings, Neb., on Oct. 29, 1922. His wife singer Frances Wayne died in 1978; a daughter died in 1997. In addition to his son Paul Heft, he is survived by a brother, Joe, of Pensacola, Fla.; a sister, Pat Wacha, of Clarkson, Neb.; and three grandchildren.

Next Column: October 26, 2008
Copyright: October 19, 2008. All Rights Reserved. Reviews, Interviews, Commentary, Photographs or Graphics from any Broadway To Vegas (TM) columns may not be published, broadcast, rewritten, utilized as leads, or used in any manner without permission, compensation and/or credit.
Link to Main Page
---
Laura Deni



U.S. Postal Address: Post Office Box 60538, Las Vegas, NV 89160
CLICK HERE FOR COMMENT SECTION