! >
Broadway To Vegas
  
  REVIEWS INTERVIEWS COMMENTARY NEWS

| | |
| --- | --- |
| | |
PRISON INMATES STAGE A ROYAL LES MISERABLES - - EXQUISITE CORPSES: DRAWING AND DISFIGURATION - - PENN JILLETTE DONATES CHECK - - GERMAN THEATRE MIRRORS BROADWAY - - ELVIS PRESLEY'S PHARMACY CLOSES - - YEAR CELEBRATING NOEL COWARD - - JACK KLUGMAN OUT OF 12 ANGRY MEN - - SMITH CENTER OPENS IN LAS VEGAS - - DONATE . . . Scroll Down


SMITH CENTER IN LAS VEGAS BRINGS IN MEGA-WATT STAR POWER WHILE AIMING FOR LUCRATIVE CONVENTION BUSINESS
The stunning Grand Lobby of the Smith Center is for rent: Promoted as perfect for receptions, cocktail parties and weddings.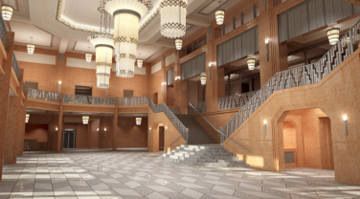 Performers may grab the headlines, but conventions are the big money maker. Officials of the newly opened Smith Center for the Performing Arts in Las Vegas are betting that conventions and organizations will want to stage their events in the new venue.

Even being compared to The Kennedy Center, the Smith Center is the place everyone wants to be.

Booking agents are speed dialing the new Smith Center. The mega venue offers another stop for performers eager to show off.

In itself, the Smith Center is a show off - new, clean, gorgeous - and fully funded.

The $470 million capital campaign is completely funded – a feat many performing arts centers are challenged with years into operations. As stated in their release: "With the capital campaign funded, The Smith Center will be able to provide the community with spectacular productions, topnotch customer service and a fully integrated arts education program."

"The City of Las Vegas, Clark County and State of Nevada have worked tirelessly together to ensure The Smith Center had the proper public funding by collaborating on a car rental fee that resulted in a $100 million bond. In addition, the City of Las Vegas has provided the land, infrastructure, environmental clean-up and parking."

"The Smith Center's private funding campaign began in 2005 when the Donald W. Reynolds Foundation provided a landmark $50 million gift in honor of its chairman Fred W. Smith and his wife Mary. Since then, the Reynolds Foundation has continued its generosity, granting an additional $100 million grant to complete the campus and additional funding for the Discover Children's Museum and Symphony Park. This gift is the largest philanthropic donation in the history of Nevada and, combined with the initial contribution, makes it the second largest donation to the performing arts in the United States."



Smith Center is home to the 258-seat Cabaret Jazz Room, which is also well suited to be rented for a variety of events.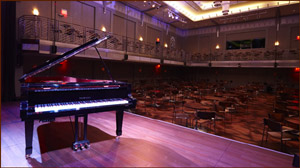 A set of Founders "each provided The Smith Center with a donation of at least $1 million for use toward the capital campaign. Surpassing the original goal of 50, the 57 Founders will be proudly recognized by a permanent display upon the entrance to Reynolds Hall."

One of its best features are the excellent acoustics, which may take trade away from Ham Hall at the University of Nevada where many of the performers - who have inked a deal with Smith Center - used to stage their acts.

Two pre-opening warm up performances were delivered by Randy Travis at the 2055-seat Reynolds Hall - free shows as a thank you to all those who helped design and build the complex. Talented Linda Eder did the same with two shows in the Cabaret. Those being acknowledged for their work on the structure put in 1.5 million man-hours by 2,600+ construction workers using 4,000 tons of structural steel and 2,458 tons of Indiana limestone. The 170-foot high Carillon tower has 49 bells which weigh 29,500 lbs.

A real dower which has the potential of putting the hall on the slippery slope level of a cheap movie theater in a bad neighborhood - no cupholders, yet people are permitted to bring beverages into Reynolds Hall. Patrons put their cups and bottles on the floor. Minute To Win It could have staged a segment on how many semi filled containers one person can kick over in trying to get in or out of a row of seats.

There can be obstructed views from the box seats - so don't believe all of the hype.

The Smith Center is touted as being a place for locals to 'hang out' - a truly odd expression since - no matter the location - locals tend to 'hang out' at places located with a 5 mile radius of where they live or a 2.5 mile radius of where they work, unless the location is on the route they travel to get home. Also, 'hanging out' on work nights tends to be limited to a 1-2 hour time span, involving some type of nourishment or exercise. Married women and married men with children spend even less time 'hanging out'.



Smith Center Reynolds Hall can be yours for a price. "The entire hall can be rented for performances or meetings; complete with state of the art technical resources as required. In addition to serving as a world-class performance space, the entire stage can be rented for an elegant dinner, a special meeting, wedding, bar/bat mitzvah, quinceañera, etc. The magnificent 5-tiered audience chamber serves as an elegant, one-of-a-kind background for your event."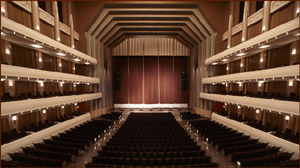 The repeated emphasis by the Smith Center to long-ago days of locals 'hanging out' at lounges in Strip hotels can be misleading. During the 60-70's eras the hotel lounges welcomed locals. But those lounge shows were free or next to it. Drinks could also be free - at the most $1.00. Entertainment was the lure to get people into the casino where gambling losses more than made up for the entertainment costs.

What gearing the Smith PAC to locals really means is that the Smith Center will be home to the Nevada Ballet Company and the Las Vegas Philharmonic. There will also be classes, workshops and a partnering with education. The already in existence Children's Museum will move to a location closer to the Smith Center.

Although the Smith Center has an operating endowment - the first in the nation - and thus doesn't have to worry about paying the bills, by itself the Broadway and cabaret performances will not fund the upkeep.

Smith President and CEO Myron Martin spent 15 years with Baldwin where he managed the concert and artist division in New York City. Martin was responsible for over 300 artists and organizations including Billy Joel, Dave Brubeck, The Boston Symphony, and the Kennedy Center, and along with Michael Gill produced the Las Vegas production of the Broadway musical Hairspray. Paul Beard, the Smith Center's vice president COO, is perhaps best known for opening and operating Bass Performance Hall in Fort Worth, Texas. Beard also opened and operated the Kravis Center for the Performing Arts in West Palm Beach, Florida from 1985 to 1993.

Both are savvy.



The talented and personable Neil Patrick Harris served as opening night host for an event helmed by Emmy Award winner George Stevens, Jr. and his son, Michael.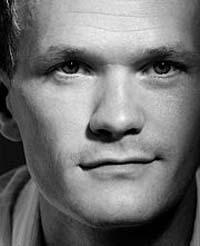 There's going to be heavy scrutiny of the more than expected 10,500 initial subscription buyers to see if the subscription is renewed. How many of the non-subscription seats are filled and at what price point? How many of the shows sell out? Of those 'sold out' shows, what were the number of comps and seat fillers?

After the luster of the new kid on the block classification dulls, will residents living in the community worst hit by the foreclosure crisis, spend what money they have on tickets to see shows at Smith Center?

Will tourists staying on the Strip venture down town to specifically see a show they may have already seen? Booked for the first season at prices ranging from $24-$129 are The Color Purple, Memphis, Mary Poppins, and Million Dollar Quartet.

Golda's Balcony is a co-production with the Jewish Federation of Las Vegas and the Jewish Repertory Theatre of Nevada. The one nighter, April 1, stars four-time Tony and two-time Emmy Award nominated Tovah Feldshuh. Tickets range from $36-$500.

A well thought out line-up, with each show also appealing to specific demographics. What draws individual ticket sales will send a strong message.

Valet parking at $8.00 can found in the front of the building, and there is free general garage and surface lot parking.

There were special invited guests but no VIP comps for the March 10, 2012 gala opening. Tickets topped out at $1,000 per person. Seats were still available shortly before showtime. Does that mean that the local open mouths who so vocally encouraged the Smith Center failed to open up their wallets? Or, are they saving their money to spend on tickets later?

If so, then is the discretionary income of locals less than what has been publicized? Is the local view of the Smith Center the same as the friend or relative who encourages a person to open a store and then fails to shop there? Or, thinks that because they know the owner, they should get the product free or at a reduced rate. The Smith Center shows are not going to be free for locals.

Many of the Strip shows already offer discounts for locals. The Mirage Hotel is offering a 40% discount for Las Vegas residents to see A Bronx Tale starring Chazz Palminteri, which has performances March 12-20. Before discount prices range from $39.99-$59.99 plus a $8.95 service charge. There are also dinner and show packages that are a bargain. Those packages include dinner for only $24.95 at B.B. King's Blues Club to $49.99 to dine at FIN, Kokomo's, Onda, STACK, Samba or Japonais restaurants.

For months the publicity has stressed that finally Las Vegas locals will have a place to hang out, and to call their own. All of that costs money - and time. Middle aged to older citizens have jobs and families and limited time. Money is also in short supply. The acts booked aren't geared for the teen-age to early 20s generation.

If the venue is hoping for the older, more affluent Las Vegan, then the issue of transportation looms. Many falling into the category of old fossil with cash, no longer drive at night.

The Smith Center is sorely needed and a long time in coming. It fills a tremendous void, adds much to the city and should be welcomed by everyone.

Businesses located in the downtown area once known a Glitter Gulch should collectively worship at the door of the Smith Center. That new PAC will only help the once downtrodden area which is turning into an arts infused Mecca. At least during the cooler months, when the sun doesn't melt the skin from your bones, patrons of the PAC are the type of clientele who will also dine out.

The PAC won't phase the Strip entertainment market one whit. While the low profit entertainment portion is getting all the publicity, the Smith Center is quietly aiming its guns to take direct aim at two high profit areas of the hotel industry.

One is the wedding industry. Hotels with wedding chapels could see a drop in business while the free standing chapels aimed at the quick and quirky wedding trade won't be affected.

The Smith Center strongly touts renting the place for weddings. Going head to head with hotel wedding chapels, the venue advises that: "The Smith Center was built to host the greatest in performing arts from around the world, but truth be told, our weddings are just as spectacular as our productions. The stunning art deco style creates an elegant and sophisticated backdrop to your vows, while our ringing carillon bell adds a touch of old-world romance. It's a one-of-a-kind setting that can turn your wedding into a true masterpiece."

"Any one of our event venues can accommodate your ceremony depending on the size and style you desire. Take center stage in our magnificent Reynolds Hall or steal the spotlight in our intimate Cabaret Jazz. Enjoy the lush beauty of nature in our Courtyard or design your perfect setting in our extremely versatile Troesh Studio Theater. The choice is yours, and we will be there to help you every step of the way. We also offer customizable wedding packages to suit your specific needs."



Smith Center Conference Room: "Make your meeting a stunning success inside one of our three conference rooms. One or all three rooms can be used for your meeting or they can be used as breakout space for larger events," is the Smith Center pitch for the high profit convention event market.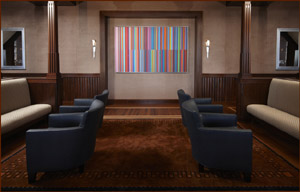 The second area - the highly lucrative convention banquet events and charity functions which are usually held in hotel ballrooms.

"Designed to be the centerpiece of downtown Las Vegas, The Smith Center is a world-class performing arts center capable of hosting nearly any event you have in mind. Whether you're planning a grand gathering or intimate affair, we offer a variety of venues to fit your event's size and style. Conferences, weddings, business meetings, non-profit fundraisers, holiday parties and seminars can all be handled with flair. With our stunning setting, flawless service, and personalized planning, we can easily turn your next event into a first-rate production. Just don't be surprised if your guests demand an encore," is the Smith Center's promise.

The Smith Center has also partnered with Culinary Arts Catering as "the exclusive caterer for The Smith Center for the Performing Arts. In keeping with our exceptional facility, Culinary Arts Catering will provide superb food, flawless service and immaculate attention to ensure that you are thrilled with your event." Formed in 1993, the nonprofit Culinary Academy of Las Vegas is billed as "one of the country's leading culinary and hospitality training centers."

In other words, high profile Broadway and cabaret entertainment is but a small factor in what the Smith Center is all about. How booking those two divisions continues will depend upon what people are willing to pay to see, after the immediate gotta-go-their once-ticket buyer gets their eyes full.

The talented Clint Holmes will perform one week-end a month at the 258-seat Boman Pavilion's Cabaret Jazz series at prices of $35-$45.



Smith Center Mezzanine: "For the height of style, head to our second floor where you'll discover our Grand Lobby Mezzanine, Mezzanine Foyer and our Founders Rooms. These spaces are perfect for meetings, weddings, lavish galas and fundraisers," states the Smith Center in the desire to bring conventions and seminars to the venue.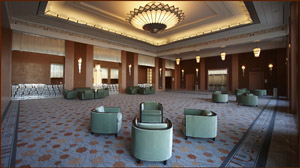 Other performers inked to play the Cabaret Jazz are Branford Marsalis ($50-$150), Andrea Marcovicci ($39-$75), Barbara Cook ($40-$70). Dinner or small-bites, and beverages during the performance are extra.

The opening night gala hosted by Neil Patrick Harris included Emmylou Harris, Mavis Staples, Martina McBride, Pat Monahan, Arturo Sandoval and Broadway performers including Brian Stokes Mitchell, Laura Osnes and Cheyenne Jackson.

Opening week acts ranged from Bella Fleck on Monday, March 12, $26-$79 to Michael Feinstein on Thursday, March 15, $26-$99. The Canadian Tenors at $26-$89 perform March 17.

SFJAZZ Collective Music of Stevie Wonder performs March 17-18 at $39-$69, Alvin Ailey American Dance Theater is on Tuesday and Wednesday, March 20-21 at $39-$129. Straight No Chaser takes to the stage on Sunday, March 25 at $24-$59 while Savion Glover's Bare Soundz is Tuesday, March 27 at $29-$89.

Also in that time frame performances by the Nevada Philharmonic March 24 at $42-$82 and the Composers Showcase, March 28 at $23, both of which have their own customer base.

That's a lot of talent in a short period of time. Many of the acts also appeal to the same crowd, which translates into having a lot of free time, even on the traditional work and school nights, and the dough to fund the tickets - or having to make a choice.

Open house and tours take place March 18 where the public is invited to come down from noon to dusk and participate in free tours and enjoy performances on the lawn by local favorites such as Santa Fe.





Broadway To Vegas is supported through advertising and donations. Priority consideration is given to interview suggestions, news, press releases, etc from paid supporters. However, no paid supporters control, alter, edit, or in any way manipulate the content of this site. Your donation is appreciated. We accept PAYPAL. Thank you for your interest.



ART AND ABOUT


AMERICAN DREAMERS REALITY AND IMAGINATION IN CONTEMPORARY AMERICAN ART examines a particularly powerful aspect of contemporary art in the United States, where – September 11, 2001 through to the current financial crisis – the sense of invulnerability and social and economic security has been challenged.

Since the 1950s, many American artists have criticized the "dream" which is consistently fuelled by Hollywood imagery and the advertising campaigns of corporations such as Disney and Coca Cola.

Today the "American dream" seems to be in crisis. Yet a sense of optimism, a capacity for creative imagination, and the willingness to believe in positive outcomes remain crucial to the American self-image.

The eleven American artists involved in the exhibition - Laura Ball, Adrien Broom, Nick Cave, Will Cotton, Adam Cvijanovic, Richard Deon, Thomas Doyle, Mandy Greer, Kirsten Hassenfeld, Patrick Jacobs and Christy Rupp - resort to their imagination to produce a personal revisitation of reality or at times even a flight from that reality, through the construction of parallel, alternative worlds which explicitly turn their backs on 'true' reality.

Some of the works condense the essence of reality into miniaturized systems while others expand outwards into space, creating worlds in which the spectator can immerse themselves in parallel realities, and yet others feed on fantastic, dreamlike images or reflect on such symbolic themes as the home and the family which continue even today to play a central role in the construction of the myth of the 'American way of life'. American Dreamers is organized by the Centre for Contemporary Culture Strozzina in conjunction with the Hudson River Museum in Yonkers, New York and curated by Bartholomew Bland. March 9 to July 15, 2012 at the Palazzo Strozzi in Florence, Italy.

EXQUISITE CORPSES: DRAWING AND DISFIGURATION

Steve Gianakos. She Could Hardly Wait. 1996. Oil and ink on cut-and-pasted printed paper, 27 x 27 1/2" (68.6 x 69.9 cm). The Judith Rothschild Foundation Contemporary Drawings Collection Gift. © 2012 Steve Gianakos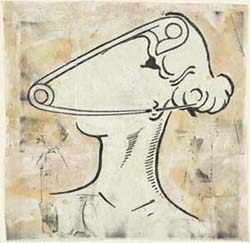 In a collaborative, chance-based drawing game known as the exquisite corpse, Surrealist artists subjected the human body to distortions and juxtapositions that resulted in fantastic composite figures.

This exhibition considers how this and related practices - in which the body is dismembered or reassembled, swollen or multiplied, propped with prosthetics or fused with nature and the machine - have recurred in art throughout the 20th century and to the present day.

Artists from André Masson and Joan Miró to Louise Bourgeois and Robert Gober to Mark Manders and Nicola Tyson have distorted and disoriented our most familiar of referents, playing out personal, cultural, or social anxieties and desires on unwitting anatomies.

If art history reveals an unending impulse to render the human figure as a symbol of potential perfection and a system of primary organization, these works show that artists have just as persistently been driven to disfigure the body.

Works from artists such as Joan Miró, Louise Bourgeois, and Mark Manders are included in the show.

Organized by Samantha Friedman, Curatorial Assistant, with Jodi Hauptman, Curator, Department of Drawings.

March 14–July 9, 2012 at MoMA in New York City.

EGYPTOMANIA

Bottle designed by Baccarat, for Bichara, Mounira, c. 1930, glass and thread, the MFAH, the Alice and Mike Hogg Collection, gift of Alice C. Simkins.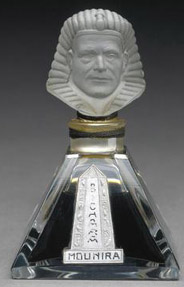 explores the Egyptian Revivals of the 18th, 19th, and early 20th centuries through objects from across the MFAH collections, including Georgian garden sphinxes, 19th-century "Aegyptian" furniture, and Art Deco perfume bottles with pharaoh-head stoppers.

Egyptomania also marks the 90th anniversary of the discovery of King Tut's tomb by British archaeologist Howard Carter - which began the revival of the 1920s.

"Westerners have long had an enduring romance with the idea of Egypt and its ancient people, of whom only their grand edifices really remain. We are captivated by their poignant narrative and other-worldliness," said Christine Gervais, associate curator of decorative arts and Rienzi. " Egyptomania captures the way this fascination translates into European and American decorative arts objects, from clocks, perfume bottles and ceramics to Tiffany glass and Wedgwood."

The fascination for Egypt has been repeatedly rejuvenated. Napoleon's Egyptian Campaign (1798-1801), the opening of the Suez Canal (1869) and the 1922 discovery of King Tutankhamun's tomb by English archaeologist Howard Carter all intoxicated the public, resulting in the reflection of Egyptian influences in Western culture, including literature, art and architecture. The exhibition focuses primarily on such trends in the decorative arts, where the influence can be seen in design motifs and symbols, as well as in actual forms.

Francis Frith, for instance, made a career of photographing Egypt and Palestine, and his beautiful photograph, The Pyramids of Dahshoor, from the East (1857), will be on view. Similarly, Francis Bedford went on a Tour in the East, accompanying His Royal Highness the Prince of Wales by command, and made many pictures in the 1860s, including Thebes–Interior of the Hall of Columns at the Temple of Karnaak, Looking South (1862). The description of G. Zangaki's' Thebes, Fallen Statue of Rameses (c. 1890), depicting a monumental figure lying fallen and cracked in the sand, spurred Percy Bysshe Shelley to write his famous poem on the decline of great leaders and empires, Ozymandias. Two silver serving pieces, a Sardine Fork in the Lotus pattern and a Nut Spoon in the Isis pattern, were made in the 1860s and 1870s by the Gorham Manufacturing Company. An iridescent gold vase made by Tiffany Studios, c. 1912, is decorated with an Egyptian collar in green and gold inspired by archaeological finds made at Tel el Amarna in 1892.

In addition, the Egyptian theme can be seen in glamorous, women's dressing room items, such as Art Deco perfume bottles, titled Sakountala and Mounira, which feature amusing pharaoh-head stoppers. Jewelry will also be on view, including Scarab Necklace, c. 1870, and Winged Scarab Pin, c. 1875. Both feature the popular beetle amulet—the first strung with actual dung beetles, in a brilliant emerald hue, imported from South America specifically to meet the craze for Egyptian-like scarabs.

Opening March 18, 2012, the works will be on view through July 29, 2012 at the Museum of Fine Art in Houston.


SWEET CHARITY


PENN JILLETTE the vocal half of the magical duo Penn and Teller, is currently appearing on Celebrity Apprentice, working on behalf of his charity of choice, Opportunity Village. He was team leader when he group won and last week Jillette proudly presented the amazing Las Vegas based charity with a check for $40,000.

The non-profit provides work for people who have IQs under 70, suffering from conditions that include Down syndrome, autism and disabilities from fetal alcohol syndrome.


GERMAN THEATRE MIRRORS BROADWAY
Artistic Director Daniel John Nicolai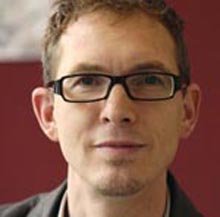 Head to the English Theatre in Frankfurt, Germany and you might think you're on Broadway - from the joyous musical mainstream productions to the edgy and controversial, which have even garnered threats and required beefed up security.

Bringing in productions from Broadway and The West End, currently enjoyed brisk business is The Who's Tommy the legendary rock musical by Pete Townshend/ Des McAnuff. Originally scheduled to play through February 1, the popular production has been extended through April 1 and features Tommy (Leo Miles), Young Tommy (Max Schwartzkopff), Acid Queen (Kimmi Edwards), Cousin Kevin (Giovanni Spanó), Lover (Simon Hardwick), and Mrs. Walker (Natalie Langston). That will be followed by Rain Man, a play by Dan Gordon based on the 1988 film. That opens April 20 with a run through June 17, 2012.

Germany's oldest professional English theatre is run by a large team of young, energetic and talented professionals - who aren't afraid to mount the controversial.

Executive and artistic director Daniel John Nicolai took over in 2002.

In 2006 he didn't hesitate to show is backbone. While Berlin's cultural establishment is in an uproar over the recent cancellation of a controversial staging of a Mozart opera for fear of Islamist attacks, Nicolai didn't blink and went ahead with staging The Last Virgin, promoted as "a bluntly satirical play about Muslims and Jews in the Middle East."

According to The New York Times The play, by the husband-and-wife team Tuvia Tenenbom and Maria Lowy, "is an absurdist comedy about false identity that takes aim at a variety of targets, from President Bush and Hamas to Jews and Muslims. Mr. Tenenbom, founder of the Jewish Theater of New York, is Israeli-born."

The Last Virgin opened at the English Theatre in Frankfurt after a successful run in New York in 2003, which prompted protests from Jewish leaders, who demanded that it be closed down.

While courageous in his production, Nicolai isn't a fool and posted extra security outside the theatre and patrons were not allowed to bring bags into the theatre.

"Members of the German-Israeli Society, which works to further relations between the countries, wrote to the theater condemning the play as anti-Semitic and anti-Israeli," according to 2006 coverage in The New York Times.

"Mr. Tenenbom defends his work, saying it was meant to explore the complexities of the Middle East in human rather than intellectual terms. The Last Virgin, features an Arab man, a Jewish man, an Arab woman and a double agent; the identities are masked and only revealed toward the end. The language is coarse and the story line outlandish. Jews are referred to as donkeys; Hamas supposedly works for the C.I.A."



Tina the Mascot helps to keep everyone in a good mood.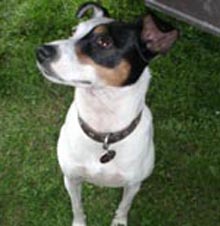 Six years later the English Theatre has a worldwide reputation.

Frankfurt's English Theatre bounced back from insolvency in 2001. The company moved into its new, 300-seat home in the autumn of 2003. Now it is the largest English-language theatre on the European continent, having surpassed its Viennese counterpart in seating capacity.

Catering to international audiences "which include students of English as well as native speakers." The company presents "distinguished plays of all genres in the original English on a professional basis in our efforts to contribute to international communication through language and the art of the theatre."

Press representative Christian Teske provided some answers to questions posed by Broadway To Vegas.

Does the government control or oversee what you produce?

"We are German company and German government, by law, doesn't have any rights to control theatre productions or cultural events of any kind."

Your theatre is sponsored by the Dresdner Bank. Do any of their officials have control over what is produced?

"Commerzbank (former Dresdner Bank) provide our space and we have no obligations towards them or any other sponsor."

Are there a lot of English speaking expats in Germany? Who makes up your audience?

"We are located in Frankfurt, Germany. Our audience is 80% German speaking and 20% expats."

Is there any community involvement in your theatre such as interns or volunteers?

"Yes, we have interns but no volunteers."

What positions and what training do you offer them?

"They get their training according to the department they assigned for: technical, backstage, management, box-office or events."

The Drama Club appears to be only German.

"The Drama Club is something completely different. They do plays with local professional and non-professional actors."

Subsidies reportedly make up just 25 per cent of the English Theatre's budget. Ticket revenues cover about 60 per cent of the costs. Sponsors, which are hard to get, cover the rest. Nicolai instituted co-productions with other theatres to help stabilize expenditures as costs for casting, stage design and rehearsals are shared. The English Theatre does not have its own ensemble. Directors, actors, singers, dancers and musicians - most of whom are from London - are hired per production. Are all productions cast in London, or if that just where the casting director is based?

"All our productions are cast in London or New York. Including directors and creative team."

Where are rehearsals held?

"First three to four weeks rehearsals take place in London and then we transfer them to Frankfurt for the finishing two weeks."

Do you provide your stars with housing and food?

"We provide accommodation for our actors and creative team and they get weekly per diems."

In American there are very strict fire codes for theatres ranging from the type of paint that can be used to the number of people in a building. Are you faced with such regulations?

"Yes, there are very strict codes for theatres. This is Germany, it is all about rules and regulations."

Only the season's program is put together in Frankfurt. That has included Spring Awakening, Oliver!, City of Angels, Seussical, A Streetcar Named Desire, The Full Monty, Hair, Educating Rita, Waiting For Godot, Jesus Christ, Superstar and Visiting Mr. Green.

You've been in business a long time and the road to your success has had some bumps - yet despite artistic changes and physical moves, the English Theatre Frankfurt has survived. What has been the hardest to accomplish and what is most rewarding?

"Well, like in every other theatre, the hardest thing is to get the bloody people in and of course to have a full house every night is just a pure pleasure."


THE YEAR OF NOEL COWARD BEGINS MARCH 12
Noel coward performing at the Desert Inn Hotel in Las Vegas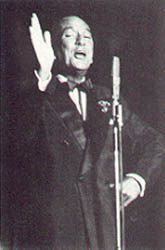 Noël Coward who opened his cabaret act at the old Desert Inn in Las Vegas and "tears the place up," performing Mad Dogs and Englishmen, I'll See You Again, London Pride and I Went to a Marvellous Party, once said: "Star Quality: I don't know what it is, but I've got it." His inimitable style - cigarette in hand and twinkle in his eye - is being celebrated in The Year of Noël Coward Festival in New York City which begins March 12.

In 1955, Coward's cabaret act at Las Vegas, recorded live and released as an LP called Noel Coward at Las Vegas, was so successful that CBS engaged him to write and direct a series of three 90-minute television specials for the 1955–1956 season. ( See Broadway To Vegas column of March 30, 2003 ).

The first of these, Together With Music, paired Coward with Mary Martin, featuring him in many of the numbers from his Las Vegas act. It was followed by productions of Blithe Spirit in which he starred with Claudette Colbert, Lauren Bacall and Mildred Natwick and This Happy Breed with Edna Best and Roger Moore.

The New York City festival celebrating Noël Coward is anchored by a major exhibition at the New York Public Library for the Performing Arts that focuses on Coward's rich career in theater, music, stage and screen.

Other participating organizations include Jazz at Lincoln Center, The Paley Center for Media, The Juilliard School, The Actors Company, TACT, The Mabel Mercer Foundation, The Light Opera of New York, and The Drama Bookshop.

Star Quality: The World of Noël Coward, a major exhibit about an extraordinary figure who was a true icon of the 20th Century.

The exhibit will open to the public on March 12, 2012 following a private event gala the night before, and runs until August 18 in the Donald and Mary Oenslager Gallery, The New York Public Library for the Performing Arts at Lincoln Center.

This is an enhanced version of an exhibition seen initially at Ten Chimneys in Wisconsin, and then at London's National Theatre; San Francisco's Museum of Performance & Design; and the Academy of Motion Picture Arts and Sciences in Los Angeles. One of several new features of this enhanced exhibition is a focus on Coward's work in, and love for, the City of New York.

The exhibition of Sir Noël Coward will include photographs, programs, scripts, costumes, personal effects, memorabilia, and other objects, many previously unseen; as well as a considerable audio and video component.
It will covers his relationship with Hollywood, his worldwide celebrity status, and an extensive section on his life-long love of New York, which began in 1921 and his work as a spy during the Second World War.

In 1938 Coward is recruited by the British Foreign Office who instructed him to "go around being 'Noël Coward'" and gauge foreign attitudes to the war that is clearly imminent.

On the outbreak of war the following year, he was sent to Paris to open an Office of Propaganda. There he concluded that "if the policy of His Majesty's Government is to bore the Germans to death I don't think we have time."

In 1940 he was sent to America. His task was to use his celebrity to influence American public and political opinion in favor of helping Britain. Since America was still neutral, this made him technically a spy. On the visit he became a confidant of Roosevelt - which didn't endear him to Churchill! Then he begins a series of visits to war zones.

He was frustrated by British press criticism of his foreign travel while his countrymen suffered at home, but he was unable to reveal that he was acting on behalf of the Secret Service.

In 1942, King George VI intended to award Coward a knighthood for his efforts, but was dissuaded by Churchill.

Had the Germans invaded Britain, Coward was scheduled to be arrested and killed, as he was in The Black Book along with other figures such as Virginia Woolf, Paul Robeson, Bertrand Russell, C. P. Dnow and H. G. Wells.

When this came to light after the war, Coward wrote: "If anyone had told me at that time I was high up on the Nazi blacklist, I should have laughed ... I remember Rebecca West, who was one of the many who shared the honour with me, sent me a telegram which read: 'My dear – the people we should have been seen dead with'"

When he wasn't playing spy, he was earning plaudits elsewhere.

Items on display in the exhibit include one of the Oscars awarded in 1933 for Cavalcade, his 1971 special Tony Award, the Irene Sharaff gown worn by Florence Henderson in The Girl Who Came to Supper, original costume and set design sketches by Gladys Calthrop, Edward Molyneux, and Cecil Beaton, and of course several notable dressing gowns worn by Coward.

The Exhibition will also feature original letters, lyrics and manuscripts as well as some of the remarkable first night gifts given by and to Coward during his extraordinary career which reveal much about the man and the era in which he lived.

Materials are drawn from the previous versions of the exhibition, cultural institutions, and private lenders, and feature new and rare material from the world-class archival collections of The New York Public Library for the Performing Arts. Star Quality, in its New York incarnation, represents the most comprehensive exhibition on Noël Coward ever to have been presented. In addition, a series of related public and educational programs will be presented, in conjunction with the exhibition.

Those include:

In collaboration with the Film Society of Lincoln Center, a major film retrospective featuring Coward as producer, writer, director and actor, which will run during the weekend of May 11 -13.

The Academy of Motion Picture Arts and Sciences will host a special screening of the Oscar winning Cavalcade featuring celebrity guests on March 12.

From June 2-16, Feinstein's at Loew's Regency will present Christine Ebersole and Edward Hibbert in an entertainment called Love, Noel written by Barry Day.


ELVIS PRESLEY'S PHARMACY CLOSES
Elvis Presley got his prescriptions filled at White Cross drug in Las Vegas.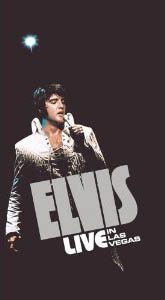 White Cross Drug in Las Vegas was where Elvis Presley got his prescriptions filled when he was in town.

A Sin City landmark for 57 years, the pharmacy section in the white building on the corner of Las Vegas and Oakey Boulevards - the first 24-hour pharmacy in Las Vegas - closed last Tuesday.

The drug store portion will shutter at the end of the month.

White Cross held bragging rites to celebrity clients. Those included not only Elvis Presley but Frank Sinatra, Liza Minnelli and various Rat Pack members.

Other customers included Rip Taylor, singers Marilyn McCoo and Billy Davis Jr., actor Tony Curtis, rapper Ludacris and illusionists Siegfried and Roy.

Located in what is now a run down area with a high crime rate, the supplier Cardinal Health suddenly cut off the independent pharmacy from controlled drugs on October 11. Having depleted their supply of pharmaceuticals, that meant - no pharmacy.

Their pharmacy customers were transferred to a drug store chain.


ON STAGE AND IN GOVERNMENT - CURBING VIOLENCE AGAINST WOMEN


Boston University of Fine Arts is currently in a year of creative discussion around the concept of violence, as expressed through a range of artistic works on the theme. ( See Broadway To Vegas column of August 28, 2011 ). Their final production in the violence series is Assassins which opens on May 4.

International Women's Day which takes place every year on March 8, received some significant bolstering by British Prime Minister David Cameron - including piloting Clare's Law.

A statement from him released by No. 10 Downing Street in part states:

"Violence against women is an iceberg under the surface of society. Every day millions around the world live in fear. A woman caught up in conflict in Eastern Congo dreads being raped. A girl in the Horn of Africa is forced into genital mutilation. A woman in London is threatened with violence but can't get anyone to take her seriously."

By the way, genital mutilation - which is a form of torture - is not something confined to the ignorant of third world countries. I know a woman who has a long, active involvement in Midwest community theatre and, until recently, had a Facebook self description which, in effect, was - an old, fat broad whose favorite pastime was drinking. I knew her when she was a young, thin broad whose favorite pastime was drinking. While getting wasted with a male friend she used to encourage him to have genital mutilation performed on his wife.

"It is despicable that in the 21st century so many medieval practices and attitudes remain," continued the Cameron statement. "And it is appalling that time and again, this is shoved under the carpet. People turn a blind eye and a culture of shame and secrecy is perpetuated.

"That's why ending violence against women and girls is a priority for this government.

"We are challenging the behind-closed-doors mentality and shining a light under the rocks to root out violence and intimidation where it's happening - at home and abroad.

"At home we've protected central government funding for tackling violence against women - including funding for vital rape support centres.

"We're piloting Claire's Law, which will help victims, or potential victims, of domestic violence by disclosing information about previous violent-offending by their partner. This is to prevent tragic cases like that of Clare Wood, who was killed by a man she had become involved with - because she had no idea he'd committed a string of violent offences.

"And today we can announce another big step: making stalking a criminal offence in its own right. Stalking is an abhorrent crime. It makes life a living hell for the victims - breaking up relationships, forcing the victims to move house, making them feel they are being watched 24 hours of the day. That's why we are explicitly criminalising stalking, to make sure that justice is done, protect the victims and show beyond doubt that stalking is a crime.

"We're acting abroad too. In Zambia we're providing thousands of survivors of violence with legal, medical and psychological support. In Ethiopia we're expanding a programme that has been massively successful in preventing child marriage - with the ambition of stopping 200,000 girls from being married out young. In South Asia we've launched a new anti-trafficking programme, which aims to stop 60,000 women and girls being dragged into modern-day slavery.

"But of course we're stronger if we act together with other countries. That's why today we can confirm we are working towards signing The Council of Europe's Convention on Violence Against Women and Domestic Violence, before ratifying the treaty and so incorporating it into UK law. This is a landmark agreement between countries that together we're going to drag this problem into broad daylight and tackle it head-on."

In America last year, President Obama signed the Child Abuse Prevention and Treatment Act, which included reauthorization of the Family Violence Prevention and Services Act (FVPSA) FVPSA funds nearly 1,700 shelters and service programs for victims of domestic violence and their children. It also supports the National Domestic Violence Hotline, whose staff and volunteers answer more than 23,000 calls for help each month and link victims with the resources they need to rebuild their lives.

In August 2011, as part of the Affordable Care Act, the Department of Health and Human Services announced historic new guidelines that will ensure women receive preventive health services without additional cost, including domestic violence screening and counseling.

In October town hall meetings were held in ten regions of the country to promote the role of men in speaking out about violence against women.

On April 4, 2011, Vice President Biden and Secretary of Education Arne Duncan introduced comprehensive guidance to help schools, colleges and universities better understand their obligations under federal civil rights laws to prevent and respond to the problem of campus sexual assault.

The Vice President launched the 1is2many initiative in September 2011 on Twitter and through the Whitehouse website with a call to college students to take actions against dating violence and sexual assault.

The U.S. Department of Justice's Office on Violence Against Women (OVW) provides ongoing federal leadership to reduce violence against women and administer justice for and strengthen services to victims of domestic violence, dating violence, sexual assault, and stalking.

Funding is provided to local and state and tribal governments, courts, non-profit organizations, community-based organizations, secondary schools, institutions of higher education, and state and tribal coalitions.

These entities work toward developing more effective responses to violence against women through activities that include direct services, crisis intervention, transitional housing, legal assistance to victims, court improvement, and training for law enforcement and courts.

The Akshara Centre, based in India, is working towards a Gender Just Society, "a society where women can live with dignity, free from violence and discrimination.

Akshara believes in "empowering both young men and women to change public awareness, and social systems.

Theatre is one of their message tools.

As far back at 2004 Akshara produced the play Lai Ded with Meeta Vasisht depicting the life of the Kashmiri poet, saint and sufi singer. She used an unusual blend of dance movements inspired by Koodiyattam and the Japanese Noh with recitation and songs in English, Kashmiri and Hindi.

In November, 2011, Akshara performed a series of street plays to combat "evil teasing."

Much like the American television program What Would You Do? a group of male student actors, lead by teacher Rashmi Mishra, from the RN Podar School in Santacruz 'evil teased' a girl actor on the Santacruz skywalk. It was an enactment of a scene that plagues women every day in the city to see if any passers by helped or remained uninvolved.

Anyone who stepped forward to help received a round of applause.

Then the school conducted a panel discussion and staged a presentation for students on the problem of sexual harassment and how to guard against it.

Akshara also performed a street play called Ched Chad Band Karo at five different locations in Dadar as part of their signature campaign.

"We want to address the men because women have to take a stand," said Nandita Shah, co-director of Akshara. "They are responsible for the crime." Both men and women participated in the street performances.


PRISON INMATES STAGE LES MISERABLES FOR CONVICTS AND ROYALS
Camilla, Duchess of Cornwall meets Pimlico Opera Director Michael Moody (L) as she arrives to watch a performance of Les Miserables performed by the Pimlico Opera and prison inmates at HMP Erlestoke Prison on March 2, 2012. Photo AP for Clarence House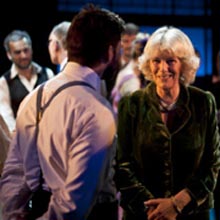 It's not unusual for royalty to attend theatrical performances. Both Prince Charles and his wife, Camilla, The Duchess of Cornwall are noted for attending numerous lavish, red carpet opening night productions.

There was a new twist when Camilla watched a performance of Les Miserables - from inside a prison.

Her Royal Highness joined nearly 300 members of the public in the gym of Erlestoke Prison, near Devizes, Wiltshire to watch prisoners and professionals perform their version of the musical.

A dozen inmates of the Category C prison either took to the stage or worked behind the scenes for the two-hour show.

Convicts worked alongside members of the Pimlico Opera to bring the story of prisoner Jean Valjean to life.

Together they performed a total of eight sold out shows - including two performances for fellow inmates - during the week-long schedule which ended last night.

The Duchess was joined at the performance by Prisons Minister Crispin Blunt, Pat Geenty, the acting chief constable of Wiltshire Police, Sarah Troughton, the Lord Lieutenant of Wiltshire, and prison governor Andy Rogers.



Camilla, Duchess of Cornwall meets inmates after she watched a performance of Les Miserables performed by the Pimlico Opera and prison inmates. Photo:Getty/Clarence House.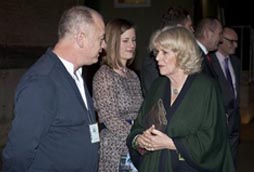 After the show Camilla was introduced to members of the cast and crew - including prisoners.

Jean Valjean was played by professional singer, tenor Anthony Flaum who graduated with distinction from the Musical Theatre Course at the Royal Academy of Music in 2006 and speaks advanced German, Spanish, French and Hebrew. The Duchess complimented Flaum, telling him: "It was fantastic, it really was."

Victor Hugo's story tells of the courage and moral fibre of prisoner Jean Valjean who is released after 19 years in a chain gang. Intent on making the world a better place, he rises, against all odds, to become mayor. At the outbreak of the revolution his sympathies lie with the student protestors whom he joins at the barricades to confront his old enemy, the cop Javert.

In addition to Flaum playing Valjean the production starred:

Nicholas Dwyer, who recently played Marcello in LaBoheme at The Soho in London, as Javert.

Mezzo-soprano Caryl Hughes portrayed Cosette. Hughes graduated with distinction from the Royal Academy of Music in 2007. She also holds a BA (Hons) in Law from the School of Oriental and African Studies, London. She went on to receive an inaugural HRH Prince of Wales Scholarship for Advanced Study in Music to attend Cardiff International Academy of Voice.

Jennifer Meldrum appeared as Fantine. This wasn't the first time Meldrum performed behind bars. In 2006 she starred as Roxy Hart in Chicago, at Her Majesty's Prison Bronzefield, a woman's lock-up close to Heathrow Airport. Those attending that show were advised not to bring firearms, leave cell phones behind, and were frisked by female officers using a wand. No chewing gum wrapped in silver foil was permitted - the foil being the problem.

Rachal Olivant appeared as Eponine. Olivant began her career as a child performer on the Radlett stage. She comes from a performing family. Her mother Christine plays violin and teaches at Watford School of Music while her dad, detective constable Keith Oliphant, is in a band and her older brother Ben plays keyboards and writes his own songs as well as playing in indie pop outfit The Rockets.

Victoria Ward portrayed Mde Thenardier. Victoria Ward and Ivan Sharpe form the romantic duo, Amanti, a London based cabaret duo when they aren't performing in an opera.

The Chorus included: Emma Sewell, Alys Metcalf and Emilia Pountney.

The inmates who had both early morning and late night rehearsals, only found out shortly before the curtain rose that an honest-to-goodness Royal would be watching their performance.

Pimlico Opera has been performing in prisons for more than 20 years, unlocking talent, instilling confidence and showing all the participants that they really can think differently about themselves and their future. It shows prisoners that working towards a larger common good is uplifting and that hard work and discipline brings about great rewards - including being cheaper than recidivism.

A survey by New Philanthropy Capital concluded that recidivism costs the taxpayer approximately $21.3 billion a year and that engaging prisoners actively in arts projects could as much as halve expected re-offending rates.

A similar statement was issued this week in America during a California Arts Symposium held in Sacramento.

"There have been a lot of studies that show that communities that have a thriving arts culture have less homelessness and fewer social problems," Kim Klein of Klein and Roth Consulting said."

Some American prisons have also staged prisoner productions. ( See Broadway To Vegas column of January 2, 2005 ).

At the Pimlico Opera project there is a professional production team: the director, designer, lighting, stage managers, wardrobe mistress and more. Then there are professional singers who take the largest roles. Some prisoners decide to be performers and others work alongside the technical staff backstage.

Not every prisoner succeeds. Reportedly, some prisoners who sign up "don't clear security and some drop out when they realise it's bloody hard work," director Michael Moody has been quoted as saying.

For those who do succeed, Pimlico supports some of prisoners when they are released - either by helping them find work in the theatre or by guiding them to professional training. Pimlico Opera is trying to obtain an educational accreditation for the project.

There have been 20 projects in prison, each lasting 6-8 weeks, which culminate in public performances in which inmates share the stage with professionals.

Pimlico Opera's work in prison is entirely privately funded. A project costs around $284,000 and ticket sales cover less than half. The rest comes from private individuals and Trusts. Depending upon heir donation level, personal donors are classified as The House of Lords, Home Secretaries, Judges, Governors, or Jailbirds.

Besides the obvious educational and rehabilitative opportunities for prisoners, these annual events have become a focus for how prisons might better serve society and help prisoners to become good and useful members of the community. The Company has taken nearly 50,000 public into prison and has worked with more than a thousand prisoners.

The first collaboration was Sweeney Todd with Wormwood Scrubs inmates serving life sentences (described by The London Times as the coup de théâtre of 1991). A collaboration with HMP Wandsworth in Guys & Dolls was the subject of a BBC documentary nominated for a BAFTA award. In Dublin's historic Mountjoy prison the project was met with great acclaim and a gala performance was attended by then President Mary Robinson.

Productions selected tend to have an inflammatory subject matter or at least an adult, criminal aspect in their storyline, which are more relatable to the harden criminals. Musicals have included West Side Story and Assassins.


SPREADING THE WORD


REMEMBERING JERRY ORBACH In this installment of the New York Public Library's on-going series, Life Upon the Wicked Stage: New Books in the Performing Arts, author John Anthony Gilvey presents excerpts from his biography titled, Jerry Orbach, Prince of the City: His Way from the Fantasticks to Law and Order.

The presentation will include readings and archival video of the beloved actor.

Monday, March 12, 2012 at the New York Public Library for the Performing Arts, Dorothy and Lewis B. Cullman Center, Bruno Walter Auditorium, NYC.

ANIMAL HOUSE HEADS TO BROADWAY On the 30th anniversary of the drug overdose death of John Belushi, who became a household name in the 1978 movie, Universal Pictures announced that National Lampoon's Animal House are bring their grossed-out antics to The Great White Way.

A deal has been inked with playwright Michael Mitnick to adapt the Harold Ramis, Douglas Kenney and Chris Miller screenplay to the stage and Barenaked Ladies will pen the score.

Tony Award winner Casey Nicholaw, director and choreographer of The Book of Mormon, will repeat those duties in Animal House: The Musical.

Matty Simmon, National Lampoon magazine founder and a producer of the Animal House film, has been named executive producer of the Broadway project. Theater mogul James Nederlander, president of the Nederlander Organization, is listed as a producer of the show.

CIRQUE DU SOLEIL'S ZARKANA TO REPLACE VIVA ELVIS who officially leaves the building on August 18. Zarkana moves in, beginning performances on October 25 with the official opening slated for November 8.

Zarkana is a modern rock opera with a proven track record. It's already been seen by more than 1 million people and even makes a return stop to Radio City Music Hall in NYC on May 5. Last year at Radio City the production sold 550,000 tickets.

The show has been mounted in Madrid, Spain selling 300,000 tickets and a version is currently at the Kremlin Theater in Russia with over 330,000 tickets sold. Zarkana ends its run in The Big Apple September 3. The next day the scenery and equipment begins its trek across the country.

HEART DRUG CAN ALTER RACIAL ATTITUDES is a great premise for a suspense thriller or a farce. It's also the conclusion presented by Professor Julian Savulescu of Oxford University's Faculty of Philosophy, a co-author of the study. "Such research raises the tantalizing possibility that our unconscious racial attitudes could be modulated by using drugs, a possibility that requires careful ethical analysis."

The researchers believe propranolol reduces racial bias because such subconscious thoughts are triggered by the automatic nervous system. Propranolol, a beta-blocker; helps lessen racial fear by blocking nerve circuits that govern the heart rate and the part of the brain linked with emotional responses.

Propranolol is most often used to reduce high blood pressure by lowering the heart rate, as well as angina and irregular heartbeat. It is also used to manage the physical symptoms of anxiety, and control migraine.

"Biological research aiming to make people morally better has a dark history. Propranolol is not a pill to cure racism. But given that many people are already using drugs like propranolol which have 'moral' side effects, we at least need to better understand what these effects are," Professor Savulescu said.

The researchers found that people who took propranolol scored significantly lower on a standard test used to detect subconscious racial attitudes, than those who took a placebo. The small study was published in Psychopharmacology.

Sylvia Terbeck, lead author and experimental psychologist at Oxford University, said: "Implicit racial bias can occur even in people with a sincere belief in equality. Many people with medical conditions are probably already on drugs which affect subconscious bias. More research is needed into how drugs which affect our nervous system affect our moral attitudes and practices."

Chris Chambers, Senior Research Fellow at the School of Psychology, Cardiff University, said the finding was "remarkable" but should be viewed with "extreme caution".


OTHER PEOPLE'S MONEY


ELLEN DeGENERES can claim victory over One Million Moms, a misguided, if not downright idiotic, pro-advocacy group that demanded the delightful DeGeneres be fired as spokesperson for J. C. Penney - an American institution which sells some fine products. The group's director Monica Cole told One News that they were calling off their campaign. However, Cole did insist that many of her group's members would no longer shop at J.C. Penney as long as DeGeneres remains affiliated with the company.

The group's big problem is that DeGeneres is gay. Broadway To Vegas suggests to all members of One Million Moms that before they call a policeman, a fireman or a hospital they should first inquire as to whether anyone working there is gay. One Million Moms should also check out to make sure they don't purchase food, clothes or toys from any company which has any gay employees. Then all of the members of One Million Moms should move to a desert island and try to get a life.






TWELVE ANGRY MEN

Tony nominee Gregg Edelman stars in Twelve Angry Men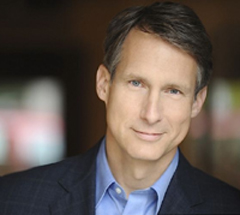 by Reginald Rose. Directed by George Street Playhouse's artistic director David Saint.

This production was to have starred three-time Emmy winner Jack Klugman, the last living cast member from the 1957 movie of Twelve Angry Men, who then played the young Juror 5. He was to have stared in this production as the eldest of the twelve, Juror 9. Klugman, who will turn 90 next month, was advised by his doctors not to take on the taxing role. Then Emmy winning All My Children star David Canary, who took over for Klugman, was forced to withdraw from that role because of a family emergency, announced David Saint, the artistic director of the theater. Terry Layman, a veteran stage and TV actor who understudied the part in the 2004 Broadway revival, will take over as Juror 9.

The production features Tony nominee Gregg Edelman with Jim Brachitta, David Adkins, Lee Sellars, David Schramm, Jonathan Hadary, John Bolger, Scott Drummond, James Rebhorn, Michael Sirow, Jonathan C. Kaplan and Andrew Nogasky.

It's a case of life and death.

Before there was Law and Order, Perry Mason or Matlock – there was Twelve Angry Men. The landmark television drama, turned major motion picture and Broadway blockbuster, begins as twelve men enter an airless jury room on a blistering summer day. Their task is to return a verdict against an inner-city youth charged with the murder of his father, where a guilty vote equals a mandatory death sentence. As the curtain opens, the twelve men are instructed by the judge on the gravity of their deliberations, saying that if there is the slightest doubt in their minds as to the guilt of the defendant, they must acquit. With testimony from two witnesses, their deliberations should be brisk. Eleven members believe that the young man is guilty; one juror – Juror 8 – is not convinced, and asks the others to persuade him.

The drama depicts a jury forced to reconsider its nearly unanimous decision by the single dissenter who sows a seed of reasonable doubt. Throughout their deliberations, the men do not even call each other by name – because they don't know their names. But as the deliberation goes one, they learn more about each other than they ever bargained for.

Set design by R. Michael Miller, costume designer Esther Arroyo and lighting and sound designer Christopher J. Bailey.

March 13 through April 8 at George Street Playhouse in New Brunswick, NJ.

THE MANY MISTRESSES OF MARTIN LUTHER KING by Andrew Dolan.

Rod Menzies directs the world premiere of an Ensemble Studio Theatre/LA production in which
The Many Mistresses of Martin Luther King "explores racial issues in a bold and dangerous way. Set in a university town, the politics of academia weave through the narrative as egos collide, relationships buckle, and the content of character is put to the test. Broadway actor Philip Casnoff stars as Simon Case, a white sociology professor who has married his much younger African American graduate student, Lashawnag, played by OBIE Award winning actress Tracey A. Leigh. Theo Perkins is her ne'er do well brother, Anquan, who's come to live with them. Carlos Carrasco, former co-artistic director of L.A.'s Classical Theatre Lab and Ovation Award-winning actress Judith Moreland round out the ensemble as African American professors Augustus and Janine Fryer.

"I've always been fascinated by how people discuss race in America," explains Dolan. "It's the defining social issue in our history. I've seen many plays that address it, but I've always left profoundly dissatisfied because they almost universally pander to the expectations of liberal theatergoing audiences. I wanted to write a play that is not necessarily a reflection of the liberal perspective, and I wanted to write it without apology."

Menzies first directed a reading of The Many Mistresses of Martin Luther King for EST/LA's Festivity/LA new play festival, followed by a workshop production at the Berkshire Playwrights Lab.

Set design for The Many Mistresses of Martin Luther King is by Tom Buderwitz; lighting design is by J. Kent Inasy; sound design is by John Ballinger; costume design is by Naila Aladdin Sanders; the stage manager is Rachel Manheimer; production manager is Amanda Weir; and the producers are Gates McFadden and Laura Hill.

The Many Mistresses of Martin Luther King begins previews March 15 with a run through April 29 at Atwater Village Theatre in Atwater, CA.

FREUD'S LAST SESSION on Friday, March 16th welcomes George Morfogen and Jim Stanek to the cast of Off-Broadway's award-winning hit appearing as Sigmund Freud and C. S. Lewis respectively. Original cast members, Mark H. Dold and Martin Rayner, are taking their show on the road and opening the Chicago production of Freud's Last Session, beginning performances March 21st at the Mercury Theatre.

Additional productions of Mark St. Germain's hit play are set to open into 2013 in major markets across the nation and around the world, including London, Madrid, Tokyo, Rio de Janeiro, Los Angeles, Mexico City, Seattle, Indianapolis, and Pittsburgh.

THE FABULOUS PALM SPRINGS FOLLIES welcome the 1950s Doo-Wop Group The Diamonds into the star slot.

Their hits include Why Do Fools Fall In Love?, Little Darlin' and The Stroll. Now, over 55 years since the first of their 16 Billboard hits, this Hall of Fame vocal group makes its Follies debut March 13 - May 20, 2012.

Today, the quartet is comprised of Gary Owens, 60; Jerry Siggins, 64; Jeff Dolan, 53; and Shawn Stevens, 53, who continue proving the durability of their distinctive brand of classic rock-and-roll.

During its 21 seasons, The Fabulous Palm Springs Follies has been seen by nearly three million patrons, and celebrates the music and dance of Mid-Century America with a cast ranging in age from 58 to 82 years "young."

The show features lavish, Broadway-caliber production numbers, and plays five days a week from November through late-May. In 1997, it was the subject of an Oscar-nominated short documentary entitled Still Kicking: The Fabulous Palm Springs Follies. The show is housed in downtown Palm Springs' historic Plaza Theatre, in Palm Springs, CA.

MY OCCASION OF SIN by Monica Bauer, directed by Frances Hill.

Inspired by true events that led to a race riot in the author's birthplace of Omaha, Nebraska, My Occasion of Sin is set in a segregated city in 1969. Two men from very different backgrounds: Luigi, an African American jazz drummer and George, a white music store owner who specializes in the accordion, are thrown together by fate, finding common ground in their love of music. At the same time, Mary Margaret and Vivian, two young girls from opposite sides of the segregated city, each drink in the new jazz scene for reasons of their own. Music seems to unite and uplift everyone around … at first. Soon "occasions of sin" – where fear, mistrust and racism fester – are inescapable. Violence erupts, changing everyone's lives forever.

The cast includes Rosebud Baker, Janice Hall, Royce Johnson, Scott Robertson and Danielle Thompson.

The production design team includes Roman Tatarowicz (set design), Deborah Constantine (lighting design), Kevin R. Frech (projection design), Sean Hagerty (sound design), Anna Lacivita (costume design), Debra Stunich (stage manager), Eric Zoback (technical director) and Kire Tosevski (props).

The script was first developed by Nebraska Repertory Theater with a grant from the Hixson-Lied Foundation. Further development was done at the Great Plains Theatre Conference, the Shelterbelt Theatre in Omaha, the Hamptons Independent Theatre Festival, Penguin Rep and the 2011 Sewanee Writer's Conference, under the mentorship of Pulitzer Prize winning playwright Beth Henley.

March 16 – March 20 at Urban Stages in NYC.

TWO GENTLEMEN OF CHICAGO Falcon Theatre presents Troubadour Theater Company's production, which is directed by Matt Walker.

The Ovation Award-winning theater company is putting their signature spin on Shakespeare's rockin' romantic comedy Two Gentlemen of Verona.

When friends Proteus and Valentine give up another Saturday in the Park and head to the big city of Milan, Proteus' love Julia protests with, "If You Leave Me Now who will Colour My World?" Proteus proclaims, "I Don't Wanna Live Without Your Love but I'm A Man and must go!"

Meanwhile in Milan, the sour-on-love Valentine finds new Beginnings when he encounters the lovely Silvia. But when Proteus meets Silvia, he falls for her as well, and his beloved Julia is NOT such a Hard Habit to Break. Mayhem ensues when both men tell Silvia, "You're the Inspiration". This is a Once in a Lifetime chance and the Troubies are Wishing You Were Here!

Playing March 14 - April 22, 2012 at the Falcon Theatre in Burbank,CA.

WAITING FOR GODOT by Samuel Beckett. Directed by Michael Arabian.

Together for the first time, Alan Mandell and Barry McGovern - two of the most distinguished interpreters of Beckett's work - delightfully debate the meaning of life and the absurdities of human behavior in this elegantly engaging, fiercely funny, relevant and illuminating new production exclusively at the Taper Forum in Los Angeles.

Originally written in French, Nobel Prize winner Samuel Beckett's masterly translation of his seminal work Recognized as the Most Significant English Language Play of the 20th Century, this self-described tragicomedy tells the story of two men on a country road waiting for Godot.

With Alan Mandell, Barry McGovern, James Cromwell, Hugo Armstrong, and LJ Benet.

Set Design by John Iacovelli. Costume design by Christopher Acebo. Lighting and Projection Design by Brian Gale.

March 14-April 22 at The Mark Taper Forum in Los Angeles.

THE MASTER AND MARGARITA directed by Simon McBurney. Adapted from the novel by Mikhail Bulgakov.

A man travels from Moscow to Yalta at the speed of light. A writer burns his novel. A woman goes to hell and back to save her lover. All the while, Pontius Pilate argues with Jesus about the nature of human worth.

The enigmas that bind Bulgakov's violent, poetic maelstrom of a novel are one reason it is hailed as a masterpiece of Russian literature, remaining timeless and vital to this day.

Simon McBurney's award-winning company Complicite returns to the Barbican with a new adaptation of this classic Soviet satire.

Set design Es Devlin. Lighting design Paul Anderson. Sound design Gareth Fry. Costume design Christina Cunningham. Video design Finn Ross. Puppetry Blind Summit Theatre.

Featuring an ensemble cast: David Annen, Thomas Arnold, Josie Daxter, Johannes Flaschberger, Tamzin Griffin, Amanda Hadingue, Richard Katz, Sinéad Matthews, Clive Mendus, Yasuyo Mochizuki, Ajay Naidu, Henry Pettigrew, Paul Rhys, Cesar Sarachu and Angus Wright.

A Complicite production Co-produced by Complicite, the Barbican London, Les Théâtres de la Ville Luxembourg, Wiener Festwochen, Ruhrfestspiele Recklinghausen and Festival d'Avignon in association with Theatre Royal Plymouth.

March 15, 2012 - April 7, 2012 at the Barbican Theatre in London.

On March 24 there will be a Post Show Talk: In conversation with Simon McBurney. A two-day working on March 24-25 will look at Complicite's approaches to devising theatre from text, led by Catherine Alexander.

A BRONX TALE written by and starring Chazz Palminteri.

Palminteri brings 18 characters to vivid life, depicting a young boy's rough childhood in 1960s-era Bronx and the unforgettable people he encountered including a mob boss who takes a boy under his wing and teaches him the ways of a gangster.

March 12-20, 2012 at the Mirage Las Vegas.

ALTAR BOYZ Music and Lyrics by Gary Adler and Michael Patrick Walker Conceived by Marc Kessler and Ken Davenport.

Full of sharp parody, sinfully spectacular dancing and irreverent humor, the delightful Altar Boyz tells the story of five small-town boys - Matthew, Mark, Luke, Juan and Abraham - trying to save the world one screaming fan at a time with their pious pop act, including lyrics like Girl You Make Me Wanna Wait and Jesus Called Me On My Cell Phone.

Don't miss catching Altar Boyz with its extraordinary mix of hilarious songs, this award-winning musical will have the whole family laughing and singing along.

Performances through March 25, 2012 in the Howard and Rhonda Hawks Mainstage Theatre of the Omaha Community Playhouse in Omaha, Nebraska.

On March 2 educators were invited to a special presentation and reception where they had the opportunity to hear from staff, cast or crew about their role in the productions. Then they enjoyed complimentary hor d' oeuvres and an open bar, followed by the mainstage performance of Altar Boyz.


WHO'S WHERE


WYNTON MARSALIS keeps up a hectic pace with a show Monday, March 12, at the Phillips Center in Gainesville, FL on Wednesday the show is at the Peace Center in Greenville, SC. Thursday finds him at Memorial Hall in Chapel Hill, NC. On Friday he can be enjoyed at the Eisenhower Auditorium in University Park, PA. Saturday's stop at is at the State Theatre in New Brunswick, NJ. On Sunday, March 18, he's on stage at Symphony Hall in Boston.

LILY TOMLIN opens a two night stand Saturday, March 17, at the McCallum Theatre in Palm Desert, CA.

CELTIC WOMAN bring their distinctive sound to the Landmark Theatre in Syracuse, NY on Tuesday, March 13. On Wednesday the show is at the Palace Theatre in Albany. Friday the tour stops at the Verizon Wireless Arena in Manchester, NH. On Saturday they are on stage at the Oakdale Theatre in Wallingford, CT. Next Sunday, March 18, they star at the Mohegan Sun Arena in Uncasville, CT.

KELLY CLARKSON performs Monday, March 12, at the Arena in Sioux Falls, SC. On Wednesday she's on stage at the Reilly Family Event Center in Springfield, Mo. Friday's show is at the Fox Theatre in St. Louis.

NATALIE MERCHANT is in the spotlight on Saturday, March 10 at the Forum Theatre in Binghamton, NY.

DENYCE GRAVES the Critically-acclaimed mezzo-soprano performs with Louis Salemno on piano. Part of the Broward Center Classical Series. Friday, March 16, 2012 at the Broward Center in Fort Lauderdale, FL.

MELBA MOORE the Tony Award winner continues her engagement in The Royal Room of The Colony Hotel in Palm Beach, FL through March 17.




FINAL OVATION


ROBERT B. SHERMAN one half of the Robert B. and Richard Sherman, songwriting team which numerous Disney movies including Mary Poppins, died March 5, 2012 in London. He was 86. His son Jeff posted a statement on Facebook announcing his fathers passing. Jeff said, "He went peacefully after months of truly valiantly fending off death. He loved life and his dear heart finally slowed to a stop when he could fight no more."

Some of the Sherman Brothers' best known songs were incorporated into movies and animations like Mary Poppins, The Jungle Book, The Many Adventures of Winnie the Pooh, Chitty Chitty Bang Bang, The Slipper and the Rose, and the theme park song of It's a Small World (After All.)

They also penned the scores for such non-Disney animated fare as Charlotte's Web and Snoopy Come Home.

Two of their most famous projects, Mary Poppins and Chitty Chitty Bang Bang, were turned into blockbuster stage musicals. Both began in London's West End and later transferred to Broadway. The former, a collaboration between Disney and producer Cameron Mackintosh, continues to run at the New Amsterdam Theatre.

Robert Bernard Sherman was born on December 19, 1925 in New York City. His parents, Russian-Jewish immigrants Rosa and Al Sherman, paid Robert's hospital delivery costs with a royalty check that had arrived that day. The title of the song that covered the hospital bill was Save Your Sorrow.Al Sherman was to become a well known Tin Pan Alley songwriter.

Brother Richard was born in 1928.

It was Al who first challenged his sons to try songwriting, a challenge they met in 1958 when they had their first US hit with Tall Paul, sung by Annette Funicello. That attracted the attention of Walt Disney, who hired the duo as staff songwriters for Disney Studios.

As a youth, Robert Sherman excelled in intellectual pursuits, taking up the violin and piano, painting and writing poetry. Following seven years of frequent cross-country moves, the Shermans finally settled down in Beverly Hills.

Throughout his years at Beverly Hills high School, he wrote and produced radio and stage programs for which he won much acclaim. At age 16, he wrote Armistice and Dedication Day, a stage play centered on contemporary 1940s Americans that showed how their lives were inextricably changed following the December 7, 1941, attack on Pearl Harbor. The play yielded thousands of dollars for War Bonds and earned a special citation from the War Department.

Robert . Sherman entered World War II at an early age, 17. On April 12, 1945, he was shot in the knee, forcing him to walk with a cane for the rest of his life. During his recuperation in England, he became interested in British culture.

Years later, Sherman credited this time in his life as the origin of his fascination with England, believing that it proved an invaluable resource to his songwriting career. Many of his best-known works center around English stories, authors and subject matter.

The brothers won two Academy Awards for "Mary Poppins," and were nominated seven more times. They also had four Grammy Award nominations (winning twice) and 23 gold and platinum albums. Outside the motion picture realm, their Tony nominated, Over Here! (1974) was the biggest-grossing original Broadway Musical of that year. The Sherman Brothers have also written numerous top selling songs including You're Sixteen, which holds the distinction of reaching Billboard's #1 spot twice; first with Johnny Burnette in 1960 and then with Ringo Starr fourteen years later. Other top-ten hits include, Pineapple Princess, Let's Get Together and more.

The Slipper and the Rose was picked to be the Royal Command Performance of the year and was attended by Her Majesty, Queen Elizabeth, the Queen Mother. A modern musical adaptation of the classic Cinderella story, Slipper also features both song-score and screenplay by the Sherman Brothers. That same year the Sherman Brothers received their star on the Hollywood Walk of Fame directly across from Grauman's Chinese Theater.

The Sherman brothers were inducted into the Songwriters Hall of Fame in 2005 and received the US National Medal of the Arts in 2008.

Neil Portnow President/CEO of The Recording Academy issued the following statement: " Grammy-winning composer/songwriter Robert Sherman has crafted some of the most timeless and instantly recognizable songs of all time. Along with his brother Richard, he composed scores for such legendary films as Charlotte's Web, Chitty Chitty Bang Bang, The Jungle Book, Mary Poppins, Winnie The Pooh, and many more. Perhaps most notably, they wrote one of the most recognized songs on the planet, It's A Small World. His work will forever live in the hearts of children as well as adults for many generations to come, and our deepest sympathies go out to his family, his friends, and the child in all of us.

He married Joyce Ruth Sasner on September 27, 1953. She died on October 16, 2001.

Sherman is survived by his brother Richard, and four children: Laurie Shane, Jeffrey Craig, Andrea Tracy and Robert Jason. Dr Laurie Sherman is married to Dr. John Evans and they have six children including Joshua Abraham, Sarah Aurora, Amelia Elizabeth, Jason, Chelsea and Cassidy. Robert Sherman welcomed his first great grandchild with Laurie and John, born 2/13/2012, Henry Xavier Evans to Jason and Julie Evans. Jeff Sherman is married to Wendy Liebman and they have two children; Alex and Ryan.

MILTON STANZLER a prominent lawyer who was a founding member of Trinity Repertory in Providence, Rhode Island died March 6, 2012. He was 91.

Stanzler, a lawyer educated at Boston University, was a principle partner in the law practice of Abedon, Michaelson, Stanzler & Biener, An avid theater lover, he first proposed establishing a professional theatre in Providence, RI, in 1962. Two years later, the theater opened, and today remains the state's most prominent nonprofit theater. Mr. Stanzler served as Chairman of the Board for the theater's first 12 years.

Trinity Repertory Company artistic director Curt Columbus said Stanzler worked tirelessly to create a vibrant home for artistic expression in Providence.

Stanzler also penned Providence Is No Longer Just A Train Stop: The Trinity Repertory Company—Its First Twelve Years.

In 2005, he was inducted into the Rhode Island Heritage Hall of Fame. He also helped found the Rhode Island affiliate of the American Civil Liberties Union in 1959.

He is survived by his wife Selma (Schmuger-Klitzner), his children Jonathan Stanzler and Jill Stanzler-Katz, and his step children Stephanie Penzell and David Penzell. His funeral was held March 9, 2012 at Temple Beth-El in Providence, Rhode Island.

JIMMY ELLIS famed Grammy winning disco jazz singer who was the frontman for the Trammps R&B group, died March 8, 2012 in a nursing home in South Carolina from complications from Alzheimer's. He was 74.

Ellis is the one who belted out the refrain "Burn, baby, burn!" in a 1970s-era hit Disco Inferno.

Born in Rock Hill, James T. Ellis was the oldest of six children whose father died young. He began singing in a church choir and later moved to Philadelphia, where he sang with R&B groups in the 1960s before helping form the Trammps.

Neil Portnow President/CEO of The Recording Academy issued the following statement: "As the lead vocalist for the Trammps, Grammy-winning soul singer Jimmy Ellis became a part of music history when the title track from the group's album Disco Inferno was used in the iconic dance segment, and soundtrack, of the 1977 film Saturday Night Fever. His love of performing and the band's signature funk style extended over several decades as he continued to tour until 2010. Our deepest sympathies go out to his family, friends, and all who have been moved, literally, by his energy and dance floor anthems.








Next Column: March 18, 2012
Copyright: March 11, 2012. All Rights Reserved. Reviews, Interviews, Commentary, Photographs or Graphics from any Broadway To Vegas (TM) columns may not be published, broadcast, rewritten, utilized as leads, or used in any manner without permission, compensation and/or credit.
Link to Main Page
---
Laura Deni



For the snail mail address, please E-mail your request.
CLICK HERE FOR COMMENT SECTION