! >
Broadway To Vegas
  SHOW REVIEWS CELEBRITY INTERVIEWS GOSSIP NEWS

| | |
| --- | --- |
| | |
CELINE DION OPENS IN LAS VEGAS - -ED BEGLEY JR'S CESAR CHAVEZ MUSICAL - - COWARD IN VEGAS AND NEW YORK - - EVERYBODY IS IN MACK AND MABLE - - SOAP STARS WEEKEND - - GRACIES GET FREE TICKETS - - FEINSTEIN OPENS CINEGRILL - - THORN BIRDS AIRS & RICHARD CHAMBERLAIN RETURNS TO THE STAGE - - DONATE . . . Scroll Down


CESAR & RUBEN HONORS AND ENTERTAINS
Activist and actor Ed Begley, Jr. was a friend of Cesar Chavez, serving as a pallbearer at his 1993 funeral.

This year marks the 10th anniversary of the death of Chavez, who remains the most important Latino leader in this country's history. And there have been no films, TV movies, or theatrical plays about this man - until now.

Begley has written, directed and co-produced Cesar & Ruben, a musical based on the life and work of the visionary labor leader and human-rights activist.

To get this production mounted Begley maxed out his credit cards and mortgaged his home.

This noteworthy effort is endorsed by the Chaves family and the Cesar Chavez Foundation, who collaborated with Begley on the play's historical content.The production is presented to coincide with Cesar Chavez Day - Monday March 31 - which would have been his 76th birthday, an official holiday in five states and several cities throughout the nation. The U.S. Postal Service's release of a Cesar Chavez Stamp takes place April 23, commemorating the 10th anniversary of his death.

Cesar & Ruben is currently on stage in Los Angeles. Asked about transferring this venture into other venues, Begley told Broadway To Vegas; "Not yet. Let's see how long we last in the L.A. area first."

Cesar and Ruben celebrates the life and work of Chavez and the award-winning Los Angeles Times columnist Ruben Salazar, who frequently wrote about Cesar. The musical is a powerful way to educate current and future generations about Cesar's legacy.



Cesar Chavez founded the United Farm Workers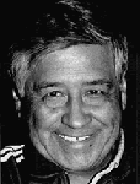 The play's framing device is a musical backbone, with Begley adapting the works of Enrique Iglesias, Peter Gabriel, Sting, Joni Mitchell, Ruben Blades, Phil Collins, Carlos Santana and others as the limbs for the message. Obtaining the rights to use 19 different songs was a fete in itself.

The musical play opens in April 1993 at the time of Chavez's death. In the hereafter, Chavez (Roberto Alcaraz) doesn't know exactly what has occurred. His confused spirit meets the ghost of Ruben Salazar (Tony D'Arc), the hip Los Angeles Times reporter and KMEX broadcaster who was killed by police during a Chicano Moratorium protest against the Vietnam War in 1970. Salazar serves as the spiritual guide who helps Chavez review his past.

The musical features Roberto Alcaraz as Chavez, Tony D'Arc as Ruben Salazar, Marta Dubois playing Helen Chavez. Danielle Barbosa is Delores Huerta, Edward Albert as Naylor. Cesar's parents are portrayed by Jeanine Pacheco and Antonio Martinez, Sally is portrayed by Brenda Canel, Charless Dennis as Fred Ross and Shannon Stoeke is cast as Sen. Robert Kennedy. The cast also includes Danny Bolero, Thais Carmen, Rachelle Carson (Mrs. Ed Begley), Melodee Fernandez, Darryl Henriques, Daniel Lujan, Gustavo Rex, Brennan Saucedo, Evan Saucedo and Mary Krystle Viramontes.

Accompanied by a five-piece instrumental ensemble led by music director/keyboardist Steve Orich. The ensemble numbers are choreographed by Roman Vasquez.

Set Design: James Jeremias. Lighting Design: Tony Potter. Costume Design: Diah Wymont. Visual imagery: Stephan Szpak-Fleet. Sound Design: Frederik W Boot. Production Stage Manager: Jacqueline Aronson.

Cesar and Ruben has performances at the El Portal Center for the Arts, North Hollywood, California through April 27.


CELINE DION OPENS IN VEGAS; IT'S A TUNAFISH CHEESECAKE
Celine's new CD was released to coincide with her Vegas engagement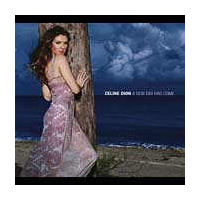 Celine Dion has officially opened her new Las Vegas show, A New Day, at Caesars Palace. Celine Dion and Franco Dragone are like a tunafish cheesecake. Fans of either ingredient are apt to be curious, but may end up not wanting seconds. It will be the ticket buying public who eventually determines if her new day is a sunny one. Of course the opening night crowd loved her. They were all there on a free pass and many of them need the conglomerate known as TeamCeline. Over 200 people now depend upon the songbird for their livelihood.

Thanks to song lyrics Celine can afford her diva status. It's the songs - the lyrics - which have made Celine an American household name. My Heart Will Go On by James Horner and Will Jennings, The Power of Love by Jennifer Rush, Because You Loved Me music and lyrics by Diane Warren and It's All Coming Back To Me Now by Jim Steinman, the lyrics of which cut to the soul of most women and more than a few men.

In these songs, the lyrics so deeply permeate the inner emotions of the product buying female listener - in a reverse of shoot the messenger - response has become an adulation to the person singing the words.



Jim Steinman lyrics catapulted Celine into superstardom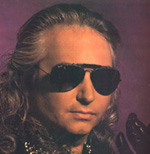 Broadway To Vegas hopes that Horner, Jennings, Warren, Rush and especially Steinman are wallowing in the lap of luxury. Steinman, the songwriter/producer behind Meat Loaf, recently flopped on Broadway when he penned the music and lyrics for The Dance of the Vampires which starred Michael Crawford. The show closed on Broadway having played more previews (61) than performances (56). Many will remember Crawford as the first artist to star in the now shuttered EFX show at the MGM-Grand in Vegas.



Diane Warren's talent helped rarify Celine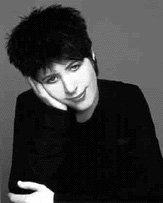 Without the Horner, Jennings, Warren, Rush and Steinman lyrics Celine Dion would be just another singer, with a unique sounding voice, praying for just one hit record. She may have lost focus as to what motivated the hormone infused, emotional, romance novel buying females to clutch her CD's to their bosoms in the first place. She ignores many of her hits, but sings Louis Armstrong's It's A Wonderful World. Bad choice. Nor is hers a voice which is pleasing to every ear. Men in particular say that a little of Celine's singing goes a long way.

Unlike Streisand, Cher, Sinatra and Presley - to name only four - Celine is not a commanding stage presence.

The star of this show is the biggest LED screen in North America - 110 feet wide and 33 feet high - coupled with the arty, interesting, inventive mind of Franco Dragone and the 58 busy, busy, busy dancers. It's an over-amplified, high tech, high energy show, closer to a not-quite-there pop video than Dragone's surreal imaginative Cirque creations. Some of the costumes, choreography and scenery were reminiscent of previous Las Vegas production shows. That's not necessarily a negative and most showgoers aren't going to have seen decades ago, Vegas production shows.

A really great singer can just walk out and hold an audience by singing. Anything else that is added should enhance the voice, not overwhelm the singer.

Almost everything in this show overwhelms Celine. And, if you aren't in the first few rows, remember to bring binoculars. Among all of those LED dots, she is little more than that on the stage.

All singers make facial movements while singing - some more pronounced than others. However, Celine delights in imitating the Presley snarl - a look which only two have really been able to pull off - James Cagney and Presley. On Celine that Presley lip curl is unattractive, bordering on ridiculous.

We have always been a fan of Franco Dragone's Cirque shows. We still are.

In over-the-top television coverage Celine has made a point of announcing how hard she worked on this show. How she is now living in a home that is much smaller than any of her previous homes - although many would consider her Vegas digs a dream house. She is forcing herself to hunker down for this three-year, self-imposed encampment before returning to where she prefers to reside, Florida. Her Meals Ready To Eat are prepared by a personal staff.

Yes, Celine Dion is energetic and works hard. So do all of the stars of musical theater on Broadway and many of them had to first truck the show around the country before opening on The Great White Way. They are not only singing and dancing, but have dialogue. The stars of Broadway musicals also have families and responsibilities. They do not have a dressing room the size of a house. Musical stars on Broadway do it all eight times a week, for little money and not nearly the adoration they deserve. They do not go home to a house full of servants.

That doesn't mean that Vegas shouldn't pamper the acts. That's one of the perks of playing the town. We are all for personal butlers and wish we had one.

Celine will be performing five nights a week, or 200 nights a year, on a three-year deal. Tickets range from $87.50 to $200.

A personal peeve are shows which charge top dollar and then weasel around saying the needs-work-effort is really a work in progress. That's the purpose of previews. You want to charge top dollar? You have that show shinning on opening night. Is her show worth the price of a ticket? It depends upon how hard you had to work for the money and how much of a fan you are of hers going into the show. The people who clamored to buy the first tickets are her loyal fans - of which she has many. The honest opinion test will come in a few months. Then A New Day will have it's long-term forecast.


TRIANGLE SHIRT WAIST FIRE LANDMARKED


Last Tuesday, on the anniversary of the one of the worst fires in New York City's history, the site of the 1911 Triangle Shirtwaist Factory tragedy was declared an official landmark. The Triangle fire prompted a broad movement to eliminate sweatshops and improve health and safety conditions for laborers.

A 1979 made for television movie, The Triangle Factory Fire Scandal, was an awarding winning production which depicted a moment in history that changed working conditions. The movie deserves to be re-aired. It is both fascinating viewing, as well as a marvelous teaching tool.

New York at the turn-of-the-century, March 24, 1911, was a bubbling melting pot of European immigrants, all hoping to start a new life and partake in the American Dream. However, the harsh reality was a city of crowded tenements and dingy factories where laborers would work six-day, 56-hour workweeks for the paltry sum of nine dollars.



A sweatshop scene from the movie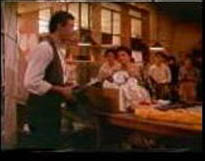 It is in this struggling, yet hopeful world where The Triangle Factory Fire Scandal takes place. The story follows the lives of four young immigrant women who work in an overcrowded garment district sweatshop.

Written by Mel and Ethel Brez and directed by Emmy-winner Mel Stuart, The Triangle Factory Fire Scandal captures the marvelous atmosphere of the times, while the first-rate acting performances paint a vivid portrait of a group of people who all have an appointment with destiny.



A fire scene from the movie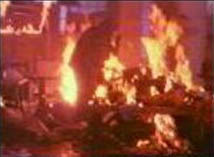 Events depicted in this film were inspired by the actual Triangle Shirt Waist Factory fire which broke out on the top floors of the 10-story Asch Building in lower Manhattan and lasted less than 20 minutes.

Sweatshop conditions with blocked exits and inadequate fire escapes caused much of the tragedy. 146 of the 500 employees died, mostly women. More than fifty hurled themselves from windows and panels. Eye witnesses saw an mysterious man appear who with bizarre gallantry helped young women leap from the ninth floor ledge.

Twenty three individual suites against the owners of the ash building, were settled at a rate of seventy five dollars per life lost.

In the months and years to follow, a state commission, born out of the tragedy, an acted legislation for fire-proofing, sprinkler systems and safety standards, from the Triangle Factory ashes, the Infant International Lades Garment Workers Union gained support and strength.



Charlotte Rae in The Triangle Factory Fire Scandal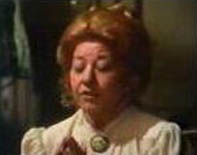 The production starred; David Dukes, Tovah Feldshuh, Lauren Frost, Janet Margolin, Stacy Nelkin, Ted Wass, Stephanie Zimbalist, Tom Bosley, Charlotte Rae, Erica Yohn, Milton Selzer, Michael Mullins, Sean Roche, Olivia Barash and Judith Bergen.

New York State Senator Serphin Maltese lost his grandmother Caterina, 38, and two aunts, Lucia, 18, and Rosaria, 14, who died in the fire. His brother Vincent C. Maltese is President of the Triangle Shirtwaist Factory Fire Memorial Society which ensures that those who perished are remembered.

The efforts of Architect Marianne DiPalermo McCauly, Historian Jeff Gottlieb and the Calandra Italian American Institute, a list of names of 135 of the 146 victims has been compiled. As a result, it has been determined that the tragic victims were almost entirely Italian and Yiddish immigrants.

Last Tuesday, on the anniversary of the one of the worst fires in New York City's history, Vincent Maltest was present when the site was dedicated as an official landmark. The building that sits on the site is now owned by New York University.



Broadway To Vegas is supported through advertising and donations. Priority consideration is given to interview suggestions, news, press releases, etc from paid supporters. However, no paid supporters control, alter, edit, or in any way manipulate the content of this site. Your donation is appreciated. We accept PAYPAL. Thank you for your interest.


THE MUSIC GOES ROUND AND ROUND


NOEL COWARD LIVE IN LAS VEGAS AND IN NEW YORK

Noel Coward on stage at the Desert Inn in Las Vegas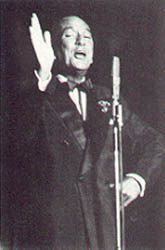 the ultimate sophisticate, Noel Coward charmed his Las Vegas audience.

One of the best known personalities of the entertainment world, he was recognized for his genius as a playwright, actor, writer, composer, and musician.

He first performed his nightclub act in Paris at the Cafe De Paris. It was there that he caught the attention of American impresario Joe Glaser, who managed, among others, Louis Armstrong.

Glaser was so impressed that he offered Coward an engagement at the Desert Inn in Las Vegas.

In 1955, he opened his only Las Vegas engagement.

Coward was backed by the Carlton Hayes Orchestra with Peter Matz on piano and singer Olgita DeCastro Marino.

A cousin of Cherie and Peggy DeCastro, in 1958 she joined the DeCastro Sisters after another member, Babette DeCastro, retired.



Olgita DeCastro Marino backed Coward at the Desert Inn. Three years later she became one of the DeCastro Sisters.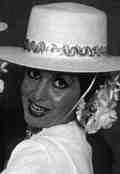 Noel Coward at the Desert Inn was a huge hit. Among the stars who came to see him were Frank Sinatra, Sammy Davis, Jr., Merle Oberon and Judy Garland. It was while he performed at the Desert Inn that Coward is credited with saying for the first time - "I like long walks, especially when they are taken by people who annoy me." Referring to his engagement he quipped, "It was not Cafe Society, it was Nescafe Society."

His elegance, English accent and music made him an exotic personality to Americans. As for Sin City he said - "This is a fabulous, extraordinary madhouse."

"On the success of his Las Vegas act he compared himself to the lady who was riding high as Tammy. Said Coward; "It has been most gratifying . . . I now find myself as big a celebrity as Debbie Reynolds."

Indeed, his lagging theatrical career was kick-started by his Desert Inn booking.

The Vegas show was given a particularly special boost by Sinatra. The crooner went on national radio and proclaimed, "If you want to hear how songs should be sung, get the hell over to The Desert Inn!"

Four weeks later Coward left The Desert Inn a star reborn. His Las Vegas gig led to a series of three television spectaculars for CBS.

During an actual performance at the Desert Inn - on June 27, 1955 - Coward recorded an album of the show which, 48 years later has been digitally remastered and released by DRG Records as the CD Noel Coward At Las Vegas. Piano Accompaniment & Arrangements by Peter Matz. Tracks include;
1. Noel Coward Medley: I'll See You Again/Dance, Little Lady/Poor Little Rich Girl/A Room With a View/Someday I'll Find You/I'll Follow My Secret Heart/If Love Were All/Play, Orchestra, Play
2. Uncle Harry
3. Loch Lomond (traditional)
4. A Bar On the Piccola Marina
5. World Weary
6. Nina/Begin the Beguine
7. Mad Dogs and Englishmen
8. Matelot
9. Alice Is At It Again
10. A Room With a View
11. Let's Do It (Let's Fall In Love)
12. The Party's Over Now

In tandem with Coward At Las Vegas is also the re-master and release of Noel Coward In New York, a studio album recorded live in New York in October & November 1956. Orchestra Direction, Piano Accompaniment & Arrangements by Peter Matz. Extensive new liner notes from Grammy nominee Will Friedwald.

All music & lyrics by Noel Coward, the 13 tracks are:
1. I Like America
2. Louisa
3. Half-Caste Woman
4. I Went To a Marvelous Party
5. Time and Again
6. Why Must the Show Go On
7. New York Medley: Let's Say Goodbye/ Teach Me To Dance Like Grandma/ We Were Dancing/ Sigh No More/ Zigeuner/ You Were There/ Nevermore/ I'll See You Again/ Mad Dogs and Englishmen 8. What's Going To Happen To the Tots
9. Sail Away
10. Wait a Bit, Joe
11. 20th Century Blues
12. I Wonder What Happened To Him (Indian Army Officer)
13. The Party's Over Now

One of the most gifted writers and entertainers the English theatre has produced, Coward was knighted in 1970 and, in the same year, was awarded a special Tony Award for distinguished achievement in the theatre. On March 26, 1973, Coward suffered a fatal heart attack on the grounds of his Jamaican estate; he was 74 years old.

THE ORIGINAL CAST RECORDING OF JESUS CHRIST SUPERSTAR will be released for the first time on CD by Decca Broadway. It's slated to be in stores in time for Easter.


SWEET CHARITY


TARTAN WEEK

Mayor Michael Bloomberg and Sean Connery at last year's parade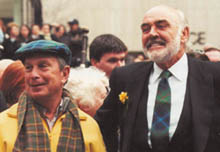 benefiting Gilda's Club Worldwide and Marie Curie Cancer Care, the official cancer care charities, steps off April 5th with 2,500 kilt-wearing Scottish bagpipers led by Sean Connery and Mayor Mike Bloomberg as they did last year. The National Tartan Day - Post Parade Party - will have 1,500 revelers in a celebration of Scotland in the Grand Ballroom of The New Yorker. Kilt wearing Kyle MacLachlan and Jimmy Rodriguez will be at the Harold Pratt House on Tuesday to raise funds for Friends of Scotland.

The U.S. Senate conceived Tartan Day on March 20th 1998, when Senate Resolution 155 (S.Res. 155), proposed by US Senate Republican majority leader Trent Lott, was passed unanimously in recognition of the valuable contribution made by the Scots to the foundation, character and prosperity of America.

The date was selected to commemorate April 6, 1320 when the Declaration of Arbroath, initiating an independent Scotland, was signed and presented to the Pope, a document later to be the inspiration behind the American Declaration of Independence.

Over the past four years Tartan Day has grown in cultural and political significance with events taking place in Washington, Chicago and New York to promote business, arts, travel and tourism

Last year Sean Connery wore a kilt and tie made in the New York tartan, a specially commissioned design manufactured by Lochcarron of Galashiels, which was presented to the Mayor Bloomberg, as a gift from the people of Scotland. The blue and green colors represent the Hudson river and Central Park of New York City and symbolize the friendship and solidarity between the two nations, following September 11th. Mayor Bloomberg wore a baseball cap in the same New York tartan. "Today we are all a wee bit Scottish" he said, waving at the crowds."

WE SPARKLE NIGHT - TAKE II to benefit WeSpark, a cancer support center in Sherman Oaks, California will be hosted by John Ritter & Katey Sagal and featuring Nancy Allen, Bryan Cranston, Tom Hanks, Daryl Hannah, Jennifer Tilly, Wendie Jo Sperber, Mindy Sterling, Lesley Ann Warren, Tom Wilson and weSPARK's Teen Drama Group. Tickets are $50 - $250. April 7 at the El Portal Theater in North Hollywood.

MAN OF LA MANCHA starring Brian Stokes Mitchell, Mary Elizabeth Mastrantonio and Ernie Sabella stages an Actors' Fund Performance on Sunday, April 6 at The Martin Beck Theatre, NYC.

MACK AND MABEL by Jerry Herman and Michael Stewart presented in a very special evening March 31, at Avery Fisher Hall, Lincoln Center to benefit the Gay Men's Health Crisis.

Based on the romance between the pioneering Hollywood producer Mack Sennett and the silent screen star Mabel Normand, this is the show that Jerry Herman considers closest to his heart, and it features the songs I Won't Send Roses, Tap Your Troubles Away, and the classic Time Heals Everything, to name a few.

Jerry Herman will be personally supervising and will perform in this very first New York performance of the show since its premiere in 1974.

Bruce Adler, Gary Beach, Gus Corrado, Harvey Fierstein, Hunter Foster, Sutton Foster, Jason Graae, Debbie Gravitte, Sam Harris, Jerry Herman, Donna McKechnie, Jerry Orbach, Ken Page, Hugh Panaro, Ron Perkov, Douglas Sills, Leslie Uggams, Marissa Jaret Winokur, Karen Ziemba, The Radio City Rockettes and The Ambassador Chorus and Uptown Express of New York City Gay Men's Chorus are among the stars who will perform in this once-in-a-lifetime musical event. With Arthur Allan Seidelman director, Dan Siretta choreographer, Donald Pippin musical director, Jon Wilner producer, and lighting by Ken Billington.

Tickets range from $250- $1,000. $500 and $1,000 tickets include the post-concert reception with the performers at Tavern on the Green.

Sponsors include The Director's Circle composed of Paul De Vido, The Nederlander Organization, The Michael Palm Foundation, Joan and Bob Tisch and Michelle and Robert Wallach. The Conductor's Circle includes The Hal Luftig Company. The Chorus Sponsors include ASCAP (The American Society of Composers, Authors and Publishers), Marlo Thomas and Phil Donahue, Richard F. Ferrari, William H. Hayden, William F. McCarthy and Jonathan Burleson, Stephanie and Carter McClelland, John and Laura Pomerantz, Leslie Fay Pomerantz, The Shubert Organization, Inc. and Lawrence Van Valkenburgh. The Keystone Kops division includes; Berlind Productions, Mitzi and Warren Eisenberg, Richard Frankel and Kathleen Clark, Lorraine Futterweit, The Karma Foundation and Sharon Karmazin, William E. Kelly, Douglas Keston, Larry Kramer, David Muniz, Paul Newman, Francine Pascal, Mr. and Mrs. Samuel P. Peabody, Fran Reiter, William Resnick, Judith O. and Robert E. Rubin, Mr. and Mrs. David T. Schiff, Steven Schmidt and Jeffrey B. Soref.

SOAP/SPORTS STARS CHARITY WEEK-END featuring the stars of CBS soaps and sports personalities. They have had a busy week-end. Friday was the starry nights gala in Las Vegas, Saturday the Soap Opera Fund Raiser in Florida and today is the golf tournament in Las Vegas benefiting the Reggie Johnson Foundation.

Talk show host Conan O'Brien hosted Friday night's gala at the Hilton Hotel, which benefited the Christopher Reeve Foundation. Invited guests included stars from the cast of Friends, the new hit American Dreams, Everybody Loves Raymond and CSI. There was Goldie Hawn and Kurt Russell, plus many more. Professional all-star and Hall of Fame athletes attended including 5 time All-Pro Derrick Brooks and special invited guest Emmitt Smith.

Other sports greats getting out the golf clubs included; Derrick Brooks - Tampa Bay Buccaneers (NFL Defensive Player of the Year), Anthony McFarland - Tampa Bay Buccaneers, John Lynch - Tampa Bay Buccaneers, Emmitt Smith - Dallas Cowboys, Kevin Doggins - Chicago Bears, Frank Murphey - Houston Texans, Jonathan Ogden - Baltimore Ravens, Milt Wynn - Baltimore Ravens, Warrick Dunn - Atlanta Falcons, Tim Raines - MLB All Star, James Cannida - Indianapolis Colts, Yo Murphey - St. Louis Rams, Ron Dayne - NY Giants,Tam Hopkins - NY Giants, Alvin Harper - NFL All Star, Roger Craig - NFL All Star, Dexter Jackson - Tampa Bay Buccaneers (Super Bowl XXXVII MVP) and Luis Tiant HOF Baseball Great Boston Red Socks.

CBS soap stars participated in the full week-end from Vegas to Florida. In a charitable mood were Josh Duhamel and Cameron Mathison from All My Children. Representing As The World Turns were Mark Collier, Terri Colombino, Scott Holroyd, Lesli Kay, and Paul Leyden. Cast members attending from the Bold & Beautiful included Kimberlin Brown, Jennifer Finnigan and Justin Torkildsen. Actors from Days of Our Lives present were Patriko Darbo, Kevin Spirtas, Alexis Thorpe and Eric Water. Representing Guiding Light were Liz Keifer, Anthony Addabbo, Matt Bomer, Beth Chamberlin, Beth Ehlers, Ricky Paull Goldin, Jordi Vilasuso, Kim Brockington, Gavin Houston and Aubrey Dollar. Doing the honors for Young & Restless were Christian LeBlanc, Jeanne Cooper, Michelle Stafford, David Lago, Thad Luckinbill and Ryan Brown.

The tireless soap stars then headed to Miami where on Saturday they took part in a fan meet and greet fund raiser to benefit the Marco Island Film Festival and the National Breast Cancer Foundation.



HOPE FOR CORKY is a new comedy by Randall Godwin, a resident artist-playwright at The Purple Rose Theatre Company in Chelsea Michigan, where he has been performing since 1992. This is an irrelevant comedy that dares to celebrate saying goodbye to this world. Hope for Corky lampoons bumbling doctors, relentless media sensationalism and judicial indifference while maintaining a deeply humanitarian perspective. Radio journalist Brian Blessing who specializes in the "warm and fuzzy" side of the news finds himself diagnosed with a serious illness while breaking the story about a heroic lost dog named Corky. As Brian searches for solutions to his health dilemma, his journey takes alternately hilarious and poignant turns along the way. Despite his best efforts, his life becomes relentless tangled with the never-ending search for the larger-than-life canine, Corky.

Michelle Mountain directs a cast headed by Ryan Carlson as Brian Blessing. Also in the production are Kate Peckham, Bess Miller, Teri Clark, Jim Porterfield, Elizabeth Townsend and Tobin Hissong. Audience talk backs following the first five performances. April 3-May 31, at the Purple Rose Theatre in Chelsea, Michigan.

THE MIRACLE WORKER the revival starring Oscar winner Hilary Swank, which was slated to open April 24, has been canceled. The play had been in a three week try-out at Charlotte Rep in Charlotte, N.C. "The production needs some reworking and is not ready in our opinion to open on Broadway so soon," producer Barry Weissler said in a statement.

SAY GOODNIGHT GRACIE The Life, Laughter & Love of George Burns and Gracie Allen starring Frank Gorshin, will add an additional matinee performance slated on Thursdays replacing all Thursday evening performances commencing April 3rd. As an added benefit, any person whose name is "Gracie" will get a free ticket to a Thursday matinee, when showing proper ID at the box office (subject to availability). Staged by veteran director John Tillinger, the play is written by Tony and Emmy Award-winning playwright Rupert Holmes, who will host special talk-back sessions after selected Thursday matinees. Helen Hayes Theatre, NYC.

ERNEST IN LOVE by Anne Croswell and Lee Pockriss is a musical version of a classic theatrical staple, Oscar Wilde's sparkling play about social hypocrisy among the creme de la creme of Victorian England.

Two young gentlemen well versed in the art of "Bunburying" - i.e., using a fictitious relative as an alibi to circumvent the responsibilities of proper social behavior - are beside themselves when they find their innocent fabrications taking over their love lives.

Kysa Cohen directs the production that features Bill Strongin, Stephen Agosto, Jennifer Marshall, Elizabeth Ginnett, Elise Dewsberry, Christina Linhardt, Cort Huckabone, Sara Cohen, Kevin Gardner, Jessica Teter, Jeremy Gable and Rosina Pinchot. Musical direction by Bill Wolfe.

Scenic design is by Vincent Roca; Sound Design by Ron Wyand, Costume Design by Donna Fritsche and Lighting Design is by Michael Schrupp.

Previews April 4. Officially opening April 5 with performances through May 10. The opening performance is followed by a champagne reception with the Director, Cast, Crew, and Playhouse Staff. The Long Beach Playhouse is celebrating its 74th year of continuous operation. Long Beach, California.

TICK, TICK . . . BOOM! a three-actor version adapted by David Auburn, author of the Pulitzer Prize-winning play Proof, stars Christian Campbell, Nicole Snelson and Wilson Cruz. The national tour stops April 1-6 at the Tennessee Performing Arts Center's Polk Theater in Nashville.

SINGING IN THE RAIN the most celebrated and beloved musical of all time, begins previews April 2 and opens April 11 at Drury Lane Theatre in Evergreen Park Illinois. Jeff Award winning director and choreographer Marc Robin will direct the cast which includes; Curt Dale Clark, Christine Scherrill, Linda Parsons, Michael Weber, Richard Strimer, Dale Benson and Paula Scrofano. The musical runs through May 25.

TIMELESS DIVAS a series dedicated to women over 40 in the worlds of cabaret, theatre and songwriting, will be hosted by Phyllis Newman. The evening will feature performances by songwriters Gretchen Cryer, Nancy Ford, Carol Hall, Original Marvelettes Denise Morgan and Wanda Houston; performers Heather Mac Rae, Baby Jane Dexter, Marta Sanders, Helen Baldarasse, Mary Testa, Claiborne Cary, Linda Glick, BJ Crosby, Ernestine Jackson, Mere Louise, Sharon McNight, Kimberly Vaughn, and a special guest appearance by Richard Skipper as Carol Channing. Shari Upbin will direct the evening, which will feature musical direction by Tracy Stark. April 6 at The Triad in NYC.

THE THORN BIRDS starring Richard Chamberlain and Rachel Ward as priest and parishioner sharing forbidden love in the Golden Globe-winning, passionate saga. Digitally remastered and broadcast as it was on network television 20 years ago, begins airing tonight on the Hallmark Channel.

Chamberlain heads back to the stage at the Berkshire Theatre Festival in Stockbridge, Mass in The Stillborn Lover by Canadian playwright Timothy Findley, who died in Provence, France on June 20, 2002.

The play, which premiered in London, Ontario in March 1993, is a combination mystery, drama and love story. It is a fictional presentation of an amalgam of several true events. Findley had said that the story is loosely based on the Watkins affair (John Watkins was the Canadian ambassador to Moscow accused of homosexuality in 1955), the Herbert Norman persecution and the McCarthy trials of the 1950's.

For Ambassador Harry Raymond and his wife, life in a safe house in Ottawa is anything but secure. With a dead male prostitute in Moscow, a treacherous friend about to become the new Prime Minister and a desperate secret about to be revealed, Harry's Cold War is heating up fast. The play is set in 1972, with flashbacks to the 1940's and 50's, and the action takes place in and around a safe house in Rockcliffe. The Stillborn Lover, directed by Martin Rabbett, begins previews July 8, officially opens July 9 running till July 26.


WHO'S WHERE


MICHAEL FEINSTEIN is now bi-coastal. Feinstein's at the Cinegrill has opened in the newly renovated Roosevelt Hotel in Hollywood. Feinstein has created a special show themed to music from the movies and Oscar-nominated songs from the past 50 years, to open the club. Roosevelt Hotel General Manager, Sam Cole, having led the hotel through a $15 million renovation, conceived the plan to join forces with Feinstein, whereby talent performing at Feinstein's New York club, Feinstein's at the Regency, could be contracted to perform on the West Coast at the Cinegrill. The new venue features a 150-seat, tier-leveled cabaret supper club, with state-of-the-art sound and lighting equipment, and projection equipment for film screening, as well as five star dining to accompany the headlining entertainment. Feinstein is appearing at the Cinegrill to April 26th.

MICHEL LEGRAND, ALAN BERGMAN AND PATTI AUSTIN open Tuesday, April 1 at Feinstein's at the Regency in New York City performing through Saturday April 12.

BEN VEREEN the Tony award winning versatile entertainer, whose dazzling career has spanned movies, television and the Broadway stage, takes to the stage in his one-man show at Brooklyn Center for the Performing Arts Walt Whitman Theater on Saturday, April 5.

KT SULLIVAN in her salute to Harold Arlen Lets Fall in Love - a don't miss show. With pianist/singer Larry Woodard. The Oak Room of the Algonquin Hotel, NYC through April 12.

TITO PUENTE, JR on a USO tour March 31-April 6 in Puerto Rico.

DAVE BRUBECK the legendary pianist and composer performs April 3-6, Founders Hall, Orange County Performing Arts Center, Los Angeles.

PEARL JAM the grunge-rock veterans are launching a 48-city North American tour in support of their new album, Riot Act. The tour begins April 1 in Denver, Colorado at the Pepsi Center. On Thursday they perform at the Ford Center in Oklahoma City.

ELTON JOHN AND BILLY JOEL entertain Tuesday in Ames, Iowa at the Hilton Coliseum. Friday the show is in St. Louis, Missouri at the Savvis Center.

THE HARLEM GLOBETROTTERS bring their humor and skills to two venues on Tuesday. The Bangor Auditorium in Bangor, Maine and the Western Wyoming Community College in Rock Springs, Wyoming. On Wednesday the shows are in Casper, Wyoming and Glens Falls, New York. On Thursday people in Amsterdam, New York and Greeley, Colorado can enjoy the show. On Friday the teams move to Pueblo, Colorado and Philadelphia.

PETER CINCOTTI performs at Sculler's in Boston on April 3. On April 5th the singer is on stage at the Tilles Center in Westbury, New York.

DEE DEE BRIDGEWATER performing Monday, March 31 in Princeton, New Jersey at the McCarter Theatre.

JERRY SEINFELD in a sold out two-nighter April 4-5 at Temple Buell Theater in Denver, Colorado.

MARCEL MARCEAU performing April 2 and 3rd in Santa Barbara, California. On April 5th the mime is in the spotlight in Glendora, California and on April 6th he's center stage in Lancaster, California.

LORRIE MORGAN in a two-night April 3-4 at Grand Casino Mille Lacs in Onamia, Minnesota.

THE FLYING KARAMAZOV BROTHERS WITH THE CINCINNATI POPS perform April 1 at Carnegie Hall in N.Y.C. In case you're wondering those zany guys aren't really brothers. Heck, they aren't really even Russian. The troupe, made up of Howard Jay Patterson (Ivan), Paul Magid (Dmitri), Mark Ettinger (Alexei) and Roderick Kimball (Pavel), have been delighting audiences for 30 years. They also have rules. Patterson won't juggle anything under an ounce or over 10 pounds. He also draws the line at juggling live animals or anything that might endanger him. We think that is wise.

YANNI center stage Tuesday at the Blue Cross Arena in Rochester, New York. On Thursday the show is at the Fleet Center in Boston. Friday the performance takes place at the Cell Centre in Montreal and he closes out the week, Saturday, at the Mohegan Sun Casino in Uncasville, Conn.

LOW RAWLS opens a three night engagement Thursday at John Ascuaga's Nugget in Sparks, Nevada.

THE PLATTERS revolutionized the music scene in 1955 with Only You. The group has achieved record sales of 120 million with 16 Gold Record, and were inducted into the Rock and Roll Hall of Fame in 1990. Still going strong, The Platters, featuring Monroe Powell, open an indefinite engagement tonight at the Riviera Hotel, Las Vegas. The also perform June 14-15 at the Drury Lane Theatre in Evergreen Park, Illinois.

ANN MARGRET in a sizzling engagement at the MGM-Grand Hotel, Las Vegas through April 2.

ELLEN DeGENERIS on stage tonight at the Majestic Theatre in Dallas, Texas. On Tuesday she'll be telling stories at the Spreckles Theatre in San Diego, California. On Wednesday she's in the spotlight in Phoenix, Arizona at the Dodge Theatre. Thursday finds the funny lady in Santa Barbara, California at the Arlington Theatre and she has a two nighter Friday and Saturday in Los Angeles at the Wiltem Theatre.

PATTI LUPONE tonight, March 30 at the Ham Auditorium at the University of Nevada in Las Vegas, NV in her Matters of the Heart program. On April 5 she is at the State Theatre in New Brunswick, New Jersey in her Coulda, Woulda, Shoulda performance.

DAVID KENNY has a full radio studio this evening for his Everything Old Is New Again broadcast. He is being joined by composer Adam Guettel, prior to his concerts at Lincoln Center's Stanley H. Kaplan Playhouse, on April 4th and Joyce Breach, performing at Danny's Skylight Room and Jonathan Frank on stage at The Duplex in New York City. David's featured CD of the week is Noel Coward at Las Vegas. David's program can be heard every Sunday 9-11 PM(EDT) over WBAI 99.5 FM and on the Internet at: http://www.2600.com/offthehook/hot2.ram

LUCIANO PAVAROTTI who has interpreted 26 different operas, 331 concerts, 315 recitals, for a total of 1266 performances in more than 60 countries all over the world, started out studying to become a gym teacher, finishing his teacher's training, before deciding on a career in opera. The tenor performed before 6,909 fans at the Lawlor Events Center in Reno, Nevada last Sunday. He performed several selections with soprano Cynthia Lawrence, rewarded with several standing ovations. Ticket prices began at $45.
















Next Column: April 6, 2003
Copyright: March 30, 2003. All Rights Reserved. Reviews, Interviews, Commentary, Photographs or Graphics from any Broadway To Vegas (TM) columns may not be published, broadcast, rewritten, utilized as leads, or used in any manner without permission, compensation and/or credit.
Link to Main Page
---
Laura Deni



U.S. Postal Address: Post Office Box 60538, Las Vegas, NV 89160
CLICK HERE FOR COMMENT SECTION