! >
Broadway To Vegas
  
  REVIEWS INTERVIEWS COMMENTARY NEWS

| | |
| --- | --- |
| | |
HURRICANE IRENE DARKENS BROADWAY - - JEFFERSON STARSHIP OPERA - - SEPTEMBER 11: REMEMBRANCE AND REFLECTION - - BOSTON UNIVERSITY COLLEGE OF FINE ARTS TO FOCUS ON VIOLENCE - - KISS ME, KATE TOURS CHINA - - KING ARTHUR CAN'T RECLAIM BONES OF STONEHENGE - - JOE MANTELLO HOST SCREENING OF DAVID WEISSMAN DOCUMENTARY - - DAVID HARE AWARDED PINTER PRIZE - - DONATE . . . Scroll Down



HURRICANE IRENE TAKES TOP BILLING


This past week-end Hurricane Irene blew in giving notice that she takes top billing over productions.

All Broadway and off-Broadway performances in New York were cancelled last night and today.

New York City was more than just 'inconvenienced'. For the first time the nation's largest city was partially evacuated. And, never before has the entire mass transit system been shuttered because of a storm.

The Broadway League sent out an e-mail Friday stating:

"As a result of the suspension of public transportation by government authorities in preparation of the incoming storm, all Broadway performances on Saturday, August 27th and Sunday, August 28th will be cancelled."



The Dave Matthews Band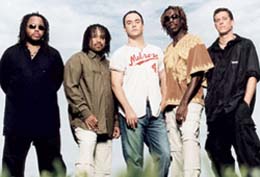 The Metropolitan Opera postponed the first two Summer HD Festival outdoor screenings at Lincoln Center Plaza. Yesterday and today's shows have been rescheduled for Monday, August 29.

Today's operamission presentation of Act IV of Puccini's La Bohème: Assembly Required at the Gershwin Hotel has been rescheduled to Sunday, September 4, 2011.

The Dave Matthews Band scrapped plans for its festival on Governors Island over the weekend. No new date has been announced.

The FringeNYC Festival cancelled all events for Sunday, August 28.

On their Facebook page the organization stated:

"Due to the impending arrival of Hurricane Irene, we have decided to cancel all FringeNYC events, including all performances and closing night party, on Sunday, August 28th. If you purchased tickets in advance for performances on Sunday, your purchase is now being refunded in full."

Actually, performances up and down the coast got the hook due to Irene.



The Trump Taj Mahal in Atlantic City has its own fountains, but Hurricane Irene added her own stamp. Photo: Trump Taj Mahal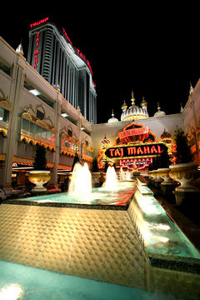 Jenny Gersten, Artistic Director of the Williamstown Festival sent out a forlorn missive titled "Irene: The Lady is a Tramp": "It is with a heavy heart that I must announce that the impending arrival of a most unwelcome guest, Miss Irene herself, has forced us to cancel the Sunday, August 28 performance of Ten Cents A Dance - the final performance of our 2011 Season. After 193 performances of 28 productions and workshop shows over the past ten weeks, it's pretty disappointing to be rained-out just before our last at-bat."

The State of New Jersey declared a State of Emergency and cancelled all weekend programs and activities. Thus, for only the third time it's the 33 year history of legalized gambling, all 11 casinos in Atlantic City folded. The chips got locked up Friday afternoon as employees attempted to get home before they got blown away, while the tourists stayed away.

There were mandatory evacuations in Cape May County. The Cape May Playhouse, one of New Jersey's premiere professional equity theaters, cancelled performances for Steel Magnolias on Friday August 26, and Saturday August 27. The East Lynne Theatre, a professional Equity theater in its 31st year of producing plays at popular prices, scrapped performances on August 26 and 27 of The World of Dorothy Park and added an additional performance slated for September 3.

Other Garden State events going dark included the Homdel Rib Rock Fest featuring The J. Gels Band, B.B. King and Buddy Guy plus BBQ fives set for today at the PNC Bank Arts Center. Also told to come back later, Frank Sinatra Jr., who was slated to perform his father's music yesterday at the Great Auditorium in Ocean Grove, has been rescheduled for July 14, 2012.



Gwyneth Paltrow stayed strong with ball point pens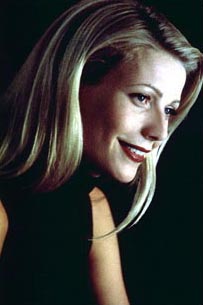 The star filled staged reading of Warren Leight's Tony Award-winning drama Side Man, featuring Frank Wood, Zachary Quinto and Melissa Leo, which was to take place at Guild Hall in East Hampton, August, 28 was cancelled and Guild Hall shuttered until the blow hard blows over.

The Bay Street Theatre cancelled their shows which included three performances on Enter Laughing - two yesterday and one today plus the Monday, August 29, gig of comedian Andrea Martin.

The Blue Dream Gala, which costs $5000 per table for ten, was expecting 375 people to attend Saturday night.

That event which benefits the Children's Tumor Foundation, will now be held on September 4.

George Stephanopoulus serves as the Honorary Chair of the Blue Dream Gala, which will take place at the Greek Orthodox Church in Bridgehampton.

Hamptons Rocks for Charity with entertainers Crosby, Stills & Nash slated for last night in Wainscott also postponed, with a new date not yet announced.

Then there was plucky Gwyneth Paltrow.

While others were stocking up on candles, food and batteries, Gwyneth was hunkering down with ball point pens.

The actress/foody/author showed up Friday - as scheduled - at the BookHampton store in East Hampton to sign copies of her book My Father's Daughter.

While, technically, she may have been the only entertainment in town, fans took time off from their survival preparations to line up around the block to buy her book.



Broadway To Vegas is supported through advertising and donations. Priority consideration is given to interview suggestions, news, press releases, etc from paid supporters. However, no paid supporters control, alter, edit, or in any way manipulate the content of this site. Your donation is appreciated. We accept PAYPAL. Thank you for your interest.



ART AND ABOUT


SEPTEMBER 11: REMEMBRANCE AND REFLECTION

Door from New York Fire Department rescue truck. Photo: National Museum of American History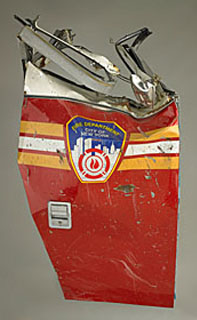 will provide visitors with a close-up view of more than 50 objects from the three sites - New York, the Pentagon and Shanksville, Pa - as well as recent acquisitions from the Transportation Security Administration related to how American lives have changed since then.

To create an intimate experience for visitors, the objects will be shown on tables rather than behind glass cases.

Artifacts will include airplane fragments, a door from a crushed FDNY fire truck, a Pentagon map from the building's second floor and objects recovered from offices. Photographs from the museum's collection will provide a context for each site.

Visitors will be able to interact with museum staff.

September 11: Remembrance and Reflection will feature video excerpts from the Smithsonian Channel documentary, 9/11: Stories in Fragments, and a video presentation ABC News made for the museum on the one-year anniversary.

In 2002, Congress designated the museum as the official repository for Sept. 11 materials so that objects, photographs and documents would be preserved permanently in the museum's collections to help future generations of historians and visitors comprehend the horrific events, their roots and their long-term consequences.

"The National Museum of American History responded to the tragic events of Sept. 11 by collecting history as it was happening," said Brent D. Glass, director of the museum. "Ten years later, we will share some of those objects in a personal setting, providing an opportunity for visitors to speak with museum staff and to have a place to remember and reflect on what it means to be an American today."

Saturday, September 3 - Sunday, September 11 in the Hall of Musical Instruments, National Museum of American History, Washington, DC.


CELEBRATING LABOR DAY WITH DRAGON CON AND A JEFFERSON STARSHIP OPERA
Jefferson Starship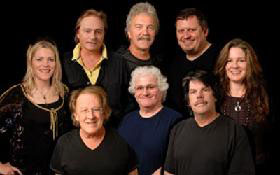 Jefferson Starship will be performing a science fiction/rock opera. A Comic Book Babes Costume Contest will be hosted by Elvira and geek king Voltaire. William Shatner will show up because - he does that so well.

It's Dragon Con which returns to Atlanta for the upcoming Labor Day week-end September 2–5, 2011.

Dragon Con is described as the world's largest fantasy and science fiction convention boasting "everything from film and multi-media to gaming and comic books."

That's probably not what the Central Labor Union of New York had in mind when they celebrated the first Labor Day on September 5, 1882.

It became a federal holiday in 1894, when, following the deaths of a number of workers at the hands of the U.S. military and U. S. Marshals during the Pullman Strike, President Grover Cleveland put reconciliation with the labor movement as a top political priority.

Fearing further conflict, legislation making Labor Day a national holiday was rushed through Congress unanimously and signed into law a mere six days after the end of the strike

So, the convention is not exactly labor, but it is well organized.



William Shanter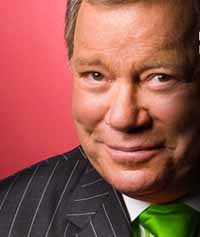 Dragon Con 2011 is expected to draw 50,000 people from all over the world.

Celebrities booked to attend include:

William Shatner – the original Captain Kirk of the USS Enterprise from Star Trek, who was recently attended the Star Trek Convention in Las Vegas.

Elvira – Halloween Icon and Mistress of the Dark.

Carrie Fisher – Star Wars's Princess Leia.

Lou Ferrigno – the original Hulk.

Stan Lee – American comic book writer, producer, former publisher of Marvel Comics.

Beau Bridges – award winning actor whose career spans over four decades.

Loni Anderson – famed actress played Jennifer in WKRP in Cincinnati.



Glam Carrie Fisher has recently lost 50 pounds.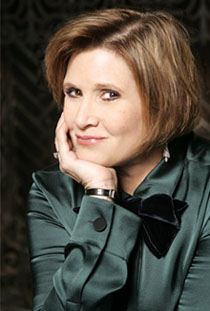 The festivities step off September 3 with the DragonCon Parade considered one of the zaniest parades in the country.

"Para-normally speaking, it will be one of the craziest parades ever. Come see Star War and Star Trek characters including Stormtroopers, Darth Vader, Klingons, and Spock. Also keep a look out for your friendly neighborhood superheroes like Spiderman, Batman, Superman and many more as they hand out goodies to the crowd," tout the organizers.

There will also be the customary Autograph Sessions, an Awards Banquet, a Charity Auction for The National Inclusion Project which bridges the gap between young people with disabilities and the world around them.

In addition to Elvira's Comic Book Babes Costume Contest there will be a Costuming Fashion Show featuring the latest and greatest costumes.

Don't forget to see Into the Woods at the Alliance Theatre. The award winning musical delves into the consequences of getting what you wished for.

The Late Night Puppet Slam - geeky puppet shows from Atlanta and beyond - a Night at the Georgia Aquarium and Wrestling: Get Ready to RUMBLE! – an explosive night of wrestling.

Then there is an Jefferson Starship opera.

Special music guest Jefferson Starship will be performing a science fiction/rock opera made specifically for DragonCon.

The creation contains a mix of Blows Against The Empire and score from the film Blade Runner, backed by HD slides from the film. Starship is scheduled to perform at on September 2 and 3 at the Hyatt Hotel. This will be followed by a Jefferson Starship concert featuring their classic songs the following night at 12 a.m.

DragonCon features comics and pop art, designer toys, gaming, costuming, alternate history, steampunk, anime, manga, sci-fi, fantasy, young adult literature, space, science, pirates, skeptics, podcasting, classic and modern sci-fi fantasy television, and paranormal activity.


SWEET CHARITY


THE ACTORS FUND announced that the August 28 sold out benefit performance of the Tony Award-winning musical The Book of Mormon at the Eugene O'Neill Theatre, has been postponed due to Hurricane Irene. A new date for the benefit performance has not yet been scheduled.


BOSTON UNIVERSITY COLLEGE OF FINE ARTS TO FOCUS ON VIOLENCE


Violence!

It's everywhere and for the Boston University College of Fine Arts 2011-12 season violence is the keyword.

In announcing the 2011-12 music, theatre, and visual arts season, Jean Connaughton, Boston University College of Fine Arts, Office of External Relations stated the season will "include an opera residency with composer Jake Heggie, a free lecture by artist Enrique Chagoya, and Sondheim's Assassins, among others."

"Something else I want to point out is a new initiative from our dean, Benjamín Juárez: CFA's new Keyword Initiative. This year a lot of our programming will focus around the concept of violence and the arts' response to it. In collaboration with CFA faculty and students, colleagues from other departments at BU, and individuals from Boston's music, theatre, and visual arts communities, we'll be programming performances, lectures, and panel discussions that will address this topic."

"From September through May, the department will present a range of works that comment on its many different aspects – including the domestic violence of Bluebeard's Castle, political violence in Execution of Justice, and Enrique Chagoya's lithographs depicting violent collisions of cultures. No piece of art, no matter how forceful, reflective or coherent, can offer answers – it can only provoke discussion by presenting one perspective on a multifaceted issue. By tapping into the diverse perspectives of the BU and Greater Boston communities, we want to create a dialogue that explores solutions to this devastating societal issue, stated a press release.

Bluebeard's Castle with music by Béla Bartók and a libretto by Béla Balázs is based on a French fairy tale by Charles Perrault. A psychologically probing tale of a young bride's insistence on opening all the locked doors of her new husband's castle. Despite his protestations, she persists, with disturbing consequences. The production takes place October 7-9.

Three Decembers based on an original play by Terrence McNally with music by Jake Heggie and a libretto by Gene Scheer will be staged October 14-16.

This powerful and poignant one-act opera explores the painful and complex relationships between a famous actress and her two grown children, as they unfold the family's hidden truths: infidelity, separation, homophobia and AIDS, tragedy, and loss.

Intimate Apparel by Lynn Nottage will be directed by Judy Braha is slated for performances October 22-29.

In 1905, a black New York City seamstress sews lingerie for clients ranging from wealthy white patrons to prostitutes. "…thoughtful, affecting…The play offers poignant commentary on an era when the cut and color of one's dress—and of course, skin—determined whom one could and could not marry, sleep with, even talk to in public." —Variety.



Jake Heggie is the American composer of the operas Moby-Dick (libretto: Gene Scheer), Dead Man Walking (libretto: Terrence McNally), Three Decembers (libretto: Scheer), The End of the Affair (libretto: Heather McDonald), To Hell and Back (libretto: Scheer), and the stage works For a Look or a Touch (libretto: Scheer) and At the Statue of Venus (libretto: McNally). Photo: Photo © Art & Charity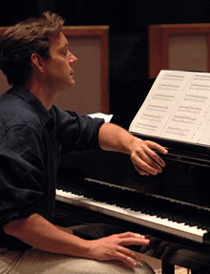 Art Song Meets Theatre set for October 28 is an evening of staged songs which concludes a residency by renowned composer Jake Heggie. He'll join singers from the School of Music to perform selections from his vast song literature, including a new cycle marking the 10th anniversary of the 9/11 tragedy.

On October 19 Contemporary Perspectives Lecture: Phoebe Washburn takes place. An American installation artist based in New York, Phoebe Washburn composes large-scale works with cast-off materials such as cardboard boxes, wood, and newspaper, in a painstaking process that produces what she calls "spontaneous architecture" and "spectacles of environments." The raw beauty of her work has made Washburn one of the country's most closely-watched artists, with shows in the Deutsche Guggenheim, Whitney Biennial 2008, and Zach Feuer Gallery.

House by Daniel MacIvor will be directed November 9-20 by Tara L. Matkosky.

House blurs the boundaries between actor and audience through an intimate relationship with Victor, a man in crisis. In this unpredictable ride riddled with black humor and vivid storytelling, Victor spins an unforgettable theatrical experience. A production from the Boston Center for American Performance (BCAP), the professional extension of the BU School of Theatre.

On November 17 there is the Contemporary Perspectives Lecture: Enrique Chagoya. Drawing from his experiences living in Mexico and the U.S., Enrique Chagoya juxtaposes secular, popular, and religious symbols through his painting, drawing, and printmaking to address the ongoing cultural clashes in the world. Professor Chagoya heads the painting program at Stanford University, and has work in the collections of major museums throughout the country, and has been shown nationally and internationally.

The BU Symphony Orchestra and Symphonic Chorus at Symphony Hall conducted by Ann Howard-Jones will perform November 21. The selections include Schoenberg: A Survivor from Warsaw and Verdi: Requiem. Imaginary Invalid by Molière will be helmed December 9-16 by Emily Ranii.

In Molière's popular and bawdy comedy, the wealthy Argan is a housebound hypochondriac whose scheme to marry his daughter Angelique to a doctor is driven by one thing: free medical care. A biting satire of both the medical profession and French society, Molière's final play exhibits the unique talent that sealed his reputation as one of the most important dramatists in French history.

On the boards February 9-25 will be Monster by Neal Bell. Jim Petosa directs the brilliant stage adaptation of Mary Shelley's Frankenstein. Monster provides a disturbing yet poignant look at one man's insatiable quest to defeat death by creating life, and the dreadful results of abandoning his creation. A provocative production from the Boston Center for American Performance.

Execution of Justice by Emily Mann, directed by Elaine Vaan Hogue will perform February 17-24.

A brilliant portrayal of the Dan White trial after the 1978 assassinations of Mayor George Moscone and gay city supervisor Harvey Milk of San Francisco. Mann tells the story in a provocative and multilayered way, offering as many questions as answers about a tragic chapter in the city's transition to its current political and social climate.

Il Matrimonio Segreto with music by Domenico Cimarosa and a libretto by Giovanni Bertati is slated for February 23-26.

Based on The Clandestine Marriage (1766) by George Colman the Elder and David Garrick. William Lumpkin will conduct this farcical domestic comedy which features arranged marriages, dowries, feuding sisters, tangled circumstances, banishment to convents, and misdirected romantic aspirations. Inspired in part by Hogarth's painting series Marriage-à-la-Mode, it lives as a musical bridge between Mozart and Rossini, with lyrical melodies and brilliant, challenging ensembles. In Italian, with supertitles by Allison Voth.

On March 20 there is a Contemporary Perspectives Lecture: April Greiman. An award-winning designer who revolutionized digital communications design, April Greiman studied at the Kansas City Art Institute and Switzerland's Basel School of Design. Evolving a design style that links American Postmodernism with the rational clarity of the Swiss school, she continues her innovative work in digital media and hybrid processes from Made in Space, her multidisciplinary design studio in Los Angeles.

BU Symphony Orchestra and Symphonic Chorus at Symphony Hall, conducted by David Hoose performs Rachmaninoff: The Bells and Shostakovich: Symphony No. 11 in G minor, "1905" on April 2.

Dialogues of the Carmelites with music by Francis Poulenc and a libretto by Francis Poulenc and Emmet Lavery, from the drama by Georges Bernanos, based on the novel by Gertrude von Le Fort will be mounted April 13-29.

William Lumpkin serves as conductor and Sharon Daniels is the stage director.

A poignant look at the French Revolution through the eyes of a young aristocrat who enters a Carmelite convent in Compiegne to deal with her pathological fear of life, only to witness the revolution unfold around her. Based on the true story of the thirteen sisters of Compiegne, whose defiance of the revolution's dictates led to their martyrdom at the guillotine. In English, with translation by Joseph Machlis.

From May 4-10 it's Assassins with music and lyrics by Stephen Sondheim and a book by John Weidman. Jim Petosa directs and Matthew Stern serves as the music director.

The legendary Sondheim explores the hearts and minds that fill the gallery of America's most famous assassins, including John Wilkes Booth and Lee Harvey Oswald, in a stunning satire of the anarchic political violence that tragically persists at the core of our culture. As the culminating event in the College's year-long examination of the theme of violence, Assassins brims with a particularly urgent energy.

Founded in 1839, Boston University is an internationally recognized private research university with more than 30,000 students participating in undergraduate, graduate, and professional programs. The Boston University College of Fine Arts was created in 1954 to bring together the School of Music, the School of Theatre, and the School of Visual Arts.


KISS ME KATE PAVES ROAD FOR BROADWAY MUSICALS IN CHINA


"We open in Venice. We next play Verona" - don't forget China.

Listen up China, you're about to get a tuneful earful.

Kiss Me, Kate, regarded as the biggest hit by legendary composer Cole Porter will pave the way for Broadway to conquer China - at least the Hebei Silang Performance Agency of China and Australia's Brave Touch Productions hope so.

Kiss Me, Kate which first opened on Broadway in 1948 will now be staged in China for the first time at the Beijing Exhibition Center from September 22-25. It will be among the several other Broadway musicals, including Les Misérables, Titanic, 42nd Street and Chicago, to be mounted this year in Chinese theatres by Beijing Exhibition Center Media Co

The 1997 revised edition of Kiss Me, Kate is directed and choreographed by John Michael Burdon with musically direction by Andy Peterson

Staging Broadway in China, according to Beijing Exhibition Center Media Co representatives, has the goal to "enhance the appreciation of musicals in China." Despite the success of movies and concerts, Broadway musicals are still "quite a novel form of media to Chinese audiences."

Promoters see China as a moneyed, growth area and are encouraging a push to develop what is now a fledgling Chinese theater industry.

Hoping to establish the same type of fan base that is enjoyed by concerts and movies, a strong Broadway push will first emphasize the established popular musicals with well-known storylines.

Kiss Me Kate fits the criteria. The musical ran for more than 1,000 performances on Broadway and won the first Tony Award presented for Best Musical in 1949. The 1999 revival of Kiss Me, Kate won five Tony Awards.



The Exhibition Theatre was the first big-scaled, comprehensive exhibition venue in Beijing. The building is housed within the exhibition center in Xizhimen, It is a great example of old Russian architecture. The 43 rows seat 2000 people.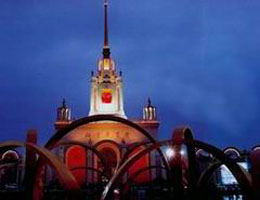 A musical structured as a play within a play, it was a response to the "book musical" movement that took place at the beginning of the 20th century, in which a musical where the songs and dances are fully integrated into a well-made story, with serious dramatic goals, is meant to evoke emotions other than laughter.

The 18 tunes including Brush Up Your Shakespeare, Another Op'nin', Another Show and Why Can't You Behave.

The production, featuring an all-Australian cast, will tour China with performances in Beijing, Shanghai, Ghengzhou, Shenzhen and Hanshou in China.

Getting the show on the road was the usual nerve racking experience.

Handling the auditions was Production Manager Dianne Palmer. Auditions were held in Australia at Sydney Dance Company last April. It was stressed that "Auditioners MUST have a valid passport at the time of auditioning and must be legally allowed to work in China for the period allocated."

Those auditioning were required to "prepare 16-32 bars of any Cole Porter song from any Cole Porter musical (including Kiss Me Kate) as well as a contrasting classical musical theatre song (pre-dating 1970) that showcased the person's range." Hopefuls were asked to "perform the Cole Porter song choice in the original key it was written in the musical." Transposed songs were not accepted.

Persons were asked to "attend a vocal audition slot based on their success at the dance audition."

Those making the cut were "required to participate in a 7 week part-time, non-paid, rehearsal process in Sydney." However, "as a sign of good faith, a mid-rehearsal payment of $1000.00 AUD" was promised to each performer "after the 4th week of rehearsal."

According to their list, the cast was provided:

International air transportation, four-star hotel accommodation in 23 twin-share rooms with full hot buffet breakfast included.

Provided and paid for all domestic air transportation as well as necessary transportation between airports and hotels, hotels and venues etc as required by the schedule, in 2 luxury air-conditioned 55 seat coaches; Pay for and arrange on behalf of the Performer all necessary visas, work permits and any other requirements; Arrange and pay for all parking costs into and out of the Venue (if necessary) and any taxes relating thereto to assist the Performer.

Ensure that venues are well-heated, well-ventilated, air-conditioned, well-lit and clean; Ensure that the venues and performance areas are safe and suitable for the purposes of the Engagement and complies with all applicable laws, health and safety requirements and regulations for the time being in force and is free of any structural defect reasonably likely to cause damage or injury to the Performer or any property of the Performer.

Ensure that the cast and crew of the Performer party have enough time at each venue to rehearse the production on the venue stage with correct technical capabilities and bump in/bump out procedures; Provide all necessary facilities at the venues including competent stage technician and adequate staff and box office facilities; ensure all costume fittings with the wardrobe department are organized upon arrival in China; Make available for the Performer secure changing rooms at the venues as follows:

1 private dressing room near the stage with mineral water provided for the Performer Leader
1 large dressing room with mineral water provided for Female performers
1 large dressing room with mineral water provided for Male performers

Provide refreshments before all performances - mineral water, tea and coffee, bread, fruits.

Provide the Performer with 5 pairs of complimentary tickets for seats of best quality for each Performance and 50 programs and posters for each Performance; the complimentary tickets cannot be sold for any purpose.

Will pay a wage to all performers based on Sundays during the tour on a weekly basis. Payment will be the following (based on a maximum of 8 shows per week – AUD amount):

Main Lead Roles (Fred, Lilli, Lois, Bill) - $866.00 per week
Secondary Lead Roles (Paul, Hattie, Harry, Gangster 1, Gangster 2, Harrison) - $817.00 per week
Ensemble (Male & Female) - $670.00 per week
Swing Roles (1 Male & 1 Female chosen from Ensemble) - $850.00 per week.

Regardless of how many performances there are per week – example 6 performances in 1st week of tour and 8 performances in 2nd week of tour – the wage will remain consistent per week.

Prices in American dollars for Kiss Me, Kate tickets including service fees are; $28.16, $43.81, $75.11, $106.41 and $137.72.


PET LOVE


SLIM MAN

Love at first tail wag. Photo:Slim Man
played three gigs this past week in California and performs today, August 28, at Johnny's Love Shack in Modesto - which generally would be listed in the Who's Where Section. However, his The New Girlfriend announcement warrants a special mention.

Slim Man announced: "I guess it had to happen. A single guy, tired of being single, goes to a new town. He's a little lonely. He meets someone, and sparks fly. So he falls in love. Who could blame him? Who wants to be alone? So, I guess what I'm trying to tell you is...

"Batu has a new Babe. Batu is my dog, my bull terrier, and he's got a new girlfriend. He met her in Nashville. She's an older woman, a German Gal. I guess kids these days would call her a cougar. But Batu is happy. And if Batu is happy, I'm happy.

"Sure, I don't see him as much anymore. He spends a lot of time with his Feisty Fraulein. But the good news is...I get to spend a lot more time writing songs," which is what he has been doing. Slim Man has been in Nashville writing songs with Michael Garvin - the guy who penned Waiting for Tonight for Jennifer Lopez and Never Give Up On A Good Thing for George Benson.

WHOOPI GOLDBERG has added to her pet parent family. It was a difficult delivery for the Russian blue feline. The furball was thrown from a moving car on New York City's Verrazano Bridge last July. An Animal Care & Control officer, who happened to witness the toss, rescued the kitten which authorities named Verrazano.

Goldberg, along with more than 140 others, applied to adopt. Not an easy process. Authorities might think an entertainer couldn't offer a stable home environment. What about food, toys, safety, other siblings?

Despite being single and over 30, Goldberg won out and happily chortled about the new addition to her family on her Facebook page.

Nicknamed "Vinny," the new family member now has a big brother - Oliver, also a Russian blue. As might be expected Oliver, as an only pet, has been accustomed to having it all. He's reportedly going through an adjustment period, staking his claim to the chow, cat toys - and attention.


SPREADING THE WORD


BREAD AND PUPPET THEATER the award-winning and one of the oldest, nonprofit, self-supporting theatrical companies in this country, presents Man = Carrot Circus September 2 on Boston's Cambridge Common.

Bread and Puppet champions a visually rich slapstick style of street-theater that is filled with huge puppets made of paper maché and cardboard, along with masked characters, political commentary, and a lively brass band for accompaniment.

Man = Carrot Circus, for children of all ages, is based on the revelation that upright man rooted in dirt was created in the image of the upright carrot rooted in dirt. Fifteen Vermont puppeteers and musicians will enact the issues of the day, not only in how they affect carrots, but how they affect us all. The audience is welcome to examine all the masks and puppets after the performance.

Scott Alarik will introduce the show which launches Harvard Square's Revival Month - an entire month of reincarnations, complete with the return of the HONK! Parade: Share The Streets on Oct. 2nd

The Bread & Puppet Theater was founded in 1963 by Peter Schumann on New York City's Lower East Side. Besides rod-puppet and hand-puppet shows for children, the concerns of the first productions were rents, rats, police and other problems of that neighborhood. More complex theater pieces, in which sculpture, music, dance and language were equal partners, followed. During the Vietnam War, Bread & Puppet staged block-long precessions involving hundreds of people.

In 1970 Bread & Puppet moved to Vermont as theater-in-residence at Goddard College, combining puppetry with gardening and bread baking in a serious way, learning to live in the countryside and letting itself be influenced by the experience.

In 1974 the Theater moved to a farm in Glover in the Northeast Kingdom of Vermont. The 140-year-old hay barn was transformed into a museum for veteran puppets.

JOE MANTELLO AND CHRISTINE VACHON along with their partners UNAIDS and African Services Committee are hosting an invitational screening of David Weissman's documentary, We Were Here on August 31st at the Anthology Film Archives in New York City.

A Q&A with Weissman will follow the screening.

According to the producers,"We Were Here documents the coming of what was called the "Gay Plague" (subsequently identified as HIV/AIDS thirty years ago this year). It illuminates the profound personal and community issues raised by the AIDS epidemic as well as the broad political and social upheavals it unleashed. It offers an emotional and cathartic validation for the generation that suffered through, and responded to, the onset of AIDS. We Were Here extends beyond generational boundaries and speaks to our inherent capacity as individuals to rise to the occasion, and to the incredible power of a community coming together with love, compassion and determination."

18th ANNUAL HOUSTON THEATRE DISTRICT OPEN HOUSE takes place today, Sunday, August 28. Experience dance, music and theater! Visit the Alley Theatre, Hobby Center for the Performing Arts, Wortham Theater Center and Jones Hall.

Citizens are invited to grab an event program and check out what's happening throughout the day. Performances will be offered on stage at all four of the Theater District venues, tour backstage, dive into the costume trunk, get up close with musical instruments at the instrument petting zoo, experience the luxury of Cadillac with "Ride and Drives" in front of the Wortham Theater Center and ride the Capital One Bank Trolleys from venue to venue all day long.

End your day with a free Houston Symphony concert starting at 4 pm at Jones Hall.

MELISSA SUE GILBERT AND HER SISTER SARA GILBERT have entirely too much in common. Unfortunately, both sisters announced last week that they are splitting from their longtime loves. Melissa Sue Gilbert filed for divorce from Bruce Boxleitner, her husband of 16 years. The actress cited irreconcilable differences in her divorce petition, which was filed Monday, August 22, in Los Angeles. She is seeking joint custody of the couple's 16-year-old son and no spousal support from Boxleitner.

The Talk co-host Sara Gilbert, announced her split from Allison Adler, her partner for a decade. They have two children together and will share custody.


NAKED RITUAL FAILS TO HELP KING ARTHUR RECLAIM THE BONES OF STONEHENGE
King Arthur Pendragon. Photo: Getty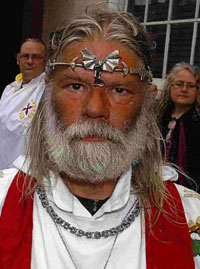 Dem bones, dem bones, dem dried bones of Stonehenge.

King Arthur Uther Pendragon, known to his friends as battle chieftain of the Council of British Druid Orders and Titular Head and Chosen Chief of the Loyal Arthurian Warband, and to his parents as John Rothwell, lost a High Court battle this past week in London over a pile of 5,000 year-old cremated bones he considers royal.

The druid ''battle chieftain'' took exception to a Ministry of Justice decision to permit the University of Sheffield to being research into the remains of 40 early Britons which were dug up at Shonehenge.

King Arthur, 57, wanted a judicial review to force scientists to return ancient ''royal'' remains which he called the "founding fathers of this great nation" - to their original resting place rather than peacefully resting in pieces in a museum.

Despite participating in a "naked ritual" to bolster his legal arguments, King Arthur failed to persuade the High Court to intervene.

The judge heard that the remains of the day were removed from a burial site at Stonehenge in 2008 and ministers gave researchers from Sheffield University permission to keep the bones until 2015. The British Humanist Association (BHA) said it was 'important' that scientists examined the remains.

Following the decision King Arthur wearing his flowing white robes of office, addressed the press and insisted that he was "very much hopeful that [he could] win in the future".

Pendragon is a seasoned political activist. He led a successful campaign to allow full access to Stonehenge during the summer solstice and also "a true English eccentric." Last year he amassed an amazing 257 votes in his bid to become MP for Salisbury, listing his hobbies as "saving the environment, being senior druid and pagan priest".


OTHER PEOPLE'S MONEY


THE SNAPPLE THEATER IN NEW YORK CITY is apparently looking for outdoor advertisers. Received an E-mail stating "This email is about a great outdoor advertising opportunity with a New York City Off Broadway performing theater. The Snapple Theater Center.

"We are proud to propose the dedication and naming of our 4th floor theater (currently home to the long-running thriller Perfect Crime) as The John Doe Theater. The Snapple Theater Center is among New York's most visible and centrally-located theatre facilities. It boasts two separate 199 seat Off-Broadway theaters, as well as two state-of-the-art rehearsal and dance studios frequently used for rehearsals by new and long-running Broadway shows and national tours. In collaboration with producer Dick Wolf and Ms. Elaine Orbach, we had the privilege in 2008 to dedicate our 3rd floor theater – home to the long-running The Fantasticks - as The Jerry Orbach Theater. The adjoining studio was named the Elaine Cancilla Orbach Studio in honor of Ms. Orbach's illustrious career as a Broadway singer/dancer."

The E-mail contained so many photographs and attachments that it took 262 (two-hundred sixty-two) timed-out attempts before it stopped locking up my computer and made it into my inbox. Not a way to make friends.

While declining the invitation to read the attached flyer about the opportunity to pay to have the name of my choice slapped on a building, the branded-entertainment bandwagon has been rolling along for several years.

An electronic ribbon-style sign 9 feet wide and 175 feet long - bearing ads, logos and messages in addition to the Snapple Theater Center name - went up six years ago extending from the Broadway side around to 50th Street.

Catherine Russell, the general manager of Perfect Crime, the play that became the first tenant of one of the Snapple center theaters, in 2005 stated to The New York Times, "I'm really happy to have the corporate sponsorship," Ms. Russell said, "and I don't feel the least bit artistically compromised. Theater is about art, but it's also about business."

THE SIGNATURE THEATRE the Tony Award winning regional theatre in Washington, DC knows a promotional idea when they feel one. When the 5.9 earthquake hit on Tuesday, the Signature Theatre didn't need to wait for an aftershock to shake loose their creative minds. Billed as a salute to surviving the quake the theatre immediately offered $5.90 tickets for performances for the world premiere previews of two new musicals: The Hollow last Tuesday and Wednesday and The Boy Detective Fails on Thursday.

The Hollow is a distinctive reinterpretation of Washington Irving's classic tale Sleepy Hollow as created by Hunter Foster and Matt Conner.

The Boy Detective Fails is based on the popular Joe Meno novel of the same name The music and lyrics are composed by Adam Gwon, with a book by Meno.






PLAYWRIGHT SIR DAVID HARE has been awarded this year's Pen/Pinter Prize, it has been announced.

The award, in memory of playwright Harold Pinter, is given to a British writer who casts an "unflinching, unswerving" gaze upon the world.

Pinter's widow, Lady Antonia Fraser, said Sir David was a "worthy winner".

He will be presented with his prize on October 10th at the British Library.

ARETHA FRANKLIN will be honored by the Rock and Roll Hall of Fame and Museum in Cleveland and Case Western Reserve University at the 16th annual American Music Masters series.

Lady Soul: The Life and Music of Aretha Franklin will be a weeklong celebration - October 31st to November 5th - which will tell the story of the first woman inducted into the Rock and Roll Hall of Fame.



TEMPORAL POWERS by Teresa Deevy as part of the Mint Theater Company's Deevy Project.

Jonathan Bank directs a cast that features Rosie Benton, Paul Carlin, Robertson Carricart, Bairbre Dowling, Con Horgan, Eli James, Aidan Redmond, Wrenn Schmidt, and Fiana Toibin.

Michael and Min are stone-broke and homeless, but the greatest test of their marriage comes when, after taking shelter in a crumbling ruin, they stumble upon hidden treasure. Min sees a chance to start a new life; Michael fears it's stolen and wants to give it to the priest. As the night grows dark, neither one is left able to see right from wrong.

Temporal Powers, set in Ireland in the 1920's, is a story of love and loss, where hope and despair are two sides of the same contested coin.

Aidan Redmond and Rosie Benton will play Michael and Min

Teresa Deevy's explosive drama won First Prize in the new play competition held by the Abbey Theatre in 1932. The judges called the play "strikingly original and of fine literary quality." It was produced to great acclaim that year: "Amongst the best that the Abbey Theatre has ever staged," The Guardian reported; "one of the most thoughtful works seen for sometime at the Abbey," said The Irish Times.

The Irish Independent added: "In Temporal Powers Miss Teresa Deevy has written an original and thought-provoking play. Her characters are drawn from Irish life, they speak in a rich and natural idiom, the incidents might have happened in any Irish Village. Miss Deevy knows her people, that is obvious, but the angle from which she regards them is unusual. It is not distortion, but rather that sublime quality in the artist, originality."

The Mint Theater Company specializes in staging forgotten drama. The Mint was awarded an OBIE for "combining the excitement of discovery with the richness of tradition," and a special Drama Desk Award for "unearthing, presenting and preserving forgotten plays of merit."

Officially opens August 29 at the Mint Theater Company in New York City.

LAUREL AND HARDY written by Tom McGrath. Directed by Dimitri Toscas.

Starring Kevin Blake and Paul C. Vogt with Robert Petrarca at the piano.

Stan Laurel (Kevin Blake) and Oliver Hardy (Paul C. Vogt) reminisce about their lives, loves and careers in Vaudeville, Silent Movies, and the Talkies. Flashing back to some of their world-famous comedy sketches, slapstick, music and dance routines, as well as poignant glimpses behind the scenes, the charm and wit of Laurel and Hardy are reborn in this affectionate homage to the men behind the laughter and success of one of the most prolific comedy teams.

Playwright McGrath, born in Rutherglen, Scotland in 1940, was a radical Scottish poet and playwright, and jazz pianist who died in 2009 at aged 68 from cancer of the liver after first suffering a stroke.

1960s, he was associated with the emerging UK underground culture, becoming a founding editor of the International Times. He was musical director on Billy Connolly and Tom Buchan's The Great Northern Welly Boot Show (1972).

Two years later, having already brought Miles Davis, Duke Ellington and the Mahavishnu Orchestra to Glasgow, he set up the Third Eye Centre, a shrine to the avant garde, which is still in operation as the Centre for Contemporary Arts.

Beginning with his plays Laurel and Hardy (1976) and The Hardman (1977), his popularity and reputation as a playwright became international. His play The Dream Train (written for Magnetic North Theatre Company) was read in French translation at the Avignon Theatre Festival (2001) and produced in Finland and in Germany.

In 1976 Laurel and Hardy, a touching portrait of the double-act, was a popular hit, and bore the hallmarks of his interest in jazz, improvisation and poetry. His obit stated: "Never one to trade on past glories, he was restlessly inquisitive to the end. No epitaph better sums him up than his own lines from Laurel and Hardy: "Growing old/My jaws unfold/My face is wrinkled/Starting to crinkle/But we'll be bold/Before we're old/We'll show them what we're made of."

August 31 - October 2, 2011 at the Falcon Theatre in Burbank, CA.

CHICAGO the Tony-winning revival of John Kander, Fred Ebb and Bob Fosse's musical will welcome Tony Yazbeck to the cast as Billy Flynn at Broadway's Ambassador Theatre August 29 for a nine-week engagement.

SOUTH PACIFIC the hit, Tony Award winning Broadway production, which opened last week in London's West End, has surprised the experts by receiving mixed reviews.

The production stars former EastEnders actress Samantha Womack and Brazilian opera singer Paulo Szot but only Loretta Ables Sayre, who portrays Tonkinese peddler Bloody Mary, received unanimous rave reviews.

The production runs at The Barbican until October 1 before embarking on a nationwide tour from October 12 in Milton Keynes.

WONDERLUST by Cody Henderson. Directed by Amber Skalski.

After his wife leaves him, beloved high school biology teacher Andrew Goodspeed suffers a mild heart attack. In an effort to make sense of his disillusionment, Andrew devises a new course for his students: a study of the science of love. Sharon, Andrew's best student, is convinced that she is incapable of love. She manipulates the experiment, her teachers, and her peers to prove this theory. But she and Andrew begin to wonder: can true love be proven by observable physiological data? Against his better judgment, Andrew allows Sharon to guide the experiment down a more intimate track, putting his job and his reputation in jeopardy.

Word of Andrew's exploits spreads to an evangelical congressman with a personal interest in the story. Accusations of impropriety and misconduct fly, as the lines between student and teacher, science and spirituality blur. According to the congressman, love is the province of religion, not science. And by bringing love into the classroom has Andrew opened the door to God as well?

The cast features: Kristan James Butler, Carl J. Johnson, Brad C. Light, and Elia Saldana.

The set and costume designs are by Barbara Lempel. The lighting design is by Matt Richter. The sound design is by Cody Henderson.

Performances through October 1 at Theatre of NOTE in Hollywood.


WHO'S WHERE




PAUL ANKA aka Jason Bateman's father-in-law, will be singing his long string of hits when he performs September 3 at Star of the Desert Arena in Primm, NV. The singer, songwriter, and actor who always delivers 110% is on a hectic tour. Following the Nevada show he's off to Minnesota followed by shows in Connecticut and New York, before he heads across the ocean for the European tour section, which begins in Belgium. By the way, Amanda and Jason Bateman are expecting another Anka grandchild. Bateman and Anka have been married since 2001. They have a 4-year-old daughter, Francesca Nora Bateman. Reportedly, Francesca is looking forward to having a baby sister.

ROD STEWART in a don't miss show at Caesars Palace in Las Vegas. Of course, if you can't make it to this engagement, he has a few others planned - two year's worth in fact. This time around Stewart is doing 18 performances, half of them through September 11, the other half November 3-20.

DOLLY PARTON continued her tour in the United Kingdom with a show Wednesday, August 31 at the Echo Arena in Liverpool. On Friday she's on stage at the LG Arena in Birmingham. On Saturday she begins a two nighter at the Motorpoint Arena in Cardiff.

JOSH GROBAN performs Tuesday, August 30, at the Rogers Arena in Vancouver, BC. On Thursday the show is at the Scotiabank Saddledome in Calgary, AB. On Friday he's on stage at Rexall Place in Edmonton, AB.

AIR SUPPLY the Australian soft-rock group featuring Graham Russell and Russell Hitchcock, who have been together for over 30 years, perform The Orleans Showroom in Las Vegas over Labor Day Weekend, September 2nd through 4th.

TRACE ADKINS with special guest Kellie Pickler perform Friday, September 2, at Trump Taj Mahal in Atlantic City.


FINAL OVATION


JERRY LEIBER one half of the famed songwriting duo of Leiber and Stoller, died on Monday, August 21, 2011 in Los Angeles. He was 78.

Jerry Leiber, the lyricist and pianist Mike Stoller, wrote some of the most enduring classics in the history of rock 'n' roll, including Hound Dog,Yakety Yak, Stand By Me, Jailhouse Rock, Loving You, Don't, Treat Me Nice, King Creole and On Broadway.

The Broadway musical Smokey Joe's Cafe was based on the Leiber and Stoller songbook. In 1987, the partners were inducted into the Songwriters Hall of Fame in 1985 and the Rock and Roll Hall of Fame in 1987.

He is survived by three sons, Jed, Oliver and Jake, and two grandchildren.

NICK ASHFORD one half of the songwriting duo Ashford & Simpson died August 21, 2011 in a New York City hospital. He suffered from throat cancer and had undergone radiation treatment. He was 70.

Along with his writing partner and wife Valerie Simpson they wrote some of Motown's greatest hits. including Ain't No Mountain High Enough, You're All I Need To Get By and Reach Out And Touch Somebody's Hand.

He is survived by his wife and two daughters.

JOHN HOWARD DAVIES who produced a string of comedy classics including Fawlty Towers and The Good Life, died August 22, 2011 at his home in Oxfordshire, England with his family by his side. He was 72.

Davies was head of comedy at the BBC from 1977 to 1982.

The son of a comedy writer, he found fame as a child actor. At age eight he made his debut as Oliver in David Lean's Oliver Twist in 1948.

Some of his most notable contributions include producing the first four episodes of Monty Python's Flying Circus (1969-74) with Ian McNaughton. Another of his credits include directing the hilariously memorable 1996 special Easter episode of The Vicar of Dibley.

ROSS BARBOUR last remaining original member of the famed 1950s jazz and pop harmony group the Four Freshmen, died Saturday, August 20, 2011, in Simi Valley, CA. He was 82. The cause of death was lung cancer.

He is survived by his wife Nancy Sue and three children.

PRICE BERKLEY founder of Theatrical Index, nicknamed The Bible by Broadway insiders, died August 21 at his home in Manhattan.

A veteran of World War II, Prince published the first issue of Theatrical Index on November 9, 1964.

Berkley was a longtime member of the Tony Awards nominating committee, and was inducted into the Theatre Hall of Fame in 2003.

FRANK DiLEO credited with turning Michael Jackson into a super-star, died Wednesday, August 24 at a hospital in Boardman, Ohio, of complications from heart surgery that he underwent six months ago. He was 63.

He was vice president of promotion for Epic Records when Thriller was released in 1982 and is credited with pushing for the concurrent release of the singles Billie Jean and Beat It. He became the pop star's manager in 1984. Jackson fired DiLeo in 1989 after an apparent falling-out, then rehired him in 2009 when Jackson was preparing for his This Is It tour.

DiLeo was at Ronald Reagan UCLA Medical Center when doctors officially pronounced the pop star dead at age 50 on June 25, 2009.

DiLeo also managed other musicians including Taylor Dayne, Jodeci and Bon Jovi guitarist Richie Sambora.

He is survived by his wife, Linda; a daughter, Belinda; a son, Dominic, and a grandson, Frank.






Next Column: September 4, 2011
Copyright: August 28, 2011. All Rights Reserved. Reviews, Interviews, Commentary, Photographs or Graphics from any Broadway To Vegas (TM) columns may not be published, broadcast, rewritten, utilized as leads, or used in any manner without permission, compensation and/or credit.
Link to Main Page
---
Laura Deni



For the snail mail address, please E-mail your request.
CLICK HERE FOR COMMENT SECTION