! >
Broadway To Vegas
  
  REVIEWS  INTERVIEWS COMMENTARY NEWS

| | |
| --- | --- |
| | |
WONDERFUL LIVE RECORDING OF KNICKERBOCKER HOLIDAY - -PRINCE ALBERT MARRIED CHARLENE WITTSTOCK AND PRINCE WILLIAM AND KATE CONQUER NORTH AMERICA - - MONACO'S SPORTING SUMMER FESTIVAL - - NEW MUSICAL DOCTOR ZHIVAGO - - BROADWAY BARKS 13th ANNUAL ADOPT-A-THON - - LINCOLN CENTER FESTIVAL 2011 - - BRIDAL FASHIONS FROM THE MARJORIE MERRIWEATHER POST FAMILY - - REAL LAWYERS IN JUDGMENT AT NUREMBERG - - DONATE . . . Scroll Down



PRINCE ALBERT MARRIES CHARLENE AND PRINCE WILLIAM AND KATE CONQUER NORTH AMERICA
Prince Albert and Charlene after their civil ceremony. The new Princess Charlene wore an elegant Chanel designed pants suit. Valery Hache/AFP - Getty Images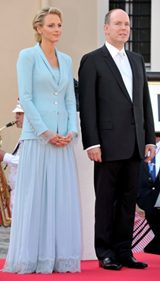 Despite rampant rumors that Charlene Wittstock was on the fast track to be a runaway bride and had to be stopped by the Monaco Palace from canceling her wedding to Prince Albert, the elaborate, expensive - estimated to cost $70 million - and romantic nuptials took place as scheduled.

80 family members, friends and dignitaries witnessed the 20-minute civil ceremony, July l in the Palace Throne Room, officially creating Princess Charlene - wedding her to lifestyle, if not to a faithful man.

Men in attendance were requested to wear suits and ties while the women were required to keep their shoulders covered.

The newly transformed commoner into princess wore an exquisite silken blue jacket with ankle-length palazzo pants, that the fashion house Chanel created for the civil ceremony.

Jean Michel Jarr sang for their reception on Friday. While Jarr was on key, a different type of chirping had been taking place - that days before the wedding Charlene had learned that a pregnant women will soon name Prince Albert as the father of her unborn child, prompting the bride to want a one-way ticket home. The Monaco Palace marshaled a defensive mode.

Not amused by the rumors published in the Paris press, the Palace threatened to get an injunction, countering that the vicious lies were spread by those who were jealous.

"A few days before the marriage of HSH Prince Albert to Miss Charlene Wittstock, the palace officially denies the false allegations that have emerged this morning (Tuesday) on the site Express.fr," the palace indicates in a statement. "These rumors are only intended to seriously affect the image of the Sovereign and that of Miss Wittstock, and to gravely harm this happy event," the palace added in the release.

Albert has already fathered two illegitimate children by two different women.

Shortly before the stork rumors took flight the happy bride-to-be was in New York City attending her bachelorette party at Cipriani Downtown, which was arranged by Danish designer Isabell Kristensen and Prince Albert's cousin Donatella Knecht de Massy, the wife of Sebastien Knecht de Massy.



HSH Prince Albert waits for his bride. Photo: Getty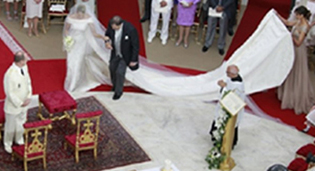 The follow-up religious ceremony took place Saturday, July 2. With the exception of Prince Laurent of Belgium, falling as he entered the palace, the ceremony went off without a hitch.

For her religious ceremony, in which the couple exchanged 18 carat white gold and platinum rings by Cartier, Charlene wore an off-white, silk tulle Duchesse Giorgio Armani Privé dress with a 5.5 yard long train and long veil.

The dress which required more than 2500 hours of work - of which 700 hours was spent on the embroidery alone - 88 yards of silk and 40,000 Swarovski crystals, was embellished with flowery, platinum-coated thread embroidery, crafted with 30,000 stones in gold shades and 20,000 mother of pearl teardrops.

The veil took 100 hours to make.

Exquisite, the off-the-rack version will be snapped up.

A startling feature was that the stunning gown featured a dramatic off-the-shoulder, boat-neck collar - permitting the tops of her shoulders to be exposed - something that has always been considered a no-no for this type of ceremony.



HSH Prince Albert and Princess Charlene exchange vows. She not only didn't run awar from the marriage, she promised to take him "for better or for borse." Photo: Getty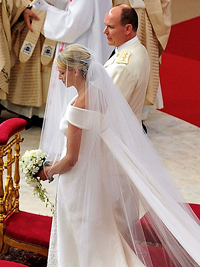 Albert stuck to tradition, wearing the cream-colored summer uniform of the palace guards, as well as three medals, including the French Legion of Honor and the Order of the Grimaldi.

The bride was given away by her father, Michael Wittstock, who wore a black and grey suit.

Assisting the bride was her maid-of-honour Donatella Knecht de Massy and seven young bridesmaids from around Monaco and neighbouring French districts wearing taffeta red and white outfits and straw hats.

During the service, Prince Albert's nieces Alexander - daughter of his sister Princess Caroline of Handover - and Pauline - eldest daughter of his other sister Princess Stephanie - both performed readings.

U.S. soprano Renee Fleming and Italian tenor Andrea Bocelli performed during the ceremony, as did singer Pumela Matshikiza, who delivered the traditional South African "Click Song" - a salute to the princess' native land.

A few of the rich, famous or royal who attended Saturday's religious ceremony were Prince Edward and Sophia, the Earl and Countess of Wessex who represented the British Royal Family, Prince Carl-Philip and Princess Madeleine of Sweden, Crown Prince Willem-Alexander and Princess Maxima of The Netherlands and Belgium's Crown Prince Philippe and Princess Mathilde Sweden's King Carl XVI Gustaf and Queen Silvia, Prince Vittorio Emanuele - Duke of Savoia, and his wife Marina Doria and Prince Henri of Orleans, Count of Paris with his wife Micaela Cousino Quinones de Leon.

Former French tennis player Henri Leconte and his wife Florentine were there, as were Monaco's Princess Charlotte Casiraghi, who arrived with her boyfriend Alex Dellal. Others included Malaysian actress Michelle Yeoh and her husband, FIA President Jean Todt, Chanel designer Karl Lagerfeld, Bernard Arnault, the CEO of luxury giant LVMH - and the wealthiest man in France, Nicholas Sarkozy the President of France, His Majesty Leruo Molotlego of the Kingdom of Bakofeng in South Africa, business tycoon Philip Green, actor Roger Moore and his wife Kristina, Romanian gymnast Nadia Comenici, Giorgio Armani who designed the bride's gown, Richard Branson, Archbishop Desmond Tutu, models Naomi Campbell and Karolina Kurkova.

A dinner reception followed the ceremony. ( See Broadway To Vegas column of June 26, 2011 )

Princess Charlene has wasted no time in making some significant fashion statements - changes are coming - though her choice of a message carrier is - subtle.

Prior to her marriage the blonde beauty frequently wore tank tops and strapless outfits.

For the civil marriage ceremony Charlene wore pants. It's doesn't matter the designer, fabric or style. They were pants - you can hear those House of Grimaldi graves spinning.

For her Monegasque, Catholic wedding the gown not only wasn't buttoned up to the neck, it was even off the shoulder. God did not hit the ceremony with lightning, but there is that persistent rumor about the Grimaldi curse.



Boarding the plane for Canada Kate selected a navy blue Roland Mouret Manon dress, a navy blazer by the Toronto label Smythe Les Vestes and a pair of Manolo Blahnik Calogera court shoes. Getty images.

Across the channel in England, The Duke and Duchess of Cambridge, more affectionally known as Will and Kate, flew to Canada where they have had the country presented to them.

They will conquer the United States this week with no opposition - save for David Letterman who announced that he is no fan of the British Royal Family.

Assuming that the late night talk show host is no longer on the polo invite list, those who will watch the elite try to stay on their ponies and swing the mallet have anted up for the privilege.

The mega rich, who many times expect everything for free, are showing their infatuation with Prince William and his new bride by dipping into their deep pockets.

Wealthy members of the Santa Barbara Polo Club have clamored to donate up to $100,000 each to the duke's charitable trust for the privilege of playing in a polo fundraising tournament on July 9.

Others were eager to snag $4,000 VIP tickets for the chance to have some face time with the newly minted Duke and Duchess of Cambridge at a luncheon.

Even the cheap seat tickets went for $400.

That means that the Foundation of Prince William, Prince Harry and the Duchess of Cambridge as the charity is now known, can expect a $4-million windfall by the time the final chukka is over - more than four times as much as it raised in the whole of last year.

The fashion industry is also expected to benefit. With Kate donning at least 40 stylish outfits during this tour, busy little fingers are poised to stitch up the knock-offs in record time.

The woman who will be queen has not only single handedly revitalized the fashion industry, but given an important emotional uplift to women who can be confident they won't look like a monkey on a stick wearing the garments.

Frequently, celebrity style icons pick outfits which are one of a kind, too faddish or not geared to a real world lifestyle.



Landing in Ottawa the Duchess of Cambridge wore a 2012 resort collection lace overlay dress by Erdem. Photo Chris Jackson-Pool/Getty Images.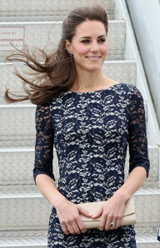 Kate has endeared herself to women everywhere by becoming a walking clothes horse for the type of garments which women can not only wear, but will stay in style long enough to justify the expense.

She also buys off the rack, wears outfits more than once and brought along several of her favorites.

William demonstrated he's a quick study in proper husband behavior - permitting his wife to be the center of attention. The Duke of Cambridge stuck to a dark blue suit, either a white or a blue shirt and red ties.

On Thursday, June 30, the couple arrived in Canada on an Airbus 310. The Duchess boarded the flight wearing a stunning navy blue crepe wool a-line, knee-length dress by French designer Roland Mouret.

Described as "Sleeveless. Gathered shoulders lead into a cowl neck. The cowl neck has two black ribbons that tie across the shoulders. The tabard style front is sewn a little in from the left edge to create a draped effect. Seams running diagonally across the front allow the material to fold. Longer at the back than the front. The back of the dress drapes at the neckline. Exposed hemmed seams all over. Unlined. Generous fit. Hemline finishes at the knee."

It was on sale for $935 and instantly sold out.

Kate topped it with a single breasted long sleeve crepe blazer in navy by Toronto-based Smythe les Vestes. Described as "Peaked lapel collar. Padded shoulders. Single button front closure. Welt pocket at bust. Welt pockets and button-fastened coin pocket at waist. Curved seams at front and back. Cutout back waist. Four button sleeve cuffs. Gold tone emblem-embossed buttons. Fully lined. Shell: 100% cotton. Lining: 97% polyester, 3% elastane. Dry clean. Made in Canada."

She wore a pair of Manolo Blahnik Calogera pumps and carried a Mulberry Polly Push Lock bag which retails for $1300.

The only thing faster than the airplane's take-off speed was that jacket and dress selling out on line at Neiman-Marcus.

When the 7-hour 40-minute flight landed, Kate had changed into a navy, lace Cecile shift scoop-backed dress of contrast stone crepe with a navy lace overlay, featuring a sheer lace sleeve with a scallop detail, from the 2012 resort collection by the Canadian designer Erdem Moralioglu.

For that dress Kate selected cream L.K Bennett Andie shoes worth $312,

Friday, July 1, which would have been the 50th birthday of William's mother, Princess Diana, is also Canada Day, which marked the nation's 144th birthday.

Will and Kate even joined in singing God Save the Queen during a citizenship ceremony.



For Canada Day Kate wore one of her favorite dresses. She added some snappy accessories including a pin loaned to her by her grandmother-in-law. Photo Pool/Getty Images.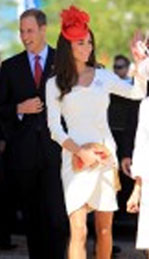 Entertainment was provided by a roster of performers that included Newfoundland band Great Big Sea, Quebec's Sam Roberts Band and YouTube sensation Maria Aragon, the 10-year-old who became front page news when she performed Lady Gaga's Born This Way on YouTube.

She has since performed with Lady Gaga herself as well as with Canadian Prime Minister Stephen Harper.

Kate wore the Canadian colors, her stunning cream petal draped Reiss dress - the one she also wore for her official engagement photograph.

She topped it off with a red straw saucer fascinator by Lock & Co's milliner Sylvia Fletcher. It was festooned with stiff, sculpted maple leaves. On her dress she wore a diamond maple leaf pin loaned to her by her grandmother-in-law, Queen Elizabeth. The Queen's brooch was first worn by the then Princess Elizabeth on her first visit to Canada in 1951 and during her own visit to Canada last year.

Kate carried a creme and red Anya Hindmarch fan-shaped clutch with tassel, which was also marked down from $560 to $280 and - instantly sold out.

Kate selected Hobbs London Albini Square Cut Court Shoes in Cherry which had been $280 but were on sale for $86 and - you guessed it - sold out within minutes.

An evening rain forced the 120 guests at Thursday night's Celebration of Youth barbecue inside Rideau Hall, which is the home of the Governor-General and where Kate and Wills stayed during their stay in Ottawa.

The barbecue was held to honor 100 Canadians under the age of 35 for their dedicated service both at home and abroad and it included athletes, business people and community leaders from across Canada.

Kate wore a black and white Issa bird print wrap dress with black Pied a Terre Ivy Canvas slingback wedges ($125 and sold out). Kate has worn this dress on previous occassions such as in 2006 and the day before her wedding.

Kate was seen wearing the black wedges last summer when she watched William play polo in Tetbury.



Kate selected a dress by Issa for Friday's entertainment and fireworks. Her beaming husband joined the other men in not wearing a tie. Photo: Getty Photo Pool/Getty Images.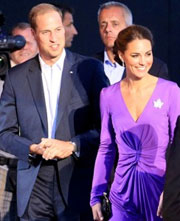 Their Friday night came to a glorious end when the adored couple made a grand entrance at Parliament Hill for entertainment and fireworks. Kate's hair was upswept and she look glam in a long sleeve, purple, V-neck, jersey dress by Issa. She complemented the look by accessorizing with her borrowed diamond maple leaf brooch, black Prada heels and her black Anya Hindmarch Bespoke Maude Clutch.

On Saturday after arriving in Ottawa the couple toured the War Museum's art collection, chatted with war veterans and brides spanning several generations and planted a tree.

Kate wore a mid-length, above-the-knee grey, Kensington shift dress, from Catherine Walker. The dress has a dramatic deep V-back and eye-catching detailing around the neckline, with an angled collar folded down against the dress. She wore a pair of pointed greige pumps and carried a matching suede Hobbs London Somerton Clutch Bag priced at $158, which immediately sold out.

Then the couple stopped by the Sainte-Justine Children's hospital when they visited several patients.

Later they visited a cooking school, Institute de Tourisme et d'hôtellerie du Québec, where they learned to make foie gras, lobster soufflé and loin of lamb. For that event William and Kate donned the white uniforms of cooking students.

After the class Premier Jean Charest and his wife Michelle Dionne ate the meal cooked by the students alongside the royals.



Broadway To Vegas is supported through advertising and donations. Priority consideration is given to interview suggestions, news, press releases, etc from paid supporters. However, no paid supporters control, alter, edit, or in any way manipulate the content of this site. Your donation is appreciated. We accept PAYPAL. Thank you for your interest.



ART AND ABOUT


WEDDING BELLES: BRIDAL FASHIONS FROM THE MARJORIE MERRIWEATHER POST FAMILY 1874-1958 and that includes daughter Dini Merrill who following her divorce to Colgate heir Stanley Rumbough, Jr. after 20 years, she married Academy Award winning actor Cliff Robertson in 1966.

Prince William and Kate and Prince Albert and Charlene aren't the only ones who know how to stage a wedding.

Consider those Post women.

Exquisite gowns and other wedding apparel reveal how three generations of Post family women celebrated weddings with their legendary elegance and style. From turn-of-the-century Edwardian bride to Upper East Side doyenne, Hillwood founder Marjorie Merriweather Post (1887-1973) asserted her status, taste, and sophistication in the styles she wore down the aisle.

Now, Wedding Belles brings together her four wedding gowns, along with those of her mother and daughters, and examines the evolution of early 20th century wedding style through the lens of one of America's most notable and fashionable families. Drawn mainly from the extensive costume collection left by Post to Hillwood, the exhibition also includes her daughters' flower girl and bridesmaid dresses, mother of the bride dresses worn by Post and her mother, the "Hapsburg veil" worn by Adelaide at one of her marriages but made for Princess Stéphanie of Belgium when she married Crown Prince Rudolf of Austria in 1881 - on loan to the exhibition from the Smithsonian Institution, and a show-stopping jewel-encrusted Cartier bag.

Organized by curator Howard Kurtz, the display includes dresses from Post's four weddings and the combined dozen weddings of her daughters, Eleanor, Adelaide and Nedenia (known to most as actress Dina Merrill). Merrill donated a wedding gown, albums and other mementoes. The mansion's dining room is even set up as it was for the wedding luncheon when she married Cliff Robertson in 1966.

Archival photography, correspondence, and ephemera further illustrate the tradition, romance, and elegance that informed the renowned family's nuptials.

Founded by American collector and heiress to the Post cereal empire Marjorie Merriweather Post, Hillwood Estate, Museum & Gardens located in Washington, DC is one of the premier art collector's museums in the United States. The museum features the most comprehensive collection of Russian imperial art outside of Russia and a world-renowned collection of eighteenth-century French decorative art and furnishings. The collection includes Fabergé eggs, Russian porcelain, Russian Orthodox icons, Beauvais tapestries, and Sèvres porcelain. Encircled by woodlands, the twenty-five acre estate provides visitors a tranquil oasis of luscious formal gardens.

COLONIAL FASHION ACCESSORIES Opened in 1985, the DeWitt Wallace Decorative Arts Museum in Colonial Williamsburg, Virginia is home to an extensive collection of American and British antiques.

On display are furniture, metals, ceramics, glass, paintings, prints, firearms, and textiles from the 17th, 18th, and 19th centuries.

Fashion Accessories from Head to Toe exhibition on display through December 31, 2012 features costume accessories from the late seventeenth through the early nineteenth century. Women and men enhanced their appearance with the addition of hats, purses, jewelry, shoes, and more. These objects kept pace with change in fashion and present a visually rich overview of the period.

The Declarations of Independence exhibition on display through August 2011, features five copies of the famous document printed in anticipation of the 50th anniversary of the signing of the Declaration of Independence. Printers competed to produce copies that would allow every household to own a copy of the Declaration.

In 1823, an official version was created by William Stone and presented to the few remaining signers of the original Declaration as well as many government officials.

Today, only about 30 of the original 200 copies survive.

Fashion Accessories from Head to Toe on display through December 31, 2012 in Colonial Williamsburg, Virginia.


THE MUSIC GOES ROUND AND ROUND


KNICKERBOCKER HOLIDAY Music by Kurt Weill. Book & Lyrics by Maxwell Anderson.

Recorded live at Alice Tully Hall at Lincoln Center in New York City on January 25 & 26, 2011. Released on Ghostlight Records.

A briliant, delightfully rousing, pithy, politically relevant musical creation.

In 17th-century Manhattan, the roguish Dutch council eagerly awaits the arrival of their new autocratic governor, Pieter 'Peg-Leg' Stuyvesant. Hoping to make a good impression, and in the awkward position of having no one to hang on hanging day, they arbitrarily select an independent-minded young man for the unfortunate fate and we're off and running with a satirical fable pitting totalitarianism against democracy. This first musical to use historical perspective to comment upon contemporary political matters leaves virtually no aspect of government unscathed, with some hilarious and knowing results. Washington Irving, himself stepping in and out of the narrative as the plot unfolds, to comment on the action or encourage the characters to behave better for posterity.

In New Amsterdam in 1647, Bryce Pinkham plays the young Washington Irving as he begins his book about the Dutch colony of New Amsterdam. As the story unfolds, a jovially corrupt group of Councilors await the arrival of governor Peter Stuyvesant (multiple Tony Award nominee Victor Garber). The council is led by Tienhoven (David Garrison), whose daughter Tina (multiple Tony Award nominee Kelli O'Hara) loves Brom Broek (Ben Davis). It Never Was You, is their declaration of love.

The "old folks" sing of the benefits in entering into a marriage based not upon love, but lifestyle in Young People Think About Love where the young people complain that the old people think about "where you will sleep, not with whom and business advantages with the groom".



Victor Garber sets the new gold standard for performing September Song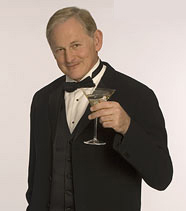 Brom Broek is a commoner who is constitutionally incapable of taking orders, and thus a true American. Trouble arises when Brom challenges the council and then the new Governor. Stuyvesant initially appears to be cleaning house, but it becomes clear he is merely consolidating power in his own hands. He takes a romantic interest in the much younger Tina. The Bachelor's Song, dropped from the original production, has been restored for this concert which happily expands the role of Brom's comic sidekick Tenpin (Tony nominee Christopher Fitzgerald).

Kurt Weill and Maxwell Anderson teamed up for the first time to create this delightful romantic comedy. The famous pop standard, September Song, first appeared in Knickerbocker Holiday. Recorded by countless singers, many have felt the gold standard delivery was shared by Maurice Chevalier and Frank Sinatra - until now. Victor Garber now holds that distinction.

This performance by The Collegiate Chorale featured Victor Garber as Stuyvesant, Ben Davis, who most recently appeared in A Little Night Music, as Brom, Bryce Pinkham, who received his M.F.A from Yale, is cast as Washington Irving, David Garrison, who graduated summa cum laude from Boston University's School of Fine Arts, as Tienhoven, Kelli O'Hara with her powerful and beautiful voice brings an emotional appeal to love interest Tina, and two time Tony-nominated Christopher Fitzgerald as faithful sidekick Tenpin. The councilmen are portrayed by Tony nominated Brad Oscar.

Broadway's multi-talented Ted Sperling, winner of both Tony and Drama Desk awards, directed the event, and The Chorale's Music Director, James Bagwell, conducted.



Kelli O'Hara and Victor Garber in Knickerbocker Holiday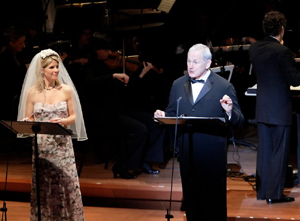 Recorded live, this CD provides the listener with a glimpse of what it was like when top of the charts recording artists captured their Las Vegas shows with a "live" recording on a Las Vegas stage. There is a certain intimacy and excitement in hearing the applause and laughter, and hearing the actors perform "live" that brings the listener into the event.

The actual concert staging received mixed reviews with some critics carping about what amounted to the limitations of what it was - a concert staging.

Those stage limitations are irrelevant in a CD. This Knickerbocker Holiday CD is not only delightful but the sound quality is some of the best ever recorded.

It is neat trick - requiring both top of the line equipment and the technicians who know what to do with that equipment to capture sound that provides the listener with the depth of space between the performers. Are they close together, on different sides of the stage - is one performer moving around? Trying to preserve that in a live performance can result in a tinny, difficult to hear both performers, when they are far apart or moving, and generally some words get muddled.

In this flawless recording, the articulations are captured - every, single syllable.

The book by Maxwell Anderson, at the time one of the leading playwrights, is a politically charged witty, literate, political satire on President Roosevelt and his New Deal policies - and FDR reportedly loved the show. The musical numbers fit right in with the current economic times. There is Hush Hush, about bribery; "the one indispensable man," referring to the person who keeps payoff money flowing smoothly; and the rousing How Can You Tell An American?

There's also the infectious There's Nowhere to Go But Up!, which is as appropriate today as it was to the Great Depression, which was going strong when Knickerbocker Holiday originally premiered on Broadway. "To the man who has a plenty and he changes for the worse/so he plays a losing hand against the universe. But in wintry weather when the leaves turn brown/ and the banker has a mortgage on your crop/when you're on rock bottom and you can't go down/ then there's nowhere to go but up".

The biting lyrics chomp to the bone - that democracy means basically government by amateurs, along with the realization that all politicians are corrupt, it's just a question of degree.

With The Collegiate Chorale and the American Symphony Orchestra playing the original orchestrations. Conducted by James Bagwell and directed by Ted Sperling.

Orchestra members on the recording are:
Violin I: Erica Kiesewetter, concertmaster; Ellen Payne, Ragga Petursdottir, Patricia Davis, Elizabeth Nielsen, Wende Namkung and Ashley Horne. Violin II: Robert Zubrycki, principal; Diana Bruce, Jennifer Kim and Katherine Livolsi-Landau.

Cello: Eugene Moye, principal, Roberta Cooper and Annabelle Hoffman. Bass: John Beal, principal and Jack Wenger. Reeds: Laura Conwesser, principal, Richard Heckman, Mark Vinci and Mark Thrasher. Trumpet: Carl Albach, principal and John Dent. Trobome: Richard Clark, principal and Kenneth Finn. Timpani/Percussion: Kory Grossman, principal. Guitar/Banjo: Scott Kuney.

Members of The Collegiate Chorale: Soprano: Elizabeth Boada, Kristin Brown-Jimnez, Emily Christenson, Elana Gleason, Joan B. Harris, Heather Hill, Liz Humphreys, Rebecca, Jovin, Miriam Levy, Sandy MacDonald, Marie Mascari, Rochelle Nelson, Judith Oringer, Stella Papatheodorou, Laura Lee Rogers, Bonnie Rosenberg, Susan Shine, Maywni Tsuchino-Alomar.

Alto: Arlene H. Berrol, Marsilia Boyle, Teresa Buchholz, Darlene Castillo, Kate Chamberlin, Sylvia Floyd, Veronica Forman, Ashley Hanks, Anusha Krishnakumar Joly, Deborah Innes, Nancy Kingston, Katherine McWhorter, Kimberly Mosse, Ruth G. Nolan, Michelle Oesterle, Janet B. Pascal, Krasi Petkova, Laurie P. Rios, Judith Sloan, Deborah F. Stiles, Lauren Tucker Cross, Amanda Weiss, Nancy Wertsch.

Tenor: Robert Harley, Thomas S. Horn, Bruce C. Johnson, John Kawa, Nicholas W. Lobenthal, Don McComb, Anthony McGlaun, Isai Jess Munoz, Kirshan Murphy, Nancy Louise Rothe, Lisa Rubin, Joseph Zimmerman.

Bass: Roosevelt Credit, Jose O. Cuartas, Anand Desai, Roy N. Feidhusen, Josh Ehrlich, W. Theodore Kuck, Steven Moore, Nick Nolte, Robert P. Reichstein, Daniel Sager, Mark Spergel, Charles Sprawls, Paul Rosenblum, Costas Tsourakis and Justin D. Wright.

The mission of The Collegiate Chorale, led by Music Director James Bagwell, is to enrich its audiences through innovative programming and exceptional performances of a broad range of vocal music featuring a premier choral ensemble. Founded in 1941 by the legendary conductor Robert Shaw, The Chorale has established a preeminent reputation for its interpretations of the traditional choral repertoire, vocal works by American composers, and rarely heard operas-in-concert, as well as for commissions and premieres of new works by today's most exciting creative artists.

Featuring the Tracks:

ACT ONE
1. Introduction & Washington Irving Song
2. Clickety-Clack
3. Entrance Of The Council
4. Hush Hush
5. There's Nowhere To Go But Up!
6. It Never Was You
7. Bachelor's Song
8. How Can You Tell An American?
9. Will You Remember Me?
10. One Touch Of Alchemy
11. The One Indispensable Man
12. Young People Think About Love
13. September Song
14. Act One Finale

ACT TWO
15. Ballad Of The Robbers
16. Sitting In Jail
17. We Are Cut In Twain
18. Reprise: There's Nowhere To Go But Up!
19. To War!
20. Our Ancient Liberties
21. May And January
22. The Scars
23. Dirge For A Soldier
24. No, Ve Vouldn't Gonto Do It
25. Finale - Reprise: How Can You Tell An American?

Sound design by Scott Lehrer. Edited and mixed by Scott Lehrer at 2nd Story Sound, NYC. Recorded and engineered by Steve Remote for Remotemen Visual Music. Location audio technicians: Jan O'Uva, Kazutaka Noda and Robert Anderson. Mastered by Gene Paul and James Polaski at G&J Audio.


ALL STAR LINE-UP FOR MONACO'S SPORTING SUMMER FESTIVAL
Sting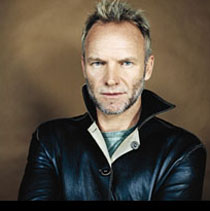 World superstar Sting will headline The Monte Carlo and Rolex Casino's annual Sporting Summer Festival which begins July 8th.

The former front man of The Police, will perform on the 25th of July and his show will feature many songs performed with the Royal Philharmonic Concert Orchestra on his 2010 album, Symphonicities.

In addition to the British musician, the festival will bring numerous other world class performers to its stage among them will be American megastars Janet Jackson, Stevie Wonder and Liza Minnelli.

The concerts will run from July 8th until August 27.

Performers who will take to the stage in July include; Janet Jackson July 8-9; Supertramp July 13-14; Santana July 15-16; Todes Ballet July 18-23; Sting July 25; James Blunt July 26; Al Jarreau July 27; Paolo Conte July 28; Eddy Mitchell July 29; Bryan Ferry July 30.

Among the August line-up are names like Liza Minnelli and Brian Ferry.


SWEET CHARITY


BROADWAY BARKS 13th ANNUAL ADOPT-A-THON hosted by Bernadette Peters and Mary Tyler Moore for New York City Animal Shelters and Adoption Agencies.

Celebrities participating include: Nick Adams, Nina Arianda, Heidi Blickenstaff, Kerry Butler, John Benjamin Hickey, Jackie Hoffman, Beth Leavel, Michael McGrath, Judy McLane, Patina Miller, Michael Mulheren, Bebe Neuwirth, Rory O'Malley, Brad Oscar, Elizabeth Rodriguez, Victoria Clark, Edie Falco, Adam Godley, Nikki M. James, Isabel Keating, John McMartin, Andrew Rannells, Will Swenson and Yul Vazquez.

Broadway Barks! also will feature an auction of celebrity-autographed memorabilia.

Saturday, July 9, at Shubert Alley in New York City. The festivities begin at 3:30 p.m.; Celebrity presentations of pets from citywide animal shelters will take place between 5:30-6:30 p.m.

JUDGMENT AT NUREMBERG by Abby Mann. Directed by Sally Knyvette.

Featuring an all star cast of London lawyers, including High Court Judge Michael Burton J and what is billed as "a light sprinkling of QCs. Even some solicitors are being allowed out to tread the boards - although we are obviously under strict instructions not to upstage any of the barristers," posted cast member Rob McCreath, a partner with London based Archon Solicitors.

The play was made into a multi-Oscar winning film in 1961 starring Spencer Tracey and Burt Lancaster. It is 1947. Former German judges, said to have enforced some of the most extreme Nazi laws, are themselves on trial. The horrific discoveries at places like Auschwitz and Buchenwald are still fresh. But the Cold War has started, with Germany in its front line. New nationalistic pressures are building to brush the past aside. And, after all, it was not the judges who passed the laws, was it? The Tribunal judging the judges faces a daunting task.

Cast: Stephen Boyd, Sir Michael Burton, Tim Constable, Peter Dodge, Peter Feldschreiber, Gerard Forlin QC, Grahame Gordon, David Harris, Janet Grant, Caroline Havers, Peter Hill, Catriona Jarvis, Stewart Leech QC, Rachel Lawrence, Colin Manning, Sarah McCadden, Robert McCreath, William McKay, Lesley Morgan, Brian Naumann, Bernard O'Sullivan, Elizabeth Prochaska, Carolyn Taylor, Jonathan Taylor, Tony Ventham.

Design: Rhiannon Newman Brown. Lighting Design: Andy Furby. Sound & AV Design: Richard Hillier. Stage Manager: Chiara Canal.

"The aim of this production is to raise funds for the Tricycle's innovative social inclusion program. This uses drama to help people connect with others and works with deaf children, young people at risk of exclusion from school and old people at risk of isolation," posted McCreath.

Proceeds from Thursday night's performance will be equally split between the Tricycle and the Corinne Burton Memorial Trust (supporting Art Therapy in Cancer Care).

The evening tickets include a light supper and a glass of wine afterwards.

July 6-9 at the London's Tricycle Theatre.

ELIZABETH TAYLOR'S collection of jewelry, art and designer clothing will be exhibited in a three-month world tour beginning in September according to Christie's auction house.

The tour will include stops in Moscow, London and Dubai before the items are sold at an auction at Christie's Rockefeller Center Gallery in New York.

HARRY POTTER AND THE DEATHLY HALLOWS PART 2 will have a fundraising pre-release screening on Sunday, July 10, at the Coronet Cinema in London.

All proceeds will go to support the Gate Theatre program.


LINCOLN CENTER FESTIVAL 2011 ADDS TALKS AND PANEL DISCUSSIONS
The Silver Tassle

Lincoln Center Festival 2011, which runs from July 5-August 14, with performances by ensembles and artists from some 20 countries, and will include six World, North U.S., and New York premieres unfolding in seven venues on and off the Lincoln Center campus.

In addition to the performances a number of talks and panel discussions have been added to the this year's schedule.

Lincoln Center, in a co-presentation with Park Avenue Armory and in association with The Ohio State University, will present the Royal Shakespeare Company performing five Shakespeare plays - As You Like It, Julius Caesar, King Lear, Romeo and Juliet and The Winter's Tale - in a six-week residency at Park Avenue Armory July 6-August 14.



Royal Shakespeare Company's King Lear

The acting company includes Charles Aitken, Joseph Arkley, Adam Burton, David Carr, Brian Doherty, Darrell D'Silva, Noma Dumezweni, Dyfan Dwyfor, Phillip Edgerley, Christine Entwisle, Geoffrey Freshwater, James Gale, Mariah Gale, Gruffudd Glyn, Paul Hamilton, Greg Hicks, James Howard, Kathryn Hunter, Kelly Hunter, Ansu Kabia, Tunji Kasim, Richard Katz, Debbie Korley, John Mackay, Forbes Masson, Sandy Neilson, Jonjo O'Neill, Dharmesh Patel, Peter Peverley, Patrick Romer, David Rubin, Sophie Russell, Oliver Ryan, Simone Saunders, Peter Shorey, Clarence Smith, Katy Stephens, James Traherne, Sam Troughton, James Tucker, Larrington Walker, Kirsty Woodward, Hannah Young, and Samantha Young.

U.S. premiere of A Magic Flute, director Peter Brook's adaptation of Mozart's opera, his final creation as Artistic Director of Théâtre des Bouffes du Nord takes place July 5-17.

David Michalek's large-scale, outdoor video installation, Portraits in Dramatic Time, will have free showings each evening on the Josie Robertson Plaza July 5-31.



The Mariinsky Ballet presents Anna Karenina

In a co-presentation with the Metropolitan Opera, the renowned Mariinsky (Kirov) Ballet dances eight performances at the Met Opera House, with three programs: the U.S. premieres of Anna Karenina and The Little Humpbacked Horse choreographed by Alexei Ratmansky to music by Rodion Shchedrin; and a double-bill of Alberto Alonso's Carmen Suite, to Shchedrin's arrangement of Bizet's score, and George Balanchine's Symphony in C, also with music by Bizet. Featuring the Mariinsky Orchestra - July 11-16.

The Cleveland Orchestra and its music director Franz Welser-Möst make their first appearance at the Festival with a focus on the music of Anton Bruckner. Bruckner: (R)evolution brings his Symphonies Nos. 5, 7, 8 (the original 1887 version), and No. 9, juxtaposed with works by John Adams, including his Violin Concerto played by Leila Josefowicz, to Avery Fisher Hall. July 13,14,16,17.



The Cleveland Orchestra

Merce Fair, a day-long immersion in performances, workshops, video and art installations, celebrates the artistry of choreographer Merce Cunningham on July 16.

Influential Brazilian singer-songwriter Tom Zé makes a rare U.S. concert appearance on July 19.

Amon Miyamoto directs the U.S. Premiere of The Temple of the Golden Pavilion based on Yukio Mishima's novel of the same name July 21-24.

The Druid Theatre Company performs Seán O'Casey's classic anti-war drama The Silver Tassie, directed by Tony Award-winner Garry Hynes July 24-31.

Royal Danish Opera offers the U.S. Premiere of Poul Ruders' opera Selma Jezková based on Lars von Trier's original screenplay for the film Dancer in the Dark; and Royal Danish Orchestra performs an orchestral concert and an evening of chamber music July 28-30.

Panel Discussions on Royal Shakespeare Company at The Jerome L. Greene Performance Space present Setting the Stage, a multi-platform conversation series exploring various aspects of the RSC's unprecedented residency in New York co-presented by Lincoln Center Festival and Park Avenue Armory in association with The Ohio State University.

Conversations will include:

RSC resident designer Tom Piper, theater consultant, Andy Hayles, from Charcoalblue, architect Rab Bennetts, Bennetts Associates, and actor Noma Dumezweni (who plays Paulina in The Winter's Tale and Calphurnia in Julius Caesar) will talk to host Wendy Goodman about collaborating on the design for the RSC's newly transformed Royal Shakespeare Theatre in Stratford-upon-Avon and how this provided the inspiration behind the specially constructed Scarlet & Gray Stage at the Armory. They'll also explore design on a thrust stage and how it feels to play in a one-room space, shared with the audience.



Michael Boyd
Setting the Stage: the Royal Shakespeare Company in the Greene Space: The Actors on July 21 features Forbes Masson, Katy Stephens, Jonjo O'Neill, Ansu Kabia, and other members of the ensemble will convene with host Scott Brown, Theater Critic of New York Magazine, for a dynamic and candid conversation about their involvement in the RSC's New York repertory residency. There are a total of 42 actors in the repertory ensemble.

RSC Events at the Park Avenue Armory include Peter Brook and Michael Boyd in Conversation, moderated by James Shapiro. A fascinating and insightful discussion between two powerhouse directors represented at this summer's Lincoln Center Festival. Friday, July 8.

Directing Shakespeare will feature a panel of eminent directors from both the UK and the USA, including David Farr, RSC Associate Director and director of King Lear and The Winter's Tale in the RSC's New York repertoire, discuss the challenges of directing Shakespeare today. In partnership with the Shakespeare Society. Friday, July 15.

Faith in Shakespeare: RSC Artistic Director Michael Boyd,and authors Richard McCoy and James Shapiro in conversation. Focusing on As You Like It and The Winter's Tale in particular, a discussion of faith in Shakespeare's text and what it asks of audiences today. Tuesday, August 2.

Speaking Shakespeare: A Panel Discussion. Five masters of the spoken word gather for a discussion of the challenges and glories of giving Shakespeare's language life. Cicely Berry (Voice Director of the RSC) will be joined onstage by Deborah Hecht (Professor of Voice and Speech at NYU's Tisch School of the Arts); Ralph Zito (Chair of the Department of Drama at Syracuse University and longtime Chair of Juilliard's Voice and Speech department); Louis Scheeder (Director of NYU's Classical Studio and member of The Factory UK); and the evening's moderator, Barry Edelstein (Director of the Public Theater's Shakespeare Initiative and author of Thinking Shakespeare).In partnership with the Shakespeare Society. Thursday, August 4.


SPREADING THE WORD


TIME TRIAL OF JOHN BROWN a new interactive theatrical program from the Smithsonian's National Museum of American History in Washington, DC.

Starting July 5: Tuesdays through Saturdays visitors are invited to join the jury and deliberate on abolitionist John Brown's contested legacy. Meet the man who committed his life to the ending slavery - and used violent tactics to do it. Visitors help to decide how history should remember this disputed figure.

YURI LYUBIMOV 93, one of the leading names in the Russian theatre has resigned from Moscow's Taganka Theatre, a theatre company he founded in 1964 and has led for nearly half a century.

Reportedly the falling out was with actors over pay during a Czech tour when, shortly before a performance of Bertolt Brecht's play The Good Person of Szechwan, the actors refused to rehearse unless they were paid first.

RUNNING BLIND an interactive show which explores the story of someone who never really felt like they belonged.

From growing up with an alcoholic parent to hospitalization for an undiagnosed mental illness, Kelly finds that she can't seem to find a place to call home - a place to feel safe.

The audience is invited to explore Kelly's story and the people who impacted on her life and the choices that she made. A story of struggle, misunderstanding, break-down and redemption. Running Blind shows us what happens when you can't trust others... or yourself.

Presented by the Milk Crate Theatre, July 5 at Edward Eagar Lodge, in Surry Hills and July 6 at Parramatta Mission, Parramatta, Australia.


OTHER PEOPLE'S MONEY


HILTON HOTELS WORLDWIDE has terminated its franchise license agreement with the Las Vegas Hilton, which was their largest property. The termination of the agreement with Colony Resorts LVH Acquisitions LLC, owner and operator of the Las Vegas Hilton, will be effective on Jan. 1, 2012. No reason was provided. Nor was there word on what name the resort will then use. Prior to being acquired by the Hilton empire, the hotel was known as The International.

ROGERS AND COWAN the California based, powerful entertainment public relations firm, has been sued in a class action filing, by former account coordinator David Malakhova, who contends the company consistently violates California labor law by forcing its employees to "volunteer" to work for free.

As first reported by The Wrap, the lawsuit filed June 30, 2011 by Paul T. Cullen of the Cullen Law Firm, also charges that the company didn't provide appropriate meal and rest periods and employees "were routinely and uniformly subjected to unfair business practices."

As a class action suit, the lawyers are asserting that numerous Rogers & Cowan employees and former employees were mistreated by the company. The suit estimates that more than 500 people are entitled to money from the PR giant.

The lawsuit asks for unpaid wages, penalties and other compensation.

HUNTER TYLO a Las Vegas resident who plays Dr. Taylor Hayes on the daytime CBS series The Bold and the Beautiful filed for Chapter 7 bankruptcy protection on June 30 in Las Vegas.

THE BOOK OF MORMON showed a charitable spirit by staging a special free afternoon performance on July 1, specifically to thank the 300-400 fans who faithfully line up outside the box office in hopes of winning a ticket lottery to the sold out show.

Anyone who had entered his or her name into the lottery, or checked in on Foursquare, was automatically entered to win tickets for the July 1 matinee. Winners were notified in mid-June.

SPIDER-MAN TURN OFF THE DARK didn't get off the ground June 30 when all of the flying sequences were canceled due to the busting rig not working properly.

The audience was informed of the situation and offered a two-week window in which to again attend the show - for free.



HAPPY BIRTHDAY . . . .


BLOWING OUT THE CANDLES on July 3 are: Sir Tom Stoppard, Judith Durham and Tom Cruise. Opening their presents on July 4 are Lollobrigida and Neil Simon. The birthdays boys on July 6 are Burt Ward and Sylvester Stallone. Celebrating their natal day on July 7 are Ringo Starr and Shelley Duvall. Getting a year better on July 8 is Kevin Bacon. Accepting birthday wishes on July 9 are: Anjelica Huston, Tom Hanks, Kelly McGillis and Courtney Love.






CHINGLISH by Tony Award winner and two-time Pulitzer Prize finalist David Henry Hwang.

Obie Award winner Leigh Silverman directs The Goodman Theatre's world premiere, which is rumored to be Hwang's best work. It's billed as a comedy about "the challenges of doing business in a culture worlds apart from our own".

The production features James Waterston, Stephen Pucci, Jennifer Lim, Larry Zhang, Christine Lin, Angela Lin and Johnny Wu. Chinglish is performed in a blend of English and Mandarin by a mostly bilingual cast, with subtitles projected in English on the set.

Daniel (James Waterston), a Midwestern American businessman who's desperately looking to score a lucrative contact for his family's sign-making firm, travels to the provincial capital of Guiyang, only to learn how much he doesn't understand: his translators are unreliable, his Australian-born consultant, Peter (Stephen Pucci), may be a fraud, and he is captivated by Xu Yan (Jennifer Lim), the beautiful, seemingly supportive government official who talks the talk - but what is she saying, anyway?

Playwright Hwang said in a release, "The U.S. and China are at a critical moment in history - each nation is deeply interested in, but knows very little about, the other. Chinglish was born from the many visits I've made to China over the past five or six years to witness the exciting changes there. During one particular visit, I toured a new arts center where everything was first-rate - except for the ridiculously translated English signs. It was at that moment when I thought of writing this play."

The creative team for Chinglish includes set designer David Korins, costume designer Anita Yavich, lighting designer Brian MacDevitt, sound designer Darron West, projections designer Jeff Sugg, dramaturg Tanya Palmer, production stage manager Alden Vasquez and translator Candace Chong.

This show with performances at the Goodman in Chicago to July 24 has been receiving rave reviews and will transfer to Broadway.

DOCTOR ZHIVAGO a new musical based on the famous novel by Boris Pasternak, the stage musical has music composed by Lucy Simon, lyrics by Michael Korie and Amy Powers, and book by Michael Weller.

Directed by Des McAnuff.

Starring Anthony Warlow as the ardent young Doctor Yurii Zhivago. Joining Warlow will be Lucy Maunder as the alluring Lara, and Taneel Van Zyl in the role of his wife Tonia. Martin Crewes plays political radical Pasha Antipov, Bartholomew John is Viktor Komarovsky, and in the roles of Alexander and Anna are Peter Carroll and Trisha Noble.

Music Supervisor Eric Stern Choreographer - Kelly Devine; Musical Director - Kellie Dickerson; Set Designer - Michael Scott-Mitchell; Lighting Designer - Damien Cooper; Costume Designer - Teresa Negroponte.

The Lyric Theatre in Brisbane, Australia debuts Doctor Zhivago, from July 6, 2011.

PINKALICIOUS THE MUSICAL Pinkalicious can't stop eating pink cupcakes despite warnings from her parents. Her pink indulgence lands her at the doctor's office with Pinkititis, an affliction that turns her pink from head to toe - a dream come true for this pink loving enthusiast. But when her hue goes too far, she has to figure out a way to exercise self-control and get out of this pink-dicament.

This all-new production of Pinkalicious will be produced exclusively by the Ogunquit Playhouse. July 9-10 and August 13-14. Ogunquit, Maine.

MY FAIR LADY based on George Bernard Shaw's Pygmalion with a book and lyrics by Alan Jay Lerner and music by Frederick Loewe.

Starring two-time Tony nominee Terrence Mann as Professor Henry Higgins and soap star Eileen Fulton as Mrs. Higgins.

Broadway star Charlotte D'Amboise, fresh from starring as Roxie Hart in Chicago on Broadway, will choreograph. Presented by Connecticut Rep, running July 7-17 in the Harriet S. Jorgensen Theatre. CRT is the professional producing arm of the Department of Dramatic Arts at the University of Connecticut, Storrs. CT.

RICHARD III by William Shakespeare. Directed by Sam Mendes.

Starring Kevin Spacey as King Richard,Annabel Scholey as Lady Anne, Haydn Gwynne as Queen Elizabeth, Gemma Jones as Queen Margaret, Jack Ellis as Hastings and Chuk Iwuji as Buckingham.

With: Maureen Anderman, Stephen Lee Anderson, Jeremy Bobb, Nathan Darrow, Isaiah Johnson, Andrew Long, Katherine Manners, Howard W Overshown, Simon Lee Phillips, Gary Powell, Michael Rudko, Annabel Scholey, Gavin Stenhouse, Hannah Stokely, and Chandler Williams.

Earning rave reviews, the production, set in the modern day, draws parallels to dictatorial regimes currently making the headlines.

For instance, Spacey delivers his opening "winter of discontent" speech alone on stage watching old TV footage, wearing a New Year's Eve type party hat.

Set Design: Tom Piper - Costumes: Catherine Zuber - Lighting: Paul Pyant - Sound: Gareth Fry - Projection: Jon Driscoll - Music: Mark Bennett - Music Coordinator & Director: Curtis Moore - Fight Director: Terry King - Artistic Associate: Gaye Taylor Upchurch - Casting: Maggie Lunn & Daniel Swee.

Performances through September 11, 2011 at the Old Vic in London.

The company will then embark on an international tour including the Athens & Epidaurus Festival, Spain's Centro Niemeyer, Hong Kong Arts Festival and Singapore Repertory Theatre, arriving at BAM's Harvey Theater in New York in January 2012. Further international tour dates will be announced.

The Bridge Project is a unique three-year series of co-productions by The Old Vic, BAM and Neal Street, devoted to producing large-scale, classical theatre for international audiences.

Co-commissioned by and produced in association with Athens & Epidaurus Festival, Centro Niemeyer, Hong Kong Arts Festival and Singapore Repertory Theatre.

SHARON GLESS will transfer her starring role in A Round Heeled Woman to the Riverside Studios London stage beginning October 19.

Gless starred in the world premiere of the play in San Francisco last year, which later was staged in Miami from December 2010 to February 2011. A Round-Heeled Woman tells the story of retired Californian English teacher Jane Juska, who realizes after 30 years of being "severely deprived" of touch that she still liked men.

After placing a personals ad in The New York Review of Books and receiving 63 replies from men aged between 32 and 84, the play follows her experiences.

STUFF a World Premiere comedy by Michael McKeever.

Born into a gilded world of opulence and breeding, the Collyer Brothers have it all.

What they don't realize is that their coddled world of privilege has left them completely unable to cope with the realities of the Twentieth Century.

With great humor, insight and pathos, South Florida favorite Michael McKeever charts the comically twisted decline of New York's most notorious hermits, from the height of their fortune in 1929 to their garbage laden deaths two decades later.

With only each other to consol, support, love and loath, the Brothers Collyer shut themselves away from the disappointments of the ever changing world outside, only to find their greatest horrors lie within the walls of their own home.

July 6 - 31, 2011 at the Caldwell Theatre Company in Boca Raton, FL.

.
WHO'S WHERE


THE METROPOLITAN OPERA for the third consecutive year, will present free operatic recitals in parks in all five boroughs of New York City. The Met's 2011 Summer Recital Series, presented in collaboration with City Parks Foundation, will feature six free concerts beginning July 11 and concluding July 28. The series begins July 11 at Central Park SummerStage with a recital starring three rising Met stars: soprano Angela Meade, mezzo-soprano Jennifer Johnson Cano, and tenor Dimitri Pittas. The same three singers will perform on July 13 in Brooklyn Bridge Park Later recitals in Crotona Park in the Bronx, Clove Lakes Park on Staten Island, Socrates Sculpture Park in Queens, and Jackie Robinson Park in Manhattan will feature soprano Layla Claire, mezzo-soprano Renée Tatum, and bass-baritone Ryan Speedo Green. Pianist Bradley Moore will perform with the singers at all six recitals. No tickets are required for any of the performances.

SING THE TRUTH Dianne Reeves, Angelique Kidjo and Lizz Wright. The ensemble features Geri Allen on piano and keyboards, music director Terri Lyne Carrington on drums, James Genus on bass, and Romero Lubambo on guitars.

Following the huge success of 2009's tribute to Nina Simone, the friendships forged between Sing The Truth's stars has inspired a new show dedicated to the songs of their most admired musical heroines; this celebration embodies the spirits of Miriam Makeba, Abbey Lincoln, and Odetta, along with other great women of music from Billie Holiday to Lauryn Hill, and showcases original songs by Kidjo, Reeves and Wright. July 5, 2011 at Barbican Hall in London.

LIZA MINNELLI in concert July 4 at Bridgewater Hall in Manchester, England. On July 6 she's on stage at the Concert Hall in Glasgow, Scotland. Friday finds her at Kursaal Oostende Kursaal-Westhelling in Ostend, Belgium.

JAMES TAYLOR performs the Koussevitzky Shed in Lenox, MA on Sunday, July 3 and Monday, July 4th.

JON BON JOVI on stage Friday, July 8, at the Abdi Ipekci Arena in Istanbul, Turkey. Next Sunday, July 10, he can be enjoyed at the Piata Constitutiei in Bucharest, Romania.

KEITH URBAN on stage Thursday, July 7, at the GIANT Center in Hershey, PA. On Friday the performance is at the TD Garden in Boston. Saturday's show is at the Mohegan Sun Arena in Uncasville, CT.

SADE AND JOHN LEGEND perform Wednesday, July 6, at the Fleet Center in Boston.

JOSH GROBAN center stage Friday, July 8, at the Target Center in Minneapolis. On Saturday the show is at the Resch Center in Green Bay, WI.

CONNIE STEVENS AND JOHN BYNER perform July 6 - 17 in the Starlite Theatre of the Riviera Hotel in Las Vegas.




FINAL OVATION


NORMA "DUFFY" LYON who achieved international fame as the "butter-cow lady" of the Iowa State Fair, sculpturing tons of U.S. Grade AA salted butter each year into life-size figures of cows, famous people such as Elvis, Garth Brooks, President Obama and, once, a diorama of the Last Supper, died on June 26, 2011 in Marshalltown, Iowa. She was 81. ( See Broadway To Vegas column of August 10. 2003 )

Lyon suffered a stroke at her rural home Sunday and died shortly after at a hospital, Michelle Juhl, one of Lyon's nine children, said Monday.

Known to most people as the "butter cow lady," Lyon was pregnant with her seventh child when she produced her first bovine butter sculpture, a 600-pound cow, for the Iowa State Fair in 1959.

She appeared on Today, The Tonight Show, Late Night With David Letterman and To Tell the Truth.

Norma Duffield Stong, known as Duffy, was born on July 29, 1929, in Nashville, the daughter of Benton J. Stong, a newspaper reporter, and his wife, Elsa. A grandmother, Bertha Clark, was a founder of the Knoxville Symphony Orchestra. An uncle, Phil Stong, was author of the book State Fair, which was the basis of the Rodgers and Hammerstein film musical of the same name.

She is survived by her husband of 61 years, G. Joe Lyon; 9 children; 23 grandchildren; 5 great-grandchildren; and a brother.

ALICE PLAYTEN a Tony-nominated performer who appeared in Broadway and Off-Broadway musical performances from the 1960s onward, died on June 25 at Sloan Kettering Hospital in New York City. The cause was heart failure. She was 63.

Born in New York City, she began her acting career playing Baby Louise in the original production of Gypsy. In 1963, she was Bet, Nancy's younger sister, singing I'd Do Anything in the Charles Dickens-inspired show Oliver! The next year, she created the role of Ermengarde, Horace Vandergelder's tearful niece, in Hello, Dolly!.

In 1967 she won a Tony Award nomination for her work in the short-lived Bob Merrill musical Henry, Sweet Henry. She won her second Obie Award playing Lady Bird Johnson and Mamie Eisenhower in Michael John LaChiusa's First Lady Suite, and was in Bill Irwin's production of Georges Feydeau's 1907 classic, A Flea in Her Ear at the Roundabout Theatre Company in 1998. She starred with Richard Masur in The Flea Theater's The Oldsmobiles in fall 2009. Her final stage appearance was the Off-Broadway comedy with music, It Must Be Him, in late summer 2010. She also voiced such animated works as Felix the Cat, Really Rosie and My Little Pony: The Movie.

MARGARET TYZACK a Tony award winning British actress who was also a Laurence Olivier Award winner, "died peacefully at home" in London on Saturday, June 25, 2011 with her family by her side. She was 79. She was thought to have had cancer.

A statement issued by her agent Pippa Markham stated the actress "will be greatly missed by her family and friends". It said she will be remembered for "her outstanding contribution to the world of theatre, film and television and for the support and inspiration she gave to young actors. Maggie faced her illness with the strength, courage, dignity and even humor with which she lived her life."

She first came to prominence in 1967, when she appeared as Winifred, sister of Soames Forsyte, the lead character in The Forsyte Saga, a 26-week television series produced by the BBC that traced the fortunes of an upper-middle-class British family through 40-some years on either side of the turn of the 20th century.

In the theatre she won two Laurence Olivier Awards, one for playing Martha in a 1981 revival of Edward Albee's Who's Afraid of Virginia Woolf? and another in 2009 for playing Mrs. St. Maugham in Enid Bagnold's 1950s comedy The Chalk Garden. She additionally won an Evening Standard Theatre Award for the latter. Tyzack was awarded the CBE last year.

She appeared twice in featured roles on Broadway. In 1983, as the Countess of Rousillon in All's Well That Ends Well, she was nominated for a Tony. Her next Broadway role, in 1990, was Lotte Schoen, a travel agency bureaucrat who plays foil to a flamboyantly eccentric tour guide (played by Maggie Smith), in Peter Shaffer's comedy Lettice and Lovage. That production appeared first in London, and was almost kept from opening in New York because of union rules that require special permission for the casting of foreign actors in Broadway productions, permission that is usually granted only to international stars of indisputable singularity or box-office drawing power.

Ms. Smith, who was given dispensation, refused to appear on Broadway unless Ms. Tyzack was also allowed to join the cast, arguing that their onstage chemistry and Ms. Tyzack's gifts fulfilled the requirement of singularity. Actors' Equity, the union, finally agreed. Tyzack won the Tony Award.

Margaret Tyzack was born Sept. 9, 1931, in England. A graduate of Royal Academy of Dramatic Art, she joined the Royal Shakespeare Company in 1962, making her debut there in The Lower Depths. In 1977, she did a season at the Stratford Festival in Canada, in such plays as Ghosts and Richard III. On the West End, she acted in Vivat! Vivat Regina (1971), An Inspector Calls (1983) and Morning's at Seven. Later roles included Samuel Adamson's Southwark Fair at the National Theatre, Morris Panych's Auntie and Me on the West End. Her final stage role was Oenone, the elderly nurse to the queen, in Nicholas Hytner's 2009 production of Phèdre at the National Theater in London, which starred Helen Mirren. It was the year she won the Olivier for The Chalk Garden, and she used the occasion to make public statements about the dearth of significant theatrical roles for older women.

In 1958, she married Alan Stephenson, a mathematics professor with whom she had one son, Matthew.

ANTHONY HERRERA who played villainous character James Stenbeck on As The World Turns passed away on June 21 in Buenos Aries, Argentina. Herrera originated the role of James Stenbeck in 1980 and continued playing him off and on for 30 years. He was 67 years old.

Herrera was born on January 19 in Wiggins, Mississippi and attended Ole Miss, where he became a Sigma Chi and earned a B.A. in zoology and English literature. He then moved to New York and studied acting for three years with Stella Adler. Early in his career, Herrera was a member of the Will Geer Shakespeare Theater for five seasons before returning to New York City where he was cast as Stenbeck.

In addition to acting, Herrera honed his craft as a producer, writer and director. In 1984, he produced and directed Mississippi Delta Blues, a documentary on blues great James "Son" Thomas, which won five awards, including the CINE Golden Eagle Award.

In 1986, he wrote the screenplay for and directed Pulitzer Prize-winning author Eudora Welty's The Wide Net for the American Playhouse Series. In 1991, Herrera co-authored Smoke & Mirrors a comedy-mystery for the stage. Along with Steve McGraw and Tandy Cronyn he produced www.poetrytheatre.org where actors perform their favorite poems. In addition to Herrera, actors who participated included: Peter Parros, Hume Cronyn, Charles Durning and Willie Nelson.

Herrera was diagnosed with mantle cell lymphoma in 1997, an aggressive and usually fatal form of non-Hodgkin's lymphoma. He underwent an autologous stem cell transplant at Sloan-Kettering in 1999 and was in remission for 18 months. After a relapse, he underwent a donor stem cell transplant from his brother John in 2004, a procedure that made medical history in the treatment of lymphoma.

Herrera wrote a book about his experiences titled The Cancer War. He was also a tireless advocate for stem cell research, testifying for Senator Arlen Specter in 2005 on the importance of the Federal Government's support.

Former ATWT co-star Martha Byrne (Lily Walsh Snyder) Tweeted, "RIP Anthony Herrera.so many great memories. He died in a place he loved.God Bless. He wrote the book "The Cancer War." Please read it if you can. It would make him so happy.he fought that and won many times."

Another ATWT co-star Colleen Zenk (Barbara Ryan) Tweeted: "How do you describe a 30+ yr working partnership? Wonderful, courageous, talented, handsome, Anthony Herrera... his James to my Barbara...."








Next Column: July 10, 2011
Copyright: July 3, 2011. All Rights Reserved. Reviews, Interviews, Commentary, Photographs or Graphics from any Broadway To Vegas (TM) columns may not be published, broadcast, rewritten, utilized as leads, or used in any manner without permission, compensation and/or credit.
Link to Main Page
---
Laura Deni



For the snail mail address, please E-mail your request.
CLICK HERE FOR COMMENT SECTION