! >
Broadway To Vegas
 
  SHOW REVIEWS CELEBRITY INTERVIEWS GOSSIP NEWS

| | |
| --- | --- |
| | |
SURVIVING THE ONE NIGHT STAND - - PATTI LuPONE DROPS OUT OF DOLL - - PLAYING BURTON - - TOYS IN THE ATTIC - - BUTTERING UP A HARLEY - - JERRY HALL AS MRS. ROBINSON - - AUGUST AT THE LAGUNA PLAYHOUEE - - THE BOY FROM OZ GETTING READY - - DONATE . . . Scroll Down


BUTTERING UP A HOG
Harley-Davidson 100th Anniversary Heritage Softail Classic motorcycle, custom painted with black-and-white Holstein cow spots. Photo; Wisconsin Milk Marketing Board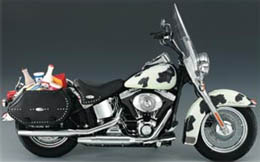 The unmistakable rumble of a Harley-Davidson motorcycle has been heard for a century.

This month marks that anniversary.

Wisconsin, long known as America's Dairyland, is also synonymous with motorcycles, thanks to Milwaukee based Harley-Davidson, Inc.

Milwaukee is gearing up to host what they are spinning as "the greatest party the world has ever seen."

We don't know about that, but a pressing question seems to be - How long before that Harley Davidson motorcycle turns rancid?

We're talking about the one made out of butter.

Noted butter artist Norma "Duffy" Lyon has created a full-scale Harley-Davidson in recognition of the hog's 100th anniversary. The greased hog goes on display today, August 10th, at the Iowa State Fair.



Full scale Harley in butter. Photo; Iowa State Fair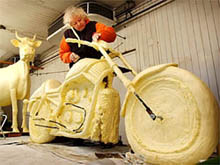 Lyon admits she struggled with the engines, pistons, and the tail pipes. Seems they have a lot of detail and she was determined to have every inch perfect.

The Iowa resident, who owns a dairy farm near Toledo in Tama County, had to get permission from the company to create the sculpture. Permission granted, she worked from several pictures of a V-Rod taken from different angles. She also visited motorcycle shops in Waterloo, Iowa.

The lady is world famous for her butter sculptures.



Life sized butter statue of Garth Brooks. Photo: Iowa State Fair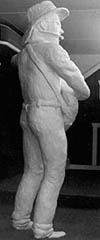 She's carved John Wayne, President Eisenhower, Elvis Presley, country singer Garth Brooks and even versions of Grant Wood's American Gothic, Norman Rockwell's County Agent and The Last Supper, which took more than 2000 pounds of butter to build. Last year she created Snoopy and the Peanuts Gang.

As popular as those attractions were, annually it's her cow that has drawn world wide attention - all 400 pounds of it - in pure creamery butter.

She's been sculpting a new cow for the fair since 1960, each couple years changing the breed she uses as the model.

Duffy's sculpting talents were discovered by accident at Iowa State University. A sophomore in animal science in 1948, she and her sorority sisters created a large snow sculpture of a horse-drawn sleigh - which caught the eye of internationally renowned artist Christian Petersen. A former student of Grant Wood and then instructor at Iowa State, Petersen allowed Duffy to take two of his art courses without the necessary prerequisites.



Norma Lyon and her butter cow. Photo; Iowa State Fair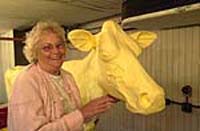 Each year at the Fair, Duffy features one of the six major dairy breeds - Jersey, Ayrshire, Brown Swiss, Holstein, Guernsey and Milking Shorthorn. "I can sculpt any dairy breed off the top of my head," says the dairy farmer.

Lyon concedes that sculpting with butter in a 42 degree (F) cooler for hours at a time is not "normal" sculpting conditions - if there is such a thing. And though she also sculpts with other materials - such as clay, snow, soap, chocolate and cheese - over the years, she has become very specialized in butter.

Duffy's labor of love starts with a wood, metal, wire and steel mesh frame and about 600 lbs. of low moisture, pure cream Iowa butter, most of which is recycled from past years' exhibits. She first softens the buckets of butter at room temperature to make the butter "workable." Once inside the cooler, layers of butter are applied until a life-size butter cow emerges - measuring about 5-1/2-ft high and 8-ft long. The butter takes approximately 20 to 30 minutes to set. Duffy begins on the head and body, and works her way down to the hooves; the entire process takes about 24 hours.

None of this surprises Iowa officials, who expected nothing less from a woman they insist has Iowa State Fair in her blood: Duffy's uncle Phil Stong authored the critically acclaimed novel State Fair. Based on Iowa's state fair, Stong's book was later transformed into three motion pictures, plus a Rodgers and Hammerstein Broadway musical - making the Iowa State Fair the most famous state fair in the country.

In 1944 there was a Rodgers and Hammerstein remake of the 1933 film about a country farm family preparing for the annual outing to the State Fair, with Mom and Dad entering contests and the son and daughter looking for first love. Starring Walter Lang, Jeanne Crain, Dana Andrews, Dick Haymes and Vivian Blaine the film was nominated for two Academy Awards, winning the Oscar for Best Song - It Might As Well Be Spring.

The Broadway show, which opened March 27, 1996 at the Music Box Theatre, starred John Davidson, Kathryn Crosby, Andrea McArdle, Donna McKechnie and Scott Wise.

Lyon's sculptures have been displayed in 13 states and Canada, "The Butter Cow Lady" has appeared on the Today show and Late Night with David Letterman.

B. Green's book The Butter Cow Lady was published several years ago.
SURVIVING THE ONE NIGHT STAND


A one night stand can be devastating. You're not respected the next morning.

For individuals directly involved in a show that has opened and closed on the same night, they are out of work. For investors, they are out of pocket. For friends and relatives who hang their identity on knowing - or being related to somebody in show business - they feel socially embarrassed. If what you created was any good it wouldn't have failed. Or, if you were any good, you wouldn't have been cast in a flop.

For the lemons that opened and then squeezed a few more performances out before calling it quits, at least there was a magical opening night, shared with family and friends. After all, it wasn't your fault the thing was a bomb and you have concocted 97 excuses you can rattle off at will.

But, for that group that opens and closes simultaneously, there is a black hole. Fall in it and you'll land on a bed of thespians.



Erich Segal and Mitch Leigh's musical Odyssey pre-Broadway at the Erlanger Theatre, Philadelphia would be renamed Home Sweet Home opening and closing January 4th, 1976 at the Palace Theatre in New York. Yul Bryner and Joan Diener starred. Segal wanted his name removed from the credits.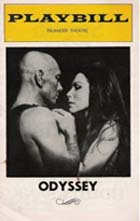 From September 1965 through June of this year 70 turkeys rang down the curtain the very night they opened.

Barry Kleinbort is a respected director, composer and lyricist who has won six Manhattan Association of Cabaret Awards, two Back Stage Bistro Awards, as well as the prestigious Ed Kleban Foundation Award for lyric writing. The Kleban Award for Musical Theater is given annually by the Kleban Foundation, which was established in 1988 under the Will of Edward L. Kleban, who is best known as the Tony and Pulitzer Prize award winner for the musical A Chorus Line.

Kleinbort spoke with Broadway To Vegas about surviving a Broadway one night stand.

"It has to do with blame. What I mean by that is, performers don't usually take the brunt of the blame. Even if a show closes on opening night, I think performers feel they have done the best that they knew how to do. They don't necessarily feel responsible," he explained.

"So, if the show flops, they don't think it was because they didn't do a good job," he continued. "They are unhappy because the paycheck stops. And, they have to clear out the dressing room right away. That is really kind of numbing, because you just set it up and now you have to take everything down and get ready to move on. Another disappointment is that you don't ever really get to say good bye, because it is all so fast."

"You're just going in there to clear your stuff out and you don't see the other members of the cast. It's over but there is no finality to it. You didn't have a chance to forge friendships within the company. It's all just over and you just move on. But there is no putting a final period on it, unfortunately."



Gantry starred Robert Shaw ( on cover) and Rita Moreno. Directed by Onna White. Music by Stanley Lebowaky; Lyrics by Fred Tobias. Opened and closed February 14, 1970.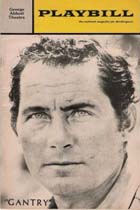 "Those are the kind of things the performers I've talked to, who have been in those experiences, talk about. I think it is much harder on a writer, who has put several years into something," he emphasized.

"There are extenuating circumstances in so many of these shows that close in one night," he elaborated. "Sometimes they are undercapitalized. There have been cases where a backer pulls out at the last minute and there is no money to go on. Sometimes the only way they can save money is by closing and returning some of the reserve capital to investors because they don't feel they can run."

"Shows aren't closing on opening night or haven't for awhile now. That is because very few shows are being produced for Broadway any more," he reasoned. "They are all coming in from other places. So, there is already kind of a build-in success factor, to a degree. Whether the show runs or not, it's not going to close on opening night. So, that has really changed."

Alfred Uhry may be the patron saint of the rejected. He had his first two productions close on opening night.

His first effort was penning lyrics to a musical based on Steinbeck's East of Eden called Here's Where I Belong. The book was by Terrence McNally. His second effort was a reconstruction of George M. Cohan's 1904 show, Little Johnny Jones, which we saw and didn't think was all that bad. It starred Donny Osmond who would return to the legitimate stage as the star of Joseph and the Amazing Technicolor Dreamcoat.

"Alfred Uhry wanted to be a writer of musicals," continued Kleinbort. "That was really what he had come to New York to do."

"He was so despondent to have two musicals close in one night, that he thought about giving it up. Then he remembered this aunt of his who was the model for Driving Miss Daisy, and he decided to write this little play. The rest is history," he commented about the man who went on to win a Pulitzer, a Tony award and an Oscar.

"Perseverance will out," stressed Kleinbort. "You've just got to hang in there. Alfred Uhry is a terrific example of somebody who had a vision but found success doing something that wasn't what he originally set out to do."

Numerous performers have been replaced, either while on the road leading to The Great White Way, or during Broadway previews.

"In cases where the performer is removed before the show opens, that is particularly painful, as opposed to being a show that closes on opening night," Kleinbort concurred. "The show is successful and you're not a part of it. That is extremely painful."



Kathryn Meisle as Elmire and Henry Goodman as Tartuffe. Photo: Joan Marcus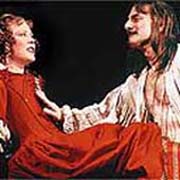 British actor Harry Goodman replaced Nathan Lane as Bialystock in The Producers. He was fired, in a humiliatingly public manner, after only 30 performances, because he wasn't getting laughs.

In a way, Goodman got the last laugh when he returned to Broadway to star in Tartuffe. He received rave reviews.

Eve Arden, star of Our Miss Brooks, was replaced in previews. Arden had been cast as Hedda Holloway, the lead in Moose Murders. Arden may have been grateful for the firing since many consider Moose Murders the worst play to ever open on Broadway. The production opened and closed on February 22, 1983 at the Eugene O'Neill Theatre.

"Rejection is rejection regardless of the reason," emphasized Kleinbort. "The person is feeling rejected. And, you're talking about an emotionally needy business," he sighed.

"That is why I am saying it is different if a show doesn't run. You're not being rejected. It's not personal. Whereas, if the person is replaced, it's personal."

"I think the writers are the ones who suffer the most," he laughed. "Less than five percent of what is written gets produced, so already you get a very small percentage that ever sees the light of day. When you finally go into production, you may have waited six or seven years for this to happen. Suddenly, it is up in front of an audience and the audience doesn't want what you have to sell, for whatever reason. That is particularly painful."

"The cast has been there four or five weeks, not counting before they start previews, but a writer has been living with this thing for years.

"I'd say to anybody, but truly to a writer or director - you've got to want to do this. "If you don't, it's okay. The world goes on. I always say, nobody holds a gun to our heads and says you have to do this. You've got to believe that you have something to say. You've got to believe that somebody else wants to hear whatever it is you have to say. That commitment has to be great enough to last the years. Because, nothing gets on quickly. Everything takes a lot of time. Also, the odds are against you of every being produced."

"Even when I see something that I'm not crazy about, my sympathies are with the people who are putting it together. I think, regardless of what the show The Producers says, nobody intentionally puts on something bad."

"I think with the amount of money that is involved, everybody believes that they are putting on something good."

"The biggest critics are the ticket buying public," he emphasized.

"How many shows can you think of like My Favorite Year," questioned Kleinbort about the musical, based on the 1982 film of the same name. The production opened at the Vivian Beaumont theater at Lincoln Center on December 10th, 1992 and lasted only 37 performances. It was preserved with a CD.

"This was a case where they did a workshop and everybody screams brilliant. It is so fantastic they can't wait. Then it is put in front of a paying audience and the paying audience sits there on their hands."

"That is the difference. These people paid. Not only that, they haven't come to have a bad time. They plunked down their money to have a good time. They aren't sitting there going - show me. They are there for the right reason," Kleinbort stated.

"If they aren't having a good time, you've got to listen to them. They are telling you something. They are saying I paid money and what I am getting is not commensurate with what I paid. That is what they are telling you."

"You can have a bad night or you can have a night where the audience is really off. But, if the audience responds the same every time, you have to listen to that," he insisted.

"My feeling is, if you have eight different audiences come in and if they all react the same way, then it is not the audience, it is the show."

"People like George Abbott were great audience listeners. Jerome Robbins was, too. They were the best of the best. They were listening to the audience. They may not have liked what they heard, but they were listening to them. They were very wise and they understood that the audience wasn't getting it. And, if they weren't getting it, then what didn't they understand? What weren't they getting? We don't have a lot of that now," he complained.

"A perfect example is Steel Pier. I attended a preview and the audience was clearly not having a good time. You could feel it. You could feel it in the house. The audience had come to have a good time, They were not having a good time. You could feel the frustration when they left."

"I went back to see the show right after it had opened, and they had done very little work on the show - very little had been changed. I was shocked! Because, I could feel it in the previews that the audience was not having a good time."

"What I found out later was that the creator really thought that the critics were going to love it. And, once the critics loved it, then the audience response was going to change. That was the feeling. They really felt that regardless of how the audience was reacting during previews, that the reviews were going to be so good that the audience response was going to change."

"If the audience response has not been overwhelming during previews - but the reviews are great - after the reviews come out, the audience response does change. It really does. Because people feel that they are seeing a hit and they automatically relax and they have a much better time. That is a weird thing, but it does happen."

"But, in this case, they really were not listening to the audience. For them to believe that the reviews were going to make the difference, as opposed to the work that needed to be done on the show, is pretty bizarre."

"Of course, the reviews were not good. And, they were absolutely stunned. They just assumed that the reviews would be good. There are two words I live by - never assume. You must never assume anything. You have to believe, but that is the risk, that is the gamble. You put it out there and whatever happens, happens. You can't ever predict.

"I saw Bounce and I don't think it should make it to Broadway. Regardless of the pedigree of the people who have put it together.

"I don't think you can fix a show if you don't know what it is about. And, I think they all have different ideas. I don't think all of the creative team are on the same page."

"That happens, where everyone has a different ideas of the show, and what you have up there are a lot of different visions about the show."

"When a writer writes something, they know what they think they've written. Then they turn it over to somebody else and then it is going to be interpreted by all of these other people. Sometimes, by the time everybody is finished, it may bear no resemblance to what they originally set out to do."

"I think Bounce is a case where, because of the long gestation period, and all of the hands that have come into the process, it is quite possible that what the original inspiration for the show was, has gotten lost."

Currently Kleinbort is working on several projects including Was, which was workshopped at Lincoln Center.

"The workshop at Lincoln Center, a year-and-a-half ago, was directed by Tina Landau and she did a wonderful job. I did the book and lyrics for it. It's based on a novel of the same name."

"It's kind of a wild piece. We were doing our workshop at the same time that Wicked was doing theirs. They both have a kind of Wizard of Oz thing going on although Wicked takes place in Oz and Was does not. But, there is a resonance of Wizard of Oz in Was. It was just interesting that they were both going on at the same time and now Wicked is opening on Broadway this fall in a $12 million production. Hopefully, we will get on, too."

"In a different economy the next step after the Lincoln Center workshop would have been Lincoln Center saying - Let's do it a full production. They were already sponsoring the two week workshop. They are having different feelings about musicals these days. So, I do think timing, for what ever reason, has something to do with it. Now we're talking to different regional theaters, around the country, trying to get a production through a regional. That is really what musical are doing these days."

"The formula for this business is Desire Over Fear. That's the ratio D over F. If the fear is greater than the desire, then you must not do this. The desire has to be first and foremost."



Broadway To Vegas is supported through advertising and donations. Priority consideration is given to interview suggestions, news, press releases, etc from paid supporters. However, no paid supporters control, alter, edit, or in any way manipulate the content of this site. Your donation is appreciated. We accept PAYPAL. Thank you for your interest.



CAROL BURNETT, MIKE NICHOLS, JAMES BROWN, LORETTA LYNN AND ITZHAK PERLMAN

Mike Nichols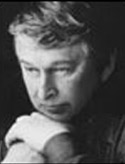 will receive this year's Kennedy Center Honors.

The annual Honors Gala has become the highlight of the Washington cultural year. The 2003 Honorees will be saluted by stars from the world of the performing arts at a gala performance in the Kennedy Center's Opera House on Sunday evening, December 7, to be attended by the President of the United States and Mrs. Bush, and by artists from around the world.

The President and the First Lady will receive the Honorees and members of the Artists Committee, who nominate them, along with the Kennedy Center Board of Trustees at the White House on Sunday evening, December 7, prior to the gala performance.



Carol Burnett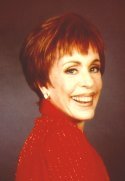 A supper dance in the Grand Foyer, underwritten for two decades by Merrill Lynch, will conclude the festive weekend.

The Kennedy Center Honors will be bestowed the night before the gala on Saturday, December 6, at a State Department dinner, hosted by the Secretary of State Colin Powell.

The Honors Gala will be broadcast on the CBS Network for the 26th consecutive year as a two-hour prime time special in December.

George Stevens, Jr., who created the Honors in 1978 with Nick Vanoff, will produce and co-write the show for the 26th consecutive year. The Honors telecast has been honored with five Emmy's for Outstanding Program as well as the Peabody Award for Outstanding Contribution to Television.

The Honors recipients are recognized for their lifetime contributions to American culture through the performing arts: whether in dance, music, theater, opera, motion pictures, or television.



Itzhak Perlman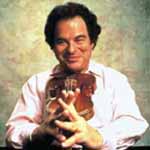 The primary criterion in the selection process is excellence.

The Honors are not designated by art form or category of artistic achievement; the selection process, over the years, has produced balance among the various arts and artistic disciplines.

Members of the Kennedy Center's national artists committee, as well as past Honorees, made recommendations of possible Honorees. Among the artists making recommendations were: Jane Alexander, Dan Akroyd, Antonio Banderas, Joshua Bell, Dave Brubeck, Kevin Costner, Benicio Del Toro, Michael Douglas, Nora Ephron, Renee Fleming, Paloma Herrera, Gregory Hines, Anthony Hopkins, Angelica Huston, Jeremy Irons, Nathan Lane, Jaime Laredo, Yo-Yo Ma, Wynton Marsalis, Rob Marshall, Audra McDonald, Sherrill Milnes, Nadja Salerno-Sonnenberg, Martin Scorsese, Sissy Spacek, Steven Spielberg, Meryl Streep, Heather Watts, and Jerry Zaks.

VERA GOULET wife of Robert Goulet, was one of 52 sworn in as a citizen of the United States. Friday's oath taking ceremony took place in the Las Vegas courtroom of U.S. District Judge Philip Pro. In addition to her husband, Vera's 80-year old mother attended the ceremony.

Canadian born Goulet sang God Bless America and the newly naturalized citizen, who was born in Macedonia, spoke to the crowd about escaping from the former Yugoslavia to England with her mother. Two failed attempts resulted in them spending time in prison. Their third attempt was successful. "They did some terrible things to my mother and to me," she recounted. "We were constantly in fear. We were hungry. We were cold."

Vera and Robert Goulet were married in Las Vegas in 1982.



TOYS IN THE ATTIC by Lillian Hellman on stage in Los Angeles for the first time in over twenty years.

Be careful what you wish for.

Behind the closed doors of a modest Southern household in Lillian Hellman's drama, lurk dark secrets of blackmail and betrayal, love and jealousy, convenient lies and painful truth.

What is your most irresponsible brother suddenly had money to burn? A peaceful Southern home erupts in intrigue and deceit when two sisters discover their ne'er-do-well brother is suddenly wildly successful. Wanting to believe their formerly irresponsible brother has finally gotten on the right track and earned an honest fortune, the sisters are unwittingly carried along a dark journey that forces them to accept some disturbing truths about their brother and themselves in this powerful drama about unspoken issues and familial deceit.

Toys in the Attic, Lillian Hellman's first original play since 1951, was given its Broadway premiere on February 25, 1960 at The Hudson Theater. Directed by Arthur Penn, the production starred Jason Robards Jr., Maureen Stapleton, Irene Worth, Anne Revere, Rochelle Oliver and Percy Rodriguez. In April 1960 it won the New York Drama Critics Circle Award as the best play of the year.

The 1963 screen adaptation by United Artists starred Dean Martin, Frank Sinatra, Geraldine Page, Gene Tierney and Larry Gates.

This Los Angeles production will be helmed by Jessica Kubzansky, who was recently named co-artistic director of the theatre wing of Pasadena's new intimate performing arts complex, The Theatre at Boston Court.

Opens August 16 at the Colony Theatre followed by a press reception.

PLAYING BURTON by Mark Jenkins starring Brian Mallon in the one-man show about Richard Burton, legendary actor, icon and hell-raiser of the 20th Century, who became equally as famous for being Elizabeth Taylor' fifth and sixth husband.

Burton bitterly picks over the 'bomb site' of his life in this play that is as equally powerful as it is entertaining, winning rave reviews in Australia and England. The fascinating story of Burton's working-class Welsh childhood where he was known as Richard Jenkins. His surrogate father, Philip Burton, who taught him to use English "like a sword" and whose surname he took in preference to that of his alcoholic mining father. His journey to the heights of Hollywood, superstardom, Shakespeare, Marlowe and Elizabeth Taylor is fascinating.

In previews for a month's run at the Irish Repertory Theatre in New York City.

Founded by Ciarán O'Reilly and Charlotte Moore, The Irish Repertory Theatre is the only year-round theatre company in New York City devoted to bringing Irish and Irish American works to the stage.

AIN'T MISBEHAVIN' based on an idea by Murray Horwitz and Richard Maltby, Jr is a sensational toe-tappin, foot-stompin musical tribute to legendary Fats Waller. This non-stop celebration of song, dance, jazz, swing, boogie — and everything in between — will send you home feeling good to be alive. The Joint Is Jumpin! August 12- September 14 at the Actors Theatre of Louisville, KY.

NICKEL AND DIMED By Joan Holden, based on the book Nickel and Dimed: On (Not) Getting by in America by Barbara Ehrenreich.

Bill Rauch directs a cast that includes Sarah Agnew, Natasha Arroyo, Christopher Liam Moore, Peggy O'Connell, Isabell Monk O'Connor, Robynn Rodriguez and musician Amy Van Patten.

What does it mean to earn a living wage? Writer Barbara Ehrenreich's months as a waitress, as a hotel maid and as a Wal-Mart sales clerk taught her how physically, emotionally and economically exhausting it is to gross $7 an hour and how very little "living" that money brings.

Pre-Play Symposium tonight, Sunday, August. Post-Play Discussions Sunday, August 17. Tuesday, August 19. Wednesday, August 20. and Wednesday, August 27. Opened last night with performances through August 31 at the Guthrie Lab in Minneapolis, Minnesota.

THE GRADUATE starring Jerry Hall as Mrs. Robinson, opened yesterday, August 9th, at the Curran Theatre in San Francisco. Runs through September 7th.

THE BOY FROM OZ

Peter Allen and Bernadette Peters. Their opening night Crystal Room program Desert Inn Hotel, Las Vegas.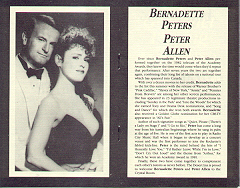 has begun rehearsals for the Broadway opening. Previews begin September 16th at The Imperial Theatre.

The production stars Hugh Jackman as Peter Allen, Isabel Keating portraying Judy Garland, Stephanie Block in the role of Liza Minnelli, Beth Fowler cast as Marion Woolnough, Jarrod Emick as Greg, Michael Mulheren as Dick and Dee Anthony and Mitchel David Federan in the role of Young Peter.

The Boy From Oz The Boy From Oz is the story of Peter Allen, from his humble beginnings growing up in the Australian outback through a meteoric rise to fame and international stardom. Allen became a superstar in the 1980s, best known for hits like I Honestly Love You, I Go to Rio and for winning the Academy Award for the theme song from the film Arthur, as well as having been discovered by Judy Garland, marrying her daughter, Liza Minnelli, and his record-breaking runs at Radio City Music Hall.

Music and Lyrics by Peter Allen. Book by Martin Sherman. Directed by Philip Wm McKinley. Choreographed by Joey McKneely. Set Design by Robin Wagner. Costume Design by William Ivey Long. Lighting Design by Donald Holder. Sound Design by Acme Sound Partners.


| | | |
| --- | --- | --- |
| | | |
WHO'S WHERE


PATTI LuPONE has dropped out of next month's workshop of Doll at the Ravinia Festival. She was to have played the legendary Alma Mahler, known for her long string of famous husbands and lovers, from composer Gustav Mahler to artist Oskar Kokoschka.

According to Ravinia, LuPone cited scheduling conflicts. She still will star in Ravinia's production of Stephen Sondheim's Passion August 22-23.

Starring in Doll will be David Hyde Pierce of the NBC sitcom Frasier. He will play Kokoschka's mentor Anton Gruber. A project of the Music Theatre program of Ravinia's Steans Institute for Young Artists, Doll also will feature Judith Blazer as Alma Mahler, Michael Cerveris as Kokoschka and Mary Testa as the dollmaker Hulda.

The doll of the title, a life-size likeness of Alma, is designed by puppeteer Basil Twist. Members of the Steans Institute will round out the cast. Music is by Scott Frankel, with book by Michael Korie. Performances are Sept. 2 and 3 in Bennett-Gordon Hall at Ravinia, Highland Park, Ill.

SWING, SWING, SWING Hosted by Jim Lowe & Starring Hilary Kole with a cast of seven, and a very special cameo appearance by Peter Cincotti. Hilary Kole recently appeared in the hit Off-Broadway musical revue, Our Sinatra. Jim Lowe, known for the 1950's nostalgia staple, Green Door, has hosted the nationally syndicated radio show Jim Lowe & Company, for the past five years. Friday, August 15, Guild Hall in East Hampton, NY.

ALL THAT KANDER AND EBB The brittle and the beautiful tunes for Broadway penned by John Kander and Fred Ebb and the shows for which they were written live again in a star studded evening. Tony Award winner Karen Ziemba and Broadway blockbuster Brent Barrett, will be joined by special surprise cameo appearances by Broadway greats who starred and worked in Kander and Ebb shows. Sunday, August 17 at Guild Hall in East Hampton, NY.

KAREN MASON performing August 15-16 at Odette's in New Hope, PA and August 18th in New York City at the King Kong Room, which has turned into the place to be on a Monday night.

SUMMER MONDAYS AT THE LAGUNA PLAYHOUSE Something Old, Something New: An Evening with Steve Schalchlin and Jim Brochu, on August 12. The event features the creators of the award-winning musical The Last Session. They're scheduled to reprise some of that show's memorable moments and present a dozen songs from their new musical comedy, The Big Voice.

On Monday, August 19th it's Susan Egan and Lisa Richard in Concert. Egan is the star of Broadway's Beauty and the Beast and Cabaret. Richard has just released a new CD. They will belt out Broadway show tunes and classic cabaret-style songs.

On August 25th, a show that played to sold-out houses in Los Angeles: Save It For The Stage: The Life of Reilly, a one-man show starring award-winning actor, director and teacher Charles Nelson Reilly. The Laguna Playhouse in Laguna, California.

PETER CINCOTTI entertaining Saturday, August 16, at the Belleayre Music Festival in Highmount, New York.

DIANE SCHUUR performs Friday at the Greenwich Odeum in East Greenwich, Rhode Island. On Saturday she can be enjoyed at the Southern Vermont Arts Center in Manchester, Vermont.

HUEY LEWIS AND THE NEWS have a busy week. Monday they are at the Bowery Ballroom in New York City. On Tuesday it's the Westbury Music Fair in Westbury, New York. Wednesday finds them at the Turning Stone Casino in Verona, New York. Thursday they are in the spotlight at Casino Rama in Rama, Ontario and on Saturday they are on stage at Regency Park in Cary, North Carolina.

LYLE LOVETT on stage, Saturday, at the Apple & Eve New port Folk Festival in Newport, Rhode Island.

FEVER! A TRIBUTE TO MISS PEGGY LEE starring Lezlie Anders and Buddy Greco. August 15th at the Suncoast in Las Vegas.

ETTA JAMES on stage August 15-16 at the Las Vegas Hilton.

LEE GREENWOOD takes to the stage Monday at the Country Tonite Theatre in Pigeon Forge, Tenn. On Saturday he performs at the Steuben County Fair in Bath, New York.

VICKI LAWRENCE appearing at the North Shore Music Theatre, Tuesday, in Beverly, Mass.

MICHAEL FEINSTEIN delighting the audience at the Fraze Pavilion in Kettering, Ohio in Saturday.

KD LANG center stage August 15 at the Interlochen Festival in Interlochen, Michigan. On Saturday she is in the spotlight at the Ravinia Festival in Highland, Ill.

JOHNNY MATHIS entertaining at the North Shore Music Theatre in Beverly, Mass on Friday and Saturday.

JACK JONES performing August 16 and 17 at the Suncoast in Las Vegas.

GLEN CAMPBELL in the spotlight at Villages Amphitheatre in Fayetteville, Georgia August 16.

VINCE GILL opens a three night engagement at the Paris Hotel in Las Vegas on August 21.

LOU RAWLS on stage Saturday at the Mann Center in Philadelphia, PA.

AN EVENING WITH CAROL CHANNING STARRING RICHARD SKIPPER August 17 at a private event The Gathering, Poconos, PA.

ZIGGY MARLEY performing August 15 at Trump Marina in Atlantic City.


PIFFLE AND PROFUNDITIES


DOROTHY McGUIRE'S CHILDHOOD HOME has been torn down to make room for a 60-unit student housing complex for the University of Nebraska Medical Center in Omaha.

Bricks from the house will be used to create a memorial to McGuire at the site.

The actress starred in Gentleman's Agreement, opposite Gregory Peck, and Friendly Persuasion, co-starring Gary Cooper.

McGuire was born in Omaha and grew up in the house which Don Leuenberger, the medical center's vice chancellor for business and finance, said would have been too expensive to try to preserve and build student housing around it.

McGuire passed away two years ago at 85.
















Next Column: August 17, 2003
Copyright: August 10, 2003. All Rights Reserved. Reviews, Interviews, Commentary, Photographs or graphics from any Broadway To Vegas (TM) columns may not be published, broadcast, rewritten, utilized as leads, or used in any manner without permission, compensation and/or credit.
Link to Main Page
---
Laura Deni


CLICK HERE FOR COMMENT SECTION