! >
Broadway To Vegas
  
  REVIEWS  INTERVIEWS COMMENTARY NEWS

| | |
| --- | --- |
| | |
2011 ELVIS PRESLEY BIRTHDAY WEEK IN MEMPHIS AND LAS VEGAS - - EMBODYING AT ATLANTA CONTEMPORARY ART - - ANNIE LENNOX HONORED - - BUCKS COUNTY PLAYHOUSE HOPES FOR A GOOD YEAR - - SPIDER-MAN ACTRESS QUITS AND SPIDER-MAN ACTOR SET TO TALK - - NICE GUY JAMES GANDOLFINI - - BUCKY PIZZARELLI'S 85th BIRTHDAY - - JEFF BRIDGES: THE DUDE ABIDES - - DONATE . . . Scroll Down


CHILEAN MINER TO VISIT GRACELAND AND LAS VEGAS FOR ELVIS PRESLEY'S 2011 BIRTHDAY CELEBRATION


Edison Peña, the recently freed Chilean miner who became known around the world as a major Elvis fan, will be visiting Graceland in Memphis during Elvis Presley's annual birthday celebration on January 6-9, 2011.

When the staff at Elvis Presley Enterprises, Inc. first learned of his love for Elvis, a care package filled with Elvis music and other Elvis merchandise was delivered to the mine.

Through media reports, it was later learned that Peña jogged to music from the King of Rock 'n' Roll and helped keep morale high by leading Elvis sing-a-longs as he and 32 fellow miners were trapped 22,000 feet below ground.

After the rescue, Graceland wanted to celebrate the safe return to top soil of what may be the world's most devoted Elvis fan.

To accomplish this, Graceland teamed with the Memphis Convention and Visitors Bureau, the Tupelo, Miss., Convention and Visitors Bureau, The Peabody Hotel, Delta Air Lines and American Dream Safari to offer the miner and his guest an all expenses paid "Elvis" trip to Memphis, Tupelo, and Las Vegas.



Edison Peña upon being rescued. AP Photo; Graceland PR release.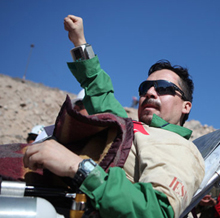 While at Graceland, Peña will receive a private tour of the mansion, exhibits and have a recording session at the historic Sun Studio where Elvis, Johnny Cash, Carl Perkins and Jerry Lee Lewis all started their music careers.

He'll also be honorary duckmaster at The Peabody Hotel ( See Broadway To Vegas column of August 9, 2005 ) before attending an Elvis-themed Memphis Grizzlies-Utah Jazz basketball game.

Plans are for Peña to have a meet and greet with the Spanish-speaking Memphis Grizzlies players Marc Gasol of Barcelona and Greivis Vasquez of Caracas, Venezuela.

On Saturday, its' the Elvis Presley Day Ceremony which takes place on the front lawn of Graceland. The event will be conducted by Graceland/EPE officials, with Peña doing the honors of cutting the giant cake.

There will also be a proclamation of Elvis Presley Day by Memphis and Shelby County officials.

As to what happens to all of that cake, fear no waste. Complimentary birthday cake and coffee will be served at the Chrome Grille restaurant across the street from the mansion following the ceremony.

On January 9 Peña will be in Elvis's hometown of Tupelo, where Peña will receive the key to the city. He'll also visit the Tupelo Hardware Store where Elvis got his first guitar.

Following Peña's visit to Memphis and Tupelo, he'll be flown to Las Vegas to see the Cirque du Soleil show Viva ELVIS at Aria Resort & Casino.

For ordinary fans rejoicing that their king was born, Birthday Week at Graceland offers the Official Elvis Insiders Reception and Graceland Tour which will include a private evening tour of Graceland Mansion, in all its holiday splendor, and a reception across the street in Graceland Plaza.

The progressive event will include Elvis' airplanes, The Elvis Presley Automobile Museum, Elvis in Hollywood exhibit in the Sincerely Elvis Museum and Elvis Lives exhibit are also part of the plan.



Julie Adams and Elvis Presley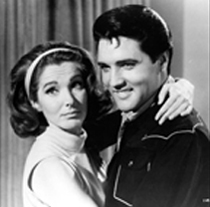 Jennifer Holden and Elvis Presley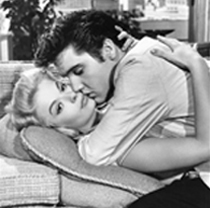 Special guests for the event will be Julie Adams who costarred with Elvis in Tickle Me, Larry Domasin who costarred with Elvis in Fun in Acapulco, Jennifer Holden who costarred with Elvis in Jailhouse Rock, and Elvis' personal jeweler, Lowell Hays.

Interested in the musical side of Elvis? Meet Jim Murray who performed with Elvis as a member of The Imperials.

A Conversations on Elvis takes place in the afternoon with the afore mentioned Julie Adams, Larry Domasin and Jennifer Holden. The event's host is Tom Brown, vice president of original productions for turner Classic Movies.

In the evening the Memphis Symphony Orchestra presents Elvis Birthday Pops at The Cannon Center for the Performing Arts. In this annual event, which will be attended by Edison Peña, Presley's natal day is celebrated with Terry Mike Jeffrey and his band performing a hip shakin' concert of Elvis' chart-topping hits. Steven Reineke conducts.

The celebration concludes next Sunday with a Southern Gospel Celebration at Graceland with Elvis' Imperials.



Broadway To Vegas is supported through advertising and donations. Priority consideration is given to interview suggestions, news, press releases, etc from paid supporters. However, no paid supporters control, alter, edit, or in any way manipulate the content of this site. Your donation is appreciated. We accept PAYPAL. Thank you for your interest.



ART AND ABOUT


EMBODYING

Art by James Gobel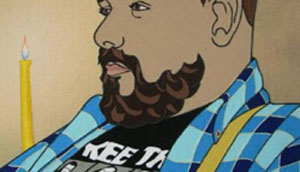 and exhibition which brings together five artists - Joe Biel, James Gobel, Stephen Schofield, Allison Smith, Richard T. Walker - whose works investigate physical and psychological aspects of the human body, drawing inspiration from classic literature, nature, and urban life.

James Gobel's bearish men are depicted in "paintings" constructed with felt, yarn, rhinestones, and acrylic. They address qualities of gay self-awareness and style, exemplifying signifiers that gay men use to identify each other through fashion choices, facial hair, and attitude. Gobel who was born in Portland, Oregon and received a B.F.A. from the University of Nevada, Las Vegas lives and works in San Francisco.

Allison Smith was born in Manassas, Virginia in 1972. She received a BA in psychology from the New School for Social Research (1995), a BFA in sculpture from Parsons School of Design (1995), and an MFA from the Yale University School of Art (1999). Her assemblage, A Good Haul, is inspired by an episode in The Adventures of Huckleberry Finn. Smith brings together found and fabricated items based on Mark Twain's textual descriptions and her own travels up the Mississippi River from New Orleans to Chicago during the summer of 2010.

Joe Biel is a visual artist working primarily in two dimensional media. Biel renders precise figures in graphite on paper, documenting "performers" in banal or bizarre situations. His focus on clothing, objects, and gestures, set within spare or non-existent contexts, gives his work a distinctly existential mood. He received an MFA in Painting from the University of Michigan and is currently on the faculty at California State University Fullerton.

British born artist Richard T. Walker has been described as combining "a Woody Allenesque obsession regarding the complex language of relational psychology with images of breathtakingly beautiful landscapes and bucolic scenes." Walker "revels in the tensions he seeks to expose in his work between what we can see and what we want to see." Walker's videos and photographs show the artist as an isolated romantic, confronting the beauty and vastness of nature. Armed with cameras and musical instruments, he creates and documents improvisational attempts of being and belonging.

Stephen Schofield's patchwork figures are mapped from the male body and then tailored out of remnant clothing. Soaked in sugar water and then inflated, these larger-than-life-sized bodies stiffen to become taut skins whose physical presence combine qualities of spirit and matter. Toronto born Schofeld, who currently lives and works in Montreal, will participate in an artists' talk on January 8. The exhibit opens January 7 and runs through March 20, 2011 at the Atlanta Contemporary Art Center in Atlanta, GA.

Embodying has been developed in partnership with the Artadia Exhibitions Exchange program in an effort to present works by the recipients of Artadia Grants at arts venues around the United States. The Atlanta Contemporary Art Center is featuring three 2009 grantees from San Francisco (Gobel, Smith, and Walker) in this exhibition,


INJURED SPIDER-MAN STAR NATALIE MENDOZA OFFICIALLY LEAVES THE SHOW
Natalie Mendoza. Photo: Charles Eshelman for Getty Images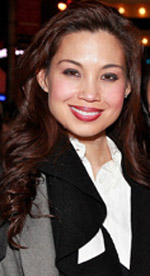 As of last Thursday Natalie Mendoza has officially left Spider-Man: Turn Off The Dark Mendoza who helped create the role of villainess Arachne, suffered a concussion during the first preview performance and is still experiencing nausea and pain.

( See Broadway To Vegas column of December 26, 2010 )
( See Broadway To Vegas column of December 5, 2010 )

The part of Arachne calls for the actress to fly over the audience and spin while suspended upside-down..

Last Thursday lead producer Michael Cohl issued the expected statement:

"It has been a difficult decision to make, but I regret that I am unable to continue on Spider-Man as I recover from my injury. I wish Julie (Taymor) and the cast and crew every success with this production."

Director Julie Taymor added, "Natalie is a talented performer. We've appreciated her contributions to the show and we wish her all the best."

Reportedly Mendoza's representatives spent a week hammering out the details of her withdrawal, including a confidentiality statement. That's normal procedure. Whether it's personal, business or a combination, if you want somebody to not talk or to stop talking you pay them. Both sides can then move on without wondering if another shoe is going to drop.

Broadway To Vegas wishes Natalie Mendoza the best in what she has twitted will be some charity work for Ramana's orphanage. Her Christmas tweet was "Merry Christmas beautiful friends! Feeling blessed and at peace walking in truth, love & light!"

The Hong Kong born Australian actress was raised in Sydney, Melbourne and Hong Kong/South East Asia. Her stage credits include Cats, Miss Saigon, Sweet Charity, and Les Miserables.



America Olivo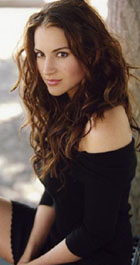 The ladies who have been replacing Mendoza in the harness as Spidey's nemesis are America Olivo and T.V. Carpio.

On a website which claims to be the "official site for America Olivo" she is promoting her latest movie Bitch Slap. The website doesn't appear to have been updated in a year and doesn't mention Spider-Man: Turn Off The Dark. The Julliard graduate lists her stage credits as: Hotel C'est L'Amour, World Premiere, The Blank Theatre; Zorro, Musical theatre reading; Opening Act Enrique Iglesias 2002 Tour and Opening Act Marc Anthony 2002 Tour.

Teresa Victoria Carpio, better known as T.V. and who was playing Miss Arrow and understudying Mary Jane Watson, was born in Oklahoma City. The American-Chinese-Filipino singer, songwriter and actress is the daughter of Hong Kong Chinese-Filipina super-star singer Teresa Carpio, with whom she has performed on stage as a backup singer. T.V. grew up in Hong Kong with her mother and danced in music videos for Bruce Springsteen and Whitney Houston. As an alto soprano she sang with the Hong Kong Philharmonic in her mother's acclaimed Diva concerts. She played Alexi Darling in Rent on Broadway.

TUESDAY UPDATE On January 4, Spider-Man producers announced that T.V. Carpio will become the new Arachne and American Olivo will continue as the understudy.

Set to give his first interview is Christopher Tierney who will speak with Dana Tyler, a well-respected senior news anchor and reporter at WCBS-TV in New York City. She regularly covers Broadway and in fact, is reported to have met her boyfriend, musician Phil Collins, when she interviewed him about Tarzan opening on Broadway in May 2006. Don't expect Tierney to dish any dirt. He's been cared for, as he should be, and will put a positive spin on the flying sequences. Spider-Man: Turn Off The Dark has dominated headlines because of cast injuries, taking attention away from the positive aspects of the yet to officially open show. For one, Don Holder's lighting design is brilliant genius.


NAUGHTY AND NICE CELEBRITY NEIGHBORS
Curtis Jackson III AKA 50 Cent mug shot after being arrested for dealing drugs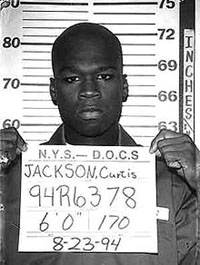 I wish James Gandolfini was my neighbor. 50 Cent? Not so much.

According to a Twitter post by 50 Cent who was born Curtis Jackson III, the rapper used last week's dangerous blizzard to help out - provided he was paid for his services.

The hip-hop's Connecticut house was snow-bound as was the entire area.

Along with a series of photographs he posted on his page, he twitted: "I'm going out to shovel snow and see if I can make me a few extra dollars today. I'm charging more if they want to take pictures," said the man whose album The Massacre has been certified five times platinum by the RIAA and has sold 11 million copies worldwide. Billboard ranked his album Get Rich or Die Tryin' as the 12th best album of the 2000-2009 decade.

"I want a hundred dollars per house. I bet anybody I'll make a grand moving snow today. I want a hundred dollars if your (sic) stuck. Ill get you out."

Soon after, he told Twitter readers that four people had paid and that he'd hired "employees" to allow for more business, saying, "This snow moving business is just to see if laws apply to every business. After the first job I got 4 more now I have 3 kid(s) I hired."

Once originally sentenced to three to nine years in prison for drug dealing, Jackson adopted the name 50 Cent as a metaphor for "change".

The name was derived from Kelvin Martin, a 1980s Brooklyn robber known as "50 Cent".



James Gandolfini starred in the Tony award winning Broadway production God of Carnage.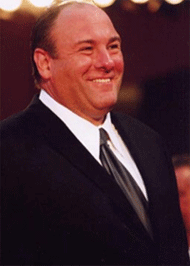 Jackson chose the name "because it says everything I want it to say. I'm the same kind of person 50 Cent was. I provide for myself by any means," according to an article published in the August 3, 2005 issue of Stuff.

In the neighboring state of New York James Gandolfini was a bit more neighborly.

According to the Dec. 29 issue of the New York Post, when a car got stuck in Gandolfini's neighborhood, the star immediately jumped in to help - a rigorous push, rock-the-car then shovel-some-more event which took over 45 minutes.

The Soprano's star not only didn't charge for his services, the paper reported that he even used his own money to tip others who also joined in the rescue operation.

Gandolfini starred in Broadway's Tony-award winning God of Carnage with Marcia Gay Harden, Hope Davis and Jeff Daniels.

In June 2010, it was announced that Gandolfini would be executive producing an HBO film about Ernest Hemingway and his relationship with Martha Gellhorn titled Hemingway & Gellhorn and starring Clive Owen and Nicole Kidman.

Philip Kaufman will direct the film, which was written by Barbara Turner and Jerry Stahl, and will reportedly begin shooting in 2011.


SWEET CHARITY


WICKED has turned its final dress rehearsal for the Brisbane, Australia production into a special charity performance. The proceeds will help vulnerable children and families by supporting ACT for Kids, which provides free professional therapy to treat and prevent child abuse and neglect.

January 9, 2011 at the Lyric Theatre in Brisbane, Australia.


FAMED BUCKS COUNTY PLAYHOUSE CLOSED ON CHRISTMAS EVE BUT HOPE SPRINGS ETERNAL FOR THE NEW YEAR
Bucks County Playhouse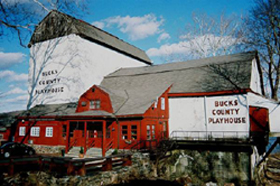 Santa brought the iconic New Hope, PA Playhouse a lump of coal in the form of Bucks County Cpl. George Spicer stating: "We are here today to close the premises and evict the tenant." The curtain had just rung down on a performance of A Christmas Carol and the cast was caught off guard, performing under the assumption that they would be permitted to complete the run of the holiday favorite, which had two more performances.

Matlack Properties, an affiliate of Stonebridge bank bought the landmark theater in a sheriff's sale after Playhouse owner Ralph Miller defaulted on a $2.25 million mortgage.

The bank says Miller refused to sign an agreement terminating his possession on December 23, so the bank ejected him from its property.

Matlack Attorney David Giles called it an "unfortunate situation," saying "it's not what the Matlack wanted."

In a cross between Scrooge and It's A Wonderful Life, Matlack experienced the holiday spirit and decided that the remaining two performance could take place before the bank took control of the theater.

The New Year may bring new life to the troubled property.



Jed Bernstein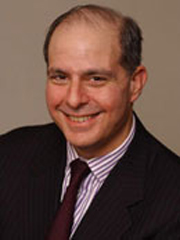 Arriving as the knight on the white horse is Jed Bernstein, who went from attending the University of Pennsylvania to becoming an advertising guru, morphing into the executive director, then president, of the League of American Theaters and Producers now known as the Broadway League.

After 11 years in that capacity Bernstein launched Above The Title Entertainment, a theatre/television production company and marketing consultancy that combines his skills at marketing and promotion with his love for the theater.

Above the Title Entertainment projects have included the Off-Broadway critically acclaimed musical revue, Don't Quit Your Night Job; the 7-time Tony Award nominated Passing Strange, the smash revival of Equus, starring Daniel Radcliffe and Richard Griffiths; David Mamet's highly praised Oleanna, starring Julia Stiles and Bill Pullman; and the Tony Award-winning revival of Hair. Currently Jed is producing Alfred Uhry's Pulitzer winning play Driving Miss Daisy on Broadway starring Vanessa Redgrave, James Earl Jones, and Boyd Gaines and Stephen Schwartz's newly re-imagined Working in Chicago.

in his spare time he is going to recue the Bucks County Playhouse, a successful recruitment conducted by Peggy McRae, 53, who founded the Bucks County Playhouse Preservation Society, which has as its model the Westport Country Playhouse, which was given new life thanks to the hard work of the late Paul Newman and Joanne Woodward.

Attorney Brian "Rick" Appel, 70, serves as the new nonprofit's acting president.

Their public private partnership is negotiating with Matlack to purchase the 450-seat playhouse, ensuring it's financial and artistic future. Bernstein says the group is hopeful about a summer season.

"The entire theatre community was aghast at the idea of permanently losing this legendary venue and picturesque piece of theatre history," Bernstein said in a statement. "We have formulated a unique solution that we hope will ensure this landmark's artistic and financial future for New Hope and Bucks County. Without missing a beat, we are committed to moving swiftly to try and solidify a plan to mount a 2011 summer season that will unequivocally demonstrate that the Bucks County Playhouse has truly been born anew."

The Bucks County Playhouse, The State Theater of Pennsylvania, has long been a staple in New Hope, founded by a group of individuals including playwright Moss Hart that acquired a grist mill dating to 1790. Its productions often put to work well-known actors - among them, Grace Kelly, Bea Arthur, Colleen Dewhurst, Robert Redford, William Shatner, Leslie Neilsen, Jack Klugman, Walter Matthau, George C. Scott, Liza Minnelli, Don Knotts and John Travolta, according to the theater's online history. It had the premieres of Harvey," Barefoot in the Park and Give 'Em Hell Harry.


SPREADING THE WORD


JEFF BRIDGES: THE DUDE ABIDES

Jeff Bridges by Gage Skidmore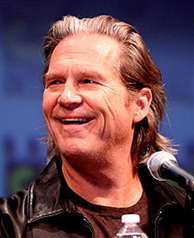 In person - Jeff Bridges, Susan Lacy, Series Creator/Executive Producer and Gail Levin, Director/Writer.

American Masters opens its twenty-fifth season with Jeff Bridges: The Dude Abides giving viewers an unexpected window into the life of the actor whose easygoing style has endeared him to audiences for almost forty years.

The ninety-minute film, airing nationally Wednesday, January 12 on PBS, debuts less than a year after Bridges's game-changing Best Actor Academy Award–winning role as Bad Blake in Crazy Heart.

It also coincides with his return to the screen in Tron Legacy - reprising his role as Kevin Flynn from Tron (1982) - and as Rooster Cogburn in the remake of True Grit, directed by the Coen Brothers, reuniting him with The Big Lebowski (1998) writer/directors, where his iconic role as "the Dude" originated.

A sold out private reception with the panelists will also take place.

Saturday, January 8, 2011 at The Paley Center in Los Angeles.


OTHER PEOPLE'S MONEY


RAIN - A TRIBUTE TO THE BEATLES ON BROADWAY announced December 27 that the production has recouped its initial investment of $2 million in seven weeks. The production, which opened on October 26, 2010, at the Neil Simon Theatre, will play its final performance there January 15, 2011, before reopening at the Brooks Atkinson Theatre on February 8, 2011.

MICHAEL "MICKEY" SHERMAN a criminal-defense attorney who unsuccessfully represented Kennedy cousin Michael Skakel in his murder trial, has been sentenced to one year and one day in federal prison for failing to pay his income taxes.

In June 2010, Sherman pleaded guilty to two misdemeanor counts of willful failure to pay more than $1.1 million in federal taxes. Sherman has repaid $400,000 but still owes about $1.2 million in taxes, penalties and interest from 2001-2009.

The personable and photogenic Sherman has frequently appeared as a commentator on MSNBC, CNBC, Court TV, Fox News and CNN and has been employed as a legal analyst on CBS News, appearing on the CBS Early Show and CBS Evening News.

MARC ANTHONY husband of Jennifer Lopez, rang in the New Year with something he didn't want - headlines that during 2010 two tax liens worth $3.4 million were placed on his real estate in Nassau County, Long Island. First reported by RadarOnLine.com the initial lien was for $1.6 million followed three months on March 29, 2010 by a $1.8 million lien placed on the same property by the State of New York.

BON JOVI'S The Circle tour was the highest-earning tour of 2010, taking $201.1m worldwide, according to music trade publication Pollstar. Australian rock band AC/DC came in second with tickets sales from their recent tour totaling $177m. U2, which was the top worldwide act in 2009, came in at third place, with ticket sales totaling $160.9m.



2011 NEW YEAR'S HONORS LIST

Lady Antonia Fraser, author, was granted a damehood.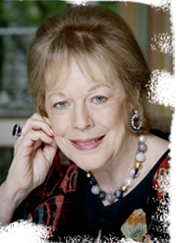 bestowed by Her Majesty Queen Elizabeth includes the following celebrities and performing artists:

Lady Antonia Fraser, author and widow of Harold Pinter has been granted a damehood - Lord Weidenfeld, the publisher who gave Lady Antonia her first break, was also honored. The founder of Weidenfeld & Nicolson was made a Knight Grand Cross of the Order of the British Empire.

Harriet Walter, 60, regarded as one of Britain's greatest classical actresses, was made a dame.

Other actors recognized include: David Suchet, the actor best known as television's Poirot, and Sheila Hancock, who were both awarded a CBE.

William Shawcross, author of the official biography of the Queen Mother, was made a CBE.



Annie Lennox, performing at the Rally for Human Rights during the International AIDS Conference 2010 in Vienna, was awarded an OBE.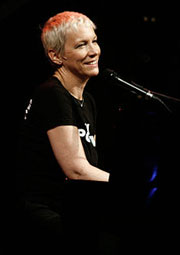 Mark Damazer, who served six years as controller of BBC Radio 4 received a CBE.

Steve McQueen, the Turner Prize-winning artist and director of Hunger, an uncompromising film about the IRA hunger striker, Bobby Sands also was awarded a CBE.

Vernon Ellis, chairman of English National Opera, was awarded a knighthood.

Annie Lennox was made an OBE in recognition of her charity work fighting Aids and poverty in Africa.

Trevor Horn, the music producer, Richard Thompson, the guitarist with Fairport Convention, Herbert Kretzmer, the lyricist for Les Miserables, and Howard Goodall, the composer also made the cut.

From the world of film and television, there were awards for broadcaster Sandy Gall, director Andrea Arnold, Oscar-winning costume designer Sandy Powell, and Burt Kwouk, the actor who played Cato in the Pink Panther films.

MEMPHIS the Tony Award-winning musical with a score by Bon Jovi, David Bryan and Joe DiPietro, celebrated its 500 performance at the Shubert Theatre with the matinee December 29.


CELEBRATING BUCKY PIZZARELLI'S 85th BIRTHDAY


Legendary jazz guitarist Bucky Pizzarelli who has performed and recorded with iconic singers from Frank Sinatra and Tony Bennett to Peggy Lee, Rosemary Clooney, Sarah Vaughan and countless others will celebrate his 85th birthday on January 9.

This coming week-end his talented son and daughter-in-law John Pizzarelli and Jessica Molaskey launch the 2011 Lyrics & Lyricists season at the 92nd Street Y with a party featuring great songs and inside stories from Bucky's career.



Bucky Pizzarelli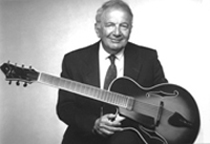 The two will serve as co-artistic directors for the show, performing with vocalists Darius de Haas and Judy Kuhn, and musicians Larry Fuller (piano), Tony Tedesco (drums) and Martin Pizzarelli (bass) of Pizzarelli's quartet. Also on board are jazz virtuosi Ken Peplowski (woodwinds) and Aaron Weinstein (violin).

John Pizzarelli says about his father, "Bucky's career spans an amazingly diverse range of American music from 1930 through today. He was part of the Big Band era with Benny Goodman and the heyday of sophisticated New York singers like Julie London and Peggy Lee. He was connected to the early days of rock 'n roll, playing with Dion and the Belmonts, and with later singer-songwriters like Carly Simon and Janis Ian. And he's integral to the music that's become known as the American Songbook. When you want a certain sound, you want Bucky, and we're thrilled to celebrate not only his birthday, but his musical achievements throughout the years."

The special birthday celebration L&L shows are this coming Saturday-Monday at the 92nd Street Y in New York City.


STORK REPORT - SANTA HELPS DELIVER


ELTON JOHN AND DAVID FURNISH were visited by the stork wearing a Santa hat when the couple became parents to a 7-pound, 15-ounce baby boy born on Christmas Day. Zachary Jackson Levon Furnish-John was born in California via a surrogate.

ALANIS MORISSETTE who also received a special gift from Santa when she gave birth to a boy, Ever Imre Morissette-Treadway, on December 25. Proud father is Mario "Souleye" Treadway.

NATALIE PORTMAN AND BENJAMIN MILLEPIED are expecting their first child.

AUTUMN AND PETER PHILLIPS welcomed their first child, a daughter, born December 29, 2010 at the Gloucestershire Royal Hospital in England. The baby's mother is a former model and television actress who received her university degree in Asian studies. Since their marriage the couple had lived in Hong Kong where the proud father was in charge of the Royal Bank of Scotland's sponsorship activities. Recently, the couple returned to England where Peter is employed by the Bank of London.

The baby, who tipped the scales at 8 pounds, 8 ounces, has quite a world wide affiliation. She was conceived in Hong Kong and born in England. Her mother holds dual citizenship with Canada and the UK and her paternal great-grand-parents are Queen Elizabeth and Prince Philip. Her paternal grandmother is Anne, The Princess Royal.


GET WELL SOON TO . . .


CHRISTOPHER TIERNEY who fractured his skull, cracked vertebrae and broke ribs in a 30-foot plunge when his cable failed during the Dec. 20 preview show of Spider-Man: Turn Off The Dark. The stunt-double was finally able to leave Bellevue Hospital's intensive care unit although he didn't go far. Wearing a full-torso brace, he was released from Bellevue to enter an inpatient New York City rehabilitation facility.


CURTAIN DOWN


WOMAN ON THE VERGE OF A NERVOUS BREAKDOWN closes today, January 2, 2011, three weeks earlier than the originally scheduled January 23. The musical at the Belasco Theater is based on the 1988 film by Pedro Almodóvar, with a book by Jeffrey Lane and music and lyrics by David Yazbek. At its closing, it will have played 30 previews and 69 performances.



THE FABULOUS PALM SPRINGS FOLLIES

Leslie Gore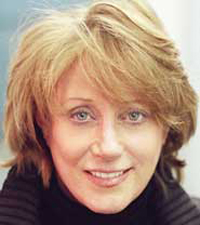 welcomes Lesley Gore to the production beginning January 5. While Gore may have had a mega hit with It's My Party And I'll Cry If I Want To you'll be anything but sad when you see the famed and iconic songstress launch her Follies stage debut. After nearly five decades in the business, the Gore "party" continues.

Born in New York City in 1946 and raised in Tenafly, New Jersey, Gore was discovered by famed record producer Quincy Jones.

Her first smash hit was quickly followed by a string of other Jones-produced chart-toppers, including That's the Way Boys Are, Maybe I Know, The Look of Love and Judy's Turn To Cry.

Her pro-feminist anthem You Don't Own Me held the #2 spot on the charts for four weeks behind The Beatles' I Want To Hold Your Hand, and earned Gore her second Gold Record.

She'll be singing her hits through March 5, 2011 as part of The Fabulous Palm Springs Follies in Palm Springs, CA.

WEST SIDE STORY by three theatrical luminaries: two-time Tony Award winner Arthur Laurents (book) and multiple Tony and Grammy Award winners Leonard Bernstein (music) and Stephen Sondheim (lyrics) in his Broadway debut. Tony Award®-winning librettist Arthur Laurents' Broadway direction is being recreated for this national by David Saint, the Associate Director on Broadway. The original Jerome Robbins choreography is reproduced by Tony Award-nominee Joey McKneely.

Scenic designs by James Youmans, costumes by Tony Award nominee David C. Woolard, lighting by Tony Award winner Howell Binkley, sound design by Tony Award nominee Dan Moses Schreier and hair by Mark Adam Rampmeyer.

The tour cast stars Kyle Harris as Tony, Ali Ewoldt as Maria, Michelle Aravena as Anita, Joseph J. Simeone as Riff and German Santiago as Bernardo. Also featured are Mike Boland as Krupke, Ryan Christopher Chotto as A-rab, Stephen DeRosa as Glad Hand, Drew Foster as Action, Alexandra Frohlinger as Anybodys, Jay Garcia as Chino, Grant Gustin as Baby John, Nathan Keen as Big Deal, Christopher Patrick Mullen as Schrank, John O'Creagh as Doc, Kyle Robinson as Diesel, Cary Tedder as Snowboy, along with Lauren Boyd, Alicia Charles, Beth Crandall, Dean Andre de Luna, Ted Ely, Lori Ann Ferreri, Ryan Ghysels, Tim Hausmann, Dea Julien, Daniel Kermidas, Kristen Paulicelli, Christie Portera, Erika Santillana, Kevin Santos, Michael Scirrotto, Jeffrey C. Sousa, Jessica Swesey, Kathryn Lin Terza and Kirstin Tucker.

The national tour, which opened at the Pantages in Los Angeles, moves to the San Diego Civic Theatre for performances January 4 – 9, 2011 followed by shows at the Hobby Center in Houston, TX January 12-23, 2011.

STORIES BY HEART

John Lithgow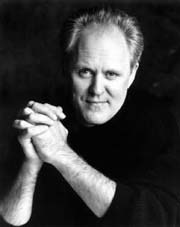 Tony Award winner John Lithgow - armed with only an armchair and some yellowed pages, tells you not the story of his life, but the stories of his life.

Indelible stories spun by the likes of P.G. Wodehouse and Ring Lardner.

Stories lovingly - and expertly - dramatized by his parents and grandmother, handed down from generation to generation.

In Lithgow's adroit hands, each story is its own theatrical masterpiece brimming with peculiar characters, humor and plot twists.

Most of all Lithgow's inimitable charm, stagecraft and genuine affection for the tales and the storytellers who introduced them to him some 60 years ago are communicated to the audience.

January 4 - February 13, 2010 at the Mark Taper Forum, Los Angeles.

THE HOW AND THE WHY a world premiere by Sarah Treem. Directed by McCarter Theatre Artistic Director Emily Mann.

Evolution and emotion collide in what is billed as a "thought-provoking and sharp new play about science, family, and survival of the fittest. On the eve of a prestigious conference, an up-and-coming evolutionary biologist wrestles for the truth with an established leader in the field.

Featuring Tony and Oscar winner Mercedes Ruehl and Bess Rous, this intimate play explores the difficult choices women of every generation face.

The How and The Why is a recipient of an Edgerton Foundation New American Play Award.

Previews will begin January 7, with an official opening scheduled for January 14 with performances continuing through February 13 at the McCarter Theatre in Princeton, NJ.

GRUESOME PLAYGROUND INJURIES: written by Rajiv Joseph. Directed by Scott Ellis.

Over the course of 30 years, the lives of Kayleen and Doug intersect at the most bizarre intervals, leading the two childhood friends to compare scars and the physical calamities that keep drawing them together.

Starring Jennifer Carpenter. and Tony Award nominee Pablo Schreiber.

January 5 through February 20 at Second Stage Theatre in New York City.

MACHO LIKE ME written by and starring Helie Lee. Directed by Sammie Wayne.

Macho Like Me is the true account of Helie Lee's remarkable six-month journey living life as a man. Cutting off her hair, donning men's clothes and moving out of her home to begin life anew as Harry, Helie sets out to prove a point: that men have it so much better than women. But as Helie soon finds out, her assumptions are quickly dashed – resulting in a new world-view that ends up surprising many – especially herself.

Motivated to embark on this journey by yet another relationship with a man gone wrong, Helie reveals her plan to become a man to her friends – none of whom believe she will go through with it. So Helie decides to enlist her friends Anna and Katie to document her experience as proof.

Beginning with a weight lifting regime to build up masculine bulk, then shaving her head to a near crew cut and getting a whole new male wardrobe, Helie is excited to begin this new gender role-playing experiment. But passing as a man is a lot harder than it looks. Despite her studious observation of men's physical behaviors and mannerisms, Helie is initially unable to shake her own.

Passing as a gay man at first, Helie's journey takes her into the world of male bonding through the ritual of sports, a near disastrous encounter with some macho Latino men, and a moment of epiphany at the Playboy Mansion. Through it all, Helie begins to see that men have it much harder than she ever imagined. When Helie takes an editing job for a retired architect, she finds a friend and mentor in David Hyun. Their relationship gives Helie a deeper insight on the ways of men and a glimpse of what can happen to a man when he ages. In the end, Helie's experiences change her views on men, privilege, and relationships.

The theatrical documentary combines Helie's unique perspectives and experiences with interactive footage from her life as a man.

Macho Like Me begins previews on January 7, officially opening on Saturday, January 15 and run through Sunday, February 13 at the Coast Playhouse, in West Hollywood.

BACKWARDS IN HIGH HEELS conceived and developed by Lynnette Barkley and Christopher McGovern. Book, original songs, and arrangements by Christopher McGovern. music director is Tim Robertson.

Directed by Scott Schwartz.

Celebrate the remarkable life and times of the multi-talented entertainment powerhouse, Ginger Rogers. Backwards In High Heels is a funny and moving celebration of that charming dame who could "dance before she could walk," combining cherished standards from Berlin, Gershwin and Kern with original songs and stunning dance sequences. The effect is a toe-tapping, swirling, gliding account of her ambitious public and private life.

Featuring Matthew LaBanca, Heather Lee, James Patterson, Benjie Randall, Christianne Tisdale, Anna Aimee White and Cameron Hendrson.

Patti Colombo, choreographer. Scenic Design by Walt Spangler. Costume Design by Alejo Vietti. Lighting Design by Jeff Croiter & Grant Yeager. Sound Design by Brian Jerome Peterson.

Co-produced with Arizona Theatre Company, Asolo Rep and San Jose Rep. Performances January 7-30, 2011 at the Cleveland Playhouse.

AMERICAN IDIOT has welcomed the guy who wrote the show, Green Day frontman Billie Joe Armstrong, to the cast. On January 1 he began a 50-performance run as St. Jimmy at the St. James Theatre, NYC.

MIDSUMMER (A PLAY WITH SONGS)

Cora Bissett and Matthew Pidgeon. Photo: Douglas Robertson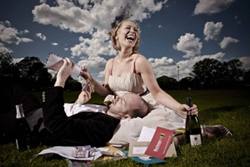 by one of Scotland's leading playwrights David Greig & Gordon McIntyre of the band ballboy.

It's Midsummer's weekend in Edinburgh. It's raining. Two thirty-somethings are sitting in a New Town bar waiting for something to turn up.

He's a failing car salesman on the fringes of the city's underworld and she's a high powered divorce lawyer with a taste for other people's husbands. She's out of his league and he's not her type at all. They absolutely should not sleep together.

Ever. Ever.
Which is why they do.

Midsummer [a play with songs] is the story of Bob and Helena and a great lost weekend of bridge burning, car chases, wedding bust-ups, bondage miscalculations, midnight trysts and horrible hungover self loathing misery.

Featuring Cora Bissett and Matthew Pidgeon as the ill-advised love match.

Until January 29, 2011 at The Tricycle Theatre in London.


WHO'S WHERE


LEGENDS: ELVIS AND FRIENDS created by Joe Lauro, presents a tribute program of rare and exciting performance clips and early interviews of Elvis and some of his Million Dollar Quartet pals. Jerry Lee Lewis, Carl Perkins, Johnny Cash and others will be rockin' and shakin' again in the company of "The King." Following the film, Gene Casey & The Lone Sharks will hit the Bay Street stage for a live dance concert. Friday, January 7, at the Bay Street Theatre in Sag Harbor, NY.

NEW VOICES CONTEMPORARY CLASSICS' SONGWRITER SHOWCASE hosted by ACT Artistic Director Brandon Ivie with music direction by RJ Tancioco. will celebrate its tenth edition with a Best Of concerts, featuring the best songs from the first five years of showtunes. Performers slated to appear are; Anne Allgood, Keely Avery, Jared Michael Brown, Elise Campello, Antonia Darlene, Sarah Davis, Beth DeVries, Iris Elton, Ashley FitzSimmons, Nick Garrison, Lindsey Hedberg, Kirsten Helland, Diana Huey, Matthew Kacergis, Kate Jaeger, Ryan McCabe, Naomi Morgan, Brandon O'Neill, Jennifer Paz, Don Darryl Rivera, Connor Russell, Jessica Skerritt, Erin Sprow, Dane Stokinger and Billie Wildrick. January 3, 2011 in The Falls Theatre, Seattle, WA.

ERIC COMSTOCK & BARBARA FASANO the husband-and-wife team, return to the legendary Oak Room Supper Club in the Algonquin Hotel, on January 4, and continue through January 15, 2011. They will debut their new show, Helluva Town: A New York Soundtrack which celebrates the love/hate affair Comstock, Fasano and most New Yorkers have with their city. Rather than sing predictable New York anthems, Comstock and Fasano will perform an idiosyncratic mix of songs from Broadway and Hollywood, the pop singer-songwriters and the jazz songbook.

JIM BRICKMAN opens a three night engagement Friday, January 7, 2011 at the Myerson Symphony center in Dallas, TX.

RENEE FLEMING on stage at the Grand Theatre in Quebec City on Wednesday, January 5. On Saturday she's on stage at the Kennedy Center for the Performing Arts in Washington, DC.

B. B. KING brings Lucille to The Klein in Bridgeport, CT on Wednesday, January 5. On Thursday he'll be making everyone happy by playing the blues at the Wellmont Theatre in Montclair, NJ. Friday finds him at the Count Basie Theatre in Red Bank, NJ. On Saturday the show is at the Hershey Theatre in Hershey, PA.

SANTANA performing his hits January 5-16 at the Hard Rock Hotel in Las Vegas.




FINAL OVATION


DR. BILLY TAYLOR died December 28, 2010. He was 89. A pianist and composer, academic and tireless advocate for jazz - which he described as "America's classical music". He was the musical director of David Frost's syndicated nighttime talk show from 1969 to 1972. Taylor received an Emmy Award for his role as cultural correspondent on the CBS News program Sunday Morning which included his conducting over 250 interviews.

In addition to his Emmy, Taylor was the recipient of two Peabody Awards, NEA Jazz Masters Award (1998), a Grammy Award (2004) and a host of prestigious and highly coveted prizes, such as the National Medal of Arts (1992), the Tiffany Award, and the Lifetime Achievement Award from Down Beat Magazine. He was also honored in 2001 with the American Society of Composers, Authors and Publishers (ASCAP) Jazz Living Legend Award, and election to the Hall of Fame for the International Association for Jazz Education.

He was the Robert L. Jones Distinguished Professor of Music at East Carolina University in Greenville, and since 1994, he served as the artistic director for jazz at the John F Kennedy Center for the Performing Arts in Washington, D.C.

AGATHE von TRAPP the eldest Von Trapp daughter, portrayed as Liesl in the classic film The Sound of Music died Tuesday, December 28, 2010. She was 97 and the cause of death was listed as heart failure.

She was the daughter of Capt. Georg Ritter von Trapp (portrayed by Christopher Plummer in the film) and Agathe Whitehead von Trapp. The couple had seven children together and the widowed captain had three more children with his second wife Maria Augusta Kutschera, who was portrayed by Julie Andrews in the Oscar winning film.

The family came to the United States in 1938, settled in Vermont in 1942, and performed throughout the country.

A guitar player and singer with her musical family, Agathe lived with her dear friend Mary Louise Kane for nearly 50 years, running a kindergarten at the Sacred Heart Catholic parish in Glyndon, Md. until she retired in 1993.

She is survived by four members of the Trapp Family Singers. Of the siblings featured in The Sound of Music, only Maria Franziska (born 1914) survives. Rosemarie von Trapp (born 1929), Eleonore vonTrapp (born 1931), and Johannes von Trapp (born 1939) are also alive, but they are half-siblings and not part of the original seven. Agathe von Trapp will be buried in the spring near the Trapp Family Lodge in Stowe, Vt.






Next Column: January 9, 2011
Copyright: January 2, 2011. All Rights Reserved. Reviews, Interviews, Commentary, Photographs or Graphics from any Broadway To Vegas (TM) columns may not be published, broadcast, rewritten, utilized as leads, or used in any manner without permission, compensation and/or credit.
Link to Main Page
---
Laura Deni



For the snail mail address, please E-mail your request.
CLICK HERE FOR COMMENT SECTION