! >
Broadway To Vegas
  
 SHOW REVIEWS CELEBRITY INTERVIEWS GOSSIP NEWS

| | |
| --- | --- |
| | |
SPIDER-MAN MAKES SAFETY CHANGES AND RE-OPENS - - JOHN LENNON'S IMAGINE RINGS IN TIMES SQUARE NEW YEAR - - AMERICAN MARCHING BANDS DOMINATE LONDON PARADE - - GRAMMY LIFETIME ACHIEVEMENT AWARD HONOREES - - THE KENNEDYS 50 YEARS AGO - - MICHAEL STEIN & TAMARA TUNIE'S ALLEGED LOOTER ARRAIGNED - - SEVEN BROADWAY SHOWS CLOSE - - LOVE NEVER DIES GETS A NEW LIFE - - DONATE . . . Scroll Down



SPIDER-MAN: TURN OFF THE DARK IMPLEMENTS NEW SMOKE AND MIRRORS SAFETY REGULATIONS


Is Spider-Man-Turn Off The Dark caught in its own web of ego and carelessness?

Just a question.

Outrage over the fourth serious injury to a Spider-Man performer has caused cast members to speak out, other actors to fume in print, journalists to spill ink, theatrical organizations e-mailing official statements and authorities to take charge.

After top stunt man Christopher Tierney took a 30-foot plunge into the orchestra pit, breaking ribs and requiring surgery, New York Assemblyman Rory Lancman (D-Queens), who chairs a subcommittee on workplace safety, said the danger "seems to have reached unacceptable levels."

No kidding.

Assemblyman Lancman, Senator Eric Adams and Assemblyman Richard N. Gottfried who represents the theatre district, fearlessly walked into the tangled Spider-Man web and took a no-nonsense, we're cleaning the bugs out approach. They held a press conference Thursday in front of the Foxwoods Theatre, the home of Spider-Man: Turn Off The Dark, and let it be known that proper safety regulations and oversight of aerial performances would take place and be enforced.

Either make it a safe work environment or close the show, was their message.



Assemblyman Richard N. Gottfried represents the theatre district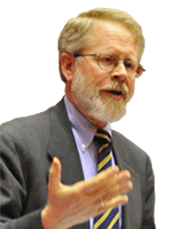 "Theater productions have seen an increased use of pyrotechnic, acrobatic, aerial, and other extreme visual performance techniques, and there has been a growing concern for safety. This apprehension focuses both on the performers and the audience watching them," stated Adams.

"Spider-Man has already had several accidents, and the show has not even opened yet. Monday night, a stuntman fell from a raised platform into a pit in front of the stage and was seriously injured. With four injuries thus far, Spider-Man must become a safer production. Broadway theatergoers do not expect a circus spectacular," he continued.

"We are here today outside the Foxwoods Theater to emphasize our concern about the safety of the actors and their audience; there must not be a fifth mishap. 'The show must go on,' but theater-goers do not attend a drama in order to see a living tragedy," emphasized Adams.

"It is imperative that New York State create a taskforce to examine ways to enhance the safety of theatrical shows, strengthen the protection for actors, and minimize the risk of injury to the audience. I will introduce legislation to establish a taskforce to assess current safety conditions, recommend best practices, and suggest new legislation or regulation if required," concluded the lawmaker.



NY Senator Eric Adams: "Broadway theatergoers do not expect a circus spectacular."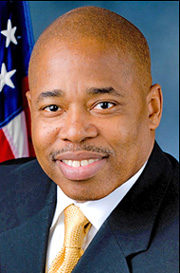 "We think of theaters as a place for entertainment and fun, but for the actors, musicians, stagehands and other theater employees who make the shows happen, theaters are a workplace, and every New Yorker is entitled to a safe workplace," stressed Lancman. "Workplace safety cannot be achieved by trial and error, and the producers of Spider-Man need to make this workplace safe before the show can be allowed to go on."

"The fact that a show could go forward with these safety problems is not acceptable. This isn't just about adjusting some details after the fact. Standards and procedures need to be strengthened," emphasized Gottfried.

The press conference was a follow-up to a December 22 letter sent by Lancman to Spider-Man producers requesting that the show address several safety concerns before holding any more performances.

His requests:

"1) that the theater come in full compliance with federal Occupational Safety Health Administration and New York State Department of Labor recommendations for an independent expert to evaluate the flying and safety line sequences, 2) that there be sufficient rehearsal for every understudy performing aerial or tethered sequences, including flying seminars for all performers involved with aerial work or the removal of such sequences from the show, 3) that there is sufficient crew and stage management to run the show safely, 4) the tether that Spider-Man double is attached to is shortened so the actor is not as close to the end of the platform, 5) the final sequence called 'The Net' is removed or altered to eliminate safety concerns."

Director Julie Taymor, who is noted for marching to the beat of her own drummer, paid attention.

Spider-Man producers immediately complied.



Assemblyman Rory Lancman sent a strong demand letter.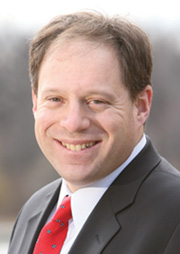 "At this point we are satisfied they have put in place the appropriate controls," said Maureen Cox, director of safety and health for the New York State Department of Labor, which oversees the state inspectors, said all the accidents that have taken place "are the result of systemic safety failures."

"It's really not about human error," she said.

Spider-Man is the most technically complex show ever on Broadway as well as the most expensive, at $65 million, more than twice the cost of the previous record-holder, Shrek the Musical.

Julie Taymor's direction calls for 38 aerial stunts. As of the re-opening of Spider-Man last Thursday, each time an actor is hooked up to a harness, tether, rope or wire that event must be witnessed by a second stagehand who will check it and verify the connection, then notify the stage manager, "It's okay to go," Cox said. Previously, there was no second stagehand to verify or communicate with the stage manager, and the actor was not required to check his harness. Also, the actor doing the stunt will be able "to abort the flight if he or she has any qualms", said Cox, who stressed that the actors will be "encouraged to speak up if they don't feel safe."

"We're also making sure that the actors and the stagehands know that if everything is not right, they can say, `We're not going to go,'" Cox reiterated.



Christopher Tierney underwent surgery and now faces rehabilitation.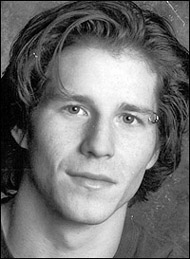 Really???

This isn't a movie set, where you can do as many takes as necessary and post edit can mix and create.

It's not a Knievel spending two hours doing practice motorcycle runs up the ramp before finally feeling secure enough to jump over trucks or a fountain.

Nor is it one of the old fashioned Las Vegas production shows where specialty acts - some of them dangerous - took to the stage to perform while the scenery was being changed.

The stunt actor being hooked up in Spider-Man who suddenly decides not to run, jump or fight had better be able to prove the building was on fire.

How is an actor in a live, Broadway production suppose to be able to "abort the flight"? Does that mean the show is stopped? Or, will one performer be left hanging because another performer decided to abort? Will the cast be rehearsed to know which scene to spin to if one stunt is aborted?

Broadway actors whose jobs aren't effected by Spider-Man staying open were extremely vocal about their concerns and had no qualms about either speaking out or posting their views.

In doing a Twitter and Facebook search numerous bold faced names were posting some brassy comments, which have been picked up and published around the world.

"Does someone have to die?" Tony-winning actress Alice Ripley demanded to know with her Twitter post asking why producers haven't shut down the production. "Where is the line for the decision makers, I am curious."

"Spider-Man should be ashamed of itself," the Next to Normal star continued. "This is completely unacceptable and embarrassing to working actors everywhere."

Adam Pascal, who starred in Rent, had a verbal meltdown when he posted on Facebook, blasting director Julie Taymor and U2's Bono and The Edge, who wrote the score and have been on tour in Australia and New Zealand.

"They should put Julie Taymor in jail for assault!" he declared.

"I hope [Tierney] is ok and sues the s - - t out of Julie, Bono, Edge and every other a - - hole who invested in that steaming pile of actor crippling s - - t!"



Marc Kudisch: "It's not like doing a stunt in a movie."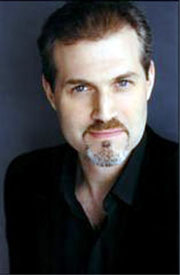 Marc Kudisch, whose Broadway credits include, Joseph and the Amazing Technicolor Dreamcoat, Beauty and the Beast, High Society, Chitty Chitty Bang Bang, Assassins, Thoroughly Modern Millie, Bells Are Ringing and 9 to 5, made a Facebook notation: "I wish employment for all my friends. But I wish them safety and security in their employment even more. Perhaps they should have thought twice about what some of these stunts were. It's not like doing a stunt in a movie."

Performers who depend upon their income from Spider-Man staying open, were concerned but more mellow.

Actor Reeve Carney, who plays Peter Parker/Spider-Man in the show, tweeted: "Chris Tierney, you are my hero. Your fearlessness, inspiring talent, and shining spirit are lights to us all. We love you so much man."

Natalie Mendoza, who got smacked in the head on the first preview night, was suppose to have returned to the production but remained sidelined, this time due to what a doctor called "vocal problems," posted a December 21 message: "Please pray with me for my friend Chris, my superhero who quietly inspires me everyday with his spirit. A light in my heart went dim tonight."

UPDATE Dec 28 - insiders say to expect an official announcement this week that Natalie Mendoza has left the production

Taymor, who visited Tierney in the hospital on Christmas Eve, has been putting out convoluted messages. Television news and entertainment shows play Taymor touting that danger was part of the performance and then cut to Taymor's most recent statement, that safety has always been her first concern.

Which is it?

You can have both in a carnival show. You can have both in a circus performance. You cannot have both in a live Broadway show.

For aeons people have been shooting apples off a person's head, a cigarette from the mouth of an assistant, throwing knives at another human or shooting a person out of a canon. High wire circus acts have worked without a net.

Those type of performers write and direct their own script and are in charge of their own act. Many of those performances are generational. The flying trapeze triple somersault was cut far more times than it was ever executed. For The Flying Wallendas to suddenly decide not to do a high mount didn't affect the rest of the circus performance. If any of those specialty acts are hurt, the show goes on. 'Send in the clowns' is a circus backstage cue that had special meaning long before Sondheim turned it into a song. Specialty acts are self-contained. Many are required to carry their own liability insurance.

In a Circus To The Stars television filming at Caesars Palace in Las Vegas I stood shoulder to shoulder with William Shatner who was hosting the program. When a stunt was about to be performed the director had the cameras roll and instructed the stunt person - "Jump on your own cue." The stunt person was in charge. In Spider-Man it is Taymor who calls the shots. Spider-Man is a live show. To suddenly tell stunt people in a Broadway show that they can perform if and when they feel like it doesn't work.

Why actors permit themselves to be subjected to safety issues has to do with maintaining employment and not being blackballed. The performer who annoys others by questioning safety and - 'aborts a stunt' - needs to be a trust fund baby.

Spider-Man has one of the largest work-forces on Broadway. A lot of people who would be unemployed should Spider-Man drop the net, are campaigning to keep the show open no matter what.

Four serious injuries have taken place since Spider-Man began rehearsals. In addition to Tierney, actress Natalie Mendoza suffered a concussion during the first preview of the musical. And, during pre-performance rehearsals two actors were injured attempting stunts: Kevin Aubin broke both his wrists and another injured his foot and then broke a toe.

Tierney underwent surgery and is slated to begin rehabilitation on Monday, December 27. "I don't know when he'll be back on stage, if at all," brother Patrick Tierney told Seacoastonline.com the newspaper of Portsmouth, N.H. which is where the Tierney family lives. That is also where Chris will stay during recovery. Their father Tim Tierney told TMZ that his son is anxious to get back into the costume, but conceded that it will be a long recovery process.



Natalie Mendoza suffered a concussion.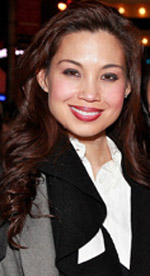 Nobody has ever suggested that a concussion is a good thing. Studies indicate that even a mild concussion can have lasting effects for up to 30 years and studies are underway to determine the effect a concussion sustained in early adulthood plays in triggering an early onset of memory loss. Fractures - especially those involving joint - such as the wrist and ankle - can trigger other problems.

According to the article Ankle Arthritis written by Dr. Jonathan Cluett, published August 11, 2010: "Ankle arthritis is most commonly the result of a prior injury to the ankle joint. In patients who sustain an injury such as an ankle fracture, the cartilage may be damaged and lead to accelerated arthritis."

"When the ankle is injured, it is also susceptible to an injury called osteonecrosis. When osteonecrosis occurs as the result of an ankle injury, a portion of the bone has damage to its blood flow. Osteonecrosis can also lead to ankle arthritis."

As for wrist fractures, in an article on wrists in Ohio Health discussed possible after affects of a broken wrist:

"Ongoing stiffness, aching or disability. You may experience ongoing stiffness, pain or aching in the affected area even after your broken bone has healed. This generally goes away a month or two after your cast is taken off or after surgery, but you may have some permanent stiffness or aching if your injury was severe. It may also take a few months to regain your ability to use your hand and fingers normally. Be patient with your recovery, and talk to your doctor about exercises that might help."

"Osteoarthritis. Fractures that extend into the joint can cause arthritis years later. If your wrist or hand starts to hurt or swell long after a break, see your doctor for an evaluation."

"Nerve or blood vessel damage. Trauma to the wrist or hand can injure adjacent nerves and blood vessels. Seek immediate attention if you notice any numbness or circulation problems."

Various organizations representing performance people have over-loaded E-mail in boxes with missives proclaiming that safety has always been on their priority list.

Then why weren't the very simple, inexpensive safety measures of merely double checking, already in place?

On November 2 OSHA was asked by the Labor Department, which is the body that oversees the safety of stunt performed onstage, to join in a joint investigation. It marked the first time the agency has every requested OSHA participate in a Broadway probe.

For years I wrote for an assortment of business publications including Pensions and Investments and Business Insurance. At the same time I also covered stories for Amusement Business, considered the trade paper of the carnival/circus industries.

Liability insurance carriers and lawyers specializing in workplace safety are an anal retentive bunch. They're suppose to be. They are trying to prevent a lawsuit. On countless occasions I've tagged along on safety inspections in both indoor and outdoor venues. I've seen inch by inch inspection with experts, who seem to have eyes in the back of their heads, being able to spot a potential problem and demand that it be fixed before a liability policy will be issued, or a show permitted to open.

The get-'em-fixed issues can even appear to border on the outlandish. I recall one instance where a long, heated discussion took place about the sanding and finish of an old fashioned looking wood table. It was feared that somebody rubbing their hand on the edge of the table might get a sliver, which could become infected and result in a lawsuit. The table's edge was re-sanded and a better quality finish applied.

Now officials responding to Spider-Man issues are using the fancy word - redundancy. That used to be called a safety-check and was done automatically.

If you're attaching a metal hook onto something, sometimes you think it has snapped shut when it hasn't. Maybe it got caught on a thread or a small wire. Maybe everything feels okay to the person clicking it, but there is a problem. Lights and movement can distort what you see and feel. Even with the cheesiest carney boardwalk shows, there have always been several pairs of eyes and hands to see and feel the connection to a back or side hook-up. Those were probably relatives who also worked the show. These acts passed down from generation to generation the importance of safety. You kill the bread winner, you don't eat, either.

I've been harnessed. I've hooked others to tethers. I've had the entire process overly explained to me. You need some training, common sense and an attention to detail, not a degree from MIT, to safely hook up a performer.

The performer can make the last safety check only to the rigging that is on their body provided it is top or front hooked, and lights don't distort the view or clothing the touch.

My first reaction from seeing Spider-Man:Turn Off The Dark was - I hope nobody gets killed. ( See Broadway To Vegas column of December 5, 2010 ) This isn't a production that is synonymous with Broadway. It isn't theatre. It isn't taking Broadway into a new era. It's a stunt driven act with a confusing storyline. Originally I thought ticket sales would rest on the name Bono. Unfortunately, his brilliant musical ability is wasted. Sadly, ticket sales have been spiked by people who actually admit that they hope something goes wrong and want to be there when it happens. Some of these theater lovers are even bringing their children.

For officials to state they have "enacted a series of new safety measures" begs the question, why weren't they put into place from the get-go?

"All of the safety redundancies are in place," Leo Rosales, the spokesman for the inspectors with the New York State Department of Labor, said last Thursday afternoon.

In a statement also issued Thursday, James J. Claffey, Jr., President of Local One IATSE, the stagehands' union, said he was "confident in the additional safety protocols that have been newly installed and implemented."

That looks good on paper and makes for a great sound bite.

New "redundancy" safety procedures have been put into place and Spider-Man is now a safe show.

Of course it is.

Until the next accident.



Broadway To Vegas is supported through advertising and donations. Priority consideration is given to interview suggestions, news, press releases, etc from paid supporters. However, no paid supporters control, alter, edit, or in any way manipulate the content of this site. Your donation is appreciated. We accept PAYPAL. Thank you for your interest.



ART AND ABOUT


WESTON: LEAVES OF GRASS

United States, 1886 - 1958 Wedding Cake House, Kennebunkport, Maine, 1941 gelatin silver print 7 9/16 x 9 9/16 inches Courtesy of the Museum of Fine Arts, Bost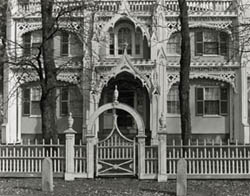 In early 1941, Edward Weston was approached by the Limited Editions Club of New York and invited to make photographs to illustrate its deluxe edition of Walt Whitman's epic poem Leaves of Grass.

Although he balked at the suggestion, the opportunity the project offered to travel cross-country and visit parts of the U.S. that were new to him convinced Weston to undertake it. Weston: Leaves of Grass, on view December 30, 2010 through March 13, 2011 at the Museum of Art, in Portland, Maine will feature 53 photographs by Edward Weston that follow the route of his cross-country trip.

The photographs are exceptionally wide-ranging with particular emphasis on the man-altered landscape rather than images of untouched nature.

Edward Weston's concern was how to capture Whitman's spirit without slavishly depicting his words. Since it was first published in 1855, Walt Whitman's book Leaves of Grass, has appeared in many editions and increased in size. The first volume contained only 12 poems, but by the time of Whitman's death in 1892, it had grown to more than 400 lyric poems that touch on all aspects of American life - the landscape, the variety and energy of its people, the Civil War, racial and sexual relations, and last but not least, Walt Whitman's expansive personality.



Edward Weston United States, 1886 - 1958 Boulder Dam, 1941 gelatin silver print 7 11/16x 9 5/8 inches Courtesy of Museum of Fine Arts, Boston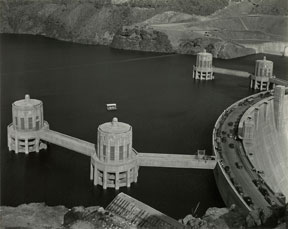 The Leaves of Grass trip lasted almost 10 months, covering 24 states and nearly 25,000 miles. Organized to reflect the route that Weston and his wife, Charis Wilson, took when they drove cross country, the exhibition will begin with photographs of California and end with works taken on the East Coast that include two Maine images taken in Kennebunkport, one of the Wedding Cake House and the other of a schooner docked in the harbor. The majority of the photographs however, cover the southern states as they drove from Boulder Dam in Nevada, through Arizona, New Mexico, Texas, Louisiana, Mississippi, and the Appalachian chain.

References to America as a great industrial giant will be shown as well as the homes of humble artisans. In addition to landscapes, Weston took portraits of native Americans and Hispanics, and photographed the architecture of elaborate Catholic cemeteries in New Orleans and simple Baptist churches in the Louisiana countryside. Over the course of the project Weston managed to produce some of the most compelling images of his later career that took his photography in a new and important direction. Like Whitman's epic poems, they draw us into the history of this nation, the beauty of its landscape, and the forthrightness of its ordinary citizens.

Before undertaking the Limited Editions commission, Weston wrote of the Whitman project to a friend: "I do believe…I can and will do the best work of my life. Of course I will never please everyone with my America—wouldn't try to."

This exhibition was organized by the Museum of Fine Arts, Boston. On display December 30, 2010 through March 13, 2011 at the Portland Museum of Art in Portland, Maine.

THE KENNEDYS 50 YEARS AGO a new exhibit at The Smithsonian's National Museum of American History. Visitors will be able to see nine photographs of the Kennedys as taken by Richard Avedon for Harpers Bazaar. During the photo session 50 years ago - the only one to take place between the election and the inauguration - Avedon removed the usual activity-filled environments and set them in front of his plain background allowing the viewer to engage directly with the Kennedys.

The unique set of images is on view for the first time at the museum since their donation in 1966.

The display also includes Avedon's contact sheets, allowing visitors insight into his retouching and editorial process.

This exhibition was organized by the Museum of Fine Arts, Boston. Opening January 3, 2011 and on display through February, 2011.


JOHN LENNON'S IMAGINE TO RING IN TIMES SQUARE NEW YEAR - LAS VEGAS HAS FIREWORKS
Taio Cruz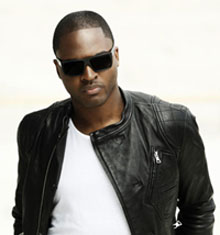 Both The Big Apple and Sin City have big plans to welcome 2011 into our lives.

Multi-platinum-selling singer-songwriter Taio Cruz will be the first-ever artist to do a live performance of John Lennon's Imagine" just before the final countdown to midnight on New Year's Eve 2011 in the heart of New York City's Times Square.

Following the performance, Taio's version of Imagine will be available to download exclusively on iTunes beginning 1/1/11 through 1/31/11 with proceeds benefiting Big Brothers Big Sisters, a nonprofit organization that creates long-lasting, strong relationships that enable children to reach their greatest potential through quality one-to-one mentoring.

The Imagine performance caps off a breakthrough year for the London-born Cruz, who released two blockbuster singles (Break Your Heart featuring Ludacris, and Dynamite) in 2010, each of which went to No. 1 on the Billboard charts and sold more than six million combined copies in the U.S. alone.

Another first is that a wedding will take place during the Times Square festivities.

Nearly 1,900 loving couples applied to display their love during the magical evening's festivities. The lucky couple chosen - Bethany Philips and Geoffrey Dubie - from Georgia and North Carolina, respectively, and now Jacksonville, Florida residents, met in Iraq where they were serving in the Marine Corps. Their "I do's" will be witnessed by 1 million people live in Times Square and seen by millions of viewers around the world.

TV personalities Bill and Giuliana Rancic will help revelers across the country prepare to kiss in the New Year. The celebrity couple will host New Year's Eve atop the Kiss platform. A Kiss The One You Love contest was a viral campaign that is bringing together couples that may otherwise be kept apart this holiday season. They'll share their love stories and join Bill and Giuliana as they host the third annual New Year's Eve Kiss The One You Love celebration.

Lighting up the night will be people power for the third year in a row.

Duracell is using people power to illuminate the 2011 numerals in Times Square on New Year's Eve.

New Yorkers and tourists alike have the chance to literally help power the 2011 numerals by visiting one of two Duracell Smart Power Lab locations, hopping aboard a Power Rover and pedaling. With each push of the pedal, human energy is captured, converted into usable power, and then routed and stored at Duracell Battery Centers. The journey will end at One Times Square, where the stored power will light up the 2011 numerals as the New Year's Eve Ball drops and the clock strikes midnight.

The Big Apple isn't the only place that intends to light up the night.

Seven Las Vegas resort rooftops will set off fireworks; the MGM-Grand, Aria, Planet Hollywood, Caesars Palace, Treasure Island (TI), The Venetian and the Stratosphere.

If you like to party, Vegas has plenty. Kim Kardashian hosts the New Year's Eve bash at the TAO nightclub at the Venetian. $200 gets to inside to the open bar. Rihanna is slated for the New Year's Eve party at Pure nightclub at Caesars Palace.

Nelly will be at Haze located in the Aria resort. Tickets begin at $165. Ludacris headlines Vanity at the Hard Rock with a ticket price of $175.

The Cosmopolitan Hotel stages a by invitation only party for 2,500 invited guests where they will enjoy Coldplay and Jay-Z, who'll be there with wife Beyoncé. Coldplay lead singer Chris Martin's date will be his wife Gwyneth Paltrow.


AMERICAN MARCHING BANDS DOMINATE LONDON PARADE, WHILE WEST END THEATRES OFFER SPECIALS


In a country noted for their pomp and circumstance it appears that the American High School Marching Band is something truly America that the Brits can't do without - especially when it comes to their New Year's Day Parade.

British schools don't have marching bands.

They don't?

No, they don't.

Thus, the opportunity to see teens in colorful uniforms playing instruments as they march down the street is a reason to line the parade route.

The London step off isn't some homey, small town walk-about. The London New Year's Day Parade is twice the size of the Macy's Thanksgiving Day Parade.

The Macy's Parade is noted for its balloons, while The London Parade boasts American marching bands.

"One of the very special things about London's Parade, since the very first event in 1987, has been the fabulous contribution of music and dance from overseas bands and performance ensembles. The event is strictly invitational for all overseas musical and dance groups. All groups who come from countries outside of the United Kingdom are offered one of the world's finest educational Performance Tour as part of their participation in the Parade and Festival," according to the official release.

Receiving the formal invitation is almost as exciting as the participation.

A senior representative of England's Queen Elizabeth II and the founder and chief-of-protocol of London's New Year's Day Parade spent September and October of 2009 visiting American schools, formally presenting them with an invitation to participate in the January 1, 2011 extravaganza's 25th Anniversary parade.



In September 2009 Lord Roger Bramble, Deputy Lord Lieutenant of Greater London (center) presented officials of Downers Grove North High School in Downers Grove, IL with their invitation to participate in the 2011 London New Years Day Parade. Photo: Downers Grove North High School.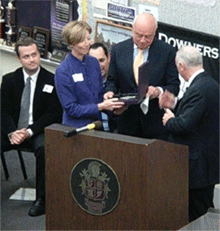 The invitation ceremony is usually conducted in a full school assembly with education, city and press officials in attendance as the British representative, many times wearing formal red robes, conduct the invitational presentation.

The Honorable Roger Bramble, lord lieutenant of Greater London and former lord mayor of the City of Westminster; parade founder and Executive Director Robert Bone; and Director of Protocol Geraldine Bone did the honors.

"It is vitally important for young people to visit other countries and immerse themselves in other cultures," Bramble said. "International travel is very much a part of the educational process."

Bramble was selected as the Queen's parade representative because of his work in support of the arts over a 50-year career. He also serves as chairman of the Public Art Advisory Panel, deputy chairman of the English National Ballet and as a full board member of the English National Opera.

It' a long selection process and the schools are actually informed a year in advance. The cost for each student to participate is about $3000 with the schools and students spending that year in various fund raising activities to come up with the money.

This year the Silver Anniversary London New Year's Day Parade expects several hundred thousand spectators to line the 2.2-mile route through the historic heart of London. An estimated 240 million more will watch the event on television as more than 8,500 performers from numerous nations and twenty London boroughs strut down the street.

The brightest stars of the West End will also give the world a wave by sending special messages of support to the Parade.

Parade organizers backed a campaign to encourage tourists and Londoners to enjoy the wonders of the West End and see the capital's world-class entertainment. The 10th Get Into London Theatre, organized by the Society of London Theatre, has provided ticket deals to more than 55 top London shows for performances from January 1 to February 18, 2011.

The casts of Billy Elliot, Chicago, Dirty Dancing, End Of The Rainbow, Legally Blonde and La Soiree will be featured on the parade's live satellite telecast to be broadcast to millions around the world.

Bob Bone, Executive Director of the New Year's Day Parade, said: "What a wonderful opportunity to let West End theatre take a well earned bow on a world stage. More than 500 TV stations from all corners and countries of the globe feature the parade – so many millions will get a timely reminder that if they visit our great city, they should find time to enjoy a show."

Julian Bird, Chief Executive of the Society of London Theatre said:

"London is synonymous with the very best entertainment on offer anywhere in the world. We want to send Season's Greetings and congratulations to all the organizers and performers of this very special parade."


SPREADING THE WORD


JERRY SPRINGER will soon be a poster boy.

In last week's column Broadway To Vegas mentioned that Jerry Springer and David Hasselhoff are alternating in the role of Captain Hook in the London pano production of Peter Pan. ( See Broadway To Vegas column of December 19, 2010 )

However, the official production poster shows an extremely youthful Hasselhoff but no Springer.

That is about to change. Jerry's publicist Linda Shafran told Broadway To Vegas that "Jerry's picture will be on the poster soon."

STOWE MOUNTAIN RESORT in Stowe, Vermont opens the doors to its Spruce Peak Performing Arts Center on December 27, 2010 with a special performance by Tony Award winner Ben Vereen.

Developed to operate year-round as a major component of the East's premier mountain resort, the performing arts center is billed as "a state-of-the-art facility for a wide spectrum of events including theatre, all types of music, dance, comedy, film, lectures and multimedia events."

David Rowell is the Executive Director.

Grand Opening Week Events Include: Monday, December 27, 2010 -- An Evening with Ben Vereen; Tuesday, December 28, 2010 -- The Hills are Alive – Brooklyn Rundfunk Orkestrata; Wednesday, December 29, 2010 -- Eileen Ivers and Immigrant Soul; Thursday, December 30, 2010 -- Sara Watkins of Nickel Creek; followed by a special New Year's Eve benefit concert and on New Year's Day it's The Spencers: Theatre of Illusion.

The Theatre and Dance Series kicks off with The Music Man on January 18. The Music of Our Lives Series features Lorna Luft - Songs My Mother Taught Me: The Judy Garland Songbook on January 21.

BERLINER PHILHARMONIKER GALA CONCERT transmitted live on New Year's Eve from Berlin to the Barbican. Conducted by young acclaimed Venezuelan Gustavo Dudamel and featuring mezzo-soprano Elina Garanca, the orchestra will be playing pieces by Berlioz, plus selections from Saint-Saëns' Samson and Delilah (Samson et Dalila) and Bizet's masterpiece Carmen, before concluding with excerpts from de Falla's seminal ballet The Three-Cornered Hat (El sombrero de tres picos).

Live High Definition transmission from Berlin. December 31, 2010 at the Barbican in London.


OTHER PEOPLE'S MONEY


JOSEPH CILIBRASI

Almost $1.5 million was allegedly stolen from Tamara Tunie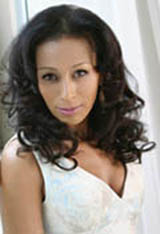 50, an accountant accused of defrauding actress/producer Tamara Tunie and Michael Stern, the conductor and musical director for the Kansas City Symphony, pled not guilty during an arraignment last Thursday in Manhattan Supreme Court.

Cilibrasi was accused of invested in Spring Awakening and the Legally Blonde musical with stolen funds and was indicted on charges he allegedly stole almost $1.5 million from Tunie who appeared on Broadway in Oh, Kay and produced Radio Golf and the Tony-Award winning Spring Awakening. She is best known for her portrayal of attorney Jessica Griffin on the former CBS soap opera As The World Turns and medical examiner Melinda Warner on the NBC police drama Law & Order: Special Victims Unit. From 2000 to 2007 (and again briefly in 2009), she appeared on both series simultaneously.

Prosecutors said that Cilibrasi spent the last eight years looting Tunie's accounts while working as her business manager. He is accused of even going so far as to list himself as her husband in 2002 to gain access to her credit cards.

Cilibrasi was also charged with allegedly scamming Michael Stern, son of famous violinist Isaac Stern. The younger Stern hired Cilibrasi to pay his tax returns. Prosecutors allege that instead Cilibrasi pocketed $75,000 Stern gave him to cover fees and tax payments.

"This case is about a man so desperate for celebrity that he ripped off his celebrity clients in order to become like them," Manhattan assistant district attorney Pierce Moser stated to the court.

Cilibrasi's lawyer, JaneAnne Murray, told Manhattan Supreme Court Justice Rene Uviller that "Mr. Cilibrasi is innocent of these charges and intends to fight them." The judge ordered Cilibrasi held on $100,000 bail. Ms. Murray said her client intends to secure a jail bond in that amount with his hospitalized father's Brooklyn property.

DRIVING MISS DAISY the Broadway production of Alfred Uhry's Pulitzer Prize-winning play, has recouped its initial investment of $2.6 million in less than three months, making it the first play of the 2010-11 Broadway season to do so. Directed by David Esbjornson, Driving Miss Daisy opened on Broadway at the Golden October 25, 2010, where it has since broken all house records. The production was originally scheduled to run only through January 29, 2011 but it was announced two weeks ago that the production will extend its Broadway premiere engagement through April 9, 2011, with play's three stars, Tony Award winners James Earl Jones, Vanessa Redgrave and Boyd Gaines.

THE CHERRY LANE THEATRE the historical off-Broadway venue has been put up for sale by Angelina Fiordellisi, the executive director and founding artistic director of the not-for-profit producing group Cherry Lane Alternative. Located in Greenwich Village, the building was purchased for $1.7 million in 1996 and renovated for $3 million. The asking price is expected to be about $12 million.

According to the venue's website, the Cherry Lane currently has three spaces available for rent: The Mainstage (179 seats); Studio Theatre (60 seats); and The Cherry Pit (90 seats).

ILLUSION OF A SALE The U.S. Bankruptcy Court attempted to make the property of magician Steve Wyrick disappear in a Friday, December 17 gavel down, but failed to pull off the trick due to some technical errors - such as lawyers questioning if the inventory was complete and whether or not it was legal for the magician to attempt to buy back is his own property. An encore auction performance will be set for a later date.






GRAMMY LIFETIME ACHIEVEMENT AWARD HONOREES

Julie Andrews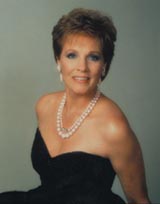 Dolly Parton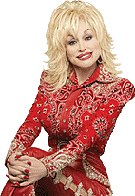 are Julie Andrews, Roy Haynes, Juilliard String Quartet, the Kingston Trio, Dolly Parton, Ramones, and George Beverly Shea. The Trustees Award goes to Al Bell, Wilma Cozart Fine and Bruce Lundvall. The Technical Grammy Award honors will be presented to Roger Linn and Waves Audio.

The honorees will receive their awards during a special invitation-only ceremony on February 12, 2011. A formal acknowledgment will be made during the 53rd Annual Grammy Awards telecast, which will be held at Staples Center in Los Angeles on February 13, 2011, and broadcast live at on CBS.

"It is a great honor to recognize and celebrate such a distinguished and dynamic group of honorees who have been the creators of such timeless art," said Recording Academy president/CEO Neil Portnow in a statement.

"These influential performers and brilliant innovators have been of great inspiration to our culture and industry. Their legendary work has left a lasting impression and will continue to influence generations to come."


HAPPINESS TO ...


STEVE LAWRENCE AND EYDIE GORME who celebrate their 53rd wedding anniversary on Wednesday. The couple were married in Las Vegas on December 29, 1957.

The hit charting couple have lived in Las Vegas for decades.

Recently, Eydie retired from the road while Steve Lawrence continues to perform. His An Evening With Steve Lawrence production takes place January 28-29, 2011 at the McCallum Theatre in Palm Springs, CA.

LOUISE HIRSCHFELD AND LEWIS CULLMAN who were married Sunday, December 19, 2010 in an evening ceremony at Mr. Cullman's residence in Manhattan. Judge Nicholas G. Garaufis of Federal District Court in Brooklyn officiated.

The bride, 74, who is now known as Ms. Kerz Cullman is the theater historian and president of the Al Hirschfeld Foundation named for her late husband. The bridegroom, 91, is a philanthropist and the retired chief executive of At-A-Glance, the famous calendar and appointment-book company, which he sold in 1999 to the Mead Paper Company. He is a member of the boards of the New York Public Library, the Museum of Modern Art and the New York Botanical Garden. He graduated from Yale and received a master's in meteorology from New York University.

ZARA ANNE ELIZABETH PHILLIPS AND MIKE TINDALL whose engagement was announced December 21, 2010 by Buckingham Palace.

The statement reads:

"The Princess Royal and Captain Mark Phillips are pleased to announce the engagement of their daughter Zara Phillips to Mr. Mike Tindall, son of Mr. Phillip and Mrs. Linda Tindall."

The future bride, 29, is the second child and only daughter of Princess Anne, Princess Royal and her first husband, Captain Mark Phillips. She is the eldest granddaughter of Queen Elizabeth II and Prince Philip, Duke of Edinburgh, both of whom are reported to be delighted.

Zara is the former Evening World Champion who won the World Championship in Aachen and was voted 2006 BBC Sports Personality of the Year. She is qualified as a physiotherapist specializing in Equine Physiotherapy from the University of Exeter.

In 2009 it was announced that Zara would be designing her own range of equestrian clothing for Musto Outdoor Clothing. The range is named ZP176 after the team number Zara was given when she first represented her country. The clothing line was officially launched in July 2010.

The future bridegroom, 32, is the outside center Rugby player for the Gloucester and England Rugby team.

Mike presented Zara with an engagement ring he designed - a single solitaire diamond in the center. It sits on pave set diamonds on a split shank and band made of platinum.

Zara and Mike reside at their home in Gloucestershire. No wedding date was announced.

BRET MICHAELS AND KRISTI GIBSON who have officially announced that they are engaged. They couple has been together for 16 years have two daughters, Raine, 10, and Jorja, 5. No wedding date was announced.


CURTAIN DOWN


BLOODY BLOODY ANDREW JACKSON the innovative, wonderful rock musical about America's seventh President will shutter early on January 2, 2011. The production began previews September 20, 2010 and officially opened October 13, 2010 at the Bernard B. Jacobs Theatre. When it closes, the musical will have played 120 performances.

WEST SIDE STORY the revival which earned 4 Tony nominations and one win, will close January 2, 2011. The production will have played 27 previews and 748 regular performances at the Palace Theater.

FELA! will close January 2, 2011 at the Eugene O'Neill Theatre. Fela! opened on November 23, 2009, and received 11 Tony Award nominations.

ELF which broke its own box office record, closes January 2, 2011 at the Hirschfeld Theatre. Always slated for a limited holiday run, the production opened November 14, 2010.

PROMISES, PROMISES the mega-hit revival starring Sean Hayes and Kristin Chenoweth will close January 2, 2011 at the Broadway Theater. The production will have played 30 previews and 291 regular performances.

THE PEE-WEE HERMAN SHOW closes January 2, 2011. at the Stephen Sondheim Theatre. The production began previews on October 26, 2010 and officially opened on November 11, 2010.

BRIEF ENCOUNTER the Noel Coward classic at Roundabout's Studio 54 will close January 2, 2011. The limited run production began previews September 10, 2010 and officially opened on September 28, 2010.






LOVE NEVER DIES

Ramis Karimloo and Sierra Boggess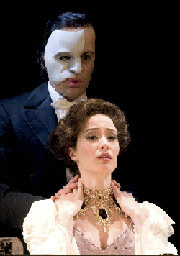 the re-worked Andrew Lloyd-Webber sequel to Phantom of the Opera rewards the creator's 'never say die' attitude with a show which has re-opened in London to a majority of favorable reviews.

The first time out Love Never Dies was pummeled, but not for the score, which critics unanimously thought was one of the best ever penned by Lloyd-Webber. Fortunately, that wasn't what was tinkered with in bringing Love Never Does to a creation worthy of being seen.

West End impresario Bill Kenwright was brought in to tweak Jack O'Brien's original direction.

The Independent praised Kenwright for having given "both added focus and added dramatic tension to the show." The paper called the show "not only deeply romantic but both scary and haunting."

Hitting the cutting room floor was the dominating, distracting sub-plot. Now the show is what the customers want - the Phantom and Christine.

In key roles are The Phantom's assistant, Madame Giry, played by Liz Robertson Meg played by Summer Strallen, Ramin Karimloo as the Phantom who delivers one of the show's finest songs, Til I Hear You Sing. Christine's young son is played by Harry Polden and Joseph Millson is her husband. The Denver born and raised Sierra Boggess received her big break in Las Vegas, playing the character Christine in Phantom - The Las Vegas Spectacular in June 2006. she then originated the role of Ariel in the 2007 Broadway adaptation of the 1989 film The Little Mermaid to critical acclaim. As Christine in this production she has turned the title song into a showstopper.

Lloyd-Webber may once again be looking towards a Broadway opening.

In the meantime Love Never Dies has performances at the Adelphi Theatre in London.

A SMALL FIRE by Adam Bock. Directed by Trip Cullman.

Starring Tony Award winner Michele Pawk will appear with Obie Award winner Reed Birney, Tony nominee Celia Keenan-Bolger and NAACP Award nominee Victor Williams.

The description for A Small Fire is given as: "When a tough-as-nails contractor (Pawk) finds her senses slipping on the brink of her daughter's (Keenan-Bolger) wedding, the impact on her family is nothing less than seismic. A Small Fire is a human parable in which unexpected loss leads to an unlikely love story."

The production features scenic design by Loy Arcenas, costume design by Ilona Somogyi, lighting design by David Weiner and sound design by Robert Kaplowitz. Production stage manager is Lori Ann Zepp.

Currently in previews, the Playwrights Horizons' world premiere production officially opens January 6, 2011, at PH's Mainstage Theater in NYC and plays through January 23, 2011.

CLYBOURNE PARK by Bruce Norris. Directed by Clive Cholerton, Artistic Director of Caldwell Theatre Company.

The new comedy acts as a precursor to the events of A Raisin in the Sun to tell an unforgettable new story about race and real estate in America. Act I opens in 1959, as a white couple sells their home to an African American family (the same home and same African American family as the subject matter for Loraine Hansberry's groundbreaking drama), causing uproar in their middle-class Chicago neighborhood. Act II transports us to the same house in 2009, when the stakes are different, but the debate is strikingly familiar. Amid lightning-quick repartee, the characters scramble for control of the situation, revealing how possibly the language has changed, but the conversation has remained eerily the same.

The cast of Clybourne Park, all of whom play dual roles in the first and second act of the comedy, is comprised of a Who's Who of South Florida Carbonnell winners and nominees. Cliff Burgess, Brian D. Coats, Patti Gardner, Kenneth Kay, Margery Lowe, Karen Stephens, Gregg Weiner and Andrew Wind.

The design team includes: Tim Bennett, scenic design; Thomas M. Shorrock, lighting design; Alberto Arroyo, costume design; Deborah Veres, properties design and Dustin Hamilton, sound design.

January 2 – February 6, 2011 at the Caldwell Theatre Company, Boca Raton, FL.

WINTER WASSAIL a glittering New Year's celebration with the world-renowned Gabrieli Consort & Players at Shakespeare's Globe in London.

Winter Wassail will feature a wealth of songs and words which have been used across the ages to shoo away the darkness, shake the slumber out of nature and bless the arrival of the New Year.

Gabrieli will present a choral program of seasonal pieces for all the family, inspired by words from Shakespeare, Hardy and Chaucer. Evoking medieval, Elizabethan and Victorian eras, Globe favorite Peter Hamilton Dyer will guide patrons through the evening, presenting this magnificent music and poetry.

Founded in 1982 by Paul McCreesh, many of the crème of the Globe musicians play regularly with the Gabrieli ensemble. Actor Peter Hamilton Dyer's extensive work at the Globe includes Norfolk in Henry VIII and William Tyndale in Anne Boleyn this season, and The Frontline, King Lear, Holding Fire, Antony and Cleopatra and Twelfth Night in previous seasons.

World-class interpreters of great choral and instrumental repertoire, Gabrieli's previous work includes mould-breaking reconstructions of music for large-scale historical events. Their award-winning album A Venetian Coronation recreates the grand pageantry of a Venetian Coronation Mass in Shakespeare's time. Performing the music in St Mark's Basilica in Venice, they revealed how spectacular architecture and musical performance can enhance each other - now they look forward to performing in another splendid Shakespearean space. Popular and energetic, Winter Wassail will be presented in two half-hour acts, giving plenty of room for 'Wassail' mulled wine and hot food in the interval. January 1-3, 2011 at Shakespeare's Globe in London.

THE MERCHANT OF VENICE starring Al Pacino and Lily Rabe, will extend its Broadway run at the Broadhurst Theatre. Good news for those who haven't been able to get tickets for this magnificent production. However, the show will go on hiatus following the January 9, 2011, performance in order to allow Pacino to fulfill a prior film commitment (the date marked the original closing performance of the limited run). Performances will resume February 1, 2011, and continue through February 20, 2011.

NEW YORK GILBERT & SULLIVAN PLAYERS continues its 36th season with The Mikado December 29-January 2nd at Symphony Space, NYC, plus a New Year's Eve Gala performance.

Artistic Director Albert Bergeret conducts the 25-piece orchestra.

Each performance of The Mikado brings with it a special treat for each audience: Wednesday, December 29th matinee - Bring Your Grandparents Day - Respect your favorite elders with a backstage tour featuring the character of your choice following the performance! Thursday, December 30th - Savoy Dialogue - Enjoy a dazzling discourse about all matters G&S with members of the cast and the NYGASP artistic staff before the show!.Friday, December 31st - New Year's Eve Gala. - Updated topical references, The Mikado's beloved score, and a little bubbly at intermission and an invitation to the cast party afterward. Saturday, January 1st matinee - Family Overture - You're invited to a free musical introduction and plot summary made entertaining and informative for the entire family. All extra events are free with purchase of full-price ticket.

In The Mikado, or The Town of Titipu, the location is a fictitious Japanese town full of colorful characters - 3 little maids from school, a wandering minstrel, a hilariously corrupt public official, and a Lord High Executioner who may have a list of potential victims but is too tenderhearted to actually perform his duties. Beautiful school girl Yum-Yum loves the romantic minstrel Nanki-Poo but is engaged to Ko-Ko the executioner. This romantic triangle takes the usual course of thwarted romance, until the arrival first of the fearsome Katisha, claiming Nanki-Poo as her "perjured lover," and later of the emperor, or Mikado, himself - with his own list of punishments to fit the crime. In order to resolve the ensuing complications, Ko-Ko must use his wits to convince the most unattractive Katisha to marry him - in record time. That done, all other potentially dangerous circumstances are settled by the Mikado's all encompassing pronouncement "nothing could possibly be more satisfactory."

DICK WITTINGTON the pantomime currently being presented at London's Birmingham Hippodrome through January 30,2011 features Joan Collins making her panto debut as the Queen Rat.

This Christmas-time favorite tells the tale of a poor boy and his rat-catching cat.

Follow Dick and his Cat on their journey to London; set sail to foreign lands and help our heroes fight off the evil Queen and King Rat in an attempt to save the day and win the heart of the beautiful Alice Fitzwarren.

Joining Joan - who sings the Eartha Kitt song I Wanna Be Evil, while surrounded by an entourage of rats - are Julian Clary as The Spirit of the Bells, Nigel Havers as the dastardly King Rat, Keith Harris with Orville & Cuddles as the hilariously hopeless Rat Catchers, and Jeffrey Holland as Dame Felicity Fitzwarren.

This year's pantomime is bursting at the seams with magnificent scenery, stunning special effects and glittering costumes plus even more hilarious jokes and crazy antics.

The Birmingham Hippodrome warns patrons to "Please leave plenty of time to get here in the event of adverse weather conditions over the winter period. The show will begin at the advertised time."


WHO'S WHERE


LANG LANG will perform the New Year's Eve Concert at Lincoln Center with New York Philharmonic, PSB will live broadcast the concert.

USHER rings in 2001 with a performance New Year's Eve at American Airlines Arena in Miami.

JIM BRICKMAN entertains Monday, December 27, at Benaroya Hall in Seattle, WA. On Tuesday the show is a t the INB Performing Arts Center in Spokane. On Wednesday he's on stage at the Center for the Performing Arts in Portland, Oregon. Thursday's he's in the spotlight at the Mount Baker Theatre in Bellingham, WA. Friday's show is at Kingsbury Hall in Salt Lake City.

B. B. KING who has no concept of how to slow down - nor would his fans want him to - rings in the New Year with a show Friday, December 31, at Harrah's in Atlantic City. On New Year's Day he opens a two night stand at the Birchmere in Alexandria, VA.

JAMES TAYLOR performs New Year's Eve at the Performing Arts Center in Stowe, VT.

RICHARD SKIPPER AS "CAROL CHANNING" IN CONCERT directed by Mark Robert Gordon. In previews with performances this week on December 26, December 29 and January 2, 2011 at St. Luke's Theatre in NYC.

GLORIA GAYNOR AND SISTER SLEDGE perform Thursday, December 30 at Caesars Windsor in Ontario, Canada.

MAROON 5 entertain Tuesday, December 28, at the Estadio Olimpico Felix Sanchez in Santo Domingo, Dominican Republic. On Thursday they perform at the Hasely Crawford Stadium in Port of Spain, Trinidad and Tobago. The ring in the New Year with a show at the House of Blues in Atlantic City. On Saturday they kick off 2011 by performing at Caesars Windsor in Ontario, Canada.




FINAL OVATION


MARCIA LEWIS the musical star of numerous shows, died at her home in Nashville on December 21. She was 72 and her husband listed her cause of death as lung cancer.

Lewis had been twice nominated for a Tony Award - as Best Featured Actress in a Musical for her roles as Matron "Mama" Morton in Chicago and as Miss Lynch in Grease.

She made her Broadway debut with Ethel Merman in the original Hello, Dolly!, taking over the role of Ernestina.

Also on Broadway, she played the comically evil Miss Hannigan in the original run of Annie, Rachel Halpern in the short-lived Rags, was in Rosa starred as Golde in a 1990 revival of Fiddler on the Roof, and co-starred with Vanessa Redgrave as the distrusting Nurse Porter in Orpheus Descending.

Lewis toured in Cabaret as Fraulein Schneider and for three months appeared in Chicago at the Mandalay Bay hotel in Las Vegas, Nevada.

Lewis was born in Melrose, Massachusetts and raised in Cincinnati. She was a registered nurse receiving her RN from the Jewish Hospital School of Nursing in Cincinnati in 1959.

Lewis and Fred D. Bryan, a Nashville accountant and investment adviser, were married on June 24, 2001. Her first marriage ended in divorce. In addition to her husband, she is survived by a brother, Edwin Parker Lewis, known as Pete, of Milford, Ohio; three stepchildren, Mary Fortin of Memphis, Margaret Hakimian of Melrose, Mass., and William Felix Bryan, known as Felix, of Chapel Hill, Tenn.; and six step-grandchildren. A memorial service will be held December 27 at Brentwood United Methodist Church in Brentwood, TN, near Nashville with Bishop Robert H. Spain officiating.






Next Column: January 2, 2011
Copyright: December 26, 2010. All Rights Reserved. Reviews, Interviews, Commentary, Photographs or Graphics from any Broadway To Vegas (TM) columns may not be published, broadcast, rewritten, utilized as leads, or used in any manner without permission, compensation and/or credit.
Link to Main Page
---
Laura Deni



For the snail mail address, please E-mail your request.
CLICK HERE FOR COMMENT SECTION