! >
Broadway To Vegas
  
 SHOW REVIEWS CELEBRITY INTERVIEWS GOSSIP NEWS

| | |
| --- | --- |
| | |




SPIDERMAN TURN OFF THE DARK ON BROADWAY - - TRIUMPH: RUNNING ON STEAM IN LAS VEGAS - - LOVE STORY OPENS ON THE WEST END - - THE MET CELEBRATES A CENTENNIAL - - NEXT TO NORMAL BEGINS TOUR AT THE AHMANSON - - ELAINE KAUFMAN DIES - - SAM AND FRIENDS AT THE SMITHSONIAN - - QUEEN ELIZABETH CRIES DURING NARNIA PREMIERE - - DONATE . . . Scroll Down



Copyright: December 5, 2010
By: Laura Deni

SPIDER MAN - TURN OFF THE DARK ON BROADWAY AND TRIUMPH - IT RUNS ON STEAM IN LAS VEGAS HAVE COMMON GROUND


Tony award winner Julie Taymor with her money tree in the back yard spending habits and a relatively low budget Las Vegas production actually have a common ground - performers flying out over the audience, over-the-top hype, a delay in opening, backstage intrigue, major storyline/script problems, tickets priced in the same general range and - preview performances which are being reviewed.

Spider-Man: Turn Off the Dark and Triumph - It Runs On Steam have gotten their compass points confused. If there was ever a Vegas show it is Spiderman. Years in the planning, Taymor could have mounted this show in Vegas for less money, received community support because she would have been helping the pitiful Vegas economic situation, eventually not only recouping costs but turning a profit. Almost every major hotel in town has had a flying show. Vegas knows how to rig. Spiderman is really the beginning stages of what could be a fabulous Cirque show. The sets, mindless storyline and entire concept would appeal to the Vegas crowd. Beef up the special effects and it's says Vegas, baby. Triumph belongs in a large Off-Broadway theatre where it would be unique for The Big Apple, appeal to a wide cross-section, have an easier time selling tickets and run for years. Both productions are experiencing some of the same situations but each courts disaster for entirely different reasons.



Julie Taymor hopes Spiderman swings to success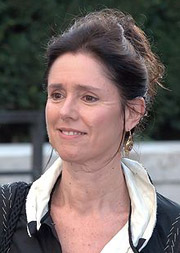 Taymor's Spider-Man: Turn Off the Dark, technically troubled previews have made headlines around the world. The new musical features 27 flying scenes which have passed muster with the New York Department of Labor, which has to sign off on them before the swing outs could take off. The show's score has been written by talent overloaded Bono and The Edge, but they got the hell out of Dodge and haven't been there for the previews. Rather, they are enjoying their own standing ovations performing Australian gigs.

As a fan of Bono and The Edge I would love to hear the music, which seems to be wasted in this production, turned into a CD performed by Bono and The Edge. The songs by themselves may actually be excellent but they get lost and not even Spider-Man can deliver.

While familiar with the music of Bono, Spider-Man is completely foreign to me. However, if you need an instruction book to follow the story line, then there is a problem and with this show the storyline is a confusing mess. There is also an insufferable chorus of teen-agers who, all too often, feel compelled to appear and ritualistically retell the greatest Spider-Man stories. If that poor excuse for a Greek chorus is a Spider-Man requirement, then improve it. Otherwise, stifle.



Bono - his music is lost in this show.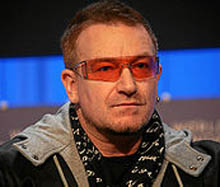 Spider-Man has been setting records before it even opens. It's the most expensive Broadway musical ever mounted - topping $65 million. It's the only production in Broadway history to be reviewed on the first preview performance, rather than opening night. Director Julie Taymor has been blasted for her lack of budget sense and penchant for the theatrical. She's the one who made The Lion King a hit. Take away those Taymor costumes and The Lion King is nothing more than a sweet children's story.

What made anyone thing that Taymor was suddenly going to morph into a literary genius who wanted book and acting substance?

One scenario is that this is a show meant for children of the wealthy and for those terminally young who worshipped Spider-Man when they were comic book age appropriate.

If you want to see a production where elaborate costumes, Cirque flying actors and music actually do meld together in a spectacular show come to Las Vegas and catch The Beatles: LOVE. Cirque in Vegas does it right. They may have saturated the Strip, but by golly the Vegas Cirque folk do know how to stage a show. Want an Elvis themed show? We've got it. Like sex over the top? Zumanity is the best. A storyline is in Ka and for just fabulous Cirque as it originated - don't miss Mystere and O, which is done over water.

Spider-Man tries too hard, costs too much and the flying sequences - considering what Las Vegas has already done - are different, but aren't all that impressive. When finished, the staging will be remarkable.



Natalie Mendoza is a Hong Kong born Australian-British classical theater-trained actress and musician who is starring as Arachne in Spider-Man. She is recovering from a concussion suffered during the first preview. Photo: Charles Eshelman for Getty Images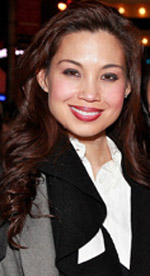 What Spider-Man appears to be is hazardous to the health of the performers.

In the last 50 years there have been isolated instances of performers being hurt in Las Vegas shows. The key phrase is - isolated instances. Apparently, when poor Natalie Mendoza was getting knocked in the head I was sitting in the audience thinking to myself that I hope nobody in the show gets killed. Mendoza, who plays the villainous Arachne, Spider-Man's love interest and nemesis, has remained sidelined from Spider-Man: Turn Off the Dark having suffered a concussion after being hit in the head during the first preview. This is the same actress who was the victim of a first-act stoppage which left the poor soul hanging from a harness for several minutes. Though thanked by applause, there has to be a better way for a performer to get noticed by an audience.

According to The New York Times, who first reported the head injury, Mendoza was struck when, standing offstage, she was hit on the head by a rope that was holding a piece of the production's equipment. Against doctor's advice, she performed December 1 but was unable to do so the following night. She is expected to be out of the production at least through Tuesday, December 7. Representatives for both Actors' Equity and the New York State Department of Labor are looking into the incident.

Her understudy, America Olivo, has been filling in as Arachne. Mendoza is the third actor to be hurt during the show.

The first preview was stopped five times. Previews last Wednesday and Thursday had to be stopped only once, causing Canadian production official Michael Cohl to declare that most, but not all, of the glitches had been worked out.

People paying good money to see a preview of this show would make an interesting study. Such a die hard Spider-Man fan that it's all in the name and quality doesn't count? A need to be able to say you were there? - in this case, guilty. A schadenfrude who resents the success of others and is secretly hoping something will go wrong, so they can boost their low self esteem by watching?



Julie Taymor's creativity made The Lion King a success. A production plays in Las Vegas at Mandalay Bay.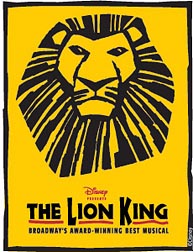 Some of the people both inside and outside the theater arrived wearing Spider-Man costumes - giving comparison to those who plan their lives around Star Trek conventions. When people in the audience are dressed in the costumes of the people on stage - and it's not a sing-along-with presentation, those is business street attire can feel surreal.

The investors, who won't see a return on their investment in their lifetime, have only themselves to blame. They knew they were investing in Taymor's creative concept - which is a little like giving a five-year-old a twenty dollar bill, sending him into a candy store and expecting him to bring back change.

If all of the glitches were fixed and the show ran perfectly, then it would be a technically far superior show to anything in Las Vegas - or anywhere else - but not nearly as good as the Vegas Cirque shows. Spider-Man type shows aren't what made Broadway Broadway. If you want what Broadway really stands for, then look at all of the other offerings.

When even The New York Times writes the show had "children and some adults squealing in delight," you wonder - who is the target audience? There are many family friendly shows - Mary Poppins and The Lion King, for instance. In those productions youngsters in the audience are extremely well behaved.



Reeve Carney stars as Peter Parker/Spider-Man. In real life he is the front man for the LA-based rock band Carney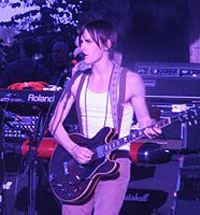 In Spider-Man it would be unrealistic to imagine that any child in the audience would not be tempted to yell and scream - even attempting to stand on their seats. The visual and technical staging encourages such behavior. Sitting next to a neatly groomed young lady with her pink purse, who has been taught by her parents when to politely applaud, while watching Mary Poppins is one thing. Sitting next to a kid in a left over Spider-Man Halloween costume, who is overly eager to see his hero, is something else. If kids are going to be taking over the traditional blue-haired lady matinee seats, then the clean up crew needs to remove the gum and sticky finger prints before the evening show.

Directed by Taymor, the cast is headed by Reeve Carney as Peter Parker/Spider-Man, Tony nominee Jennifer Damiano as Mary Jane Watson and Broadway veteran Patrick Page as Norman Osborn/The Green Goblin.

They are joined by Natalie Mendoza, Michael Mulheren, Ken Marks, Isabel Keating, Jeb Brown, T.V. Carpio, Mat Devine, Gideon Glick, Jonathan Schwartz, Matthew James Thomas, Laura Beth Wells, Matt Caplan, Dwayne Clark, Luther Creek, Gerald Avery, Collin Baja, Marcus Bellamy, Emmanuel Brown, Erin Elliott, Dana Marie Ingraham, Ayo Janeen Jackson, Heather Lang, Ari Loeb, Natalie Lomonte, Kevin Loomis, Kristin Martin, Jodi McFadden, Kristen Oei, America Olivo, Jennifer Perry, Kyle Post, Brandon Rubendall, Sean Samuels, Dollar Tan and Christopher Tierney.

Reeve Carney is the front man for the LA-based rock band Carney. Zane Carney (guitar), Jon Epcar (drums) and Aiden Moore (bass), who are also featured in that band, are part of the Spider-Man orchestra.

The creative team comprises Daniel Ezralow (choreography), George Tsypin (scenic design), Academy Award winner Eiko Ishioka (costume design), Tony Award winner Donald Holder (lighting design), Jonathan Deans (sound design), Kyle Cooper (projection design), Julie Taymor (mask design), Campbell Young Associates (hair design), Judy Chin (makeup design), Scott Rogers (aerial design), Jaque Paquin (aerial rigging design), David Campbell (orchestrations & arrangements), Teese Gohl (musical supervision) and Kimberly Grigsby (music director).

Tickets are priced $67.50-$135 for weekday performances and $67.50-$140 for weekend performances.

At the Las Vegas Hilton Hotel Triumph: It Runs On Steam has begun previews. Rather than suffering from somebody who doesn't know how to budget, this production may be unwittingly knifed in the back by its own promotion.

Frothing at the mouth hyperbole is a set up for failure. Don't promise what you can't deliver.

Triumph - It Runs On Steam is a terrible title which begs for puns should the production run out of steam.

On December 1, 2010 the Las Vegas Hilton's website, which still had a failed opening date of November 15th listed, had this show description posted:

"T he most spell binding theatrical adventure you will ever witness lands at the Las Vegas Hilton November 15."

"N ot a show, but an experience that will capture and hold you in awe."

"S ince the beginning of time a never ending battle of GOOD VS EVIL has always dominated mankind. At times the evil has been so strong that people cower in disbelief and kneel before its power. For Evil is Strong!"

"H owever GOOD also possesses mystical powers that evil has yet to encounter."

"A nd so begins the battle on stage at the Las Vegas Hilton."

"Y ou are invited to take the mystical journey through the realm of time itself."

'A s our time traveling voyagers give chase to the all mighty powerful son of the Lady of the Lake."

"W itness the wicked immorality and malicious mind of the evil son of the Lady of the Lake as he transports through the windows of time itself with his evil force. He searches for past and present technology to destroy good once and for all."

"S teeped in Science with influences from master minds H.G. Wells and Jules Verne, blended with powerful technology from Tesla and Edison, you will witness magical skills and dexterity never ever seen before. This magical story is enhanced by exciting music and dance."

"W itness the miracle of time travel live on stage. You will not only see it, sense it, you will live it as some of the imagery will occur inside the actual audience inches away from the performers. You will not believe what you see or what you think you are seeing!"

"This is one of the most ambitious production shows ever to be presented on a Las Vegas stage."

To which Broadway To Vegas replies - Oh, piffle.

Somebody should have actually seen a rehearsal before writing all that claptrap.

It is that above mentioned piece of outrageous fiction that propelled me to check-out Triumph: It Runs On Steam. This marks the first time in the history of the Las Vegas Hilton - even going back to the days when it was called The International - that the hotel's publicity department has created or permitted misleading, if not outright lies, to be used as promotional material for any of their events. The fact that it was posted on the official Hilton Hotel site makes the sin even more grievous.

If a customer saw Triumph having been told nothing about it beforehand, they would have enjoyed the show. Sadly, the people trying too hard to make this show a success become the show's biggest hurdle.

The mark of a good producer is to know when hype can harm.

What this show is is an excellent 60-70 minute production. Unfortunately, what they are trying to do is stretch it into 90 minutes.

This show has no elephants or tigers ala Siegfried & Roy. There are no buildings with or without Spider-Man attached which David Copperfield might make disappear. There are no Can-Can dancing girls doing jumps off second floor balconies reminiscent of the Folies Bergere. Nor are there any huge scenic changes with a Michael Crawford or David Cassidy slaying a dragon or climbing into mid-Victorian clocks as they did in EFX. There are no volcanoes exploding, fireworks, fire, rain or a chorus of feathered chorus girls. Vegas has already had all that. Sin City is the town that turned 'production show' into an art form.

This is not a magic show or even a production show - there are no actual set changes. Triumph is a modern, interpretative dance act with magic. Take away those dancers and you have a 20 minute magic act. That is not a critical statement.

Most of the show is set in the Victorian Era which permits eerie lighting and steam engine smoke.

The production's start time was 7:30 p.m. At 7:20 two industrial strength fog machines, one located on each side of the stage, begin belching out stage smoke while a steam engine whistle periodically blasts its notes.

Sitting directly in the middle of the first row with stage fog coming at me, I was the equivalent of the canary put into the coal mine.

One of the many things done right in this show is the high quality and, in my opinion, non irritating stage smoke. Just the right amount for the effect needed and Triumph has installed the best fan ventilation I've ever experienced in any venue anywhere.

A couple of Victorian clad performers roam the audience. One is dressed as perhaps a railroad conductor, another possibly a passenger. After all, the audience has been promised a ride.

The clever turn off your cell phones plea is delivered by a British voiced woman intoning that they offend Victorian sensibilities and, besides, they haven't been invented yet.

The production opens with a superbly spoken, but overly long - for a split second La Bete came to mind - monologue about, among other things, freedom of thought and imagination. If delivered on Broadway this dramatic vocalization would have been rewarded with thunderous applause. In Vegas, where audiences aren't noted for seeking out thought provoking phrases, the lecture sets the audience up to expect some fantastic, over-the-top opening segment which never materializes. The perfectly delightful opening number becomes a let down.

No matter how well delivered, the Vegas audience doesn't want the over explanation. That's more New York. Get to the point and get on with the show.

Magicians have always pondered how to segue from one trick to the next. It's one of the biggest concerns in staging a magic show. Triumph has found an intriguing use for the art form of dance. In Triumph, instead of a magician saying - now for my next trick - extremely hard working, talented dancers kick up their heels while costumed as representing a country or region. The costumes are creative with an interesting use of fabric and textures but they are dance functional and they need to be. The dance routine leads into a magic segment. It's a cast of merely 12 dancers, not 24 or 30, which would permit dancers to alternate. All of the dancers are in most of the numbers. Give those well trained, talented legs just one more number and you'll need a cardiologist back stage and an ambulance in the parking lot.

Those pointed toe, arched back people are outstanding and don't receive nearly the credit they deserve.

Triumph is the first show in Vegas - perhaps anywhere - where dance confections are the glue that keeps a magic act together. The dancers move the plotline.

Somebody with their head in fantasy land, who was permitted to string words together, declares that the music is also a driving force which moves the plotline.

Not in the show I attended.



West Side Story recently opened at the Pantages Theatre in Los Angeles. An example of a production which is driven by the score.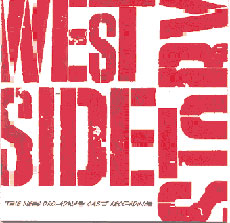 The music doesn't do anything to enhance the customer's appreciation of the show. The almost monotonous sounding, heavy drum beat gives the dancers what they need, but fails to build drama or excitement - or for that matter - deliver on another false promise - of moving along that insignificant story line. The audience doesn't even respond to the actual music until the last song, which is the playing of a well known pop hit.

Were it not ballyhooed as a driving force to the show, the music would slip by unscathed. However, if you want an example of music that drives a plotline consider West Side Story, which just opened at the Pantages Theatre in Los Angeles. Listen to the score. You know when the Jets are fighting. You know that Tony and Maria are in love.

The most dramatic, mood building musical selection ever used in a Las Vegas show was Rafael Hernández's Bolero. The late Juliet Prowse stopped the show cold dancing to it. The most engaging, customer appeal musical scores, for Vegas production shows, were EFX at the MGM-Grand and the now imploded Stardust Hotel's Enter the Night, whose composer/musical director was Jonathan Bielle. The scores to both shows were turned into CDs. People actually left both showrooms humming.

The magic tricks, which we have all seen before - and never tire of seeing - are flawlessly executed by magicians Larry Fischer and Rafael Palacios. But, the illusions lack cohesiveness with the plotline. Was the illusion being executed first performed in that Victorian time frame and in the location where the dancers have taken the audience? That really wouldn't matter one whit, were it not for all that over-the-top hotel promotion about the plotline.

Just as in Spider-Man there are flying sequences over the heads of the audience - only they are done by a pro who knows both rigging and performance. That would be Rafael Palacios, an extremely skilled former circus flyer. Palacios is a third generation member of The Flying Palacios, a world famous trapeze act that sometimes included the triple somersault, back in the days when that was a rarity. As the first trapeze act at Las Vegas Circus Circus, Rafael made his Las Vegas trapeze debut in 1969 at the age of five.

In Triumph he makes several flights into the audience. One of the people he was not only flying over, but closest to, was me and I've never felt safer. His immaculately clean foot and pedicured toenails almost grazed my face. At the end of the human swing set, he pulled himself to a stop with his nose coming just inches from mine.

The Triumph finale is the famous "metamorphosis," illusion in which the magicians instantly change places after one is locked in a trunk. What makes this illusion different is that it is done in the audience with 360-degree sight lines.

What can be of concern is that being the final grande illusion, you need to impress everyone so they'll leave raving about the show. However, the audience location for the trick makes it impossible for at least 10 percent of the paying public to see the illusion. Those in the front orchestra section will find it impossible to totally turn around in the tiny Hilton showroom seats. Many others will be blinded by the required lighting and not see anything.

The number also confused the audience as to whether the show was really over. Even though the entire cast came back on stage and took a bow, people sat waiting for something else to happen. After a couple of minutes of nothing, people decided the show must be over and got up and left.



Chet Walker. Photo from Walkerdance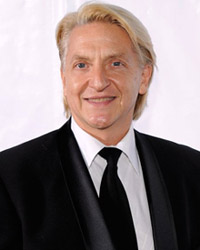 Triumph also features the artistic choreography and direction of Chet Walker who has performed on Broadway since the age of 16. He appeared most prominently in the Bob Fosse musicals The Pajama Game, Pippin, Dancin' and Sweet Charity. As a director and choreographer, he has staged Sweet Charity, Cabaret, Singin' in the Rain and A Chorus Line, to name a few. Walker is the original conceiver of Fosse, the Tony Award-winning musical. He has staged The Producers in Argentina, Brazil and Israel, for which he won the Israel Theatre Award for Best Choreography. This past year, Walker created La Cage aux Folles in Brazil, Jazz On Jazz in Norway and now Triumph at the Las Vegas Hilton.

Excellent scenic design by award winner Kelly Tighe who isn't over-hyped, but rather not done justice, by the December 1, 2010 description posted on the Hilton Hotel's website. The site stated: "Kelly's credentials include Off-Broadway productions such as "The Fanasticks." National tours and regional productions include "Cats," "Dreamgirls," "The Full Monty" and "Jesus Christ Superstar."

None of the shows listed involve Victorian nostalgia.

Also, there has never been an Off-Broadway show called "The Fanasticks." There is a famous Off-Broadway production called The Fantasticks which is the world's longest running musical. The original 1960 production boasted a lot of talent - including the late Jerry Orbach. The set has always been minimalist, with a pocket change budget, so it's not a great reference when discussing a Victorian themed show. If you were part of the scenic department of a production of The Fantasticks, you're going to list it on your resume. It's not going to be the show you tout when listing abilities to stage any period piece. A potential ticket buyer might conclude that there are going to be cardboard sets with shower curtains.



The Fantasticks with their cardboard backdrop. Photo: The Fantasticks.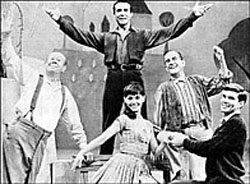 According to the official history of the production, "The Fantasticks original off-Broadway set cost $900. The original set designer, costumer, prop master, and lighting designer was Ed Wittstein, who performed all four jobs for a total of only $480 plus $24.48 a week The set was similar to that for Our Town. Wittstein designed a raised stationary platform anchored by six poles which resembled a traveling players' wagon, like a pageant wagon. As for a curtain, he hung different small false curtains across the platform at various times during the play. He also made a sun/moon out of cardboard. One side was painted bright yellow (the sun) and the other was black with a crescent of white (the moon). The sun/moon was hung from a nail in one of the poles and is referred to in the libretto." The only Off-Broadway revival, which is currently at the Snapple Theatre, has Ed Wittstein also credited as both Scenic and Costume Designer.

The Fantasticks aside, Kelly's impressive credentials include being the designer for Center Rep which is the resident, professional theatre company of the Lesher Center for the Arts in Walnut Creek, CA. Noted for his Victorian themed creations, Kelly has a long track record of bringing home Best Scenic Designer awards for shows including Misalliance, The Mystery of Edwin Drood, London Suite, Around the World in 80 Days, The Mousetrap and Picasso at the Lapin Agile - all involving period scenery. His work has been staged in theatres all across the country include a mounting of The Scarlet Pimpernel, The Music Man and Titanic.

His set for Triumph is perfect for the large proscenium stage in a production where the one stationary set must blend into what would be appropriate for a variety of locations from London to Asia to Chicago.

If there is one thing this show is, it is intriguing. It is also entertaining and patrons leave the theatre satisfied and happy. Cutting through all the smoke and mirrors pr chancary - magic has been around since time began and is popular all over the world. Through dance and magic this show takes the audience on a nice ride. Those are ingredients for success. The problematic sword is the promotion. Should the message decide to get real, it's still going to be difficult for a new "kill the hype-cue reality" approach to negate the prattle that has already been published. Phony pr is the worst problem this show has to overcome. Triumph has a better chance of recouping its investment than Spider-Man. It's already managed to master the flying sequences and nobody has gotten hurt. Spider-Man take note.



Broadway To Vegas is supported through advertising and donations. Priority consideration is given to interview suggestions, news, press releases, etc from paid supporters. However, no paid supporters control, alter, edit, or in any way manipulate the content of this site. Your donation is appreciated. We accept PAYPAL. Thank you for your interest.




ART AND ABOUT


SAM AND FRIENDS

The Smithsonian's National Museum of American History accepted 10 characters from Sam and Friends from Jane Henson, on behalf of the Jim Henson family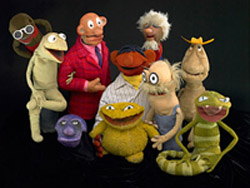 Joining the 1969 Kermit on display at the Smithsonian's National Museum of American History are 10 characters from Sam and Friends - the original Kermit the Frog, who was more of a lizard-like creature, constructed with ping pong ball eyes and green felt from a coat discarded by Jim Henson's mother.

Other characters include Pierre the French Rat, Henson's oldest surviving puppet; Yorick, a purple skull who was a precursor to hungry monsters like Cookie Monster, made of papier-mâché; Mushmellon, whose wide face and grouchy eyes bear a distinct resemblance to Oscar the Grouch; and Sam, the main character who never spoke but lip-synced to popular music and comedy records of the time.

The Kermit the Frog that is already in the museum's collection was first loaned in 1979, in celebration of Sesame Street's 10th anniversary. In 1994, Jim Henson Productions designated Kermit as a gift, making him a permanent fixture in the museum's performance collections.

Smithsonian's National Museum of American History in Washington, DC.


SWEET CHARITY


FROM BROADWAY WITH LOVE a benefit for the Animal Protection of New Mexico took place last night at the Lensic Performing Arts Center in Santa Fe. The evening featured Kaye Ballard, Donna McKechnie and Liliane Montevecchi in the gala performance.

Directed by Richard Jay-Alexander, the evening reunited Ballard, McKechnie, and Montevecchi since performing in Stephen Sondheim's Follies in 1998.

The show begin with Ballard, McKechnie and Montevecchi performing together with music, comedy and dance. It evening continued with individual performances, and then they reunited in the show's finale.

The musical director for the special event was Christopher Marlowe. Hilary Knight, internationally renowned illustrator, designed the art for the event.

The $400 priced seats included a post-show champagne reception and vegan dinner attended by the cast and crew, as well as a collectible oversized print of the playbill cover autographed by Ballard, McKechnie, Montevecchi, Jay-Alexander, and Knight.

TINY TIM'S CHRISTMAS CELEBRATION a benefit for Ford's Theatre in Washington, DC on Saturday, December 11, 2010.

Join Tiny Tim for a holiday party at Co Co. Sala immediately following the matinee performance of A Christmas Carol. At this family event, children can get a picture taken with Tiny Tim, decorate holiday chocolates and enjoy Co Co. Sala's famous specialty hot chocolate.

Adults can indulge in decadent holiday treats (both savory and sweet!) and a glass of bubbly from Washington's premiere chocolate boutique.

Co-chairs: The Honorable Jack and Michele Evans, Christopher and Shannon Campagna, Larry and Janell Duncan, and Harvey and Pam Ernest.

Tickets are $200 each and include both the performance of A Christmas Carol and Tiny Tim's Christmas Celebration. Proceeds from this special Holiday Benefit support the education and outreach efforts of Ford's Theatre Society, including free and reduced price theatre tickets for local disadvantaged students.

HOLIDAY CABARET Opening Night Benefit Show & Dinner, starring KT Sullivan.

Monday, December 6 at Urban Stages Theater, NYC.

The evening includes cocktails, performance and dinner at the Theater.

KT will be performing her exciting program of songs from the late 1920's.

The money raised will help contribute to the Urban Stages Outreach Program to help bring "arts in education" classes to children and families across the five New York boroughs.

PLAYWRIGHTS HORIZONS will host its second annual Holiday Craft Fair on Tuesday, December 14 in Playwrights Horizons' festively made-over Ford Motor Company Lobby in New York City.

Featuring works created by PH's very own staff, the crafts for sale will include jewelry, knitwear, handmade greeting cards, homemade jam and much more!

Serious holiday shoppers and curious browsers alike will enjoy complimentary refreshments and, of course, their favorite music from the festive season. Please note: cash payments only.

In keeping with the spirit of the holiday season, a portion of the proceeds will be donated to charity. Additionally, shoppers are encouraged to bring a canned good for a food drive to benefit City Harvest. City Harvest is New York City's only food rescue program. The organization helps feed over 260,000 people each week, and they serve over 600 community programs annually. Each year, Playwrights Horizons' staff, artists and audiences help City Harvest by holding a Holiday Food Drive. Last year, the company donated 240 pounds of food, a Playwrights Horizons record.

Currently playing at Playwrights Horizons' Peter Jay Sharp Theater is Amy Herzog's critically-acclaimed After the Revolution. Directed by Carolyn Cantor, the New York premiere has been extended by popular demand to Sunday, December 12.

The theater company's next production will be the world premiere of Adam Bock's A Small Fire. Directed by Trip Cullman, previews will begin Thursday, December 16 at Playwrights Horizons' Mainstage Theater.


THE CHRONICLES OF NARNIA: THE VOYAGE OF THE DAWN TREADER CAUSES QUEEN ELIZABETH TO CRY
Queen Elizabeth II, who has always enjoyed clothes, made as fashion statement when she arrived for the movie premiere. She selected a long charcoal wrap over a royal blue embellished dress with a leg flattering hemline. Photo: Reuters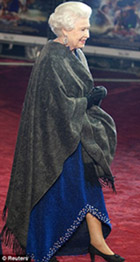 Any reigning monarch of the United Kingdom is forbidden to shed a tear in public. The wearer of the crown may screw up their face trying to hold back a tear or bite their lip until it bleeds, but actually permitting a tear to trickle down has been considered contrary to Stiff Upper Lip royal protocol.

Until now.

Her Majesty Queen Elizabeth II admitted to actor Liam Neeson that she cried during the movie and Neeson blabbed the teary eyed story to the world.

A cold snowy event didn't deter the Royals and stars from attended the Narnia premiere on Tuesday, November 30, at London's Leicester Square.

The black-tie Royal Film Performance is the major fundraising event of the Cinema and Television Benevolent Fund (CBTF). The Queen is patron of the charity, which supports film and TV employees and their families in times of hardship. Actor and writer Julian Fellowes, who welcomed the Queen to the cinema, said: 'The support of the Queen for the CTBF is fantastically important. It keeps the whole profile of the organization in front"

To view the third film in the Chronicles of Narnia series the Queen and the Duke of Edinburgh donned 3C glasses to watch The Voyage of the Dawn Treader.

Afterwards they met with the cast and crew members including Georgie Henley, Anna Popplewell, William Mosely, Will Poulter, Skandar Keynes, Simon Pegg and, of course, Liam Neeson. Ben Barnes, who plays Prince Caspian, made a quick appearance on the red carpet but was unable to stay for the screening because he is currently appearing in the stage version of Sebastian Faulks's novel Birdsong, directed by Sir Trevor Nunn. Barnes said he was "devastated about missing the change to meet the Queen, but the theatre will be full of people who would be disappointed if didn't go."

During the gala Neeson, who voices Aslan the lion in the film, chatted with the Queen.

Last Thursday he told a news conference about the conversation. Describing a poignant scene toward the end of the third film in the blockbuster series, Neeson confessed to Her Majesty that he became emotional during its royal world premiere.

"I shed a tear the other night and I was told the Queen shed a few tears as well."

Seated two seats away from the Queen was Michael Apted who directed the third film in the Narnia series which is adapted from the fantasy novels by C S Lewis. The Chronicles of Narnia: The Voyage of the Dawn Treader opens in the UK on December 9.


THE METROPOLITAN OPERA CELEBRATES A CENTENNIAL


New York's famed Metropolitan Opera is celebrating the centennial performances of Puccini's La Fanciulla del West. The Met is spotlighting historical information in the form of video interviews with celebrated performers, archival images and films, and scholarly essays about the opera, which had its world premiere at the Met on December 10, 1910 conducted by Arturo Toscanini with Emmy Destinn, Enrico Caruso, and Pasquale Amato in leading roles.

A symposium entitled Fanciulla 100: celebrating Puccini will be held at Boston University in collaboration with the Howard Gotlieb Archival Research Center on December 6, and papers will be delivered to assembled scholars and guests.

The symposium will feature an exhibition of original archival material entitled The Girl of the Golden West: Chronicling Puccini's Fanciulla, showcasing material from the Toscanini family, and from collections held at the Center and including the papers of Sarah Caldwell, Tito Gobbi, Dorothy Kirsten, Rise Stevens, Deborah Voigt and others.

Deemed the most spectacular event in the history of the Metropolitan Opera at the time, Puccini's Fanciulla takes place during the California Gold Rush and was based on the hit Broadway play by American dramatist David Belasco, The Girl of the Golden West.

"After the successes of La Bohème, Tosca, and Madama Butterfly, Puccini found in Belasco's Girl of the Golden West just the 'modern' melodrama he was seeking," said Deborah Burton, assistant professor at Boston University and organizer of the fanciulla100.org e-conference. "The free educational e-conference will provide a treasure trove of vintage and contemporary materials."

The Metropolitan Opera will present La Fanciulla del West conducted by Nicola Luisotti and starring Deborah Voigt, Marcello Giordani, and Lucio Gallo, beginning December 6 and running through January 8, including a performance on December 10 one hundred years to the day of the premiere.

Simonetta Puccini, the composer's granddaughter, and Walfredo Toscanini, the maestro's grandson, are expected to attend. The final performance on January 8 will be seen in more that 1,500 movie theaters around the world as part of the Met's Live in HD series and broadcast live over the Toll Brothers-Metropolitan Opera International Radio Network.


SPREADING THE WORD


BING CROSBY: THE SPECIAL YEARS

David Bowie and Bing Crosby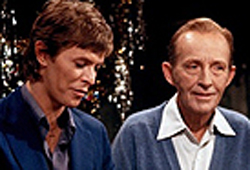 The Paley Center celebrates the iconic life and career of Bing Crosby with a special screening and panel event featuring the world premiere of the new documentary, Down Argentine Way: Bing Crosby in Buenos Aires, a fascinating chronicle of Crosby's 1970 trip to South America featuring archival concert footage never before seen in the United States and all new interviews with Kathryn Crosby and others.

The screening will be followed by a panel discussion with members of Crosby's family; daughter Mary, his costar from the classic musical Anything Goes, legendary entertainer Mitzi Gaynor; acclaimed Disney composer Richard M. Sherman (Mary Poppins); and others.

The program will also be interspersed with classic clips from Crosby's television specials featuring Mitzi, Frank Sinatra, Rosemary Clooney, David Bowie, Carol Burnett, Dean Martin, and more. We couldn't leave out Bing's holiday specials, so there'll be merry moments from those as well, plus join a holiday dessert reception following the show.

Wednesday, December 15, 2010 at The Paley Center in Los Angeles.

AN EVENING WITH STEPHEN SONDHEIM a conversation between the 80-year-old Tony Award-winning composer-lyricist and National Post theatre critic Robert Cushman takes place December 6 at Toronto's Princess of Wales Theatre.

The onstage chat will be introduced by Broadway and Canadian director Des McAnuff, who directed Sondheim's A Funny Thing Happened on the Way to the Forum for the Stratford Shakespeare Festival in 2009. That staging will be resurrected for a Toronto run December 15 - January 16, 2011 at the Canon Theatre.

The show will have an interview format, with Cushman asking Sondheim about the highlights of his career, including his collaborations with Leonard Bernstein, Jerome Robbins and Tim Burton. He will also be asked about the current state of musical theatre and about his own creative process.


OTHER PEOPLE'S MONEY


A CHRISTMAS STORY - THE MUSICAL which began life at Kansas city Rep and is currently playing at Seattle's 5th Avenue Theatre, has a new executive producer - Peter Billingsley, the former child actor who played Ralphie Parker in the iconic 1983 film A Christmas Story, upon which this stage production is based.

The Seattle run continues through December 30.

UNCHAIN MY HEART, THE RAY CHARLES STORY'S producer Stuart Benjamin, who intended to bring the production to Broadway, has filed a lawsuit in Los Angeles Superior Court against his primary investor, Maurice Grant. The suit claims that Grant pledged $9 million for the new Broadway musical and then failed to make good on the promise. The lawsuit asks for $20 million in damages, based upon the claim that Grant told Benjamin to refuse other investors. Benjamin is suing for fraud, deceit, and breach of fiduciary duty.

Directed by Sheldon Epps, Unchain My Heart features the music of the late Ray Charles and has a book by Suzan-Lori Parks. The show played at the Pasadena Playhouse in 2007.






NATIVITY by Peter Anderson. Directed by Leah Cherniak.

A musical comedy that reveals the first Christmas was no holiday.

Billed as a holiday musical comedy for the entire family - where shepherds speak in rhyme, animals sing and dance, angels appear in the night sky, an expectant couple keeps searching for a place to stay, and three hungry coyotes look for a good meal. A rousing play for all ages and denominations, nativity explores the origins of the Christmas story with its universal appeal for peace, safety and a little comfort and joy.

Featuring The NAC English Theatre Company: Michael Blake, Patricia Cano, Réjean Cournoyer, Diane D'Aquila, Todd Duckworth, Randi Helmers, Marcel Jeannin, Ron Kennell, Jani Lauzon, Jean Leclerc, Alex McCooeye, Robert Persichini, Karen Robinson, Laara Sadiq, Michael Spencer-Davis and Joey Tremblay.

Dayna Tekatch Associate Director/Choreographer - Allen Cole Musical Director/Composer - Judith Bowden Set & Costume Designer - Jock Munro Lighting Designer - Paula Danckert Dramaturg - Michael Hart Production Stage Manager - Laurie Champagne Stage Manager - Rebecca Miller Assistant Stage Manager.

December 8 - 23, 2010 at Canada's National Arts Centre in Ottawa Ontario.

A CHILD'S CHRISTMAS IN WALES by Dylan Thomas. Adapted and directed by Charlotte Moore. Musical direction by John Bell.

Starring Kerry Conte, Simon Jones, Victoria Mallory, Ashley Robinson and Martin Vidnovic.

A thousand starry lights will envelop the stage in this re-invention of Dylan Thomas's A Child's Christmas In Wales.

The iconic piece, starring both Irish Repertory favorites and Broadway veterans, features both traditional and contemporary Christmas music interwoven within the classic story of the legendary snowy Christmas Day in Wales.

The Irish Repertory Theatre, NYC December 8, 2010 - January 2, 2011.

A CHRISTMAS MEMORY by Truman Capote. Adapted by Duane Poole. Music by Larry Grossman and lyrics by Carol Hall. Orchestrations are by Steve Orich.

Directed by TheatreWorks artistic director Robert Kelley.

Starring Tony nominated Penny Fuller who portrays Aunt Sook, opposite young, Bay Area actor Gabriel Hoffman as Buddy. The cast also includes Eileen Barnett, Jennifer Chapman, Richard Farrell, Joshua Park and Cathleen Riddley.

TheatreWorks calls the musical "a wistful memoir of cherished youth, chronicling a young boy's loving friendship with an eccentric aunt in a small Southern town in the 1930s, where misfits Buddy and Sook launch kites, haunt speakeasies, and mail fruitcakes to everyone from Jean Harlow to President Roosevelt."

The TheatreWorks world-premiere musical officially opened December 4 for a run through December 26 at the Lucie Stern Theatre in Palo Alto, CA.

THE KING AND I a new production of the Rodgers and Hammerstein's 1961 classic.

Curve Theatre's artistic director Paul Kerryson will direct a cast that stars Janie Dee as Anna and Chook Sibtain as the King.

The cast also includes Claire-Marie Hall, Adrian Li Donni, Maya Sapone, Nicholas Goh, Gary Wood, Alison Guill, Simon Archer, Lisa Dent, Charlotte Humphrey, Sayaka Ichikawa, Aiko Kato, Makoto Leahy, Kristopher Mitchell, Rowan Lewis Mitchell, Stefanie Mourant, Samantha Tan and Craig Turbyfield.

Staged as this year's Christmas attraction at the U.K.'s Curve Theatre in Leicester, officially opening on December 7 for a run through January 15, 2011.

NEXT TO NORMAL Music by Tom Kitt. Book and Lyrics by Brian Yorkey. Musical Staging by Sergio Trujillo. Direction by Michael Greif.

Alice Ripley, who received the 2009 Tony Award for Best Actress in a Musical for her performance in this Pulitzer Prize and Tony Award-winning Next to Normal, is reprising her acclaimed performance in the musical's North American tour, which has launched at the Center Theatre Group/Ahmanson Theatre in Los Angeles.

An incredible, not to be missed production - an emotional powerhouse of a musical with a thrilling contemporary score about a family trying to take care of themselves and each other.

Set Design by Mark Wendland. Costume Design by Jeff Mahshie. Lighting Design by Kevin Adams. Sound Design by Brian Ronan. Musical direction by Bryan Perri. Orchestrations by Michael Starobin and Tom Kitt. Vocal Arrangements by AnnMarie Milazzo.

Performances through January 2011 at the Ahmanson Theatre in Los Angeles.

LOVE STORY

Michael Xavier and Emma Williams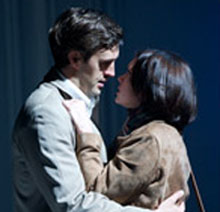 a new musical based on the Erich Segal novel and movie, with music by Howard Goodall, book by Stephen Clark and lyrics by Stephen Clark and Howard Goodall. Rachel Kavanaugh directs.

The West End London cast includes Emma Williams as Jenny, Michael Xavier as Oliver Barratt IV and Peter Polycarpou as Jenny's father, Phil. The cast also includes Richard Cordery, Gary Milner, Paul Kemble and ensemble members Lillie Flynn, Christopher Killick, Jamie Muscato and Rebecca Trehearn.

Oliver Barrett IV went to Harvard and Jenny Cavilleri to Radcliffe. He was rich, she was poor. He was sporty, she played music. But they fell in love. This is their story.

The creative team includes set and costume designer Peter McKintosh, lighting designer Howard Harrison, sound designer Matt McKenzie and musical director Stephen Ridley. Musical staging is by Lizzi Gee.

The Chichester Festival Theatre production of Love Story officially opens a West End run at the Duchess Theatre on December 6.


WHO'S WHERE


LINDA EDER performs her Holiday Show featuring popular standards and holiday favorites. December 10 at The State Theatre in New Brunswick, NJ.

PETER AND PAUL Peter Yarrow and Paul Stookey will include a tribute to their recently deceased friend Mary Travers in a holiday concert December 10 at Cleveland's Palace Theatre.

MICHAEL BUBLE performs December 8 at the Ford Center in Oklahoma City, OK.

ANDRE RIEU brings his group to the Key Arena in Seattle on Monday, December 5. On Tuesday the tour stops at General Motors Place in Vancouver, BC. Thursday finds the production a BankAtlantic Center in Sunrise, FL. On Friday they can be enjoyed at St. Pete Times Forum in Tampa, FL and on Saturday the show is at the Amway Arena in Orlando, FL.

BRIAN STOKES MITCHELL opens a two nighter Friday at Carnegie Hall in New York City.

JAMES BARBOUR sings at The Magic Castle in Hollywood on December 6 and 7. Guest stars for Barbour's Magic Castle gig are James Snyder on the 6th Tommy Peacock and Joan Ryan on the 7th.




FINAL OVATION


ELAINE KAUFMAN owner of the Upper East Side restaurant that bears her name, died December 3, 2010 from hypertension and emphysema at Lenox Hill Hospital in New York City. She was 81.

For over four decades her restaurant was a magnet for both the showbiz and literary elite. She especially loved writers whom she welcomed with open arms. Like a feisty, hovering mother hen she worried that wordsmiths didn't have enough to eat, even if they were well fed.

Billy Joel immortalized her watering hole in his song Big Shot.

A New York institution who will be missed.








Next Column: December 12, 2010
Copyright: December 5, 2010. All Rights Reserved. Reviews, Interviews, Commentary, Photographs or Graphics from any Broadway To Vegas (TM) columns may not be published, broadcast, rewritten, utilized as leads, or used in any manner without permission, compensation and/or credit.
Link to Main Page
---
Laura Deni



For the snail mail address, please E-mail your request.
CLICK HERE FOR COMMENT SECTION