! >
Broadway To Vegas
  
  REVIEWS  INTERVIEWS COMMENTARY  NEWS

| | |
| --- | --- |
| | |
BRISBANE AUSTRALIAN THEATRES ON SURVIVING THE FLOOD - -SPIDER-MAN TURN OFF THE DARK DELAYS OPENING AGAIN - - ESKIMO MASKS - - TOURING BROADWAY SHOWS HAVE ECONOMIC IMPACT - - SCKBSTD A NEW MUSICAL BY BRUCE HORNSBY - - THE BREMEN TOWN MUSICIANS - - BIRTHDAY BOY NEIL DIAMOND TURNS 70 - - CELEBRATING MARILYN HORNE AT CARNEGIE HALL - - DONATE . . . Scroll Down



AUSTRALIAN FLOOD DRENCHED ARTS COMMUNITY UNITES TO STAY AFLOAT
The horrendous flooding decimating Queensland, Australia has resulted in the Aussie theatrical community fleeing to higher ground. The last time the area experienced such water was the disastrous flood of January 1974 when the Brisbane River, which runs through the heart of the city, broke its banks and flooded the surrounding areas.

As with any natural disaster the first though is for the safety of individuals and then to property damage. Unless what is at risk is a world class irreplaceable work of art, the state of the arts tends to rank low on the totem poll, though those businesses also involve people and property.

Broadway To Vegas checked with performance venues in Brisbane to see how they were coping.



Lily Tomlin is set to play the Powerhouse in March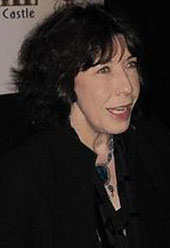 The Powerhouse Theatre Company is both a producer of contemporary performing arts as well as a multi-arts venue. Lily Tomlin is set to play the Powerhouse on Wednesday, March 2, as part of the Brisbane Comedy Festival.

Nestled on the banks of the Brisbane River, the former powerhouse, in its peak during the post-war years, supplied electricity for the largest tram network in the southern hemisphere.

The redeveloped Brisbane Powerhouse now boasts a flexible 400 – 700 seat 'end on' stage theatre, an intimate 200 seat apron stage theatre, an 800 viewer open platform, two restaurants, conference and rehearsal rooms and offices. Entering its tenth year, Brisbane Powerhouse under the artistic direction of Andrew Ross, who was appointed in 2003, is considered Brisbane City Council's leading arts performance venue.

"Thank you very much for taking an interest in what's happening over here in Brisbane," responded Rachael Morgan publicist for the Brisbane Powerhouse Theatre.

"We were all sent home from the venue on Tuesday,just before the flood waters got really bad."

"Brisbane Powerhouse has been very lucky considering its position right there on the river bank."

"At the river's peak it got to the 'FLOOD' sign, which is the sculpture outside WATT restaurant on our lower level. This sculpture marks the level of the 1974 floods," she explained.

"As the water reached this level it meant that some - a little - water, despite sandbagging, did get into WATT, some water got into the lower level foyer of Brisbane Powerhouse, the VISY theatre foyer and also, some water got into the motor that is used for the retractable seats in the theatre."

"Overall there doesn't seem to be any major damage thankfully," she reported trying view the situation as glass-half-full. "Brisbane Powerhouse will be re-opened from Monday 17th. The flood and closure did not affect our programming as nothing was programmed during this week as we are generally 'dark' over the New Year period for maintenance."

"Business as usual once we re-open as far as I know but I am yet to confirm this."

"We do however have a number of staff affected by the floods including two separate staff members who lost everything. Very sad," she emphasized.

The Centenary Theatre Group is billed as "Brisbane's Theatre of the Western Suburbs since 1977." Visiting Mr. Green by Jeff Baron, directed by Gary O'Neil is set to open March 5 at the Chelmer Community Center. The Centenary Theatre Group serves as trustees for that venue.

Margaret Bell president of the Centenary Theater Group told Broadway To Vegas:

"We have been very very lucky. Our hall is in Halsbury & Queenscroft Streets in Chelmer, which is one of the worst affected suburbs or Brisbane, but the water only came within about 5 metres of the hall."

"Other houses in Queenscroft Street were not so lucky, and have been completely flooded."

"The only thing we've had to re-schedule is have our first production for 2011 rehearse at the director's house rather than at the hall."

"Other groups who use the hall will be able to do so as soon as the water resides and you can drive there again. You can get to the hall, but you have to park on Honour Avenue and walk across the railway bridge."

"Currently the railway carpark at the top of the hall is being used by people who parked their cars up on a high spot to keep them dry."

"We were so lucky," she reiterated. "The hall did go under in the 1974 floods, so we were expecting the worse, especially when you saw all the pictures of other parts of Chelmer and Graceville from the air, but not this time."



Skin Deep is set to open March 16 at the Ipswich Little Theatre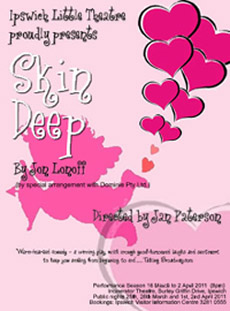 "I do not know how the Ipswich Little Theatre fared, as I have not been able to get in touch with anyone from there yet, but I have my fingers crossed that they are all ok," she related about a theatrical company which has been offering quality theatre since 1946. Set in the beautiful grounds adjacent to Queens Park, the heritage-listed Incinerator Theatre designed by Walter Burley-Griffin is an intimate and unique venue whose 2011 season includes Skin Deep, London Suite, The 39 Steps, Light Bites, and The Force and I - A Star Wars Musical."

"Also QTC and various others which have their bases in South Brisbane," Bell continued about the inability to communicate with other performance venues.

"The news concentrated a lot on the flooding of Suncorp Stadium and whether or not the football would go on, but not much on the fate of the museums, art galleries, libraries and theaters which line the Southbank of the Brisbane River," she added.

"I know that QPAC have cancelled performances of Wicked because of the flooding, and Harvest Rain is organizing volunteers to help clean up around that area, but that's all I know."

On January 11, The Harvest Rain Theatre Company in Brisbane posted:

"Here in Brisbane we are all just beginning to address the massive task of cleaning up and rebuilding our beautiful city after the devastating floods that hit in the last 24 hours."

"At Harvest Rain, our main offices at the Mina Parade Warehouse were mercifully spared from flooding, but our current production that has been playing in the Cremorne Theatre at QPAC has been temporarily put on hold until the flood waters surrounding the building recede. We consider ourselves to be one of the luckier arts organisations in Brisbane, as other organisations like QPAC, QTC, GOMA, Queensland Conservatorium, Raw Metal and many others have seen their building be completely engulfed (and some totally submerged) by the rising flood waters."

"Our office today has been inundated with calls and emails from supporters of the arts wanting to know how they can specifically help those affected in the Brisbane arts community to clean up when the waters eventually recede."

"Our friends in affected arts organisations need our support at this time, and may need your assistance to clean up when the waters recede," stated the venue which has a sign up volunteer register for residents and those close by who want to specifically provide hands on help to the Brisbane Arts Community Clean Up.

"We look forward to joining you all in rebuilding our city, and in particular cleaning up our beloved arts buildings that have been so affected by these devastating floods."

"Our prayers and thoughts are with any of you who may have been adversely affected by the floods. Please stay safe as the waters subside. And please, join us in lending a hand."

Harvest Rain was started in 1985 when a bunch of would-be thespians formed a small drama group out of a church and called it Harvest Rain. Over two decades later, Harvest Rain has grown to become one of the largest independent theatre companies in Australia, providing great theatre that is engaging, accessible and affordable.

For 23 years, Harvest Rain operated out of the Sydney Street Theatre in New Farm, Brisbane. In 2008, the company spread its wings and relocated to the Mina Parade Warehouse in Alderley, and began a partnership with QPAC that has all of their main-house productions staged at the Queensland Performing Arts Complex.

Harvest Rain is well-known for producing high quality, affordable productions. Their philosophy is: "that live theatre is not just for the rich or for the arty-farty – theatre is for everyone, and we are committed to presenting live entertainment that is fun, engaging, and affordable for the whole family to enjoy!"

Harvest Rain has also commissioned and produced the world premiere productions of plays such as The Works of William Shakespeare (By Chicks), I Want to Be in a Jane Austen Novel, Alice and Little Women and produced classic works like As You Like It, The Lion, The Witch & The Wardrobe, The Crucible, The Caucasian Chalk Circle and Much Ado About Nothing.

Over the last twenty years, many well-known artists have trodden the boards in a Harvest Rain show, including Andrew Buchanan, Sue Rider, Eugene Gilfedder, Julie Eckersley, Jennifer Flowers, Bille Browne, Helen Howard, David Clendenning, Sandro Colarelli, Caroline Kennison, Steven Grives, Leisa Barry-Smith, Michael Futcher, Hayden Spencer, Michael Falzon, Chris Fennessy and Queenie van de Zandt.

Harvest Rain has also become known as a place of great beginnings, with many nationally acclaimed artists having had their start working with Harvest Rain, including Luke Kennedy, Jack Chambers, Stephen Wheat, Mark Conaghan, Bryan Probets, Matthew Passmore, Terri Brabon, Angela Harding, Naomi Price, Julie Cotterell, Mark Hill, Joanna Ratcliffe, Sarah Punch, Callum Mansfield, Josh McIntosh, Sarah McIntosh and many others.

The Queensland Theatre Company in South Brisbane reports that they are "closed until Monday, January 17, due to floods which are affecting the majority of the arts precinct in Southbank and South Brisbane during the Brisbane flood. We hope everyone affected by the floods is safe and will be starting our clean up as soon as it's safe. The Company, like many arts organisations in the area, has moved as much equipment as possible up to the highest level of the building and are confident that our flood plan will help us move on as soon as possible from this event and thank our community for its preemptive offers of help - we will be in touch with more information as soon as we can."

"We'll be in clean up mode as soon as it's safe to do so."



Sacré Bleu! is set to open at the Queensland Theatre on February 7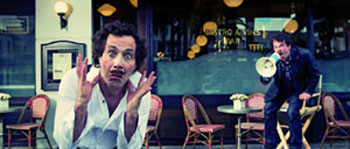 Hoping to open on time is the February 7th curtain up for Sacré Bleu!, a double bill of classic French farce by Eugène Labiche and Georges Feydeau. Not only were they successful playwrights popular in their own heyday but they've inspired generations of comedians, and comic writers and performers.

"Vaudeville was among the most popular theatrical genres of nineteenth-century France. Rooted in classic comedy (unlike British and American vaudeville), French vaudeville was a precursor to the modern television sitcom and was at the forefront of changes that remade theatre into a spectacular media product," according to Jennifer L Terni in A Genre for Early Mass Culture: French Vaudeville and the City, 1830-1848.

The Queenland Theatre production will be the first time the two absurd and wickedly funny farces are performed in English. The translation is by Morgan Dowsett with the adaptation by Matthew Ryan.

Expect a madcap night of murder, mystery and mayhem. Misunderstandings, cross-purposes, mistaken identities and intricate plot lines, all promise for a roller coaster ride with some of Australian's favorite comic actors - Jonathan Brand, Eugene Gilfedder, Hayden Spencer and Neridah Waters.

The Queensland Performing Arts Centre (QPAC) posted on their website:

"Due to the Queensland flood crisis the following performances have been postponed.

Harvest Rain's season of Aladdin (12 to 22 January)
Ballet Theatre of Queensland's Season of Alice in Wonderland (19 to 22 January)
Wicked (Tuesday 18 January 6:30 and Wednesday 19 January 1:30pm and 7:30pm)

"QPAC is now working with the producers and presenters of these shows to reschedule performances for when the Centre is open and operational. We will be in contact with current ticket holders to exchange your tickets for the new season/performances as soon as possible."

"Thank you for your understanding and patience in these difficult times for all Queenslanders."

"Note to QPAC Staff:"
"While QPAC is closed we are working out of external offices and trying to contact all staff to ascertain your individual situations. We will continue to try contacting you or please contact your manager."

"Stay Safe."



Broadway To Vegas is supported through advertising and donations. Priority consideration is given to interview suggestions, news, press releases, etc from paid supporters. However, no paid supporters control, alter, edit, or in any way manipulate the content of this site. Your donation is appreciated. We accept PAYPAL. Thank you for your interest.



ART AND ABOUT


ESKIMO MASKS

Priced in excess of $2 million, Complex Mask (Donati Studio Mask) Yup'ik; Kuskokwim Region, Alaska, circa. 1890-1905 wood, pigment, sinew, vegetal fiber, cotton thread, replaced feathers, height: 34 inches from the estate of the Surrealist artist Enrico Donati (1909-2008)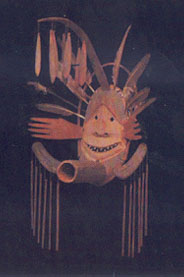 Arguably the most important Native American object to be offered for sale since the 1940s will be unveiled by the Donald Ellis Gallery at the Winter Antiques Show which takes place at Park Avenue Armory in New York City, from Friday January 21 to Sunday January 30, 2011.

While the Gallery's stand will present a wide range of objects from the Northwest Coast, Alaska and the Eastern Woodland regions of North America dating from 200 BC to the early 20th century, the talking point for visitors to the Show will undoubtedly be the extraordinary Eskimo masks.

Yup'ik Eskimo masks are possibly the highest form of expression of Native American art and profoundly influenced the Surrealist artists who had escaped Paris in the Second World War and settled in New York.

André Breton, Max Ernst, Roberto Matta, Wolfgang Paalan and Donati, among others, all owned significant examples and were the first to recognize them as exceptionally refined works of art.

The museum quality Donati Studio Mask has never been published or publicly exhibited until now, and was originally acquired by Adam Hollis Twitchell who began trading along the Kuskokwim River in Alaska in 1905.

Twitchell, who purchased many of his masks directly from the natives immediately after the ceremonial dances that he had witnessed, collected what is now considered to be an iconic group of twelve 'weather' related Yup'ik masks. The last to come on the market was previously exhibited at the seminal Primitivism in 20th Century Art exhibition in 1984 at MOMA before being acquired by the legendary collector Ernst Beyeler for his Foundation in Basel where it is now on view.

The Donati Studio Mask is the last of this group in private hands and has a price in excess of $2 million.



Complete Mask (Donati Fifth Avenue Mask) Yup'ik; Kuskokwim Region, Alaska, circa. 1880. wood pigment, feathers, height: 35 inches including feathers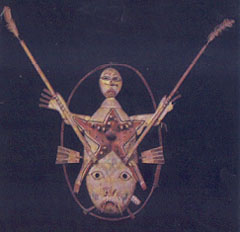 The second Yup'ik mask, the Donati Fifth Avenue Mask, has the same provenance and is one of three such examples, the others being in the Detroit Institute of Arts and the Museum für Volkerkunde, Hamburg, Germany.

Hamburg acquired this mask at the historic Surrealist Objects exhibition curated by Breton in Paris in 1936.

This elaborate dance mask depicts a central concept of Yup'ik cosmology: the shaman's journey to the spirit-world in search of good fortune for his people in the coming year.

In this dramatic composition, the spirit of a shaman travels to the dream world with the help of his animal spirit helper, a seal.

Other treasures that will enthrall visitors include a remarkable Haida wooden bowl in the form of a seal from Queen Charlotte Islands, British Columbia, dating from the late 18th or early 19th century, and from the Tlingit tradition an unusual bird mask with articulated eyelids dating from circa 1830-1850, and a small crouching naked figure dating from circa 1860.

The oldest piece is an Okvik Eskimo Janus Headed Ulu or 'woman's knife' dating from 300 BC-100 AD made from walrus ivory and slate. From outside Canada, a 19th century stylized stone buffalo effigy with turquoise-inset eyes from Pueblo, New Mexico, would look completely at home in any contemporary collection.

Prices range from $1,500 to over $2 million.

A recognized world authority in his field, Donald Ellis was the only Canadian to appear regularly on the PBS Antiques Roadshow as well as on the BBC and CBC Antiques Roadshows. The Gallery has numerous prominent public museums among its clients and Donald Ellis helped Kenneth Thomson form his highly important collection of First Nation objects which, together with his other collections, Lord Thomson gave to the Art Gallery of Ontario. Ellis was also instrumental in returning to Canada major masterpieces of Canadian First Nation art from the world-famous Dundas Collection by buying them at auction for the Thomson collection and other Canadian museums.


ANOTHER WEB SNAG - SPIDER-MAN OPENING DELAYED AGAIN


In a repeat mode, the official opening of the $65 million Broadway show Spider-Man: Turn Off The Dark has been delayed - again.

This time from February 7 to March 15.

In addition to the pushed back opening, the preview performances on January 18th and the 25th have been canceled to allow for more rehearsal.

The production began previews on November 28, 2010 with the official opening slated for December 21. That was delayed to January 11, then to February 7 and now to March 15.

The troubled plagued Judy Taymor, Bono and the Edge production has been doing record breaking box office business at the Foxwoods Theatre.


SWEET CHARITY


THE SONG CONTINUES! CELEBRATING MARILYN HORNE AT CARNEGIE HALL

Marilyn Horne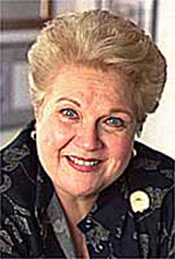 it's been 50 years since Marilyn Horne made her debut at Carnegie Hall.

In honor of that, a gala chaired by Ann Ziff will salute her lifelong mission to encourage, support, and preserve the art of the vocal recital and the professional development of new singers.

The Song Continues - will be a concert featuring young artists mentored by Horne.

They include: Susanna Phillips, Soprano; Myra Huang, Piano; Jamie Barton, Mezzo-Soprano; Carrie-Ann Matheson, Piano; Paul Appleby, Tenor; Bénédicte Jourdois, Piano; Eugene Chan, Baritone; John Churchwell, Piano.

Special Guest Artists are soprano Christine Brewer and Craig Rutenberg on piano.

Benefit tickets are $750 each and include a seat at the Pre-Concert Dinner, Concert, and Cast Party. Tables Dinner program includes a discussion with Marilyn Horne.

This event directly supports the education initiatives of Carnegie Hall's Weill Music Institute.

Sunday, January 23, 2011 at Carnegie Hall in New York City.


SPREADING THE WORD


LA THEATRE WORKS: THE REAL DR. STRANGELOVE comes to Appalachian State with a star-studded cast. This show explores the fractionated relationship between Edward Teller, one of America's most respected scientists who advocated for developing the H-Bomb, and J. Robert Oppenheimer, the father of the atom bomb.

The Real Dr. Strangelove presents the tumultuous relationship between two of the most brilliant scientists in America during a time when curiosity in nuclear weapons was too strong to ignore, and before anyone could even guess the impact it would have on our world. In this fully-staged production of a radio play, we witness the plan to widen America's nuclear armory, which ultimately set our country on the path to becoming the strongest military nation on the planet - and living with the consequences.

Leading the outstanding cast in this performance will be television and film actor John Getz as Oppenheimer. He is featured in the 2010 film The Social Network and is a veteran of dozens of television shows. Opposite Getz, esteemed stage actor John Vickery will play Teller. Vickery was the original Scar in The Lion King on Broadway and is well known to TV audiences from his work on Star Trek and Babylon 5. He is also the voice of Lucifer in the wildly popular video game Dante's Inferno.

Also in the cast are Michael Canavan, Geoffrey Wade, Kyle Colerider-Krugh, Diane Adair and Peter McDonald. The Real Dr. Strangelovr: Edward Teller and the Battle for the H-Bomb performed by radio theatre company, LA Theatre Works on Saturday, January 22, 2011 at the Farthing Auditorium, Appalachian State University in Boone, North Carolina.

A CONVERSATION WITH NORA EPHRON Film director, screenwriter, author and journalist Nora Ephron has been called "a smart, funny lady who makes smart, funny movies." After becoming one of the industry's most respected screenwriters, Nora Ephron turned to directing with her first feature, This is My Life. She followed it with her second picture, Sleepless in Seattle. Now with I Remember Nothing, she takes a cold, hard, and humorous look at her life thus far.

Followed by an audience Q&A.

Monday, January 24 at the State Theatre in New Brunswick, NJ.

THE GREAT GAME: AFGHANISTAN USA TOUR which played to audiences totaling over 48,000, will play to Pentagon personnel in two performances on February 10-11 at the Shakespeare Theater at the Sidney Harman Hall, Washington, DC, according to Kilburn's Tricycle Theatre in London.

"After the resounding success of The Great Game: Afghanistan USA Tour, David General Petraeus, the American commander of ISAF forces in Afghanistan, said in the Evening Standard it was 'encouraging' that the plays had 'educated audiences to such an extent that they experience an epiphany in their understanding about the nature of our mission in Afghanistan,' said the Tricycle which ranks as Britain's leading political playhouse and nurtured this production.

The cast includes: Cast: Daniel Betts, Sheena Bhattessa, Michael Cochrane, Karl Davies, Vincent Ebrahim, Nabil Elouahabi, Shereen Martineau, Tom McKay, Daniel Rabin, Danny Rahim, Raad Rawi, Jemma Redgrave, Cloudia Swann, Rick Warden.

The Great Game, is a series of plays, interspersed with extracts from interviews, covering 150 years of Afghan history - the Anglo-Afghan wars of the 19th century, the Soviet occupation of the country, US support for the mujahideen fighters, and the rise of the Taliban. ( See Broadway To Vegas column of September 12, 2010 )


OTHER PEOPLE'S MONEY


EVA LONGORIA is alleged to have violated California usury laws in a lawsuit filed last Monday in Los Angeles County Superior Court. The Desperate Housewives co-star is being sued for at least $4 million over her financially troubled Las Vegas nightclub at CityCenter on the Strip by a former partner in the Beso club, Mali Nachum.

Nachum states that Longoria invested $1 million of her own money into the business in exchange for yearly payments of 8 percent and a 23.33 percent stake in the company, while Nachum and fellow investor Jonas Lawrence's owners' equity in Beso would reflect Longoria's heightened share.

However, Nachum discovered the loan agreement violated California's usury law. According to the law, Longoria isn't entitled to the 8 percent plus the 23.33 percent. Nachum is demanding that the actress return any interest she has received so far, which is estimated at $4.6 million.

Longoria's spokesman denies the accusations in a statement.

"This is a desperate reaction in a lawsuit without merit by prior partners who, through their unauthorized and fraudulent actions, required Eva Longoria to seek reorganization protection through bankruptcy court in Nevada."


TOURING BROADWAY HAS ECONOMIC IMPACT


The Broadway League has released the latest National Economic Report for Broadway shows that toured the USA for the 2008-2009 season. Released every four years, the report measures the full economic impact of Touring Broadway to the metropolitan areas surrounding the cities that presented the shows, and the economic contribution of the Touring Broadway industry overall.

The analysis estimates the economic impact of Broadway touring shows on the metropolitan areas where they played for this season to be $3.35 billion.

"Touring Broadway adds to the quality of life in American cities, as well as their economic well being," notes The Broadway League's Executive Director, Charlotte St. Martin, "Moreover, we provide the funds that fuel many educational programs offered to the kids in America. Since our last report from the 2004-2005 season, we see that Broadway theatre has increased its impact by almost 17% and attendance has increased by 7%. We are happy to see that Broadway is alive and well in our country an that, coupled with New York City's numbers, we are entertaining over 25 million theatergoers annually and are creating an economic impact to our country of over $13.15 billion."

In the 2008-2009 season, there were approximately 40 Broadway touring shows traveling across the country, playing at 192 venues. Theatergoers who specifically came to an area to attend a tour spent $687.2 million on ancillary activities, such as dining and transportation, in addition to the $807.2 million spent to produce and run these tours in the places that presented them or in New York City, bringing the total direct spending due to Touring Broadway to $1.49 billion.

This money then generated another $1.86 billion in secondary rounds of spending so that the full economic contribution of Touring Broadway totaled $3.35 billion. From this money 87% ($2.9 billion) supported the communities that presented Broadway tours. On average, Broadway tours contributed an economic impact of 3.5 times the gross ticket sales to the local metropolitan area's economy.

Bottom Line: book a Broadway show.


HAPPY BIRTHDAY TO . . .


NEIL DIAMOND who celebrates his 70th birthday on January 24.

Diamond will be inducted into the Rock and Roll Hall of Fame in ceremonies in New York City on March 14th 2011.

In the meantime Diamond heads out on another tour beginning February 26 in New Zealand.

ROD STEWART celebrated his 66th birthday on January 10.

The father-to-be of another son expected to be born next month, announced on The Ellen DeGeneres Show that he has teamed with Stevie Nicks for a tour, which kicks off March 20 in Ft. Lauderdale, Fla.

CARY GRANT lest we forget the late actor, who was born January 18, 1904 in Bristol, England. Turner Classic Movies will celebrate his legacy by showing a selection of his films on Tuesday including Sylvia Scarlett, The Toast of New York, Bringing Up Baby, Gunga Din, Only Angels Have Wings, Night and Day and concluding with Cary Grant: A Class Apart documentary.

He started his career as a member of the Bob Pender stage troupe and traveled with the group to the United States as a stilt walker in 1920 at the age of 16, on a two-year tour of the country. Under his birth name of Archibald Leach he performed on the stage at The Muny in St. Louis, Missourii, in such shows as Irene (1931); Music in May (1931); Nina Rosa (1931);Rio Rita (1931); Street Singer (1931);The three Musketeers (1931); and Wonderful Night (1931).

As a super-star idol, Grant maintained a suite at the Dunes Hotel in Las Vegas.

In the last few years of his life, Grant undertook tours of the United States in a one-man show. It was called A Conversation with Cary Grant, in which he would show clips from his films and answer audience questions. Grant was preparing for a performance at the Adler Theater in Davenport, Iowa on the afternoon of November 29, 1986 when he sustained a cerebral hemorrhage. He died that night in St. Luke's Hospital.


STORK REPORT: CONGRATULATIONS TO . . .


OWEN WILSON AND JADE DUELL on the birth of their son last Friday. The little tike weighed in at 6 lbs, 13 oz and was born at his father's oceanfront home in Maui, Hawaii.

Mother is fine and father is ecstatic.

When Mom isn't giving birth she works as a federal air marshal. Pops is the actor last seen in the Little Fockers movies.



THE BREMEN TOWN MUSICIANS

A bronze statue by Gerhard Mercks depicting the Bremen Town Musicians located in Bremen, Germany. The statue was erected in 1953. Note the front hooves that have become shiny. Touching the front hooves is said to make wishes come true.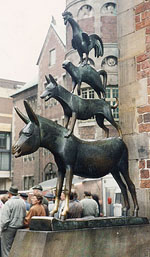 direct from Moscow, this family-friendly musical is adapted from, the enormously popular Societ cartoon based on the fairy tale by the Brothers Grimm.

In the story a donkey, a dog, a cat, and a rooster, all past their prime years in life and usefulness on their respective farms, were soon to be discarded or mistreated by their masters.

One by one they leave their homes and set out together. They decide to go to Breman, known for its freedom, to live without owners and become musicians.

On the way to Bremen, they see a lighted cottage; they look inside and see four robbers enjoying their ill-gotten gains.

Standing on each others backs, they decide to perform for the men in hope of gaining food.

Their 'music' has an unanticipated effect; the men run for their lives, not knowing what the strange sound is. The animals take possession of the house, eat a good meal, and settle in for the evening.

The story unfolds as the robbers return. Dramatic events happen in quick succession, but like all wonderful fairy tales, eventually the animals live happily every after. Making its American premiere, the production will be performed in Russian without an English translation.

Friday, January 21 and Saturday, January 22, 2011 at Brooklyn Center for the Performing Arts, Brooklyn, NY.

SINATRA: DANCE WITH ME the Twyla Tharp dance musical at Wynn Las Vegas, which is a much better production than when it played on Broadway as Come Fly Away, was set to close January 20, but has been extended through April 2 ( See Broadway To Vegas column of October 24, 2010 ).

DEATH OF A SALESMAN by Arthur Miller. Directed by Pam McKinnon.

Starring AMC's The Walking Dead, will play Willy Loman Winner of both the Pulitzer Prize and the Tony Award for Best Play, Death of a Salesman is a work of tremendous emotional impact and an unflinching examination of the American Dream that is as relevant today as the day it was written. After a lifetime as a traveling salesman, Willy Loman finds himself at the end of his career and at the end of his rope. As dreams of the past collide with visions of what might have been, Willy's wife and sons wage a desperate struggle to engage him in the present.

Jeffrey DeMunn will star in the iconic role of Willy Loman. Appearing with DeMunn are Jordan Baker (The Woman), Ben Diskant (Bernard), Jesse Jensen (Stanley), Robin Moseley (Linda), Tyler Pierce (Happy), John Procaccino (Charley), Deborah Radloff (Jenny, Letta), Lucas Caleb Rooney (Biff), Ryman Sneed (Miss Forsythe), Adrian Sparks (Uncle Ben) and Jonathan Spivey (Howard Wagner, 2nd Waiter).

The creative team features Marion Williams (Scenic Design), Mathew LeFebvre (Costume Design), Rui Rita (Lighting Design), Jeremy J. Lee (Sound Design) and Lavinia Henley (Stage Manager).

An Insight Seminar will take place on Monday, January 24. Insight Seminars are informal presentations of ideas and insights to enhance the theater-going experience. The seminars feature a panel selected from the artistic company of each production and take place in the theater where the production is performed. Reception, 6:30 p.m. Seminar, 7:00 p.m. Admission is free and reservations are not required.

Preview performances run January 22 - 26. Opening night is January 27 at the Old Globe Theatre in San Diego, CA.

THE 25th ANNUAL PUTMAN COUNTY SPELLING BEE Music and Lyrics by William Finn. Book by Rachel Sheinkin. Conceived by Rebecca Feldman. Additional Material by Jay Reiss.

A Tony Award-winning story of six quirky competitors and three oddball adults in search of spelling bee glory.

January 19 - February 13, 2011 at the Paper Mill Playhouse in Millburn, NJ.

THE CARPETBAGGER'S CHILDREN by Horton Foote. Directed by Mark Ramont.

In a series of charming, humorous and poignant vignettes, The Carpetbagger's Children weaves a captivating tapestry of family secrets, small-town life and private tragedies. At the center of the play are sisters Cornelia, Grace Ann and Sissie, daughters of a Union soldier who moved south after the war. The sisters' bonds are challenged as they seek to preserve the family's Texas plantation in an era of startling growth and change.

Washington favorites Nancy Robinette, Kimberly Schraf and Holly Twyford star in the Ford's Theatre premiere.

January 21-February 13, 2011. Ford's Theatre in Washington, DC.

PEEPSHOW welcomes reality television personality Angel Porrino to the role of Bo Peep in Tony Award winner Jerry Mitchell's Las Vegas production staged at the Planet Hollywood Resort and Casino. Porrino will appear in Peepshow Jan. 17-23; Jan. 31-Feb. 6; March 21-27; and March 28-April 3. The adult-themed, modern burlesque show also features Cheaza as the Peep Diva and Broadway's Josh Strickland as the lead male vocalist.

RITA RUDNER the delightfully intelligent funny lady has brought her topical performance to the Venetian Hotel in Las Vegas for an open ended run which began last night, January 15.

BLOOD FROM A STONE by Tommy Nohilly. Directed by Scott Elliott.

The dark family comedy stars Ethan Hawke, Natasha Lyonne and Daphne Rubin-Vega.

The cast also includes Gordon Clapp, Ann Dowd and Thomas Guiry.

The play is described as a "darkly comic portrayal of a troubled working-class family in New Britain, CT. Travis visits his parents home to check on his brother Matt and his mother, only to find himself sucked into intractable conflicts, and a whole household on the verge of implosion."

Clapp and Dowd play parents, Bill and Margaret; with Hawke and Guiry as their sons, Travis and Matt; and Lyonne as their daughter, Sarah. Rubin-Vega is cast as their neighbor, Yvette, who talks about the production.

on Set design by Derek McLane, costume design by Theresa Squire, lighting design by Jason Lyons, sound design by Bart Fasbender and special effects by Jeremy Chernick. Doug Paulson is dialect coach.

The production officially opened Off-Broadway January 12 at the Acorn Theatre, NYC.

FREUD'S LAST SESSION a new play by Mark St. Germain, suggested by the bestselling book The Question of God by Harvard's Dr. Armand M. Nicholi, Jr.

The production reopened on January 14th at the off-Broadway Marjorie S. Deane Little Theater in NYC. The Off-Broadway premiere engagement opened on July 22, 2010 to rave reviews and immediately became a sellout sensation. Due to a prior December booking commitment at the theatre, the limited engagement concluded performances as scheduled on November 28th. After the initial run continued to play to sellout houses in its final weeks, the producers made the decision to reopen the play as soon as the theatre would be once again available in January.

Freud's Last Session stars Mark H. Dold as C.S. Lewis and Martin Rayner as Sigmund Freud, under the direction of Tyler Marchant.

Freud's Last Session centers on legendary psychoanalyst Dr. Sigmund Freud, who invites the young, rising academic star C.S. Lewis to his home in London. Lewis, expecting to be called on the carpet for satirizing Freud in a recent book, soon realizes Freud has a much more significant agenda. On the day England enters World War II, Freud and Lewis clash on the existence of God, love, sex, and the meaning of life – just two weeks before Freud chooses to take his own. Not just a powerful debate, this is a profound and deeply touching play about two men who boldly addressed the greatest questions of all time.

Scenic design by Brian Prather, with costume design by Mark Mariani, lighting design by Clifton Taylor, and sound design by Beth Lake.

SCKBSTD a world premiere by multi-Grammy Award winning artist and Hampton Roads native Bruce Hornsby. Music and Lyrics by Hornsby with additional lyrics by Chip DeMatteo. Book by Clay McLeod Chapman.

Tony winner John Rando directs.

After a stranger moves into a small town and starts cruising the streets in his Dodge, the rumors fly.

Tony Award nominee Robert Cuccioli will play the title character. The cast will also feature Kevin Mambo, Jill Paice, William Parry, Marcus Lovett, Jayne Paterson, Brynn Williams, Riley Costello, Garrett Long, Rosa Curry, Karl Warden, Eugene Barry-Hill and Ken Cavett.

January 18-February 6 at Virginia Stage in Norfolk, VA.


WHO'S WHERE


ITZHAK PERLMAN the ultimate superstar violinist, beloved the world over for his virtuosity and humanity. In recital Tuesday, January 25, 2011 at the Walt Disney Concert Hall in Los Angeles.

VIC DAMONE presents A Time for Love What could be more inviting than Vic Damone, the epitome of elegance, lending his smooth and romantic baritone to an evening dedicated to exquisite love songs and the importance of bringing romance back into our lives, especially in times like these. His performance will be accompanied by a full orchestra conducted by Richard Hayman. Saturday, January 22, at the Kravis Center in Palm Beach, FL.

SMITHSONIAN JAZZ MASTERWORKS SEPTETON TOUR will delves into the late Johnny Hodges' brief but important artistic period from 1951 up until his rejoined the Duke Ellington Orchestra in 1955. Hodges was best known for his long association with the Ellington Orchestra as a much-featured soloist on many of the classic Ellington recordings in the 1940s. They perform Saturday, January. 22; at the Johnson County Community College in Overland Park, KS. On Sunday, January 24 they bring the show to Iowa State University in Ames, IA.

JORGE DREXLER Often rooted in Uruguayan melodies, Jorge Drexler's distinctive songs - which include the Oscar-winning Al otro lado del rio, written for the movie The Motorcycle Diaries - have found an international audience. The Program: Jorge Drexler, Guitar and Vocals. Borja Barrueta, Drums and Lap Steel Guitar. Sebastián Merlín, Percussion, Marimba, and Guitar. Matías Cella, Bass and Ukulele. Carlos Campón, Theremin and Lap Steel Guitar. Saturday, January 22, Carnegie Hall in New York City.

ROBERT PLANT performs Tuesday, January 18, at the Thomas Wolfe Auditorium in Asheville, NC. On Wednesday the show is at the Petersen Event Center in Pittsburgh. Friday he's on stage at the Hill Auditorium in Ann Arbor, MI. On Saturday he opens a two nighter at the Sony Centre for the Performing Arts in Toronto, ON.

USHER is in France with a performance Tuesday at the Halle Tony Garnier in Lyon. On Thursday he's in the spotlight at Le Dome in Marseille.

OZZY OSBOURNE will be tearing up the stage Tuesday, January 18, at the Toyota Center in Houston. On Thursday he brings his energy to the American Airlines Center in Dallas. Saturday's Scream Tour performance is at the Sprint Center in Kansas City.

TERRI WHITE who stared in Finian's Rainbow, 2009-2010, at the St. James Theatre, and just finished doing Chicago, at the Ambassador Theatre, brings her one woman Cabaret show to Feinsteins at Lowes Regency in NYC January 16 and 30th to kick off the Broadway Series.




FINAL OVATION


MARGARET WHITING American pop singer who served as head of the Johnny Mercer Foundation, died January 10 at the Lillian Booth Nursing Hime, part of the Actors' Fund Home in Englewood, NJ. She was 86.

Born in Detroit, the daughter of famous composer Richard A. Whiting began singing at an early age and enjoyed a musical career which spanned decades .

Songwriter Johnny Mercer, a collaborator with her father, became her mentor after the death of her father. When Mercer started Capitol Records in 1942, he signed Margaret, who was still a teenage.

In 1997 Whiting starred on Broadway in the Johnny Mercer revue Dream.

The singer was married four times. She wed producer Hubbel Robinson Jr. on December 29, 1948 and they divorced August 18, 1949; pianist Lou Busch, known as Joe Fingers Carr in 1951 by whom she had a daughter, Deborah; John Richard Moore, a founder of Panavision, became husband number three in 1958 and her last marriage was in 1994 to the 20-years her junior, gay porn star Jack Wrangler, a union which lasted until his death from emphysema in April, 2009. She is survived by her daughter Debbi Whiting.

DAVID NELSON who starred on the popular television series The Adventure of Ozzie and Harriet died on January 11, 2011 in Century City, California of complications from colon cancer. He was 74.

The American actor, director and producer was the son of Ozzie Nelson and singer Harriet Hilliard and the older brother of late singer Ricky Nelson.

The Adventures of Ozzie and Harriett began on radio in 1952 as Here Come the Nelsons, then ran for 320 episodes on TV from 1952 to 1966 as The Adventures of Ozzie and Harriet with story lines frequently taken from the stars' own lives.

Singer Gunnar Nelson, a son of Rick Nelson, issued a statement Wednesday, saying his uncle's death was "a great loss to the Nelson family."

"We will all miss Uncle Dave's laughter and evolved sense of humor," Gunnar Nelson said.

"The Adventures of Ozzie and Harriet" was shot in the Nelson family home in the Hollywood foothills, which remains a popular attraction for visitors on Hollywood celebrity bus tours.

For his contribution to the motion picture industry, David Nelson has a star on the Hollywood Walk of Fame.

He is survived by his wife, Yvonne; four sons and a daughter; and seven grandchildren. A service was held Thursday at Pierce Brothers Westwood Mortuary.

ELLEN STEWART the founder of the off-Broadway Manhattan theatre complex La MaMa, E.T.C. (short for Experimental Theatre Club), and one of the pivotal forces in the creation of the Off-Off-Broadway movement, died January 13 at New York's Beth Israel Hospital after an extended illness. extended illness. She was 91.

Ms. Stewart founded La MaMa in 1961, and stayed at the helm until her death. The company was noted for nurturing talent including playwrights Sam Shepard, Tom Eyen, William Hoffman, Lanford Wilson, Adrienne Kennedy, Rochelle Owens, Jeff Weiss, Harvey Fierstein and Jean Claude Van Itallie; directors Robert Wilson, Julie Bovasso, Tom O'Horgan, Richard Foreman, Wilford Leach and Meredith Monk; performance artists like John Kelly and Blue Man Group; and actors Al Pacino, Robert De Niro and Harvey Keitel.

The musical Godspell, which moved to Off-Broadway in 1971, began at La MaMa, and Fierstein's Torch Song Trilogy was developed there. According to the American Theatre Wing, her influence in the New York theatre world was so profound that, in 1993, she was inducted into the Broadway Theatre Hall of Fame, the first Off-Off-Broadway Producer to be so honored.

La MaMa has been honored with over 30 Obie Awards, and dozens of Drama Desk Awards, Bessie Awards and Villager Awards.

In 1985, the MacArthur Foundation awarded her Genius Grant. She used the money to buy a former monastery in Umbria, Italy, and turned it into an international theatre center.

She was preceded in death by her son Larry Hovell, who died in 1998.She is survived by an adopted son, Duk Hyung Yoo, and eight grandchildren.

SISTER ROSEMARY LYNCH a peace activist who gained widespread publicity when she protested with Martin Sheen against the Nevada Test Site, died January 9, 2011 from injuries sustained - a concussion, internal bleeding and fractures - January 5 when she was struck by car while taking a walk. She was 93. (For commentary on her death click here )

SUSANNAH YORK who was nominated for a best supporting actress Oscar for her role in the 1969 film They Shoot Horses, Don't They? and won a Bafta for the same role died from cancer on January 15, 2011 six days after her 72nd birthday.

The British actress graduated from the Royal Academy of Dramatic Art in 1958, winning the Ronson Award for most promising student.

The film, stage and television actress was also a book author.

In 1972, she won the Best Actress award at the Cannes Film Festival for her role in Images.

Her stage appearances included a 1978 role at the New End Theatre in London in The Singular Life of Albert Nobbs The following year, she appeared in Paris, speaking French in Appearances, by Henry James. York played in For no good Reason,. and appeared in the UK tour of The Wings of the Dove, and continued performing her internationally well received solo show, The Loves of Shakespeare's Women. In 2008, she played the part of Nelly in an adaptation of Wuthering Heights. In 2009 she returned to The New End Theatre to star in The Tennessee Williams Triple Bill.

In 1960, York married Michael Wells, with whom she had two children. They divorced in 1976. She is survived by her son Orlando Wells and daughter Sasha and a grandchild, Rafferty.






Next Column: January 23, 2011
Copyright: January 16, 2011. All Rights Reserved. Reviews, Interviews, Commentary, Photographs or Graphics from any Broadway To Vegas (TM) columns may not be published, broadcast, rewritten, utilized as leads, or used in any manner without permission, compensation and/or credit.
Link to Main Page
---
Laura Deni



For the snail mail address, please E-mail your request.
CLICK HERE FOR COMMENT SECTION