! >
Broadway To Vegas
  
 SHOW REVIEWS CELEBRITY INTERVIEWS GOSSIP NEWS

| | |
| --- | --- |
| | |
THE COSMOPOLITAN OPENS IN LAS VEGAS - - COME SEE THE CHANDELIER - - SPIDER-MAN DELAYS BROADWAY OPENING - - DAVID HASSELHOFF AND JERRY SPRINGER ARE CAPTAIN HOOK IN PETER PAN - - THE WILLIAM STEINWAY DIARY - - FATE OF FALLEN CAMEL UNKNOWN - - DAME JUDI DENCH COMES OUT ON TOP - - BACKSTAGE DRAMA AT DRACULA - - DONATE . . . Scroll Down



CLICK HERE FOR COMMENT SECTION

Copyright: December 19, 2010
By: Laura Deni

NEW CHANDELIER OPENS ON THE LAST VEGAS STRIP
Cosmopolitan manages the difficult task of coming across as both elegant and friendly. Photo by: Laura Deni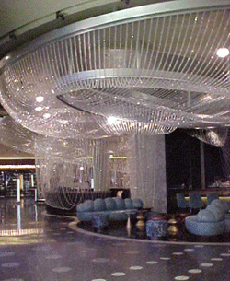 A Swarovski chandelier which actually covers a bar, appropriately called The Chandelier, opened last week in Las Vegas. The showcase display box housing the light fixture is called the Cosmopolitan Hotel - the $3.9 billion, new kid on the resort block.

It's not your run of the mill Vegas mega-resort.

Rather, it you took a New York City pied-à-terre and turned it into something to rival a penthouse that would be the Cosmopolitan.

Using a 8.7 acre plot of land some hotels might consider the right size for a parking lot, boutique Cosmopolitan has given notice they know how to think upwards and cutting edge, carving their own unique identity into a market which has been saturated with a bigger-is-better philosophy.

A mammoth three-story chandelier covering 20,000 square feet of seating at bars and lounges is the focal point.

This isn't simply a humongous chandelier hanging over a bar. Rather, this chandelier with two million Swarovski crystals is almost everywhere.

According to a hotel employee, officials from the Guinness Book of World Records have already examined the chandelier and certified it the Largest Vertical Extended Chandelier in the World. "I don't think they've announced it, yet. But, the Guinness people are going to be presenting the hotel with a certificate," said the employee who started working at the hotel six months before it opened.



Each crystal strand on this showpiece, which descends from one floor to the next, is attached to airplane steel and can hold 500 pounds. Photo by: Laura Deni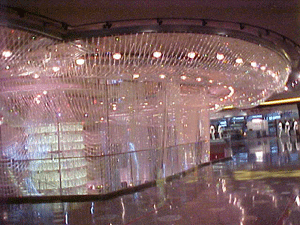 The tiered, 3-story Swarovski chandelier has to be photographed in sections and needs to be seen in person to be truly appreciated. Photo by: Laura Deni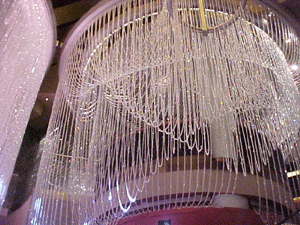 Because the chandelier is almost everywhere - layered, engulfing, draping - just a finger touch away - the issue of safety came to mind.

The draped bead strands come so close as you ride the escalator that it's very tempting to reach out and touch a strand - especially at one particular spot descending from the second to first floor.

Also, what would happen if one of those strands decided to come loose and hit a customer in the eye?

We decided to check that out and asked an official if they were concerned that somebody with too much to drink might try to grab a strand.

"We've taken care of that," a hotel official told Broadway To Vegas. "Each strand is attached to airplane steel and can hold 500 pounds." Then he added, "Besides, we'd have the person on camera."

That's a hint to anyone who thinks they can stage a fall from the escalator while trying to grab a bauble, and then sue for the big bucks - take your trade elsewhere, this place doesn't cater to nitwits.

Rather, the target audience seems to be intelligent, upwardly mobile clientele who know how to have fun without turning into idiots.



There are 2 million crystals in the tiered chandelier. Photo by: Laura Deni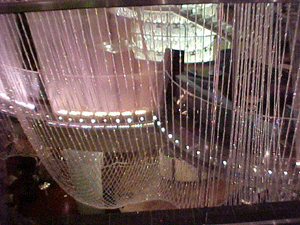 Every 3 days the chandelier receives a good dusting. Photo by: Laura Deni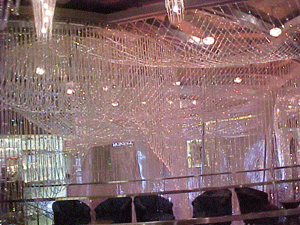 How does the hotel keep the strands clean, or do you just let the circulating air blow off some of the dust?

"We clean them," answered another official, explaining that a feather duster type of apparatus is used and, in a rotation system, "it's cleaned every three days."

Las Vegas is hoping the cool Cosmopolitan provides an economic boost to the local economy. However, to operate the new hotel needs to bring in as much money as the Bellagio.

Knowing there is the green stuff out there somewhere, the Cosmopolitan is offering a New Year's Eve one room, three nights deal for $5,600.



Harems haven't seen this many crystals. Photo by: Laura Deni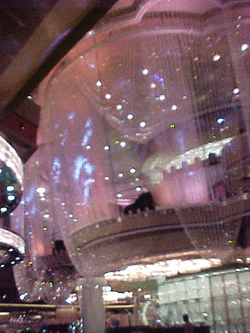 Book that David Rockwell designed standard room and, in addition a mint on your pillow, the hotel promises you an invite to the opening of the largest nightclub in the world, the New York brand Marquee, plus two tickets to the invitation-only Coldplay/Jay-Z concert and a $300 food and beverage credit for dinner for two on New Year's Eve, with brunch the next day.

If you're still hungry some of the country's top chefs now call the Cosmopolitan their workplace. The prestigious lineup includes: Blue Ribbon Sushi Bar & Grill by restaurateurs Bruce and Eric Bromberg; China Poblano and Jaleo, both by Chef José Andrés; Comme Ça by acclaimed Los Angeles Chef David Myers; international restaurateur Costas Spiliadis' Estiatorio Milos; Holsteins, an exciting new burger concept from Block 16 Hospitality; Scarpetta and D.O.C.G., both by award-winning chef Scott Conant; and popular steakhouse STK from The ONE Group.

If all that foods means you need a nap you can snooze in oversized, residential-style living spaces which begin at 730 square feet with expansive, one-of-a-kind private terraces on 2,200 of the resort's 2,995 rooms.

If you'd like to try your luck, there is a 100,000-square-foot casino with 1,479 slot machines - including a variety of penny slots - 83 table games and a race and sports book.



Inviting game and rest areas are on the 2nd Level.The whimsical large jack is for decorative purposes. Photo by: Laura Deni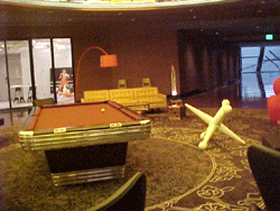 Other amenities include spas, pools, shopping, nightclubs and inviting rest and play areas. On the second floor, where most of the unique shops are located, there are two extremely comfortable and inviting sections when patrons can, among other things, play pool.

As for entertainment, this is not your grandfather's Vegas. There is no main showroom, rather stages and DJ booths in several locations on the casino floor. The goal - bring entertainment back into the gambling area.

One area in which the Cosmopolitan is a throw-back to the days when the mob ran the place is their pay-attention-to-the-customer approach. If level of employee courtesy I experienced is the norm and remains in place, then the Cosmopolitan will set the gold standard for customer service.

The resort was constructed by Arquitectonica, an international architecture, interior design and planning corporation headquartered in Miami with offices in 9 other cities. This is the firm which designed such famous buildings as the Atlantis Condominium, which was seen prominently in Miami Vice, the City of Dreams in Macao and the Westin Hotel and entertainment complex in New York City.

The firm is noted for "sophisticated surface patterning and facade articulation. Arquitectonica's structures are bold in color and graphic in form and the firm has become famous for its signature style, a dramatic, expressive 'high tech' modernism."

And, of course, the impossible to miss chandelier which must have been what Robert Wright and George Forrest were fantasizing about when they penned Baubles, Bangles & Beads for the 1953 musical Kismet. A sultan's harem only dreams of being draped in so many beads.



Broadway To Vegas is supported through advertising and donations. Priority consideration is given to interview suggestions, news, press releases, etc from paid supporters. However, no paid supporters control, alter, edit, or in any way manipulate the content of this site. Your donation is appreciated. We accept PAYPAL. Thank you for your interest.



ART AND ABOUT


A GATEWAY TO THE 19th CENTURY: THE WILLIAM STEINWAY DIARY, 1861–1896

William Steinway, 1877 Photograph by William Kurtz, New York City Courtesy of Henry Z. Steinway Archive - The William Steinway Diary Project.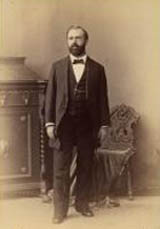 This exhibition showcases the diary of piano-innovator William Steinway (1835–1896), the first president of Steinway & Sons

Steinway was also a key figure in the cultural, economic, political and physical development of New York City.

Beginning eight days after the first shots of the Civil War were fired and three days before his wedding, Steinway's nine volume, 2,500-page diary spans 36 years and one of the most dynamic periods in American history.

Featuring Steinway family photographs, maps and advertisements, the exhibition follows this German American's growth from witness to participant in history.

The diary brings to life the fear and chaos of the 1863 Civil War Draft Riots and Steinway's hands-on role in the development of both the New York City subway and the company town of Steinway in western Queens.

The exhibition coincides with the release of an online edition of the Diary.

Opened December 17 and continues through April 8, 2011 at the Smithsonian's National Museum of American History in Washington, DC.


CHRISTMAS PAGEANT WISE MAN'S GIFT TURNED OUT TO BE A CAMEL FALLING INTO THE AUDIENCE - FATE OF ANIMAL UNKNOWN


If an actor keeps missing his mark he can find himself in another occupation - perhaps working in a store selling camel leather and suede boots, sporting goods and fashion accessories.

What happens to a camel who misses it's mark? Does it end up becoming a piece of luggage?

Finding a camel in your lap isn't what you expect when you go to church.

That was the attention getting situation students from Palm Beach Atlantic University found themselves in when they attended a rehearsal of Project Christmas pageant at the First Baptist Church in West Palm Beach, FL.

During a rehearsal of the Three Kings Procession segment. Lulubelle, one of the camels carrying an actor portrayed one of the three kings, was signaled by her trainer to fold into a sitting position, referred to as "cushing," to allow one of the kings to dismount.

However, the 1,000 pound animal seemed to have been startled, and instead stood up quickly and lost her balance, resulting in her tumbling sideways into students who were seated in the front pews.

Several students who found the camel in their laps posted their account of what happened during the Thursday, December 8, 2010 rehearsal. Some students wrote that felt "a little sore."

According to an official site about camels the animals, camels are: "Docile and sweet under a caring hand, but stubborn and angry if ill treated, the camel both wins your heart and your respect."

Lulubelle is no longer performing in the show. Pastor Chuck Lewis told WPBF 25 News that Lulu's front knee had been sore, and cited that as a reason she lost her balance.

The camel is owned by Animals in Motion of Citra, Florida. The organization trains and transports animals for movies. television shows, commercials and - Christmas pageants.

Broadway To Vegas became concerned as to whether any insurance carrier would now permit this animal to be included in a liability policy, thus possibly throwing the animal into the unemployment line.

Messages left by Broadway To Vegas with Animals in Motion, asking about veterinary care given to their animals and inquiring what happens to the animals when they are no longer able to perform were not returned.


BACKSTAGE DRAMA AT OFF-BROADWAY'S DRACULA RIVALS ANYTHING ON STAGE
Thora Birch in a 2006 file photo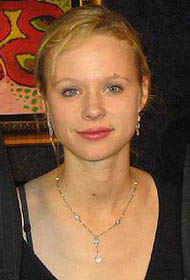 A backstage father who starred in porn films. His daughter, an actress, whose mother was one of the most famous porn stars of all time. A respected director and Tony award winning stars. Fanny patting and threats. Thrust into the spotlight - two daughters of the famous.

The real life Off-Broadway drama tops the storyline in the revival of Bram Stoker's Dracula at the Little Shubert, where all the backstage intrigue took place.

Thora Birch is the daughter of Jack Birch and Carol Conners - she of Deep Throat fame. They named their daughter Thora because she turned out to be a girl, rather than the boy they thought they were expecting, and would have name Thor, the God of the Sky and of Thunder. They also had a son which they named Kian Bolt.

Thora's breakthrough role was in the movie American Beauty where she briefly appeared topless. Because she was only 16 at the time she made the film, her father had to approve her being photographed topless.

In this off-Broadway production Thora would have been her making her New York stage debut, cast as the female lead of Lucy Steward, the love interest of Count Dracula.

Her father had a habit of attending rehearsals and apparently didn't approve of director Paul Alexander having an actor rub his daughter's backside in a scene.

With that set of circumstances why would anybody have thought this production would placidly play out?

Where the warring sides differ:

One side says Daddy Birch ordered the actor to disobey the director's instructions and threatened him if he touched his daughter again. The other side says that no threats were made.

What ended the ruckus was Thora being fired and ordered to immediately leave the theater - and to take her father with her. That took place four days before the first performance.

Director Alexander praised Thora and stressed that the firing had nothing to do with her acting ability. In an interview with ABC News he said; "I had to let her go for the safety of my cast and crew."

Thora, whose acting career has been applauded by many, was quoted in The New York Times as being "in a state of shock" over her dismissal.

Emily Bridges the daughter of actor Beau Bridges and niece of Oscar winner Jeff, and Katharine Luckinbill, the daughter of actors Lucie Arnaz and Lawrence Lucklinbill and the granddaughter of Lucille Ball and Dezi Arnaz, are also in the production, with Emily also serving as Thora's understudy.

In a musical chairs role change, understudy Emily Bridges who was playing the role of Miss Wells, takes over as Lucy. The part of Miss Wells was assumed by Katharine Luckinbill. Dracula marks the New York stage debut of both Bridges and Luckinbill.

The cast also features two-time Tony Award winner George Hearn, Tony nominee Timothy Jerome, Jake Silbermann, John Buffalo Mailer, and Rob O'Hare. Dracula is being played by Michel Altieri, an Italian award winner actor who is making his American stage debut.

The staging features scenic design by Dana Kenn, lighting design by Brian Nason and costume design by Willa Kim.

Currently in previews, the official opening is January 5, 2011 at the Little Shubert Theatre.


SWEET CHARITY


CABRILLO 2010 HOLIDAY SPECTACULAR STARRING SHIRLEY JONES & PATRICK CASSIDY is the theatre's fourth consecutive year of providing holiday entertainment to military service families. A star-studded gathering of Cabrillo stars past and present will join stars Shirley Jones and Patrick Cassidy in the event directed by Cheryl Baxter at the 1,800-seat Fred Kavli Theatre at the Civic Arts Plaza in Thousand Oaks, CA.

Along with Jones and Cassidy, cast members include many Cabrillo veterans: Shannon Warne, Cassie Silva, Dion Mial, Jeffrey Scott Parsons, Farley Cadena, and Derek Klena. In all, 30 performers will take the stage, along with the 16-piece Cabrillo Music Theatre Orchestra, to bring entertainment to the troops and the public.

While members of the military will be attending all six performances, the evening performance on Wednesday, December 22, is dedicated to Military Night. A special pre-show presentation will feature a salute to the military, and an address from the Mayor of Thousand Oaks. "Over a thousand members of the U.S. military, will join us at the Kavli Theatre to enjoy a dazzling entertainment of song and dance. With Shirley Jones, Patrick Cassidy, a chorus line of high-kicking dancers, and the very best of Cabrillo's talented family, The Spectacular promises to live up to its name!" remarked Carole W. Nussbaum, Cabrillo's President and Chief Executive Officer.

Directing and choreographing is Cheryl Baxter, who began her choreography career assisting Gene Kelly. Dan Redfeld will serve as Musical Director and lead the Cabrillo Music Theatre Orchestra.

3RD ANNUAL HOLIDAY CONCERT AND SING-A-LONG at the Bay Street Theatre in Sag Harbor, New York. Join Broadway Irish Tenor Ciaran Sheehan accompanied by Brenda Landrum for a holiday concert and sing-a-long! Admission is free to the public with a canned good donation for the food pantry. Tuesday, December 21.


SPREADING THE WORD


SPIDER-MAN TURN OFF THE DARK has announced that the official opening will once again be delayed. The new - maybe - opening is set for February 7, rather than the previously announced January 11, 2011.

That means that Spider-Man: Turn Off The Dark could end up in the Guinness Book of World Records as the Broadway production to run the longest in previews. Or, maybe Spider-Man will never officially open and just keep up the preview posture, which does put a partial, but ineffective, gag on the critics.

"It has become clear that we need to give the team more time to fully execute their vision," lead producer Michael Cohl said in a statement. The reason circulating for the latest push back is so re-writes can take place and Bono and the Edge can return from their Australian tour, which wraps this evening, and take a look at the score. ( See Broadway To Vegas column of December 5, 2010 )

Meanwhile Spider-Man has welcomed the return of Natalie Mendoza to the cast last Wednesday. Mendoza plays the villainous spider Arachne. She suffered a concussion during the first preview of the musical when, standing offstage, she was hit on the head by a rope that was holding a piece of the production's equipment. Spider-Man: Turn off the Dark is currently in previews at the Foxwoods Theatre in NYC. UPDATE a Spider-Man stunt double was injured, due possibly to a cable snapping, during the Monday, December 20th performance. He was transported to Bellevue hospital. The performance was halted.

A BRIEF HISTORY OF TIME the Stephen Hawking's popular science bestseller which deals with black holes, physics and the nature of the universe, will be turned into an opera for the Met according to Radio France.

The person who spilled the beans was Argentine-born Canadian author Alberto Manguel. According to The Montreal Gazette Manguel is the author of the libretto and Robert Lepage and Osvaldo Golijov are his collaborators.

The Met will only confirm that they have commissioned an opera from Osvaldo Golijov, with a projected premiere to take place in 2014.

The India Times referred to the commission as a joint project between the Met and Lincoln Center.

LOMBARDI! about footfall great Vince Lombardi, currently at Broadway's Circle in the Square, had Hall of Fame former football player Paul Hornung show up to check out how he was portrayed on stage by Bill Dawes. Hornung attended the matinee production on December 12 and then went backstage afterwards to congratulate the cast on scoring their own performance touchdown.

Hornung was a member of the Green Bay Packers from 1957-66. He took home the 1956 Heisman trophy prior to debuting with the Packers, with whom he would go on to win four league championships. Over the course of his career, he would be selected to the Pro Bowl two times and was named the NFL MVP of 1961.

In what sounds like a busman's holiday, today, December 29, the cast of Lombardi, including stars Dan Lauria and Judith Light, intend to be at The Stadium Grill at Bowlmor Lanes in Times Square to watch the Green Bay Packers take on the New England Patriots.

PLAYWRIGHTS HORIZON in New York City has announced that it has commissioned Far From Heaven, a new musical with book by Tony Award winner and two-time Pulitzer Prize finalist Richard Greenberg, music by Tony Award nominee Scott Frankel and lyrics by Tony Award nominee Michael Korie. The musical is being adapted from the acclaimed, award-winning 2002 Focus Features/Vulcan Productions motion picture Far From Heaven, written and directed by Todd Haynes.

Far From Heaven tells the story of Cathy Whitaker, a 1950s housewife living in suburban Hartford who watches as her seemingly perfect life begin to fall apart.

The project has been commissioned under the auspices of the Playwrights Horizons Musicals in Partnership Initiative, which was created through a visionary grant by the Andrew W. Mellon Foundation. The program allows Playwrights Horizons to develop new works of musical theater, each in partnership with a Regional theater – wholly within the not-for-profit system. This seven-year program aims to commission at least four new works of musical theater and develop and produce three or four full-scale productions. Each of the three musicals will be produced at both one specific Regional partner and at Playwrights Horizons.

WICKED which is flying into the Lyric Theatre in Brisbane, Australia has taken a trip to the beach.

While most people in American are freezing, in Australia it's summer.

The creative people at Wicked are taking advantage of the beach scene. Throughout the months of December and January Wicked, in conjunction with Volvo Car Australia, is hitting Queensland beaches.

Wicked teams in the two Wicked branded Volvos are giving away Wicked goodies such as Frisbees, Tattoos and lolly pops.

Surf and sand lovers may even get the chance to have some fun with the Giant Wicked and Volvo Beach Ball.

Wicked opens January 11, 2011 in Brisbane's Lyric Theatre.


OTHER PEOPLE'S MONEY


THE ESTATE OF MICHAEL JACKSON owes the state of California $131,000 in tax penalties according to the states Franchise Tax Board who had a change of heart and decided the $1,647.24 they originally requested last March wasn't sufficient.

The state amended its claims on Friday, December 10, 2011 to include $131,544 in interest and penalties that it says the estate owes for the 2009 tax year. The late singer's estate indicated they will evaluate the claims before deciding whether to pay them.

HOCUS POCUS MONEY last Friday, December 17, 2010, the United States Bankruptcy Court in Las Vegas held a Notice of Sale of Debtors Property auction of seized magical equipment which had belonged to financially beleaguered illusionist Steve Wyrick.

Sold as one lot, with the opening bid of $150,000, telephone bids were permitted.

Just a few of the items in the one lot ranged from a laundry cart to two motorcycles and a Lear jet shell with hydraulics.There were black masking curtains, and fiber optic curtains, assorted used costumes, two scaffolding tricks, a levitation bar and a death drop illusion. Unfortunately, it's no illusion when a Bankruptcy Court makes an act disappear.

Wyrick a recipient of the prestigious Merlin Award as Magician of the Year for the International Magician's Society, the world's largest magic organization, headlined Las Vegas showrooms for over a decade. He voluntarily filed for Chapter 7 bankruptcy liquidation last May. He listed liabilities of $54.355 million.

PLASTIC MONEY If anybody goes - Hey buddy, wanna buy some $25,000 casino chips? - pass and get your Las Vegas mementoes elsewhere. The guy wearing the motorcycle helmet who jogged off with over $1 million in Bellagio Hotel casino chips is going to have a tough time trying to unload those plastic souvenirs.






DAME JUDI DENCH

Dame Judi Dench topped the list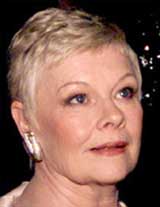 has been named the greatest stage actor of all time in a poll compiled by The Stage a weekly British industry newspaper founded in 1880 and is still owned and run by the Comerford family.

A selection of industry experts were asked to suggest their favorite 10 actors and readers were then invited to vote on their faves. It's the first time the publication has conducted such a poll.

Joining Dench on the list are: Dame Maggie Smith - second place
Mark Rylance - the youngest actor in the list - third place.
Sir Ian McKellen - fourth place
Laurence Olivier - fifth place
Paul Scofield - sixth place
Sir John Gielgud - seventh place
Sir Michael Gambon - eighth place
Vanessa Redgrave - ninth place
Sir Ralph Richardson - tenth place.

Alistair Smith, deputy editor of the magazine, said: "This is the first time that The Stage has run an event like this in its 130-year history. We have long been the publication for all those who work in the theatre industry and our hunt for the greatest stage actor of all time has celebrated the huge range of talent with which our stages have long been blessed.

"Any search like this will be subjective - and does somewhat favor the living performers in the shortlist - but Judi Dench is a very worthy winner and also topped our experts' top ten."

NEWLY NAMED ROCK AND ROLL HALL OF FAME INDUCTEES are Neil Diamond, Alice Cooper, singer-songwriter Tom Waits, Darlene Love and singer Dr John.

Also being inducted this year as individual recipients of the Ahmet Ertegun Award are Jac Holzman and Art Rupe. The Rock and Roll Hall of Fame Award for Recording Excellence (previously the Sidemen category) will be presented to Leon Russell.

The inductions and presentations will take place at the Waldorf Astoria in New York City on March 14, 2011.

2010 JOE A. CALLAWAY AWARD WINNERS have been announced by Actors' Equity Foundation. They are Lily Rabe and Matthew Rauch and Charles Kimbrough is the recipient of its St. Clair Bayfield Award.

Rabe was recognized for her performance as Portia in Shakespeare's The Merchant of Venice, the Public Theater production which originated in Central Park and then moved to Broadway. Rauch received the award for his performance as Bosola in the Red Bull Theater production of John Webster's 17th century masterpiece, The Duchess of Malfi, performed at the Theatre at St. Clement's.

The award was established by Equity member Joe A. Callaway to encourage participation in the classics and non-profit theatre and honors the best performance in a professional production of a classic play (one written prior to 1920) in the New York metropolitan area. It includes a $1,000 check plus an engraved plaque for each recipient.

Kimbrough was awarded the annual St. Clair Bayfield Award for his performance as the Prince of Arragon on Broadway in the Public Theater's Broadway production of Shakespeare's The Merchant of Venice.

The award, which was established in 1973 in memory of Equity member St. Clair Bayfield, honors the best performance in a supporting role by an actor in a Shakespearean play in the New York metropolitan area. All three recipient receives a $1,000 check and a crystal plaque.

The three awards will be presented at Equity's Eastern Regional Membership Meeting January 7, 2011 at the Equity offices in Manhattan.

2010 CALIFORNIA HALL OF FAME INDUCTEES

Barbra Streisand was one of those inducted into the California Hall of Fame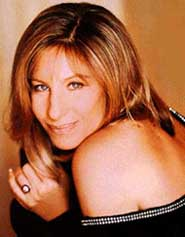 were formally inducted in a event held Tuesday, December 14, at the California Museum for History, Women and the Arts in Sacramento.

Gov. Arnold Schwarzenegger served as master of ceremonies.

The 14 newly minted members are: Barbra Streisand; Serena Williams who was on crutches; director James Cameron; Mark Zuckerberg, founder of the social networking site Facebook; legendary venture capitalist John Doerr; Gov. Edmund G. "Pat" Brown; country legend Merle Haggard; Betty White; Sacramento-based artist Wayne Thiebaud; the late A.P. Giannini, who built the Bank of America; writer Anne Lamott; historian Kevin Starr; legendary 19th century clothier Levi Strauss; and former U.S. Secretary of State George Shultz who turned 90 was surprised when Gov. Schwarzenegger presented him with a birthday cake.

Among those attending the event were former California Assembly Speaker Willie Brown, former Gov. Gray Davis and actor-director Clint Eastwood, who was inducted into the Hall of Fame in 2006.






DAVID HASSELHOFF AND JERRY SPRINGER alternate starring as Captain Hook in the Peter Pan panto at the Edwardian built New Wimbledon Theatre in London This is the biggest pantomime cast to date to celebrate the theatre's 100th birthday.

Louie Spence who stars as a very camp, cabin boy, Roger, has impressed with his backflips.

Hasselhoff is making his pantomime debut in the swashbuckling family show.

While Hasselhoff and Springer alternate the role, it is Hasselhoff and Spence images which adorn the promotional poster. The Hasselhoff photo has him appearing to be in his 20s. On stage the Captain Hook make-up is such that the age defying promo is irrelevant.

Springer has previously appeared on stage as Billy Flynn in Chicago, playing the role in the West End and on Broadway. In addition, he performed in the musical on its U.S. tour. He is perhaps best known for his talk show, The Jerry Springer Show, now celebrating 20 seasons on the air.

Springer performs from December 31 - January 8 as well as January 13-14. Hasselhoff began previews of the show and will continue with the production through December 30, and return for performances January 8-12 and January 15-16. On December 18-19 Jeremy Jackson stepped into the part for two performances.

The panto officially opened December 18 and runs through January 16, 2011.

MISS ABIGAIL'S GUIDE TO MATING, DATING & MARRIAGE Written by Ken Davenport and Sarah Saltzberg, based on Abigail Grotke's popular book - the comedy's namesake . Directed by Ken Davenport.

Starring Eve Plumb who was Jan Brady on The Brady Bunch, and Manuel Herrera. Plumb portrays Miss Abigail, the most sought-after relationship expert to the stars - think Dr. Ruth meets Emily Post - and in Miss Abigail's Guide..., she and her sexy sidekick Paco ( Manuel Herrera) travel the globe teaching her outrageously funny "how-tos" on dating, mating and marriage.

Miss Abigail takes you back to a simpler time, before booty calls and speed-dating, back when the divorce rate wasn't 50 percent and Fidelity was more than an investment firm. In this 90-minute comedy, "audiences are guaranteed to laugh-out-loud and learn a thing or two . . . like how to have a perfect kiss (it's all about lip position) . . . what you should and should not talk about on a date (don't mention your troll doll collection) . . . and how to let a man think he wears the pants."

Miss Abigail's Guide to Dating, Mating and Marriage features scenic design by Hilary Noxon, costume design by Abbi Stern and lighting design by Graham Kindred.

Performances at the Downstairs Cabaret Theater at Sofia's, , next to the Lunt-Fontanne Theatre in NYC.

DRIVING MISS DAISY has given theatergoers an early Christmas present. The production will extend with the original cast until April 9, 2011.

Originally James Earl Jones was set to drop off Vanessa Redgrave on January 29, 2011.

Producers of the play by Alfred Uhry said last Wednesday they are extending the show's run with Jones, Redgrave and Boyd Gaines.

In a joint statement the three stars said: "We're all having such a wonderful time with each other and with Alfred's play. We are delighted to be continuing."

The play which was turned into a movie by the same name, focuses on a headstrong Jewish widow and her deepening friendship with her African-American chauffeur. If you're lucky enough to get tickets, the production is at the Golden Theatre, NYC.

RICHARD SKIPPER AS 'CAROL CHANNING' IN CONCERT Skipper's critically-acclaimed show opens Off-Broadway, with performances set to begin December 22nd at St. Luke's Theatre. The official opening night will be Wednesday January 12th. The production will be directed by Mark Robert Gordon.

MAGICIAN JASON ANDREWS appears at The Magic Castle, in Hollywood, CA, December 20-26th. Three shows nightly in The Palace of Mystery. The Magic Castle will be closed on Christmas Eve and Christmas Day.

A FLEA IN HER EAR the 1907 farce by Georges Feydear, Translation by John Mortimer.

Directed by Richard Eyre.

A high speed comedy of errors starring Tom Hollander.

Eccentric and hilarious, Georges Feydeau's much loved comedy mixes madness, mayhem, fun and frivolity.

When the beautiful wife of Victor Chandebise suspects him of having an affair, she enlists the help of her dearest friend to entrap him. Their plan to entice him to a rendezvous at the Hotel Coq d'Or spectacularly misfires and chaos ensues.

Set in the decadent surroundings of Belle Epoque Paris, Feydeau's quintessential farce promises to be an exhilarating evening of mistaken identities and comic disaster.

The cast includes: Di Botcher, Oliver Cotton, Freddie Fox, Tom Hollander, Tim McMullan, William Maxwell, Maggie Service, Peter Cadden, William Findley, and Kirsten and Hazel Smith.

Set Designer - Rob Howell. Costume Designer - Sue Blane. Lighting - Mark Henderson. Music - Stephen Warbeck. Sound - Gregory Clarke. Casting - Maggie Lunn.

Originally performed by the National Theatre at The Old Vic in 1966, John Mortimer's translation of A Flea in Her Ear starred Albert Finney and was later revived in 1989 starring Jim Broadbent.

The production, which is receiving rave reviews, has performances through March 5, 2011 at The Old Vic in London.


WHO'S WHERE


JOHN WILLIAMS - THE GREATEST MOVIE MUSIC epic themes from the most famous film scores of all time. Introduced by special guest presenter Paul Gambaccini. John Rigby conducts the London Concert Orchestra in selections from E.T., J.F.K., Jaws, Star Wars, Superman, Far and Away, Harry Potter, Indiana Jones, Jurassic Park, Schindler's List, Close Encounters and Memoirs of a Geisha. Part of the Barbican's Christmas Festival 2010. December 27, 2010 at Barbican Hall in London.

LADY GAGA opens a two night stand today, December 19, at the Omnisports de Paris-Bercy in Paris, France. UPDATE on Sunday the concert was postponed due to snow.

JUSTIN BIEBER is at the BJCC Arena in Birmingham, AL on Tuesday, December 21. On Thursday the show is at the Philips Arena in Atlanta.

JIM BRICKMAN performs Tuesday, December 21, at the Orpheum Theatre in Memphis. On Wednesday he's in the spotlight at Whitney Hall in Louisville, KY. Thursday finds him starring at the Paramount Theatre in Aurora, IL.

SIR JAMES GALWAY on stage Tuesday, December 21, at the Cattedrale in Vincenza, Italy.

ROGER WATERS performs tonight, December 19, at the Palacio De Los Deportes in Mexico City and then returns to the venue for a Tuesday night gig.

USHER on stage Tuesday, December 21, at the TD Garden in Boston.

MICHAEL FEINSTEIN in the spotlight next Sunday, December 26, at the Kimmel Center in Philadelphia.




FINAL OVATION


BLAKE EDWARDS

Blake Edwards in The Tamarind Seed, 1974.
film director, screenwriter and husband of Julie Andrews, died Wednesday, December 15, 2010 at Saint John's Health Center in Santa Monica, CA. His wife and family were at his side. The cause of death was pneumonia.. He was 88.

The prolific director had a long and successful collaboration with Peter Sellers in six of the Pink Panther movies. Five of the those involved Edwards and Sellers in original material. Edwards also worked with Sellers on the film The Party. Edwards also directed Breakfast at Tiffany's with Audrey Hepburn and 10 with Dudley Moore and Bo Derek.

Edwards's second marriage in 1969 was to Julie Andrews. She appeared in a number of his films, including Darling Lil, 10, Victor Victoria and the autobiographical satire S.O.B.. in which Andrews played a character who was a caricature of herself. In 1995, Edwards wrote the book for the stage musical adaptation of Victor/Victoria, also starring Andrews.

According to his publicist Gene Schwam at the time of his death Edwards was working on two Broadway musicals, one based on the Pink Panther movies. The other, Big Rosemary, was to be an original comedy set during Prohibition.

A longtime painter, Edwards began sculpting in mid-life, and his bronze works in the style of Henry Moore drew critical praise in shows in Los Angeles and Bucks County, Pa.

Edwards is survived by his wife and five children. The two eldest, Jennifer and Geoffrey, are from his previous marriage to Patricia Walker; middle child Emma is from Andrews's first marriage to Tony Walton; and the youngest children, Amelia Leigh and Joanna Lynne were Vietnamese orphans adopted by Edwards and Andrews in the early 1970s. All of the children, except Joanna, have appeared in his movies. He is also survived by seven grandchildren, and two great grandchildren. A private memorial is planned and a public memorial will be scheduled in the new year.

DON VAN VLIET/CAPTAIN BEEFHEART musician and painter, best known by the stage name Captain Beefheart, died in a hospital in Northern California on December 17, 2010 of multiple sclerosis. He would have turned 70 next month..

His death was announced by the Michael Werner Gallery in New York. Van Vliet was "one of the most original recording artists of his time", the gallery said in a statement.

Artists like Tom Waits, Nick Cave, Franz Ferdinand, Oasis, Red Hot Chilli Peppers and The White Stripes are among those who have cited him as an influence.

In later years he concentrated painting, earning respect and high prices as an abstract expressionist whose work, like his music, is regarded as innovative. Eventually, multiple sclerosis made it impossible for him to either create music or paint.






Next Column: December 26, 2010
Copyright: December 19, 2010. All Rights Reserved. Reviews, Interviews, Commentary, Photographs or Graphics from any Broadway To Vegas (TM) columns may not be published, broadcast, rewritten, utilized as leads, or used in any manner without permission, compensation and/or credit.
Link to Main Page
---
Laura Deni



For the snail mail address, please E-mail your request.
CLICK HERE FOR COMMENT SECTION