! >
Broadway To Vegas
  
  REVIEWS  INTERVIEWS COMMENTARY NEWS

| | |
| --- | --- |
| | |
STAR TREK THEME PARK - - STAR TREK CONVENTION IN LAS VEGAS - - THE PHYLLIS DILLER GAG FILES - - 2011 FRINGE FESTIVAL PRODUCTIONS SELL OUT - - 14th ANNUAL OJAI PLAYWRIGHTS CONFERENCE - - CELEBRATING GILBERT AND SULLIVAN - - ENTER LAUGHING THE MUSICAL - - PRINCE ALBERT AND CHARLENE STEP OUT AT RED CROSS BALL - - DONATE . . . Scroll Down



STAR TREK THEME PARK
As a prince, King Abdullah II appeared on Star Trek. Photo: Getty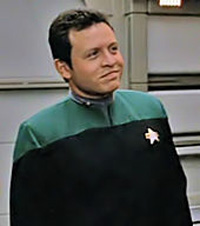 H.M. King Abdullah is the theme park's major investor. Photo: World Economic Forum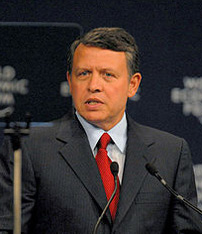 Never under-estimate the power of a fan - especially if he is king of a country with lots of oil.

King Abdullah II of Jordan is a Trekkie. A big time, serious Trekkie.

He has even been on been on board the starship USS Voyager. While still a prince he made a 7-second cameo appearance in the 1995 episode 35, titled Investigations of Star Trek: Voyager.

Clad in a green space suit, his scene called for him to walk out of the room. He didn't stumble.

He doesn't plan on stumbling with his latest Star Trek involvement - this time in a more substantial role - primary investor in a $1.5 billion Star Trek theme park and resort at the Red Sea port city of Aqaba.

Collaborating with King Abdullah on this are The Rubicon Group, Paramount Recreation and CBS.



Artist's rendering of the planned 184-acre Star Trek themed entertainment resort in Jordan. Image: Rubicon Group Holding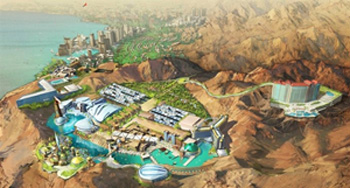 The Amman company Rubicon Group Holding, which makes animated films, issued a release last May stating it would design and produce the entertainment elements of the resort stating: "it will deliver a variety of multi-sensory 23rd- century futuristic experiences, culminating with a state-of-the art space-flight adventure that takes real-time immersive entertainment experiences to bold new heights."

Rubicon is not investing money in the project, but is partnering on the entertainment aspects of the resort.

The Star Trek-themed space-flight adventure will be created under license from CBS Consumer Products.

It will be "creatively developed" by Paramount Recreation, part of the Paramount group, Rubicon said in the May release. They emphasized that development of the resort will generate employment for more than 500 skilled workers.

The architectural firm Callison has the design contract, while the engineering firm Arup is behind the infrastructure.

With all of the legal details ironed out, the project of turning Jordan into a live long and prosper tourist attraction is set to boldly go forth.



William Shatner will be at the Las Vegas convention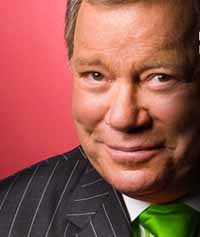 The 184-acre Star-Trek themed entertainment resort, The Red Sea Astrarium (TRSA) is due to be built by 2014.

The new Aqaba resort will include hotels, theaters, dining and shopping, and entertainment will be themed around the idea of Jordan as "a crossroads of civilizations," according to the Abu Dhabi-based newspaper The National.

To reach the break-even level the entire resort will only need 480,000 people a year to get beamed into the Trekkie intergalactic. Typical theme parks require millions of people to pass through in a year.

With those pesky wars causing tourism to drop by 14% in Jordan, the Trekkie King is hoping that Star Trek helps his country to live long and prosper.

King Abdullah is also reaching out to the movie industry in general. On September 20, 2006 he created the Red Sea Institute of Cinematic Arts in Aqaba, in partnership with the University of Southern California School of Cinematic Arts.

When the crew of Transformers: Revenge of the Fallen decided to film in Jordan, he called authorized the use of 38 military helicopters to help transport equipment into Petra.



Actor/artist Leonard Nimoy set to participate at the Las Vegas convention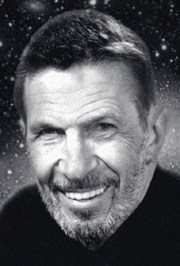 As for those who don't want to wait until the Jordan Star Trek theme park opens, the official Star Trek Convention Celebrating the 45th Anniversary of Star Trek takes place in Las Vegas at the Rio Hotel August 11-14.

Panel events will include Leonard Nimoy, William Shatner, Sir Patrick Stewart and Kate Mulgrew.

Singing and Star Trek star James Darren will make a convention appearance on Sunday plus perform in concert Saturday night at the Gala Celebration.

Over 50 Star Trek actors will be at the convention including two first timers.

Beaming up for their first Las Vegas convention gig will be Olivia d'Abo, who appeared in Star Trek: The Next Generation as Amanda Rogers, in the episode True Q.

Olivia is probably best known for playing Karen Arnold in The Wonder Years.

Also a first timer will be Yvonne Craig, who was Marta in the classic Star Trek episode Whom Gods Destroy. Yvonne is best known as Batgirl of the Batman TV series.



Broadway To Vegas is supported through advertising and donations. Priority consideration is given to interview suggestions, news, press releases, etc from paid supporters. However, no paid supporters control, alter, edit, or in any way manipulate the content of this site. Your donation is appreciated. We accept PAYPAL. Thank you for your interest.



ART AND ABOUT


HAVE YOU HEARD THE ONE...? THE PHYLLIS DILLER GAG FILES

Phyllis Diller in her stage garb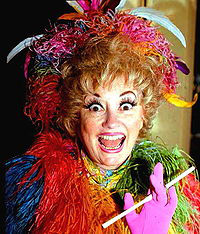 This may be a small display, but it's an important one. The gag file and costume pieces of Phyllis Diller, America's first female stand-up comic.

The gag file, a steel cabinet with 48 file-drawers containing more than 50,000 jokes and gags typewritten on index cards by Diller, documents the progression of her career.

Diller's performances ranged from USO troops in Vietnam to stage and television audiences across America. For decades she was a Las Vegas mainroom headliner. In addition to her comedic routines, she would devote part of her act to playing the piano. Diller was a skilled concert pianist having studied at the Sherwood Music Conservatory in Chicago.

She created a stage persona of a wild-haired, eccentrically-dressed housewife who makes jokes about a husband named "Fang" while pretending to smoke from a long cigarette holder. Diller's trademark is her unusual laugh. She pushed the boundaries and traditional values of the 1950s audience, in addition to breaking the gender barrier present in stand-up comedy at the time.

The objects on display, including such iconic pieces as Diller's wig, wrist-length gloves, ankle boots and bejeweled cigarette holder, are demonstrative of a talent and career that paved the way for future generations of female comics.

August 12 through November in the Albert H. Small Documents Gallery, Second Floor, East Wing of the National Museum of American History, Washington, DC.


2011 FRINGE FESTIVAL PRODUCTIONS SELL OUT OPENING NIGHT
Yeast Nation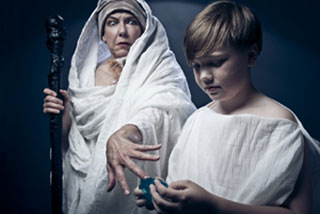 Thickets are only $15, so one might think that it's no big deal that several productions slated to debut at this year's NY international Fringe Festival have sold out their opening night.

It is a big deal.

Traditionally, those who attend the Fringe are a more casual ticket buying crowd.

Making sure they have an opening night ticket sends a message that there are some strong Fringe offerings which may have a performance future.

Top of the interest list - and the first to announce they sold out opening night - was Yeast Nation (The Triumph of Life) - a new musical by the Tony-winning creators of Urinetown, the wonderful satirical comedy musical with the terrible name, which first peed at the Fringe 12 years ago. The Yeast Nation sell out is the earliest a show has sold out in the 15-year history of the festival.

Yeast Nation has five performances at the Ellen Stewart Theater at LaMama ETC Venue #9 - August 13, 18, 21, 22, and 25.

Patrons are invited to: "Come with us to the year 3,000,458,000 B.C. and experience the world's first salt-eating yeasts as they float through creation in the brine of the primordial sea.

This dangerous and newly formed world is inhabited by the brave and tragic yeasts, all named Jan.

More concerned with survival than a complex naming system – the Jans must find a way to survive and build the foundation for the world we live in today.

The cast, led by Tony Award winning actress Harriet Harris, and director, Tony Award winning co-creator Greg Kotis, fearlessly answer the questions of creation, evolution, and our responsibility to our ancestors."

In addition to Harris, the production features Erik Altemus, Jennifer Blood, Rheaume Crenshaw, Rick Crom, Nick Gaswirth, Kimiko Glenn, Douglas Goodhart, Antwayn Hopper, Lauren Lebowitz, George McDaniel, Manu Narayan, Charlie Plummer, Sarah Sokolovic and Joy Soprano.

Choreography is by Wendy Seyb and musical direction by William Wade.

The Fringe production of Bella and the Pool Boy by Brooklyn's non-profit The Apothecary Theatre Company quickly stated that they, too, had an SRO opening night.

Bella and the Pool Boy centers around: "The death of William's beloved childhood dog Bella forces him back to his mother's house. As the family hysterically whirls out of control, can Bella ever rest in peace? Growing up is hard, but sometimes going home to NJ is harder."

Written by Dennis Flanagan and directed by Shawn Renfro.

The production features Curran Connor, Dennis Flanagan, Dina Ann Commoli, Megan Raye Manzi, Samantha Ivers, Carrie Watt, Gwynneth Bensen, and Alex Fanuele.

Performances slated for August 13, 15, 20, 22, 24 and 26.

Rounding out the top three - The Apartment With Four Sides also claimed bragging rights to a sold out opening night performance.

The cast is headed by three-time Drama Desk nominee and Obie winner Sarah Nina Hayon.

Sarah sublets to Tim who sublets to Peter and Kristina who get in a fight and vacate. After Sergeant Cooper comes knocking, Jerry and Rita are left with the mess. Four stories, one apartment: get to know the neighbors.

Written by Sorrel Barnard, Melissa Moran, Lindsay Joy Murphy and David Scott.

Following four 2011 Tony nominations as a producer Adam Blanshay directs a cast which, in addition to Hayon, also includes Vayu O'Donnell, Victor J. Wiseshart, Farah Bala, Christopher Johnstone, Mara Lalli, Chris Davis and Christina Broccolini.

The show will run from August 13, 19, 22, 24 and 27 at the Teatro SEA.

The New York International Fringe Festival (FringeNYC), the largest multi-arts festival in North America, is celebrating its 15th anniversary this summer.

From August 12-28, the festival offers programming by 200 of the world's best emerging theater troupes and dance companies in 20 venues in Lower Manhattan.


SWEET CHARITY


THE 2011 MONACO RED CROSS BALL

Princess Caroline in a dress keeping with the evening's garden-paradise theme, Prince Albert, Princess Charlene wearing her new diamond necklace, and Princess Stephanie. Photo: Getty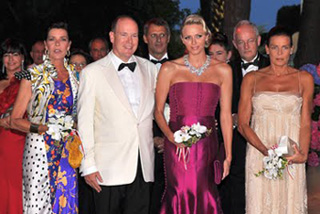 always a European must attend event, drew even more attention this year since it was the first major social function for Prince Albert and his wife Charlene. Held Friday night, August 5, at the Monte-Carlo Sporting Club, the gala was a huge success.

All eyes were on Albert and Charlene whose relationship - or lack of one - has been fodder for the press since their wedding a month ago.

They arrived together, looked happy and danced with each other.

Albert has even given Charlene a (reconciliation?) present - one which would definitely buffer bad memories better than an aspirin - a dazzling custom-made VanCleef & Arpels necklace.

The necklace can also be worn as a tiara. It was reportedly designed to evoke memories of the ocean and is composed of 88 round diamonds, weighing in at over 44 total carats, with 10 pear-shaped diamonds and 359 sapphires.

Charlene looked gorgeous in a fuchsia duppione silk strapless Akris gown designed by Albert Kriemler.

The garden-paradise theme was enhanced by huge numbers of flowers decorating the Salle des Etolies of the Monte-Carlo Sporting Club. Many of women carried out the paradise theme in their choice of gem colored or floral patterned gowns. No, Princess Caroline didn't get dressed in the dark. Her gown was an extension of the garden-paradise theme.

The entertainment star was British singer Joe Cocker and the donation of artwork, titled Collection Mondo, to the Monaco Red Cross was by Peter Wüthrich. Raffle prizes were handed out by Dame Shirley Bassey, who organized the event and Sandrine Quétier.

About 800 guests attended this, the 63rd annual Red Cross Ball, paying amost $1,500 each with all proceeds, of course, going to the Red Cross.

TONY BENNETT/AMY WINEHOUSE duet will be released as a charity single.

Royalties from the jazz classic Body and Soul will go toward a charity being set up by the late singer's father to teach young people not to take drugs.

Bennett and Winehouse recorded the track at London's Abbey Road Studios in March. It was one of Winehouse's last recordings prior to her death on July 23. It will be released ahead of Bennett's Duets II album, out on September 20.

In a statement, Mitch Winehouse said he "couldn't be happier". He added: "Amy was so excited to be working with Tony Bennett and really looking forward to her fans hearing this new recording. The fact that Amy's voice is sounding as amazing and beautiful as ever and she is singing with the great Tony Bennett seems the most fitting tribute of all at this very difficult time."

Winehouse, 27, died unexpectedly, following years of alcohol and drug addiction. Results of toxicology tests to establish the cause of her death have not yet been completed.

JERRY LEWIS 85, will not be appearing on this year's Muscular Dystrophy Association's annual Labor Day telethon and according to an announcement from R. Rodney Howell, chairman of the Muscular Dystrophy Association's board, the entertainment, Lewis had been "released" from his position as national chairman of the association. Howell offered no explanation for the abrupt departure.

"Jerry Lewis is a world-class humanitarian and we're forever grateful to him for his more than half century of generous service to MDA," Howell said in a statement.

In part, the statement declared: "We will not be replacing him as MDA national chairman, and he will not be appearing on the Telethon."

Lewis, a Las Vegas resident, has been affiliated with MDA since the early 1950s and has hosted the telethon since 1966. Thanks to his tireless efforts, the telethons raised more than $1 billion and a national network of some 200 hospital-affiliated clinics opened.

Last May the entertainer, who has been battling his own health problems, announced he was retiring from the show, but said he intended to make a farewell appearance on the upcoming telethon.

"I'll be making my final appearance on the show this year by performing my signature song, You'll Never Walk Alone," Lewis said. "I'll continue to serve MDA as its national chairman as I've done since the early 1950s. I'll never desert MDA and my kids."

Lewis has remained under the radar and offered no statement regarding his departure.


14th ANNUAL OJAI PLAYWRIGHTS CONFERENCE


The Ojai Playwrights Conference is kicking off its 14th annual Summer New Works Festival of playwrights, readings and special performances with two special performance events called "Intersections " - the first will feature a special theatrical presentation by Gangland priest Greg Boyle of his national best-selling book of urban parables, Tattoos On The Heart on Tuesday, August 9; the second will feature a reading of a new musical - Black Sun, a collaboration between Stephen Belber and the Counting Crows front-man Adam Duritz - on Thursday, August 11. Both will be held at Matilija Auditorium in Ojai, CA.

Tattoos On the Heart is a series of dramatic, breathtaking parables distilled from Father Greg Boyle's twenty years of working in a Los Angeles neighborhood with an extremely high concentration of murderous gang activity. Filled with sparkling humor and glowing generosity, this presentation will offer a stirring look at the power of loving joyfully and unconditionally.

An ordained Jesuit priest since 1982, Father Greg Boyle has been the pastor of Dolores Mission in the Boyle Heights neighborhood of Los Angeles. The church sits between two large public housing projects, Pico Gardens and Aliso Village, known for decades as the gang capital of the world. Affectionately known as G-dog, Father Greg founded Homeboy Industries nearly twenty years ago. It has served members of more than half the gangs in Los Angeles. In Homeboy Industries' various businesses - baking, silk-screening, landscaping - gang affiliations are left outside as young people work together, side by side, learning mutual respect.

Black Sun by Stephen Belber and Adam Duritz. Eight New Yorkers - some new, some old, some just returning after having given up - confront perplexing questions and surprising answers in the wake of a world where the sun has disappeared. At first the Black Sun lasts only 23 seconds, creating havoc and moments of solace. But this upside down world eventually becomes permanent. Everything turns into something totally strange and revelatory.

Adam Duritz, Counting Crows lead singer, turns his inimitable and searing songwriting skills to theater for the first time in a collaboration with acclaimed playwright and OPC alum, Stephen Belber. Together they promise to "create music and words that cut to the heart of what it means to live life anew."

The Ojai Playwrights Conference Summer New Works Festival is an annual event under the direction of Artistic Director/Producer Robert Egan who carefully selects playwrights from diverse backgrounds who join together for an intensive two-week, in-residence workshop. This process culminates in OPC's popular public performance series –known as the OPC Summer New Works Festival.


SPREADING THE WORD


MAE WEST IN BOHEMIA WALKING TOUR an illustrated theme walking tour in the New York City Washington Square area, will focus on the people and locations that influenced Mae West's stage plays for Broadway during the Prohibition Era - such as Eugene O'Neil. Timed for Mae West's birthday, August 17th, 1893.

Sites will include the Village speakeasies where Eugene drank himself into oblivion and met the characters he would put in his plays, and where Mae socialized and bent elbows with Texas Guinan, Walter Winchell, Jack Dempsey, and Barney Gallant; significant theatres; the court where Eugene and Mae battled against censorship; and off-beat addresses that made an impact. Get ready to walk on the wild side.

Journalist-dramatist LindaAnn Loschiavo, who announced that her play Courting Mae West will be seen in Australia and the UK in 2012, leads the two hour tour. Sunday, August 14 beginning at 3 pm in front of 62 West Ninth Street, where a gay cabaret once stood that inspired Mae West to write The Drag (and hire their drag queens for the cast). This tour focuses on 18 sites around Washington Square and ends at the Eugene O'Neill and Al Hirschfeld exhibition.

SIR PAUL McCARTNEY will be headlining the opening ceremony for the 2012 Olympics, as first reported by the British newspaper The Telegraph. He will be joining the award-winning directing team of Stephen Daldry and Danny Boyle. Daldry is responsible for the "overall" creative aspects, while Boyle will be artistic director of the opening ceremony itself.

BEYOND THE MUSIC a new musical by Hair producer Andy Sandberg, who authored the book, and Emmy Award-winning songwriter Cliff Downs and Katie Kahanovitz, who co-authored the music and lyrics, will have a private New York industry reading August 8.

Sandberg will direct the reading of the musical that centers on a young female singer-songwriter on the rise. Fred Lassen serves as the lmusical director.

The cast will include Donna Bullock, Emily Padgett, Barry Pearl, Saycon Sengbloh, Nick Spangler, Eric Anderson, Shelby Bartelstein, Jarid Faubel, David McDonald, Kathleen Rooney, Laura L. Thomas, Barrett Wilbert Weed and Alex Wyse.


OTHER PEOPLE'S MONEY


PRODUCTION AMBASSADORS is an innovative way the Darlinghurst Theatre in Australia has devised to raise money to bring Stephen Colyer's No Way to Treat a Lady from page to stage.

The musical is slated to be mounted at the Darlinghurst October 13-November 13, 2011.

"Darlinghurst Theatre Company is pleased to offer the unique opportunity for a small group of supporters to get behind the scenes of this production," announced the venue.

Go behind the scenes of No Way to Treat a Lady by becoming a Production Ambassador:

"Watch the performers sing their first note at the first read.
Attend a rehearsal and see the extraordinary Stephen Colyer in action.
Meet the director and the artists involved and hear about their visions for the show.
Attend an exclusive preview event before the show is open to the public.
Be acknowledged in our show program, theatre foyer and website."

"Darlinghurst Theatre Company is seeking to raise $10,000 for the development and staging of the musical. We are seeking 20 Production Ambassadors - passionate individuals, couples, groups or businesses to donate $500. Production Ambassadors will have the unique opportunity to be involved in the creative development process of a musical directed by Stephen Colyer from the first note to the final curtain. There are only 20 available on a first in best dressed basis! "

"Stephen Colyer is a graduate of VCA, The Australian Ballet School and NIDA and has directed many successful shows at Darlinghurst Theatre Company including, Fit to be Tied (2002), Dying City (2007) and Boston Marriage (2007). He also directed and choreographed Hello Again (2008) and Kiss of the Spider Woman (2010). He has worked as resident director on Dirty Dancing, The Full Monty The Musical, The Rocky Horror Show The Musical and Cabaret. On behalf of Sam Mendes (American Beauty, Bond 23), he was entrusted to direct Cabaret in Madrid, Seoul and Paris. He is currently the rehearsal director for ABC TV's Dance Academy."

"No Way to Treat a Lady is a comic musical that follows Christopher 'Kit' Gill, a failed and unknown actor, who turns his hand to murder to become famous. Appropriating the serial murder crime genre using wit and brilliantly crafted show tunes, No Way to Treat a Lady is based on the 1964 novel and '68 film by screen writing guru and novelist, William Goldman (The Princess Bride). It won the prestigious Richard Rogers Grant and was nominated for two Outer Critics Circle Awards. Book, music and lyrics writer Douglas J Cohen, has recently been awarded the prestigious Fred Ebb Award for Musical Theatre Songwriting.

BURNING MAN FESTIVAL the famed counterculture festival has announced it has sold out for the first time in its 25-year history. Last year's attendance topped 50,000 for the first time.

The gang can't get too large since the Bureau of Land Management, which oversees the Nevada desert where the festival takes place, is serious about population control.

Tickets for this year's event went on sale in January, starting at $210 and increasing to $360. Burning Man - dedicated to community, art, self-expression, and self-reliance - will take place August 29-September 5 in Northern Nevada's Black Rock Desert.

Once there, filthy lucre is shunned and participants are encouraged to barter to procure whatever they need.

This year's theme is Rights of Passage: "There are moments of crisis and frisson in our lives which inform us that we've somehow crossed an inner threshold and are changed. Thus moving from one state of being into an unknown other obliges us to face our innermost insecurities, and it requires faith, a willingness to leap off the ladder of ordered existence. Our theme this year invites participants to join with others in creating rites of passage."

A HOUSE BRIAN WILSON ONCE CALLED HOME has been put on the market for $1,490,000.

The founding member of and songwriter for the Beach Boys not only once lived in the gorgeous house located in Saint Charles, IL, but wrote most of his 1998 album Imagination in the five-bedroom home. Wilson bought the place for $1.4 million in 1997 and sold it in 2001 for $1.5 million.

Wilson added three recording rooms and a mixing room to the basement. The studio has separate security, air conditioning systems, and has been lined for sound control. Famous musicians often visited Wilson at this home, including Paul McCartney, Sean Lennon and Eagles band member Joe Walsh.

Situated on over two acres in the Tony Crane Estates neighborhood, the home includes 6,527 square feet of living space, including 5 bedrooms and 7 bathrooms. In addition to the recording studio space, the home features nine fireplaces, two master suites, library, solarium, media and rec room.

STOCK DROP AND S&P DOWNGRADE hasn't pleased anyone, including Broadway investors. However, when the stock market crash of 1929 reduced the demand for plays, stage actor Humphrey Bogart viewed that as a career opportunity and turned to film.


CELEBRATING GILBERT AND SULLIVAN
An early poster showing scenes from some of the first Gilbert and Sullivan operas.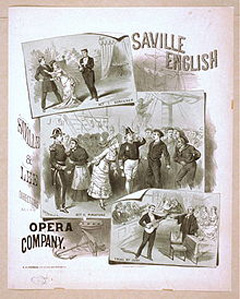 This year marks the 100th anniversary of the death of WS Gilbert - the man who wrote the lyrics of the famous Gilbert and Sullivan operettas.

To mark the event, the largest ever Gilbert and Sullivan festival is taking place in Buxton in Derbyshire, England. Fans from across the world have gathered to see a record-breaking 50 productions.

Sir William Schwenck Gilbert, or WS Gilbert as he is more generally known, died May 29, 1911, at the age of 74, after he suffered a heart attack after after he jumped into a lake on his property at Grim's Dyke in Harrow, to save a young girl he was giving swimming lessons to after she got into difficulty.

Gilbert was an English dramatist, librettist, poet and illustrator best known for his fourteen comic operas produced in collaboration with the composer Sir Arthur Sullivan, of which the most famous include H.M.S. Pinafore, The Pirates of Penzance and one of the most frequently performed works in the history of musical theatre, The Mikado.

However, the G&S body of work is just a small aspect of each man's creative genius.

Gilbert was not only a prolific writer penning over 100 humorous Bab Ballads which were light verse accompanied by his own comical drawings, along with some 80 opera libretti and plays, but also a respected stage director.

Those admiring his directorial skills included George Bernard Shaw and Oscar Wilde.

The International Gilbert and Sullivan Festival is held every summer at the Opera House in Buxton. The three-week Festival of Gilbert and Sullivan performances and fringe events attracts thousands of visitors. Since 2010, the Festival has added a week of performances in Gettysburg, Pennsylvania.

The festival began last week and continues for two more weeks.

The morning and afternoon events are held at the Pavilion Arts Centre, while most of the evening presentations take place at the Buxton Opera House.

The Black Tie Festival Dinner with Entertainment from The Smiths took place at The Palace Hotel.

On Monday, August 8, there is The Life and Works of Rutland Barrington followed by The Falsetto Sings Gilbert & Sullivan - Martin Milnes. The Sorcerer, presented by the Nomads G&S is at the Buxton Opera House. On Tuesday morning conventioneers can learn about Make-up Techniques with Colette Woodhouse. In the afternoon it's Star Trek Pinafore, New Lyric Musical Society, Wales. The evening program is Iolanthe performed by the Cambridge University G&S Society.

On Wednesday fans can learn about G&S Festivals with Ian Smith. In the afternoon Smith, who is the Festival Chairman and Artistic Director, returns with "Day Job".

That evening it's The Mikado presented by the SavoyNet Performing Group. Thursday's events are a morning presentation by Donald Smith entitled The Missing Link in Gilbert's Post-Carpet Quarrel Career. In the afternoon fans can enjoy The Mikado sung by the Southampton University Light Opera and in the evening Princess Ida is presented by the Derby G&S Company.

Friday's program includes "Gilbert The Fun Years" with Andrew Crowther, followed by Foggerty's Fairy staged by Red Fire Productions.

The evening is a sold out presentation of A Night to Remember with Simon Butteriss at Chatsworth House.

Also sold out is Yeomen of the Guard to be sung by the G&S Opera Co at the Buxton Opera House.

This week wraps up with a free Saturday Memorabilia Fair in the Octagon Foyer. The morning will see UKIP Set to music? with Ian Bradley at the Pavilion Arts Centre. The busy afternoon has slated Yeomen of the Guard by the G&S Opera Co at the Buxton Opera House and The Arcadians by the Victoria G&S, Australia at the Pavilion Arts Centre. That evening boasts another staging of Yeomen of the Guard by the G&S Opera Co while The Arcadians is an encore presentation by the Victoria G&S, Australia.







EDWARD ALBEE who receives The Edward MacDowell Medal on Sunday, August 14, in Peterborough, NH.

Mike Nichols will speak at the event.

The Edward MacDowell Medal is an award given each year by The MacDowell Colony to an artist who has made an outstanding contribution to his or her field.

The MacDowell Colony, one of the nation's leading artist residency programs.

The award is rotated among the seven artistic disciplines practiced at MacDowell; this will be the third time the Medal has been awarded to a playwright. Albee joins an impressive list of past Medal recipients, including playwrights Thornton Wilder (1960) and Lillian Hellman (1976), visual artist Georgia O'Keeffe (1972), composer Leonard Bernstein (1987), architect I.M. Pei (1998), filmmaker Stan Brakhage (1989), interdisciplinary artist Merce Cunningham (2003), and writer Alice Munro (2006).

André Bishop, Artistic Director of Lincoln Center Theater was chairman of this year's Medalist selection committee. Joining Bishop on the selection committee were writer Peter Cameron, a MacDowell Colony Fellow and board member; James Houghton, the Richard Rodgers Director of the Drama Division at Juilliard and Founding Artistic Director at New York's Signature Theatre Company; MacDowell Colony Fellow playwright and author Honor Moore; Pulitzer Prize-winning playwright Lynn Nottage; and Artistic Director for Hartford Stage, Michael Wilson.

A member of the Dramatists Guild Council, Albee was awarded the Gold Medal in Drama from the American Academy and Institute of Arts and Letters in 1980. He received the Kennedy Center Honors and the National Medal of Arts in 1996, and in 2005, the American Theatre Wing presented him with a special Tony Award for Lifetime Achievement. Last month, he received the 2011 American Artist Award from Arena Stage in Washington, D.C., where the Edward Albee Festival - a two-month tribute series featuring staged readings of all of his work - is currently taking place.

Also known for his dedication to fostering the development of artistic talent, Albee is the president of The Edward F. Albee Foundation, a summer residency program for writers, composers, and visual artists in Montauk, New York. He has taught at numerous universities, and is currently a Distinguished Professor of Playwriting at the University of Houston.

In its 103-year history, MacDowell has provided Fellowships to more than 300 playwrights, including Thornton Wilder, Paula Vogel, Wendy Wasserstein, Terrence McNally, Suzan Lori-Parks, and James Lapine. These dramaturges are part of the more than 6,500 artists from all disciplines who have worked at the Colony since its founding in 1907.

DAVID HENRY HWANG one of America's most dynamic and versatile playwrights, has been announced as the Honoree of the 31st Annual William Inge Theatre Festival, in Independence, Kansas. Hwang will be at the Inge Festival all its four days, from April 18-21, 2012.

THE ACADEMY OF MOTION PICTURE ARTS AND SCIENCES Board of Governors voted August 2 to present Honorary Awards to actor James Earl Jones and makeup artist Dick Smith and the Jean Hersholt Humanitarian Award to philanthropist Oprah Winfrey.

The prizes will be handed out the Governors Awards in November.



FOLLIES the Kennedy Center's critically acclaimed production with songs by Stephen Sondheim and book by James Goldman. Directed by Eric Schaeffer.

Choreography by Warren Carlyle and music direction by James Moore.

Starring two-time Tony winner Bernadette Peters as Sally Durant Plummer, four-time Tony nominee Jan Maxwell as Phyllis Rogers Stone, two-time Tony nominee Danny Burstein as Buddy Plummer and Ron Raines as Benjamin Stone.

Follies concerns a group of former "Follies" stars who return to the site of their former glory, the Weismann Theatre, which is about to be demolished. Old wounds resurface as two Follies stars (Phyllis and Sally) and their husbands (Benjamin and Buddy) reassess their lives and what could have been.

The Tony Award winning musical has a large score including: Beautiful Girls, Don't Look at Me, Waiting for the Girls Upstairs, Rain on the Roof, Ah, Paris!, Broadway Baby, The Road You Didn't Take, Bolero d'Amour, In Buddy's Eyes, Who's That Woman?, I'm Still Here, Too Many Mornings, The Right Girl, One More Kiss, Could I Leave You?, Loveland, You're Gonna Love Tomorrow, Love Will See Us Through, The God-Why-Don't-You-Love-Me Blues, Losing My Mind, The Story of Lucie and Jessie and Live, Laugh, Love.

The production also featured scenic design by Derek McLane, costume design by Gregg Barnes, lighting design by Natasha Katz and sound design by Kai Harada. The musical utilizes Jonathan Tunick's original orchestrations.

Previews begin at the Marquis Theatre August 7. Opening night is September 12.

JOAN'S SHOW an autobiographical show written and performed by Joan Copeland. Directed by Joel Vig. Accompanied by Dennis Buch.

Born and raised in New York, Joan was the youngest of three children of a middle class Jewish couple, Isidore and Augusta Miller. Her father was a manufacturer of women's clothes and her mother a homemaker who instilled in her children a love of art and literature and music. Her older brother, Arthur Miller, grew up and became one of America's most beloved playwrights with hits like A View from the Bridge, The Crucible, The Price, and Death of a Salesman.

Joan's professional career began in 1945 playing Juliet in Romeo and Juliet at the Brooklyn Academy of Music. She made her Broadway debut in Bessie Breuer's Sundown Beach in 1948.

Career highlights include her starring performance in Pal Joey, her Broadway run in Two by Two co-starring opposite Danny Kaye, standing by for Katherine Hepburn in Coco and for Vivian Lee in Tovarich, and originating the role in her brother's play The American Clock for which she won the Drama Desk Award.

She also secured the rights from the master himself, Sir Noel Coward, for Conversation Piece which she produced and starred in at the Barbizon-Plaza Theatre in 1957.

But Joan also lived through one of the greatest scourges in American history. During the hearings of the House of Un-American Activities Committee, Arthur Miller was called to testify. Joan found her own life affected when she became a victim of the blacklist and had difficulty for a number of years in finding work.

With great humor, grace, and humanity, Joan relives these milestones in her life and by doing so celebrates her own personal history in theatre, film and television. From her early days with playwrights like Sidney Kingsley and Elmer Rice to her participation in the birth of the actor's studio where she met her future sister-in-law Marilyn Monroe, to a career that continues to the present.

Performances on August 15 and August 18 at Theater Row's Acorn Theater, NYC.

RING OF FIRE: THE MUSIC OF JOHNNY CASH Created and directed by Richard Maltby, Jr. Conceived by William Meade. Co-Directors: Sherry Stregack and David Lutken.

Starring Eric Scott Anthony, Jon Brown, Michael Hicks, Megan Loomis, John Rochette and Helen Russell.

A tribute to the legendary Man in Black. Growing up dirt-poor, wrestling with family tragedy, striking out on his own, emerging as a songwriter, finding the love of his life, June Carter - it's all here in this on-stage celebration of country icon Johnny Cash.

Ring of Fire re-creates 38 hit songs of one of the most recognized voices in all of country music and celebrates the essence of an American experience. Features some of his greatest songs including: Folsom Prison Blues, I Walk the Line, Boy Named Sue, Country Boy, Five Feet High and Rising, Daddy Sang Bass, Ring of Fire and I Walk the Line.

Orchestrations by Steven Bishop and Jeff Lisenby.

When Johnny Cash first tried to record for Sun records, Cash pitched himself as a gospel singer. After that didn't work, he sat on the steps of the recording studio until he could convince Sam Phillips to listen to his songs. The strategy worked! His first single on Sun was released on June 21, 1955.

Musical Director: Eric Anthony Choreographer: Sherry Stregack. Set Design: William Stark. Lighting Design: Tate Burmeister. Costume Design: Vivian Lamb Stage Manager: TRick Jones. August 10-September 4 at the Ivoryton Playhouse in Ivoryton, CT.

ENTER LAUGHING THE MUSICAL Based on the early life of Carl Reiner. Book by Joseph Stein. Music by Stan Daniels. Direction and Musical Staging by Stuart Ross. Music Direction by Phil Reno.

Starring - in order of appearance: Josh Grisetti, Jill Eikenberry , Michael Tucker, Ray DeMattis, Emily Shoolin, Eric Mann, Gina Milo, Erick Devine, Paul Binotto, Gerry McIntyre, Kate Shindle, Richard Kind and Betsy DiLellio.

Joseph Stein first adapted Reiner's novel in 1964 when it enjoyed a successful Broadway run starring Alan Arkin. The musical adaptation was originally presented on Broadway in 1976 starring Robert Morse with the title So Long 174th Street.

Set in 1930's, Enter Laughing, The Musical tells the story of young, hapless David Kolowitz, a shop boy from the Bronx who pursues his dream of becoming a leading man on stage while facing mounting pressures from his despondent girlfriend, dismissive boss, distracted best friend, disgusted acting coach and disapproving parents.

The production features scenic design by James Morgan, costumed design by David Toser, lighting design by Tony Award winner Ken Billington, and sound design by Tony Melfa.

For the past two weeks, the 13-member strong cast has been rehearsing daily at the New 42nd Street Studios in NYC. To get the musical up and running "Bay Street purchased over 300 lbs of screws, 60 gallons of paint, and serve hundreds of delicious cups of Java Nation coffee to keep the crew going," Tracy Mitchell, Executive Director at Bay Street penned in his newsletter.

Produced in association with Carl Reiner. The production plays at Bay Street Theatre before continuing on its journey to Broadway.

August 9-September 4 at the Bay Street Theater in Sag Harbor, NY.

SIX YEARS

Margery Lowe and Todd Allen Durkin star in Six Years. Photo: Caldwell Theatre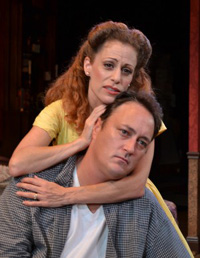 by Sharr White.

Directed by Clive Cholerton, Artistic Director of Caldwell Theatre Company

Six Years is billed as "the poignant and powerful drama that tracks the marriage of Phil and Meredith Granger, in five separate scenes, each separated by six years, beginning at the end of WWII and ending with the Vietnam War.

"We see them first deal with the aftermath of war, transition to a tremendous business success and continue forward dealing with their son in the Vietnam era."

Phil Granger returns home from the war. Two years later than expected. His wife, Meredith, asks few questions and comforts him. Off goes the quintessential Greatest Generation couple, embarking on the American Dream.

White's tale follows this couple over the course of five separate scenes, each set six years apart, charting their journey through a "Levittown like" real estate development financial success, "Mad Men like" early 60's uncertainties, and finally "Vietnam era" complications now as the parents of an enlisted soldier.

The show will star multiple Carbonnell nominee Margery Lowe, and Carbonnell winner Todd Allen Durkin, (making his Caldwell debut) in the pivotal roles of Meredith and Phil Granger, whose marriage is traced from 1949 through 1973. Also cast are Gregg Weiner, also multiple Carbonnell winner, Natasha Sherritt, and David Perez-Ribata.

Tim Bennett will handle scenic design, Alberto Arroyo is in charge of costume design, lighting ambiance is in the hands of Tom Shorrock, and Deborah Veres will provide property design.

Originally produced at the Humana Festival. Performances August 10 – September 4, 2011 at the Caldwell Theatre in Boca Raton, FL.

WITTENBERG by David Davalos. Director Christopher Haydon.

Join the jury as two of history's most stubborn intellectuals go head-to-head in a highly entertaining battle of reason versus faith.

Set in late 1517, this smart, sprightly and audacious comedy centers on a fictitious meeting between university colleagues Dr. Faustus (a man of appetites), Martin Luther (a man of faith), and their student Hamlet (a young Prince struggling not only with his beliefs but also with his tennis game).

"This sparkling celebration of history, language, academia and religion by award-winning American playwright David Davalos will appeal to anyone looking for the answers to life's big questions," touts the program notes.

August 11- October 11, 2011 at The Gate Theatre in London

THE TENANT written by Steven Levenson, Tommy Smith, Dylan Dawson, Sarah Burgess, Paul Cohen and Bekah Brunstetter. Inspired by Roland Topor's book. Teddy Bergman and Stephen Brackett will direct the production. Duncan Sheik will contribute to the score, which also features music by David Van Tieghem.

Set in Paris, Monsieur Trelkovsky rents a room recently vacated by a woman who fell from her window, and soon finds his world changing in bizarre ways. Haunted by images of the previous Tenant's apparent suicide and terrorized by his new neighbors, Trelkovsky begins a slow descent into paranoia and delirium.

The cast will include Rob Askins, Juliette Cohen, Dan Cozzens, Michael Patrick Crane, Aaron Dias, Evan Enderle, Erin Felgar, Mary Jane Gibson, Stephen Graybill, Judith Greentree, Vanina Kondova, Jocelyn Kuritsky, Maren Langdon, Roger Lirtsman, Malcom Madera, Maria McConville, Melissa Miller, Michael Piazza, Lynne Rosenberg, Caitlin McDonough Thayer, Ian Unterman, Molly Ward, and Travis York.

The world premiere is presented by The Woodshed Collective free to the public at Parish House, New York City August 10-September 17, with an opening on August 24.

BROKEN GLASS by Arthur Miller. Directed by Iqbal Khan.

Broken Glass, Miller's Olivier award-winning drama, tells the story of Phillip and Sylvia Gellburg, a New York couple living in Brooklyn in 1938.

Phillip, obsessed with work and his own desire to assimilate, has little time for his wife, but when Sylvia suddenly becomes paralyzed after reading newspaper reports of Kristallnacht in Germany, Dr. Harry Hyman is called in. As he gets closer to the source of Sylvia's troubles, a relationship develops that could have devastating consequences on the family, and themes of guilt, personal tragedy and love start to unfold.

Antony Sher and Tara Fitzgerald lead the cast which includes Caroline Loncq, Brian Protheroe, Suzan Sylvester and Stanley Townsend.

Design: Mike Britton, Composer: Grant Olding, Lighting: Matthew Eagland, Sound: Ed Borgnis. Cellist: Laura Moody.

At The Tricycle Theatre from August 10, 2011 for only 33 performances before a West End transfer to The Vaudeville Theatre from September 14 until December 10.


WHO'S WHERE


COLM WILKINSON who originated the role of Jean Valjean in Les Miserables in London and on Broadway, as well as the Phantom in Phantom of the Opera in Toronto, performs Colm Wilkinson in Concert: Broadway and Beyond August 12 and 13 at the Four Seasons Centre for the Performing Arts in Toronto.

DEBBIE GIBSON AND TIFFANY who are real life sisters, and were the two biggest female teen-pop stars of the 80s, last week kicked off their limited run Journey Through the 80s Tour, which wraps in Chicago on August 13. Debbie, who first gained fame as a pop singer, has appeared in several musicals including Beauty and the Beast, Chicago, Les Miserables, Grease, Funny Girl, Gypsy, Joseph and the Amazing Technicolor Dreamcoat, Cinderella, Cabaret, The King and I and Company.

BRITNEY SPEARS AND NICKI MINAJ on tour together,(hopefully their clothes staying in place) perform Monday, August 8 at the TD Garden in Boston. On Tuesday they are on stage at the XL Center in Hartford, CT. Thursday finds them at the Bell Centre in Montreal. On Saturday they open a two nighter at the Air Canada Centre in Toronto.

TIM ALLEN making people laugh at the Venetian Hotel in Las Vegas August 12-13.

KEITH URBAN on stage Thursday, August 11, at the US Bank Arena in Cincinnati. On Friday he performs at the Thompson Boling Arena in Knoxville, TN. On Saturday the performance is at the James Brown Arena in Augusta, GA.

SADE AND JOHN LEGEND on stage Saturday, August 13, at the Rogers Arena in Vancouver, Canada.

JOSH GROBAN performs Tuesday, August 9, at the Bradley Center in Milwaukee, WI. On Wednesday the show is at the Wells Fargo Arena in Des Moines, IA. On Friday the tour stops at the Pepsi Center in Denver. Saturday's show is at the Energy Solutions Arena in Salt Lake City.




FINAL OVATION


MORE THAN 20 NAVY SEALs from the unit that killed Usama bin Laden have lost their lives in Afghanistan helicopter attack. ( See Broadway To Vegas article on the Navy SEALs museum in column of May 8, 2011 )

Reports listed the deaths as: 22 SEALs, three Air Force air controllers, seven Afghan Army special forces troops, a dog and his handler, and a civilian interpreter, plus the helicopter crew.

This would be the largest single loss of life ever for SEAL Team Six, known as the Naval Special Warfare Development Group.

The New York Times first reported that the NATO chinook helicopter was shot down in Afghanistan during an overnight operation in eastern Afghanistan, killing at least 37 people on board.

The helicopter was hit by a rocket-propelled grenade in the Tangi Valley of the Wardak Province just west of Kabul. Accoding to Al-Jazeera, the Taliban "quickly claimed to have shot down the helicopter during a firefight."

SAM NORKIN famed fine-lined theatre artist, caricaturist and illustrator died July 30, 2011. He was 94.

His work encompassed more than 4,000 published drawings spanning seven decades.

Norkin was a longtime member of the Drama Desk, the association of drama critics and editors, serving on its board for more than 40 years and serving a term as its president. In June, the Drama Desk board established the Sam Norkin Off Broadway Award, an annual special nod that will be presented for the first time in 2012. He received a Drama Desk award for his "lifetime body of work" in 1995.

Norkin is survived by his wife of 43 years, Frances Norkin; a son and a daughter; two grandchildren; a stepdaughter and a stepson and several stepgrandchildren.

BUBBA SMITH football great turned popular actor, was found dead at his home in Los Angeles on August 3. He was 68.

The N.F.L. star, a defensive lineman, was the No. 1 draft pick for the Baltimore Colts in 1967. He spent nine seasons in the N.F.L., playing on two Pro Bowl teams, in 1970 and 1971. In 1971 he helped propel the Colts to a 16-13 victory over the Dallas Cowboys in Super Bowl V.

After retiring from football he found success as an actor, best known for his role as Moses Hightower, the mild-mannered florist-turned-lawman in the film comedy Police Academy (1984) and many of its sequels.

He starred in the TV crime series Blue Thunder (1984) and appeared on Good Times, Charlie's Angels, Semi-Tough, Hart to Hart, Married With Children and Family Matters.

FRAN LANDESMAN lyricist whose enormous credits include penning the words for Spring Can Really Hang You Up the Most and The Ballad of the Sad Young Men as well as the Broadway musical The Nervous Set, died July 23, 2011 at her home in London. She was 83.

Survivors include her two songs. She was preceded in death by her husband Jay, who died last February. ( See Broadway To Vegas column of February 27, 2011 )








Next Column: August 14, 2011
Copyright: August 7, 2011. All Rights Reserved. Reviews, Interviews, Commentary, Photographs or Graphics from any Broadway To Vegas (TM) columns may not be published, broadcast, rewritten, utilized as leads, or used in any manner without permission, compensation and/or credit.
Link to Main Page
---
Laura Deni



For the snail mail address, please E-mail your request.
CLICK HERE FOR COMMENT SECTION