! >
Broadway To Vegas
  
 SHOW REVIEWS CELEBRITY INTERVIEWS GOSSIP NEWS

| | |
| --- | --- |
| | |
IMPORTANCE OF BROADWAY CAST RECORDINGS - - FRANKIE VALLI SUES FORMER STARS OF JERSEY BOYS - - CHIHULY AT THE SALK - - 2010 WILLIAM INGE FESTIVAL - - FROM MAN TO MYTH: ABRAHAM LINCOLN - - NFL BRINGS LOMBARDI TO BROADWAY - - NEW ORLEANS JAZZ AND HERITAGE FESTIVAL - - BOUQUETS TO ART - - DONATE . . . Scroll Down


TONY BENNETT SAVED A BROADWAY MUSICAL WHILE STEPHEN SONDHEIM CHANGED A SUCCESSFUL CONCEPT
Didier Deutsch - in addition to his activities as a record producer, continues to be a presence on Broadway, each season reviewing the new musical productions for the German publication Musicals and for the French-language Opérette/Théâtre Musical. He has been covering the Broadway musical scene for more than 45 years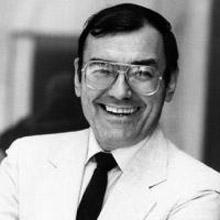 Didier C. Deutsch was nominated for a Grammy in 1995 for his production of the 12-CD Frank Sinatra: The Columbia Years (1943–1952) – The Complete Recordings, the most ambitious project ever initiated by Columbia Records at the time. He was nominated for another Grammy in 2001 for the Columbia/Legacy 26-CD set, Soundtrack For A Century. Since 1986, when he joined Legacy Records, Deutsch has produced more than 600 titles in fields as varied as pop, jazz, big bands, classical, soundtracks and Broadway shows.

In a taped interview requested and set-up by Masterworks Broadway, Deutsch spoke with Broadway To Vegas about the importance of the Broadway cast album.

"Tony Bennett claims - and quite justifiably - that Kismet was a big Broadway hit because he recorded Stranger In Paradise. When the show opened on Broadway there was a newspaper strike. As a result, people knew nothing about whether it was good or bad. There was nothing on television that covered Broadway at the time, so the only thing they could reply on were newspapers and they were not publishing, However, on the radio they heard Tony Bennett singing Stranger in Paradise, which he had recorded."

Kismet written in 1953 by Robert Wright and George Forrest, adapted from the music of Alexander Borodin, premiered on Broadway December 3, 1953 at the Ziegfeld Theatre. Directed by Albert Marre, the production enjoyed a successful run of 583 performances and took home the Tony. Columbia Masterworks Records recorded the original Broadway cast in late 1953; the recording was later reissued on CD by Masterworks Broadway Records.

"At the time when Columbia Records/RCA optioned a cast album, they immediately rushed their pop stars into the studio to cut pop versions of the most promising hits," explained Deutsch as to why Bennett had a song out before the show opened.

"People were not aware of the fact that there was a show called Kismet on Broadway, but they kept hearing that song by Tony Bennett. Curious, they went to see the show. By the time the newspapers started publishing again, people realized there was this hit on Broadway. When Tony Bennett says he saved the show, it is absolutely accurate."

"We do not have this situation now-a-days because, unfortunately, since 1970 there has been a trend to write shows or songs not created outside of the book, as potential popular hits, but integrated into the book. Also, the radio format has changed. Those two things combined, created the potential of the popular hit to disappear."

"Stephen Sondheim was responsible for that. I love Sondheim. I produced that boxed set which I couldn't have done without his contribution of advice. I really love the man because he changed Broadway in a good way - but also in a bad way. With the exception of Send In The Clowns, he has not written a tune that could be extracted from any of his shows to become a popular hit."



Stephen Sondheim changed the direction composers wrote for Broadway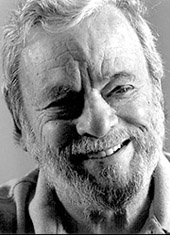 "That's because that's the way he creates a show. Unfortunately, many people followed in his steps. They did not want to do the same thing as Rodgers and Hammerstein or Lerner and Lowe. They decided that Sondheim was a new trend, so they followed him."

"All of the new creators for Broadway have turned from the pop field and written very specifically for the book. In that sense they are rejoining what had been done in earlier days for the opera. The Broadway musical started as a lightweight form of entertainment - a hybrid of the old time operetta, which was considered dispensable by people nurtured on classical music. Now-a-days it is coming back to the format that was the opera - creating songs that were so completely integrated into the book that it is difficult to extract them and make them into pop tunes."

"Given the fact that the pop music field has changed tremendously, you can't leave the theater humming a tune. Billy Elliot - can you hum any song? Not a one. It could have been a straight play."

"And," he laughed, "you cannot leave the theater humming the scenery."

Why even bother with the cast album? Where is the market?

"It's a complex question to answer. Why Broadway cast album recordings? Broadway is a vibrant, if limited, form of entertainment. Don't get me wrong. When I say limited, I don't mean that it is limited in scope. It's limited in appeal in the marketplace."

"It primarily appeals to people who are interested in live theater. Though there are many who are interested in live theater, it does not reach out to the masses. However, there are people who are coming to New York very specifically to see a Broadway show because it's the thing to do. When you go to Paris, you see the Eiffel Tower. In New York - you go to see a Broadway show. There are two ways to perpetuate the popularity of a running Broadway show. One is word of mouth or reviews. They have read about Wicked, so they are interested in seeing it. That's one thing. The other thing is the Broadway cast album."

"The Broadway cast album is a reflection of what people see on stage, a memento for those who have seen the show. For others, an occasion to get acquainted with the show before they see it. Not all Broadway cast albums are successful," he conceded.

"But, I'm taking a different view, at this point. Let's take a Broadway show that was a flop. I'm talking about Anyone Can Whistle. That came out in 1964. Ran for nine performances and closed."

The record producer was Goddard Lieberson who was president of Columbia Records.



Goddard Lieberson and Stephen Sondheim. Photo: MasterworksBroadway.com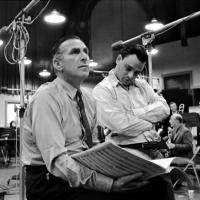 Under the leadership of Lieberson, the label's cast recordings came to define the genre. Columbia Masterworks produced the original cast recordings of such shows as The Pajama Game; My Fair Lady; The Sound of Music; West Side Story; Gypsy and Anyone Can Whistle.

"He recognized that Anyone Can Whistle was a flop, but also recognized that the composer Steven Sondheim was someone who deserved to be considered as something more than a flop," explained Deutsch.

"Obviously, there was something in the score that appealed to Goddard Lieberson. He recorded the show, even though he could have walked away from the contract he had signed with the composer, since there is an option that says if the show is not running, the label can walk away from the recording session."

That was the issue with the famous Harry Connick, Jr's dust up over the critically dismissed 2001 Lincoln Center Theater production of Thou Shalt Not, which Broadway To Vegas maintains was a victim of 9/11 as much as anything else. ( See Broadway To Vegas column of October28, 2001 )

Thou Shalt Not is a musical based on dealing with the consequences involved in the breaking of several Commandments, namely the sixth and seventh - the ones about not killing or committing adultery. After 22 previews which had been delayed a week due to the September 11, 2001 attacks, the musical opened at the Plymouth Theatre on October 25, 2001, received mostly negative reviews and closed after 85 performances.

Sony backed out of recording Thou Shalt Not, which ticked off Connick to the point that he recorded the show at his own expense.

The unsuccessful Sweet Smell of Success was another musical which Sony had tried to extricate itself from its signed commitment. The show had received negatives reviews during a pre-Broadway run in Chicago. In the end, Sony decided not to invoke the escape clause and a cast album was released.

"A Broadway cast album will primarily thrive on the popularity of the show on the boards," emphasized Deutsch. "If the show is no longer on the boards there is a contract escape clause. Cast albums are a large investment - $600,000-700,000 to make a good recording."



Harry Connick, Jr.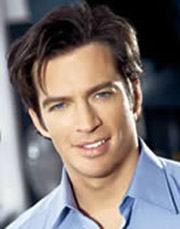 "Harry Connick is a different story," continued Deutsch. "He's a frontline artist for Columbia. They decided to get involved in the (Thou Shalt Not) recording because it was part of the contract with Harry Connick, Jr. Then he came back with Pajama Game, which was quite successful and recorded by Columbia."

Pajama Game was packaged with a second disc of songs Connick wrote for the failed 2001 Thou Shalt Not, not to be confused with Connick's self produced 2002 cast album.

In addition to the composer, is the star a factor in contracting to record the cast album?

"It makes a difference," he admitted. "When you consider recording a show where you don't have a star that is under contract to your label, you consider the possibility of a hit; whether there is a major star starring or a composer who already has a track record. Or, does the word of mouth indicate that this show will become quite successful. Of course labels are first looking at properties that will generate income."

One of the bright lights under contract to Masterworks is Kristen Chenoweth.

A current Broadway trend is the juke-box musical, which causes critics to gag.

"A lot of pop songs create the juke-box musical. I have not yet seen Million Dollar Quartet. I am going tomorrow," he commented last Tuesday. "We are going back to Broadway staging jukebox musicals, which is a farce. The only one so far which, to me, has meant something was Rock of Ages. That was an original concept around songs you often here, but you were invited to a concert, not to a Broadway musical."

Jersey Boys stands out as the juke-box musical exception.

"Jersey Boys was very vivid," declared Deutsch. "The songs were not chosen at random to fit a book that had no relation with the songs themselves. The songs were used as part of the book that describes something that actually happened. They managed to bring in reasonable facsimiles of The Four Seasons. As a result, the show itself is a valid entity. It is actually a Broadway musical. Granted, it is a jukebox musical, but there is a book that is solid not dependent upon the songs. The songs are integrated into the book, so it becomes a whole."

Is the strength and validity of the book the key to creating a successful Broadway juke-box musical?

"Yes. Ring of Fire to me was a disaster," he said referring to the musical based upon the music of Johnny Cash. "Again, if I want to listen to Johnny Cash, I'll listen to my collection. I'm not going to go to the theater to see someone who is impersonating (a star) into a book that doesn't make any sense."



Conductor Ray Charles and leprechaun David Wayne recording the original cast album of Finian's Rainbow. Photo: MasterworksBroadway.com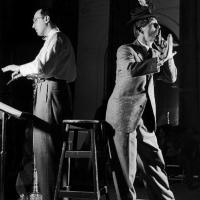 Deutsch says the significance of the juke-box musical trend is that "we are going back to shows where you can leave the theater with a song running through your mind."

"I was terrible sorry to see Finian's Rainbow close, because it was a very entertaining show. Very well done. It harkened back to the days of yore when musicals were funny and musical."

"Some record companies back musicals. Universal invested in Wicked. They invested in The Addams Family. I saw The Addams Family and, for all its faults, I enjoyed it tremendously. A major fault in today's market is the fact the entire Broadway scene relies on the opinion of one man - Ben Brantley," he complained about the chief theater critic of the New York Times. "He is an excellent writer and has an opinion. But, to me, The Addams Family should have been reviewed by Isherwood, who probably would have enjoyed it," speculated Deutsch about Charles Isherwood, another New York Times drama critic.

"I thought The Addams Family was amusing," continued Deutsch. "Outside of the overture and a couple of tunes in the Second Act, I think the weakest aspect of that musical is Andrew Lippa's score. But to me, its macabre was very funny. Outside of two or three exceptions, the score was terrible," reiterated Deutsch. "The songs became a secondary aspect of the show. The puppets are fabulous. Decca Broadway will do a recording. They invested in the show."

"If I am going to spend $127 for a ticket - which I don't usually because I can go and see the shows for nothing - but if I am going to spend that kind of money, I want to be entertained. (Full disclosure: Broadway To Vegas receives press invitations and free tickets to Broadway and off-Broadway shows, as well as albums-which has no impact on coverage).

"I did not like Wicked," he said of the Tony Award winning musical which received mixed reviews and was panned by The New York Times. Wicked has gone on to break box office records around the world, holding weekly-gross-takings records in New York, Los Angeles, Chicago, St. Louis, and London, and the record for biggest opening in the West End in the first hour on sale. Both the West End production and the North American tour have been seen by over two million patrons. Broadway To Vegas raved about the original Decca Broadway cast CD. ( See Broadway To Vegas column of December 14, 2003 )

Another shows in his cross-hairs is Come Fly Away.

Come Fly Away, is a so called musical based on the songs of Frank Sinatra. Quite frankly, I would have better enjoyed looking at Dancing with the Stars on television and listening to the songs of Frank Sinatra on my player," he laughed.



Susan Stroman is called "imaginative" by Deutsch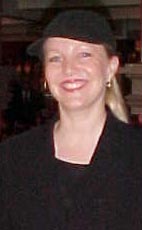 Susan Stroman is the one who broke the singing requirement barrier in Broadway musicals with her Tony-award winning dance/play Contact.

"Absolutely," agreed Deutsch. "Susan Stroman is very imaginative. Twyla Tharp, I'm sorry, I don't understand her."

Come Fly Away has the backing of the Sinatra family.

"I don't care," he responded. "To me, it's not a good show."

Deutsch was nominated for a Grammy in 1995 for his production of the 12-CD Frank Sinatra: The Columbia Years (1943–1952) – The Complete Recordings, the most ambitious project ever initiated by Columbia Records at the time.

What influence did the Sinatra family have when you did the Sinatra box set?

"None," he laughed. "Let me correct that," he immediately added. "There is a story about Sinatra and Columbia records. Sinatra came to Columbia Records as a solo singer. He was at the Paramount and was the new kid on the block and became a big star after he fronted bands - Harry James and Tommy Dorsey. From 1943 to 1952 he recorded very specifically for Columbia Records. During that time he established a relationship with Mitch Miller."



Mitch Miller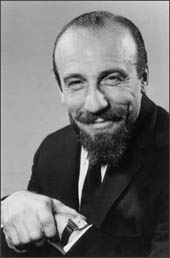 "Mitch Miller, for all the things he did right - bringing a lot of money to Columbia Records - forced his artists to sing things that were totally wrong. The great fault of Mitch Miller is that when he became head of A&R at Columbia Records he turned his back on the songs created by the great song writers of America. He focused on songs that meant absolutely nothing, but became one night wonders and made a lot of money for the label."

Quite frankly, who wants Come On-A My House or Mama Will Bark? It is drivel, nonsense."

Insulting to the artist?

"Exactly. As a result tension was created between Sinatra, who wanted to control what he was doing, and Mitch Miller, who decided that he - Mitch Miller - should control. Sinatra didn't want Mitch Miller interfering with the recording sessions. In fact, he threw Mitch Miller out of the studio at one time because Mitch Miller ignored what Sinatra was saying and kept talking to the musicians."

"Obviously the situation degraded," continued Deutsch. "Sinatra fell on hard times in 1952. He had vocal problems. He had divorced Ava Gardner. Things were not going very well for him. He left Columbia, signed with Capitol and his career soared ten times bigger than it ever was. The minute he walked away, Mitch Miller decided to release some of the unreleased tracks. First, he overlaid on most of them which Sinatra hated, because Sinatra liked the natural sound of the studio recording. Then Mitch Miller released songs that Sinatra had recorded that he was not happy about - Mama Will Bark is an example."

Mama Will Bark is a novelty song written by Dick Manning and performed as a duet between Sinatra and Dagmar in 1951. Mitch Miller became intrigued by the comic chemistry he perceived between Sinatra and Dagmar during her appearances on Sinatra's CBS television program, The Frank Sinatra Show. The recording features off-key singing by Dagmar and sound effects of dogs barking. Nonetheless, the single was a hit, nearly reaching the Top 20 on the Billboard singles chart, peaking at #21.

"As a result, the tension between Columbia and Frank Sinatra further degraded," continued Deutsch, "to the point that when I began working on the box set in 1990, Sinatra's business manager, Sonny Golden, wrote and said; 'I don't want you to do the box.'"

Undaunted, Deutsch took a different tactic.

"We sent him tracks of what we wanted to do. Out of those he eliminated about 50 percent, including songs that had legitimately already been released. Sonny Golden was brought into the studio one day by Frank Military, who used to run Warner Chappell. Frank Military and I had been working together on other projects. So, he knew where I was coming from."



Frank Sinatra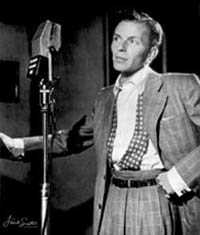 "Sonny sat in the studio while we played back some of the work we had done on Frank Sinatra, with an eye, of course, on eventually doing the boxed set. For about an hour Sonny Golden sat there - didn't say a word. Sonny Golden was about 64, a very tall, imposing man. Suddenly he got up to leave. All he said was - 'You're doing a good job.' The following day we got an authorization to release everything - including Mama Will Bark."

"The real vindication came in the form of an introduction to the box set that Sinatra wrote, saying he was glad the recordings were coming out. There was a total change in attitude."

"Eventually, I did get to know Nancy Sinatra, his daughter. I never met Tina, but she called us one day to congratulate us on the quality of the recordings. So, there has been some kind of a pleasant relationship between the Sinatra estate and Columbia Records."

Born and raised in France, Deutsch taught himself English and immigrated to New York in 1962. In 1973, following some years in public relations in the private sector, Deutsch became publicity director at CTI Records, the jazz label created by producer Creed Taylor, and worked with artists like George Benson, Bob James, Grover Washington, Jr., Freddie Hubbard, Paul Desmond, and Chet Baker, among many others.

In a career that has since entirely focused on the music side of the business, Deutsch held various publicity and managerial positions at Tappan Zee, RCA, WEA International, and Atlantic. While at that label, in 1991, he produced the 4-CD boxed set MJQ 40, marking the Modern Jazz Quartet's 40 years in the music business. Simultaneously, he began working for Legacy, the reissue label controlled by Columbia Records, now Sony Music. In addition to the Frank Sinatra box set, he produced the 4-CD Tony Bennett: 40 Years Of Artistry, marking the singer's 40 years in the industry (later updated to 5 CDs to mark Bennett's 50th anniversary as a recording artist); another 4-CD set, Johnny Mathis: Portrait Of The Artist, a 5-CD box set celebrating Broadway: The American Musical, in conjunction with the PBS special of the same name shown in 2004; and Sondheim: The Story So Far..., a career retrospective of the celebrated Broadway composer, which was released in 2008.

He laughs when he refers to himself as "the oldest member of the team" that has created MasterworksBroadway.com, a division which documents the history of the cast album from Finian's Rainbow (1947) to last year's Tony Award-winning revival of West Side Story. "All of the others are young people who are devoted to Broadway. I was brought in because of my knowledge of Broadway."

There are several companies recording Broadway cast albums. Are you running each other out of business?

"Oh, absolutely not," was the quick response from the man who is the first to buy the competitor's product.

"At this point there are two majors - Columbia/Sony and Decca Broadway. And, a sprinkling of smaller labels, PS Classics, Ghostlight and Sh-K-Boom," who try to produce Broadway records. To me, it's a very valid concept. Every time a new Broadway cast recording is released, if it is not on my label, I'll automatically acquire it. I'll want to listen to the CD."

PS Classics' roster includes the cast recording releases of the recent revival of Finian's Rainbow and A Little Night Music, as well as Grey Gardens, Nine, Assassins and Company.

Sh-K-Boom Records (pronounced Shikaboom) was created by Kurt Deutsch, an actor who started Sh-K-Boom to produce and market his wife's first solo CD. She is Sherie René Scott, who was a star of the two person The Last Five Years, which was Sh-K-Boom's first original cast album release. The musical closed quickly Off Broadway, even though it possessed what many people in the theater business considered the most original score of the season - by the young Tony Award-winning composer Jason Robert Brown.

Since then the independent label's releases have included the original Broadway cast albums for the critically acclaimed Passing Strange as well as the smash hit and winner of the 2008 Tony Award for Best Musical In the Heights, which debuted at No. 1 on the Billboard Top Cast Albums chart and arrived on The Billboard 200 at No. 82.

Are you any relation to Kurt Deutsch?

"None. Surprisingly, we have never met. I know of him and I suppose he knows of me. To tell you the truth, if you're looking at the Manhattan Directory there are four or five pages of Deutsch's all over the place."

In the glory days of vocalists headlining Vegas stages, singers regularly released albums which were recorded during live performances - Elvis Presley, Steve & Eydie, Frank Sinatra, Perry Como, Tom Jones, Jimmy Buffet, Sonny & Cher, Paul Anka, Freddy Fender, Sarah Brightman, Engelbert Humperdinck, Bee Gees - even separate releases by Telly Savalas and Noel Coward - to name a few. The stages would be miked for recordings with usually two shows recorded, so the best could be selected. The audience was advised the show was being recorded. Patrons were asked to behave normally, but not to scream out any comments or deliberately rattle chairs or glasses.

Broadway cast recordings are almost always studio recordings rather than live recordings. The recorded song lyrics and orchestrations are identical (or very similar to) those of the songs as performed in the theatre. Like any studio performance, the recording is of course an idealized rendering, more glossily perfect than any live performance could be, and without audible audience reaction. Nevertheless, the listener who has attended the live show expects it to be an accurate souvenir of the experience.

Cabaret has been considered the poor, second-cousin step-child to Broadway. Cabaret artists can feel pressured to produce a live performance album. Many of the efforts sound like a middle school performing arts' class project. The CD could be considered an 'accurate souvenir of the experience' by only the most die-hard fan.

"Cabaret performers, literally speaking, are naked in the world," responded Deutsch. "They come to cabaret. They perform. They believe in what they are doing. Particularly in this market, there is no back up. They don't have anyone to tell them what they should be doing. How they should be performing. Also, the cabaret scene is even smaller than the Broadway scene."



Michael Feinstein is the exception to the rule. Photo: Phil Konstantin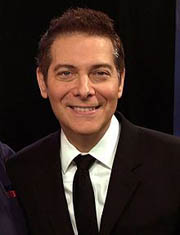 "Most often, unless they are signed to a small label, those performers do recordings on their own, presumably trying to get the technicians that will do the right thing for them. It costs money. If you don't have the financial back-up, you start cutting corners. It can be very expensive to prepare a recording that you will sell. And, where are you going to sell it? Not in a record store, because record stores do not exist any more. You're not going to sell it on Amazon or iTunes. They have to sell it in a cabaret," he said referring to peddling your wares to the customers as they leave your performance - a marketing approach successfully started by country stars literally selling their albums from the trunk of their cars.

"The country artists benefited because there is a huge segment of the population, particularly in the south, that loves country music. Country has a market. Cabaret, there is no market."

"Unless you're Michael Feinstein who is the only one signed to a legitimate label," added Deutsch. "He's a totally separate issue."

Deutsch named a couple of well known cabaret stars. "Even they have difficulty finding people who (financially) back their recordings. And, where are they going to sell it? That is the issue."

CLARIFICATION: On April 19, citing personal reasons, Didier Deutsch politely requested that some of his accurate quotes be deleted. His request was granted, without significance to the subject matter -the Broadway cast album.

Broadway To Vegas is supported through advertising and donations. Priority consideration is given to interview suggestions, news, press releases, etc from paid supporters. However, no paid supporters control, alter, edit, or in any way manipulate the content of this site. Your donation is appreciated. We accept PAYPAL. Thank you for your interest.


ART AND ABOUT


CHIHULY AT THE SALK

Measuring 15 feet tall, The Sun is a massing of bright orange and yellow hand-blown glass forms protruding from a steel core. Photo by Terry Rishel.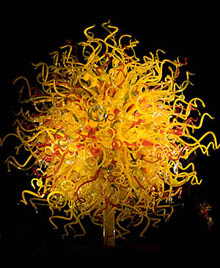 The bold iconic laboratory buildings of the Salk Institute for Biological Studies will receive a dramatic jolt of colorful artwork April 22-27 when the Institute in La Jolla, Calif. kicks off its 50th anniversary celebration with Chihuly at the Salk - an outdoor installation by artist Dale Chihuly

The artwork will be positioned throughout the grounds of the Salk Institute which was designed by famed American architect Louis Kahn.

Measuring 15 feet tall, The Sun is a massing of bright orange and yellow hand-blown glass forms protruding from a steel core. Born out of Chihuly's Chandeliers (the artist imagined what his Chandeliers would look like if they were turned upside down), The Sun is also an engineering feat for the studio. "If you take a thousand blown pieces of a color, put them together, and then shoot light through them, that's going to be something to look at," says Chihuly. "It's mysterious, defying gravity or seemingly out of place - like something you have never seen before."

Featuring blown-glass pieces ranging from white to light and neon pink, White Tower is made up of chandelier parts in a traditional Czech motif. Standing 15 feet tall, the components of this piece were blown in the Czech Republic.

Among the other Chihuly series works on display will include Niijima Floats, large spheres - up to 40 inches in diameter and approximately 60 pounds - with surfaces richly colored in gold and silver leaf and foil; Chandeliers, large hanging sculptures assembled from hundreds of colorful, tentacle-like glass components; and Reeds, translucent spears that appear to jut out from the ground.

To commemorate the celebratory event, the artist created a poster that depicts one of his most-recognized sculptures, The Sun flanked by the Institute's iconic buildings. The work serves as an installation-specific symbol of the collaboration between Chihuly and the Salk Institute.

An April 25th lecture and book signing with Dale Chihuly includes optional self-guided tours.

A master glass blower from Seattle, Chihuly has led the avant-garde in the development of glass as a fine art. His work is included in more than 200 museum collections worldwide, including the lobby of the Bellagio in Las Vegas.





SWEET CHARITY


BOUQUETS TO ART

Elemental by Waterlily Pond Studio, 2009. Photo by Erin Beach Photography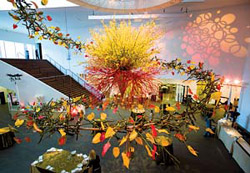 the 26th annual exhibition, featuring 150 floral displays interpreting the museum's permanent collection, returns to the de Young Museum, April 20–24.

This year's glorious annual flower festival, sponsored by the San Francisco Auxiliary of the Fine Arts Museums, celebrates the upcoming landmark exhibitions from the Musée d'Orsay that will be on view at the de Young this year. Looking ahead to these two signal exhibitions, Bouquets to Art 2010 adopts French Impressions as its theme.

The opening night gala and preview takes place Monday, April 19 at the de young in San Francisco. The evening features catering by McCall Associates, live music by the Moodswing Orchestra, and Floral Fashions, a presentation by local design students of clothing crafted from flowers. Bouquets to Art raises funds for special exhibitions, acquisitions, and education programs.




SPREADING THE WORD


29th ANNUAL WILLIAM INGE THEATRE FESTIVAL in Independence, Kansas opens Wednesday 21. On Saturday, April 24 Paula Vogel, the Pulitzer Prize winning playwright is honored with a star-studded multi-media celebration to Vogel's many renowned plays. Titled A Hot Waltz with Paula," the tribute is directed by Esquire Jauchem.

The Festival opens Wednesday April 21 with A Civil War Christmas, written by Vogel and directed by Mark Brokaw. Inspired by actual events of Christmas Eve 1864, the story intermingles the tales of ordinary soldiers and civilians with President and Mrs. Lincoln, John Wilkes Booth, Clara Barton, and other historical figures.

On April 22, the Festival hosts A Musical Gala Dinner. The 2009 Honoree, Tom Jones (The Fantasticks; 110 in the Shade) returns to the Festival. Jones and special guests will perform his song cycle Time Goes By: A Few Amusing Songs about Aging and Death, in a tongue-in-cheek revue.

The multi-talented Anika Noni Rose - Grammy nominated singer, Tony Award-winning actress - is on stage at the William Inge Theatre Festival to undertake one of the most anticipated new roles of theater today - featured in The Mountaintop.

The Mountaintop takes place in Memphis, Tenn., April 3, 1968. Dr. Martin Luther King Jr., has returned to the Lorraine Motel after delivering his stirring speech "I've Been to the Mountaintop" to a church congregation. In an imagined scenario, Dr. King encounters a hotel maid (Noni Rose), whose identity is puzzling, which leads him to confront his past and his legacy.

Written by Katori Hall, the production had its London world premiere in June 2009, which subsequently transferred to the West End earning Hall the Best New Play honor of the 2010 Olivier Awards.

Veteran director Chay Yew helms the concert reading Thursday April 23.

Playwright Hall, an alumnus of both Harvard and Columbia Universities, will be attendance and accept the Inge Festival's Otis Guernsey New Voices Playwriting Award. This award recognizes outstanding emerging playwrights. The award is named for the heralded theater writer and scholar Otis L. Guernsey Jr., a frequent visitor to the Inge Festival and an advocate of quality new plays.

The William Inge Theatre Festival is named for the late William Inge, an Independence native who won the Pulitzer Prize for Drama for Picnic and an Oscar for Best Screenplay for Splendor in the Grass.

FROM MAN TO MYTH: ABRAHAM LINCOLN YESTERDAY, TODAY AND TOMORROW Abraham Lincoln has been known as the Great Emancipator, the Wartime President, Honest Abe and the Illinois Rail Splitter. But how did this regular man from humble beginnings become an American icon - his image made to marble and remembered for generations?

Bob Edwards, host of The Bob Edwards Show on Sirius XM Radio, moderates a discussion on the public's perception and collective memory of Lincoln. Contributing panelists include Lincoln scholar Harold Holzer, actor David Selby and Harry Rubenstein, curator of the museum's exhibition Abraham Lincoln: An Extraordinary Life.

Saturday, April 24; Carmichael Auditorium of the Smithsonian's National Museum of American History in Washington, DC.




NEXT TO NORMAL the Tom Kitt-Brian Yorkey musical which became the eighth musical to win the Pulitzer Prize.

55th ANNUAL VILLAGE VOICE OBIE AWARDS will be co-hosted by Tony Award winners Anika Noni Rose and Michael Cerveris. The awards, which celebrate the 2009-2010 Off-Broadway and Off-Off Broadway seasons, will be held May 17 at Webster Hall in Manhattan.

Presenters for the evening will include J. Smith Cameron, Viola Davis, Marin Ireland, Linda Lavin, Sam Rockwell, Michael Shannon, Kerry Washington and Jennifer Westfeldt.

The evening will culminate with a celebratory after-party featuring live music and art, which will celebrate this year's honorees.

The Obie Awards were created in 1955 by Jerry Tallmer. Past recipients include Dustin Hoffman, Meryl Streep, William Hurt, Morgan Freeman, Mos Def, Amy Irving, Kevin Kline, Nathan Lane, Olympia Dukakis, Robert Duvall, Kevin Bacon, Alec Baldwin, Kathy Bates, James Earl Jones, Felicity Huffman and Harvey Fierstein, among others.


OTHER PEOPLE'S MONEY


FRANKIE VALLI

Frankie Valli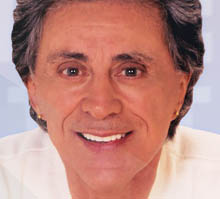 has filed a lawsuit against six former cast member of the Tony award winning musical Jersey Boys charging that their The Boys in Concert "steals songs, stage elements and copyrighted logos to dupe patrons into thinking it's an "authorized road company" of the long-running Broadway hit Jersey Boys. "Beginning with low-profile performances of songs from Jersey Boys, defendants have now increased the scale of their performances as 'The Boys' to the point that they now more boldly flaunt their similarity to the production," reads the suit filed in Manhattan federal court.

Other plaintiffs include Robert Gaudio, who sang in the original group and was its principal songwriter, and playwrights Rick Elice and Marshall Brickman. Their suit seeks a court order ending The Boys in Concert, as well as $150,000 for each of 10 tunes performed in the show.

Defendants in the case include Christian Hoff, who won a Tony for his performance as Tommy DeVito in the original Jersey Boys production on Broadway, Michael Longoria, Daniel Reichard, and J. Robert Spencer.

In describing The Boys In Concert the Hoff website states: "The Boys In Concert celebrate the music of an era that lights up every generation. Music from The Beach Boys to Motown... and of course... The Four Seasons!"

"As the Jersey Boys, they recorded a Grammy Award winning, platinum selling album, performed at Radio City Music Hall, Carnegie Hall, The U.S. Open, the Macy's Thanksgiving Day Parade, the 62nd and 63rd Annual Tony Awards and The New York City Marathon. They have made personal appearances on the Late Show with David Letterman, Regis and Kelly and Dick Clark's New Years Rockin' Eve. Now they are rocking audiences from coast to coast."

ON SEPTEMBER 23, 2010 it was first announced by the NY Post that Valli ended the litigation contingent upon the actors ceasing to call themselves The Boys in Concert. The artists had 30 days to rename their show in a way that does not "trade off of" the Broadway musical Jersey Boys.



LOVE FROM A STRANGER

Former Coronation Street actress Chloe Newsome stars with David Michaels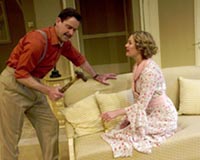 by Agatha Christie based on the 1924 short story Philomel Cottage. This play hasn't been staged for more than three decades. That changed last week.

A new version by Louise Page, has opened at The Mill at Sonning Theatre in Oxfordshire, England.

Directed by Andy de la Tour who calls it "an intense psychological drama with very few characters."

Love From a Stranger is a blood-curdling drama about frustrated spinster Alix King who has been engaged for years to Dick. Dependable but dull, Dick refuses to marry Alix until he can support her. When Alix unexpectedly inherits a fortune Dick is too proud to accept sharing it.

Then along comes a stranger. Handsome, successful and just that little bit dangerous, Gerald sweeps her off her feet. Before you know it they are married and move into Philomel Cottage. All too soon their happiness begins to disintegrate. Strange things begin to happen and Alix suspects that the man she rushed into marrying may not be what he seems to be. And who knows, maybe Alix has some dark secrets of her own.

The cast includes former Coronation Street actress Chloe Newsome (Alix), David Michaels (Gerald), Dido Miles, Peter Moreton and Struan Rodger.

Set Design by Terry Parsons. Costume design by Jane Kidd. Lighting design by Matthew Biss.

Performances are through May 22 at The Mill at Sonning Theatre, which is a dinner theatre converted from an 18th century flour mill.

LOMBARDI a new play by Oscar winner and Steppenwolf Theater Company member Eric Simonson, based on the best-selling biography When Pride Still Mattered: A Life of Vince Lombardi, by Pulitzer Prize-winning author David Maraniss opens a pre-Broadway engagement July 22-28 at the 690-seat Mahaiwe Performing Arts Center in Great Barrington, MA. The production intends to transfer to Broadway at Circle in the Square with previews beginning Thursday, September 23, 2010 with the official opening slated for October 21.

The production is produced in association with the NFL.

marking the organization's first foray on Broadway. The NFL has authorized use of its logos and NFL Films' footage and music. The league will also help promote and market the play. Tracy Perlman, the NFL's Vice President of Entertainment Marketing and Promotions, said, "Football and Broadway are both iconic American forms of entertainment, and the NFL is proud to bring these two unique and passionate audiences together under one roof. Lombardi's charisma and coaching style were legendary – and intensely theatrical. Football fans will learn more about the dramatic private life of the sports hero for whom the Super Bowl trophy is named, and Broadway audiences will be captivated by the story of a family chasing the American dream."

This original work will be directed by the Tony nominee Thomas Kail. Dan Lauria. will take on the title role of Hall of Fame football coach Vince Lombardi, one of America's most inspirational and mercurial personalities. Lauria has a certain knowledge and interest in football. He is a former football coach who began acting while attending college on a football scholarship.

Originally this play was mounted as Lombardi/The Only Thing in fall 2007 at the Overture Center for the Arts in Madison, WI. Madison Repertory Theatre, which commissioned the script and developed it during the company's fourth annual Madison New Play Festival. However, Simonson has reapproached the material and Lombardi is different from the one that premiered in Madison.

BENGAL TIGER AT THE BAGHDAD ZOO by Rajiv Joseph and directed by Moisés Kaufman.

The world premiere took place at the Kirk Douglas Theatre last spring. Now enhanced for the Taper stage, this remarkable play throws two homesick soldiers, a tormented Iraqi and a brooding tiger together into a revelatory situation that is both hysterical and macabre, soul-wrenching and lyrical.

Featuring Glenn Davis, Brad Fleischer, Arian Moayed, Kevin Tighe, Hrach Titizian, Sheila Vand and Necar Zadegan.

Scenic Design by Derek McLane. Costume Design by David Zim. Lighting Design by David Lander. Sound Design by Cricket S. Myers and Music by Kathryn Bostic.

Bengal Tiger at the Baghdad Zoo has been selected as an NEA Outstanding New American Play as part of the NEA New Play Development Program, hosted by Arena Stage. It is also a recipient of an Edgerton Foundation New American Plays Award. Bengal Tiger at the Baghdad Zoo was a finalist 2010 Pulitzer Prize for Drama.

Through May 30 at the Mark Taper Forum at the Music Center in Los Angeles.

CREDITORS by August Strindberg, in a new version by David Greig. This darkly comic tale is considered Strindberg's most mature work. Directed by Alan Rickman.

Vengeance, jealousy, and psychological warfare grind at the core of August Strindberg's Creditors in a new version by playwright David Greig. The Donmar Warehouse's production—direct from a sold-out run in London—is a fiercely modern take on one of Strindberg's more fervent explorations of the battle between the sexes.

Anxiously awaiting the return of his new wife Tekla (Anna Chancellor), Adolph (Tom Burke) finds solace in the words of a stranger (Owen Teale), but comfort soon turns to destruction as old wounds are opened, insecurities are laid bare, and former debts are settled.

Set design by Ben Stones. Costume design by Fotini Dimou. Lighting design by Howard Harrison. Composer and sound design by Adam Cork.

Presented by BAM and Donmar Warehouse. Through May 16 at BAM Harvey Theater. Brooklyn, NY.

An artist talk with Alan Rickman takes place Tuesday, April 27, in which he will explore his attraction to this caustic 19th century drama and its relevance today.





WHO'S WHERE


NEW ORLEANS JAZZ AND HERITAGE FESTIVAL kicks off this week with the singing-songwriting duo of Paul Simon and Art Garfunkel joining the Jazz Fest lineup that includes Pearl Jam, Aretha Franklin, Van Morrison, The Neville Brothers, Lionel Richie and Allman Brothers Band and Anita Bakers.

The festival is scheduled for the weekends of April 23-25 and April 29-May 2 at the Fair Grounds Race Course. Simon and Garfunkel will be on stage on April 24.

PINK MARTINI opens a three nighter Friday, April 23, at Bass Performance Hall in Fort Worth, TX.

IDINA MENDEL appears as part of the Starry Nights Program at Metropolitan Park in Jacksonville, FL on Saturday, April 24.

WEDNESDAY NIGHT AT THE IGUANA with hosts Dana Lorge and Richard Skipper. Bill Zeffiro on keyboard & Jeff Carney on bass. Guests include: Glen Charlow, Anthony Cochran, Henry Dee, Tod Hall, Rita Ellis Hammer. Wednesday, April 21 at the Iguana VIP Lounge in New York City.

JIMMY BUFFET brings his musical party to the Ford Amphitheatre in Tampa, FL on Saturday, April 24.

NORAH JONES ob stage Monday, April 19 at the Arlene Schnitzer Concert Hall in Portland, OR. On Wednesday the show is at The Fillmore in San Francisco. On Friday the tour stops at the Orpheum Theatre in Los Angeles. On Saturday she can be enjoyed at the Spreckels Theatre in San Diego.

CARRIE UNDERWOOD is in the spotlight Friday, April 23, at the Van Andel Arena in Grand Rapids, MI. On Saturday she's singing at the Lucas County Arena in Toledo, OH.

BON JOVI in the spotlight Wednesday at the Sommet Center in Nashville. On Thursday the show is at the Time Warner Arena in Charlotte, NC.

JOSH RITTER on stage Saturday, April 24 at The Live Lounge in Galway, Ireland.

MONTEREY JAZZ FESTIVAL ON TOUR featuring pianist Kenny Barron, violinist Regina Carter, vocalist Kurt Elling and guitarist Russell Malone performing Monday, April 19, at the Kuumbwa Jazz Center in Santa Cruz, CA. On Wednesday the show is at the Balboa Theatre in San Diego. Thursday the tour stops at Royce Hall in Los Angeles. Saturday finds the musicians at the Segerstrom Concert Hall in Costa Mesa, CA.

PATTI LuPONE has a one night stand Saturday, April 24, at the Music Center at Strathmore in North Bethesda, MD.

DEE DEE BRIDGEWATER if the volcano ash permits her travel, is set to perform Monday, April 19, at the Vatroslav Lisinski Congress Centre in Zagreb, Croatia. On Thursday she is scheduled to sing at the Concert Hall in Athens, Greece.





Next Column: April 25 2010
Copyright: April 18, 2010. All Rights Reserved. Reviews, Interviews, Commentary, Photographs or Graphics from any Broadway To Vegas (TM) columns may not be published, broadcast, rewritten, utilized as leads, or used in any manner without permission, compensation and/or credit.
Link to Main Page
---
Laura Deni



U.S. Postal Address: Post Office Box 60831, Las Vegas, NV 89160
CLICK HERE FOR COMMENT SECTION