! >
Broadway To Vegas
  SHOW REVIEWS     CELEBRITY INTERVIEWS     GOSSIP     NEWS 
| | |
| --- | --- |
| | |
Copyright: October 28 2001
By: Laura Deni
CLICK HERE FOR COMMENT SECTION

STAGE STRUCK GHOSTS AND CANDY CORN
Theaters are somewhere near the top of the list for places that are most likely to become haunted. The amount of energy expended in such places throughout the years can lead to a haunting, as can the devotion shown the theaters by the actors and staff members who spent their lives there.

Dayton, Ohio boasts two haunted theaters and both of them are said to be haunted by someone who worked there - who didn't realize they were supposed to leave after they died.

Memorial Hall is the home to the Dayton Philharmonic.It was built in 1909 and renovated in 1956. The theater is haunted by the ghost of a former custodian who accidentally fell into the orchestra pit and broke his hip more than thirty years ago. He died shortly after and strange events began to take place in the theater. Stage hands and staff members frequently report that the lighting system behaves erratically, footsteps sound on the overhead and empty catwalks and even toilets sometimes flush by themselves.

The Victoria Theater is a restored and ornate building that is said to be home to at least two ghosts. The most famous is that of an actress who disappeared mysteriously from the building in the early 1900's. She left the stage for just a moment and vanished, never to be found - and that mystery remains unsolved. In the years that have passed, the ghost has been seen in the theater and often leaves behind the scent of rose perfume to announce her presence.

The other ghost is the spirit of a young woman who was attacked at night in one of the theater boxes during a performance. After her death, the ghost returned to linger in the box and on one occasion a man entered the box and was slapped by an invisible hand that clearly left a mark on his face.

Barn Community Theatre Company in Dubuque, Iowa was originally the Grand Opera House, opened in 1890. It was turned into a movie house in 1928. In 1986 the building was renovated into a community theater. About that time, people started hearing weird voices and shuffling footsteps in the deserted building. Employees blamed the unseen spirits for hiding objects, changing lighting, and playing pranks. Then in 1991, apparitions started appearing in the back of the theater. Investigators later discovered that after the opera house became a movie theater, cleaning women called police several times complaining of strange voices in the building at night. Located on the Iowa-Illinois-Wisconsin border, the old opera house is now the home of the Barn Community Theatre Company.

Harvard Exit Theater in Seattle is a cinema theater which opened in 1968. The movie theater is in a three-story brick building constructed in the 1900s. When a second auditorium and screen was constructed on the third floor in the early 1970s, the ghosts of several women dressed in turn-of-the-century clothing began to appear. Most of the sightings were on the third floor and near a fireplace on the first floor. The encounters were accompanied by an assortment of strange phenomena, which continued until 1987. The only possible historical connection is Bertha Landes, the founder of the Women's Century Club, which had occupied the building for many years. From 1926 to 1928, Landes served as Seattle's first woman mayor. In 1988, relics of her administration and her personal belongings were displayed at a downtown museum, which reported a number of inexplicable incidents that some thought were manifestations of Landes' spirit

The attic at La Petite Theatre du Vieux Carre, an esteemed French Quarter playhouse, in New Orleans, LA is a huge jumble of costumes, props, shoes, hats and other stage-related paraphernalia. Caroline is in charge of the jumble. Caroline is also a ghost.

Theater officials explain that if you're looking for a costume and can't find it you just call out: 'Hey Caroline, where is it?' Then you come back in 15 minutes and it'll be sitting right in the middle of the aisle.

Legend says Caroline was an actress working at the theater in the years after it opened in 1927. One day, while frolicking with a director on the third-story balcony, Caroline tumbled over the railing and slammed to the flagstone courtyard. She died there, dressed for the evening's performance in a white wedding gown. Her body was hauled away, but her spirit never left.

The Guthrie Theater, an old opera house in Minneapolis, is haunted by the ghost of one of its former ushers. His wandering soul was put to rest during a 1994 exorcism.

We don't know if ghosts nibble on Candy Corn, but earth bound creatures enjoy a long tradition this Halloween staple. These bright orange, yellow, and white kernels of sweetness (4 calories, 0 fat grams apiece) have been with us for more than 100 years. Gustav and Albert Goelitz, two German immigrant candy makers, began making their specialties in 1869 in Belleville, Ill.

The basic ingredients -- corn syrup, sugar, water -- have remained the same. Some confection companies offer candy corn that also contains marshmallow for a "gourmet" taste, or various flavors, such as caramel-apple or honey. The kernels are polished in a concrete mixer-like device before bee's wax and a confection glaze are added.

Candy corn evokes early colonial history, when the Pilgrims relied on eating corn kernels to survive their first winter and planted corn the following spring. This year's harvest is expected to see over 20 million pounds of candy corn sold for Halloween. This is about 6 1/2 billion pieces - Stacked end to end, that translates into 87,000 miles of candy corn, or enough to wrap around the world three times or circle the moon twice with plenty left over for ghostly aberrations.

ART AND ABOUT Lori Hammel was first introduced to audiences at The Duplex Cabaret Theater in New York City as a cast member in the critically acclaimed production of Shout! She returns this time not as an actress and singer, but as an artist.


OPENING NIGHT 36" x 36" Acrylic & enamel on wood 2000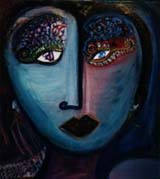 Her dynamically colorful expressionist portraits are theatrical and introspective, using character to explore truths. Her work has previously been exhibited at Tristan & America, SoHo; Knickerbocker Gallery; and Gallery @ 49th.

Hammel states, "The paintings become mirrors, reflecting and documenting ever changing emotional landscapes. They remind of a deeper truth, that what we are looking for is inside."



MY MOTHER'S VISIT 1998, Watercolor on Paper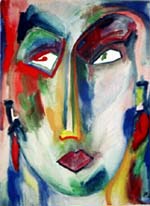 As an actress Hammel created multiple roles in the critically acclaimed Off-Broadway production of Forbidden Broadway Cleans Up Its Act, chosen by Time Magazine as The Best of the Year.

Featured on the original cast album, she starred in the United States Japan and Singapore road tours. Other New York credits include the hit Off-Broadway production of I Love You, You're Perfect, Now Change. Hammel's work in regional theater has garnered her a Joseph Jefferson Award, two After Dark Awards and a Sarah Siddons Society Award nomination. In concert, she most recently appeared with the Hartford Symphony Orchestra.



FREEDOM 1998, Watercolor & Ink on Paper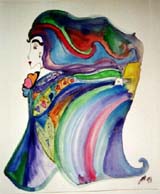 In 1994 the city of Chicago and the Illinois Arts Council bestowed awards upon her for her semi-autobiographical coming-of-age play Tiger Meat on Tuesdays. Also in Chicago, she was a writer and performer on Kaleidoscope Kids' Club, a television program at Children's Memorial Hospital, and was chosen by Today's Chicago Woman as one of the 100 Women Making a Difference in 1995. In 1999, Ms. Hammel spearheaded the Vice Versa Project, a collaboration of visual artists who are also involved in theater arts. Working with curator Cyn McClean, the group has created innovative exhibition opportunities.

Art in the Cabaret is curated by Jacob Fuglsang Mikkelsen A reception for this art exhibition will be held on Monday, November 5 and the paintings will be available for viewing through January 15th, 2002





Broadway To Vegas is supported through advertising and donations. Priority consideration is given to interview suggestions, news, press releases, etc from paid supporters. However, no paid supporters control, alter, edit, or in any way manipulate the content of this site. Your donation is appreciated. We accept PAYPAL. Thank you for your interest.



JANE FONDA receives a lifetime achievement award from the Savannah Georgia Film and Video Festival, which opens today at the Savannah College of Art and Design and runs through Nov. 3

ISSAC STERN the late, great violinist and teacher - who 41 years ago led the drive to save Carnegie from demolition, and served as its president until his death last month - will be honored Oct. 30 with a memorial tribute at the hall he loved.

Itzhak Perlman, Emanuel Ax, Yo-Yo Ma, Midori and Pinchas Zukerman will be among the musicians to perform. Stern's family and friends will also speak.

THE MacARTHUR FELLOW PROGRAM has announced 23 award recipients each of whom will receive $500,000 paid out over a five year period. The unrestricted fellowships are bestowed upon talented individuals who have shown extraordinary originality and dedication in their creative pursuits, and a marked capacity for self-direction. There are three criteria for selection of Fellows: exceptional creativity, promise for important future advances based on a track record of significant accomplishment, and potential for the fellowship to facilitate subsequent creative work.

The 2001 recipients with a tie to the arts include:

Danielle Allen, 29, Classicist/Political Scientist, Associate Professor Department of Classical Languages and Literatures, and Department of Politics, and Committee on Social Thought University of Chicago in Chicago, Illinois.
Andrea Barrett, 46, Novelist Instructor (part-time), M.F.A. Program for Writers at Warren Wilson College, Swannanoa, NC Rochester, New York.
Dave Hickey, 62, Art Critic and Art Historian Professor of Art Theory and Criticism University of Nevada Las Vegas, Nevada.
Stephen Hough, 39, Concert Pianist New York, New York and London, England.
Inigo Manglano-Ovalle, 40, Artist Associate Professor, College of Architecture and the Arts University of Illinois at Chicago in Chicago, Illinois.
Suzan-Lori Parks, 38, Playwright Director, A.S.K. Theater Projects Writing for Performance Program California Institute of the Arts Valencia, California.
Bright Sheng, 45, Composer Professor of Music University of Michigan Ann Arbor, Michigan.
David Spergel, 40, Astrophysicist Professor of Astrophysical Sciences Princeton University Princeton, New Jersey.
Jean Strouse, 56, Biographer New York, New York.
David Wilson, 55, Artist/Inventor Founder and Proprietor Museum of Jurassic Technology Culver City, California.


OTHER PEOPLE'S MONEY


THE PRODUCERS taking a cue from ticket scalpers are raising the top ticket price to $480.00 - that's four hundred eighty dollars per ticket. Their reasoning is that people are eager to pay that amount and more to ticket scalpers, with none of the molah going to the talented folk who created the show. The ticket jump takes effect in November for 50 VIP seats at every performance of the hit musical. The production will donate $150 from every $480 ticket to the Twin Towers Fund. Who receives the income tax deduction for that $150 charitable donation - the person who bought the $480 ticket, or the show's production company - wasn't disclosed.



THOU SHALT NOT One should never discourage a talented individual from writing for Broadway. Harry Connick, Jr. has a lot of talent. His first Broadway effort, Thou Shalt Not, was never intended to be a long engagement - although those involved may have hoped to catch lightening in a bottle. Instead, they have gotten zapped with the reality that it takes more than a wish to make a dream - especially when it's an adaptation.

Thou Shalt Not is based on the classic novel Therese Racquin by Emil Zola, a preeminent French novelist of the later 19th century. Zola wrote a gripping tale of lust, murder and guilt involving a sickly young man, his domineering mother, his repressed wife and his would-be best friend. When Zola penned it the novel was set in Paris.

Some things just shouldn't be updated.

Connick, a Grammy Award winning jazz pianist and crooner, once touted as the next Frank Sinatra, teamed up with Tony award winning director-choreographer Susan Stroman to direct and choreograph Thou Shalt Not.

Stroman and Connick first shifted the Emil Zola's action to World War II in Connick's home town of New Orleans.

Connick knows sultry blues and jazz and attempted to write both the music and lyrics for this show. As the first theatre score ever written by Connick, the task is daunting. His work shows promise, although notes not words become his strong suit.

Musically, the best part of the show is the jazz opening which permits Connick's heritage and talent to shine

Accomplished writer David Thompson penned the adaptation. Ignorant as to his contract stipulations and the perimeters his stage adaptation was required to remain within, Zola's book is transferred to the stage with an uneven meter.

Trying to mount a dark musical is always tricky. Consider Jane Eyre, Parade, Dr. Jekyll & Mr. Hyde. The talented Paul Simon went down in flames with his ambitious Broadway musical The Capeman. That was based on the true story of Salvador Agron, a Puerto Rican gang member imprisoned for his part in the murder of two white teenagers in New York in 1959. Despite Simon collaborating with poet Derek Walcott and Broadway veterans Jerry Zaks and Joey McKneely. The Capeman folded on March 28, 1998 after 59 previews and only 68 regular performances following savage reviews and protests from the surviving relatives of Agron's victims. Simon and his fellow investors were reported to have lost a record $11 million.

That doesn't mean it can't be done. Transporting New Orleans and jazz to the Broadway stage has never been done better than with Jelly's Last Jam.

Writing a Broadway musical is different that creating a CD or a movie score.

The public may have been expecting too much in Thou Shalt Not because of the name Susan Stroman.

Stroman has been choreographing musicals for seasons and became virtually a household name through The Producers. Most of her dance routines can be found in movies of the 30s through 50s. She is a master at transferring to the stage - with her own spin - what worked in celluloid. Perhaps that's the problem. Horror films aren't noted for their high energy, sexy, thigh opening, crotch rubbing dance routines.

The numbers have a fixation with sex or death. The rotating marriage bed becomes not just strange but almost funny - when that wasn't the intent. The nursery rhyme Tug Boat is the musical background for dances that depict death. And then there is that tap dance routine thrown in to emphasize that Kate Levering hasn't forgotten how, in the short time it's been since she starred in 42nd Street.

The entire design team of this production deserves a bow.

WILLIAM IVEY LONG consummate costume designer photo By: Laura Deni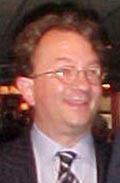 William Ivey Long is a consummate costume genius - therefore he is taken for granted. It is expected that his costumes would be exceptional and they are.

The Thomas Lynch sets are wonderful, and Peter Kaczorowski's lighting should be an award winner. Able music direction by Phil Reno.

Therese Raquin conspires with her lover, Laurent, to kill her husband, Camille, who then comes back to haunt them.

The cast is impressive. Craig Bierko as the libido driven ex-solider Laurent LeClair is staking his claim as a Broadway star with substance. Stage veteran Debra Monk is Madame Raquin, devoted to her ill son. Leo Burmester is the police chief. Kate Levering, recently of 42nd Street fame, plays the orphan Therese, now the wife of her sickly cousin Camille - played by Norbert Butz who is also Camille's ghost.

Lincoln Center Theater at the Plymouth Theatre to Jan. 6. Opening night was Oct. 25. Seen in previews.

TIMESLIPS a new play inspired by actual stories created by people with Alzheimer's. Written by Dr. Anne Basting, Directed by Christopher Bayes. Timeslips is a guided journey into the imaginations of people living with dementia. Previews begin on Tuesday, October 30th at HERE, playing through November 18th. Timeslips is being presented as part of TimeSlips Project New York, a month-long series of public arts and education events in New York City this fall that celebrate creative expression by people with Alzheimer's.

At an adult day center, a small group of people gather in a creative storytelling circle. Weaving communal stories, they free themselves from their private struggles with Alzheimer's to create a wondrous world inhabited by fantastical characters that take on a life of their own. A can-can dancer conceals the long legs of ostrich beneath her skirts, a singing cowboy serenades his devoted horse with song, a determined swimmer battles the Hudson to break a world record, and a bookworm struggles to liberate himself from a mountain of books. Through the storytelling process, these fragmented personalities band together to help each other complete their journeys even as memory fails their authors.

Christopher Bayes directs an ensemble of talented performers, using puppetry, movement, and live music to capture the humor and poignancy of life lived outside the conventional boundaries of time. Timeslips champions the power of the imagination to transform lives and challenges us to wonder - "Are we more than memory?"

The production team includes Scenic Designer David Korins, Lighting Designer Diane Fairchild, Costume Designer Christianne Myers and Composer/Sound Designer Chris Curtis.

Currently based at the Brookdale Center on Aging at Hunter College, the TimeSlips Project was created by Dr. Anne Basting by bringing together certified facilitators, people with Alzheimer's, health care professionals, and visual artists to encourage creative expression and deepen public awareness of the creative potential of people with dementia. Dr. Basting has established TimeSlips storytelling circles in New York, New Jersey, Pennsylvania and Wisconsin, and conducts storytelling training workshops throughout the U.S.

Timeslips performances will be held at HERE Arts Center. October 30 - November 18th.

NOISES OFF written in 1983 by Michael Frayn opens November 1 at the Brooks Atkinson. Directed by Jeremy Sams, this British farce about an acting company putting on a British farce stars Patti LuPone, Peter Gallagher, Edward Hibbert and Faith Prince.

ME AND MRS. JONES starring Lou Rawls is a new Sound of Philadelphia musical. The sexy bass voice and charismatic presence of Lou Rawls take the stage in this new show based upon the great songs of the 70's, launched in Philadelphia by Philadelphia International Records.

Forty-five of the biggest hits by artists like The Stylistics, The O'Jays, Harold Melvin & the Blue Notes and more create the musical backdrop for an urban love story. It's the tale of a distinguished judge, his romance with the bewitching Mrs. Jones, and the intertwined lives of off-beat characters whose musings and intrigues sparked the unforgettable songs that became known as the Philly Sound. From cool blues to hot dance numbers, Me and Mrs. Jones gives new theatrical life to these great songs, in a show whose sweep and energy are about a decade when anything seemed possible.

By special arrangement with Murray Schwartz and Lou Rawls with Music & Lyrics by Kenny Gamble and Leon Huff Creative Consultant and Director: Charles Randolph Wright Choreography by Ken Roberson Music Direction by Danny Kosarin. Based on an idea by Murray Schwartz

November 3 with a run through December 9. Prince Theater, Philadelphia.

THE ROCKY HORROR SHOW reopens on Broadway Oct. 30 at Circle in the Square. It's a turnstile of eclectic narrators. Returning is Dick Cavett Oct 30-Nov.4. Part-time Vegas resident and avid party goer Robin Leach takes his spin Nov. 6-11 followed by Gilbert Gottfried Nov. 13-18. Dave Holmes takes over Nov. 20-26. Talk show host Jerry Springer is set for a Nov. 27-Dec. 2 stand, followed by Cindy Adams Dec. 4-9, with Sally Jesse Raphael on board Dec. 11-16. Las Vegas residents Penn and Teller Dec. 18-23, with Dick Cavett returning Dec. 26- Jan. 6.

Former heavy weight metal head banger Sebastian Bach, who showed off his Broadway stuff in Jekyll & Hyde, will play Riff Raff. Terrence Mann is Frank N' Furter, Liz Larsen is Columbia, Daphne Rubin-Vegas is Magenta, Lason Wootsen is Eddie/Dr.Scott, Kristen Lee Kelly is Janet, Jarrod Emick is Brad and Jonathan Sharp is Rocky.
National Airlines is offering a 15 percent discount to lure Vegas residents to attend the performances featuring either Leach or Penn & Teller. Business has been brisk, especially since Leach is offering to eat and be merry with those ticket buyers who see his performance.

JOE LOUIS BLUES starring Tony Award winner Tonya Pinkins began previews October 25 in Los Angeles at the Tiffany Theater. The world premiere of the play by Oliver Mayer officially opens November 3.

Joe Louis Blues is set in 1940s Harlem where a local jazz club is home to a variety of dreams and ambitions. Vantyle Mayfield waits to win big in the lottery, coronet player Demas Dean dreams of the big time, and Leila Rivers refuses to ever sing the blues. Into their midst steps boxer Joe Louis, who has deeper needs of his own.

Also in the cast are J.D. Cullum, Gregg Daniel, Abdul Salaam El Razzae, Russell Hornsby, Sterling Macer, Jr., Barry Primus and Ellis E. Williams. The production is directed by L. Kenneth Richard, a co-founder of Crossroads Theatre Company.

Performances through December 23.

LIZZIE BORDEN starring Christiane Noll, in the infamous title role November 1-25 at Goodspeed Musicals' Norma Terris Theatre in Chester, CT.

A creative excursion into the mind of Lizzie Borden - an American legend who took her secrets to the grave - and the system that brought her to trial.

Did she or didn't she? Based on one of history's most infamous and bizarre murder cases, this stunning new musical is a creative excursion into the mind of Lizzie Borden and the justice system that brought her to trial. With intelligence - and humor - authors Amy Powers and Christopher McGovern bring to life an American legend who took her secrets to the grave. The musical retells the story of the real-life, infamous hatchet murders of Andrew Borden and his wife, Abby, in 1892 Massachusetts, tracing the lives of the spinster daughter accused of giving them 40 whacks, and the townspeople who put her on trial. Bill Castellino directs.

Special discussion sessions are planned in conjunction with this engagement. Professer Jules Ryckebusch will discusses Lizzie Borden: The Woman, Her History, and the Lore That Surrounds Her on Sunday, November 4 at The Norma Terris Theatre. $5 or free with the purchase of tickets to Lizzie Borden.

Audience response is a vital part of The Norma Terris Theatre Talkback discussions between the audience and creative staff, which gives the audience the opportunity to actively participate in the process of creating a new musical. Talkbacks! for Lizzie Borden will take place immediately following the evening performances on Wednesday, November 7, and Thursday, November 8 & 15.


WHO'S WHERE
DAVE BRUBECK Earshot Jazz Festival currently in session through Nov. 4, with the Brubeck Quartet. A co-production of the Seattle Theater Group and Earshot. The 80-year-old Brubeck is joined by Militello, Michael Moore (bass) and Randy Jones (drums). Clarinetist Smith will guest on several tunes. Nov. 4 at 8 p.m. at the Paramount Theatre, Seattle, Washington.

LEA DeLARIA opened a month long stand October 25 at Joe's Pub in New York City. She's performing selections from her Play It Cool CD through November 18.

RAY CHARLES Nov. 2, Civic Center Music Hall, in Oklahoma City, Oklahoma.

DAVID CASSIDY performs Nov. 1-2 at Harrah's in Atlantic City, N.J.

ENGELBERT HUMPERDINCK center stage in Atlantic City, N.J. at the Tropicana Hotel, November 2-4.

NEIL DIAMOND November 1-2 at the E Center in Salt Lake City, Utah.

MICHAEL FEINSTEIN stars Nov. 2-3 at the Blumenthal Center in Charlotte, N.C.

MANDY PATINKIN opens October 29 at the Shubert Theater in Chicago in an engagement running through November 4.

JULIO IGLESIAS Tuesday headlines the Luther Burbank Center in Santa Rosa, California. On Thursday the crooner is at the Spirit Mountain Casino in Grand Rapids, OR.


PIFFLE AND PROFUNDITIES

REGIS PHILBIN is on the move - at least his Madame Tussaud wax form is on tour. Usually, the wax version of the talk/game show host is on display in the New York Museum. Leaving it there was not the Museum's final answer. For about a month customers can eyeball the wax Regis at the Madame Tussaud Museum in Las Vegas.

IT'S THAT HOUDINI TIME OF YEAR Tony Curtis and Lance Burton help the U.S. Postal Service unveil it's new Harry Houdini stamp on October 29 in the Lance Burton Showroom of the Monte Carlo Hotel in Las Vegas. Curtis starred as Harry Houdini in the 1953 film Houdini. More Houdini events in Las Vegas occur Wednesday when magician Dixie Dooley stages his 15th annual Houdini Seance in the Plaza Hotel showroom. Proceeds go to families of the victims of the Sept. 11 New York tragedy













Next Column: November 4, 2001
Copyright: October 28, 2001. All Rights Reserved. Reviews, Interviews, Commentary, Photographs or Graphics from any Broadway To Vegas (TM) columns may not be published, broadcast, rewritten, utilized as leads, or used in any manner without permission, compensation and/or credit.
Link to Main Page
---
Laura Deni



U.S. Postal Address: Post Office Box 60538, Las Vegas, NV 89160
CLICK HERE FOR COMMENT SECTION