! >
Broadway To Vegas
 
  SHOW REVIEWS   CELEBRITY INTERVIEWS  GOSSIP  NEWS

| | |
| --- | --- |
| | |
ALAN FREED'S MOON DOG BROUGHT TO THE STAGE - -WICKED A CD WINNER - - RELIGIOUS VISION OF BOB DYLAN - - THE TIMELESS MBIRA - - SWEENEY TODD - -ROAD PROJECT SANDBAGS BOSTON POPS - - THE MUSICAL OF MUSICALS - - PERSISTENT MAX BAER - - DONATE . . . Scroll Down


MOONDOGG CELEBRATES MOONDOG ALAN FREED
Alan Freed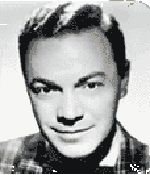 Disk jockey Alan Freed is widely credited with coining the term "rock and roll" to describe the uptempo black R&B records he played as early as 1951 on Cleveland radio station WJW. Freed called himself "the Moondog" and billed his show as the "Moondog Rock 'n' Roll Party." A tireless and enthusiastic advocate of the music he played, Freed kept time to his favorite records by beating his hands on a phone book. He called it rock and roll because "it seemed to suggest the rolling, surging beat of the music."

The Freed-sponsored 1952 Moondog Coronation Ball in Cleveland is believed to be the nation's first rock and roll concert. He staged it at the old Cleveland Arena 51 years ago. Thousands of people attempted to crash the gate causing a near riot. Both the police and firefighters arrived on the scene to break up the fighting.

To honor Freed's legacy and celebrate the birth of rock in Cleveland a production called MoonDogg, is being staged this week-end by Verb Ballets at the Cuyahoga Community College Metro Campus Theatre in Cleveland

MoonDogg, a suite of dances by Artistic Director Hernando Cortez, is a bare bones $40,000 production funded from trustees, local foundations and the National Endowment for the Arts, which provided a $5,000 matching grant.

MoonDogg is a spirited suite of dances choreographed by Cortez to music recorded by rock artists in the 1950s - Alan Freed & his Rock 'N Roll Band, Joe Williams, the Cleftones, Jimmy Cavallo & the House Rockers, the Platters, the Moonglows, the Robins, Bill Haley and His Comets, Otis Williams and the Charms, with Chuck Berry's Run, Run Rudolph Run.

Some of the songs were taken from a compilation of Freed's radio shows. Others were found on worn 45s obtained from private collections. Freed's voice is heard announcing some numbers.

Cortez, a former New Yorker, who visited the Rock and Roll Hall of Fame and Museum last year when he came to town to be interviewed for his current post, credits staff members at the Rock and Roll Hall of Fame for generating the idea behind the ballet and helping him research the music.

The nine dancers in the cast portray a group of 1950s friends having fun at a record hop.

Billed as the company's "new holiday tradition," the ballet has a seasonal flavored finale danced to Chuck Berry's Run Rudolph Run. Costumes designed by Philip Heckman. Lighting by Chenault Spence. Verb Ballets is a contemporary dance company founded in 1987 as the Cleveland Repertory Project.

The Company includes; Kallie Marie Bokal, Erin Conway, Elizabeth Flynn, Ellen Ressler Hoffman, Jason Ignacio, Jenita McGowan, Shannon Mulcahy DiNota, Anna Roberts, Mark Tomasic, Tracy Vogt & Robert Wesner Margaret Carlson is the Executive Director.


THE MUSIC GOES ROUND AND ROUND


WICKED just in time to be spirited into Santa's sack - this original cast recording of the Stephen Schwartz-Winnie Holzman Broadway musical will be in stores December 16.

From high drama to the devilishly subtle, the pop opera score features emotionally charged music, strong arrangements and pithy-witty lyrics creating songs that span the gamut of emotion, making this 19-track CD on Decca Broadway a winner.

Based on the 1955 novel by Gregory Maguire, Wicked explores the early life of the witches of Oz: Glinda and Elphaba. Tony Award winner Kristin Chenoweth plays Glinda, the self absorbed Good Witch, and Idina Menzel is Elphaba, the misunderstood Wicked Witch of the West.

Glinda, continuously praised as "so good" by her classmates, is really quite a selfish, me-first person. Through odd bedfellow arrangements she befriends Elphaba, the school outcast because she was born green.

Maguire, as part of his commentary in the booklet that accompanies this CD writes; "Everyone else in Oz had a longing: For a heart, for a brain, for courage, for a way home. Surely the Wicked Witch of the west wanted something other than shoes. What was it? Vengeance? Justice? Love? An accompanist?"

Apparently, the folks in Oz needed someone to believe in.



Kristin Chenoweth singing No One Mourns The Wicked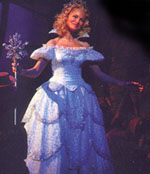 Enter Tony and Academy Award winner Joel Grey as The Wizard, Carole Shelley as Madame Morrible, Michelle Federer as Nessarose, Christopher Fitzgerald as Boq, William Youmans as Doctor Dillamand and Norbert Leo Butz as Fiyero.

Since this CD was recorded on November 10 medical reasons have forced Butz to temporarily leave the show because of a back injury. He last performed Nov. 23 and is not expected to be able to return until January 20. His part of Fiyero has been played by his understudy Kristoffer Cusick. On Christmas night Tyne Diggs takes over that part which is the love interest of Menzel's Elphaba. That's not much of a stretch since they are married in real life.



Idina Menzel in Defying Gravity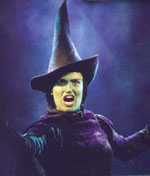 The company features Ioana Alfonso, Ben Cameron, Cristy Candler, Kristy Cates, Melissa Bell Chait, Marcus Choi, Kristoffer Cusick, Kathy Deitch, Melissa Fahn, Rhett G. George, Kristen Lee Gorski, Manuel Herrera, Kisha Howard, LJ Jellison, Sean McCourt, Corinne McFadden, Mark Myars, Jan Neuberger, Walter Winston O'Neil, Andrew Palermo, Andy Pellick, Michael Seelbach, Lorna Ventura and Derrick Williams.

Rich and elegantly composed, the CD opens with the dramatic No One Mourns the Wicked. Clever, spirited lyrics permit Chenoweth to bubble with the effervescent Popularity in which she attempts to teach Elphaba how to be "Popular," which she pronounces "Pop-you-ooh-lar." While the Tony award winning Chenoweth might be better known, Menzel deserves a huge following. Her powerful, electrifying voice stands up against Chenoweth's soaring soprano as she offers show stopping renditions of The Wizard and I and I'm Not That Girl.



Joel Grey performing Wonderful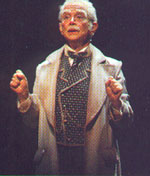 Other standouts include Chenoweth's reflections on happiness in Thank Goodness; Joel Grey's jaunty Wonderful is what Mr. Cellophane was for him in Cabaret. Menzel's No Good Deed, a come-to-terms realization that her good intentions have led to her downfall. Chenoweth and Menzel showcase their beautifully blending voices in their duets - the poignant For Good and the powerful Defying Gravity, in which Elphaba declares; I'm Through Accepting Limits/'Cuz Someone Says They're So/Some Things I Cannot Change/But Till I Try I'll Never know/ Too Long I've Been Afraid Of/ Losing Love I Guess I've Lost/Well, If That's Love/It Comes At Much Too High A Cost.

Stephen Schwartz has penned a mass appeal musical. The production is currently on Broadway and a national tour follows. Arrangements are being made for the publication of Wicked sheet music with lyrics.

Conductor: Stephen Oremus. Associate Conductor Alan lacamoire. Musicians, some of which were engaged for this recording only include; Victor Schultz, Maura Giannini, Ann Labin, Suzanne Ornstein, Victor Heifers, Katherine Livolsi-Stern, Kevin Roy, Ron Carbone, Dan Miller, Jeanne Le Blanc, Laura Sherman, Jon Owens, Tom Hoyt, Dale Kirkland, Douglas Purviance, Helen Campo, Tuck Lee, John Moses, John Campo, Theo Primm, Kelly Dent, Gary Seligson, Konrad Adderley, Alex Lacamoire, Paul Loesel, David Evans, Ric Molina, Greg Skaff, Andy Jones.

Orchestrations by William David Brohn. Music arrangements by Alex Lacamore and Stephen Oremus. Dance music arrangements by James Lynn Abbott. Synthesizer Programming Andrew Barett for Lionella Productions. The music coordinator is Michael Keller.

EGYPTICAT arranged and produced by Caspar Weinberger, Jr.

It's the name Weinberger that caused Broadway To Vegas to pay attention to this CD.

Weinberger, Jr., is a laid back San Francisco born and raised music hippie, who is the Harvard educated son of one of the most powerful names in American political history.

You remember the name Weinberger. As in Iran-Contra affair.

Caspar Weinberger was nominated by President Reagan to be Secretary of Defense in 1980 and served from January 21, 1981- November 23, 1987. Widely respected, Weinberger possess a room full of awards including the Presidential Medal of Freedom, which he received in 1987.

In June, 1992, he was indicted by a federal grand jury on charges of concealing from congressional investigators and prosecutors thousands of pages of his handwritten notes. The personal notes, taken during high level meetings, detailed events in 1985 and 1986 involving the Iran-Contra affair.



Caspar Weinberger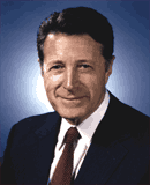 Weinberger was scheduled to go on trial, where the contents of his notes would have come to light and may have implicated other, unindicted, conspirators. According to Special Prosecutor Lawrence Walsh, Weinberger's notes contain evidence of a conspiracy among the highest-ranking Reagan administration officials to lie to Congress and the American public. Some of the notes are believed to have evidence against then vice-President George Herbert Walker Bush.

To forestall any prosecution for alleged misdeeds in connection with the Iran-Contra affair, Weinberger was pardoned by President George Bush in 1992.

Had it gone to trial the cross-examination of Weinberger was going to be the event of the decade.

After he left the Pentagon, Weinberger became publisher and chairman of Forbes magazine, where over the next decade he wrote frequently on defense and national security issues. In 1990 he penned Fighting for Peace, an account of his Pentagon years; in 1996, Weinberger co-authored a book entitled The Next War, which raised questions about the adequacy of U.S. military capabilities following the end of the Cold War.

In his early years he once dreamed of studying art and music in Europe. Always a supporter of the arts he was called a Renaissance Man, steeped in art, literature and music.

With that in mind, it may be that the father has lived vicariously through his namesake's almost alternative lifestyle.



Caspar Weinberger, Jr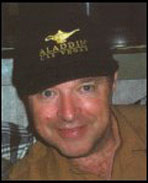 Cap, Jr. who always had a bend for music, played guitar as a teenager. "In the late '60's, Haight-Ashbury came to me. It was a wonderful time to be young, alive and making music in San Francisco. My fondest memories are of playing a few gigs with a guy named Jerry Garcia - before there was a Warlocks, let alone a Grateful Dead!"

He went on to attend Harvard College, graduating with a Bachelor of Arts degree in the Class of 1968. He then picked up some awards as a producer, director and writer for NBC-TV affiliate, KRON-TV in San Francisco and a Special Projects Officer with the United States Information Agency.

Several years ago, Cap established his own video programming company, Central Sun, producing shows including an original Nashville bluegrass music series. Currently, he is publisher and owner of Windswept House Publishers in Maine. EgyptiCat is his first foray into the production end of the recording world.

Although he lives in Maine he frequently commutes to Las Vegas, as he did last Sunday - which brings us to this CD.

EgyptiCat is an instrumental album featuring Patrick Lee Hadley playing his original compositions on the Array Mbira.

On the what???

It's an old instrument that is a perfect vehicle for New Age music.

The original mbira consists of 22 to 28 metal keys mounted on a gwariva (hardwood soundboard) made from the mubvamaropa tree (Pterocarpus angolensis). The mbira is usually placed inside a large calabash resonator (deze) to amplify it. The mbira is played with the two thumbs stroking down and the right forefinger stroking up.

Either metal beads strung on a wire, or bottle tops or shells mounted on a metal plate, are placed on the lower portion of the mbira soundboard to add a buzz which varies from a soft hiss to a tambourine-like sound. The buzz is considered an essential mbira sound, required to clear the mind of thoughts and worries so that the mbira music can fill the consciousness of the performers and listeners. The buzz adds depth and context to the clear tones of the mbira keys, and may be heard as whispering voices, singing, tapping, knocking, wind or rain.

According to the non-profit mbira organization "the pitch of an mbira is also a matter of personal preference, ranging from high to very deep. Each instrument has a range of three octaves, or slightly more."

This CD uses the patented Array Mbira developed by Bill Wesley. The invention uses a unique 2-dimensional grid of pitches with no relation to the conventional piano keyboard. The Array Mbira is tuned to extended Pythagorean intonation, which permits schimic near-just major and minor thirds within the Pythagorean system.

Because this instrument has interesting possibilities, the burden of success weighs heavily on the choice of material and subsequent arrangements.

Both this performer and the instrument deserve attention.

What is showcased on this CD is pleasant, new age elevator music - almost pop. The second cut has a Jimmy Buffett feel. The selections would be perfect background music for a store or office where the effect is to sooth but not to interfere with the person's ability to concentrate upon their work.

However, this CD is presented as; "Hadley and Weinberger have created a virtual musical trance-like and hypnotic stage leading into a much deeper and richer pathway of music which is passionately played and which goes where words fail."

"In ancient times the Mbira was often regarded as a timeless musical instrument used to bridge the spirit world. Its tonal scale seems to effect within the listener a state of peaceful and deep relaxation, undisturbed by the world."

Perhaps so, but not in this CD.



Patrick Hadley and the Mbira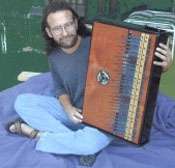 What is on this CD does not transport a person to another plane - as in encouraging meditation or sleep.

Unlike Kenny G who is noted for making different cuts seem like one long song, the selections on this CD are varied. However, the results of the perky note construction, high pitch, and tempo are invigorating, as opposed to meditative.

The liner notes on this CD do not benefit this unknown artist. They are vague to the point of conveying the idea that the person has no respectable educational credentials or work experience in any genre.

"Born Patrick Lee Hadley (1956) in Marietta, Ohio, Patrick grew up surrounded with a love for music in his home environment. Two older brothers played trumpet, piano and trombone. Although Patrick was attracted to the piano at age 7, after only a few lessons tragic, life-changing circumstances would not allow him to continue. It wasn't until much later during the late 60s and following his older brother's leads (both played folk music) did Patrick return to music and learned to play the guitar. His influences then were the Beatles, James Taylor, Joni Mitchell and many others of that generation. His more modern day music influences are by artists such as Andreas Vollenweider and Loreenz McKennitt."

When the only musical training listed is having a few piano lessons at age 7, the potential buyer is apt to reject this CD and look for another. Saying there were life altering circumstances is odd - either say what they were or leave them out. Influenced by the Beatles - so, who wasn't?

Excellent liner notes will not alone generate sales. However, ineffective liner notes potentially harm the bottom line. If one is pondering purchasing one of two CDs, both by unknowns, the liner notes can be the deciding factor.

EqyptiCat, which lists no liner note credit, is produced by Abracadabra Music Corporation.



Broadway To Vegas is supported through advertising and donations. Priority consideration is given to interview suggestions, news, press releases, etc from paid supporters. However, no paid supporters control, alter, edit, or in any way manipulate the content of this site. Your donation is appreciated. We accept PAYPAL. Thank you for your interest.


SPREADING THE WORD


BOB DYLAN is he Jewish? Does it matter? The religious vision of Bob Dylan through the eyes of a multi-faith panel including Director of Makor Artists Networks Stephen Hazan Arnoff, Robert Levinson and Reverend Dr. Jamie Gripton. Music, video and discussion centered on one of the greatest voices of then and now. December 16 at the Steinhardt Building presented by the 92nd St Y in NYC.


OTHER PEOPLE'S MONEY


BOSTON POPS CONCERT CANCELED BY BIG DIP The Dec. 19th performance, to be held inside the Interstate 93 southbound tunnel, was to celebrate the opening of a new two mile Interstate 93 tunnel under Boston. Years late and over budget, from the estimate $2.6 billion to $14.6 billion, bipartisan criticism questioned coughing up more money for the performance. Security costs for the event were estimated at up to $150,000.

Both Republican Gov. Mitt Romney and House Speaker Thomas Finneran, a Democrat, said they would not attend the concert.

MAX BAER, JR has spent years (see Broadway To Vegas column of May 17, 1998) attempting to build a theme hotel and casino patterned after the hit TV series, The Beverly Hillbillies in which Baer played Jethro Bodine.

Last Monday Baer filed a petition in Carson City District Court, in an effort to get his proposed $54 million Beverly Hillbillies Mansion & Casino constructed in a shopping center he shares with The Glenbrook Co. and J.C. Penney in Carson City, Nev. Plans for the casino include a 200-foot flaming oil derrick, 30,000-square-foot casino with 800 slot machines and 16 game tables, a 240-room hotel and restaurants — all playing off of The Beverly Hillbillies.

In the petition Baer, 66, asserts he has a legal right to develop his property. Standing in the way of Baer's plans are restrictions barring development of a theater, bowling alley, nightclub or other place of recreation or amusement at the mall.



SWEENEY TODD The Demon Barber of Fleet Street. A Musical Thriller with music and lyrics by Stephen Sondheim. Book by Hugh Wheeler. From an adaptation by Christopher Bond. This new production will be sung in English with subtitles.

Sondheim's most operatic of musical theatre works enters the repertory of The Royal Opera. Unjustly treated, his family destroyed, the opportunity for revenge seduces and finally overpowers the bloody barber of the title to cause unexpected ends in this cruel comedy. Mrs. Lovett and the potential of her meat pies gradually gives way to gory secrets, heightened by the dark shadows of Victorian London – a city on fire with lust and madness.



Felicity Palmer
A stunning cast headed by Thomas Allen as Sweeney Todd and Felicity Palmer as his co-conspirator Mrs. Lovett. In 1973 Palmer made her USA operatic debut as Mozart's Countess with the Houston Grand Opera.

Conductor Paul Gemignani will be making his Royal Opera debut. The much praised production by Neil Armfield, first seen in Chicago last year, will use amplification in accord with the original conception of the piece. 'The history of the world, my sweet, is who gets eaten and who gets to eat.' Political commentary or grisly grand guignol? Find out as the Demon Barber of Fleet Street returns to his familiar London haunts.

Sweeney Todd is in rep at the Royal Opera House, London from December 15 until January 14.

THE TAMING OF THE SHREW AND THE TAMER TAMED The Royal Shakespeare Company presents two Elizabethan versions of similar stories, one by Shakespeare and the other by John Fletcher, both starring Jasper Britton and Alexandra Gilbreath. December 16 – January 5 in the Eisenhower Theatre at the Kennedy Center, Washington, D.C.

THE MOSCOW STARS ON ICE PRESENT THE "BROADWAY" NUTCRACKER ON ICE this company of Olympic-caliber skaters will treat the audience to a novel version of this classic with innovative jazz and rock-n-roll arrangements skillfully interspersed with elements of the original Tchaikovsky musical score. Add exquisite costumes plus the latest stage technology, and the atmosphere of 19th century Russia is brought to life. Dec. 19-24 at the Crest Theatre in Delray Beach, Florida.

OREGON SYMPHONY YULETIDE CELEBRATION celebrates the holiday season Broadway-style with music, theater and dance. The family concert features traditional symphonic holiday music paired with theatrical production numbers. This year's concerts are co-hosted by Broadway talent Benjamin Brecher and vocalist Cara Johnston. The program includes tap dancing Santas, The Three Yuletide Tenors and Christmas Toons, a retelling of favorite Christmas stories in cartoon format. The Symphony, led by conductor Orcenith Smith, will perform arrangements created specifically for Yuletide Celebration. Dec. 19 through 22 at the Arlene Schnitzer Concert Hall. Portland, Oregon.

A DEATH IN THE HOUSE NEXT DOOR TO KATHLEEN TURNER'S HOUSE ON LONG ISLAND a long title for the name of a play - a comedy - (Broadway To Vegas certainly hopes so) written by William Ludel. The world premiere will be directed by Jeff Steitzer.

Two hapless acting students, inexplicably named Lucy and Desi, break into a movie star's house to snap a photo of her Academy Award. Trouble is - it's the wrong house - there's no Oscar - and there's a dog under the sheet on the living room floor showing no signs of life.

Performances at the Alliance Theatre in Atlanta, Georgia April 28 – May 30.

THE MUSICAL OF MUSICALS - THE MUSICAL! is a musical about - musicals. In a comic satire of musical theatre genres, one story becomes five musicals, each in the distinctive style of a different master of the form - Rodgers and Hammerstein, Jerry Herman, Andrew Lloyd Webber, Kander and Ebb and Stephen Sondheim.

Music by Eric Rockwell, lyrics by Joanne Bogart, and book by Rockwell and Bogart.

The cast of The Musical of Musicals - The Musical! is Craig Fols, Lovette George, and the authors, Rockwell and Bogart. Pamela Hunt directs, and scenery is by James Morgan, costumes by John Carver Sullivan, and lighting by Mary Jo Dondlinger.

In previews, officially opening December 16 continuing through January 16 presented by The York Theatre Company at The Theatre at St. Peter's Church in NYC.


| | | |
| --- | --- | --- |
| | | |
WHO'S WHERE


MANNHEIM STEAMROLLER on stage Tuesday at the Kemper Arena in Kansas City, Mo. On Thursday the fun is at the SBC Center in San Antonio, Texas. Next Sunday they can be enjoyed at the Toyota Center in Houston.

JIM BRICKMAN has a busy week. Tonight he's center stage at The Bushell in Hartford, CT. On Monday the show is at the Palace Theatre in Manchester, New Hampshire. On Tuesday he's at another Palace Theatre this one in Albany, New York. Wednesday the performance takes place at OnCenter in Syracuse, New York. Thursday the show is at the Chrysler Hall in Norfolk, VA. On Friday it's the Carpenter Center in Richmond, Virginia and Jim closes out the week on Saturday at the Weinberg Center in Frederick, MD.

PETER CINCOTTI in a two nighter, Friday and Saturday at the Roger Berlind Theatre in Princeton, N.J.

LYLE LOVETT in a two nighter Tuesday and Wednesday at Bass Performance Hall in Fort Worth, Texas.

BETTE MIDLER center stage Monday at the Savvis Center in Saint Louis, Mo. On Wednesday she takes her talent to the Bradley Center in Milwaukee. On Friday the action is at the Xcel Energy Center in St. Paul, Minn.

THE BRIAN SETZER ORCHESTRA on stage at the Hard Rock Hotel in Las Vegas on December 18.

ISRAEL PHILHARMONIC ORCHESTRA Zubin Mehta, Music Director and Conductor perform Schubert's Symphony No. 6 and Mahler's Symphony No. 6 on Wednesday, December 17 at the Stern Auditorium, NYC.

DAVID BOWIE AND MACY GRAY perform Monday at Madison Square Garden in NYC. On Tuesday they are on stage at the Mohegan Sun Casino in Uncasville, CT.

DAME KIRI TE KANAWA in a Christmas Gala Concert at the Warwick Arts Centre in Coventry, Great Britain on Saturday, December 20.

SIMPLY CHRISTMAS TOUR AMY GRAND & VINCE GILL have a full week. On December 15th they bring their holiday show to the Wachovia Arena at Caset Plaza in Wilkes-Barre, PA. On Tuesday they are center stage at the Peterson Events Center in Pittsburgh. Wednesday the show is at the Allstate Arena in Rosemont outside of Chicago. Friday find the husband and wife entertaining at the Convention Center at CSU in Cleveland. They close out the week, Saturday, at the Roberts Stadium in Evansville, Indiana.

RONNIE SPECTOR'S XMAS PARTY December 19-20 at B.B. King's Blues Club in NYC.

GAY MEN'S CHORUS OF LOS ANGELES presents the first production of its historic 25th Silver Anniversary season of concerts, Holiday In and Out with Dr. Bruce Mayhall conducting for his third season as artistic director. Staged by Joanna Gleason with the overriding theme of the concert being a take-off on the classic Christmas film, Holiday Inn starring Fred Astaire and Marjorie Reynolds. Gleason twists the classic boy-meets-girl story line; as Joanna and the "elves" all vie for the affection of Santa Claus. Guess who wins? December 19, 20 & 21 at the Alex Theatre in Glendale, CA.

CHRISTMAS FROM THE HEART TOUR starring expectant father of twins Kenny Rogers has a full week. Monday, December 12 at the Deschutes Event Center in Redmond, Oregon. On Tuesday the shop sets up at the Memorial Auditorium in Sacramento, CA. On Wednesday the show is at the Selland Arena in Fresno. Thursday finds the gang at the Universal Amphitheatre in Universal City, CA. Friday, the production is at the Dodge Theatre in Phoenix and on Saturday they are at the Star of the Desert Arena in Primm, Nevada.

BILLY STRITCH in A Billy Holiday! December 19-20 at the King Kong Room, NYC.

MAUREEN McGOVERN in a special performance of Richard Rodgers songs and holiday favorites. Ham Hall at the University of Nevada, Las Vegas. Dec. 29.
















Next Column: December 21, 2003
Copyright: December 14, 2003. All Rights Reserved. Reviews, Interviews, Commentary, Photographs or Graphics from any Broadway To Vegas (TM) columns may not be published, broadcast, rewritten, utilized as leads, or used in any manner without permission, compensation and/or credit.
Link to Main Page
---
Laura Deni


CLICK HERE FOR COMMENT SECTION