! >
Broadway To Vegas
  
 SHOW REVIEWS CELEBRITY INTERVIEWS GOSSIP NEWS

| | |
| --- | --- |
| | |
CONTORTIONISTS HOPE FOR CIRQUE CONTRACT - - LITTLE HOUSE ON THE PRAIRIE THE MUSICAL - - SYDNEY OPERA HOUSE NOT YOUR AVERAGE FIXER UPPER - - RULES FOR LIP-SYNCHING - - ROBERT REDFORD FILM AND CONVERSATION - - BROADWAY ON BROADWAY - - MOVING DAY FOR MICHAEL JACKSON'S STUFF AND BODY - - ANGELA LANSBURY HOSTS BEA ARTHUR TRIBUTE - - DONATE . . . Scroll Down


PEOPLE KNOTTED UP AT CONTORTIONISTS CONVENTION


Being able to turn yourself into a human pretzel is considered at art form at the 5th Annual International Contortionists Convention, a three day event held this past week in Las Vegas.

They were in Sin City - mostly female, attractive, nubile - doing things with their legs that sex manuals only list as a fantasy. The men can stop drooling - because they are mostly under the age of consent.

Open to active participants up to the age of 17, there were workshops and competition. Their goals - or perhaps more aptly the goals of their parents - are that the young contortionists get - not money left on a dresser - but a lucrative Cirque du Soleil contract hammered out by lawyers.

In fact, a Cirque du Soleil talent scout was in attendance and posted this message for the young hopefuls.

"Cirque du Soleil is seeking new talent for its current shows and upcoming creations and will be present at the 5th International Contortion Convention in Las Vegas. The Cirque du Soleil Casting team is continually on the lookout for talented artists and athletes. They search the globe for outstanding performers who are ready to embark on a new adventure. Cirque du Soleil has over 15 contortionist roles at the moment. Come meet their Talent Scout Lisa Jones to learn more on the career opportunities at Cirque du Soleil."



Cirque du Soleil contortionists. Young performers work in harmony and unison to bring a new approach to the art of contortionism. What sets this number apart is the artists' innovations in movements and position, their speed, and the way they work as a team to create tableaux of sculptural beauty. Contortionist from the Cirque Du Soleil show Kooza include Natasha Patterson 11, Julie Bergez 15 and Dasha Sovik,17.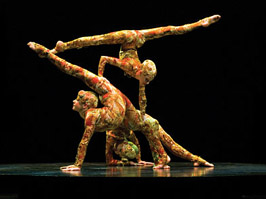 A hundred years ago specialty acts had vaudeville. Today, those acts have Cirque shows. In fact, Cirque is about to open another Cirque show which promises "a new twist on vaudeville," opening in Chicago on November 19. With the working title of Vaudeville Cirque, the production is directed by David Shiner - accomplished comedic actor, Broadway creator who also directed the latest Cirque show Kooza.

Contortionists are being elevated from side show freaks to accomplished artists. The Vegas convention was also covered by a team from National Geographic Television.

Presented by Ska von Schöning and Klaus Bischoff whose company Showbiz, is based in Cologne, Germany, workshops were taught by Angelique, Otgo and Enkhee - professional contortionists, who have worked with Cirque du Soleil. Angelique is now one of the contortion trainers of various Cirque productions in Las Vegas. The trio own Las Vegas based EOA Extraordinary Arch Studio, which specializes in contortion training.

Some of their students have already worked in various productions of Cirque du Soleil as well as other productions.

Betsy Shuttleworth honed in on the presentation and how to integrate all different aspects of contortion, dance to develop a polished act. Michael Balanciere who has been working in various Las Vegas productions taught the latest and more contemporary dance moves and choreography. Gerd Rasquin has been training young students in various disciplines of acrobatics and sports for more than 30 years. His students perform in and around Hamburg, Germany.



Students of Oyana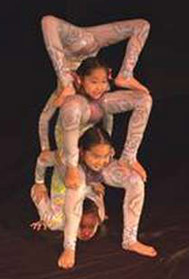 Many of the youngsters begin their training at the age of three. Being out of diapers is considered a plus. With Las Vegas home numerous Cirque shows it's a natural that the twisted up children should head to Sin City to show off their pliable bodies.

Built like a toothpick with the flexibility of a rubber band, a contortionist defies human development. Bend 'em till you break 'em isn't the motto. Safety and attention to the natural growth process is a contortionist's oxymoron partner.

Karen Rudiger's qualifications area mouthful. Athlete, teacher, writer, and Advocate for Body Education, researcher in functional anatomy, biomechanics and creative science, Karen is the founder of the RudigerMethod: the new paradigm of functional anatomy advancing the science of physical education through new standards, principles and exercise techniques to balance, build and measure functional body aptitude and take the guess work out diagnosing the unbalances that cause of injury.

She received equal billing with those teaching the art of twisting one's body into an unnatural shape.

The RudigerMethod is a universal exercise methodology for all age levels and all skill levels starting from beginner and rehabilitation levels into the advanced stages of flexible articulation, strength and balance. Karen is emphatic that developing muscle function, as "being a foundation necessary for a child's physical development, correcting postural unbalance, healing injury and balancing the aesthetics of body symmetry. The level of development attained in a muscular system determines an individual's level of agility and ability to learn motor skills and balance the body in the proper posture for any activity."

A student friendly convention the first show encouraged all students to participate. "We encourage our young students - even if not so experienced - to try and put a little routine together and to present it. They can be certain that it will be highly appreciated by all of us."



Broadway To Vegas is supported through advertising and donations. Priority consideration is given to interview suggestions, news, press releases, etc from paid supporters. However, no paid supporters control, alter, edit, or in any way manipulate the content of this site. Your donation is appreciated. We accept PAYPAL. Thank you for your interest.


ART AND ABOUT


THE FANTASTICAL WORLD OF ERIK DESMAZIERES Presented from September 10, 2009, to January 3, 2010, the inaugural exhibition at the Montreal Museum's new Graphic Arts Centre, The Fantastical World of Érik Desmazières, will be Canada's first retrospective of the prints of one of the most fascinating and distinguished contemporary printmakers, the French artist Érik Desmazières.

Approximately fifty prints will be exhibited in the galleries covering the breadth of his achievements, from his earliest prints, such as The Astronomers of 1972, to his most recent work, Rembrandt's Kunstkammer of 2008. The selection derives from the comprehensive collection of Freda and Irwin Browns, great benefactors of the Museum's print collection. Free admission at all times Montreal Museum of Fine Arts September 10, 2009 to January 3, 2010.

ARTIST LECTURE: DENNIS OPPENHEIM celebrated since the late 1960's for his innovative approach to sculpture, earthworks, body art, video and performance art, will be speaking about his experience creating public sculpture.

In the early 1970s, he was in the vanguard of artists using film and video in relation to performance. He was included in both the Venice Biennale and the Johannesburg Biennale in 199.

Wednesday, September 9 at the Scottsdale Museum of Contemporary Art in Scottsdale, Arizona.

A COMPASSIONATE EYE: THE WORK OF VICTOR ARIMONDI

Still Life With Leaf Series. Model Janos. San Francisco, 1986.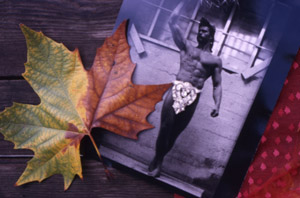 Famed fashion and art photographer Victor Arimondi was known for his unique eye and sensuous style. This exhibit is first major retrospective of work since the artist's death from AIDS in 2001.

If a picture is worth a thousand words then the iconic images of photographer Victor Arimondi are an unfinished epic: a tone poem that blurs the boundaries of fashion and art, and delves into realms of the sensual, the celebratory and society's disenfranchised. A Compassionate Eye: The Work of Victor Arimondi explores the incredible breadth of the internationally-acclaimed photographer often compared to – but lesser known than – such contemporaries as Mapplethorpe, and Bianci. The exhibit opens September 12 at the James C. Hormel Gay & Lesbian Center of San Francisco's Main Public Library

Adam Stoltman, a former photography editor at the New York Times has curated the exhibit in concert with documentary photographer Regina Monfort and Arimondi's former partner, Dr. Donald Hershman.

Opens September 12, 2009 at the James C. Hormel Gay & Lesbian Center at the San Francisco Public Library.





LIP-SYNCHING? BEWARE - THERE ARE RULES
If you are a performer who lip-synchs during your performance and you intend to book your act in China - be forewarned - beginning in October, all performances involving singing or playing in commercial venues in China will be recorded and observed to avoid lip-synching, stated a new rule posted last Thursday on the Ministry of Culture's website.

Promoters who stage shows without recording them will face a fine up to $439., stated the proclamation.

Lip-synching is the matching of a singer's lip movements to a recording. Taped music use in commercial performances will also be supervised.

"The act of lip-synching and faking the playing of a musical instrument is a gross violation of regulations and laws", said Tuo Zuhai, an official with the Ministry of Culture, adding it not only infringes on the rights and interests of the consumers but also did harm to the singer or player.

This new ruling is the result of the lip-synching controversy created during the opening ceremony of the Beijing Olympic Games when a girl who enchanted millions of viewers with a moving song was later found to be lip-synching. See Broadway To Vegas column of August 10, 2008 and Broadway To Vegas column of August 17, 2008


BROADWAY ON BROADWAY
Michael McKean, star of the upcoming Broadway play Superior Donuts, will host Broadway on Broadway 2009.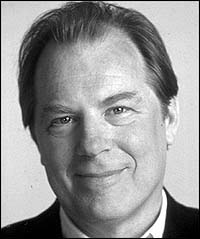 One of New York's great outdoor events, Broadway on Broadway is a free concert co-produced in the heart of Times Square by The Broadway League and the Times Square Alliance, taking place on Sunday, September 13.

This free outdoor concert, attended by more than 50,000 fans, features musical numbers and appearances from almost every play and musical on Broadway, as well as sneak peeks at several upcoming shows opening in the new theatre season.

Broadway on Broadway 2009 will feature performances by stars from upcoming productions such as Burn the Floor; Fela!; Finian's Rainbow; Pure Country and Ragtime as well as some of Broadway's most beloved shows, including Billy Elliott The Musical; Chicago; In The Heights; Irving Berlin's White Christmas; Jersey Boys; Memphis; Next to Normal; The Phantom of the Opera; Shrek the Musical; South Pacific; West Side Story; Wicked and more.

Broadway on Broadway is part of Back2Broadway Month, a series of talk-backs, concerts, events, dining deals and more created to help celebrate the new Broadway season!


MOVING DAY FOR MICHAEL JACKSON'S STUFF - AND BODY
Michael Jackson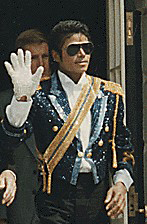 It looked like a commercial for Home Depot.

All those Home Depot stamped packing cartons leaving the house Michael Jackson had rented in Las Vegas.

It took movers four days to pack-up and ship out the belongings from the 12,000 sq. ft. home Jackson and his children called home for most of 2008.

That included three automobiles Jackson was saving for his children when they became old enough to drive. The rare, blue Roles Royce Shadow earmarked for first-born Prince.

The final possessions, including several statues and a life-sized figure, hit the road last Wednesday. Jackson was finally laid to rest on Thursday. Celebrities attending the by-invitation-only service followed by entombment at Forest Lawn included Lisa Marie Presley, Elizabeth Taylor, Macaulay Culkin, Kenny Ortega and Quincy Jones. The Rev. Al Sharpton spoke at the ceremony, and Gladys Knight performed.

The criminal investigation surrounding his death - ruled a homicide - continues.

Jackson was originally scheduled to be interred on August 29. On that day in Xi'an, China more than 500 "flash dancers" moved to the music of Michael Jackson's Beat It in honor of what would have been his 51st birthday.

Jackson fans in Hong Kong, Beijing, Qingdao, Shenzhen, Tianjin, Guangzhou, Zhengzhou, Chengdu and other Chinese cities also took part in the flash mob to honor the King of Pop.

A flash mob is a group of people who gather in a predetermined location, perform some brief action like a dance or freeze in the same pose, and then quickly disperse after the performance.


SYDNEY OPERA HOUSE - NOT YOUR AVERAGE LITTLE FIXER UPPER


The orchestra pit is called a disaster. The percussion section can't see the conductor, thus forced to look at the conductor through television monitors. A stage trap - where Don Giovanni enters - is directly above the timpani. The backstage equipment is in a state of total dilapidation, breaking down on a daily basis. The orchestra pit is so small and acoustically compromised that players must work in rotation shifts to safeguard their hearing.

The pit has also been called "a deterrent to visiting conductors," by Opera Australia's chief executive, Adrian Collette. "Any conductor of international standing thinks twice about the conditions of working in the opera theatre pit," Collette says. "I have had that conversation over and over. People are very keen about conducting this orchestra … but they go 'ugh, the pit'."

About $600 million ought to do the trick in bringing up to snuff what is considered one of the most beautiful and famous venues in the world - the Sydney Opera House.



Sydney Opera House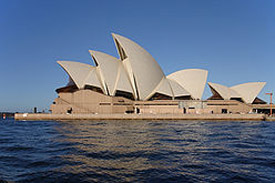 It's Australia's most instantly recognizable landmark but is it worth preserving? A vigorous debate is raging.

Australian Prime Minister Kevin Rudd is hesitant, saying the money should be spent elsewhere, such as on health care.

The Opera House has always been mired in controversy.

In the mid-1950s, the New South Wales government staged an international design competition for what would become the Sydney Opera House. The contest was won by a relatively unknown Danish architect, Jorn Utzon. A series of wranglings, costs disputes and political pressure compelled the Danish architect to resign in disgust in 1966. It was up to an Australian design team, let by architect Peter Hall to complete the project. Utzon, who in 2002 received architecture's highest award, the Pritzker Prize, for his design of the Opera House, never returned to see the completed work. He died on November 29, 2008.

The original cost estimate in 1957 was $7 million with the completion date set by the government as Australia Day, January 26, 1963. The Opera House was formally completed in 1973, having cost $102 million.

Contrary to its name, the building houses several separate venues rather than a single opera theatre, the two main venues, the Opera Theatre and the Concert Hall, being housed in the two larger shells. The Sydney Opera House is a major presenting venue for Opera Australia, The Australian Ballet, the Sydney Theatre Company and the Sydney Symphony, as well as hosting many touring productions in a variety of performance genres, and is a major tourist attraction.

From singer and actor Paul Robeson, who climbed the scaffolding when the building was under construction in 1960 to sing to the workers, to Queen Elizabeth II, who officially opened it on October 20, 1973, the Opera House has continued to draw world-famous visitors: Pope John Paul II, who spoke in the Concert Hall in 1986; Nelson Mandela, shortly after his release from prison, in 1990; President Clinton, who jogged into the Opera House in 1996; Hillary Clinton, who spoke on the role of women in the 21st century; Chancellor Helmut Kohl of Germany.



The Concert Hall is the largest interior venue at Sydney Opera House. With its high vaulted ceiling and interior finishes of brush box and white birch timber it is designed primarily for acoustic performances.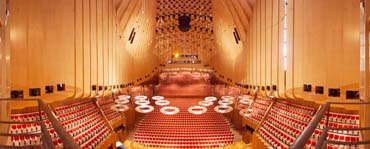 Just about every famous singer has performed here in some venue - jazz, operatic, classical and contemporary. They include Ella Fitzgerald, Sammy Davis, Jr., Luciano Pavarotti, Andrea Bocelli, Tony Bennett, KD Lang, Norah Jones, and, of course, Australia's own opera diva soprano Dame Joan Sutherland.

Tour guides tell patrons that "originally, the Concert Hall was intended to serve for opera, ballet, symphonies and concerts. Acoustics make this difficult: if you are singing, you need a short reverberation time. A big orchestra needs a long reverberation time. If you put opera in the concert hall, Lucia di Lammermoor would sound more mad than usual."

One solution, used in the Meyerson Symphony Center in Dallas, Texas, designed by architect IM Pei, is a roof that can be raised for symphonies and lowered for singers.

Utzon had realized the multi-purpose space would have been difficult, but had not finalized the plan. Hall decided to keep the Concert Hall for concerts and turned what was originally designed as the drama theater into an Opera Theater. By changing the design, he allowed the creation of three more theaters. Under the ten sails of the Opera House, a huge range of performances take place inside the Concert Hall, Opera Theater, Drama Theater, Playhouse and Studio. The walls of the Drama Theater and the Opera Theater are painted black, to focus attention on the stage.



The Opera Theatre is a proscenium arch lyric theatre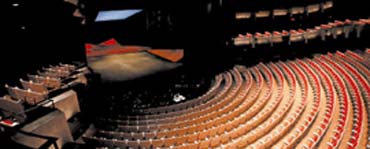 The building covers 4.5 acres of land, and is 605 ft long and 388 ft wide at its widest point. It is supported on 588 concrete piers sunk more than 82 feet below sea level. Its power consumption is equivalent to that of a town of 25,000 people, and is distributed by 401 miles of electrical cable. The entire building weighs 158,412 tons, with the roof shells alone weighing 26,799 tons. A total of 7,442 square yards of glass were used in the windows. The shells required an incredible 1,056,006 Swedish roof tiles. These are painted off-white and beige to reveal their distinctive chevron shapes.

With about 1,000 rooms, finding your way around the Opera House has been called "a bit like finding your way around different decks in a big ship. It's easy to get lost."

During one drama performance a young man on a bicycle delivering parcels made a mistake, taking the wrong turn and coming on stage. Paralyzed with sage fright, the quick thinking actor said, 'Thank heavens, the parcels have come at last!' The audience thought it was all part of the script.

Another time, a family of possums from the neighboring Botanic Gardens, wandered on stage.





SWEET CHARITY


THE GUYS a staged reading of a play by Anne Nelson. Directed by Gerard Priori. Starring William J. McKay and Myla Pitt.

Paralyzed by grief and unable to put his thoughts into words, Nick, a fire captain, seeks out the help of a writer to compose eulogies for the colleagues and friends he lost in the catastrophic events of September 11, 2001. As Joan, an editor by trade draws Nick out "the guys" powerful profiles emerge revealing what ordinary people can do in extraordinary circumstances.

First performed in a hit off-off Broadway production and now a film starring Sigourney Weaver and Anthony LaPaglia, this moving tribute to the Firefighters of 9/11 will benefit the East End Fire Departments. Friday, September 11, at the Bay Street Theatre in Sag Harbor, NY.

THE JERRY LEWIS MDA TELETHON taking place this week-end has a blue ribbon celebrity guest line-up. Doing their part to raise money for Jerry's Kids are The Ten Tenors - Dion Molinas, Tod Strike, Benjamin Clark, Jeff Teale, Graham Foote, Steven Snowden, Dominic Smith, Stewart Morris, Boyd Owen, Luke Kennedy - one of Australia's most famous exports. They will appear twice on the Telethon - today, Sunday, September 6, during the 10 pm PDT hour and Monday during the 11am PDT hour. Also the Ten Tenors will man 10 phone lines during the Las Vegas local fundraising break of the Telethon today prior to their performance on the National Broadcast.

And finally, The Ten Tenors will make a special guest appearance Sunday night just after Midnight at Mandalay Bay's House of Blues, where they will perform for the first time ever their dance remix of the 1980's Erasure classic Oh'Lamour.

PLAYING OUR SONGS Featuring Marvin Hamlisch, Robert Klein and Lucie Arnaz.

These three award-winning stars will come together for a special benefit, each performing their unique brand of song and comedy, followed by songs from the Tony nominated show They're Playing Our Song.

Proceeds from this evening will benefit Bay Street Theatre and Fran Liebergall, part of the original production of They're Playing Our Song who is living with multiple sclerosis.

Sunday, September 13 at the Bay Street Theatre in Sag Harbor, NY.






SPREADING THE WORD


ROBERT REDFORD: FILM AND CONVERSATION

Robert Redford in The Electric Horseman. Redford was paired with Jane Fonda, although the movie was stolen by Willie Nelson who delivered a stand-out performance, including a memorable line about showgirls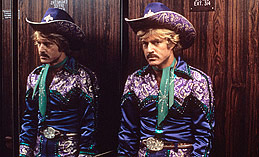 a tribute to his career, including his work as Hollywood leading man, Oscar-winning director, environmental activist, and staunch champion of American independent cinema.

The event features four simultaneous screenings of Robert Redford classics followed by a discussion with Redford in the BAM Harvey Theater. A once-in-a-lifetime opportunity to hear Robert Redford discuss his long and fascinating career.The films being screened are: Out of Africa in which he was paired with Meryl Streep; The Natural; The Electric Houseman which was filmed in Las Vegas and The Way We Were, in which he co-starred with Barbra Streisand.

Sunday, September 13 as part of the Film and Conversation series at BAM in Brooklyn.

ALAN ALDA joins author and Cornell professor Steven Strogatz for a touching and humorous discussion about Strogatz's remarkable relationship with his calculus teacher. Chronicled in more than 30 years of letters between them, the pair take refuge from life's challenges in the haven of calculus and each other. September 13 at the 92nd Street Y in NYC.

LIAM NEESON has changed his mind and will not attend this year's Toronto International Film Festival for the world premiere of his new film Chloe. That was the production he was wrapping up when he received the news that his wife, Natasha Richardson, had suffered serious head injuries. Festival organizers had previously announced that Neeson would attend, but a spokesman for the actor said he was never scheduled to do so. Neeson is currently filming The A-Team in Vancouver.

Julianna Moore and Amanda Seyfriend who co-star with Neeson in Chloe are expected at the 10-day festival which opens Thursday.


LAS VEGAS MARRIAGE CAUSES STAR TO APOLOGIZE
Andy Lau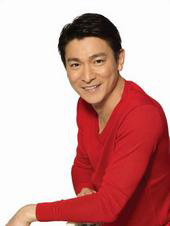 Actor-singer Andy Lau is a Hong Kong superstar - visualize the star power of Brad Pitt and George Clooney. Like the American stars in the golden age of movies, handlers felt that a single status was required to placate ardent female fans.

But Lau, 47, has been linked to Carol Zhu (pronounced Choo) a former beauty pageant contestant from Malaysia. The couple vehemently denied that they had married - or even were contemplating tying the knot.

Last February in an interview with Hong Kong's Cable TV Lau denied that he was married. Hong Kong journalists didn't buy the denial and starting digging. Last week the snoopy press hit pay-dirt and discovered marriage records from the Las Vegas/Clark County Recorder's Office that Lau and Chu were wed on June 24, 2008. The official marriage records were first reported by Hong Kong's Apple Daily newspaper.

Lau confirmed the nuptials in a brief message on his Web site, saying he did not announce the marriage because he wanted to shield Chu from the press. Speaking publicly about the issue for the first time last Tuesday Lau said he was sorry he deceived the press and the public.

"My recent behavior amounts to a lie. It disappointed many people. Because I'm a public figure, I think I should publicly apologize to everyone who believed me. I hope everyone will forgive me," Lau told reporters at Hong Kong's international airport after returning from Beijing, where he was filming a music video.

Critics say Lau lied about his marriage to protect his image as an idol. One of Asia's biggest celebrities, the star of Infernal Affairs and House of Flying Daggers has appeared in more than 100 movies since his debut in 1982. Dubbed one of Chinese pop's Four Heavenly Kings in the 1990s, he also enjoys a successful recording career.

Lau posted on Web site that he and Chu had married so they could attempt to conceive a child through artificial insemination, which is only authorized for married couples in Hong Kong.

"I was afraid that if I announced the marriage, she would be stalked by reporters, so I made a selfish decision. I thought if things go well, I would tell everyone when the baby is stable, but instead I made things more complicated," he said. He did not elaborate on their efforts to have a child.

In 2005, Lau was named No.1 Box Office Actor 1985-2005 of Hong Kong, bringing in $1.7 billion. Coming in second was Stephen Chow and third place went to Jackie Chan. In 2007, Andy Lau was awarded the Nielsen Box Office Star of Asia by the Nielsen Company.



LITTLE HOUSE ON THE PRAIRIE

Melissa Gilbert as Ma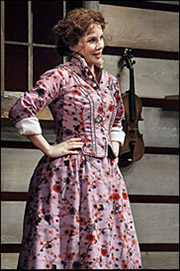 by Oscar winner Rachel Portman. Book by Tony winner Rachel Sheinkin. Lyrics by Donna Dinovelli. Based on the books by Laura Ingalls Wilder.

The popular classic book series takes on a brand new frontier in an uplifting new musical. Melissa Gilbert, who played Laura for 10 years in the television series, continues her legacy by starring as Ma. Families will fall in love with stories of the pioneering spirit on which this country was founded.

Gilbert is joined by Steve Blanchard as Charles "Pa" Ingalls; Kara Lindsay as Laura Ingalls; Kevin Massey portrays Almanzo Wilder; Kate Loprest is Nellie Oleson; Alessa Neeck is Mary; Carly Rose Sonenclar is the other sister Carrie Ingalls; plus Taylor Bera, Michael Boxleitner, Megan Campanile, Kurt Engh, Shawn Hamilton, Jessica Hershberg, Meredith Inglesby, Caroline Innerbichler, Lizzie Klemper, Garen McRoberts, Brian Muller, Will Ray, Gayle Samuels, Dustin Sullivan, Todd Thurston, Tony Vierling and Christian Whelan.

According to Paper Mill, "Little House on the Prairie has remained one of the most beloved celebrations of early Americana since the appearance of Laura Ingalls Wilder's popular classic book series 70 years ago. Now the inspirational stories take on a brand new frontier in an uplifting new musical. Melissa Gilbert, who played 'Laura' for ten years in the much-loved television series, continues her legacy by playing 'Ma.' Families will continue to fall in love with these life-affirming stories about the Ingalls' struggles and triumphs through the celebration of the pioneering spirit and the core values on which this country was founded — a spirit that resonates within each of us today."

Music supervisor is Kevin Stites; music director and conductor is Richard Carsey. Michael Dansicker is the dance and incidental music arranger. Larry Hochman is the orchestrator. See Broadway To Vegas column of May 24, 2009.

The creative team includes Michele Lynch (choreographer), Adrianne Lobel (scenic designer), Jess Goldstein (costume designer), Mark McCullough (lighting designer), Carl Casella and Dominic Sack (sound designers). Charles LaPointe is the hair and wig designer. The production stage manager is Michael Danek.

Little House on the Prairie – The Musical had its world premiere at the Guthrie Theatre in Minneapolis in summer 2008. The east coast premiere takes place September 10 - October 10 the Paper Mill Playhouse in Millburn, NJ. A national tour follows.

BLIND LEMON BLUES created by Alan Govenar and Akin Babatunde, has musical arrangements by Akin Babatunde, Cavin Yarbrough and Alisa Peoples Yarbrough, and is directed and choreographed by Mr. Babatunde.

Featured as Blind Lemon Jefferson is co-writer Akin Babatunde.

Blind Lemon Blues pays homage to Blind Lemon Jefferson, America's best-selling country blues singer of the 1920s. Blind Lemon Blues combines blues, gospel, R&B, soul, doo-wop and rap to evoke the enduring legacy of Blind Lemon and his contemporaries.

Also featured in the cast are Cavin Yarbrough and Alisa Peoples Yarbrough - of Yarbrough & Peoples, who received a Grammy nomination for their #1 hit single Don't Stop the Music - Inga Ballard, Carmen Ruby Floyd, Timothy Parham, with Skip Krevens on guitar.

Briefly at the York in 2007 Blind Lemon Blues begins performances September 8 at The York Theatre Company in New York City.

CHICAGO on Monday, September 7. welcomes back four spectacular audience favorites: Bonnie Langford as Roxie Hart, Deidre Goodwin as Velma Kelly, Tom Hewitt as Billy Flynn and Kecia Lewis-Evans as Matron "Mama" Morton.

Chicago features a book by Fred Ebb and Bob Fosse, music by John Kander and lyrics by Fred Ebb, and is the winner of six 1997 Tony Awards including Best Musical Revival and the Grammy Award for Best Musical Cast Recording. Chicago plays on Broadway at the Ambassador Theatre.

I LOVE A PIANO under the direction and choreography of Ray Roderick, who co-created the show with Michael Berkely.

This enchanting new musical revue spans over seven decades of American history as seen through the insightful and earnest eyes of Irving Berlin.

Featuring Jackey Good, Crystal Kellogg, Ryan Lammer, George Papas, Haley Swindal, Ashley Wallace, Jason Weitkamp, and Joshua Woodie.

Using 64 of Berlin's enduring and popular favorites, I Love A Piano captures the spirit of America from the ragtime era of the early 20th century through the swinging elegance of the 1920's and 30's. From the songs that inspired a nation through the Great Depression to the innocent optimism of the 1950's.

This fall marks the start of the show's third touring season. After opening at the Brooklyn Center for the Performing Arts on September 13, the tour will hit dozens more stops across the United States including Wichita, Kansas; Durham, North Carolina; Clearwater, Florida; Savannah, Georgia; and Cupertino, California.

Sunday, September 13, 2009 At Brooklyn Center for the Performing Arts in Brooklyn, NY.

BILLY CRYSTAL 700 SUNDAYS an autobiographical journey, is an original two-act play in which Billy plays numerous characters that have influenced who he is today. It deals with his youth, growing up in the jazz world of Manhattan, his teenage years, and finally adulthood. It is about family, and fate. It is hilarious, personal and touching as he takes us through moments of love, laughter and loss.

September 8-17 at the National Theatre in Washington, DC.

FAKE Written and directed by ensemble member Eric Simonson. Featuring ensemble members Kate Arrington, Francis Guinan and Alan Wilder.

Steppenwolf Theatre Company launches its 2009-2010 season, exploring the theme of belief, with the world premiere of Fake.

In 1914, renowned mystery writer Sir Arthur Conan Doyle invites four guests to his English country home. Each visitor has a connection to the infamous "Piltdown Man," purported to be the missing link between ape and man - later exposed as a hoax.

Swinging back and forth through time, Fake investigates how "Piltdown" rattled assumptions about evolution, faith and science - and how we are transformed by our quest for the truth.

Begins September 10, 2009 In the Steppenwolf Downstairs Theatre, Chicago.

MATTHEW MODINE SAVES THE ALPACAS by Blair Singer. Directed by John Rando.

Matthew Modine stars as Matthew Modine in this rollicking parody of celebrity activism. This rollicking comedy tells the plight of Matthew Modine – a celebrity desperately in need of getting back in the limelight. He needs a Cause. Luckily (for him), there is a rare breed of Chimborazzi Alpacas on the verge of extinction in the mountains of Ecuador. So Matthew jets down south to resurrect the alpacas – and, more importantly, his career. After all, desperate times call for desperate celebrities. A world premiere production, Matthew Modine Saves the Alpacas is a satire in which no one is left unscathed.

Peri Gilpin, best known for her stint as Roz on NBC's Frasier, takes on the role of Whimberly North - Matthew's piquant publicist; and French Stewart, best known as Harry Solomon on Third Rock from the Sun, plays dual roles as Whimberly's ubiquitous assistant Jeffrey, as well as the bungling United Nations Ambassador Perrier du Pierre Jouet. Other cast members include Reggie De Leon, Mark Damon Espinoza and Mark Fite playing a range of roles from Chimborrazzi tribesmen to Matthew Modine's Conscience.

Production Credits; Set Designer- Beowulf Boritt. Costume Designer- Robert Blackman. Lighting Designer- Jeff Croiter. Sound Designer-J on Gottlieb.

Matthew Modine Saves the Alpacas Previews: September 8 – September 15 Opening Night: Wednesday, September 16 running through October 18 on the Geffen Playhouse's main stage. Los Angeles.





WHO'S WHERE


LEA SALONGA part of the Frank Wildhorn, Linda Eder group which cancelled a show last week at the University of Nevada, Las Vegas ( See Broadway To Vegas column of August 30, 2000 ) because officials didn't meet the contractual obligations for bringing in the artists - is still on tour. Lea will be in the spotlight performing with the Bangkok Symphony Orchestra Saturday, September 12 in Bangkok, Thailand.

MICHAEL FEINSTEIN AND CHRISTINE EBERSOL in their new duet show Good Friends September 8-12 at Feinstein's at Lowe's Regency in NYC.

AIR SUPPLY perform Friday, September 11 at Humphrey's Concerts by the Bay in San Diego. On Saturday they are on stage at the Grove in Anaheim, CA.

LOU CHRISTIE singing his hits Saturday September 12 at Capital One Bank Theatre in Westbury, NY.

CHRIS BOTTI blowing his own horn Friday, September 11 at the UCO Jazz Lab in Edmond, OK. On Saturday he appears in Jazz By The Boulevard at the Will Rogers Memorial Center in Fort Worth, TX.

BIG BAD VOODOO DADDY getting the beat going Friday, September 11 at the Mahaiwe Performing Arts Center in Great Barrington, MA. On Saturday they appear at the Norwalk Oyster Festival in Norwalk, CT.

KELLY CLARKSON appearing at the York Fair on Friday, September 11 in York, PA. On Saturday she's at the Allegan County Fair in Allegan, MI.

BRITNEY SPEARS on stage Tuesday, September 8 at The Palace of Auburn Hills in Auburn Hills, MI. On Wednesday she performs at the Allstate Arena in Rosemont, IL. Friday finds her at the Wells Fargo Arena in Des Moines, IA. On Saturday the tour stops at the Alerus Center in Grand Forks, ND.

BRUCE SPRINGSTEEN at the Ford Amphitheatre in Tampa, FL on Saturday September 12.

TONY BENNETT croons Thursday, September 10 at Casino Rama in Rama, ON. On Saturday he can be enjoyed at the Palace Theater in Waterbury, CT.

JANEANE GAROFALO AND AL MADRIGAL close out our the Bay Street Theater's 2009 Comedy Club Series on September 7, Sag Harbor, NY.

MARCO GRANDADOS a Grammy-nominated flutist delivers a program with works of J.S. Bach, Mozart, Roussel, Guastavino and Prokofiev. Part of the Embassy Series. September 12, at the Venezuelan Ambassadors' Residence in Washington, D.C.


FINAL OVATION


BEA ARTHUR who passed away on April 25, 2009, at age 86 will be remembered September 14 at Broadway's Majestic Theatre in Celebrating Bea Arthur hosted by five-time Tony Award winner Angela Lansbury, who co-starred with Arthur in Mame.

The event will be directed by Mark Waldrop and feature remembrances and performances from the late actress' family and friends, including Adrienne Barbeau, Zoe Caldwell, Billy Goldenberg, Sheldon Harnick, Charlie Hauck, Norman Lear, Clinton Leupp, Anne Meara, Rosie O'Donnell, Chita Rivera, Daryl Roth, Jerry Stiller and Rue McClanahan. The afternoon event is open to the general public on a first-come, first-served admission basis.

In lieu of flowers, donations can be made to The Ali Forney Center, one of Ms. Arthur's beloved charities.

DJ AM aka Adam Goldstein, 36, found dead last week in his New York City apartment from an apparent OxyContin overdose, was laid to rest in a memorial service fashioned after a 12-step meeting.

Friends including Lindsay Lohan, Robert Downey Jr., Jon Favreau, and John Mayer attended the unique memorial at the Hollywood Palladium.

The Philadelphia native was a recovering addict and recently suffered a relapse, triggered after he survived a South Carolina plane crash a year ago that killed four people. At the time of his death he was supposedly working on a reality show to help other addicts. DJ AM was a regular performer at Pure nightclub in Las Vegas.



Next Column: September 13, 2009
Copyright: September 6, 2009. All Rights Reserved. Reviews, Interviews, Commentary, Photographs or Graphics from any Broadway To Vegas (TM) columns may not be published, broadcast, rewritten, utilized as leads, or used in any manner without permission, compensation and/or credit.
Link to Main Page
---
Laura Deni



U.S. Postal Address: Post Office Box 60831, Las Vegas, NV 89160
CLICK HERE FOR COMMENT SECTION