! >
Broadway To Vegas
  
 SHOW REVIEWS CELEBRITY INTERVIEWS GOSSIP NEWS

| | |
| --- | --- |
| | |
OPENING CEREMONY AT BEIJING OLYMPICS HARD ACT TO FOLLOW - - DANCERS HELP THEIR OWN - - DOLLY PARTON'S BACKWOODS BARBIE TOUR - - BANJO BOY - - UNITED ARAB EMIRATES BUYS 20% OF CIRQUE DU SOLEIL - - SIMPLY SHAKER - - ANDREW HAMINGSON TAKES OVER THE PUBLIC THEATER - - JACKIE CHAN SINGS - - DONATE . . . Scroll Down


Copyright: August 10, 2008
By: Laura Deni

CLICK HERE FOR COMMENT SECTION
BEIJING OLYMPIC OPENING CEREMONY A TRIUMPH


They pulled it off.

The Opening Ceremony for the 2008 Beijing Olympics - using Olympic jargon - was a gold medal winner.

Having an unrestricted budget may be every director's dream, but knowing what to do with the bounty takes inspiration and know-how.

Enter Zhang Yimou, China's most famous filmmaker, who directed the opening ceremony. His team consisted of Deputy Artistic Directors Zhang Jigang and Chen Weiya. Yu Jianping was in charge of the technology group and Lu Jiankang served as production director.

The formation of the production team wasn't a willy-nilly selection.



Fireworks explode from the stadium roof during the Opening Ceremony for the 2008 Beijing Summer Olympics. Photo: BOC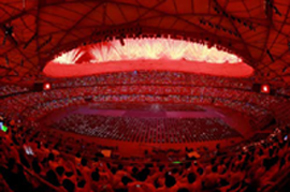 The Beijing Organizing Committee for the Games of the XXIX Olympiad (BOCOG) was established on December 13, 2001, five months after Beijing won the right to host the 2008 Olympic Games. The BOC started soliciting entertainment programs worldwide for the Opening Ceremony in 2005. In 2006, 13 winning proposals started on their second round of competition. Based on the final results, the five-member directors' group was appointed.

There is an old joke that says a camel was created by a committee. Generally, committees have a difficult time agreeing upon lunch.

To the credit of Zhang Yimou and his gang they not only accomplish something - but did so brilliantly. That doesn't mean all was smooth sailing.

Fireworks - an inherent part of the Chinese world - had some issues.

The creative team was fascinated by gun-powder expert Cai Guo-Qiang's works of art. Cai is the genius behind fireworks painting -- drawing the outline of a picture with gun-powder and then igniting it, creating a three-fold painting effect.



Guernica is a monumental oil-on-canvas painting by Pablo Picasso, depicting the Nazi German bombing of Guemica, Spain, by twenty-eight bombers, on April 26, 1937.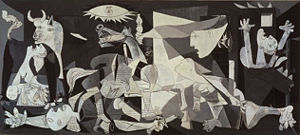 The committee quickly incorporated a fireworks painting into their draft. A test run utilized Picasso's Guernica, an oil painting condemning war atrocities. Performers stepped into a huge remake of the frame, poured gun-powder along the lines of the painting it enclosed, and thus turned it into a line drawing of Guernica. A corner of the painting began to light up, and the fire soon spread to the entire piece, burning an outline of the artwork into the land, and leaving behind beautiful ashes in the same shape.

The committee was thrilled. The IOC was not. They opined that Picasso's Guernica might dredge up memories of World War II. In the meantime, the creative team got second thoughts regarding reliability and safety. Therefore, after continuing for half a year, the concept was extinguished.

The creative team also discovered that none of the 13 project proposals could be directly adopted for the Opening Ceremony.



Performers are pictured viewing the scroll during the Opening Ceremony for the 2008 Beijing Summer Olympics at the National Stadium on August 8, 2008 in Beijing, China. Photo: BOC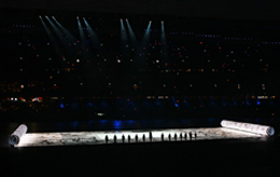 Finally the concept of a "painting scroll" emerged and program ideas began to unfold, creating the artistic concept of "displaying the world on a small square," demonstrating the progress of blending Chinese culture with world culture.

An early version of the program, contained four chapters. The creative team used the ideas of paper, Chinese characters, the Earth and Chinese ink and brush painting as favored tools to express the themes of "civilization" and "harmony." Government officials also approved portrayals of the Silk Road and Zheng He's ocean voyages.

All members of the creative team agreed that the Earth should appear in the Opening Ceremony, which thus conformed to the slogan One World One Dream.

By the summer of 2006, the basic program was still a series of thoughts swarming in the individual heads of the creative team members. They were having trouble harmonizing the themes in a final, cohesive manner.

By the end of April 2007, the creative team finally decided to divide the artistic performances into two parts: the first half, Brilliant Civilization, would highlight the past 5,000 years of Chinese civilization, and the second half, Glorious Era, would exhibit the great achievements and the new look of modern China, portraying the Chinese nation's dream of building harmoniously with the people of the world.

With this in mind, the final version of the project developed into the basic framework of a unique Chinese scroll, on which performers would expressively show the development of Chinese culture through time.

On this stage, "moveable type printing," "Confucius' 3,000 disciples," "The Analects of Confucius," "Zheng He's ocean voyages" and "Chinese ritual music" would all be showcased, depicting a painting of the flow of Chinese civilization.



Opening Ceremony of the Beijing Olympic Games, titled Beautiful Olympics, in the National Stadium AKA Bird's Nest in Beijing, China. Photo: BOC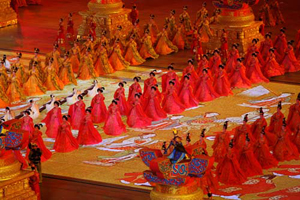 Opening Ceremony of the Beijing Olympic Games; Beautiful Olympics featured talented, beautiful performers in gorgeous make-up and costumes Photo; BOC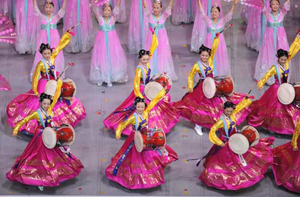 The long scroll would also incorporate China's more recent achievements, including the space exploration and the architecturally innovative Bird's Nest, as the National Stadium in Beijing is known.

The creative team then worked out a design that combined a display of the Olympic rings with "footprints of fireworks." 29 colossal "footprints," representing the Games of the XXIX Olympiad, would make their way into the stadium with the last "footprint" exploding in the air over the Bird's Nest. Thousands of sparks resembling clusters of stars would then float down slowly onto the ground to gather and form five shining rings. At this point, flying "fairies" would descend to slowly lift up the five rings, allowing them to hover in mid-air amid soft music right before the eyes of spectators, filling the stadium with a dreamy, romantic air.



The United States delegation enters the stadium during the Opening Ceremony. The outfits were designed by Ralph Lauren who got it right. Photo: BOC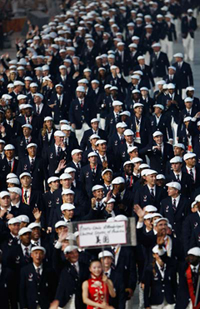 On the night of August 8, 2008, the sound of heavy footsteps thundered across the Bird's Nest as colossal burning "footprints" marched in the sky along Beijing's central axis all the way through the Olympic Green to the National Stadium. As the last "footprint" lit up the sky above the National Stadium, spectators all over the world began a virtual tour of Chinese culture; what they saw was ancient China and young China, a nation wishing to build a harmonious home together with friends from all parts of the world.

More than 20,000 performers regaled the audience. On the ever-changing backdrop and accompanied by amazingly complex displays of fireworks, the Beijing 2008 Olympic Games was launched, literally, with a bang.

In Opening Ceremonies of past Olympic Games, there have not been any action or artistic work that involved all of the athletes. The final version of this year's project came into being in April 2008. On the exposed painting scroll which initially served as the background of the artistic performances, performers would draw an ink painting of a landscape, with the lower half of the "paper" left blank.

The idea was that during the parade of athletes, the Olympic competitors would walk over the blank space of the painting, leaving behind their colorful footprints with the help of a sort of dye mat. Their footprints on the paper would then make the shape of natural land, dotted with colorful, blooming flowers, to complete the painting. This is the first Olympic Games in which athletes would become an actual part of the Opening Ceremony performance. An IOC official praised it as the largest action art in Olympic Movement history.



Lang Lang and Li Muzi plays the piano during the Opening Ceremony for the Beijing 2008 Olympic Games at the National Stadium on August 8, 2008 in Beijing, China. Photo: BOC.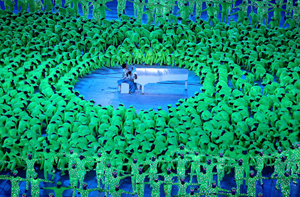 In addition, BOGOG invited five music bands from five continents to play the music for the parade of athletes.

Music has been significant for the Chinese since the dawning of their civilization.

New York City resident Lang Lang, 26, and five-year-old Li Muzi performed a new eight-minute long piano concerto by Chinese composer Xiaogang Ye. ( See Broadway To Vegas column of August 3, 2008 )

British singer Sarah Brightman, together with the Chinese singer Liu Huan, sang the official theme song of the 2008 Beijing Olympics at the conclusion of the ceremony. The theme song, carefully kept secret via its omission from all three of the opening-ceremony rehearsals, emphasized the importance Chinese place upon music.



Sarah Brightman and Liu Huan on top of the world singing the theme song of the Beijing Olympic Games, You and Me. Photo;BOC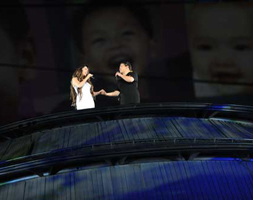 Sarah Brightman and Liu Huan are a speck on top of a world during the art performance of the Opening Ceremony of the Beijing Olympic Games, titled Beautiful Olympics, in the National Stadium in Beijing, China,\ Aug. 8, 2008. Photo: BOC.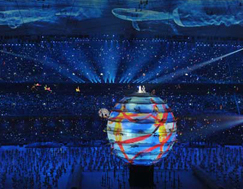 Chinese composers seized the opportunity to have their music broadcast to a worldwide audience at the opening and closing ceremonies.

The official Games album contains about 30 songs. Light the Passion, Share the Dream, I Am a Superstar, Forever Friends, We Are Ready and many others are included, but star billing goes to Beijing Welcomes You, also known as Beijing Huan Ying Ni.

The catchy ballad was unveiled to the public on April 17 to mark the 100-day countdown to Beijing 2008. About 100 Chinese musicians took part in composing and performing the song, whose aim is to express Chinese people's hospitality. Established stars including Liu Huan, Na Ying, Jackie Chan and Wang Leehom, as well as up-and-comers like Zhou Bichang, Li Yuchun, Jolin Tsai, and Jaycee Chan participated.

The lyrics were written by Hong Konger Lam Jik, 37, and the music was composed by Xiao Ke, who describes Beijing Welcomes You as a ballad. Using a five-tone ballad style traditional in Chinese music, the soft melody was Xiao's way of expressing China's hospitality to the world.

It took a fortnight to compile recordings by 100 singers and six days to complete the final production.

Cooperation between nearly 100 pop singers from the mainland, Hong Kong and Taiwan was vital. Singers recorded at different places and then gathered together at Taimiao at the Beijing Working People's Culture Palace to celebrate the 100-day countdown to the Beijing Olympic Games on April 30. The choice of singers involved lengthy debate. The first two singers, Liu Huan and Na Ying, were confirmed by Xiao immediately "because they represent the Chinese pop music scene".

So how did Jackie Chan a martial art master get into the musical mix?

"When he entered the recording studio, we felt his humor and strength," Xiao told the press. The song is soft but Chan's voice adds power, which is quite impressive."

On his website Jackie Chan explained how he got involved in the singing project.



Jackie Chan performing with choir members at World Sings for the Olympics. Chan's star-studded album Official Album for the Beijing 2008 Olympic Games is one of the two Olympic albums authorized by the Beijing Olympics organizing committee. The actor's album includes tracks like We Are Ready and Welcome to Beijing. The other Olympic album to be released is compiled by Tan Jing.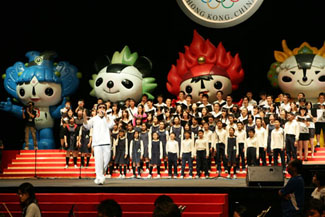 "Initially, I was going to politely refuse and not take part in this program because first, I'm really very busy, and second, they said I had to sing live accompanied by an orchestra. Oh my God! I'm not a professional singer so doing something like this would be quite a lot of pressure for me. To tell you the truth, I know I don't have sufficient qualities or the capability to be accompanied by an orchestra when I sing, but the event organizers said that because many choir members were from overseas and a lot people wanted to meet me, they hoped I could try and make some time to attend the program, and also morally support the Beijing Olympics. Because of these reasons, I went and met these choir members and morally supported the Olympics. This program was held at the Asia World Expo next to Hong Kong airport. The event is organized by the Hong Kong Youth Choir Association and jointly sponsored by the Sports Federation and Olympic Committee of Hong Kong, China."

"I arrived at Asia World Expo and saw 2500 choir members already at the venue. Most of them were students. Inside the exhibition center, there were 1,500 choir members from Hong Kong while the other 1,000 choir members were from 33 different countries. Furthermore, there was another group of students that made up the orchestra, and two conductors of different nationalities who conducted them respectively to perform different types of music. One of the conductors was American and the other was from Hong Kong."



The Chinese love their children and youth played an important role in the Opening Ceremony. In this photo children wave a large drawing during the Opening Ceremony. Photo: BOC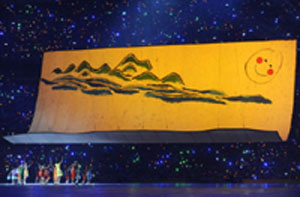 "I sang two songs; one was We Are Ready and the other was One World One Voice. The American conductor was responsible for conducting We Are Ready while the local conductor, who also composed the second song, was responsible for conducting the orchestra to perform One World One Voice. I watched them both as they conducted the music and it was very fascinating. I've always admired people with musical talent - especially conductors. I think that when they're standing on the stage conducting music, they look really cool, they have personality, and they're very energetic."

"Historically," Xiao Ke told China Daily, "the Olympics were always a gathering not just of athletes but of artists. Music has always been as much a part of the Games as epic poetry and players."

Also important - pigeons. Yeah, pigeons. Those birds that poop on statues.

A protocol that must be observed at the Opening Ceremony of any Games is the symbolic release of pigeons. The creative team worked out a bold romantic concept that turned the idea into a more abstract design. As the Opening Ceremony performances drew to a close, a hundred girls in white would lead the spectators and athletes in waving their hands to resemble the movement of real pigeons. The bowl arc edge of the Bird's Nest would be turned into wide screens on which pictures of people of different backgrounds would be projected, waving "pigeons" in their hands. The design blends "communication," "beauty," and "solemn ritual" into one, thus becoming an important highlight of the ceremony.



Dancers originally wore black bodysuits covered in lights. During rehearsals director Zhang Yimou decided he preferred green. Busy seamstresses sewed nonstop to make over 2,000 costumes in less than two days. Photo: IOC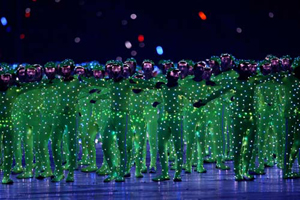 After the final version of the 2008 entertainment concept was finalized, the Opening Ceremony of the Beijing Olympic Games began to move from project creation to production.

Highly skilled performers had to work through aches and pains to fulfill the requirements of dancing on the abstract backgrounds; this is especially true for the 60 artists that were chosen to surround the model Earth. During training, they were required to run, jump and somersault with their bodies leaning in fantastically different angles.

In lighting, acoustic design and large-scale engineering projects, the Beijing Games Opening Ceremony adopted state-of-the-art technology and introduced scientific elements into producing stage properties.

Oppressive heat didn't seem to bother either the dignitaries or the athletes during the Opening Ceremony.

Chinese President Hu Jintao arrived in the VIP's stand with International Olympic Committee (IOC) President Jacques Rogge. Former Chinese President Jiang Zemin - in charge when China was awarded the Games in 2001 - sat next to his successor. They sat in front of about 80 world leaders including French President Nicolas Sarkozy.

President George Bush and Russian Prime Minister Vladimir Putin leaned across others to chat before the ceremony began. President Bush frequently used binoculars to bring the view up close. Both Bush and Putin removed their suit jackets, but put them back on before standing to applaud as their respective countries passed by in the Parade of the Countries. Laura Bush and other spectators took advantage of elaborate fans to cool themselves.

The Opening Ceremony performances have introduced the most sophisticated digital multimedia projectors to help transform the entire Bird's Nest into the largest multimedia screen in the world. ( See Broadway To Vegas column of January 1, 2006 )

The glorious, perfect production provided NBC with a ratings winner and has also given the British a hard act to follow. The 2012 Games will be held in the United Kingdom.


DANCERS OVER 40 REACH OUT TO HELP THEIR OWN
Jack Cole - credited with choreographing the Broadway shows Magdalena, Carnival in Flanders, Kismet, A Funny Thing Happened On The Way To The Forum, Kean, Donneybrook!, Jamaica and Man Of La Mancha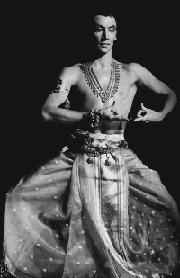 Dancers Over 50 will begin the second season of its popular series of panels and performances by honoring Jack Cole, Still Alive and Kicking on Monday, October 13, 2008 at The Leonard Nimoy Thalia at Symphony Space, NYC.

Jack Cole is the man who gave Broadway, film and television a vocabulary and style of movement that is still imitated today. Protégés Gwen Verdon, Chita Rivera, Carol Haney and Bob Fosse have passed down his legacy, and his influence can still be seen; even the MTV generation owes him a debt of gratitude. This panel will be the first for DO40 to include multi-media, since Cole was a master on Film and Television as well as Theater. There will be clips of Cole's television and film work, with special guests Marge Champion, Harvey Evans, Alan Johnson, and other Broadway performers from the 40s to today. DO40's member, Norma Doggett Beswick, was picked by Cole at 17 to perform in Magdalena (1948), and she will talk about her experience flying out to Los Angeles to audition for him. Documentary filmmaker and member Annette Macdonald and member and Cole biographer Svetlana Grody will also be featured.

Along with honoring directors, choreographers and dancers, DO40's mission is also to assist dancers in need, and they have found a soul-mate in The Actors Fund. Beginning this fall, Dancers Over 40 will be donating a portion of their resources to Bebe Neuwirth's new initiative at the Actors Fund, The Dancers' Resource.



Bebe Neuwirth is a driving force behind The Dancers; Resource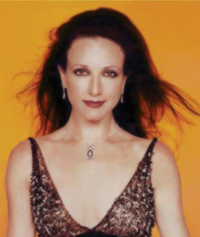 Launched in the summer of 2007 with a $150,000 grant from BC/EFA, The Dancers' Resource has been created in response to the unique situation dancers face due to the physically demanding nature of their work, coupled with the significant financial challenges of earning a living in dance.

In 2007, 862 dancers and choreographers made use of Actors Fund services and programs, including those specifically provided through The Dancers' Resource.

The Dancers' Resource pulls together all the support structures already in place for dancers at The Actors Fund, with the addition of new programs, such as workshops that address the unique and critical needs of injured dancers. An initial seminar drew more than 70 dancers, and has been followed by an ongoing series of seminars and the addition of a social worker dedicated specifically to dancers. In addition, a new Advisory Council with more than 30 members including Ann Reinking, Arthur Mitchell, Peter Martins and Mark Morris is spreading the word to everyone in the dance community.

DO40 is not only promoting their own history and legacy, but will now help by donating yearly to The Dancers' Resource fund to help dancers enrich their lives and continue their artistic journey.

DO40 is also a Resource, and to continue the Legacy by donating video from these events to the Jerome Robbins Dance Collection at the Lincoln Center Library for the Performing Arts and by working closely with the Actors Fund and The Dancers' Resource to ensure that the lives they live can be enriched and the legacy left will not be forgotten.

Dancers Over 40, Inc. was founded in 1994 by a group of Broadway dancers as a not-for-profit organization to provide a community of support in response to the fiscal -- as well as physical - needs of mature dancers, choreographers and related artists. The goals are to seek educational opportunities, present seminars, socials and panel discussions on topics important to mature dancers concerned about their ability to continue to live and work in a creative environment and continue the legacy to those dancers about to begin their journey.


ART AND ABOUT


SIMPLY SHAKER: THE BEN AND TOBY ROSE COLLECTION OF SHAKER ARTS AND CRAFTS

Shaker Tall Case Clock, circa 1810. Watervliet, New York. Pine, in old surface. 79 x 18 ¾ x 11 in. This rare and important piece was made by Benjamin Youngs who joined the Shakers at their earliest known community, Watervliet, in 1792 and was the first known Shaker clock maker. The face and hands were imported from England. Photo Museum of Craft and Furniture

An exhibition that highlights masterpieces of Shaker furniture, and includes objects broadly representing Shaker life and Shaker style. Simply Shaker features nearly 75 objects comprised of furniture, household objects, tools and equipment, textiles, and graphics that embody Shaker simplicity and purity of design.

The Ben and Toby Rose Collection of Shaker Arts and Crafts is a comprehensive collection of furniture and objects broadly representing Shaker life and Shaker style, with highlights of particularly iconic objects.

A result of the couple's tradition of extensive collecting and restoration projects beginning in the mid-1960s, the collection grew commensurate with Rose's interest in learning about the work of the Shakers.



A pair of Enfield, N.H. chairs. Photo courtesy of Benjamin H. Rose IV. Museum of Craft and Furniture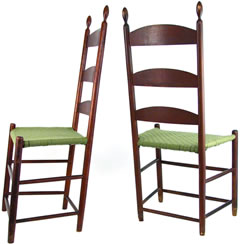 Over the years, the collection became recognized as one of the foremost private collections of Shaker furniture and artifacts.

Visitors will have the opportunity to learn how Shakers lived through the objects they created: furniture, household objects, tools and equipment, textiles and textile equipment, and graphics. The majority of works featured in Simply Shaker are considered to be masterpieces of Shaker furniture made between the years of 1820-1860.

America's oldest experiment in utopian, communal living, the United Society of Believers movement was founded by Ann Lee (1736—1784), who, with a small band of followers, emigrated to America from England in 1774. From New York they traveled north, buying land near Albany; by 1781 they were established enough to undertake a mission to New England.

After Mother Ann's death, subsequent leaders spread the faith throughout New England and as far west as Indiana, Ohio, and Kentucky. The society reached its apogee of about 6,000 members just before the Civil War and then slowly went into decline. Yet the Shakers have lasted longer and gained more fame than any other utopian community this country has produced. Shaker design continues to influence architects, artists, furniture makers, and product designers around the world.

As noted Shaker historian and curator June Sprigg observed, "the most appealing thing about Shaker design is its optimism." Simply Shaker: The Ben and Toby Rose Collection of Shaker Arts and Crafts will be on view at the Museum of Craft and Folk Art in San Francisco from August 15, 2008 through November 2, 2008.

August 15 – November 2, 2008 at the Museum of Craft and Furniture in San Francisco.



Broadway To Vegas is supported through advertising and donations. Priority consideration is given to interview suggestions, news, press releases, etc from paid supporters. However, no paid supporters control, alter, edit, or in any way manipulate the content of this site. Your donation is appreciated. We accept PAYPAL. Thank you for your interest.


SWEET CHARITY


DOLLY PARTON brings her 2008 Backwoods Barbie World Tour to her Dollywood theme park on Aug. 16 and 17 with three concerts to benefit her Imagination Library program.

Dolly Parton's Imagination Library is all about inspiration and imagination. It was developed in 1995 by Dolly for her native Sevier County, Tennessee. Dolly wanted every preschool child to have his/her own collection of books. After much thought, Dolly decided to offer her Imagination Library for replication in any community that would financially support it.

Each month, from the day the child is born until his/her fifth birthday, a carefully selected book arrives at the mailbox. Kids across the country have shared the excitement of running to the mailbox to retrieve their book. More often than not, the child wants the book read to them now-not later, not tonight and not tomorrow. Right now!

The Imagination Library is currently at work in 500 communities in 40 states. Dolly Parton's Imagination Library is a unique opportunity to do something simple and powerful for preschoolers. By inspiring parents to read to their children, we can help them Dream More, Learn More, Care More and Be More!



THE PUBLIC THEATER

Andrew Hamingson. Photo: The Public Theater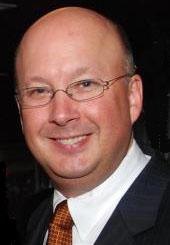 one of the nation's most prominent nonprofit theaters, has announced that Andrew Hamingson has been appointed executive director.

Hamingson worked previously for the Atlantic Theater Company and Manhattan Theatre Club. He will assume his new duties on Oct. 1 from Mara Manus, who announced last season she would step down after six years on the job and take over the position of executive director of the Film Society of Lincoln Center. She begins her new role in September.

In a statement Hamingson said, "It is the fulfillment of a life-long dream to have been chosen for the executive director position at The Public Theater. There is no theater in our country with a richer history. Their dedication to producing new work by today's finest playwrights and presenting Shakespeare at the highest level is second to none. I look forward to applying my 20 years of professional theater management and fundraising experience at this esteemed institution in partnership with Oskar Eustis, the staff, and the board of directors."

Hamingson is noted for his business acumen. To protect the Atlantic Theater Company's budget against the turbulent U.S. economy, in February of this year, Hamingson asked some board members to write donation checks earlier rather than later, even though the theater that produced last year's Broadway hit Spring Awakening wasn't in a cash flow crisis.

Hamingson told theLos Angeles Times that he was "being vigilant in case gifts decline in number or are delayed." The Public Theater's 2008-09 season will include works by such artists as Stephen Sondheim, John Guare, Christopher Durang and Craig Lucas.

Sondheim's contribution will be the New York premiere of Bounce, a musical written with John Weidman and first seen in 2003, in a different production, at Chicago's Goodman Theatre and the John F. Kennedy Center for the Performing Arts in Washington, D.C.

The Public's new version, opening in October, will be directed by John Doyle.

The Public Theater was founded by Joseph Papp in 1954 as the Shakespeare Workshop and is now one of the nation's preeminent cultural institutions, producing new plays, musicals, productions of Shakespeare, and other classics at its headquarters on Lafayette Street and at the Delacorte Theater in Central Park. The Public's mandate "to create a theatre for all New Yorkers continues to this day on stage and through its extensive outreach and education programs." Each year, over 250,000 people attend Public Theater-related productions and events at six downtown stages, including Joe's Pub and Shakespeare in the Park.

The Public Theater has won 40 Tony Awards, 141 Obies, 39 Drama Desk Awards, 23 Lucille Lortel Awards and 4 Pulitzer Prizes.

In 2005, The Public Theater received a special Drama Desk Award in celebration of its 50th anniversary.


OTHER PEOPLE'S MONEY


CIRQUE DU SOLEIL has sold 20 percent of it's company to Dubai, United Arab Emirates government-controlled investment company Istithmar World Capital and property developer Nakheel. The official announcement was made Wednesday and confirmed the purchase in the international circus touring company.

No purchase price was given.

The Montreal based entertainment group was formed in 1984 by Guy Laliberte and fellow street performers in Quebec. Today it stages 18 separate shows on four continents, generating this year. more than $700 million in sales and attracting more than 10 million visitors per year.

Cirque du Soleil dominates the Las Vegas Strip. Cirque shows include; Ka at the MGM-Grand; O at the Bellagio; Zumanity at New York New York; Mystere at Treasure Island; Love at the Mirage and Chris Angel Believe, which is about to premiere at the Luxor.

The agreement keeps control of the company in the hands of Laliberte.

"This partnership is the best of both worlds for me and my management team," Laliberte said in a joint statement with Nakheel and Istithmar. "We can keep control of our creative challenges and operations while accelerating our growth doing projects all over the world."

Nakheel, one of Dubai's biggest developers, and Cirque du Soleil agreed in May to build a theatre on Palm Jumeirah, a massive palm-shaped island housing development Nakheel is building in the Persian Gulf. The 1,800 seat facility is expected to house a permanent Cirque du Soleil show beginning in summer 2011.

In a statement, Istithmar CEO David Jackson said the deal represented the company's first involving live entertainment, an area of investment he called "key to our media focus."

More than 100,000 visitors attended a month long run of a Cirque du Soleil performance in Dubai last year, the companies said.

Dubai World is already a presence in Las Vegas, owning a minority stake in casino operator MGM Mirage Inc., which operates the MGM Grand, Bellagio, The Mirage, Treasure Island, New York New York, The Broadwalk, and Primm Valley Resorts.



BANJO BOY

Meredith Willson
with book, lyrics and music by Randolph Hobler. Directed by Randal West, the artistic director of the Sondheim Center in Fairfield, Iowa. Justin Hill is music director.

A bio-musical about Meredith Willson - who wrote the book and songs for the Tony-winning musical The Music Man. Willson, who was born in Mason City, IA, in 1902 also penned the score for The Unsinkable Molly Brown and the book and score for Here's Love. He died at the age of 82, on June 15, 1984, in Santa Monica, CA.

From heaven an elderly Meredith Willson goes back to 1928 to try to steer his younger self away from mistakes he originally made, and works to rescue his non-existent relationship with his father.

His adventures upon running away from home include meeting a young Louis Armstrong, tracking down an elderly John Philip Sousa in San Francisco, falling in love with Zi Ling, a Chinese mui tsai (indentured servant), forming a group - The Banjo Boys - and returning home to Mason City, Iowa to help win the Iowa High School Band contest with his own song and win the love of his father.

The cast features Jon Sill as a young Meredith Willson with Chris Busch as Elder Meredith. The company also includes Tom Vorhees as John Willson, Meredith's father; Margaret Clair as Rosalie Willson, Meredith's mother; and Derrick Mitchell as a young Louis Armstrong.

Banjo Boys which has 18 original songs, is billed as "a glorious celebration of American Music, of American diversity, and of the life of Meredith Willson."

Willson's most famous work, The Music Man, premiered on Broadway in 1957 and was adapted twice for film (in 1962 and 2003. He referred to the show as "an Iowan's attempt to pay tribute to his home state." It took Willson some eight years and thirty revisions to complete the musical, for which he wrote more than forty songs. The cast recording of The Music Man won the first Grammy Award for Best Original Cast Album (Broadway or TV) ever issued.

His second musical, The Unsinkable Molly Brown, ran on Broadway for 532 performances from 1960 to 1962 and was made into a 1964 motion picture starring Debbie Reynolds. His third musical to reach Broadway was an adaptation of the film Miracle On 34th Street, called Here's Love (1963). His fourth, last, and least successful musical was 1491, which told the story of Columbus's attempts to finance his famous voyage. It was produced by the Los Angeles Civic Light Opera Association but never made it to Broadway.

His other compositions include; Symphony No. 1 In F Minor, A Symphony of San Francisco, and Symphony No. 2 In E Minor, Missions of California, were recorded in 1999 by William T. Stromberg conducting the Moscow State Symphony Orchestra.

Willson penned a number of very well-known songs, such as It's Beginning To Look A Lot Like Christmas; May the Good Lord Bless and Keep You. Beatle Fans may remember Paul McCartney singing the love ballad Till There Was You - a song from The Music Man - on their 1964 album Meet The Beatles. Willson also wrote the University of Iowa's fight song and honored The Salvation Army with a musical tribute entitled Banners and Bonnets. Another oddity in Willson's body of work is Chicken Fat. In the 1960s, this was the theme song in school gymnasiums across the nation as part of President John F. Kennedy's youth fitness program.

The world premiere opened August 8 at the new Stephen Sondheim Center for the Performing Arts in Fairfield, Iowa Performances through August 17th.

FAKE LAKE written by Sharon Greene. Directed by Halena Kays.

The Neo-Futurists slip into their swimsuits to tell the true story of a journey to one of the most beautiful and bizarre places in America. A group of strangers made an impulsive trip to Lake Powell, a man-made reservoir in the middle of the Utah desert with a rich and controversial history. Because much of the action in the story takes place in the water, The Neo-Futurists have created a site-specific piece to be performed in and around the Welles Park Swimming Pool in Lincoln Square. Obsessed with youth, sex and the end of invincibility, Fake Lake is a play with a splash zone and a deep end.

The Neo-Futurists have assembled both a talented and physical cast to splash and dive through this story. In addition to Sharon Greene, the cast includes: Luke Hatton, Lauren Sharpe, Ryan Walters and Rani Waterman, a Barrel of Monkeys member and Actors Gymnasium teacher who has appeared with Lookingglass and Steppenwolf. Mikhail Fiksel (a.k.a. DJ White Russian) is creating an original score for Fake Lake. Patrons are advised that this play has a splash zone. Protective gear is provided, but will be inadequate. And like any good set, the pool will have some surprises and things to reveal to the audience.

The Neo-Futurists have also welcome five new ensemble members. Eliza Burmester, Kurt Chiang, Megan Mercier, Tim Reid and Caitlin Stainken.

Previews take place Thursday and Friday, August 14 and 15. Opening Night is Saturday, August 16. Performances continue through Friday, September 19 at the Welles Park Swimming Pool, at Lincoln Square in Chicago.

BURY THE DEAD by Irwin Shaw. Matt Huffman directs.

Set "in the second year of the war that is to begin tomorrow night, Bury the Dead is the story of six dead soldiers who doggedly refuse to be buried - thereby creating a national crisis that is at once sad, moving and wickedly funny. Shaw's first play, written in 1935 before he became a world-famous novelist, was labeled by some as "leftist, antiwar propaganda."

"Shaw was writing at the same time as Clifford Odets," notes Huffman. "At its heart, Bury the Dead is all about class struggle. In all wars, it's the lower classes, the people with no resources, who are most affected and displaced. When the industrial military complex, the 'war machine,' turns on and starts to turn a profit, it rolls over all human life unlucky enough to be in the way."

He continues, "Veteran actor Richard Herd brought the script to me with The Gang in mind, and he's consulting on the production. As soon as I read it, I knew it would be a great match for our ensemble. Ambitious, sure, but we're risk takers and agitators - on either side of our aisles."

Bury the Dead was produced on Broadway in 1936, shortly after the 22-year old Shaw graduated from Brooklyn College. It was an immediate success and New York Times theater critic Brooks Atkinson proclaimed it an event that "burrows under the skin of argument into the raw flesh of sensation."

Staged by The Actors' Gang in Culver City, CA for a five week run, August 16 - September 13.

THE PLANT THAT ATE DIRTY SOCKS Written by Joe Iconis and based on the children's book of the same name by Nancy McArthur, the production is directed by John Simpkins and choreographed by Jennifer Werner.

For ten-year-old neatnik Norman, sharing a room with his messy older brother Michael is a nightmare - with heaps of crumpled paper, clothes strewn about and piles of smelly, dirty socks everywhere!

One day, Michael sends away for some "Amazing Beans," and before long, the boys are the proud owners of two giant plants. But as the plants grow taller and taller, the boys realize that their socks are mysteriously disappearing!

As the plants' hunger for socks continue to grow, Norman and Michael must try to conceal their botanical secret from the rest of the kids on Levitt Lane, especially the frighteningly nosey cheerleader, Patty Jenkins.

The Plant That Ate Dirty Socks stars Jason Williams as Michael and Lance Rubin as Norman, and features Lorinda Lisitza as Mom, Lauren Marcus as Patty Jenkins, Jeffrey Omura as Jason/Mackenzie, Kilty Reidy as Dad and Michael Schupbach as Fluffy/Stanley.

Scenic design by Michael Schweikardt, costume design by Tracy Christensen, lighting design by Chris Dallos, sound design by Eric Shim, puppet design by Eric Wright and music direction by Jana Zielonka.

Launched in 1989, the mission of Theatreworks USA's Free Summer Theatre Program is to provide New York City youth with their own free theatre tradition that not only entertains, but also educates and fosters positive values and an appreciation for theatre. More than 20,000 free tickets will be distributed to The Plant That Ate Dirty Socks this summer. Now playing, at Off-Broadway's Lucille Lortel Theatre through Friday, August 22.

BROADWAY BABY a rousing tribute to the leading ladies of the Broadway stage. The men may be our heroes and villains, but it's the women who often have the last laugh. They are beautiful. They are funny. They make us laugh. They bring tears to our eyes. But always, always, they entertain and delight us.

Starring Bethe B. Austin, Demetria Joyce Bailey, and Jennie Eisenhower, with Erin Mosher and Aileen Goldberg.

Part of the BRT Summer Musicale Series. Through August 17 at the Bristol Riverside Theatre in Bristol, PA.




WHO'S WHERE


ROD STEWART performs Tuesday, August 12, at the Mohegan Sun Arena in Uncasville, Ct. On Wednesday he's on stage at the Bell Centre in Montreal. Friday finds the ageless rocker turned crooner at the Comcast Center in Mansfield, MA. On Saturday he'll be delighting the crowds at The Molson Amphitheatre in Toronto.

BACKSTREET BOYS on stage Friday, August 15, at the House of Blues in Atlantic City. On Saturday they perform at Meadowbrook in Gilford, NH.

ERIC CLAPTON performs in Germany and Poland this week, On Tuesday he can be found at Festweise in Leipzig, Germany. Thursday the show is at Skwer Kpscoiszki in Gdynia, Poland. Then it's back to Germany for a show Friday at the Waldbuhne in Berlin and next Sunday at Konigsplatz in Munich.

BOB DYLAN brings his show to the Prospect Park Bandshell in Brooklyn on Tuesday, August 12. On Wednesday he's on stage at Convention Hall in Asbury Park, NJ. Friday finds him at the MGM Grand Theater in Mashantucket, CT, On Saturday he's in the spotlight at the Borgata Hotel in Atlantic City.

VAN MORRISON continues his UK tour. On Saturday, August 16 the show is at Kenwood in London.

LYLE LOVETT is in Texas this week. On Tuesday, August 23, he performs at the Long Center for the Performing Arts in Austin. Wednesday finds him at the Floores Country Store in Helotes and on Thursday he opens up a three night gig at Bass Performance Hall in Fort Worth.

MELISSA ETHERIDGE on stage Monday, August 11, at the Fabulous Fox Theatre in Saint Louis. On Wednesday she can be enjoyed at the Paramount Theatre in Austin, TX. On Thursday the performance is at the Brown Theatre in Houston and on Friday she's in the spotlight at the Nokia Theatre in Grand Prairie, TX.




FINAL OVATION


BERNIE MAC died Saturday in Chicago. The cause of death was complications from pneumonia. He was 50.

In 1983 he contracted sarcoidosis, an autoimmune disorder that can attack the lungs. In 2005, he announced that the disease had gone into remission.

The stand up comic was also noted for his film roles and on television starred in The Bernie Mac Show which ran for five seasons, becoming one of Fox's biggest hits. Mac was rewarded with two Emmy nominations for outstanding lead actor in a comedy series in 2002 and 2003.

He began his comedic career in Las Vegas after he caught the attention of Las Vegas residents and performers Redd Foxx and Slappy White, who invited him to do his material in Sin City in 1989. A year later, Mac won the Miller Lite Comedy Search, a national contest, with his profanity-laced monologues.

He is survived by his wife Rhonda, his high school sweetheart whom he married in 1976; a daughter, Je'Niece; and a granddaughter.

Next Column: August 17, 2008
Copyright: August 10, 2008. All Rights Reserved. Reviews, Interviews, Commentary, Photographs or Graphics from any Broadway To Vegas columns may not be published, broadcast, rewritten, utilized as leads, or used in any manner without permission, compensation/credit.
Link to Main Page
---
Laura Deni


CLICK HERE FOR COMMENT SECTION