! >
Broadway To Vegas
  
  REVIEWS  INTERVIEWS COMMENTARY NEWS

| | |
| --- | --- |
| | |
PHANTOM OF THE OPERA GIVES HOOK TO ORIGINAL PERFORMER - -JON CRYER'S FATHER GETS VIDEO ROLE FOR LAS VEGAS MOB MUSEUM - - ROCK HALL OF FAME HONORS OTIS RETTING - - 9/11 ANNIVERSARY INVOKES MUSICAL TRIBUTES - - HURRICANE IRENE'S PERFORMANCE LEAVES A CLEAN-UP ENCORE - - MEDIA MOGULS AND NEWSPAPER EMPIRES - - 2(x)IST BROADWAY FLAVORED SEXY MEN'S UNDERWEAR FASHION SHOW - - POOR BEHAVIOR WORLD PREMIERE AT MARK TAPER FORUM - - DONATE . . . Scroll Down



PHANTOM OF THE OPERA GIVES HOOK TO ORIGINAL PERFORMER: JON CRYER'S FATHER ALSO LET GO
From Left: David Cryer (father of Jon Cryer), Anne Runolfsson and original cast member George Lee Andrews in The Phantom of the Opera. Photo by Joan Marcus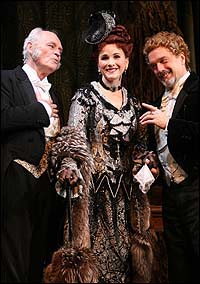 This story does have a happy ending - and maybe a new Guinness Book of World Records entry.

George Lee Andrews, 68, has been with the Broadway production of Phantom of the Opera since the first day that chandelier dropped in 1988, and has continued in the Phantom cast for 9,382 shows over 23 years, earning the Guinness World Records title for the most performances in the same Broadway show. He was blindsided when he was told his contract wouldn't be renewed.

Don't marshal the troops, start singing The Point of No Return and head to Phantom corporate offices to protest. This story has a happy ending. It just didn't look that way when Andrews got the news.

Guesting on CBS' The Early Show on September 2, Andrews said, "Eight performances a week for all those weeks ... I'm not even really connecting yet that I'm not going to be a part of the show when I'm finished on Saturday, so I probably won't feel that. I'll just feel like I have to get up on Monday and get back in there."

Andrews who originated the roles of the baritone Don Attilo and the servant Passarino in Phantom's shows-within-the-show, moved on to alternate in the roles of the opera's managers, Firmin and André, having spent the last several years as the show's flamboyant opera manager Monsieur Gilles André, opposite his stage partner David Cryer's role of Firmin.

Andrews, whose other credits include the original Broadway productions of On the Twentieth Century and A Little Night Music, said it was a surprise when he learned his contract wasn't being renewed.

"My partner and I, David Cryer, partners in the show for over five years, we were called in to our company manager's office and we had no idea why we were being called in," Andrews said. "We thought maybe we were going to be asked to come over to England to be part of the big 25th anniversary celebration, but we found out differently, and so we had quite a shock. But you know, you don't want to dwell on that shock too much. Mostly, 'Phantom' is just a total gift."

This story has a happy ending, really.

Enter Aaron Galligan-Stierle, 31, who also happens to be married to Andrews' daughter, Shannon.



Aaron Galligan-Stierle
Aaron Galligan-Stierle is both an actor and a director, having assisted in the creative process of over forty-five original works, including scripts, movies, plays, cabarets, and dance concerts. Aaron received a BFA in Musical Theater from Shenandoah University and an MFA in Acting from Penn State University. His long list of credits include the Broadway and the 1st National Tour of Ragtime. Eight times a week Galligan-Stierle played the role of Henry Ford as well as 12 other characters, with 19 costume changes throughout the show. In the two and a half-hour show, he was on stage for two hours.

The brown haired, brown eyed 5'11" baritone to high A singer also appeared as Papa Who in Dr. Seuss' How the Grinch Stole Christmas (2007 & 2008 Company.) International Tour: The Herald in Cinderella starring Lea Salonga. Now he has another credit - on September 5 he replaces his father-in-law in Phantom.

As with all principal players, contracts are renewed - or not - every six months. Auditions are posted. Showing up to compete for Andrews' part was the family son-in law, who landed the role.

In some respects it's like a father handing over the keys of the business to his son.

"It's a great connection," Andrews explained on The Morning Show. "The main thing that I was afraid of is my being severed from the connection of that family, that family over there, that I go to work with every night, that includes everybody, that includes the crew, and the actors, and the wardrobe people and, you know, everybody. It's a big family. We have a ball, and that was going to be hard to say good-bye to them and feel like a natural severing from that."

For over two decades Andrews had his routine - he'd pick up an iced chai from Starbucks and greet every one of his colleagues backstage. As with most actors he displays a certain degree of superstitious behavior and had his rituals, which he prefers to call "personal traditions." He'd recite poetry to himself and always touched a certain set piece with his cane.

That cane got tapped for the last time last night.



David Cryer will appear as New Hampshire Sen. Charles Tobey in a video which recreates the Kefauver hearings of 1950 for The Mob Museum in Las Vegas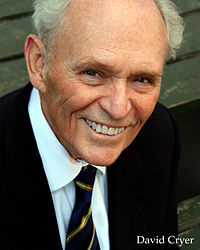 "But coincidentally my son-in-law got an audition, went through the callback process and got the job. .... My connection is open," he happily reported.

In November Andrews lands a starring role - as Grandpa. Aaron and Shannon are expecting a baby. Gossip has already started that, in a few years, the baby will be the third generation family member to appear in Phantom.

As for David Cryer, he's one of the founders of San Francisco's American Conservatory Theater and the father of Jon Cryer of Two and a Half Men fame.

Cryer has played in 13 Broadway shows. Until today he was Firmin in The Phantom of the Opera - a role he has played for nearly 19 years on the road and on Broadway.

He has also played more performances of the Bernstein Mass, as The Celebrant - including at the Metropolitan Opera and the John F. Kennedy Center for the Performing Arts - and more performances as Juan Peron in the musical Evita than any other actor.

Although Cryer is out of Phantom he's headed to the airport, rather than the Unemployment Office. He'll jet to Los Angeles to see his son receive a star of the Hollywood Walk of Fame. Then he'll be in Boston doing a video which recreates the Kefauver hearings of 1950 for The Mob Museum, which opens next year in Las Vegas.

Cryer will play New Hampshire Senator Charles Tobey.

The Las Vegas Museum of Organized Crime and Law Enforcement - aka The Mob Museum is under construction inside a historic former federal courthouse and post office at 300 Stewart Avenue in downtown Las Vegas - home to the very courtroom, where, in 1950, the Kefauver Hearings on Organized Crime were held to expose and control organized crime - resulting in the RICO law.

To recreate the hearings and other exhibits for the museum, five world-class sub-contractors have been brought on board to create more than 30 films, exhibits and interactive experiences throughout the three-story, 41,000-square-foot Museum.

Those sub contractors include:

Northern Light Productions, a film production company headquartered in Boston, Massachusetts that was chosen to produce a film for the September 11 Memorial. The company has produced hundreds of award-winning documentaries on issues of global concern, including wars, social issues and other pertinent topics of world-wide interest.

Boston Productions, Inc., an interactive, multi-media and AV integration design firm whose signature projects includes The National Museum of the Pacific War; Black Holes, Space Warps and Time Twists, a film for Harvard-Smithsonian Center for Astrophysics; The Hershey Story; and The College Basketball Experience in Kansas City, MO.

Dr. Dennis Barrie is the Museum's creative director. His previous credits include the International Spy Museum in Washington, DC, the Rock and Roll Hall of Fame in Cleveland, The Franklin Institute in Philadelphia and The Exploratorium in San Francisco.

When Cryer is finished acting in the Kefauver re-enactment, we think he should do a guest shot on Two and a Half Men.

As for Phantom, Christian Šebek joined the cast on September 2, making his Broadway debut as vain tenor Piangi. Kevin Ligon assumes Cryer's role of opera manager Monsieur Firmin, on September 5. Phantom continues its record-breaking run at the Majestic Theatre, directed by Harold Prince.



Broadway To Vegas is supported through advertising and donations. Priority consideration is given to interview suggestions, news, press releases, etc from paid supporters. However, no paid supporters control, alter, edit, or in any way manipulate the content of this site. Your donation is appreciated. We accept PAYPAL. Thank you for your interest.



ART AND ABOUT


SEPTEMBER 11

William Eggleston Untitled (Glass in Airplane) from The Los Alamos Portfolio, 1965-74 Dye-transfer print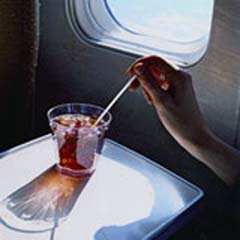 The attacks of September 11, 2001 were among the most pictured disasters in history, yet they remain, a decade later, underrepresented in cultural discourse - particularly within the realm of contemporary art.

Responding to these conditions, New York City's MoMA PS1 curator Peter Eleey brings together more than 70 works by 41 artists - many made prior to 9/11 - to explore the attacks' enduring and far-reaching resonance.

Eschewing images of the event itself, as well as art made directly in response, the exhibition provides a subjective framework within which to reflect upon the attacks in New York and their aftermath, and explores the ways that they have altered how we see and experience the world in their wake.

MoMA PS1 in New York City presents a major exhibition reflecting upon the attacks of September 11, 2001, and the ways that they have altered how we see and experience the world in their wake.

Eschewing images of the event itself, as well as art made directly in response, the exhibition provides a subjective framework within which to consider the attacks in New York and their aftermath.

The exhibit will occupy the entire second floor of the museum, with additional works located elsewhere in the building and in the surrounding neighborhood.

Featured Artists: Diane Arbus, Siah Armajani, Fiona Banner, Luis Camnitzer, Janet Cardiff, John Chamberlain, Sarah Charlesworth, Christo, Jem Cohen, Bruce Conner, Jeremy Deller, Thomas Demand, Shannon Ebner, William Eggleston, Harun Farocki, Lara Favaretto, Jane Freilicher, Maureen Gallace, Felix Gonzalez-Torres, Jens Haaning, Susan Hiller, Roger Hiorns, Thomas Hirschhorn, Alex Katz, Ellsworth Kelly, Barbara Kruger, Mark Lombardi, Mary Lucier, Gordon Matta-Clark, Harold Mendez, Mike Nelson, Cady Noland, Roman Ondák, Yoko Ono and John Lennon, John Pilson, Willem de Rooij, George Segal, Rosemarie Trockel, James Turrell, Stephen Vitiello, and John Williams.

Opening: Sunday, September 11, 2011 and remains on exhibit through January 9, 2012.

ROCK HALL OF FAMER OTIS REDDING'S 70th BIRTHDAY

Otis Redding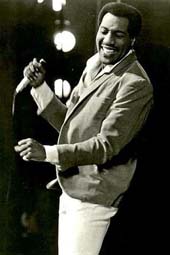 will be honored by the Rock and Roll Hall of Fame with an exhibit and film screening. Redding would have been 70 on September 9. That day, the Hall of Fame will unveil a spotlight exhibit with more than 20 artifacts in the Ahmet M. Ertegun Main Exhibit Hall.

On Wednesday, September 7, the Museum will screen the film Dreams to Remember: The Legacy of Otis Redding which features 16 complete performances filmed throughout American and Europe showcasing why Otis is considered one of the greatest soul singers of all time.

Interspersed between the songs are 40 minutes of interviews filmed exclusively for this DVD with Steve Cropper (Booker T. and the MGs), Jim Stewart (founder of Stax Records), Wayne Jackson (Memphis Horns), and Otis Redding's wife Zelma.

The film includes staggering versions of I Can't Turn You Loose, Respect, I've Been Loving You Too Long, Try a Little Tenderness (filmed the day before Otis' tragic death) and more, all in re-mastered sound and video.

Produced by Reelin' in the Years Productions, this 90-minute film is the first full-length program to commemorate the legacy of Otis Redding and paints a stirring portrait of an artist whose music remains as powerful and influential as it was 40 years ago.


2(X)IST BROADWAY FLAVORED SEXY FASHION SHOW TO FEATURE MEN'S UNDERWEAR


Last week the world saw photographs of Prince Harry pulling himself out of a nightclub pool after jumping in fully clothed. In climbing out of the wet stuff his jeans almost came off, revealing black underwear as the color choice to cover the royal bum.

Then there was the shot a few years ago of Prince William wearing that tight Speedo as he prepared for a swim match.

Lest we not forget that entirely inappropriate question to President Clinton, inquiring whether he wore boxers or briefs.

For guys going through the TSA grope and squeeze, what you've got covering your "junk" - the now famous retort flipped at the pat down artist - you need to consider below your belt as not just a sex toy, but fashion.

No better way to do that than for a fashion design house to have a comedian as their Creative Director. That's precisely what leading men's underwear 2(x) ist did in hiring Jason Scarlotti. He promises not to disappoint in the upcoming New York Fashion Week presentation.

Bred in private Catholic School, the Delaware native often asks questions about religion, sexuality and the advertising industry. According to Scarlatti's bio, "Following the path of Catholicism, Scarlatti high tailed his skinny ass to attend Parsons School of Design, in NYC. In the hopes to meet Heidi Klum, Scarlatti was disappointed with a Bachelors Degree in Fashion Design and found his way designing for pop culture design houses to inspire his comedy career. Like finding a needle in a Gay stack, Scarlatti was quick to accept the job as Creative Director of 2(x)ist, the Leading Men's Fashion underwear brand."



Josh Rhodes will choreograph the underwear strut.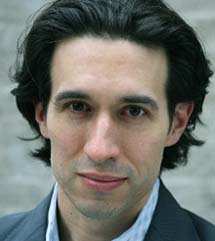 2(x)ist has also incorporated Scarlatti's comedy patter into their own promotions, having staged A Very Gay Christmas billed as an "underwear party and stiff cocktails" followed by the show which, in addition to Scarlatti, featured Jackie Hoffman, Murray Hill, Jonny McGovern, Kate McKinnon, Wendy Ho, Becky Donohue and The Stonewall Chorale.

It should come as no surprise that for the 2(x)ist New York Fashion Week Runway Show on Wednesday, September 7th at the Hiro ballroom, 2(x)ist has gone Broadway. The designer fashion underwear, worn by such pop icons as Justin Timberlake and Usher, has tapped acclaimed theatrical choreographer-director Josh Rhodes to showcase six inimitable looks including a sneak peak at 2(x)ist 2012 SWIM collection.

The six act production will feature Broadway performers: Sarrah Strimel (Catch Me If You Can, Young Frankenstein, The Producers), Afra Hines (In The Heights), Kristine Covillo (West Side Story) and Nina Lafarga (Women on the Verge, In The Heights, Sweet Charity, Aida.) They will work the runway along with the male models including Rodiney Santiago of The A-List: New York on the LOGO network. And, don't forget Ford Model André Ziehe who will be strutting the collection touted as "smokin' hot."

"The super-sexy and campy fashion show promises to be one the invitation-only guests and press in attendance will not soon forget given the professional dance and theatrical flair incorporated into the show," promises the promoters.

Choreographer/director Rhodes, knows a little something about people moving around in their underwear or next to nothing, since he's twice directed Broadway Bares. His resume also includes Company, the film version starring Neil Patrick Harris, The Birthday Concert (Sondheim) for PBS, Urban Cowboy, Bells Are Ringing, Fosse, Boy From Oz with Hugh Jackman and Chicago.

The 2(x)ist fashion show and cocktail party event is in partnership with ZERO, the project to end prostate cancer. Countess LuAnn de Lesseps, a recording artist and author from Bravo TV's The Real Housewives of New York City, will be the in-person host.


SWEET CHARITY


SISTER ACT NUN RUN is a great chance to dress up in a nun's habit and run around some of London's famous landmarks and bridges. It is a non-competitive run starting in the City and running along footpaths past the Tower of London, Tower Bridge, South Bank, London Bridge, Southwark Bridge, The Globe Theatre, Tate Modern, Blackfriars Bridge, Thames Path, Tower of London and finishing back in the City.

Proceeds benefit the Round Table Childrens Wish, whose sole purpose is to make wishes come true for children with life threatening illnesses.

The Sister Act Nun Run takes place September 11 and Sister Act The Musical begins its first ever UK tour at the Manchester opera house on October 4.

SONOMA VALLEY MUSEUM OF ART ANNUAL GALA - ON THE STRIP this year themed "to reflect the glamour of Las Vegas. The interior of the Museum will be transformed into an "upscale Las Vegas entertainment venue, complete with everything one expects from a trip to America's playground." Tickets are $250 per person. September 10 at the Sonoma Valley Museum in Sonoma, CA.

CONCERT FOR VICTOR a benefit featuring The Office's Melora Hardin (Broadway's Chicago), Steven Weber of Wings and Broadway's The Producers and That's So Raven's Anneliese van der Pol of Broadway's Beauty & the Beast will perform in this benefit at the Carrie Hamilton Theatre at The Pasadena Playhouse. This one-night-only event will take place on Tuesday, September 13. All proceeds go to the Rodriguez Family Care Fund.

The evening will also feature performances from Ava Gaudet (Broadway's Rent), Charley Izabella King (Broadway's The Producers) and Leigh Ann Larkin (Broadway's Gypsy & A Little Night Music.

The evening will be directed by Jordan Kai Burnett, featuring accompaniment by Dr. James Lent. The evening is produced by Sacramento-area native Jonathan White.

This concert will benefit 23-year-old Victor Rodriguez and his family. In June 2011, Sacramento newlyweds Victor and Crystal Rodriguez went parasailing on the last day of their honeymoon in the Bahamas. At a height of approximately 200 feet their harness snapped, and they fell into the ocean. Crystal was killed, and Victor suffered severe injuries. Neither of them had health or life insurance.

They had only been married 12 days.

Tickets include a post-show reception in The Playhouse's VIP Lounge.

In a statement, The Pasadena Playhouse Artistic Director Sheldon Epps said "It is always an honor to be able to provide space in our beautiful facility for worthy and important causes. The Playhouse stage is there for the creation of our art, yes...But it also exists to support important fundraising efforts as we have often done in the past, and do again with great pleasure for this valuable event."


9/11 ANNIVERSARY INVOKES MUSICAL TRIBUTES


Together with the Ottawa Citizen, the National Arts Centre in Ottawa, Canada will present an open-air concert on Sunday, September 11, 2011 - beginning at 8:46A.M. - the time in Ottawa when the first plane hit the World Trace Center - to mark the 10th anniversary of the devastating terrorist attacks on New York, Washington, and the crash of Flight 93 in Pennsylvania.

Through the healing power of music this concert will honor every person affected on that terrible day, including all military and civilian personnel who have displayed great courage over the past decade.

All are welcome. No tickets required.

The Concert for Hope at the Washington National Cathedral in Washington, DC takes place Sunday evening and will feature renowned mezzo-soprano Denyce Graves, country superstar Alan Jackson performing his post-9/11 song Where Were You (When the World Stopped Turning), and R&B legend Patti LaBelle.

President Obama will speak at the event, which feature, in addition to songs of hope, words of wisdom, and messages of peace. Washington National Cathedral is joining the National September 11 Memorial & Museum, the Pentagon Memorial Fund, and the Flight 93 National Memorial to present "A Call to Compassion," a weekend of programming that will gather Americans to honor the memories of those who were lost, heal the wounds caused by terrorism and war, and gain new hope to move forward as a nation.

The weekend to commemorate September 11 will mark the reopening of the Cathedral following the magnitude 5.8 earthquake, which forced it to close while safety measures were implemented. "Every effort is being made to ensure that the damage will not have any significant impact on the Cathedral's plans for the commemoration," stated a press release.

The three-day commemoration will begin on Friday, September 9, with Secretary of Defense Leon Panetta speaking at A Concert to Honor, a memorial concert dedicated to the victims of 9/11 as well as the nearly 6,000 troops who have died in the wars in Iraq and Afghanistan. The concert will feature the Brahms Requiem performed by the Marine Chamber Orchestra and United States Navy Band Sea Chanters, along with soprano Christine Brandes, bass-baritone Eric Owens, and the Cathedral Choir.

During a community gathering day on Saturday afternoon, September 10, the Washington Cathedral invites families to attend a free public concert, A Concert to Heal, which will feature the Grammy award-winning African American female a cappella ensemble Sweet Honey in the Rock, Latin pop band Ocho de Bastos, and Afghan-born singer Humayun Khan. ABC7/WJLA-TV anchor Leon Harris will serve as host.

Grammy winner Sarah McLachlan will perform at a dedication ceremony for the 9/11 memorial for Flight 93 in Shanksville, Pennsylvania honoring the 40 passengers and crew who died after United Fright 93 crashed in a field. It's believed the passengers courageously tried to overtake the hijackers.

The National Park Foundation announced that the singer songwriter will sing at the September 10 event.

The Flight 93 National Memorial dedication will include dignitaries and the relatives of those killed in the attack. A Tower of Voices memorial is designed to house 40 wind chimes. Organizers have raised most of the estimated $60 million needed for it.


BROADWAY STAGES TRIBUTE TO 9/11


The Broadway community will mark the tenth anniversary of 9/11 by gathering in Duffy Square on Friday, September 9, 2011 at 4:00pm. This event will encore the iconic performance that took place one decade ago when Broadway performers helped inspire New Yorkers to return to normalcy with a landmark outdoor performance.

A decade later, Broadway will once again inspire, this time in support of inspiring 9/11 Day of Service and Remembrance, engendered by 9/11 Day's "I Will" campaign (911day.org) which seeks to encourage millions of people to perform good deeds, support charitable causes, and volunteer in tribute to the 9/11 victims and survivors, and all those that rose in service in response to the attacks.

The annual outdoor concert in Times Square, Broadway on Broadway, which has in the past taken place on the Sunday after Labor Day, has been postponed this year in honor of the tenth anniversary of 9/11.

The 9/11 Day Observance was originally conceived in 2002 by David Paine, along with Jay Winuk, a 9/11 family member, to provide a positive and forward-looking way for Americans and others to forever honor and remember the 9/11 victims, survivors, and the many that rose in service in response to the 9/11 tragedy.

In 2009 9/11 was officially recognized under bi-partisan federal law, as a National Day of Service and Remembrance. For the 10-year anniversary of 9/11, the 9/11 nonprofit group, MyGoodDeed, founded by David and Jay, is partnering with HandsOn Network and other leading organizations to organize the single largest day of charitable service in United States history.

The Broadway League, founded in 1930, is the national trade association for the Broadway industry. The League's 700-plus members include theatre owners and operators, producers, presenters, and general managers in over 200 North American cities, as well as suppliers of goods and services to the theatre industry. Each year, League members bring Broadway to nearly 30 million people in New York and on tour across the U.S. and Canada.


HURRICANE IRENE'S PERFORMANCE LEAVES A CLEAN-UP ENCORE
Hurricane Irene flood waters at the back of the Weston Playhouse. Photo: Weston Playhouse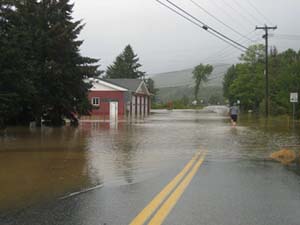 Show people are a plucky lot.

Grit, determination, a lot of elbow grease and making the most out of Plan B have taken center stage.

Vermont's oldest professional theatre, The Weston Playhouse, was savagely attacked by Irene to the tune of about $200,000 worth of damage. Prior to the waterworks the Playhouse was celebrating it's 75th season. Now, it's celebrating that nobody was injured.

The respected Playhouse sustained between 6 and 12 feet of water in the orchestra pit, prop shop, dressing rooms and other parts of the lower levels of the theater.

Then there was Saint-Ex, a world premiere by composer Jenny Giering and librettist Sean Barry about the French aviator Antoine de Saint-Exupéry who authored The Little Prince. ( See Broadway To Vegas column of August 21, 2011 )

The show's costumes were in the flooded dressing rooms, and now can be reclassified as rags. The grand piano, a gift to the theatre valued in the tens of thousands of dollars, was going to be used in the show. Located in the water logged orchestra pit, the grand piano couldn't play a tune.

After the initial shock and the power resumed, the company took to Plan B and on Friday, September 2, Saint-Ex was staged as a concert production. The 11-member cast performed sans costumes with simplified lighting and design effects, and a five-person band performed on stage alongside the actors. The musical will conclude its run on September 10 as previously scheduled.

As with most businesses neither the theater company, which has an annual budget of $1.6 million, nor the playhouse's landlord, was covered with flood insurance due to high premiums.

The Weston Playhouse wasn't the only theatrical related business to gurgle under water.

Rising floodwaters destroyed the entire stock of Bartleby's Books in Wilmington, Vt. Numerous restaurants frequented by arts and theatre patrons also were sent reeling by Vermont's worst natural disaster since the epic flood of 1927.

Seasonal resorts weren't spared. Killington Resort reported on its Facebook page that it has suffered damage throughout the ski area and mountain-biking center.

"Killington Resort and the surrounding communities have suffered flood damage from Tropical Storm Irene," the Facebook note read. "Crews are out assessing damages around the resort including structural deterioration to base lodges, lifts and roads as well as power outages. Following an initial overview of the storm's aftermath, the K-1 Lodge Superstar Pub's structural integrity was compromised by the volume of water running off of it."



Hurricane Irene took the Superstar Pub at Killington Resort off its foundation Photo: Killington Resort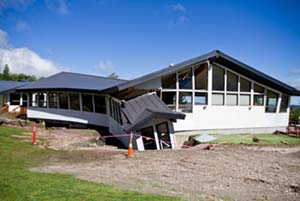 Killington's K-1 base lodge in Pittsfield after Hurricane Irene. Photo: Facebook/Luke Small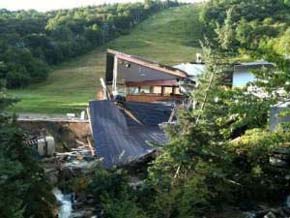 Then came the official damage assessment and this chilling, to the point announcement posted on their website: "Due to damage assessment, Killington (Resort) and Pico (Mountain) will not operate until further notice."

The towns of Killington, Mendon and Pittsfield suffered such catastrophic damage that the Air National Guard has to deliver food and water supplies.

Killington Resort was the only full-service mountainside hotel - with rooms, studios, suites and penthouses with convenient ski-bridge access to the slopes mid-winter. Their world class health club boasted mountain views, weight and cardiovascular equipment, sauna, steam room and a 75-foot outdoor heated pool with two hot tubs featuring views of Killington. The Grand Spa's menu featured skin, body and nail services.

Right now nobody has manicured nails as everyone in the entire area has dug in, attempting to dig out.

Sebastian Bach's house felt Hurricane Irene's strong but not entertaining beat. The rocker wrote on Facebook that he was "numb, in shock and devastated" after his Red Bank, N.J. home of 21 years was actually condemned after a nearby reservoir overflowed and sent a bridge crashing into his garage, knocking the house off its foundation and flooding his basement.

"The basement that has been dry for over 2 decades is now overflowing with water & I am not even allowed to start pumping the water out due to fears of electrocution," the 43-year-old performer wrote.

Bach and his family were safe but countless pieces of Skid Row and KISS memorabilia were lost.

"Gone are irreplaceable items, such as my KISS Gargoyles from the 1979 tour. KISS pinball machine. Skid Row master tapes, video & audio, concerts, master tapes from 'Oh Say Can You Scream' etc." he wrote. "Boxes & boxes of one of a kind Skid Row memorabilia, from the first tour to our last, all stuff I collected on the road that no one else had. I had a library in the basement with every single magazine that had Skid Row on the cover. This library took up a big part of the basement. All of this is lost now."

Colleen Zenk, who was Barbara Ryan on As The World Turns also watched her collected memories wash away. The Oral Cancer survivor, who will star at Feinstein's next month and is one of the producers of the upcoming revival of Godspell, went to her Twitter page and wrote:

"Irene devastated my world. Her flood destroyed family pics, history, my children's memories & belongings. Career artifacts, too. . . . Trying to dry family history. Thousands of photos. Childhood memories may not survive. No power for at least a week."

Bay Street Theatre in Sag Harbor was without power for several days, but reopened with a sense of humor, adding additional shows of Enter Laughing to make up for the Irene show stopper.


SPREADING THE WORD


MICHAEL JACKSON the Cirque version, announced the choreographers for their Cirque du Soleil tribute show which opens in Montreal on Sunday, October 2, at the Bell Centre.

A team of 10 diverse choreographers, some of whom worked alongside Michael Jackson, will contribute their distinctive talents and understanding of Michael's unique creative choreography to the new Cirque du Soleil show Michael Jackson The Immortal World Tour in collaboration with the show's Writer and Director Jamie King.

The team of choreographers is comprised of: Travis Payne, Rich and Tone Talauega, Debra Brown, Napoleon and Tabitha Dumo, Jamal Sims, Cloud and Tamara Levinson and Mandy Moore.

"The creative force of 10 cutting-edge choreographers brings complexity and depth as we work together with the performers to bring Michael Jackson's music to life," explains Chantal Tremblay, Director of Creation of Michael Jackson The Immortal World Tour.

With the addition of the 10 choreographers, the creative team is the largest ever for a Cirque du Soleil production.

The other creators include: Guy Laliberté - Creative Guide
Gilles Ste-Croix - Creative Guide
Chantal Tremblay - Director of Creation
Jamie King - Writer and Director
Carla Kama - Associate Show Director
Kevin Antunes - Musical Designer
Greg Phillinganes - Music Director
Mark Fisher - Set Designer
Michael Curry - Props and Scenic Designer
Zaldy Goco - Costume Designer
Germain Guillemot - Acrobatic Performance Designer
Scott Osgood - Rigging and Acrobatic Equipment Designer
Olivier Goulet - Projection Designer
Martin Labrecque - Lighting Designer
François Desjardins - Sound Designer
Florence Cornet - Makeup Designer

Following the Montreal engagement the show will travel throughout North America.

THE KENNEDY CENTER 10th ANNUAL PAGE TO STAGE new play festival began yesterday, September 3, and continues through September 5th.

The prestigious event features works presented by more than 40 D.C.-area theater companies in free readings and open rehearsals of works being developed by local, regional, and national playwrights, librettists, and composers.

Participating theatres include: ABG Playwrights, AccokeekCreek Theatreco, Adventure Theatre, American Ensemble Theater, Arts on the Horizon, Baltimore Playwrights, Bowie State University, Bright Alchemy Theatre, Catholic University, The Essential Theatre, Faction of Fools, First Draft at Charter Theater, Force/Collision, The Georgetown Theatre Company, Georgetown University Performance Studies Program, Georgetown University Theatre, Horizons Theatre, The Hub Theatre, The Inkwell, Kennedy Center American College Theater Festival, Kennedy Center Theater for Young Audiences, Molotov Theatre Group, My Creative Spirit, National Conservatory of Dramatic Arts, No Rules Theatre Company, Open Circle, The Playwright Zone, Playwrights Group of Baltimore, Quotidian Theatre Company, Safe Streets Arts Foundation, Scena Theatre, Seventh Street Playhouse, Signature Theatre, Studio Theater, Synetic Theater, Theater J, Timeless Visual Works, Wandering Souls, Welders Theatre and WSC Avant Bard.

BAM's 9/11 ANNIVERSARY SCREENINGS: WOODY ALLEN'S MANHATTAN BAMcinématek marks the 10th anniversary of 9/11 with four free screenings of Manhattan, Woody Allen's rhapsodic love letter to New York, which screened at BAM nine years ago in commemoration of the first anniversary of the tragedy.

Directed by Woody Allen. With Woody Allen, Michael Murphy, Mariel Hemingway, Diane Keaton.

After his wife (Meryl Streep) leaves him for another woman, Isaac Davis (Allen) leaves his day job as a television writer and begins dating Tracy (Hemingway), a precocious 17-year-old. But he soon begins to fall for his best friend's (Murphy) mistress (Keaton). Allen's rhapsodic love letter to New York is undoubtedly his most romantic—thanks to a larger-than-life Gershwin score, Gordon Willis' radiant black-and-white cinematography, and no shortage of classic Manhattan locales, including the MoMA, Elaine's, the Hayden Planetarium, and the iconic shot of the 59th Street Bridge - making this a must-see on the big screen.

Seating will be first come, first served.Sunday, September 11, 2011 at 2, 4:30, 7, 9:30pm. BAM Rose Cinemas. Brooklyn Academy of Music.

MEDIA MOGULS AND NEWSPAPER EMPIRES From Alexander Hamilton's New-York Evening Post to the present day, New York has been at the forefront of American and international journalism and home to media titans such as Joseph Pulitzer, William Randolph Hearst, and Henry Luce.

Award-winning historians Alan Brinkley, author of The Publisher: Henry Luce and His American Century (Alfred A. Knopf, 2010); David Nasaw, author of The Chief: The Life of William Randolph Hearst (Mariner Books, 2001); and Joyce Purnick, formerly of the New York Times and author of Mike Bloomberg: Money, Power, Politics (Public Affairs, 2009), discuss the history of journalism in the city and the changing media landscape of today.

Reservations required. Tuesday, September 6 at the Museum of the City of New York.

CLEVELAND PLAYHOUSE HOLDS OPEN HOUSE Their doors will be open to the public on Sunday, September 12, and they want everyone to not only stop on by but really feel at home in their new home - the new Allen Theatre.

The long list of activities include: live music, prizes from downtown hot spots, behind-the-scenes tours of the new Allen Theatre, featuring sneak peeks of shows from the exciting new season, free photo booth for striking your best dramatic or comedic pose.

Daddy Long Legs opens on the main stage on October 21.

KATHIE LEE GIFFORD in Seattle August 24 attending the first day of rehearsal for her musical Saving Aimee at the 5th Ave Theatre. Gifford penned the musical which received its world premiere at Arlington, VA's Signature Theatre in 2007. Gifford has displayed the stick to it attitude that now sees her musical at the 5th Ave Theatre in Seattle - a venue which is noted for spingboarding productions to Broadway.

Saving Aimee, with book and lyrics by actress, writer and talk-show host Gifford, and music by Friedman and Pomeranz, opens September 30 with performances through October 29.

Meanwhile Gifford returns to Seattle to appear September 10 as part of the theatre's Spotlight Night, which will be comprised of interviews, along with excerpts from the musical, which stars Carolee Carmello, Judy Kaye, Brandon O'Neill, Charles Leggett, Ed Watts, and Ed Dixon. Pomeranz and Friedman will also be on hand for the event.


OTHER PEOPLE'S MONEY


RING DEM BELLS The closing bell of the Wednesday, August 31, stock market was rung by the cast of the Off-Broadway show, Temporal Powers, in celebration of its August 29 opening. In honor of the occasion, cast member Rosie Benton, along with the rest of the cast, rang the NASDAQ Closing Bell.

Temporal Powers, set in Ireland in the 1920s, is a story of love and loss, where hope and despair are two sides of the same contested coin. Michael and Min are stone-broke and homeless, but the greatest test of their marriage comes when, after taking shelter in a crumbling ruin, they stumble upon hidden treasure. Min sees a chance to start a new life; Michael fears it's stolen and wants to give it to the priest. As the night grows dark, neither one is left able to see right from wrong.

Since the characters in the play are "stone-broke and homeless" chances are they don't have any money in the stock market. Thus, we're not too sure what Temporal Powers has to do with NASDAQ, except the characters find money which invokes a struggle between right and wrong. However, the dismal market closed up, so Benton and her castmates ought to ring that bell more often.






POOR BEHAVIOR by Pulitzer-nominated Theresa Rebeck. Directed by Tony Award-winner Doug Hughes.

In Poor Behavior, a drunken late night argument about morality, history and ethics careens out of control, leaving two marriages and four lives in its wake. Over the course of two demented days in a lovely country house, this dark adult comedy asks the question: Is it adultery if they already think you've done it?

It's Poor Behavior, a volley of mischief and malice, morality and manipulation.

Set design by Tony Award-winner John Lee Beatty, costume design by Tony Award-winner Catherine Zuber, lighting design by Ben Stanton and sound design by Obie Award-winner David Van Tieghem.

A world premiere begins previews on September 7 a in Los Angeles at the Mark Taper Forum and continues through October 16.

CHICAGO welcomes Kara DioGuardi, the songwriter and former American Idol judge into the role of Roxie Hart. She will be in the show for eight weeks beginning September 5. Chicago is now the fifth longest-running production in Broadway history. It debuted in 1996.

RITA MORENO: DANCING HER WAY THROUGH LIFE WITHOUT MAKE-UP written by Tony Taccone. Developed by Rita Moreno and Tony Taccone. Staged and directed by David Galligan. Choreographed by Lee Martino.

Rita recounts her improbable life in an irreverent and entertaining new show.

The production features a lively band - led by musical director Cesar Cancino (piano), the band includes Sascha Jacobsen (bass), Alex Murzyn (reeds) and David Rokeach (percussion) - and two expert dancers - Ray Garcia and Salvatore Vassallo.

The creative team also includes Annie Smart (costume design), Alexander V. Nichols (lighting and video design) and Phil Allen (sound design).

Rita Moreno: Life Without Makeup officially opens at Berkeley Rep's Roda Theatre on September 7 and continues through October 30 in Berkeley, CA.

Opening-night festivities begins with a pre-show dinner for donors at the Hotel Shattuck Plaza and a post-show party for the audience catered by Bistro Liaison and Raymond Vineyards.

PLAY IT COOL a new musical conceived by Larry Dean Harris, with a book by Martin Casella and Larry Dean Harris, lyrics by platinum award winning singer/lyricist Mark Winkler, music by Phillip Swann, with additional music by Jim Andron, Michael Cruz, Marilyn Harris, Emilio Palame, Larry Steelman. Musical Supervisor/Arrangements by Joe Baker.

The hot jazz influenced musical is directed by Sharon Rosen.

The cast includes Broadway and Off Broadway veterans Sally Mayes, Michael Buchanan, Chris Hoch, Robyn Hurder, and Michael F. McGuirk.

Sexy… sultry…repressive – Hollywood 1953, an underground nightclub where everyone's got a secret. At Mary's Hideaway, it was a place for sizzling jazz and for the ambitious people who are finding the courage to be who they are. It is the noir time of the '50's, and the laws governing gay and lesbian clubs, produced every glance that had a double meaning and the words that were innuendo. Here everything had to be done to the strict code. These are some of the people who had the guts to break the rules. You just need to … Play It Cool!

Choreography by Marc Kimelman. Set Design is by Thomas A. Walsh; with Costume Design by Therese Bruck; Lighting Design by Deb Sullivan; Sound design by Carl Casella, Peter Fitzgerald; with Hair/Wig Design by Josh Schwartz and Jane Pole Production Stage Manager. In previews Off Broadway at Theatre Row – Acorn Theatre, with the official opening set for Wednesday, September 14th.

JERSEY BOYS the incredible, Tony Award winning musical, which has a permanent company in Las Vegas, is moving down the block - not that patrons will particularly care. Never-the-less, the musical about the formation of Frankie Valli and the Four Season will pack up the music and move from their current home at the Vegas Sands Corp. owned Palazzo Hotel to the Caesars Entertainment owned Paris hotel in early 2012. Jersey boys will be taking over the stage Barry Manilow now calls home after his two year contract at the Paris expires. Manilow opened at the Paris on March. 6, 2010.


WHO'S WHERE


BBC RADIO LIVE IN HYDE PARK a Festival in a Day celebrating the best of the station's music. Headlining are Lionel Richie with the BBC Concert Orchestra, Lenny Kravitz, James Blunt and Will Young. Also performing are Caro Emerald, Imelda May, The Pierces, Jonathan Jeremiah and Bellowhead, as well as Jools Holland and his band with special guests Sandie Shaw and Ruby Turner. The event will be hosted by Chris Evans with other Radio 2 presenters. Sunday, September 9.

EMBASSY OF LITHUANIA - MUSIC OF THE VILNA GHETTO EXPERIENCE with Jerome Barry, baritone; Edvinas Minkštimas, piano and Peter Sirotin, violin. This program features music of the Ghetto and music that was played and enjoyed during those sad times. The concert will be repeated in New York for the Foreign Minister of Lithuania and in Vilnius, Lithuania in October. In commemoration of the Year of Remembrance of the Holocaust, declared by the Lithuanian government. Representatives of the Lithuanian Parliament will be in attendance at the Thursday, September 15th performance at the Embassy of Lithuania in Washington, DC.

KEITH URBAN performs Thursday, September 8, at the HSBC Arena in Buffalo. On Friday the show is at the Scotiabank Place in Ottawa, Ontario. He continues in Canada with a show on Saturday at the Canada Centre in Toronto.

PETER SERKIN the 64-year-old American pianist who has been a concert musician since he was 12, will perform works by Arnold Schoenberg and Beethoven September 10 at the Shanghai Grand Theater in Shanghai, China.

TRACE ADKINS center stage Wednesday, September 7, at the IP Casino in Biloxi, MS.

DOLLY PARTON stars at the O2 in London on Wednesday and Thursday, September 7-8.










Next Column: September 11, 2011
Copyright: September 4, 2011. All Rights Reserved. Reviews, Interviews, Commentary, Photographs or Graphics from any Broadway To Vegas (TM) columns may not be published, broadcast, rewritten, utilized as leads, or used in any manner without permission, compensation and/or credit.
Link to Main Page
---
Laura Deni



For the snail mail address, please E-mail your request.
CLICK HERE FOR COMMENT SECTION