! >
Broadway To Vegas
  
  REVIEWS  INTERVIEWS COMMENTARY NEWS

| | |
| --- | --- |
| | |
SPIDER-MAN DIRECTOR TO STAGE THE BIBLE - - CARLITO CARVALHOSA SUM OF DAYS - - THE REAL LOVE: A NEW MUSICAL - - STAGE TRAGEDIES EMPHASIZE IMPORTANCE OF SAFETY - - 2011 NAACP THEATRE AWARDS AND FESTIVAL WEEKEND - - END OF THE RAINBOW COMING TO AMERICA - - GUILD HALL IN THE HAMPTONS BRINGS ON THE STARS - - WORLD PREMIERE OF MUSICAL SAINT-EX AT WESTON PLAYHOUSE - - DONATE . . . Scroll Down



OMG!!! THE BIBLE
Philip William McKinley spent 10 years as director of the Ringling Bros. and Barnum and Bailey circus. Photo: Getty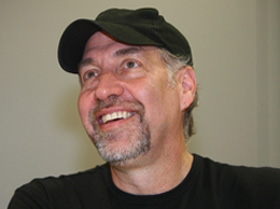 Philip William McKinley who proved he could work miracles when he replaced Julie Tamor as director of Spider-Man, Turn Off the Dark, now wants The Bible: The Beginning to give The Book of Mormon - which is set to tour - some holier than thou competition.

McKinley's announcement, first published by Deadline.com is described as "a live show scaled for arena-sized venues that will use music, dialogue, tumblers, jugglers, singers, aerialists and fighters to re-enact the Creation, Adam and Eve, Cain and Abel, Noah's Ark, Moses and his clash with the Pharaoh, the plagues of Egypt and the parting of the Red Sea, all culminating in the delivery of The Ten Commandments. The musical will be narrated by Gabriel the Messenger; Raphael the Healer; and Michael, Leader of God's armies."

Jesus, Christ!
(not in the show)

Most people already know the story line, so don't expect any script changes by book writer Shaun McKenna. The musical will feature lyrics by Maribeth Derry and music by Michael Levine, Matt Rawlings and Ryan Bevridge. Sets will be designed by Mark Fisher and Ray Winkler. The team hopes for an arena launch in late 2012 or early 2013.

McKinley, who started his career as a singer and dancer at the Stardust and Dunes hotels in Las Vegas, says it was Tony winner Judy Kaye who gave him the idea over lunch.

"I told her I'd done The Ten Commandments and Ben-Hur, ( See Broadway To Vegas column of May 17, 2009 ) and ( See Broadway To Vegas column of November 9, 2008 ) and she said, well, there's nothing left then but The Bible...The more I thought about it, I realized that we could take these stories that have big morality themes and put them in a style of contemporary performance."

Actually, The Bible: The Complete Word of God (abridged) written by the Reduced Shakespeare Company has already done that - only on an abridged scale.

It's the Shakespeare Globe Theatre in London that may have given McKinley the financial insight that people who, to save their souls, wouldn't attend a free Bible reading at their church of choice, would - and did - pony up good money to hear even a no-frills read of The Good Book. That gives credence to - the problem isn't the script. Virtually everyone agrees with the first five books. To get the crowd you need presentation and performance.

This past April the Shakespeare Globe turned The Bible into a remarkably successful event.



Actor Bill Nash was one of the actors, practitioners and scholars who participated in Blogging The Bible during the three weeks prior to the epic read-through of the King James Bible.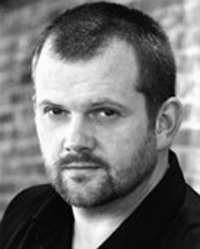 Dr Farah Karim-Cooper Head of Courses & Research at Shakespeare's Globe explored pivotal moments in the Bible in advance of the Genesis reading.
"Written in 1611, the King James Bible was the work of many hands, and has proved over the last four hundred years the undying power of the written and the spoken word. The Globe celebrates that achievement, and that long oral tradition, by reciting one of the great masterpieces of world literature from Palm Sunday to Easter Monday," read the Globe's announcement.

"The King James Bible contains some of the most exciting and extraordinary stories ever told and the origins of many famous sayings and phrases can be found within it. A team of actors will present these texts in full across twelve thrilling sessions, in a theatre which is constantly working to make Jacobean words become flesh."

Directed by Jacqueline Somerville, the music was composed by Akintayo Akinbode.

The cast included: Gareth Armstrong, Keith Bartlett, Jason Baughan, Nicholas Beveney, Michael Brophy, Serena Evans, Louise Ford, Miranda Foster, Dana Gartland, Andrew Havill, Daniel Hawksford, Daniel Langley, Barbara Marten, Bill Nash, Rhiannon Oliver, Hugh O'Shea, Golda Roshuevel, Nadia Shash, Bethan Walker, and Leon Williams.

In blogging about the experience actor Bill Nash wrote: "Genesis, Exodus, Leviticus, Numbers, Deuteronomy. It's been great so far, I'm really enjoying it. We were reciting those parts of the Bible that people are familiar with – Adam and Eve, Cain and Abel, Noah, Joseph, and Moses – so it was easier to engage with. But even without the stories, it sounds amazing, and it's great to perform."

"A lot of people appeared to have brought their Bibles and were following them. It's slightly unnerving – you just hope no-one's going to put up a hand and tell you that you've missed a bit. But we have had lots of good reactions."

There was also pressure and Nash blogged about the tension and nerves.

"The technique of recorded delivery is difficult but it does force you not to think, it forces you to 'be', which is a good thing. You just have to think on your feet, you never have time to think 'can everyone see my lovely costume…look at this lovely prop...maybe I should look a bit sadder here'; there's none of that. It's absolutely of the moment. When you do a play you have this thing of 'well I didn't make it work tonight but there's always another chance at this, I can do try again, I can try something different'; and of course you get more rehearsal, but this is like a bubble, it's gone, I will never do something like this again. Pity, really. I love it."

With the McKinley version, what will make the biblical word work will be the costumes, props and special effects.

There are countless productions based upon sections of the Bible - including the about to be revised Stephen Schwartz and John-Michael Tebelak hit musical Godspell, which begins previews October 13 at Circle in the Square Theater.

McKinley can just pray that his concept brings in the money changers.



Broadway To Vegas is supported through advertising and donations. Priority consideration is given to interview suggestions, news, press releases, etc from paid supporters. However, no paid supporters control, alter, edit, or in any way manipulate the content of this site. Your donation is appreciated. We accept PAYPAL. Thank you for your interest.



ART AND ABOUT


CARLITO CARVALHOSA SUM OF DAYS Already renowned in his native Brazil, Carlito Carvalhosa makes his U.S. debut with this exhibit.

Carvalhosa (b. 1961) conceived Sum of Days as an environmental and participatory sound installation—a monumental, voluminous construction made of soft, white, translucent material that hangs from ceiling to floor and takes the shape of an elliptical labyrinth.

This structure hides, or interrupts, the defined limits of its surrounding architectural space, suspending visitors' spatial references and allowing an experience of total immersion.

A system of microphones hangs from various heights and records the day's ambient noise, which is played back the following day through several speakers.

Each day a new recording is superimposed over the previous one, gradually dimming the oldest sounds into a layer of whispers.

Adding yet another element of sound will be periodic musical performances from within the installation. The accumulation of these recordings will constitute an immaterial layering of time - an auditory memory of the accidental noise inherent in everyday experience.

Musical performances, each 60 to 90 minutes long, take place weekly within the installation between September 8 and November 10. The performers are Lisa Bielawa, David Crowell, Jon Gibson, Philip Glass, Carla Kihlstedt, Michael Riesman, Mick Rossi, and Andrew Sterman.

Organized by Luis Pérez-Oramas, The Estrellita Brodsky Curator of Latin American Art, and Geaninne Gutiérrez-Guimarães, Curatorial Assistant, The Museum of Modern Art.

August 24–November 14 at MoMA in New York City.


THE REAL LOVE: A NEW MUSICAL - DON McLEAN AND AN EXHIBIT
Tony Award winner Daisy Eagan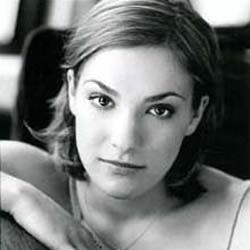 The Real Love: A New Musical gathers an impressive 40-member cast led by award-winning stars, a 20-piece orchestra, and a team of esteemed composers to present a true love story with all the magic of Broadway. Add a concert by Don McLean and an exhibition of some brilliant and uplifting creative works by gifted artist Supreme Master Ching Hai and you have an fulfilling day. That would be Saturday, August 27, at the Pasadena Civic Auditorium in Pasadena, CA.

Directed by Chris Shelton, The Real Love stars Joanna Ampil, Daisy Eagan, Cady Huffman, Adam Pascal and Robert Torti.

In the musical, the poetry of Supreme Master Ching Hai is set to original music by Bill Conti, Al Kasha, Doug Katsaros, Don Pippin, and David Shire.

The show is inspired by a true story about a woman who is deeply in love with her equally tender husband, a doctor. But as their happy marriage blossoms, a calling propels her to make a heartrending decision - remain with her beloved or sacrifice everything in search of happiness for all humanity.

Special guest stars will include Betty Buckley, Laurie Cadevida, Filippa Giordano, Marty Ingels, Shirley Jones, Trent Kowalik, Kiril Kulish, Faith Rivera, Tom Schmid, and Lynne Wintersteller.

Guest speakers for the afternoon will include Grant Aleksander, Ed Begley Jr., and Cloris Leachman.

The event will be taped for television.



Tony Award winner Cady Huffman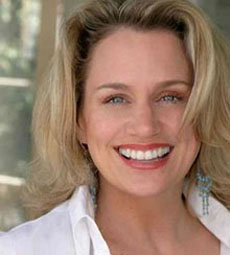 This special 2-part show includes an exciting guest performance by legendary singer/songwriter Don McLean and his band, presenting some of his all-time classic hits including And I Love You So, American Pie, and Vincent (Starry, Starry Night).

McLean, still on his 2011 world tour, will be accompanied by his band, four top musicians from Nashville: Tony Migliore on keyboards and piano, Ralph Childs on bass guitar, Jerry Kroon on drums, and Vip Vipperman on guitar.

Guests are welcome to a special, complimentary Art Exhibition of some of the brilliant and uplifting creative works by gifted artist Supreme Master Ching Hai. She is noted for being an artisan of unique Longevity Lamps, hand-painted fans, other aesthetic crafts; a poet & composer and an author of three #1 international bestselling books displaying her photography of nature and full household of beloved dog and bird pets.

Her clothing line SM Celestial Fashions and her gem-filled Celestial Jewelry pieces blend distinct flavors of the cultures she has met through her world travels.

The Art Exhibition will be open to event attendees free-of-charge starting at 12 pm, two hours before show time as well as after the show during the vegan banquet. Complimentary refreshments will be served.


SWEET CHARITY


IRVIN MAYFIELD the Grammy Award winning trumpeter who has opened a new club in New Orleans, has collaborated with New Orleans Hospitality Leaders on Love Sessions – A Festival of Giving, 11 Nights of Music, 11 Nights of Giving.

The concert series benefits a different non-profit organization each night. The Love Sessions began last Friday, August 19th and run through Thursday August 25th, at Irvin Mayfield's Jazz Playhouse with The Thriller at the Playhouse, a seven-night trumpet battle that builds on a playful, decade-old rivalry between Irvin Mayfield and local trumpet legend Kermit Ruffins.

The festival continues at the new Irvin Mayfield I Club on Friday August 26th and runs through Monday August 29th with the Love Moments, a four-night musical encounter between two-time Grammy Award-winning trumpeter Roy Hargrove and his New York City based band and Irvin Mayfield and his New Orleans-inspired septet.

TONY AWARD WINNER LEVI KREIS will stage his first Southern California performance since returning from New York City and his Tony Award-winning role as Jerry Lee Lewis in Million Dollar Quartet, in a one night only, benefit concert for the Rubicon Theatre on Tuesday, August 30 at the Rubicon Theatre in Ventura, CA.


GUILD HALL IN THE HAMPTONS BRINGS ON THE STARS
Blythe Danner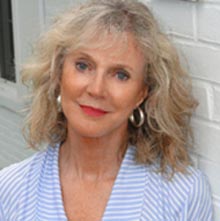 Elaine Stritch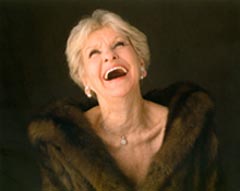 Guild Hall in The Hamptons is noted for always having interesting, intelligent and fun non stop events.

Under the energetic and capable leadership of Dr. Ruth Stevens Appelhof, who received degrees in painting and art history and a Ph.D. in the humanities from Syracuse University, this coming week-end will see Guild Hall surpass their own amazing reputation. You might just as well plan for a four day camp out.

On Friday, August 26, Nathan Lane, Matthew Broderick, Mario Cantone, Scott Adsit, new bride Joy Behar, Tovah Feldshuh, Eugene Pack and Emmy Nominee and Drama Desk Winner Dayle Reyfel performing in Celebrity Autobiography.

The next night it Night of Stars: Guild Hall's 80th Birthday Celebration featuring Elaine Stritch, Blythe Danner, Eli Wallach, Larry Pine, Jake LaMotta, Melissa Errico, Anna Bergman and Tovah Feldshuh. They'll be performing works by Terrence McNally and New Works by Jules Feiffer, Marsha Norman and Joe Pintauro.

On Sunday, August 28, Zachary Quinto, Melissa Leo and original Broadway cast members Jeff Binder, Kevin Geer, Michael Mastro, Angelica Torn, Frank Wood star in Naked Angels staged reading of the Tony Award-winning Side Man by Warren Leight.



Oscar winner Melissa Leo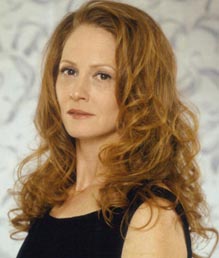 Directed by Geoffrey Nauffts.

Winner of the 1999 Tony Award for Best Play, Warren Leight's Side Man is a tender and poignant memory play about a jazz musician struggling to save both his fading career and troubled home life during the dawn of rock 'n roll in America.

As a founding company member of Naked Angels, Warren developed the play during its earliest stages in the company's various new play development programs before it became a widely-recognized and award-winning hit on Broadway and across the country. Currently celebrating its 25th anniversary this season as one of Off-Broadway's leading theater companies, Naked Angels is committed to strengthening a community of artists by developing and producing provocative new work like Side Man from within the founding ensemble as well as from the next generation of emerging theater artists.

Closing out the four day entertainment fest on Monday, August 29, will be a screening of Stephen Sondheim's Company with the New York Philharmonic.

Company includes an all-star cast of television and stage heavyweights. Headlining the production are: Neil Patrick Harris, Patti LuPone, Stephen Colbert, Jon Cryer, and Christina Hendricks.


STAGE TRAGEDIES EMPHASIZE IMPORTANCE OF SAFETY
Cheap Trick performing at a concert in Baltimore.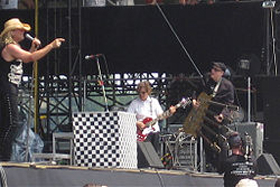 It's been a bad few weeks.

A tragic series of stages collapsing during performances raises concerns about safety and common sense.

At least five people were injured when the stage collapsed July 17 at the Ottawa Bluesfest. Concert officials evacuated the stage moments before it collapsed 20 minutes after the start of a performance by rock band Cheap Trick.

"Everyone is okay and we are so lucky to be alive and hope that all the fans are okay," the group wrote on Facebook.

Canadian authorities had warned of winds of up to 56mph ahead of the event.

One man was seriously injured when a piece of the stage pierced his abdomen, Canada's Globe and Mail newspaper reported.

Following the collapse authorities cleared the festival. The remaining performances were cancelled. The Ottawa Bluesfest, first held in 1994, is one of Canada's foremost music festivals.

The Ontario Ministry of Labour is currently conducting an investigation, but it has been reported that it will be months before it is determined if it was mother nature, engineering and/or human error that precipitated the stage's crumbling.

On August 18 another storm forced Cheap Trip off a Coney Island stage. On their website the group explained:

"Due to a storm front that caused consistent lightning near the stage, wind and rain, Cheap Trick were able to perform only 30 minutes of their show last night. The free outdoor concert was at the Seaside Summer Concert Series hosted by Brooklyn Borough President Marty Markowitz at Coney Island. Mickey Leigh's New Yorkestra weren't able to perform at all. The officials took lightning near the stage seriously and insisted on safety first. Brooklyn Borough President Marty Markowitz, Seaside Summer Concert Series, and Cheap Trick appreciate and thank all the thousands of fans that sought shelter and waited in the rain for over two hours see the performance and all hope a return appearance next summer can be arranged."

An investigation is under way as to why a theatre stage at the Alexandra Theatre in England collapsed during an August 9 performance of Sing-A-Long-A-Sound of Music, injuring 10 people.

Many of the injured suffered fractured legs and arms, when - about a half hour into the event - they fell almost 20ft into an orchestra pit at the Alexandra Theatre in Station Street, Birmingham.

A West Midlands Police spokeswoman told the press: "Many of the injured suffered broken bones after they were encouraged to take to the stage during a performance of The Sound of Music. "We have taken 10 people to hospital and there have been two others who were taken there independently, many of whom were dressed in costume as nuns," a spokesman for the West Midlands Ambulance Service told reporters.

"Most had broken bones, including a few broken legs, a few have non-life threatening head injuries and there were a few walking wounded. There had been concerns that three people were seriously injured because the victims fell on to their feet. "They were taken from the scene on spinal boards, with their necks and heads restrained, but do not have serious injuries."

In was reported in the press that members of the audience stated the management had intended to continue with the show, but that theatregoers had asked for the performance to be cancelled.

The first Sing-A-Long-A-Sound of Music was held in the UK in 1999.



Sugarland performing at a Jacksonville, Florida concert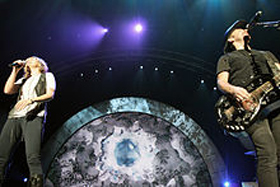 Six people died as the result of a stage collapsing Saturday, August 13, at the Indiana State Fair. A wind gust toppled the metal scaffolding holding lights and other equipment and sent it plunging into fans awaiting a concert by the country group Sugerland.

On their official website the multi-platinum-selling duo of Jennifer Nettles and Kristian Bush posted this heartfelt message on August 18.

"We have taken a couple of days to try and even begin to emotionally process the magnitude and gravity of the tragedy in Indiana on Saturday. While the path to healing from this type of trauma and loss is long and winding, we wanted to reach out and update you on where we are and how we are.

"We are in the process of planning a private memorial in Indiana, to honor those fans who died. We would first like to hold space so that their families can have time to go through their own services and memorials. Until that time we are holding vigil for them. We join them on their mourning benches. And we stand in the gap asking God to offer them peace and healing. For those suffering from injury we hold you up with prayers for complete healing of your own.

"We are also addressing our own specific healing. Our road family experienced its traumas together. While we all scattered to our given families for their comfort, the trauma we experienced together binds us in a unique way that we share only with each other, and those who were there. There is healing in our being together. There is healing in our working together. For this reason we are planning to get back on the road . . . . The emotions have us yearning to be close to each other immediately. The logistics have us needing to replace all of our instruments and equipment. (The set is a loss that is insignificant in light of the tragedy.)

"This Incredible Machine is more than a tour and more than a set. We have always celebrated music as a Healer. While music cannot change the events and losses at the Indiana State Fair, it can hopefully serve as a ritual and a balm to provide comfort and facilitate healing in this time of great sorrow. We hope to see you all soon."

Sugarland plays Las Vegas on August 27.

Five people died and more than 70 others were injured last Thursday when a stage collapsed as a result of storms at the annual Pukkelpop festival in the Belgian town of Hasselt, about 50 miles east of Brussels. Started in 1985, Pukkelpop has featured headliners like Red Hot Chili Peppers, Neil Young, Metallica and the Beastie Boys.

Hasselt mayor Hilde Claes was quoted as saying on the website of De Standaard newspaper, "all the dead were Belgians, adding that 140 people were injured in the storm, 10 of them seriously."

Dr Pascal Vranckx, of the Jessa Hospital in Hasselt, added: "There are still three patients in critical condition fighting for their lives."

The 2011 Pukkelpop featured eight different stages.

Smith Westerns, a rock band from Chicago, were about to take to the Chateau stage when, according to reports, a tree was toppled over in the severe weather. The band's singer/guitarist Cullen Omori tweeted that the "Stage collapsed max almost got crushed by trees, I hope pukkelpop has insurance bc all our shit is broke." A short time later, the message on the Twitter account was removed and replaced with a note of apology after Omori realized the enormity of the tragedy.

The remainder of the festival's program which was scheduled to run through Saturday, August 20, was cancelled.


SPREADING THE WORD


RICHARD THOMAS will star in a one-night-only presentation of Tennessee Williams' A Distant Country Called Youth. Adapted and directed by Steve Lawson.

A Distant Country Called Youth begins as the boy Thomas Lanier Williams moves through family travails and professional rejection to his first success, and concludes with the triumphal Broadway opening of The Glass Menagerie. The letters are a remarkable blend - earnest, hilarious, anguished, touching - as the chameleon Williams writes to family and friends, lovers and celebrities. The piece has played at theaters across America including the Kennedy Center as well as in England and Ireland.

In celebration of Tennessee Williams' centennial year, Westport Country Playhouse is staging this performance, Monday, August 29 at the Westport Country Playhouse in Westport, CT.

THE OLD GLOBE IN SAN DIEGO Executive Producer Lou Spisto announced that James Barbour has regretfully departed the role of Frank 'N' Furter in The Old Globe's upcoming production of Richard O'Brien's The Rocky Horror Show due to issues with his wife's pregnancy.

As previously announced, Oanh Nguyen will direct the musical with book, music and lyrics by Richard O'Brien, choreography by JT Horenstein and music direction by Mike Wilkins. The Rocky Horror Show will run in the Old Globe Theatre, part of the Globe's Conrad Prebys Theatre Center, Sept. 15 – Nov. 6.

AMBER TAMBLYN AND DAVID CROSS she is the actress and he is the comedian - are engaged.

Her father is actor/singer/dancer Russ Tamblyn whose break out role was as Gideon, the youngest brother, in 1954's Seven Brides for Seven Brothers. He is probably best known for his performances as Riff the leader of the Jets gang in the film West Side Story.

Amber,28, who starred in the CBS television series Joan of Arcadia acted opposite her father in several episodes of the show when Russ played God in the form of a man walking dogs. The two have also worked together in Rebellious and Johnny Mysto: Boy Wizard.

The future groom, 47, of Arrested Development fame, is noted for his sense of humor, including how he announced and then commented about their engagement on his Facebook page.


OTHER PEOPLE'S MONEY


BURT REYNOLDS is facing foreclosure on his 12,500-square-foot house in Hoba Sound, Florida. A bank is moving to foreclose on Burt Reynolds' Florida home claiming he hasn't made a mortgage payment since Sept. 1, 2010.

Merrill Lynch Credit Corp. filed a lawsuit in Martin County against the star, BankAtlantic and Great Eastern Mortgage, to collect $1.2 million and take Reynolds' Mediterranean-style 4-acre estate, which is valued at $2.4 million. The claim is made that Reynolds hasn't made a mortgage payment since September 1, 2010.

Merrill Lynch is requesting a ruling which permits the Emmy Award winning actor's home be sold to satisfy all debts, according to The Stuart News.

According to the lawsuit filed by attorneys with the Tampa-based Florida Default Law Group P.L, "No subsequent payments have been made. Plaintiff must be paid $1,193,808 in principal on the mortgage note and mortgage, together with interest from Aug. 1, 2010, and all costs ... and reasonable attorney's fees."

"On May 6, a notice of pending foreclosure litigation was sent to Reynolds' home in Little Rock, Ark., indicating he owed more than $1.2 million, according to WPTV which added that "The summons for the lawsuit was also addressed to his Little Rock home."

Reynolds said in a statement through his publicist that he was surprised by the lawsuit.






CHICAGO on Saturday, August 27, 2011, the internationally acclaimed revival of John Kander, Fred Ebb and Bob Fosse's Tony Award-winning musical, will celebrate another major milestone when it becomes the longest-running American musical in Broadway history, surpassing A Chorus Line with a total of 6,138 performances.

That August 27 matinee performance also makes Chicago the fourth-longest running show in Broadway history.

As of Saturday, August 27, the top-five longest-running productions of all time are as follows:

1. The Phantom of the Opera (9,810)
2. Cats (7,485)
3. Les Miserables (6,680)
4. Chicago (6,138)
5. A Chorus Line (6,137)

Broadway's top three longest-running shows - The Phantom of the Opera, Cats and Les Miserables - are all British imports.

2011 NAACP THEATRE AWARDS AND FESTIVAL WEEKEND begin on Friday August 26 with a reception and a performance of Just Once in a Lifetime, starring Obba Babatunde as Sammy Davis Jr. Panel discussions and performance of 10-minute plays will dominate the Saturday and Sunday itineraries.

On Monday, August 29, the awards ceremonies take place at the Directors Guild of Hollywood.

Diahann Carroll will receive the Lifetime Achievement Award. Carroll is a Tony Award Winner, an Emmy and Grammy Nominee, a Golden Globe Winner, and a Best Actress Oscar Nominee.

The honorees also include Tony and Emmy nominated actor Obba Babatunde; Pamela Browner-White who is Chairperson of the Marian Anderson Foundation; eight-time Grammy nominee Fantasia and Mara New, actress and founder of the Golden Needle Awards.

The NAACP Theatre Awards, first presented in 1991, is an annual award bestowed by the Beverly Hills-Hollywood branch of the National Association for the Advancement of Colored People to honor outstanding people of color in theatre.

Similar to other awards, the Theatre Awards are voted on by members of the NAACP. There are also honorary awards, including the President's Award, the Trailblazer Award, the Spirit Award, the Community Service Award and The Lifetime Achievement Award.

The awards are divided into categories designated as "Equity" (mostly larger or midsize theaters with Equity contracts) and "Local" (mostly smaller theaters, most of which operate on Equity's 99-Seat Theater Plan).

The nominees for this year's Equity awards are:

BEST PRODUCER – Equity
In The Heights – Kevin McCollum, Jeffrey Seller, Jill Furman Willis, Sander Jacobs, Goodman/Grossman, Peter Fine and Everett/Skipper --WINNER
Ruined – Geffen Playhouse
Free Man of Color – Barbara Beckley and the Colony Theatre Company

BEST PLAYWRIGHT – Equity
In The Heights – Quiara Alegria Hudes
Ruined – Lynn Nottage --WINNER
Free Man of Color – Charles Smith

BEST DIRECTOR – Equity
In The Heights – Thomas Kail
The Whipping Man – Giovanna Sardelli
Take Me Out – Michael Matthews -- WINNER

BEST DIRECTOR OF A MUSICAL – Equity
In The Heights – Thomas Kail --WINNER
Dreamgirls – Robert Longbottom
Altar Boyz – Troy Magino

BEST ENSEMBLE CAST – Equity
In The Heights
Ruined --WINNER

BEST LEAD FEMALE – Equity
Dreamgirls – Moya Angela --WINNER
Jacques Brel is Alive and Well and Living in Paris – Jennifer Shelton
Steel Magnolias – Robin Dionne

BEST LEAD MALE – Equity
The Whipping Man – Charlie Robinson --WINNER
Free Man of Color – Kareem Ferguson
The Whipping Man – Avery Glymph

BEST ONE PERSON SHOW – Equity
Through the Night – Daniel Beaty --WINNER
Uptown Downtown – Leslie Uggams

BEST SUPPORTING FEMALE – Equity
Dreamgirls – Adrienne Warren
Steel Magnolias – Baadja-Lyne --WINNER
Steel Magnolias – Vivian Vanderwerd

BEST SUPPORTING MALE – Equity
Dreamgirls – Chester Gregory --WINNER
Bengal Tiger at the Baghdad Zoo – Glenn Davis
Dreamgirls – Chaz Lamar Shepherd

BEST CHOREOGRAPHY – Equity
In The Heights – Andy Blankenbuehler -WINNER
Dreamgirls – Robert Longbottom
Altar Boyz – Troy Magino

BEST COSTUMES – Equity
Dreamgirls – William Ivey Long --WINNER
In The Heights – Paul Tazewell
Ruined – Paul Tazewell

BEST LIGHTING – Equity
In The Heights – Howell Binkley --WINNER
Dreamgirls – Ken Billington
Ruined – Peter Kaczorowski

BEST SET DESIGN – Equity
In The Heights – Anna Louizos --WINNER
Ruined – Derek McLane
Take Me Out – Kurt Boetcher

BEST SOUND – Equity
In The Heights – Acme Sound Partners --WINNER
Dreamgirls – Acme Sound Partners
Ruined – Rob Milburn and Michael Bodeen

BEST MUSIC DIRECTOR – Equity
In The Heights – Alex Lacamoire --WINNER
Dreamgirls – Sam Davis
Jacques Brel is Alive and Well And Living in Paris – Brent Crayon



SAINT-EX a world premiere musical about the life of author-aviator Antoine de Saint-Exupéry, who penned the classic children's book The Little Prince. The musical is written by lyricist-librettist Sean Barry and composer Jenny Giering.

Kent Nicholson will direct a cast that stars Alexander Gemignani as Saint-Ex and Cass Morgan as his mother Maman, along with Charlie Brady, Stanley Bahorek, Haley Bond Petersen, Miguel Jarquin-Moreland, Amy Justman, Carl Kimbrough, Omar Lopez-Cepero, Price Waldman and Krysta Rodriguez, last seen on Broadway in The Addams Family, is playing Consuelo.

Music Director: Matt Castle. Musical Staging: Jennifer Turey. Orchestrations: Mary-Mitchell Campbell. Copyist: Frank Galgano. Set Design: Timothy Mackabee. Costume Design: Kirche Zeile. Lighting Design: Stuart Duke. Sound Design: Ed Chapman. Dialect Coach: Patricia Norcia. Production Stage Manager: Jess Johnston

Saint-Ex explores his relationship with his brother, his tempestuous marriage and the conflict between his career as an aviator and his success as an author.

According to the Weston Playhouse and a website devoted to Consuelo de Saint-Exupéry: In 1930, during a trip to Buenos Aires, Consuelo met Antoine de Saint-Exupéry. The tiny Salvadoran beauty had already been widowed twice while in her 20s and Saint-Ex would become her third and last husband. They met when Saint-Ex was the leader of the Aéropostale in Argentina and experienced love at first sight.

According to a story about the couple, Saint-Ex asked for Consuelo's hand in marriage during an epic flight over Buenos Aires.

They married in a civil ceremony in Nice, France on April 22, 1931.Consuelo became a prolific artist and was part of the Surrealist group, which included: Marcel Duchamp, Oscar Dominguez, Balthus, Breton, Andre Derain, Picasso, as well as Dali.

In 1940, at the initiative of her husband, Consuelo drove through France to take refuge in the free zone in the south of France, while Saint-Ex was in New York.

Consuelo was forced to wait in southern France apart from her husband for a visa to the United States. During their long absences Consuelo and Saint-Ex exchanged many love letters and were able to reunite while her husband was writing his final book, The Little Prince.

It is believed that the book was written for Consuelo, since numerous illusions to flowers and roses are thought to be a direct reference to Consuelo.

Saint-Ex left Consuelo in New York to fly his last mission, a reconnaissance flight for the Free French in 1944. He was lost over the Mediterranean.

Consuelo remained in New York until July 1946 when she returned to France. After the death of her husband, Consuelo focused on painting and sculpture, which enjoyed successful exhibitions.

Consuelo, who died in May 1979, always mourning "Tonnio," her "knight flyer."

The World Premiere begins previews August 25 and runs through September 10 at the Weston Playhouse in Weston, VT.

There will also be a week of special daytime matinee performances for area schools as well as teacher study guides.

UNNECESSARY FARCE by Paul Slade Smith.

Directed by James Brennan.

In a cheap motel room, an embezzling mayor is supposed to meet with his female accountant. Meanwhile, in the room next door, two undercover cops wait to catch the meeting on videotape.

But wait! Who's in which room, who's being videotaped, who's taken the money, who's hired a hit man, and why does the accountant keeps taking off her clothes???

Bill as "Unnecessary Farce brings huge laughs in the tradition of Lend Me A Tenor (but contemporary) and Noises Off (but American)! It's a door slamming, innuendo laden, over-the-top tale of mix-ups and mayhem that's laugh out loud funny from start to finish."

August 22 to September 3 at the Cape Playhouse in Dennis, MA.

WITTENBERG by David Davalos.

Directed by Christopher Haydon.

Join the jury as two of history's most stubborn intellectuals go head-to-head in a highly entertaining battle of reason versus faith.

Set in late 1517, this smart, sprightly and audacious comedy centers on a fictitious meeting between university colleagues Dr. Faustus (a man of appetites), Martin Luther (a man of faith), and their student Hamlet (a young Prince struggling not only with his beliefs but also with his tennis game).

This sparkling celebration of history, language, academia and religion by award-winning American playwright David Davalos "will appeal to anyone looking for the answers to life's big questions."

Starring Sophie Brittain, Sean Campion, Andrew Frame and Edward Franklin.

August 24 to October 1, 2011 at the Gate Theatre, Notting Hill, London.

THE FAITH MACHINE by Alexi Kaye Campbell. Directed by Jamie Lloyd.

"Trouble is we don't believe in the same God anymore"

On a beautiful September morning in New York Sophie forces Tom into a decision. The choice he makes, and the events of that day, will change their lives forever.

Traveling from America to Britain to a remote Greek island this epic new play explores the relationship between faith and capitalism and asks fundamental questions about the true meaning of love.

Presented by The Royal Court Theatre August 25 - October 1 at the Jerwood Theatre Downstairs, London.

SUDDENLY LAST SUMMER by Tennessee Williams. Directed By David Kennedy.

A handsome poet has died under mysterious circumstances, and only the beautiful woman who was there knows the shocking and terrible truth of what happened. Will she tell her story no matter the consequences, or succumb to the pressure to protect the legacy of an influential and powerful family? This is one of Tennessee Williams' most poetic, sensual and evocative works.

Starring: Susan Bennett as Miss Foxhill; Ryan Garbayo as George Holly; Annalee Jefferies as Mrs. Venable; Charlotte Maier as Mrs. Holly; Liv Rooth as Catharine Holly; Lee Aaron Rosen as Dr. Cukrowicz; Tina Stafford as Sister Felicity.

The production crew includes; Narelle Sissons Scenic Design - Ilona Somogyi Costume Design - Matthew Richards Lighting Design - Fitz Patton Sound Design- B. H. Barry Fight Director - Louis Colaianni Dialect Coach - Matthew Melchiorre Production Stage Manager - Alison M. Roberts Assistant Stage Manager - Janet Foster, C.S.A. Casting.

August 23 - September 10 at the Westport Country Playhouse in Westport, CT.

A Sunday Symposium will take place on Sunday, August 28. The post show discussion after the afternoon performance allows patrons to join moderator David Kennedy, Playhouse associate artistic director, and special guest Annette J. Saddik, Associate Professor in the English Department at New York City College of Technology (CUNY), as they discuss Tennessee Williams, the origins of Suddenly Last Summer, and the playwright's fascination with the darker aspects of human experience. The Symposium will be followed by an interactive dialogue.

END OF THE RAINBOW

Tracie Bennett in End of the Rainbow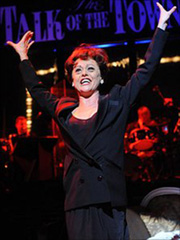 by Peter Quilter. Directed by Terry Johnson. Starring Olivier Award-winner Tracie Bennett as Judy Garland.

End of The Rainbow will begin a national UK tour on August 25th 2011, with Tracie Bennett reprising her role as Judy Garland.

Nominated for four Olivier Awards in 2011 End Of The Rainbow took the West End by storm during its sell-out, six month run, with Tracie Bennett winning both critical and popular acclaim for her sensational performance as Judy Garland. This celebrated production will now begin a 13-week national UK tour at the Royal & Derngate, Northampton on August 25 with performances through September 3, then traveling to Norwich, Nottingham, Cardiff, Cambridge, Brighton, Newcastle, Birmingham, Aberdeen, Cheltenham, Bath, Sheffield and Richmond.

End of the Rainbow features a six-piece onstage band and includes Garland's most memorable songs - The Man That Got Away, Come Rain Or Come Shine, The Trolley Song and - of course - Somewhere Over The Rainbow. The production was nominated for four Olivier Awards, including Best New Play, Best Sound Design, Best Actress for Tracie Bennett and Best Actor in a Supporting Role for Hilton McRae - who will also reprise his role as Garland's accompanist, Anthony, for the tour.

London, December 1968, and Judy Garland is about to make her comeback... again. Determined to reclaim her crown as the greatest talent of her generation, she battles with a tornado of drugs and alcohol and a grueling schedule of exhausting concerts at The Talk Of The Town. Despite a series of failed marriages, Judy has her latest and youngest husband-to-be by her side, a man as determined as she that, at any cost, these concerts will mark the revival of her battered career.

Following the UK jaunt, the production crosses the pond for a January gig at the Guthrie Theatre in Minneapolis and then transfers to Broadway on March 19.

Bennett delivered a knock out performance in London and speculation is high that Bennett will be a serious contender for a Tony Award.


WHO'S WHERE


KEITH URBAN is on stage Thursday, August 25, at the ASU Convocation Center in Jonesboro, AR. On Friday the show is at the Bancorp South Arena in Tupelo, MS. On Saturday the performance takes place at Cajundome in Lafayette, LA. Next Sunday, August 28, the performance is at the American Airlines Center in Dallas.

SADE AND JOHN LEGEND perform Thursday, August 25, at the HP Pavilion in San Jose, CA.

JIM CARUSO'S CAST PARTY with Billy Stritch, makes its Las Vegas debut at Alexis Park Hotel August 24-25.

DOLLY PARTON entertains Monday, August 22, at the Capital FM Arena in Nottingham, England. On Thursday she's in the spotlight at the Forum Copenhagen in Frederiksberg, Denmark. Saturday's show is at the Ericsson Globe in Stockholm and next Sunday she performs at Scandinavium in Goteborg, Sweden.

JOSH GROBAN entertains Tuesday, August 23 at the HP Pavilion in San Jose. Wednesday's show is at the Power Balance Pavilion in Sacramento, CA. On Friday he's on stage at the Rose Garden Arena in Portland, OR. Saturday he's in the spotlight at the Key Arena in Seattle.

CHARLIE PARKER JAZZ FESTIVAL FEATURING MADELEINE PEYROUX Sunday, August 28, 2011 at Tompkins Square Park, NYC.

ANDREA MARTIN in her comedy club performance Final Days! Everything Must Go!! The Emmy and Tony Award winning comedienne brings a bounty of characters & decades of award-winning performances to this high-octane program. Featuring musical accompanist Seth Rudetsky. August 29 at the Bay Street Theatre in Sag Harbor, NY.

RITA RUDNER the delightful and award-winning comedian and Las Vegas headliner brings her sophisticated wit and clever one-liners to The Laguna Playhouse for an exclusive engagement. Rudner's sharp timing and soft-spoken voice have become her trademarks while delivering hilarious and witty observations on everyday life August 26-29 at the Laguna Playhouse in Laguna, CA.




FINAL OVATION


CHARLES JAFFE a Tony nominated musical director Charles Jaffe died at his home in Warminster, Pennsylvania on Tuesday, August 16, 2011 He was 94.

Jaffe received a 1964 Tony nomination as Best Conductor and Musical Director for the Broadway revival of West Side Story. He was the assistant conductor on that show's original 1957 Broadway production, as well as serving as musical director for the original runs of Fiddler on the Roof and My Fair Lady.

He started out as a child prodigy on the violin, later studying at the Curtis Institute. Jaffe played with the Philadelphia Orchestra and the NBC Symphony Orchestra. He also conducted for the American Ballet Theatre.

He is survived by his daughter, Elissa Smiley; son-in-law Leonard Smiley; granddaughters Shara Smiley, Ellen Smiley and Robyn Weitzer; and grandson David Weitzer.






Next Column: August 28, 2011
Copyright: August 21, 2011. All Rights Reserved. Reviews, Interviews, Commentary, Photographs or Graphics from any Broadway To Vegas (TM) columns may not be published, broadcast, rewritten, utilized as leads, or used in any manner without permission, compensation and/or credit.
Link to Main Page
---
Laura Deni



For the snail mail address, please E-mail your request.
CLICK HERE FOR COMMENT SECTION