! >
Broadway To Vegas
  SHOW REVIEWS     CELEBRITY INTERVIEWS     GOSSIP     NEWS 
| | |
| --- | --- |
| | |
P DITTY'S SWEATY UNDERWEAR - - THE FEUDING NEIL AND DANNY SIMON - - ANDRE AGASSI'S PARTY OF THE YEAR - - MERRILY WE ROLL ALONG - -CLINT EASTWOOD IS A GROUPIE - - CARNIVALE IS NO PARTY - - THE NEW YORKER FESTIVAL - - GRETA GARBO PANNED - - DONATE . . . Scroll Down


Copyright: September 22, 2002
By: Laura Deni

CLICK HERE FOR COMMENT SECTION
SIMON BLOOD FEUD SPANS DECADES
Neil Simon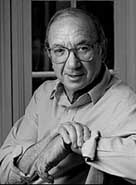 Someday some talented writer will probably pen a bittersweet script about two talented writing brothers.

That "someday" will no doubt be after both Neil Simon, 75, and his brother, Danny, 83, have departed this world.

Their blood feud, which rarely was on the back burner, has reportedly had the heat turned up.

Apparently little has changed since Danny Simon was in Las Vegas in June, 1988 and discussed with reporters, including this one, his convoluted feelings about Neil.



Danny Simon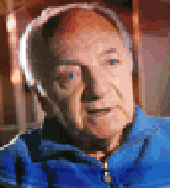 Now Neil has sent Danny what has been termed a "kiss off letter" - a letter which is being discussed in and around the theatre district.

"It's hard for me to converse with you, so I won't," Neil wrote. "Don't bother answering this letter. I won't read it. I have just so much time in the day to be aggravated. I don't understand you or how you live your life or think but I have no interest to investigate that."

Danny Simon an accomplished theater director, was one of the premier writers during TV's Golden Age, writing for Sid Caesar and bringing his younger brother, Neil, on board. Woody Allen is often quoted as saying, "Danny Simon taught me how to be funny."

Neil Simon, of course, is considered the world's most successful playwright. He has had dozens of plays and nearly as many major motion pictures produced. He has been showered with more Academy and Tony nominations than any other writer, and is the only playwright to have four Broadway productions running simultaneously.

Danny and Neil started out as a comedy writing team. At Camp Tamiment in the Poconos they helped put together the half hour weekly reviews that were one of the resort's drawing cards.

It is there that Neil met his first wife, Joan. Their love was so intense, their private circle so small that even her mother claimed she felt like an outsider. So did Danny.

Insiders say that it is no secret that Danny played a major role in Neil's writing. Danny brought Simon into the business and had shown him the ropes.

In fact, it was Danny who provided the inspiration for one of Simon's most enduring hits. After his divorce, Danny moved in with another divorced man, and this situation became the set-up for The Odd Couple. Though Danny had begun writing the story himself, he reached a block and eventually handed it off to Neil who soon made it a smash in 1966 on Broadway, at the Eugene O'Neill Theatre starring Eddie Bracken and Mike Kellin.

The 1968 film starring Jack Lemon and Walter Matthau was equally successful and prompted a popular television series.

Danny felt he was never given the proper credit - on that or on several other projects.

Lost in Yonkers started out as Louie the Gangster - a play about a young boy who was left by his father to live with his grandmother and his renegade uncle, who belonged to the Mafia. It was to be about the influence that the uncle begins to wield over the little boy. A member of Simon's own family was supposed to have been a bookkeeper to the mob. "My brother told me about him," Neil Simon told New York magazine. "About how he knew too much and was rubbed out and mysteriously disappeared."

Simon wrote the first draft in three months. By the time it was polished into Lost in Yonkers the gangster character was still there, but the focus had shifted to the mother and the daughter she had emotionally abused.

The play became a Tony award winner.

Danny does receive credit with Neil on Only When I Laugh also known as It Hurts Only When I Laugh; based on the play The Gingerbread Lady, Columbia, 1981.

Danny is also the author of The Convertible Girl about a nice, gentile girl, who happens to be in love with Ron Goldberg, who in turn claims that the only reason why he cannot marry her is because she is not Jewish. The solution being obvious, Christina decides to convert, and finds more than she bargained for in her newfound religion.

At a Comedy Convention, held at the Riviera Hotel in Las Vegas in June, 1988, Danny was the featured speaker. He told the comics that he had started writing in 1947, scripting five minute spoofs for other comics. Danny, who went on to teach comedy, instructed the young comics to first, become a good writer and then stressed not only not to sell without an agent, but they needed a good agent. He also advised them to "write your own material until you hit superstardom, but when writing for others you must know not only the character but the craft thoroughly."

He repeatedly cautioned the comics to "get the credit you deserve" and "not give away ideas - not to friends not to family," adding that talking too much can be "a knife in the back."

Danny complained that he had spent years being referred to only as Neil Simon's brother when what he had been was a key player.

Emotions and bonds bleed to death in blood feuds. The one between the talented Simon brothers has been going on for decades.


MONTEREY JAZZ FESTIVAL


Starting last Friday, it's been three days of nonstop jazz entertainment, performed by over 500 artists on seven stages. On hand is Clint Eastwood, who admits that he is a jazz groupie. Eastwood came to the festival to hang out with Dave Brubeck and host one of the events.

The Jazz Festival was stared in 1958 thanks to a $6,700 donation. Today it is the longest running jazz festival in the world.



The Dave Brubeck Quarter. Dave has had a long and distinguished career. He served in World War II under General George Patton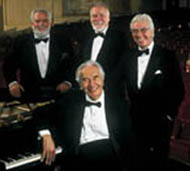 This year the Monterey Jazz Festival Grounds Entertainment featured Joshua Redman with Brian Blade & Sam Yahel Don Byron, Etta James & the Roots Band, Marcia Ball, Big Time Sarah with the Steve Freund Blues Band, The Heath Brothers., Kenny Barron and Rodney Green. Grammy award winner saxophonist Michael Brecker joined bassist Charlie Haden for a special performance. The Mingus Big Band performed at the Festival's celebration of Charles Mingus' 80th birthday.

With Clint Eastwood getting into the act by serving as the personal host, performers included Nancy Wilson & Ramsey Lewis, The Dave Brubeck Quartet with special guests Roy Hargrove, Christian McBride and Lizz Wright.



Etta James beat a long time heroin habit and has a new CD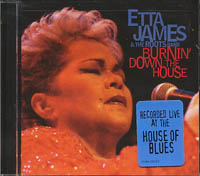 Also hitting the right notes were Randy Weston Sextet featuring Billy Harper, Paula West, Rene Marie, Lizz Wright, Roberta Gambarini, Orestes Vilato, John Santos, Michael Spiro, Michael Wolff & Impure Thoughts, Mingus Amungus, Taylor Eigsti, Zubot & Dawson, Anthony Wonsey, Lavay Smith & Her Red Hot Skillet Lickers.

Keeping the beat going were Rhoda Scott, Houston Person, Reuben Wilson, Michael Bluestein, Sylvia Cuenca, Dave Stryker, Steve Slagle, Willem Brueker Kollektief, Lady Bianca, Weber Iago, ESP Trio, Trevor Watts' Moire Music Trio, Commander's Jazz Ensemble, Top Student Music Groups From U. S., Australia and Cuba.


THE NEW YORKER FESTIVAL


Writers, poets, and cartoonists will be on hand this coming weekend - September 27-29 - to sign books and say hello. Stephen King, Martin Amis, Steve Martin, Sam Shepard and Jonathan Franzen will read fiction around town, followed by a party editor Bill Buford's Gramercy Park abode. West Wing producer Aaron Sorkin and South Park co-creator Trey Parker will host a talk on TV censorship while Salma Hayek and Jennifer Jason Leigh head a discussion about movies.

On Sept. 29 Jeffrey Toobin will serve as tour guide of New York City's crime lab. Calvin Trillin leads an eating tour of Chinatown.

Some of the other wordsmiths participating include; Adam Gopnik, Anthony Lane, Haruki Murakami, Annie Proulx, Edwidge Danticat, Jonathan Safran Foer, Lorrie Moore, Paul Auster, Jorie Graham, Andrea Lee, Amy Tan, Richard Avedon, Roz Chast, Bob Mankoff, John Lahr, Edna O'Brien, Seamus Heaney, Robert Pinsky, Jeffrey Eugenides and Jonathan Franzen.


BUCKAROO ROUND-UP


ROY DUSTY ROGERS, JR & REX ALLEN, JR will be performing at the Gene Autry Oklahoma Film & Music Festival in Gene Autry, OK. which is about 12 miles northeast of Ardmore, midway between Oklahoma City and Dallas-Fort Worth. The festival takes places September 26 - 29 with Rogers and Allen performing on September 28th. They will also be taking part in a question and answer panel discussion.

The Roy Rogers - Dale Evans Museum will be moving to Branson, MO.

However, the museum will remain open in Victorville, CA. through February 2003 "business as usual". They will be moving in March for an April - May grand opening in Branson. (See Broadway To Vegas column of July 21, 2002)

THE GREAT AMERICAN COWBOY IN CONCERT takes place at Carnegie Hall in the Isaac Stern Auditorium next May 30.



Broadway To Vegas is supported through advertising and donations. Priority consideration is given to interview suggestions, news, press releases, etc from paid supporters. However, no paid supporters control, alter, edit, or in any way manipulate the content of this site. Your donation is appreciated. We accept PAYPAL. Thank you for your interest.


SWEET CHARITY


P DITTY'S SWEATY UNDERWEAR can be yours. According to the website of Minneapolis radio station KDWB, they "found these in Diddy's dressing room right after Diddy left. They were still sweaty, but clean otherwise! We keep them in a Zip-Loc bag so they stay that way. Winning bidder receives: Diddy's Sean Jean XL Men's Briefs in a Zip-Loc bag OR we'll wash them for you before shipping if you want."

They started the bidding out at $1.00 and when last checked the offers were up to $150.00. The station tried to sell the item on E bay, but were stopped since E bay won't sell used underwear. Conflict of statements as to how the station really obtained the undies. Their website says P Diddy left the drawers. But in an interview the station said they "broke into his dressing room" and confiscated the item. P Diddy was a good sport about the theft, permitted the station to keep them and even autographed a huge (11 x 14") card which Diddy signed it right after the concert. All proceeds benefit the station's Family Center.

GRAND SLAM FOR CHILDREN BENEFIT

Andre Agassi and some of his "kids"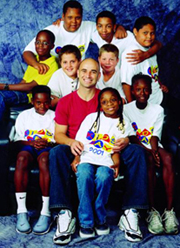 was started by tennis great - and all around nice person - Andre Agassi. In a city already known for big-name entertainment, the Grand Slam for Children takes center stage in Las Vegas by presenting a star-studded evening at the MGM Grand Hotel and Casino. In past concerts entertainers performing have included Elton John, Robin Williams, Celine Dion, Seal, Jay Leno, Lionel Richie, Stevie Wonder, Kenneth "Babyface" Edmonds, Gloria Estefan, LeAnn Rimes, Luther Vandross, Arnold Schwarzenegger, Faith Hill, Tim McGraw, Wynonna, David Foster, Dennis Miller, and Don Henley. It has become the largest single fund-raising event ever held in Las Vegas.

To date, the AACF has raised more than $18 million through innovative fundraising efforts such as the annual Grand Slam for Children concert benefit. All of the Foundation's administrative and overhead costs are funded through contributions made by either Andre Agassi or Agassi Enterprises, Inc. Therefore, every penny raised at the event goes to assist underprivileged, abused or at-risk children in Las Vegas.

In addition to being a worthwhile cause, this benefit - unlike some that can bore to distraction - is always a ton of fun.

This year's gala takes place Saturday, September 28. Babyface, Sir Elton John, Martina McBride, Dennis Miller, Carlos Santana, and Robin Williams are scheduled to perform.

The live auction is always an entertaining pre-concert event. This year will be no exception. In addition to fancy trips, jewelry, and a Mercedes, some of the packages to be gaveled down have something for every interest. If food is your thing there is dinner with Robin and Marsha Williams.

Or, Chef Emeril Lagasse flying his staff to your home anywhere in the United States to prepare and serve a customed designed meal for 12 people. Wine included.

There is a child's party of a lifetime. Your child and up to 11 of his/her friends will stay overnight in the newly opened FAO @ The Grove in Los Angeles. This magical package includes a favorite children's bedtime story read by Shaquille O'Neal from the Los Angeles Lakers. After Shaquille leaves, there will be games, tons of food and the best darn scavenger hunt FAO Schwarz has to offer.



Sir Elton John with Caroline Gruosi-Scheufele, vice-president of Chopard, the title sponsor for The White Tie & Tiara ball considered London's party of the year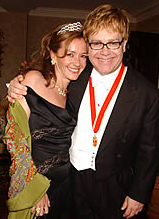 Then there is a party for the adults. Attend Elton John's private White Tie and Tiara Ball which he hosts at his house in Windsor, England, considered one of the social events of the year. In case you don't know what to wear, the package includes an exquisitely designed one-of-a-kind Badgley Mischka platinum grey crepe gown (size 6) with beaded bodice and matching beaded shawl. To complement the gown, an important pearl and diamond necklace by Fred Leighton, boasting approximately 6.82 carats of extremely fine quality diamonds, and accented in front by a double row of lustrous cultured pearls with hidden clasp.

A romantic evening spent at the famous Vienna Opera Ball in Vienna, Austria is also up for grabs. Don't worry if your waltz is a little rusty. The first class week in Vienna includes a brush up session at one of Vienna's traditional dancing schools.

It should come as no surprise that many packages up for auction involve tennis.

Win a trip for two to Shanghai to witness the Tennis Masters Cup while another auction package has you and a guest attending the semi-finals and championship matches for both men and women of all four ATP Grand Slam Tournaments: The Australian Open in Melbourne, Australia, in January 2003 The French Open in Paris, France, in June 2003 Wimbledon in London, England, in July 2003 The U.S. Open in New York City, in September 2003.

A different tennis package offers a private tennis clinic with Andre Agassi and Stefanie Graf.

Then there is that tennis package to watch the ultimate Grand Slam tennis championship at Wimbledon.

Tennis isn't the only sport represented.

One high bidder will receive an hour lesson in how to play football with Joe Montana, the guy who led the 49ers to nine winning seasons in 10 years and a total of three Super Bowl championships.

If you want to get your face in front of a camera bid on the C.S.I.: Crime Scene Investigation package. The winner gets a non speaking walk on role on location in Los Angeles, with a close-up view of the taping, and interaction with cast members who are being filmed that day.

If you'd like to attend the silver $5,000 and gold $12,500 table levels are sold out. However, there are two other table levels available for purchase: Platinum - $30,000 and Diamond - $75,000. Concert tickets range from $40 to $85.

MERRILY WE ROLL ALONG rolls out the song sheets to benefit Musical Theatre Works. The original cast from the 1981 Stephen Sondheim/George Furth musical, which closed on Broadway after 16 performances, will re-create their roles. That includes the talented Jason Alexander, Lonny Price, Tonya Pinkins and Liz Callaway.

The musical centers around three best friends whose friendship unravels over time. The action travels in reverse from 1980 to 1957, when the friends are fresh out of high school and full of ideals.

The original concert version, with that first cast, has Paul Gemignani conducting a 20-piece orchestra. In attendance will be both Sondheim and Hal Prince, who directed the original. At the La Guardia High School for the Performing Arts. New York City. September 30.

Musical Theatre Works is an after-school academy and performance company for students in grades K-12. MTW's programs provide students an opportunity to learn about and experience all aspects of Musical Theatre by producing two full-scale Broadway Musicals each year and offering classes in Acting, Dance, Voice and Stagecraft.

LARK THEATRE COMPANY BENEFIT will feature the new musical Earth Girls Are Easy based on the 1989 Geena Davis, Julie Brown, Jim Carrey film. Brown will reprise her role on stage. The event takes place September 30.

NEW YORK CHILDREN'S FOUNDATION benefits from a reading for Reflections - Post 9/11 Through Children's Eyes nine short plays written by children ages 11 to 17 who put their emotions on paper, explaining how they were affected by the events of September 11.

Conceived by Teresa Jusino, Reflections began with a two-week workshop that was directed by 52nd Street Project's Daniel Judah Sklar and Joe White.

This reading will feature Kate Burton, Robert Sean Leonard and David Straithairn. Thursday, Sept. 26 at New York's Public Theater's Newman Stage.

LEONARD SLATKIN music director of the Washington based National Symphony Orchestra, has been inducted into the American Classical Music Hall of Fame. Slatkin, 58, previously was music director of the St. Louis Symphony.


OTHER PEOPLE'S MONEY


MUSIC HALL in Oklahoma City has been newly renovated meeting or exceeded the expectations of The Oklahoma City Philharmonic, Canterbury Choral Society, Ballet Oklahoma, Celebrity Attractions and Lyric Theatre, all of whom call the 2,500 seat Music Hall home.

First reported in The Daily Oklahoman a run down on opinions included: Joel Levine, artistic director of the Oklahoma City Philharmonic who stated; "When the shaper - an adjustable stage ceiling used for concert performances - is in place, the acoustics are extremely flattering for the orchestra. And when it's removed, you have a completely open grid and fly space for theater productions. It's kind of like having your cake and eating it, too."

Celebrity Attractions and Lyric Theatre now have plans to import or product musicals that make use of much larger sets and casts.

"With more wing space and fly space, we'll be able to bring in larger shows much sooner," Celebrity Attractions President Larry Payton said. "We never could have offered a show like The Phantom of the Opera in the old hall."

The Civic Center renovations have made it possible for Ballet Oklahoma artistic director Bryan Pitts to feature the premiere of a ballet version of Sir James M. Barrie's Peter Pan in the 2002-03 season.

"I don't think I ever would have considered something like that before," Pitts said. "There's quite a bit more flying than in any other production we've done. We'll be able to feature works that can take full advantage of the new hall."

Paula Stover, executive director of Lyric Theatre: "In terms of the size of the stage and what we can do with sound and lighting, it's all state-of-the-art."

"The move opened up new possibilities for shows we never could do before," added Nick Demos, Lyric's artistic director. "We could never have done something like The Wizard of Oz (which is on Lyric's 2003 season) because of technical limitations. We're now talking about shows such as Ragtime, Miss Saigon and he Scarlet Pimpernel for future seasons."

Levine said, "I suspect the Civic Center will become the model for performing arts halls all over the country. There's not much doubt that this will be considered one of the country's best halls."

ORPHEUM THEATRE in Omaha, Nebraska, the town's main venue for the symphony, opera and ballet, has been given a $10 million face lift by the Omaha Performing Arts Society.

Leaders of local arts groups say that the renovations to the theater, which first opened in 1927, should make the Orpheum a better experience for both performers and audiences.

One of the improvements is new storage space being built into the 4,752-square-foot rear stage extension. The new loading dock, which is part of the extension, will help stage hands work more comfortably with the large sets.

Canadian Brass, Michael Feinstein and Doc Severinsen are among the stars who are scheduled to appear with the Omaha Symphony.



GARBO THE MUSICAL

Greta Garbo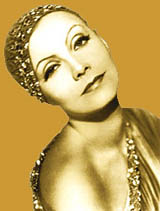 about the life of the late screen idol, Greta Garbo, composed by Michael Reed and Jim Steinman, with a book by Britain's Warner Brown, has been panned in the star's home country of Sweden.

Most of the critics called it mediocre although some of the music, the choreography and the cast were praised.

The problem is in the plot. Critics reviewing the opening night described it as sterile and failing to add anything to the mystery surrounding her life.

The musical is directed by Scott Faris, known for helming the hit-musical Chicago. First written in English with lyrics by Warner Brown Garbo The Musical was then translated into Swedish by Py Backman.

Choreographed by Adam Cooper with assistant Greg Pichery.

The show covers her life from poor shop-girl, forced to work in the barber shop at the age of 14, to star of the silver screen, appearing in 10 silent and 14 sound films including Anna Karenina and Grand Hotel. She moved to the America in 1923, became a citizen, stunned Hollywood by quitting showbusiness at the age of 36, and lived for almost 50 years as a near-recluse in a luxury apartment in Manhattan's East Side. She passed away at age 84 in 1990, and her ashes are buried in Stockholm.

Garbo The Musical begins on a Hollywood set complete with Gladiators in plastic body armor and ladies in Roman togas. Fredrik Lycke stars as director Irving Thalberg. He sets the storyline with a soft shoe routine complete with twirling cane to Two Tales.

Irving G. Thalberg became head of production at the Universal Film Manufacturing Co. at the age of 20 and three years later vice president and head of production for Louis B. Mayer, personally supervising the studio's top productions. Thalberg was given full authority to choose scripts, revise them, and have final cut on any film. Thalberg is largely credited for establishing MGM as the literary studio, and supported the studio system that kept a stable of actors, directors, writers, and producers working together to produce films. Thalberg died of pneumonia in 1936 at the age of 37.

Garbo being manipulated by the Hollywood studio system is staged in Garbo The Musical as a living chess match. With the cast dressed as chess pieces in Power Play the conflict between Garbo, played by Gunilla Backman, and studio mogul Louis B. Mayer, portrayed by Fred Johanson, are plotted, moved and check mated.

Garbo had many affairs including those with John Gilbert, Mauritz Stiller, Leopold Stokowsky and director Rouben Mamoulien, but she never married. She was always torn between loyalty to her friends, ambition and a desire for privacy. When Garbo decided to quit Hollywood her writer friend Mercedes de Acosta, acted by Petra Nielson, attempted to convince her to remain, while the photographer Cecil Beaton, portrayed by Daniel Engman, offers to marry her promising to take her away from her troubles.

This is brought to life on stage in The Wild Side. The ladies representing Garbo are matador drama costumed in beaded bolero waistcoats and black pants. The men representing Beaton are in white suits button holed with pink carnations.

The world premier of Garbo The Musical began September 18th in Oscarsteatern in Stockholm.

This Swedish production had little momentum going in and perhaps would have been better mounted in English in another country. While Garbo was idolized as an actress in Sweden she was also resented as a person. She constantly criticized the Swedish press, and once she moved to American only returned to Sweden as cremated remains.

Producer Mikael Hellqvist and his group hope to take their production to London's West End and then to Broadway.

CARNIVALE SPECTACULAR ( See Broadway To Vegas column of August 4, 2002 ) won't have the music playing on forever. Radio City Music Hall has put a cork in the party bottle. The big bucks extravagant production was to have been an annual spring offering, featuring samba and other Latin, jazz and funk tinged music with street carnival influenced choreography, costumes, aerialists and giant puppets. Rehearsals had been underway for several weeks when the project was suddenly suspended last week and the crew kicked to the curb. The production was to have opened in May.

ROSIE O'DONNELL no longer involved with her talk show or the magazine that carried her name, will have more time to concentrate on being a Broadway producer. Towards the top of Rosie's personal short list of things to do is producing Boy George's new musical, Taboo, which garnered rave reviews in London.

ANYTHING GOES one brilliantly witty Cole Porter after another marks this fabulous musical comedy first presented in 1934. A jubilant tale taking place aboard the S.S. American bound for Europe, it includes stowaways, nightclub sirens, shipboard romance, mistaken identity, a gangster and nonstop fun.

The music? You're the Top, I Get a Kick Out of You, Blow, Gabriel, Blow, It's Delovely, All Through the Night, Friendship, Easy to Love and of course, the title song.

Music and Lyrics by Cole Porter. Original Book by P.G. Wodehouse & Guy Bolton And Howard Lindsay & Russel Crouse. New Book by Timothy Crouse & John Weidman. Originally produced by Lincoln Center Theatre, New York City. Directed by Glenn Casale. Music Direction By Gerald Sternbaach. Choreographed by Dan Mojica.

The stellar cast includes Rachel York, Anastasia Barzee, Sally Struthers, Larry Cedar, Fred Willard, Brent Barrett, Jason Graae, Delee Lively, Colin Kim, Glenn Shiroma, Brendan Ford, Austin Miller, Christa Jackson, Kim Arnett, Carmen Parks, Natalie Nucci, David Brouwer and Joe Hart.

Assorted Passengers & Ship Crew: include Barbara Chiofalo, Julie Kenyon, Biff Ingenthorn, David Brouwer and Red Savage.

Members of the orchestra who will be playing all of that fabulous Porter music include; Conductor Gerald Sternbach, Contractor Joe Soldo, Asst. Cond./Piano Tom Griep, Alto Sax/Woodwinds Greg Huckins, Alto Sax/Woodwinds Lee Callet,Tenor Sax/Oboe Phil Feather Bari Sax/Bassoon John Mitchell, Trumpet Darrel Gardner, Trumpet Larry McGuire, Trombone Chauncey Welsch, Trombone Bill Elton, Violin Liane Mautner, Bass Chuck Berghofer and Drums/Percussion Bob Leatherbarrow. Performances through September 29 Macgowan Hall Freud Playhouse Los Angeles, CA.

FLOWER DRUM SONG had its first preview at the Virginia Theatre, NYC on September 23. Robert Longbottom directs a cast headed up by the newly engaged Lea Salonga, and Jose Llana. Officially opens on October 17. This Rodgers and Hammerstein musical revival features an extensively revised book by David Henry Hwang.

COMPLETE HISTORY OF AMERICA (ABRIDGED) from September 27 to October 13 at The Theatre Barn, New Lebanon, New York.

KING LEAR William Shakespeare's timeless tale of betrayal, treachery and the perils of growing old is told in a all-new setting. This production takes a giant leap backward from Shakespeare's time - to the Bronze Age (circa 500 BC). Set amidst Celtic ritual and superstition - and accompanied by Celtic music.

With age is supposed to come wisdom, but sometime things don't work out that way. After winning a major war and according to the gods, King Lear decides to divide his vast estates among his three daughters and abdicate his throne, assuming his children will take care of him in his retirement.

However, Lear first insists that his children swear undying love to him above all else. Easier said than done. For a morality lesson about expecting too much and not seeing the truths right before your eyes, King Lear teaches just "how sharper than a serpent's tooth it is to have a thankless child

Founded in 1993, the Oberon Theatre Ensemble is a New York based, not-for-profit theatre group committed to cultivating and invigorating a diverse theatre community by confronting contemporary issues through classic and original works and by employing non-traditional casting and supporting the process of developing original material.

Donovan Johnson' directs a cast that includes Chet Carlin (Lear) and Gordon Stanley (Gloucester). Others in the production include Mac Brydon, Josephine Cashman, Philip Emeott, John C. Fitzmaurice, Brad Fryman, Michael Hagins, Jennifer Miranda Holmes, Jennifer Marie Lambert, Laura Siner, Karen Sternberg, Sarah Sutel, and AJ Tesler.

Oberon Theatre Ensemble, New York City. September 27th - Sunday October 12th

HAMLET a new production of the classic Shakespeare play - only set in Louisiana in the 1940s. The Producers Club II. Shows begin September 23.

UNDER THE BLUE SKY by David Eldridge, directed by Gilbert Cates is having its West Coast premiere at the Geffen Theatre in Los Angeles.

Three interconnected plays reveal the after hours liaisons of teachers dealing with love and sexuality. Billed as for mature audiences this play was written by one of Great Britain's hottest young playwrights. Eldridge was 28-years-old when he penned this piece about teachers trying to guide students and yet are as confused as anybody. Under The Blue Sky enjoyed a successful run the Royal Court Theatre in London.

This Geffen offering stars Willie Garson, Sharon Lawrence, McCaleb Burnett, Margaret Welsh, Judy Geeson and John Carroll Lynch.

Though October 10. Geffen Playhouse, Los Angeles.

THE PRODUCERS have begun their national tour setting up shop in Pittsburgh through September 30.

The $7 million touring production stars Lewis J. Stadlen and Don Stephenson in the roles created by Nathan Lane and Matthew Broderick: slimy theater impresario Max Bialystock and nerdy accountant Leo Bloom.

LITTLE HAM

Brenda Braxton stars as Sugar Lou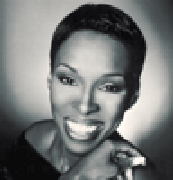 by Langton Hughes a Harlem Jassical.

In 1936, the Harlem Renaissance is in full swing. Nattily dressed street hustlers keep time to the sharp popping of shoeshine rags while hard-working locals relax by dancing and listening to the music of Duke Ellington and Ella Fitzgerald.

Small time numbers games allow people to dream of luxuries beyond the reach of The Great Depression.

When the downtown mob threatens to take over the uptown numbers game, they find the perfect ally in Hamlet Hitchcock Jones also known as Little Ham. Ham is a smooth operator with fast feet and a quick wit. Coerced by Louie 'The Nail' Mahoney and the lure of big money, Ham goes to work for the mob. Assigned the duty of shaking down Tiny Lee's Beauty Shop, Ham must find a way to double cross the mob or risk betraying the girl he loves and abandoning his Harlem roots forever.

Eric Krebs fell under the spell of Langston Hughes' magical and uplifting expression of the historical Harlem. He teamed up with composer Judd Woldin to stage the first production at the award winning George Street Playhouse in 1987 where Krebs was serving as head honcho.

In this production Andre Garner struts as Hamilton Hitchock Jones. Brenda Braxton plays Sugar Lou. Castmates include Adrian Bailey, Cheryl Alexander, Monica Patton, D'Ambrose Boyd, Venida Evans, Jerry Gallagher, Julia Lema, Joy Styles, Lee Summers, Richard Vida, and Joe Wilson, Jr.

Eric Riley directs the show, which has a book by Dan Owens, music by Judd Woldin and lyrics by Woldin and Richard Engquist.

Musical direction is by David Alan Bunn, choreography is by Leslie Dockery, and orchestrations and arrangements are by Luther Henderson. Set designer is Edward T. Gianfrancesco. Bernard Grenier costumes and Richard Latta lighting.

Little Ham's opens at the John Houseman Theatre, NYC on September. 26.


WHO'S WHERE


PAUL McCARTNEY center stage tomorrow at the Xcel Energy Center in St. Paul, Minnesota. On Tuesday the performance is at the United Center in Chicago. Friday finds Paul and the gang at the Hartford Civic Center in Hartford, Conn. He closes out the week, Saturday, at the Atlantic City Boardwalk Hall in Atlantic City, New Jersey.

THE ROLLING STONES rock it tonight at the Tower Theatre at Upper Darby, PA. On Thursday they take to the Madison Square Garden stage in New York City and on Saturday they're in the spotlight at the Giants Stadium in East Rutherford, New Jersey.

BRUCE SPRINGSTEEN on stage tonight September 22 in Denver, CO at the Pepsi Arena. On September 24 the show moves to Kansas City, MO at the Kemper Arena. September 25 finds the Boss in Chicago, IL at the United Center. September 27 they'll rock Milwaukee, WI at the Bradley Center. On September 29 the place to be is Fargo, ND at the Fargodome

ELVIS COSTELLO has a busy week. Tonight the performance is at the Paramount Theatre in Santa Fe, New Mexico. Tomorrow the show is in Seattle, Washington at the Paramount. On Tuesday he's center stage Portland, Oregon at the Arlene Schnitzer Hall. On Wednesday he'll be in the spotlight at the McDonald Theatre in Eugene Oregon. Friday finds the performer on stage at the Warfield in San Francisco. On Saturday the action takes place at the Paramount Theatre in Oakland, California.

NEIL DIAMOND singing tomorrow at the Verizon Wireless Center in Manchester, New Hampshire. On Wednesday the songwriter/singer performs in Canada at the Corel Center in Ottawa. On Thursday Neil can be enjoyed at the Air Canada Centre in Toronto.

RUSH in their Vapor Trails Tour which is their first tour in five years. Geddy Lee, Alex Lifeson, Neil Peart plus a special guest. Monday, September 23 Staples Center, Los Angeles.

HUEY LEWIS AND THE NEWS open Thursday, September 26 at the Historic Mountain Winery in Saratoga, California for a four night stand.

BOB NEWHART telling funny stories Friday, September 27, in Decatur, Illinois at the Kirkland Arts Center. On Saturday he'll be making the crowds laugh in University Park, Illinois at the Center for the Performing Arts.

JOHNNY MATHIS two night stand Sunday-Monday, September 29-30, in Pittsburgh, PA at Heinz Hall.

BERNADETTE PETERS in concert at the Weidner Center in Green Bay, WI on September 28.

MAUREEN McGOVERN September 26 - 29 with the North Carolina Symphony at Meymandi Concert Hall in Raleigh, NC.

ALAN KING brings his wit and wisdom to Texas Station, Las Vegas Sept3mber 27.


PIFFLE AND PROFUNDITIES


DEBBIE REYNOLDS is enjoying a new legion of fans thanks to her starring in the Disney movie Halloweentown, where Debbie plays a witch. Debbie's 10-year-old granddaughter, Billie, compliments of daughter Carrie Fisher, proudly introduces her grandmother to her young friends as the witch in Halloweentown. Billie calls her grandmother Abba Dabba, in honor of Debbie's hit record Abba Dabba Honeymoon. For the next two months Debbie is on the road. While Debbie is packing and unpacking, son Todd Fisher has just signed the final contract papers for the Debbie Reynolds Hollywood Memorabilia Museum, which will open each next year near the Mann Chinese Theatre.

TERRORISTS HUNTING isn't the only activity going on around Buffalo, New York. Calling it patriot theater in selecting George M! to open the season at the Lancaster Opera House, the cast includes narrator John F. Schaller. He is the former assistant chief of police in Cheektowaga. The two-hour musical chronicles the life of George Michael Cohan, the opinionated showman who took Broadway by storm in the early 1900s, writing more than 40 plays, penning more than 500 songs. Besides Schaller the show Philip A. Jarosz and Emily Kathryn Feldman. The production at the Lancaster Opera House, Lancaster, New York closes this evening.













Next Column: September 29, 2002
Copyright: September 22, 2002. All Rights Reserved. Reviews, Interviews, Commentary, Photographs or Graphics from any Broadway To Vegas (TM) columns may not be published, broadcast, rewritten, utilized as leads, or used in any manner without permission, compensation and/or credit.
Link to Main Page
---
Laura Deni



U.S. Postal Address: Post Office Box 60538, Las Vegas, NV 89160
CLICK HERE FOR COMMENT SECTION