! >
Broadway To Vegas
  SHOW REVIEWS     CELEBRITY INTERVIEWS     GOSSIP     NEWS 
| | |
| --- | --- |
| | |
RADIO CITY MUSIC HALL'S CARNIVALE - -FLYING BY FOY - - ELVIS PRESLEY'S BAD HAIR - - KENNEDY CENTER HONORS - - ABBA SING ALONG - - ARTHUR MILLER'S FIRST SATIRE - - GIGGLE AND GET WELL RxLAUGHTER - - THE GUYS TO SILVER SCREEN - - DONATE . . . Scroll Down


PHYSICS AND FAIRY DUST


The actor flies through the air, levitates, soars, dives, floats. Must be fairy dust.

More likely, it's the Las Vegas based Flying By Foy - a family owned business that has been hoisting the stars for over a half century, earning a world-wide reputation for technical excellence and creative artistry.

To seal any deal the contract has to pass over the desk of Jim Hansen, general manager of Flying By Foy since November of 1997.

He spoke with Broadway To Vegas about this unique industry.



Flying By Foy technicians testing the equipment for Carnivale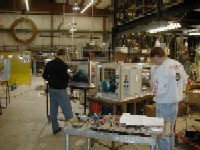 Hang em high. Carnivale performer being hoisted to the top of Radio City Music Hall during a Carnivale technical rehearsal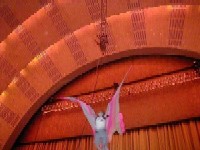 Flying By Foy is an important part of the new Radio City Music Hall spectacular which kicks off in May of 2003.

The famous high-kicks and precision dancing of the Radio City Rockettes will be featured in the spectacular new Carnivale production.

Music by the Grammy award winning Latin pop music leader and innovator Jon Secada, conducted by award winning jazz keyboardist John Serry, the performance will celebrate carnival traditions and springtime rebirth and will be accompanied by a colorful, free outdoor festival in Bryant Park.

"We did nine weeks of rehearsal and built a big load of automated equipment for the Carnivale production. There is a great deal of flying in that show," Hansen emphasized. "We have 18 motorized winches in that show. That is the new Radio City spectacular. It will run about six weeks out of the year for the next seven years."



Barbra Streisand wrote about Flying By Foy in her autobiography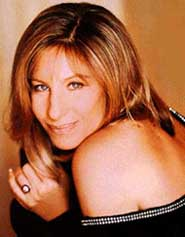 Over the years, Foy has staged tens of thousands of flying scenes. They have harnessed up the A-list. A small sampling includes; Paula Abdul, Jenny Agutter, Jason Alexander, Julie Andrews, Jean Arthur, Lucille Ball, David Bowie, Sarah Brightman, Garth Brooks, Carol Burnett, Johnny Carson, Amy Carter, David Cassidy, Maria Conchita Alonzo, Sean Connery, Coolio, Michael Crawford, Roger Daltrey, Dame Edna, Beverly D'Angelo, Clare Danes, Ellen DeGeneres, Andy Dick, Phyllis Diller, Tovah Feldshuh, Sally Field, Eddie Fisher, Mitzi Gaynor, Eydie Gorme, Tom Hanks, Bob Hope, Lena Horne, Bill Irwin, Michael Jordan, Danny Kaye, Gene Kelly, Alan King, Eartha Kitt, Carol Lawrence, Ute Lemper, David Letterman, Jerry Lewis, Liberace, Hal Linden, Howie Mandel, Dean Martin, Roddy McDowell, Gavin McLeod, Mike Myers, Bebe Neuwirth, Leslie Nielsen, Conan O'Brien, Donny Osmond, Penn & Teller, Donald Pleasance, Jane Powell, Tony Randall, Chita Rivera, Roseanne, Diana Ross, Siegfried & Roy, Richard Simmons, Frank Sinatra, Elke Sommer, Howard Stern, Barbra Streisand, Sharon Tate, Shirley Temple, Robert Townsend, Tommy Tune, Christopher Walken, Raquel Welch, Vanessa Williams, Robin Williams, Michael York, and Debbie Reynolds who was swung while guesting on The Eddie Fisher Show.

Shows have included Peter Pan, Angels In America, Beauty and the Beast, Beach Blanket Babylon, EFX, Siegfried & Roy, Superman, Tommy, The Lion King, and Aida.



Peter Foy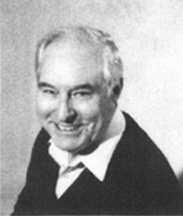 In 1950, a young Englishman named Peter Foy came to New York to fly Mary Martin in the original stage version of Peter Pan.

Since that time, the company has pioneered the art of stage flying with technological breakthroughs in floating pulley and track-on-track systems, invisible harnesses and other clever devices. Foy's inventions and flying techniques are so unique the company has protected them by copyright. Before working with Foy, clients must sign agreements pledging not to divulge any of the company's secrets.

Hansen recalled Foy's background. "He worked for the Kirby Flying Ballet. Kirby, at the time, was the preeminent flying company, having patented some equipment in the 1890s, They were very much like - when people refer to tissues as Kleenex - they would refer to the flying equipment as a Kirby rig."

"At that time, flying chiefly consisted of pendulum flying done on drums. When Peter came over, they began to test the limits of flying. He used a thing called an interrelated pendulum where two pendulum systems were essentially joined at the suspension point"

"Mary Martin in 1954 really wanted kind of wild flights, which ran outside what Kirby called the control zone. Kirby was a bit frightened of that and gave Peter his blessing to go out on his own."

"When he came over in 1950 they essentially had no documentation of having flown anybody in the United States for 20-35 years," Hansen continued. "Nobody really knew how to do it. In England, in the holiday season there is a long stand tradition of plays they call pantomime. Peter Pan is a perennial favorite there. Flying was just always a part of pantomime."

"From that Peter developed other systems - the floating pulley, what eventually became the track on track system which is a patented system and then another version of the track on track patented as the ultra lift system. Really, in the second half of the century, Flying By Foy revolutionized stage flying."

"As time went on Peter found that there was a lot of interest in flying for various shows. When he first began he used war surplus equipment. He'd get a job in Nebraska. He'd get a couple of rigs, throw them on top of the station wagon and drive to Nebraska and do the show."

"He came to Nevada originally in the late 50s early 60s because they would have these junkets that would come in from Los Angeles. He fell in love with the place, primarily because it was lousy with sunlight," related Hansen on a cloudless day when the temperature reached 115 degrees. "He came from England which he found very dreary. To this day when it is raining he gets very depressed."

"He likes the sun. He likes the openness. He came here first to do the flying effects for a couple of the shows - The Lido, the old MGM Hallelujah Hollywood, flying Liberace.

"The first Peter Pan he did over here was a straight show for Boris Karloff. Then in 1952 he did a version with Veronica Lake. A straight version and then the original musical version which was mounted in 1954 with Mary Martin.



Sandy Duncan in Peter Pan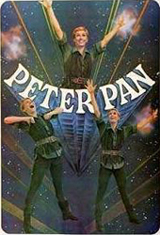 A favorite is Sandy Duncan. "She was a real a trouper. They loved working with Sandy," he reiterated.

Not everyone is anxious to get hoisted above terra firma.

"There is a story about Lily Tomlin," divulged Hansen. "They were going to fly her on Broadway in one of her shows. She was scared to death of it. Peter's wife, Barbara, who had been a singer, and a great friend of Julie Andrews, had to get in the harness and go up to show Lily that it was fine."

Tomlin went from terrified to feeling terrific.

"One of the things that we pride ourselves on is that people who do fly with us find it exhilarating. I imagine in people's minds, when they think of flying, they think of being hooked to a rope and dragged up in the air - and to some extent it is that sort of a thing - but it is a series of pulleys and automated systems."

Flying By Foy also makes it as safe as possible.

"We have never had a major accident. We occasionally have a thing where Peter Pan will fly into a flat. That is common."

When Aida was touring, prior to opening on Broadway, an accident took place on stage which involved the stars. "That was not our equipment," Hansen replied. "We do about a 40 second swimming effect in Aida which is an automated, motorized effect. The accident with Aida was with a rigging thing - kind of an elevator effect, which we do not do. That accident was quite frightening, as I understand, but it wasn't our equipment. It wasn't us."

The company puts safety ahead of all other concerns and doesn't hesitate to turn down a job.

"We turn down jobs all the time for various reasons. In some cases we have venues that are not accessible to our riggings. We'll go in and they'll have a finished plaster ceiling and they say we can't drill through it, so there is nothing for us to hang equipment from."

"In some cases it's a height consideration. We have backed out of a couple of big shows, such as the Super Bowl, because of the production company's inability or unwillingness to provide us with necessary information," related Hansen as his voice took on a certain edge of irritation.

"Or an American Gladiator kind of thing where they want people to fight in the air. When we looked at the whole package it just really wasn't our cup of tea. We thought there was a probability of harm."

While the high profile marquees may be the Broadway shows and the Vegas spectaculars, important vertebras in the Flying By Foy spine are cruise ships and schools.

No longer do cruise ship shows mean a bad lounge act on a small stage.

"We do the flying effects for four Caribbean ships. The larger ones, the Explorer, the Adventurer and the Voyager have a couple of venues on each ship. On two of them we do both the ice show and the straight shows. We work in both of the venues that are on the ships."

It's not always smooth sailing.

"In the venues that are in the forward portion of the ship it can rock and roll. The scenery will be on tracks to roll in and out. I've heard the technicians say that they'll get back there and be holding the stuff in place because it is shifting around. The technicians have the power the cancel a show and they do from time to time if it gets too rough."

Small school and non profit theaters are extremely important to Foy - a surprise since it could be assumed that this is a budget buster. "We're not terribly expensive," Hansen insisted. "We try to keep it pretty well within their budget. We can typically do a Peter Pan, with a run of two weeks, for around $2500-$2600, plus shipping."

"We do a lot of them. We do everything from elementary, middle, high schools, regional and community theaters. We do a lot of ballets. We do the Washington Ballet, the Cincinnati Ballet, the Ballet Austin, a ballet in Birmingham. We do a dozen or 15 Nutcrackers every year."

Deciding to add flight to a production is not a do it yourself operation. A box of pulleys doesn't arrive in the mail with an instruction sheet.

"When the equipment goes out a technician comes along - always," he emphasized. "We call them flying directors. We always have them go and supervise the installation of the equipment, work with the cast and crew to stage the sequence, which is why they are called flying directors. That is true with Peter Pan, ballet companies, opera - really anything we do we send a flying director."



Flying Horses scene staged by Foy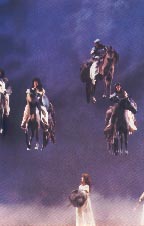 "For instance, we do A Christmas Carol every year at Madison Square Garden. So, we always have a couple of guys there for a week. We've had a very long and pleasant experience with Madison Square Garden."

Is a flying director a physics major, a tool time guy or a choreographer?

"It's really a mixed bag. It's a subjective thing. Their backgrounds range pretty widely. A couple of our guys, Joe McGeough and David Hearn, have been doing this for 25 years."

"Obviously there are rigging qualification. But communication skills are high on the list. A lot of them are on the road 250-300 days a year. We throw a lot at them. Most of them are young and single, although that is not the case with all of them."

On tour may mean a year on the road with a boy band.

"We did the Backstreet Boys tour. It was interesting. We build five automated riggings that ran with the show. Joe McGhee actually went out with them because they were automated - really state of the art when we built them. He was with them for the entire End of the Millenium tour."

Did the flying director get tired of the screaming prepubescent fans? "I imagine he did. How could you not?" admitted Hansen emphasizing that "the Backstreet Boys were very cooperative."

So was the Apollo landing, although Foy was prepared. Remember those rumors that the landing had been staged on a sound studio and that the space landing had never taken place?



Flying By Foy's fake Apollo landing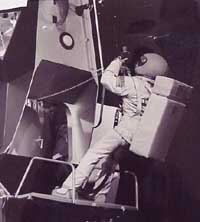 The landing wasn't a fake, but the news and the entertainment departments of the television networks merged on the coverage of this one. Plans were laid to deliver staged, fake television pictures conning the viewers into thinking it was the real thing.

On July 20th 1969, the world was glued to its TV sets in anticipation of Man's first landing on the moon. Flying By Foy was there in the middle of an apprehensive group of designers and engineers gathered at Grumman Aircraft. They were responsible for building the Lunar Module which had never been tested successfully in the Earth's atmosphere.

Among those present was Peter Foy. He too was apprehensive. Not that he was in any way responsible for the success of the mission. His only responsibility was simulating the actions of the Astronauts in the event the TV feed was lost.

He was in one of the Grumman Aircraft hangars which had been filled with rocks to simulate the lunar surface. In the middle of all of this was a full scale model of the LEM, an Astronaut (with wires attached), Foy, an assistant, and of course, a camera.

As we now know, the landing was successful, and there was no break in the coverage. This was much to Peter's relief as their lunar landscape looked nothing like the place where they landed on that historic day.

Foy recently celebrated his 77th birthday and moved to emeritus company status. That doesn't mean he's retired. He still stops by the office every day.

Hansen understands explaining, "It's a fascinating business."


ELVIS PRESLEY: SOCIALLY VALID OR JUST A MONEY MACHINE?
Elvis Presley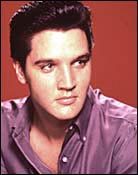 It's been 25 years since the coroner said Elvis left the building. By all the hoopla you'd never know it. He's returned to the top of Great Britain's singles chart recently with a remix of a minor 1968 hit, A Little Less Conversation. This means that Elvis has passed The Beatles with the most No. 1 singles in pop chart's 50-year history.

On Monday, Aug 12, on the front lawn of Graceland Mansion RCA will present the latest round of new RIAA gold and platinum awards and award upgrades Elvis has earned since the last such presentation in 1999, plus a special commemoration of the 25th anniversary.



Elvis and Priscilla on their Las Vegas wedding day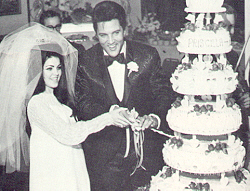 On Thursday Priscilla Presley announced that she has sanctioned the development of a musical by Immortal Entertainment that will focus on the romance between Elvis and his future wife, then the teenager Priscilla Beaulieu.

A nationwide talent search will take place to cast performers to play Elvis and Priscilla.

The production needs to scout for a good hair stylist - apparently Presley was plagued by bad hair days.

Presley's hairdresser, Larry Geller, has come forward saying that although fans might have thought the Presley locks were "beautiful and looked cool," in reality Presley had thin and brittle hair. Those problem tresses required Geller to fix the singer's hair as many as 12 times a day. Then there were the dye jobs. Presley's hair wasn't black but a sandy blond which had turned a shocking shade of white.

No matter what the color of his hair, The King still lives in the heart of millions of fans. Each August, Memphis comes alive in celebration of the legacy of Presley for Elvis Week. For Elvis followers, Elvis Week is a pilgrimage, like going to Mecca to pay homage to the spirit and memory of the incredible performer whose spirit lives on 25 years after his death.

Elvis Presley, 42, died on August 16, 1977, having completed 23 years in show business. To some it is amazing that, twenty-five years after his untimely passing, his star shines more brightly than ever and his posthumous career, now longer than the one he enjoyed in life, rivals that of many successful entertainers working today



Tennessee Governor Don Sundquest heads the parade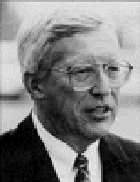 The kick-off event is a parade down Beale Street. Parade grand marshals will be Sam Phillips and Tennessee Governor Don Sundquist. Making its debut for the parade will be Mobile Graceland, a unique traveling Elvis exhibit sponsored by Harrah's Entertainment and FYE stores, a collaborative project of BMG and EPE to promote the forthcoming record release Elvis 30 #1 Hits.

If you think the week is nothing but crass commercialism you can attend a seminar at the University of Memphis titled Is Elvis History? 2002 and Beyond. Bankrolled by a grant from The Elvis Presley Charitable Foundation, we're guessing The Fogelman Executive Center at The University of Memphis' Dr. John Bakke and The University of Memphis will anoint the dead singer with social relevance.

Participants will include: music critic Greil Marcus; Elvis biographer Peter Guralnick; Elvis' first record producer, the legendary Sam C. Phillips; veteran recording industry executive Eddie Ray; U of M history professor and nationally recognized Tennessee/Delta region historian, Dr. Charles Crawford; Memphis media columnist Jackson Baker; and WKNO-TV personality Chuck Scruggs.

Also participating will be close friends of Elvis, including: Memphis Music Commission Executive Director, Jerry Schilling, and former Shelby County Sheriff/former Shelby County Mayor, Bill Morris. Also on the panel will be Michael Bertrand and Allison Graham, whose recent respective books, Race, Rock & Elvis and Framing the South, have shed new light on Elvis as a figure of history and myth. At the crux of this issue is whether or not Elvis will be seen as a positive force contributing to the diversity and freedom of American culture or at best a transitional figure.

Or, study The Tao of Elvis in Hardin Hall at the Memphis Botanic Gardens. Based on Dr. David H. Rosen's new book The Tao of Elvis, this multimedia presentation focuses on Elvis's life-long spiritual journey. Several individuals who knew Elvis - and were interviewed for this book - have been invited to make an appearance at this event. Sponsored by the Memphis Jung Society.

The Conversations on Elvis seminar will feature professional and personal associates of Elvis share stories and answer questions. Participating guests are T.G. Sheppard, Julie Parrish, Dick Grob and Patti Parry.

If music is more appealing to your senses than soul searching, there is A Gospel Brunch with The Jordanaires, but all three seatings are sold out with a waiting list for cancellations.

The 14th Annual Elvis Presley Memorial Dinner Charity Event takes place at the Peabody Hotel. Notables expected to be present include: The Jordanaires, Sam Phillips, Knox Phillips, Jerry Schilling, George Klein, Richard Davis, D.J. Fontana, Janelle McComb, Dick Grob and Gordon Stoker.

Viva Tunica is what a lot of Europeans Presley fans will be saying. They'll hop on a bus and head to the Horseshoe Casino in Tunica, MS. The official Elvis Presley Fan Club of Great Britain, The Elvis My Happiness Fan Club of Paris, France, together with members of the Dutch It's Elvis Time club, The Flaming Star Elvis Presley Fan Club of Norway, and Elvis-Today USA will see live cabaret from The Sweet Inspirations, lots of special Elvis guests, a disco hosted by Steve Christopher and Todd Slaughter with presenters from Radio Luxembourg. Monies raised during the function will go to charity, and there is only one stipulation - no jumpsuits!

Darwin Lamm and Elvis International -The Magazine present a group of legendary performers and musicians who worked with Elvis on stage and on his recordings. Legends: Scotty Moore, D.J. Fontana, The Jordanaires, Boots Randolph, Millie Kirkham, David Briggs, Buddy Harmon and Bob Moore. Guest Vocalists: Lee Rocker of the Stray Cats, Billy Swan, Stan Perkins.

Jamming with the TCB Band at Elvis Presley's Memphis is a sold out event. Two dinner shows performed by former Elvis musicians, the legendary TCB Band James Burton, Glen D. Hardin, Jerry Scheff & Ronnie Tutt with their special guest vocalist Terry Mike Jeffrey.

Need a swim? Head on over to Elvis' former home at 1034 Audubon Drive. Sponsored by D & N's Elvis Presley Fan Club, for $35.00 you can tour the home and swim in Elvis' first pool.

Then there is Elvis: The 25th Anniversary Concert in The Pyramid arena. The real Elvis Presley stars via video in this concert event with his original bandmates live on stage. The 2002 show in Memphis will use the same production technology as the touring Elvis-The Concert show, but promises to be a more elaborate production than anything they've ever done before.

Cast members confirmed so far: Joe Guercio (musical director & conductor); The TCB Band: James Burton, Glen D. Hardin, Jerry Scheff, Ronnie Tutt & John Wilkinson; The Sweet Inspirations: Estelle Brown, Cissy Houston & Myrna Smith; Former Members of J.D. Sumner & The Stamps: Bill Baize, Tony Brown, Ed Enoch, Ed Hill, Larry Strickland & Donnie Sumner; The Imperials: Sherman Andrus, Terry Blackwood, Armond Morales, Joe Moscheo, Jim Murray & Roger Wiles; The Jordanaires: Gordon Stoker & Ray Walker; Tim Baty; David Briggs; D.J. Fontana; Ron Feuer; Millie Kirkham; Shaun Neilsen and Boots Randolph.

Priscilla Presley and Lisa Marie Presley will attend the concert and each will be making a special greeting to the fans from the stage during the event.

Just about everyone participates in the Candlelight Vigil & Vigilcast which begins with a brief opening ceremony at the gates of the Graceland Mansion property. Then fans are invited to walk up the driveway to Elvis' gravesite and back down carrying a candle in quiet remembrance. Gates remain open until all who wish to take part in the procession have done so, which usually takes until the early morning hours of August 16, the actual anniversary of Elvis' death.

Elvis - The Concert performs at the Aladdin Hotel in Las Vegas on August 24.



Broadway To Vegas is supported through advertising and donations. Priority consideration is given to interview suggestions, news, press releases, etc from paid supporters. However, no paid supporters control, alter, edit, or in any way manipulate the content of this site. Your donation is appreciated. We accept PAYPAL. Thank you for your interest. Laura Deni P.O. Box 60538 Las Vegas, NV 89160


STOP SIGN THIEF!


Actors are a superstitious bunch.

Since 1883 actors have eased their fears by passing under the black metal Stage Door sign that swung above the Lyceum Theatre in Scotland's backstage entrance on Cornwall street.

Stars who have had stage fright eased on arrival at the theatre by the sign's warm, friendly glow against the dramatic backdrop of the Castle include Marlene Dietrich, Burt Bacharach, Bram Stoker, Rikki Fulton, Robert Carlyle, Tom Conti, Miriam Margolyes, Elaine C Smith, Martin Clunes, Richard Wilson, Gregor Fisher, Bill Paterson, Brian Cox and Sean Connery.

Now some blackheart has pinched the 119-year-old sign.

The bloodhounds have been called out and the search is on. Anyone who may have a clue as to the sign's whereabouts should call 0131 248 4800.



THE KENNEDY CENTER HONORS will salute performers Chita Rivera, Elizabeth Taylor, Paul McCartney, Earl Jones and conductor James Levine.

President George W. Bush and first lady Laura Bush will receive the honorees at the White House on December 8, before attending a gala performance and supper dance at the Kennedy Center.

Secretary of State Colin Powell will present the honors at a dinner for them the night before.

"The honors recipients are recognized for their lifetime contributions to American culture through the performing arts," the Kennedy Center said in a statement.

The 25th annual Kennedy Center Honors will be presented in a gala ceremony on December 8 and the event will be telecast by CBS later that month.


SWEET CHARITY


ACTORS FUND BENEFIT featuring the six time Tony Award winning Thoroughly Modern Millie takes place next Sunday, August 11 at The Marquis Theatre, NYC.

LAUGH FEST starring Ray Romano will raise money for a study examining laughter's effect on ailing children. Kevin James and Wendy Liebman have already joined the lineup for the September 27 event.

The study, Rx Laughter, is testing whether laughter can help children and adolescents deal with the pain of treating life-threatening illnesses including cancer. The five-year study, lead by Drs. Margaret Stuber and Lonnie Zeltzer, began in February 2000 with a $75,000 seed grant from Comedy Central.


RED BEANS AND RICELY YOURS, SATCHMO


Satchmo Summerfest is a music festival celebrating Louis Armstrong, who would have turned 101 today. The city of his birth, New Orleans, has been celebrating since last Thursday with four days and nights of concerts, seminars, children's activities, a club crawl, second-line parade, a Roman Catholic Mass and food including local restaurants offering red bean dishes. Festival organizers chose a red bean theme because Armstrong signed his letters "Red Beans and Ricely Yours."

Some restaurants have created "Sizzlin' Satchmo Specials" that will only be offered this weekend.

Last year's Satchmo SummerFest, planned as a one-time event, was so popular organizers decided to do it annually in honor of the musicians who passed away in 1971.

"This was an opportunity to really concentrate on jazz. It was something that was missing," said Sandra Dartus, executive director of French Quarter Festivals, the agency producing the celebration.

The festivities end today with a jazz Mass at St. Augustine Church.


JABBER, JABBER, JABBER
Ray Roderick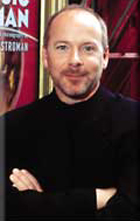 The Denver Center for the Performing Arts stages another of their popular Meet the Artist Series, Sunday, August 11, in The Stage Theatre.

Ray Roderick, director of Denver Center Attractions' productions of I Love a Piano, I Love You, You're Perfect, Now Change and the national tour of The Music Man, will participate in The Denver Center for the Performing Arts' Meet the Artist series. Roderick is becoming a Denver favorite. He is the director and choreographer of I Love You, You're Perfect, Now Change, which celebrated its two-year anniversary at the Garner Galleria Theatre in June. Additionally, he is the Associate Director of the recent Broadway revival of The Music Man, which plays The Buell Theatre August 6-18. And he is the director and choreographer of the Denver Center Attractions production of I Love a Piano, which plays The Auditorium Theatre August 8-September 1.

I Love a Piano is a musical and cultural journey that follows a piano through the 20th century, as it is bought and sold, abandoned and found again.

The show is co-conceived, co-written with Michael Berkeley, who also handles musical arrangements. The cast includes Carrie Allyn, Stephanie J. Block, Jeffry Denman, Michael E. Gold, Ellie Mooney, Alex Ryer, Chris Starkey and Shonn Wiley.

Designers are Larry Gruber (set), Thomas Craft (sound), Sam Fleming (costumes) and Ed McCarthy (lighting). John Glaudini will musical direct.

With this production Roderick will have three shows running concurrently in the Denver complex.

This is the DCPA's 13th Meet the Artist event. Previous guests have included August Wilson, Edward Albee, Alfred Uhry, Terrence McNally, Lloyd Richards, Moises Kaufman, Tony Church, Sir Peter Hall with Edward Hall, Margaret Edson, Eartha Kitt, Frank Rich and Julie Taymor.



RESURRECTION BLUES Arthur Miller's most recent play, is having its world premiere at the Guthrie Theatre in Minneapolis. Previews began August 3.

In over 50 years of writing Resurrection Blues is his first satire.

Long years of political and economic turmoil have ravaged an unnamed country, now under the control of a repressive military regime. A charismatic young revolutionary, lionized by his devoted followers and demonized by supporters of the totalitarian government, creates a national stir, further threatening the country's stability. Once captured, the chief of state sells exclusive broadcast rights to the young man's execution - by crucifixion - to an American television network. Miller, 86, uses his pen to satirizes misguided global politics and the predatory nature of a media-saturated culture. At once genuinely poetic, humorous and thought-provoking, the play confirms Arthur Miller's reputation as an insightful writer who does not shy away from dramatizing controversial ethical dilemmas.

John Bedford Lloyd, Jeff Weiss and Laila Robins star in the David Esbjornson directed production. The cast includes Emil Herrera, Peter Thoemke, and Wendy Vanden Heuvel.

Officially opens August 9 with a run through September 8.

CABARET welcomes the return of Molly Ringwald as Sally Bowles in Broadway's long-running revival. Ringwald previously played the part Dec. 18, 2001-April 28. She returns to the show on Aug. 6.

WHEN GRACE COMES IN by Heather McDonald is having its world premiere at the La Jolla Playhouse. This drama concerns the life-changing journey of a senator's wife who attempts to recapture her past. Directed by Seattle Rep's Sharon Ott, this compelling and poignant story explores the world of dreams and memory. Patrons are warned that the play contains "adult content and language."

Sharon Ott directs Jane Beard who stars as Margaret Grace Braxton. Also in the cast are Mark Chamblerin, Stephanie Berry, Anne Gee Byrd, Mark Alan Gordon, Shannon Fitzpatrick, Mary Frances McClay, and Tommy Fleming. Opened July 30 with performances through September 1. San Diego's La Jolla Playhouse Theatre, California.

THE TALE OF THE ALLERGIST'S WIFE by Charles Busch will have its regional premiere at the Cape Playhouse in Dennis. Mass. August 12-24. The production will star Paula Prentiss, David Hedison and Marj Dusay. In related news, the New York production will close on September 15.

WITHOUT WALLS by Alfred Uhry stars Joe Morton and Kelly Karbacz, directed by Christopher Ashley. Williamstown Theatre Festival, August 7-18.

SING ALONG ABBA the Swedish super-group's greatest hips performed live with subtitles so everyone can join in! Warble to Waterloo, croon to Chiquitita. Be your very own Dancing Queen.

The producers of the sold-out sensation Sing-a-long Sound of Music present Sing-A-Long-A ABBA - the Swedish supergroup's greatest hits performed live in concert by the Sing-A-Long-A ABBA band, backed by a huge screen with subtitles so everyone can sing along.

Relive your disco days -- don't miss the best theatrical karaoke event this summer! Playing at the Hummingbird Centre for the Performing Arts in Toronto, Ontario, Canada. August 14th-August 17th.

OUTWARD BOUND written by Sutton Vane in 1923 is staged at the Westport Country Playhouse (Joanne Woodward Artistic Director) opening August 7. The story tells of a group of people aboard a ship embarked for an unknown destination. The strange passage leads the characters to reflect upon the lives they've lived. The production stars Pamela Payton-Wright, Edward Hibbert, Patricia Connolly, T. Scott Cunningham, Garret Dillahunt, Danis Holmes, Jefferson Mays, Tari Signor and Henry Strozier.

Doug Hughes directs the mounting which runs through August 24.

This is not the first time Westport Country Playhouse has produced this script. The comedy was staged in 1939, in a production which starred Laurette Taylor, the famous actress in honor of whom Tony and Heather Randall named their daughter.

BLAST the drum and bugle corps extravaganza is on the road again after a Broadway run. Performances Aug. 6-18 at the Oriental Theatre in Chicago.

SOUTH PACIFIC starring Las Vegas resident Robert Goulet, singing about that enchanted evening at the Golden Gate Theatre in San Francisco through August 18.

42nd STREET begins its national tour at the Starlight Theatre in Kansas City, MO. Catherine Wreford stars as Peggy Sawyer.

The cast includes Patrick Ryan Sullivan, Patti Mariano, Frank Root, Robert Spring, Paul Ainsley, Darren Kelly, Alana Salvatore, Dexter Jones, Tom Judson, Michael Fitzpatrick, SuEllen Estey, Christopher Nilsson, Dennis Kenny, Jimmy Groh, Shane Braddock, Brad Hampton, Graham Bowen, James Gray,Gavin Lodge, Shane Dickson, Kevin Worley, Michael Crowley, Jason Marquette, Kristen Gaetz, Angela Kahle, Cara Cooper, Vanessa E. Sonon, Heather Ginther, Jennifer Ierardi, Stephanie Cadman, Jennifer Tangjerd, Josette Wiggin, Amy Frankel, Beth Johnson, Sally Wong, Amber Owens, Allison Marburg, Jennifer Read, Melissa Fagan, Deana Villei, Tatiana Cardenas, Rosie North, Jennifer Leigh Schwerer, Hilary Rushford, Kristyn Smith, Amanda Kloots, Tony Palomino, Ashley Ayer, Abbie Cooper and Jeremy Benton.

Performances begin this evening, August 4, running through August 10.

THE GUYS is about to open in London and heavy demand for tickets has persuaded Tim Robbins and Susan Sarandon to add an extra date to their Fringe run of The Guys by Anne Nelson. Tickets were snapped up immediately for the August 14 and August 15 performances of the play, based on a true story arising from the September 11 attacks on New York City, that a third date, Friday 16, was added.

Robbins and Sarandon will appear in a staged reading of Nelson's play at the Royal Lyceum Theatre as part of this year's Edinburgh Festival Fringe.

The Guys is based on a true story about how the writer, Anne Nelson, helped a grieving fire captain compose eulogies for four colleagues killed when the twin towers collapsed.

It was first seen in New York at the Flea Theater in December, starring Sigourney Weaver and Bill Murray, just a short distance from the scene of the attacks on 11 September.

Since then, both Sarandon and Robbins have taken turns on the New York stage, where discounted seats were reserved for emergency workers from ground zero.

Robbins has just performed The Guys at The Actors' Gang theatre in Los Angeles with Helen Hunt. The New York production has just welcomed Marlo Thomas to the cast. She plays opposite Stephen Lang in The Bat Theatre Company's production. Thomas appears in the play through August 28.

Plans are also under way to transform The Guys into a major motion picture.


WHO'S WHERE


BRUCE SPRINGSTEEN in the spotlight August 7 in East Rutherford, New Jersey at the Continental Airlines Arena. On August 10 the eagerly awaited performance is at the MCI Arena in Washington, D.C.

PAUL ANKA wraps up his MGM-Grand Las Vegas engagement Aug 6 and then performs Aug 9 in Chautauqua, New York.

PETER, PAUL AND MARY entertain Thursday in Bethlehem, PA at River Place.

TONY BENNETT on stage Wednesday at the Hollywood Bowl in Los Angeles.

HUEY LEWIS AND THE NEWS performs tomorrow in Verona, New York at Turning Stone Casino. On Wednesday the show takes place in Guilford, New Hampshire at the Meadowbrook Farm Musical Arts Center. On Thursday they begin a two nighter in Cohasset, MA at the South Shore Music Circus.

THE MANHATTAN TRANSFER Since their debut album in 1975, The Manhattan Transfer has developed a cult following that out rivals all others. They have won numerous Grammy Awards in both pop and jazz categories, and have released more than 20 albums. Their vocals are famous the world over, and for two nights only they join the San Diego Symphony for invigorating and classy performances of their greatest hits! August 9 and 10. Supper Pops at Navy Pier

MELISSA ETHERIDGE August 8 at the Verizon Wireless Amphitheatre, Kansas City.

ROBIN WILLIAMS August 10 at Harvey's Tahoe Resort in Stateline, Nevada.

NATALIE COLE tonight completes her Paris Hotel, Las Vegas engagement then opens Thursday in Vienna, Virginia at Wolf Trap Filene Center. she closes out the week, Saturday, in Atlanta, Georgia at the Chastain Park Amphitheatre.

NEIL SEDAKA performs Saturday at the Westbury Music Fair in Westbury, New York.

CHERYL CROW center stage Wednesday in Antioch, Tenn at the AmSouth Amphitheatre. On Thursday the show is in Noblesville, Indiana at the Verizon Wireless Music Center. On Friday the performance takes place in Burgettstown, PA at the Post-Gazette Pavilion at Star Lake. Cheryl closes out the week, Saturday, in Clarkston, MI at the DTE Energy Music Theatre.

MARY J. BLIDGE in the spotlight this evening in Milwaukee, Wisconsin at the Marcus Amphitheatre. On Tuesday she entertains at the Performing Arts Center in Saratoga Springs, New York. On Wednesday the show is in Wantagh, New York at Tommy Hilfiger at Jones Beach Theatre and on Friday she can be found guesting on The Today Show.

CHRIS ISAAK in the spotlight Thursday in Bend, Oregon at the Les Schwab Amphitheater. On Friday he opens a two nighter in Seattle, Washington at Summer Nights At The Pier. Next Sunday the show moves to Portland, Oregon for a performance at the Keller Auditorium

LYLE LOVETT THE IRISH TENORS entertain tonight in Vienna, Virginia at Wolf Trap Filene Center. On Saturday they can be enjoyed in Gildford, New Hampshire at Meadowbrook Farm Musical Arts Center.

MARCEL MARCEAU the Emmy award winning performer, considered the world's greatest mime, has returned to Los Angeles with a three-week engagement at the Geffen Playhouse in Los Angeles. The show opened July 30 with performances through August 18.

CHER AND CYNDI LAUPER perform August 9-10 at the MGM-Grand's Grand Garden in Las Vegas.

JACKIE MASON August 7-14 in the Hollywood Theatre of the MGM-Grand Hotel, Las Vegas.


SOUNDING OFF


THE BOYS FROM SYRACUSE live performance Saturday on NBC's Weekend Today Show was a live television nightmare - also a perfect example of how bad sound can destroy a show, verify the necessity for a sound check - and why singing along to a pre-recording can be in the best interest of ticket selling.

When the costumed Erin Dilly, Lauren Mitchell and Toni DiBuono attempted to perform Oh, Diogenes! the sound feed to the television audience was nothing but a crackling mess. Half way through the song the singers were given hand held mikes and carried on like the troopers they are.

Everyone involved did a yeoman's job in trying to smoothly carry on in the best show business tradition. It was explained that the fault was with the Weekend Today Show, not the fault of the production.

By the time the segment progressed to This Can't Be Love with Dilly and Jonathan Dokuchitz the sound was a bit better, but faltered when the pair attempted to move. The promo ended on a high point with Mitchell singing Falling in Love with Love, giving an excellent rendition, which was sound level perfect. Conversation centered on Toni DiBuono's bandaged ankle, something she acquired when she almost fell into the orchestra pit during a preview performance. As Mitchell quipped - come and see and show and watch her fall into the pit

Or, listen to a live at Rockefeller Plaza segment when there are technical problems and learn the pitfalls of live television.

The Boys From Syracuse, the Roundabout Theatre Company Broadway revival of the Rodgers and Hart musical is now in previews at Broadway's American Airlines Theatre.













Next Column: August 11, 2002
Copyright: August 4, 2002. All Rights Reserved. Reviews, Interviews, Commentary, Photographs or Graphics from any Broadway To Vegas (TM) columns may not be published, broadcast, rewritten, utilized as leads, or used in any manner without permission, compensation and/or credit.
Link to Main Page
---
Laura Deni


CLICK HERE FOR COMMENT SECTION