! >
Broadway To Vegas
  
  REVIEWS  INTERVIEWS COMMENTARY NEWS

| | |
| --- | --- |
| | |
ELLEN DeGENERES CHALLENGES PRINCIPALS AND TEACHERS - - KRISTIN CHENOWETH SOME LESSONS LEARNED CD REVIEW - - MADELEINE ALBRIGHT READ MY PINS EXHIBIT - - QUEEN ELIZABETH AWARDS HENRY WINKLER A TITLE - - CAROLINE KENNEDY GOES ON TOUR FOR JACQUELINE KENNEDY EXHIBIT - - FOLLIES ON BROADWAY - - IRISH FILM CLASSIC - - TONY BENNETT EXPLORE THE ARTS BIRTHDAY GALA - - DONATE . . . Scroll Down



ELLEN DeGENERES SPOTLIGHTS LAS VEGAS SCHOOL IN SEASON OPENER - THEN CHALLENGES TEACHERS AND PRINCIPLES TO DO BETTER
Ellen DeGeneres delivered the commencement address at Tulane University. The performer, who didn't go to college, has always been a proponent of education. Photo: Tulane Public Relations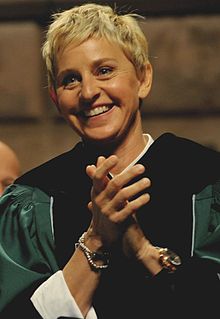 Ellen DeGeneres is one of the most creative, delightful people to ever have a presence on television. She'll go down in history as a powerhouse.

She is also caring, compassionate and generous.

That has been demonstrated on countless numbers of her television shows, including this season's premiere show, when she gave Sherrie Gahn principal of Whitney Elementary School, located in a poverty area of Las Vegas, $100,000 from Target, a public traded corporation noted for its generous charity commitment. There was also the promise that there would be future donations.

Gahn's sincerity is without question and she's reaped enormous benefits for the school. We don't begrudge the school one penny and are delighted they have received this donation.

However . . .

The fact that DeGeneres got too caught up in her emotions, getting downright snarky in challenging other teachers and principles around the country to step up to the plate, might be forgiven since the talk show host later softened her comments, by asking listeners to inform her of other worth while educators.

If teachers are goaded into a Pitch For Dollars job description two things have the potential to occur; 1) People who would make excellent educators won't enter a profession which requires them to really become fund raisers and unlicensed social workers; 2) Exceptional teachers/principles could emotionally cross the line from a reasonable and responsible helping hand to becoming slightly neurotic, in using their students' needs as a way to fulfill their own craving to feel powerful, respected, loved and needed.

It's appropriate for schools to be pitted against each other in sports or intellectual activities such as debating, science fairs, geography quizzes and spelling bees. Businesses have long slapped their logos on the backs of school jerseys. Generous benefactions help fund student trips to national contests. That type of rivalry and fund raising benefits the system.

(If you think the public school system has nothing to do with performing arts - many a performer remembers their first performance being in a school production or recalls a teacher who inspired. Also, if the students of today don't receive an education and find employment they won't be able to become the ticket buyers of tomorrow.)

That assertive DeGeneres challenge comment didn't sit well within the educational community. Nor did any implication that Whitney Elementary is the only school going above the call of duty for its students.

( See Broadway To Vegas column of June19, 2011 )



Target stores provide grants for K-13 schools and other nonprofit organizations to bring art and cultural experiences to schools, support educational field trips, and provide early childhood reading programs as part of their "commitment to give 5% of our income to the communities we were - more than $3 million each week."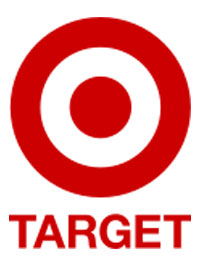 There are schools in Las Vegas and elsewhere which have at least 80% on the free or reduced food program. Those includes Las Vegas schools James Cashman, Crestwood, Cunningham, Ann Lynch and Dean Peterson, to name only a few. Each of those learning institutions have principals who work to exhaustion obtaining help for their students.

"Our principal works very hard for us," was the bristled tone comment from an employee at Dean Peterson. "We do have some families that help us. And some businesses. We did get some donations from the post office."

In contacting several schools, all employees refused to go on the record, and many said they were forbidden by contract stipulations to comment without obtaining permission.

Off the record, there were a lot of irritated opinions regarding any inference made on Ellen that their principals were anything except the very best.

Donations either through money or goods to a particular public school remain at that school. There is neither a requirement nor any sharing agreement with other schools.

46.2 million Americans, or about 15 percent of the population, now survives in poverty. Because Las Vegas has been seriously impacted economically, there has been an increase in school children of all ages needing assistance.

The school district's definition of 'homeless' can also be misleading for the general reader.

Once every few years a couple of children might show up at Whitney Elementary who have been sleeping on the streets, but that's the exception. The kids aren't sleeping in the gutter, they just don't have a permanent address.

As of Jan. 25, 2010 there were 4,753 homeless students attending classes within the Clark County School District which is the 5th largest district in the nation with over 300,000 students in 347 schools. Rancho High School had an estimated 200 homeless students - the highest among any school in the Las Vegas Valley. Rancho receives federal funding for their homeless students through a program called Title 1 Hope - as does every other school which has a homeless student enrolled.



Whitney Elementary School. Photo: CCSD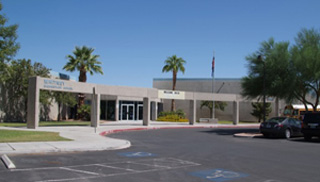 Last year Myra Berkovits, coordinator of Title I Hope for the Clark County School District, was quoted by the ICPH (Institute for Children, Poverty & Homelessness) as saying "99.9 percent of schools have at least one homeless child attending. As such, each school within the district has a homeless advocate who is assigned to the children there."

Under Title I Hope all homeless children are eligible to receive free backpacks and school supplies as needed, as well as free breakfast and lunch.

High schools have a student homeless center on site, which is staffed with counselors and offers tutoring services, computers, gift cards, bus passes and guest speakers. Some receive food filled backpacks for the weekends. All students who use the center remain anonymous.

Last year Title I Hope in Las Vegas distributed 1,600 backpacks filled with supplies during the first month of school.

Many schools in Las Vegas, as well in other parts of the country, have a food pantry and clothing closet on campus that's available to students who qualify. The children's dignity and privacy are protected.

The 2009 CNN report on the Whitney Elementary School credits "Kim Butterfield, a homeless advocate who works at the school . . . . Butterfield also organizes a clothing pantry in one of the school's spare classrooms."

Not nearly enough credit is given to the tireless and many times overworked and overlooked homeless advocates - the people who bear a lot of the heavy lifting.

What makes Whitney different from other schools is that money can be provided to pay utilities and rent. Nothing from the parents - some second and third generation welfare recipients - is required in return - only that the children attend school. Is this helping or enabling?

Whitney Elementary is licensed as a school, not as a bank, social welfare agency, charity or church.

In addition to the National School Lunch Program, there are numerous state and federal programs offering financial help.

Temporary Assistance to Needy Families, TANF, provides cash to assist with housing, food, clothing, medical care and transportation.

Section 8 Housing Choice Vouchers, offered by the U.S. Department of Housing and Urban Development, helps needy families pay for housing.

The Supplement Nutrition Assistance Program of the U.S. Department of Agriculture helps needy families purchase food.

The Home Energy Assistance Program helps needy families pay home heating and cooling bills.

Las Vegas schools are not unique in their programs for the underprivileged. Communities everywhere care about their students.

In Ohio, Neediest Kids of All provides basic necessities (hats, coats, shoes, clothing, and eyeglasses), as well as educational opportunities (field trips, camp experiences, and training programs) to needy children in over 700 schools. The service area covers 17 counties in Ohio, Indiana, and Kentucky.

Cincinnati's Faces Without Places keeps children and youth experiencing homelessness connected to their education by providing school supplies, uniforms, transportation, enrichment, tutoring and an 8-week summer program.

Organizations offering free dental care for poverty populated elementary schools abound all over the country.

In Colorado, The Sunshine Club last year provided free in school dental exams to 691 students plus urgent treatment for 92 children in 30 schools in the St. Vrain School District. The students also received tooth brushes and toothpaste.

Nevada ranks first in the nation for the prevalence of tooth decay (67.1%) and untreated decay (38.9%) among third graders; nearly 42% of third graders have not visited a dentist in the past year while 11.2% have never seen a dentist at all.

To combat this The Communities of Schools in Nevada and Future Smiles partnership has become a vital resource in the Las Vegas community to offer free critical dental services to children.

Operating under a grant from the United Way, Future Smiles runs free dental clinics for kids aged 2 to 18 in southern Nevada. Clinics are positioned in different parts of the city. One is located at Cunningham Elementary School while the third Las Vegas clinic opened just last Friday at Clark High School.

At least half of all Clark County School District students are eligible for the free dental care.

"It's heartbreaking to see a child's smile destroyed by severe tooth decay," said Future Smiles Project Manager, Terri Chandler, RDH. "Imagine not being able to eat, sleep and pay attention in school because you have a mouthful of toothaches," Chandler said. "Some children have reached the point where alternatives are limited and a dentist must pull the teeth that can't be saved. It's tragic. Our state needs to do more to help children get the dental care they need."

Chandler and her team provide services twice a week but the demand surpasses their funding.

"If we could, we would have Future Smiles at our clinics every day of the week," said Communities In Schools of Nevada State Director, Louise Helton.

Communities In Schools is the nation's largest dropout prevention organization, working in nearly 3,300 K-12 public schools. Founded in 1977, Communities In Schools is anchored by the national office in Arlington, Va. Today, more than 1.3 million young people annually receive direct services through almost 200 Communities In Schools local affiliates in 26 states and the District of Columbia. Between 80-90 percent of Communities In Schools' tracked students show improvement in academic achievement, attendance, behavior and promotion to the next grade level.

Ellen also spotlighted Whitney Elementary parents describing how the principal paid their electric and water bills.

To hand out money to people who have no electricity or water begs the question - did those people first apply to existing programs, registered charities or their church? Why were they turned down?

The assertion that paying rent and utilities is an attempt to rescue people from welfare looks flawed.

You don't remove long term or second and third generations from the welfare lifestyle by simply "giving".

While the intent may be to teach the pupils not to be on welfare, what those children may be hearing is, use your street smarts and play to the script. If you ask enough people the right way, you will receive.

There is a very old poster which pictures two people adrift in a small rowboat on a stormy sea, land visible in the far oft distance. The caption, an old Russian proverb, reads: Pray to God, but row towards shore."

Too many down-and-outers think others should do all the rowing.

If you are intent upon succeeding with a small number - and success with a small number is better than no success - the first thing you do is create a job. In the highly transit Las Vegas area, instead of paying the rent and utility bills or pony up for glasses for the kids - make the parents work for that money. While there are some parents and grandparents who do volunteer work at Whitney Elementary, create jobs or pay-back programs, positions which can be anything but make the people earn the money. If their child needs $100 glasses, give the kid the specks, but make the parent work to pay off the bill.

It's shouldn't be volunteer if you feel like it, and we will praise you. Rather, in a polite, confidential way, for every $100 we provide, you owe 10 hours of service.

Some learn language easier than others. The principal has been quoted as saying half of the parents have English as a second language. Offer free English classes and then make attending those classes a requirement for the dole.

Parental reaction would be immediate. The slobbery accolades would stop, replaced at first by resentment, followed by a feeling of self respect.

Whitney's principal came to the school eleven years ago, so there should be a progress report. The donation solicitation pleas tout keeping kids in school, and imply getting them off welfare. If the plan is working then those who began receiving help a decade ago should by now be on - if not rock solid ground - as least not on the slip side. Are they?

If the school is a revolving door of indigent parents replaced by indigent parents, then is the school "marked" the same way bums used to "mark" homes which were a soft touch?

Some Whitney Elementary parents have no qualms about going on camera or exposing their children to the public knowledge that they need assistance. Many parents wouldn't want that information shared.

A 2009 CNN story mentioned school volunteer Shirley Hernandez who has two grandchildren at Whitney Elementary. "Last year we didn't have Christmas," she said. "They gave us Christmas." The Ellen show also ran testimony from a Whitney Elementary woman explaining that if it had not been for the principal they would not have had a Christmas.

If a public elementary school is going to provide Christmas, it would be nice if a do-for-one-do-for-all approach was taken. If one needy family is provided with a Christmas, make sure every child's family is financially able to celebrate what is important to their religious faith - which might not be Christmas. Giving a Christmas might want to pass muster with the school district's legal counsel.

The principal of Whitney has also been reported as saying the school stages a Christmas party with Mr. and Mrs. Santa Claus. That was the norm 60 years ago. Today, you also need to run that one past legal.

Full disclosure - I still set out cookies for Santa and carrots for the reindeer. (Doesn't everybody?)

The Supreme Court has ruled that public schools may not sponsor religious practices (Engel v. Vitale, 1962; Abington v. Schempp, 1963). The Supreme Court has let stand a lower federal court decision stating that recognition of holidays may be constitutional if the purpose is to provide secular instruction about religious traditions rather than to promote the particular religion involved (Florey v. Sioux Falls School District, 8th Cir., 1980). "Teachers must be alert to the distinction between teaching about religious holidays, which is permissible, and celebrating religious holidays, which is not."



"The Whitney Community Center serves as a teaching amenity to the local schools as it provides services for children after school." Photos: Janae Shields, for Pugsley Simpson Coulter Architects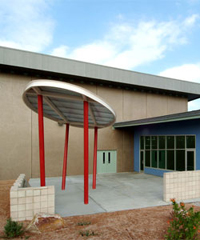 While that $100,000 came with apparently no strings attached - maybe Target customers would like to know how what they have contributed to, by buying at Target, is being spent.

During the Clinton administration, CD interest rates were 9% and higher. Then the hope would have been that the money would have been invested in a CD, spending only the interest. Never spend the seed money.

We're in a different era. Even today, when the word billions is tossed around, $100,000 is still a lot of money and warrants a fiscally conservative approach.

The Whitney Elementary School is located 1/10 of a mile (528 feet - as in just about around the corner) from the Whitney Community Center which is open, except for a few individual holidays, year around, including Saturdays.

The center offers - Outdoor Amenities: Basketball, Tennis, Walking Path, Seasonal Pool, Children's Playground, Picnic Shelters, Reservable Areas, Restrooms.



The Art classroom of the Whitney Community Center "is designed as a flexible space to allow the children to truly express themselves. It's a colorful and playful space meant to elicit that creative spirit." Photos: Janae Shields, for Pugsley Simpson Coulter Architects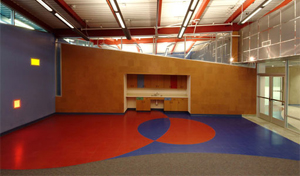 Indoor Amenities: Gym, Fitness Room, Climbing Wall, Youth and Teen programming, Computer Lab, Game Room, Community Room. There is also a separate building specifically for seniors aged 50+. Both centers are secured and supervised.

While there would be a couple streets to cross, the entire neighborhood is composed of mostly lazy streets with stop signs, low posted speeds and a school zone. It is even possible to park by the nearest major street and wait for 22 minutes before seeing a single car pass by. Have the Whitney parents, who are receiving aid, work off their "bill" by supervising students walking to the center to participate in after school programs.

Students in Texas, Oklahoma, Vermont and other areas, innocent victims of weather conditions, need help with food, clothing and school supplies. Somebody ought to throw them a sandwich.

Today, few are experiencing a bountiful existence. Many people have been forced to curtail charitable donations. For those who wish to contribute to a school but are in a quandary as to which school, you might consider donating to the Assistance League.

This is the national organization famous for creating and running Operation School Bell, which provides students with clothes, school supplies and personal hygiene items.

In Las Vegas this year's program began September 13. One of 122 chapters nationally, according to the organization, "in 2008-09 Operation School Bell in Las Vegas provided new school clothing, jackets, shoes, backpacks, and school supplies to over 6,900 children from families with extreme need, referred to us by the Clark County School District" - including children attending the highly publicized Whitney Elementary.

The Assistance League also runs Perfect Fit - Assisteens Program which Provides fashionable plus size clothing for teen girls who come to Operation School Bell. Their Pocket Books group provides early readers with hand illustrated bilingual books, that school children can take home for their own library. Assistance League-The Kids on the Block program provides educational puppet shows to third grade school children on important issues like bullying and divorce.

Celebrities have been some of the biggest supporters of and providers for educational needs.



Dolly Parton started Imagination Library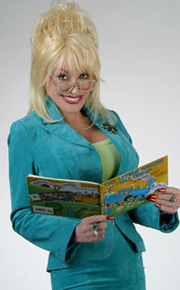 Richard Dreyfuss in Mr. Holland's Opus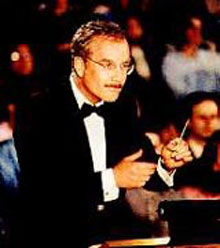 After filming Mr. Holland's Opus Richard Dreyfuss and the film's composer Michael Kamen set up the Mr. Holland's Opus Foundation. Kamen was diagnosed with multiple sclerosis in 1997. He died in London from a heart attack in 2003, at the age of 55.

Mr. Holland's Opus, a film about a frustrated composer who finds fulfillment as a high school music teacher, led Dreyfuss and Kamen to create The Mr. Holland's Opus Foundation in 1996. The foundation supports music education through the donation of new and refurbished musical instruments to underserved school and community music programs and individual students in the United States. In 2005 the foundation created an emergency fund for schools and students affected by Hurricane Katrina.

The organization states: "We believe that kids thrive when given the chance to learn and play music. Putting an instrument into their hands improves the quality of their education and their lives. The window is brief and all kids deserve a chance to play music in school!"

This year almost 100 schools were awarded instruments including the Procer R. Hug High School in Reno, NV.

The March, 2011 instrument award to the Reno school's music program was valued at more than $20,000.

"It means so much to our arts program," Principal Andrew Kelly told KOLO-TV. "It's just an incredibly generous gift and it will mean that our kids will be able to play on better quality instruments." As a former music teacher, Kelly says he understands the importance of music on a student's development, but finding the funding for instruments can be difficult. "We work as a school to try and leverage resources," he says. "We have instruments that are owned by Washoe County School District that we try and allow kids to use, but lots of times we have kids who would like to play or be involved, and we just don't have the instruments for them."

Dolly Parton's Imagination Library is a non-profit organization currently in the USA, Canada and the United Kingdom that promotes early childhood literacy by providing one, age appropriate, free book per month to each child enrolled in the program.



Broadway To Vegas is supported through advertising and donations. Priority consideration is given to interview suggestions, news, press releases, etc from paid supporters. However, no paid supporters control, alter, edit, or in any way manipulate the content of this site. Your donation is appreciated. We accept PAYPAL. Thank you for your interest.



ART AND ABOUT


READ MY PINS

This pin got Albright stopped by airport security. Photograph by John Bigelow Taylor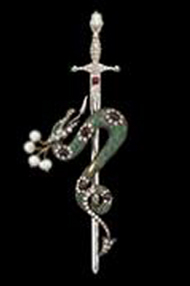 the Madeleine Albright collection. The former Secretary of State is an avid collector of jewelry - pins in particular.

This exhibit features more than 200 pins, many of which Secretary of State Madeleine Albright wore to communicate messages during her diplomatic tenure. The exhibit examines the collection for its historical significance and the expressive power of jewelry and its ability to communicate through a style and language of its own.

When she was named the first female Secretary of State in 1997, Albright became, at that time, the highest ranking woman in the history of the U.S. government. While serving under President Bill Clinton, first as U.S. ambassador to the United Nations and then as Secretary of State, she became known for wearing pins that conveyed her views about the situation at hand.

"I found that jewelry had become part of my personal diplomatic arsenal," Secretary Albright said. "While President George H.W. Bush had been known for saying 'Read my lips,' I began urging colleagues and reporters to 'Read my pins.'"

A highlight of the exhibition includes a brooch that began Albright's use of pins as a diplomatic tool.

Albright has said that it is because of Saddam Hussein that she started the collection.

In 1994, while a U.S. ambassador to the U.N., Albright criticized Hussein's invasion of Kuwait. The Iraqi press, then controlled by the government, published a piece that called Albright an "unparalleled serpent."

Albright countered by wearing a golden snake brooch pinned to her suit for her next meeting on Iraq.

The exhibition features the famous snake brooch among many other pins with similar stories—some associated with important world events, others gifts from international leaders or valued friends.

Even Albright wasn't above being stopped at airport security because of a pin (pictured at top) which she had just purchased in Turkey.

"The slithery dragon wrapped around a small silver sword. Nothing to worry about, except that the sword is removable," Albright wrote in her book. "The security agent glanced at me, then peered at the pin while shaking his head, 'No weapons,' he said."



The clock faces on her Gijs Bakker-designed Statue of Liberty pin. Photograph by John Bigelow Taylor.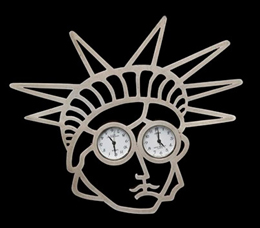 Albright donned a jewel-encrusted bug created by Iradj Moini for a meeting with Russian officials after she received reports that one of their agents had bugged a State Department conference room.

A giant bee was her pin of choice during tense meetings with Yasser Arafat. The Palestinian Authority leader later sent her a butterfly pin.

Albright wore her red fox pin by French designer Lea Stein after a South Korean official made what he reportedly thought were off-the-record remarks about her figure.

In addition, the exhibition showcases a group of Americana pins that are at the center of Secretary Albright's collection.

One pin made for her is a silver brooch that shows the head of Lady Liberty with two watch faces for eyes, one of which is upside down—allowing both her and her visitor to see when it is time for an appointment to end. As demonstrated in this clever work, the exhibit also explores Secretary Albright's ongoing impact on the field of jewelry design and collecting.

Read My Pins: The Madeleine Albright Collection was organized by the Museum of Arts and Design in New York. The exhibition accompanies Secretary Albright's latest book, a glorious, glossy, coffee table book Read My Pins: Stories from a Diplomat's Jewel Box which contains suburb photographs of the pins along with their stories. (2009; HarperCollins). The exhibition and the book explore the stories behind the pins and their historical and artistic significance.

Through Sunday, November 27, 2011 at the Carter Presidential Library & Museum in Atlanta, GA.

IN HER VOICE: JACQUELINE KENNEDY THE WHITE HOUSE YEARS on September 14, 2011, the Museum at the John F. Kennedy Presidential Library unveiled this special new exhibit. The exhibit presents excerpts from Mrs. Kennedy's 1964 oral history in combination with iconic treasures from the Kennedy Library's collection that chronicle the moments and events described by the former First Lady.

In the spring of 1964, Jacqueline Kennedy recorded a series of interviews with Pulitzer Prize-winning historian and former Special Assistant to the President, Arthur Schlesinger, Jr. The tapes, held on deposit at the Kennedy Library, remained strictly sealed since then in accordance with Mrs. Kennedy's wishes. The oral history is being shared this year as part of the celebration of the 50th anniversary of the Kennedy Presidency.

In the conversations highlighted in the exhibit, Mrs. Kennedy chronicles the details of domestic life with her husband and children inside the White House, and shares her insights into the milestone events of the Cold War that she witnessed at close range.

Featuring the words of Mrs. Kennedy alongside original documents, photographs, and artifacts from the collections of the Kennedy Library, this unique presentation sheds new light both on the great events and personalities of the 20th century, as well as on the extraordinary insights of the woman describing them.

In Her Voice: Jacqueline Kennedy, The White House Years will remain open through 2012.

The opening of this exhibit coincides with the publication of these never-before-heard interviews with Mrs. Kennedy as a book and audio set titled Jacqueline Kennedy: Historic Conversations on Life with John F. Kennedy. The book features a forward by Caroline Kennedy and an introduction and annotations by renowned presidential historian Michael Beschloss.

The public is invited to a book signing with Caroline Kennedy at the John F. Kennedy Presidential Library on September 19, 2011. Reservations for the book signing are not necessary. Caroline Kennedy is undertaking a book tour with a stop Wednesday, September 21, at Anderson's Bookshop at North Central College Pfeiffer Hall in Naperville, IL. Future stops will take place in Washington, DC, San Francisco and New York City.

UPDATE a release from the John F. Kennedy Presidential Library and Foundation states: The staffs of the John F. Kennedy Presidential Library and Foundation offer their deepest sympathy to the family of Kara Kennedy who died unexpectedly on Friday at the age of 51.

Out of respect for the Kennedy family, the Kennedy Library Forum "Jacqueline Kennedy - Historic Conversations on Life with John F. Kennedy" has been postponed to October 3, 2011 from 5:30 - 7:00pm. The book signing with Caroline Kennedy will follow the forum.

All reservations that were made for the forum on September 19, 2011 will be honored on October 3, 2011. Reservations are not necessary for the book signing.

Please join us in sending our heartfelt condolences to the entire Kennedy family.

Thank you for your understanding.


THE MUSIC GOES ROUND AND ROUND


KRISTIN CHENOWETH SOME LESSONS LEARNED released by Sony Masterworks.

Well, dag nabit, that Chenoweth girl has gone country.

Just 'cause she was born and raised in Broken Arrow, Oklahoma that whippersnapper, who went to New York to make something of herself, thinks she can sing dem country songs like Dolly Parton.

She can.

In fact, when the first track plays, if you didn't know it was Kristin Chenoweth, you'd think you were listening to Dolly.

The Emmy and Tony Award winner whom we've all loved in Wicked and Promises, Promises - and anything else she's ever done - goes back to her country music roots with her new album Some Lessons Learned. Last night the trained coloratura soprano, able to sing the note F above High C, fulfilled a childhood dream by performing at the Grand Ole Opry. She been quoted as calling that booking "huge - even bigger than singing at Carnegie Hall."

When she was 19 she worked at Opryland as a singer and dancer. Last night the petite dynamo returned as the Grand Ole Opry's headliner.

If you only know the perky blonde as the Broadway showtune kid, this new CD will astound. That little missy knows how to down home deliver.

It features songs by elite pop and country songwriters including Diane Warren, Desmond Child, Dolly Parton, Tom Douglas, Hillary Scott, Jodi Marr, Victoria Shaw, Eric Bazilian, Gary Burr and Shane McAnnally.

Chenoweth herself contributed two songs, What Would Dolly Do?, a clever song written in honor of her hero Dolly Parton; and Mine to Love, about a woman who struggles with an emotionally unavailable man.

You can boot scoot, line dance your way to physical fitness with I Want Somebody (Bitch About), while Father and Daughters is mellow. Chenoweth is proud that she was raised in the Bible belt. God and Me reflects the sincerity of her faith. Soulful is just that. What More Do you Want is country twang.

Country songs are noted for telling a story - fodder for comedian's jokes about trucks, drinking, families breaking up and dogs dying.

Some Lessons Learned has the steel guitar songs which tell stories, but they aren't hillbilly. The album selections highlight Chenoweth's mid vocal range and the arrangements are country standard. Fans of that cool drink of water Chenoweth will be astounded by this album. Chenoweth has enough snap in her vocal garters to make y'all come back for another listen.

Audio Mixers: Justin Cortelyou; Bob Ezrin. Recording information: Anarchy Studios, Los Angeles, CA; Anarchy Studios, Nashville, TN; Germano Studios, New York, NY; Glenwood Place Studios, Burbank, CA; Jane's Place, Nashville, TN; Ocean Way, Nashville, TN; The Village Studios, Los Angeles, CA. Produced in Nashville by Bob Ezrin. Executive producer Diane Warren.

Tracks:

I Was Here
I Want Somebody (Bitch About)
Fathers and Daughters
What Would Dolly Do?
God and Me
Change
What More Do You Want?
Wreck You
I Didn't
Borrowed Angels
What If We Never?
Mine to Love
Lessons Learned


SWEET CHARITY


TONY BENNETT EXPLORE THE ARTS BIRTHDAY GALA the ageless crooner, who officially turned 85 on August 3, makes his debut performance on the stage of the Metropolitan Opera in NYC on Sunday, September 18, 2011.

The evening at the Metropolitan Opera will also mark the official celebration of Tony's 85th birthday where he will be honored at a post-concert gala hosted by Alec Baldwin. The gala is a benefit for Exploring the Arts, the non-profit organization started by Bennett and his wife Susan, to support arts education in public schools.

Over $2.5M has been raised for the evening thus far.

Among the celebrated guests expected are Aretha Franklin and Liza Minnelli. Sir Elton John and Alejandro Sanz take part in special duet appearances.

Bennett will perform the American Songbook, many of which Bennett has introduced and recorded to critical and popular acclaim that led to a string of greatest hits over his 60-year career. The quartet performing with Bennett is composed of pianist Lee Musiker, guitarist Gray Sargent, drummer Harold Jones, and bassist Marshall Wood.

ANDRE AGASSI'S 16th ANNUAL GRAND SLAM FOR CHILDREN will again be held at Wynn Las Vegas on October 29, 2011. Michael Buble, Martina McBride, Jimmy Kimmel, Smokey Robinson and Train will headline the benefit concert.

Created and funded by tennis great, Las Vegas resident Andre Agassi. Serving the disadvantaged in Las Vegas, since the inception of the Andre Agassi Foundation for Education in 1994, $150 million dollars has been raised. Last year's benefit raised $8.5 million.

Serving grades K-12, in 2009, Agassi graduated their first senior class, with 100 percent of graduates accepted into college, as were the graduates in the classes of 2010 and 2011. The U.S. Department of Education has called Agassi Prep a National Model among charter schools.


MOVIE NIGHT


IRISH FILM CLASSIC Guests of the Nation (1935) Introduced by Gabriel Byrne. Directed by Denis Johnston. With a live orchestral score composed by Niall Byrne, performed by Ireland's RTÉ Concert Orchestra under its Principal Conductor David Brophy will take place Thursday, September 22, Alice Tully Hall, Lincoln Center, NYC.

The New York Public Library for the Performing Arts Dorothy and Lewis B. Culliman Center and the Film Society of Lincoln Center, in association with the Irish Film Institute, The National Concert Hall and the RTÉ Concert Orchestra present the US premiere of this Irish silent classic film.

The historically significant silent Irish feature film Guests of the Nation (1935), directed by Denis Johnston, preserved and restored by the IFI Irish Film Archive, will be presented with the U.S. premiere of Niall Byrne's new orchestral score, performed by the RTÉ Concert Orchestra, as premiered at The National Concert Hall, Dublin, on September 11th.

Based on Frank O'Connor's short story of friendship between British soldiers and their IRA captors, it is a moving anti-war film which features early screen performances from Cyril Cusack and Barry Fitzgerald. Widely regarded as one of the most significant and cinematically successful features of the Irish silent film canon, Guests of the Nation is brought to life with film composer Niall Byrne's powerful new score.

This program also features the international premiere of Andrew Legge's new silent short film The Lactating Automaton, starring The Wire's Dominic West, presented with a live orchestral score by Liam Bates and a live Foley performance.

Presented as part of Imagine Ireland: Culture Ireland's Year of Irish Arts in America 2011.

CAROL CHANNING: LARGER THAN LIFE will be screened Saturday, September 24, at the Wheeler Opera House in Aspen, CO.

"Iconic Broadway legend, Carol Channing receives royal treatment in Tony Award-winning Dori Berinstein's lively, engaging portrait of her life and career. Filled with a who's who of musical theater and the 90-year old Ms. Channing herself, as funny and captivating as ever."


SPREADING THE WORD


LA THEATRE WORKS

Calista Flockhart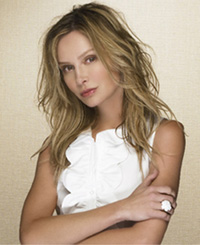 moves to its new venue at the James Bridges Theater on the campus of UCLA, opening the 2011-12 season with Henrik Ibsen's A Doll House with performances September 22-26.

Written by Henrik Ibsen. Translated by Rolf Fjelde. Directed by Rosalind Ayres.

Tim DeKay, Calista Flockhart, Gregory Itzin and JoBeth Williams head the cast when L.A. Theatre Works records Henrik Ibsen's classic drama.
Nora Helmer has a delicious secret that saved her husband's life, but if he finds out what she's done, it might destroy their marriage.

Blackmail and innocence, love and hypocrisy collide in A Doll House, one of the most celebrated plays in theater history.

All performances will be recorded to air on L.A. Theatre Works' syndicated radio theater series, which broadcasts weekly on public radio stations nationwide and can be streamed on demand at LATW's website.

9/11 MUSICAL ANTHEM a newly commissioned musical piece based on a message Queen Elizabeth sent to the memorial service held in New York for British victims nine days after the attacks was played for the first time at a 9/11 tribute held in London. Arranged to music by American composer Nico Muhly, it uses the Queen's words: "Grief is the price we pay for love."

Prince Charles spoke at the memorial service in which he quoted Abraham Lincoln. Notables attending the service included actress Judi Dench.

Muhley was born in Vermont in 1981 and raised in Providence, Rhode Island. From November 9-19 Dark Sisters a new American opera with music by Muhly and a libretto by Stephen Karam will have its World Premiere at the Gerald W. Lynch Theater at John Jay College in NYC. Co-commissioned and co-produced by Gotham Chamber Opera, Music-Theatre Group, and Opera Company of Philadelphia, Dark Sisters is billed as "a suspenseful, emotional, and lyrical depiction of one woman's struggle with life and faith and the universal dilemma of whether to stay or leave.

The opera opens a window into the lives of Eliza and her sister wives, members of the Fundamentalist Church of Latter Day Saints (FLDS), a polygamous sect based in the southwestern United States. Creators Muhly and Karam have drawn inspiration from the crush of media attention surrounding two of the many raids on FLDS compounds (the 2008 raid at the Yearning for Zion Ranch in Eldorado, TX and the 1953 raid at Short Creek, AZ), as well as from the stories of the more than 80 wives of Joseph Smith and Brigham Young."

THE WORLD TRADE CENTER, SECURITY, AND THE PUBLIC REALM With the opening of the National September 11 Memorial, Ground Zero is accessible to New Yorkers for the first time since the attacks of September 11. And as each of the major buildings approaches completion—the Visitor's Center in 2012, One World Trade in 2013—it will once again become an active part of the city's fabric, albeit one profoundly shaped by concerns for security.

A free discussion with Chis Ward, Executive Director of the Port Authority of New York and New Jersey; architect and urban designer Michael Sorkin; and Julie Menin, Chair of Community Board 1, exploring the interplay between security concerns, design concerns, and the role of the public in deciding among priorities in the urban fabric, as seen through the lens of the rebuilt World Trade Center and its immediate neighborhood will take place September 19, 2011 at the Museum of the City of New York.

Co-sponsored by the Institute for Urban Design and the National September 11 Memorial & Museum.

SEBASTIAN JUNGER is the internationally acclaimed, bestselling author of The Perfect Storm, A Death in Belmont and Fire. As a contributing editor to Vanity Fair and as a contributor to ABC News, he has covered major news stories. He has been awarded the National Magazine Award and an SAIS Novartis Prize for Journalism. Junger and photojournalist Tim Hetherington embedded with the 173rd Airborne Brigade Combat Team in Afghanistan. Reporting from the soldiers' perspective, Junger was at an outpost that saw more combat than almost anywhere else in the country. The result is his recent book, WAR, and the Academy Award-nominated documentary,Restrepo, that won the 2010 Grand Jury Prize at the Sundance Film Festival and aired on the National Geographic Channel.

He'll appear Thursday, September 19 in both an afternoon and evening lecture series. presented on the stage of the Edgerton Center for the Performing Arts on the campus of Sacred Heart University, in Fairfield, Connecticut.


OTHER PEOPLE'S MONEY


DONALD AND ANN BROWN of Palm Beach Gardens, Florida; Martha's Vineyard, Massachusetts; and Washington, DC have made a generous gift of two million dollars to South Florida's acclaimed professional resident theatre company Palm Beach Dramaworks. In honor of their contribution, the single largest contribution in the history of the organization, the theatre company's new facility located on Clematis Street in downtown West Palm Beach will be named the Donald and Ann Brown Theatre and will have its officially opening night gala on November 11th, 2011 (11.11.11).






QUEEN ELIZABETH AWARDS HENRY 'THE FONZ' WINKLER

The British Ambassador to the US, Nigel Sheinwald and Harry Winkler, who is wearing his OBE medal. Photo: British Embassy.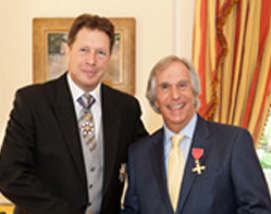 the royal title of Honorary Officer of the Most Excellent Order of the British Empire or OBE for short. The British Ambassador to the U.S. presented the award to Winkler.

The official release reads:

Henry Winkler, the well-known American actor and director, has been made an Honorary Officer of the Most Excellent Order of the British Empire (OBE) by Her Majesty Queen Elizabeth II in recognition of his services to children with dyslexia and special educational needs.

Mr Winkler, who was diagnosed with dyslexia as an adult, has spent much of the last two years touring the UK, educating school children, educators, and policy makers alike about dyslexia and other learning difficulties. He has also authored 17 books for children about Hank Zipzer, a young man with dyslexia. Zipzer's adventures are based on Mr Winkler's own childhood struggles with school and the resulting bullying.

"Receiving this honour is a very humbling experience," said Mr Winkler. "My goal when I started working with children was never to bring accolades on myself, but instead to change how people think about those around them for whom learning is a struggle. I am flattered to have had my work recognised in this manner, and hope to continue showing kids that their learning difficulty isn't a disability."

Mr Winkler received an OBE medal during an investiture ceremony at the British Embassy in Washington. British Ambassador Nigel Sheinwald presented the OBE. "I am pleased to award this honour on behalf of Her Majesty The Queen," said Ambassador Sheinwald. "Improving the lives of children is one of the highest acts of good one can pursue, and Mr Winkler has certainly done that. Through him, thousands of young people have seen a role model and an inspiration for overcoming their learning challenges. Henry Winkler is living proof that difficulties can be overcome and that for those suffering disability and self-doubt, happy days can nevertheless lie ahead."

The UK honours system recognises exceptional achievement and service to the nation, and includes non-British nationals who receive "Honorary" awards for their important contribution to British interests. All British honours are awarded on merit, and honorary awards are conferred by HM The Queen on the advice of the Foreign and Commonwealth Secretary. The Most Excellent Order of the British Empire was founded in 1917.

LEMBIT BEECHER who was named by The Opera Company of Philadelphia, in collaboration with Gotham Chamber Opera and Music-Theatre Group in New York, as its first Composer In Residence (CIR).

Lembit Beecher is a 30-year-old, New York-based composer from Santa Cruz, California. As Composer In Residence, Beecher will be an active participant in the workings of the three partner companies, focusing on practical learning and creative growth. He will divide his three-year residency between Philadelphia and New York. Funded over five years by a $1.4 million grant from The Andrew W. Mellon Foundation, the goal of the CIR program is to foster tomorrow's American operatic masterpieces through personalized creative development and intensive, hands-on composition opportunities for today's most promising composers.



FOLLIES book by James Goldman; music and lyrics by Stephen Sondheim. Directed by Eric Schaeffer. Choreography by Warren Carlyle with music direction by James Moore.

Starring: Bernadette Peters (Sally Durant Plummer), Jan Maxwell (Phyllis Rogers Stone), Danny Burstein (Buddy Plummer), Ron Raines (Benjamin Stone), Elaine Paige (Carlotta Campion), Don Correia (Theodore Whitman), Christian Delcroix (Young Buddy), Rosalind Elias (Heidi Schiller), Colleen Fitzpatrick (DeeDee West), Lora Lee Gayer (Young Sally), Michael Hayes (Roscoe), Leah Horowitz (Young Heidi), Jayne Houdyshell (Hattie Walker), Florence Lacey (Sandra Crane), Mary Beth Peil (Solange LaFitte), David Sabin (Dimitri Weismann), Kirsten Scott (Young Phyllis), Frederick Strother (Max Deems), Nick Verina (Young Ben), Susan Watson (Emily Whitman) and Terri White (Stella Deems).

The story concerns a reunion in a crumbling Broadway theatre, scheduled for demolition, of the past performers of the "Weismann's Follies," a musical revue (based on the Ziegfeld Follies), that played in that theatre between the World Wars. It focuses on two couples, Buddy and Sally Durant Plummer and Benjamin and Phyllis Rogers Stone, who are attending the reunion. Sally and Phyllis were showgirls in the Follies. Both couples are deeply unhappy with their marriages. Buddy, a traveling salesman, is having an affair with a girl on the road; Sally is still as much in love with Ben as she was years ago; and Ben is so self-absorbed that Phyllis feels emotionally abandoned. Several of the former showgirls perform their old numbers, sometimes accompanied by the ghosts of their former selves.

The original production opened in l971. When seeing the 2001 Follies revival at the Belasco, the draw was actually seeing legendary performers Blythe Danner, Marge Champion, Betty Garrick, Jane White, Donald Saddler, Polly Bergan who would stop the show with I'm Still Here, Joan Roberts did the same with One More Kiss and younger performers such as Gregory Harrison,Treat Williams and Judith Ivey on stage. There was a cast of 44, more than in the current revival. It was an okay show, but somehow slightly resembled a college production which happened to have had star power in the cast. The production closed early on July 14, 2001 after 117 performances and 32 previews.

This time out they got it right- it doesn't look chinchy Not only is there a stellar cast but it's a Broadway production - or more accurately Kennedy Center/Broadway.

With a cast of 41, there are also 28 musicians in the pit and more than one gallon paint and two rolls of brick patterned contact paper were used on the sets - as was the appearance of the 2001 mounting.

Several show-stopping routines are provided by choreographer Warren Carlyle. The first act is good but the second act is even better. This Follies is the revival to beat when next awards' season come around.

Sets by Derek McLane; costumes by Gregg Barnes; lighting by Natasha Katz; sound by Kai Harada; hair and wig design by David Brian Brown; makeup by Joseph Dulude II; associate director, David Ruttura; orchestrations by Jonathan Tunick; music coordinator, John Miller.

At the Marquis Theater, NYC.

PARADE Book by Alfred Uhry. Music and Lyrics by Jason Robert Brown. Co-conceived by Harold Prince. Musical Direction by Steven Landau. Choreographed by Karma Camp. Directed by Stephen Rayne.

This Tony Award-winning musical drama is based on the true story of Leo Frank's trial and lynching in early 20th-century Atlanta. Ostracized for his faith and Northern heritage, Jewish factory manager Leo Frank is accused of murdering a teenaged factory girl the day of the annual Confederate Memorial Day parade.

Alfred Uhry's award-winning book and Jason Robert Brown's rousing, colorful and haunting score illuminate a circus of conflicting accounts, false testimony and mishandled evidence in a town reeling with social and racial tension. Isolated from the world, Leo develops a new and deeper love for his wife, who tirelessly crusades for his freedom.

A compelling and provocative tale of justice miscarried, revealing a country at odds with its declarations of equality.

Tony-Award nominee Euan Morton stars as Leo Frank.

Appearing with Morton are Jenny Fellner as Lucille Frank, Kevin McAllister as Jim Conley, Lauren Williams as Mary Phagan, and Stephen F. Schmidt as Governor Slayton.

The cast includes Carolyn Agan as Monteen - Sandy Bainum as Mrs. Phagan/Sally Slaton - Christopher Bloch as Old Soldier/Judge Roan/Guard - Erin Driscoll as Essie - Will Gartshore as Office Ivey/Tom Watson - Matthew John Kacergis as Young Soldier/Frankie Epps/Guard - Kellee Knighten Hough as Minnie McKnight/Angela - James Konicek as Hugh Dorsey - Chris Sizemore as Britt Craig/Mr. Peavy - Christopher Talbert as Luther Rosser/Officer Starnes - Bligh Vote as Iola Stover.

The creative team will be comprised of scenic designer Tony Cisek, costume designer Wabe Laboissonnaiere, lighting designer Pat Collins, and sound designers David Budries and Charles Coes. Wig & Make-Up Design by Anne Nesmith. Dialect coach Lynn Watson. Production Stage Manager Brandon Prendergast. Assistant Stage Manager Kate Kilbane.

September 23-October 30, 2011 at Ford's Theater in Washington, DC.

This staging is part of The Lincoln Legacy Project, a five-year effort to create a dialogue in our nation's capital around the issues of tolerance, equality and acceptance.

Ford's Theatre will offer facilitated discussions to interested audience members immediately following each evening performance of Parade (except September 26 and 27). These 20-minute discussions give audiences an opportunity to engage in a dialogue on the themes and issues raised in the performance.

KNICKERBOCKER HOLIDAY the delightful musical by Kirt Weill will be staged by The Collegiate Chorale, directed by Ted Sperling, which will perform for two nights in a concert version on January 25 and 26, 2011 at Alice Tully Hall, in New York City.

The cast will include Ben Davis, Christopher Fitzgerald, Victor Garber, David Garrison, Kelli O'Hara, and Bryce Pinkham. Ted Sperling will direct and James Bagwell will conduct with The Collegiate Chorale and the American Symphony Orchestra.

An excellent original cast recording of this concert version - with the same cast is available on Masterworks Broadway, recorded when the concert version was presented at Lincoln Center. ( See Broadway To Vegas column of July3, 2011 )

If you've saw the concert at Lincoln Center you no doubt will be the first in line to attend this presentation. If you missed the Lincoln Center staging, don't let this pass you by. And, make sure you add the CD to your collection.

Knickerbocker Holiday is one of Weill's deft hybrid theater pieces which lies somewhere between operetta and musical theater, and also contains ample amounts of political satire - as relevant today as it was when written. The famous pop standard September Song first appeared in Knickerbocker Holiday. The cast includes Victor Garber as Stuyvesant, Ben Davis as Brom, Bryce Pinkham as Washington Irving, David Garrison as Tienhoven, Kelli O'Hara as love interest Tina, and Christopher Fitzgerald as faithful sidekick Tenpin.

TEN CENTS A DANCE by Tony Award winner John Doyle who brings his trademark twist to the Rodgers and Hart songbook in this stirring new production with a cast that doubles as the orchestra.

Rodgers and Hart's evocative and sophisticated tunes promises to keep patrons "bewitched, bothered, and bewildered in this inventive song-cycle."

Tony Award winner Donna McKechnie - as Miss Jones Five - and Tony nominee Malcolm Gets star. In addition the production features Elisa Winter as Miss Jones One, Jane Pfitsch as Miss Jones Two, Jessica Tyler Wright as Miss Jones Three and Diana DiMarzio as Miss Jones Four.

The production traces the romantic life of pianist-crooner Johnny (played by Gets) solely through music as he relives his past loves.

"Crooner Johnny wistfully recalls his lifelong love affair of chorus girl Miss Jones, who is embodied by five women, each portraying a different stage of her life. As Johnny and Miss Jones take 'Manhattan' under a 'Blue Moon' while 'Falling in Love with Love,' you can't help but think 'Isn't it Romantic?' — even if sometimes 'The Lady is a Tramp.' These and so many other unforgettable songs — filled with infatuation, longing, and enchantment — will sparkle like a glass of champagne on a sexy summer evening. 'All you need is a ticket, come on big boy, ten cents a dance.'"

The creative team includes Mary-Mitchell Campbell, who music-directs and orchestrates, as well as Scott Pask (scenic design), Ann Hould-Ward (costume design), Jane Cox (lighting design) and Dan Moses Schreier (sound design/composer). Dontee Kiehn is the movement consultant.

Doyle first staged the actor-musician piece at the U.K.'s Watermill Theatre in 2002. Doyle brought the production this summer at the Williamstown Theatre Festival. Williamstown co-presents the production with the McCarter.

Ten Cents a Dance continues through October 9 at the McCarter Theatre in Princeton, NJ.

LIDLESS by Frances Ya-Chu Cowhig, recipient of a Fringe First at the 2010 Edinburgh Fringe Festival and winner of the 2009 Yale Drama Series Award and the Keene Prize for Literature from the University of Texas, Austin.

Tea Alagic directs a cast that includes Danielle Skraastad, Laith Nakli, Thom Rivera, Maha Chehlaoui, and Emma Galvin.

Fifteen years after serving at Guantanamo Bay, Alice has medicated away her memories of Gitmo and nested with her husband and daughter in the Midwest. But when Bashir, a former Gitmo detainee, finds his way to Alice's flower shop, his demands force Alice to reconcile their shared past, splintering the civilian life she's so carefully arranged.

Lidless explores the nature of trauma, the conflicting eroticism and brutality of violence, and the blurry line between revenge and redemption. The human body is the central staging ground of this drama: from the abuses of prison and the power of sex to the ravages of disease and the physical toll of shame and guilt, Lidless maps a nation's political actions onto the private bodies of its citizens and enemies.

The creative team includes scenic design by Scott Bradley, costume design by Jessica Pabst, lighting design by Tyler Micoleau, sound design by Daniel Kluger and fight direction by Thomas Schall.

This Off-Broadway limited engagement at WalkerSpace begins Tuesday, September 20th and continues through Saturday, October 15th.


WHO'S WHERE


CHITA RIVERA the two-time Tony award winner performs songs from her legendary Broadway career. Selections include her most celebrated musicals, including numbers from West Side Story, Sweet Charity, Chicago, Kiss of the Spider Woman, Bye, Bye, Birdie and The Rink, featuring the music of Leonard Bernstein, John Kander & Fred Ebb, Charles Strouse, Stephen Sondheim and Cy Coleman. September 23-25 at the Bristol Riverside Theatre in Bristol, PA.

WYONNA performs Thursday, September 22, at the Orpheum Theatre in Sioux City, IA. On Friday the show is at the Center for the Performing Arts in Carmel, IN. She's be on stage Saturday at Eastern Kentucky University in Richmond.

MICHAEL FEINSTEIN AND LINDA EDER the two powerhouse performers will share the spotlight in their show Two For The Road. The evening will feature classics from Harold Arlen, George Gershwin and Sammy Cahn; hits from newer writers like Peter Allen, Joni Mitchell and Michel Legrand; and selections from Michael's upcoming CD The Sinatra Legacy. Music Director Billy Jay Stein will conduct a seven piece band. Through October 1 at Feinstein's at Lowes Regency, NYC.

JIM CARUSO'S CAST PARTY returns to the Alexis Park Casino in Las Vegas on September 21-22.

KATHY GRIFFIN brings her funny opinions to The Colosseum at Caesars Windsor in Windsor, Ontario on Saturday, September 24. Next Sunday her pithy remarks will emanate from the stage at the Sony Centre for the Performing Arts in Toronto.

LARRY GATLIN AND THE GATLIN BROTHERS will be singing their hits in two performances at the Bristol Riverside Theatre on Sunday, September 18. Bristol, PA.

JERRY SEINFELD telling funny stories Thursday, September 22 at the Arena in Sudbury, Ontario. On Friday he's on stage at the Essar Centre in Sault Ste. Marie.

K.D. LANG sings Thursday, September 22, at the Mayo Performing Arts Center in Morristown, NJ. On Saturday she's in the spotlight at the Collins Center for the Arts in Orono, ME.

JAZZ AT LINCOLN CENTER ORCHESTRA WITH WYNTON MARSALIS Tuesday, September 20 at the E.J. Thomas Hall in Akron, OH. On Thursday the show is at Michigan State University at East Lansing. On Friday the gang is on stage at the Opera House in Traverse City, MI. Saturday they can be enjoyed at the Center for the Performing Arts in Carmel, IN. Next Sunday, September 25, they star at Whitney Hall in Louisville, KY.




FINAL OVATION


RICHARD HAMILTON the British artist considered a pioneer in the field of Pop art, has died at the age of 89 following a short illness. The London-born artist's best known work was a 1956 collage featuring a body builder and a tin of ham, which earned him the title Father of Pop.

The Gagosian Gallery, which announced his death, said the art world had "lost one of its leading lights".

He was working on a major retrospective just days before he died. The exhibition is due to be seen in London, Los Angeles, Philadelphia and Madrid next year.

Aside from his famous collages, Hamilton also designed the cover of the Beatles' White Album and poster in 1968. Hamilton's design is the only Beatles' album cover that does not show the four band members. The artist once explained how Sir Paul McCartney called him to ask him to design the new cover. Hamilton said: "Peter Blake's album sleeve (for Sgt Pepper) was crowded with people and very colorful. I thought it would be appropriate to present an album that was just white."

During his career, Hamilton exhibited at some of the world's most famous art galleries, including the Tate in London and the Guggenheim Museum in New York.

MARY FICKETT an original cast member on the soap opera All My Children, died at her Virginia home after a period of ill health. She was 83.

The actress played nurse Ruth Martin in the show's first episode in January 1970 and last appeared in 2000. She made history in 1973 when she became the first performer to receive an Emmy for work on daytime television.

The soap will dedicate an episode to the actress on September 21, two days before the canceled series ends.

Born in New York state in 1928, Fickett made her stage debut in 1946. She won a Tony nomination for her portrayal of Eleanor Roosevelt on Broadway in 1958.

Her marriages to actor James Congdon and businessman Jay Leonard Scheer ended in divorce. Her third husband, soap-opera director Allen Fristoe, died in 2008. The actress is survived by a daughter and a son.

WILLIE "BIG EYES" SMITH was a Grammy-Award winning electric blues vocalist, harmonics player, and multi-award winning drummer. He was best known for several stints with the Muddy Waters band beginning in the early 1960s. He died September 16, 2011 at age 75.

The Recording Academy issued the following statement:

Joined At The Hip at this year's 53rd Annual Grammy Awards. Our sincerest condolences extend to his family, friends, fans, and all who will continue to appreciate his rhythm and riffs for generations to come.

Neil Portnow
President/CEO
The Recording Academy

OTAKAR VAVRA the Czech director and teacher whose students included One Flew Over the Cuckoo's Nest director Milos Forman, died September 15, 2011 in Prague at age 100.

Vavra directed more than 50 films from the 1930s onwards, including 12 during the Nazi occupation of his country. In the 1950s he helped to set up Prague's Famu film school. In addition to Forman, Vavra also taught Jiri Menzel who directed films including Closely Observed Trains, winner of the best foreign language film Oscar in 1968.

FAMU dean Pavel Jech hailed Vavra as "one of the most significant people in the history of Czech cinema and the teacher of the most important Czech film generation".








Next Column: September 25, 2012
Copyright: September 18, 2011. All Rights Reserved. Reviews, Interviews, Commentary, Photographs or Graphics from any Broadway To Vegas (TM) columns may not be published, broadcast, rewritten, utilized as leads, or used in any manner without permission, compensation and/or credit.
Link to Main Page
---
Laura Deni



For the snail mail address, please E-mail your request.
CLICK HERE FOR COMMENT SECTION