! >
Broadway To Vegas
  
 SHOW REVIEWS CELEBRITY INTERVIEWS GOSSIP NEWS

| | |
| --- | --- |
| | |
THE LADIES WHO SING SONDHEIM - - NATIONAL SYMPHONY ORCHESTRA GALA - - BONNIE TYLER SINGING CAUSES AIR FRANCE PASSENGERS TO SUE - - BUSH WARS MUSICAL REVENGE - - Q&A WITH DENNIS HOPPER - - RODIN AT THE ROYAL ACADEMY - - BEJEWELLED BY TIFFANY EXTENDED - - STUDENT DAY AT PASADENA PLAYHOUSE - - DONATE . . . Scroll Down


Copyright: September 17, 2006
By: Laura Deni

CLICK HERE FOR COMMENT SECTION
AIR FRANCE PASSENGERS SUE AFTER A WELL PRESERVED BONNIE TYLER SINGS
Bonnie Tyler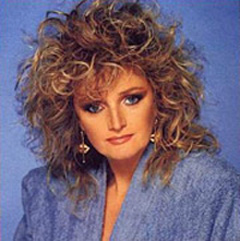 When Bonnie Tyler warbled Total Eclipse of the Heart, passengers on an Air France flight suffered a total eclipse of their senses.

Taking a nap in the First Class section, the Welch singer was flying from Paris to Mauritius. A stewardess woke her up and explained that the co-pilot was retiring and asked if she would sing Total Eclipse of the Heart for him.

The singer was gracious enough to oblige and belted out her 1983 hit.

Now a group of Belgian passengers who were on the plane have filed suit against Air France saying that, "they were traumatized by the experience and had feared for their safety during the celebration."

An Air France official said: "The claim against Air France, which it completely rejects, is that the celebrations got more and more unruly and came to a climax when Bonnie sang."

"Air France is saying that any suggestion there was anything more than a few slaps on the back for the co-pilot is nonsense, and it completely rejects the claims that the passengers were at any sort of risk," and added that "we're all big fans of Bonnie Tyler. She sings good songs and is very well preserved".


TAKIN' IT TO THE STREETS
Catherine Porter in a scene from Home Movies, part of OFF Stage: the West Village Fragments. Photo by Alice Garrard.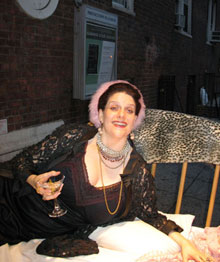 A production in which you don't have to worry about getting leg cramps from sitting down too long.

OFF Stage: the West Village Fragments is exactly that - off the stage and fragmented. Get on your walking shoes and prepare to enjoy an evening out.

A year-long artistic exploration by Peculiar Works Project into the origins of NYC's alternative theater will culminate in a September 21-October 7 "performance heritage trail" of the most significant early venues - like Provincetown Playhouse, Caffe Cino, Cafe LaMama and Judson Poets Theater - and their legendary plays.

In other words, a historical walking tour with entertainment.

In 2005, Peculiar Works embarked on a yearlong journey into the plays and venues that most defined the origin of Off-Off Broadway. It set its sights back 50 years ago when a spark of revolution turned Greenwich Village into a hot spot of artistic experimentation. This multi-venue walk about through historic Greenwich Village will take three tours per night on a 2-hour "performance heritage trail." Along the way, audiences will experience an original multidisciplinary performance punctuated by short scenes from over a dozen landmark plays at the actual sites where they were originally performed.

Each tour leaves with one tour guide. There are also line producers who are watching to make sure everything's proceeding without trouble. Five tour guides, five line producers plus an over-all coordinator - and a lot of crossed fingers.

Each and every tour will end at Judson Memorial Church where there will be a reception.

"With site-based work, the theatrical company has found that not only does an architecturally unique site have an impact on the work itself, but that the work actually impacts the site. Audiences see the work in a totally fresh, fun, thought-provoking way, plus they're never able to look at the space in quite the same way again," said Peculiar Works Project Artistic Director Catherine Porter.



Shawn Mahoney, Max Woertendyke and Andrew Hurley in a scene from The Brig. Microphones aren't needed for them to be heard. Photo by Alice Garrard.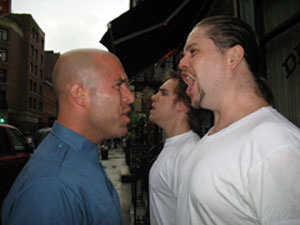 Curious as to how this goes from planning to production Broadway To Vegas asked some questions.

What about permits?

"We were actually told by a higher up officer that we didn't need any," responded Porter.

"But we have or are securing all the necessary street permits through Community Affairs Officer Duffy (6th Precinct) and sound permits where necessary," she continued. "We won't need the sound permits for all areas - but like this one play The Brig has an Officer that "barks" commands - and we feel we're definitely going to need one there. Regarding sound, it will mostly not be miked due to the size of the small tour groups."

"Recently, a photo shoot took place and a bed was placed on the sidewalk. Two men got into the bed for the photo op. Being New York, people walked by without so much as giving the bed a second glance."

While no special permits may have been needed, getting New Yorkers to agree to permit their apartments entrances to be converted to a stage demanded a certain bit of finesse.

Producer Barry Rowell went knocking on doors.



Jerry Marsini and Derek Jamison in a scene from The Bed. A bed on the sidewalk didn't rate a second glance from jaded New Yorkers Photo by Alice Garrard.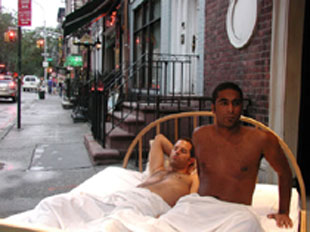 "I knocked on doors. I hope I didn't annoy the occupants. I ask about using their front stoops for the piece, which is William M. Hoffman's Goodnight, I Love You. If the people seemed exceptionally friendly when I called on them, I broached the subject of also using their front windows for the piece, which are at street level. It all depended on how friendly they seemed and how brave I was feeling."

How the plays were selected also required more than a little thought.

Playwrights and plays will include: Kenneth Brown (The Brig); Diane di Prima (Monuments); Rosalyn Drexler, with music by Al Carmines (Home Movies); Maria Irene Fornes (The Successful Life of 3); Paul Foster (The Recluse); Robert Heide (The Bed; West of the Moon); William M. Hoffman (Goodnight, I Love You); Claris Nelson (The Rue Garden); Robert Patrick (The Haunted Host); Richard Schechner and The Performance Group (Dionysus 69); Sam Shepard (Red Cross); Gertrude Stein, with music by Al Carmines (In Circles); Doric Wilson (And He Made A Her); and Lanford Wilson (The Madness of Lady Bright).

"Because of what he considered to be a bad production (at the Cherry Lane on a Monday night series), Doric Wilson didn't like his play, And He Made a Her, and never allowed it to be done all these years - 45 or so," explained Porter.

"When Peculiar Works approached him about our project last fall, because what we were doing was so unusual, and because he was starting to realize the historical significance of his play - one of the first original works presented at the Caffe Cino, in 1961 - he decided that he'd let us do a staged reading of it. The scene from And He Made a Her will be performed outside the Cherry Lane."



Legendary Caffe Cino on Cornelia Street - circa 1965. Doric Wilson was one of the first playwrights at NYC's legendary Caffe Cino, his comedy And He Made A Her opening there in 1961, with Jane Lowry and Paxton Whitehead in the leads.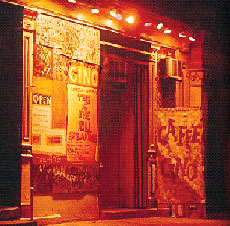 Stops will include the site or location of the following: Caffe Cino, Provincetown Playhouse, Washington Square Methodist Church, Judson Memorial Church, Circle-in-the-Square (Downtown), Cherry Lane Theatre, Sheridan Square Playhouse, and Jefferson Market Garden (Women's House of Detention).

The actors include: Benjamin Beckley, Richard Binder, Stephen Blackwell, Frank Blocker, Janet Bryant, Sara Buffamanti, Nikki Calonge, Tonya Canada, Lindsey Carroll, Oscar Castillo, Jeff Clarke, Siobhan Dougherty, Patricia Drozda, Evan Enderle, Rob Gaines, Gillien Goll, John Grace, Erik Gratton, Liz Gutman, Steve Hauck, Andrew Hurley, Christopher Hurt, Derek Jamison, Tom Johnson, Ben Kopit, Alex Lane, Donna Lazar, Samantha Levitt, Jesse Liebman, Ryan Lillis, Rebecca Lingafelter, Shawn Mahoney, Jerry Marsini, Jason Martin, Belinda Mello, Gretchen Michelfeld, Chris Mirto, Joel Newman, Nick Palladino, Stacy Parker, Natalie Pero, Catherine Porter, Lars Preece, Dan Rabinowitz, Eleanore Scully, Rebecca Sevron, Margi Sharp, Maggie Steele, Sarah Stephens, Patrick Taylor, Stacy Lee Tilton, Michael Tomlinson, Connie Van Decker, Chris Weikel, Bradley Wells, and Max Woertendyke. The production coordinator is Susan D. Lange.



Appearances are deceiving. To look at this group you'd think they were seniors waiting on church steps for a Bingo game - looking forward to free cake and coffee. Actually, they are some of the most creative minds to plot a play off-off Broadway. On the steps of Judson Memorial Church are; (Left to right, front row): Michael McGrinder, Doric Wilson, Michael Locasio, Robert Dahdah, Paul Foster and Tom Walker. (Left to right, back row): Isla Gilbert, Susan Yankowitz, William M. Hoffman, Larry Loonin and Rosalyn Drexler. Many are serving as consultants on the production.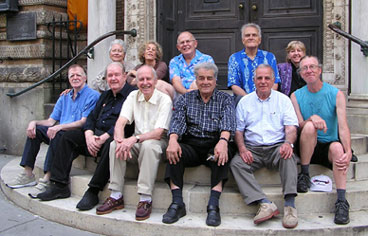 The directors are: Tim Cusack, Mark Finley, Julie Hamberg, Jillian Harrison, Jeff Janisheski, Anna McHugh, Casey McLain, Chris Mirto, Kay Mitchell, Elaine Molinaro, Renee Philippi, Gabriel Shanks, David Vining, and Miriam Weiner.

Born of the Pass-the-Hat circuit, Coffeehouse Theater, and Anti-War Protest actions, the Off-Off Broadway movement found its heart and soul in Greenwich Village. Over the past few years, some important downtown theater venues, such as Circle in the Square, Sullivan Street Playhouse, Variety Arts, Perry Street Theater, Gene Frankel Theater and the Provincetown Playhouse, have been demolished or are targeted for destruction.

This walking production takes a trip into the birth of NYC's alternative theater movement: Off-Off Broadway. And in that voyage will draw attention to the hidden secrets behind the incredible spaces that New Yorkers walk by everyday - important sites that have supported so many significant plays and colorful characters.

September 21 through October 7.


ART AND ABOUT


RODIN AT THE ROYAL ACADEMY

The Gates of Hell. Bronze c.1890 by Rodin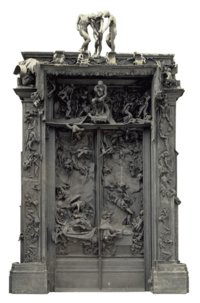 is being called "the sculptural event of the year." With an exhibition containing over 300 of his highest quality works, borrowed mainly from the Musée Rodin and the sculptor's home in Meudon, France. Those include sculptures, paintings and sketches,

French sculptor Auguste Rodin (1840–1917) heralded the modern age. His achievement is celebrated in this major retrospective. Rodin at the Royal Academy is a must for anyone with an even passing interest in his work.

Ten chronological themes explore Rodin's inspiration, from his studies of unposed models to his love of antiquities. The exhibition is organized like a journey. It begins with Rodin's early contacts and first recognition, introduces his special relationship with Britain, and explores how the support of a few artists, writers, business men, politicians and aristocrats led to recognition by an international public.

As you walk into the courtyard you'll be confronted with Rodin's monumental masterpiece, The Gates of Hell. Based on Dante's inferno it is a towering work, filled with lustful figures who have had a little too much fun on earth and are about to experience retribution in hell.

The Kiss 1901-04 by Rodin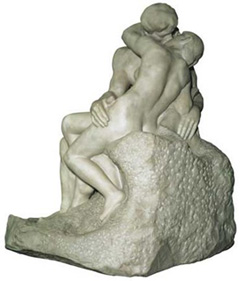 It is from this sculpture that Rodin's most famous piece, The Kiss, is taken. This sculpture of two people who simply cannot keep their hands off each other is just breathtakingly intimate, simply being in the same room as it creates a feeling of voyeurism.

A large version of The Thinker is feature in the exhibit which includes Rodin's lyrical, erotic drawings and tiny clay sketches which are shown alongside period photographs of his work and many large plasters, which have never before been exhibited outside France.

The story of Rodin and Britain – the sub-theme of this exhibition – begins with Rodin's first visit to London in the summer of 1881, shortly after he had received the commission for The Gates of Hell. He came to visit Alphonse Legros, a fellow student at the Petite Ecole, who introduced him to the poet William Ernest Henley. Henley was soon to become the editor-in-chief of the Magazine of Art and began telling his readership that Rodin was 'perhaps the greatest of living sculptors'. In 1882 Rodin exhibited the Bust of St John the Baptist at the Royal Academy of Arts and other works in the Grosvenor and Dudley Galleries. The enthusiasm of early collectors such as Constantine Ionides and Lord Leighton, President of the Royal Academy, helped to raise Rodin's profile and he soon had a group of loyal English students and collectors.

If you want to experience genius, this is the place for you. Opens September 23 at the Royal Academy in London.

BEJEWELLED BY TIFFANY Since the exhibition opened in June, over 20,000 visitors have been dazzled by the stunning jewelry and luxury objects on view. Such is the popularity of "this giddily glamorous exhibition…" (London Evening Standard) that it will now continue until January 7 2007. ( See Broadway To Vegas column of July 9, 2006. )

This exhibit brings together over 200 objects created by the internationally famous firm between 1837 and 1987 and celebrates the quality, craftsmanship and distinctly American aesthetic that established Tiffany & Co. as one of the world's premier jewelers.

On display as part of The Gilbert Collection, Somerset House in London.



Broadway To Vegas is supported through advertising and donations. Priority consideration is given to interview suggestions, news, press releases, etc from paid supporters. However, no paid supporters control, alter, edit, or in any way manipulate the content of this site. Your donation is appreciated. We accept PAYPAL. Thank you for your interest.


SWEET CHARITY


THE LADIES WHO SING SONDHEIM a gala tribute performance of the composer's works on Sept. 25 at Westport Country Playhouse stars Laura Benanti, Kristin Chenoweth, Barbara Cook, Patti LuPone and others. The performance will be directed by 2006 Tony Award-winning director John Doyle. Musical direction is by Mary-Mitchell Campbell. The benefit will be hosted by Joanne Woodward, artistic director emeritus of Westport Country Playhouse, and Paul Newman.

Sondheim has a history at the Playhouse. In the summer of 1950, he served as an apprentice there.

The benefit evening will begin with a cocktail reception with Sondheim followed by the performance and dinner with celebrity guests.

Co-chairs of the fundraiser are Laurie Lister and Judd Burstein of Westport and producers Barry and Fran Weissler, aided by a dedicated group of volunteers from Connecticut and New York. Honorary co-chairs are Suzanne and Bob Wright of Fairfield.

Westport Country in Westport, CT.

NATIONAL SYMPHONY ORCHESTRA SEASON OPENING BALL CONCERT Violinist Joshua Bell, joins Leonard Slatkin and two vocalists from the Kirov Opera, soprano Irina Mataeva and tenor Daniil Shtoda, to officially open the NSO's new season. The program features a number of masterpieces by Tchaikovsky, including the composer's exquisite Violin Concerto and two arias from the opera Eugene Onegin. The NSO Season Opening Ball, featuring a gala dinner and dancing, September 24, Kennedy Center in Washington, D.C.


SPREADING THE WORD


DENNIS HOPPER SCREENS VIRIDIANA

Dennis Hopper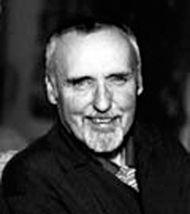 Dennis Hopper is the star of such cinematic gems as Blue Velvet and Apocalypse Now.

He made his directorial debut in 1969 with Easy Rider.

Hopper has chosen to screen the Luis Buñuel classic Viridiana.

This film has always been considered controversial - with a plot line about a virtuous young nun and the uncle determined to corrupt her.

A Q&A precedes the screening.

Tuesday, September 19 at The Skirball in Los Angeles.

STUDENT DAY AT PASADENA PLAYHOUSE takes place September 20. Wells Fargo Bank provides for 416 students to have an opportunity to see Pasadena Playhouse's sold out production of Fences starring Laurence Fishburne and Angela Bassett and to meet Playhouse Artistic Director, Sheldon Epps.

The students will arrive at Pasadena Playhouse to meet with Epps and hear him talk about the art of theatre, this production of Fences and have a chance to ask questions of the acclaimed director. They will then attend the matinee performance and then join the cast for a Q&A after the play.

STATE OF THE UNION by Howard Lindsay and Russel Crouse. Directed by Kyle Donnelly.

This play, starring Nancy Robinette and Floyd King, won the Pulitzer Prize in 1946.

Written in a politically cantankerous time eerily similar to our own, the play tells the story of a charismatic and idealistic businessman who is being groomed for the presidency.

Like candidates of our own time, he must answer the age old question: does he trust the people or trust his handlers?

Perfect for mid-term elections, it's a wild ride of politics, power and personalities.

September 22 - October 22 at Ford's Theatre in Washington, D.C.

GODFELLAS The Tony award-winning San Francisco Mime Troupe brings their brand new musical comedy, GodFellas, a trenchant satire on the separation of church and state, to The Actors' Gang for six performances, September 20-24.

Imagine a nation where religious fervor runs hot, and rhetoric runs hotter. Where belief has replaced reason, and where Liberty and Justice play a broken second fiddle to an all powerful, omniscient, omnipresent military-industrial God complex. That's the nation Reverend C.B. De Love wants. That's also the nation where shy civics teacher Angela Franklin finds herself. In her struggle to stop the coming Theocracy, will Angela go too far? In her zeal to destroy the opiate of the masses, will she make a religion out of her anti-religion, joining the ranks of the Gangsters for God? Or will she see the folly of blind faith in anything - even the Constitution - and return to Reason?

Written by Michael Gene Sullivan, Jon Brooks, Christian Cagigal and Eugenie Chan Music and Lyrics by Bruce Barthol, Amos Glick and Pat Moran. Directed by Ed Holmes. Featuring Velina Brown, Christian Cagigal, Lisa Hori-Garcia, Keiko Shimosato, Kevin Rolston and Michael Gene Sullivan. Presented by San Francisco Mime Troupe which is one of the oldest theater companies in the U.S. SFMT has created and produced socially relevant theater of the highest professional quality for nearly five decades. Founded in 1959 by R.G. Davis, the company became the San Francisco Mime Troupe in 1961, and, since 1970, has operated as an artist-governed collective, comprised of actors, musicians, writers, composers, directors, designers and technicians who the create shows and make policy as well as approve tour plans, grant sources, expenditures and special projects. The Troupe won its first OBIE Award in 1968 for "uniting theater and revolution and grooving in the park." Since then, two more OBIEs, the coveted Tony Award (for Excellence in Regional Theater), the Bay Area Media Alliance's Golden Gadfly Award for Lifetime Achievement and numerous Bay Area Theatre Critics' Circle Awards have been added to the list of the company's many honors.

GodFellas, has six performances, September 20-24 at The Actors' Gang in Culver City, CA.

JITNEY by August Wilson. Directed by Lou Bellamy.

Set in the Pittsburgh Hill district during the declining 1970's, this New York Drama Critics best play of the year for 2000 features Wilson's unique combination of characters bound through laughter, hardship and loyalty as they struggle to gain success and dignity. The challenges of driving unlicensed cabs provide an anchor of truth and many levels of resonance.

Kansas City Repertory production, Co-Production with Arizona Theatre Company. Kansas City Premiere September 22-October 15.

BUSH WARS: MUSICAL REVENGE

L to R: George W. (Jason Levinson) & Mom (Jay Falzone). Photo by: Steve Schwartz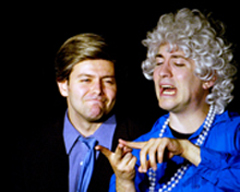 will re-open Friday, September 22 at the Actors' Playhouse in New York. The production contains several new musical numbers based on material ripped from recent headlines.

Told through 16 musical parodies and dozens of costume changes, Bush Wars sinks its talons into everything from Dick Cheney literally in bed with the oil companies to the Supreme Court's "right hand turn" and from "Republican training school" to George W. in a soft shoe number with his bosom buddy, Jesus! The new material includes a hilarious take on the immigration guest workers program, wire tapping, the re-writing of the Constitution, and voter fraud! The musical takes a funny but insightful look at how America's current government has undermined The Geneva Convention, Science (Evolution and The Environment), Personal Security, Truth, Competence, Religious Freedom, Personal Freedom, The Courts, The Brain Dead and yes, Democracy itself!

Bush Wars is created and directed by Nancy Holson and Jay Falzone. It is written by Holson and choreographed by Falzone. The five-member company includes Jay Falzone, Jason Levinson, Abigail Nessen, Mamie Parris and Chris Van Hoy. Alexander Rovang will serve as musical director, costumes are designed by Elizabeth Payne.

EURYDICE By Sarah Ruhl. Directed by Les Waters.

Sarah Ruhl, author of Yale Repertory Theatre's triumphant 2004 world premiere production of The Clean House, returns to New Haven to once again delight audiences with her unique comic voice and lyrical theatricality. In Eurydice, Ruhl reimagines the classic myth of Orpheus and Eurydice through the eyes of its heroine as she journeys to the underworld and struggles to retain her memories of her lost love. With contemporary characters, ingenious twists of plot, and breathtaking visual effects, this award-winning play is truly an original tale.

September 22 to October 14 at the Yale Repertory Theatre.

ANNIE Directed by Martin Charnin. Music by Charles Strouse. Lyrics by Martin Charnin. Book by Thomas Meehan.

The timeless tale of Little Orphan Annie is back, giving a whole new generation the chance to experience this classic musical about never giving up hope. Boasting one of Broadway's most memorable scores, including It's the Hard-Knock Life, Easy Street, N.Y.C. and the ever-optimistic Tomorrow, Annie is a delightful theatrical experience for the entire family.

A new song Why Should I Change A Thing? – has been incorporated into the production for the very the first time.

LaSalle Bank Theatre in Chicago. September 19 - October 1.

THE GOD OF HELL a Bay Area premiere play by Sam Shepard, Directed by Amy Glazer.

An unflinching ode to our current administration from the Magic's signature playwright. The slow and predictable life of a mid-Western couple is turned on its head when a salesman shows up at their door selling patriotic paraphernalia. Who invited Homeland Security anyways? Electric, quick-witted and subversively funny.

Sam Shepard has written 45 plays, 11 of which have won Obie Awards, and has appeared as an actor in 16 films. In 1979 he was awarded the Pulitzer Prize for Drama for Buried Child, which premiered at Magic Theatre, and in 1984 he gained an Oscar nomination for his performance in The Right Stuff. His screenplay for Paris, Texas won the Golden Palm Award at the 1984 Cannes Film Festival, and he wrote and directed the film Far North in 1988. In 1986 he was elected to the American Academy of Arts and Letters and in 1992 he received the Gold Medal for Drama from the Academy. In 1994 he was inducted into the Theatre Hall of Fame. From 1975 to 1983, Mr. Shepard was Playwright-in-Residence at the Magic.

Previews: begin Saturday, September 23 with the officially opening slated for Saturday, September 30. At the Magic Theater in San Francisco.

PERFECT HARMONY will be presented as part of FringeNYC Encore Series Festival, encore performances from this summer's NY International Fringe Festival.

Perfect Harmony is an entertaining and amusing theatrical mockumentary about a championship high school a cappella group. Examining their lives, hopes and feelings, the audience learns not just about the members of the group but also about the true nature of Harmony. The play tracks the rise and fall and rise of perennial high school a cappella powerhouse, The Acafellas and their classmates and female counterparts, The Ladies in Red, as both strive to win Acapalooza: The National High School A Cappella Championship Jam.

The cast (alphabetically) includes: David Barlow, Autumn Dornfeld, Scott Janes, Vayu O'Donnell, Maria Elena Ramirez, Jeanine Serralles, Marina Squerciati, Margie Stokley, Noah Weisberg, and Blake Whyte. The set design is by Eliza Brown, the costume design by Becky Lasky, and the lighting design by Driscoll Otto. Musical direction and composition is by Alec Duffy.

Conceived and directed by Andrew Grosso, written by Grosso and The Essentials, and will be now be performed as part of the FringeNYC Encore Series at The 14th Street Y, September 21-24, NYC.

LEGENDS

Joan Collins and Linda Evans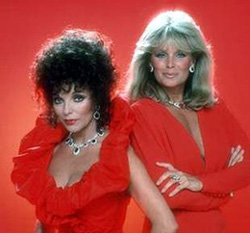 by Tony award winning author James Kirkwood. This comedy about big stars, big egos and big hair was expected to come to Broadway in the late 1980s with Carol Channing and Mary Martin starring as the two warring Hollywood divas being wooed to do a stage show together, Star Wars: The Play, by a producer with no credibility. The pre-Broadway tour of Legends! began in Dallas in January 1986. Plagued by negative press (including mostly harsh reviews), by the time it folded in Palm Beach in January of the following year, the tour was better known for the backstage drama between Channing and Martin than anything that happened onstage. Kirkwood later wrote Diary of a Mad Playwright about his harrowing experience on the road with the show.

Producer Ben Sprecher enlisted former Dynasty co-stars Joan Collins and Linda Evans to star in the piece, which opened September 12 in Toronto.

In this new production, Collins will play Sylvia Glenn, the acerbic star originally played by Channing. Evans will play Martin's part, the seemingly sweet Leatrice Monsee.

Legends centers on two somewhat desperate and waning movie stars named Sylvia (played by Joan Collins) and Leatrice (played by Linda Evans). Both actresses are courted by an unscrupulous young producer to star together in a Broadway show, despite the fact that they have hated each other for decades. He convinces both ladies to go along by misleading them into believing that they will be starring in the show with Paul Newman. This hilarious set-up provides the background for the full-blown comic confrontation between these two divas and the surprising and hilarious resolution, played to the hilt by the two stars that the world know as "rivals to the death" from the international acclaimed television series Dynasty.

Exquisite costumes by Nolan Miller, directed by John Bowab and produced by Ben Sprecher.

Through October. 22 in Toronto at the Royal Alexandra Theatre.


| | | |
| --- | --- | --- |
| | | |
WHO'S WHERE


MARIAH CAREY on Canadian soil this week, performing Tuesday, September 19, at the MTS Centre in Winnipeg. On Thursday she is at the Rexall Place in Edmonton in Alberta and on Saturday the show is at General Motors Place in Vancouver.

THE WHO have a two night gig Monday and Tuesday, September 18-19 at Madison Square Garden in NYC. On Thursday, they are in the spotlight at the Bank Arts Center in Holmdel , NJ. Besides Pete Townshend and Roger Daltrey its two surviving original members, the Who this time around will include Pino Palladino on bass, John (Rabbit) Bundrik on keyboards, Zak Starkey (son of Ringo Starr) on drums, and, on guitar and vocals, Simon Townshend, the brother of Pete Townshend. John Entwistle, the original bassist, died in 2002, just as the Who was beginning its last major tour, and Palladino took his place. The band will play music from its first new album in 24 years, which is due on Oct. 23 and has the working title Who 2. Among the new songs: a "mini rock opera" called Wire & Glass.

EMMYLOU HARRIS on stage Thursday, September 21, at Wharton Center in East Lansing, MI. On Friday she is in the spotlight at Midland Theatre in Newark, Ohio. Saturday finds her at Clark State College in Springfield, Ohio.

ARTIE SHAW BAND For the incomparable Big Band Sound of Begin the Beguine and Stardust featuring the clarinet sound of Dick Johnson. September 22 Mainstage of the Cumberland County Playhouse in Crossville, TN.

DAVID LEE ROTH performs at John Ascuaga's Nugget in Sparks, Nevada on September 22.

JAMIE CULLUM on stage September 24 at the Hilton Hotel in Las Vegas.

JAY LENO telling funny stories September 22-23 at The Mirage Hotel in Las Vegas.
















Next Column: September 24, 2006
Copyright: September 17, 2006. All Rights Reserved. Reviews, Interviews, Commentary, Photographs or Graphics from any Broadway To Vegas (TM) columns may not be published, broadcast, rewritten, utilized as leads, or used in any manner without permission,compensation/credit.
Link to Main Page
---
Laura Deni


CLICK HERE FOR COMMENT SECTION