! >
Broadway To Vegas
  
 SHOW REVIEWS CELEBRITY INTERVIEWS GOSSIP NEWS

| | |
| --- | --- |
| | |
THE SHAW FESTIVAL - - BEJEWELLED BY TIFFANY - - PRODUCING DEAD PEOPLE - - NATIONAL THEATER OF THE DEAF - - RISE UP AND SHOUT - - PYRENEES OPENS AT THE KIRK DOUGLAS - - DR. DOLITTLE HAS FREE ZOO TICKETS - - BEST SELLING BOOK LIZARD PREMIERS AS MUSICAL - - DONATE . . . Scroll Down


SHAW FESTIVAL SURVIVES AND THRIVES


The Shaw Festival is a major Canadian theatre festival in Niagara-on-the-Lake Ontario. It's also the second largest repertory theatre company in North America. The forces of man and nature should have dropped it's curtain long ago. Tenacity, creativity and talent let them beat the odds.

"Certainly in the months and year following 9/11 we were faced with a declining audience – we are located in a tourist destination," Odette Yazbeck, Public Relations Director for the Shaw Festival told Broadway To Vegas. "Couple that with the outbreak of SARS in nearby Toronto, rising gas prices and terrorist threats and you're faced with a number of challenges for wooing audiences back. The work on stage helps us do just that! Production values and the internationally celebrated Ensemble of actors we have here at The Shaw means we also have a very loyal core audience who return year after year no matter what the obstacles. Our audiences know that now, more than ever, it's important to express our freedom and enjoy our earned lifestyle choices by supporting the arts."

The Shaw Festival was started in 1962 by Niagara-area lawyer and playwright Brian Doherty. During that summer, Doherty organized eight weekend performances of Don Juan in Hell and Candida by Bernard Shaw under the title Salute to Shaw.



George Bernard Shaw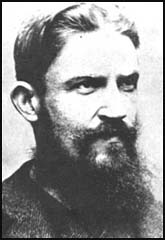 Since Doherty had access to the courthouse, a national historical site dating from the 1840's, he used the Assembly Room on the building's upper level, which combines an intimate 327-seat auditorium with a thrust stage

Later that venue would be known as the Courthouse Theatre. Doherty's position was to stimulate interest in George Bernard Shaw and his period, and to advance the development of theatre arts in Canada.

Doherty won his "case." The event was a hit.

Actor and director Barry Morse came on board as Artistic Director in 1966. Paxton Whitehead took over management of the company with the 1967 season and under his leadership, the Festival toured extensively in the United States and Canada.

Whitehead served for twelve seasons as Artistic Director of the Shaw Festival. During his tenure he was able to push through a plan of building the purpose-built 869 seat state-of-the-art Festival Theatre.

On June 20, 1973, the Festival Theatre was officially opened by Her Majesty Queen Elizabeth II. This beautiful new building enabled the Shaw Festival to mount large-scale productions which drew national and international acclaim, including visits from Indira Gandhi and Pierre Eliot Trudeau.

In 1980, Christopher Newton joined the company and continued to foster its development with the addition of a third theatre. Under his leadership, the company grew steadily and gained an enviable reputation for its provocative and subtle ensemble acting and for its innovative theatrical designs. The company also became known for reviving plays which other companies are unwilling or unable to produce: seminal works such as Cavalcade and Lulu, once-popular genres such as operetta and stage mysteries, and neglected gems such as Waste and The Return of the Prodigal.

Outstanding directors such as Derek Goldby, Denyse Lynde, and Neil Munro (who became Resident Director in the company) were hired, and the acting ensemble was carefully cultivated until it was widely recognized to be one of the best in the world.

The Festival's mandate is to produce plays written during the lifetime of Shaw (1856-1950), "plays about the beginning of the modern world," as Newton was quoted.



Jackie Maxwell
His successor, born and educated in Belfast, Northern Ireland, Jackie Maxwell, has strived to program increasingly with a view to a younger audience, a tendency evident, for example, in her programming of Ann-Marie MacDonald's Belle Moral in the 2005 season.

Maxwell studied Drama at the University of Manchester, acting in both Ireland and England before coming to Canada in 1978. She first worked in Canada for the National Arts Centre as Assistant, then Associate Director, where she set up and ran both an Apprentice Training and New Play Development Program. In 1982 she headed to Toronto to become Associate Director at Factory Theatre, where she later became Artistic Director (1986 to 1994).

"Our Artistic Director, Jackie Maxwell is responsible for programming the playbill here at The Shaw," explained Yazbeck. "Of course, she's guided by our mandate to produce works written by Bernard Shaw, his contemporaries and plays about Shaw's lifetime of 1856-1950. While some might consider this a bit limiting, Jackie actually finds it liberating in that within this time span of the beginning of the modern world, there's a plethora of exciting plays and playwrights to explore. Such a pivotal time in man kinds social development is also great fodder for contemporary playwrights to dig into."



Festival Theatre. Free pre-theater chats help illuminate the evening's performance.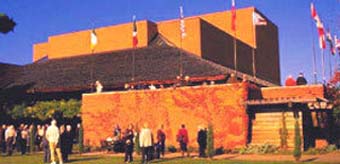 The company works in three theatres. The largest is the Festival Theatre, a proscenium-arch theatre which seats 856, and features a Café and Bernard's, a retail shop. Here the grand opening takes place each year, always with a flagship play by Bernard Shaw.

The Court House Theatre is where the most challenging or intimate works of their mandate such as the celebrated Granville Barker series and almost-forgotten plays such as Diana of Dobson's and Rutherford and Son.

The Royal George Theatre's modest exterior is deceiving. Inside it's all Edwardian gilt moldings, red walls and golden lions!



The Royal George Theatre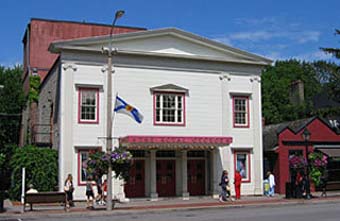 This 328-seat theatre was built as a vaudeville house to entertain the troops during World War I. Today this venue is where the most popular fare is presented. It was built in 1915 as a little vaudeville house and acquired by the Shaw Festival in 1980. Through the generosity of philanthropist Walter Carsen, its once-shabby auditorium was transformed into a glittering little opera house. Here musicals, comedies, thrillers, lunchtime readings, and the occasional romance is staged. It's a popular theatre designed to appeal to people who are not necessarily regular theatre-goers.

The Shaw Festival is an art theatre rather than a commercial theatre – hence its status as a non-profit and charitable organization. Still, it is run in a very businesslike and efficient manner. Over 75% of their annual revenue comes from Box Office sales and other earned revenue. Ten to twelve plays are produced each season, with over 800 performances in the three theatres, to audiences totaling about 300,000 people.

"We enjoy a great relationship with our audience who are often emailing or sending us letters with suggestions of plays they would like to see us perform – either for the first time, or repeating a favorite!" Yazbeck related and then teased - "Plans for the 2007 season will be announced in September of this year."

This season the productions include: Arms and the Man by George Bernard Shaw. Directed by Jackie Maxwell. Set designed by Sue Le Page, Costumes designed by William Schmuck. Lighting designed by Louise Guniand. Original Music Composed by Paul Sportelli. - Performances to October 29.

Too True to be Good by George Bernard Shaw. Directed by Jim Mezon. Designed by Kelly Wolf. Lighting designed by Alan Brodie. Performances to October 7.

High Society Music & Lyrics by Cole Porter, Book by Arthur Kopit. Musical direction by Paul Sportelli. Choreography by John MacInnis. Designed by William Schmuck. Lighting designed by Kevin Lamotte. Sound designed by Peter McBoyle. - Performances to November 19.

The Crucible by Arthur Miller. Directed by Tadeusz Bradecki. Set designed by Peter Hartwell. Costumes designed by Teresa Przybylski. Lighting designed by Kevin Lamotte. Original music composed by Paul Sportelli. - Performances to October 19.

The Magic Fire by Lillian Groag. Directed by Jackie Maxwell. Original music composed by Marc Desormeaux, Designed by Sue LePage. Lighting designed by Louise Guinand. - Performances to October 8.

Rosmersholm by Henrik Ibsen, adapted by Neil Munro. Designed by Peter Hartwell. Lighting designed by Kevin Lamotte. Video projection designed by Simon Clemo. - Performances to October 7.

Love Among the Russians by Anton Chekhov, adapted by Morwyn Brebner. Designed by William Schmuck. Lighting designed by Julia Vandergraa. - Performances to September 24.

The Heiress by Ruth Goetz and Augustus Goetz. Designed by Christina Poddubiuk. Lighting designed by Louise Guinand. - Performances to October 7.

The Invisible Man by Michael O'Brien, adapted from the novel by H.G. Wells. Directed by Neil Munro. Designed by Judith Bowden. Lighting designed by Kevin Lamotte. Original music composed by Allen Cole. Effects designed by Marshall Magoon and Jim Steinmeyer. - Performances to October 29.

Design for Living by Noel Coward. Directed by Morris Panych. Set designed by Ken MacDonald. Costumes designed by Charlotte Dean. Lighting designed by Alan Brodie. - Performances to November 18.


BEJEWELLED BY TIFFANY


"Diamonds area girl's best friend," chortled Carol Channing.

The late actor Tony Randall had said that one day he and his love, Heather, were walking down 5th Avenue and she stopped in front of Tiffany's and said - "This is where they sell the wedding rings." Tony made a purchase.

"If I could find a real life place that made me feel like Tiffany's then I'd buy some furniture and give the cat a name." So said Holly Golightly in Breakfast at Tiffany's.

Tiffany.

The name evokes images of the most exquisitely crafted jewelry in the world. Just seeing one of their trademark turquoise boxes can cause a girl to hyperventilate.



Audrey Hepburn in a publicity photo shot inside Tiffany's for the film Breakfast at Tiffany's. The store was also featured in the movie Sleepless in Seattle.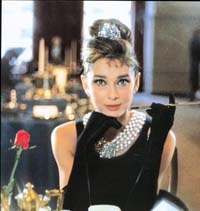 Bejewelled By Tiffany, an exhibit on display through November 26, at Somerset House, Strand in London, has brought together some of the most beautiful and expensive pieces the jewelers have ever created. But as well as an exhibition of beautiful jewelry it's also a guide through fashion over the last two centuries. From the turn of the century extravagance, through Art Deco and up to today ghetto fabulous, this is a breathtaking display of some of the most (and least) exquisite jewelry ever created.

Bejewelled by Tiffany, 1837-1987, celebrates Tiffany's sustained pursuit of superb design and outstanding craftsmanship. Through the display of glittering jewels and luxurious objects, it will evoke the glamour that has beguiled Tiffany's clients for 150 years.

The bling-tastic exhibition features 200 pieces, some from Tiffany's own archive, others from the private collections of some of the wealthiest individuals in the world. Together they'll chronicle Tiffany's first 150 years. Many of these works have never before been on public display.

The exhibition is divided into four sections:



Cameo portrait of Charles Lewis Tiffany (1812-1902) founder of Tiffany & Co., circa 1900 Gold, shell, sardonyx, sapphires, diamonds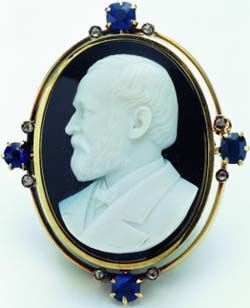 The first section The Rise of an American Institution illustrates Tiffany's early prominence. Tiffany & Co. was founded in New York in 1837 by Charles Louis Tiffany, son of a cotton-mill owner. With seed mother provided by his father, he began modestly as a Fancy Goods store on Broadway

Charles Lewis Tiffany, whose cameo portrait will be on display, knew how to capture the popular imagination and appeal to the wealthy by offering exclusive items. Those ranged from cheap souvenirs, such as a mounted section of steel cable commemorating the laying of the first transatlantic cable in 1858, to historic diamonds acquired at the 1887 sale of the French Crown Jewels and from other princely European collections. This led to Tiffany stocking such glamorous pieces as the emerald and diamond brooch adapted from a girdle once owned by Empress Eugénie.

Tiffany understood the value of publicity and marketing. He introduced mail order sales, producing the first catalogue in 1845, so that the store's goods could be ordered across America. Eager for new clients he opened an office in Paris in 1850 and a shop in 1868.



American Flag Brooch circa 1900. Platinum, gold, rubies, sapphires, diamonds 8.3 x 9.5 cm. Photo: Jan Van Pak.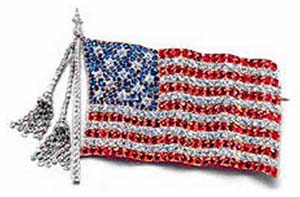 Europe's violent history of 1848; separate revolutions in Germany, Austria and Italy among other unrest caused the price of diamonds to drop: Tiffany seized his advantage.

Like many of his contemporaries, Tiffany was unashamedly patriotic. The outsize American flag brooch, a rippling representation of the Stars and Stripes in rubies, sapphires and diamonds, captures the supreme optimism and pride Americans had for their country.

The second section of the exhibition 'Temple of Fancy' - as Tiffany was described by the New York Evening Express in 1875 - sets out to illustrate the wide range of jewelry available in the store to meet the needs of every occasion, from baby bracelets to mourning jewelry, and the amazing variety of influences then in vogue – the ancient classical world, the Renaissance, India and the Far East.



Pearl Necklace with matching Brooch, circa 1860. Similar to the pearl set given by President Abraham Lincoln to his wife Mary Todd Lincoln on the occasion of his inauguration. Medium: Gold and Half-Pearls, Dimensions: Necklace: 19.7 x 13.7 cm; brooch: 3.2 x 3.8 cm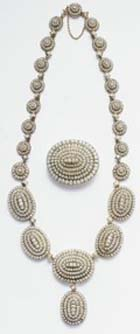 During the American Civil War Tiffany produced military swords. Notable in this section is a pearl necklace with matching brooch similar to one bought from Tiffany by president-elect Abraham Lincoln in 1861 for his wife to wear at the Inaugural Ball.

A gold bracelet copied from an ancient Greek example from the Cesnola Collection, recently arrived at the Metropolitan Museum of Art, is an excellent example of Tiffany's archaeological-style jewelry which won a gold medal at the Paris Exposition of 1878. In the 1890s René Lalique, now best known for his exquisite glass, designed jewelry for Tiffany in Paris and a diamond spray brooch by him is included in the show.

The third section Such stuff as dreams are made on … covers the period from the 1870s to the start of the First World War and explores Tiffany's evolution into jewelers of true originality with a distinctive American flavor. It illustrates both the fresh and creative approach to the use of stones, particularly the taste for gems of unusual colors, and a deliberate bias towards stones of American origin. With growing American wealth, spectacular diamond jewelry became commonplace. Charles Lewis Tiffany, nicknamed 'the King of Diamonds', acquired the great fancy yellow 128-carat Tiffany Diamond, one of the showstoppers in this exhibition.

A magnificent early 20th century Garland Style gold, platinum and diamond necklace in the exhibition made for Ellen Garretson Wade. She was the wife of Jeptha Homer Wade II. Among his many philanthropic activities was among the incorporators of the Cleveland Museum of Art. As such he established a purchasing fund for the Museum, and served as the president of the museum from 1920 until his death in 1926.



Wade Necklace.circa 1900, formerly owned by Mrs. Ellen Garretson Wade (1860-1917) Gold, platinum, diamonds, 36 x 8.5 cm. Photo: Richard Pierce.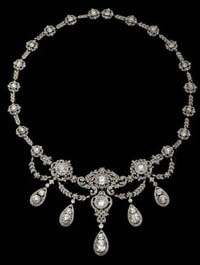 This necklace typifies this hunger for diamonds by the rich and for jewelry that dazzlingly set them off. Diamonds became and have remained at the heart of Tiffany & Co.'s business.

At that time, pearls equaled diamonds in prestige and value. Tiffany designers used pearls from all sources, especially the tinted and irregular fresh-water pearls found in American rivers and the soft pink pearls from conch shells. A group of pearl pieces in the show, such as the late 19th century corsage ornament with its striking combination of these conch pearls with diamonds and the 'Naiad' pendant, as it is now known, in Renaissance Revival style - first exhibited at the international Pan-American Exposition in Buffalo in 1901.

The Opulent accessories section brings together such items as canes, parasols, purses, scent bottles, smoking kit, watches and the like, that were a must for the well-dressed man or woman around 1900.

As well as using great historic styles as a springboard for the design of jewels, Tiffany sought inspiration from the natural world. The section Nature gathers together some of the finest jewelry created by Tiffany, works that certainly count amongst the masterpieces of American decorative arts. The enameled and diamond orchids created by Tiffany's great designer G. Paulding Farnham for the 1889 Paris Exposition caused a sensation and were awarded gold medals. Seven of these exquisitely crafted and botanically accurate pieces are on exhibit. Nature was also the inspiration for an intricately enameled gold brooch in the form of a spray of mignonette and a dazzling dragonfly brooch where the diamonds and sapphires evoke the evanescence of the insect.



Brooch by Bapst, 1864, for Empress Eugenie, wife of Napoleon III (1808-73) Gold, silver, diamonds, pearls, emerald 4.3 x 6.5 x 2 cm. Purchased by Tiffany and Co. at the sale of the French Crown Jewels 1887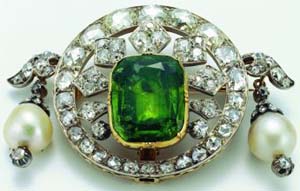 International exhibitions were occasions for national rivalry and for firms to show off their skills and make sales. The next section Paulding Farnham and the Paris Exposition of 1900 reunites eight virtuoso jeweled and enameled pieces illustrating the genius of this designer. Outstanding are a collar of fire opals and tourmalines set in gold, reported at the time to be the finest collection of Mexican opals in the world, and a brooch of diamonds, Montana sapphires and fresh-water pearls from Wisconsin and Tennessee.

The section Louis Comfort Tiffany devoted to the son of the founder Charles Lewis Tiffany is, as might be expected, one of the largest in the exhibition bringing together over 20 pieces of his jewelry – the largest number ever exhibited together. His innovative and diverse output over three decades confirms why he is a defining figure in the Tiffany story and one of America's outstanding designers. Already well known for his brilliantly innovative glass and interior design, when he became closely involved in the company on the death of his father he introduced a more lyrical aesthetic, notable for its original color combinations. Outstanding examples are a dragonfly with opal and demantoid garnet back and platinum lattice wings, closely related to one made for the 1904 St Louis World's Fair, a group of small brooches with subtle enamel work and lustrous toning gemstones, and a 'grapevine' fringe necklace of amethysts and jade set in gold, exhibited at the Paris Salon of 1906.

This great period of naturalism in jewelry was followed by the abstract geometry of Art Deco. The Art Deco section shows how Tiffany, ever at the forefront of design, moved confidently into the new geometric style. New York World's Fair and the 1940s, a brief but intense period, saw exuberant Retro Style jewels with brightly polished gold, such as the gold brooch with emeralds and diamonds exhibited at the 1939-40 New York World's Fair, contrasting with the more sober style of war-time patriotic pieces based on strong abstract forms with color supplied by such stones as aquamarine and topaz. Examples include a 1940s suite of gold jewelry set with large citrines and clusters of rubies, a gold charm bracelet with patriotic and victory symbols, and gold earrings in the form of airplanes, specifically American B-25 bombers.



Bird on a Rock designed in the early 1960's by Jean Schlumberger. Featured the Tiffany diamond, one of the largest fancy yellow diamonds ever discovered. Rough weight 287.42 Discovered in 1878 in the Kimberley mine, South Africa. Cut into a cushion shape of 128.54 carats with 90 facets - 32 more than a traditional round brilliant.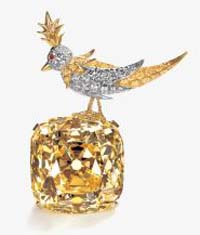 Title: Dragon Brooch, circa 1967. Created by artist Donald Claflin who used a medium composed of Platinum, Gold, Turquoise, Diamonds, Emeralds and Ruby. The dimensions are: 5.7 x 4.4 cm.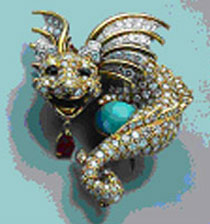 The final section in the exhibition The Return to the Designer covers the post-war years when Tiffany boldly backed new designers.

The elegant and witty genius of French designer Jean Schlumberger, hired in 1956, brought a universally acclaimed originality. His 'Bird on a rock' setting of the Tiffany Diamond combines quirkiness with understated splendor.

In the 1960s the American designer Donald Claflin created humorous, figurative pieces such as the Dragon brooch included in the show. Tiffany turned to designers Elsa Peretti and Paloma Picasso in the 1970s whose work captured the stylish informality that patrons now looked for in their jewelry. Peretti's sleek and minimal elegance in silver or gold, such as her trademark 'bone' cuff bracelet, has become internationally recognized and since the 1980s Paloma Picasso's bold forms and love of color, exemplified by the gold cuff bracelet with a zig-zag of tourmalines, have brought modern expression to Tiffany's lasting fascination with gemstones.

The exhibition is curated by Clare Phillips, Curator within the Department of Sculpture, Metalwork, Ceramics and Glass at the Victoria and Albert Museum, London. It is accompanied by a fully-illustrated catalogue with essays about aspects of Tiffany's history by distinguished jewelry historians, published by Yale University Press.

Clare Phillips is curator in the Department of Sculpture, Metalwork, Ceramics and Glass at the Victoria and Albert Museum, London. Vivienne Becker is an independent jewelry historian and journalist. Ulysses Grant Dietz is curator of decorative arts, The Newark Museum. Alice Cooney Frelinghuysen is Anthony W. and Lulu C. Wang Curator of American Decorative Art, The Metropolitan Museum of Art. John Loring has been the design director at Tiffany since 1979. Katherine Purcell is a director of the London jewelry firm Wartski and a jewelry historian specializing in French nineteenth-century jewelry.



Broadway To Vegas is supported through advertising and donations. Priority consideration is given to interview suggestions, news, press releases, etc from paid supporters. However, no paid supporters control, alter, edit, or in any way manipulate the content of this site. Your donation is appreciated. We accept PAYPAL. Thank you for your interest.


SPREADING THE WORD


I PRODUCE DEAD PEOPLE: THE CHALLENGES OF BRINGING THE CLASSICS TO LIFE Advantages and disadvantages of working with large casts... the challenges of language... researching and understanding the details of period... creating period feeling through design... do you stay true to the author, or bring out contemporary relevance in the text?... how do you present a classic that has been done and seen a hundred times before, and make it your own?... where does your audience come from?

Panelists (subject to availability): Jesse Berger of Red Bull Theater, Lisa Barnes of Classic Stage Company, Seth Duerr of York Shakespeare, Melody Brooks of New Perspectives Theatre, Julie Halpern of Lovestreet Theater, Alexa Kelly of Pulse Ensemble Theatre, Joanne Zipay of Judith Shakespeare Company. Presented by Theater Resources Unlimited, Tuesday evening, July 18, NYC.

SINGIN' IN THE RAIN with performances through July 30 at the North Shore Music Theatre has related free events this week. On July 11 Meet the Theatre, post show audience discussion with the artists, On July 16 it a Spotlight on History, a free pre-show discussion focusing on historical issues related to the performance. North Shore Music Theatre in Beverly, MA.


SWEET CHARITY


THE LIEUTENANT OF INISHMORE will have a special Actors' Fund performance on Sunday, July 16 at the Lyceum Theatre.

RISE UP AND SHOUT a star-studded staged reading of the words of visionaries past and present. Featuring James Avery, Wendie Malick, Joe Mantegna, and Jean Smart in a benefit for The Will Geer Theatricum's repertory company and educational academy.

Rise Up and Shout! inspires with the words of leaders, thinkers, and muckrackers who, in good times and bad, have held our nation to visions of peace, justice, tolerance, and equal rights.

Directed by Ellen Geer Friday, July 21 at The Will Geer Theatricum Botanicum Topanga CA.


OTHER PEOPLE'S MONEY


THE NATIONAL THEATER OF THE DEAF a unique theater that blends American Sign Language and spoken English, located in West Hartford, Conn., is the theatrical company that many credit with pioneering the field. They were able to operate because of $687,000 grant money received annually from Washington. In 2004 the group learned that it was one of several arts groups sharing this specialty whose longtime federal financing was not being reauthorized by Congress. The company struggled by until the last of its federal grants ran out in mid-2005. The theater was then forced to go two years without putting on a show for adults and without conducting its summer training academy for deaf and hard-of-hearing actors.

Stepping up as the financial angel is Connecticut's state government which announced the authorization of $200,000 in its recently approved budget for the National Theater of the Deaf.

Lt. Gov. Kevin B. Sullivan said the state's Commission on Culture and Tourism would provide $200,000 to the group over the next 12 months. "This is one show that simply must go on," he said.



THE MARRIAGE MUSICALS Two Musicals In Repertory. I Do! I Do! with Music by Harvey Schmidt. Book and Lyrics by Tom Jones. Based on the play The Four-Poster by Jan de Hartog and The Last Five Years Music, Book and Lyrics by Jason Robert Brown.

I Do, I Do begins with Michael and Agnes on their wedding day and traces their life together over a period of 50 years, until the day they leave their house to the next pair of newlyweds. In that time we watch them go through their wedding night jitters, raise a family, negotiate mid-life crises, quarrel, separate, reconcile and grow old together, all lovingly to the strains of a tuneful, charming score that includes the standard My Cup Runneth Over.

In The Last Five Years join writer Jamie and actress Cathy in a contemporary song-cycle musical that ingeniously chronicles the five-year life of a marriage, from meeting to break-up... or from break-up to meeting, depending on how you look at it. Two points of view - one man, one woman, one husband, one wife, one telling the story forward in time, one telling it backward.

Performances through August 6 at The Pasadena Playhouse in Pasadena, CA.

HOW TO EXPLAIN THE HISTORY OF COMMUNISM TO MENTAL PATIENTS by Matéi Visniec and directed by award-winning director Florinel Fatulescu.

A black comedy about mankind's pursuit of a perfect world. When the Director of the Central Hospital for the Mental Disorders of Moscow decides that his patients can benefit from being taught the words of the Great Lenin and Mighty Stalin, he turns to a writer who has been awarded the Stalin prize by mighty Stalin himself. Yuri Petrovski, the play's befuddled protagonist, lectures on the history of Communism to the lightly, the moderately and the deeply debilitated.

Six performances in Los Angeles before heading off to the Edinburgh Festival Fringe in Scotland. Opening Friday, July 14, and running for two weeks through Saturday, July 22 at The New Open Fist Theatre, in Hollywood.

LIZARD Music and Lyrics by James J. Mellon and Scott DeTurk. Written and Directed by James J. Mellon.

Based on the 1991 Delacorte Prize-winning and best selling book by Dennis Covington.

Starring James Barbour and David Eldon.

The cast also features (in alphabetical order): Curtis C., Bryan Coffee, Laura Coyle, Melanie Ewbank, Shannon Ferreira, Janet Fontaine, Brandon Ford Green, J.R. Mangels, Bob Morrisey, Cortney Wright and Jonathan Zenz.

This world premiere musical event revolves around a boy named Lucius Sims. With his sea-green eyes more displaced than most people's and a nose deformed at birth, Lucius, or "Lizard" as he is called by his friends at the Leesville State School for Retarded Boys, looks and feels like a freak due to his reptilian features. So when Callahan, a shoe salesman from up North arrives and claims to be his father, Lizard takes a chance. Believing that his father is dead, he escapes from his miserable life at the reformatory and into the madcap world of Callahan's traveling theater troupe and their ragtag production of Shakespeare's The Tempest. His journey with the charismatic yet brooding Callahan is at the heart of this deeply affecting story as Lizard touches the lives of all that know him and in his search to find a real "home," Lizard just might find a world in which he can truly be accepted and set his spirit free.

The Set Design is by Craig Siebels. The Lighting Design is by Luke Moyer. The Costume Design is by Shon LeBlanc. The Sound Design is by Scott DeTurk and Jonathan Zenz. Hair and Make-Up Design is by Robin McWilliams. Make-Up and Prosthetics by Scott Ramp.

Lizard will begin previews on Thursday, July 13, officially opening on Friday, July 21 and run for six weeks through Sunday, September 3 at the NoHo Arts Center, in North Hollywood, CA.

DR DOLITTLE bring the kids and the grandparents to this wonderfully refreshing musical starring nine time-Tony Award winning actor, director, and choreographer Tommy Tune as Dr. Dolittle.

Set in 1878, Dr. Dolittle tells the story of a veterinarian who, with help from his animal and human friends, has to flee his home in the small English town of Puddleby after folks there don't believe his claim that he can talk to animals. During the journey, we experience a monstrous sea storm, the inevitable shipwreck, a mysterious island, and of course, romance!

Come to the show and learn how to "talk to the animals" - then go visit the real ones. Free child's Zoo admission with each show ticket purchased.

July 11-16 at the Starlight Theater in Kansas City.

GUYS AND DOLLS Book by Jo Swerling and Abe Burrows. Composer: Frank Loesser.

Patrick Swayze is set to make his British stage debut in the West End, performing in this production at the Piccadilly Theatre.

Swayze, best known for his role in the film Dirty Dancing, will star as Nathan Detroit in the hit musical for an eight-week run starting on July 10.

He will be joined by Claire Sweeney who stars in the show for the first time as Miss Adelaide, also for eight weeks, before she embarks on a national tour of the musical.

The pair will lead the cast at the Piccadilly with Adam Cooper and Kelly Price who continue in their roles as Sky Masterson and Sarah Brown.

Michael Grandage directs. Design by Christopher Oram. Sound by Terry Jardine and Chris Full. Lighting by Howard Harrison. Choreography by Rob Ashford. Musical direction by Jae Alexander.

ZERO HOUR written and performed by Jim Brochu. Directed by Paul Kreppel.

Legendary Broadway icon Zero Mostel takes center stage as Brochu passionately recounts the story of the outrageous, shockingly funny and deeply emotional Mostel whose life embodied a world that no longer exists. Zero Hour traces Zero Mostel's early days growing up on the lower East Side as the son of Orthodox Jewish immigrant parents, through his rise as a standup comedian from the Borscht Belt into Manhattan's most exclusive supper clubs and from the devastation of the blacklist to his greatest Broadway triumphs, most notably as Tevye in Fiddler on the Roof.

The play is set in 1977 at Mostel's 28th Street art studio where he is giving his last interview on the eve of leaving for Philadelphia to star as Shylock in the pre-Broadway tryout of The Merchant. Mostel would play only one performance before his sudden death at age 62.

Set and lighting design is by J. Kent Inasy.

"I can think of no other person in show business who had more obstacles to overcome than Zero Mostel," says Brochu. "He grew up poor. He survived the blacklist. A bus accident almost took his leg off. But he fought and survived, and then went on to be the only actor in history to win three Tony Awards."

Opened Friday, July 7, running for six weeks through Sunday, August 13 at the Egyptian Arena Theatre, in Hollywood, CCA.

MITZI'S ABORTION directed by Jurt Beattie. From Seattle playwright Elizabeth Heffron comes a generous and compassionate play about a young woman trying to make an intensely personal decision in a system determined to make it a political one.

With humor, intelligence and honesty, Mitzi's Abortion explores the questions that have shaped the national debate over abortion, and reminds us that whatever we may think we believe, some decisions are neither easy nor simple when they become ours to make.

July 21- August 2- in the Allen Theatre. ACT in Seattle, Washington.

BUNBURY: A SERIOUS PLAY FOR TRIVIAL PEOPLE Written by Tom Jacobson. Directed by Rosalind Ayres. Featuring Peter Paige, John Vickery, Melinda Page Hamilton, Orlando Seale and Andre Sogliuzzo.

When he discovers that he is only a fictitious character in The Importance of Being Earnest, Bunbury joins forces with Rosaline, Romeo's never-seen obsession from Romeo and Juliet. Together, they use their anonymity to infiltrate and alter classic literature, starting by accidentally giving Romeo and Juliet a happy ending. A comedy that proves everyone's life means something - even if they don't exist!

All performances will be recorded to air on LATW's nationally-syndicated radio theater series, The Play's The Thing, which broadcasts weekly on public and satellite radio.

PYRENEES by Scottish playwright David Greig. An American premiere directed by Neel Keller.

Starring Frances Konroy, Tom Irwin, Tessa Thompson and Jan Triska.

High in the French Pyrenees, a man is found unconscious in the snow. He remembers almost nothing. "I'm a smoker. I'm not from Yorkshire. It's not much, but it's a start." With just this clue, a young woman from the British Consulate tries to piece together his identity. As the snow melts on the mountains a bond develops between them. The identity they both begin to envision is jeopardized by the arrival of a person who claims to know the man's past. As the man struggles to reconcile a future he's beginning to desire with a past he may have fled, the play explores the fragile nature of personal identity, the persistent dream of re-defining a life and the strong grip of the past.

Set Design, Mark Wendland. Costume Design, Allison Leach. Lighting Design, Geoff Korf. Sound Design, Robbin E. Broad and Michael Hooker.

Officially opens tonight, July 9, at the Kirk Douglas Theatre in Culver City, CA.

July 12 - July 16 Skirball Cultural Center Los Angeles, CA.

LOVE LASTS ON MYRTLE AVENUE

Lois Smith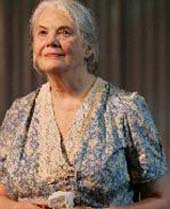 by Jimmy Breslin. A New York love story by the Pulitzer Prize-winning journalist. Based on true events.

A staged reading directed by Gordon Edelstein. Featuring Rip Torn and Lois Smith. Part of The Cape Cod Theatre Project. which performs staged readings of new American plays throughout the month of July and invites the audience to be part of the critical process. The Project brings together writers of new plays with professional actors and directors for staged readings in intimate settings. The playwrights benefit from the experience and insight brought by these talented professionals who help to refine and perfect the script. At the end of each performance the audience members are also asked for their comments in a post show discussion with the artists. Over half of the plays presented have been fully produced in New York and around the country in some of the finest regional theatres.

July 13-15th at the Falmouth Academy in Falmouth MA.


| | | |
| --- | --- | --- |
| | | |
WHO'S WHERE


PETER FRAMPTON, DICKIE BETTS, & HOOTIE AND THE BLOWFISH take the tour to California this week performing Friday, July 14 at the Fox Theatre in Redwood City, On Saturday the performance is at the House of Blues in Anaheim and next Sunday the music emanates from the Pechanga Resort and Casino in Temecula.

MICHAEL McDONALD AND STEELY DAN in stage Monday, July 10, at the Starwood Amphitheatre in Antioch, TN. On Wednesday they are on stage at the Nokia Theatre in Grand Prairie, TX. Friday finds them at the C.W. Mitchell Pavilion at TheWoodlands, TX and on Saturday they can be enjoyed at the Verizon Wireless Amphitheater in Selma, TX.

KELLY CLARKSON in the spotlight Monday, July 10, at Darien Lake Six Flags in Darien Center, NY. Wednesday she opens a two nighter at the Jones Beach Theatre in Wantagh, NY. Saturday finds her at the New England Dodge Music Center in Hartford, CT and next Sunday, July 16, she's in the spotlight at the Tweeter Center in Mansfield, MA.

SHERYL CROW on stage Monday, July 10, at Scotiabank Place in Ottawa, Ontario. On Thursday she's in the spotlight at the Constant Convocation Center in Norfolk, VA and on Friday she performs at Trump Plaza in Atlantic City.

PAUL SIMON brings his talents to the Merriweather Post Auditorium in Columbia, MD on Wednesday, July 12. On Friday he begins a two night gig at the Borgata Hotel in Atlantic City.

RED HOT CHILI PEPPERS opens a two nighter Tuesday, July 11 at the Manchester Evening News Arena in Manchester, UK. On Friday they kick off a four night engagement at Earls Court Arena in London.

MADONNA is in the middle of a three night stand at the Fleet Center in Boston. On Wednesday she opens a two night gig at the Wachovia Center in Philadelphia. Next Sunday she's in the spotlight at the Atlantic City Boardwalk Hall in Atlantic City.

THE WHO on stage Tuesday, July 11, at Museumplatz in Bonn, Germany. On Wednesday the show is at Wuhiheide in Berlin. On Saturday they'll be playing their hits at the Sporting Club in Monte Carlo.

LeANN RIMES in the spotlight Thursday, July 15, at the Hampton Beach Casino Ballroom in Hampton Beach, NH. On Friday she begins a two night stand at Niagara Fallsview Casino in Niagara Falls, Ontario.

ERIC CLAPTON performs Monday, July 10 at the Arena in Verona, Italy. On Tuesday he moves the show to the Moon & Star Festival in Locarno, Switzerland. Thursday finds the entertainer on stage at the Cologne Arena in Cologne, Germany. The location for Friday's show is Westfalenhalle in Dortmund, Germany. In Saturday he'll be pleasing the crowd at Stadhalle in Vienna, Austria.

CHRIS BOTTI making wonderful sounds tonight, July 9, at the Rainbow Room in New York City.

OSCAR PETERSON takes part in the Borth Sea Jazz Festival Monday, July 10, The Hague, Netherlands.

MAYNARD FERGUSON AND THE BIG BOP NOUVEAU BAND in stage Friday, July 14 at Zanzibar Blue in Philadelphia.

AIR SUPPLY featuring Graham Russell and Russell Hitchcock. Performing the hits that made them famous, including Lost in Love, All Out of Love, Making Love Out of Nothing at All, The One That You Love, Goodbye, and It's Never Too Late. Friday, July 14 at the State Theatre of New Jersey in New Brunswick, N. J.

MACHERS, MENSCHES, AND MAMA'S BOYS Explore male identity in the age of macho metrosexuals Michael Patrick King (Sex and the City), Greg Behrendt (He's Just Not That Into You), Taylor Negron (Punchline), and Greg Fitzsimmons (Ellen). Presented as part of Identi-palooza: The Comedy Project 2006. Friday, July 14, at the Skirball in Los Angeles.

THE SIOUX FALLS JAZZ & BLUES FESTIVAL takes place Friday and Saturday at Yankton Trail Park, Sioux Falls, SD. Friday: The Women of Blues on the main stage with Ana Popovic, Shemekia Copeland and Mavis Staples. Second stage features QuarterRound and the Derek Postini Band. On Saturday the Main Stage features Dan Mahar, Ticket to Brasil, South Dakota Jazz Orchestra with Steve Weist and Denis DiBlasio, Albert Cummings, Hubert Sumlin and the GE Smith Band, Buckwheat Zydeco and Medeski Martin and Wood. The second stage lineup includes the Sioux Falls Municipal Band, Northlanders Jazz, Serenata, The BlueTanes, Dominant 7 and Urban Blues.


PIFFLE AND PROFUNDITIES


HIGH RANKING SING-ALONGS Prime Minister Junichiro Joizumi of Japan made headlines when he demonstrated his love and knowledge of Elvis Presley music, by on-the-spot performing several numbers in front of Priscilla and Lisa Marie Presley, who made like tour guides for a trek around Graceland. Joizumi isn't the only official to memorize songs. Reportedly, President Woodrow Wilson knew the lyrics to every Broadway show of his day and frequently would startle the staff by suddenly singing a verse or two.
















Next Column: July 16, 2006
Copyright: July 9, 2006. All Rights Reserved. Reviews, Interviews, Commentary, Photographs or Graphics from any Broadway To Vegas (TM) columns may not be published, broadcast, rewritten, utilized as leads, or used in any manner without permission, compensation/credit.
Link to Main Page
---
Laura Deni


CLICK HERE FOR COMMENT SECTION