-<! >
Broadway To Vegas
  
  REVIEWS  INTERVIEWS COMMENTARY  NEWS

| | |
| --- | --- |
| | |
BOOKSTORE CLOSINGS LEAVE CELEBRITY BOOKS ON THE SHELVES - -AUCTIONS FOR JOHN WAYNE, ELIZABETH TAYLOR AND TONY CURTIS - - MASTERWORKS BROADWAY STAGE AND FILM GODSPELL CD REVIEW - - CAROL CHANNING SPEARHEADS ARTS EDUCATION IN SCHOOLS - - BROADWAY COMMUNITY REMEMBERS 9/11 - - PHANTOM PLANS 25th ANNIVERSARY CELEBRATION - - SOUTH STREET - - NEWSIES - - DONATE . . . Scroll Down



BOOKSTORE CLOSINGS LEAVE CELEBRITY BOOKS ON THE SHELVES


Books. They inspire movies and plays.

There was The Shop Around The Corner, the quaint, personable store operated by Kathleen Kelly (Meg Ryan) - a store devoured up by Fox Books owner Joe Fox (Tom Hanks) in the movie You've Got Mail. The fictional romantic epic did have a happy ending with the characters bound together.

Real life doesn't always match the movies.

Take the Travel Bookshop, the inspiration for Notting Hill, serving as a cozy backdrop for the romance between bumbling London bookstore owner William "Will" Thacker (Hugh Grant) and Hollywood megastar Anna Scott (Julia Roberts) in the 1999 hit comedy.

The store, founded in 1979, was sold by its present owner for the past 25 years, Simon Gaul, after his children showed little interest in taking on the business. After 32 years in business, yesterday store founder Sarah Anderson was at the store for a final day's sale.

Despite an offer by writers and celebrities to work to for free and Alex Baldwin, who played Roberts' boyfriend in the film, posting on Twitter: "sad news 4 everyone's favourite bookshop from Notting Hill. Save the Travel Book Shop!!!" - the final chapter played out.

The same sad script is being staged across the world.

Borders Books, which has already slammed shut many of its doors on the 399 stores they are closing - laying off approximately 10,700 workers in the process - does that today at its Las Vegas stores.

Borders wasn't a quaint or cozy shop. In many ways one can understand why they went out of business. Unable to keep up with its competitors in the aggressive e-book market and losing online business to web-savvier brands like Amazon and Barnes & Noble, when the bankruptcy papers went through, Borders owed over $270 million to its creditors, including every major publishing house in the business.

In good economic times bookstores have a natural expansion to include a coffee bar, (which Borders had) a pianist, or musical events, readings, artistic presentations, and the obvious book signings.

General book stores sell children's books. That's an appropriate target market. But Borders chose to expand by selling non-designer name, over priced, out of the target market, baby supplies: hooded infant bath towels, sets of 4 baby washcloths, receiving blankets which can be purchased for $1.00 at the 99 cents store. I've never met a new mother, when suddenly realizing what she really needed was an infant wash cloth, announce that she had to race to Borders. There were also a variety of imitation perfume sets for women as well as imitation cologne sets for men. Odd. The expensive square footage and merchandise stock for items not related to time honored habits of the book buying public may have helped force Borders to close the book.

Even with 80-90% discounts, 24 hours before shutting down, celebrity books that stayed on the shelves were piles of Barbra Streisand's My Passion for Design decorating book, Marie Osmond's craft book, Paul Reiser's tome Familyhood, Nora Ephron's I Remember Mother, Harry Hamlin's Full Frontal Nudity, The Making of an Accidental Actor, and anything and everything that Sarah Palin authored. With the deep discounts, merchandise that flew off the shelves included 2012 calendars and erotica.



Broadway To Vegas is supported through advertising and donations. Priority consideration is given to interview suggestions, news, press releases, etc from paid supporters. However, no paid supporters control, alter, edit, or in any way manipulate the content of this site. Your donation is appreciated. We accept PAYPAL. Thank you for your interest.



ART AND ABOUT


MONEY AND BEAUTY: BANKERS, BOTTICELLI AND THE BONFIRE OF THE VANITIES Organized by Fondazione Palazzo Strozzi. From an idea by James M. Bradburne. Curated by Ludovica Sebregondi and Tim Parks. Masterpieces by Botticelli, Filippo Lippi, Beato Angelico, Paolo Uccello, Donatello, Antonio del Pollaiolo, Domenico Veneziano and Lorenzo di Credi – the cream of Renaissance artists – show how the modern banking system developed in parallel alongside the most important artistic flowering in the history of the Western world.

The exhibition also explores the links between that unique interweave of high finance, economy and art, and the religious and political upheavals of the time.

Money and Beauty. Bankers, Botticelli and the Bonfire of the Vanities recounts the birth of our modern banking system and of the economic boom that it triggered, providing a reconstruction of European life and the continent's economy from the Middle Ages to the Renaissance.

Visitors can delve into the daily life of the families that controlled the banking system and perceive the ongoing clash between spiritual and economic values that was such a feature of it.

The saga of the art patrons is closely linked to that of the bankers who financed the ventures of princes and nobles alike, and indeed it was that very convergence that provided the humus in which some of the leading artists of the time were able to flourish.

September 17, 2011 to January 22, 2012 at the Centre for Contemporary Culture in Florence, Italy.

STAN LAUREL MUSEUM HAS THE BACKING OF PRINCE CHARLES

The former King James Grammar School in Bishop Auckland. Photo: Stan Laurel Community Building Group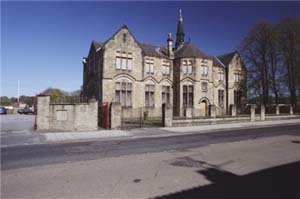 who is even offering suggestions on project funding. The Stan Laurel Community Building Group was formed with the intent of renovating the former King James I Boys Grammar School, in Bishop Auckland - once attended by Stan Laurel - into a museum and theatrical center.

Chairman Michael O'Neill disclosed to the press, and first printed in The Northern Echo, that he received a letter from The Prince Of Wales' Regeneration Trust. In that note, the prince's assistant private secretary, Emily Cherrington, wrote: "The building sounds fascinating and how wonderful that your group is working so hard to try to save the building. The Prince of Wales has long been a supporter of projects which save and restore heritage properties and give them back to the local community to use."

The trust also sent information to help the group find funding, which O'Neill termed "a real boost."

Parts of the grade-II listed school date from about 1605, when King James I approved a request from Anne Swyfte to teach Latin and Greek in Bishop Auckland.

In 1902 - 1903 the young Stan Laurel was a border there, at that time the school catered for the sons of middle-class gentleman. Laurel's father was manager for the town's Eden Theatre. On the right of Stan's school facing the playing fields,stands a double-fronted house, it was here that Stan gave his first performances in the staff room.

The group's plans include "acquiring this building, renovate it and convert it into a Community Building incorporating a museum dedicated to Stan Laurel, a general Museum celebrating Bishop Auckland's colorful past, a day centre for the elderly and disabled, a Nursery, a interactive children's play group and a drama centre for up and coming groups and artist's from all backgrounds to gain skills and experience and also the opportunity to perform plays in front of a local audience."

The West Coast Premiere of Laurel and Hardy written by Tom McGrath and directed by Dimitri Toscas has performances through October 2, 2011 at the Falcon Theatre in Burbank, CA. ( See Broadway To Vegas column of August 31,2011 )

THOMAS DENNENBERG Deputy Director, Chief Curator, and William E. and Helen E. Thon Curator of American Art at the Portland Museum of Art, has accepted the position of Director at Shelburne Museum in Shelburne, Vermont.

Shelburne Museum is one of North America's finest, most diverse, and unconventional museums of art, design, and Americana. Denenberg will start his new job on November 1, 2011.

Denenberg holds a Ph.D. in American and New England Studies (2002) from Boston University and earned an undergraduate degree from Bates College (1990).


THE MUSIC GOES ROUND AND ROUND


GODSPELL by composed Stephen Schwartz. Conceived and directed by John-Michael Tebelak.

This is an elegant Masterworks Broadway 2-disc CD set that includes both the original Broadway cast recording from 1971 as well as the 1973 movie soundtrack, prepares ye the way for the upcoming first ever Broadway revival, which begins performances at New York City's Circle in the Square in October.

The musical which gave us Day By Day has been newly remastered by Masterworks Broadway. Godspell - The 40th Anniversary Celebration is significant because the two versions - stage and film - are different.

The movie version was filmed and set in modern New York City, and memorably featured the musical number All For the Best performed on top of the as-yet-to-be-completed World Trade Center.

The film stars Victor Garber as Jesus and David Haskell, who died of a brain cancer in 2000, as John the Baptist/Judas. According to Stephen Schwartz: "Fellow Godspellians gathered around him for his last days."

Learn Your Lessons Well, Turn Back Old Man, We Beseech Thee and a reprise of Day By Day are part of the original cast recording but not used in the film.

The song Beautiful City was written for and first included in the film. The melody for Learn Your Lessons Well is used briefly in an early scene of the film and again as incidental music, while We Beseech Thee is heard in the scene inside Cherry Lane Theatre where Jesus (Victor Garber) plays its melody on the piano during the story of The Prodigal Son.

While not visible, John-Michel Tebelak voiced the Pharisee Monster in the Alas For You song sequence.



This is the film cast: l. to r., Katie Hanley, Robin Lamont, Victor Garber, Merrell Jackson (top), Jerry Stroka (middle), Jeffrey Mylett (bottom), David Haskell, Gilmer McCormick, Joanna Jonas. Photo: Sony music Photo Archive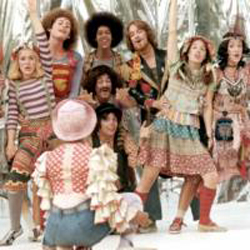 Vocally, the chorus is very much in the same style, but solo parts are, at times, more lyrical. Notably, in All Good Gifts, whereas Lamar Alford had used a dramatic tenor voice, Merrell Jackson who died in 1991, played Merrell a garment trade worker in the film. As has been pointed out, he used a lighter voice and falsetto for the high ornament which creates a joyous effect.

A question posted on the StephenSchwartz.com forum concerned Alford. "His voice is rather different from the other members of the cast and is certainly unique... and very different from Merrell Jackson's performance in the film."

Schwartz replied: "Lamar was chosen because so few of the original cast were strong singers."

The CD booklet also features new liner notes by Godspell composer-lyricist Stephen Schwartz.

The track listing for both CDs:

ORIGINAL CAST RECORDING

Prepare Ye The Way of the Lord
Save The People
Day By Day
Learn Your Lessons Well
Bless The Lord
All for the Best
All Good Gifts
Light of the World
Turn Back, O Man
Alas For You
By My Side
We Beseech Thee
On The Willows
Finale
Day By Day (Reprise)

MOTION PICTURE SOUNDTRACK

Prepare Ye (The Way of the Lord)
Save The People
Day By Day
Bless the Lord
All for The Best
All Good Gifts
Light of the World
Alas For You
By My Side
Beautiful City
On The Willows
Finale


SWEET CHARITY


CAROL CHANNING TURNS THE SPOTLIGHT ON ARTS EDUCATION

Carol Channing wants music and the arts taught in schools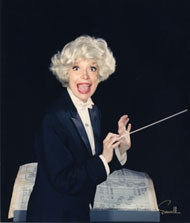 in California's Coachella Valley with a 63rd Primetime Emmy Award viewing party at Lulu California Bistro. Channing and celebrated friends will host a red carpet event Sunday, September 18, featuring a live and silent auction, very special performances by Broadway personalities and young people representing the Valley's public schools' arts programs. The Channing-Kullijian Foundation will proudly present the first Arts Star Award to Congresswoman Jackie Speier (D-CA), who successfully championed the H Con Res 275, a concurrent resolution designating a week in September as "Arts in Education Week."

Carol Channing, 90, could easily rest on the laurels of her legendary career. Instead, she has dedicated the rest of her life to bringing the arts back to our country's public schools. She and her husband, Harry Kullijian, founded The Channing-Kullijian Foundation For The Arts whose mission is to restore the arts to every public school in the nation and to ensure an arts education to every child in America. "We aren't trying to save the arts", says Channing, "We are using the arts to save our children".



Rep. Jackie Speier introduced Arts In Education Week, inspired by Carol Channing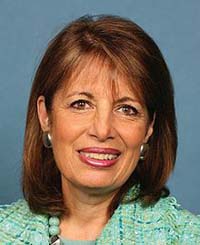 The United States Congress and Senate have designated the second week of September as Arts In Education Week by a joint resolution HR 275, authored by Rep. Jackie Speier and inspired by Channing. 2011 marks the first annual national commemoration and takes place from September 11-18.

The Channing-Kullijian Foundation will celebrate the week in Palm Springs by helping to raise money for, and awareness of, the need for arts in America's public schools.

"Studies show that children who get music and art in their schools read better, achieve more and drop out less. These same children show better scores in math and science too and often it takes only one subject that captures their hearts to keep them in school. The arts build self-confidence, team work and ultimately builds better schools and better adults," declares Mr. Kullijian.

The Channing-Kullijian Foundation is "Education a'la cARTE," a weeklong campaign in partnership with several of the Coachella Valley's most popular restaurants. Participating restaurants will donate a percentage of their profits for the week of September 11-18 to the Foundation and a portion of those proceeds will go directly into the arts programs in designated schools in the Coachella Valley.

THE WOLF TRAP BALL will be held Saturday, September 17, at Wolf Trap's Filene Center in Vienna, VA – one of the largest stages in America. The 2011 Ball will be a celebration of Wolf Trap's 40th Anniversary Season.

Wolf Trap has been selling raffle tickets to support Wolf Trap education programs, benefiting more than 75,000 children, parents, teachers, and aspiring artists each year in the greater DC region and across the country. The winning ticket will be pulled during the Ball. The lucky winner a trip for two to New York City, including roundtrip airfare, hotel accommodations for two nights, and a private evening with multi-award-winning composer and conductor Marvin Hamlisch. The evening will include dinner, a Broadway show, and a special backstage experience with Marvin.

Always one of the region's most spectacular events, the Ball benefits Wolf Trap Foundation's renowned education programs, including Wolf Trap Institute for EarlyLearning Through the Arts, a nationwide and international program that uses the performing arts disciplines of drama, music and movement to help teach literacy and other academic and social skills to disadvantaged children.

PRINCE ALBERT AND PRINCESS CHARLENE of Monaco, still married and appearing happy, celebrated his late mother Princess Grace at a gala in the principality on September 9. They were joined by a host of celebrities, including Naomi Watts, Jerry Hall, Eva Herzigova, Claudia Schiffer and Olivia Palermo, as they attended the launch of the Montblanc Collection Princess Grace de Monaco, which pays tribute to the former actress through a selection of pieces including watches and writing instruments with some of the proceeds going to the Princess Grace Foundation -USA which supports emerging artistic talent.

Mount Blanc said in a statement: "Grace Kelly was a role model to millions. Her celestial beauty AND stunning elegance defined the 1950s and illustrated the covers of magazines all over the world. She had a signature style that embraced her films and private life. She was one of the foremost talents of her generation. Providing for new talent was a defining principle throughout her lifetime. She encouraged many emerging artists different creative disciplines, to pursue their career ambitions."


GAVELING DOWN THE GREATS - ELIZABETH TAYLOR, JOHN WAYNE AND TONY CURTIS


This is a busy week for those who like to prowl auction pre-sale exhibits. On display for would be bidders and the general looky-loos are the possessions of John Wayne, Elizabeth Taylor and Tony Curtis. At least a portion of all three auctions will benefit charities dear to the hearts of the departed.

Possessions of John Wayne being offered up for serious bidders include one of the iconic black eye-patches he worn during his Oscar-winning performance in True Grit, the cowboy hat he wore in the film's 1975 sequel, Rooster Cogburn, and more than 700 other costumes, scripts, personal documents and awards.



John Wayne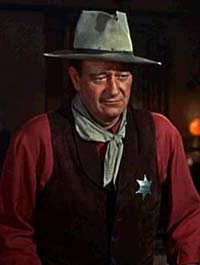 In True Grit, Wayne, who died in 1979 at age 72, played eye patch wearing US Marshal, Rooster Cogburn, who helps a girl track down her father's killer. The 1969 film won him his only Oscar. Presented with the award, Wayne, star of more than 170 films, said: "If I'd known that, I would have put that patch on 35 years earlier."

Public exhibitions of the John Wayne collection will be held in Dallas, September 16-18, 2011, in New York, September 23-25, 2011, and Los Angeles October 3-5. The auction will take place at the Hyatt Regency Century Plaza Hotel in Los Angeles and online, Oct. 6-7, 2011.

Besides one of Wayne's eye patches and the True Grit Golden Globe, with an estimated value of $50,000, other high-end items to be gaveled down include a costume from 1949's Sands of Iwo Jima, which has an opening bid of $20,000; a Stetson cowboy hat from 1953's Hondo, at $25,000; and an Andy Warhol limited edition signed print from the Cowboys and Indians series, also at $20,000.

Among the additional items are costumes from such movies as Sands of Iwo Jima and The Green Berets; and more than 50 movie scripts from such celebrated John Wayne films as True Grit, The Green Berets, Stagecoach, Rio Lobo, Hellfighters and The Sons of Katie Elder. Many of the scripts are annotated with John Wayne's handwritten notes.

Personal items include John Wayne's cowboy boots and cowboy hats; saddle and stand; personal correspondence with U.S. Presidents and Hollywood's biggest stars of the era; correspondence and awards related to his affiliation with the University of Southern California; John Wayne's driver's license, passport and American Express card.

John Wayne Enterprises has appointed Heritage Auctions to conduct the first ever single-owner auction from Wayne's personal archive. Pre-sale estimates range from $100 to $50,000 each. Items offered in the auction will be accompanied by a certificate of authenticity from the Wayne family and Heritage Auctions.



Elizabeth Taylor, wearing both the famed Todd Tiara and chandelier ear pendants dancing with Mike Todd at the February 17, 1958 Valentine Ball in Paris. Less than five weeks later Todd would be killed in an airplane crash. Photo: Elizabeth Taylor Archives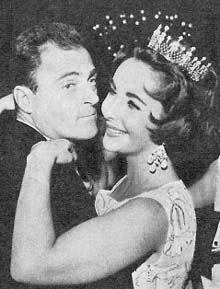 Actress Elizabeth Taylor's world-renowned collection of jewelry will be auctioned off in December at a two-day sale that is expected to realize more than $30 million, Christie's announced on September 7.

The December 13-14 sale will follow a global three-month tour which begins in Moscow on September 15. In addition to her fabulous jewels, on display to tempt bidders will be Taylor's couture, fine art and memorabilia. The December gavel down will be the first of a series of auctions from the estate of the legendary film star who died in March.

Some 269 diamonds, pearls, rubies, rings, necklaces and even that Todd Tiara will be sold, with several of the most valuable, and storied pieces tied to Taylor's lengthy and complicated relationship with Richard Burton, whom she married twice and divorced twice. Also playing a prominent role is the other big love of her life - Mike Todd.

It wasn't until her marriage to the great showman Mike Todd that she began collecting expensive jewelry. The couple married February 2, 1957. Todd would die in an airplane crash on March 22, 1958.

Todd loved showering his new bride with fantastic pieces of jewelry, including a suite of rubies and diamonds by Cartier which Todd presented to his wife as an accomplishment reward when she demonstrated she could swim laps in the pool. There was also a 29 and 7/8 carat diamond engagement ring, which according to Elizabeth, "Mike insisted I say 29 and 7/8, because 30 would have been vulgar." Don't anybody forget the antique Belle Époque diamond necklace. There was also that tiara dubbed the Todd Tiara - one of her favorite pieces.

She worn the antique diamond tiara many times, including to the 1957 Academy Awards at which Todd's Around the World in 80 Days won best picture. It is estimated at $60,000 to $80,000.

Another of her favorite Todd gifts was a pair of chandelier ear pendants that originally contained paste diamonds, but were replaced with real diamonds by Todd as a surprise.

Those will all go under the hammer.

"This is without a doubt the greatest private collection of jewelry ever assembled in one place," said Christie's Americas chairman and president Marc Porter.

The collection includes everything "from her most jaw-dropping diamonds, gems and one-of-a-kind historic jewels to ... never-before-seen keepsakes," he said.

Most have their own history. According to her estate, Elizabeth once lent her $150,000 emerald and diamond brooch to one of Richard's costars in Hamlet to be used as a safety pin for a broken zipper.



The Elizabeth Taylor Diamond," a gift from Richard Burton, a 33.19-carat diamond estimated at roughly $3 million. Photo: Christie's which credits Richard Drew/AP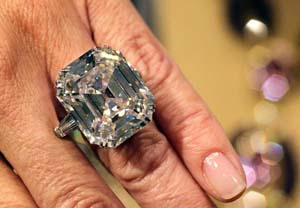 Elizabeth Taylor's ruby and diamond necklace, a gift of Mike Todd, is estimated at $200,000 to $300,000. Photo: Christie's who credits Richard Drew/AP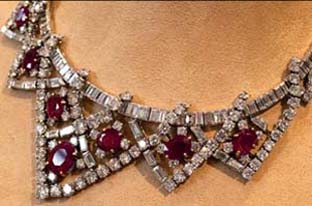 Leading the December 13 gala evening sale of 89 top lots is Taylor's iconic, 33.19-carat white diamond ring, a 1968 gift from Richard Burton who purchased it at auction for $300,000.

The trustees of Taylor's estate have renamed it The Elizabeth Taylor Diamond, and it is estimated to fetch $2.5 million to $3.5 million.

The auction house emphasized that the guess could be low balled because prices for items from the collections of other famous people ranging from Jacqueline Kennedy Onassis and Marilyn Monroe to the Duke and Duchess of Windsor have soared to many times their pre-sale estimates.

Taylor's fame, as well as her eye for quality are expected to drive interest, and boost prices.

"It is her depth of knowledge about fine jewelry that truly impresses," Christie's' international jewelry director Francois Curiel said. "It was clear that she possessed an expert's eye for craftsmanship, rarity, quality and history. She collected the best pieces from the best periods."

Among the most historic pieces is a 203-grain (equivalent to 55 carat) pear-shaped 14th-century pearl once owned by England's Mary Tudor, and later passed on to Spanish queens Margarita and Isabel.

Burton bought it in 1969 at auction for $37,000, and Taylor commissioned Cartier to design a new ruby-and-diamond necklace mount. It is estimated to sell for $2 million to $3 million.

At the other end of the spectrum, bidders will have a chance at Taylor's two, diamond-set wedding bands from her marriages to Burton, estimated at only $6,000 to $8,000.

Taylor's estate was valued at anywhere from $500 million to $1 billion at the time of her death from congestive heart failure on March 23, age 79. In keeping with Taylor's humanitarian work, a portion of the proceeds from exhibitions, events and publications related to the auction will be donated to The Elizabeth Taylor AIDS Foundation, which the actress founded in 1991. The New York sales will be preceded by a 10-day exhibition of her collection beginning on December 3.

Julien's Auctions is promising to offer a rare glimpse into the life of one of Hollywood's most colorful stars, Tony Curtis, who spent the last decades of his life living in Las Vegas.

The rare Hollywood star whose off-screen character was often more sensational than his on-screen one, lived a life that could be its own movie or television series. Curtis' career spanned six decades with popularity during the 1950s and 1960s enabling him to transpose his good looks into super movie stardom. He acted in over 100 films ranging from light comedy to serious drama and he also made numerous television appearances.

Among Curtis' most memorable films were 1959's Some Like It Hot, 1960's Spartacus, 1953's Houdini, 1952's Son of Ali Baba, 1957's Sweet Smell of Success, 1965's The Great Race and of course 1968's The Boston Strangler, often noted as his most serious part. He earned an Oscar nomination for the 1958 crime drama The Defiant Ones. The film Some Like Hot in which he acted with icon Marilyn Monroe and Jack Lemmon has been called the funniest film in history by the American Film Institute. He also acted with such greats as Burt Lancaster in Sweet Smell of Success and Cary Grant in Operation Petticoat. Curtis was often noted for his impeccable comedic timing.

Off screen Curtis earned even more attention for his personal life which was filled with great turmoil and change. He married five times, his first and most famous to actress Janet Leigh.

In addition to being a popular actor, Curtis was a fine art connoisseur. Collectors will have the opportunity to purchase some of his impressive art collection along with items from his illustrious career at Julien's Auctions Gallery in Beverly Hills on September 17th, 2011. A portion of the proceeds from the auction will benefit Shiloh Horse Rescue, a charitable organization founded by Jill and Tony Curtis that rescues and rehabilitates abused, neglected and slaughter-bound horses of all types.

The Curtis Estate auction features property spanning from his World War II Naval stint through the first decade of the 21st century. Fine art highlights coming to the block include the Andy Warhol Some Like it Hot Shoe, given to Curtis as a gift by the artist (est $20,000/30,000), three drawings by Balthus (two est $25,000/35,000 and one est $30,000/40,000), a Maurice Denis oil on canvas study for the Baptism of Christ Mosaic at the Church of Saint Paul in Geneva, Les Ondes, (est $20,000/30,000), ceramics and prints by Picasso, Braque, and Chagall, a fine collection of 20th century American, British, and European paintings, and many selections from Tony Curtis's own secondary career as an artist, including paintings, drawings, prints, ceramic vases, and a tapestry. Also available for the first time are a selection of assemblage shadowboxes, a type of artwork very personal to Curtis and never before exhibited or sold to the public, although these items were occasionally bestowed as gifts upon friends and family.

Tony Curtis was an inveterate collector with a discerning eye. His treasures, collected from his travels all over the world, range from Faberge objets de vertu (a 14k gold cigarette case, est $4,500/$6,500; and a trefoil dish inset with Russian coin, est $3,000/5,000), to fine watches (including an 18k gold Audemars Piguet Chronograph wristwatch, est $6,000/8,000), to fine furniture (a Chinese Chippendale expanding writing desk, est $4,000/6,000), to boxes that he personalized with found objects, trinkets and mementos, preserved as he left them (numerous lots with estimates between $200 and $1,000).

Choice memorabilia items from Curtis' acting career include a yachtsman's jacket from the famous shipboard kissing scene with Marilyn Monroe in Some Like it Hot (est $10,000/15,000), a beautiful rosewood Rudall and Carte flute given to Curtis by Frank Sinatra (est $3,000/4,000), his Photoplay 14k gold medal award for Most Popular Male Star won in 1958 (est $3,500/4,500), and Hanna/Barbera's own depiction of Stoney Curtis in an animated cel from an appearance on the Flintstones (est $1,200/1,800).

This auction also proudly showcases awards, mementos, photographs, letters, clothing, and personal effects from all phases of Curtis' life and career and reflecting his many interests and talents.

The auction lots are on display through September 16 at Julien's Auctions in Beverly Hills. The live and online auction takes place Saturday, September 17 in both a morning and afternoon session.


BROADWAY UNITED IN REMEMBERING 9/11


Last Friday, September 8, Broadway united at Duffy Square in a heart of Times Square to participate in a 9/11 musical tribute ceremony-day of service and remembrance.

Broadway performers included: Nick Adams, Kara DioGuardi, Sutton Foster, Josh Gad, Montego Glover, Joel Grey, Nikki James, Chad Kimball, Darlene Love, Bebe Neuwirth, Rory O'Malley, Brad Oscar, Hunter Parrish, Andrew Rannells, Roger Rees, Tony Sheldon and Ben Vereen.

They were joined by cast members from Anything Goes, The Addams Family, Billy Elliot The Musical, The Book of Mormon, Chicago, Godspell, Mamma Mia!, Memphis, Rock of Ages, Jersey Boys, Priscilla Queen of the Desert, Sister Act and Stomp.

Speakers included: Paul Libin, Chairman of The Broadway League, Bob Wankel, Chairman of the Times Square Alliance, David Paine and Jay Winuk, Co-Founders of MyGoodDeed, Joel Grey, and more. NYPD Officer Daniel Rodriguez sang God Bless America. The ceremony culminated with a very special performance of Kander & Ebb's New York, New York performed by Broadway performers. Musical Director was Phil Reno and Denis Jones served as Director and Choreographer.

Produced by The Broadway League in support of the 9/11 Day of Service and Remembrance, in partnership with the Times Square Alliance with additional support provided by Theatre Development Fund (TDF) and with generous support from Music Performance Fund (MPF). Produced in Association with IMG Media. Screens courtesy of: American Eagle Times Square; ClearChannel Spectacolor.

In related news, yesterday, September 10, Tony Award winning actress Victoria Clark, currently starring on Broadway in the hit musical Sister Act performed for Mayor Michael Bloomberg and members of the federal courthouse community in a special ceremony honoring the legal community who stayed on duty during the tumultuous times immediately after September 11th.

The United States District Court for the Southern District of New York held a Special Session of Court on September 8 to commemorate the 10th anniversary of the September 11 attacks. The purpose of the special session was to honor those in the federal courthouse community who kept the wheels of justice turning after September 11. Some of the honorees include the U.S. Attorney's Office, New York Federal Defenders, courthouse employees, and the United States Marshals Service.

The United States District Court for the Southern District of New York is the oldest federal district court organized under the Federal Judiciary Act of 1789 - predating the Supreme Court by several weeks. Because the court has jurisdiction over matters arising in New York City, it is one of the nation's busiest courts; the courthouse on Pearl Street has been home to many notorious cases, including Bernie Madoff, Martha Stewart, and the September 11 trials.


PHANTOM OF THE OPERA PLANS SPECIAL 25th ANNIVERSARY CELEBRATION - A FEW TICKETS GO ON SALE SEPTEMBER 12


Phantom of the Opera will celebrate its 25th Anniversary with special performances at the Royal Albert Hall in London on Saturday October 1 and Sunday October 2.

This lavish, fully staged production will star Ramin Karimloo as The Phantom and Sierra Boggess as Christine. In 2006 Boggess originated the role in the Las Vegas production. They will be joined by Barry James as Monsieur Firmin, Gareth Snook as Monsieur André, Liz Robertson as Madame Giry and Wynne Evans as Piangi together with a cast and orchestra of over 200 together with some special guest appearances.

The event will be filmed live for broadcast across the globe in October.

The special performances which will utilize Maria Björnson's original stage designs, will be directed by Laurence Connor and feature choreography by Gillian Lynne.

The Phantom of the Opera at the Royal Albert Hall will be screened live in 250 cinemas across the U.K. and in over 500 theatres in North America on October 2. Additional U.S. screenings are planned for October 5 and 6, as well as an October 11 encore.

The event will also be screened in Canada on October 3 and 22 and in Sydney Australia on October 8, and . 13-23.

The special presentation of Phantom at the Royal Albert Hall will also be released November 14 on DVD, Blu-ray, CD and digital download. It will be released in Australia and New Zealand December 8. A 4 CD and DVD Collectors' box set is also planned.

Last Friday the production announced that "on Monday 12 September at 10am, a strictly limited number of tickets will be released to the public on a first come first served basis.

"A limited number of tickets will be available in both Grand Tier and Loggia boxes for Saturday, October 1 at 7:30pm and Sunday, October 2 at 7pm at £250 each ($398.67).

"There will also be a limited number of stalls seats available at £180 ($287.05) each for both the Saturday evening and Sunday matinee performances. "In addition there will be a limited number of gallery tickets released for these two performances - please note that these are standing room only and will be available at £25 ($39.87) each. "A small amount of single tickets will be released in second tier boxes at £120 ($191.36) each for all performances. Please note, these are single seats and can only be purchased in-person at the Box Office or by calling 0845 401 5031."

It is anticipated that these available to the general public seats will sell out within minutes.


SPREADING THE WORD


DIOSA COSTELLO: A LATINA TRAILBLAZER ON BROADWAY Visitors are invited to join curators Dwight Block Bowers and Marvette Pérez for a conversation with Diosa Costello, a pioneering Latina performer on Broadway and the New York cabaret scene from the 1930s to the 1950s, who also helped discover such famous names as Desi Arnaz and Goldie Hawn.

This program is part of the Smithsonian's Hispanic Heritage Month Family Day

Saturday, September 17 at Smithsonian Castle Commons, National Museum of American History, Washington, DC.

A NIGHT OF REJECTION with New Yorker cartoonists Drew Dernavich, Matthew Diffee, and Zachary Kanin who'll participate in a lively discussion about submissions that were too risqué, dismaying, shocking, weird or controversial for the magazine. Tuesday, September 20th, 2011 at the Cartoon Art Museum in San Francisco, CA.

THE VILLAGE VOICE 57TH ANNUAL OBIE AWARDS off-Broadway's Highest Honor has announced the judges for the 57th annual Obie Awards. The ceremony will be held Monday, May 21, 2012. The Obie's which salute outstanding theatrical accomplishments has also announced that the Village Voice''s chief theater critic, two-time Pulitzer Prize finalist, and theater dramaturge Michael Feingold, who has chaired the Obies since the 2006-7 season, will become the first Obies Chairman Emeritus. The 2011-12 Obie Chairman will be Brian Parks. Brian is the Arts and Culture editor of The Village Voice, which includes editing the paper's theater section. He has previously served as Obies Chairman, from 1999 to 2003.

Joining Feingold and Parks will be Voice critic Alexis Soloski. She also contributes frequently to The New York Times, the U.K. Guardian, and BBC Radio. A professor of theater, Alexis is a lecturer in the Core Curriculum at Columbia University.

The four guest judges are: Annie Baker, Best New American Play Obie winner in 2010 for her plays Circle Mirror Transformation and The Aliens; Anne Kauffman, accomplished director, instructor, and 2007 Obie winner for her direction of The Thugs; Jose Rivera, two-time Obie Award winner for his plays Marisol and References to Salvador Dali Make Me Hot; and Helen Shaw, a theater critic for Time Out New York and a past Obie judge. Her writing has also appeared in The Village Voice.


OTHER PEOPLE'S MONEY


GODSPELL the eagerly anticipated revival of the legendary rock musical (see CD review above) opens the Circle in the Square Theater box office on Thursday, September 15, for the for the first day of walk-up sales.

In celebration of the box office opening, all customers who purchase tickets in-person at the theatre between the hours of 10 a.m. and 2 p.m. that day will be treated to an exclusive inside look at the theatre with Godspell's lead producer Ken Davenport.

This tour includes a unique opportunity to witness the show's "load-in" process - the period of time in which set pieces, lighting instruments, rigging and all other physical elements of the production are assembled, installed and tested prior to the start of rehearsals inside the theatre space.

Davenport will explain the production designers' intentions and inspirations for the revival's set and lighting design, and will also reveal some of the show's surprise elements and unique theatrical secrets.

Those first customers will also each receive a free Godspell gift with each purchase.






2011 KENNEDY CENTER HONOREES are Academy Award winning actress Meryl Streep, Rock and Roll Hall of Famer Neil Diamond, Broadway singer Barbara Cook, cellist Yo-Yo Ma and saxophonist Sonny Rollins. The honor is for their contributions to American culture through the arts.

President Barack Obama will salute the artists and others will perform in their honor at a ceremony at the Kennedy Center on December 4. The show will be broadcast on CBS on December 27.

MARY TYLER MOORE will receive Screen Actors Guild's Screen Actors Guild Life Achievement Award, according to an announcement made by the organization.

The Emmy-winning actress will be presented the award, given annually to an actor who fosters the "finest ideals of the acting profession," at the 18th Annual Screen Actors Guild Awards, which premieres live on TNT and TBS Jan. 29, 2012.

12th ANNUAL LATIN GRAMMY AWARDS will announce their nominations on Wednesday, September 14, at the Avalon in Hollywood.

From Latin pop trio Alex, Jorge y Lena, Lena Burke and Jorge Villamizar; two-time Grammy and eight time Latin Grammy-winning Urban/hip-hop duo Calle 13; singer/songwriter Myriam Hernández; pop singer Merche; and from alternative rock band Zoé, Angel Mosqueda and Rodrigo Guardiola will help announce nominations.

Gabriel Abaroa Jr., President/CEO of The Latin Recording Academy, and Univision personality Giselle Blondet as well as key members of the music industry and cultural community will be in attendance.

The 12th Annual Latin Grammy Awards will be broadcast live on the Univision Network from the Mandalay Bay Events Center in Las Vegas on November 10.



SOUTH STREET a new musical comedy featuring music and lyrics by Richard Addrisi and book by Craig Carlisle.

Directed by Roger Castellano with choreography by Dana Solimando.

From an old firehouse to a strip joint to the now-celebrated location of the annual Full Moon Festival, Sammy's Place has been a fixture on Philadelphia's eclectic South Street for decades.

It's a place where the locals come to celebrate life and to discover the legendary magic of the rabbit that dwells in Sammy's moon clock hanging over the bar. The club now lies at a crossroads with the ownership threatened and its future in jeopardy. So come on in, grab a seat and experience a song-and-dance filled magical evening of love, laughter and family on South Street.

The cast includes: Marie Eberline, Brent Schindele, Tom Shelton, Valerie Perri, Ezra Buzzington, Lowe Taylor, Matthew Patrick Davis, Andy Scott Harris, Cassie Silva, Harrison White, Jim Holdridge, Benjamin Goldsmith, and Peter Siragusa.

The creative team for the production; scenic design by Andy Walmsley; costume design by Kate Bergh; lighting design by Tony nominee Brian Monahan; sound design by Julie Ferrin; orchestrations by Tony Grammy, Drama Desk and Emmy Award winning Don Sebesky; music supervision by Andrew Sotomayor; and musical direction by Michael Borth.

The limited engagement performs September 16 – October 16, 2011 at The Pasadena Playhouse in Pasadena, CA.

10,000 BEERS by Alex Broun.

Directed by Lee Lewis.

Starring Gus Murray, Andrew Steel, Anthony Taufa & Matt Zeremes.

10,000 Beers is billed as "an exciting and confronting new Australian work exploring masculinity, sport and mateship. The play delves into a world rarely seen on our contemporary stages, but raises issues ever-present in Australian society and the media. Audiences are thrown into the scrum by Alex Broun, playwright and rugby media manager, who's poured his experience into a comic but sometimes dark glimpse of this world."

The Panorama Pirates, a football team from Adelaide travel to Sydney to celebrate the end of the rugby season. They let loose on Sydney with the aim of drinking 10,000 beers in one very wild weekend. From the Friday night pub crawl to the casino on Saturday and serious drinking on Stupid Sunday, the camaraderie is fierce but the final beer packs a punch.

September 16 to October 9 at the Darlinghurst Theatre in Potts Point, Australia.

THE ROCKY HORROR SHOW book, music and lyrics by Richard O'Brien. Directed by James Vásquez who replaces the previously announced Oanh Nguyen, who departed the production due to artistic differences.

Musical staging and choreography by JT Horenstein and music direction by Mike Wilkins.

The Rocky Horror Show originally a stage production, became a movie and started a 35-year nonstop cultural phenomenon.

When Brad and Janet, a clean-cut young couple from the suburbs, get caught with a flat in the middle of nowhere, they seek help from the devilishly charming transvestite Dr. Frank 'N' Furter. What they discover in his mysterious laboratory is a time warp of sexual and scientific possibilities – and, perhaps, true love.

The cast includes Andrew Call (Eddie, Phantom), Jeanna de Waal (Janet), Sydney James Harcourt (Rocky), Nadine Isenegger (Columbia), Lauren Lim Jackson (Phantom), Kelsey Kurz (Brad), David Andrew Macdonald (Narrator, Dr. Scott), Matt McGrath (Frank 'N' Furter), Anna Schnaitter (Phantom), Laura Shoop (Magenta, Usherette), Kit Treece (Phantom) and Jason Wooten (Riff Raff, Usher).

The creative team also includes Donyale Werle (Scenic Design), Emily Rebholz (Costume Design), Rui Rita (Lighting Design), Kevin Kennedy (Sound Design), Aaron Rhyne (Projection Design), Carrie Gardner, CSA (Casting) and Anjee Nero (Stage Manager).

Still in limited release 35 years after its premiere, The Rocky Horror Picture Show is the longest-running theatrical release in film history. .

Associated events taking place during the run of Richard O'Brien's The Rocky Horror Show include: Insights Seminar on Monday, September 19. this free informal presentations of ideas and insights aims to enhance the theater-going experience. The seminars feature a panel selected from the artistic company of each production and take place in the theater where the production is performed. Reception, 6:30 p.m. Seminar, 7:00 p.m. Admission is free and reservations are not required. Post Show Forums, which are free, are scheduled for Tuesdays, September 27 and October 4 and Wednesday, Oct. 12. Patrons can discuss the play with members of the cast and crew at post-show discussions led by the Globe's creative staff after the performances. On Friday, October 28 there will be the Rocky Horror Costume Bash. The Old Globe hosts a Halloween-themed fundraising event that begins with a performance of The Rocky Horror Show After the performance, guests dressed in their most fabulous costumes party with the cast of the show in Balboa Park's Prado Ballroom. In addition to cocktails, hors d'oeuvres and dancing, a costume contest will be held.

The Rocky Horror Show begins previews September 15 at The Old Globe in San Diego.

THE LIFE OF GALILEO written by Bertolt Brecht, translation by David Edgar. Directed by Michael Donald Edwards.

It's a new age! The telescope, astronomy, and the dawn of science. Filled with an exciting blend of drama and biting humor, this powerful biography presents the startlingly relevant tale of history's most famous conflict between reason and faith.

The cast includes: Alex Hernandez: (Ludovico Marsili), Andrew Gorell: (Ensemble), Aric Generette Floyd: (Andrea Sarti, a boy), Charles Kartali: (Bursar/Cardinal Barberini), Christian Prentice: (Ensemble), Dan Hendrock: (Ensemble), Eva Gil: (Ensemble), Jeffrey Grover: (Ensemble), Jeremy Kendall: (A Little Monk), Jonathan Ramos: (Ensemble), Kelli Ruttle: (Ensemble), Kim Krane: (Virginia Galilei), Michael Herbert: (Ensemble), Myra Lucretia Taylor: (Signora Sarti), Paul Whitworth: (Galileo Galilei), Philip Goodwin: (The Cardinal Inquisitor), and Robert Ellis: (Federzoni/Vanni). Sheldon Best: (Andrea Sarti, a man/Masked Guest/Old Cardinal's Monk), Stephen Caffrey: (Sagredo/Cardinal Bellarmin), Thomas Weil: (Cosimo de Medici, a boy), Yan Tual: (Ensemble), and Bob Goddard: (Ensemble).

Clint Ramos: (Set and Costume Designer), Dan Scully: (Projection Designer), David Edgar: (Translator), Fabian Obispo: (Composer and Sound Designer), Peter West: (Lighting Designer), and John Godbout: (Stage Manager).

September 16 - October 9 Allen Theatre of The Cleveland Playhouse, Ohio.

THE WOOD a world premiere by Dan Klores. Directed by David Bar Katz.

Starring John Viscardi as late Pulitzer Prize-winning journalist Mike McAlary, the former Daily News and New York Post columnist who earned a Pulitzer Prize for his exposé of the New York police torture of Haitian immigrant Abner Louima in 1997. McAlary died of cancer at the age of 41 in 1998.

The cast also features Vladimir Versailles as Louima, Michael Carlsen as Justin Volpe, Melanie Charles as Micheline Louima/Nurse, LAByrinth Theater co-founder David Deblinger as Tommy, Kim Director as Alice McAlary, Thomas Kopache as Kornberg/Editor/Cop/Garbus and Sidney Williams as Doctor/EMS Worker/Deputy Commissioner.

The design team includes John McDermott (scenic design), Kalere A. Payton (costume design), Joel Moritz (lighting design), Janie Bullard (sound design), Steve Channon (projection design) and Nina Alexander (properties).

The Wood will officially open September 15 for a run through October 9 at The Rattlestick Playwrights Theater in NYC.

THAT'S AMORE! AN AMERICAN ITALIAN SONGBOOK as musical autobiographical revue starring Gilmore Rizzo, who was seen as Tony for 8 1/2 years recurring on the Emmy Award winning series Murphy Brown, and, according to the press release, is a cousin to both legendary American-Italian singer Bobby Darin and American-Italian Jazz Flugelhorn player Chuck Mangione.

Directed by Ginny McMath. Musical Direction by Bryan Miller.

That's Amore! features some of the best-loved songs from the last 50 years by some of the best singers like, Frank Sinatra, Dean Martin, Perry Como and Connie Francis.

Backed up by The Three Goombahs: Paul Katz, Tod Macofsky, and Perry Gentry - the evening promises an evening of great harmonies, funny stories, and heartwarming memories from Gilmore's childhood about growing up in a family that really loved their music and their pasta.

Open on Friday, September 16 and runs through Sunday October 23 at the NoHo Arts Center in North Hollywood.

THE ABSENCE OF WOMEN by Owen McCafferty.

Directed by Rachel O'Riordan.

Starring Peter Gowen, Ciaran McIntyre, Francis Mezza and Alice O'Connell.

Gerry and Iggy, two labourers from Belfast face the end of their lives in a London hostel, talking of the present and thinking of the past. They argue about who has the biggest liver, the names of the tube stations and whether they should go back to Belfast or not.

But where are the women in their lives?

The Absence of Women is described as "a funny and poignant play about the life journey of two ordinary and lonely Belfast men."

"This play is about life and its endless possibilities, missed opportunities and how one man's choice, in one instant, can alter the path of his life forever."

Presented by Lyric Theatre Belfast, Ireland September 13 - October 8, 2011 prior to London Tour.

NEWSIES the stage adaptation of the 1992 Disney film musical of the same name. Tony Award-winning playwright Harvey Fierstein has written a new book for the stage adaptation. The stage production also boasts both original and new songs by Academy Award winner Alan Menken and Jack Feldman, who collaborated on the live-action film.

Tony nominee Jeff Calhoun directs.

"Newsies is inspired by the real life Newsboy Strike of 1899, when newsboy Kid Blink led the ragged orphans and runaways known as newsies on a two-week long action against Joseph Pulitzer, William Randolph Hearst and other powerful newspaper publishers. Set in New York City at the turn of the century, the musical is the tale of newsie Jack Kelly, who dreams of a better life far from the hardship of the streets. But when Pulitzer and Hearst raise distribution prices at the newsies' expense, Jack finds a cause to fight for and rallies his army of newsies to strike."

Starring Jeremy Jordan as Jack Kelly.The newspaper giant Joseph Pulitzer will be portrayed by John Dossett.

Fellow newsies are: Ben Fankhauser as Davey; RJ Fattoni and Vincent Agnello sharing the role of Les; Andrew Keenan-Bolger as Crutchie; Tommy Bracco as Spot Conlon; Brendon Stimson as Oscar Delancey, Mike Faist as Morris Delancey; Aaron J. Albano, Ryan Breslin, Kyle Coffman, Max Ehrich (Jack U/S), JP Ferreri, Garett Hawe, Corey Hummerston, Evan Kasprzak, Andy Richardson, Scott Shedenhelm and Ryan Steele.

Kara Lindsay has been cast as Katherine, a role created for this stage version.

Rounding out the cast are: Mark Aldrich (Seitz), Helen Anker (Medda), John E. Brady (Wiesel), Kevin Carolan (Roosevelt), Julie Foldesi (Ms. Baum), Stuart Marland (Snyder), Michael McArthur, Jack Scott, Nick Sullivan (Bunsen) and Laurie Veldheer (Hannah).

Tony nominee Christopher Gattelli will choreograph.

Michael Kosarin is the Music Supervisor/Vocal and Incidental Music Arranger. David Holcenberg will serve as Music Director. Scenic Designer is Tobin Ost. Tony Award winner Jess Goldstein will provide original costume designs for Newsies. Jeff Croiter joins the creative team as Lighting Designer. Sven Ortel is the Projection Designer. Rounding out the creative team are: Randy Hansen (Sound Design), Chuck LaPointe (Hair and Wig Design), J. Allen Suddeth (Fight Director) and Shane Ann Younts (Dialect Coach). Thomas J. Gates will serve as Production Stage Manager.

Newsies begins at Paper Mill Playhouse on Thursday, September 15, and will run through Sunday, October 16.


WHO'S WHERE


AMERICAN FANTASY II A Tribute to Hollywood's Greatest Musicals with noted tenor, Andrew Joseph Koslosky and artists David Arzberger, Monica Barczak, Renee Delio, Kelly Lettieri, Richard MasIn, John Rodriguez, Rochelle Small, Malcolm Spaulding, and Dan Stravino. Honoring musical theater legends like Rodgers and Hammerstein, classic songs from Broadway's most memorable shows are featured including Singin' in the Rain, The Wizard of Oz, Mame, Oklahoma, The Sound of Music, South Pacific, and Thoroughly Modern Millie.Saturday, September 17-18 at The Parker Playhouse in Fort Lauderdale, FL.

BRIAN STOKES MITCHELL opens a three night stand Friday, September 16 at the Music Hall in Cincinnati, OH.

MARIANNE CHALLIS winner of MAC and Bistro Awards celebrates Wine, Women and Song An Evening of Wine and Cabaret, at Astor Center in New York City on Monday, September 19. The self-described 'middle-aged party girl', will be joined by Andy Fisher, President of Astor Center and Astor Wines & Spirits who will present tasting of six special wines during the evening.

WYONNA opens a three night engagement Thursday, September 15 at the Schermerhorn Symphony Center in Nashville.

GARRISON KEILLOR Author/Host of A Prairie Home Companion in his final tour September 18 at the State Theatre Ithaca, NY.

THE KINGSTON TRIO perform their hits Friday, September 16, at the Sandler Center for the Performing Arts in Virginia Beach, VA. On Saturday they'll be at Meyerhoff Symphony Hall in Baltimore, MD.




FINAL OVATION


CLIFF ROBERTSON the Academy Award winning actor died on September 10, 2011 at his home in New York, the day after his 88th birthday..

His acting career spanned over a half century. He starred as John F. Kennedy in PT-109 and won an Oscar for his leading role in Charley.

Robertson was also an avid and expert pilot.

He was the victim in a famous Hollywood forgery scandal that left him blacklisted.

He had discovered that David Begelman, president of Columbia Pictures, had forged his signature on a $10,000 salary check, and he called the FBI and the Burbank and Beverly Hills police departments. Hollywood insiders were furious with the negative publicity and published Robertson for not playing along with the good old boy's club.

Begelman served time for embezzlement, but he returned to the film business. He committed suicide in 1995.

Robertson was blacklisted by the studios and the networks for several years.

He supported himself as a spokesman for AT&T.

According to his bio published in the Van Nuys Aviation & Business Journal June 2004, he attended Antioch College. "He entered a program that allowed him to work at the same time, so he began writing for the Springfield Daily News. While working for the paper, he was told he should write for the theater "instead of a deadline," because he had talent that would be more suited there than for writing general assignments for a newspaper. "I said, 'I don't know; we'll see,'" Robertson said. "Ultimately, I fell in with bad companions, and did off-off Broadway and Broadway."

"When he arrived in New York, he knew nothing about the theater. " They said, 'You have to go out and do the hustling, go out into the regions, the provinces and learn about the theater, if you're going to write for it,'" he said. "So, I went out and learned to drive a truck and build flats. I didn't take it very seriously. They looked at this callow kid. It irritated my fellow actors who took it and themselves very seriously."

"Robertson said he acted because everybody else in the company did. " I had the audacity, in spite of myself, to get good reviews, which really ticked them off," he said. "I was actually kind of hovering over making a living. I was kind of hanging in there in New York. I did a lot of things, but eventually I was making a living in the theater and then in early television and then finally Hollywood."

His first extensive stage work consisted of two years with the touring company of Mister Roberts. His Broadway debut was in 1952 in Picnic directed by Joshua Logan, and in 1955 made Robertson made his film debut in the Logan-directed movie version of that play. His Broadway appearances also included Love Letters, Orpheus Descending, The Wisteria Tree and Late Love.

Between theatre gig he worked as a longshoreman, taxi driver and newspaperman.

In 1957, Robertson married Jack Lemmon's ex-wife, Cynthia Stone, and they had a daughter, Stephanie, before splitting in 1960. In 1966, he married Dina Merrill and they had a daughter, Heather, before divorcing in 1989. Their daughter, Heather, died in May 2007 from ovarian cancer.

"My father was a loving father, devoted friend, dedicated professional and honorable man," daughter Stephanie Saunders said in a statement. "He stood by his family, friends, and colleagues through good times and bad. He made a difference in all our lives and made our world a better place. We will all miss him terribly."

CHARLES DUBIN famed television director who was a Cold War-era blacklist died September 5 of natural causes at his Brentwood, CA home. He was 92.

He was called before the House Un-American Activities Committee in 1958 and though he said he was not a Communist, he refused to answer 22 questions. The next day NBC fired him.

Trained as an opera singer, he began his career as an actor and then switched to directing when television was in its infancy.

His gained fame as the man who directed more episodes of M*A*S*H, than anyone else, including the memorable Point of View episode that was shot through the eyes of a wounded soldier.

Some of his other credits include The Defenders, Kojak, Lou Grant, Hawaii Five-O, The Nurses, The Virginian and Omnibus, working with performers like Leonard Bernstein, Agnes De Mille and George Balanchine. He also directed the 1965 made-for-TV Rodgers and Hammerstein musical Cinderella. He received 10 Emmy nominations, winning a Daytime Emmy in 1990. He retired in 1989 and is survived by his second wife and a daughter.








Next Column: September 18, 2011
Copyright: September 11, 2011. All Rights Reserved. Reviews, Interviews, Commentary, Photographs or Graphics from any Broadway To Vegas (TM) columns may not be published, broadcast, rewritten, utilized as leads, or used in any manner without permission, compensation and/or credit.
Link to Main Page
---
Laura Deni



For the snail mail address, please E-mail your request.
CLICK HERE FOR COMMENT SECTION