Broadway To Vegas
  
 SHOW REVIEWS CELEBRITY INTERVIEWS GOSSIP NEWS

| | |
| --- | --- |
| | |
NO SINGING IN PEKING OPERA - - LONG BEACH PLAYHOUSE CELEBRATES 76 YEARS - - THEATER HALL OF FAME - - MILTON KATSELAS' ART EXHIBIT - - OPEN WINDOW AT PASADENA PLAYHOUSE - - CELEBRATING JOANNE WOODWARD - - SWAROVSKI FASHION ROCKS - - THEATER NAMED FOR AUGUST WILSON - - DONATE . . . Scroll Down


Copyright: October 9, 2005
By: Laura Deni

CLICK HERE FOR COMMENT SECTION
NO SINGING IN PEKING OPERA
Stealing Silver In Storage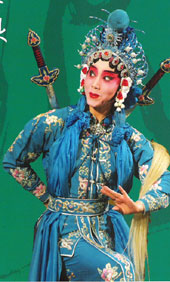 Peking Opera, generally considered to be the quintessence of traditional Chinese culture, is a face-to-face encounter with an old art.

With a 300-year history, it is the most celebrated of China's 300-400 different opera styles. Broadway To Vegas sent Michael Ashleman to see the show. He's previously covered some selected events, including China, for Broadway To Vegas. ( See Broadway To Vegas column of September 25, 2005 )

He walked in thinking he was going to see a Chinese version of an Italian opera and got surprised.

"There is no singing. It is a dramatic mime play. There isn't singing as in a European or America opera. It is live theater."

"The words Beijing Opera and Peking Opera are interchangeable," he related. "The Oriental language is very limited. Every dairy product is either called yogurt or cheese. When they use the word "song" they mean projected speech. They have an iconic language. They have one icon and have a second one which changes the meaning of both. They put three pictures together to make a fourth one. They have a limited number of words and they cannot make up new ones. They have a language that has 9,000 characters or alphabet, of which 2,000 are used regularly for 50,000 words. So the word song may be the same as shout. They have two words for all dairy products - yoghurt and cheese. Milk and ice cream are called yoghurt. If you go to get ice cream a bilingual package may say ice cream. But, if it's not a bilingual package it will say yoghurt."



The Crossroads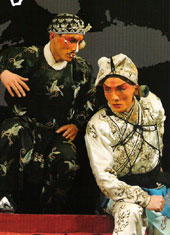 "When they say Grand Opera they probably mean large stage production," he reasoned. "There is no singing in Peking Opera," he repeated.

"So, opera is their word for live theater. It is not a singing performance. They talk, they deliver their lines, but there are very few of them. Just enough to let you know about the mime act that you are about to see. There is an introductory line, the mime act, sometimes there is another set of lines then more acrobatic mime, one or two more lines and that's it."

Headquartered at the Liyuan Theater in the 4-star Qianmen Hotel, when the theater was established in 1990, its officials chose the highly professional Beijing Opera Troupe as its long-term partner. Each show contains two segments.

At the Liyuan, the troupe has a repertoire of more than 20 excerpts from the most popular operas.

"I saw Stealing Silver In Storage and The Cross Roads," related Ashleman. "The scenery is sparse. The costumes are elegant and the make up is a work of art. The acoustics are perfect. You can hear every nuance. On each side of the stage are display boards on which are English sub-titles. The room was filled - a cross section of people of all ages. At least half the people in their were natives."

"This show is not something that was developed to entertain tourists," he continued. "This art form goes back hundreds of years, entertaining just the natives as the audience."

"It's acrobatics meets martial arts," said Ashleman. "These are Olympic quality athletics. They fight with swords and knives and do what an acrobat would call floor work but they perform a lot of it on tables."

"It's high energy action and then they'll stop and there is a mime tableau frozen moment. It's for dramatic effect. It looks good and given the way the story is constructed - it works."

"The parts are so demanding - such as the female lead for the combat sequences. It would take years to train an understudy to be ready to replace her. Think of two 45-minutes dance sequences where one dancer is doing the lead dancing for 40 minutes straight." he emphasized.



Stealing Silver In Storage. Photo by Michael Ashleman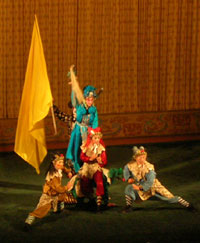 "No matter which opera sections are being performed all plots are based on history, politics and mythology, so even if you don't understand Chinese you're going to enjoy the show. At the beginning a man comes out and - in understandable English - explains that the art form goes back hundreds of years. The whole point of the art form is that it would transcend the need for language."

In Stealing Silver In Storage spears are tossed at the lead and she kicks them back, kicking them from one player to another player. She kicks the spears into their hand. They toss it flat at her so the stick, not the point, is coming at her. Player one throws the spear at her. With the ball of her right foot she kicks it into the left hand of the guy two people over. Meantime, they are throwing another spear at her and she uses her foot and kicks it into the right hand of the man adjacent to the man who just tossed it to her. They have five or six of people doing that to her."

"Her skill in incredible. Even though these are blunted weapons, if there is the slightest miss she is seriously hurt."



Man asleep on table which serves as a bed is about to be attacked in The Crossroads. Photo by Michael Ashleman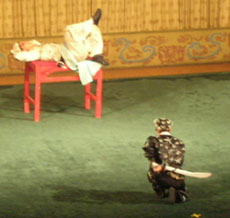 Beginning of a sword fight in The Crossroads. Photo by Michael Ashleman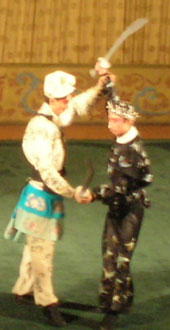 "In The Crossroads there is a sword fight between two men. They kick the swords out of each other's hands. In both instances, when the sword is kicked out of a hand, the sword flew through the air and hit the exact same spot on the curtain, three-fourths of the way up before sliding down. Their precision is perfect. The sword flies across the stage a good 50 to 90 feet, and 80-feet up hits the curtain at a certain location, and then slides to the ground because gravity takes over. A few minutes later the other player kicks the sword out of the first person's hand and hits the exact same location on the curtain. Soccer players are routinely played millions of dollars to be able to hit a target that precisely."

"The athletic skill is suburb - kicking objects out of people's hands and hitting within a fraction of an inch of the target location. They do this repeatedly - through a dancing sequence - while making it look easy."

"The skill level is such that when you look at them you know you are watching a master - the best," he emphasized.

"The is not an opera by any western standards," he reiterated. "This is not an Asian equivalent of a European opera There is nothing non Asian that is the equivalent. Just like trying to compare Cirque du Soleil to an American circus. They both may have the word circus, or the word opera, but they are not the same thing."



Peking Opera Band on stage. Photo by Michael Ashleman

"The Peking or Beijing Opera show is really a mime act with a little introduction. "There are live musicians who are on stage," he said of the band which is heavy on percussion instruments. "They play funky instruments that sound strange," he said referring to the Erhu, the Huqin, the Yueqin, the Sheng (reed pipe) and the Pipa (lute).

"They don't play while there is talking," he continued. "They would be too loud and drown out the voices. But during the dance and fight scenes there are times when the music is playing. The percussion emphasizes the fight scenes and the horns are for non fighting scenes."

"It's really musical special effects. The music is done as an audio special effect, like an explosion is done on a movie or TV show to emphasize the combat sequence. There is no musical melody. You would not listen to this. If you had a soundtrack and listened to it, it would not be pleasant listening."



Stealing Silver In Storage. Photo by Michael Ashleman
"I found it unusual that the stars aren't given any billing. No where in the program can you locate the names of the performers," he said about the program which is written in Chinese, English and French. "At the end of the performance the cast comes out and bows. Then the three stars step forward. But their names are not on the marquee or in the program. That may be so that the performers can be changed. It would take several years to train people to play the parts. The make up is so stylized that you can't recognize the actor. It's like clown makeup as far as the thickness. The paint job has not changed in hundreds of years."

The audience is encourage to watch the "paint job" take place. Before the show audiences are welcome to visit the dressing room to see how the actors dress themselves for the performance and how the elaborate make-up - elaborate facial painting - is applied.

"There is nothing second rate or slopping about the make up," observed Ashleman. "There is no shoddy workmanship. It is an art form. Different colors denote characters - whether they are the bad or good guy."

Audiences are welcomed into the Liyuan by a huge painted opera face (lianpu) on silk, and actors and actresses in full operatic dress are happy to be photographed with them. The aisle leading to the theater bears images of Peking Opera characters, while also on display are numerous props used in productions.

"You walk through the gift shop to get to the theater which is upstairs. The entrance foray is the gift shop. All of the decorations are actually part of the gift shop. You walk through the gift shop to get in and out of the theater. "For $1.70 American you can have your picture taken with people dressed in costume. By American standards the tickets are inexpensive. The cheapest seat would be about $20 in American and that would also include your cab ride to and from your hotel."

"The theater has the main floor and a balcony. On the main floor theatergoers can relax in Ming-style armchairs before a Ming-style square table, sip Chinese tea and sample local snacks while watching the opera.Those in the balcony would have to be content to just watch the performance."

Approved and supported by the Beijing Culture Bureau and Tourism Administration in 1990, the Qianmen Hotel and Peking Opera Theater of Beijing signed a long-term deal to jointly run a Peking opera theater - the Liyuan Theater. Hu Guodong is the general manager. Ms. Wang Yuzhen serves as general manager of the Peking Opera Theater of Beijing (POTB).

Since opening in October 1990, the theater has been the only one in China to open nightly (except for China's New Year's Eve), and can accommodate more than 1,000 people.

Over 350,000 people annually visit the Liyuan Theater to enjoy the brilliant Beijing Opera. which has become a bridge between Beijing and the world.

Encouraged by its success, other Peking Opera houses have started up, including the Beijing Chang'an Grand Theater, Zhengyici Theater and Huguang Guild Hall Theater.


ART AND ABOUT


KATSELAS: GESTURES & RETICULATIONS

Springtime in Central Park by Milton Katselas. Acrylic on carpet. 51"x72"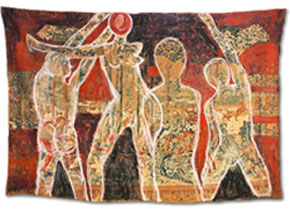 a private party celebrating Milton Katselas' art exhibit Katselas: Gestures & Reticulations took place at the Don O'Melveny Gallery in Los Angeles Saturday, October 8th. In attendance were Katselas, Doris Roberts, John Glover, Larry Miller, Donna Mills, Donna Pescow, Karen Black, Julie Cobb, Henry Jaglom, Julie Cobb, and others.

The Reticulations series reveals another side to Katselas' personality with acrylic-on- ink-jet works on paper. Colorful, inventive and free — much like jazz improvisation — their effect is pure pleasure. The Reticulations "vamp" on found images, conflating figure, object, photograph, brushstroke, found texture and reproductive medium in works whose reward is tactile stimulation and optical surprise. A protégé of Elia Kazan and Joshua Logan, Milton Katselas has been an acclaimed director, acting teacher and author for over 30 years. Among the scores of notable actors he has worked with are George C. Scott, Robert Duvall, Jim Carrey, Michelle Pfeiffer, George Clooney, Richard Gere, Henry Fonda, Doris Roberts and Giovanni Ribisi.

Under his direction, Blythe Danner won a Tony, Eileen Heckart an Academy Award and Bette Davis an Emmy. He has been nominated for a Tony and has received three Los Angeles Drama Circle Awards.

He is also the author of the bestselling Dreams into Action (Dove Books, 1996) and heads the Beverly Hills Playhouse, Los Angeles' oldest acting school.

Milton Katselas: Gestures & Reticulations showcases Katselas' longtime devotion to visual art. Following theater studies at Carnegie-Mellon, Katselas launched his art career in New York City in 1965 by winning the prestigious Emily Lowe competition from a field of 4,000. His artwork continued to develop under the influence of friends and mentors such as Balcombe Greene and David Smith.

Following an intense period of Broadway shows and filmmaking, from 1969 to 1978, Katselas reapplied himself to making art.

Since that time, he has exhibited in Los Angeles, New York, Paris and Tokyo. A special highlight was his inclusion in Galerie Yoshii's 1999 exhibition, les petits formats, in which his work was hung alongside art stars such as Picasso, Matisse, Warhol and Lichtenstein.

Milton Katselas' work has been collected by Neil Simon, Quincy Jones, Bernie Brillstein, Catherine Bell, Patrick Swayze and the late Billy Wilder.

The exhibition will on display to the public from October 11 through December 2.



THEATER HALL OF FAME 2005 INDUCTEES Actor John Lithgow, actress Sada Thompson, director Sir Peter Hall, costume designer William Ivey Long, playwright William Gibson and director/choreographer Graciela Daniele will be inducted into the Theater Hall of Fame on Jan. 30 at Broadway's Gershwin Theatre, where the names of Hall members adorn the wall in gold. Actress Dorothy Loudon and set designer Ben Edwards will also be posthumously inducted Donald Seawell, producer and founder of the Denver Center for the Performing Arts, will also receive the 2005 Founders Award for Contribution to the Theatre.

Established 1971 by Earl Blackwell, James M. Nederlander, Gerard Oestreicher and Arnold Weissberger, the National Theatre Hall of Fame honors lifetime achievement in the American.

To be eligible to be nominated for this award, a notable must have a career spanning at least 25 years on Broadway and have more than five major credits to their name.

ROBERT ALPAUGH has been named the new Executive Director of the North Shore Music Theatre in Beverly, MA. Alpaugh comes to NSMT from the Tony Award winning Victory Gardens Theater (VGT) in Chicago where he was Director of Institutional Advancement.



Broadway To Vegas is supported through advertising and donations. Priority consideration is given to interview suggestions, news, press releases, etc from paid supporters. However, no paid supporters control, alter, edit, or in any way manipulate the content of this site. Your donation is appreciated. We accept PAYPAL. Thank you for your interest.


SPREADING THE WORD
MOVIE TUESDAYS

Paul Newman and Joanne Woodward
continue at the Westport Country Playhouse on Tuesday, October 11 with the film Mr. and Mrs. Bridge.

Conservative and traditional businessman (Paul Newman) and his under-appreciated wife (Joanne Woodward) struggle with raising a well-to-do family in pre-WWII Kansas, where times are changing and their children (Robert Sean Leonard and Kyra Sedgwick) resist the rule of an unyielding father.

Special Guests are director James Ivory, Joanne Woodward and Paul Newman.

Westport Country Playhouse in Westport, CT.

SHUT UP AND EAT Chazz Palminteri, Frank Vincent, Tony Lip and Robert Davi.

The actors who starred in the hits The Godfather, Goodfellas, Donnie Brasco, Moonstruck, The Sopranos and A Bronx Tale share their families' secret Italian recipes and tell their stories of growing up as Italian-Americans.

Their recipes and stories are described in a recent book, Shut Up and Eat: Mangia With Recipes and Stories From Your Favorite Italian-American Stars.

Sun, Oct 9, at Kaufmann Concert Hall in NYC.

BACKSTAGE THEATRE TOUR PLUS TICKETS FOR TWO Go behind the scenes of Les Miserables or The Phantom of the Opera in London.

Learn about the show, the stars, and the multiplicity of skills which make the magic of musical theatre then take your seats to watch the show.

Your experience allows you to visit the theatre backstage areas in the company of a trained member of staff. These are working theatres and tours may encounter sound checks, maintenance etc. After your tour you can relax in the bar before taking your top-price seats for the show's evening performance.

Children under 16 must be accompanied by a participating adult. Due to confined spaces and many stairs in most backstage areas this experience is not suitable for wheelchair users or those with limited mobility.

Your backstage tour will last for around an hour. There will be a maximum of 20 people in your tour group.

Fridays approximately once a month at each theatre, subject to availability. Bookings recommended at least six weeks in advance. At the Haymarket and West End theatres in London.

SPECTERS AMONG TE SPECTATORS: STAGING BRITTEN'S THE TURN OF THE SCREW
This free session, hosted by Lyric resident scenic designer R. Keith Brumley and friends, will highlight the staging of The Turn of the Screw. Held at the Kauffman Center in Kansas City on October 17.

A MARRIAGE MINUET

David Wiltse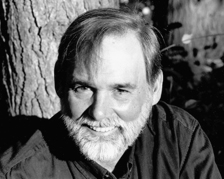 By David Wiltse. Part of Funny Mondays presented by The Westport Country Playhouse.

In part of their commitment to develop new plays, without mounting a full production is to stage a reading of the script. The series spotlights new comedies by local playwrights, read by professional actors, without sets or costumes.

A Marriage Minuet is seriously comedic tale of two couples and their hilarious explorations of the meaning of flirtation, morality in an amoral age, literary tastes and standards, and more.

Monday, October 17 at the Westport Country Playhouse in Westport, CT.

EMERIL LAGASSE AND COKIE ROBERTS both New Orleans natives, kick it up a notch on Tuesday, October 11, when they discuss the preservation of cultural traditions in cooking at Lisner Auditorium in Washington, D.C.


SWEET CHARITY


SWAROVSKI FASHION ROCKS FOR THE PRINCE'S TRUST Jerry Hall, world-renowned model turned West End star, will host this year's most star-studded fusion of fashion and rock: Swarovski Fashion Rocks for The Prince's Trust. Rock immortals Bon Jovi will star in the show, as will the biggest selling female artist of all time, Mariah Carey, America's greatest pop band Blondie, the godfather of Brit Urban Craig David, the stunning Skin, new R&B sensation Amerie, Kasabian, voted second best band in the world by NME, Roisin Murphy, Moloko's star vocalist turned solo artist, and Jamie Cullum, the UK's biggest ever selling jazz artist. There will also be guest appearances by Sharon and Kelly Osbourne.

These artists will provide electrifying performances, paired with their favorite designers: Alexander McQueen, Burberry, Calvin Klein, Dolce & Gabbana, Giorgio Armani, Prada, Roberto Cavalli, Tommy Hilfiger, Versace, Viktor & Rolf and Vivienne Westwood. The event will be televised by Channel 4.

All net profits from the event will be donated to The Prince's Trust, which helps young people to get the break they deserve. Founded 1976 by Prince Charles who, having completed his duty in the Royal Navy, The Prince of Wales became dedicated to improving the lives of disadvantaged young people in the UK, and began The Trust to deliver on that commitment.

Through practical support including training, mentoring and financial assistance, 14-30 year olds are helped to realize their potential and transform their lives. The focus is on those who've struggled at school, been in care, been in trouble with the law, or are long-term unemployed.

Swarovski Fashion Rocks for The Prince's Trust takes place at the Grimaldi Forum in Monaco on October 17th.

CELEBRATE JOANNE WOODWARD with performances by Tony Bennett, Joshua Bell, Glenn Close, Audra McDonald and James Naughton.

This gala evening benefits the Westport Country Playhouse.

Evening Highlights include a Cocktail Reception, Performance, Post-performance dinner for Benefactors, Patrons and Sponsors.

Saturday, October 15.

LONG BEACH PLAYHOUSE CELEBRATES 76 YEARS with Taste of the Playhouse Fundraiser Held at the Playhouse's Mainstage Theatre, the benefit will begin with dinner from the finest local restaurants and end with entertainment from an all-star line-up of celebrities including:

Beverly Garland – Starred in 41 feature films and nearly 700 television programs including a series regular on the Bing Crosby Show, My Three Sons, Scarecrow and Mrs. King, and Lois and Clark - The New Adventures of Superman.

Noah Gray-Cabey – Was a series regular who played the precocious kid Franklin on ABC's My Wife & Kids. Currently, Noah has been cast in the M. Night Shyamalan film Lady in the Water, which is now shooting in Philadelphia. Noah, who just turned 9, is a trained classical pianist and one of the youngest performers to ever play a solo at the Sydney Opera Hall.

Jacquelyn Levy – A Los Angeles native who has performed extensively in the Southern California area. She has received acclaim for her portrayal of Lena 'Mama' Younger in A Raisin in the Sun.

Lee Meriwether – Most know Lee as "Betty" in the highly successful TV series Barnaby Jones, where she co-starred with Buddy Ebsen for eight years.

DeeDee Rescher – Fresh off the stage from the Long Beach Playhouse's production of Shirley Valentine, DeeDee can also be seen this season as Donna in Lisa Kudrow's new series for HBO – The Comeback.

Established in 1929, the Long Beach Playhouse is one of the oldest continually operating theatres west of the Mississippi. Operating year-round, the Playhouse serves more than 35,000 patrons, artists and students – nurturing and cultivating new and traditional audiences and emerging and established artists. With two theatres, the 200-seat Mainstage and the 99-seat Equity Waiver Studio Theatre, the Playhouse produces 16 full productions annually.

The event takes place October 16. at the Long Beach Playhouse in Long Beach, CA.

GAY MEN'S CHORUS OF LOS ANGELES (GMCLA) have become calendar boys. It's a 2006 Calendar to be sold as a fundraiser for the organization in anticipation of their 2006 tour to South America! The calendar, GMCLA Goes to the Movies, is a 16 month calendar which features members of the Chorus in classic poses of classic scenes from all your favorite movies…but, since this is a Gay Men's Chorus of Los Angeles calendar, you've never seen the films quite like this.

The Wizard of Oz, Patton, The Graduate, Gone With the Wind, Star Wars, High Noon, Singin' in the Rain, Casablanca and many other classics, have never looked so gorgeous, so collectable, so fabulously gay! Additionally, all proceeds go to help support the chorus as well as to assist in their Tour Fund for their ambitious and historic concert tour to four countries in South America in 2006. While in South America, GMCLA continues its tradition of community support by working with local non-profits to perform benefit concerts in each of the cities traveled to.

FROM BURLINGTON TO BOURBON STREET A Benefit for the Musicians of New Orleans.

Ellen Powell Quartet, Unknown Blues Band, Tammy Fletcher, Sandra Wright Band, Little Joyce, Dave Grippo, Tom Cleary and Friends, with very special guests from New Orleans the ReBirth Brass Band.

Hosted by George Thomas from VPR's Jazz in the Evening & The Point's Global Jam. Proceeds to benefit the New Orleans Hurricane Relief Fund.

Tuesday, October 18 at the Flynn Center Main Stage in Burlington, Vermont.



OPEN WINDOW by Stephen Sachs. This World Premiere is directed by Eric Simonson.

A co-production with Deaf West Theatre, creators of the recent hit Big River.

Two deaf women with different approaches try to unlock a young man's soul but an unspeakable childhood trauma may have imprisoned it forever.

The clock is ticking as they battle deception and miscommunication to break through.

Caliban, a tortured young man – deaf, mute, and untamed – has allegedly strangled his father with the chain that has held him prisoner for the last 12 years. Rachel, a world-renowned cognitive scientist, and Susan, her psychologist protégée, take up the fight to save the young man from execution by teaching him speak with his hands. Hypocrisy, con games and personal gain fuel the storm that holds the women's careers and Caliban's life in the balance.

October 14 - November 20 at the Pasadena Playhouse.

MANIC FLIGHT REACTION The World Premiere of a play by Sarah Schulman. Directed by Trip Cullman.

Struggling to settle – at the last minute – into normalcy, a middle-aged professor must confront the demons of her idealistic past when her daughter learns one of her mother's past liaisons is the wife of the leading presidential candidate. Bill as a razor-edged comedy about abandonment, the intrusion of mass-market media, and the need for faith in goodness, despite the odds. Playwright's Horizon Peter Jay Sharp Theater. October 13-November 6.

BORN YESTERDAY by Garson Kanin. Directed by Warner Shook.

"I'm stupid and I like it," declares Billie Dawn, one of the funniest—and, as it turns out, smartest— characters in American comedy. She's a ditzy blonde ex-chorus girl, whose sugar daddy takes her to Washington, where he plans to buy a Congressman or two. Amazingly, the year is 1946 when Enron didn't exist and neither did the women's movement. But Billie doesn't know that as she proceeds to out-maneuver her corrupt tycoon at every turn in this play that ran on Broadway for a whopping 1,642 performances and was re-born in 1950 as a hugely popular movie starring Judy Holliday.

October 14 - November 20 on the Segerstrom Stage of South Coast Repertory in Costa Mesa, CA.

RICHARD 11 by William Shakespeare. Continuing The Old Vic's tradition of staging the classics, this autumn Trevor Nunn directs Kevin The production marks Spacey's Shakespearean debut in the UK, and is the first time that Nunn has directed this celebrated play. October 10– November 4 at The Old Vic in London.

Alongside this exciting production, The Old Vic's Education department will be hosting a range of Shakespeare events.

A week-long series of workshops relating to The Old Vic's production of Richard II. Those include;

On Monday, October 10 it's Shakespeare's Top Ten Quotes. Beginning with Richard II, they'll count down Shakespeare's top ten most famous quotations. As well as giving a background to each quote, there will be the chance to rehearse them on The Old Vic stage with costumes to dress-up in and props to try out. Age range 8–11 years.

Stage Fighting Techniques will take inspiration from Richard II's battle scenes and others, pupils will get the chance to re-enact them with the help of experienced stage fight directors, as well as making their own flags, crowns and crests. Age range 11–16 years Tuesday, October 11.

Matinee Performance & Masterclass where you can take part in a pre-show workshop with members of the cast and assistant director, before seeing the matinee starring Kevin Spacey. Age range 16–18 year olds Wednesday October 12.

Talk & Tour. A unique chance to see backstage and learn about the history of The Old Vic. Participants will get the chance to stand on the stage, sit in the theatre and get to understand Shakespeare's place at The Old Vic. Age range 8–11 years Thursday, October 13.

Designs on Richard. Meet the set designer and stage manager from Richard II as they explain the design decisions they've made, the problems they encountered and how they got into the industry. Ideal for students with an interest in art and design. Age range 16–18 years. Friday, October 14.

THE GREAT TENNESSEE MONKEY TRIAL by Peter Goodchild will go on tour. L.A. Theatre Works takes this radio theater production with revolving casts on tour across the U.S. The production will perform in 23 cities October 11 through February 12.

MURDER AT THE HOWARD JOHNSON'S Set at a Howard Johnson's Motor Lodge, this Broadway comedy skewers murder, marriage and mid-life crisis as it tells the story of a used-car salesman, Paul, who is astounded when his wife, Arlene, tells him that she wants a divorce so she can marry their dentist, Mitchell. When Paul refuses to divorce, Arlene and Mitchell plot his murder. However, all three are hapless when it comes to vile deeds, as they find themselves entangled in a love triangle, which results in several hilariously botched attempts to murder each other. A fast moving, zany comedy that stars Old Log favorites Tom Stolz, Steve Shaffer and Judy Heneghan. Now playing through January, 2006 at the Old Log Theatre in Excelsior, MN.

THE SUBJECT WAS ROSES by Frank D. Gilroy. Directed by Leonard Foglia. Starring Bill Pullman and two-time Tony winner Judith Ivey.

After serving in World War II, Timmy Cleary returns home to find his parents are strangers - to him and each other. When Timmy insists his father take credit for the roses he bought his mother, long-hidden resentments rise to the surface, as this attempted act of kindness instead becomes the epicenter of domestic warfare. When the deception is uncovered, the tenuous ties still holding them together begin to unravel and each person's doubts - about marriage, family values, and Timmy's achievements oversea - threaten to sever any hope for reunion.

Praised at its Broadway opening in 1964 by the New York Herald-Tribune as "the most interesting new American play on Broadway this season," The Subject Was Roses went on to win the Pulitzer Prize for Drama and two 1965 Tony Awards including Best Play, and was made into a 1968 Oscar-winning film. Directed by Leonard Foglia, this new production intimately explores a family in crisis while echoing the experiences of a contemporary society at war.

Starring Bill Pullman and two-time Tony winner Judith Ivey will portray Timmy Cleary's mother Nettie. Jan 7 - 29 at the Eisenhower Theater at the Kennedy Center in Washington, D.C. Tickets go on sale October 11.


| | | |
| --- | --- | --- |
| | | |
WHO'S WHERE


PAUL McCARTNEY . on stage Monday, October 10 at Air Canada Centre in Toronto. On Friday he kicks off a two night stand at the Palace of Auburn Hills in Auburn Hills, MI.

THE EAGLES perform Saturday, October 14, at the MGM Grand in Las Vegas.

JON SECADA IN CONCERT Two-time Grammy Award winning Latin singing and songwriting sensation joins the Frost School's award winning Jazz Vocal 1 Ensemble, Larry Lapin director, for an evening of jazz and Latin music. Frost School of Music at the University of Miami Saturday, October 15.

CAROL CHANNING stars at Feinstein's at the Regency in NYC October 11th – October 22nd.

BLACK EYED PEAS WITH GWEN STEFANI perform next Sunday, October 16, at American West in Phoenix.

MICHAEL FEINSTEIN brings his entertaining show tonight, Sunday, October 9, to the Paramount Theatre in Charlottesville, VA. On Tuesday he'll be delighting fans at the Cultural Center in Thomasville, GA. Then he makes a special one night appearance at John Ascuaga's Nugget in Sparks, NV on October 14.

THE ROLLING STONES have to dates at the Wachovia Center in Philadelphia. The first is on Monday, October 10. Then they do it again on Wednesday, October 12. Saturday finds them at Philips Arena in Atlanta,GA.

DIANNE REEVES has a two night gig October 14-15 at Symphony Hall in Atlanta, GA.

FOREIGNER entertain Thursday, October 13, at the Celebrity Theatre in Phoenix, AZ. On Friday the show is at the McCallum Theatre in Palm Desert, CA. Saturday finds them at the House of Blues in Anaheim, CA.

BONNIE RAITT on stage Tuesday, October 11, at the Michigan Theatre in Ann Arbor. Wednesday finds her at Playhouse Square Center in Cleveland. On Thursday she can be enjoyed at the University of Buffalo in Buffalo, NY. On Saturday the show is at Benedum Center in Pittsburgh and next Sunday she's in the spotlight at Turning Stone Casino in Verona, NY.

WAYNE SHORTER performs Friday, October 14, at the Cullen Theatre in Houston, Texas. On Saturday the show is at the Gem Theatre in Kansas City, MO. Next Sunday he's on stage at the Tennessee Theatre in Knoxville, TV.

THE BACON BROTHERS perform Thursday, October 13 at the Belly Up Tavern in Solana Beach, CA. On Friday they are at the Civic Arts Plaza in Thousand Oaks, CA. The gig on Saturday is at the Coach House in San Juan Capistrano.


FINAL OVATION


AUGUST WILSON 60, the Pulitzer Prize winning playwright died October 2 at Swedish Hospital in Seattle from liver cancer, five weeks after announcing he had the disease.

Wilson chronicled the African-American experience in a series of 10 plays, one set in each decade of the 20th century.

He received seven New York Drama Critics' Circle awards, a Tony Award, for 1987's Fences, and two Pulitzer Prizes, for Fences and in 1990 for The Piano Lesson.

On October 17 Broadway's Virginia Theater is to be renamed the August Wilson Theater.
















Next Column: October 16, 2005
Copyright: October 9, 2005. All Rights Reserved. Reviews, Interviews, Commentary, Photographs or Graphics from any Broadway To Vegas (TM) columns may not be published, broadcast, rewritten, utilized as leads, or used in any manner without permission, compensation and/credit.
Link to Main Page
---
Laura Deni


CLICK HERE FOR COMMENT SECTION