Broadway To Vegas
  
 SHOW REVIEWS CELEBRITY INTERVIEWS GOSSIP NEWS

| | |
| --- | --- |
| | |
KENNEDY CENTER SPOTLIGHTS CHINA - -SPECTACULAR TANG DYNASTY PRODUCTION SHOW - - IMPRESSIVE TANG PARADISE WATER PARK - - ROMANCE BY MAMET - - SCREENPLAYS ON STAGE - - LOS ANGELES PHILHARMONIC GALA - - KATRINA SURVIVOR BECOMES DOGGIE DIVA - - EPITAPH FOR GEORGE DILLON - - DONATE . . . Scroll Down


COURTING CHINA


The ancient country of China is acting like the new kid on the block. The Kennedy Center is doing a month long celebration. American museum are spotlighting Chinese exhibitions. Pavarotti is including China stops on his farewell tour. Las Vegas is building there, including a replica of the Venetian Hotel.

To see for ourselves why China is such a happening place Broadway To Vegas sent Michael Ashleman, who has previously covered productions for Broadway To Vegas, to check out the scene.

Xian, the capital of Shaanxi Province, is one of the most ancient cities in China. Over the course of 3,100 years, thirteen dynasties built their national capital here. Xian was the starting point of the Silk Road which was one of the most important arteries of trade and culture in world history. The Tang Dynasty period was a golden age for the arts, and ceramics, calligraphy, painting and poetry.



Shopping malls serve as entertainment venues. Photo by Michael Ashleman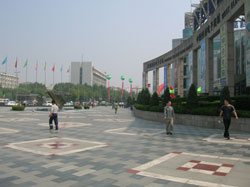 Today Xian is the political, economic and cultural center of the Northwest China and one of the major tourist cities in China.

With between 6-8 million people, the place is a fascinating melding of ultra modern and ancient. It's a haven for the artistic - the Greenwich Village of China.

"The people are unbelievably nice and helpful. They are insulted if you try to offer a tip. They feel it is an honor to serve you," said Ashleman.

"Their shopping malls are huge. They are deliberately build with large flat areas. Dicos, which is competitor to KFC - and there is a KFC is the mall - is favorite local hangout which plays music all the time. At night they play swing dance music. There can be 300 couples out side dancing.



Chinese performer on shopping mall stage. Photo by Michael Ashleman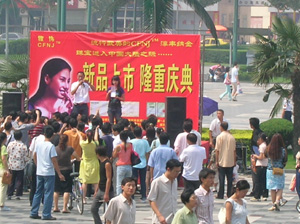 KTV party at the 823 dance club. Photo by Michael Ashleman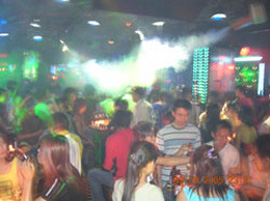 "In this same area there is a small stage. Frequently popular recording artists perform free, miniature concerts."

"Karaoke, which is called KTV in China, is extremely popular. KTV places are all over. 823 is dance club with KTV rooms in the back. People or organizations rent the rooms and stage KTV parties."

"On these flat Mall areas there are people flying kites. You can have 50-60 people flying kites. These people fly kites. They really know what they are doing."

"The universities are noted for their musical studies. There are specialized art and music schools and the music university does concerts all the time. There is a street that is nicknamed Bar Street, because there are a lot of bars on it. After classes a lot of the musical students hang out there and do improv jam sessions."



The Latern Festival by Pan Xiaoling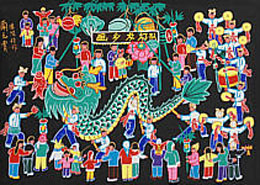 A History of Red Earth by Pan Xiaoling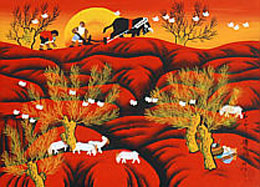 A particular kind of Chinese painting found in Xian is called "farmers' paintings." Farmers' painting dates back to the late '50s when the new government formed mass cultural activities. Professional artists were given the task of teaching farmers the art of painting. At first, local farmers did not make paintings to sell; rather, it was a form of rural cultural life.

Now there are forty such art colonies around the country with a village near Xian having the largest and the most significant colony. There are 2,000 farmers who can paint in Huxian at present and 280 core painters. Sponsored by the State, local mass art centers and cultural centers provide these folk artists with places to work and the assistance of professional artists.

The paintings are instantly recognizable by their bold, exaggerated forms and excessive use of bright color. The Shangri-la Hotel in Xian has used Farmers' Paintings exclusively to decorate the hotel. They are seen in rooms and hallways and include a wall-size mural in the main conference room.

"It's a rural farming community," explained Ashleman who went to see for himself. "Each house has their own artist studio. They have their works on display and sell them."



Pan Xiaoling writes a dedication on a purchase Photo by Michael Ashleman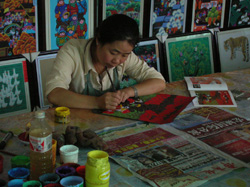 Traveling with an interpreter Ashleman entered one home and found himself in the presence of Pan Xiaoling, considered China's most renown female farmer painter. In her 40's, she began painting in 1974. She gradually formed her own style strongly influenced by local customs. Her paintings are lucid and lively in color, brimming with poetic sentiment. Tourists from more than 60 countries, including the United States, Canada, Sweden and Singapore, have bought her paintings and she has been invited to hold individual exhibitions in America and Singapore.

She is exceptional both as an artist, but also in her drive to promote and sell her art. She was the first in the village to install a telephone. She was the first farmer painter to publish an album with her paintings in 1993 - which has to date sold over 20,000 copies. A second volume was published in 2000. In 1997 she was the first farmer painter to buy a computer.

Ashleman bought two. "She gave me her book," he related.

"The traditional Chinese picture is left with a blank space for some sort of an artist's dedication," he continued. "When the artists sees who is buying it they will write something that they feel is appropriate. Because their written language is picturegraph they feel language and art are inseparable."

When tourists hear Xian they think of Terracotta warriors.



Terracotta Warrior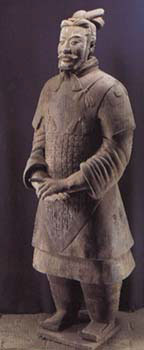 The Terra Cotta Warriors and Horses were discovered in 1974 by local farmers digging a well, one of the most significant archeological finds of the 20th century. These 6,000 life-size painted terra cotta warriors and horses including horse drawn chariots - individually sculpted from real-life models and arranged in battle formation to protect the mausoleum of the first emperor in Chinese history - Emperor QinShihuang. Seven hundred thousand workers spent 36 years building the tomb on the emperor's orders 2,200 years ago. For 2,000 years the Terracotta Warriors had been buried and forgotten.

On the evening of September 4 Tony Blair flew out of Britain with his wife, Cherie, on a celebrity-led trade mission to China. Along with 40 leading business figures were stars Darcey Bussell, the ballet dancer, Colin Jackson, the 110-meter hurdles world record holder, Richard Curtis, the director of films including Four Weddings and A Funeral, and Lord Foster of Thames Bank, the architect who held master classes in China.

Upon planting his feet on terra firma Blare announced that China and Britain would exchange treasures. Some of the famed Terracotta Warriors will be seen at the British Museum, and Egyptian mummies will go on view in China under a five-year loan of archaeological treasures agreement announced by the two countries. The announcement by the directors of the British Museum and the Victoria and Albert Museum, in China with the British prime minister, Tony Blair, capped two years of secret negotiations.

"It will be interesting to see how Great Britain displays them," said Ashleman referring to the Terra Cotta Warriors.

"Here they need better glass and lighting. They have them in pits illuminated by harsh lights that cause glare."



Museum visitors gaze into Terracotta Warrior pit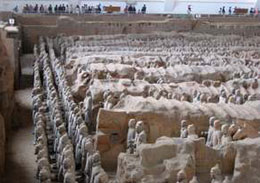 "This is an active archeological site around which they built a museum. So, most of the warriors are still in the archeological pit. They have a few examples - one of each type - removed from the archelogical pit and brought up to level that you are walking around on. The archeological pit is below you. On the ground floor the display is behind what looks like bullet proof glass. People get up to the glass and touch it The walkways are obviously designed to hold thousands of people at a time. So, to have one example of everything - an archer, horse, warrior - is inadequate for a large crowd."

"There are no signs telling people not to touch the glass and there are fingerprints and smug marks everywhere, which causes a lot of glare when the lights hit the glass," he explained. "There are cleaning crews everywhere but they just can't keep up with all the fingerprints."

"They have very few examples to look at up close. They do have a couple behind class walls that you can get close to. But they have thousands and considering how many they have, they have very few in an up close display."



Terracotta Warriors and Horses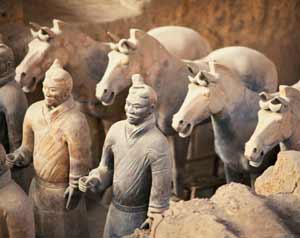 "They are displayed in the round. It looks like somebody saw how Disneyland does a round presentation and tried to imitate it - but there are little things that are just slightly off. In Disneyland, when you go to the theater in the round, they have rows of parallel bars for people to lean against. They have a start and a stop time. This thing is just on a continuous loop with no posted time. And there are a few of those rails for invalids to lean against, but not many for everybody else."

"In the gift shop you can sit and have your picture taken with a Terracotta Warrior. They have one of each type. There is photo of President Clinton getting his picture taken. You can even buy a life size imitation, which feels like the real thing."



Tang Paradise Water Park. Photo by Michael Ashleman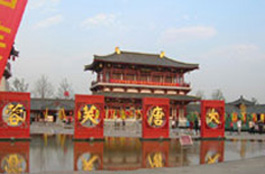 "The Tang Paradise Water Park is impressive," Ashleman declared. "It's a historical recreation like Colonial Williamsburg. What they do for Colonial America, The Tang Paradise Water Park does for the Tang Dynasty."

Opened in April of this year, Tang Paradise covers a total area of about 165 acres of which about 49 acres is water. This tourist attraction not only claims to be the biggest cultural theme park in the northwest region of China but also the first royal-garden-like park to give a full display of the Tang Dynasty's (618-907) culture. Altogether, twelve scenic regions are distributed throughout Tang Paradise to provide visitors with the enjoyment of twelve cultural themes and a perfect exhibition of the grandness, prosperity and brilliance of the culture of the Tang Dynasty.

"When you go into what they call the dinning hall, everyone gets their picture taken. A bar code comes out which is put on the back of your ticket. Then when you leave they scan the bar code and your pictures comes up on their viewing screen. You are compared to the picture. This security measure is done with everybody. It may have been because the displays in the glass cases are authentic and valuable and they want to keep track of who was in the room and when they left."

"The Dragon Dance is exceptional," he exclaimed. "It is performed by 16-year-old boys or younger. They have to be small because they are under the dragon costume. They are very athletic. They also perform on each other's shoulders and on giant polls. Another group of boys, who look like gymnasts, move mats under them in case they mall. Nobody fell."

"The Wall of Water laser production is world famous. You can't really appreciate what it is unless you see it. It's excellent. A water mist comes up, which becomes the screen for the laser show, which lasts about 15 minutes"

"They have a parade like they do at Disneyland, and they have 10-15 young Buddhist monks doing very elaborate martial arts demonstrations. There is also a fireworks show."



Tang Paradise Water Park show. Photo by Michael Ashleman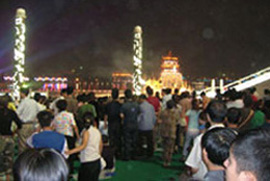 Tang Paradise Water Park show. Photo by Michael Ashleman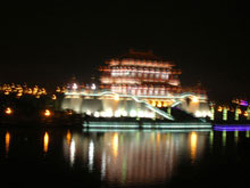 "This is quite a place, by Western standards or anybody's standards. It's a modern creation with lots of historical information. It costs 50 Yuan which translates to $13.50 American. But 50 Yuan to the local people is a lot of money. If you're coming from American with American income then it is quite a deal, but if you live here it's a lot - like going to Disneyland."

"You could easily spend the entire day there. I'm going back, even it is it 50 Yuan - it's worth it."

"I went on the night of the Moon Cake Festival - which is the mid-Autumn family festival. Families get together - like Thanksgiving. I'm there and there are families everywhere with children. This is a major family event."

"The construction is magnificent. This park could be picked up and dropped in Paris, London, Las Vegas and everybody would think it's well built and done correctly. You go into the men's room and the fixtures say American Standard. The chrome is polished."

A Broadway or Vegas type production, The Tang Dynasty Dinner Show, is located near downtown Xian. Choreographed by Mrs. Xue with Mr. Zhang Yanwu serving as music director and conductor, this is a must for any tourist.

At each performance there are 104 artists presenting the show which is performed by the Tang Dynasty Song & Dance Troupe, a branch of the Shaanxi Provincial Song & Dance Troupe.

"It is as nice as any Broadway theater or showroom in Las Vegas," exclaimed Ashleman.

"The theater is immaculate with no finishing touch ignored. Lots of traditional oriental - red and gold. It was raining and personnel were waiting at the door with plastic bags for your umbrellas."



Fans and ribbons are effectively used in dance routines. Photo by Michael Ashleman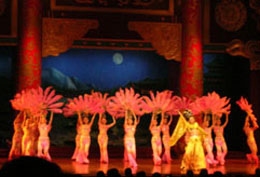 Smoke effects during the performance. Photo by Michael Ashleman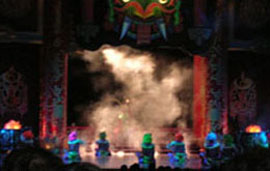 "They have lots of English speaking personnel. This is one of the major stops for tourists and they are well equipped for that."

Patrons have the option of attending a five course dinner followed by the show or purchasing a ticket for only the show.

Considered China's premier cultural entertainment theater restaurant, the venue can comfortably sit 650 diners in its 2,000 square meter auditorium.

"You are escorted to your seat. The front half of the theater has wide tables for eating dinner. The back half has smaller cocktail size tables. The dinner lasts an hour. Then the tables are totally cleared. It isn't like Vegas used to be with dinner shows, where you finished your dinner and dessert while the opening act was performing. These tables are cleared and everybody is watching the show. Then those who show up for only the performance join those who were there for dinner," he explained.



Rainbow Costume Dance. Photo by Michael Ashleman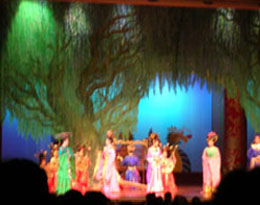 "One major difference between Broadway or Las Vegas is that photography and filming are allowed - including the use of flash."

"The show is as well done as anything I have ever seen," he emphasized. "Everyone is highly skilled. This is a show based on historical dances and music."

The performance includes; The King of Ever which is instrumental music, Cultural Dance Segment known as The White Ramie Cloth Costume Dance, The Da Nuo which is a sorcerer's dance meant to expel epidemics and ghosts and to solicit wellbeing,The Rainbow Costume Dance, The Warriors Triumphal Dance, Happy Spring Outing and The Ta Ge which is a clog dance.

"After each section, the room goes dark and an English speaking narrator tells you what is going to happen - what it is called and its history," explained Ashleman.



Tang Dynasty Orchestra. Photo by Michael Ashleman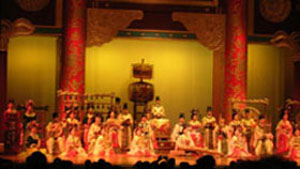 "There is also a lot of music. There is a live orchestra, with many playing traditional Chinese instruments," reported Ashleman about 30 master musicians who play various Chinese and western instruments, including the hand-plucked stringed Pi Ba, Rang, Gu Zheng, Erhu, Yangqin, Dizi, Sheng, Pai Xiao, 24 tone Bronze chime-bells, Suo Na and a group of percussion instruments.

"Spring Orioles Song is a section that came about because of an Emperor's coronation when a flight of Orioles flew overhead and he considered it a sign of good fortune."



Mr. Gao Ming. Photo Tang Dynasty Dinner Theater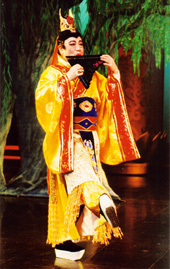 "So, he ordered the court musicians to write a song about this. A particular instrument, the Pai Xiao, was used that a musician plays," he said referring to Mr. Gao Ming, who is internationally recognized as the premier performer of the Pai Xiao, a three thousand year-old instrument. "He not only plays it, he hits notes that you'd think would be painful to hit. This guy is their national champion and he obviously is. He is extremely skilled."

"Wonderful costumes! They give special credit to the people who created the costumes from drawings Buddhist monks did in caves that are about 100 miles from here. Those are the only historical record of what the costumes looked like."

"During intermission when the theater goes dark and they change the set, a narration comes on that is for the English speaking crowd. There are also times when Chinese is spoken and sung. This production is geared to an international audience," reiterated Ashleman.

"There is enough dancing and music that if you didn't speak English or Chinese you'd still enjoy the show. It was as well done as any of the Vegas production shows and you wouldn't be bored if you saw it more than once."



Glory of the Silk Country is an excerpt from the award-winning Chinese opera The Silk Road Rainbow, created and written by Executive Producer Gao Ming in 1990. This sensational opera tells the story of the legendary Silk Road which, for hundreds of years, served as the main thoroughfare between China and the West. Photo by Michael Ashleman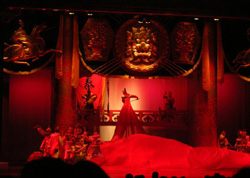 The White Ramie Cloth Costume Dance choreographed as a demonstration of the flowing quality of Ramie Cloth, which was invented by the Chinese some 1,5000 years ago. Photo by Michael Ashleman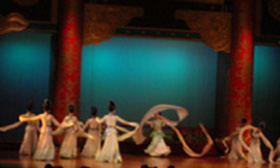 "The show by itself is $25. That is pricey for a Chinese resident. If you spend another $25 for the meal, that brings the tab to about $50 American. That is cheap in comparison to Las Vegas or New York."

"But remember that Chinese residents would be spending 8 percent of a professional person's monthly salary on just one ticket for one event. This show is geared to a foreign audience where the price looks cheap. In all honesty, with the number of English speaking personnel that they have there, keeping up that building and the number of people on stage, they have that price as low as it gets," he reasoned.

"On the way out they have the DVD of the performance for sale for 150 Yuan. The people associated with this show know how to market. They ask where you are taking the DVD, because DVDs are created for the country where they will be played. The electronics are coded for each format. They know exactly what they are doing. All of their people speak good English, which means those are expensive personnel."

"The DVD shows not only the performance but how they produced the show. Then there is a Xian section which has some of the best photography of Xian and the history of Xian that I've seen. It's narrated by Hugh Terry. You get this DVD and you get a history lesson of Xian. They have some wonderful photography of the Terra Cotta Warriors. If a person went to Xian and could do only on thing - if they saw this show and bought the DVD - they'd have a beautiful film of Xian's historical sights. Their DVD is the best tourist one stop buy there is for getting the story of Xian and seeing all of the tourist attractions. They produced it themselves. It's even in a colorful, fold out decorative box. The Tang Dynasty Dinner Show is a must see stop for all tourists."


KENNEDY CENTER SPOTLIGHTS CHINA
China falls into focus when the world's most talked about rising economic powerhouse comes into the spotlight this October in the nation's capital. The John F. Kennedy Center for the Performing Arts turns its attention to China in an unprecedented way by mounting the month-long Festival on China.

The largest endeavor of its kind in American history, the festival includes more than 600 performers, representing the country's top performance companies, including the National Ballet of China, Beijing Modern Dance Company, Guangdong Modern Dance Company, China National Peking Opera Company and the Beijing People's Art Theatre.

To mark the festival's opening on October 1, artist Cai Guo-Qiang will produce a state-of-the-art pyrotechnics display on the Potomac River, including choreographed fireworks and a giant tornado.

On October 4th and 5th, the National Ballet of China performs a program of mixed repertory to include The Rainbow of the Night, Attraction, Salt, and Yellow River, as well as excerpts from the classic ballet Giselle.

The National Ballet of China, Zhao Ruheng, artistic director, is committed to incorporating the rich heritage of Chinese classical and folk dance into ballet.



National Ballet of China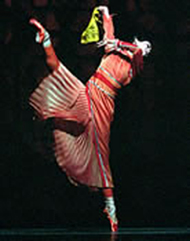 October 7 and 8, the company presents Raise the Red Lantern. Internationally celebrated director Zhang Yimou transforms his smash hit film, based on the epic novel by Su Tong, into this dazzling ballet event. Through the haunting tale of a concubine sold by her mother into a stifling world of resentment, Yimou brings a fresh perspective to dance staging, intermingling gorgeous pas de deux with elements of folk dance, Chinese opera, acrobatics, and emotionally charged scenes of love, jealousy, and tragedy.

Plans for this elaborate month-long Kennedy Center presentation were first announced last year in Shanghai by the center's vice-president, Alicia B. Adams. While attending the Trade Fair Forum of the International Art Festival, she said the Kennedy festival would give full play to Chinese dance, drama, visual arts, movies, acrobatics and minorities' arts. She stressed it would be the first time the John F. Kennedy Center had introduced Chinese art on such a large scale.

For the Chinese, the festival is as much study-abroad program as international tour. While Americans are taking in performances, Ministry of Culture officials said, managers traveling with the companies will have a chance to observe everything from press relations and electronic ticketing systems to coordinating ushers.

The Chinese government's spending on the arts is a broad category that includes performing arts, sports, film, television and radio. While overall spending on the arts has increased - $6 billion in 2003 from $3.6 billion in 2000 - much of the additional money is directed toward building new venues. Each segment of the entertainment industry is now in competition for government funding. In the past the Communist government ran the arts by paying for and controlling everything - company costs fully underwritten. Thus, marketing skills weren't necessary because the government covered the salaries of performers, directors, designers and stagehands alike.

Over the past five years things have changed as the Chinese government put into play new policies gradually reducing financing to arts organization. As a result the Chinese are coming to American to study marketing strategies. The box office is now a fundamental lifeline for them.

Recently the Kennedy Center for the Performing Arts staged a two-week arts management seminar for the Chinese. Center president Michael Kaiser and his staff focused on concepts of courting donors, developing operating budgets and projecting ticket sales. Elated Chinese officials said they hope the seminar will become annual event.

Kennedy Center staff led seminars and lectures on writing mission statements, developing fund-raising, education, marketing, exhibition and international promotions, sales services, customer relations, grants and scholarships, and program development.

Mandatory study is Strategic Planning in the Arts: A Practical Guide, published in 1995, and translated into Chinese two years ago. Nobody left the seminars without a copy.

Chinese performing arts also get top billing at the Smithsonian Institution's Freer Gallery of Art. As the festival opens at the Kennedy Center, the Freer Gallery opens Virtue and Entertainment: Chinese Music and the Visual Arts. Running October 1-March 26, this exhibition examines the importance of music in ancient China, where it was widely believed that the harmony heard in music could lead to harmony in one's personal actions. Musical instruments, music-inspired paintings and calligraphy folios appear in this special installment.


THE WALL: RESHAPING CONTEMPORARY CHINESE ART
Zheng Lianjie's Binding the Lost Souls: Big Explosion '93 Series documents a performance on the Great Wall in which bricks that had fallen over time were wrapped in red ribbon and placed on the wall. UB Art Galleries, Buffalo, NY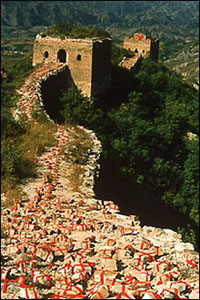 Ever since Deng Xiaoping's 1984 call on the Chinese people to love their country and restore their long walls, historians and artists in China and abroad have devoted much energy to researching and depicting the roles of walls in China's past and in the current effort to re-conceptualize modernity.

The most ambitious exhibition of contemporary Chinese art to travel beyond China will be presented in the United States beginning October 26. Because of its size and scope, The Wall will be installed at three venues: the Albright-Knox Art Gallery in Buffalo, the UB Art Gallery in the Center for the Arts on UB's North Campus in Amherst, and the UB Anderson Gallery on Martha Jackson Place in Buffalo. In all, approximately 83 works by 47 artists will be on view at the three venues through Jan. 29, 2006.

The Wall will be a significant interdisciplinary cultural event that will also include the publication of a 450-page, full-color, bilingual catalogue, made possible by a $75,000 grant from the Andy Warhol Foundation. The catalogue also will serve as a textbook for university students and researchers in the field. It will include images of all the works in The Wall exhibition, artists' biographies and a chronology of Chinese conceptual art from 1978-2004.



In Ghosts Pounding the Wall by Xu Bing, impressions on rice paper form a large scroll mourning China's Great Wall. The movable Ghosts Pounding the Wall covers an area as big as 618 square meters. Xu said his team spent 24 days in doing the rubbings of the Great Wall in the suburb of Beijing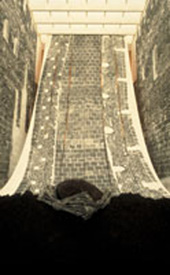 It also will explore various themes, from socialist iconography to essays on Chinese film and theater in the 1980s and '90s.

The Wall: Reshaping Contemporary Chinese Art is the first collaboration between U.S. art museums and a significant Chinese art museum to focus on contemporary Chinese art.

It's a major retrospective of Chinese contemporary art from the past 20 years, is a thought-provoking exhibition that explores the many walls - physical and metaphorical - that both unite and divide Chinese society.

The show includes installations, performance art, video, photography and painting. Although The Wall is a retrospective, it is organized by theme rather than chronology, and much of the work is recent.

The curator for this groundbreaking exhibition is Minglu Gao, Assistant Professor of Art History at the University at Buffalo. Professor Gao is one of the leading authorities on Chinese art of the twentieth and twenty-first centuries. He co-curated Conceptual Art: Point Of Origin 1950s-1980s, an exhibition sponsored by the Queens Museum of Art, New York, and also curated Inside Out: New Chinese Art at the San Francisco Museum of Modern Art in 1998.

The Wall exhibition will highlight the artists' multiple perspectives on this theme. The title can be interpreted as describing a physical or architectural form such as The Great Wall or as a cultural and social boundary. Issues such as the indigenousness of Chinese modernity versus globalization will be explored in various projects that deal with China's transformation from an agricultural society to a modern, urbanized country.



Launder One's Ego by Man Fungyi. After she finished her undergraduate study, she cut up all her oil paintings into strips, rolled them up, and lined the rolls up on a bookshelf, a metaphor for her departure from her past.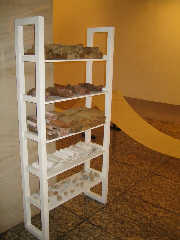 Many of the works in the exhibition focus on the migrant laborers who demolish and construct the nation's walls and the ordinary workers who find themselves rendered unemployable by the economic reform process

The Wall also surveys how contemporary art practices, although embedded in the history of Chinese art, reflect the complicated and rapidly changing Chinese cultural landscape.

The invisible boundary that is perhaps most closely considered in The Wall is that which separates women from men; the exhibition attempts to surmount this divide by displaying a number of works by female artists.

Because Chinese women often use needle, thread, laundry and the like in their art, Gao speculated that such domestic materials may be meant to address their subordinate position.

The Asian Studies Program at the University at Buffalo will also stage an international research conference on the theme: The Roles and Representations of Walls in the Reshaping of Chinese Modernity to be held at the Art Galleries of the University at Buffalo and the Albright-Knox Art Gallery in Buffalo on October 22-23.



Broadway To Vegas is supported through advertising and donations. Priority consideration is given to interview suggestions, news, press releases, etc from paid supporters. However, no paid supporters control, alter, edit, or in any way manipulate the content of this site. Your donation is appreciated. We accept PAYPAL. Thank you for your interest.


KATRINA SURVIVOR WINS WAG-ON ROLE
Conrad John Schuck as Daddy Warbucks and Marissa O'Donnell as Annie. Photo San Diego Civic Theatre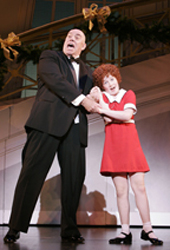 When the San Diego Civic Theatre sent out a release asking - Is your dog ready for their stage debut? - the playhouse got inundated by pet parents who were positive their pooch had what it takes to be a Doggie Diva.

Leave it to a hurricane soaked mutt to win the wag off.

There was stiff competition. Over 50 pet owners decided that their dog was indeed ready for their stage debut, and sent in their photo and profile in hopes of winning the grand prize ~ a wag-on role in the San Diego engagement of the national Broadway tour of Annie.

Four pup runners-up, have human stage parents who will receive tickets to see Annie, an Annie CD and a Petco gift card for their pooch, because animals always come first.

Prospects were cautioned that: the rules included;

Dog must be under 30 pounds.
People friendly and well mannered.
They must be able to interact well with stranger and larger dogs as well and remain calm in a stressful environment including but not limited to bright lights and moving scenery pieces.
Dog owner must also furnish proof that all dog vaccinations are current.

The winners were announced at a press conference on Saturday, September 24.

Our lucky winner is one of the last entries received and is an adorable little mutt named Katie - a Katrina survivor who was just rescued from the floodwaters of New Orleans and brought to a new home in San Diego by an amazing man named Lee Bergeron. Bergeron organized a group of his friends in vans and suv's who were heading to Mississippi to help out just before Katrina hit - when they rerouted to New Orleans.

Bergeron spent 10 days in New Orleans following the devastation rescuing dogs and taking food and water to hundreds of animals they didn't have the space to board. He and his colleagues rescued well over 3,000 animals, Katie being one; and she flew back with Lee after being evacuated due to the impending Hurricane Rita.

Katie is around 1 1/2 to 2 years old, part Yorkie, possibly part Jack Russell; even-tempered and mellow and not a barker, although she has a ton of energy. An orphan herself, Katie loves people and loves other dogs. Bergeron was able to attend the official announcement on Saturday, September 23, although he won't be able to see the show as he is heading back to help with the ravages of Hurricane Rita on Monday. But Katie will make her debut with her temporary guardian Jack Krenek in the house!

Annie, with music by Charles Strouse and book by Thomas Meehan, is again directed by its lyricist, Martin Charnin, who brought the original production of Annie to Broadway in 1977; where it won seven 1997 Tony Awards, including Best Musical, Book and Score. It ran for 2,377 performances, has been produced in all over the world; one of the top 20 longest running shows in the history of Broadway and most successful stage properties ever.

Annie Starring Conrad John Schuck and Mackenzie Phillips, with Marissa O'Donnell as Annie and Lola as Sandy is at the San Diego Civic Theatre for a limited engagement, September 27 through October 2.


SPREADING THE WORD
MOVIE TUESDAYS

Paul Newman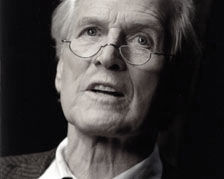 begins at the Westport County Playhouse with the film The Verdict, with special guests: Sidney Lumet (director), Paul Newman (actor), Milo O'Shea (actor) and Steve Lawson (moderator).

In the movie Frank Galvin (Paul Newman) is a down-on-his-luck, drunken attorney with a no-win medical malpractice case on his hands. With one last chance to salvage his career and self-respect, he rejects a settlement offer in favor of taking on the hospital and archdiocese.

Tuesday, September 27 at The Westport Country Playhouse in Westport, CT.

POETRY IS ALIVE! ~ a night of poetry in another dimension ~ As part of an ongoing poetry series at the Hopkins House, poems from NJ and PA-based writers will be performed by actors/actresses at the Ritz Theatre. A night of poetry off the page. See how performers get inside the words and interpret them through the use of lighting, movement, vocalization, and music.

Wednesday, September 28, 7:00 pm at The Ritz Theatre in Oaklyn, NJ.

LA CENERENTOLA Distinguished scholar and author Philip Gossett will share his insights and observations on Rossini's Cinderella opera - a put-upon girl is transformed into a gorgeous woman and captures a handsome prince. Gossett will also examine Rossini's life and, most important, his significance in the world of opera today. A feature of the Lyrics Opera of Chicago preview lecture series. Wednesday, September 28, at the UBS Tower in Chicago.

THE BUSINESS OF CASTING AND HEADSHOTS FOR THE EMERGING ACTOR Conducted by Robin Gentile, a leading headshot photographer in New York who has been a personal manager for a number of years. This experience, combined with her time as a working actress, has given her a unique insight into how the casting business works, and an understanding of the importance of every headshot. In this workshop she will convey her knowledge of what casting directors are looking for in a headshot, and talk about "the business" side of show business. Topics covered include: Headshots for film, television, theater, and commercials; styles of headshots; proper format for headshot mailings; differences between agents and managers; choices for clothing, make-up, location; and auditioning for agents vs. casting directors. Ms. Gentile's clients' work has included: Rent, NYPD Blue, The Blue Man Group, Go, Dawson's Creek, and Sex & The City.

September 27 The Tisch Common Room, NYU in NYC.

GREAT READ IN THE PARK TEA OR BRUNCH While sipping tea four enormously popular women writers will talk about their work, their lives, and what they think about the "chick lit" genre with Master of Ceremonies Patricia Cohen, the New York Times Theater editor.

Melissa Bank, The Wonder Spot (Viking), Rona Jaffe, The Best of Everything (Penguin), Benilde Little, Who Does She Think She Is? (Free Press) and Lauren Weisberger, Everyone Worth Knowing (Simon & Schuster)

The Great Read in the Park Brunch permits you to munch while Master of Ceremonies Robert Lipsyte, New York Times contributor, will host five best-selling writers who captivate readers with their unique style of storytelling.

John Berendt, The City of Falling Angels (Penguin Press), Patricia Cornwell, Predator (Putnam), Sue Monk Kidd, The Mermaid Chair (Viking), Robert Klein, The Amorous Busboy of Decatur Avenue (Touchstone) and Salman Rushdie, Shalimar the Clown (Random House)

Both events are at the Celeste Bartos Forum at The New York Public Library Sunday, October 2.

THE WOLF TOTEM China's best selling novel has had English language rights snapped up by the Penguin Group for $100,000. Penned by Jiang Rong, 58, the semi-autobiographical 2004 debut novel, is to be issued in English in 2007. Set during the Cultural Revolution of 1966-1976, when Mao Zedong sent educated youths from the cities to work alongside peasants and herders, the novel is a meticulously researched tale of the lives of wolves as seen through the eyes of a student dispatched to the Inner Mongolian grasslands. Critics and readers have praised its account of the relationship between man and animal, its detail and its spiritualistic inquiry.

ELVIS COSTELLO WITH BILL FLANAGAN Elvis Costello has followed his musical curiosity for more than 25 years. He may be best known for his participation in London's mid-'70s punk scene, but he explored many avenues, including a jazz album that topped the Billboard charts for five weeks. His many awards include a Grammy for his collaboration with Burt Bacharach.

Elvis Costello and the Attractions were inducted into the Rock and Roll Hall of Fame in 2003. Costello offers both talk and song in an evening moderated by Bill Flanagan.

Bill Flanagan is senior vice president and editorial director of MTV Networks International and the MTV Networks Music Group. He is also a commentator on CBS News Sunday Morning and author of the novel A & R.

Wednesday, September 28 at the Kaufmann Concert Hall in NYC.

THE 25TH ANNUAL PUTNAM COUNTY SPELLING BEE will stage an adult-audience-only version featuring risqué words and sentences. October 2 at the Circle in the Square Theatre in New York City.

TIPPI HEDREN star of the Hitchcock movie classic The Birds will make a special appearance immediately after the matinee of The Birds: A Tail of Ornithic Proportions at the Hudson Mainstage Theatre in Hollywood, CA on Sunday, September 25.

A Q&A will be held about the play and the making of the film.

Profits from the Sunday performance will be donated by TheSpyAnts Theatre Company to the Shambala Preserve (The Roar Foundation).


SWEET CHARITY


BROADWAY'S CELEBRITY BENEFIT FOR HURRICANE RELIEF On Sunday evening, September 25, the New York theatrical community will join forces in one of the most important evenings of the season. In an incredible demonstration of support and camaraderie, scores of Broadway performers will take the stage at the Gershwin Theatre for Broadway's Celebrity Benefit for Hurricane Relief.

100% of the profits from this spectacular event will go directly to America's Second Harvest - The Nation's Food Bank Network and Quilts for Kids, two charitable organizations working directly with the victims of Hurricane Katrina.

Produced by company members of Wicked and made possible through the generosity of the Nederlander Organization, the event will star Ben Vereen & Liza Minnelli and feature Bryan Batt, Shoshana Bean, Victoria Clark, Charlotte D'Amboise, Jill Eikenberry, Raul Esparza, Eden Espinosa, Ricky Ian Gordon, Adam Guettel, Shuler Hensley, Megan Hilty, Bill Irwin, Cheyenne Jackson, Brian d'Arcy James, Isabelle Keating, Judy Kuhn, Adriane Lenox, Susan Lucci, Terrence Mann, Rue McClanahan, Michael McElroy, Julia Murney, Bebe Neuwirth, Phyllis Newman, Kelli O'Hara, Denis O'Hare, Elizabeth Parkinson, Bernadette Peters, David Hyde Pierce, Phylicia Rashad, Keith Roberts, Jai Rodriguez, Carole Shelley, Christopher Sieber, Daniel Sunjata, Michael Tucker, Frederick Weller and The Broadway Inspirational Voices, plus the casts of Avenue Q, All Shook Up, Hairspray, The Light in the Piazza, Mamma Mia!, Rent, The 25th Annual Putnam County Spelling Bee and Wicked.

"On Monday August 29th, 2005 Hurricane Katrina ravaged the Gulf Coast like no other storm in recorded history," says Ben Vereen. "For hundreds of thousands of people just like you and me, life will never be the same again. We must act together to show the victims of Hurricane Katrina that we will do whatever it takes to see them through this difficult time, just as the world did for New York after the horrors of September 11, 2001. When ticket sales hit an all time low and businesses were struggling to keep their doors open, our fellow Americans rallied around our city. They came to stay in our hotels, eat at our restaurants, shop in our stores… and they came to see our shows!"

LOS ANGELES PHILHARMONIC GALA The black tie event kicks off the Philharmonic's Beethoven festival.

Russian virtuoso Evgeny Kissin plays the towering Emperor Concerto. A specially created dramatic presentation will frame passages of Beethoven's greatest music with his own eloquent words, read by recent Emmy nominee and four-time Oscar nominee Ed Harris.

After the concert, dining and dancing under the Los Angeles skyline and reflected beauty of Walt Disney Concert Hall.

The elegant menu has been created by acclaimed chef Joachim Splichal.

Tickets start at $1,500, which includes a significant charitable contribution.

Thursday, September 29.

JAZZ & BREWS Beer tasting and silent auction. A spirited fundraiser for the Sioux Falls Jazz & Blues Society's Educational Fund. Saturday, October 1 at the Vern Eide Motorcars Showroom in Sioux Falls, SD. Taste over 100 craft beers from around the world along with delicious appetizers. Featuring live music by the Dakota Jazz Collective.

THE OPENING NIGHT GALA OF CARNEGIE HALL'S 115th SEASON THE MUSEUM OF CHINESE IN THE AMERICAS 25TH ANNIVERSARY LEGACY The dinner celebrates 25 years of excellence and honors pioneers of the Chinese American community. This year, MoCA honors former Washington State Governor Gary Locke, the fist Chinese American Governor in United States history, and acclaimed actress and director Joan Chen, whose work includes The Last Emperor and Saving Face.

The evening includes a cocktail reception, silent and live auction and raffle prizes. All proceeds support educational programming at the Museum of Chinese in the Americas, the nation's first, full-time, professionally staffed institution dedicated to reclaiming, preserving, and interpreting the history and culture of Chinese and their descendants in the Western hemisphere.

Wednesday, September 28, at Pier Sixty, Chelsea Piers, New York City.

THE ACTORS' FUND OF AMERICA proudly presents the 3rd Annual Screenplays on Stage.

A one-night-only reading of the legendary and beloved Warner Brothers screenplay/ Original Warner Brothers Screenplay by Julius J. Epstein, Philip G. Epstein and Howard Koch/ Adapted for the staged reading by David Rambo/ Directed by Peter Hunt.

Starring Rene Auberjonois as Berger
Thora Birch as Anina Brandel
Dan Castellaneta as Ugarte
James Cromwell as Major Strasser
Bruce Davison as Emil
Andre De Shields as Sam
Anne Heche as Ilsa
Edward Hermann as Captain Louis Renault
Christian Slater as Rick
Hal Sparks as Jan Brandel
Kurtwood Smith as Heinze
Jennifer Tilly as Yvonne

Pantages Theatre in Los Angeles on Sunday, October 2.



The American Theatre Wing's Tony Awards have announced the creation of a new award category: Best Recreation of a Leading Role by an Actor/Actress.

According to the new guidelines, this award may be bestowed by the Tony Administration Committee to honor an actor or actress for an outstanding performance in a "recreated role." Up to one actor and one actress in a given season may receive an award in this category.

In order for a performer to be eligible for this award, he or she must not have appeared in the role when the production opened on Broadway. The actor/actress must be contracted in the role for a minimum of six months of public performances. The rules governing the prize define long-running shows as all Broadway theater productions that opened in a previous season, were eligible for a Tony Award for best play, best musical or best revival, and continue to be performed on a regular schedule. The Tonys will be given out on June 11.



ALL MY SONS by Arthur Miller for his family is the chance to live out the American Dream, but a terrible secret threatens to destroy everything. One of the late Arthur Miller's earliest and most compelling dramas in which morality and personal responsibility clash with family loyalty and business success. An American classic.

Like all plays, not everyone was a fan of All My Sons when it was initially produced. There were even cries from some sectors saying that it was technically inaccurate and, therefore, un-patriotic "Communist propaganda."

Miller writes in his autobiography, Timebends, that he "was spared having to reply to such accusations when a Senate committee exposed the Wright Aeronautical Corporation of Ohio, which had exchanged the 'Condemned' tags on defective engines for 'Passed' and in cahoots with bribed army inspectors had shipped many of these failed machines to the armed forces." Journalist Brooks Atkinson pointed out Millers' attackers were "working in the direction of censorship and restriction." Less than 10 years later Miller found himself under investigation by The House Un-American Activities Committee (HUAC).

Until WWII, our nation's defense budget remained relatively steady. With the prospect of a war fought on two major fronts – both in Europe and in the Pacific – the need for an incredible amount of machinery, equipment, and supplies pushed defense spending to a record high and, as Miller put it, "profiteering on a vast scale" ensued. President Franklin Roosevelt declared that he "did not want to see a single war millionaire created in the United States as a result of this world disaster" and Senator Truman along with Congress responded with an investigatory committee called the Truman Committee.

Denver Center for the Performing Arts The Space Theatre September 29 - November 5.

ROMANCE A new play by David Mamet. Directed by Neil Pepe.

In a New York courtroom, a trial unfolds in the shadow of an international peace conference. Although the case at hand is unrelated, the defendant and counsel devise a plan to solve conflict in the Middle East and produce peace in our time! While mayhem fills the courtroom, the giddy proceedings skewer everyone from Jews to gays, Catholics, podiatrists, chiropractors, Shakespeare and, of course, lawyers.

Romance is an outrageous farce about cherished issues, from our judicial system to the peace process, fidelity, religious tolerance and world peace, presented in verbally dexterous Mamet style.

The Atlantic Theatre Production plays Sep 29 – Nov 13, at the Mark Taper Forum in Los Angeles.

DUMB SHOW by Joe Penhall. Directed by Martin Benson.

London critics are still cheering this new comedy about a TV comic who's vain, greedy—and endearing. Poor Barry. His show is on the skids and his personal life is no picnic either. Enter Liz and Greg, private bankers in pinstripes. When they woo him with the promise of a fat fee on the banquet circuit, Barry turns on the old charm. He tells his jokes, struts his stuff, even throws in a tap dance. But maybe Barry should stop and think before he sidles up to the mini bar (or to Liz) in this comedy that keeps you guessing—and laughing—until the very last line.

An American Premiere being staged September 25 - October 16 on the Julianne Argyros Stage of the South Coast Repertory Theatre in Costa Mesa, CA.

700 SUNDAYS the Tony award winning one man show by Billy Crystal will play Sept. 28-Oct. 9 at Toronto's Canon Theatre.

GRIMALDI: THE LIFE AND TIMES OF JOSEPH GRIMALDI the story of English clowning and comedy: Grimaldi was the greatest pantomimist and clown of all time and as a result, every clown is now known as Joey in his honor. His physical and satirical humor is the foundation of all recent British buffoonery from Dan Leno and Stan Laurel to Basil Fawlty and Little Britain. The story is based on The Memoirs of Grimaldi edited by 'Boz' the pen-name of a youthful Charles Dickens, who was an admirer of his work as well as other Regency celebrities such as Lord Byron and the Prince Regent himself.

This lively and colorful tale is full of humor, history and emotion. With live musical accompaniment, energy and slapstick, it depicts the story of English comedy for the last 200 years: connecting Royston Vasey, Monty Python and Music Hall to the Georgian era of the late eighteenth century.

Originally written and commissioned as a radio play for BBC Radio 4 Grimaldi has been transformed and adapted into this exhilarating stage production by the same writer and performer Tony Lidington.

Tuesday, September 27 until Saturday, October 1. The Georgian Theatre Royal in London.

EPITAPH FOR GEORGE DILLON by John Osborne and Anthony Creighton. Starring Joseph Fiennes as George Dillon, Francesca Annis as Ruth Gray, Geoffrey Hutchings, Zoe Tapper and Dorothy Atkinson.

It is directed by Peter Gill, designed by John Gunter, with lighting by Hugh Vanstone.

Osborne's domestic and political drama is set in a lower middle class household in post-war South London. The Elliots live a conventional, suburban life until 'Kate Elliot' brings home the charismatic 'George Dillon', a surrogate for her son killed in the war. George is an aspiring actor and playwright, recently freed from the constraints of employment as a clerk, and sustained by Kate's kindness and generosity. But when she moves him into the household alongside her thoughtless young daughter Josie, and her attractive, divorced sister Ruth, the results are more complicated than she expects.

Previews begin September 27 at the at the Comedy Theatre in London. Officially opens Sept 27 running to January 13, 2006.

ABYSSINIA Music by Ted Kociolek. Lyrics by James Racheff. Book by James Racheff and Ted Kociolek. Based on the novel Marked by Fire by Joyce Carol Thomas. Directed by Stafford Arima. Choreographed by Christopher Gattelli.

A young girl's voice can heal the world… Set in rural Oklahoma at the turn of the century, Abyssinia is an uplifting tale of a young girl's joys, sorrows and triumph of faith. Born during a terrifying tornado, Abyssinia is given the gift of song and a healing spirit to inspire her entire community. An exuberant musical that resounds with plenty of spiritual thunder and melodic lightning, Abyssinia packs an emotional power that surely will bring joy to your heart.

Goodspeed Opera House in East Haddam, CT September 30 – December 4.

RESIDENT ALIEN

Bette Bourne as Quentin Crisp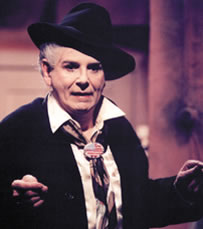 starring Bette Bourne as Quentin Crisp.

This Obie Award-winning, one-man play - written and directed by Tim Fountain and performed by the incomparable British actor Bette Bourne - delves into the life of author and eccentric Quentin Crisp.

As the self-described "stately homo of England," Crisp lived on the fringe of gay London until the publication of his memoir, The Naked Civil Servant, made him a celebrity and kept him in the public eye until his death in 1999.

Set in Crisp's legendarily shabby apartment on New York's Lower East Side, Resident Alien is a funny, tender, and intellectually fascinating play based on hours of interviews and Crisp's extraordinary New York diaries. September 26-28 at The Flynn Center for the Performing Arts in Burlington, Vermont.

THE WILL ROGERS FOLLIES The winner of six Tony Awards including Best Musical and Best Score, Will Rogers Follies is a dazzling high-energy show as charismatic as the man himself. Experience the life of America's favorite cowboy philosopher in a production filled with homespun wit, show-stopping Zeigfeld-style production numbers and a score featuring Cy Coleman's best music including Never Met A Man I Didn't Like and Without You. September 30-October 2 at the Cerrito Center for the Performing Arts in Cerritos, CA.


| | | |
| --- | --- | --- |
| | | |
WHO'S WHERE


ST. PETERSBURG PHILHARMONIC ORCHESTRA OPENING NIGHT GALA This evening's concert features two masterpieces of Russian symphonic music filled with searing drama and beautiful melodies. Remarkably, both these works won only a lukewarm response from the critics, who searched in vain for novelty but overlooked the powerful human appeal of the music. Tchaikovsky's Fifth Symphony, for all its brilliant orchestral color, is one of his "Fate" symphonies, posing profound questions about the human condition. The "Fate" theme runs through all of its four movements, from the initial suffering of a tormented soul through to the final triumph and celebrations.

Rachmaninoff began his career as a protégé and disciple of Tchaikovsky, and inherited the older master's skill of combining powerful drama with striking and colorful effects. His Third Piano Concerto (1909), although possibly the most demanding in the repertoire, nevertheless unfolds as a symphonic drama, in which the pianist figures as the heroic protagonist struggling toward victory.

St. Petersburg Philharmonic Orchestra Yuri Temirkanov, Artistic Director and Principal Conductor. Yefim Bronfman, Piano.

Isaac Stern Auditorium in New York City on Thursday, September 29.

COLDPLAY on stage Wednesday, September 28, at Philips Arena in Atlanta, GA. Thursday the guys are in the spotlight at the Verizon Wireless Virginia Beach Amphitheatre in Virginia Beach, VA. Friday the performance is at the Nissan Pavilion in Bristow, VA.

PIZZARELLI AND PIZZARELLI: THE JOHN PIZZARELLI QUARTET AND SPECIAL GUEST BUCKY PIZZARELLI on stage September 27th – October 8th at Feinstein's at the Regency, NYC.

DAVE MATTHEWS BAND on stage Tuesday, August 30, at the Cricket Pavilion in Phoenix, AZ. On Wednesday they perform at the Journal Pavilion in Albuquerque, NM. Friday finds them at the Verizon Wireless Amphitheatre in Selma, Texas and on Saturday they're in the spotlight at the Smirnoff Music Centre in Dallas.

MICHAEL BUBLE on stage Monday, September 26 at the QPac Concert Hall in Brisbane, Australia.

PAUL McCARTNEY on Monday, September 28, opens a two night gig at the Fleet Center in Boston. On Friday he begins a four night engagement at Madison Square Garden in NYC.

NEIL DIAMOND performs Tuesday, September 27, at the Arco Arena in Sacramento, CA. On Thursday, September 29, he opens a four night engagement at the Staples Center in Los Angeles.

BIG BAD VOODOO DADDY on stage tonight, September 25, at the College of Lake County in Grayslake, IL. On Friday the show is at Southern Illinois University in Edwardville, IL. On Friday the guys start a two nighter at Victory Theatre in Evansville, IN.

MICHAEL FEINSTEIN performs Saturday, October 1, at the Stanley Performing Arts Center in Utica, NY.

THE ROLLING STONES all over the stage Monday, September 29, at Rogers Centre in Toronto, ON. On Wednesday they'll be delighting the fans at PNC Park in Pittsburgh. Saturday finds them at Hersheypark Stadium in Hershey, PA.

FOREIGNER perform Friday, September 30 at the Bloomsburg Fair in Bloomsburg, PA. On October 1 they can be enjoyed at the Bergen County Performing Arts Center in Mahwah, NJ Next Sunday, October 2 finds them Ram's Head in Baltimore, Maryland.

HARRY CONNICK, JR on stage September 27 at the Perelman Theater at the Kimmel Center for the Performing Arts in Philadelphia.

CHRISTINE ANDREAS has returned to the Morgans Cabaret at the Prince Music Theater, with Martin Silvestri at the piano. Love is Good: A Romantic Evening, celebrates romance with a fresh menu of tunes, ranging from Billy Joel to Rodgers & Hammerstein. Through October 2 at the Prince Music Theatre in Philadelphia.

LUCINDA WILLIAMS entertains Monday, September 26, at the House of Blues in New Orleans, LA. On Tuesday she's on stage at the Ryman Auditorium in Nashville. Thursday finds her at the W.L. Lyons Brown Theatre in Louisville, KY. On Saturday she's in the spotlight at the Vic Theatre in Chicago. Next Sunday she's on stage at the Michigan Theater in Ann Arbor, MI.

BLIND BOYS OF ALABAMA perform Friday, September 30. at the Belfer Arts Center in Kansas City, MO.
















Next Column: October 2, 2005
Copyright: September 25, 2005. All Rights Reserved. Reviews, Interviews, Commentary, Photographs or Graphics from any Broadway To Vegas (TM) columns may not be published, broadcast, rewritten, utilized as leads, or used in any manner without permission, compensation/credit.
Link to Main Page
---
Laura Deni


CLICK HERE FOR COMMENT SECTION