! >
Broadway To Vegas
  
  REVIEWS INTERVIEWS COMMENTARY NEWS

| | |
| --- | --- |
| | |
HENRY BUSHKIN WANTS JOHNNY CARSON BOOK TURNED INTO A BROADWAY PLAY - - BROADWAY CAST MATILDA CD REVIEW - - WAS ANDY MURRAY'S DRUG TEST A RETALIATION? - - MAMMA MIA! TO RETURN TO LAS VEGAS - - DAVID HOCKNEY - - ROZ RYAN SETS RECORD - - ANGELA LANSBURY HONORED - - GRAMMY'S 16th ANNUAL ENTERTAINMENT LAW INITIATIVE - - DONATE . . . Scroll Down




Copyright: October 20, 2013
By: Laura Deni
CLICK HERE FOR COMMENT SECTION


  HENRY BUSHKIN WANTS JOHNNY CARSON BOOK TURNED INTO A BROADWAY PLAY
Hardcover: 304 pages Publisher: Eamon Dolan/Houghton Mifflin Harcourt (October 15, 2013)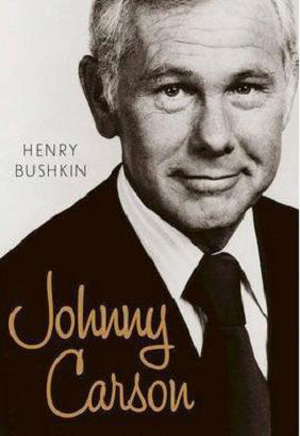 Hardcover: Pages: 259 Publisher: 360 Guy Books (October 26, 2012)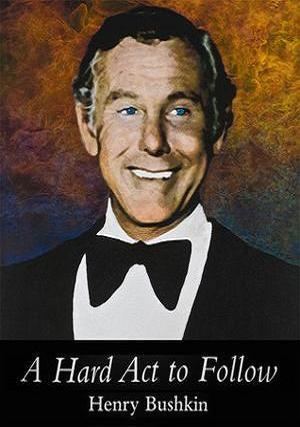 One of the most talked about  books to hit the store shelves lately is Johnny Carson by Henry Bushkin. Is the buzz because of the subject matter or because of the promotion?

Study the marketing behind Johnny Carson, versus the book as it was first published a year ago under the title A Hard Act to Follow by 360 Guy Books, which appears to be the vanity publishing house Design 360.

According to their website; "Design360 offers the expertise to turn a great concept or life-long dream into a book. ... books featuring engaging places, amazing people and man's best friend."

If that is the publisher Bushkin used - a link to their site is on several of the sites which reviewed A Hard Act To Follow - then they did what they were hired to do - publish and promoted the book.

Analyzing the publication problems and marketing strategy behind both books would be a fascinating learning experience, for anyone desiring to make a career in the dubious business of book publication and promotion.

A Hard Act To Follow, with a cover from a painting created by Rupert Garcia, didn't sell a lot of copies; although as of Friday, October 16, it was easy to purchase A Hard Act To Follow over the internet. On a few sites, if you clicked on A Hard Act To Follow, you were transferred to a site selling Johnny Carson.

Johnny Carson was a hit before it was released.

Why?

Bushkin first announced the book idea in 2008. Johnny Carson is basically A Hard Act To Follow. Different title, cover shot, expanded ending and perhaps a different font size. Same book.

Major publishing firms wield formidable promotional power.

As everyone who is conscious should know, Henry Bushkin was Johnny Carson's lawyer, business partner, and friend.

The image of Johnny Carson on A Hard Act To Follow didn't automatically sell copies. A celebrity endorsement by Carson enemy Wayne Newton didn't result in sales. Juicy anecdotes about an ex-wife didn't cause people to fight to get a copy.  That it was written by Carson's former attorney and best friend didn't get the book on any best seller list.

There was a facebook account https://www.facebook.com/AHardAct2Follow "The Official Facebook Page for the book "A Hard Act to Follow" by Henry Bushkin" and A Hard Act To Follow was on Goodreads. In October 2012 Bookblast Promotions reviewed A Hard Act To Follow.

The website for iamareader reviewed A Hard Act To Follow on October 18, 2012, reposting on December 15, 2012.

Why wasn't A Hard Act To Follow reviewed by those who can move the best seller lists?

What makes Johnny Carson different from other books, which started out self published going on great acclaim after a major publishing house climbed on board, is that most of those books are fiction or self help. None are about a household name mega superstar.

Likewise, A Hard Act To Follow had all the text book ingredients to make it a runaway hit without a major publisher. That didn't happen.

Why did Bushkin go with a vanity press in the first place?

That's the fascinating back story.

Bushkin's book on Carson has been years in the making.

On November, 2008 Page 6 of the NY Post printed "JOHNNY Carson's longtime lawyer is blowing the lid off the secret life of the beloved "Tonight Show" host - painting him as a sad, depressed man who cheated on his wives, was tormented by his mom and refused to visit his son in a mental hospital.

"He was a great star, but not a great man," Henry Bushkin - who was jokingly dubbed "Bombastic Bushkin" by Carson on his late-night NBC gabfest - told Page Six.

"Many great comedians were miserable human beings . . . Johnny suffered a great many demons brought about by what I call a toxic sort of mother," Bushkin said. "His mother couldn't give a compliment. He's the biggest star in the world and she couldn't even acknowledge it."

Bushkin, who was also Carson's agent and manager, is shopping a warts-and-all memoir about the late-night legend through superagent David Vigliano, in which he'll tell how the comic:

* Was so miserable at the top of his game that he constantly "questioned his own ability to have happiness in his life."
* Enjoyed the use of a 10,000-square-foot penthouse with a private pool at Caesars Palace when he played Vegas and routinely entertained the "18 beautiful girls in the chorus line that opened his act . . . and he was certainly involved with some of them."
* Refused to visit his son, Rick, when he was committed to Bellevue with severe emotional problems. "The kid was there for 4½ months and he never went. I had to take care of everything and was there almost every day. Rick [who died in a car crash in 1991] was a lovely human being."
* Abandoned many of his closest friends, including Bushkin, who says, "At one time we did everything together. At the end, he treated me like everybody else - like I didn't exist. At the end, it was like I was an irritant. In many respects, he was the saddest guy I ever knew."

http://nypost.com/seven/11022008/gossip/pagesix/sad_guy_carsons_toxic_mom_136456.htm and http://www.morrissey-solo.com/threads/92530-JOHNNY-Carson-a-sad-depressed-man-cheated-on-his-wives-was-tormented-by-his-mom

No publishing house wanted it.

According to printed comments from Bushkin: "They thought he (Carson) was just irrelevant."

Yeah, sure.

Publishing houses may have been under significant pressure to reject the book. Even David Vigliano, one of the most powerful agents in the business, isn't going to get a publisher if the opposition forces are stronger.

By Bushkin going the self publishing route, nobody could derail the project. There is a lot of sabotage in the publishing business.

Once A Hard Act To Follow was released, the information is out there with Bushkin retaining control of the copy. At that point, publishing houses might just as well jump in and turn it into a money maker. They stumbled over each other to publish Johnny Carson. A book about him suddenly became relevant - financially relevant.

David Vigliano and Associates, which boasts an impressive 15 NY Times #1 Bestsellers, is lauding Johnny Carson on their Twitter page and posts a picture of Johnny Carson. If they brokered the deal, will Johnny Carson become their #16?

The reason Johnny Carson is now a hit is because of the massive, high profile, promotional effort publisher  Eamon Dolan Books/HoughtonMifflin Harcourt put behind this project.

Rarely is there an opportunity such as Johnny Carson provides, to show how an author who had anti-publishing pressure working against him (if that was the case), circumvented the problem to succeed.

That's the business story.

The pre-release excerpt from Johnny Carson centered on breaking into Joanne Carson's apartment to find photographs of Frank Gifford. The promotional excerpt from A Hard Act To Follow also concerned Joanne Carson.

Publisher's promotional excerpt from A Hard Act To Follow:

"So with all of this as backdrop, I was more than a little astonished when over dinner Johnny said to me, "I think Joanna is the one." It took me several beats to absorb this news until I finally pointed out, perhaps a little stupidly, "You're still married to Joanne. And the way the divorce is going, it will be at least a year before you're not married to her." I had no interest in standing in the way of Joanna per se, but I knew that if the relationship became public, it was going to cost Johnny a vastly larger sum to free himself from Joanne. But, as I was to discover so many times, the ironclad realities I feared mattered nothing to Johnny Carson when there was something he wanted. "Please just get it done. No more meetings on the subject. Give Joanne what she wants and end it."

"From my point of view, the proceedings should have ended long ago. Joanne had been caught in an adulterous relationship. That was grounds for divorce. There were no custody issues. There was property to divide, alimony to negotiate, but she was a young woman who had a somewhat successful television career and had previously been an airline stewardess; it should have been an easy settlement. But it wasn't. Raoul Felder, defining his style as a matrimonial litigator, was intransigent, and Joanne, unfortunately, was hysterical. She phoned Johnny and harangued him, and then phoned me and harangued me. She showed up at NBC in an inebriated condition to annoy and provoke him. It got to the point where we had to move for restraining orders.

"Sometimes her behavior made me feel that I was in beyond my depth. Once I sought the advice of the great lawyer Louis Nizer, who had briefly represented Carson, as well as Charlie Chaplin, Salvador Dali, and many other famous clients. I was happy I did; he was the Yoda I had been hoping for. "Nothing is more bitter than litigation between husbands and wives,'' he told me."The nastiness and anger exceed that of any other relationship. Don't get caught up in it. Leave all the emotions to the psychiatrists. Focus on creating an equitable settlement.'' It was very sound advice; even more flattering, Nizer called me a few weeks later to see if I would be interested in joining his firm. I wasn't.

"The turning point came when Joanne, for whatever reason, re-placed the militant Felder with the even-keeled, highly professional Morton Bass. Once he got involved, the case resolved itself. We agreed that Joanne would receive the sum of $6,000 per month until she re- married or until Johnny's death (which she did, until Johnny died in 2005), as well as a pretty nice little art collection. It was a fair settlement, but given the millions Johnny was earning at the time, I think I did a damn good job for him.

"The case did not end without a further outburst. On the very day in June 1972 when the divorce settlement was to be put on the record at the Supreme Court in the Bronx, Joanne fired Bass and introduced her new attorney. The judge would have none of it, and made it clear that if she did not approve the settlement, there would be severe repercussions. Joanne came to her senses long enough to recant, and the settlement was approved. As part of the deal, Carson had agreed to pay Bass $35,000 for his fees. I gave him the check at the courthouse once the settlement was approved."

While the reviews for Johnny Carson haven't been as gushy as the reviews the self publication house posted for A Hard Act To Follow, it's important that the the N.Y. Times gave Johnny Carson a glowing review. That's all Bushkin needs.

However, several reviews have taken issue as to how Bushkin could have recalled word for word so many conversations which took place decades ago.

While I have only read the excepts from both books, not the books, the proliferation of quotes makes sense to me.

Bushkin is a lawyer. He may well have kept detailed daily notes of what transpired. Not with the thought of writing a book decades later; rather as a way to protect himself, or his client, in case he was called upon to explain an issue.  He'd have his notes to back himself up when, in explaining a situation, he could say - I was there and this is what happened. These are my notes. Nobody has ever accused Bushkin of being stupid. He was a direct party to what he writes about. If there is ten percent he didn't document at the time, he was there knowing the events and his client. He could, with amazing accuracy, recreate the conversations.

According to Bushkin statements made to Richard Horgan, co-editor of FishbowlNY, "when the book was sold to Houghton Mifflin, they bought it as is; they had no right to change any of it. However, some of those last few things about how it ended with Carson, I didn't have that in the original manuscript. My ending ended with me and Johnny shaking hands after a three-minute conversation. That was my ending.

"They insisted because of all this regurgitation of reportage about what happened in 1988 to '89, "Look, this is going to come up, so you better put something in there about what really happened at the end." I didn't think the story necessarily gained anything by having it in, but Houghton Mifflin insisted on it. And I didn't have to put it in, by the way. But ultimately, I agreed. "

That is one reason the second book is longer than the first.

Johnny Carson  is not a rehash - meaning same subject matter done differently. Is it basically a somewhat polished reprint of A Hard Act To Follow?

Buy both books and do a comparison.

If you total up the royalties Bushkin earned from  A Hard Act To Follow,  are they less than what Bushkin will earn from the first pre-sale week for Johnny Carson? Think Yes.

The publishing history of these two books is a testament to tenacity and powerful promotion.

That doesn't mean that with promotion anything and everything attached to the name Johnny Carson will be a hit. I have absolutely no idea who Buskin is alluding to when he claims somebody wants to turn his Johnny Carson book  into a Broadway play with music.

Who needs a business tax write off so desperately that they'd bankroll such a Broadway production?  And, who is doing the investing -  if there are any investors.  Is somebody trying to get Bushkin to invest his own money, or be responsible for drumming up the first money in?

Regarding bring Carson to Broadway, Bushkin explained to  Horgan: "We are in the midst of some very interesting and confidential discussions about a Broadway play with music centered around a particular year, like 1980, in Carson's life and my life. Like a snippet. All I can say is that there's compelling interest in that. The Broadway audience is Carson's sweet spot. The entertainment value of it is going to be significant."

Unless you've got Kevin Spacey starring as Johnny Carson with the Tony Award winner signed to an enforceable run of the show contract, and intend to have live sex acts on stage,  Bushkin needs to start thinking like a businessman. That purported "play with music" better have an exceptional score. 

Who is actually going to buy a ticket?

Sure the first few performances can be packed with comps. Make sure you invite people from all networks and cable channels. Don't forget that touchy-feely honcho. Padding the place will garner applause, but won't earn in a dime. 

It also takes years before a show can get from writing it to 'on Broadway.' By that time people will have lost interest in the subject matter.

Whoever is flying that Broadway suggestion up the flag pole doesn't seem to have a clue what is involved in even securing a Broadway theatre.

Tell ya what - turn the book into a play with music and then stage it at the 216 flexible seat Johnny Carson Black Box  Theatre, located at the University of Nebraska in Lincoln. Use that place as your pre-Broadway tryout and see what happens.  

That last is sarcasm aimed towards whomever broached bringing a year in the life of Johnny Carson and Henry Bushkin to Broadway.







Broadway To Vegas is supported through advertising and donations. Priority consideration is given to interview suggestions, news, press releases, etc from paid supporters. However, no paid supporters control, alter, edit, or in any way manipulate the content of this site. Your donation is appreciated. We accept PAYPAL. Thank you for your interest.





ART AND ABOUT


DAVID HOCKNEY: A BIGGER EXHIBITION

David Hockney, Self Portrait with Charlie, 2005. Oil on canvas. Collection National Portrait Gallery, London, © 2013 David Hockney. Photo: Richard Schmidt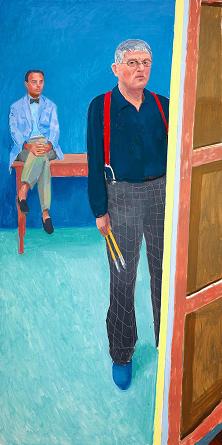 marks the return of the celebrated British artist to California with an exhibition assembled exclusively for the de Young.

Expansive in scope and monumental in scale, this show is the first comprehensive survey of his 21st-century work and represents one of the most prolific decades of his career.

Renowned for his use of traditional media as well as evolving technologies, Hockney has selected monumental paintings, Photoshop portraits, digital films that track the changing seasons, vivid landscapes created using the iPad, as well as never-before-exhibited charcoal drawings and paintings completed in 2013.

Large-scale, multi-canvas oil paintings and digital movies shot with multiple cameras, some requiring as many as 18 monitors for their display, portray Hockney's beloved England.

His unique perspectives of California, Iceland, and Norway are also presented, including iPad drawings of Yosemite.

The portraits, central to Hockney's practice since his youth, depict friends, colleagues, and family members, and provide a glimpse of the artist's personal and intimate relationships with his sitters.

This first comprehensive showing of Hockney's diverse output since 2002 includes a new series documenting the arrival of spring in 2013 and reveals the artist at the peak of his creative powers.

Opens October 26 at the de Young in San Francisco. On display through January 20, 2014.


SWEET CHARITY


A WEB OF LOVE is a concert and auction to benefit Daniel Curry, 23, the actor who "sustained fractured legs and a fractured foot, and has had surgeries and amputations as a result," in an onstage accident during the August 15 performance of Spider-Man Turn Off the Dark will take place October 21 at The Nuyroican Poets Cafe in New York City.

Robert Cuccioli and Christina DeCicco will host.

The fundraiser will feature performers and auction items from Kinky Boots, Pippin and The Metropolitan Opera. Also taking part will be Voices From the Aisles.

EJAF FOUNDER SIR ELTON JOHN will receive The Rockefeller Foundation's Lifetime Achievement Award at The Rockefeller Foundation's A Celebration of American Philanthropy event in Washington, D.C., on October 30, 2013.

"At the Rockefeller Foundation, we are constantly searching for innovative solutions to some of the world's most pressing challenges. As such, we are honored to recognize Sir Elton John for his unwavering commitment and contributions to the fight against HIV/AIDS, and for the innovative work he has done not just targeting the disease, but also the stigma, discrimination, politics, and community-related concerns associated with it," said Dr. Judith Rodin, President of The Rockefeller Foundation.

The Rockefeller Foundation's Lifetime Achievement Award is given annually to an outstanding individual who has implemented major innovative approaches to social or environmental problems. Previous recipients of the award are President Bill Clinton and Ratan Tata. In addition to the Lifetime Achievement Award, the Rockefeller Foundation will also distribute a grant to EJAF in support of its work.

ROCK ON 4 AUTISM the 7th Annual Concert for Autism featuring Almost Famous takes place Saturday, October 26, 2013, at the Palace Theatre in Stamford, CT.

Silent Auction, Mystery Bags, Photo Booth Welcome Speech and then Showtime.

Almost Famous is the Arena Rock Experience that promises to have patrons clapping their hands, stomping their feet and singing at the top of their lungs. Almost Famous is comprised of five multi-talented, professional musicians from the NY Metro Area, all of whom have recorded and toured with major acts around the globe, such as…Peter Frampton, Billy Joel, Chicago, Lynyrd Skynyrd, KC & The Sunshine Band, Joe Walsh, Blues Traveler, John Entwistle, Dave Mason….the very artists whose songs they cover.

Optional Attire: Dress as a Rocker!

The evening benefits Stamford Education 4 Autism.

BAY STREET THEATRE'S ANNUAL HALLOWEEN BASH at B. Smith's Sag Harbor Restaurant. Come and get your scare on! The Boneyard Bash at the Longwharf will find DJ Karin Ward spinning the entertainment and don't forget to dress your scariest for Best Costume contest. The winner receives $500.

Saturday, October 26. Proceeds benefit the Bay Street Theatre.







THE MUSIC GOES ROUND AND ROUND


MATILDA THE ORIGINAL BROADWAY CAST RECORDING has been released by Broadway Records.

The cherished Ronld Dahl story Matilda is captured on this excellent Broadway cast recording which features some actors from the originial London production, who accompanied the award winning musical to The Great White Way. They include Olivier Award winner and Tony nominee British chap Bernie Carvel in the show stopping role of Miss Trunchbull and Tony nominee Lauren Ward as Miss Honey. In particular American Lauren Ward, who original the role in both London and on Broadway, comes across better both on stage as well as on this recording, than in the London versions. Both Carvel and Ward (who is married to Matthew Warchus the director of Matilda) played their final performance on September 1, 2013 - all the more reason to cherish this Broadcast cast recording.

While the cast recording of the London production is musically better than the West End production, it is this Broadway cast CD that conveys the musical brilliance of Tim Minchin and makes the listener desire to see the production. The score is rousing and clever. The Broadway cast album is impressive, interesting and entertaining.

The are some differences between the original London production and the Broadway recreation. See Broadway To Vegas column of May 19, 2013 ) The same holds true for the Broadway cast album, making it superior to the West End version.

While the Broadway actors are America, they have been instructed to speak with a British accent. In this CD they have an endearing hint of the across-the-pond speak. However, they are articulate and can be easily understood, which makes the recording superior from the Broadway stage production, which even added sub titles on a blackboard. At times the British production, for an American, is akin to listening to a foreign langauge. In fairness, the London version was, after all, mounted for a British, not American audience.

British speak means dropping consonants and speaking with a clenched jaw. The American ear hears that as a foreign language in need of a translator.

For the Broadway version certain lyrics were Americanized. Before the Broadway opening Minchin told the Telegraph; "It's being changed a little. There are a few lyrics that they're just not hearing because they're so dense and require thinning out."

In retaliation the British press referred to the American audience as "thick-skulled, waxy-eared American audiences among which there is hardly a single theatergoer with a real appreciation for the British idiom."

This Broadcast cast CD was brilliantly engineered for the American ear. All of the dialogue can be understood and the music is thrilling.

The Broadway production also added an Overture.

All four girls who alternate playing Matilda on Broadway are featured in this cast recording.

Sophia Gennusa sings Naughty.

Oona Laurence recounts The Great Day Arrived Story 2 and I'm Here Story 4.

Bailey Ryon delivers The Trick Started Well . . . Story 3 and sings Miracle and When I Grow Up.

Milly Shapiro sings Quiet, as well as telling Story 1 Once Upon a Time.

This musical CD cast includes: Gabriel Ebert who won the Tony Award for his role as Mr. Wornwood, Lesli Margherita as Mrs. Wormwood, Taylor Trensch as Michael Wormwood, Jack Broderick as Bruce Bogtrotter, Karen Aldridge as Mrs. Phelps, John Arthur Green as The Doctor, Chris Hoch as the Party Entertainer, plus Phillip Spaeth, Ben Thompson, and Samantha Sturm, Judah Bellamy, Emma Howard, Ava DeMary, Ted Wilson, Beatrice Tulchin, Jared Parker, and Frenie Acoba.

Musical Supervisor/Orchestraor - Chris Nightingale. Musical director/Conductor David Holcenberg. Children's Musical Conductor/Assistant Conductor Deborah Abramson. Associate Conductor/Keyboard 1 Michael Gacetta. Associate Conductor/Keyboard 2 Sue Anschutz. Flute, Clarinet, Alto Sax Steve Kenyon. Clarinet/Bass Clarinet/Tenor Sax Hideaki Aomori. Trumpet 1 Matthew Peterson. Trumpet 2 CJ Camerieri. Trombone/Bass Trombone Mike Boschen. Drums/Percussion Howard Joines. Bass Mat Fieldes. Guitars Eric B. Davis. Violin/Concertmaster Jonathan Dinklage. Violin Elizabeth Lim-Dutton. Viola/Violin Whitney LaGrange. Cello Jeanne LeBlanc. Music Technology Phij Adams. Music Coordinator Howard Joines. Synth Tech Randy Cohen.

Recorded August 2013 at MSR Studios in New York City.

Top notch mixing and editing by Doug Derryberry, editing by Michael Croiter, mastering by Michael Fossenkemper, and engineering by Isaiah Abolin.

This CD has two versions. The regular version has 24 tracks including three tracks of Matilda's stories never previously recorded. The Deluxe Edition contains everything on the standard release plus two additional exclusive tracks Perhaps a Child, a song cut early in the developmental process and a version of Naughty sung together by all four of the Broadway Matildas.


ODD TIMING: WAS ANDY MURRAY'S URINE TEST A RETALIATION?
Wimbledon champion Andy Murray receives his Officer of the Order of the British Empire (OBE) medal from The Duke of Cambridge, during an Investiture ceremony at Buckingham Palace, London. Photo: courtesy of Clarence House.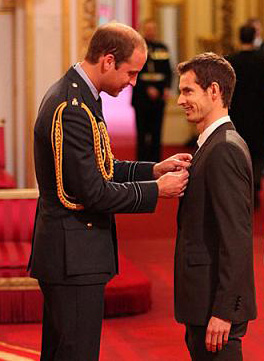 Years ago tennis great Andy Murray criticized the way drug tests are performed on top ranking tennis players. Did retaliation take place last Thursday?

Murray was at home getting ready to travel to Buckingham Palace where he would kneel before Prince William. The future King of England would then tap him on each shoulder with a sword. Murray would then stand, so that the Duke of Cambridge could pin a medal on Murray making him an OBE - Order of the British Empire.

That's a big deal.

Before that took place, the urine squad arrived, telling Murray to undo his pants and provide them with a urine sample. Something about this seems - odd.

Murray was notified that he had been awarded the OBE in the Queen's New Year Honors even before he won Wimbledon.

A big deal.

Those who are awarded the great honor select their investiture from a few dates provided to them. Murray chose last Thursday. It wasn't a secret. Tennis regulators knew this once-in-a-lifetime event for Murray was happening.

A big deal.

Each recipient is entitled to bring three guests. Murray invited his girlfriend Kim Sears as well as parents Judy and Willie. They would have considered that a very big deal.

As they were getting ready to head to Buckingham Place the urine collection squad arrived at Murray's home and demanded a urine sample, as part of a random drug test tennis player obligation.

The importance of random drug testing is not disputed. What is questioned is the random test timing. It resinates as mean spirited and resentful of somebody else's talents and success.

Was this an attempt to, if not totally ruin, at least cause anxiety and distress - not only for him but for his parents and girlfriend?

Why didn't they show up the day before? Or, wait until the investiture was over? The Murray family doesn't live across the street from Buckingham Palace. It takes time to get there and let's not forget traffic.

After a drug test Murray has stated that he isn't permitted to leave for 90 minutes, when the results of the test are determined.

With the exception of one account, all London papers report that the drug testing caused Murray to be late. The hold out paper said he was almost late to his own investiture, but was late to the start of the ceremony.

Andy Murray tweeted: "In the middle of a drug test hahahah I'm going to be late!!."

Was this drug test in retaliation for Murray's February 2009 "vociferous criticism of the sport's drug-testing methods calling on the authorities to change the rules to ensure fairness."

In an article dated February 9, 2009 printed in the Guardian, the tennis icon carped about the new regulations which, as the paper explained, obligated "players ranked in the top 50 are required to nominate a one-hour period of every single day when they will be available to be tested."

Murray told the paper than most players, in filling out the required forms, select either early morning between 7 or 8 or late at night between 11 and midnight, because they'll be home so they won't forget. Missing a random drug test is serious. The players are not tested 365 days a year. Rather, they sign papers giving permission to be drug tested during a specific hour, 365 days a year. The players don't know when the random tests will occur.

"We could get tested 30 times a year. I think that's enough to know whether someone's trying to cheat or not. Maybe if you're going to take a six-week break from tournaments then maybe you have to give, I don't know, one day a week where you can get tested, but not every single day during the whole year. I don't think that's right. I don't think anyone should have to tell people where they are every single day," according to the Guardian.

However, that now becomes the point. Tennis officials knew Murray's schedule. His upcoming investiture was also heavily reported in the press. Why the inconvenient timing?

In describing receiving an OBE from The Duke of Cambridge, Murray called it a "special day" for himself and The Duke. Speaking after the event in Buckingham Palace's ballroom, Murray said: "It's a great honour to be awarded something like this - it means a lot."

The sportsman paid tribute to other recipients: "Speaking to some of the people and the stuff they've done it's pretty incredible, it was nice to come along and receive it today. I've wanted to do it sooner but because of all the travel and stuff I've always been away on the dates that we've been given."

Speaking about his brief chat with Prince William during the presentation he said: "He just asked me about what it's been like after Wimbledon. I think he's a big sports fan, he was at the Olympics, he was seen everywhere and I've seen him a couple of times at Wimbledon, so today was nice and it was his first time as well, so a special, special day."

Referring to The Duke he added: "I thought he seemed pretty relaxed. He seemed to give everyone a lot of time. It seemed like it went really quickly. We spoke for about a minute, he asked me about my back surgery and what it was like after Wimbledon and the pressures and stuff. It was a great thing to do at the end of the year, especially as it's his first one."

As for Prince William, he handled that sword with aplomb, getting through his first investiture without nicking an ear.


SPREADING THE WORD


ANGELA LANSBURY the five-time Tony Award winner, will be inducted into the Bucks County Playhouse Hall of Fame October 28, 2013.

The inaugural inductee will be formally admitted by Tony winning director Harold Prince.

The gala event will feature Tyne Daly and Ebersole as well as Tony nominee Hunter Foster, Justin Guarini, Lauren Molina and Nick Cearley. Special guests for the evening will include Driving Miss Daisy playwright Alfred Uhry, and Lansbury's co-star in that play, Tony winner Boyd Gaines.

"We are delighted to be cementing the legacy of the Bucks County Playhouse in New Hope history by the creation of the Bucks County Playhouse Hall of Fame," Jed Bernstein the playhouse's producing director said in a statement. "Angela Lansbury appeared at the Playhouse in 1952's Affairs of the State, years before she graced the Broadway stage, making her the perfect first honoree."

The Bucks County Playhouse is located in New Hope, PA. Their new Hall of Fame will honor those who have performed on its stage.

The playhouse opened originally in 1939 on the site of an 18th-century gristmill. Theatrical stars who have appeared on its stage include Helen Hayes, Colleen Dewhurst, Shirley Booth, Grace Kelly, Robert Redford, Leslie Nielsen and Walter Matthau.

ROZ RYAN who currently plays Matron "Mama" Morton in the Tony-winning revival of Chicago at the Ambassador Theatre, in New York City, will on October 21 begin her 224th contracted week as "Mama" Morton, setting a new, all-time record for the most performances of any leading actress in that show's 17-year run.

Ryan will pass the record currently shared by Pippin's Charlotte d'Amboise who played as Roxie Hart and the late Marcis Lewis who also appeared as "Mama" Morton, both of whom logged a total of 223 weeks in the Broadway company.

RUFUS NORRIS 48, has been announced as director of the National Theatre in London when Sir Nicholas Hytner retires.

The position is considered the most prestigious job in British theatre, and Norris called it "a great honour".

"I am thrilled at the challenge of leading this exceptional organisation, where it has been a privilege to work under the inspirational leadership of Nick Hytner," he said. Sir Nicholas announced last April he would step down in March 2015.

Norris first came to prominence in 2001 with his production of Afore Night Come at the Young Vic, for which he won the Evening Standard award for most promising newcomer. He has been an associate director at the National Theatre since 2011, and will assume his new position beginning April 2015.

THE GRAMMY FOUNDATION HAS LAUNCHED ITS 16th ANNUAL ENTERTAINMENT LAW INITIATIVE Writing Competition, co-sponsored by the American Bar Association.

The ELI Writing Competition invites law students to write a 3,000-word paper on a compelling legal topic facing the music industry today. To encourage applications, the Grammy Foundation hosts ELI Writing Competition workshops at prominent law schools around the country with the goal of helping students with their essays.

A substantial cash scholarship of $5,000 will be awarded to the author of the winning paper and $1,500 will be awarded to each of four runners-up. Additionally, each winner will receive airfare, hotel accommodations and a ticket to the 56th Annual Grammy Awards, which will be held at Staples Center on Sunday, Jan. 26, 2014. The telecast will be broadcast live on the CBS Television Network

In addition, the winners receive invitations to other Grammy Week activities, including the ELI Luncheon on January 24. The winning student authors will present their essays at the luncheon. Past luncheon keynote speakers include Tom Brokaw, Edgar Bronfman Jr., Ron Conway, Clive Davis, Daniel Ek, Timothy J. Leiweke, and Gammy Foundation Board member will.i.am among others.

Submissions must be postmarked by January 4, 2014 (1 p.m. EST). Winners will be announced on January 17, 2014.

ARE WE LISTENING? A Symposium on music, change, and challenge.

Industry experts, musicians, educators, music scholars, and composers gather to address and explore the challenges and opportunities for this and the next generation of musicians.

With keynote by Greg Sandow, veteran critic, composer, and member of the Graduate Faculty at Julliard, who specializes as a writer, teacher, speaker, and consultant on the future of classical music.

A few of the speakers include: Beth Morrison head of Beth Morrison Projects - three term United States Poet Laureate  Robert Pinsky - Director of Marketing and Communications, Berlin Philharmonic Tobias Möller -   Grammy Award winning recording engineer Jesse Lewis -   Fred Bronstein. President and CEO, St. Louis Symphony - William Fairfield Warren Distinguished Professor & Professor of Law, Boston University School of Law Wendy Gordon -   Jim Selby CEO, Naxos.

Sponsored by the Boston University College of Fine Arts. Admission is free. October 25-26.

MAMMA MIA one of the most successful Broadway shows to ever be mounted in Las Vegas will return to Sin City.

The show with music and lyrics by Benny Andersson and Bjorn Ulvaeus, with a book by Catherine Johnson, had a six year run at the Mandalay Bay Hotel, closing January 4, 2009.

This mounting will open spring 2014 at the Tropicana hotel.



A TIME TO KILL the new courtroom drama by Rupert Holmes adapted from the bestselling novel by John Grisham. This production marks the first time a Grisham property has been brought to Broadway.

Directed by Ethan McSweeny.

Featuring an ensemble consisting of Sebastian Arcelus, Chike Johnson, Patrick Page, Tony Award winner Tonya Pinkins, Emmy Award winner Tom Skerritt, Fred Dalton Thompson, John Douglas Thompson, and Ashley Williams plus Jeffrey Bender, Dashiell Eaves, J.R. Horne, John Procaccino, Tijuana Ricks, and Lee Sellars.

A Time to Kill, a courtroom drama, tells the emotionally charged, now-iconic story of a young, idealistic lawyer, Jake Brigance, defending a black man, Carl Lee Hailey, for taking the law into his own hands following an unspeakable crime committed against his young daughter. Their small Mississippi town is thrown into upheaval, and Jake finds himself arguing against the formidable district attorney, Rufus Buckley, and under attack from both sides of a racially divided city.

The design team features scenic design by James Noone, costume design by Tony Award nominee David C. Woolard, lighting design by Tony Award winner Jeff Croiter, original music and sound design by Lindsay Jones, and projection design by Jeff Sugg.

Officially opening tonight, October 20, at the Golden Theatre in New York City.

THE DUMB WAITER a one-act play by 2005 Nobel Laureate Harold Pinter written in 1957; it premiered at the Hampstead Theatre Club on January 21, 1960.

The London directorial debut of Jamie Glover.

"In an airless, windowless basement, two hit men await their orders. The last job has got Gus thinking while Ben just wants a cup of tea. But their usual routine is disturbed and events start looking ominous when the unexpected and increasingly perplexing messages start arriving through the 'dumb waiter'. It is soon clear that all is not what it seems…"

Starring Joe Armstrong as Gus. Clive Wood as Ben.

Designer - Andrew D Edwards: Lighting Design - James Whiteside: Sound Design - Peter Rice.

October 23-November 23 at The Print Room in London.

BADEN-BADEN 1927 the U.S. stage premiere presented by the Gotham Chamber Opera. The Gotham Chamber Opera will begin its 12th season with a fully-staged production recreating the legendary Baden-Baden Festival of Contemporary Music performance of July 17, 1927. During the composer-organized summer festival, four one-act operas were presented in one evening: Kurt Weill's Mahagonny Songspiel, Paul Hindemith's Hin und zurück (There and Back), Darius Milhaud's L'enlèvement d'Europe (The Abduction of Europa), and Ernst Toch's Die Prinzessin auf der Erbse (The Princess and the Pea).

The production marks the long-awaited return to the New York stage of legendary soprano Helen Donath and also stars soprano Maeve Höglund, mezzo-soprano Jennifer Rivera, tenors Daniel Montenegro and Matthew Tuell, baritone Michael Mayes and bass John Cheek.

The creative team consists of Neal Goren, conductor; Paul Curran, stage director; set design by German neo-expressionist painter Georg Baselitz; co-design and costume design by Court Watson; lighting design by Paul Hackenmueller; video design by Driscoll Otto; and hair and makeup design by Randy Mercer.

October 23-29, 2013 at the Gerald W. Lynch Theater, NYC.

Founded by conductor and Artistic Director Neal Goren the Gotham Chamber Opera, now in its twelfth season, is considered the nation's leading opera company dedicated to vibrant, fully staged productions of works intended for intimate venues. Its high quality presentations of small-scale rarities from the Baroque era to the present have earned Gotham an international reputation and unanimous critical praise.

DIAMOND LIL written in 1928 by Mae West. Play Adaptation of Novel by LindaAnn Loschiavo.

Starring Darlene Violette as Diamond Lil, Queen of the Bowery and also featuring Sidney Myer, Anthony DiCarlo, Joanna Bonaro, Gary Napoli, Juan Sebastian Cortes, Kimmy Foskett, and Jim Gallagher.

Live music by Brian McInnis.

Torso-tossing scenes of sin and sensationalism return to the red curtained realm called "Suicide Hall".

Sunday, October 27 performance at Don't Tell Mama in New York City is billed as a Halloween Party with patrons encouraged to come in an 1890s costume.

THE SNOW GEESE by Sharr White. Directed by Tony Award winner Daniel Sullivan.

The Snow Geese stars Mary-Louise Parker, Danny Burstein, Victoria Clark, Evan Jonigkeit, Brian Cross, Christopher Innvar, and Jessica Love.

Billed as: "With World War I raging abroad, newly widowed Elizabeth Gaesling (Mary-Louise Parker) gathers her family for their annual shooting party to mark the opening of hunting season in rural, upstate New York. But Elizabeth is forced to confront a new reality as her carefree eldest son (Evan Jonigkeit) comes to terms with his impending deployment overseas and her younger son (Brian Cross) discovers that the father they all revered left them deeply in debt. Together, the family must let go of the life they've always known. This stirring new play about a family waking up from their own personal Gilded Age as the world around them changes forever."

The creative team includes: John Lee Beatty (scenic design), Jane Greenwood (costume design), Japhy Weideman (lighting design), Dan Moses Schreier (original music & sound design), Rocco DiSanti (projection design), Tom Watson (hair and wig design), Rick Sordelet (fight director), and Mimi Lieber (dances).

In previews with the official opening slated for October 24 at Manhattan Theatre Club's Samuel J. Friedman Theatre in New York City.

THE WHEEL by Zinnie Harris. Directed by ensemble member Tina Landau.

Billed as "a spellbinding new play about what happens to hope and human nature in times of war. On a 19th-century Spanish farm, Beatriz is happily preparing for her sister's wedding when the house is overrun by soldiers. In the chaos, she becomes the unintentional guardian of a young girl. Her determination to reunite the child with her father sweeps Beatriz along on a journey across war zones and through time. But what began as a simple act of kindness takes on a strange twist when the girl seems to acquire curious powers."

Starring Joan Allen, Robert Breuler, Tim Hopper Ora Jones and Yasen Peyankov.

The cast includes: Kareen Bandealy, LaShawn Banks, Chaon Cross, LaNisa Frederick, Emma Gordon, Brian Grey, Maya Hiava, Kate LoConti, Mark L. Montgomery, Erin Oechsel, Stephenie Park, Daniel Pass, Edgar Miguel Sanchez, Scott Stangland, Demetrios Troy, H. B. Ward, Matthew Yee and Josh Zagorn.

Scenic Design: Blythe R. D. Quinlan. Costume Design: Ana Kuzmanic. Lighting Design: Scott Zielinski. Sound Design: Kevin O'Donnell. Stage Manager: Deb Styer. Magic Consultant: Dennis Watkins.

American Sign Language-Interpreted Sunday, October 20. Open Captioning on Saturday, October 26.

Performances through November 10, 2013 at Steppenwolf Theatre in Chicago.


WHO'S WHERE


TRIBUTE TO JOHN DENVER featuring Seattle born Ted Vigil with special guest Steve Weisberg, who was John Denver's lead guitar player during all of his big touring years. A respected tribute artist Vigil, has twice performed for John Denver's Windstar Foundation in Aspen, CO. Denver died October 12, 1997, when the plane he was piloting crashed into California's Monterey Bay. This year his Windstar Foundation was disbanded. Vigil and his tribute show return to the Downtown Cabaret Theatre in Bridgeport, CT for two performances only on Saturday, October 26.

MICHAEL BUBLE performing tonight, Sunday, October 20, at the Toyota Center in Houston, TX. Tuesday's show is at the Arena in New Orleans. Wednesday he's in the spotlight at the Bridgestone Arena in Nashville. On Friday the tour stops at the ONC Arena in Raleigh, NC. Saturday's gig is at the Time Warner Cable Arena in Charlotte, NC. Next Sunday, October 27, he can be enjoyed at the Gwinnett Center in Duluth, GA.

MERCYME on stage tonight, Sunday, October 20, at the Bethel Church in Fargo, ND. On Friday they perform at the North Carolina State Fair. Saturday's show is at the Sleep Train Arena in Sacramento, CA.

SARAH BRIGHTMAN brings her beautiful voice and dramatic presentation to the Scotiabank Saddledome in Calgary, AB on Monday, October 21. Tuesday's performance in at Rexall Place in Edmonton, AN. On Thursday she's on stage at the Memorial Centre in Victoria, BD. Friday has another British Columbia stop at the Rogers Arena in Vancouver. Saturday's show is at the Paramount Theatre in Seattle.

SELENA GOMEZ performs tonight, Sunday, October 20, at the Prudential Center in Newark. Tuesday's show is at the Giant Center in Hershey, PA. On Wednesday she'll be entertaining her fans at the KFC Yum Center in Louisville, KY. Friday's show is at the Bridgestone Arena in Nashville. Saturday her tour stops at the Philips Arena in Atlanta and next Sunday, October 27, the show is at the Time Warner Cable Arena in Charlotte, NC.

STRAIGHT NO CHASER entertains this evening, Sunday, October 20, at the Orpheum Theatre in Sioux City, IA. On Tuesday the show is at the Alberta Bair Theater in Billings, MT. Wednesday's engagement takes place at the Events Center in Casper, WY. On Thursday they are on stage at the Budwiser Events Center in Loveland, CO. Friday finds them at the Pikes Peak Center in Colorado Springs, CO. On Saturday they arein the spotlight at the Ellie Caukins Opera House in Denver. Next Sunday, October 27, the show is at The plaza Theatre in El Paso, TX.

HARRY CONNICK, JR has a busy week. Tonight, October 20, he performs at the Embassy Theatre in Fort Wayne, IN. On Monday the show is at the Overturn Center in Madison, WI. Wednesday he'll be singing his tunes at the State Theatre in Cleveland. On Thursday he can be enjoyed at the Ohio Theatre in Columbus, OH. Friday's gig is at the Riverside Theatre in Milwaukee. On Saturday his tour stops at the Fox Cities PAC in Appleton, WI. Next Sunday, October 27, he's in the spotlight a the Fabulous Fox Theatre in St. Louis, MO.

LORETTA LYNN on stage Tuesday, October 22, in Penticton, BC at the South Okanagan Events Centre. On Wednesday she stars in Calgary, AB at the Southern Alberta Jubilee Auditorium. Friday's show is in Saskatoon, SK at the Dakota Dunes Casino. On Saturday she'll be in Enoch, AB at the River Cree Resort.




FINAL OVATION


PAUL ROGERS a British Tony Award winning actor, died October 6 in London. He was 96.

He won a Tony Award for his portrayal of the brutish father of a twisted family in the original Broadway production of Harold Pinter's The Homecoming. He had previously earned a Tony nomination for his work in the 1963 Peter Ustinov play Photo Finish.

Rogers was educated at Newton Abbot grammar school before training for two years from 1936 at the Michael Chekhov Theatre Studio at Dartington Hall. He made his professional stage debut at the Scala theatre in Tottenham Court Road in 1938, playing Charles Dickens in Bird's-Eye View of Valour.

After a season of small roles at Stratford-upon-Avon in 1939, and a stint at the Colchester Rep, he served in the Royal Navy during the war, returning to Colchester in 1946. He made a West End debut as Jonathan Kail in Thomas Hardy's Tess of the D'Urbervilles at the Piccadilly (1947), and joined the Bristol Old Vic (1948) to play his first of many leading roles: Sir Anthony Absolute in The Rivals, Tybalt, Bottom and Lord Porteous in Somerset Maugham's The Circle.

His last stage appearances were as Boanerges in Shaw's The Apple Cart at the Haymarket (with Peter O'Toole as King Magnus) in 1986; in an Arthur Miller double-bill, Danger: Memory! at Hampstead in 1988; and as an imposing mogul again in an off-Broadway play, Jerry Sterner's Other People's Money, at the Lyric, Shaftesbury Avenue, in 1990.

Until forced to retire in his eighties due to poor health, Paul Rogers was never out of work unless he chose to be. For relaxation he enjoyed painting watercolors.

In 1939, Rogers married Jocelyn Wynne. They divorced in 1955, and that year he married actress Rosalind Boxall. They remained married until she died in 2004. He is survived by two sons from his first marriage and two daughters from his second.











Next Column: October 27, 2013
Copyright: October 20, 2013. All Rights Reserved. Reviews, Interviews, Commentary, Photographs or Graphics from any Broadway To Vegas (TM) columns may not be published, broadcast, rewritten, utilized as leads, or used in any manner without permission, compensation and/or credit.
Link to Main Page
---
Laura Deni



For the snail mail address, please E-mail your request.
CLICK HERE FOR COMMENT SECTION