! >
Broadway To Vegas
  
  REVIEWS INTERVIEWS COMMENTARY NEWS

| | |
| --- | --- |
| | |
SMOKE ON THE MOUNTAIN RETURNS TO CUMBERLAND PLAYHOUSE - - SLEEPLESS IN SEATTLE HAS WORLD PREMIERE - - MELBOURNE CABARET FESTIVAL HAS WORLD APPEAL - - STOCKED: CONTEMPORARY ART FROM THE GROCERY AISLES - - MUSICAL MATILDA CD REVIEW - - THE BROADWAY LEAGUE REVEALS THE AUDIENCE FOR TOURING BROADWAY - - NATIONAL HISTORIC LANDMARK AND UNDERGROUND RAILROAD - - NINTH ANNUAL MUSICARES MAP FUND BENEFIT CONCERT - - DONATE . . . Scroll Down





Copyright: May 19, 2013
By: Laura Deni
CLICK HERE FOR COMMENT SECTION


MELBOURNE CABARET FESTIVAL HAS WORLD APPEAL


When fear of expanding too fast is your biggest concern, you must be doing something right.

Such can be said for the newbie Melbourne Cabaret Festival which opens down under on June 26 .

Last year the festival attracted 8,000 audience members, an 83% increase from the previous year and 150% up on the inaugural Festival in 2010.

Broadway To Vegas asked Purple Media owner Magda Petkoff, which represents the Festival, whether there were fears of expanding too fast.

"Yes," she replied. "We are actively holding back on super growth of the Festival until we have adequate resources behind us. That's why many additional quality shows were sadly turned away this Festival."

"The organizers - David Read and Neville Sice - have drawn on their success of previously owning and running a cabaret venue, the iconic Butterfly Club which is renowned internationally. This gave them the experience, networks, touring expertise and 'back catalogue' of excellent shows to draw upon."

The ones which made the cut are some of the best.

Headlining the star-studded Opening Gala on Wednesday, June 26th at the iconic Palsceos Theatre, will be Motown royalty and founding member of The Supremes, Mary Wilson, alongside five other international acts and a stellar line-up of Australian performers. Wilson will be performing excerpts from Stormy Weather: The Lena Horne Project, which will be staged at Melbourne Recital Centre on June 28th.

New York cabaret favorite, Joey Arias, will showcase his channeling of legendary jazz and blues singer, Billie Holiday.



Adam Guettel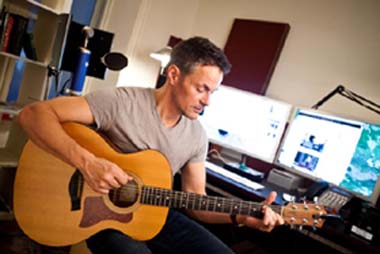 Two-time Tony Award winning theatre composer/lyricist Adam Guettel will have multiple roles in this festival, conducting his only public master class in Melbourne. That takes place on June 30.

Guettel is the grandson of the American musical theatre virtuoso Richard Rodgers, and the son of composer, author and Juilliard School chairman Mary Rodgers. His father Henry Guettel was a film executive and was the Executive Director of the Theatre Development Fund.

Signing Guettel was viewed as quite an accomplishment.

"We're thrilled that Adam is providing a master class," continued Petkoff. "We have an active master class program that sits alongside the Festival, so when we are discussing booking shows with producers we often throw that into the conversation. Thankfully Adam said 'yes'!"

In addition to teaching a master class Guettel will perform in Adelaide on June 29 and 30th. Those engagements appears to be along the lines of his show last February at 54 Below in New York.

Under the musical direction of long-time collaborator, Kim Grigsby, and with the stunning Haley Bond by his side, the performance will offer selections from a variety of new shows. In this rare stage appearance this extraordinary musical theatre team will also perform highlights from his critically acclaimed musicals The Light in the Piazza, for which he won two Tony Awards, Myths and Hymns and Floyd Collins.

Award-winning composer/performer, David Pomeranz, who has sold over 40 million albums worldwide, stars in excerpts from his show Chaplin: A Life - in Concert, based on the life story of the cinematic genius.

From London comes jazz harp goddess, Tara Minton. Following the knock-out success of his 2012 show, Candice McQueen: Nasty!, cabaret star Spanky returns with a foretaste of his new show. They will be joined on the Gala bill by Trevor Ashley and Rhonda Burchmore from the adults-only panto Little Orphan TrAshley.

Melbourne's very own diva extraordinaire and cabaret provocateur, Yana Alana, graces the stage in a bent cabaret of blues, burlesque and blame. And from Queensland comes winner of the 2012 Australian Cabaret Showcase, composer, playwright and performer, Bradley McCaw.

An After Party will follow the Opening Gala, just a short walk away at St Kilda Memo.

The not-for-profit Festival is currently funded entirely through fundraising campaigns, its membership program, strategic sponsorships and ticket sales. The Festival has had good response from Crowdfunding.

"It's an online method of fundraising drawing upon your networks and the wider public to support your cause," Petkoff explained. "It's been very useful for us. As we're not supported by our State arts body like most festivals, we have had to call upon public support to underpin our growth. Thankfully the public has demonstrated a spectacular willingness to do this."

Cabaret performers are not noted for having a lot of money. What benefits does attending this convention offer a cabaret performer who is struggling to find work? "Money," answered Petkoff. "Plus the usual things that festivals provide - networking, recognition, pride in their work, touring opportunities."

The Melbourne Cabaret Festival is an annual celebration of the art form, attracting a diverse range of performers and audiences takes place June 26-July 7 in Melbourne, Australia.







Broadway To Vegas is supported through advertising and donations. Priority consideration is given to interview suggestions, news, press releases, etc from paid supporters. However, no paid supporters control, alter, edit, or in any way manipulate the content of this site. Your donation is appreciated. We accept PAYPAL. Thank you for your interest.


ART AND ABOUT


STOCKED: CONTEMPORARY ART FROM THE GROCERY AISLES

Salmon Loops by Sonny Assu. Digital Print, Foam-core. 12"x7"x3" 2006. The side of the box even has a Nutritional Facts section which indicates per 3/4 cup: Calories 120: With milk 180. Fat* 100% Fibre - none Protein 30g. * it's good fat, don't worry. Makes you smart. Salmon Loops are made from 50% Pink, 2% Sockeye, 10% Coho, Chincock 7% 30% Chum. Photo:SMoCA.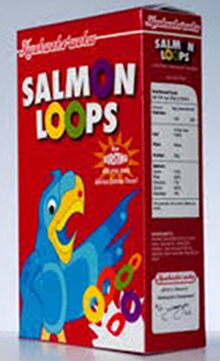 Campbell's. Coca-Cola. Del Monte. Kellogg's.

In the late 1950s and 1960s, these food conglomerates became household names as America witnessed a revolution in the production, retail, and consumption of grocery items.

More and more, it was not raw ingredients one purchased, but packaged and processed foods that were chosen according to their labels and one's perception of the brands they represented.

These brands were also the subjects of the mid-20th-century pop artists.

As corporations revolutionized the food industry, these artists turned the art world upside down by unabashedly depicting common consumer products, often using reproductive techniques and designs borrowed from commercial marketing.

Iconic among these artworks are Andy Warhol's reproductions of Campbell's soup cans and their calculated conflation of art and everyday life.

Shopping carts, candy wrappers, grocery lists, paper bags, milk bottles, and cereal boxes - these ordinary, often overlooked items, emerge as objects for artistic investigation in Stocked: Contemporary Art from the Grocery Aisles.



Brian Ulrich, Chicago, Illinois (Cell), 2003, Chromogenic print, 30 x 40 in. (76.2 x 101.6 cm).A young woman standing in a refrigerated and packaged foods area of a large grocery store, staring at an endless supply of cheese, dips, wine and vegetable trays calls somebody to help make a buying decision.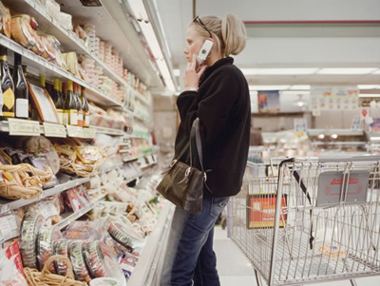 This exhibition presents the work of contemporary artists who take the grocery store and consumption of its products as their subjects.

Using strategies culled from minimalism, performance, documentary photography, and scientific taxonomy, they keenly and cleverly interrogate not only the grocery items we purchase, but also the physical and psychological environments in which we shop, the individuals and social frameworks we encounter there, and the cultural norms that inform our habits of consumption.

Artists represented in the exhibit include:

Sonny Assu, Scott Blake, Louis Cameron, Hillary Carlip, Adriane Herman, David Hilliard, Damien Hirst, Christian Jankowski, Julian Montague, Karyn Olivier, Lucy + Jorge Orta, Jonathan Seliger, Brian Ulrich, Rachel Perry Welty, Andy Warhol and Store Buyout: Matt Fidler, Jody Gnant, Hal Kirkland, Kyle MacDonald, and Gary Lachance.

Curated by Emily Stamey who came to SMoCA from the Ulrich Museum of Art where she was curator of modern and contemporary art. Stamey has a degree in art history from Grinnell College, Iowa, and her MA and Ph.D. in art history from The University of Kansas, Lawrence.

This exhibit is organized by the Ulrich Museum of Art, Wichita State University.

Opening May 25 at the Scottsdale Museum of Contemporary Art in Scottsdale, Arizona.


SWEET CHARITY


TOMMY TUNE: TAPS, TUNES, AND TALL TALES accompanied on Piano by his Music Director, Michael Biagi. This is a Benefit for Surflight Theatre, which suffered Hurricane Sandy damage to its stage, dressing rooms and offices.

In Taps, Tunes, and Tall Tales, Broadway's tallest tapper - and 9-time Tony Award winner - will sing, dance and divulge some interesting tale-telling through his 50 years career.

Tune is a Tony Award winner for his work on Seesaw, A Day in Hollywood / A Night in the Ukraine, Nine, My One and Only, Grand Hotel and The Will Rogers Follies. In addition, he has been awarded eight Drama Desk Awards, three Astaire Awards and the Society of Directors and Choreographers' George Abbott Award for Lifetime Achievement. He was honored with The Helen Hayes Tribute in 2011.

The Sandy Wilson 20s musical comedy The Boy Friend will be performing May 24- June 16 on the Surflight's Main Stage. Tune was featured in the 1971 film version with Twiggy.

Benefit concert Sunday, May 26, at the Surflight Theatre in Beach Haven, NJ.

NINTH ANNUAL MUSICARES MAP FUND BENEFIT CONCERT will honor Chester Bennington, lead vocalist of two-time Grammy-winning band Linkin Park, and Tony Alva, legendary skateboarder, surfer, musician and original member of the skateboarding team Dogtown Z-Boys at Club Nokia in Los Angeles on May 30.

Bennington will be honored with the Stevie Ray Vaughan Award for his dedication and support of the MusiCares MAP Fund, and for his commitment to helping other addicts with the addiction recovery process.

Alva will be the recipient of MusiCares' From the Heart Award for his unconditional friendship and dedication to the mission and goals of the organization.

Mad TV's Bobby Lee will host. Artist Mix Master Mike will DJ and comedian Andy Dick will make a special appearance.

Performers include:
Chester Bennington with surprise guests; Tony Alva and his band Chicken Noodle Project featuring Ray Barbee and Matt Rainwater; Early Morning Rebel featuring vocalist Nathan James, guitarist Dustin Bath and drummer Joshua Mervin; rock musician/ songwriter Ida Maria with drummer Dave Krusen, bassist Jenni Tarma and guitarist Stefan Tornby; Duff McKagan (Guns N' Roses, Loaded, Velvet Revolver); Grammy-winning musician and songwriter Slash; and Stone Temple Pilots guitarist Dean DeLeo, bassist Robert DeLeo, and drummer Eric Kretz.

All proceeds will benefit the MusiCares MAP Fund, which provides members of the music community access to addiction recovery treatment regardless of their financial situation.

Out of respect for the clients the MusiCares MAP Fund serves, the event will be alcohol-free.

Established in 1989 by The Recording Academy, MusiCares provides a safety net of critical assistance for music people in times of need. MusiCares' services and resources cover a wide range of financial, medical and personal emergencies, and each case is treated with integrity and confidentiality. MusiCares also focuses the resources and attention of the music industry on human service issues that directly impact the health and welfare of the music community.


THE MUSIC GOES ROUND AND ROUND


MATILDA ORIGINAL LONDON CAST RECORDING released by the Royal Shakespeare Company.

The Olivier-award winning hit has been captured on this CD.

This review concerns only this London cast recording both as a stand alone CD and in relationship to the London production.

Matilda, along with some of the London cast members featured on this CD, transferred to Broadway and will have its own cast recording.

The score is by Tim Minchin. On his Twitter page he describes himself as; "I'm a musician with a swollen sense of my ability to articulate my insignificance."

His breakout show, Dark Side, launched him into the public eye, achieving critical success at the 2005 Melbourne International Comedy Festival and the 2005 Edinburgh Festival Fringe. In 2013, Minchin played the role of rock star Atticus Fetch on Showtime's Californication.

His club performances consist largely of his comedic songs and poetry, with subjects ranging from social satire to inflatable dolls, sex fetishes, and his own failed rock star ambitions. In between songs, he performs short stand-up routines.

Minchin's theatrical credits are limited, although he graduated from the University of Western Australia in 1995 with a Bachelor of Arts in English and Theatre, and in 1998 completed an Advanced Diploma in Contemporary Music at the Western Australian Academy of Performing Arts.

The stand up comedian who made his theatrical debut as a composer with Matilda has let it be known that he is not kidding around about writing songs.

Listening to the CD is almost more enjoyable than having experienced the show in London.

With balanced sound, the London recording is an easy listen. Only occasionally is it difficult to understand what the children are singing. That begs the question as to whether the diction issue would exist for somebody who speaks British rather than American English. It may be unfair for an American to criticize the British speak of a production set in England, cast with British actors and staged in London.

Bertie Carvel as Miss Trunchbull comes on strong and steals the CD as he does the show.

Matilda doesn't have any toe tapping, sing-along, 'walk down the streets singing it' numbers. The musical obligation was to create a score around Roald Dahl's children's book about a young girl neglected by her abusive parents. Dark subject matter with an aura of hope.

Miracle and Naughty do a splendid job of establishing the differences between children who are loved and Matilda, who wasn't wanted: "My mummy says I'm a lousy little worm/My dad says I'm a bore".

A number not appreciated in viewing the London production, My House, comes across well on the CD and is poignant.

The orchestrations capture the mood of the show, from defiant to wistful.

All of the songs sung by adults are perfectly enunciated. Sometimes it is difficult for an American ear to understand every word the children sing. The booklet does contain the lyrics to all the songs, which is helpful. The lovely booklet also contains numerous production photographs, all of which are stunning. Give credit to photographers Manuel Harlan and Stewart Hemley.

I watched those attending the London performance race to the gift shop to bring this CD home as a souvenir. Minchin's future on the West End is up to him. He's already proved himself.

Recorded, mixed and mastered at AIR Studios, London. Recorded and mixed by Rupert Coulson for AIR Management.

Recording Assistant Adam Miller. Mixing Assistant Josh Gibbs. Keyboard Programmer Philip Adams. Musical Supervisor Chris Nightingale.

Musical Director Bruce O'Neil. Associate Music Director Laurie Perkins. Assistant Music Director Alan Berry. Children's Music Director Rosalind Jones.

Musicians: Conductor/Keyboards Bruce O'Neil. Grand piano/Keyboard Alan Berry/ Steve Owens. Cello Elaine Ackers. Alto Saxophone, flute, clarinet Kay Bywater. Tenor Saxophone, Clarinet, Bass Clarinet Pete Wyman. Trumpet, Cornet, Flugelhorn Simon Lenton. Trumpet, piccolo, Andrew Stone-Fewings. Trumpet/Flugelhorn Toby Coles. Trombone/Bass trombone Kevin Pitts/Richard Edwards. Electric, Acoustic guitars Nick Lee. Double Bass, bass guitar Andy Pask. Kit, percussion Jim Fleeman.





ROKEBY MUSEUM IN VERMONT: FREE & SAFE: THE UNDERGROUND RAILROAD IN VERMONT
A Ride for Liberty-The Fugitive Slaves, ca 1862. Brooklyn Museum.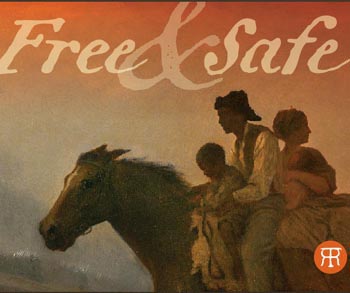 Rokeby Museum is considered one of the best-documented Underground Railroad sites in the country.

Today, May 19, dignitaries will cut a big red ribbon and celebrate the completion of a $1.2 million expansion project. This new Center houses the 2,500 square foot exhibit - Free & Safe: The Underground Railroad in Vermont.

The museum itself is a National Historic Landmark and Underground Railroad site described as "unrivaled" by the National Park Service.

Perched on a hill overlooking the Champlain Valley, in Ferrisburgh, VT the Rokeby Museum provides an intimate record of two centuries of Vermont family life and agriculture.

The house and farm nurtured and survived the growing up and growing old of four generations of Robinsons - a remarkable family of Quakers, farmers, authors, artists and abolitionists.

Free and Safe: The Underground Railroad in Vermont, follows in the footsteps of Simon and Jesse, two fugitives from slavery who were sheltered at Rokeby in the 1830s. The exhibit traces their stories from slavery to freedom, introduces the abolitionist Robinson family who called Rokeby home for nearly 200 years, and explores the turbulent decades leading up to the Civil War.

The exhibition uses innovative exhibit techniques, including a theater component and audio recordings, to bring the stories to life," Rokeby Museum head Jane Williamson told Broadway To Vegas.

Theatrics include the use of scrim panels. How they are lit determines what the audience sees. Sets include the recreation of an almost life size Philadelphia street and a farm scene.

Rowland Thomas and Rachel Gilpin Robinson were devout Quakers and radical abolitionists, and they harbored many fugitive slaves at their family home and farm during the decades of the 1830s and 1840s. Among the thousands of letters in the family's correspondence collection are several that mention fugitive slaves by name and in some detail.


THE BROADWAY LEAGUE REVEALS THE AUDIENCE FOR TOURING BROADWAY IMPROVES
Broadway has always had strong legs, which keep expanding its reach.

The Broadway League has released its eighth edition of the demographics report, The Audience for Touring Broadway 2011 – 2012. Updated on a biennial basis, it tracks profiles of audiences throughout the country, analyzes changes over time, and denotes the unique characteristics and theatergoing habits that distinguish "road" audiences from Broadway theatergoers in New York.

The report states that there were nearly 13 million admissions to Touring Broadway shows across the country during the 2011 – 2012 season.

"With a wide array of touring shows, theater-goers have great options when determining what shows to see," said Charlotte St. Martin, Executive Director of The Broadway League. She continued, "This report illustrates demographics and theatre-going habits in a detailed way. Our mission is to help provide resources to our members across the country to assist them in enhancing ticket sales." Touring Broadway is not only essential to theatre in this country in terms of visibility, audience development, but also to the economic impact of areas across America which mount touring production.

Many of the key characteristics are similar to past reports, but the latest report includes the following new highlights from the analysis:

Twenty-one percent of respondents said that Tony Awards or nominations were a reason they attended the show, compared to 18% in the 2009 – 2010 season and 8% in the 2005 – 2006 season.

Forty-seven percent of touring Broadway theatregoers used the Internet to purchase their tickets, the highest percentage yet.

Thirty-four percent of respondents said they made a visit to New York City in the past year. Of those, 82% attended a Broadway show while in town.

Facebook was the most widely used social networking site.

Three quarters of respondents said they would prefer to receive theatre information electronically, rather than via postal mail.

Surveys were administered electronically. Presenters across the country sent invitations via e-mail to their customer mailing lists, asking theatergoers to respond online. The method for data collection for this report is different from previous reports in this series in that information was collected via email, rather than in-theatre surveys. In total, 18,389 theatregoers responded.


SPREADING THE WORD


KEVIN SPACEY the Oscar and Tony Award winning and Emmy nominated actor will deliver the Mac Taggart address during the 2013 Edinburgh International Television Festival.

Currently Spacey is starring in the American re-make of the British 1990 political drama House of Cards, which bypassed traditional TV networks and is only available to viewers online. Spacey also served as the executive producer.

The versatile performer has also been the artistic director of London's Old Vic Theatre since 2004.

Elaine Bedell, the executive festival chair, said: "Kevin Spacey has been at the centre of cultural life both here in the UK and in the States for many years - and now with House of Cards, he has shown that he is also at the forefront of new ways of delivering television content to audiences.

"I've no doubt that his speech in Edinburgh will be as blistering, honest, and entertaining as any of his extraordinary performances on screen and stage."

The MacTaggart traditionally opens the festival, now in its 38th year, and sets the tone for debate on issues confronting the industry during the event, which this year runs August. 22-24.

Previous speakers have included three from the Murdochs' publishing dynasty Rupert, James and, last year, Elisabeth, the Google executive chairman, Eric Schmidt, media mogul Ted Turner, BBC director generals including John Birt, Greg Dyke and Mark Thompson, journalist/author Jeremy Paxman and television writer Dennis Potter who wrote the hit series Karaoke while dying from cancer of the pancreas. The 2013 MacTaggart will be the first delivered by an actor.

TONY BENNETT IN CONVERSATION on Wednesday, May 26 at the 92Y in New York City.

The famed crooner will be interviewed by Allen Grubman, the country's leading entertainment lawyer and a good friend of Bennett's.

Now in his seventh decade of performing, Tony Bennett has worked, sung and recorded with the greatest composers and musicians of several eras, including Count Basie, Lady Gaga, Nat King Cole, John Mayer, Duke Ellington, Amy Winehouse, Paul McCartney and Bono.

His 1962 performance with Dave Brubeck at the White House Seminar American Jazz Concert has become the stuff of legend. Bennett & Brubeck: The White House Sessions, Live 1962, the recently discovered recording of that seminal show, will be released by RPM/Columbia/Legacy this May, just two days before this very special 92Y appearance.


AARP NOT HELPFUL WHEN IT COMES TO THE LAS VEGAS CONVENTION


AARP is the powerful organization composed of those aged 50 and older.

Their convention and trade show will take place at the Las Vegas Convention Center May 30-June 1.

The opening show entertainment includes Don Rickles in conversation with Bob Newhart. These life-long friends are getting together for the first time ever on stage. For an hour they'll share lessons learned throughout their lives and distinguished careers.

Some of the trade show exhibits include health screenings, booths and sponsorships by health care organizations hoping to attract those who need their services.

The AARP's promo touts: "Life@50+ will feature an exhibit hall that for the first time will have all of the events and activities in the same single level space, with over 150 exhibitors, offering valuable information and various products and services, including new and future technologies, appliances, travel and leisure destinations - all targeting the 50+ demographic. AARP is pleased to welcome back United Healthcare as Platinum sponsor for the first 2013 Life@50+ event. Additional sponsors include Charles Schwab, New York Life, Genworth Financial, VITAS Innovative Hospice Care, The Hartford, Post Shredded Wheat, and Allstate Roadside Services."

United Heathcare encourages people to stop by their booth to: "Enjoy a massage - Learn Tai Chi - Speak with a nurse, pharmacist, certified diabetes educator or licensed audiologist - Get a health screening."

With the AARP convention encouraging Las Vegas locals to attend, the target audience may be one which has never before attended a large convention or trade show.

Therefore, what will it take to pass through security? In this day and age, most would assume their bags would be searched or screened. What about the person?

As people age they are more apt to use walkers, wheel chairs, have internal metal pins or body replacement parts which can trigger metal detectors. Even a woman suddenly experiencing a severe hot flash can set off heat sensors used in some security devices.

People in Las Vegas are noted for not dressing in basic black; rather, wearing lots of metallic clothing and studs on their apparel and shoes. There is also the issue of jewelry or coins typically in men's pockets. As baby boomers age so are the number of the 50+ crowd who have studs attached to various parts of their anatomy.

The question Broadway To Vegas posed to the good folk at the AARP was what should a person attending the AARP convention expect to experience in the way of security - in either entering the Convention Center itself or the Trade Show, which generally has separate security.

Will there be metal detectors and pat downs? Should conventioneers dress as they might for going through airport security? Will shoes have to be removed?

The platitudinous response was:

"Thank you for your email and the time you have taken to reach out. With each of our annual national events, AARP takes the safety and security of all of our guest seriously. At the end of this month in Las Vegas, we will have four levels of security in place to include building staff from the Las Vegas Convention Center, hired uniformed and plain clothed security, and the Las Vegas Metropolitan Police Department. We work in concert with each of these groups to develop a plan which affords our guests a safe, respectful, enjoyable time. I hope that you join us in Las Vegas for three enjoyable days."

Or not.


THE BROADWAY LEAGUE PRESENTS 2013 LEAGUE AWARDS
Illinois Governor Pat Quinn & the Illinois State Legislature praised for their leadership which brought passage of the Live Theatre Production Tax Credit Act, making Illinois only one of three states to overwhelmingly support live theatre.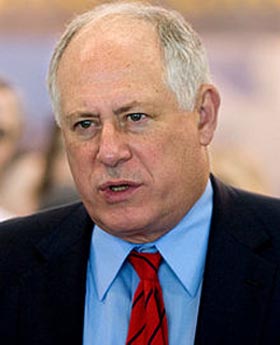 The annual Broadway League Awards, honoring excellence and achievement for Touring Broadway, were announced during the Broadway League's 2013 Spring Road Conference which took place May 15-18 in New York City.

The annual Broadway League Spring Road Conference is a four-day-long conference for Producers and Presenters from all over the country.

First presented in 1992, the Broadway League Awards recognize the contributions of those who have displayed exemplary service to the Broadway industry and are considered innovators of their craft.

Those honored:

Governor Pat Quinn & the Illinois State Legislature were heralded as strong and vocal supporters of the Illinois theatre community. "They raise awareness about the essential role theatre, specifically Broadway, plays in the social, economic, and educational growth and vitality of Illinois. Their leadership brought passage of the Live Theatre Production Tax Credit Act, only one of three states to overwhelmingly support live theatre. Since its enactment in 2012, the legislation has already supported the musical tryouts of Kinky Boots and Big Fish."

Douglas C. Baker received the Outstanding Achievement in Presenter Management Award. Baker is the Producing Director of Center Theatre Group in Los Angeles. Currently in his 23rd season with Los Angeles' premiere theatre company, he supervises all productions and presentations at the Ahmanson Theatre, Mark Taper Forum and the Kirk Douglas Theatre.

Victor Hamburger of Arizona State University Gammage in Tempe, AZ received the Outstanding Achievement in Road Marketing for his dedication to in-house marketing department.

E.J. Giovannetti joined the Des Moines Arts Board of Directors in 1982 and since then "has remained a vocal and passionate supporter of theatre. He served for 20 years as Mayor of Urbandale, IA and lobbied for a tax proposal that is now the largest source of annual funding for Des Moines Performing Arts. Currently, Giovannetti serves on the Executive Committee of the Des Moines Arts Board of Directors and continues to be a supporter of the Willis Broadway Series and other programs instituted by the Des Moines Performing Arts".

David Slosburg has been on the Board of Directors for Omaha Performing Arts since 2003. "He is a community leader and played a critical role in the renovation of the Orpheum Theater. Through his tireless efforts to renovate the Orpheum Theater, Wicked, The Phantom of the Opera, The Lion King and many more productions have all been brought to Omaha. In honor of his dedication, the Orpheum Theater's 2,600 auditorium space is named Slosburg Hall."

Blue Cross and Blue Shield of Kansas City, Inc. "a longtime supporter of the performing arts. Their generous donations have led to high quality Broadway productions, education and community programming for their region. They have also co-created a new program with Starlight Theatre, The Blue Awards. This program awards two $2,500 college scholarships to one male and one female senior who have contributed and demonstrated exceptional theatrical achievement".

Veteran stage manager Tom Bartlett was honored with The George MacPherson Road Award. This is the fourth time this award has been given that honors the memory of George MacPherson, a veteran producer who recognized the vast potential in sharing high quality touring productions with audiences around the world.

Charlotte Wilcox was bestowed the Distinguished Lifetime Service Award. Charlotte Wilcox Company is a General Management firm that has worked on Broadway since 1997. The Charlotte Wilcox Company has managed numerous Tony Award winning shows such as Catch Me If You Can, the 2009 revival of West Side Story, The Drowsy Chaperone, and Dirty Rotten Scoundrels.



SLEEPLESS IN SEATTLE - THE MUSICAL a world premiere with a book by Jeff Arch, music by Ben Toth, lyrics by Sam Forman and is based on the Tristar Pictures film Sleepless in Seattle, which is based on the 1957 film An Affair to Remember starring Cary Grant and Deborah Kerr

Directed by Sheldon Epps.

Multi-Tony Award nominee Larry Blank serves as music supervisor. Tony Award-winning Michael Starobin is the orchestrator, while multi-award winner musical director David O and Emmy Award nominee Spencer Liff are staging the musical numbers.

Starring: Tim Martin Gleason as "Sam", Joe West as "Jonah", Chandra Lee Schwartz as "Annie", Sabrina Sloan as "Becky", Todd Buonopane as "Rob", and Robert Mammana as "Walter".

The ensemble members include: Cynthia Ferrer as Eleanor/ Ensemble, Katharine Leonard as Victoria/ Ensemble, Adam Silver as Greg/Ensemble, Lowe Taylor as Suzy/Ensemble, Charissa Hogeland, Sachin Bhatt, Terron Brooks, Jay Donnell, Teya Patt, Yuka Takara and Carter Thomas as "Jonah" Alternate.

The creative team also includes choreography by Spencer Liff, scenic design by John Iacovelli, lighting and projection design by Brian Gale, sound design by Carl Casella, costume design by Kate Bergh.

Sleepless in Seattle - The Musical centers around Sam, a widower and single father. When Sam's son, Jonah, calls into a talk radio program looking for a new mother, Sam ends up getting on the phone and laments about his lost love. Thousands of miles away in Baltimore, Annie hears the program and immediately falls in love with Sam, despite the fact that she has never met him and that she is engaged to another man. Believing they are meant to be together, Annie sets out for Seattle to meet Sam, who, meanwhile, contends with an onslaught of letters from available women equally touched by his phone call.

Sleepless in Seattle - The Musical will play at the Pasadena Playhouse in Pasadena, CA May 24 – June 23, 2013, with a press opening night on June 2 followed by a reception in The Engemann Family Courtyard.

FRATERNITY by Jeff Stetson. Directed by Henry Miller.

Three weeks after Dr. King's seminal "I Have A Dream" speech, a bomb destroyed an Alabama church, murdering four young girls and shattering the dream that had inspired so many. Set in a private club in 1987, Jeff Stetson's Fraternity explores the journeys of seven successful black community leaders whose lives were forever affected by that tragedy. It examines what happens to those who seek power, privilege and inclusion, while abandoning the sacrifices that made their success possible.

Starring Tony Award winner Roger Robinson, Emmy Award nominee Obba Babatundé, Harvy Blanks, Rocky Carroll, Nasir Najieb, William Allen Young, and Tucker Smallwood.

The creative team includes: scenic design by Edward E. Haynes, Jr., costume design by Wendell C. Carmichael, lighting design by Elizabeth Harper and sound design by Bob Blackburn. The production stage manager is Sheldon P. Lane.

An Ebony Repertory Theatre production opened last night with performances through June 2 at the Nate Holden Performing Arts Center, Los Angeles, CA.

SMOKE ON THE MOUNTAIN book by Connie Ray. Conceived by Alan Bailey. Musical arrangements by Mike Craver and Mark Hardwick.

Smoke on the Mountain tells the story of a Saturday Night Gospel Sing at a country church in North Carolina's Smoky Mountains in 1938. The show features two dozen rousing bluegrass songs played and sung by the Sanders Family, a traveling group making its return to performing after a five-year hiatus.

Pastor Oglethorpe, the young and enthusiastic minister of Mount Pleasant Baptist Church, has enlisted the Sanders Family in his efforts to bring his tiny congregation into "the modern world." Between songs, each family member "witnesses" -- telling a story about an important event in their life. Though they try to appear perfect in the eyes of a congregation who wants to be inspired by their songs, one thing after another goes awry and they reveal their true -- and hilariously imperfect - natures.

20th Anniversary Production. Join the Sanders Family as they sing some of the best music this side of heaven. Rated G (except for that one word)

This is a show which has become an institution. Can easily be seen multiple times, enjoyed each and every time. Impossible not to have a good time.

Began as an Off-Broadway musical that was originally workshopped at the McCarter Theatre in 1988, given a full staging at the McCarter in 1990, and was subsequently moved by the McCarter to Lamb's Theatre in New York City in 1990 and had 475 performances. The Lamb's revived it in 1998.

The name of the musical comes from Psalm 104:32: "He who looks at the earth, and it trembles, who touches the mountains, and they smoke" (Psalm 104:32). Smoke on the Mountain is one of the most produced shows worldwide.

May 24 - August 2 in the Adventure Theater of the Cumberland Playhouse in Crossville, TN.

ANNIE welcomed Emmy winner Jane Lynch to the Broadway cast on May 14. Star power Lynch is making her Broadway debut in the role of Miss Hannigan. Lynch will be dynamite in the part. Her addition is reason enough to see the revival which is scheduled to run through. July 14 at the Palace Theatre.

Two-time Tony Award-winning actress Katie Finneran, who created the role of Miss Hannigan left the production to begin filming a new NBC comedy series with Michael J. Fox, appropriately titled The Michael J. Fox Show. NBC purchased 22 episodes.

Fox plays a television news anchor with Parkinson's Disease. Betsy Brandt is cast as his wife and Katie Finneran as his sister Leigh.

MAME by Jerry Herman.

Starring Andrea McArdle as the fun-loving, wealthy eccentric Mame, whose independent lifestyle is interrupted when she is left to care for her young nephew. Lea DeLaria takes the stage as Mame's best friend and "world's biggest lush" Vera Charles.

The score is filled with musical comedy classics, including Bosom Buddies, We Need A Little Christmas, and If He Walked Into My Life.

May 23-June 9 at Bucks County Playhouse in New Hope, PA.

BIRDS WITH SKY MIRRORS by Lemi Ponifasio who draws his inspiration from frigatebirds carrying black magnetic videotape in their beaks. This production is billed as "pushes the boundaries of contemporary dance, focusing on climate change and the pollution of the oceans. Part dance, part theatre, part ritual, Birds With Skymirrors is a multilayered, multi–media production creating a mystical world onstage."

Partial nudity.

Lemi Ponifasio established the MAU in 1995 as the name for his work and platform for critical reflection and creativity with artists, scholars, activists, intellectuals, and community leaders. MAU meaning a declaration to the truth of a matter, or revolution, as an effort to transform.

A post performance chat with Lemi Ponifasio choreographer, director and set designer of Birds With Skymirrors will take place on May 24.

Performances May 24-25 at the National Arts Centre in Ottawa, Canada.

A PICTURE OF AUTUMN by N.C. Hunter, directed by Gus Kaikkonen.

Featured in the cast will be Helen Cespedes, Barbara Eda-Young, Katie Firth, Jonathan Hogan, George Morfogen, Paul Niebanck, Kraig Swartz, Jill Tanner, and Christian Coulson who gained worldwide attention for his role as Tom Riddle in 2002's Harry Potter and the Chamber of Secrets.

A Picture of Autumn is billed as "a sensitive, intelligent and comic depiction of one family's attempt to grow old gracefully. Autumn tells the story of Charles and Margaret Denham, living in disarray in the decaying ancestral home with ancient Uncle Harry and senile Nanny. Their son Robert returns to England after several years abroad and finds that both the house and its occupants have faded from past glory. When an opportunity to sell the burdensome property arises, Robert leaps at the chance to help his parents downsize.

A Picture of Autumn made its debut on February 11, 1951 in a one-night 'try-out' performance presented by the Repertory Players, at the Duke of York's Theatre in London. The Times applauded A Picture of Autumn: "Mr. Hunter treats us to some shrewd observations on character and to some delicately exciting scenes perfectly timed and exactly calculated to inspire sensitive actors." The Stage was equally enthusiastic: "Mr. Hunter's treatment is ingenious, his characterization clear and firm, and a mood of far-away things kept alive in memory well conveyed."

Hunter (1908-1971) was one of the leading English dramatists of the 1950s and early 1960s.Hunter provided moving portraits of a people questioning their own purpose in chaotic post-war England. Waters of the Moon brought Hunter to prominence. It was followed by A Day by the Sea, which opened in 1953 and ran for 386 performances starring Dame Sybil Thorndike, Irene Worth, Sir John Gielgud and Sir Ralph Richardson. In New York, A Day by the Sea opened in 1955 with Jessica Tandy and Hume Cronyn headlining Hunter's only Broadway production.

Hunter enjoyed great success as his plays dominated the West End throughout the fifties, but A Picture of Autumn, the play that introduced him as "a writer who brought a new tone and unfamiliar nuances into the English theatre" gathered dust - until now.

"The Mint does for forgotten drama what the Encores! series does for musicals, on far more modest means" (The New York Times). The Mint was awarded an OBIE for "combining the excitement of discovery with the richness of tradition," and a special Drama Desk Award for "unearthing, presenting and preserving forgotten plays of merit."

The Mint production will run from May 23rd until July 14th at its New York City home.

THE SCOTTSBORO BOYS a book by David Thompson and music and lyrics by John Kander & Fred Ebb.

Directed by five-time Tony Award winner Susan Stroman.

Jesse Kissel will conduct and musical direct the production.

The final collaboration by musical theatre giants Kander & Ebb is their most daring, original and rewarding.

The Scottsboro Boys, explores a shocking and pivotal chapter in American history with arresting originality, innovative staging and piercing new songs. The show is based on the infamous 'Scottsboro' case in the 1930s, and tells the story of the nine unjustly accused African American men whose lives would eventually spark the Civil Rights Movement.

The musical has the framework of a minstrel show, altered to "create a musical social critique" with a company that, except for one, consists "entirely of African-American performers."

Tony Award-winning actor Hal Linden will star in the role of the Interlocutor, Tony Award nominee Joshua Henry plays Harwood Patterson, Trent Armand Kendall is Mr. Bones and J.C. Montgomery appears as Mr. Tambo

The cast also features original Broadway cast members Clinton Roane and Christian Dante White, as well as Gilbert L. Bailey II, David Bazemore, Ayanna Berkshire, Shavey Brown, Christopher James Culberson, Max Kumangai, Justin Prescott, Cedric Sanders, Deandre Sevon and C. Kelly Wright.

Set design by Beuwulf Boritt, costume design by Toni-Leslie James and lighting design by Ken Billington. Jon Weston will design sound for the CTG engagement. May 21-June 30 at the Ahmanson Theatre in Los Angeles.


WHO'S WHERE




MEGAN HILTY performs on Memorial Day Weekend, Saturday, May 25 at the Bay Street Theatre in Sag Harbor, NY. VIP tickets include an after party.

LEA SALONGA performs at the Cafe Carlyle in New York City. May 21 - June 8.

ERIC CLAPTON performs Monday, May 20, Tuesday, Thursday, Friday and next Sunday, May 26, at Royal Albert Hall in London.

FLEETWOOD MAC takes to the stage Monday, May 20, at the Tacoma Dome in Tacoma, WA. Wednesday's gig is at the HP Pavilion in San Jose, CA. On Saturday they are in the spotlight at the Hollywood Bowl in Los Angeles. Then they lead to Las Vegas for a show Sunday, May 26, at the MGM Grand Garden Arena.

JON BON JOVI can be enjoyed on Tuesday, May 21, at the Valle Hovin Stadium in Oslo, Norway. Wednesday's engagement is at the Koengen in Bergen, Norway. On Friday the tour stops at the Olympic Stadium in Stockholm, Sweden. Next Sunday, May 26, the show is at the Ratinan Stadium in Tampere, Finland.

ALICIA KEYS is in the United Kingdom this week with a show at the Odyssey Arena in Belfast on Tuesday, May 21. On Wednesday she is at the 02 in Dublin. Friday's gig is at the Arena in Manchester and on Saturday she is on stage at the NIA in Birmingham.

DEPECHE MODE are on stage Tuesday, May 21, at the Puskas Ferenc Stadium in Budapest, Hungary. Thursday's performance is at the Hippodrome in Zagreb, Croatia. On Saturday the show is at the Stadium in Bratislava, Slovakia.

PINK entertains Tuesday, May 21, at the Hallenstadion in Aurich, Switzerland. On Wednesday the show is at the Hanns Martin Schleyer Halle in Stuttgart, Germany. Saturday finds her at the Telenor Arena in Fornebu, Norway. Next Sunday, May 26, she'll star at the Ericsson Globe in Stockholm.

TAYLOR SWIFT has a show Wednesday, May 22, at the AT&T Center in San Antonio,TX. On Saturday she'll be singing her hits at Cowboys Stadium in Arlington, TX.






Next Column: May 26, 2013
Copyright: May 19, 2013. All Rights Reserved. Reviews, Interviews, Commentary, Photographs or Graphics from any Broadway To Vegas (TM) columns may not be published, broadcast, rewritten, utilized as leads, or used in any manner without permission, compensation and/or credit.
Link to Main Page
---
Laura Deni



For the snail mail address, please E-mail your request.
CLICK HERE FOR COMMENT SECTION