! >
Broadway To Vegas
  
 SHOW REVIEWS CELEBRITY INTERVIEWS GOSSIP NEWS

| | |
| --- | --- |
| | |
US DEPARTMENT OF AGRICULTURE SAVED IVORYTON PLAYHOUSE - -MRS. PACKARD AT THE KENNEDY CENTER - - PLAYBOY JAZZ FESTIVAL - - MICHAEL FEINSTEIN PENS WEST END MUSICAL - - MUSEUM MILE FESTIVAL - - MIKHAIL BARYSHNIKOV AND VLADIMIR RADUNSKY - - ORIGINAL CAST CURTAINS CD RELEASED - - EAT YOUR VEGETABLES DAY - - DONATE . . . Scroll Down


US DEPT OF AGRICULTURE SAVED IVORYTON PLAYHOUSE
Jacqueline Hubbard busy at work at the Ivoryton Playhouse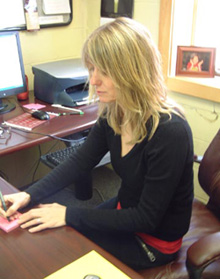 Thanks to a loan from the U.S. Department of Agriculture the Ivoryton Playhouse in CT was able to refurbish and stay in business.

What?

"The Playhouse received a loan from the U.S. Dept of Agriculture. They offer low interest loans to rural businesses and we counted as rural," explained Jacqueline Hubbard the Executive Director of the Ivoryton Playhouse. The former Brit with a charming accent and delightful laugh, spoke with Broadway To Vegas about the historical theatre and landmark effort it takes to keep it running.

The USDA has a number of financial federal programs. However, the major programs for small businesses are administered through the USDA Rural Development's division. The program objective is to create incentives for business lending or investments in the rural areas and for economic development by saving and creating jobs.

The loans guaranteed can be for real estate, equipment, working capital and refinancing-for non-farm businesses. Eligibility areas: All rural areas other than cities of more than 50,000 population and their adjacent urbanized areas.

Hubbard had been with the theatre for eight years before signing on as managing director. A native of Britain, she came to American with her builder husband and settled in The Nutmeg State. "I became an American citizen and my children were born here."

"My mum says this is more English than England. There is a Pizza Hut on the corner in my town in England and we don't have that here. It's quaint and charming and I love it," Hubbard enthusiastically exclaimed about the village of Ivoryton.

Located in Middlesex County, the village of Essex, population 6,505 includes Ivoryton which has a population of 2,000. Known for its production of pianos in the early 20th century, the village takes its name from the ivory industry that imported tusks to be shaped into the covering for piano and organ keys. At it's height, 90% of the ivory in the United States went through Ivoryton.

Today the village has a library, the village green, two restaurants, a barber shop, and the Ivoryton Playhouse. Down the road from the main village are two old factories: the former home of the Pratt and Read Co. and an instrument company, and the massive former home of Sohmer Pianos.



Pratt, Read & Company. Oscar Lynn (left) and Louie E. Pratt, weighing ivory tusk. Circa 1955.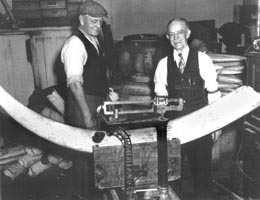 Pratt, Read & Company was the world's largest producer of ivory products. The firm traces its origins to 1798, when an Essex goldsmith and clockmaker named Phineas Pratt invented a circular saw to cut the teeth on ivory combs. After beginning with the manufacture of small items such as combs, collar buttons, and toothpicks, the company moved on to the production of piano and organ key veneers, and soon dominated the field. Eventually the company began the production of complete piano and organ keyboards and actions, becoming one of the major American suppliers to the piano industry.

Hugo Sohmer (1845-1913) was the inventor and the first person to build a 5'0" baby grand. For several generations the company was operated by the Sohmer family. Their development of the highly-styled decorator vertical piano marked Sohmer's success through the years. The Model 34 vertical has been made for over 50 years and has set the standard for a classic elegantly-styled piano for the home.

What is now known as The Ivoryton Playhouse was built in 1908 as the factory employee recreation hall, and would probably have been demolished long ago, but for its chance encounter with a remarkable man named Milton Stiefel. Stiefel was an actor who eventually became the right hand and confidant of David Belasco, considered one of the greatest directors produced by the American Theatre. After Belasco's death, Stiefel continued as manager and stage director for many extravagant shows which traveled across America. At the end of one of these tours, Stiefel came to Essex in order to rest, saw the unused recreation hall and knew it would be perfect for a resident stock company. Broken Dishes had just closed in New York (reportedly with Bette Davis in her first Broadway role), and Stiefel opened it in Ivoryton during the week of June 17, 1930. Thus the Ivoryton Playhouse had raised its curtain.



Milton Stiefel and Katharine Hepburn at The Ivoryton Playhouse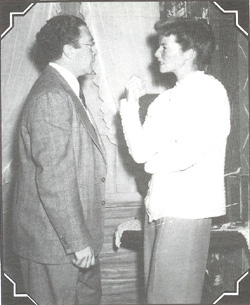 Ivoryton became the first, self supporting summer theatre in the nation. Although there were older theatres in Dennis, MA and Skowhegan, ME, they were endowed by foundations of wealthy families and not self-supporting. The Westport Country Playhouse was actually established one year after the Ivoryton Playhouse.

Ivoryton's fame as one of America's leading summer showplaces continued to grow until the outbreak of World War II, when the theatre went dark for several seasons, mainly due to tire and gas rationing making it virtually impossible for audiences to get to the Playhouse. Stiefel went to Hollywood where he served as a director for Columbia Pictures, but he reopened the Playhouse after the war and presented a parade of stars such as Marlon Brando who got drunk and cavorted on the Playhouse roof. It is also the location of one of his last stage appearances. Brando told an Ivoryton reporter that he hated performing in live theatre. Soon thereafter he transferred his talents to the movie screen. Ethel Waters, Art Carney, Helen Hayes, Betty Grable, Groucho Marx, Myrna Loy, Gloria Swanson, Dorothy Lamour and Maureen O'Sullivan, also trod the Ivoryton boards.

In 1931 Paul Robeson went to The Ivoryton Playhouse to star in The Emperor Jones, a play written by a young Eugene O'Neill. Katharine Hepburn got her start at Ivoryton in 1931. In 1987 her niece, Katharine Houghton, performed at the Ivoryton Playhouse in her own trilogy, The Hooded Eye.

Stiefel continued at Ivoryton until his retirement in 1973, when he sold the theatre to Ken Krezel. Krezel decided to sell the property in 1979 and it was then, amid rumors that the historic theatre might be torn down to make way for a discount drug store, that the non-profit Ivoryton Playhouse Foundation was organized and negotiated a mortgage to buy the property.



The Ivoryton Playhouse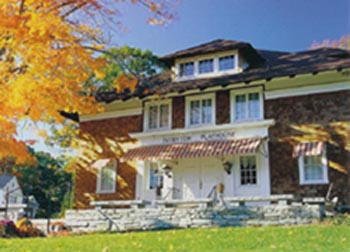 "It was a fire hazard with original shingles and seats that looked like they came from the 1930's or 40's," said Hubbard. "It was falling apart and ready to be torn down."

It's been a long, difficult struggle. The Foundation has dramatically improved the 275 seat theatre, installing comfortable seating, state-of-the-art lighting and sound systems, air conditioning. 2004 marked another milestone for the Playhouse, with the formation of a company to produce the first, fully professional fall-winter season.

"The theater being open all year is relatively new," Hubbard related about the need to established and maintain a year-around audience base.

It was the invention and implementation of wide-spread air-conditioning that forever altered the audience for county venues such as Ivoryton.

"When there wasn't air-conditioning, people from New York would come to the country for the summer. When air conditioning became available it killed the summer theater, because there was no need for people in New York to come to the country," Hubbard explained. "The average age of a theatergoer is over 70, which is the new 50. They are bright, active retired or still working but with discretionary income. Our audience wants to come out of the theatre laughing and smiling. We know our audience. They don't want experimental or avant-guard."

"We do have relationships with some tour agencies and we need to develop more," she declared.

Every Wednesday The Ivoryton Playhouse features Ladies Night Out. "We joined up with Essex Spa, which is a day spa in town. It's lovely. It combines a 60 minute Swedish Massage or Avance Signature Facial, glass of wine, cheese, whatever they have there and then an evening at the theatre. It's a one ticket event. The ladies love it."

Apparently females make for a responsive audience. "Ladies often have had several glasses of wine before the come and they make a great audience," she declared.

As vital and important the current audience is to Ivoryton, Hubbard would like the younger generation to plant their toes inside. "My rant is always with the kids - that they live in such a virtual world. I try and try to get them to come to live theater. Theater is a visceral experience."

Nunsense is the current offering with performances through July 1, followed by Brighton Beach Memoirs.

Hubbard is passionate about theatre, Ivoryton and live musicians.

"I always have live musicians and. I would never used recorded music. We are a theatre!"

The Ivoryton Playhouse prides itself on its auditioning process. Don't think you can just stumble through the door and land a part.

"We want to put on a good show so there is extensive auditioning. The last show we did, A Funny Thing Happened on the Way to the Forum, had four Equity actors and a terrific cast of local actors who aren't union, but could have been - they are so good."

Upcoming are two unique efforts - a world premiere and unusual casting for Joseph and the Technicolor Dreamcoat. To explain the perils that non-traditional casting can face - consider the 1994 revival of Carousel on Broadway.

Amongst secrecy that could rival a covert government operation, a revival of the beloved Rogers and Hammerstein classic Carousel was planned. The show was first produced on Broadway in 1945 and turned into a hit movie starring Shirley Jones as Julie Jordan and Gordon MacRae as Billy Bigelow.



Fisher Stevens as Jigger Craigin the sleazy whaler, pretending to show Audra Ann McDonald as Carrie Pipperidge some self-defense maneuvers in Carousel.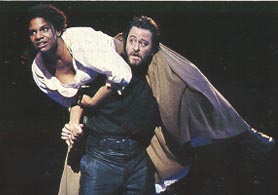 The official description the original theme was: "Carousel was an opportunity for Oscar Hammerstein II, a liberal, to explore attitudes of society and prejudice in a musical play. The main themes of Carousel are social class and conduct; Julie and Billy are both working class, whereas Enoch and (ultimately) Carrie are middle class, and the differences between these two families are touched on during the second act. The ultimate conclusion is that anybody can go far, no matter what his or her class, and that everybody, even a rough fairground worker who beats his wife, can be redeemed."

The Broadway revival sent shock waves down the Great White Way when it opened March 24, 1994 at the Vivian Beaumont Theatre running for 337 performances and 38 previews. It won five Tony awards, but not until it caused a few unfortunate gasps because the casting was kept secret.

Carousel is set in a fishing village in mid-nineteenth century Maine. Today the state is 98.08% white; 0.77% black; 1.03% American Indian or Alaskan natives; 0.93% Asian and 0.06% Native Hawaiian or Pacific Islander. The percentages were even more white in the mid-nineteenth century.

When the curtain went up, the audience saw Africa-American - then known as Audra Ann McDonald - making her Broadway debut as Julie Jordan's best friend, textile worker Carrie Pipperidge and opera star Shirley Verrett in the role of town matriarch Nettie Fowler. The audience openly gasped.



Cindy Robinson became a Snow child after playing Snow White in the 1991 television version of Into The Woods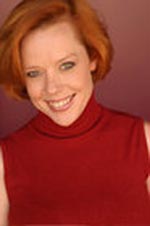 Lyn Nagel was cast as Snow daughter, Abigail. After Carousel Lyn portrayed the daughter of Wyatt Earp in the Bristol Riverside production of I Married Wyatt Earp.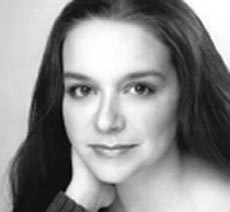 The mishmash was not only socially not possible, given the time span and geographic location, but genetically impossible at any warp speed.

The problem was that audiences were distracted and even inappropriately laughed at seeing - delightful though they were - Caucasian and Asian youngsters cast as the children of Enoch Snow, played by Eddie Korbich, and McDonald in the role of his wife. Philipp Lee Carabuena came to become a Snow child after playing Tam in Miss Saigon.

The whispers and giggles diverted attention away from both the first act and the finale. The argument is not that Carousel was colorblind casting, but that the audience was blindsided. Had showgoers known what to expect the revival would have received more favorable reviews. The production's over the top utilization of self congratulatory promotions didn't help, either. The same effect would have occurred had an all white production of Porgy and Bess been mounted.

Now comes an interesting staging by The Ivoryton Playhouse of - not a sociological musical - but a Bible story - Joseph and the Amazing Technicolor Dreamcoat. If ever there was a musical that will embrace non-traditional casting, this is the show.

"That didn't made any sense. Carousel is about what New England was - a white, conservative fishing village," Hubbard said about the Broadway revival.

"I think there has to be a reason for colorblind casting. You don't do it haphazardly. Then people are trying to understand why and are trying to give reasons, when you shouldn't have to do that. It should be explicit in what you are doing. Billy Johnsonstone, who is directing this Joseph, wanted to take the theme of the multi-colored coat and make the casting mixed - like the coat. With Joseph you are able to say - I see why he's done that. And we publicized that. He wanted - not just multi-racial - but an eclectic and inclusive coat. He's got a deaf person and a midget in the cast."

Also on the board is a world premiere of Looped, by Matthew Lombardo.

In the summer of 1965, a 62-year-old Tallulah Bankhead entered a Los Angeles studio in an effort to re-record (or "loop") one line from her upcoming film Die, Die My Darling. It was supposed to have taken only 5 minutes – instead it lasted over 8 hours!

"The author is from Connecticut and Tallulah was a regular at the Playhouse," Hubbard explained. "She appeared in five productions on the Ivoryton stage, and was always one of the theatre's favorite performers. She would come with an entourage of young men. She also had quite a salty mouth. Matthew decided that Ivoryton Playhouse is a great place to premiere."

Upcoming is Tuesdays With Morrie. "It's a sweet, wonderful show," said Hubbard. "Alan Oppenheimer, who is actually a friend, is coming from California to play the role. He's always wanted to do it. I think it will be a lovely show."

For out-of-town stars the village is just as hospitable at it was 50-years ago.

"We have some residents who have rooms or apartments who can house performers who come from out of state."

It seems that once a performer has appeared at Ivoryton, they bond.

"We did an auction when we were trying to raise funds to save the building in 1998-99," Hubbard recalled. "We have pictures of all the stars who have performed at the theatre on the walls, so when you go inside it's a like a little gallery. The pictures are all signed to the Playhouse and everyone is up there. So, I wrote to whomever was alive and got a great response. They sent us stuff to auction off. Earrings, gloves, show posters, scripts - it was real nice."

"Janet Leigh, who has since passed away, lived in upstate New York. I talked to her for twenty minutes. She told me all about her time here. She sent me signed photographs from Psycho, which of course sold. Everybody wanted those."

"We have wonderful citizens," she said of those living around Ivoryton. We try to keep the tickets reasonable. Our audience can't afford to spent $100 for a ticket. We survive - but barely - by the skin of our teeth."


THE MUSIC GOES ROUND AND ROUND


CURTAINS features one of the last scores by legendary, Tony Award-winning songwriters John Kander and Fred Ebb, which makes this a collector's item. Another reason to own the CD is that it is delightful. Curtains is a wonderful throw-back to the golden era of Broadway musicals - which were meant to delight and invigorate an audience tired from coping with their own lives - rather than mounting insight and angst set to a repetitive eight-bars.

Curtains is a story within a story, unfolding backstage at Boston's Colonial Theatre in 1958, where a new musical (the show within a show, Robbin' Hood) could be a smash, were it not for two things; the no-talent first lady and a need for a lot of re-writing. When the hapless star dies on opening night during her curtain call, Lieutenant Frank Cioffi (David Hyde Pierce) arrives to conduct a police investigation. But the lure of the theatre is irresistible and after an unexpected romance blooms for the stage-struck detective, he finds himself just as drawn toward making the show a hit, as he is toward solving the murder.

In addition to David Hyde Pierce the show stars Debra Monk, Karen Ziemba, Jason Danieley, Jill Paice, Edward Hibbert, John Bolton, Michael X. Martin, Michael McCormick, Noah Racey, Ernie Sabella, Megan Sikora, Ashley Amber, Nili Bassman, Kevin Bernard, Ward Billeisen, Paula Leggett Chase, Jennifer Dunne, David Eggers, J. Austin Eyer, Matt Farnsworth, Patty Goble, Mary Ann Lamb, Brittany Marcin, Jim Newman, Joe Aaron Reid, Darcie Roberts, Christopher Spaulding, Allison Spratt and Jerome Vivona.

The stage production is a wonderfully entertaining ( See Broadway To Vegas column of September 10, 2006. ) and so is the CD. David Hyde Pierce's nailed-it, Boston accent comes across. The melodic confection with intelligent lyrics is a needed reminder that is it possible to create a frothy musical without resorting to just stringing together somebody's hit songs.

Curtains has an overture and several tunes that you can leave the theatre singing - the catchy It's A Business while penned about the problems of theatrical producers, actually speaks to any business CEO/CFO, especially if they have been besieged with employee sob stories and charity donation pleas. The buoyant Show People, billed as an anthem for all musical theater fans, is a toe taper that will have you skipping down the block. Staying with you will be the poignant Thinking of Him and heartfelt Coffee Shop Blues, which details the existence of almost everyone. For theatre buffs, I Miss The Music, a number in which the composer of Robbin' Hood sings of the difficulty of working without his wife and writing partner, paints an especially poignant scenario when considering the death of Curtains lyricist Fred Ebb.

Conducted by David Loud, the musicians are; Steve Kenyon, Al Hunt, Owen Kotler, Mark Thrasher, R, J, Kelley, Angela Cordell, Don Downs, Matt Peterson, Charles Gordon, Jennifer Wharton, Greg Utzig, Sam Davis, Robert Renino, Bruce Doctor, Greg Landes, Sue Anshutz.

Orchestrations by William David Brohn. Recorded March 26, 2007 at Legacy Recording Studios in NYC. Produced by nine time Grammy winner Jay David Saks and is executive produced by Bill Fosenfield. Liner notes by Tony award winner Rupert Holmes who wrote the book for Curtains. The only thing missing on this CD is the great dancing. For that, you'll just have to buy a ticket to see the show.

Track Listings


1. Overture
2. Wide Open Spaces
3. What Kind of Man?
4. Thinking of Him
5. Woman's Dead
6. Show People
7. Coffee Shop Nights
8. In the Same Boat #1
9. I Miss the Music


10. Thataway!
11. Man Is Dead
12. He Did It
13. In the Same Boat #2
14. It's a Business
15. Kansasland
16. Thinking of Him/I Miss the Music (Reprise)
17. Tough Act to Follow
18. In the Same Boat #3
19. In the Same Boat Completed
20. Show People (Reprise)
TONY AWARDS will be presented this evening. Broadway To Vegas congratulates all of the winners. ( See list of nominees and winners )

At the other end of the country, Tony Award-winning composer Jerry Herman is receiving the Julie Harris Lifetime Achievement Award at the annual Tony Awards Party in Los Angeles.

Presented by the Actors' Fund of America, the event is hosted by Bruce Vilanch and features a special appearance by Broadway veteran Karen Morrow.

The festivities at the Skirball Cultural Center begin with cocktails and a silent auction, followed by dinner and the live Tony telecast capped off by the presentation of the Lifetime Achievement Award. Previous recipients of the Julie Harris Award include Julie Harris, Gwen Verdon, Charles Durning, Rita Moreno, James Earl Jones, Tyne Daly, Lauren Bacall, Carol Channing, Stockard Channing and Liza Minnelli.


ART AND ABOUT
MUSEUM MILE FESTIVAL One day a year, for the past 28 years, nine of the country's finest museums, all ones that call Fifth Avenue home, collectively open their doors for free to New Yorkers and visitors for a mile-long block party and visual art celebration. This traffic-free, music and art-filled celebration fills the street and sidewalks of Fifth Avenue from 82nd to 105th street, the mile now officially designated as Museum Mile. Over 50,000 visitors attend the festival annually visiting El Museo del Barrio; Museum of the City of New York, Jewish Museum, Cooper-Hewitt, National Desi gn Museum. National Academy Museum; Solomon R. Guggenheim Museum. Neue Galerie; Goethe-Institut New York; and the Metropolitan Museum of Art.

This year's 29th annual festival kicks off Tuesday, June 12, at The National Academy Museum with an opening ceremony on the steps of its landmark building on Fifth Avenue at 82nd street.



Broadway To Vegas is supported through advertising and donations. Priority consideration is given to interview suggestions, news, press releases, etc from paid supporters. However, no paid supporters control, alter, edit, or in any way manipulate the content of this site. Your donation is appreciated. We accept PAYPAL. Thank you for your interest.


SPREADING THE WORD


MIKHAIL BARYSHNIKOV AND VLADIMIR RADUNSKY the celebrated dancer and illustrator discuss their current artistic projects and recent collaboration on a new children's book called Because…

Born in the Soviet Union in 1948, Baryshnikov began his ballet training in 1960 and made his debut with the American Ballet Theatre in 1974. Vladimir Radunsky is the illustrator of many children's books, including Manneken Pis: A Simple Story of Boy Who Peed on a War, which he also wrote, Bling Blang, My Dolly, Howdi Do and What Does Peace Feel Like. Wednesday, June 13, at the 92nd St Y's Kaufmann Concert Hall, NYC.

AN INTIMATE EVENING WITH PHYLICIA RASHAD in an Inside the Actor's Studio-style interview, career retrospective and informal Q&A led by renowned Broadway director Kenny Leon.

Phylicia Rashad was the first African-American woman to win the Tony Award for Best Actress in a Play. She recently made her directorial debut with Seattle Rep's production of Gem of the Ocean. Kenny Leon is a leading director of August Wilson's plays. His Radio Golf played at Seattle Rep last season and is now on Broadway, where it has garnered several 2007 Tony nominations.

All proceeds benefit Seattle Rep's Education Programs. Post-Show Champagne Celebration. Monday, June 11, in the Leo K Theatre at Seattle Rep in Seattle, WA.

TALK BACK with Pulitzer Prize-winning journalist Margo Jefferson and Judi Komaki, co-author with Jefferson of If Truth Be Know takes place Friday, June 15, following the regular performance of the play at The ArcLight in NYC. Margo Jefferson wrote for The New York Times from 1993 to 2006 and received the Pulitzer Prize in 1995. Author Judi Komaki, a professor of psychology, recently retired from Baruch College of City University of New York, is a specialist in issues of discrimination in the workplace.

If Truth Be Know, directed by Christine Simpson is a drama that speaks to issues of race, gender, and class. Presented by Blue Heron Theatre the production runs through June 24.



MRS. PACKARD

Elizabeth Parsons Ware Packard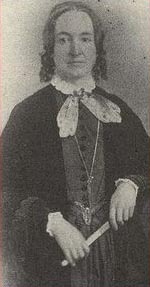 written and directed by Emily Mann. Based on the true story of Elizabeth Packard, New Jersey's renowned McCarter Theatre Company performs this fascinating account of one woman's determination to right a system gone terribly wrong.

After they had been married for many years, Elizabeth Packard began to question her husband's religious beliefs which were as a strict Old School Calvinist. He was very set in his conservative views about religion. Elizabeth began to express her opinions to parishioners in Reverend Packard's church as well as to other members of the community. On one occasion, she stood up in the middle of a service and announced that she was going across the street to worship with the Methodists, whose beliefs were much closer to her own.

Early in the morning of June 18, 1860, Reverend Theophilus Packard had his wife, Elizabeth, forcibly removed from their home and committed to the state-run insane asylum in Jacksonville, Illinois. A conservative Calvinist minister of the Old School, Reverend Packard strongly disagreed with his wife's liberal thinking and feared she endangered the spiritual welfare of their six children.

The grounds for Elizabeth's incarceration rested solely on her husband's declaration of her insanity, and not on a public hearing—such were the laws in Illinois (and many other states) at that time. Elizabeth remained true to her principles in the face of intense hardship, including separation from her beloved children.

The superintendent of the hospital was Dr. Andrew McFarland, an intelligent and charming man who at first took a liking to Elizabeth. But when she refused to pretend she agreed with her husband or change her religious views as the doctor suggested, he turned against her and had her transferred to the 8th Ward for the violent and hopelessly insane.

According to her official biography by Douglas Langworthy:

Elizabeth did many things to maintain her sanity while inside the hospital. She took it upon herself to clean up the filthy 8th ward and its patients. She wrote constantly, and even after she was forbidden to have paper, she managed to find scraps here and there. With the help of some of the staff throughout the asylum she collected written testimony from patients detailing their experiences. She even kept a journal which become the basis for several books she wrote after she was released. To maintain her health, she stuck to a regular routine of physical exercise and hygiene.

Eventually Elizabeth was discharged, but Theophilus then boarded her up in a room of their house. While it was legal for a husband to commit his wife, it was against the law for a husband to lock his wife in her own home. Elizabeth was able to throw a letter out the window to a neighbor, and a writ of habeas corpus was filed on her behalf.

At the subsequent trial, Theophilus' lawyers brought witnesses from the family and church, who said the Packards had publicly argued and Elizabeth had attempted to leave the church, evidence in their eyes that she was insane. Elizabeth's lawyers responded by calling witnesses from the neighborhood who knew the Packards but were not members of Rev. Packard's church. These witnesses testified that they had never seen Elizabeth demonstrate any signs of insanity.

The jury took only seven minutes to find in Elizabeth's favor. She was declared legally sane. While the Packards never formally divorced, Elizabeth and Theophilus remained separated for the rest of their lives. It took Elizabeth Packard nine years to gain custody of her children.

Until the end of her life at age 81, Elizabeth worked for the rights of the mentally ill and partnered with the abolitionists for the emancipation of married women. Due to her efforts and the influence of her books, 34 bills were passed in various state legislatures, including a law passed by the Illinois legislature passed in 1869 which required a jury trial before a person could be committed to an asylum. She also influenced the formation of The National Society for the Protection of the Insane and the Prevention of Insanity.

McCarter Artistic Director Emily Mann has made a career of giving voice to the voiceless. Drawing from trial transcripts, Packard's own writing and her extensive research, as well as her own imagination, Mann has created a dynamic piece of theater that speaks to our times, while reflecting our past.

Starring Kathryn Meisle as Elizabeth Parsons Ware Packard, Dennis Parlato as Dr. Andrew McFarland, John Vennema as Theophilus Packard Fiana Toibin in the role of Mrs. Bonner, with Julie Boyd, Molly Regan, Georgine Hall, Jeff Brooks, Robin Chadwick. The Ensemble includes: Karen Christie-Ward, Beth Dzuricky, Mitchell Michaliszyn, Quinn Warren and Ray Wiederhold.

Written and directed by Emily Mann, Set design Eugene Lee, Costume design Jennifer von Mayrhause, Lighting design Jeff Croiter, Original music & sound design Rob Milburn and Michael Bodeen, Fight director Rick Sordelet, Movement consultant Peter Pucci, Producing director Mara Isaacs, Production dramaturg Douglas Langworthy, Director of production David York, Production stage manager Cheryl Mintz. June 16-24 at the Terrace Theatre at the Kennedy Center in Washington, D.C.

HERRINGBONE with the book by Tom Cone, music by Skip Kennon, lyrics by Ellen Fitzhugh and based on the play by Mr. Cone, opens the Williamstown Theatre Festival season June 14 playing on the Center Stage.

Herringbone tells the story of George, one of vaudeville's greatest child stars, who just happens to be possessed by the angry spirit of a tap-dancing dwarf. Unconventional, hilarious and ultimately heart-breaking, the show portrays George as he navigates an ocean of exploitation while coming to terms with an unquenchable thirst for applause.

This unconventional work deals with the exploitation of child stars and the drive to perform. Adult situations presented.

Tony award winner B.D. Wong stars in this one-man musical. Tony award winner Roger Rees directs. Choreography is by Darren Lee. Costume design is by Tony award winner William Ivey Long. Lighting design is by Frances Aronson. Musical direction is by Dan Lipton. Scenic design is by Neil Patel. Sound design is by Nick Borisjuk.

Herringbone opens the Williamstown Theatre Festival playing on the Center Stage June 14-24. Festival performances are held at the '62 Center for Theatre and Dance of Williams College in Williamstown, Massachusetts.

FIVE COURSE LOVE Book, Music, & Lyrics by Gregg Coffin. Directed by caryn desai [sic].

Three actors, five restaurants, and fifteen zany characters. Mix 'em up and you have the ingredients for Five Course Love, a new musical comedy about five calamitous dates, each with its own distinctive cuisine and musical style to match.

The evening begins at Dean's Old-Fashioned All-American Down-Home Bar-B-Que Texas Eats, where a blind date goes charbroiled wrong. Next, at the Trattoria Pericolo, a mob wife has a secret rendezvous with her lover. At Der Schlupfwinkel Speiseplatz... well, you get the idea. Will Rosalinda ever be able to choose between Ernesto and Guillermo at the local cantina? Will any of our lovers find the recipe for romance?

Starring Christopher Carothers, Perry Lambert and Jennifer Shelton. Musical Direction by Janice Rodgers Wainwright. Choreography by Brian Paul Mendoza.

Five Course Love had its world premiere at the Geva Theatre Center in Rochester, New York in the summer of 2004, and opened at Off-Broadway's Minetta Lane Theatre in October, 2005.

Performances June 15 through July 15 at International City Theatre Long Beach Performing Arts Center, Long Beach, CA.

IT'S A BIRD...IT'S A PLANE…IT'S SUPERMAN the first of the four shows in York's Summer 2007 Musicals in Mufti Series -- the York's acclaimed series of musical theatre gems in staged concert performances.

It's a Bird…It's A Plane…It's Superman has music by Charles Strouse, lyrics by Lee Adams and will feature: Shoshana Bean, Stan Chandler, Lea DeLaria, Scot Federly, Rachel Jones, Jean Louisa Kelly, Cheyenne Jackson, Amy Ryder, Michael Winther, Katherine Von Till and composer Charles Strouse in the role of Perry White. Stuart Ross directs.

It's a Bird…It's a Plane…It's Superman will play June 15, 16 and 17 at the Theatre at Saint Peters in Manhattan.


| | | |
| --- | --- | --- |
| | | |
WHO'S WHERE


29th ANNUAL PLAYBOY JAZZ FESTIVAL June 16-17 with Bill Cosby as Master of Ceremonies. Artists on Saturday include; Buddy Guy; Chris Botti; Phil Woods Quintet, featuring Bill Charlap, Brian Lynch, Steve Gilmore, Bill Goodwin; Issac Delgado; Angelique Kidjo; The World Famous Count Basie Orchestra, Directed by Bill Hughes featuring Butch Miles; The Randy Brecker-Bill Evans Soulbop Band, with Hiram Bullock, Dave Kikoski, Victor Bailey, Rodney Holmes; The James Carter Organ Trio; Cos of Good Music, featuring Dwayne Burno, James Carter, Ndugu Chancler, Vincent Herring, Ron Johnson, Ray Parker, Jr., Jeremy Pelt, Larry Willis; Johnny Polanco y Su Conjunto Amistad; Eagle Rock High School Jazz Ensemble, under the direction of Greg Samuel.

Next Sunday, July 17 the line-up features: Etta James and The Roots Band, Dianne Reeves, Arturo Sandoval's Mambo Mania Big Band, Terence Blanchard, Norman Brown's Summer Storm with Peabo Bryson, Marion Meadows, Jeff Lorber, Marcus Miller, Richard Bona, Red Holloway's 80th Birthday Celebration with special guest Kevin Mahogany; Nathan and The Zydeco Cha Chas; Taylor Eigsti Quartet; Malcolm-Jamal Warner's Miles Long. The Hollywood Bowl, California.

LIZA MINNELLI in the spotlight Wednesday, June 13, at Gran Rex Theatre in Buenos Aires, Argentina.

KEITH URBAN in the spotlight Tuesday, June 12, at the ARCO Arena in Sacramento. On Wednesday he's at Save Mart Center in Fresno. Friday the show is at HP Pavilion in San Jose and on Saturday he pays the Staples Center in Los Angeles.

GWEN STEFANI in the spotlight Tuesday, June 12 at Rexall Place in Edmonton, Alberta. On Wednesday she performs at Pengrowth Saddledome in Calgary, Alberta. Friday the show is at General Motors Place. On Saturday she can be enjoyed at White River Amphitheatre in Auburn, WA.

DIANA KRALL has a four night gig at the Las Vegas Hilton beginning Thursday, June 14.

TONY BENNETT opens a two night stand Tuesday, June 12, at Casino Rama in Rama, ON. On Friday he's in the spotlight at the Opera House in Detroit. On Saturday he'll be delighting the crowd at Orchestra Hall in Minneapolis.

LYLE LOVETT AN KD LANG on stage Wednesday, June 13, at Sound Advice Amphitheatre in West Palm Beach, FL. On Thursday the show is at the Ford Amphitheatre in Tampa. Friday finds them at Chastain Park Amphitheatre in Atlanta, GA. Next Sunday the are on stage at the Charlottesville Pavilion in Charlottesville, VA.

SHeDAISY on stage Thursday, June 14, at Jackson Rancheria Casino in Jackson, CA. On Friday the show is at Shasta District Fair in Anderson, CA and on Saturday they perform at the Spotlight Showroom in Coachella, CA.

JOSH GROBAN in the spotlight, Tuesday, June 12, at Kongresshaus Zurich in Zurich, Switzerland.

MICHAEL FEINSTEIN starring in his own club, Feinstein's at the Regency, in which he presents his new show Celebrating Bobby Short which honors the musical legacy of the nightlife icon. The all-star band will be led by musical director John Oddo with special guests. Feinstein is currently producing a CD for his friend Liza Minnelli based on the music of her godmother Kay Thompson, the famed author, singer and arranger. He has also written the score for a new stage musical The Gold Room, opening soon in London's West End. Michael Feinstein at Feinstein's at the Regency in NYC through June 16.




PIFFLE AND PROFUNDITIES


EAT YOUR VEGETABLES

Giant Panda enjoying a snack. Photo by Michael Ashleman taken at the Chengdu Panda Breeding and Research Center in Chengdu, China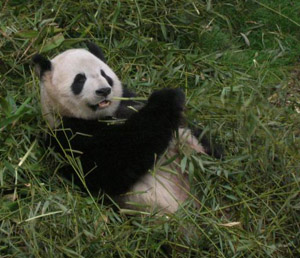 June is national Fresh Fruit and Vegetable month. Next Sunday, June 17, is always Eat Your Vegetables Day - but you probably already knew that. People are encouraged to eat vegetables at every meal. Nobody knows the origin - speculation is that the day was started by either a medical or farmers' organization.

If you don't like broccoli - In The Simpsons episode Treehouse of Horror XI, Homer is killed by eating broccoli. In the TV sitcom Seinfeld, Newman refers to broccoli as a vile weed. So, have you considered bamboo?

Bamboo, a low calorie source of potassium, is used in numerous Asian dishes and broths, and available in supermarkets in various sliced forms.

Generally bamboo is associated with pandas who eat up to 84 pounds each day. That's because the cuddly looking creatures have trouble digesting the stuff and thus absorb only a small percentage of the nutrients, leading to the consumption of vast qualities.

Pandas in captivity are given a wider variety of food by their keepers. Their meals often include rice, meat, eggs, milk, fruit, carrots, potatoes, honey, bread, chocolate, vitamin and mineral supplements, as well as bamboo.

Next Column: June 17, 2007
Copyright: June 10, 2007. All Rights Reserved. Reviews, Interviews, Commentary, Photographs or Graphics from any Broadway To Vegas (TM) columns may not be published, broadcast, rewritten, utilized as leads, or used in any manner without permission, compensation/credit.
Link to Main Page
---
Laura Deni


CLICK HERE FOR COMMENT SECTION